Just as in life, there are times when
you need to whisper…
Like this soothing and elegant vignette.
Handsome wormwood dresser, $495, 76x22x27"h. Gold table lamps $112 ea, 32"h. Large abstract art with gold accents, $275, 60×40"h. Accessories $33-$62.
And times when you need to SHOUT…
BAM.  No one will ever say you are afraid of color.
Brand new Sunbrella pool blue sectional, $1,705. 88×88.  Brilliant floral hand embellished art, $175ea, 30×45.  White Chinoiserie consigned coffee table, $125, 30x30x16″h.  Pillows $28-$49.  Tray $42.  Ginger jar $76.
And this week, we have some great news to
SHOUT ABOUT…
We have added a SHOP NOW feature on every piece of
Lumina Gem jewelry featured in our email. 
   See it.  Click it.   Own it.  
Hmmmm…not quite sure whether a Rolex whispers
or screams…
But click the image above and you can OWN IT.   
And as always, our deals are
SOMETHING TO SHOUT ABOUT…  
Bold and elegant, let us help you create this same look.  
Call now to pre-order…
This MAGNIFICENT gold poster bed with ivory fabric is coming next week in queen for $1,095, and king for $1,295.  910.679.4302.
Just add these gold bedside chests that we have now for $375 each
and…VOILA…your bedroom is done.  35.5×14.5×32″h.
Literally just in! ETHAN ALLEN dining table & 6 chairs just $995. Retails $2,800. As shown with two removable 20" leaves, 108×40. Coordinating buffet & hutch, $595. Retails, $2,400. 66x19x76"h. Ethan Allen bookshelf retails $700, our price $225! 32x15x78"h. 
The colors are neutral, but the impact is anything but. 
Soft sage green sofa, $695, 89″w…matching loveseat $595, 66″.  Ocean path textured art, $395, 71wx31h. 
Hexagon side table, $145, 25x29x23″h.  Accessories from $4-42.
Bookshelves sold, sorry.
Another soft and lovely corner of the store…
Bauhaus cream love seat, $350, 60″w.  Pretty poppies companion artwork, only $34 ea, 24×24″.  Green abstract art, $175, 50×40″h.  Geometric pillows $16 ea.  Sorry, lamp is sold.
Soft and pleasing…
Soothing watercolors in this companion art, $145 ea, 32×42″h.  Crazy deal on these walnut cube ottomans, Retail for $199, our price NOW $45 ea.  Grey table lamps, $130 ea, 29″h. 
Metal basket $33.  Sorry, console table is sold.
BOLD…and a BARGAIN.  On consignment, we present the 'Cavallino' king bedroom set.  Black poster bed, retail $1929, here for $595, headboard is 84wx74″h. Dresser with mirror, retails for $1100+, our price $595, 68x17x38″h.  Bedside tables retail for $481, here $225 ea, 33x17x34″h. Sorry, lamps are sold.  
Fantastic consigned GENUINE LEATHER taupe sofa
retails for $1400, our price $795, 82″w. 
'Quiet Moment' sea turtles giclee, $275, 38″ square.
The storage possibilities are endless with this wormwood cabinet, $495, 46x18x84"h.  Pillows $32- $52.
If your style is a mix of soft and bold…. 
Charcoal full size SLEEPER sofa $895, 73x37x32"h. Blue and gold abstract art, $325, 72×48"h. Slender ivory and gold tall table lamps $130 ea, 43"h. Navy pillows $42 ea, tassel pillow $54. 
Drift off on this cobalt blue sofa with chaise, $795, 80×61″ (chaise).  Sailboat textured art, $225, 60×28″h.  Tassel pillow $54.
 Large scale dimensional propeller art, $395, 71×32"h. Handsome grey wash long console table, $295, 66x16x31"h. Black modern table lamps, $42 ea, 28.5"h. Rattan tray, $72. 
This vignette is NOT subtle, but it SCREAMS STYLE. 
Bold abstract art, $245, 60×30.  White and gold table lamps with sassy shades $125 ea, 28.5″h.  Rattan tray $72. 
Accessories $18 -$28. Sorry, console table & grey bench has sold.
Everyone's loving this just in 5 piece adjustable height pub set, $395, 36″ diameter.  Smooching seagull art $95, 31.5×24″h. 
Rattan screen $125.  Vases $6-$8.
~~~~~~~~~~~~~~~~~~~~~~~~~~~~~~~~~~~~~~~~~~~~~~~~~~~~~~~~~~~~~~~~~~~~~~~~~~
Did you know that Home Again's beloved
Jesse & Haley are GETTING HITCHED?
The big day is in November, so stay tuned…
we are going to throw them a party to remember!  
Here are their cute selves modeling a nice pub set that would be great for a young couple starting to entertain. Includes 2 stools, wine rack, and storage shelves.   $395.  48x36x36″h.
Textured large coastal canvas $395, 60X40  
Game night or family dinner…anything works on this inviting
two-tone wooden and ivory table with 6 chairs. 
Just $595 for the set, 60x36x30″h.  
Cappuccino and ivory floral art, $195, 48wx36″h. 
Stately server, a consignment find at just $316, 66x19x40″h. 
Buffet lamps with antique white finish, $46 ea, 32″h.  
TWO AVAILABLE.   'Danele' Revelation by Uttermost chests just in on consignment. A DEAL at $325 ea. 40×13.75×32.5"h.
Jeannie just returned from Atlanta market…and the
trend she saw everywhere was EMERALD…
But why wait until it gets to Wilmington…
we've got it now!  
Orchid art, $225, 51.5x42h.  Pillows $14 – $22. 
(Sofa is sold.)
A soft place to land at the end of a day…
Taupe "chofa" $995, 90×62″ chaise.  Carved wood gold mirror, retails for $2,000, our price $396, 61×50.  Ottoman retails for $530, our price only $175, 44x22x16.  Gold stripe table lamps only $75 ea, 31″h. Orange down pillows $32 ea.
You can Go Big AND Go Home.
This china cabinet retails for $1199, a big deal at $396, 60x16x84h.  This colorful ottoman has space for everyone at 50×50″, just $350.  Dark coral tweed sofa $395, 86″.  Tufted wing chairs, $425 ea, 40wx33dx41″h.  Ethan Allen pillows, $42 ea.
Three's Company!  Set of three handsome leather and wood barstools, in great shape and ready for entertaining! $145 ea,
not sold separately.
Relax in style on this brand new blue sectional, $1,095. 114×84″ (chaise side).  Striped blue ottoman $295, 37x37x18″h. 
Large tray $38.  Accessories $8 – $12.  
We can't keep quiet about these awesome ivory arm chairs, just in on consignment, $125 ea, 23x25x 37"h, not sold separately.
Just in on consignment…attractive soft sage Pottery Barn parsons chairs, a super buy at $52 ea, sold in pairs only. 
Rattan dining table with glass top, $265, 48″ round.    
Hang 10, everybody! White media cabinet, $595, 60x20x28″h. 
Teal ceramic lamps, $85 ea, 22″h.  Churning Wave giclee, $395, 35wx45.5″h.  Resin pineapple lamps, $85.50 ea, 35″h.  
JUST IN… these perfectly sized wooden accent tables…
Which color speaks to you? Ivory, blue or seafoam, just $195 ea, 26" diameter, 27"h.
These coral slipper chairs are in excellent condition, and retail for $499 ea, our price just $225 ea! 30"w.
Great benches in on consignment this week…
Mandarin orange modern bench, retails for $530, here $175.  44x22x16. Traditional gold bench, 48x20x18, $175.
Like a trip to the West Indies… handsome Ernest Hemingway chest.
A consignment score at $202. 52x23x35"h.
Summer or fall, we love our outdoor living!  
Windward love seat retails for $679, here $495.   Windward glider chair and ottoman, retails at $1134, here only $475.  Glider solo, retails for $700+, we have it for $325.   Coffee table just $150.  Ready for a quiet cup of coffee…
Get the party started with these colorful closeouts!  These brand new Telescope outdoor umbrellas retail for $249 ea,
come get them now at $75 ea.
It's almost back to school time…need a desk?  
Blue & green wooden desk, $225! 47x23x37"h.
Modern desk, $375, 47.5x24x29.5"h.
Shout it from the rooftops…
Click on any of the items featured below to buy
directly from our online store!  
A Rolex…something to appreciate, something that appreciates. This estate Rolex is exceptional.  Women's midsize stainless and 18k rose gold date just with diamond bezel. Model Number 178341. Comes with box and papers, $11,995.
This Rolex is the creme de la creme of estate watches.
18ky gold, 36mm case with bronze dial and leather band, circa 2013. Currently has after market diamond bezel, but comes with original. Comes with original box, papers, and receipt.
Style# 118138.  $18,500.
More great estate pieces in…here, a lovely Lagos derby two-tone diamond caviar bracelet, 7 inches. Comes with pouch, $695.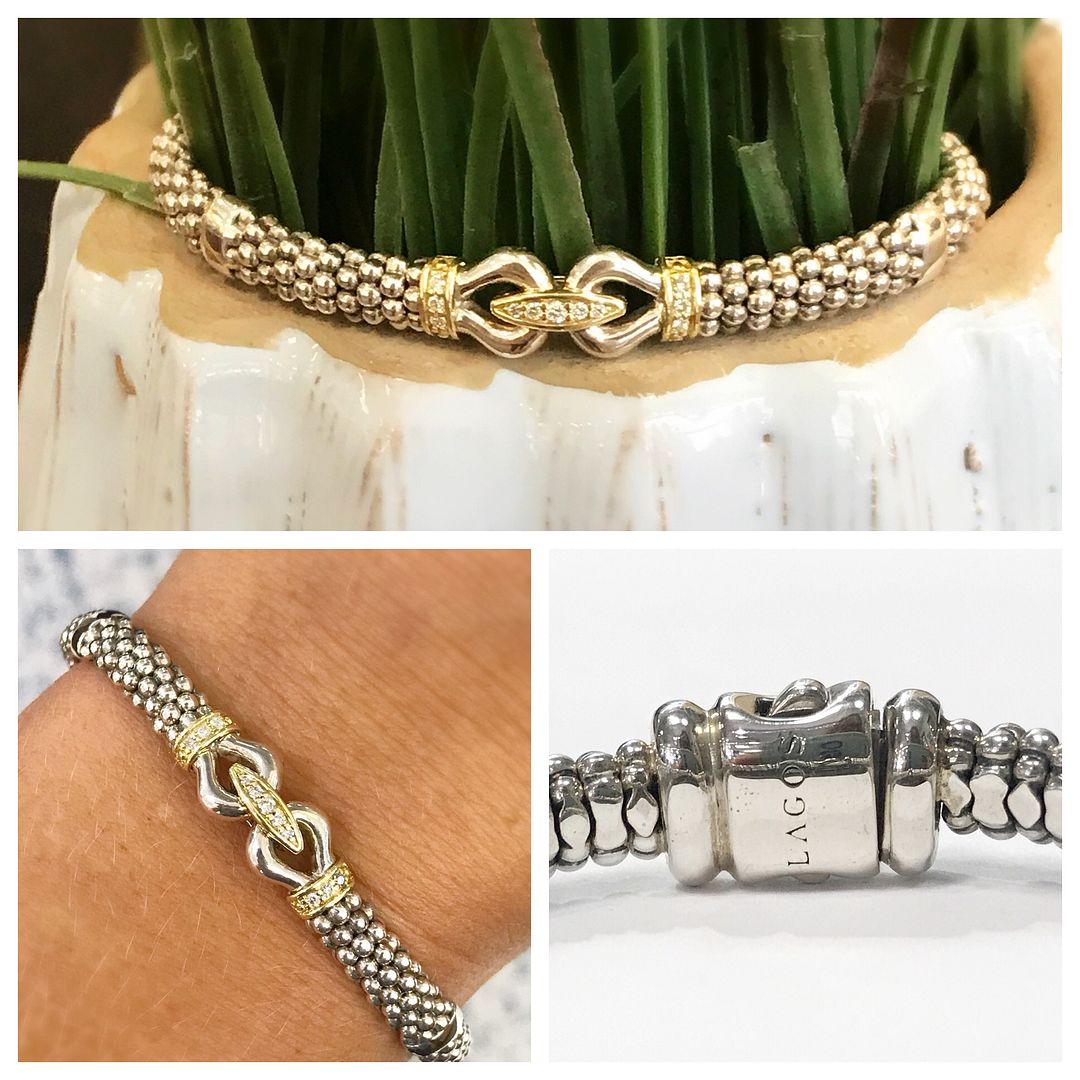 They'll be green with envy when they see this gorgeous green tourmaline wedding band. Roman+Jules semi-mount,
.51ct green tourmaline with .11ctw diamonds in 14kw gold. $995.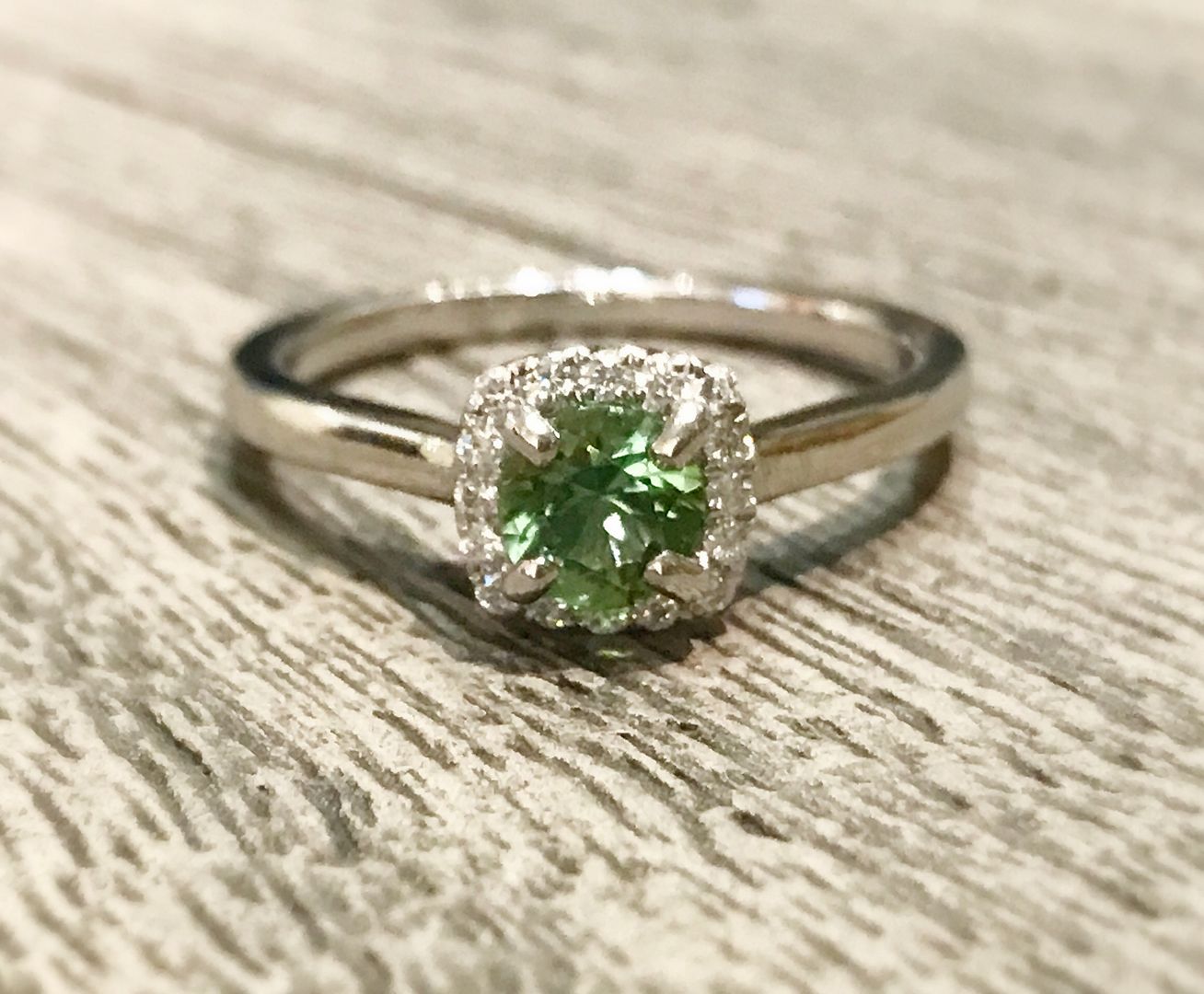 Estate watch in this week…Swiss Army ladies watch,
perfect for every day wear, $395.
When in doubt, go for the gold…18k yellow gold custom made link bracelet with sapphires. Unique and opulent, $2,525.
Get a luxurious look with this estate wedding ring, a 1.5ctw diamond band in 14kw gold, $1,995.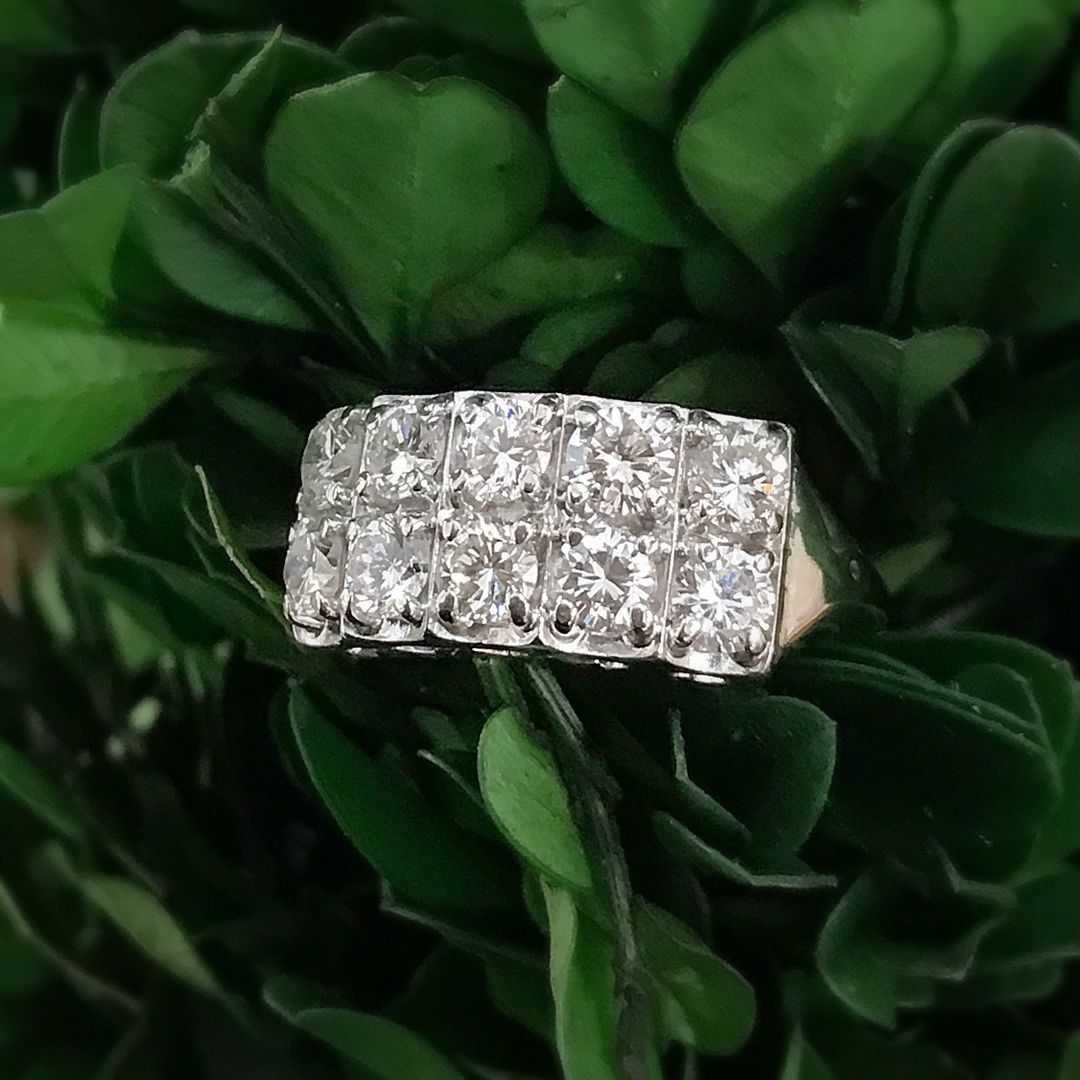 Just in… matching estate ring set. 
Wonderful for mother & daughter, best friends, sisters. 
Antique with filigree details, diamond and 14kw gold, $295 ea.
Coastal look and colors from Angela Bassett, in on consignment. Druzy, silver pearl/mother of pearl 2 strand necklace, $295, 18″.
Another sweet Angela Bassett estate piece.  Mother of pearl with faceted rose quartz pendant with ss toggle clasp. 16 inches, $195.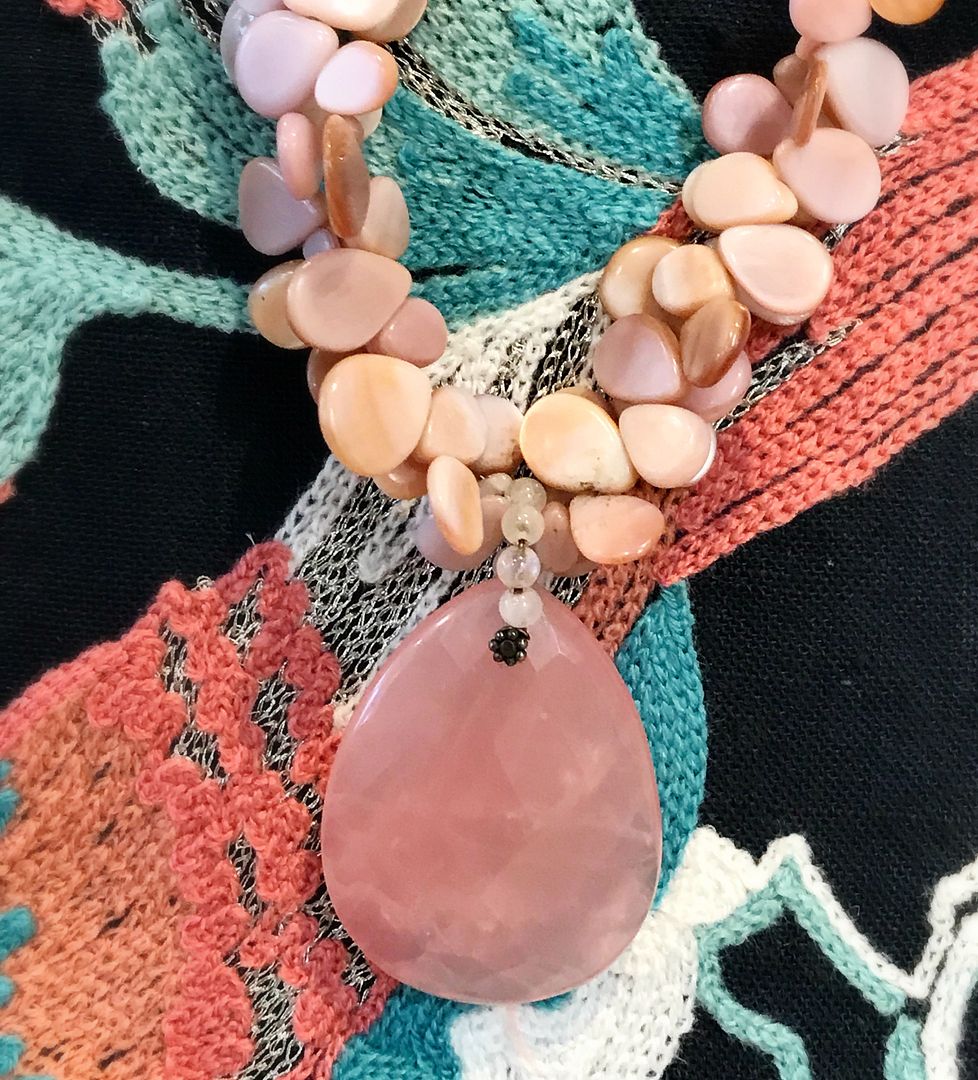 Beautiful blues from Charles Garnier…
Ornament turquoise dangle sterling silver earrings, $165.
Teardrop turquoise and sterling silver earrings, $155.
Completely Collectible
Charles Garnier Bracelets
On left… 4mm sterling silver woven cuff…
Can be worn with open side up or bar side up, $210.
"Jane" sterling silver 2mm woven bangle with cz bracelet, $125.
 "Lacey" cuff in sterling silver with cubic zirconium, $175.
You don't have to go under the sea to find treasure…
we have the ocean's bounty in this estate piece.
14Kyg Ocean Inspired Bracelet, $2,995.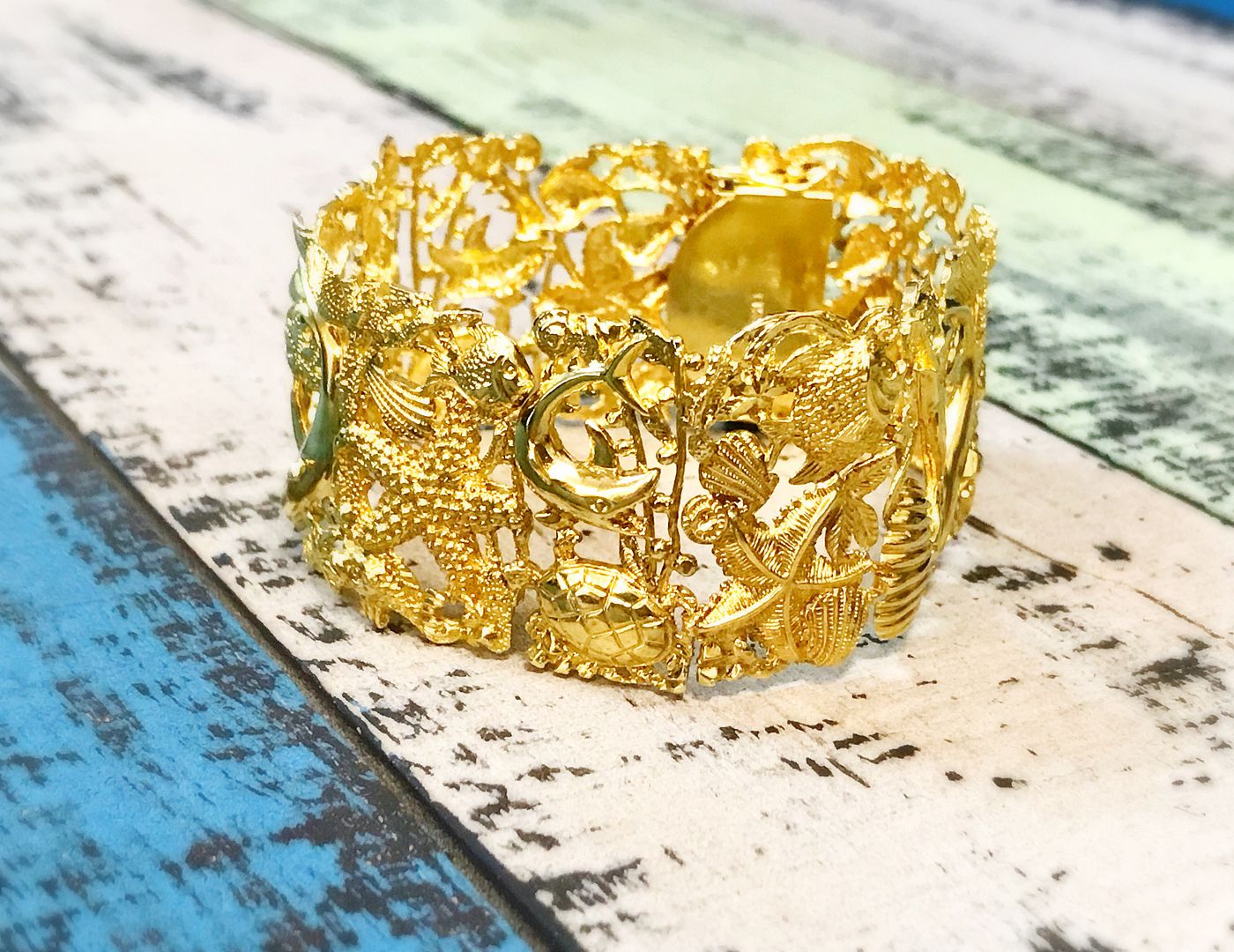 We knew you'd come 'round to this lovely necklace.   .19ctw H color I1 clarity diamond and 14ky gold swirl necklace, 18 inches.  $895.
Semi-Mount Promotion
Through August 5th, we are offering a discount on all semi-mounts!
See below for a few choices, or shop entire collection online. 
Roman+Jules .56ctw diamond semi mount ring in 14k white gold. Pictured with CZ center, $2,785.
More semi mount choices from S. Kashi and Sons &
Roman +Jules…which one is singing for you?
All on sale at LuminaGem.com through 8/6. 
Use code SEMIMOUNT at checkout…
Left: .55ctw diamond semi mount in 14k white gold, $2,095.
Left center: .53ctw diamond semi-mount for a .75ct
center stone in 14kw gold, $1,745.
Right center: 16ctw diamond ring in 14k white gold, $905.
Far right: .28ctw diamond engagement ring in 14k white gold $1,295.
Each semi mount above, pictured here with loose stones to help you envision the magic! (Shown here with CZ and blue topaz).
Did you know moonstones are actually classified as "phenomenal?" 
These phenomenal Tony Macabi pieces are on sale…
Necklace:  2.5ctw blue moonstone with .22ctw in
diamonds in 14k white gold, now $1,186.
Moonstone and diamond earrings in 14kw gold, now $2,334
More items on sale…more glam…more savings…
Marcello Pane double threat…18ky gold plated sterling silver
and rubber ring, now 40% off, $101.50.
18K Rose gold plate sterling silver and rubber,
chain length 37, 40% off, now $269.50.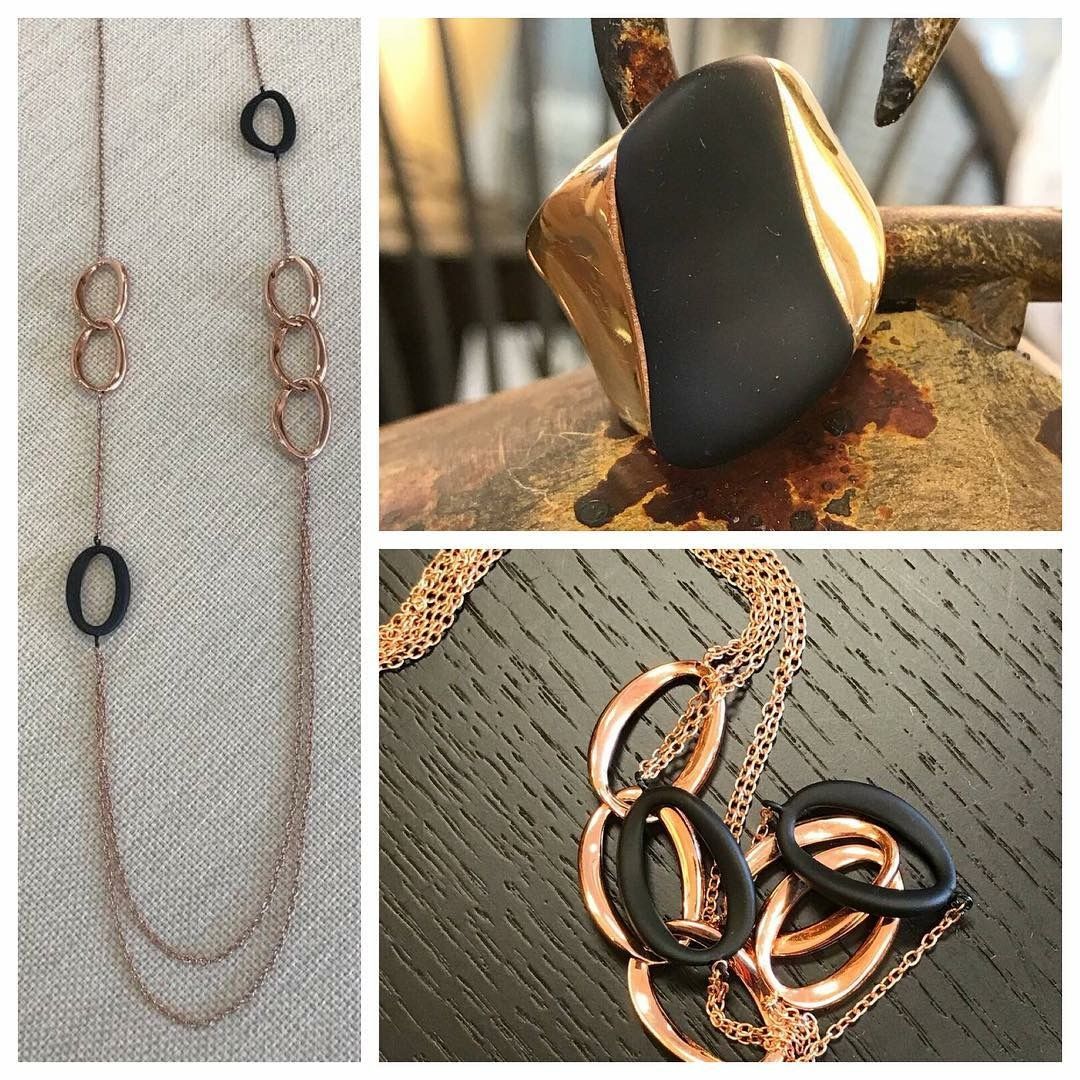 A great bracelet, ready for a night out…
Lizard and leather, what's not to like?  $195.
(Not available online, in store purchase only).  
Annual August Antique Show Sneak Peek
Coming soon, August 15-19
Estate gold disk earrings. 13 grams of 18ky gold . 19x 20mm, $895.
Estate heirloom quality gold necklace.
22Kyg and peach stone, $3,900.
Whether your style is a whisper…or a SHOUT…
a bargain is always in fashion.
Come see us this weekend!