When opportunity knocks…
OPEN THE DOOR!  
 I had the great opportunity to sit down with my long-time friend BOBBY BRANDON this week, realtor extraordinaire with Intracoastal.  Bobby does videos of various businesses each week to help his clients get to know the area.  And this week it was our turn.  See all of Bobby's spotlights on his facebook page!  
And then an opportunity came along from one of our suppliers for a SUPER BARGAIN… what's a girl to do? Snag it!   
HUGE SHIPMENT of attractive seagrass barstools. 
24″ counter height $85 ea, barstool height 30″ $95 ea
YOUR opportunity to SAVE MONEY is now…
 on with the show!  
Just in on consignment, this curved linen sofa by high-end maker Gabby retails $3,000, our price, $895! 92″w. 
Lovely brilliant orange shell motif mirror, $265, 38×49.
Orange Greek Key lamps, $175 ea, 30.5″h. 
Whitewashed table and six chairs by Selva retails at $2,000.
Our price – $450. 71×39.5. Green abstract, $175, 50×40. 
Green ceramic lamp, $130. 29″h.
This adorable teal settee has a small blemish on the arm,
so it's priced to move at $225, 61″w.  
Stoic snow heron giclee framed art, $395, 43×49.5. 
Cute sage side tables, $125 each, 21″diameter x 26″h.
Green distressed lamps, $125 each, 33″h.
The 'Messina' desk by Aquarius goes for $1399 currently
online… our price is only $550! 58"Wx28"Dx30"H.
White linen chair, $75.
Succulent oil painting, $275, 42″ square.
White resin artichoke lamps, $95 ea, 25″h.
Cozy taupe 'chofa' piped in chocolate brown, $895, 92×65. 
Hand embellished abstract with gold foil accents, $225, 63×43.  
Pillows, $55 each.
Deal of the week! This dining table and 4 chairs by ETHAN ALLEN retails $3,115, our price, $795! 76×56.
Includes 15.5" removable leaf and table pads.
WANT TO MAKE A STATEMENT?  
Just in…Beautiful coastal companion art, framed and matted!
$325 ea, 40.75" square.
You never find cookie-cutter looks at Home Again…
Striped linen accent chairs $395 each, 31x33x39″h. 
3 drawer wormwood dresser, $440, 46x18x39″h.   
Framed sailboat art, $225, 43″ square.
On-trend navy designer lamps, $225 each, 27.5″h. 
Need counter or barstools? At the beginning of the week,
we had zilch…but they came rolling in all week long.  
 Priced here $65-$145 ea.
BRAND NEW soft aqua swivel chairs, $495 each,34″w. Carved wooden mirror, $225, 36.5×44.5. Textured resin lamp, $116. 33″h.
Just in on consignment – matte silver shabby dresser $145, 36x21x48.5″h.
JUST IN! Adorbs mosaic bistro set, $285! 30"diameter.
Wilmington art on wood, $225, 30×30.
Use this shabby table as a desk, craft table, dining – the choice is yours!  $350, 47x38x31″h.  Seagrass chairs, $95 ea.
Friendly sea turtle artwork, $175, 36″ square. 
Adorbs table lamps with burlap shade, $95 ea, 30″h.  Chenille footstool, $130, 18.5 square.  Coastal motif pillows, $38 ea.
Just in – classic Bergere chairs in terrific condition,
a SUPER buy at $175 ea, 28″w.
Beautiful designer lamps are everywhere…
priced here from $95-$145.
So unique…gold-leaf small scale bench/coffee table with
stone top just $95. 28.5x19x18h.
This smoky grey beauty just arrived and is large and in charge… $1,595. 123×97. Shoreline giclee, $495, 53×29. 
Sailboat painting, $225, 50×38. Ambiente coffee table retails $975, our price, $360. 44.3"diameter x 15"h. 
We adore the colors in this  40"square ottoman…
Just $265. 18"h.
Get HIGH END for LESS…This 'Leopold' genuine leather sofa retails $3,250, our price, $995. 78×37.5×34"h.
Oil painting retails $506, our price, $337, 60×50.  Teal lamps retail $500 ea,
our price, $245 ea. 29"h.
Just in…This white Chippendale 54" dining set is a STEAL at $425.
Includes extra set of chair pads in a navy print. Washed queen complete bed $495, reed screen $145.
Unique wooden spool world map for the geography enthusiast
who has it all for only $195. 50" diameter.
Just in…Queen size bed, $395. Linen tufted chairs, $400 ea, 27x22x34"h.
Taylor Scott leather ottoman, $175, 30x20x17"h. Murano glass lamps, $100 ea, 37"h.
Perfection. Ivory distressed chandelier with gold accents $446.
19" diam 32h 
The style is traditional…but it is beautifully finished in coastal
split bamboo! A DEAL at $450. 64.5x20x40"h.
How cute is this full size bed with twin trundle!? A great buy at $625! Pillows, $12 ea. Blanket not for sale.
⭐These are so cool
just in and $125 ea, 31"h.
FABULOUS and MASSIVE gold mirror just $265. 69×53.
🔥DEAL TIME…dresser with mirror, $225, 64x18x34.5.
Chest, $175, 38x18x52"h.
A cute and affordable look! POTTERY BARN oversized red twill sofa
just $495, 92" w, shown with some fun floral accent chairs
$175 ea. 29.5w34d35"h
Pretty floral giclee, $225, 42×32. Beige swivel chairs, $395 ea, 28.5"w. Whimsical console table, $195, 48x14x36"h.
Crystal table lamps, $245 ea, 32"h.
We have a PAIR of these spectacular gold pendant chandeliers
ON SALE for $250 ea. 22" diam 29"h.
Kincaid bedroom dressers just in on consignment…Dresser, $595, 66x19x50"h.
2DR chest, $395, 36x18x34"h. Bedside table, $245, 28x16x29.5"h
This doggy art is looking for his furever home, $225, 39" square.
Khaki swivel barrel chairs, $295 ea, 30"w. Pillows, $34 ea.
Dining on a budget…Distressed black & tan table & 6 chairs. Includes 12" removable leaf. $495, 72x42x31"h.
Large scale red chest with painted detail by LEXINGTON is
a bargain at only $425. 61"Wx20"Dx49.5"H.
What a deal…Glass top table with 4 chairs on casters and 2 side chairs in rattan, $395. 84×48.
You know he wants one… LazyBoy leather recliner in like new condition for just $495.
This super high quality outdoor resin dining set retailed for around $2,500…our price $795. 49″ diameter table.  
Great consignments came pouring in this
week…so don't miss your opportunity to
own the best for less.  
Slane sterling silver pieces.
Bracelet, $395.
Solise ring, $595.
Seapod earrings, $295.
The bee enhancer has sold.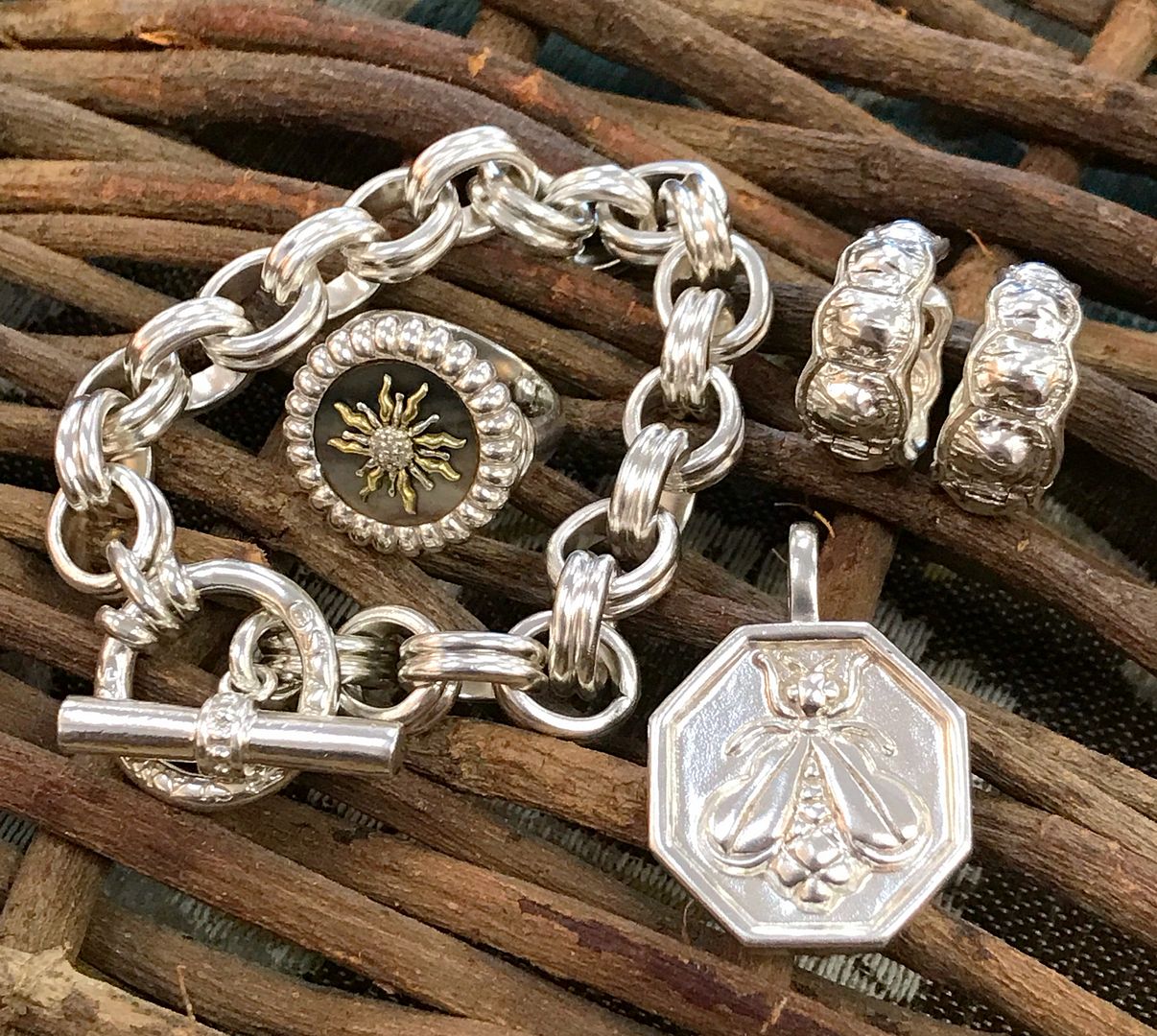 Tiffany and Co interlocking silver bangles, $395.
 Tag Heuer ladies professional watch in stainless steel, $295.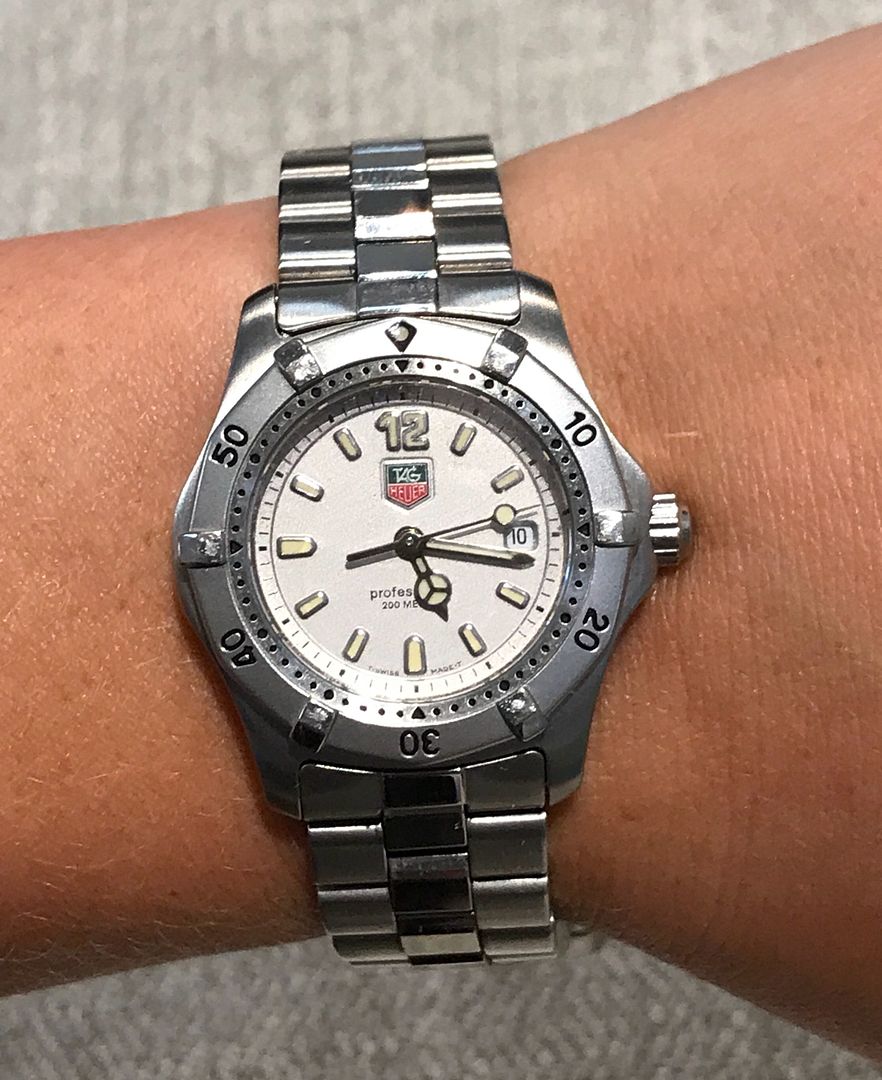 Lagos bracelet with blue topaz set in sterling silver
and 18k yellow gold, $895.
Check out all these just in pieces from
S.Kashi and Sons!
1.41ctw diamond cluster band in 14kw gold, $4,420.
.69ctw diamond cluster band in 14kw gold, $2,145.
1.24ctw diamond multi row band in 14kw gold, $4,085.
S. Kashi and sons .68ctw diamond ring in
14k white gold, $2,765.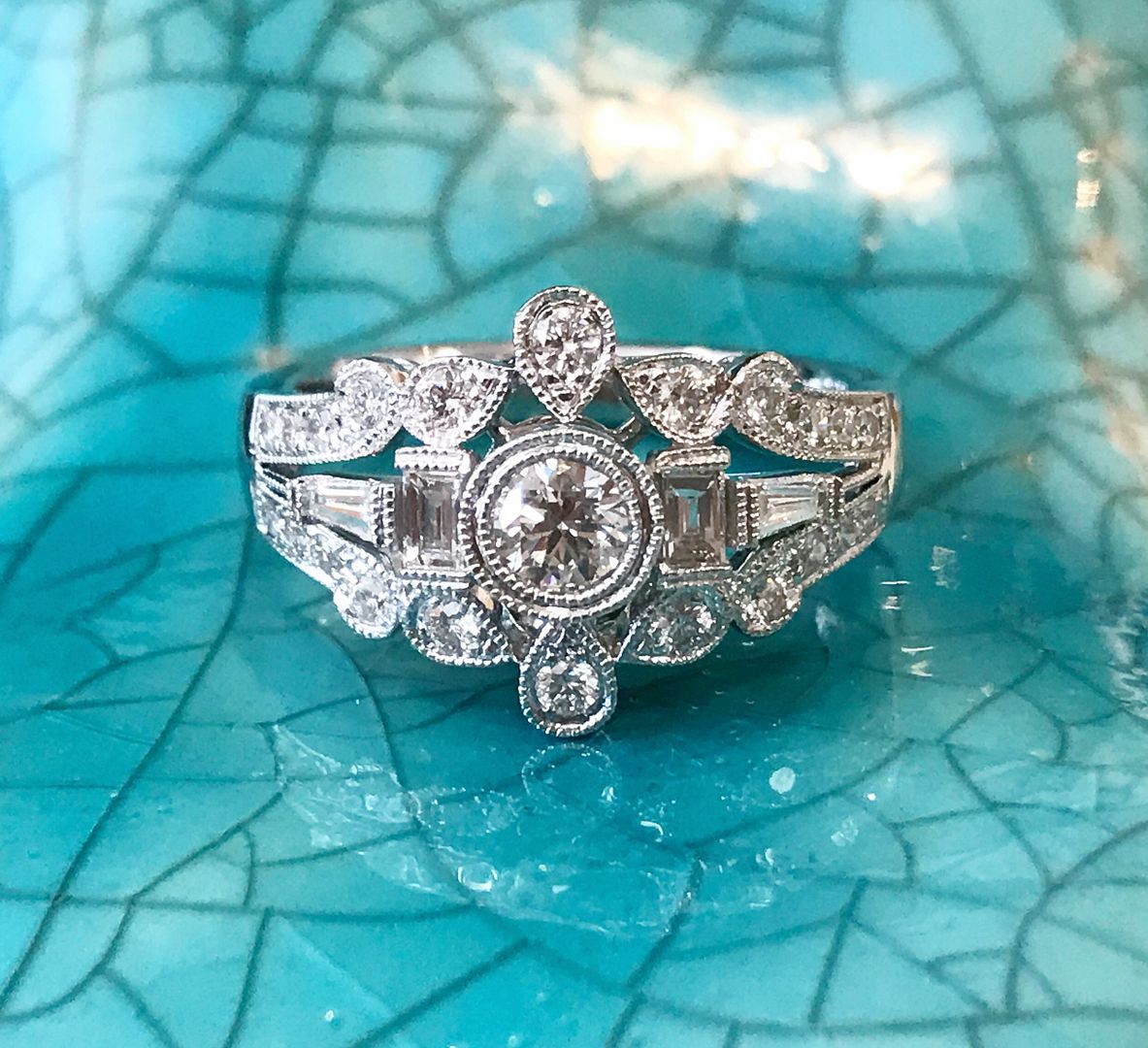 Looking for a unique semi-mount?
Prices range from $675 – $1,565.
Like a ray of sunshine…
 .38ctw emerald and .38 diamond band in 14kw gold, $1,995.
.43ctw sapphire and .32ctw diamond band in
14k rose and white gold, $2,495.
.20ctw diamond and .38ctw ruby band in 14ky gold, $915.
Just in S.Kashi stackable diamond bands.
Prices range from $555 – $1,125.
S.Kashi and sons .39ctw diamond station bracelet, $1,475.
1ctw diamond tennis bracelet in 14kw gold, $3,565.
New inventory from Allison- Kaufman
2.77ct aquamarine and .14ctw diamonds in 14kw gold, $2,725.
.96ct aquamarine with .14ctw diamonds in 14kw gold, $1,385.
Allison-Kaufman .75ctw diamond champagne bubble ring
in 14kw gold, $2,215.
.20ctw curved diamond bar necklace in 14kw gold, $795.
.18ctw diamond infinity necklace in 14k two tone gold, $875.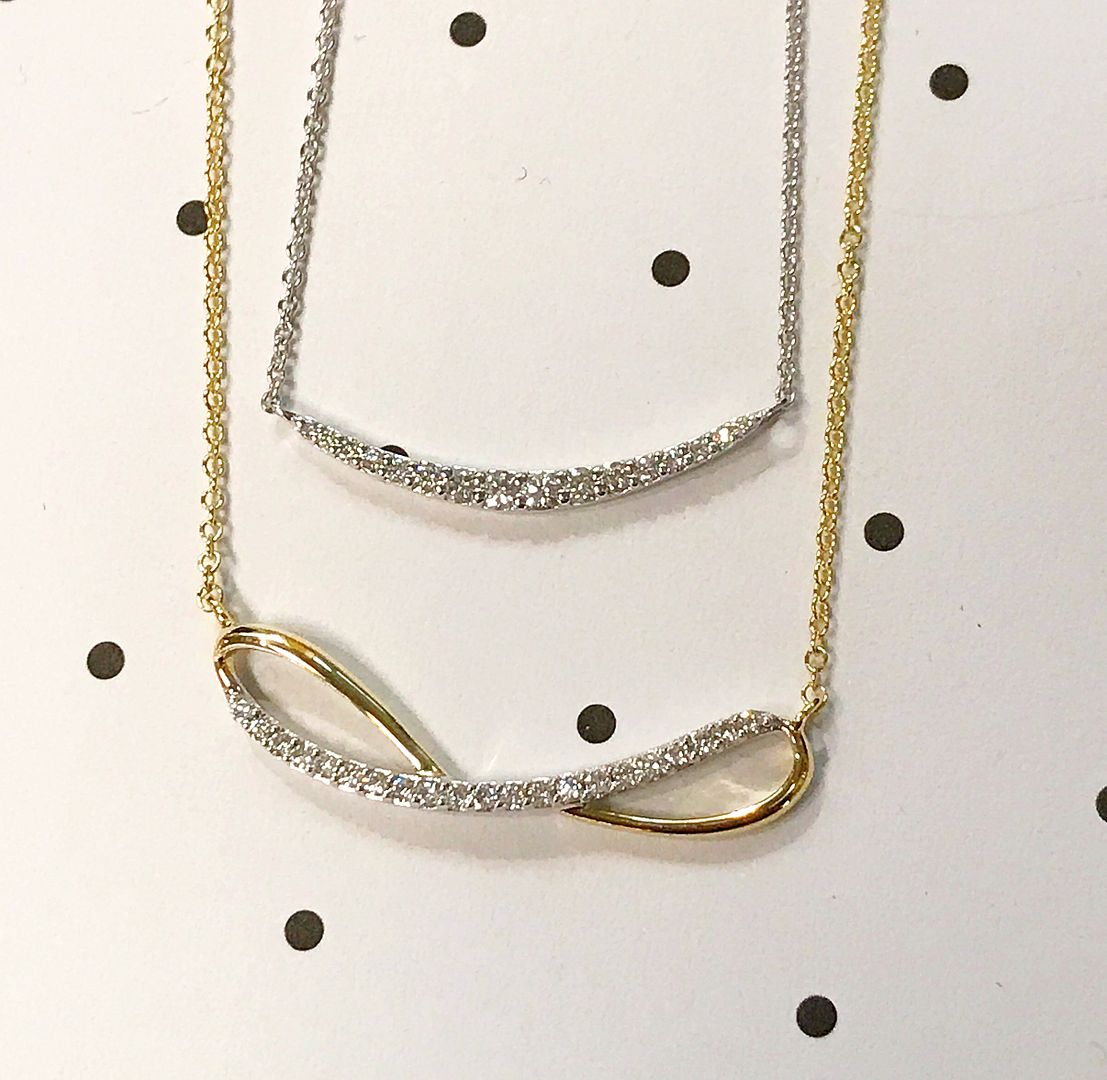 1.15ctw blue topaz and .15ctw diamond necklace
in 14kw gold, $955.
Allison-Kaufman 1.03ct blue topaz and .02ct diamond
necklace 14kw gold, $585.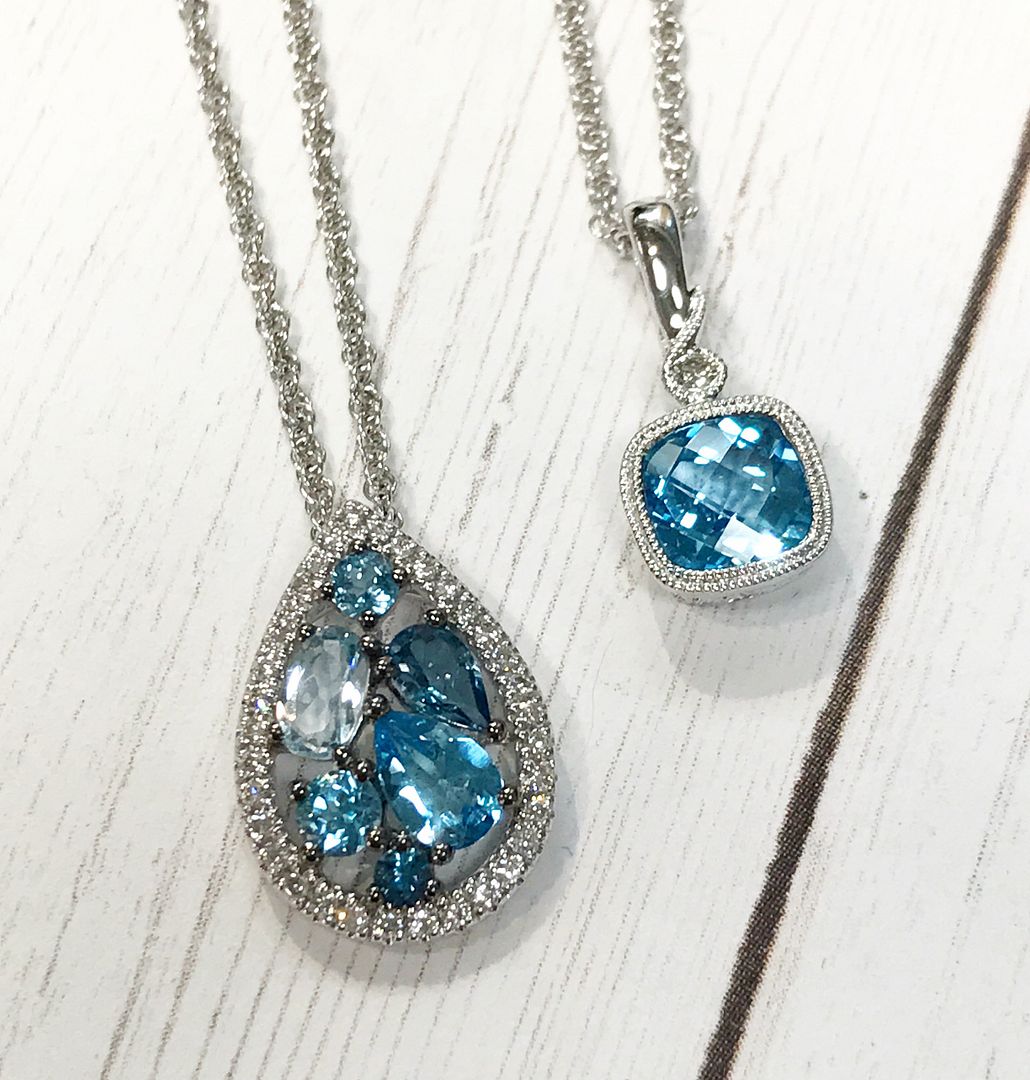 Allison-Kaufman 14k yellow gold
.50ctw diamondearrings, $2,195.
Matching band, $2,045.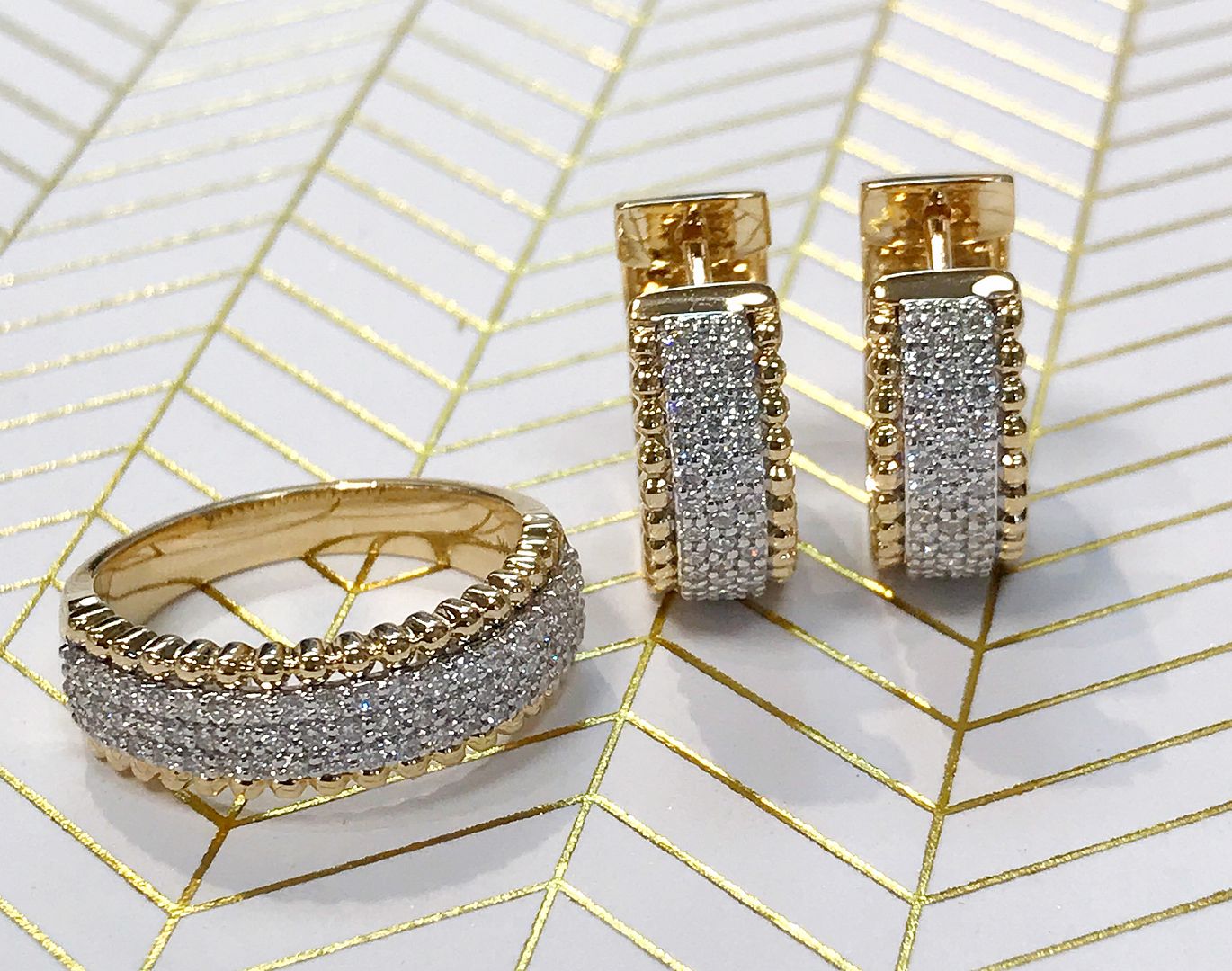 .10ctw diamond pave ring in 14k two tone, $535.
.24ctw diamond ring in 1kw gold, $1,065.
.01ctw diamond ring in 14k two tone gold, $495.
Allison- Kaufman 1.37ctw sapphire, ruby, garnet and
diamonds set into 14kw gold, $2,485.
.36ctw sapphire bangle in 14k white gold, $1,350.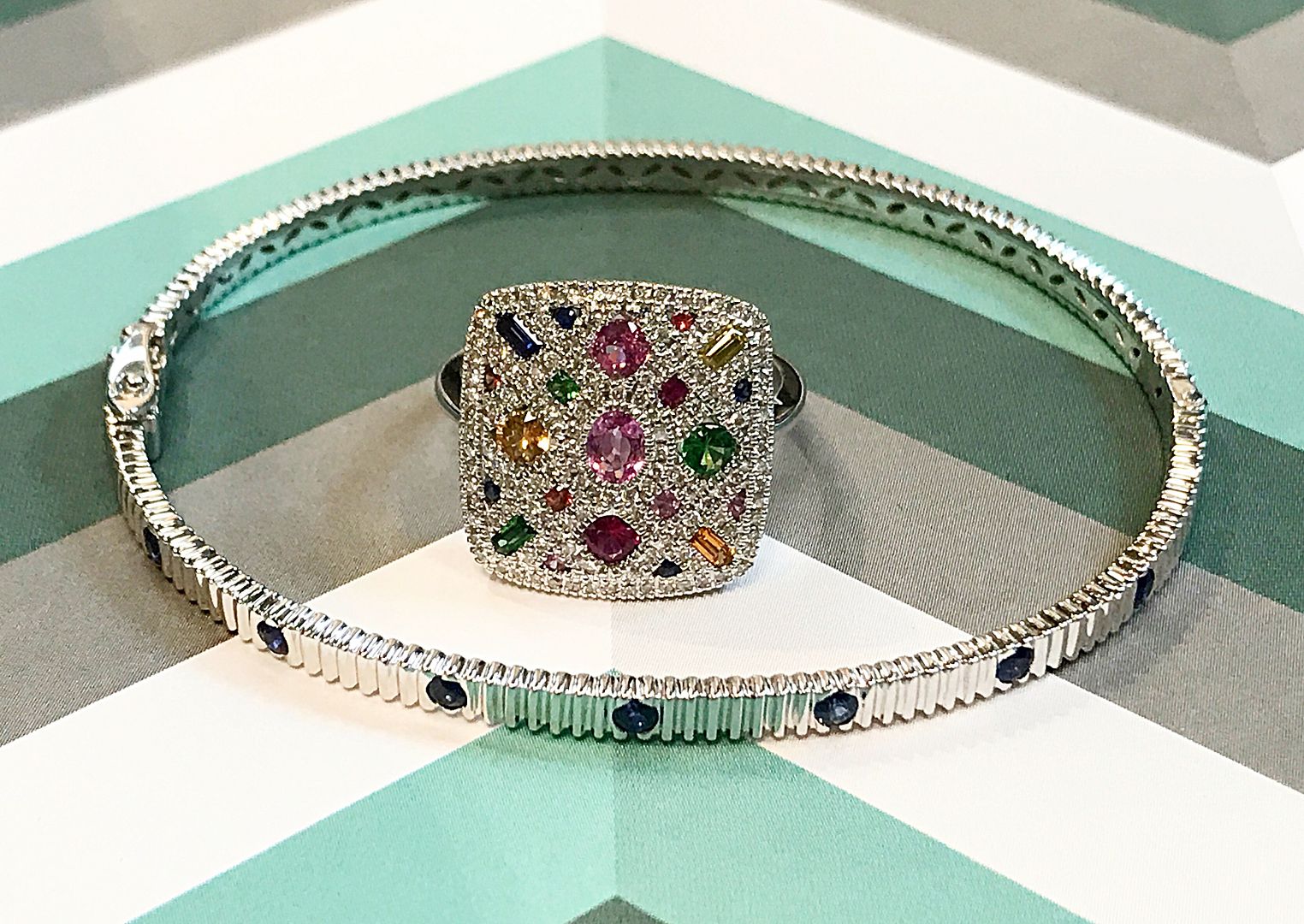 4.63ct cushion cut morganite in a .65ctw diamond
and 14kr gold setting, $4,585.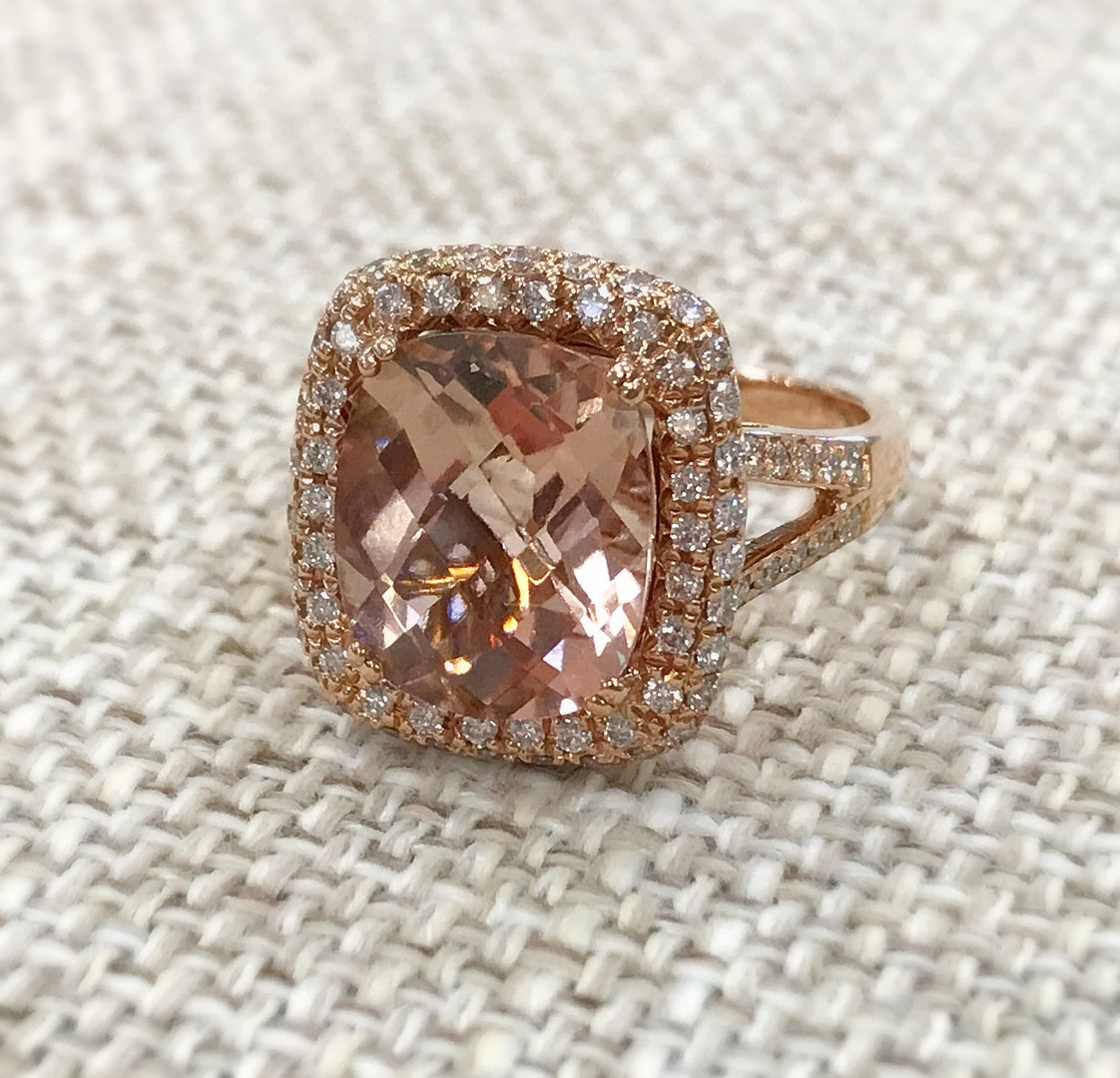 Diamond cross pieces in 14k gold.
Prices range from $285 – $595.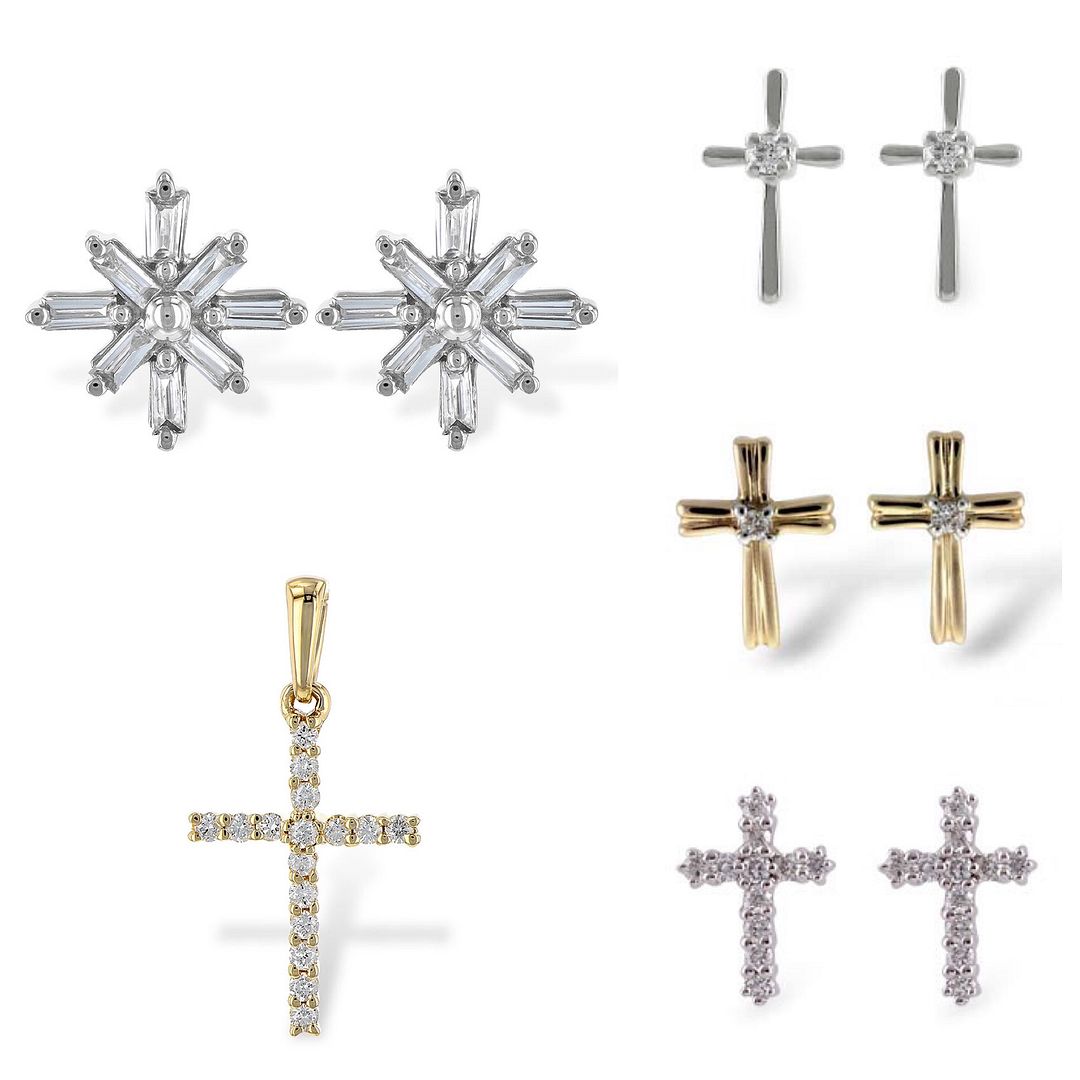 We are loving all these new consignments!
1.08ctw H color  VS2-SI1 clarity diamond studs set in
14k white gold with screwbacks, $2,795.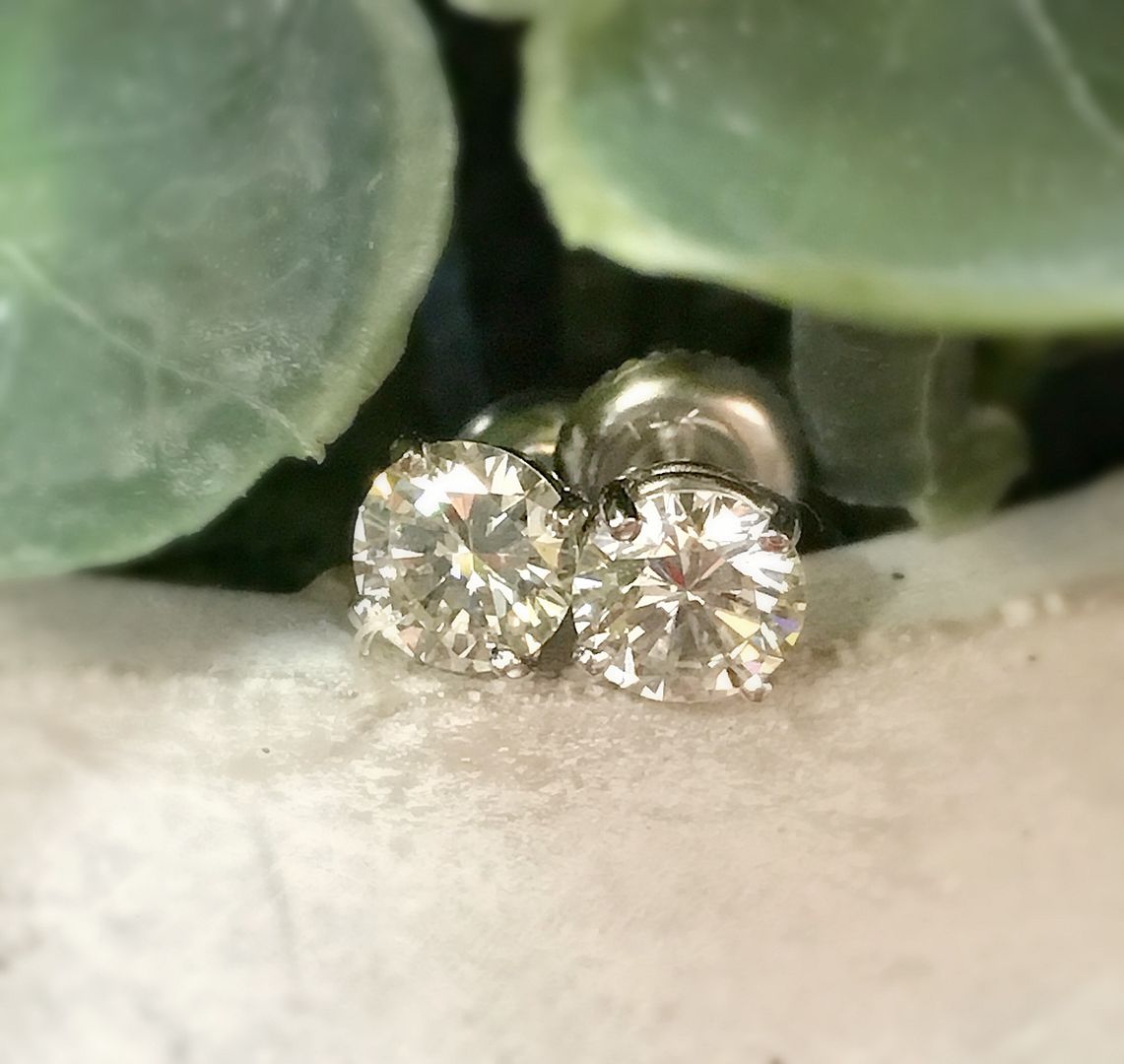 14ky gold door knocker earrings, $255.
14ky gold hoops, $165.
These won't last.  Call 910.256.1850 to order by phone.  
Blue topaz ring in 14k two tone gold, $195.
Lorenzo peridot ring in silver and 14ky gold, $195.
Trillion aquamarine and diamond ring in 14k white gold, $495.
Set of 5 sterling silver bangles, $155.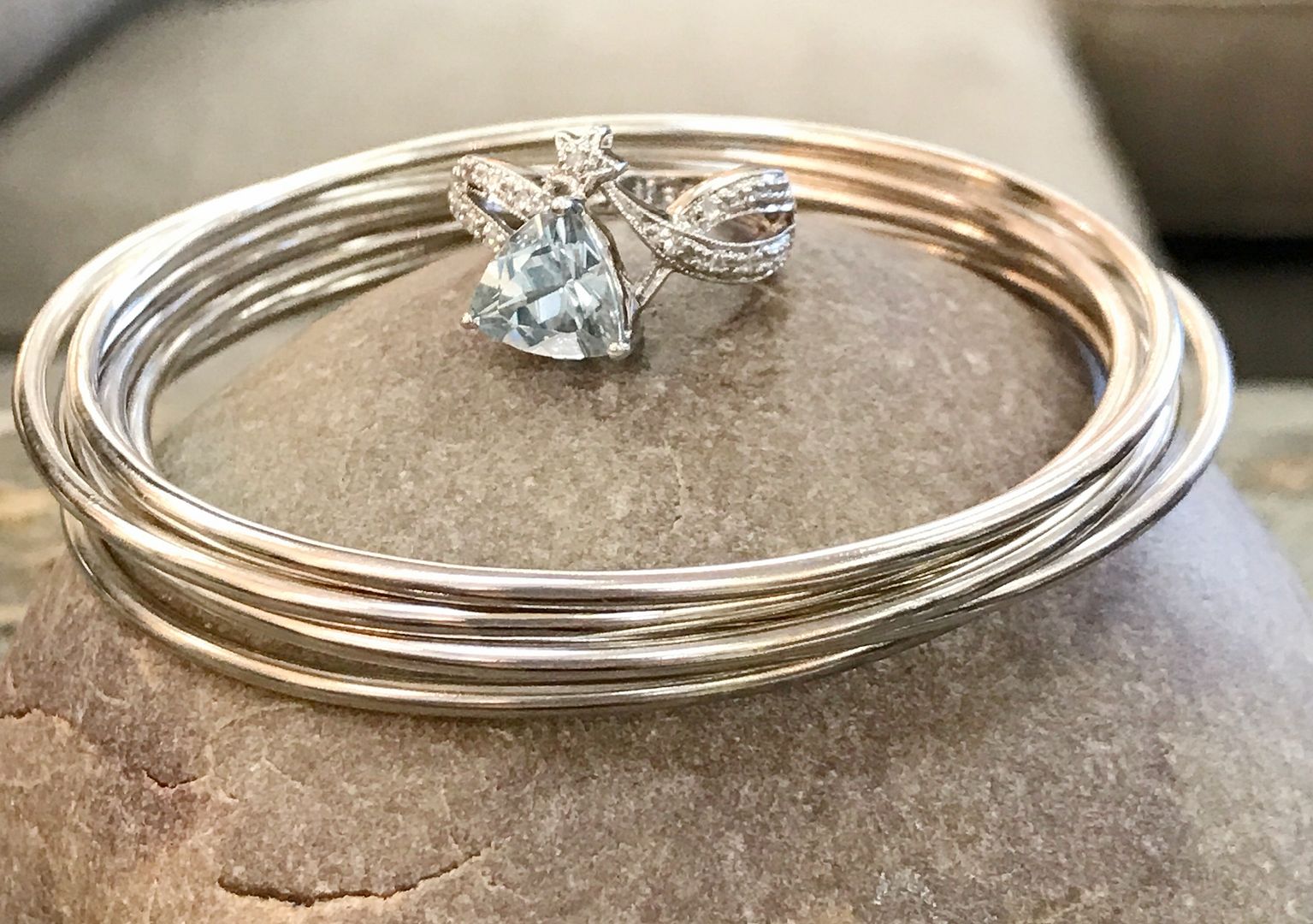 Two-tone 14k gold and diamond earrings, $295.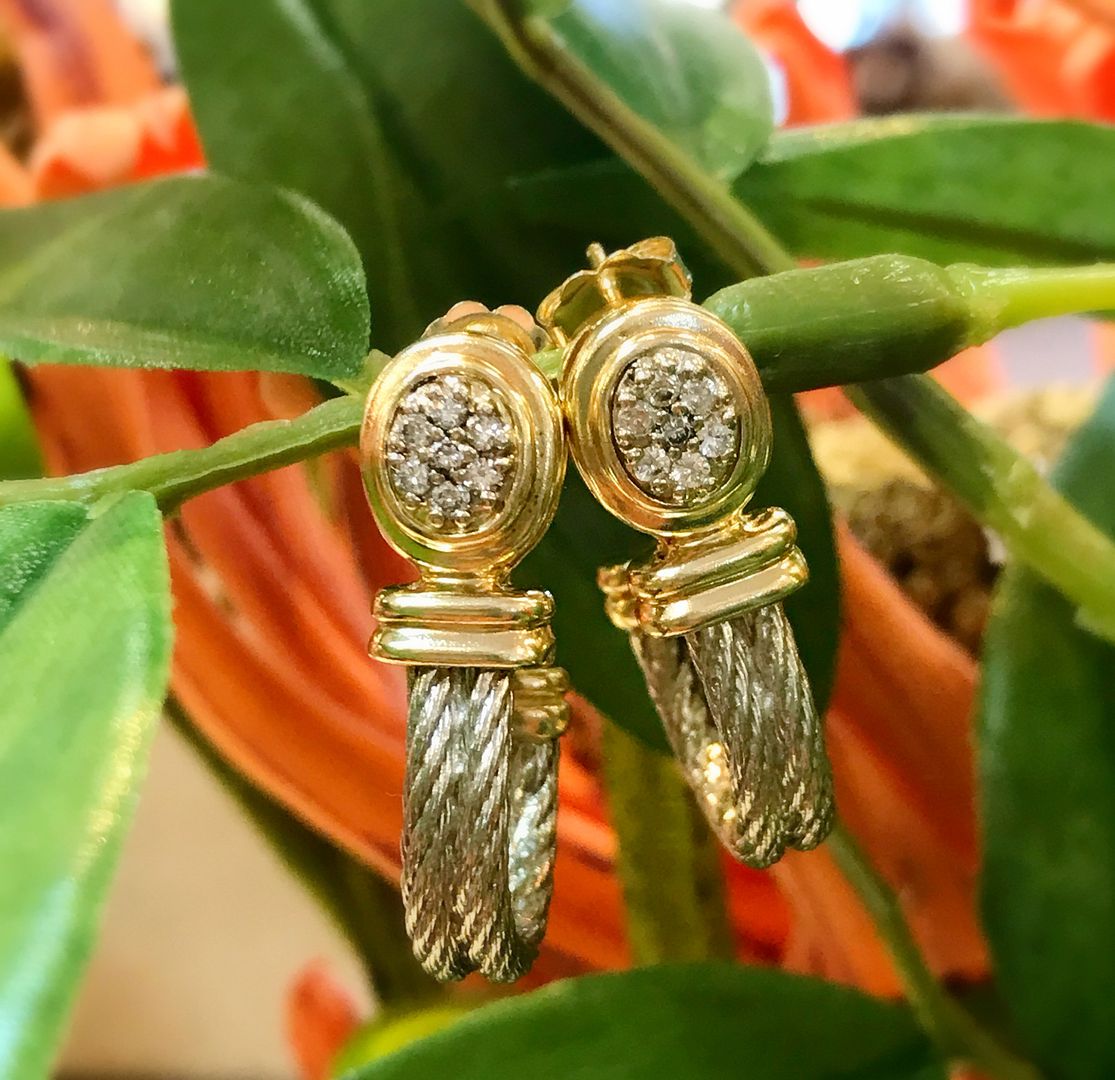 Sterling silver elephant cuffs, $95 each.
Freshwater pearl studs, $155.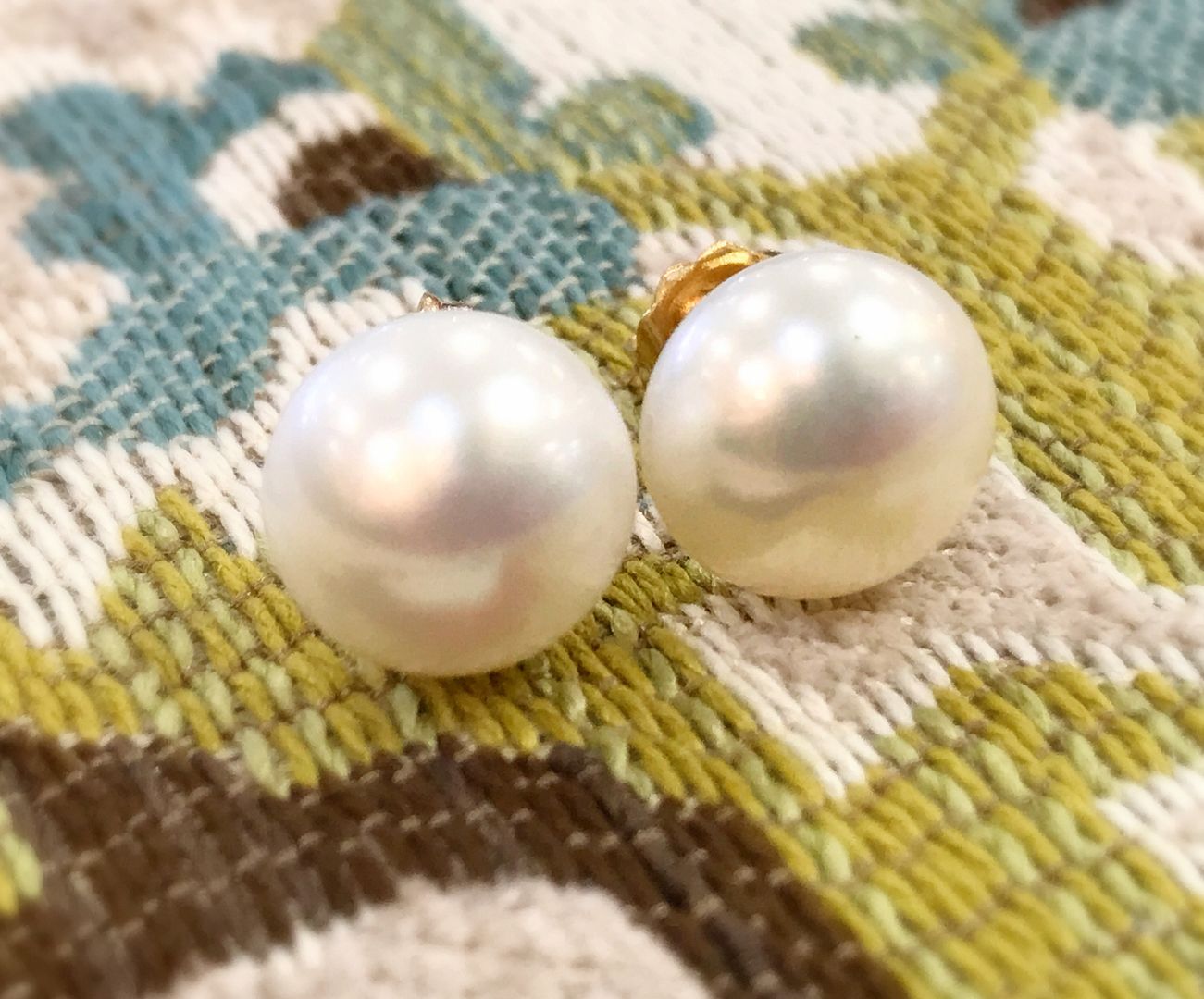 Michael Dawkins pearl and amethyst necklace
in sterling silver, $255.
Tahitian pearl and diamond ring set in 14k yellow gold, $495.
Wide gold domed band in 14k yellow gold with
colored diamonds, $595.
39 inch 18k yellow gold gold bead station necklace, $855.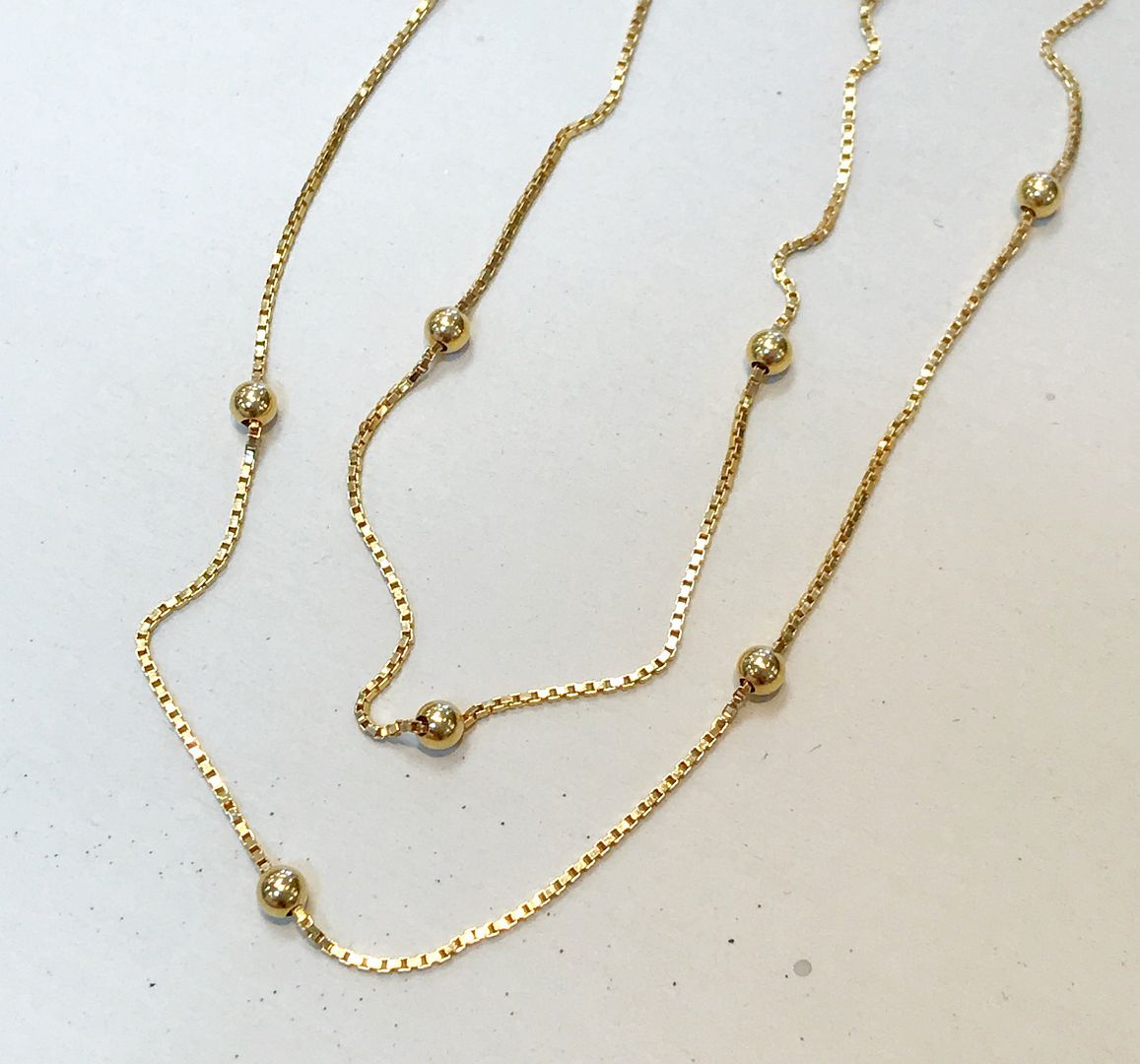 Don't miss your opportunity for a great deal…
come see us this weekend!