A trip to Normandy had never been 
on my bucket list…
It was just a few weeks ago when we were celebrating
Memorial Day at Home Again with hot dogs, wine and prizes.   
I did not know I was soon to understand it's true meaning.
Because soon after Memorial Day, the kids and I departed for
a week in Normandy to watch my husband parachute out of a
plane in commemoration of D-Day. 
I learned how boys as young as 17, with no sleep for 2 days, jumped
in to a country unknown to them, and often way off course.  And immediately went into combat.  Oftentimes facing certain death.
  And through sheer bravery accomplished their mission to pave the
way for our forces to push into Europe.  
 As my son said… "Mom, it gave me fresh eyes
to see what it means to be an American."  
And even though a trip to Normandy was never on my
bucket-list,  I am so much better from having made the trip. 
But what was on my bucket list was a trip to the 
Paris Flea Market…
My most vivid impression was watching the chic vendors simply sitting in the sun, chatting, drinking wine, and enjoying the pleasant day. What a way to do business!  And to be surrounded by furniture that was made in a different century, but still timeless…well…let's just say I showed remarkable restraint not to bring it all back home with me!  
And while I was away, the tremendous Home Again team kept the beat right on coming…filling up the store will all new goodies for you!  So without further adieu…
It's time for 'Les Shopping.'  Oui-Oui!
A WOWZA look…Hand embellished leaf art, $295 ea, 42×62.
Crushed velvet ivory sofa, $695, 92″w. Brand new aqua club chairs, $495 ea. 32″w. Bronzed mirror cocktail table, $236, retails $475.
36″ diameter x 18″h. 
We LOVE this brand new aqua SUNBRELLA sectional…made to
stand up to coastal lifestyles.  $1,895, 88×88. 
Darling floral painting, $295, 42×52. Modern floor lamp, $85.  
Navy is hot hot HOT…Crisp navy club chairs piped in ivory, $495 ea. 32″w.  Designer lamps, $125 ea, 25″h. Underwater fern art, $265, 31×55. Pottery Barn cocktail table, $112. Koi ginger jars, $85 ea.
These Stressless style chairs won't last long at $445 ea, 32″w. 
Reclaimed wood console table, $1,036, retails over $3.000. 89.5x22x33.5″h. Murano glass lamps, $112 ea, 37″h.
Floral art, $325, large scale, 52×62″h.
Large white ginger jars, large $157 ea, small, $85 ea.
The CUTEST resin fish lamps, $125 ea. 29.5″h
  Coastal giclee, $295, 46″ square. 
Turquoise painted sideboard retails $1,564, our price
brand new, $876. 61.5x18x37″h.
Get a SUPER buy on these accent chairs, $325 ea. 29x30x40″h
Custom made wine rack, $265, retails $1,000. 48×13.5×30.5″h.
Gorgeous orange Greek-Key lamps, $175, ea. 30.5″h.
Handpainted abstract, $195, 38″square. 
BRAND NEW swivel gliders in coral, $495 ea, 34x34x32″h. 
This stylish navy sofa with nailhead trim won't last a
hot minute…$595, 80″w. Pillows, $25-$42.
And while you are shopping at Home Again, don't forget to
LOOK UP… WE HAVE THE BEST CHANDELIERS!  
Priced here from $265-$795!
JUST IN…Blue sectional, $1,195, 113×82.5″ chaise side. 
Landscape abstract, $155, 60×24″h. Seagrass coffee table with wooden legs , $175, 32x32x16″h.  Throw pillows, $28-$42.
Handsome, confident pelican giclee, $395, 41.5×48.
Floral oil painting, $275, 42″square. Seafoam lamps, $112 ea, 27″h. Wormwood sideboard, $476, 45.5x20x29.5″h. 
Khaki swivel barrel chairs just $295 ea, 33x32x29″h.
This Chinoiserie cabinet won't last long at $595, 55×18.5×33″h. 
White ceramic lamps, $125 ea, 31″h.
Vibrant sailboat art, $295, 48×36.
Just in on consignment, this 60″ distressed dining table is a STEAL at $495! Wooden lamps, $85 ea, 28″h. Accessories, $12-$22. 
Adorbs ivory settee, $395, 50.25x30x34.75″h. Shoreline giclee, $495, 57×32. White 2drw console, $220, 40x15x31.5″h. Grey tufted storage ottoman, $292, 31.75″ diameter x 17.5″h. 
Handsome almond sofa just $695, 87″w. 
Hand embellished dogwood art, $195, 40″square. 
Table designer lamps, $145 ea, 29″h. 
Queen headboards on parade…at STEAL prices!
$95-$196 ea.
Such a unique cabinet, distressed wood with metal pulls, $525, 47x24x30'h. Lamps sold, sorry. 
​Highly textured boat art, $295, 48″ square.
On consignment…highest quality soft blue down filled chaise lounge, a deal at $325.  32x65x36″h.
Great looking linen chofa piped in chocolate, $895, 92×65.
Shoreline giclee, $495, 57×32.
Original abstract, $175, 41.5″ square. 
Seafoam lamps with seagrass shades, $125 ea, 35″h. 
Such a fan of this distressed qua-trefoil chandelier with gold undertones. Sells for $773 on Wayfair, our price $295!
24" diam 27"h 
This huge floral art in shades of grey, blue and green is such a scene stealer…$325, 52x62h. 86"sofa $595, oval coffee table
$175, 52x34x19 

Imagine dad's delight when you can gather round this nice outdoor table for Father's Day…
Table and six swivel chairs, $1,595! 71.5×41
This hand inlaid wooden mirror in neutral tones will be a subtle but rich accent to any wall! $195 30×40.
😍Green swivel chairs, $395 ea, 28.5×32.5×34"h.
Ivory & gold mirror, $395, 26.5×70"h. Uttermost art, $225, 45×52.
Lamps $125 ea, 32"h. 
Golden goddess…$495, 26×30"h
Linen recliners, $445 ea! 29x35x39"h. Sea foam lamps, $112 ea, 30"h. 30" black wooden table, $245, 28.5"h.
Vintage wood & metal hutch, $395. 51x15x70"h
We LOVE these dark taupe Greek key chairs, $325 ea, 29x30x35.25"h
Is owning a piece of designer jewelry on your bucket list?  We got you.  For less.  Much less.  
Lorenzo sterling silver and 18ky gold ring, $195.
David Yurman sterling silver and 18ky gold ring, $295.
David Yurman color classics blue topaz ring in
sterling silver and 18ky gold, $295.
Ippolita lollipop peridot and diamond earrings
in sterling silver, $395.
Lollipop peridot and 18ky gold necklace, $415.
Tiffany and Co sterling silver and 18ky gold ring, $195.
Sterling silver Tiffany lock ring, $150.
Matching Tiffany lock necklace, $295.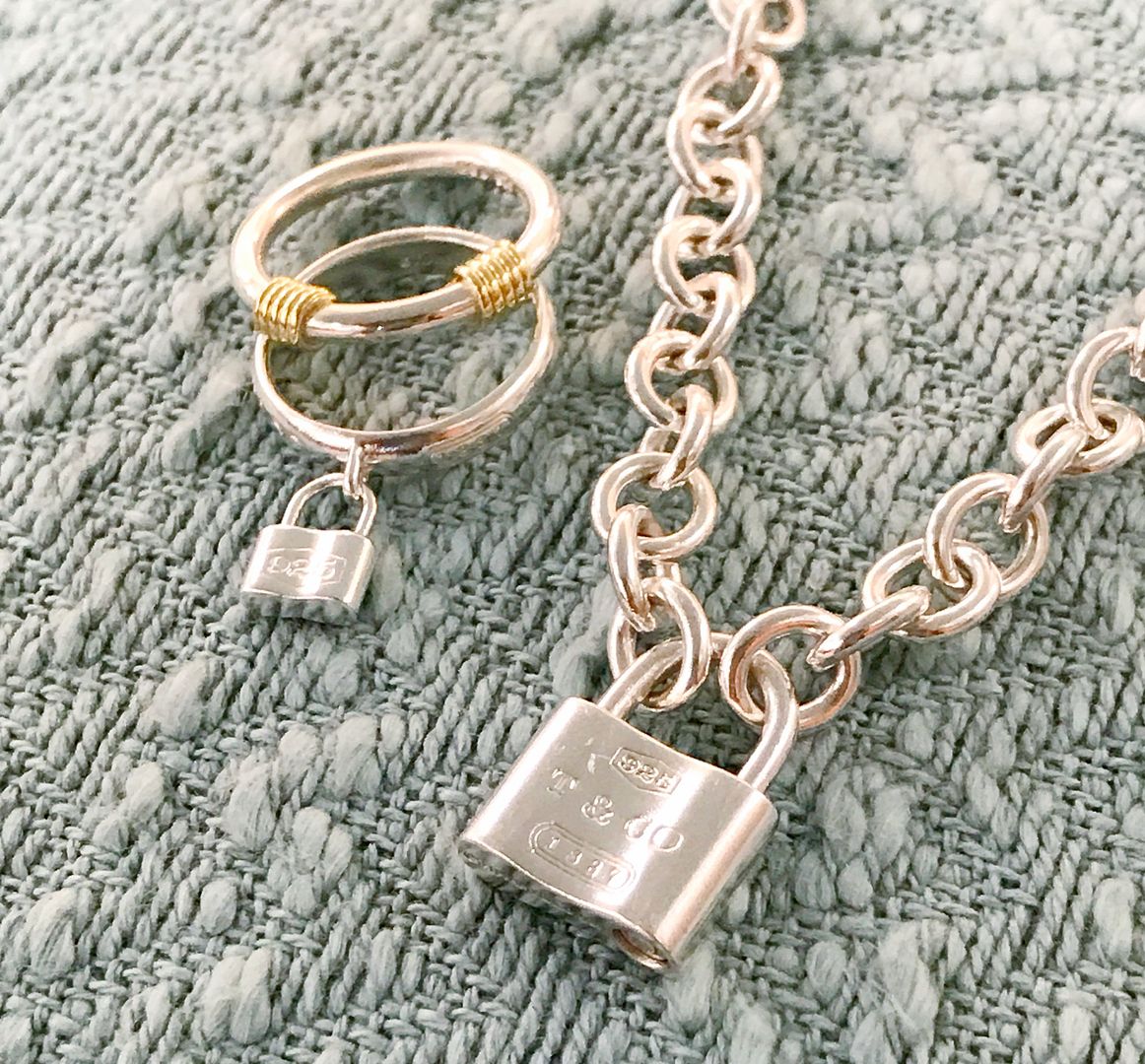 Such a cool 18ky gold and enamel ring stack.
Prices range from $155 to $395.
Tiffany & Co extra large sterling silver
double wheat necklace, $795.
Matching bracelet, $395.
Check out all these just in pieces from
Roman and Jules!
3.0ctw EGL certified natural sapphire with 1.17ctw in pear shape and round diamonds in 18k white gold, $10,395.
1.95ctw GIA certified natural sapphire with.43ctw oval
diamonds in platinum setting, $7,695.
 2.67ctw tanzanite with .48ctw round diamonds, $4,595.
.46ctw diamond and 1.14ctw sapphire earrings in
14kw gold, $2,975.
 .11ctw diamond earrings in 14kw gold, $545.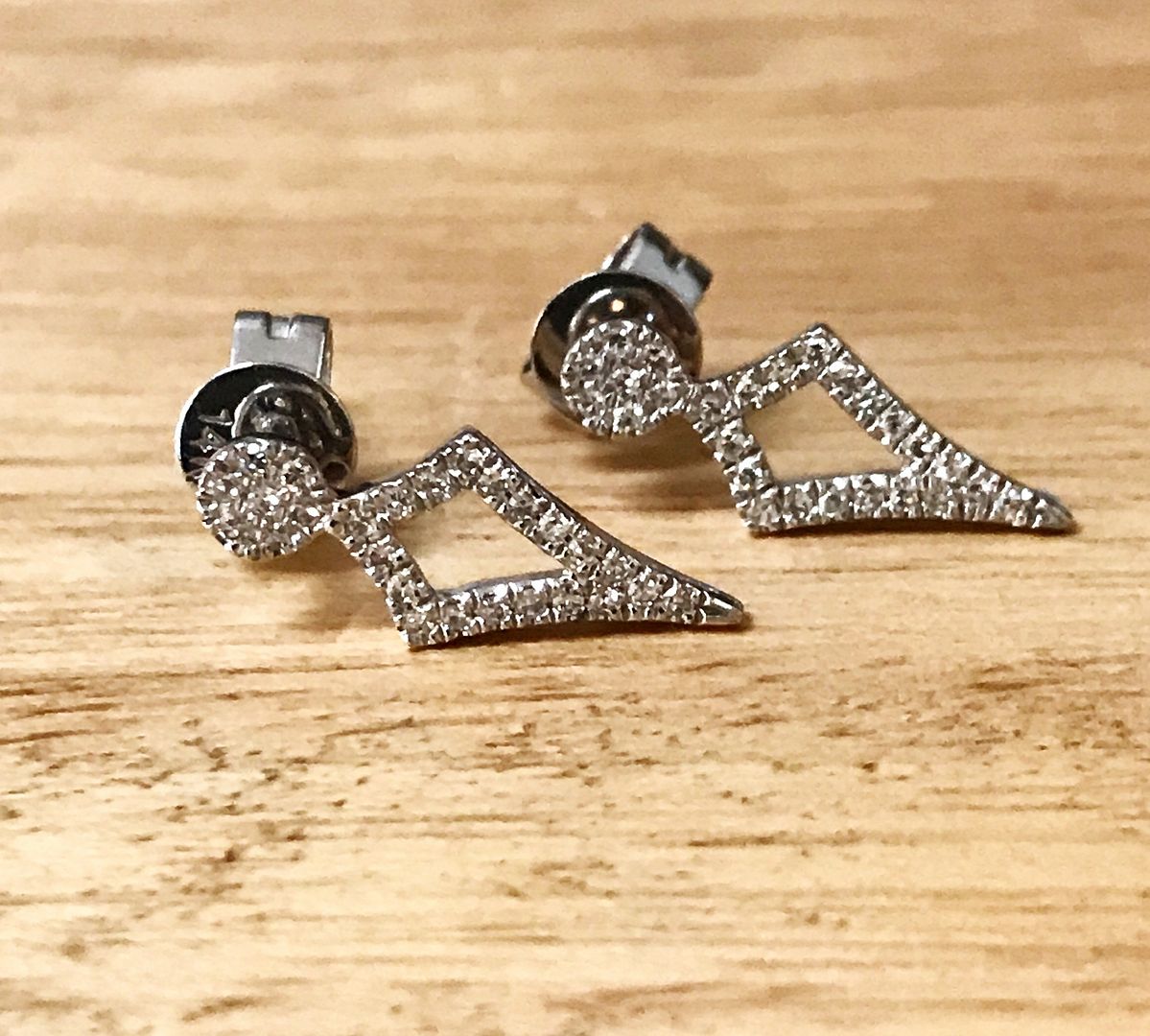 Roman and Jules .19ctw diamond and
1.36ctw sapphire earrings, $2,535.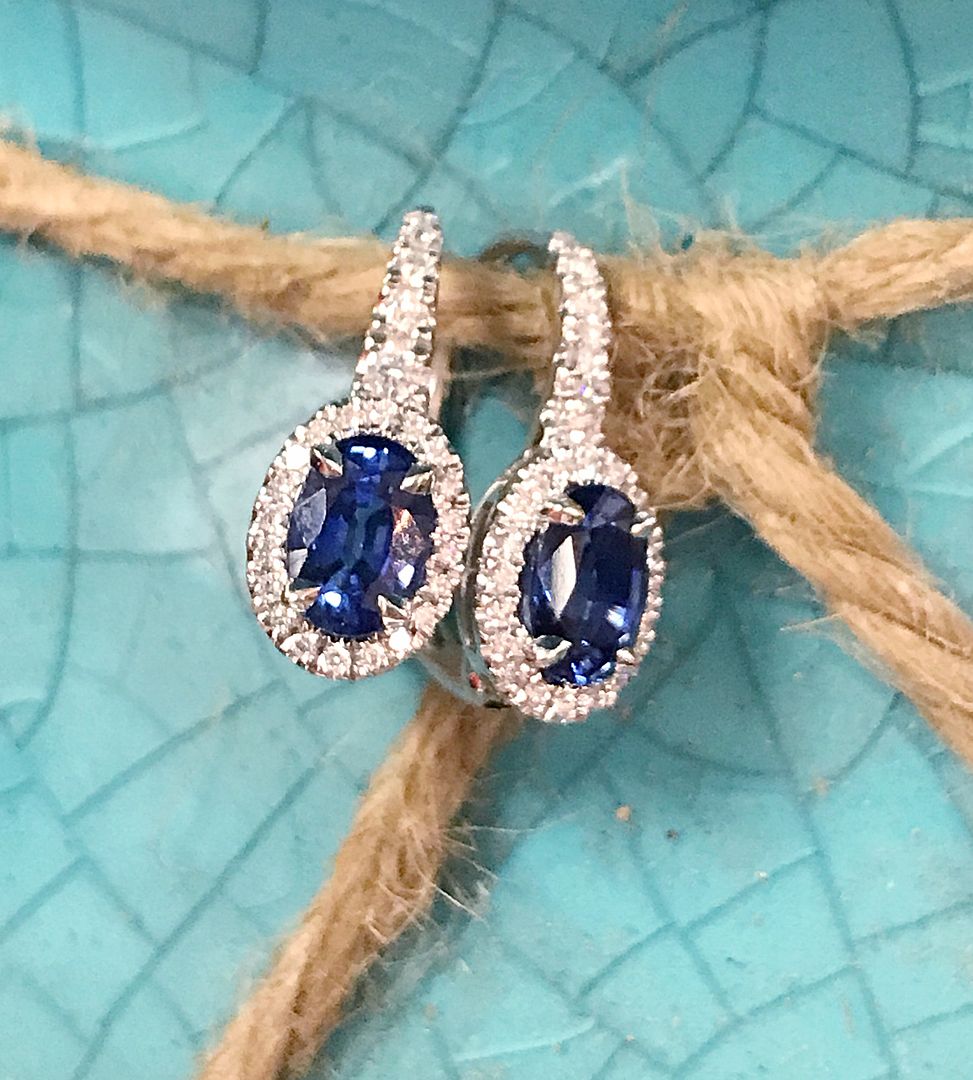 .88ctw diamond wide band in 14k white gold, $3,425.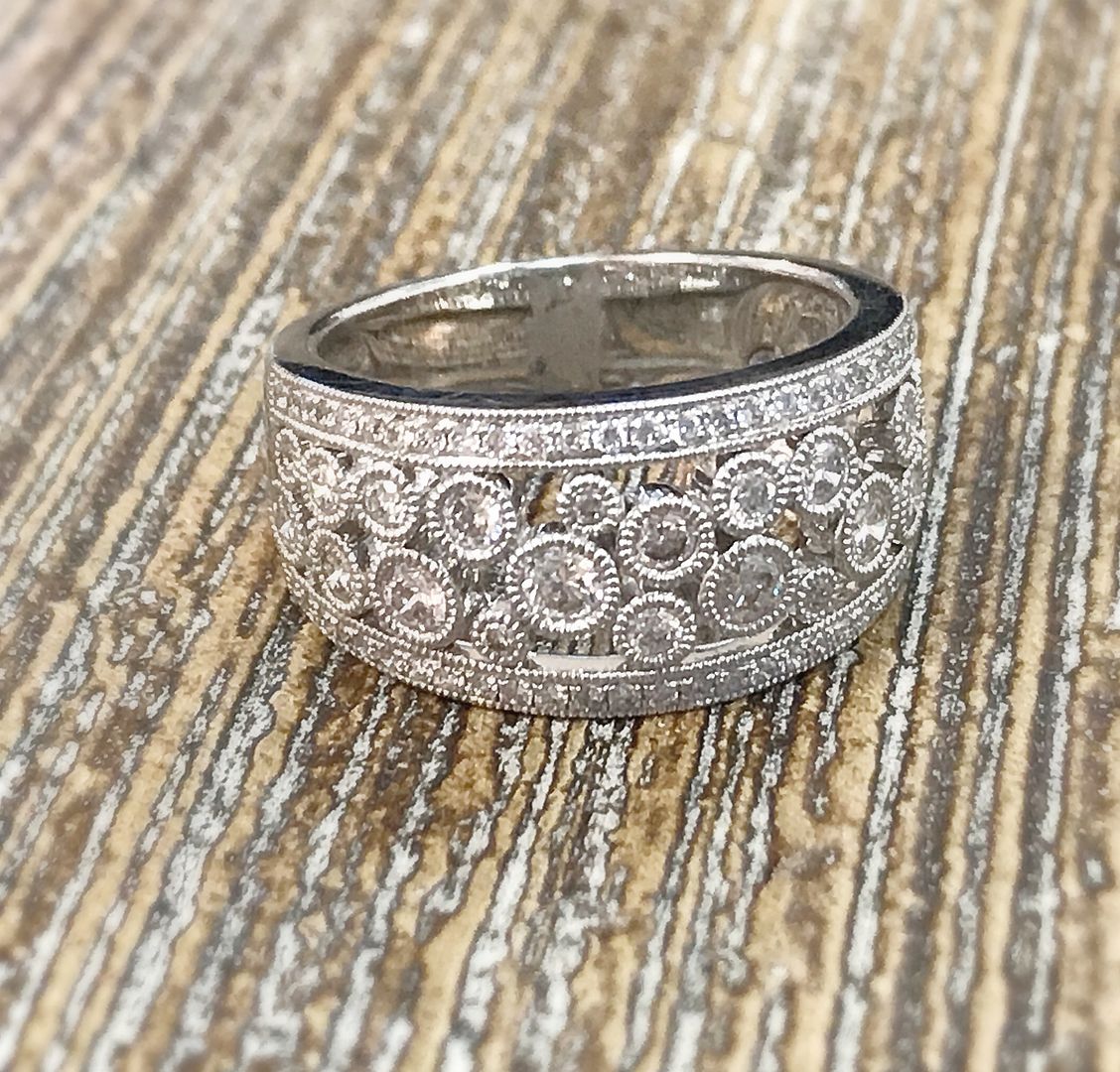 Check out all these sparkly new bands from Roman and Jules.
Prices range from $1,495 – $5,835.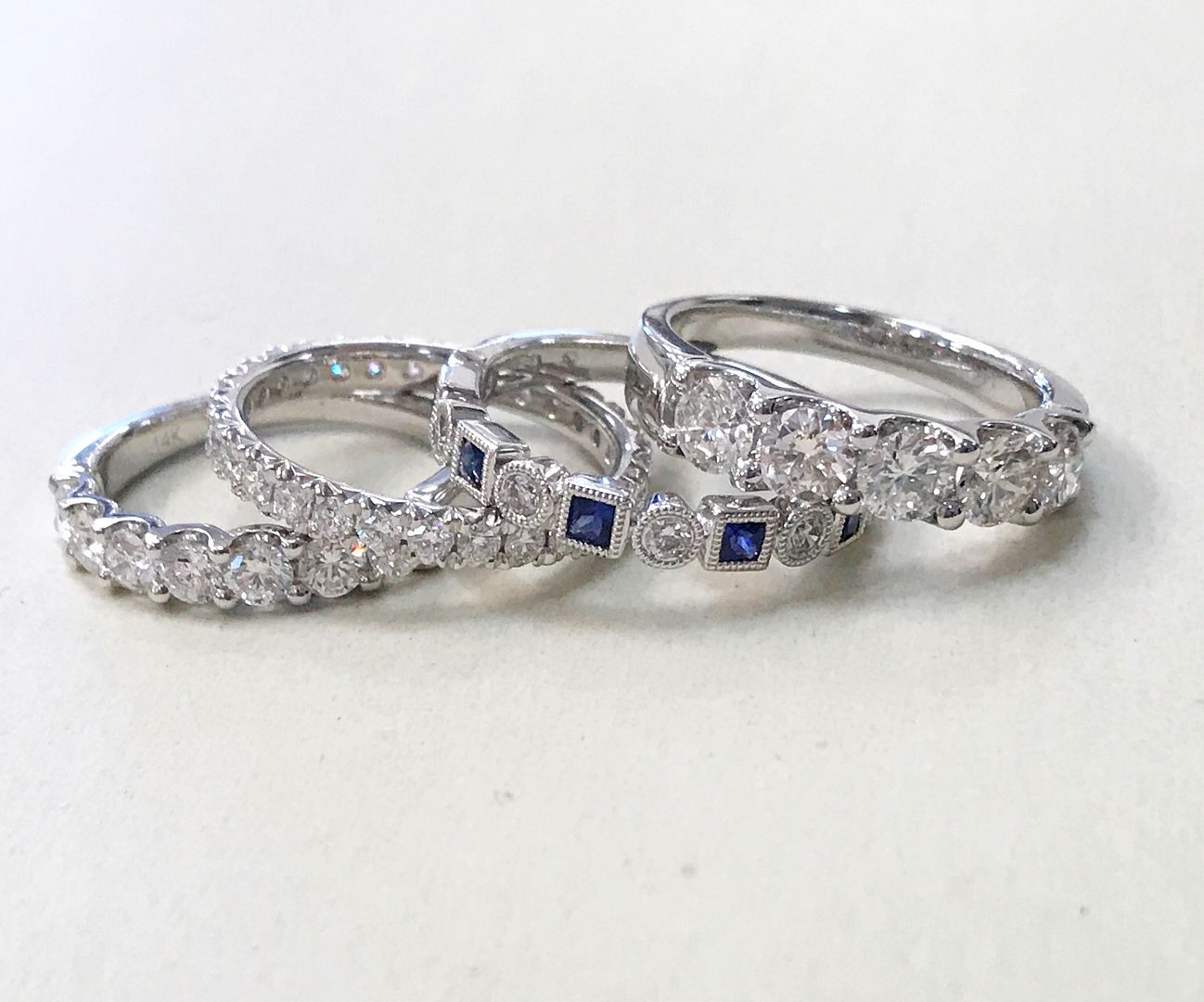 .12ctw diamond band in 14k white gold, $1,125.
.22ctw diamonds bands, $995 each.
Roman and Jules 1.98ctw diamond crossover band in
14k white gold, $7,185.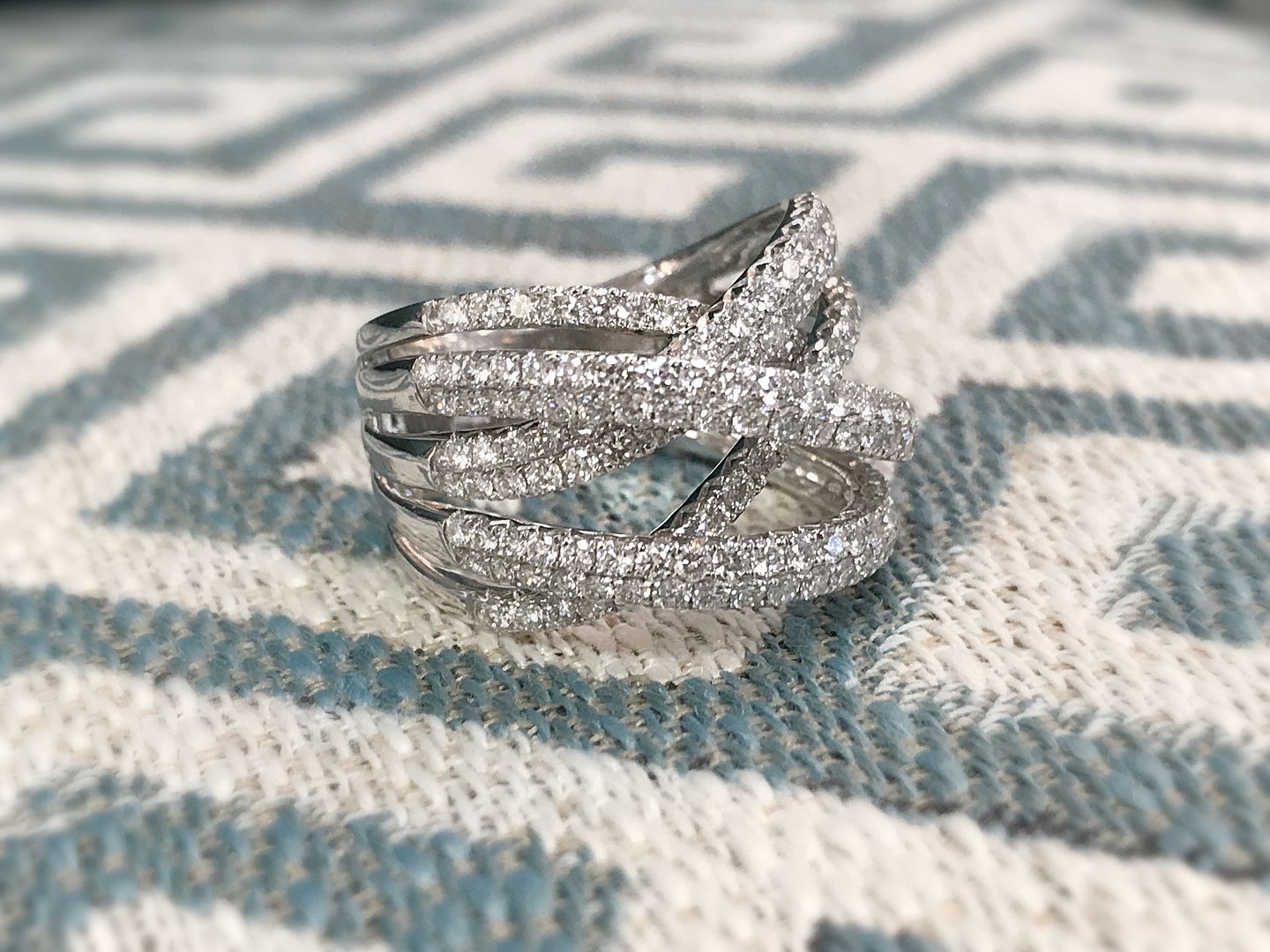 We are loving all these new consignments!
.83ctw G color SI1 clarity diamond circle pendant
in 18k gold,  $1,395.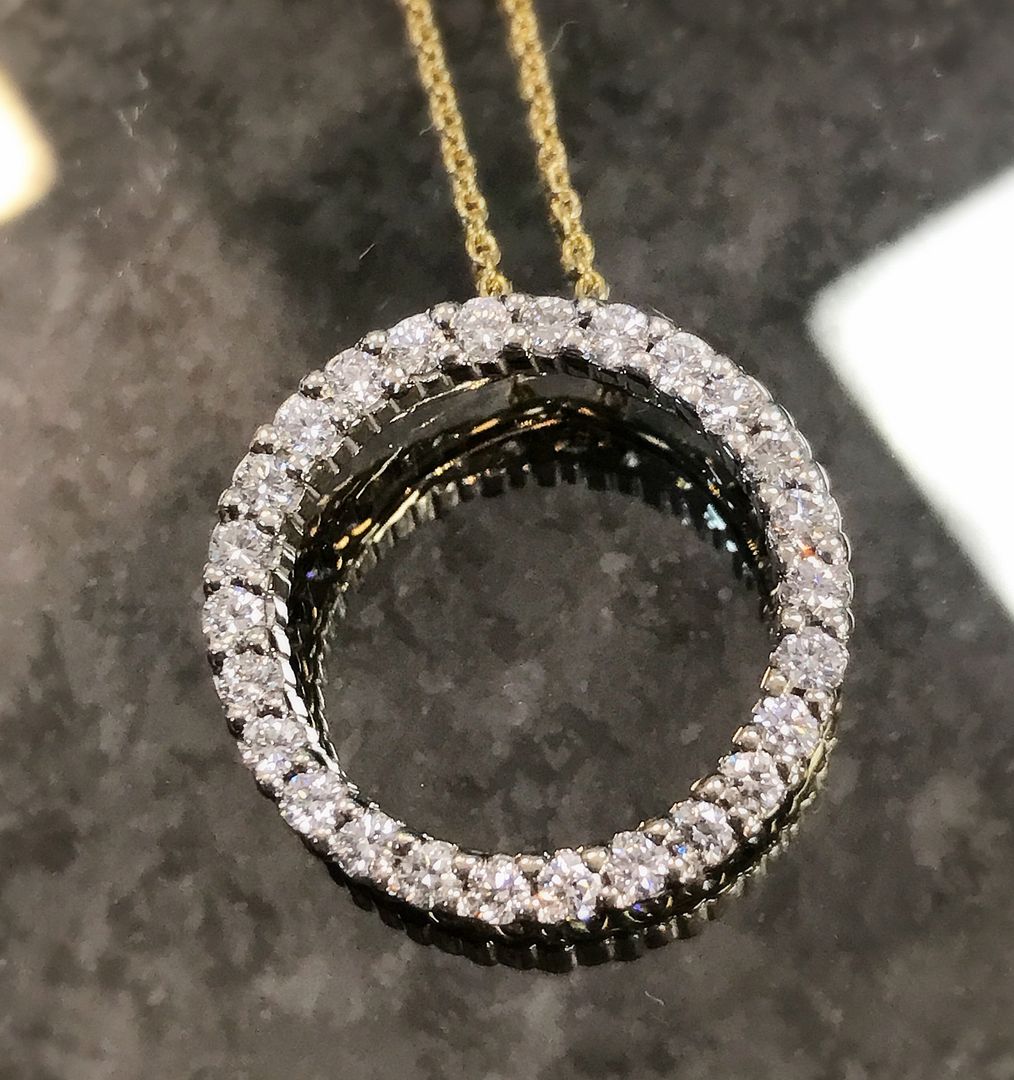 .90ct H color VVS clarity emerald cut diamond
in a .85ctw and 14kw gold setting, $5,995.
2ctw G-H color VS2-SI1 clarity diamond eternity band
in 14kw gold, $4,995.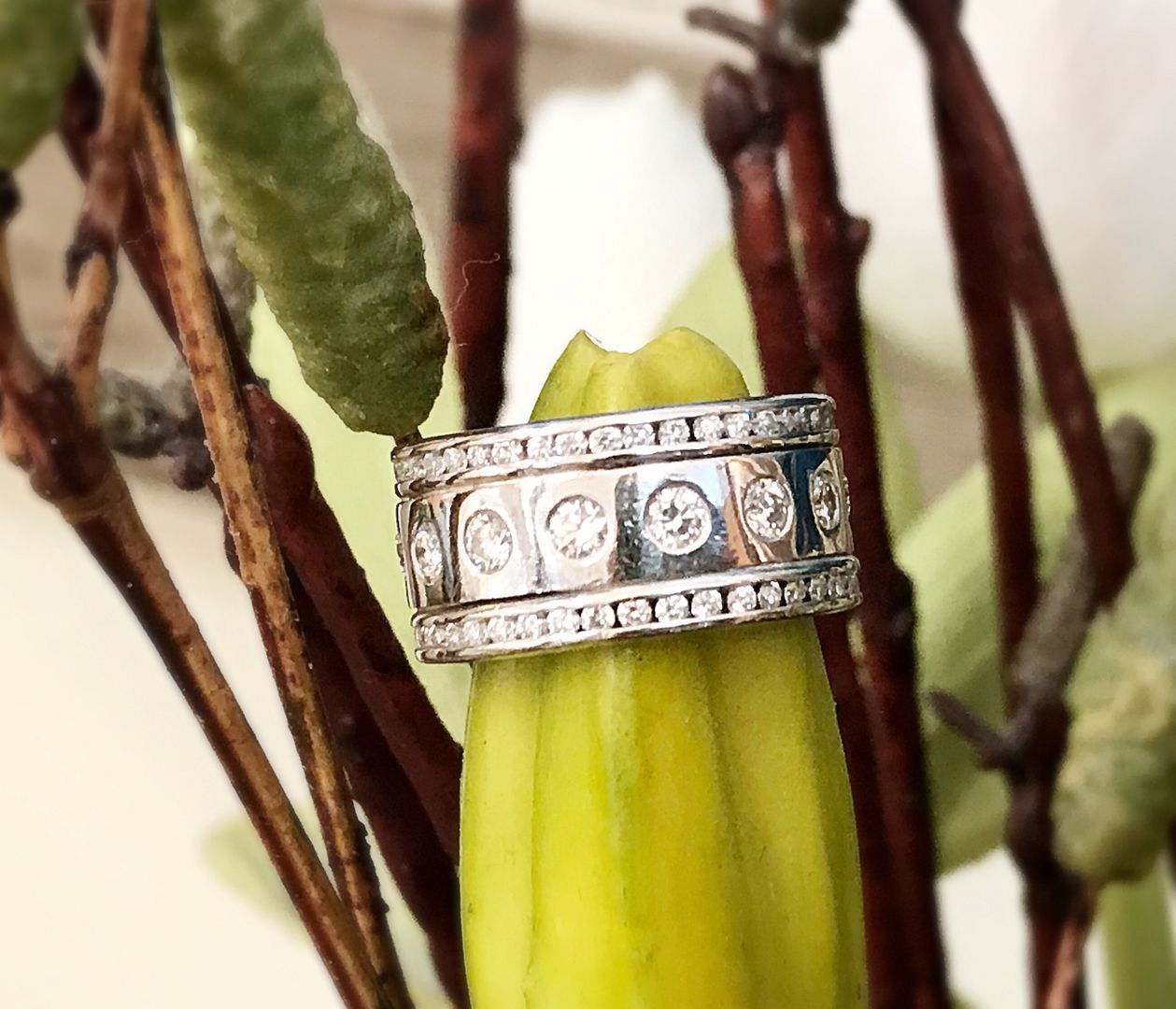 88.4 grams of 18ky gold in a .5″ wide link necklace, $6,395.
Matching 38 gram bracelet, $2,595.
48 grams of 18ky gold in a .75″ wide 7.5″ long bracelet $3,395.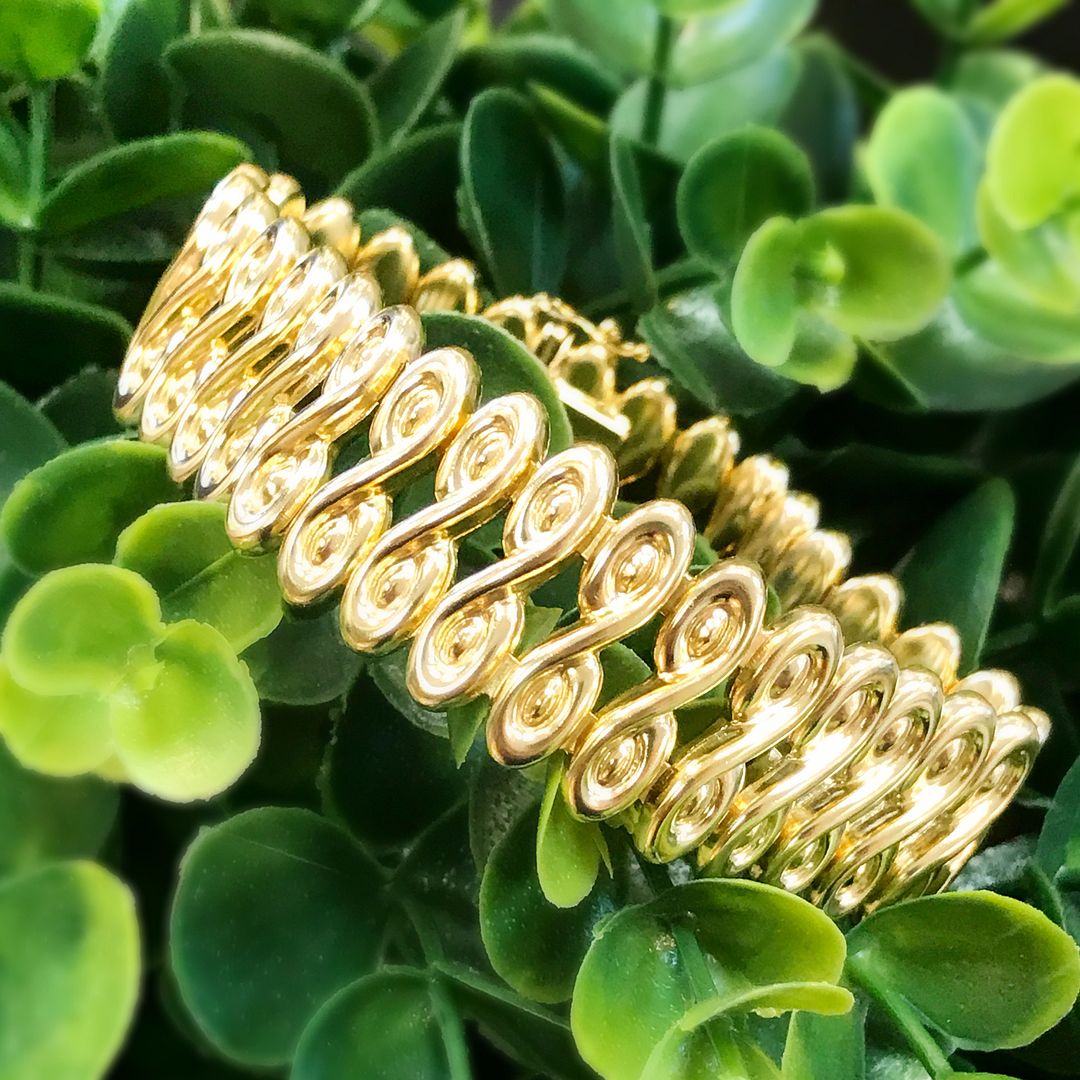 Sapphire cross pendant in 14ky gold, $250.
(Sorry, hoop earrings are sold).  
Amethyst and 14ky gold ring, $395.
Amethyst and 14ky gold earrings, $295.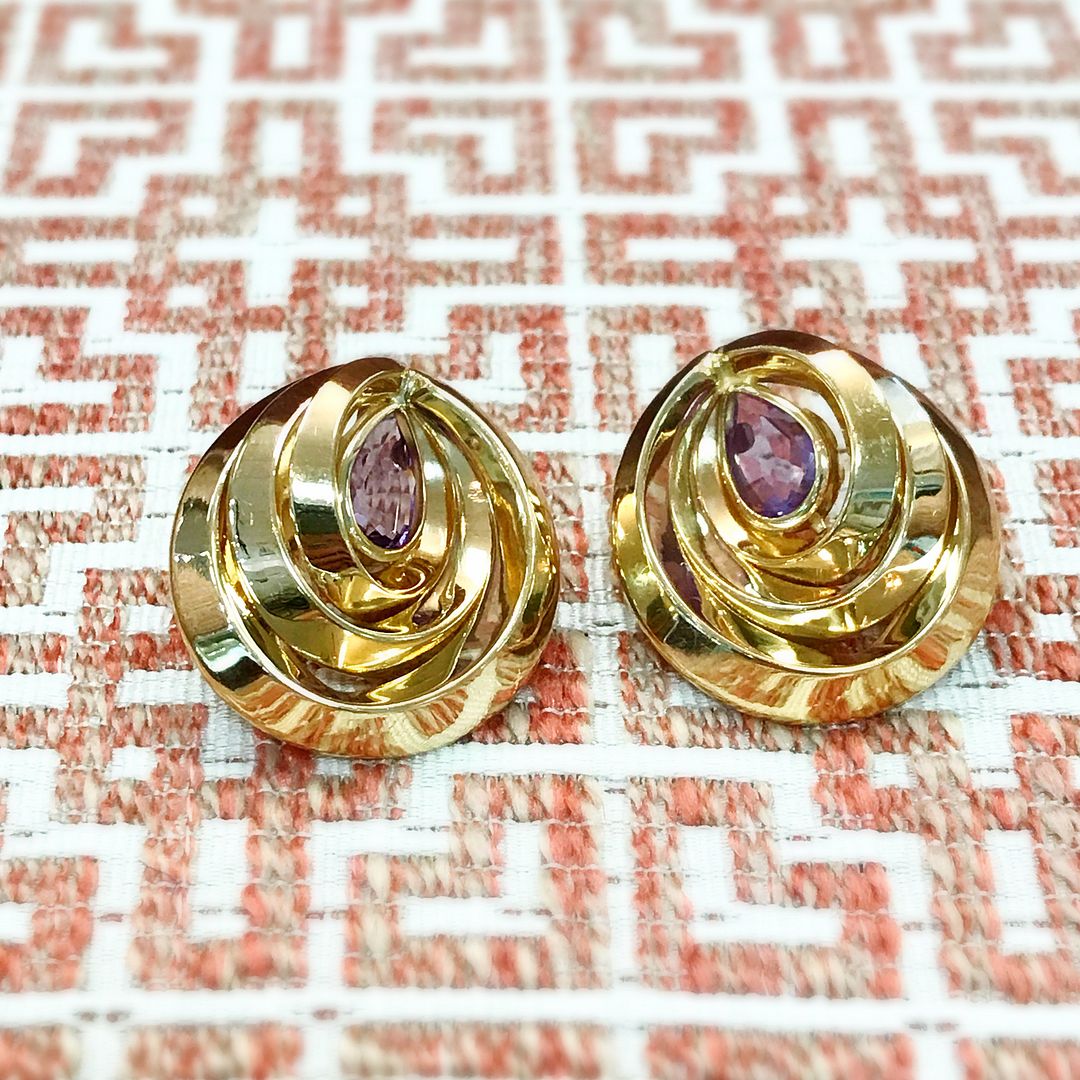 Isn't this pretty? 
Pearl and emerald ring in 14ky gold, $595.
36″ sterling silver rope chain with sterling
heart pendant, $95.
Just reduced consignments! 
.45ctw diamond flower earrings in 14k rose gold.
Were $995. Now $636.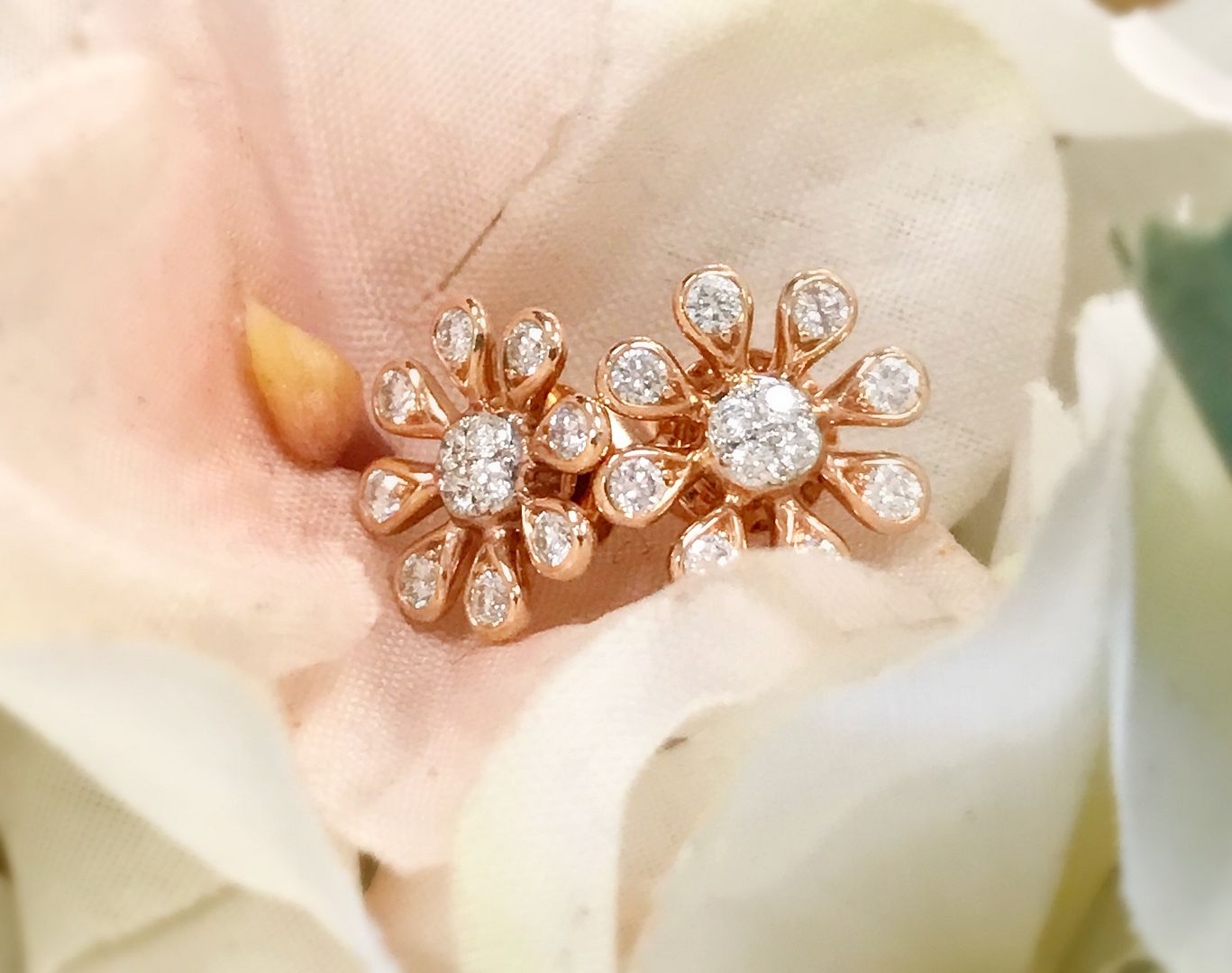 Peridot and diamond 14ky Le Vian necklace.
Was $795. Now $476.
Le Vian diamond flower pendant. Was $1,995. Now $1,276.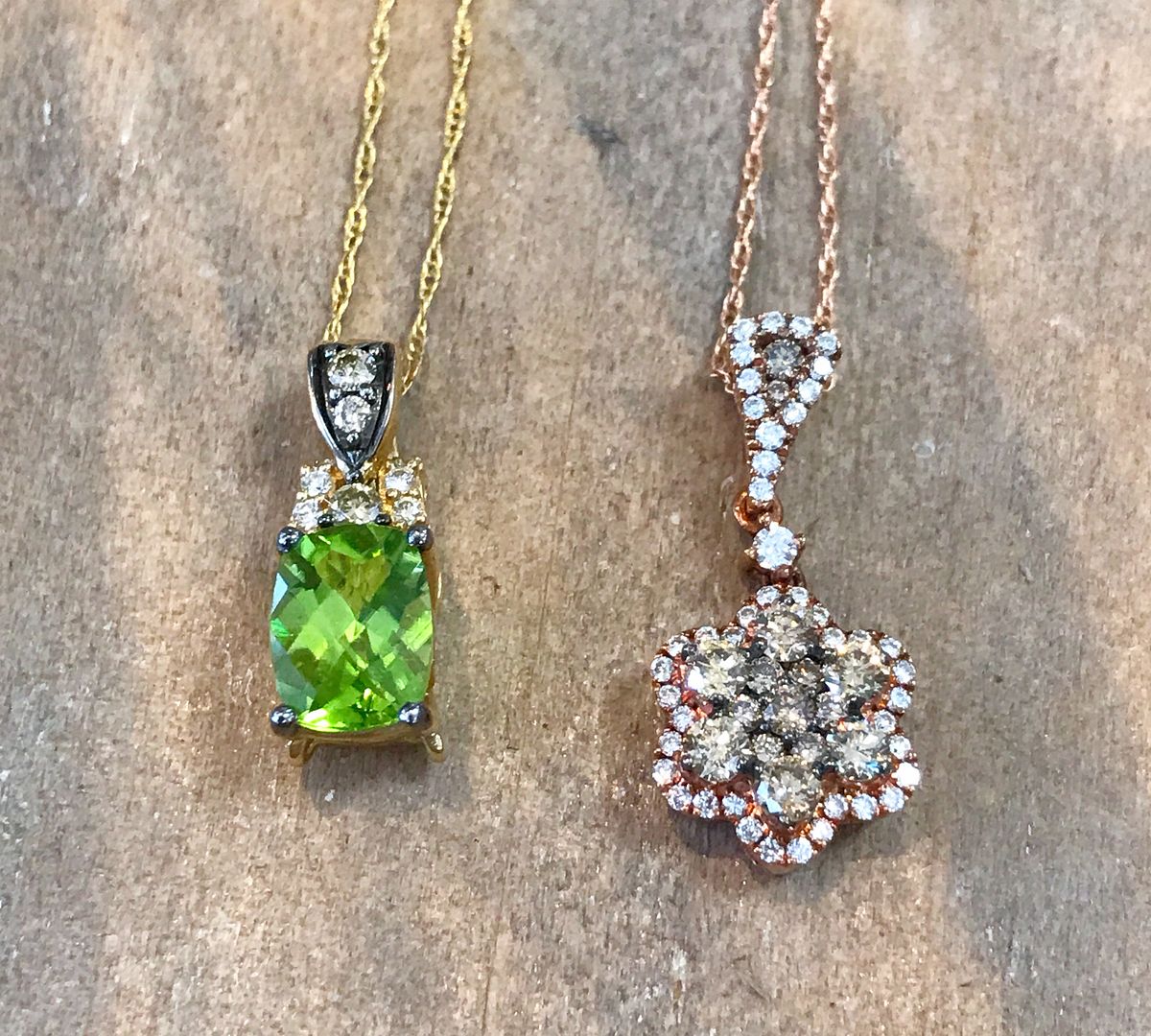 This weeks features from the sale case.
Buy one at 40% off
or
Buy one at full price, and get one FREE!
2.35ct oval ruby with .43ctw diamond accents
in 14kw gold, $3,995.
5.76ct Fantasy cut Aquamarine by Chris Wolfsberg set
in a 1.34ctw diamond and 14kw gold setting, $6,795.
 3ctw SI clarity HI color diamonds inside out set into
14k white gold oval hoops, $6,295.
 2.10ctw SI clarity HI color diamonds set into
18k yellow gold oval hoops, $3,495.
.86ctw diamond necklace in 18kw gold, $3,695.
.42ctw diamond 1 inch dangle earrings in
14k two tone gold, $1,075.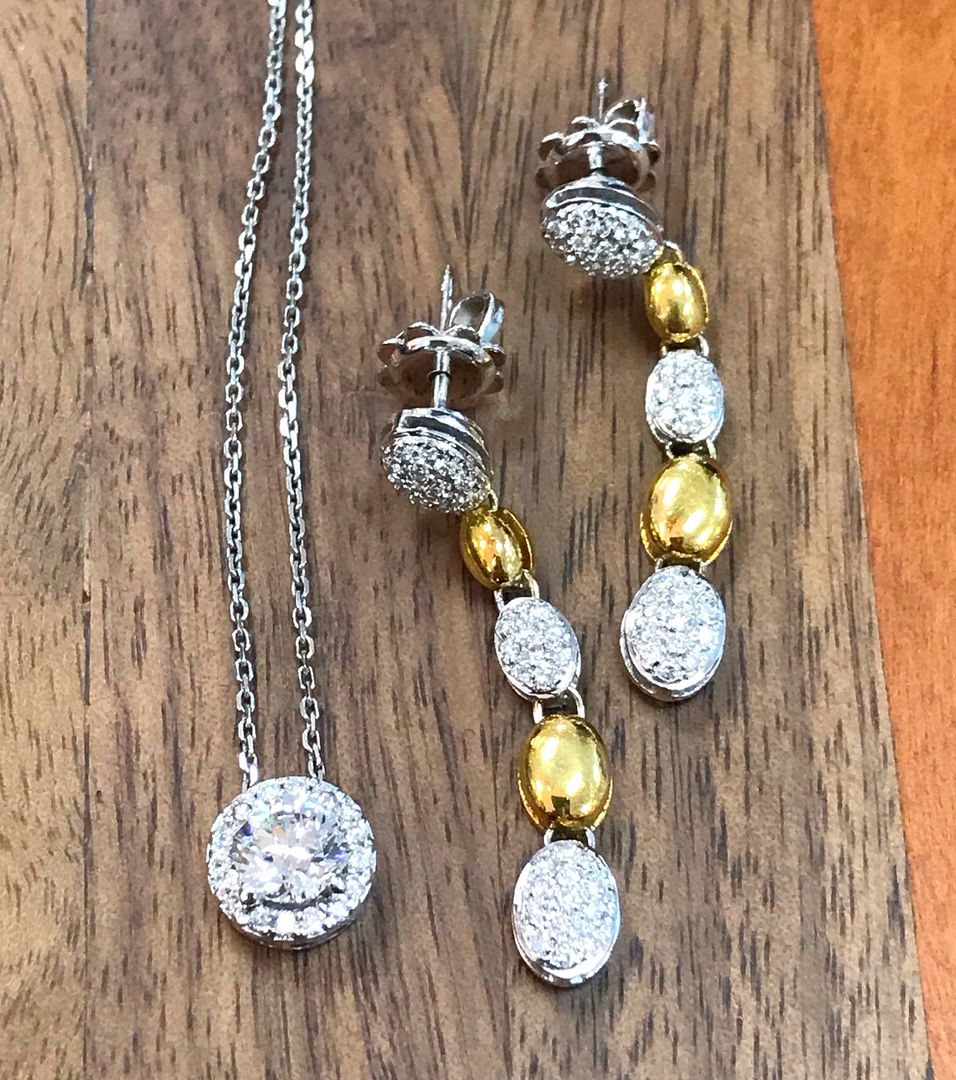 Custom creations by Lumina Gem…WOW…
Brad is forming this organic flow bubble ring
by melting beads of wax. 
We can't wait to see this cast and finished.
Another custom success! We loved designing this wide diamond
ring and couldn't be happier with how it came out.
Thanks for reading our email
and have a great weekend!