😍Are you ready to FALL in LOVE? 😍
Your heart beats faster.
The thought of them makes you smile.
You feel a genuine rush when you think of them.
If you love a bargain, your heart will go PITTER-PATTER when you see this week's new arrivals…
& to sweeten the deal,
join us and many other Forum merchants on Saturday for the 'START OF SUMMER' SIDEWALK SALE!  
Happy shopping everyone…here we go!
We just love how this vignette came together…
Linen sofa by Magnolia Home Furniture, brand new for $925, 88x40x38″h. Green bamboo buffet lamps, $145 ea, 43″h.
Wooden geometric wall-mount shelf, $265, 40×12.75×40″h. Accessories & pillows, $8-$55.
Poufs sold, sorry.
Here's a closer look at this COOL shelf!  
 $265, 40×12.75×40″
Magical… we are loving this glimmery large scale abstract, $325, 51.75″ square. Mirrored credenza, on consignment and a steal at $350, 60x12x36.6″h. Glass hombre lamps, $95 ea, 28″h. 
SO cool…vintage church pew, $395. 88x18x33″h.
This mirror is WHITE HOT. 
Large scale white lacquered mirror, $495, 40×60.
Can be hung vertically or horizontally. 
Blue sofa just $595, 85x37x39″h. Coffee table, $356. 48x24x17″h. 
Pillows and accessories, $18-$95.
Just in on consignment…the cutest pale sage queen headboard, $165, includes metal bed frame.
Coordinating side table, $65, 20″diameter x 28″h.
This power reclining sectional by Catnapper is on consignment but it still has the new tags on it!  Retails $3,326, our price $2,295.
Generous size, 136x141x65″ chaise side. Ornate coffee table retails $642, our price, $345. 54x32x20.  Coordinating side table retails $539, our price, $225. 27x27x23.
Classic washed gray and black credenza, $495, 58x18x38″h. 
Beach birds giclee framed in driftwood, $275, 37″ square.
Turquoise distressed lamps, $70 ea, 30″h. 
So many goodies packed into one corner…
Blue swivel chairs, $395 ea, 30x32x30″h.
Gold lamps, $125 ea, 32″h. Abstract art, $225, 47.25×34.25.
Drop leaf console table, $292, 52×18 as shown. Folded out, 52×36.
Geometric gold & white mirror, $395, 26.5×70″h.
The WHOLE FAMILY (and the neighbors, too)
can gather around this one…
This espresso pub table and 10 chairs retails $1400.  It was consigned, but it came to us brand new. The top has a dented spot (which we have touched up) so we have priced to move at $695.
As shown, 90x44x36″h. Includes two 18″ removable leaves. 
Just in…modern light grey chofa, $895. 90×79″ chaise side. 
Shabby black bookcase just $395, 70x14x74″h.
Soft and neutral for the WIN…91" long taupe sofa $695,
framed abstract $248, 49.75×38".
Just in on consignment…this handsome 'Villa Sonoma' queen
bed retails for $1,499, our price, $595. 66×98″h.  SCORE.
These won't last…two white swivel 24" counter stools in perfect condition just $190 for the pair.
Consignment score…Queen washed headboard $295,
matching bedside tables $175 ea, 28x17x29h.
More amazing deals. We have the original receipt for these Bassett chairs for $979 ea, our price $395 ea. 30"w.
Rich wood 4-drawer cabinet trimmed in gold, $145 30×18.25x32h. Matching end table $95. 26"diameter 20"h.
Handsome greyish-taupe sofa with wooden trim, $595, 82x36x39″h. 
24" counter stools just in! Just $84 a pair.
These won't last but a hot minute.
TRICK YOUR PATIO OUT RIGHT…
Here is the OUTDOOR grouping of your dreams…curved sectional
in dark espresso powder coated aluminum, brand new for $2,795. 100×100. Coordinating coffee table, $395. 49.5x30x19″h.
We also have TWO of these swivel chairs available, $525 ea. 33.25×32.25×37″h. 
Literally just coming in the door…Fabulous shabby black console with blue washed top, just $175. 44.5x19x30.5h.
Grey microfiber arm chairs in great condition,
just $175 each! 24x27x36"h
Original Steve Brent abstract art with very unique asymmetrical frame shapes. $275 each, Both retail $1500 ea.
Top measures 68×32.5. Bottom 79×28.5.
Come get at AMAZING DEAL on this Drexel Heritage chinoiserie hutch, ON SALE for $495! 56x15x80h.
👀What a deal and just in on consignment…great quality full storage bed, $395. Headboard is 62×54"h. 6-drawer dresser, $275, 37×17.25×49"h. Coordinating bedside tables, $125 ea, 20×17.25×32"h.
More matching pieces…4-drawer dresser, $250, 48x17x24"h.
Tall accent table, $75, 18x18x32"h.
These STUNNING teal lamps retailed at a local high-end store for $500 ea, our price $245 ea. 29"h.
Another SMOKIN' HOT DEAL…this timeless lighted cabinet is now just $495! It retailed for for over $2,000. 54×18.5×83"h.
Golden goodness…
42" round geometric mirror just $185.
Lots to look at! Jellyfish panels $145 for set, 15.75×39.5h,
full white headboard just $50, navy and lucite lamps $125 ea, 25"h, beige chest $325, 36x16x31.5h
Check out just one of FIVE new chandelier racks we installed this week. Wow. It is really light and bright in the store,
and WE LOVE IT.  
And in case you didn't know, 
we only want the best for you…  
😍
We just LOVE designer consignments…
and this week's new arrivals are off the charts!  
David Yurman sterling and 18ky gold earrings, $695.
Yurman 16 inch silver and 14ky gold, $795.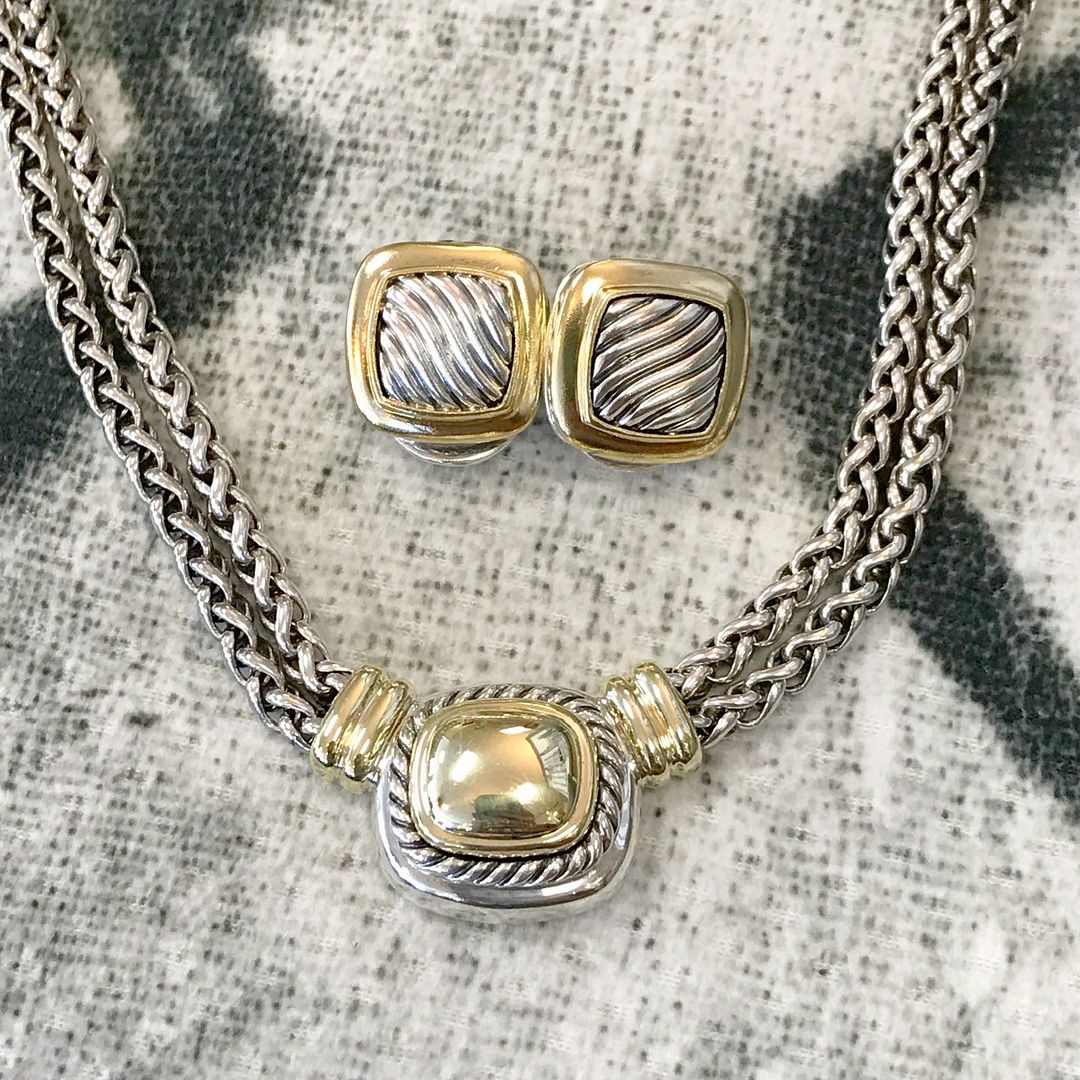 David Yurman sterling silver and 18ky gold crossover pieces.
Cuff-$685    Ring-$395
 Effy D'oro diamond flower earrings in 14k two tone gold, $4,195.
Roberto Coin 5 diamond station necklace in 18ky gold, $745.
Effy watercolor 3.3ctw multicolor sapphires and .25ctw diamonds in 14ky gold earrings, $1,495.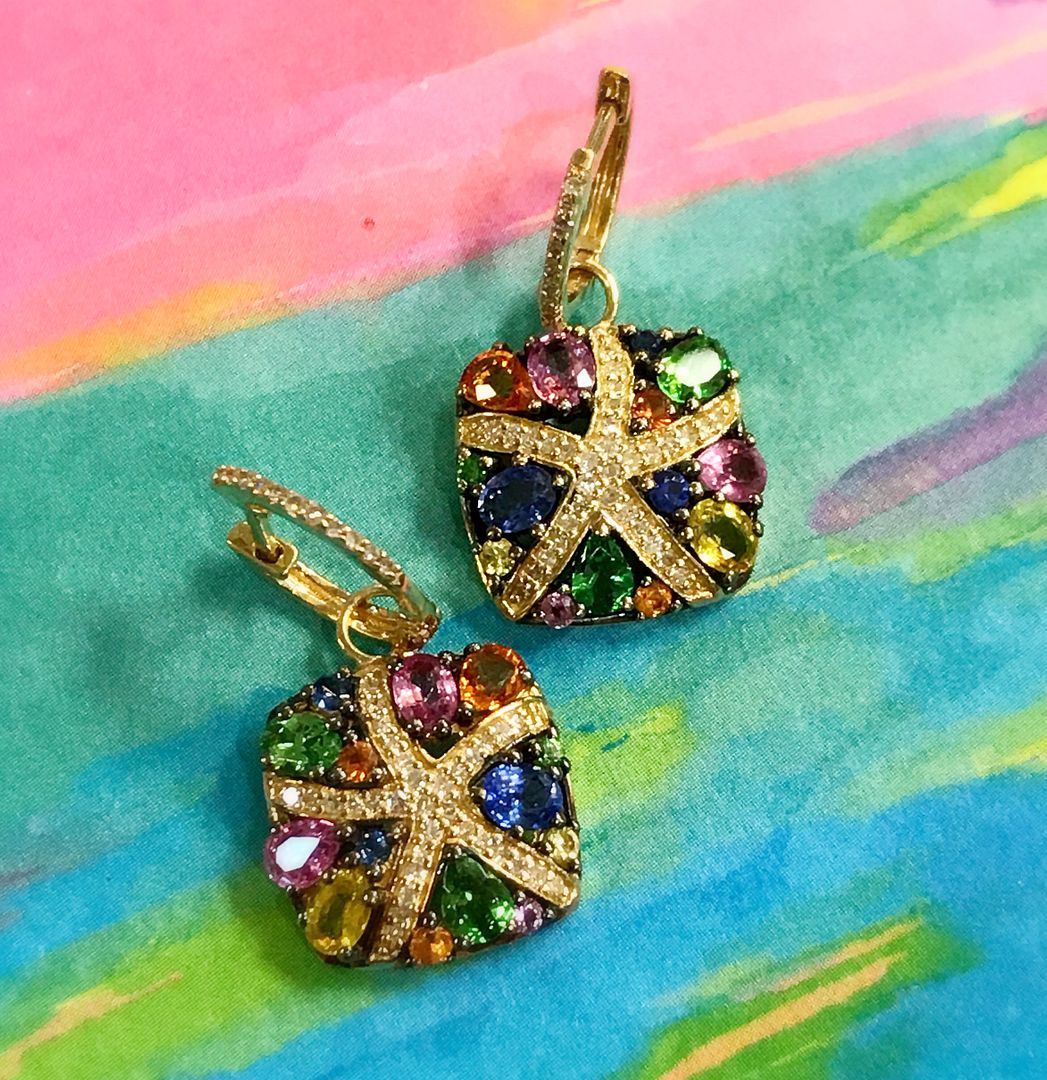 Michele watches GALORE!
Urban square with blue dial, $375.
Round dial with black band, $95.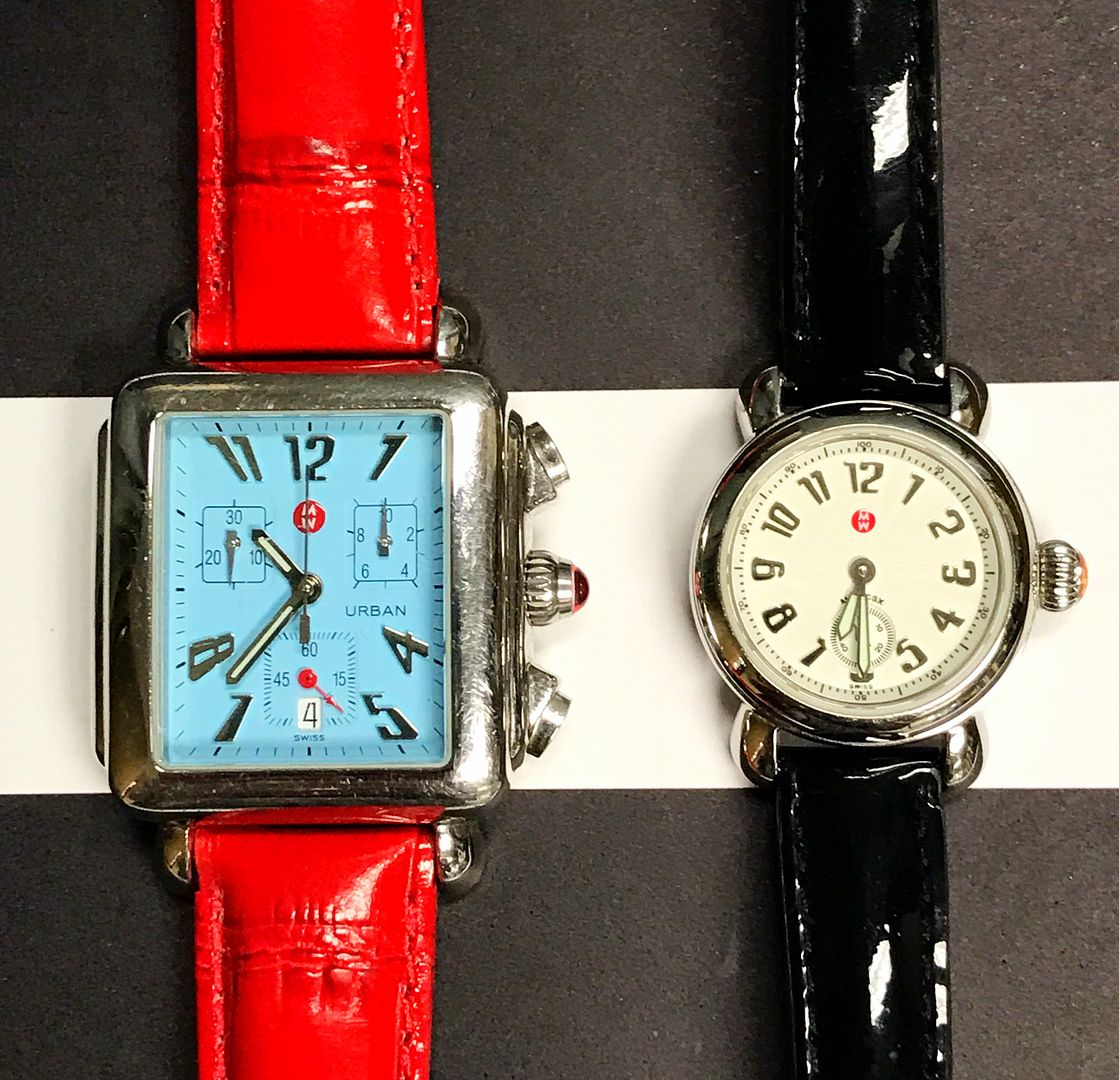 Feeling BLUE?  We can cheer you right up!  
1.40ctw sapphire and .10 diamond ring in 18k white gold, $2,625.
.33ctw sapphire and .34ctw diamond ring in 14kw gold, $3,135.
Sapphire and diamond ring in 14kw gold, $715.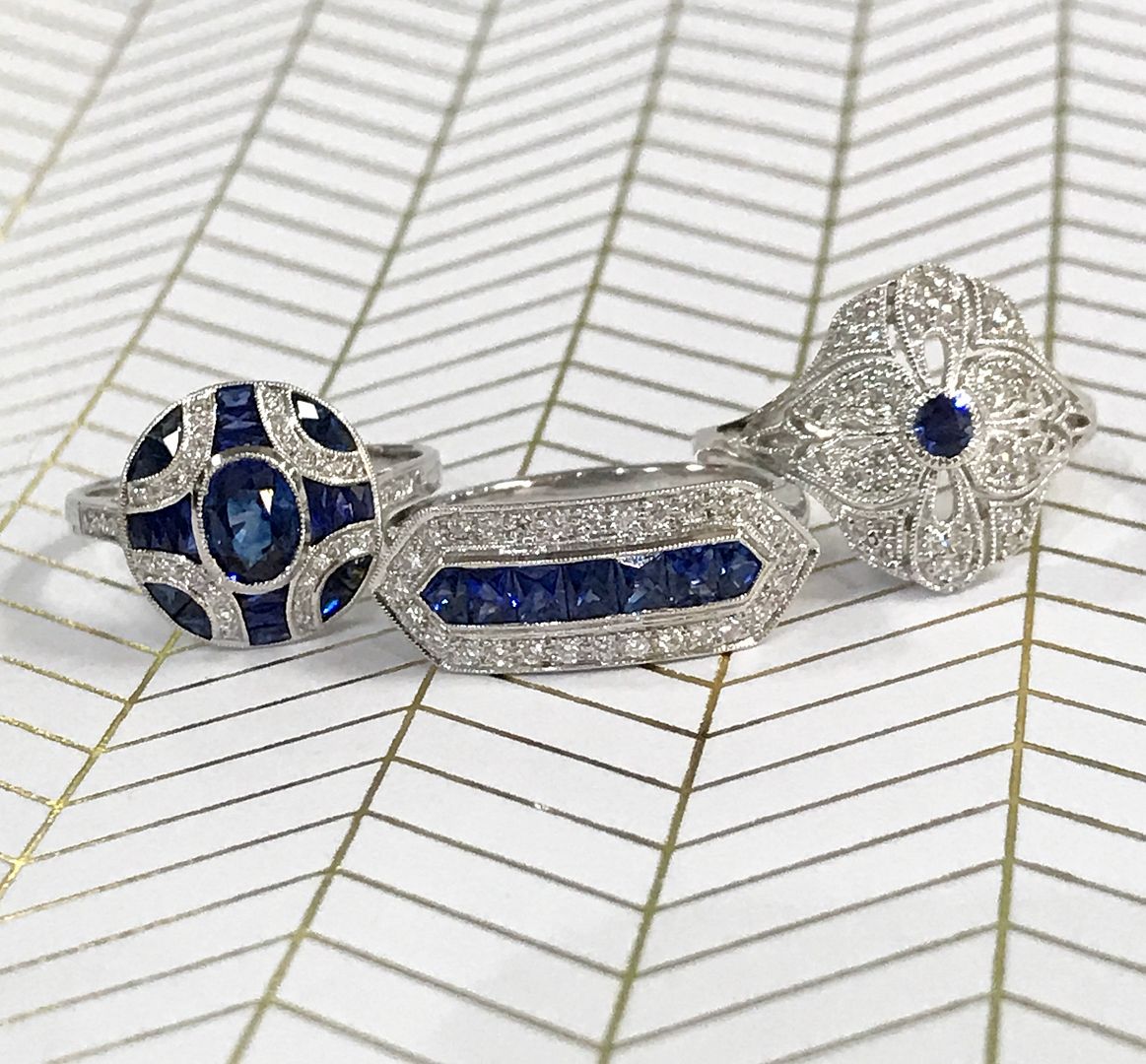 This is a WOWZA…and what a bargain!
2.35ctw blue topaz and .22ctw white sapphire ring
in 10kw gold, $395.
2ctw diamond inside out hoops
in 14kw gold, $3,965.
So pretty…and oh-so affordable…only $220 each.  
.07ctw diamond and 14k gold bands. 
STACK EM UP…
For your layering pleasure…diamond and 14k gold stackable
bands from $665 to $435.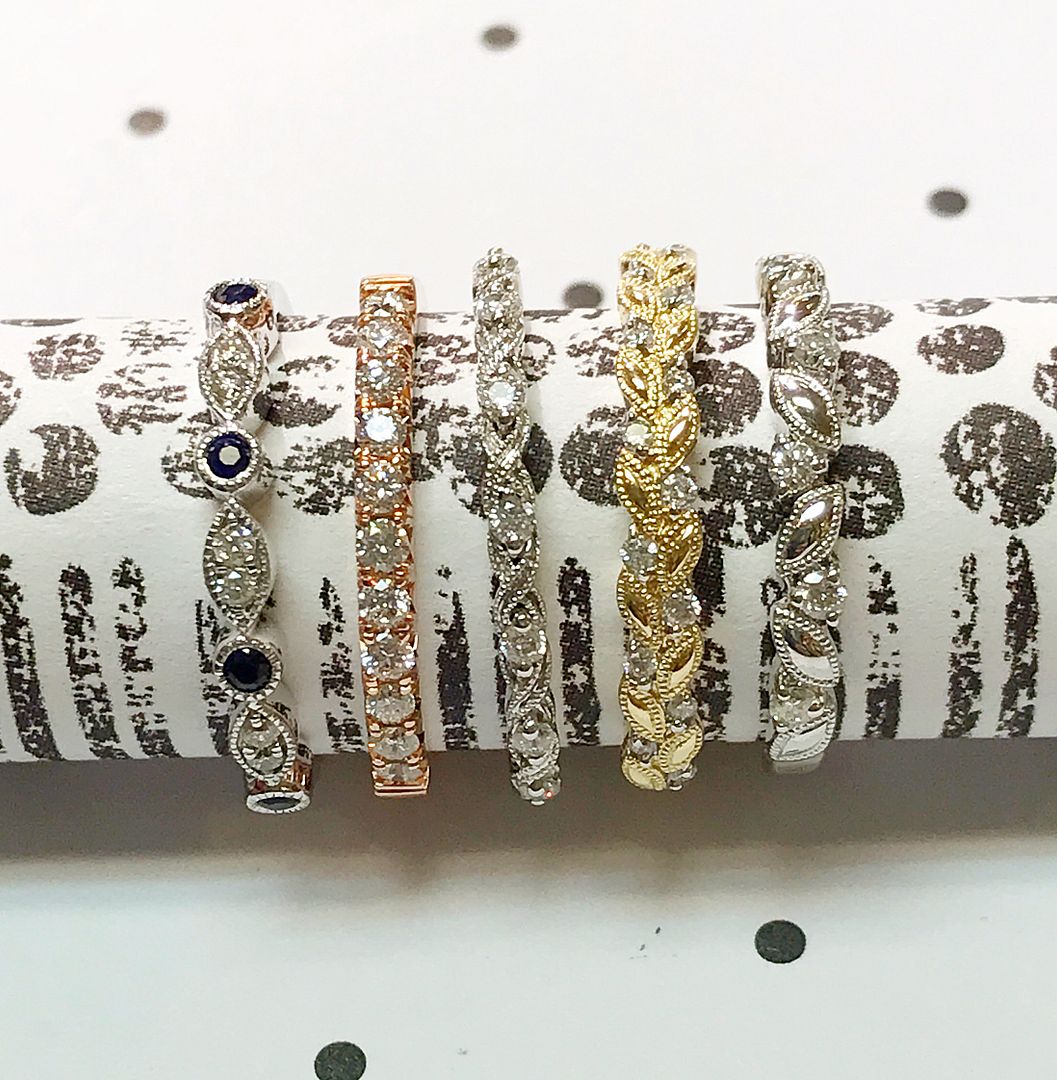 Take the gemstone that you already have and
LET US UPDATE IT with these affordable semi-mounts.  
Diamond and sapphire semi-mounts in 14kw gold.
Prices range from $875 to $1,875.
.33ct round center diamond in a 14kw gold semi mount with matching band, .50ct total. $1,435.
'Tree of Life' jewelry never goes out of style.  
1ctw diamond and 14kw gold pendant, $1,765.
.10ctw diamonds in 10kw gold pendant, $215.
.18ctw diamonds in 10kw gold earrings, $435.
Dainty, yet impressive…
.75ctw diamond and 14kw gold vintage ring, $1,495.
Who doesn't love a pretty dangle?  
Diamond and 18ky gold dangle earrings, $1,795.
Diamond and 18kw gold disk dangle earrings, $795.
These will be your go-to hoops…
14ky gold plates sterling silver hoops, $95.
121 grams of 14ky gold in a charm bracelet loaded with charms.
Coin, wooden shoe, windmill, anchor, heart, cross, ram,
liberty bell, urn, angel, Las Vegas. $5,895.
Don't be green with envy…come treat yourself
to one of these beauties.  
18k yellow gold Emerald ring with 2 trillion cut diamonds, $795.
1.5 ctw emeralds and diamond earrings in 18kyg, $2,495.
A whole lot of glorious gold for less…
69 grams of 14ky gold in a 21 inch figaro chain, $3,345.
😍
Come see us this weekend…
and don't forget the SIDEWALK SALE on Saturday.  
You'll fall in LOVE with all the bargains!