This weekend's forecast?
100% chance of WINE, WEENIES & WINNING!
Friday & Saturday, come grab a dog, a glass a wine,
and take a spin at the wheel…
EVERYBODY WINS!  
There are tons of great prizes and discounts on the wheel
from Lumina Gem & Home Again, plus free cookies from Apple Annie's and free classes at Pure Barre.
Happy Memorial Day…enjoy the show! 
Just a note…we will be CLOSED on Monday.  
This is your LAST chance to grab one of these great spindle chairs…they have been discontinued by the maker.  Just $425 each, 26.5×28.5×36.5"h. Rustic green cabinet $495, 48x15x42″h.
Floral art $195, 40.25″ square.
The poster child of fabulous consignments came in this week…
ETHAN ALLEN king poster bed $1295. Turquoise lamps $52 each, 28″h. Pink blossom art $72, 40×24″h. Slate grey swivel chairs $375 each, 29x5x33.5×33″h.
Look at the great finish on this farm table with 4 chairs and bench for $995, 72x37x31.5″h. Navy ceramic lamps $145 each, 28″h. Blue/gold abstract art $225, 47×35″h. Faux bamboo and marble tray $86, 22x14x2.5″h. Wooden lantern $52.
Go forth with GREEN…
This 2-door cabinet is brand new, but has a rub in the finish so it's priced AS IS at $245, 43x20x35″h. Large cream lamp $125, 33″h. Blue and green abstract $175, 41.5″ square.
Just in…emerald velvet sofa by MAGNOLIA HOME.
$975 89x38x36″h.  This won't last.  
Alert the media of this awesomeness…
Top, barn door media cabinet with barn door $595, 60×17.25×34.5″h.
Bottom, this media cabinet has some damage to bottom right drawer, so it's priced to MOVE at $295, 59.7×17.5×31.5″h
Craftsman made wooden benches with black modern steel legs. (top) $125, 40×15.5×19″h. (bottom) $95, 40x12x17″h.
LET THERE BE LIGHT.
We just lit up our showroom with tons of new lamps… 
Clockwise, Turquoise bird lamps $125 each, 35″h. Blue glass lamps $95, 28″h. Pineapple lamps $145 each, 34″h. Blue and white ceramic lamps $125, 28″h. Gold ball lamps $95 each, 33″h. 
Tall gold and ivory lamps $145 each, 43″h.
What's WINE & WEENIE WEEKEND
without a place to store your wine? 
Wooden glass door cabinet $375, 21.5x15x67.75″h.
Tall wine cabinet $350, 24x`15×71″h.
Blue bookcase with shell cutouts $125, 24x12x74.5″h.
This WON'T last. Washed wine cabinet just $295,
35x18x38″h.
A slumber party dream come true…
Full-size bed with twin trundle bed $695. 
Newport Cottage nightstands $245, 28×20.5×31.5″h.
6-drawer dresser $450, 58.5×20.25×35″h. 
Must-have METALLIC. Silver mirrored chest –
brand new and only $345, 38x16x32"h.
Yaaassss. This brand new outdoor sectional is just in and it's just perfect. $2295, 100×100" – comes with coffee table. 
SUPER COOL wormwood dining table, a STEAL at $535. 84x40x30 Two matching benches $356 each, 84w15dx18″h. Notice the cool industrial black supports, too. Cowhide rug $275.
When I go to High Point market, there is one showroom that always stops me in my tracks…the over-the-top FABULOUS chandeliers by  Louise Gaskill.  Imagine my delight when we got some of her beauties on consignment!  
 (bottom right) This would sell in her Raleigh studio for at least $2-$3000…our price is just $795, 17" diameter x 31"h.
(top and bottom left) This Louise Gaskill chandelier also retails for $2000+, our price just $795. 20×31"h.
(sorry, top right chandler is sold)
Apparently we have a cabinet habit…
Blue fish cabinet $345, 33.5×15.5×37″h. Black mirror door chest $325, 36x16x40″h. Beige chest $325, 36x16x31.5″h.
We're diggin' this wooden tree cabinet is sure to LEAF quickly –
$345, 42.5×15.75×34"h.
Just one left…neutral club chair in ivory and brown,
brand new for $425 ea. 28w34.5dx36″h.
Got to LOVE a good floor mirror…
(left) In solld wood $355, 44"w x 84"h. (right) $265, 40"w x 80"h.
We're SPINNING over this deal. Yellow swivel 30″ barstools
just $145 each, sold in pairs.
GREYcious these are cute. Grey leather swivel barstools just in
on consignment and just $125 each, 24"h.
Just 5 left…30″ blue-green stools with natural seat, $95 each.
High end for less…MUCH LESS.  
BAKER wood and leather mirror now just $125, 31.5×52″h. 
Beautiful and BRAND NEW. Ivory metal chandelier
$495, 27"diameter x 24"h. 
This mirrored silver buffet retails for $899 from Pier 1…
we just marked it down to $395. 52×16.5×38″h
Trio of unfinished solid wood 30" barstools with
rush seats just $42 each. Not sold separately.
Where else can you get a $1200 custom slipcovered
SWIVEL GLIDER for just $425? 38"W.
PINCH ME. Adorable crab pot lamps just in
and only $72 each, 24"h.
Goodness everywhere! Grey mirrored media chest retails for $860, our price $595, 60x15x35h. Striped chairs $395 ea, 31w33d39h. Grey storage ottoman $325, 31.75 diam 17.5h, green lamps $145 ea, 43h, heron giclee $325, 39.75×40.25
 Twill slipcovered sofa just in on consignment for $550! 86.5x36x36h Floor mirror $266, floral designer lamps $42 ea! 30″h 
We always love to start out with our newest designer consignments. Check 'em out before they move out…
Wanna change things up?
Just in on consignment – Michele Deco watch in stainless steel only $495. Get additional Michele bands starting at just $30 each.
We just got a SLEW of SLANE on consignment…
Slane stackable bands. Two plain sterling silver, one column 18ky gold, one diamond and sterling silver eternity band, $995.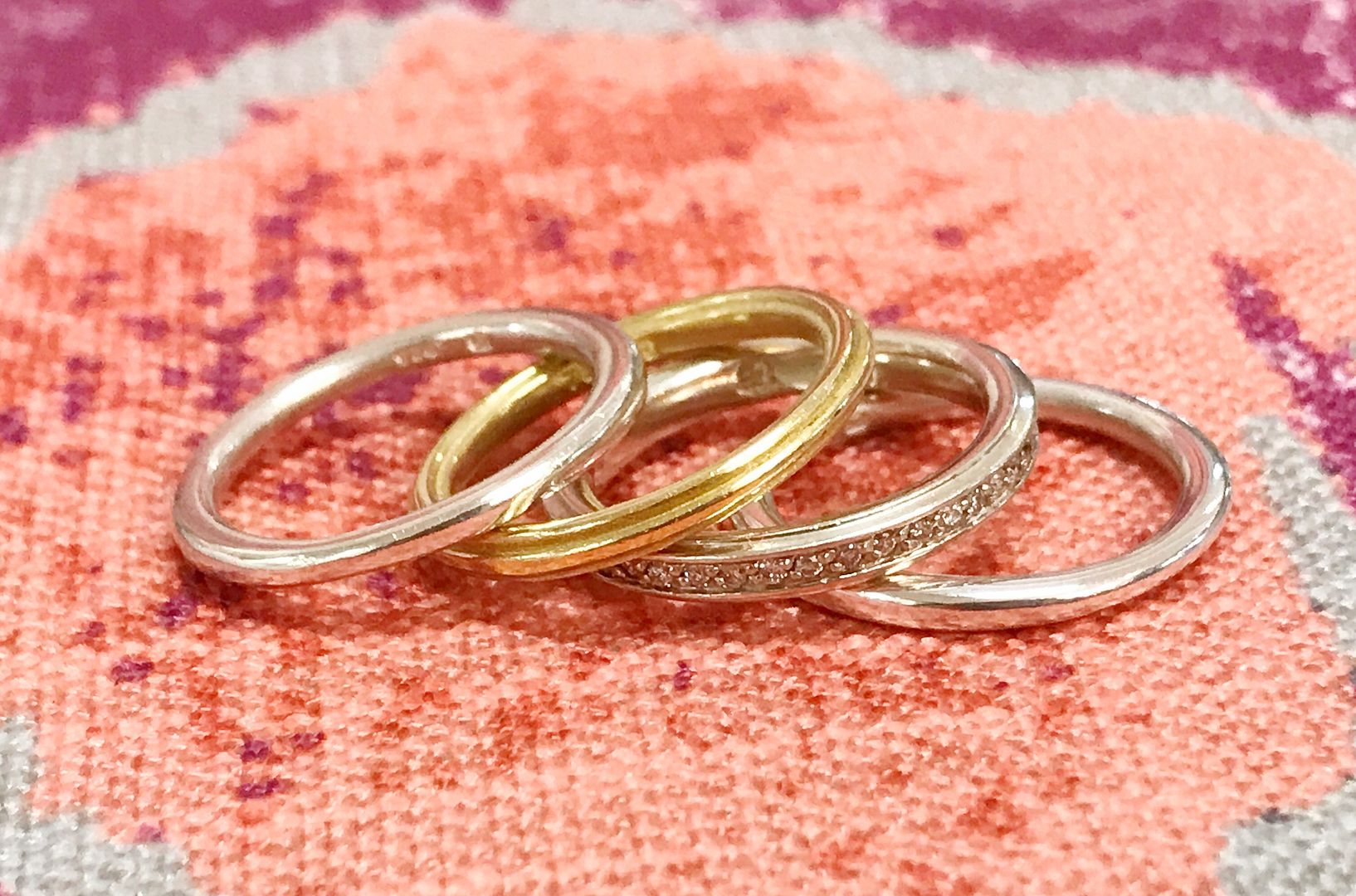 Slane diamond infinity knot hoops in sterling silver, $995.
Slane sterling silver and green onyx ring, $295.
Ruby's are red, sapphires are blue…
S. Kashi and Sons .17ctw sapphire and
.15ctw diamonds in 14kw gold band, $1025.
Roman + Jules .55Ctw diamond wedding band in
14k white gold, $2095. 
Roman & Jules .22ctw diamond and .18ctw ruby band
in 14kw gold, $1655.
We're still OBSESSED with this last shipment of Nina Nguyen. These interchangeable earrings are life-changing. Check out some of our selection ranging from $45-295. You have to come see these in person to really appreciate them.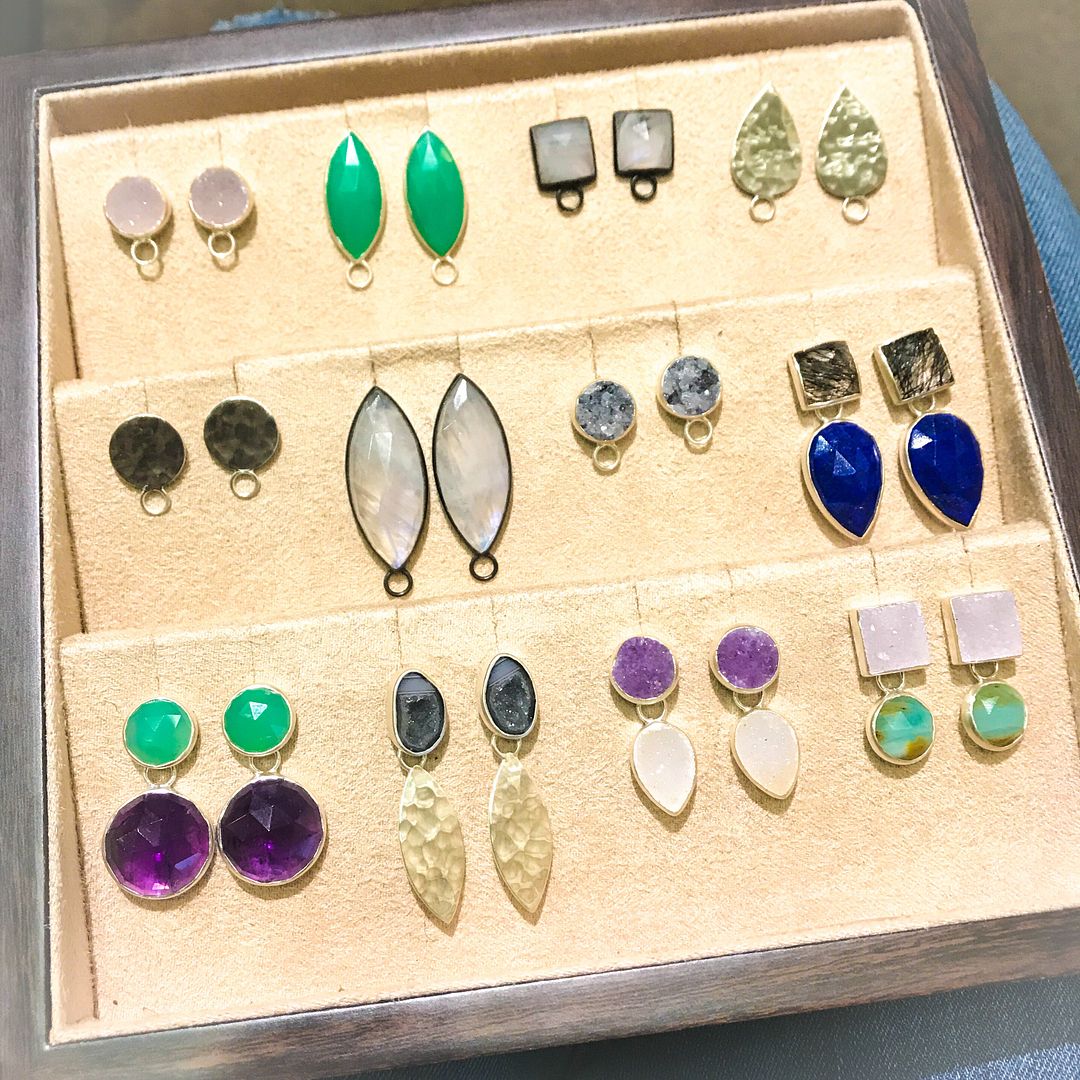 You deserve a METAL…
Treat yourself to this new Luvente .27 diamond pave 14k white gold pendant on a 14k yellow gold adjustable chain, $625.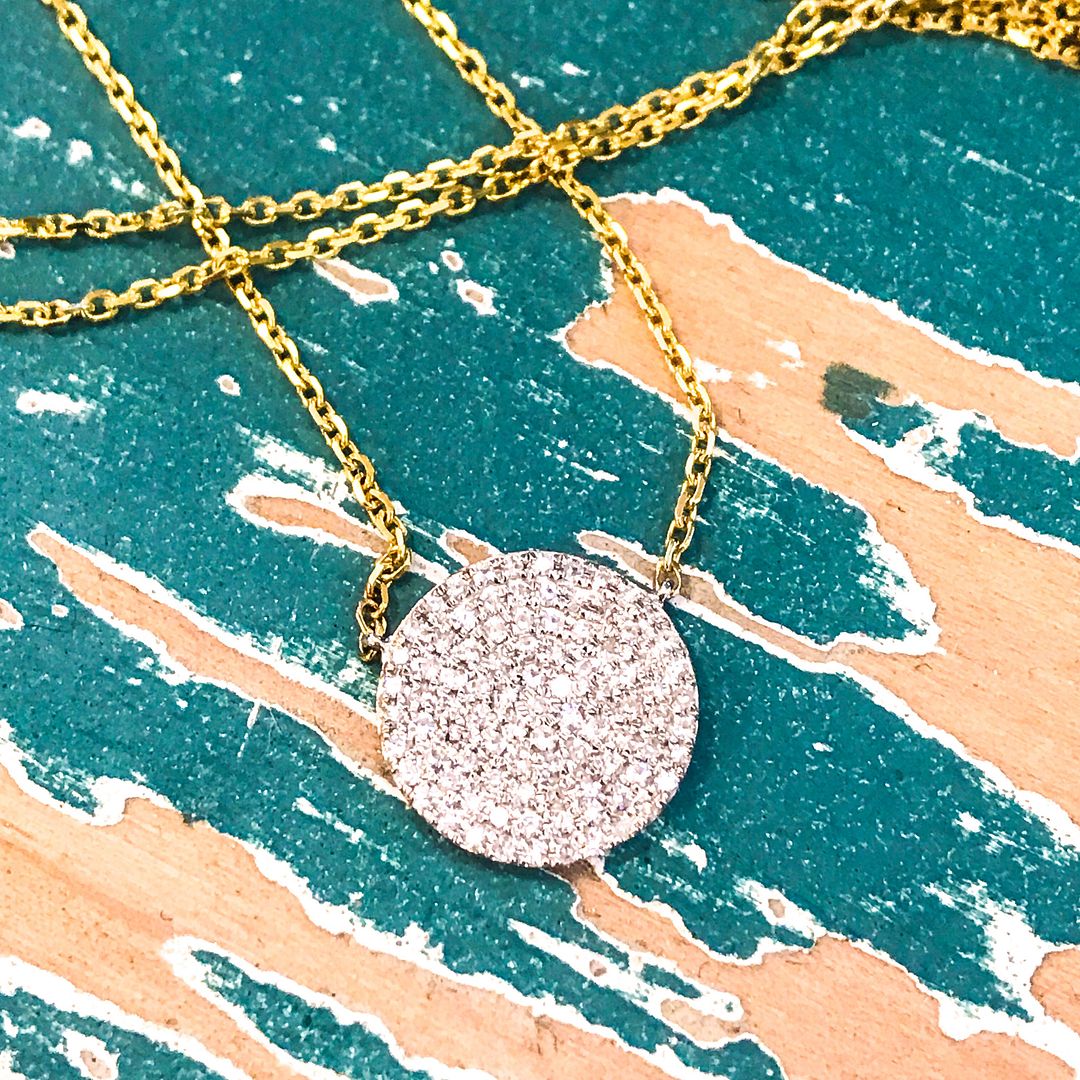 Meghan Markle found her prince…now it's your turn for a fairy tale. Look at some of these beautiful engagement rings just in on consignment.
.60ctw emerald cut center stone diamond ring with 1.40ctw in setting and matching bands, $995.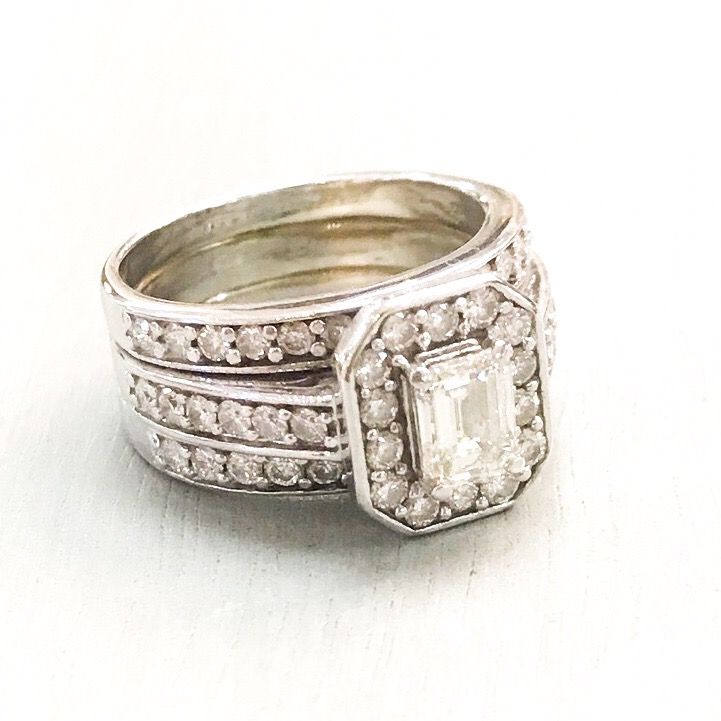 Diamond cluster ring with .35ctw G, SI2, center stone and .15 surrounding diamonds. .50ctw, $795.
.96ctw G color, SI2, round brilliant diamond in .40ctw, G. SI,
Scott Kay 14k white gold setting, $7495.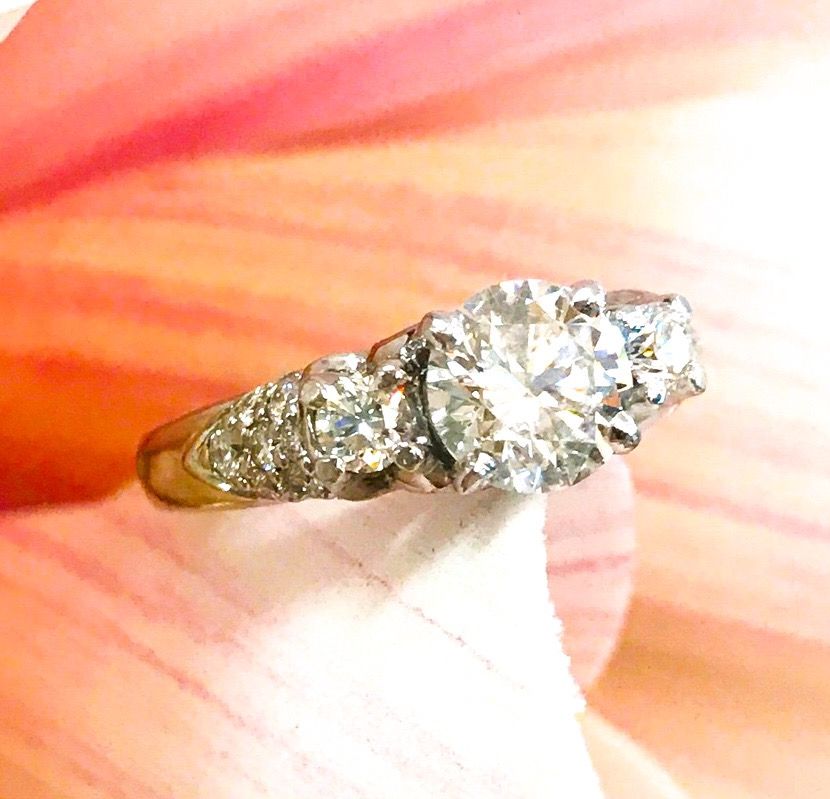 Speaking of the royal wedding…
Did anyone see the stunning aquamarine ring Meghan Markle wore as her something blue? Get the look here at Lumina Gem with this 18ct aquamarine cocktail ring accented with 1ctw diamonds in 14kw gold. Now just $5945.75.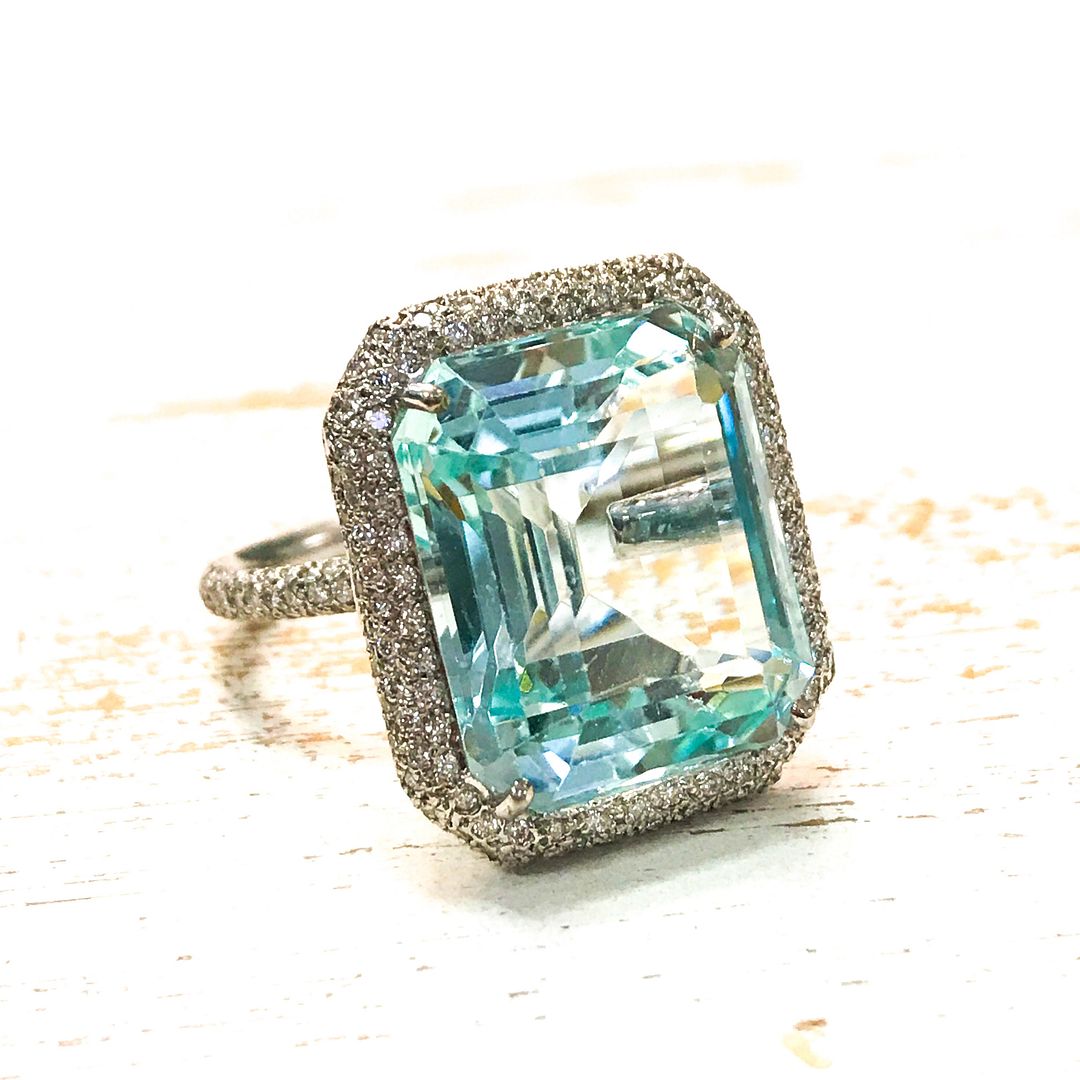 OR, this emerald cut blue topaz cocktail ring for a bit less at $695.
We were prepared for this…
5.76ct Fantasy cut Aquamarine by Chris Wolfsberg set in a 1.34ctw diamond and 14kw gold setting, $6795.
Something blue for YOU. Emerald cut blue topaz in sterling silver just in on consignment and only $150.
Blue topaz and diamond ring in 14kw gold, $985.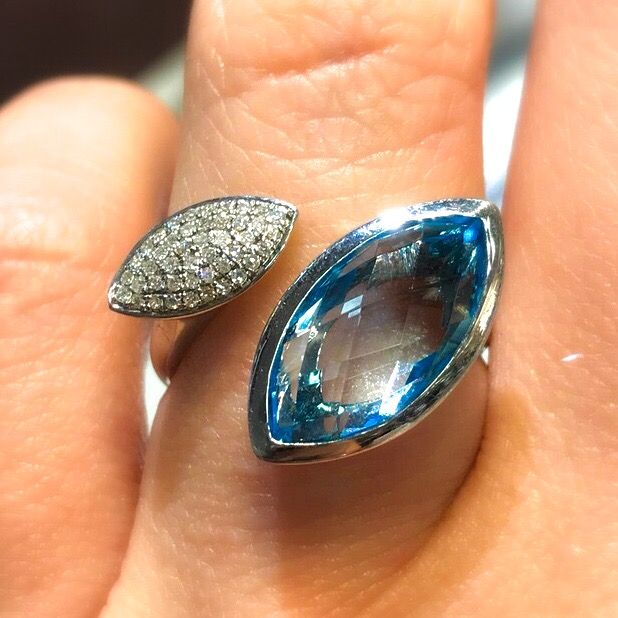 What's all the HOOP-LA?
(from top to bottom) 14k yellow gold hoops, $225.
14k yellow gold "racetrack" hoops. 1.25 inches in length, $235.
Roberto Coin 18K yellow gold 1.75 inch long hoops, $795.
Here's that beach-inspired jewelry trend again.
Can't you just SEA yourself in it?
14Kyg Ocean Inspired Bracelet, 55grams, 8inch, $2545.75.
We didn't forget you MAY babies…HAPPY BIRTHDAY to you…
1.25ctw princess cut emeralds accented with diamonds in 18ky gold, $2155.50. 1.21ct emerald and .50ctw diamonds in an antique style 14kw gold setting, $1997.50.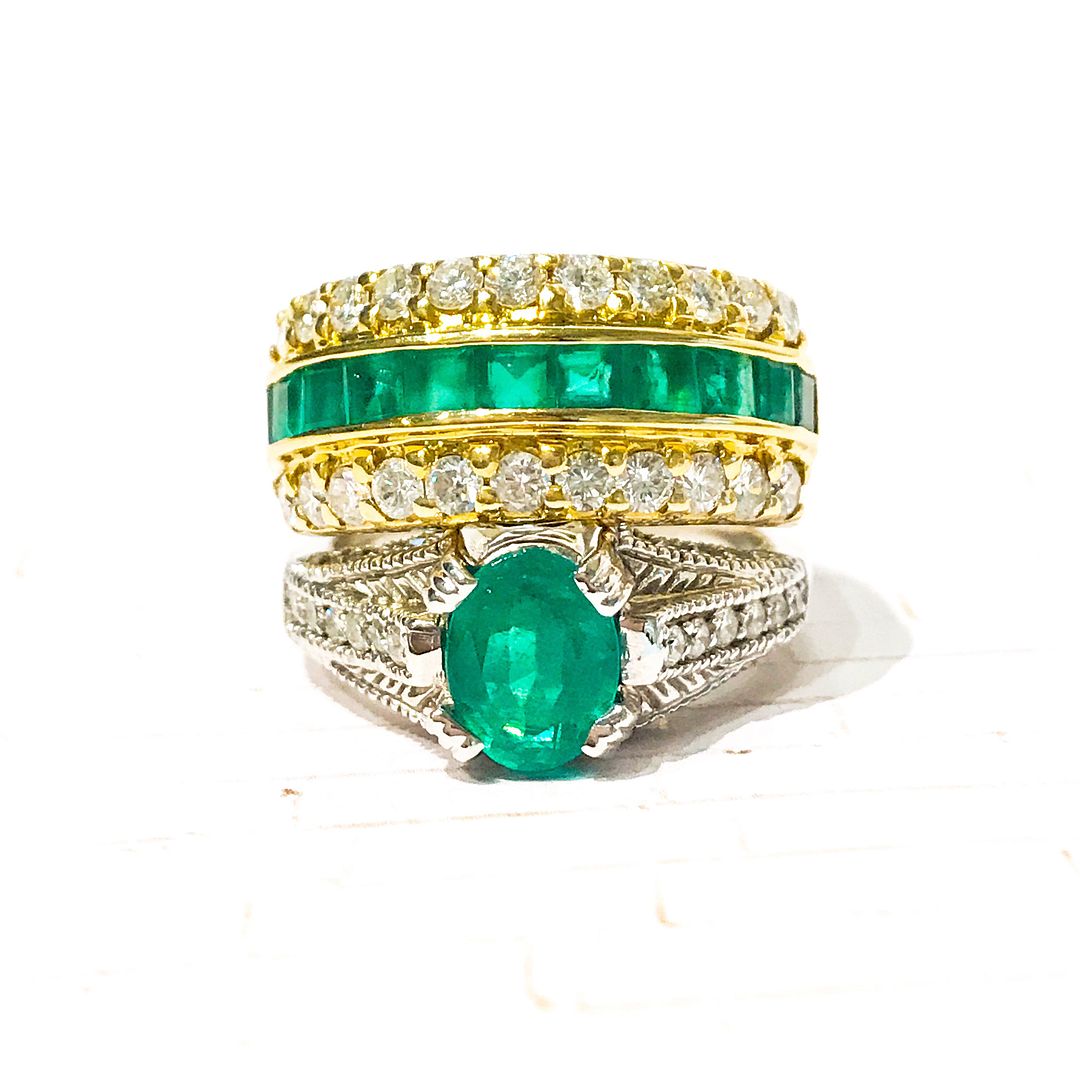 You MAY want to just try this on…
Emerald and diamond fashion ring in 14kw gold, now just $600.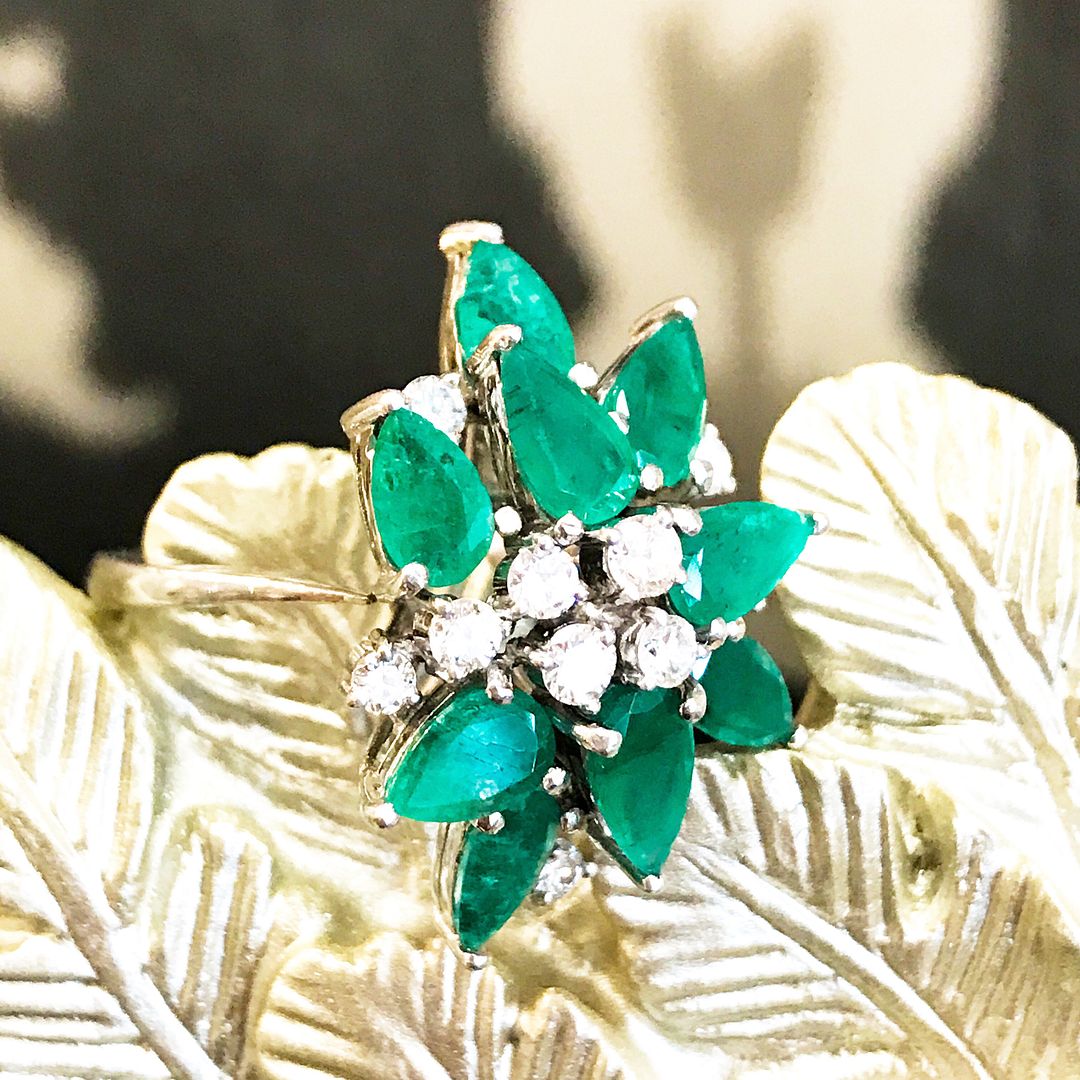 Go green with one these beautiful emerald and diamond wedding bands. S. Kashi & Sons .28ctw emerald and .18ctw diamond band in 14kw gold, $1100. Roman & Jules .8ctw diamond and .19ctw emerald band in 14kw gold, $995.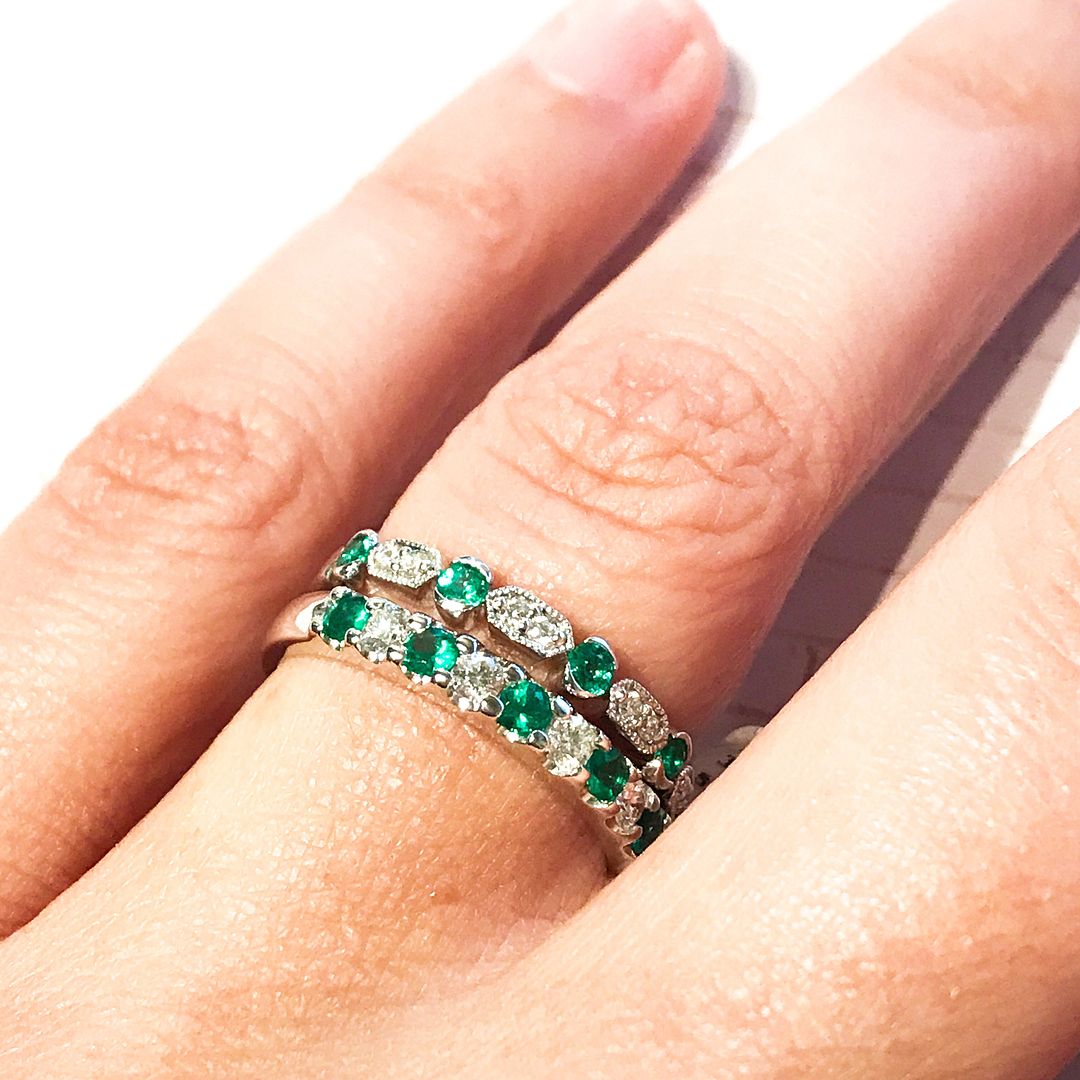 So DAINTY. Emerald tassel diamond 14kw gold pendant, $1197.50 (50% off!). Emerald with biotite matrix and rose cut diamonds set into 14ky gold, 18 inches. $486.50. 
Can you spot the difference in these diamond hoops? We can't either. A customer lost one of these sentimental earrings and was understandably upset. Lucky for her, Elliot was able to create an EXACT replica and she now has her lovely pair of earrings back 🙂 We're very fortunate to have such talented jewelers!
Thanks for reading this week…and
don't forget to stop by the store for WINE,
WEENIES AND WINNING! 
One spin per person.  Some exclusions may apply.