You see it in magazines all the time…
But YOU will always be the winner when you shop
 at Home Again & Lumina Gem! 
The slipcovered sofa you see here is from Ballard Designs is
great looking, and can be yours for a mere $3300.  
But the slipcovered sofa you see here is brand new from Bramble,
and you can take it home today from Home Again for $1,195.
84″ wide.  Buy a whole new spring wardrobe with
how much you saved!  
Viola Davis rocked the Oscars in pink and DIAMONDS…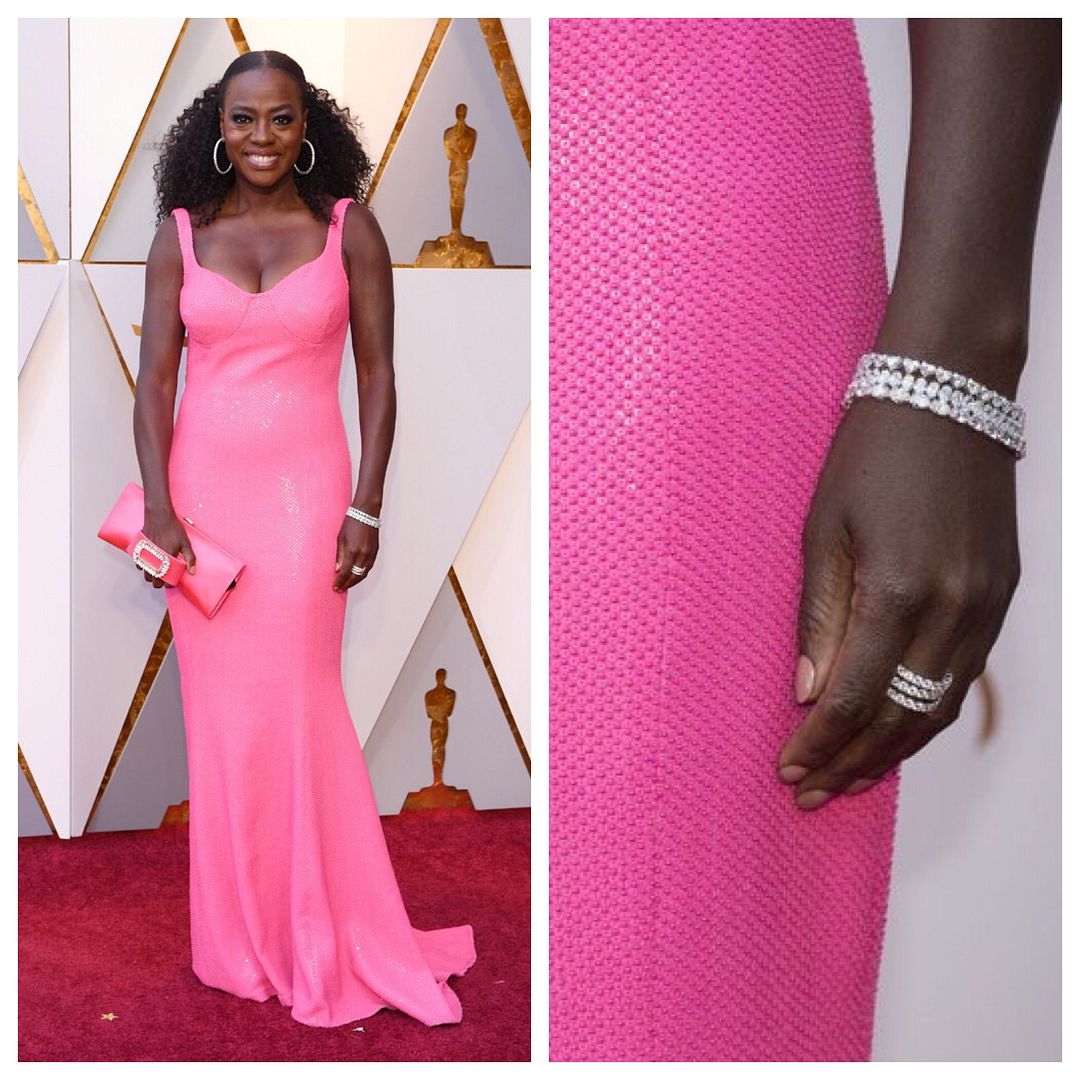 But YOU can drip in diamonds for much less…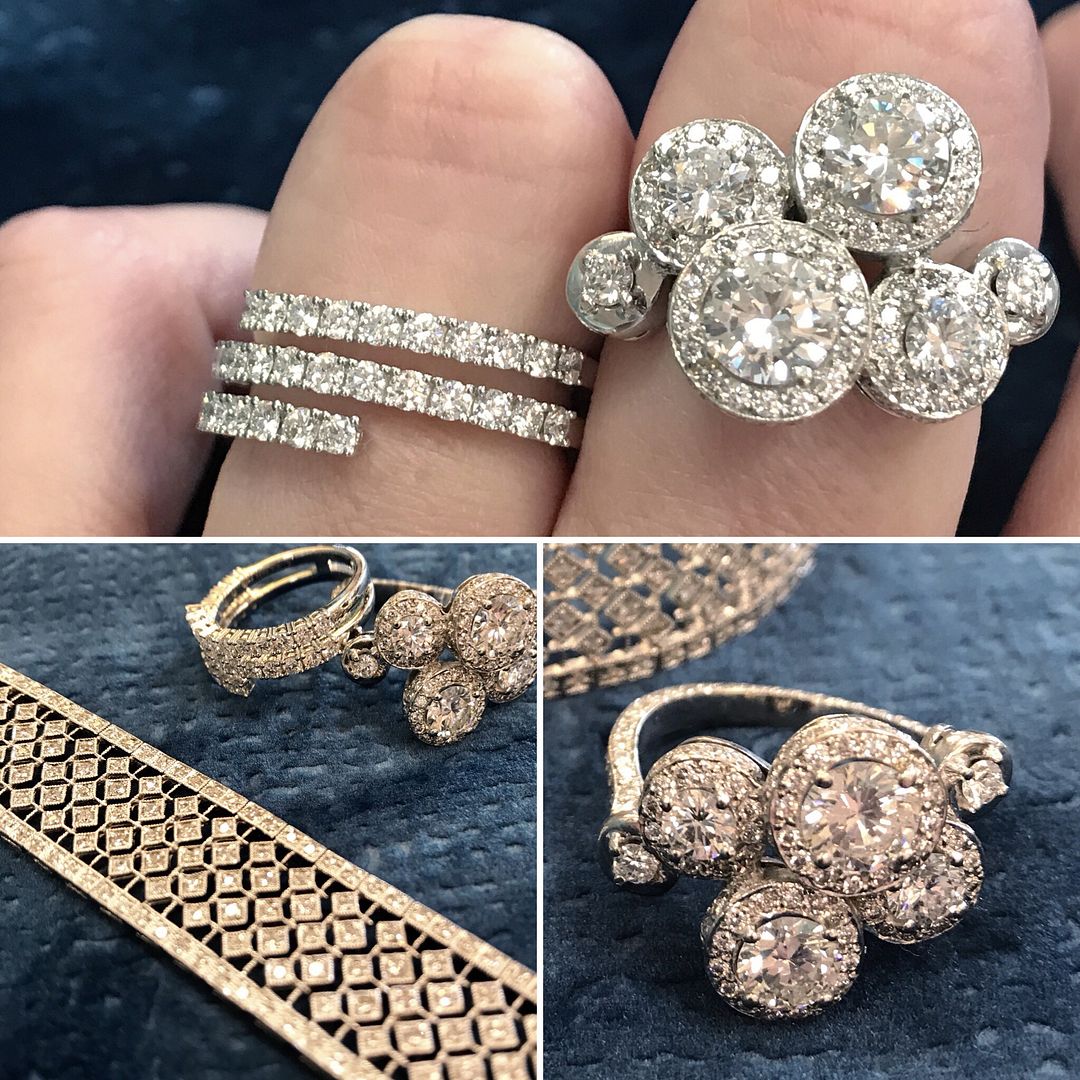 Wide Diamond Bracelet – 3ctw H color I1 clarity diamond
bracelet in 18kw gold, 7 inches, $3,250.
Diamond Cluster Cocktail Ring – 3.47ctw F-G color VVS2 to SI1 clarity diamond multi level ring set in platinum, $15,255.
Diamond Fashion Ring – S. Kashi 1.02ctw in 14kw gold, $2,975.
The store is FULL of FRESH looks for Spring…
Vibrant textured abstract, $245, 44″ square. Turquoise lamps, $125 each, 25″h. Brand new ivory sofa retails $1,399, our price, $985. 84x33x36″h. Turquoise garden stools, $72 each.
You could buy this Ethan Allen 'Somerset' queen bed for $3000+, but it's at Home Again for $1,295. You could buy a whole new spring wardrobe with the money you save!
Birch Lane grey sofa, $895, designer pink & orange lumbar pillow, retailed for $350, our price $125, pink and orange abstract $175. 47.5×39.5. Gold designer lamps, $125 each, 27″h.
Add these ADORBS coral swivel chairs to the vignette above and
you have a great look! Brand new $495 each. 32x30x32″h.
This teal cabinet won't last long at $695, 70x15x42″h.
Harbor art, $145, 47×37″h. Sandpiper lamps, $125 each, 22″h.
We LOVE these ivory slipcovered chairs by Magnolia Home Furniture, $595 each. 37x39x33″h. Luscious abstract art, $225, 40×60. Aqua designer lamps, $125 each, 34″h.
Yes, please…36″ distressed wooden mirror, $225.
Large abstract in shades of blue and teal, a DEAL at $150. 59×47.
Brand new stress-less style chair & ottoman sets, $495 each. 31.5″w.
Textured lamps, $72 each, 26″h.
Score BIG on this wool sofa by Barbara Barry for BAKER….
Retailed for $8,000, our price, $1895. 92″W. 
Dramatic hand embellished abstract, $295, 61×41. 
And what is completing this space?
Yep, this dramatic black metal orb chandelier!  
32"x32, $395,
DROOLING over this hand embellished oil painting, $295, 41.75×51.75. Oatmeal updated wing chairs, $595 each, 33.5″w.
Round glass top table, $75. Pair of candlesticks, $55.
So unique and different…blue wooden 27″ counter stools,
$250 for the pair. 
The cutest vanity & stool with plenty of storage, including
fold out doors for your jewelry, $395, 38x18x60″h.
Blue lamps, $42 each, 20.75″h.
Another FABULOUS hand embellished abstract, $245, 41.75″square.  Dove grey swivel barrel chairs,
$375 each, 28x25x30.5″h.
Just in.. server by Legacy, on consignment for $450, 60x19x36″h.
Marsh giclee, $345, 42.5″square. Accessories, $22-$58.
So neat, functional drop down desk in black, just $165.
32×11.5×52″h when closed. Palm leaf chair, $75, 25″w.
Monkey ottoman, $52, 24×22.5×19″h.
"w.
SCORE BIG on this down sofa by Vanguard with Kravet fabric…retailed for $3,950, our price, $695. 90″w.
Chinoiserie heaven!  
Beautiful DREXEL HERITAGE china cabinets, $495 each. 35×14.5×80
Coordinating chest, $395, 40.5×15.5×32, MIrror, $125, 32×48.
Red pagoda chandelier, $275, 16x16x25.
Slipcovered sofa by BRAMBLE, brand new for $1,195, 84″w.
Turned leg coffee table, $425, 54×36.
Heron fine art giclee, $395, 51×36.5.
Floral accent chair by Rowe, $225, 30″w. 28″ round side table, $145. Designer resin lamp, $145, 30″h.
We LOVE the 'Abbott' concrete in/outdoor table from POTTERY BARN. Retails $1499, our price, $895. 48″diameter. Base is made of SOLID acacia wood. Rush seat dining chairs, $300 for the pair. 
Wine art on wood, $85 each, 17×60. Fruit art, $78 each, 22×28.
Cute palm settee just $225, 51″W. 
 Blue tufted wing chairs, $395 each, 29.75×30.75×38.5″h 
Seaside fine art giclee, $295, 34″square.
ADORBS, white pub table & two stools, $495, 48x22x36″h.
Sailboat canvas just $62, 24×36. Accessories, $8-$62.
Love these updated wing back chairs, $395 each, 30.5×30.5×40″h. 
Floral giclee, $295, 40″square. 
We like the curvy lines on this grey tweed wing chairs, $395 each, 27.5×34.5×41.75"h. Boat giclee, $395, 49″ square.
Weathered root divider, two available, $445 each. 47.25x4x71″h. Parrot art canvas, $75, 29.5×42.5. Metal tub planter, $225, 34x22x19. (Smaller tub is sold.)
Just in…MacKenzie Childs fondue-chafing dish.
It retails for $346, our price $135. 
Phone orders accepted…call 910 679 4302
Just in on consignment…26″ modern swivel counter stools
with blue tweed fabric, $250 for the pair.
FUN dining table & four chairs, $695. Complete with leopard print seats and a removable 18″ leaf. As shown, 60x40x30″h.
Consignment score…four classic rush seat 30" barstools just $145 each. Sold in pairs only.
This is a BIG DEAL…large green armoire with retractable doors ONLY $395, 53x27x79"h. Geometric print chair, $325 30x30x34"h.
Deal of the day! Chairs just $34 ea, 6 available,
48" round table $95.
One of our favorite color palettes…turquoise and orange!
Turquoise lamps, two available$125, 25″h.  
Marrakesh stool, $125.  Coral pillows, two available, $26 each, 
turquoise garden stools, $72 each.
Gal Gadot stunned in aquamarines at the Oscars. We can't even imagine the cost of her necklace…but you can
get the look right here at Lumina Gem…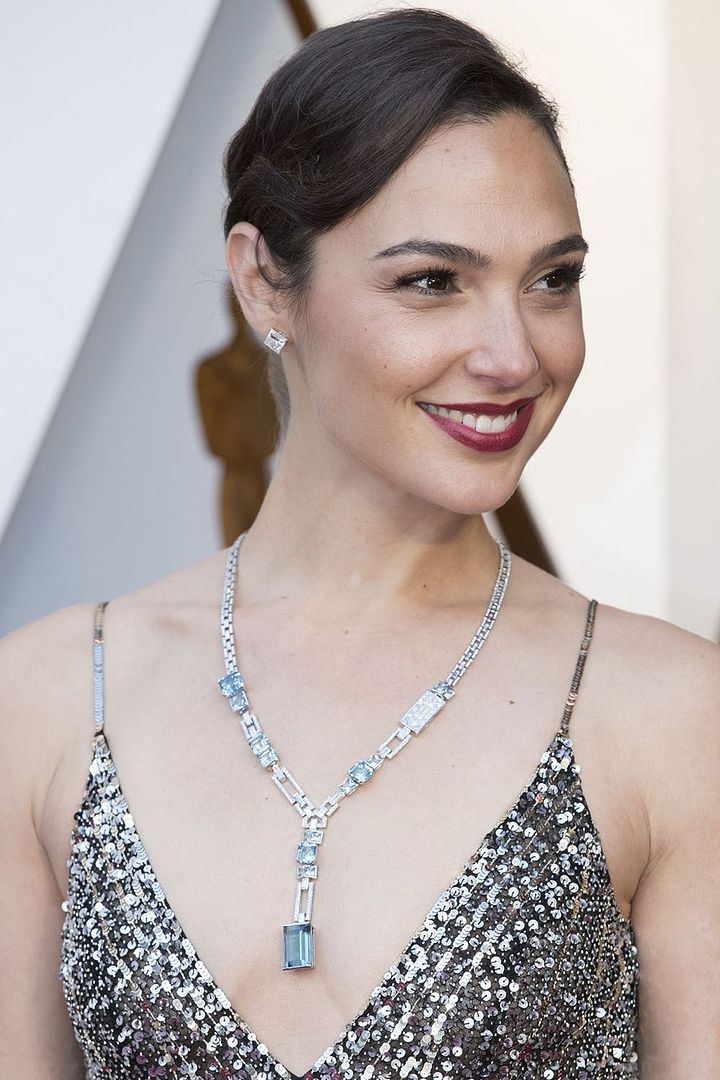 Aquamarine Cocktail Ring – 18ct aquamarine accented
with 1ctw diamonds in 14kw gold, $6,295.
Aquamarine pendant necklace – 18.5ct aquamarine with .57ctw G color VS clarity diamonds in 14k gold necklace, 24 inch, $8,995.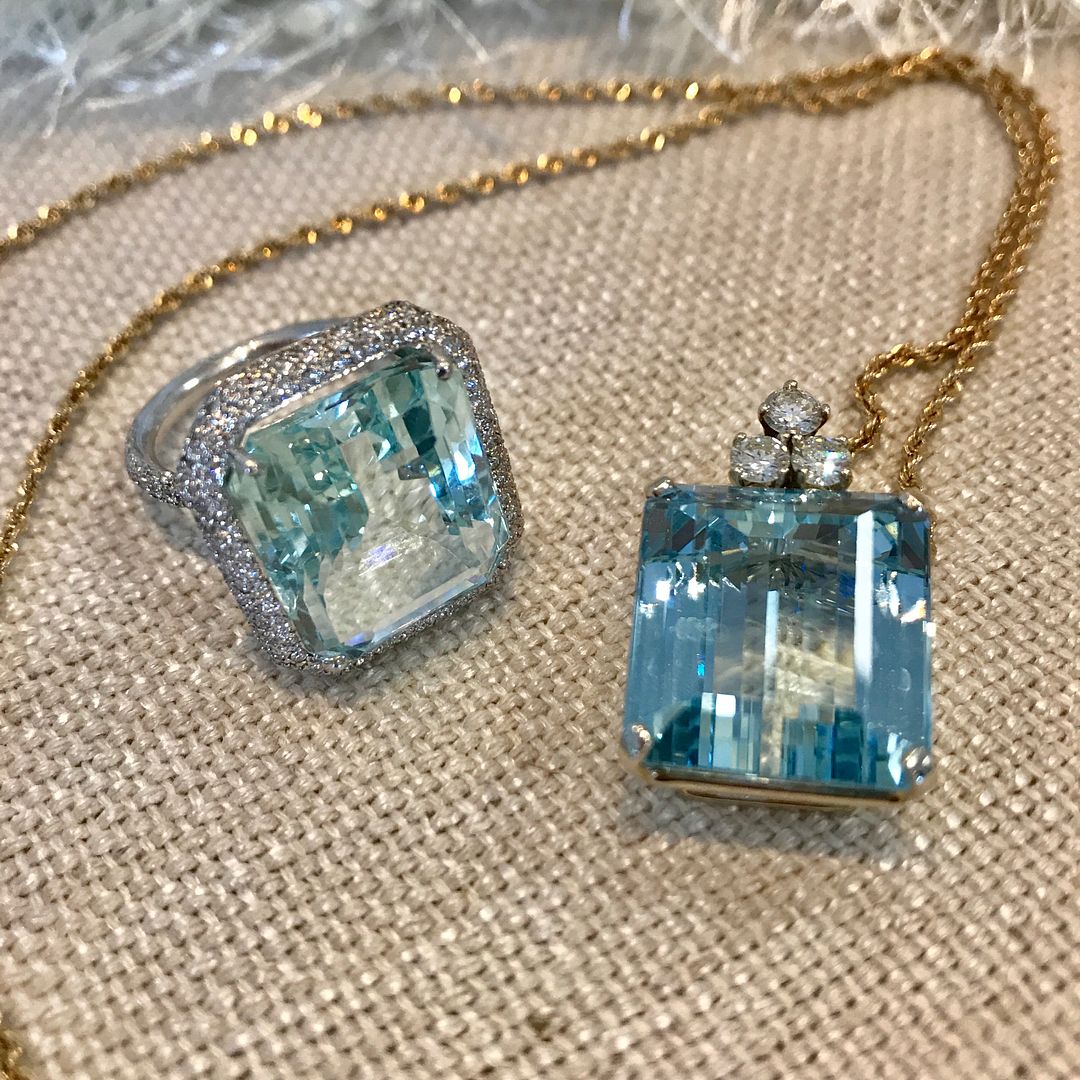 Emma Stone's citrine earrings are a lovely compliment to her red carpet look, but look what we have…
This stunning consignment piece that's even
more perfect in person! Le Vian citrine pendant necklace -accented with chocolate diamonds and yellow sapphires in 14ky gold, 18 inches, $595.
Elizabeth Moss and Laura Dern dazzle in diamond dangles,
and you can, too…
Diamond circle dangle earrings – 18kw gold, $1,345.
Diamond long dangle earrings – 2ctw G-H color I1 clarity diamond dangle earrings in 18kw gold, $1,455.
Emily Blunt's vintage approach to the red carpet!
We would have love to put her in these NEW gems…
Blue Topaz and Amethyst Cabochons Earrings – accented by .84ctw champagne diamonds in 14k gold omega back earrings, 1.5 inches. Retail $2,800, our price $1,675. Save over 40%!
Allison Janney can't miss in this timeless diamond collar necklace. If this is more your style, we've got the perfect pieces to complete this look…
Diamond Flower Necklace – 14kw gold, 16 inches, $1,325.
Kwiat Diamond Cluster Necklace – 5.2ctw G color, SI1 clarity,
16 inches. Was $9,995, Now $7,996. Save 20%!!
Check out these sparklers. These brand NEW 14K white gold and diamond bands are a great something new for saying "I DO!"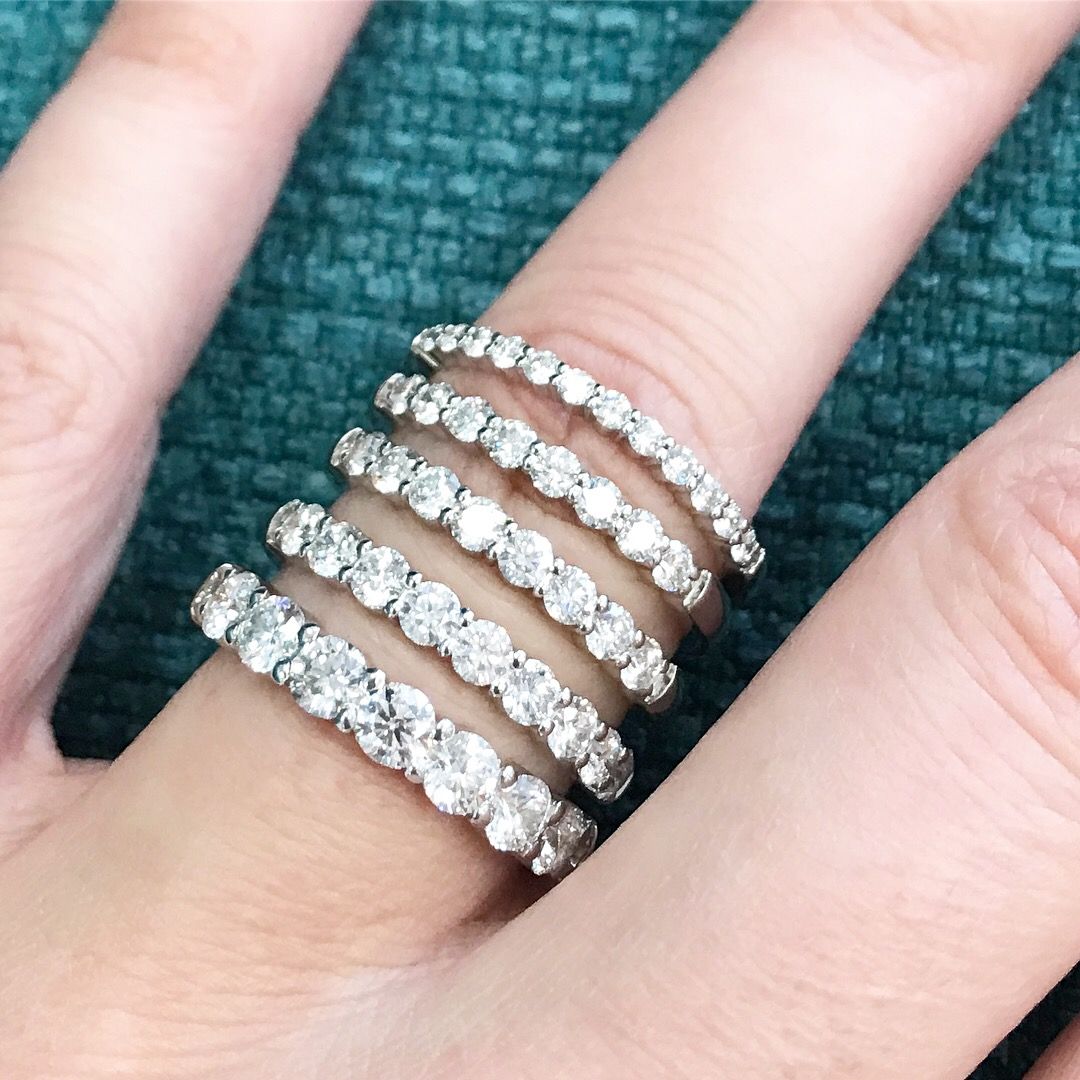 We sure love hoop earrings! If you share the same sentiment, you're in luck. We have some great new styles just in and ready for someone who will love them as much as we do.
Charles Garnier "Norma" Hoop Earrings – 18ky gold plate and sterling sliver woven accent, $165.
Charles Garnier "Nardini" Hoop Earrings – Available in sterling silver and 18ky gold plate, both with CZ, $165.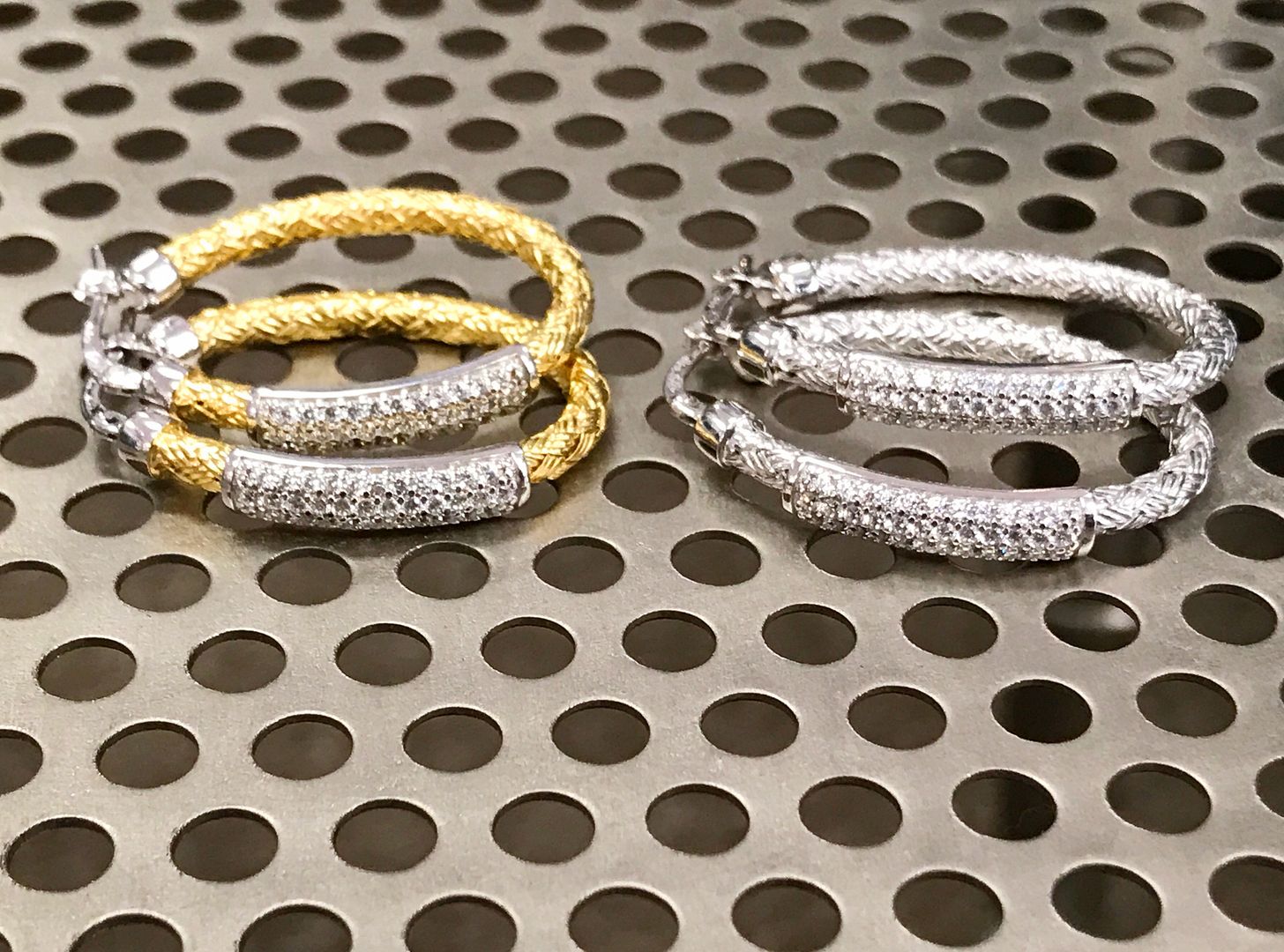 This week's something old, is just in on consignment and ready for making new memories! Opal Cocktail Ring –  14ky gold, $345.
We're over the MOON with getting these in on consignment!
Piere Milano Moonstone and Diamond Earrings – 18kw gold, $795.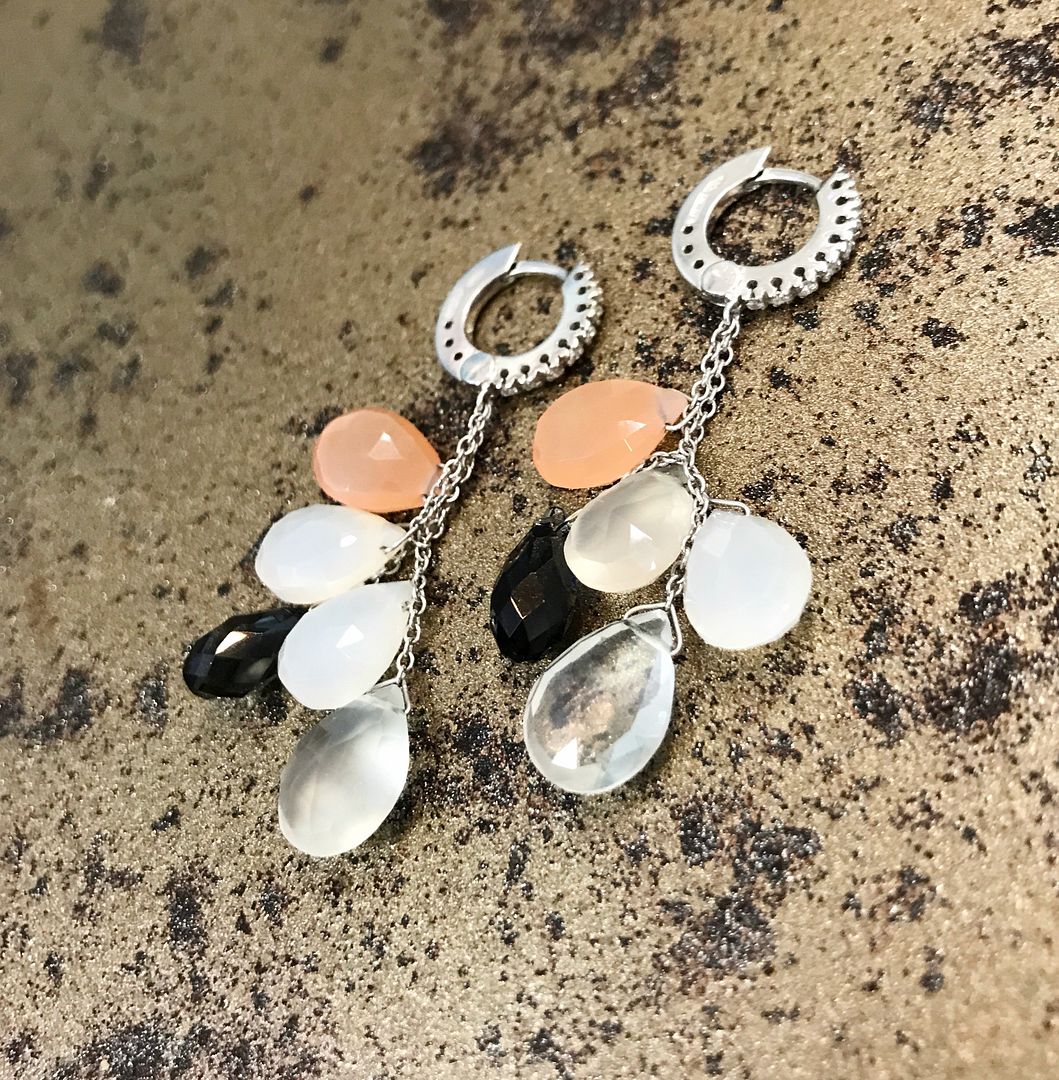 If you don't know, now you know. We do CUSTOM jewelry!
Take a look at these beautiful necklaces. It's hard to believe that these diamonds used to sit in heirloom ring. Our amazing jewelers have given them new life, and we can do it for you, too. Make something old, new and YOU at Lumina Gem! 
 From concept to creation, look how this CUSTOM 3-stone 14kw gold and diamond ring came together!
We loved making this piece…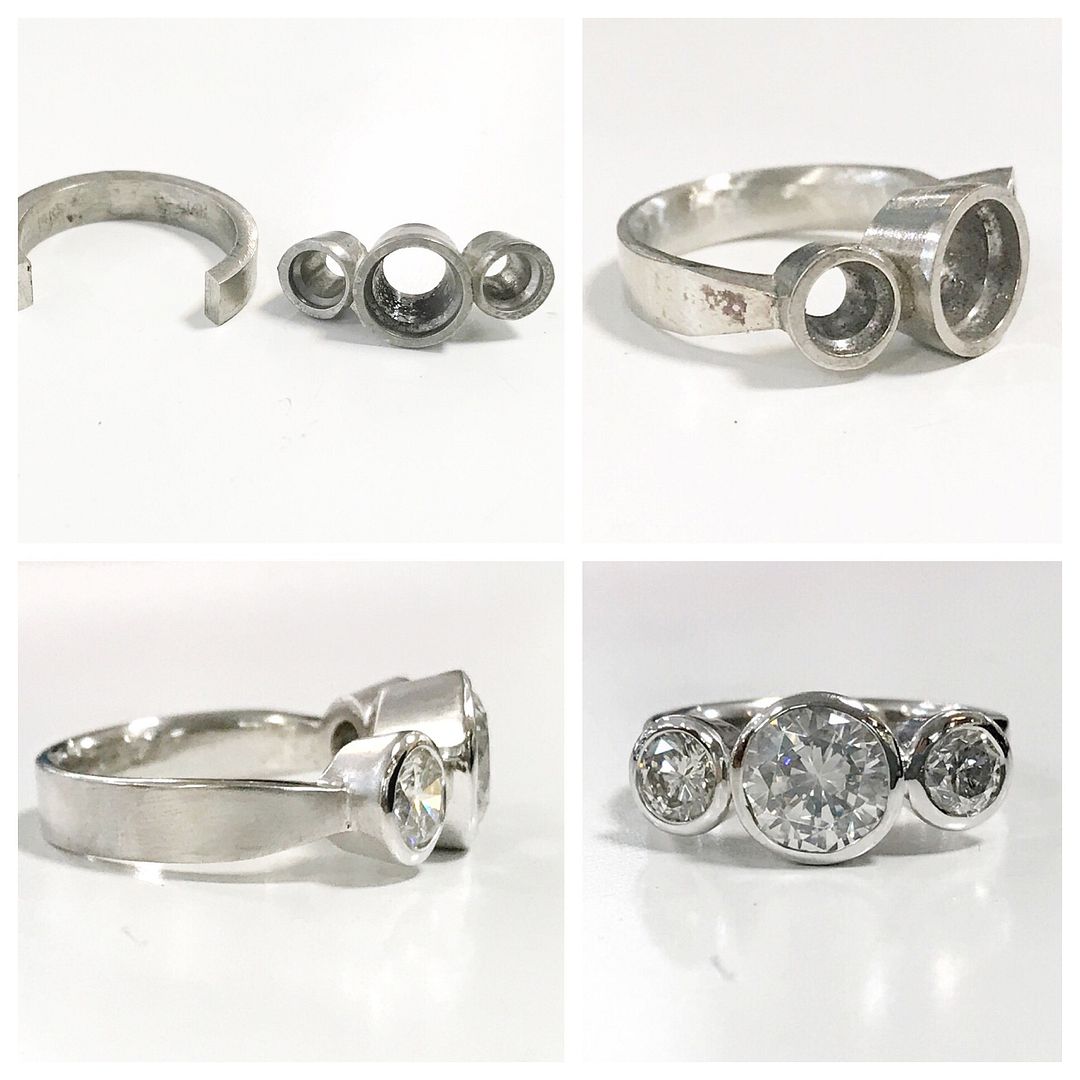 We also love a challenge. This ring had seen better days after being dropped down the garbage disposal. After losing some of the diamonds and taking a tremendous beating, Elliot was able to restore this ring and all its glory. Lumina Gem to the rescue!
If you're looking for the perfect something blue, these Toni Maccabi fashion rings are now 30% off!
Thanks for reading our email,
and have a wonderful weekend.