According to the old proverb…
If March comes in like a lion,
it will go out like a lamb.
We have no idea what the weather is going to do
these days, but we can tell you this…
This week's new arrivals have
ROARED IN like a LION!  
Hunting for a bargain?  Here you go!  
Brand new ivory sofa, $1,095, Retails $1,399. 84x33x36″h.
Oil painting, $180, 47×35.5″h.
Fiberglass Buddha statues, $340 each, 74″h.
Grey Storage bench, $225, 50.75x20x17″h. 
Pillows, $38-$68.
Subtle coastal vignette…push back recliners in a dark slate blue, brand new for $495 each, 27.5x35x41.5″h.
Original abstract art, $145, retails $400, 48×24.
Octopus lamp, $95. Grey table, $125. 
Accessories, $10-$28.
We have SPRING FEVER, so we are living this FRESH and
brand new ivory sofa piped in coral by BEST, $995.
 Floral canvas just $75. 35" square.
Just in…soft green swivel chairs, $395 each, 28.5×32.5×33.75″h.
Oil painting, $157, 39.5″square. 
This black chest retails $727, we have it brand new for $405. 38x16x36.5″h. Two lamps available, $75 each, 26″H.
Picture frames, $14 each. 
Just in…BRAND NEW dresser & chest by A.R.T. The dresser retails for $1,536, our price, $1,095. 70x20x41.75. Chest retails for $1,752, our price, $1,095. 40x20x58. Neutral swivel chair, $395. 31x30x34. White ceramic lamps $85 each. 28″H. 
Hand distressed dining table with a small and unique oval profile,  plus 4 white wooden cafe chairs, $995. 47x31x30.
Framed sailboat art, $180, 34×46.
Woven shell placemats, $10 each. 8 Available. 
We see the makings of a great bedroom…
Navy full/queen headboard, $225. Grey tweed storage ottoman, $52.5×17.5×19.5. Throw pillows, $32-58.
We love this 3D textured sailing art, $395, 39×59.
Grey swivel chairs, $395 each, 28.25×33.75×35.5″h.
Two-toned chest, $295. 36x15x34.5″h. 
Metallic lamp, $100, 30″h. 
Have a seat…natural rattan pub table with two stools, $275.
36″ diameter x 36″h. 
Just in on consignment…grey stressless style chair,  a super buy at $275, 33″W. Mirrored chest, $425, retails $800+ 37.25×16.5×32. 30″ square abstract, $95. Clear glass lamps, $72 each, 23″h. 
A consignment score, genuine Italian leather sofa in grey, $595, 91x37x33″h. Coordinating oversized chair, $295. 53x37x33″h
 SLEEK ivory accent chairs, $445 each.
28.25×31.5×31.5"h.
We are BIG fans of this wooden farm table, brand new, $1,095. Retails $1,715. 84x42x31″h.  Coastal navy and ivory striped dining chairs, $145 each, sold in pairs only.  18.5x22x36″h.
Just in on consignment, this Sherill sofa in soft sage green
retails for $1500+. Our Price, $695. 80″W.
Just in, a sturdy trio…coffee table, $225, 48x23x18.5″h.
Matching end tables, $125 each, 20x22x21″h.
A great place to relax at the end of a hard day…
Plush grey sofa, $695, 89″W. Loveseat, $595, 65″W. 
Take a look at this 'ghost' style outdoor dining set, 
a consignment score at $395. 48″diameter. 
FRESH…blue cabinet, $625, 60x14x35. White ceramic lamps, $125 each, 33"h. Blue floral panels, four available $28 each,
each panel measures15x30. Accessories, $24-$32.
ADORBS side tables in blue, coral and grey, just $125 ea.  
24″diameter x 28″h.
It does not get any prettier…wooden chandelier $595.
19"diameter x21"h.
Just in…velvety dark taupe sectional $1095, 95×120, abstract $195, 47.25×35.25, stone topped table $125 28x28x25″h.
WOWZA…blue accent chairs, $445 each. 28.25×31.5×31.5"h.
Just in…This gorgeous pair of stone gray bookcases retail for $349 each, our price $245 each. 24x15x72.25"h.
JUST IN on consignment…see the 'Pavilion' king poster bed in antique brass by A.R.T online for $1,680, our price $895.
 We just received two of these modern high end beauties on consignment, $450 each. 22" diameter 29"h.
Pretty set of four butterfly prints framed in black
just $65 each, 19×23.5″h.
See this dramatic Uttermost mirror online for $435,
buy it from us for $295, 39.75×39.75.
Adorable smaller scale rattan and bamboo cabinet just $125, 30×23.5x48h"h.
So cool, 4 piece wooden mirror, $295, large 47" diameter.
A pretty vignette…Hekman sideboard, $695, retails $2000+. 64x20x41. Bird art, $48 each, 24" square. Lamp, $125, 35"h. Accessories, $4-$24.
Just in…three black 30" barstools with rattan backs,
just $65 each. Not sold separately.  
Classic and pretty black bench with linen fabric by Magnolia Home,
$345, 54x18x18″h.
On-trend black iron chandelier just $325,
22" diameter 29"h.
Great looking black accent cabinet with mirrored accents, on consignment for just $245, 36x13x36.5″h.
So interesting… art glass lamp. $45 19×8"h
There a few booboos on the finish of this nice lighted china cabinet in espresso, SO IT'S PRICED TO MOVE at $195. 46×16.5×78.5"h.
We love this wood and iron coffee table, $265 ,28" diameter 16"h.
Deal time… pair of black chinoiserie twin headboards just $65 each. They are great in black, but we could see them refinished in white lacquer, too.
Like a trip to PARIS…yes, please…indoor-outdoor bistro chairs $85 each, 23.75" diameter table, $85.
DEAL OF THE DAY…
Sturdy farm table just $95. 60x36x30″h.
Hunting for the perfect new piece of jewelry to
accent your Spring wardrobe? 
Feast your eyes on these beauties!  
Just in David Yurman blue topaz
Renaissance cuff, 5mm. $770.
Sterling silver, 14ky gold, and diamond cuff by Vahan, $1,995. Framed by two sterling silver Charles Garnier cuffs, $125 each.
Mother of pearl and quartz necklace is sterling silver, $195.
 Charles Garnier 7mm cuff in sterling silver with
18k yellow gold overlay and cz cross design, $350.
Add a little color to your life!
Prices range from $895 to $3,475.
S. Kashi and Sons 3.36ctw G color SI1 clarity 3 row diamond
band in 14kw gold, $10,915.
18 inch diamonds by the yard chain, $1,520.
.68ctw diamond cross, $1,930.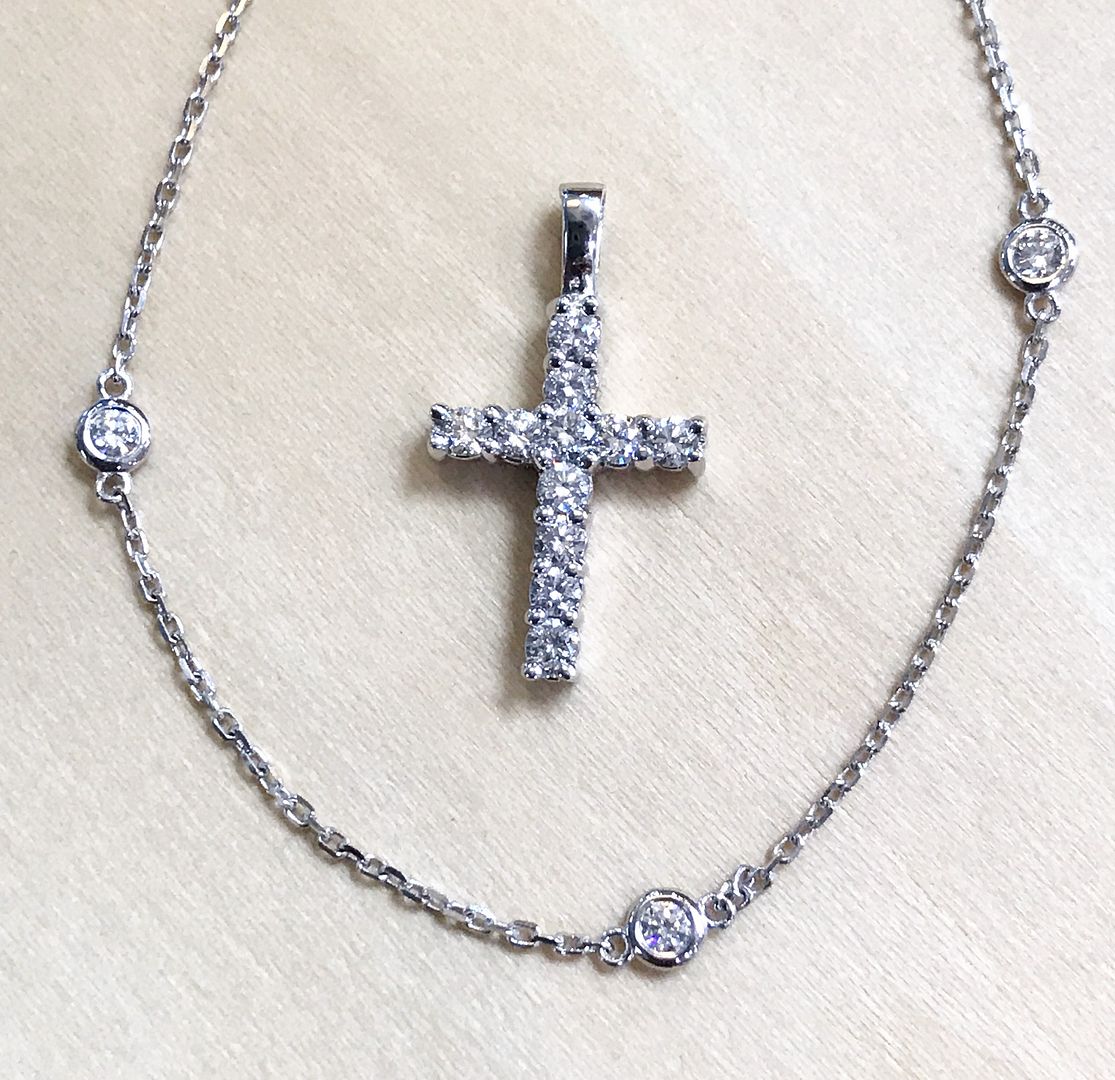 Come in and check out collection of diamond bands.
Prices range from $825 to $960.
Simple 14k gold settings, $385 each.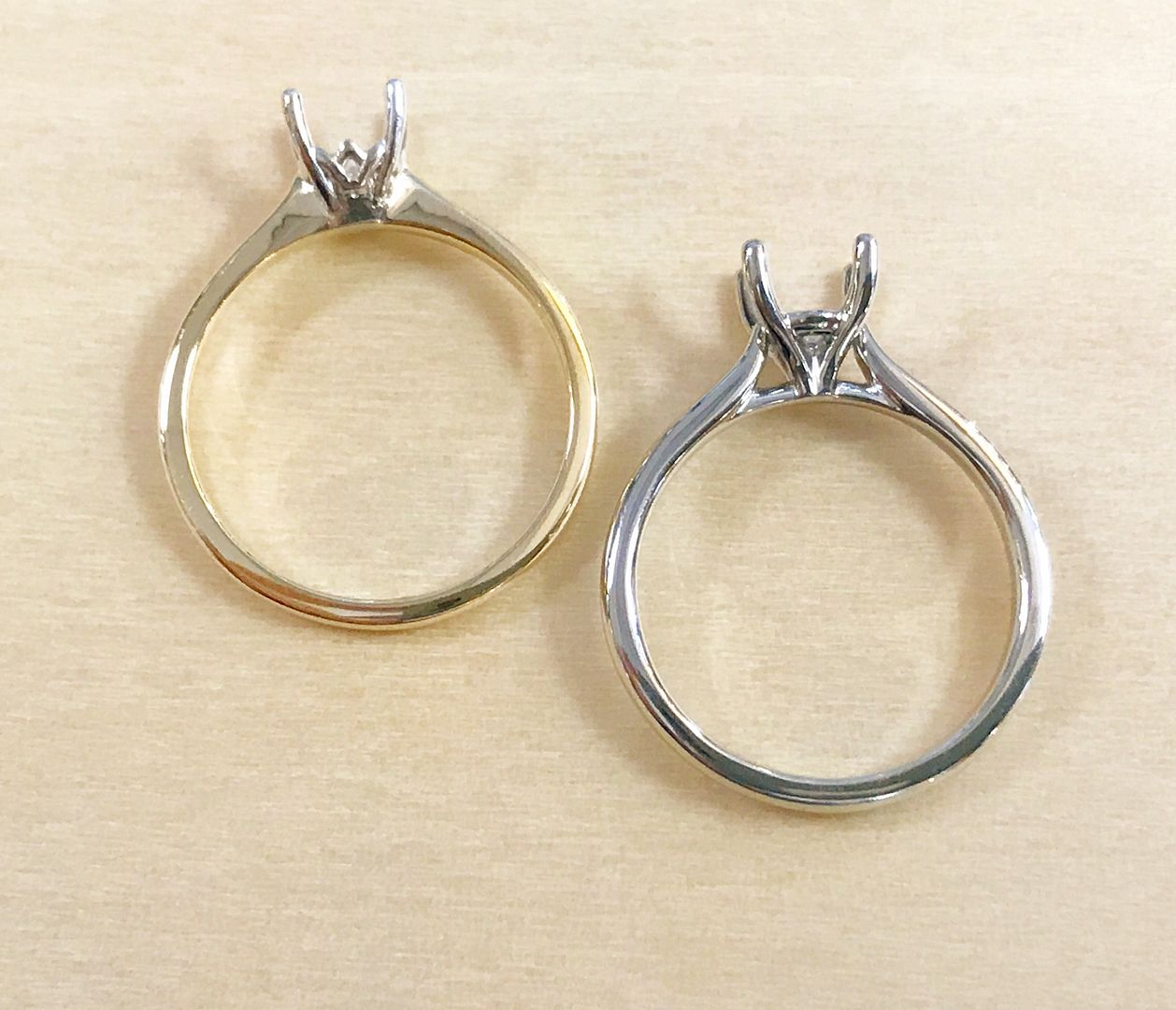 Tantalum men's wedding bands pricing ranges from $395 to $535.
Just in Marahlago pieces!
Hanna petite necklace, $220.
Hanna necklace, $1,290.
Marahlago features the top 3% of all Larimar.
Prices range from $198 to $390.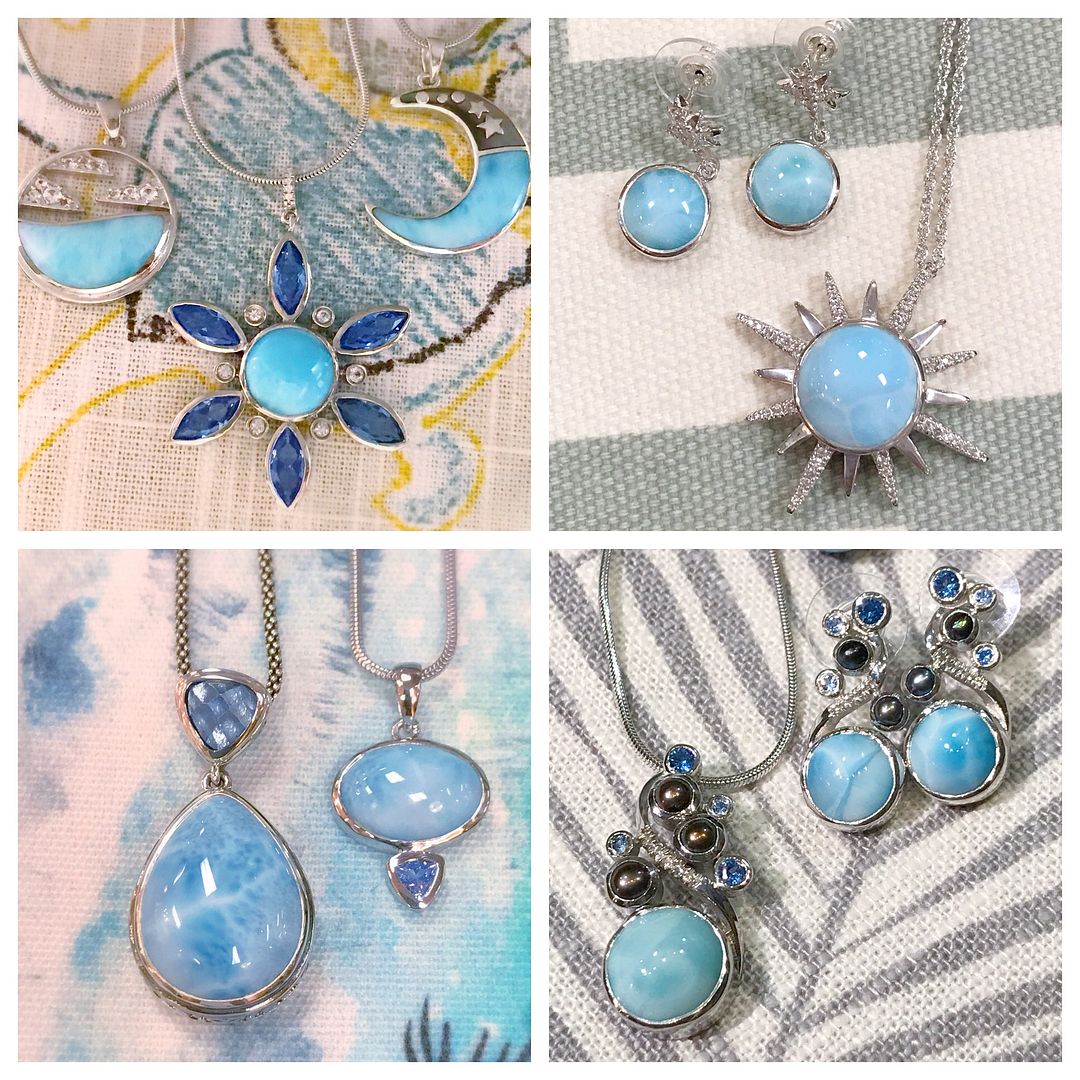 The Indigo is a new collection featuring multi texture sterling silver.
Earrings, $210.  Necklace, $294.  Ring, $279.
Floating heart necklace, $195.
Starfish necklace, $315.
Seafoam beaded bracelet, $198.
Show off your love of the coast with these larimar necklaces. 
Octopus, $260.  Whale tail, $198.  Crab, $216.
Whether you are classic or funky, we have just the piece for you.
Prices range from $145 to $720.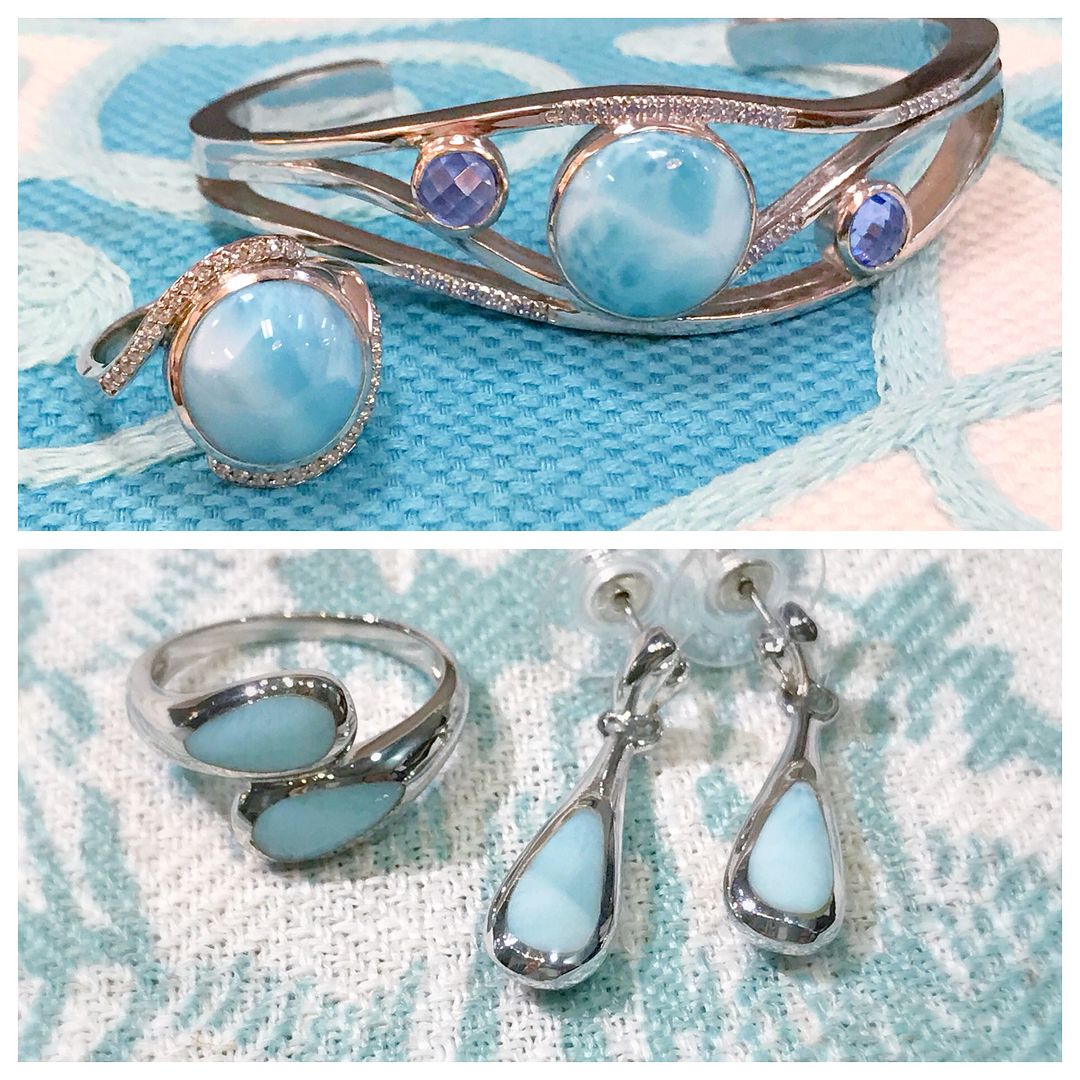 Marahlago Kai collection.
Earrings- $165.  Necklace- $399.
Bracelet- $895.
Black spinel or white topaz tassel necklace
in sterling silver, $295 each.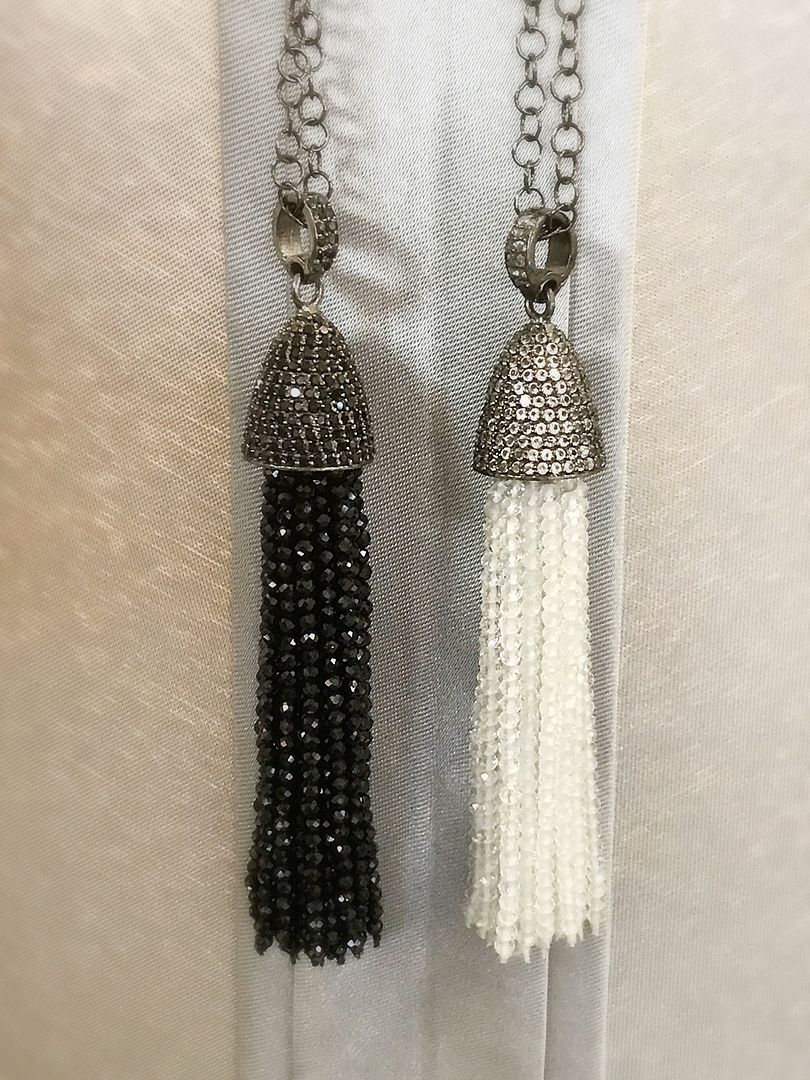 5.09ct (actual) GAL certified natural African sapphire accented with 1.75ctw E color SI1 clarity diamonds in platinum, $22,950.
.91ct sapphire with .27ctw diamonds
in 14kw gold necklace, $2,195.
Tony Maccabi coral or lapis necklaces in 14ky gold, $697 each.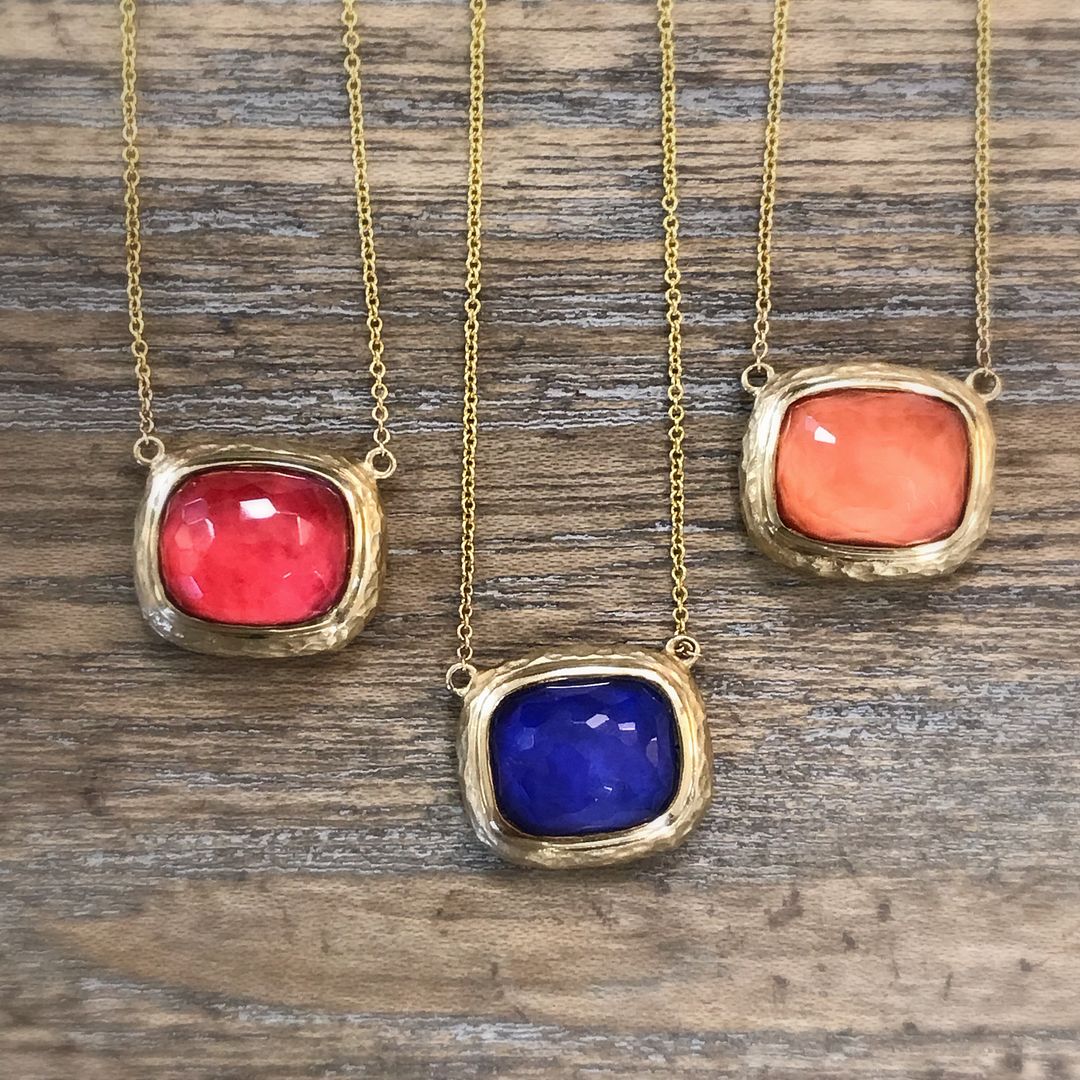 Tahitian pearl and diamond ring set in 14k white gold, $895.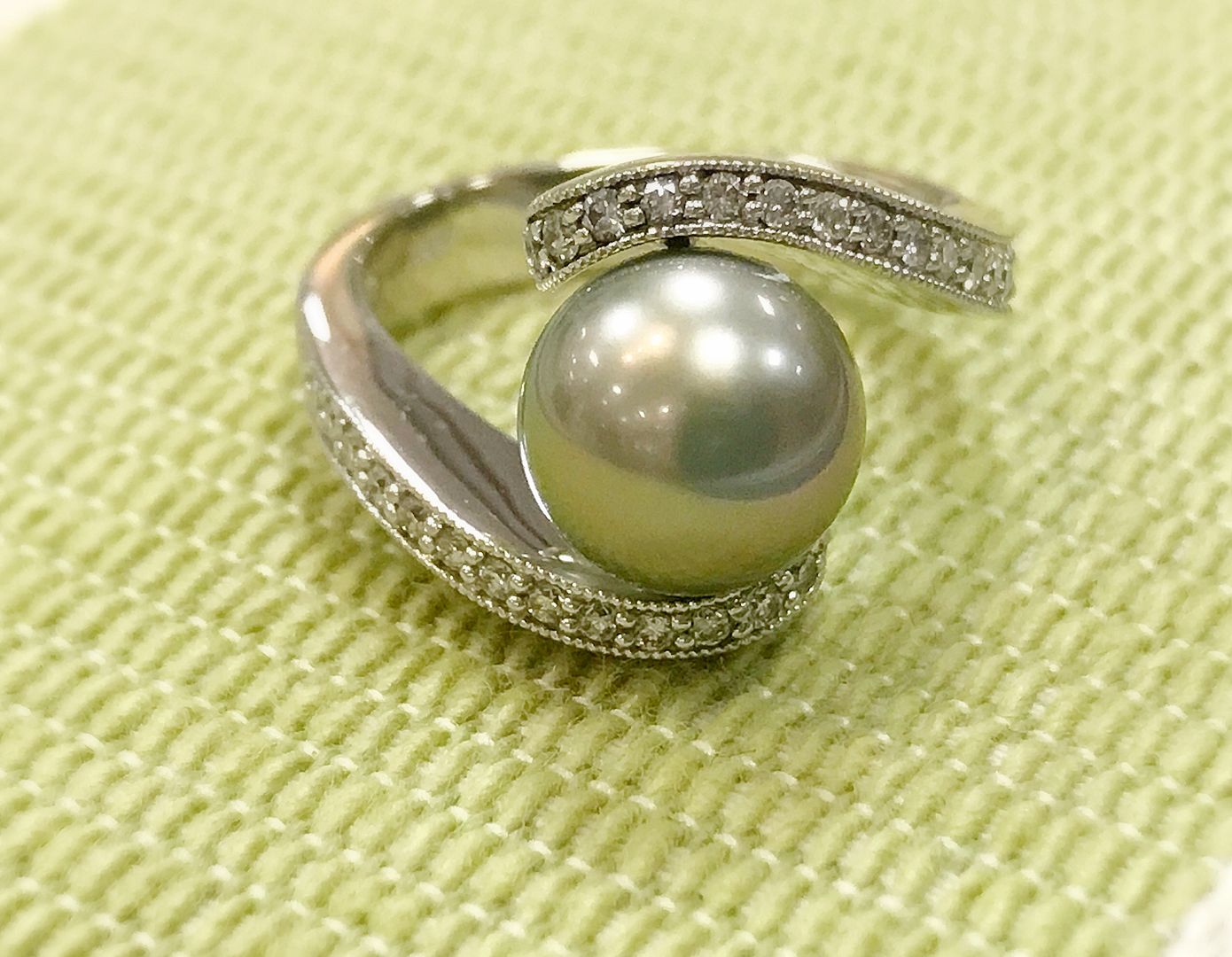 Men's diamond wedding band in 18k white gold, $1,695.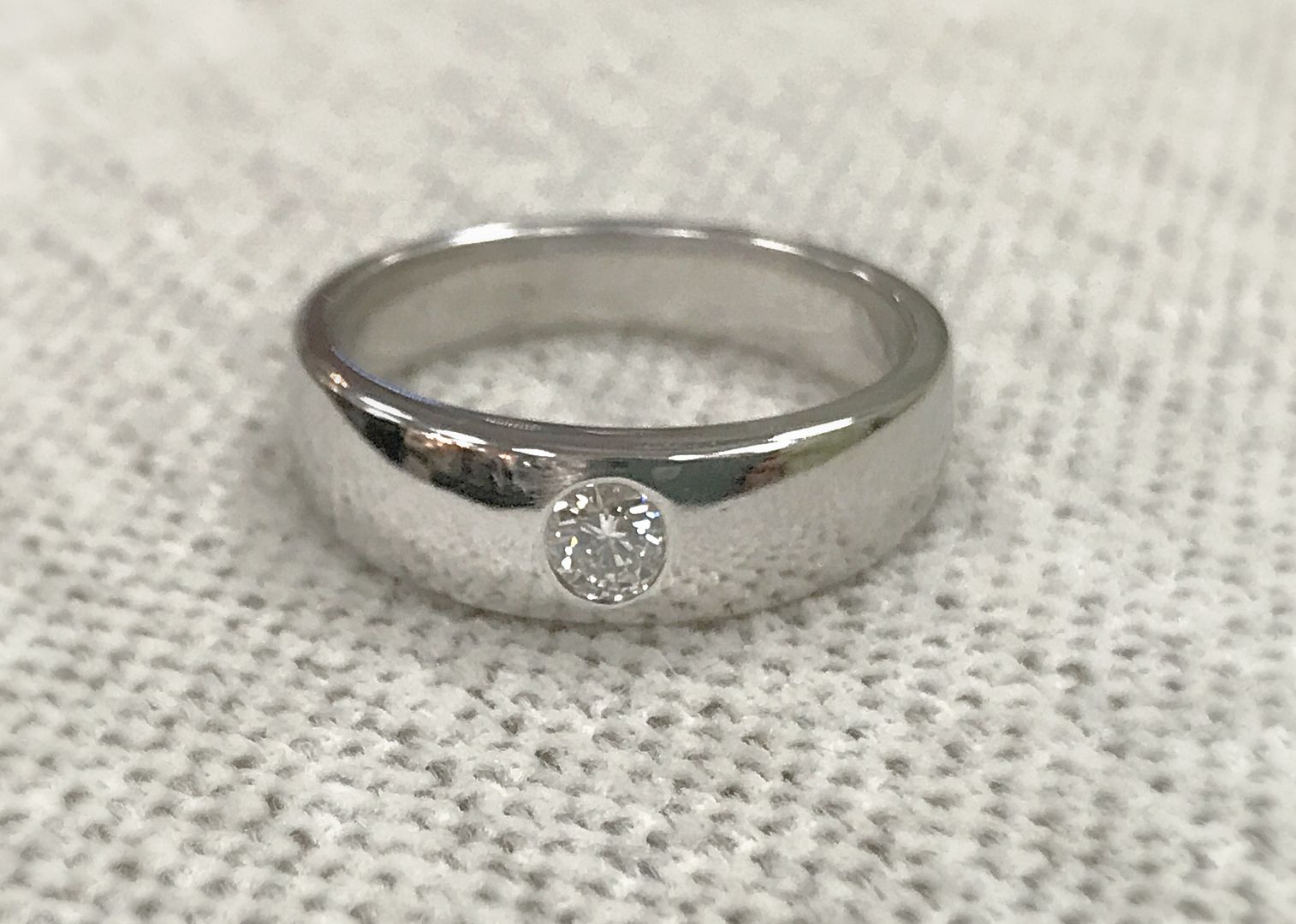 Jeff Cooper designed .75ct E color SI2 clarity diamond
solitaire ring in 14k white gold, $3,500.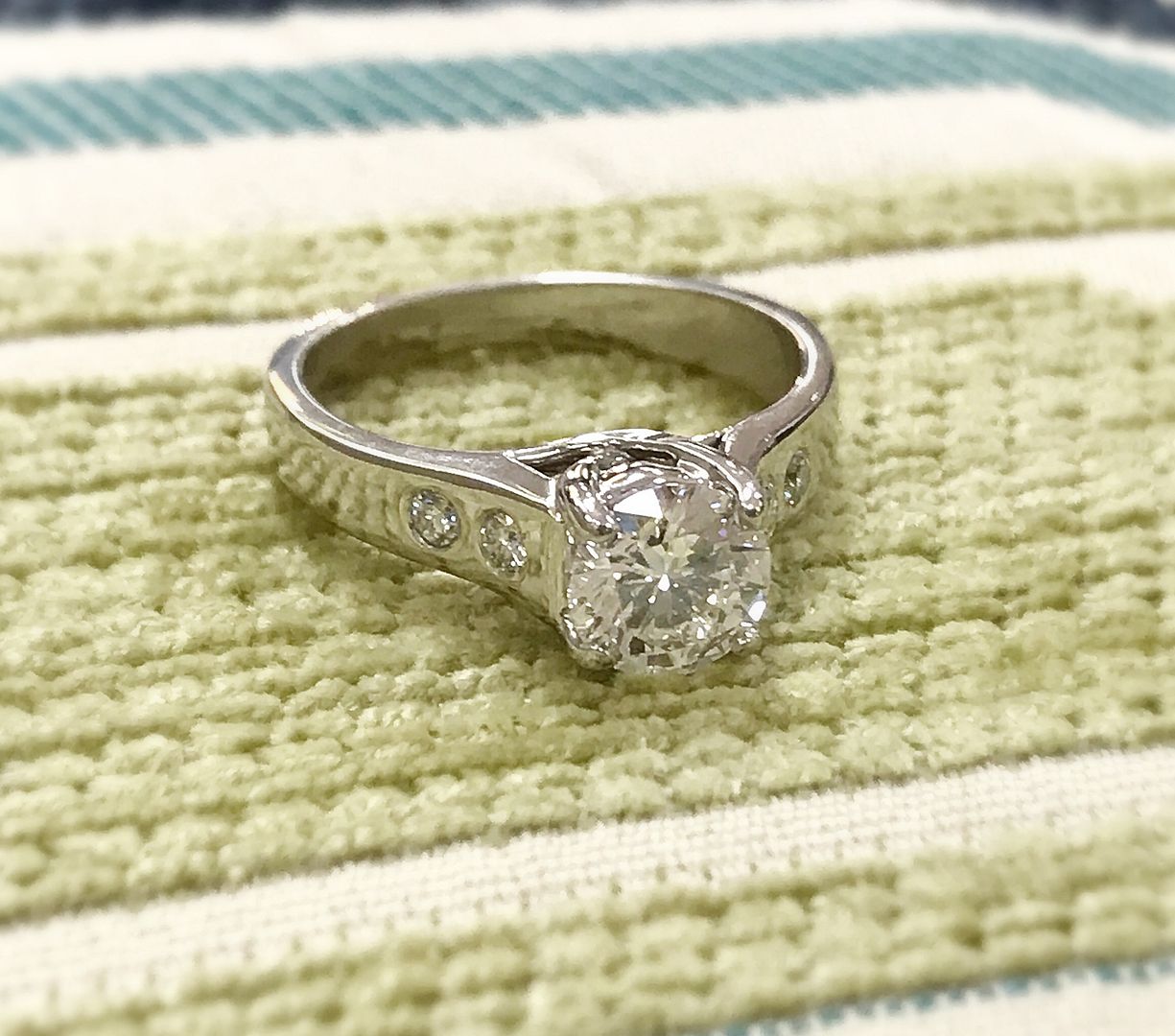 The seasons may come and go…
but you can always find a BARGAIN
at Home Again & Lumina Gem!  
Hope to see you this weekend.