Want Fancy-Pants looks
at Granny-Pants Prices?
Then come coming shopping at Home Again & Lumina Gem…always high end looks for LESS!  
LOVING this VIBRANT vignette…
Designer purple plaid chair retails $1,295 but has some fading, so priced to move at $145. 36″ w.Hand embellished floral abstract, $125, 35.5″square. Seabrook Classics palm bedside table retails $999, our price, $245. 23.5x17x27. 
Coordinating table retails $938, our price, $175. 21×16.75×21. Ginger jar, $125. Baskets, $22 – $42. 
This lovely teal sofa is actually a queen sleeper, BRAND NEW, $1,095. 75″w.  Fine art giclee, $325, 42.5×35.
This handsome farm table & four chairs retails for $1200+, our price $895. In like-new condition. 72x36x30. Also includes 24″ leaf to expand to 96″. Floral art, $67, 39×19. Paisley lamps, $50 each. 
BRAND NEW oatmeal sofa with modern track arms, $1,095. 84″w.  Lime storage bench, $225, 50.75x20x17″h. Green mosaic mirror, $125. Retails $249+ 35.5″diameter. 
This industrial console cart on casters is SO COOL. $445,
54x19x32. Butterfly art, $65 each. 19×23.5″h.
Lamps just $24 each, 32″h.
BRAND NEW swivel gliders just in by Stanley Chair, $495 each. 34x34x32″h. 
Wonderful wooden credenza with gold pulls retails for $1,180,
our price $805.  63×17.5×32.5 
Shown with a MAGNIFICENT abstract for $395, 52″ square,
and some high end mirrored lamps for $112 each.
JUST IN, grey sectional large enough for the entire fam, $1,095. 62x147x93″. Beautiful oil painting in tones of orange and blue, $195, 35.5×47″h.
This charming dining table & eight chairs by BASSETT is a DEAL
at $1,095. 70x40x30 as shown. Includes two 12″ leaves. 
Another magnificent oil abstract, $425, 50.5×60.5. 
Turquoise lamp, $65.
Classic two-toned gate leg dining table or console, $315.
As shown, 55x21x29. Opened up, 55″ diameter, 
Just in on consignment…these swivel chairs by PEARSON are in a nice chocolate and spa blue upholstery. They retailed for $2,030 each,  our price, $695 each. Generous scale, 34″w.
Pretty…seafoam bench by high end maker Lorts, compare at $1,215, our price $275. 48x18x20h.
Just in on consignment, a complete STANLEY home office suite.  Shown here, espresso hutch, $595. 68x14x88.5″h. 
Coordinating Stanley writing desk with glass top, $395. 60x30x30″h.
Matching file cabinet, $395, 34×22.5×30″h. 
Oh my…this 'Abbott' faux concrete indoor-outdoor dining table
by Pottery Barn retails for $1499, our price $895.
Designer lamp, $125, 32″h. Shorebird art, $247, 31.5×39″h.
Mirrored sideboard retails $899+ our price, $595. 52×16.5×38″h.
Statement makers…large modern silver geometric panels,
$225 each. 19.75×59″h. Distressed lamp, $95. 26″h.
This solid wood farm table will not last at $695, 95×38.5×30″h
Nine POTTERY BARN chairs available, $125 each.
Seven taupe and two patterned. 
GORGEOUS King bedroom set by HICKORY WHITE…you really
need to see this in person to appreciate how rich it is.  
King bed, $895, includes headboard, footboard, rails, and slats. 
Tall dresser, $450, 51x22x55″h. Dresser, $795, 63x20x43″h.
Bedside table with marble top, $325. 36x21x32″h.
Just in on consignment…see Uttermost's 'Avidan' antique floor length mirror online for $437+ Our price, $295. 29×80"h.
Just in…three modern adjustable height stools,
just $156 for the trio.  These won't last!
Just in on consignment, get a deal on this POTTERY BARN table & 4 chairs for $895. As shown, 48×68. 20"removable leaf included.
A wowza…modern and edgy media cabinet with a little glam gold thrown in. On consignment for just $425. 73×14.5×21"h.
So cool…pair of modern gold pendant lights, $125 for the pair.
17"h x 9.25"diameter.
You need to check out how rich the wood is on this Pallettes by Winesburg dining table & 8 chairs. Just $1,295! 60×40 as shown. Has self storing leaf to expand to 72". In like-new condition.
Get comfy in these modern and sleek steel BLUE VELVET accent chairs. Soft is an understatement. 26x30x29"h, just $295 each.
DEAL OF THE DAY…this pretty spa blue cabinet by Seabrook Classics retails for approx $2879, our price $495. 38.5x21x77"h.
Brad is just back from the Atlanta jewelry show
with some super cool pieces…at great prices!
Just in diamond studs!
.73ctw J-K color SI2 clarity, $925.
.94ctw J color SI2 clarity, $2,285.
1.91ctw J color VS1 clarity, $12,795.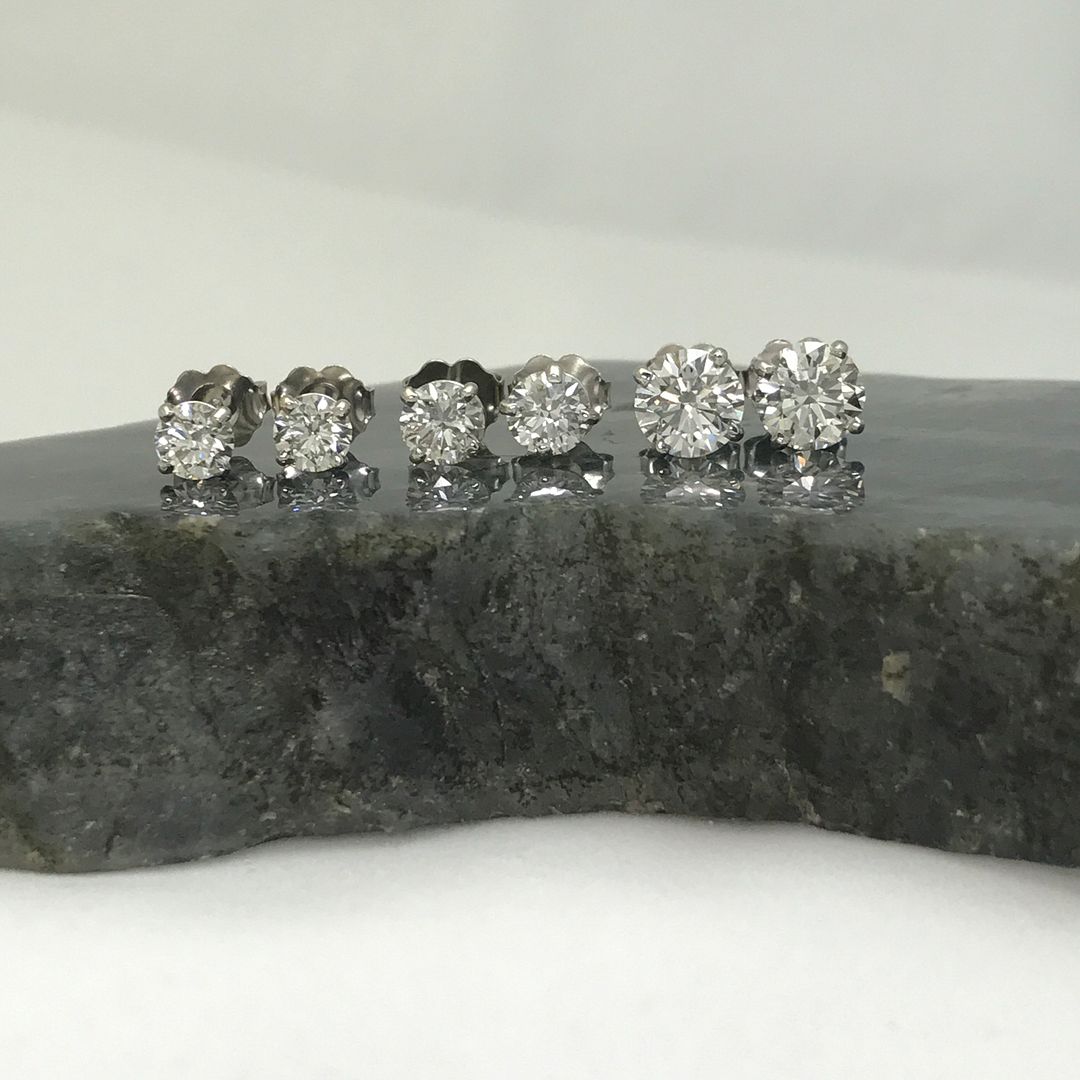 .74ctw diamond and sapphire baguette ring in 18kw gold, $4,695.
.50ctw vintage inspired diamond earrings in14kw gold, $1,125.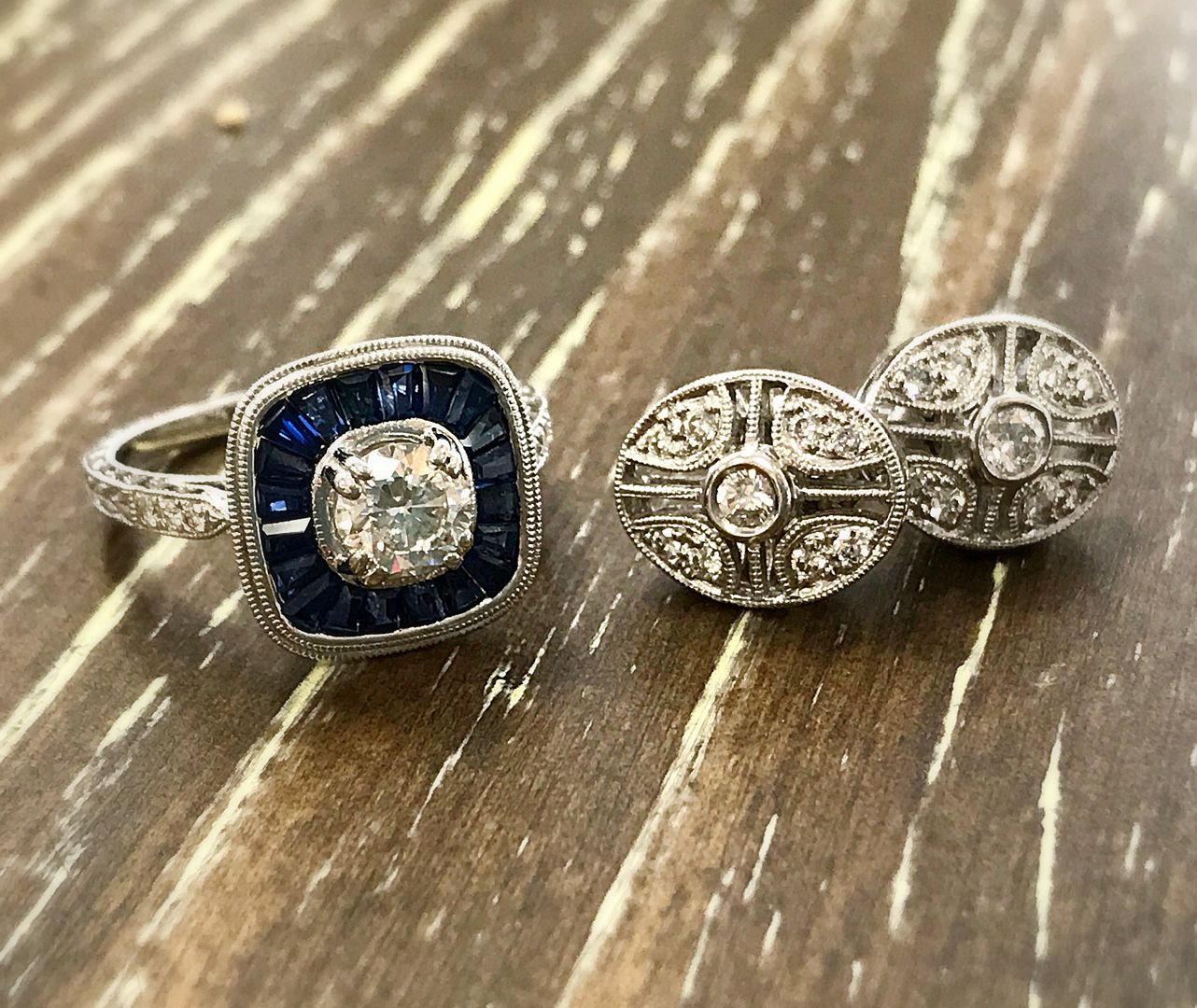 These 1ctw inside out hoops are $1,495 each.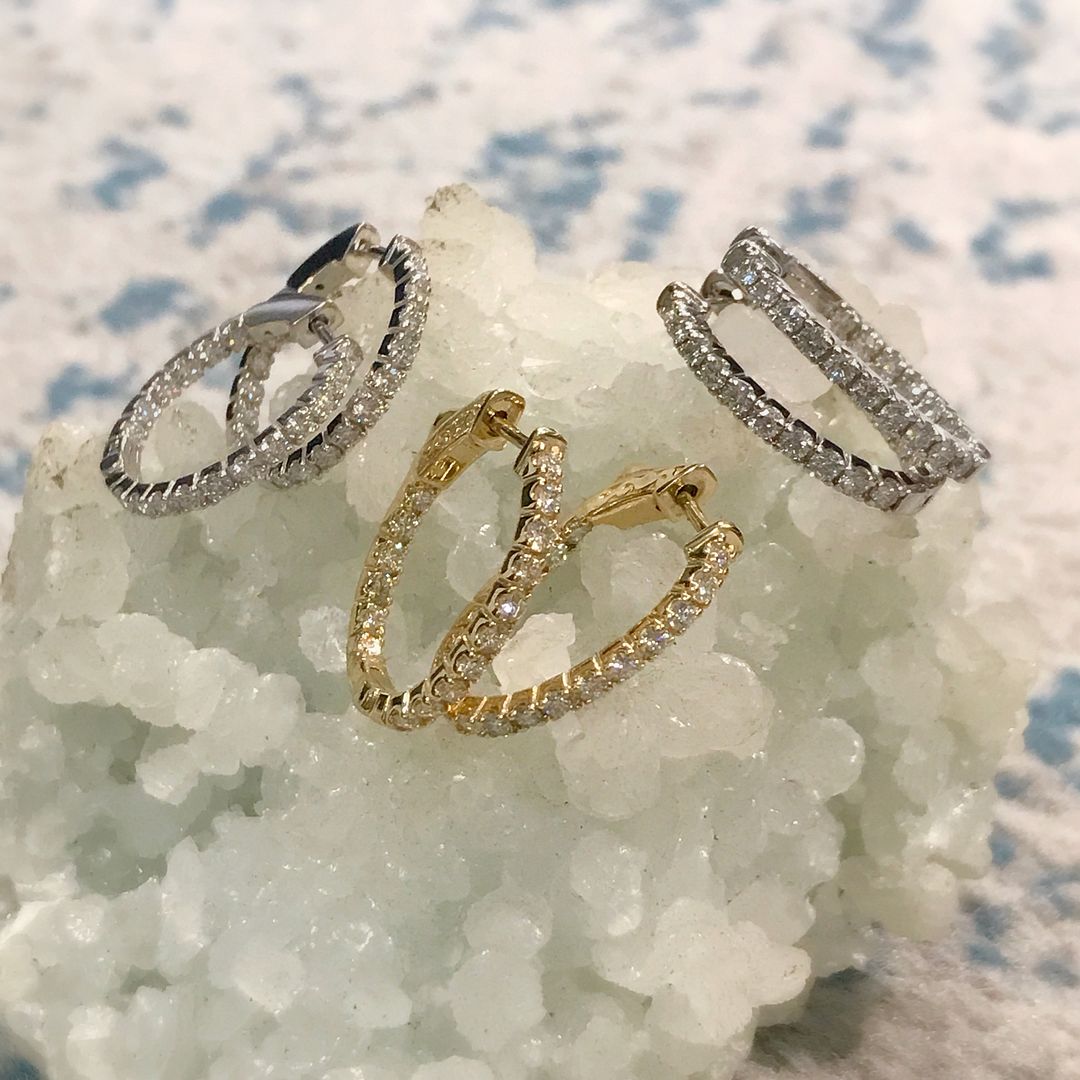 Hammered sterling silver never goes out of style.
Prices range from $75 to $345.
Textured silver earrings, $85 and $95.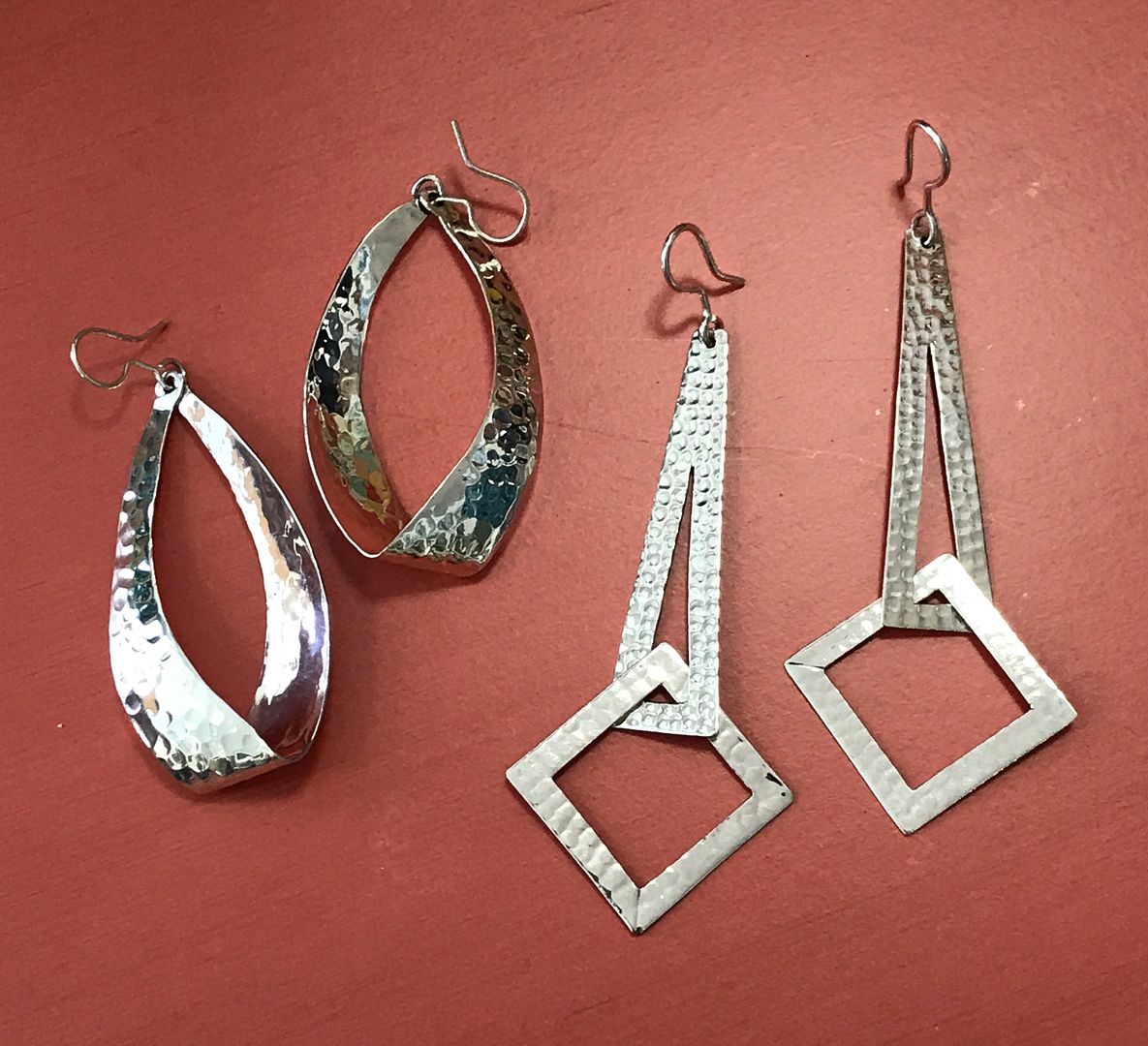 Looking for  a long silver chain, perfect for layering?
 We have options ranging from $295 to $425.
Onyx and pearl earrings, $75.
Multi piece dangle earrings, $75.
Ginko leaf earrings, $55.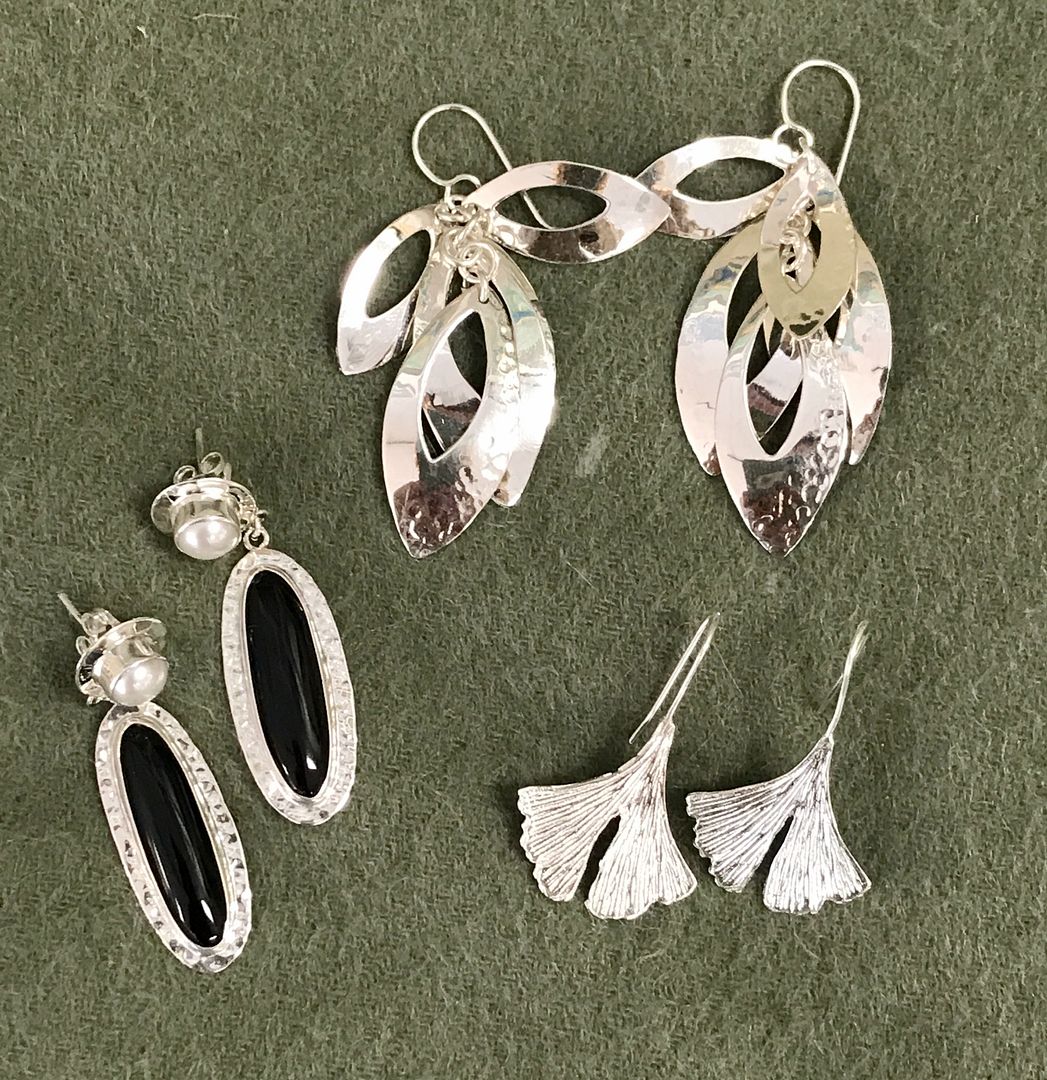 20mm wide silver link necklace, $355.
Matching bracelet, $595.
Silver and gold plated wing and leaf style pieces.
Ranging from $175 to $215.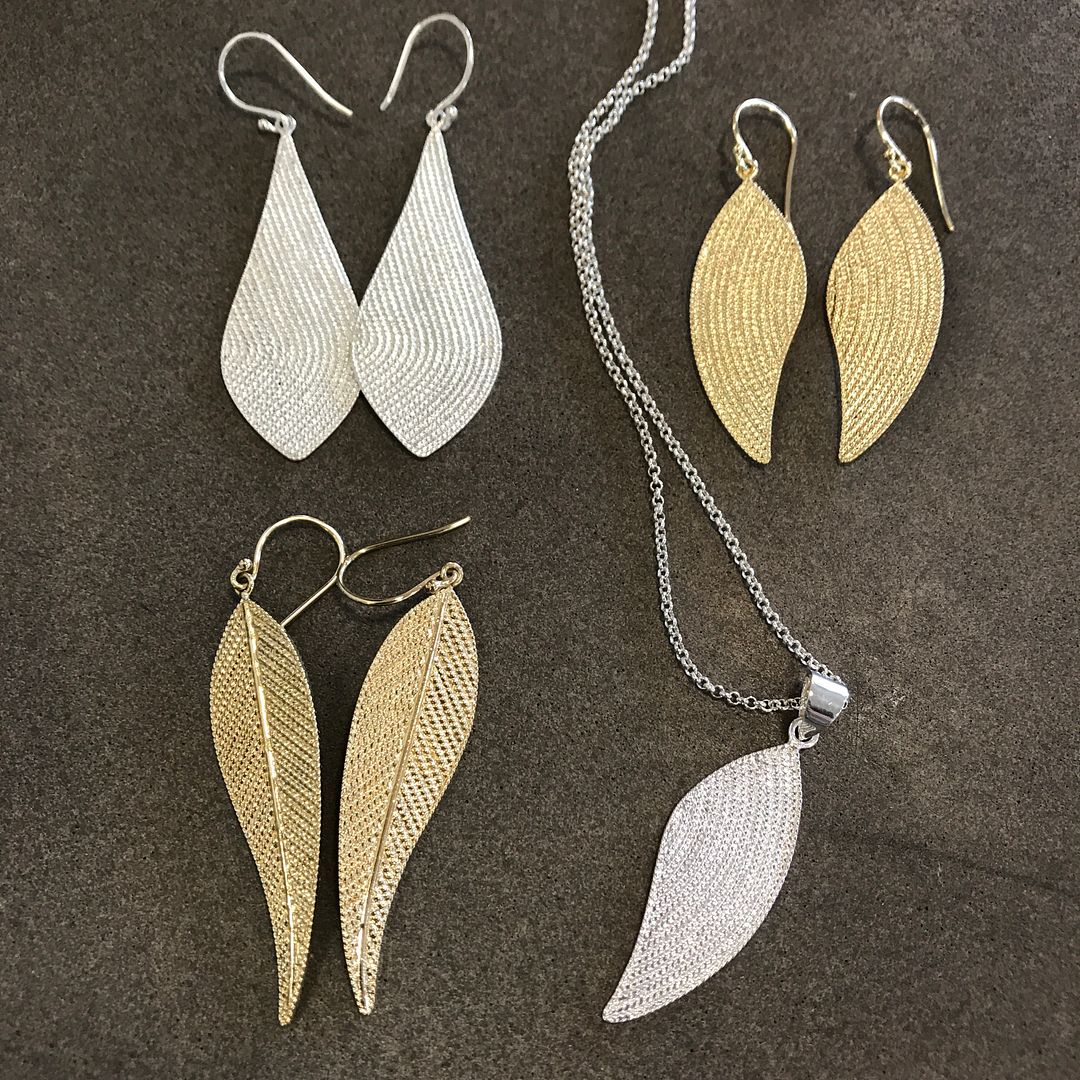 We're spinning over this sterling silver dome ring
with spiral granulation, $175.
Textured silver and gold plated simple dangles.
Prices range from $135 to $215.
These textured sterling silver dangle earrings are only $225.
These multi circle dangle earrings catch the light beautifully.
Only $175 ea.
Clear quartz and sterling silver earrings, $175.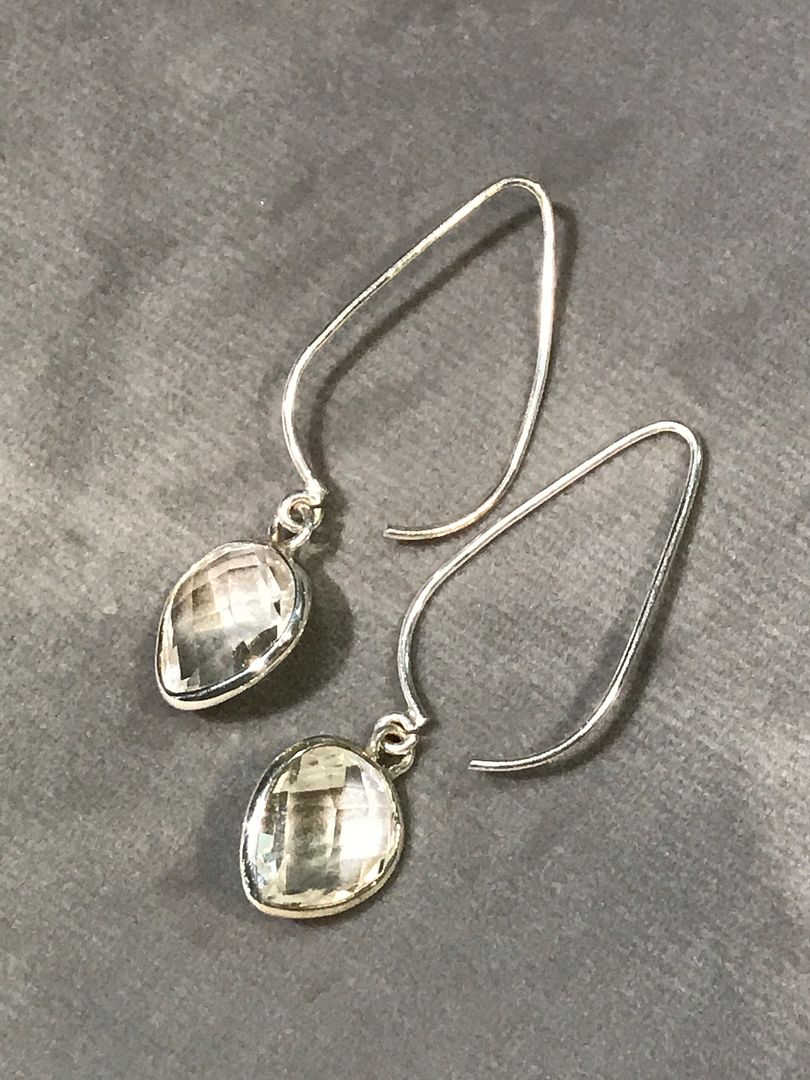 What a deal!  Ocean blue jade split shank rings in gold plated silver, just $225.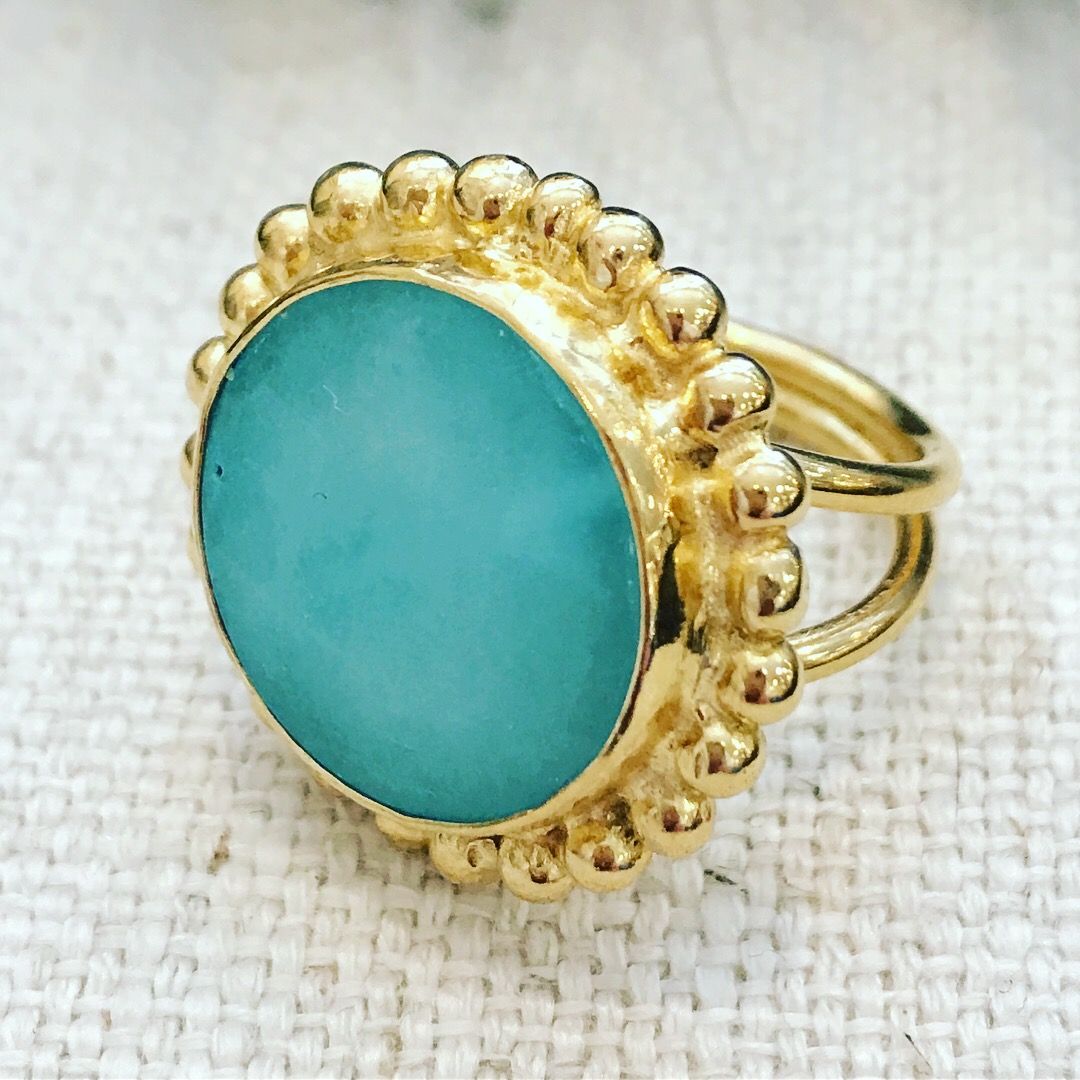 These handmade silver coiled wire earrings are so unique, $215.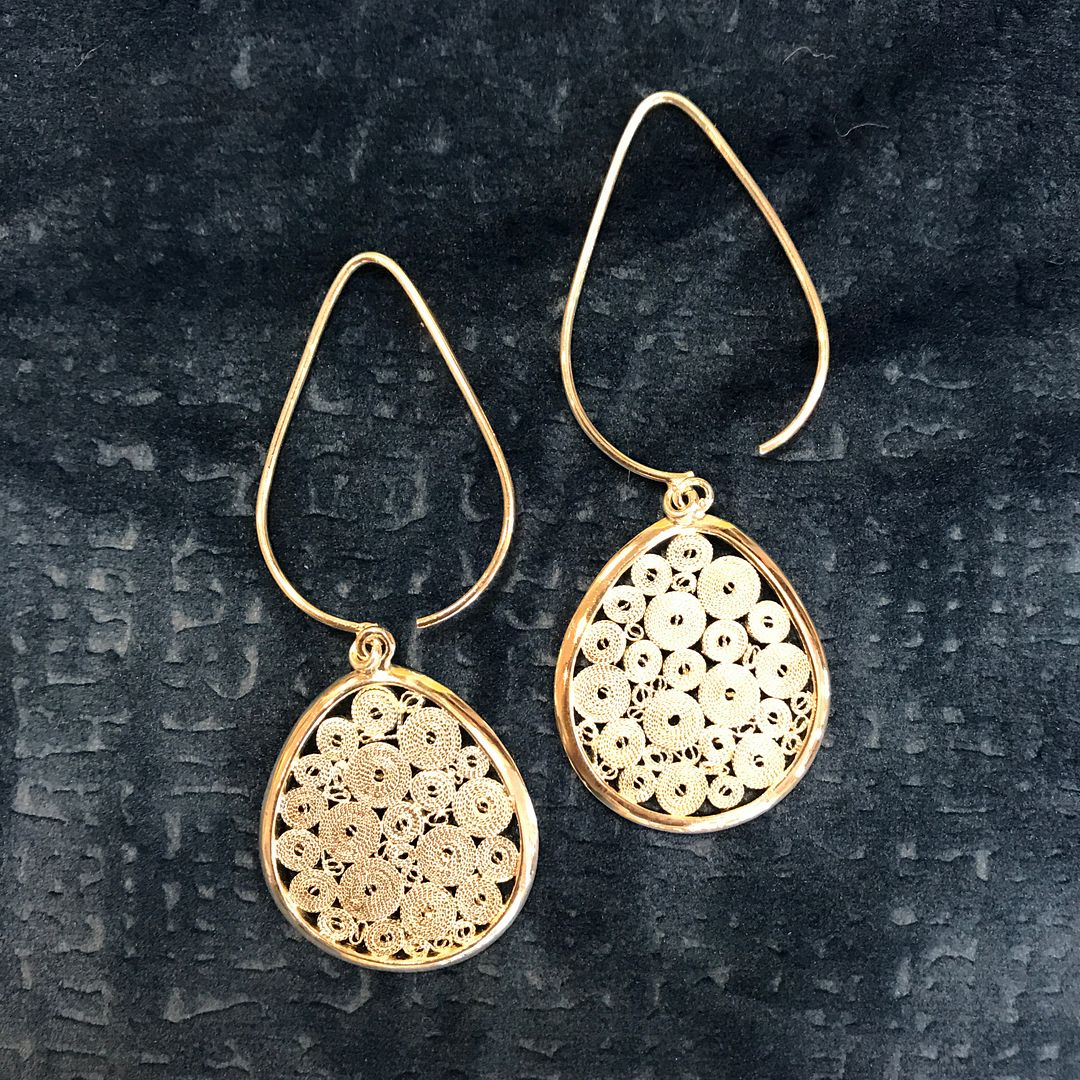 Complete your Easter outfit with these gem cluster earrings! Available in amethyst, peridot and a combination with blue topaz. Starting at $165.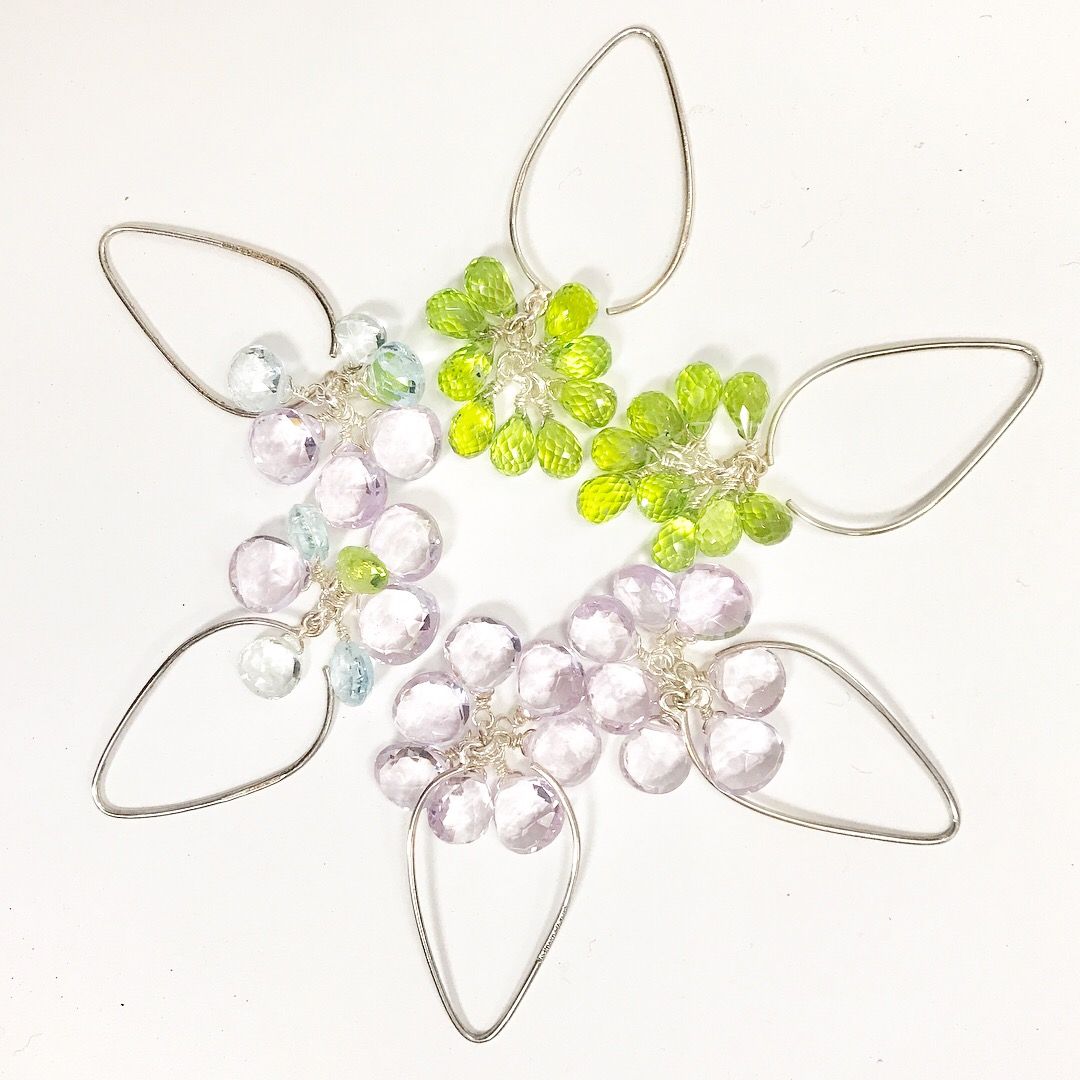 Check out this necklace we just made for a customer.
Handmade oxidized sterling silver bar necklace with
a hand fabricated 14ky gold heart. What can we make for you?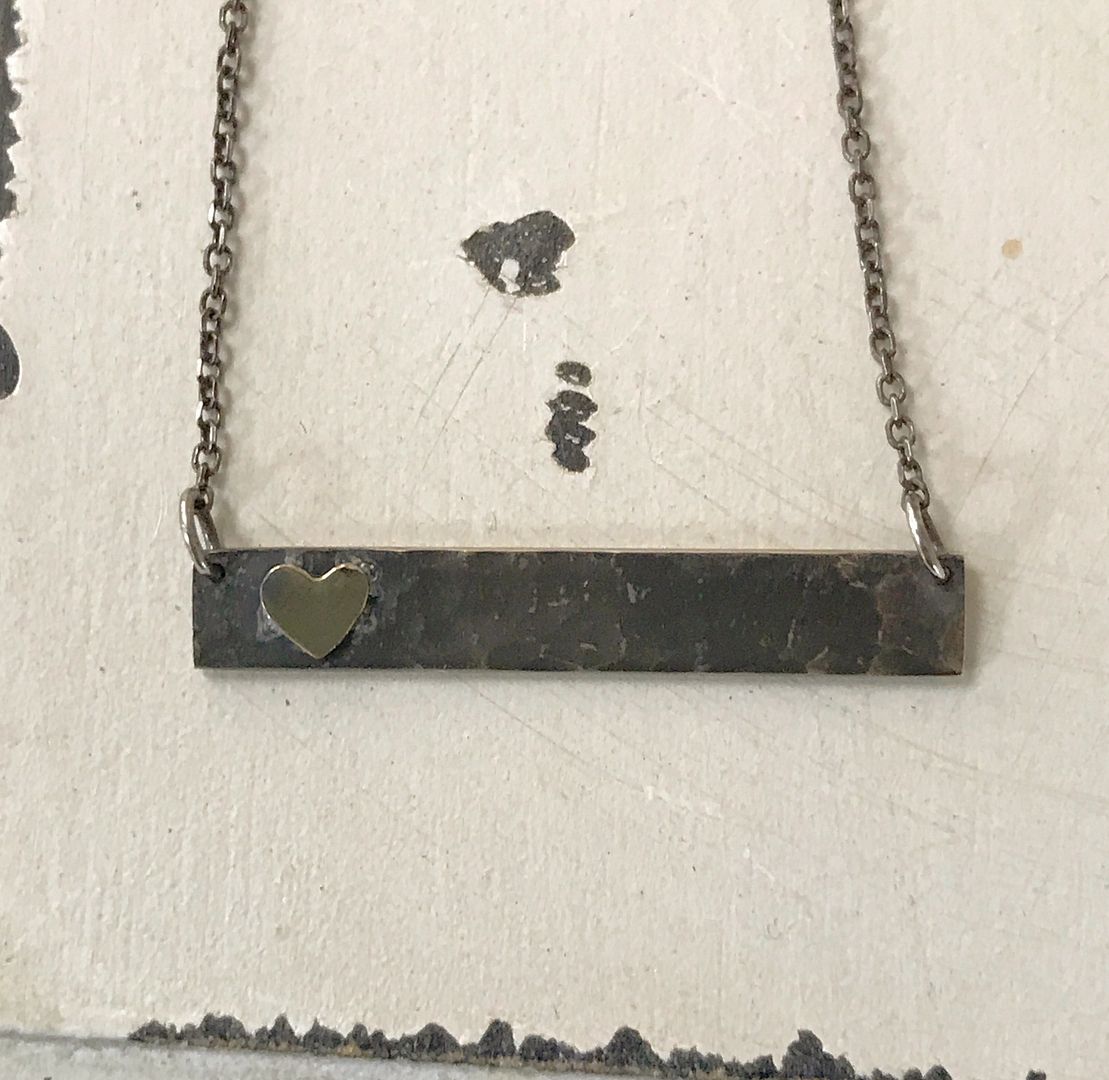 Just in consignments!
Roberto Coin diamond dangle earrings, $795.
John Hardy citrine Bantu earrings, $495.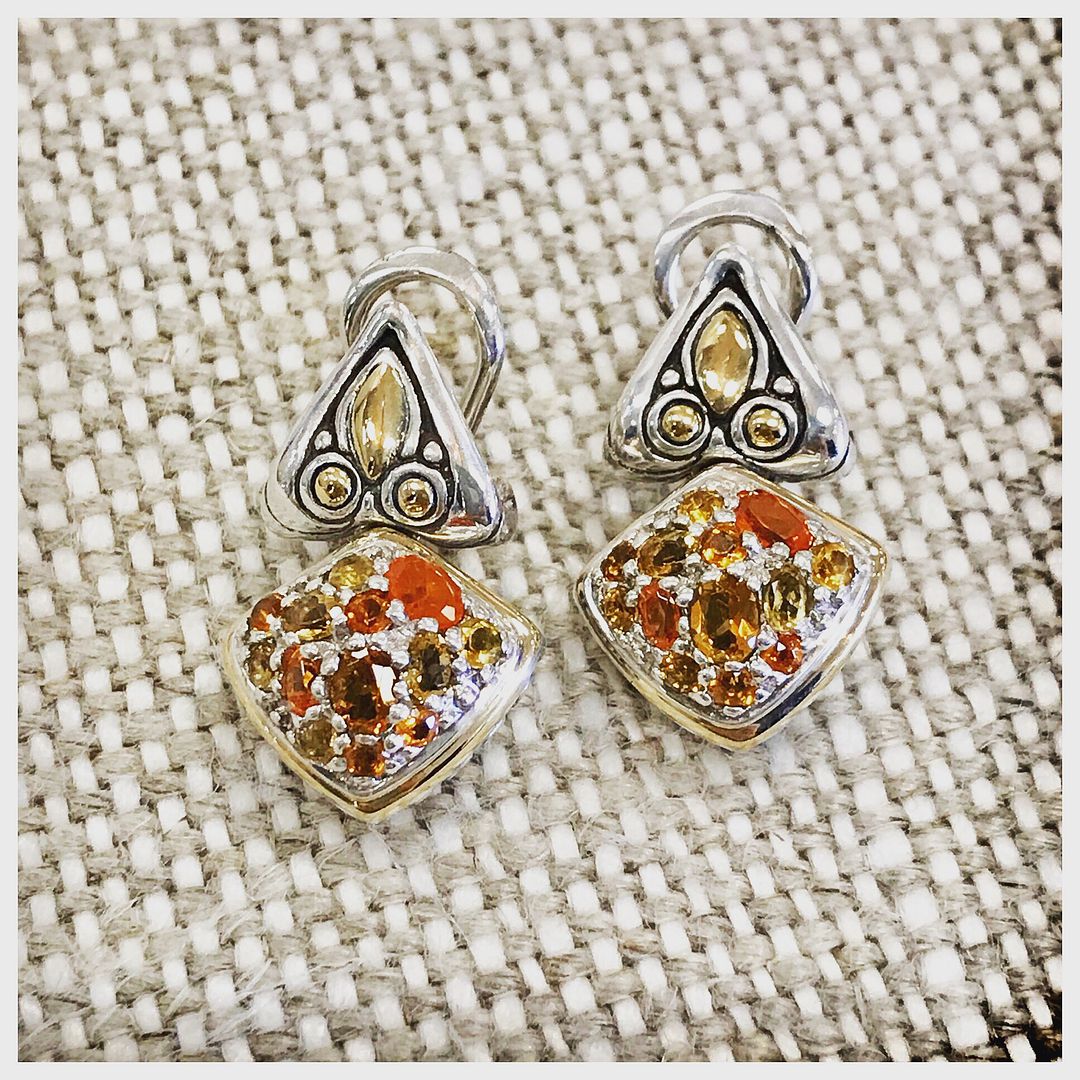 Citrine and amethyst earrings in sterling silver
with gold accents, $195.
18k two tone gold with a brushed finish, $2,495.
18ky gold disc earrings, $895.
Who says you can't have it all?  
Get the looks you want for far less…
at Home Again and Lumina Gem.