The true story of BUBBA,  
the Bolster-Baby…. 
We ordered the wrong size bolster for an interior design job.
A ginormous, freakishishly large bolster. And we named him Bubba.
We have grown quite attached to Bubba, and can't bear to see him end
up in the dumpster…and that is where you come in…
Enter the SAVE BUBBA,
the BOLSTER-BABY CONTEST…
and win a $150 GIFT CERTIFICATE to Home Again!
Go to our facebook page for all the details.
If nothing else, go to our facebook page and read some of the entries we have received so far…absolutely hysterical.
CLICK FACEBOOK LINK BELOW and scroll down to see contest:
https://www.facebook.com/homeagainilm
Enter today… SAVE BUBBA!
A consignment score…BEAUTIFUL farm table and 8 celadon green rush-seat chairs.   As shown the table measures, 96×36. Includes two additional 19.5″ leaves. $2,295.
WOWZA…greywash framed coastal giclee, $325, 39″ square. Wooden lamps with ombre shades, $145 each, 30″H.
Oyster shell box, $32.
Also in on consignment…POTTERY BARN seagrass modular sectional, $1,495, retails for $3,600. As shown, 100×100.
Literally JUST IN….A large selection of coastal art! 
Prices range, $225-$395.
We LOVE these spice barrel swivel chairs, brand new by Best,
$495 each. 32x30x32″H. Abstract art, $75. 36×30. Pillow, $29.
Coastal fine art giclee, $295, 47×34.5.
Oatmeal chairs with bronze nailhead trim, $595 each. 33.5″W.
This handsome media cabinet from Havertys retails for $699, our price, $450. 60x30x34. Preppy plaid lamps, $145 each, 27″H.
Framed fruit art, $95 each, 20×29. Accessories, $32-$65.
FABULOUS accessories are everywhere…from $14-$52.
We love the saturated colors in this rich fine art giclee, $295. 43.5×31.5
We love the 'Annabel' sectional from Best Home Furnishings.
We can special order it for you in different sizes and fabrics.
As shown on our floor, $2,495, 88×111.
Also by Best, The 'Prima' 3-way push back recliner, $795, 33″W.
Can also be ordered with a power option. 
JUST IN ON CONSIGNMENT…ivory desk & hutch, including chair for $495. 48x21x73.5.
Matching tall chest, $350, 24.5x17x57.5.
Bedside table, $175, 24.5x16x25. All from Havertys. 
Also by Havertys…full size trundle bed with drawers, $295.
The very talented Carolyn Colby stopped by with her new collection of ORIGINAL acrylic canvases with a wonderful oyster motif.
Priced from $75/$125.
Shoreline fine art giclee, $395, 58×34.
Ombre designer lamps, $145 each, 31.5″H.
Taupe dresser, $625, 64x19x38.
Coordinating chest, $595, 40x19x54.
Two bedside tables available, $225 each, 28x18x28.
Opportunity buy…we have a total of 8 of these skirted linen
dining chairs for $145 each. Sold in pairs only.
Neutral and durable taupe chenille sofa with
nailhead trim, $695. 90″W.
Oversized palm chairs with ottomans, $395 each. 35″W.
$$Save Hundreds$$ 
Gorgeous sheesham wood 'Madera' king bedroom set by Hillsdale. Platform bed $895, retails for $1,529.
6 drawer dresser, $695, retails for $1,265. 64×18.5×38.
Media dresser $595, retails $1,012. 44x19x46.
Nightstands $295 each. Retail $451 each, 26x17x28.
?Yes, please…stunning faux bamboo chandelier in gold, $495.
20" square x 32″H.
Just in on consignment, but came to us brand new in the box…This queen linen bed retails for $695…our price, $395. No side rails or slats, but head and footboard can attach to a metal frame.
Industrial console table, $195, 46x24x19.
Coordinating coffee table, $195, 46x16x29.
THE STATEMENT MAKER.  This is the COOLEST storage bench…Shaped like a boat and
SOLID WOOD. $795. Large scale, 85"W.
Good-looking linen SLIPCOVERED group just arrived and it won't last long. Sofa measures 81"W and is $1,295. Two chairs available at $595 each. 36" W. Dry clean only.
We like this soft rose gold coffee table for $295,
39.25 diameter x 18h. Set of designer red vases, $84.
Just in by Best Home Furnishings, 'Madelyn' club chairs
in charcoal, $495 each, 32×34.5×33.5"H.
Just in on consignment…dove gray sofa by Birch Lane, retails for $1,100, our price, $895. 90x43x38"h.
Look it…This vintage lucite scalloped bench retails online for $3600, our price $495. 42″W.

Super glam sofa, just $695 including pillows, 90"W.
Just in…matching POTTERY BARN slipcovered lovesseats, $695 each. Retail $1699 EACH. 67"W.  Excellent condition.  
Look at these cuties…white side tables,
$125 each, 18x18x27"h.
MASSIVE textured propeller art $395, 71×32.
Media cabinet retails for $999, our price $525, 60"W.
Driftwood bowl, $62, lamps $145 each, 32"H.
RECOVER ME say these carved wood arm chairs that we just received. Priced to move at $95 each. 25"W.
Trio of super cute 24" counter stools, just $65 ea.
Not sold separately.
1.78ct J-K color VS2 clarity Old European cut diamond in
a .86ctw diamond and platinum Tacori setting, $11,495.
Click to watch a video of this diamond SHINE.
Just in Allison- Kaufman!
London blue topaz and diamond ring, $1,275.
Aquamarine and diamond vintage inspired ring, $1,835.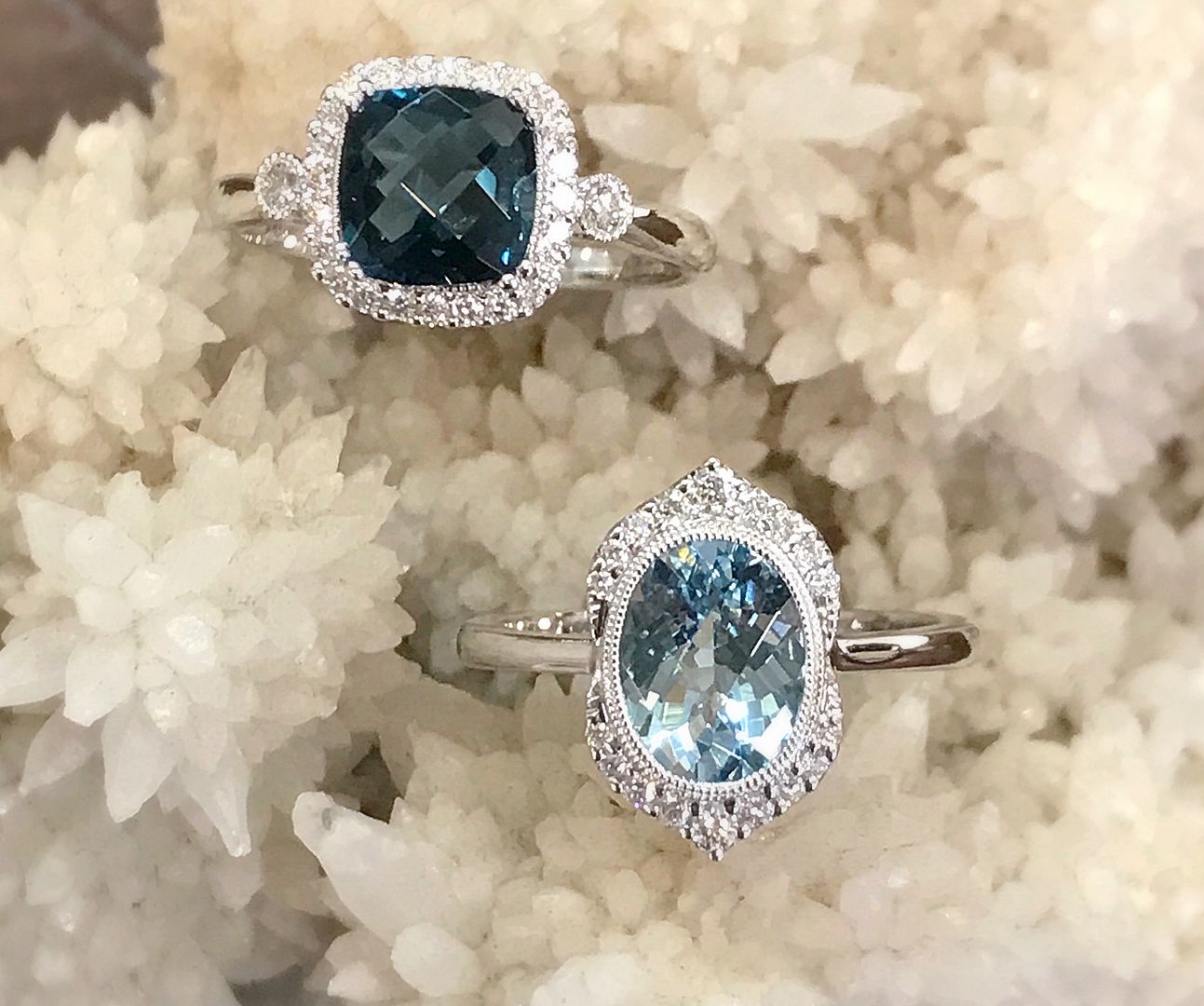 Diamond and 14ky gold cross, $385.
Matching diamond and 14ky gold set.
Earrings, $1,555.       Ring, $1,365.
Two tone diamond earrings, $695.
17 grams of 14ky gold in a textured link necklace, $1,295.
Diamond huggies in 14kw gold, $315.
White gold and blue topaz earrings, $115.
Amethyst and diamond ring in 14ky gold, $810.
10ky gold and onyx ring, $145.

The Forum is having a sidewalk sale this weekend….
and we will have some 30% to 50% off select pieces!
30% off select Alwand Vahan designer pieces!
.26ctw diamond 12 mm bracelet in silver and 14ky gold, $3,065.
.08ctw diamond 6mm cuff in sterling silver and 14ky gold, $1,350.
.20ctw diamond dangle earrings, $1,745.
London blue topaz and .46ctw diamond
8 mm bracelet in sterling silver and 14ky gold, $3,555.
Matching ring, $1,745.
.48ctw diamond enhancer, $2,445.
Sterling silver and 14ky gold chain, $795.
.19ctw diamond Vahan ring, $1,225.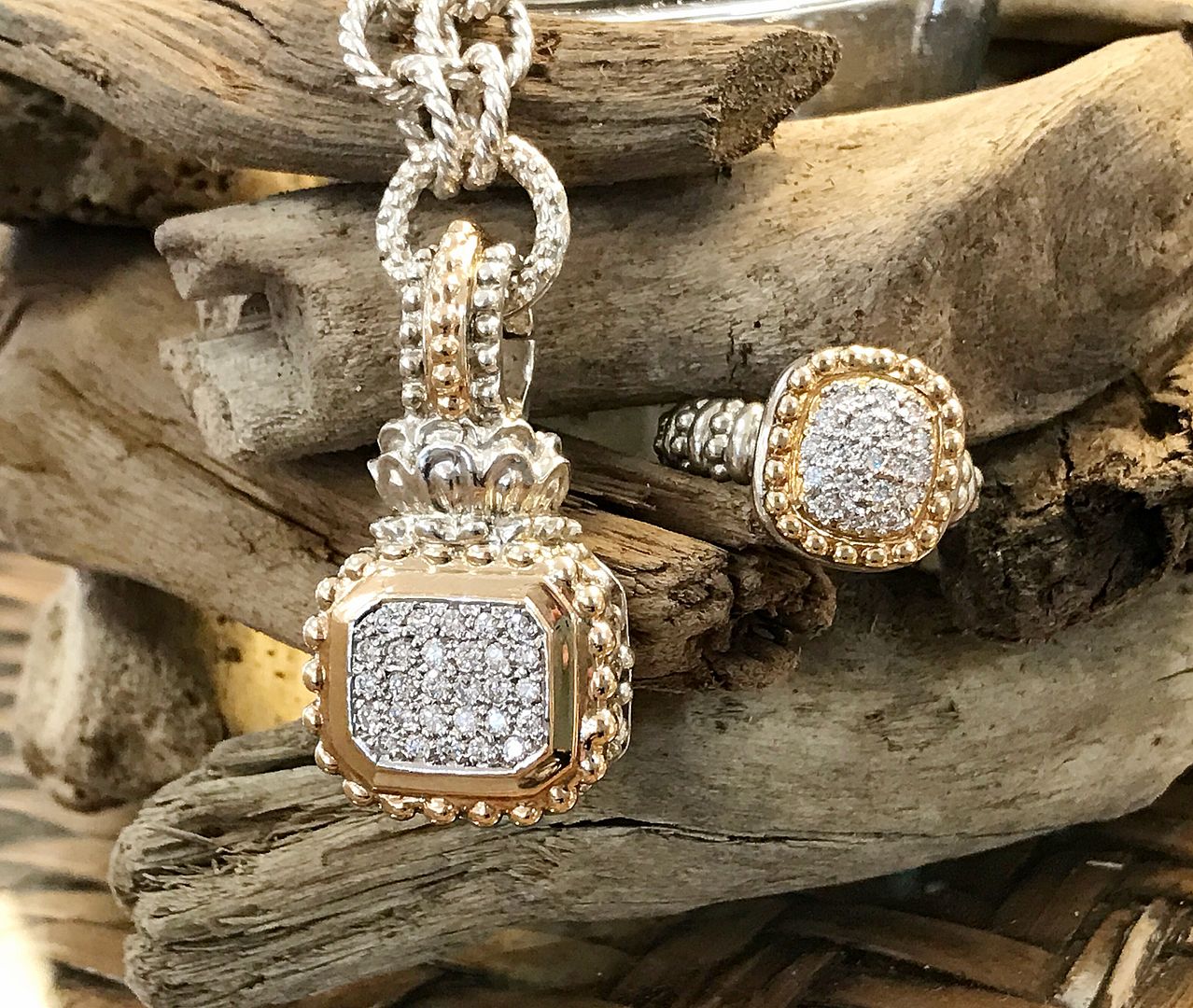 30% off select Allison- Kaufman pieces!
.77ctw diamond tri gold crossover band, $2,260.
.17ctw diamond and 14k textured rose gold ring, $543.
.51ctw tri gold wavy band, $1,630.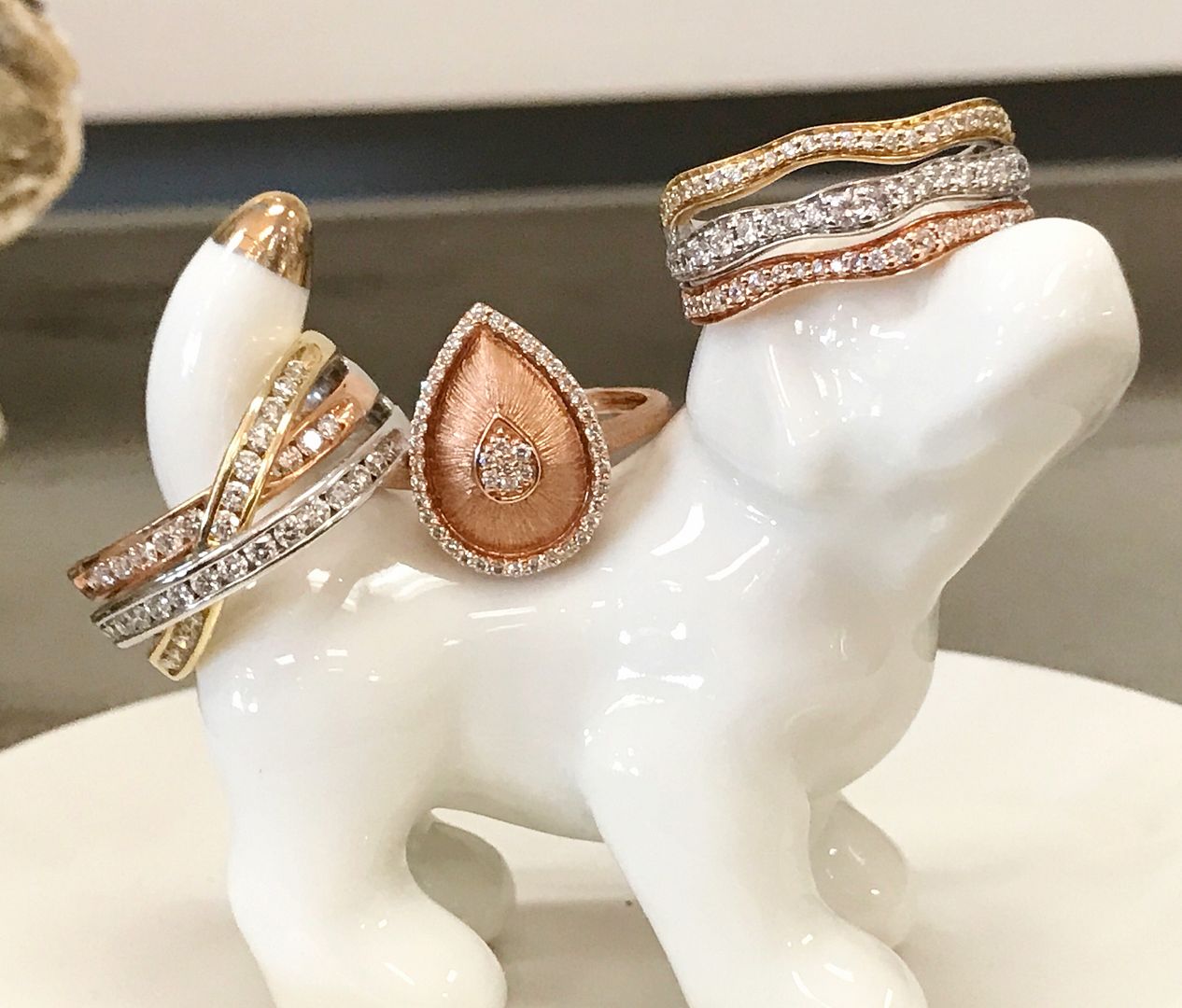 Black onyx with .38ctw of diamonds in 14kw gold, $1,605.
Blue topaz earrings with .20ctw diamonds in 14ky gold, $1,712.
.09ctw diamond bands in 14k white or rose gold, $440 each.
5.76ct fantasy cut aquamarine in a
1.34ctw diamond setting, $4,756.
2.35ct ruby in a .43ctw diamond and 14kw gold settings, $1,998.
.66ctw diamond band in a 14k two tone gold wide band, $1,747.
.74ctw diamond crossover band in 14ky gold, $1,887.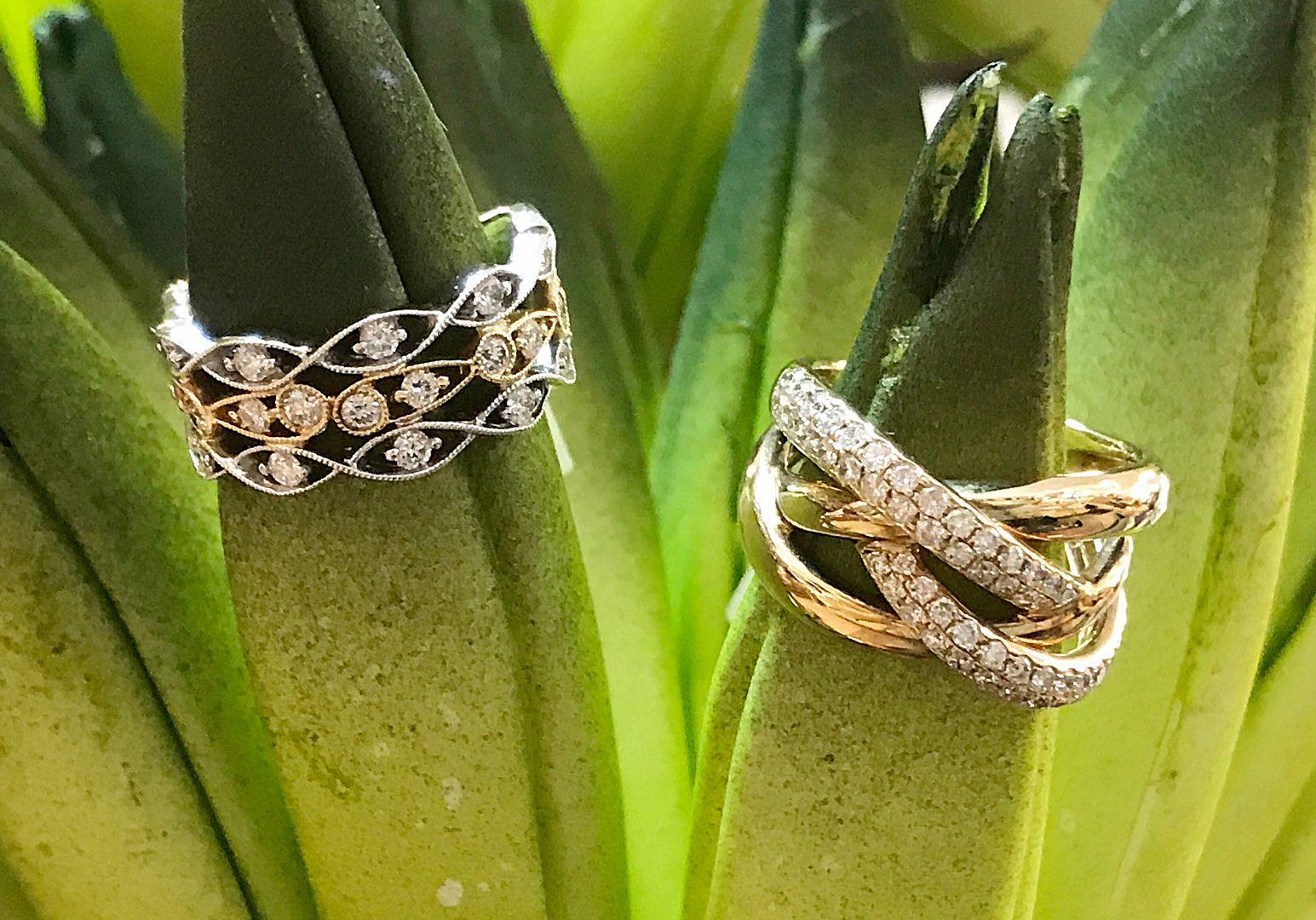 .49ctw sapphire and .20ctw diamond band, $907.
.27ctw diamond infinity symbol ring, $690.
.71ctw double row diamond band, $1,628.
.31ctw pink diamonds accented with .28ctw diamonds
in a 14kw gold band, $1,929.
.59ctw pink diamond and .25ctw diamond band, $2,797.
.40ctw diamond cluster earrings, $746.
.34ctw sapphire and .18ctw diamond band, $683.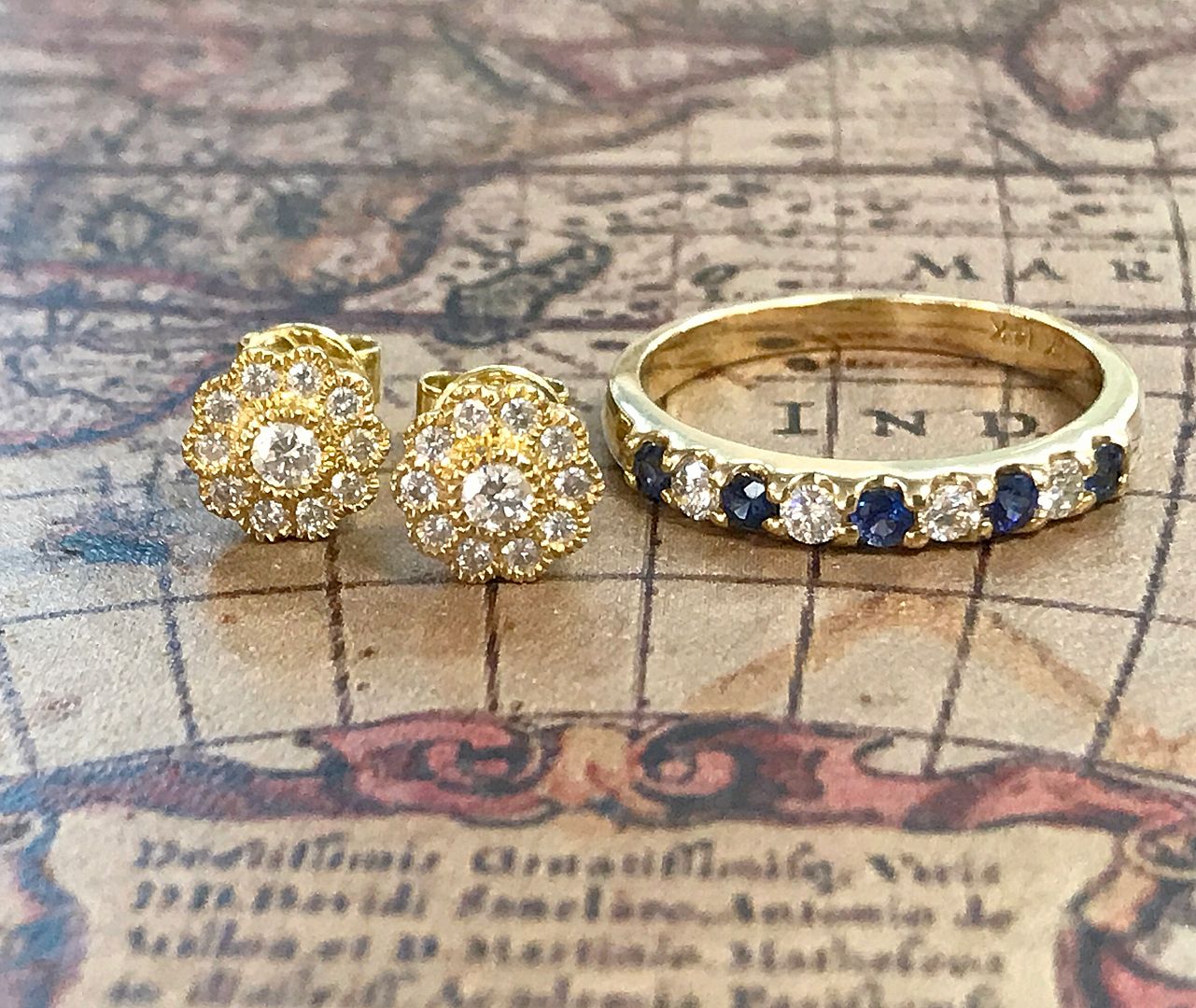 30-50% off select Nina Nguyen
Sterling silver shoulder duster earrings, $98.
Druzy quartz, amethyst, and turquoise earrings, $487.
Turquoise elongated ring, $158.
Amethyst and pink quartz druzy necklace, $158.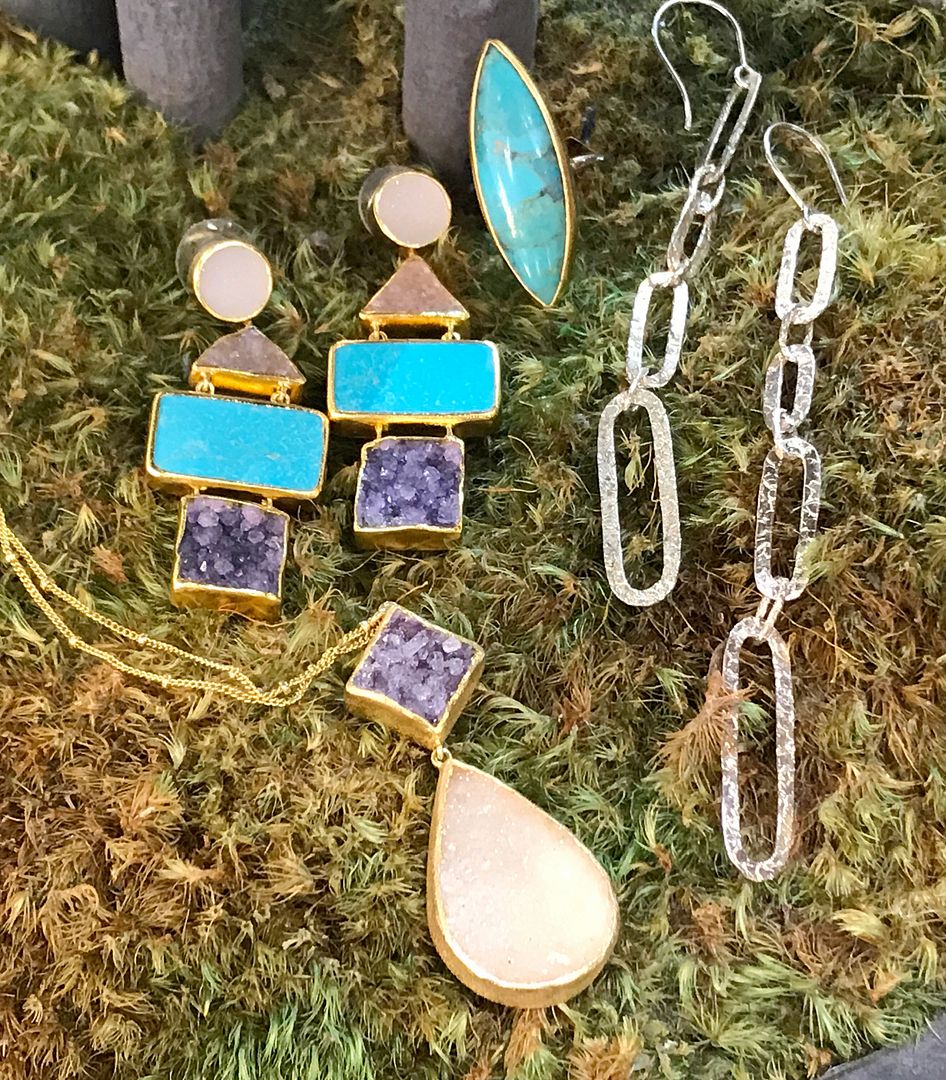 .57ctw diamond filigree ring, $2,517.
.50ctw diamonds in a 14ky gold wide cigar band, $1,747.
.83ctw diamond disk ring, $2,097.
.41ctw diamond ring in textured 14ky gold, $1,817.
Matching .83ctw earrings, $3,343.
Mother of pearl and rose quartz necklace by Tony Maccabi, $513.
Raymond Mazza freshwater baroque pear necklace, $207.
Tony Maccabi turquoise and rutilated quartz doublet
with .40ctw diamonds, $1,929.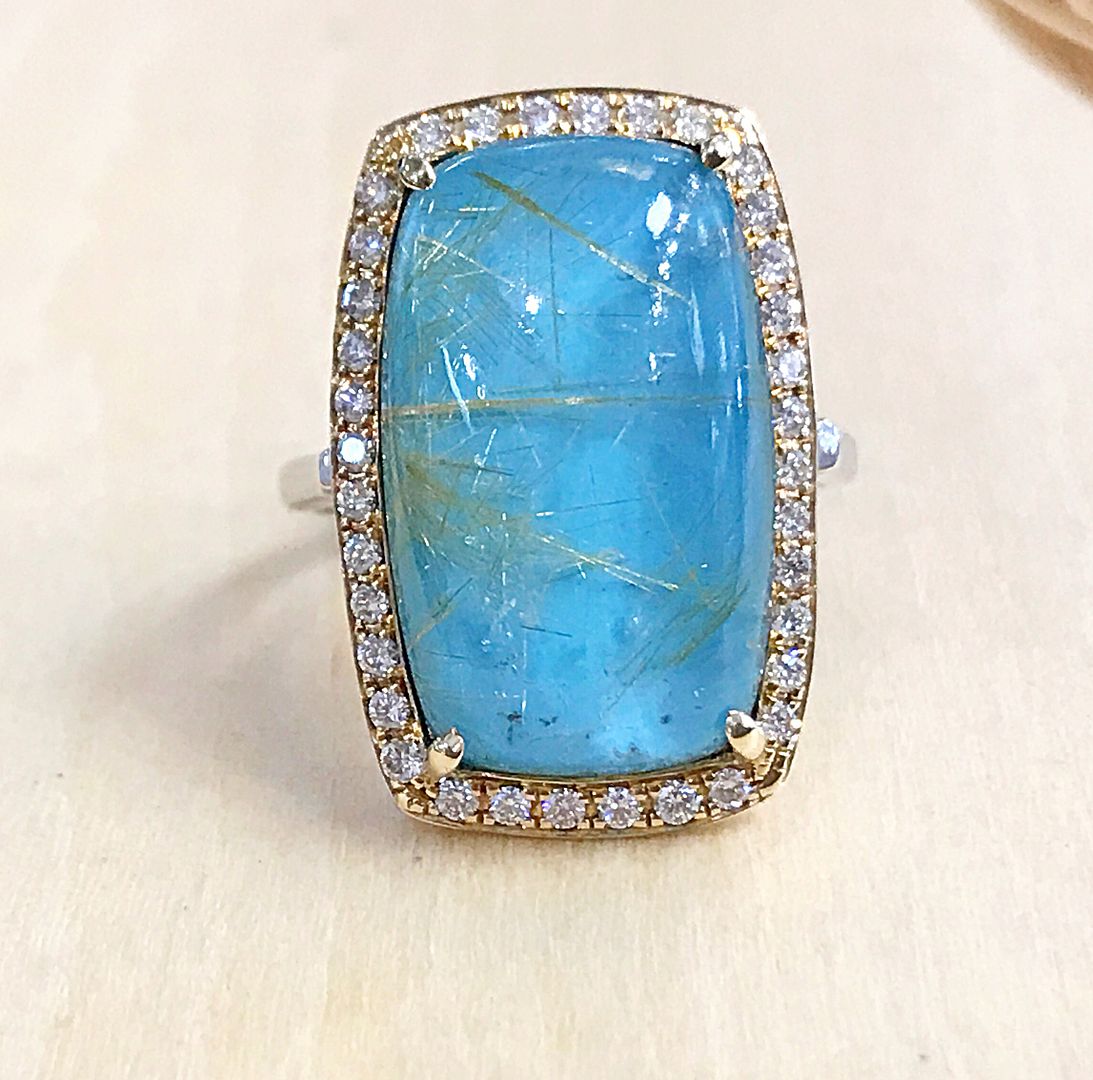 Tiffany & Co Paloma Picasso watch
with black leather band, $275.