All's well that ends well…
Bubba has a new fur-ever home!  
Last week, we told you about our contest to find a new home for Bubba, the freakishly large bolster pillow we ordered by mistake.  And we had some amazing entries.
 Michelle H. took home the prize!  
Michelle wrote…"Bubba Bolster would be perfect for my 9 month old golden-doodle puppy with a condition called MegaEsophagus. He was born with it . His enlarged esophagus does not have the muscular structure to push the food into his stomach. He has to eat sitting up in a special chair and has to keep his chin up or be propped up to sleep or he chokes up on his own saliva! I know he would love something to call his own (that looks nice in the house too!!!!!)"
How could we resist! 
An honorable mention went to Susan L…who came in to
see Bubba before he went to his new home…
Wrote Susan…"Oh. My. Word. What a handsome dude you are, Bubba! I don't have a husband or a boyfriend. I am 72 but not dead, so if you come to live with me, I promise to love, cherish, and honor you till death do us part… and cuddle you every night…By the way, it doesn't hurt that you would look fantastic in my home…I mean OUR home. I love you, Bubba.
PLEASE BE MY VALENTINE FOREVER."
Thanks to everyone who entered…
We had so much fun with the contest. And now it's your turn
to have some fun…the deals this week are
BIGGER THAN BUBBA!
This colorful vignette makes us think of spring…
lovely and large green & blue sectional by Best,
brand new, $2,795. 114×88. Palm art, $275, 41.25×49.5.
Floral art just $75. 35″ square.
Check out these beauties…
Spa blue beaded chandelier, $295. 24″diameter x 18″H.
Whitewashed wooden light, $595. 19″diameter x 21″H. 
Curry & Co 'Seward' coral motif chandelier, $695, 
retails for $1,150. 29x29x27″H. 
Gold faux-bamboo chandelier $495. 20x20x34″H.
Just in on consignment…See Crate & Barrel's 'Big Sur' dining
table online for $1599, our price, $795. 65×37.5×30.5.
Blue & white swirly lamps, $125 each, 26″H.
Shorebird art, $295, 60×30.  Designer accessories, $32-$62.
This won't last… like-new condition chaise lounge, just  $245. 70"L.
Phone orders accepted starting at 10am…910 679 4302
So life-like…fine art turtle giclee, $295, 40×31.5.
Brand new green swivel gliders piped in blue by Best,
$595 each, 32″W. 
We are fans of this hand-painted cabinet, $445, 38x16x33.
Egret giclee, $295, 35×44. Table lamps, $42 each, 19″H.
Brand new oatmeal sofa just in by BEST, $1,095. 84″W.
Cherry Blossom canvas, $225, 60×48. 
Ethan Allen 'Albee' coffee table, $795. Retails 1800+
Buddha, $24.
Here is a closeup of the 'Albee' coffee table by Ethan Allen.  It retails for $1800+, and it is in absolute like-new condition, our price $795. 62.25×25.25×19. Coordinating side tables retail for $1,269 each, our price, $395 each. 21.25×27.25×25.
CLASSIC Asian-inspired dining table and eight chairs by
DREXEL HERITAGE, a super buy at $895 for the entire set. 106x42x29.5 as shown, including two 20″ leaves. 
To complete the look, take a look at this stunning Drexel Heritage chinoiserie lighted cabinet in like new condition.
A great buy at just $695. 56x15x80.
Tweed 'chofa' with queen sleeper, $995. Chaise is reversible and ottoman has storage. 80″W.
Subtle, but oh so lovely…coastal giclee, $325, 42.5×35. 
Mirrored chests, $425 each. Retail $720+. 38.25×16.5×32.
Ballard Designs chair. $145. 24″W. 
Coastal motif lamps, $145 each, 30″H.
Need a recliner? We have so many to choose from…
Light grey leather like recliner w/ cup holders, $795, 35″W.
Blue space saver recliner, $595, 32″W.
Lazy boy power recliner, $450, 40″W.
Taupe & ivory space saver recliner, $795, 33″W.
Dark grey velvet sofa with ivory piping, $695, 86″W. Coordinating loveseat, $595, 64″W. Blue abstract art, $165, 48×36.
Blue coastal giclee companions, $375 each. 40×50.
Look at this cool distressed hutch with a real working door,
on consignment for just $495! 36×15.5×85
 On-trend navy faux leather beauty with a gold base,
a FANTASTIC buy at $225,  31″diameter x 15″H.
Just in…regal pair of large marble-look foo dogs,
$62 each. 14"h.
Consignment score…see Pier 1's 'Hayworth' mirrored buffet
online for $899.95, our price, $595. 52×16.5×38.
Shorebird giclee, $395. Generous size, 50×41.5.
Mercury glass lamp, $100. 30″H.
Pretty aqua slipper chairs, $295 each, 26″W. Crab giclee, $395, 50×40. Mango wood credenza, $895.
Distressed lamps, $95 each, 29″H. 
A better look at this GORGEOUS mango wood credenza…
retails for $1,315, our price, $895, 72x18x36.
Timeless china hutch by Stanley, $895. Retails $2000+. 54×18.5×83. Handsome genuine leather chair & ottoman, $895, retails $1500+. 38″W. Floral oil painting, $275, 38×49.75.
Oval end table, $145, 30x20x26.
Brand new swivel gliding chair and ottoman in soft aqua and taupe, $895. (Single chair has sold, sorry). 38.5″W. 
Just in on consignment…high quality
wooden bookcase, $495. 58x13x79. 
We are liking the way this vignette came together! Pub set with 4 stools just $395, 48" square. Framed fruit art $78 each, 22×28. Large leaf art $196, 31.5×63.
So pretty…By uber high-end maker Palacek, compare at $2000+, our price $595. 54x18x35.
Need a CUTE storage trunk? $68-$110
Largest is 28x17x19″H.
Just in on consignment…a gorgeous gliding chair and ottoman in grey geometric upholstery by SHERRILL in like-new condition,
a steal at $695.
Five piece industrial style pub set just arrived and won't last long…table measures 36" diameter and is adjustable from 30"h to 36"h. Stools adjust from counter height to bar height.
Super cool and only $395.
Ooh-la-la…Genuine leather Chesterfield settee by Ballard Designs, a SCORE at $695. Compare at $1800+. 72"W.
So much fun…and soon WE will be back in the water, yay!
$225, 35×35.
What a fun and happy vignette…Brand new oatmeal sofa measures 84"W and is $545. Pillows range from$24-$34. Striped storage ottoman retails for $575, our price $225. 42x24x17.
Large abstract is $340, 50×40.
Just in on consignment…contemporary dining set with glass top, $695. Retails for $2100. 71×39.5×30 as shown.
Has hidden butterfly leaf to expand to 91".
Just in on consignment…four really cool wooden counter stools, 25" seat height, $95 each. Sold in pairs only.
Going…GOING…GONE….
Chevron slipper chair, $125, Joe Ruggiero coral chair, $225,
Cubes, $30 each, Hooker "Bombe' chest, $175.
Deal alert…this ivory console-desk unit retails for $800,
our price $428! 70×15.5×30.25h 
JUST IN on consignment…we have TWO of these Angeline chandeliers for $695 each, see them online for $1650 ea. 24" diameter x 17"H. 
Just in Designer Consignments!
Lucas Roberts smokey quartz beaded necklace
with sterling silver dragonfly pendant, $555.
John Hardy sterling silver Kali ring, $355.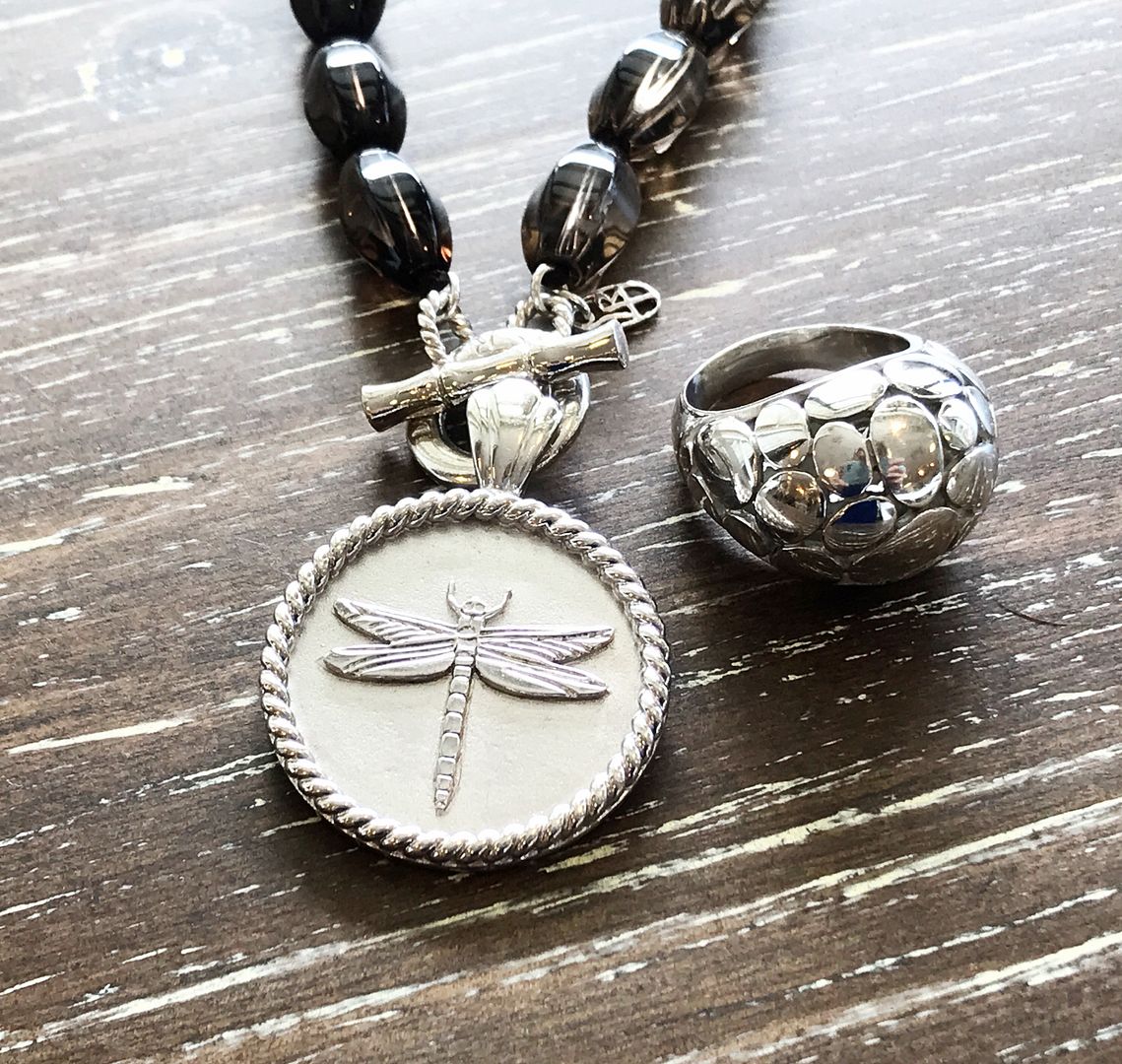 John Hardy sterling silver eagle and leather bracelet, $455.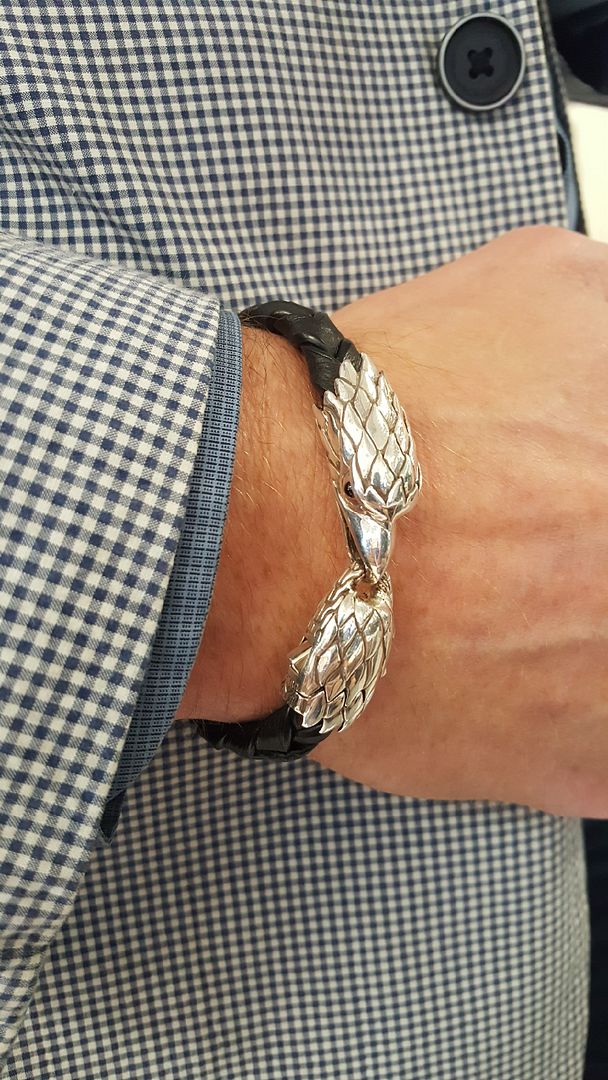 New Marahlago pieces from $180 to $390.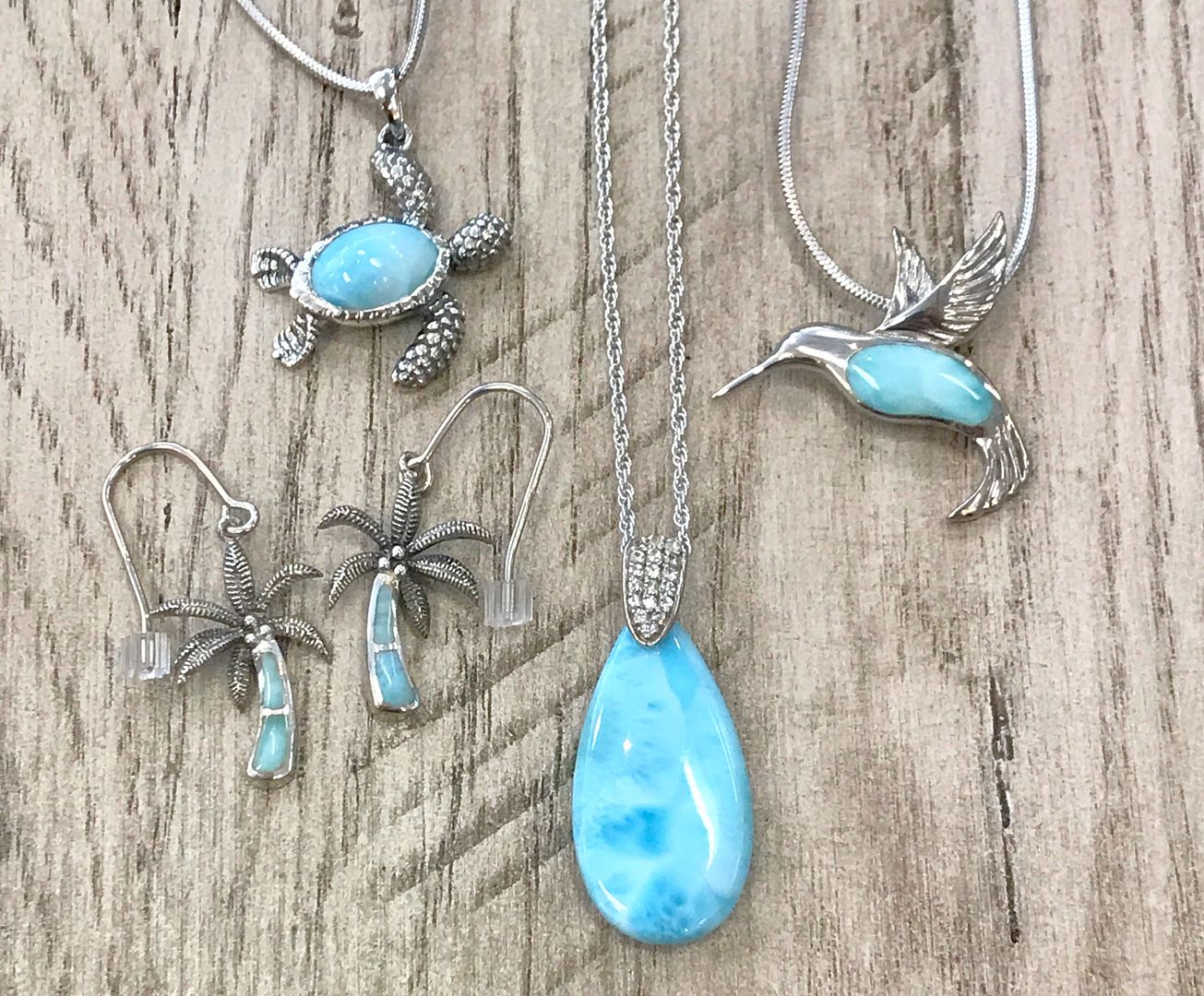 Handmade ring featuring .35ct AA diamond cut emerald
with .20ctw diamonds in 14ky gold, $1,695.
 Allison Kaufman 14k white and yellow gold diamond
crossover band with 1.23ctw in diamonds, $4,725.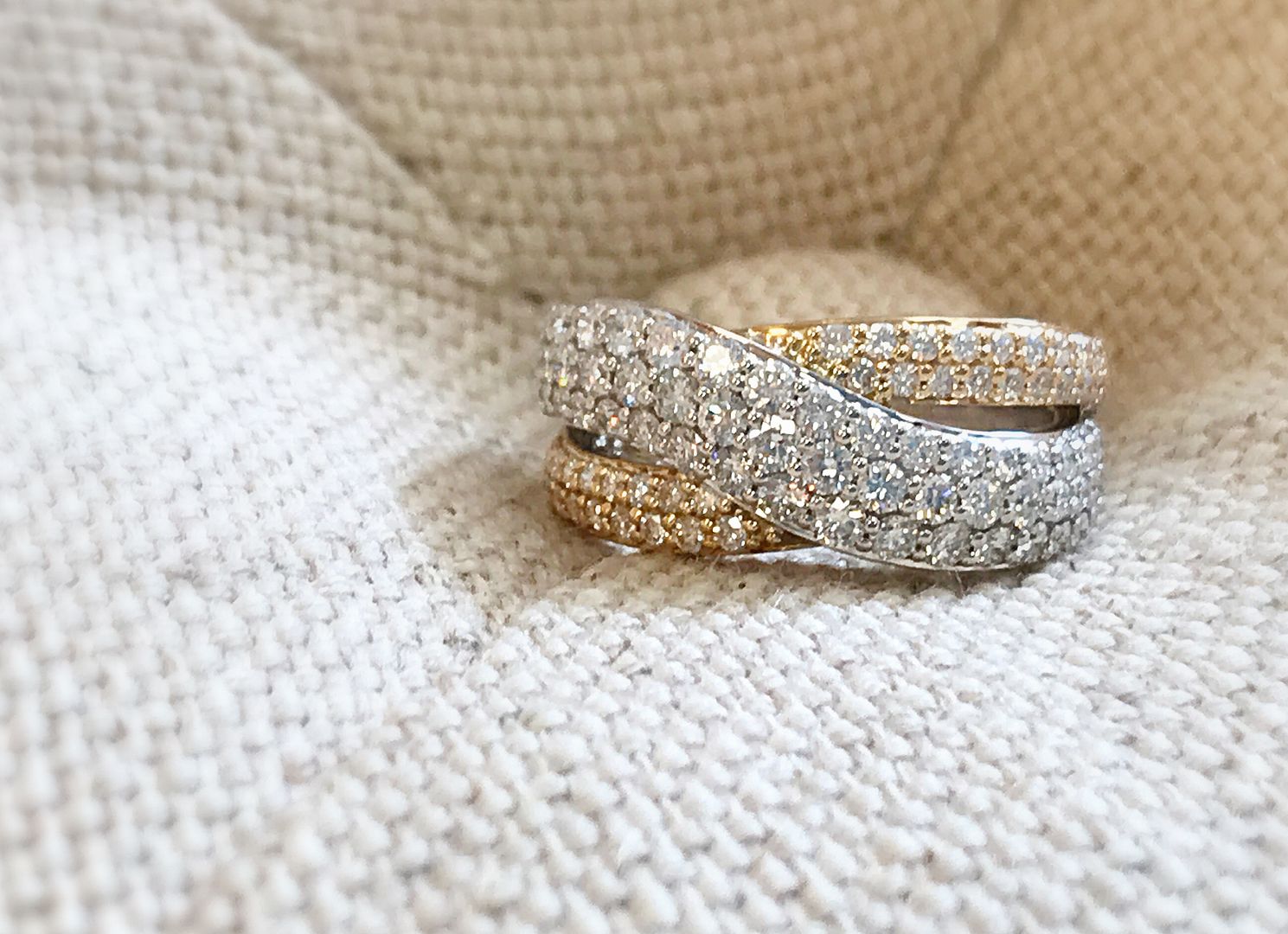 2ct oval sapphire and .42ctw diamond ring in 18ky gold, $1,995.
Turquoise and coral cuff in sterling silver, $395.
Sterling silver Navajo style cuff with turquoise, $195.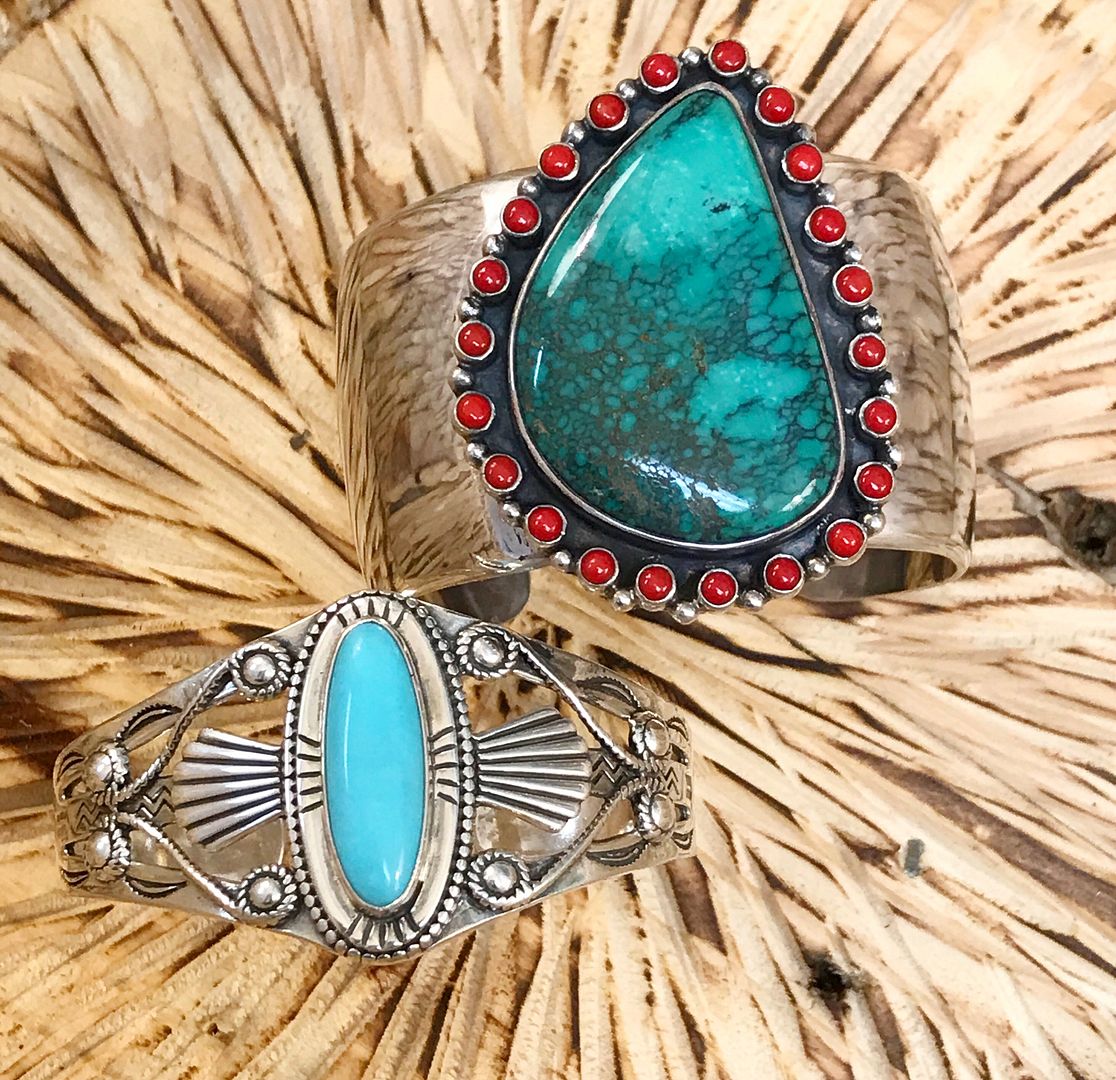 Sterling silver and cubic zirconia link bracelet, $155.
Diamond fashion ring in sterling silver
with 14ky gold accents, $195.
Trillion lemon citrine set on wide sterling silver band, $155.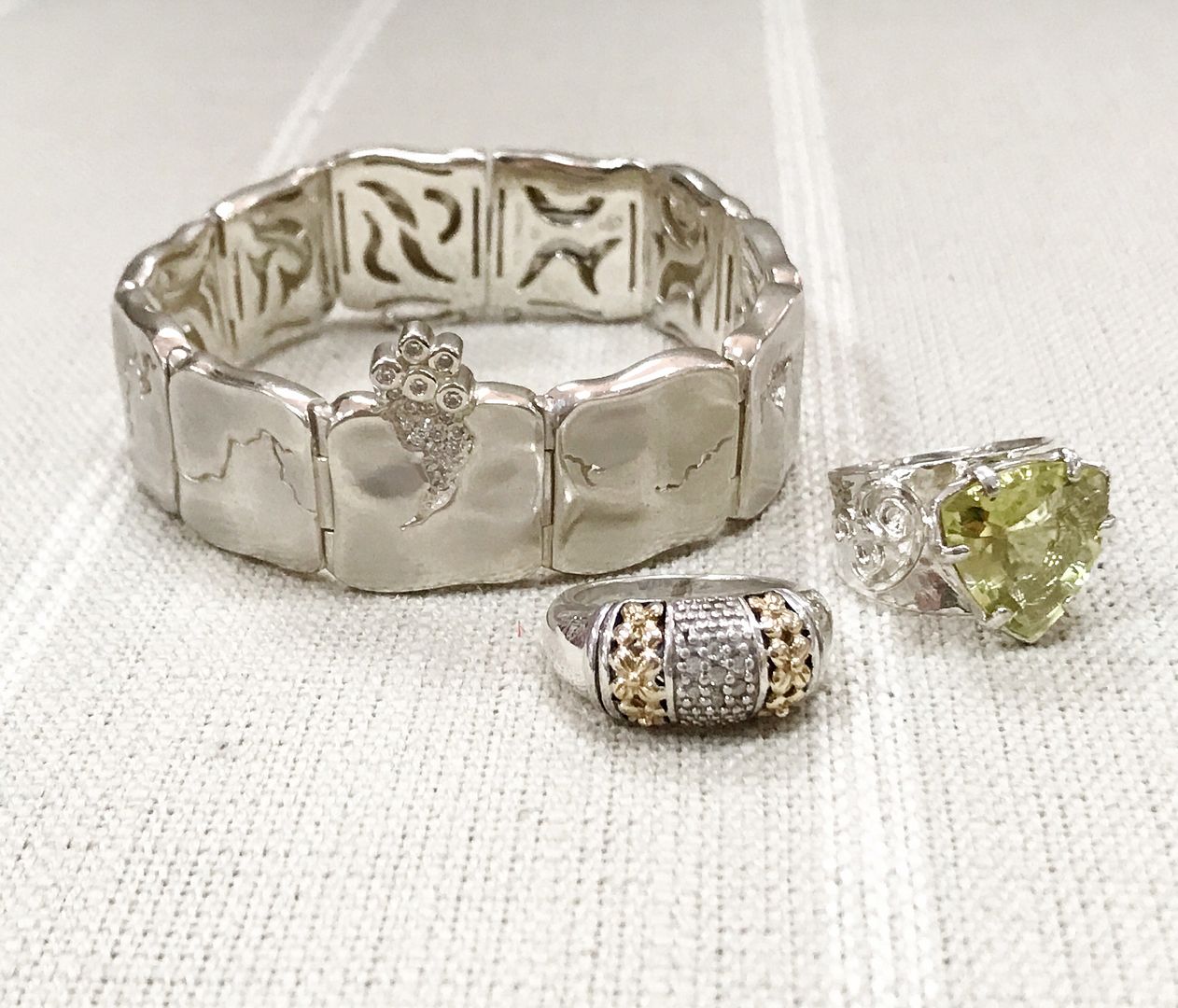 Contemporary onyx and 14ky gold ring, $395.
Matching slide pendant, $350.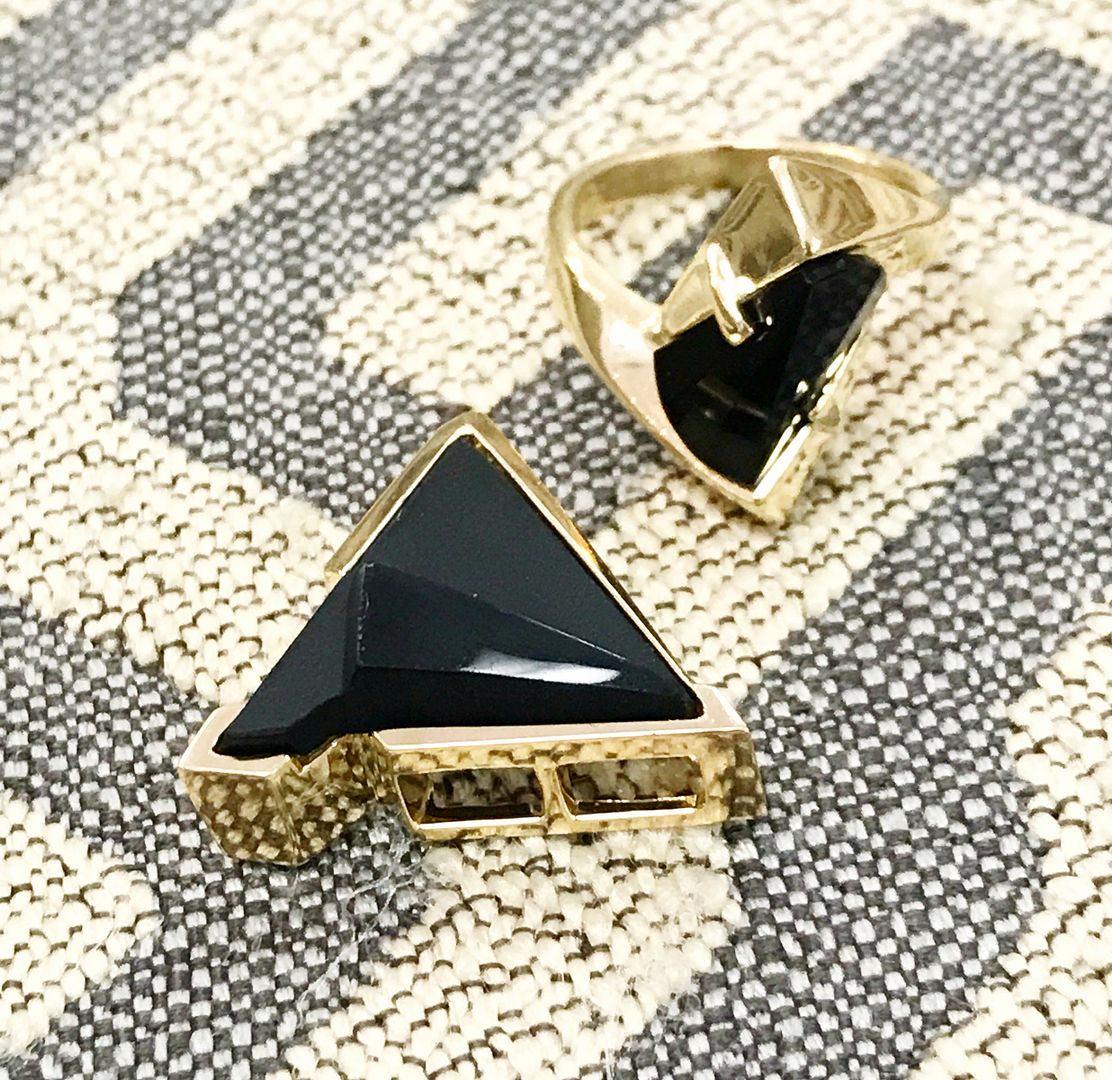 .19ctw diamond and 14ky gold swirl necklace, $1,395.
14k yellow gold roman numeral pendant with bail, $175.
Smoky topaz and citrine enhancer in 14k yellow gold, $1,150.
Italian lire coin pendant set in 14k yellow gold, $145.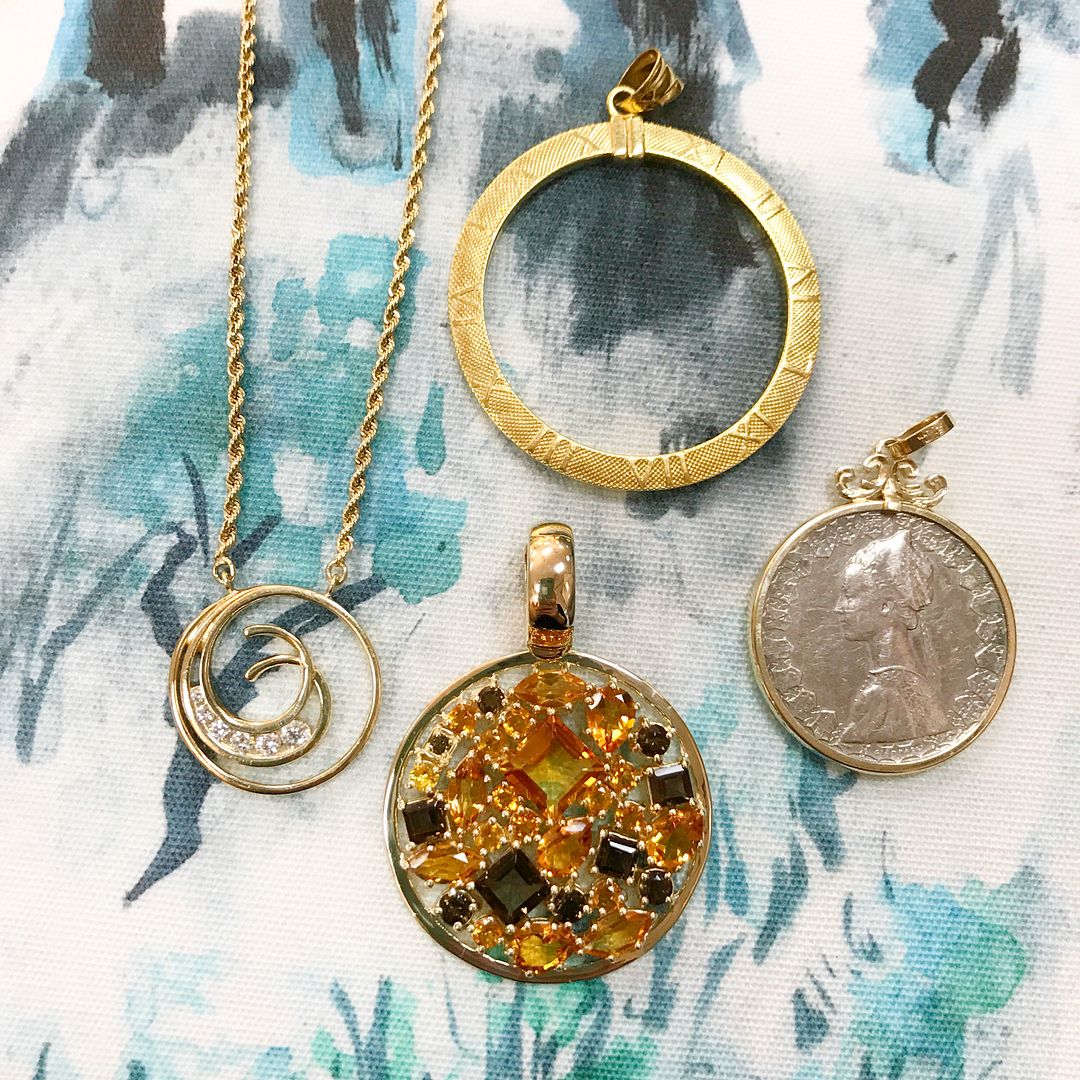 Lapis earrings in14ky gold, $280.
Pearl and diamond hinged bangle in 14k yellow gold, $695.
Amethyst hinged bangle in 14k yellow gold, $795.
 Amethyst bezel teardrop earrings set in 14k yellow gold, $295.
Sterling silver and 18k rose gold cross pendant with onyx.
3.25  inches in length from top of bail, $245.
14k yellow gold knot cross. 1 inch in length, $105.
14k yellow gold cross.  2.25 inches in length,, $255.
Judith Ripka sterling silver multi-stone pendant, $135.
 Judith Ripka Asscher cut cubic zirconia pendant, $195.
Smoky quartz pendant set in 14k yellow gold, $225.
Amethyst pendant set in 14k yellow gold, $195.
Emerald and diamond slide in 14k yellow gold, $495.
Sterling silver and 18k pearl and white topaz enhancer, $195.
Amethyst ring in sterling silver and 14k yellow gold, $195.
Matching bracelet, $245.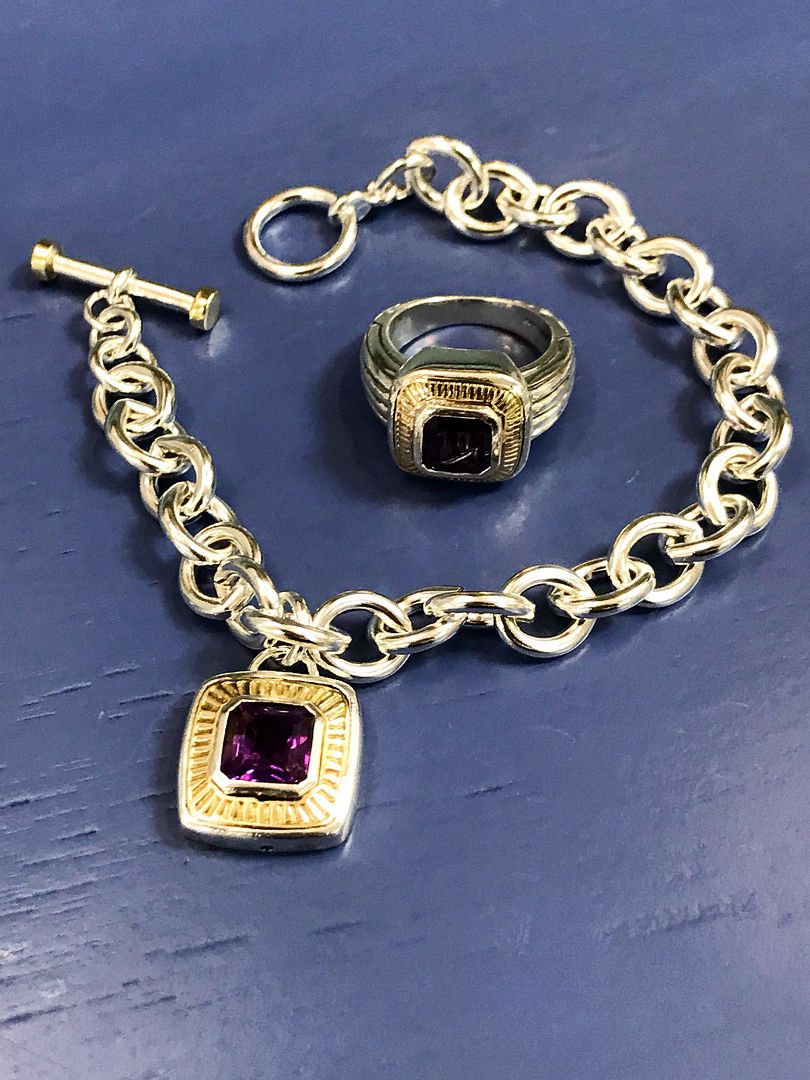 2ctw diamond crossover band in 14kw gold, $1,495.
Levain chocolate and vanilla diamond band in
14k rose gold, $3,995.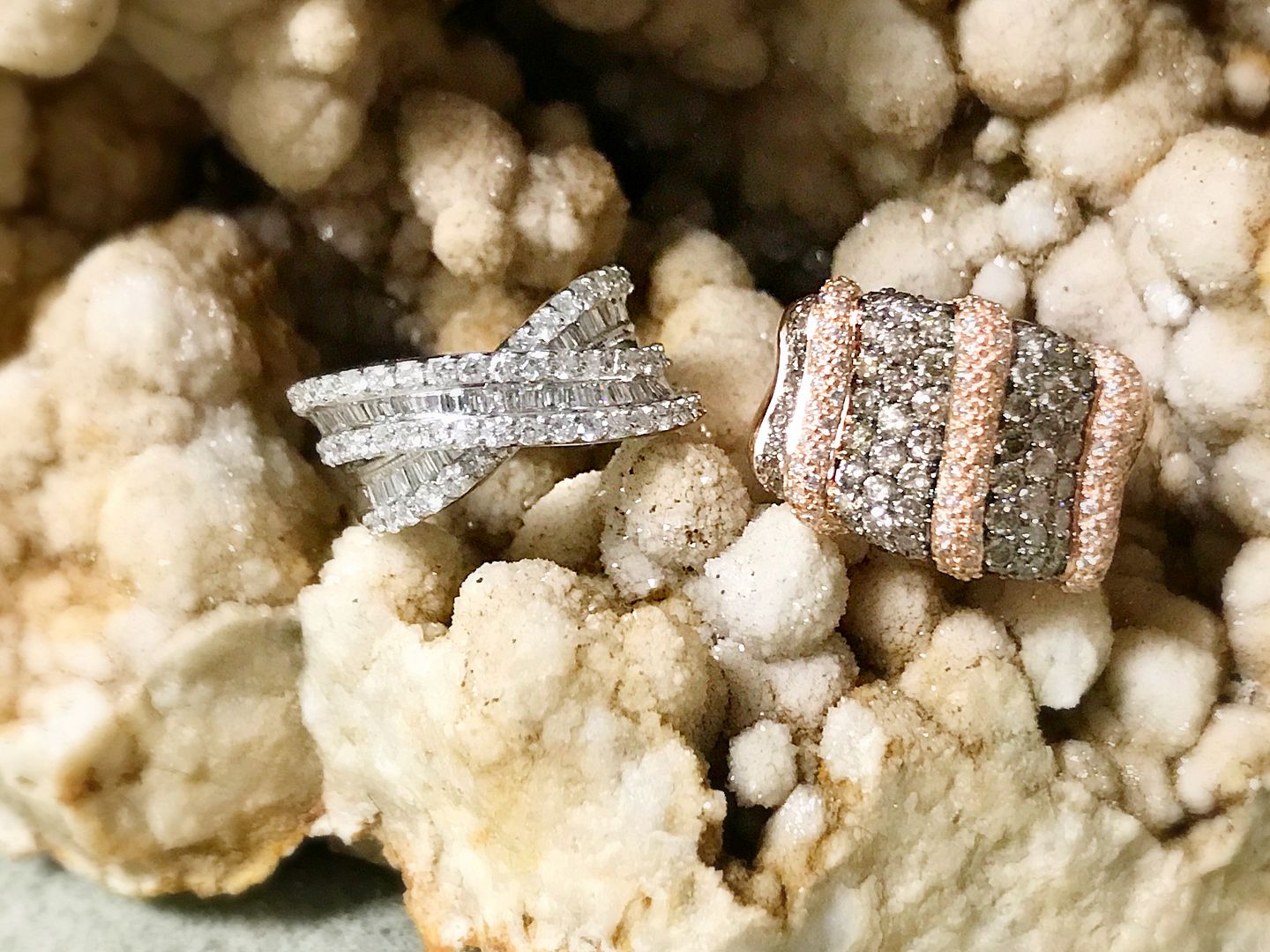 14k yellow gold charm bracelet adorned with
20 gold heart charms, $895.
18ky gold textured bangles, $715 each.
14k yellow gold "racetrack" hoops. 1.25 inches in length, $235.
14k yellow gold hoops, $225.
14k yellow gold byzantine dangle earrings. 1.5 inches long, $255.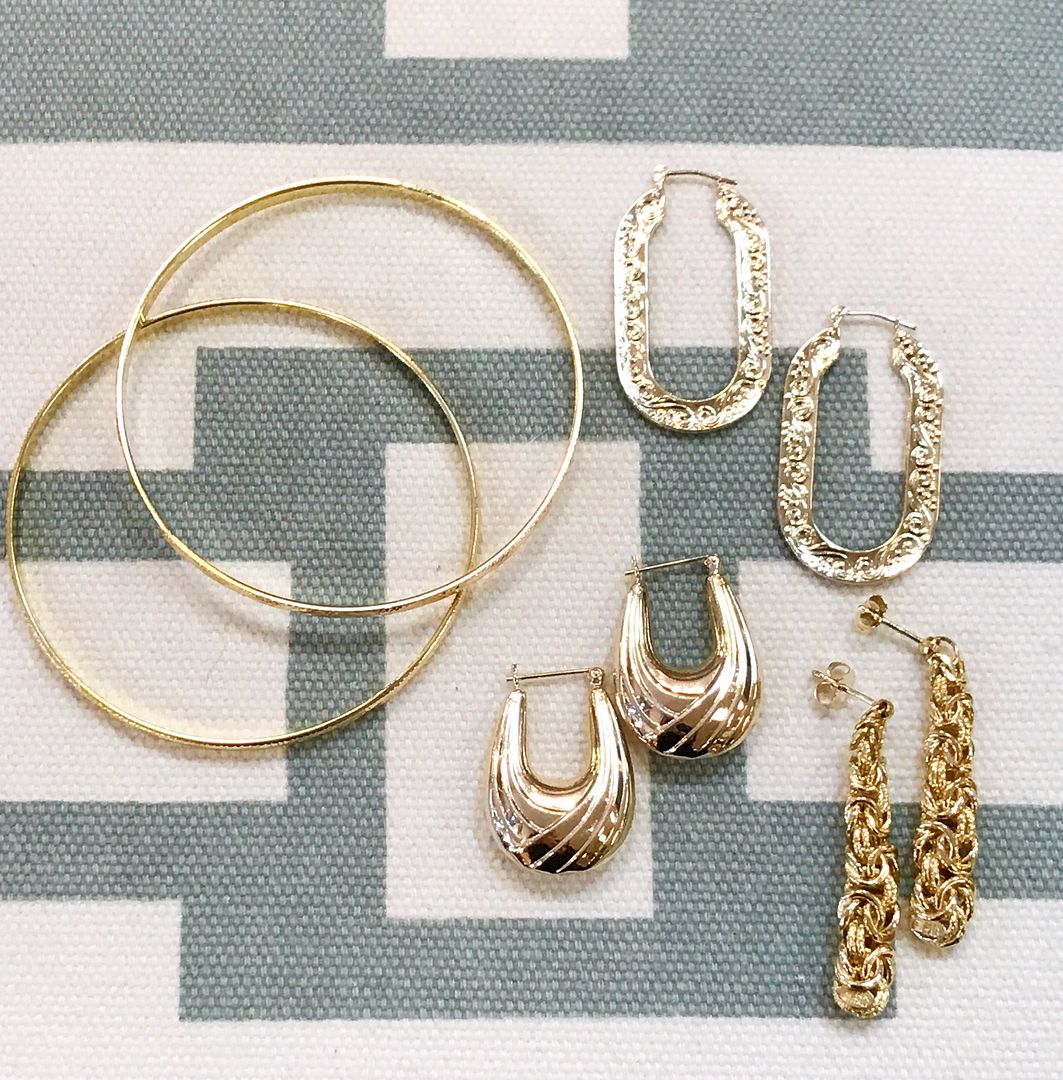 Scott Kay chalcedony and sterling silver ring, $325.
Multicolor agate bracelet in sterling silver, $295.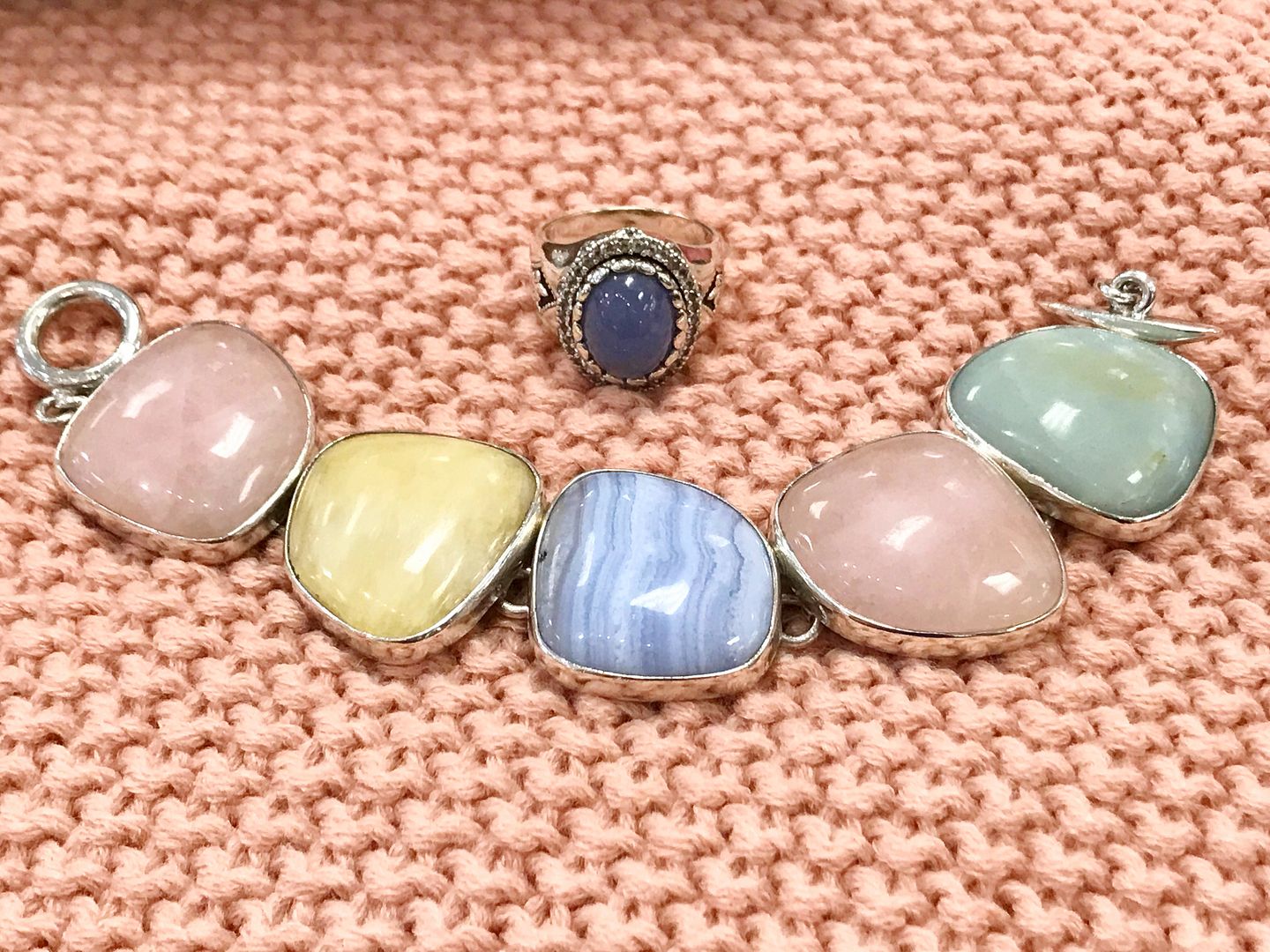 14ky gold rope rings, $195 each.
Thanks so much for reading our email,
and have a great weekend!