Has the lingering COLD WEATHER
got you down?  
Don't be blue…get blue! 
Come see us for the season's
 hottest color…NAVY. 
Blue plaid chairs, $450 each, 30″W. Blue & white swirl lamps, $125 each, 26″H. Palm art, two available at $52 each. 21.5″ square.
Navy & taupe club chairs, $295 each, 32″W.
Have a wide wall to fill?  You can get one or all three of these
beautiful cloud canvases $195 each. Each one measures 30×40.
Demin-blue sofa, $695, 84″W. Large navy & white ginger jars, $75 each, 19″H. Blue & ivory vases, $38 each, 13″H. 
The coolest turtle giclee…alive with color, $295, 66×21.
Gorgeous blue media cabinet with on-trend gold
accents, $695, 60x14x35.
Just in on consignment…this GORGEOUS pine dining table with 8 chairs by high end maker, LORTS retails for $5,225…our price, $1,895. Includes 24″ leaf and table pads. Excellent condition.  
As shown w/ leaf, 82x60x29.5.
Lovely painted hutch just in on consignment…retails for $2,200+…
our price, $695. 44x18x86.  In warm ivory, with touches of green.  
Beautiful harbor art giclee, $395, 45″ square.
Resin wood look lamps, $125 each. 25″H.
Teal console table, $375, 64x18x32.
Genuine leather ottoman, $265, 29x29x16.
looking for a nice and neutral sectional? We got you…
Just in, $1,095. 112×90. Paired with a 36" wooden coffee table,
$225. 19"H
We all adore this solid wood farm table with 4 chairs that
just arrived on consignment…
It retailed for $1400, our price, $895. 63×25.5.
Set of 8 fish plates, $75…retail for $150.
Set of 6 blue chargers, $95. Retail $200+
Majestic pelican giclee, $395, 38×52.5.
White lamps, $95 each.
Just in on consignment. Large pine armoire, a steal at $395, 50x27x84. Very functional with retractable doors.
Another fabulous dining set just in on consignment…54″ glass top table and 5 chairs by VANGUARD, retails for $3,760…our price $995. Includes table pads. Silk floral arrangement, $75.
Just in on consignment…contemporary wooden console table, two available, $275 each, 54x18x30.5.
A comfy place to ride out these COLD winter nights…
Black chenille club chairs, $395 each, 41″W. 
Shell motif art, $236, 33.5×40.
Super cute media cabinet in grey, just $145. 46x25x30.
Metal blackened bronze mirror on consignment,
$95, 38"diameter.
More goodies…pair of dark taupe accent chairs in microfiber, $425 each. 31"W. ?Nautilus giclee, $226, 33.5×40.
Orange geometric print accent chair just $75, 22x25x32″h.
Coordinating cube ottoman, $45, 17x17x17.
Just in…Pair of STUNNING accent chest-bedside cabinets
in matte silver. $325 each. 33.5x18x30.
A chandelier is a great way to turn a space from drab to FAB..
like this sheer black drum shade chandelier for only $95,
Yes, just $95. 18.5"diameter x 19.5"H.
Just in on consignment, black chest of drawers in like-new condition, $350! 42x19x54.
A pretty little black accent table with silvery gold details.
$165 24.5×15.5×29.5.
So pretty… ivory chenille sectional, $995. 98×115.
Hand embellished floral art, $195, 36×48
Coffee table, $247, 41x27x12.
In LOVE with the amazing color in these abstract giclees,
44×26 $295 each.
Pair of lovely blue velvet SWIVEL chairs, 29"W,
brand new for $375 each.
Gorgeous blue and gold credenza, brand new showroom sample for $395, 47×14.5×36. Hand embellished painting, $202, 47.25×35.5.
Gold resin lamps, $72 each, 33"H. 
A high quality trio of carved tables…that are in excellent condition and PRICED RIGHT! Wooden coffee table with ornate details, $165, 52x28x21.5. Matching end tables, $95 each. 20x20x27.
Just in…trawler fine art giclee, 32×40.5h $295.
Beautiful credenza for $695, 72x19x34. Beach abstract, $175, 47×35.5. Designer lamps, $165 each.
Pretty wooden sailboat model just $75, 35"H.
Just in on consignment…pair of 31" seagrass barstools from Pottery Barn. Current on their website for $219 each…
our price, $125 each. Not sold separately.
Wish I was sitting in this chair right about now…
on canvas, $125. 32" square.
Another great sofa just in on consignment and in great condition,just $425… 86"W.
Just in on consignment…'Early Morning Tree Line' giclee from
Ethan Allen. Current on their website for $1,419…
our price $425, 73.25×41
Lime Stanley bookcase just in on consignment,
$425, 40×15.5×72.
Just in…blue/gray swivel chairs, $375 each, 29.5"W.
Rosewood dining table just $350, 75×41.75×31. Beautiful hand embellished beach art, $395, 71×31. Glass lamps, sold, sorry.
Oyster shell votive holders on wood, $22 & $18
This rosewood dining table is gorgeous….
and just $350!  75×41.75×31.
Huge dimensional sailboat art canvas, 39×69, $395.
Super quality, heavy and sturdy modern pneumatic lift stools,
adjust to use as counter or barstools, $125 each. Retail $300+ each.  Three available, not sold separately
Brand new light taupe sofa, $795, 92"W.
Check out this new item from Toadfish Outfitters!
Introducing the 'Frogmore' shrimp cleaner. Peel, devein, and butterfly all in one motion. Stainless steel blade and an ergonomic handle made of recycled materials. $28 each.
Click to watch a video about how they work.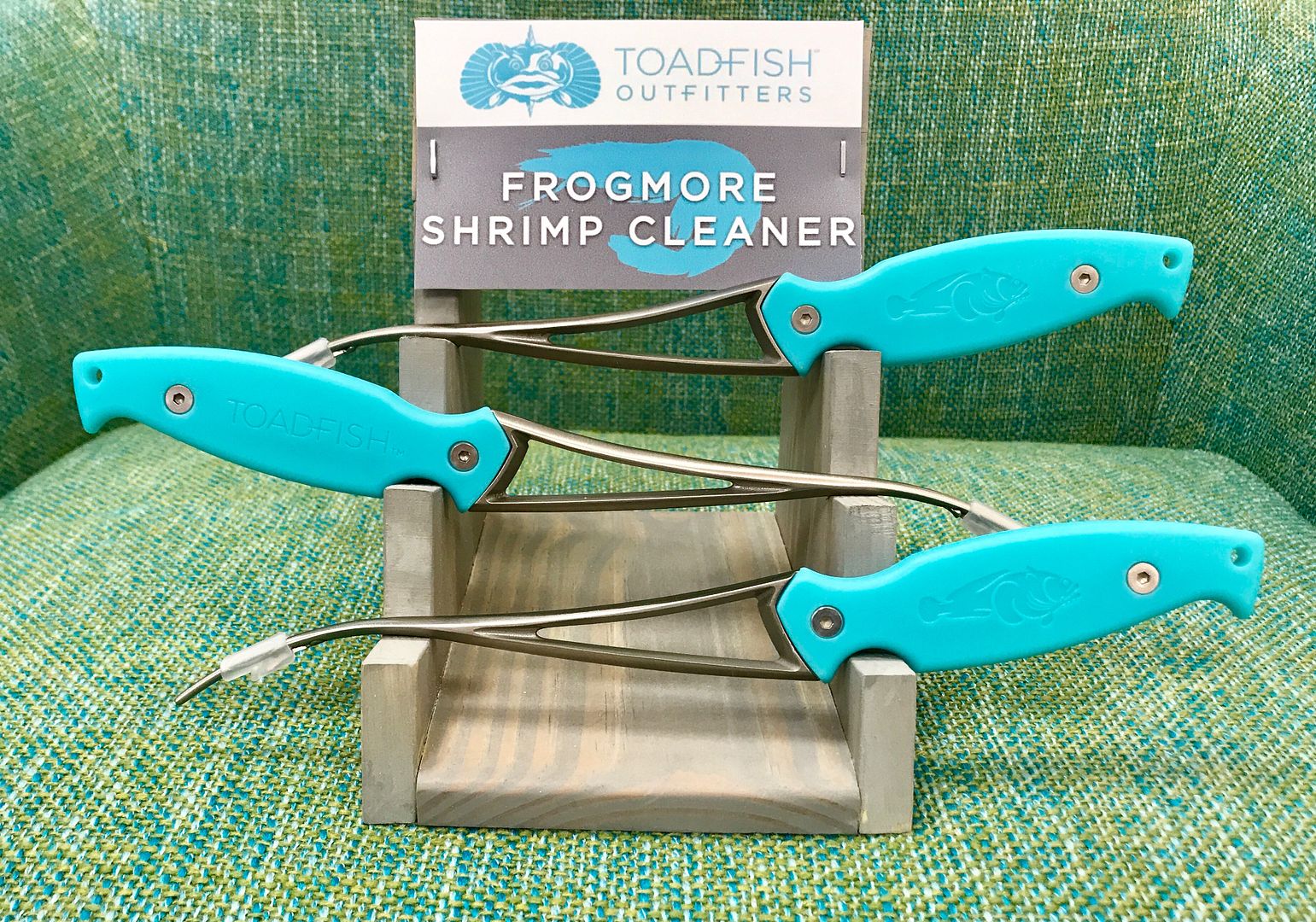 Just in…new Marahlago larimar pieces!
Indra necklace, $450.
Cloud necklace, $312.
Kai necklace, $399.
Tonal ring, $282.
Oxidized octopus, $291.
Azure earrings, $390.
Goldfish necklace, $264.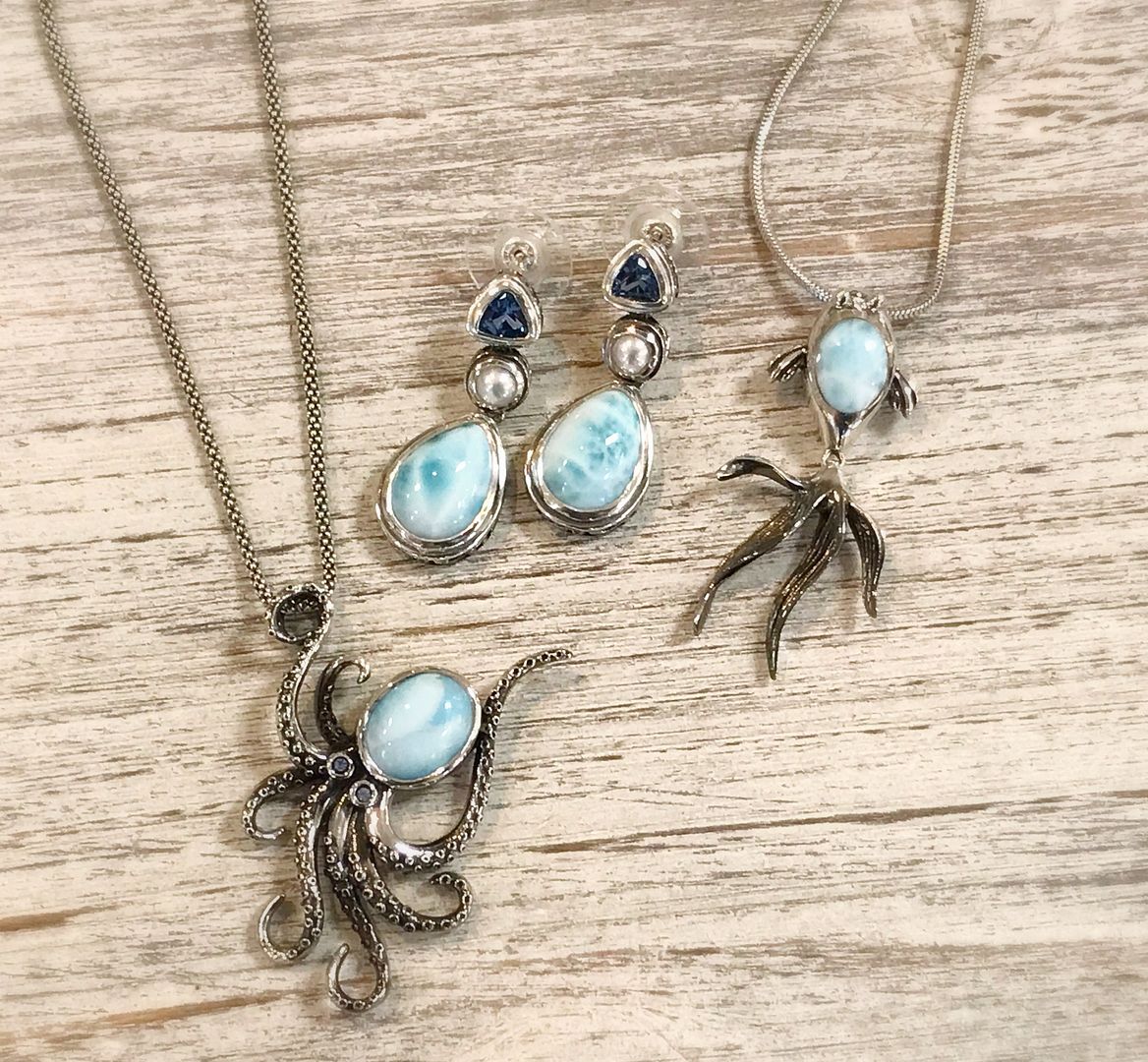 The watch that you'll never take off…
Michele CSX33 diamond chronograph watch
with two tone band, $1,395.
Wonder Woman cuff anyone?  Alwand Vahan 22mm wide sterling silver and 14k gold bracelet
with 1.11ctw of diamonds, $13,195.
1ct G color SI1 clarity pear shaped diamond solitaire
in 14ky gold, $3,995. Click to see a video of this ring in all its glory.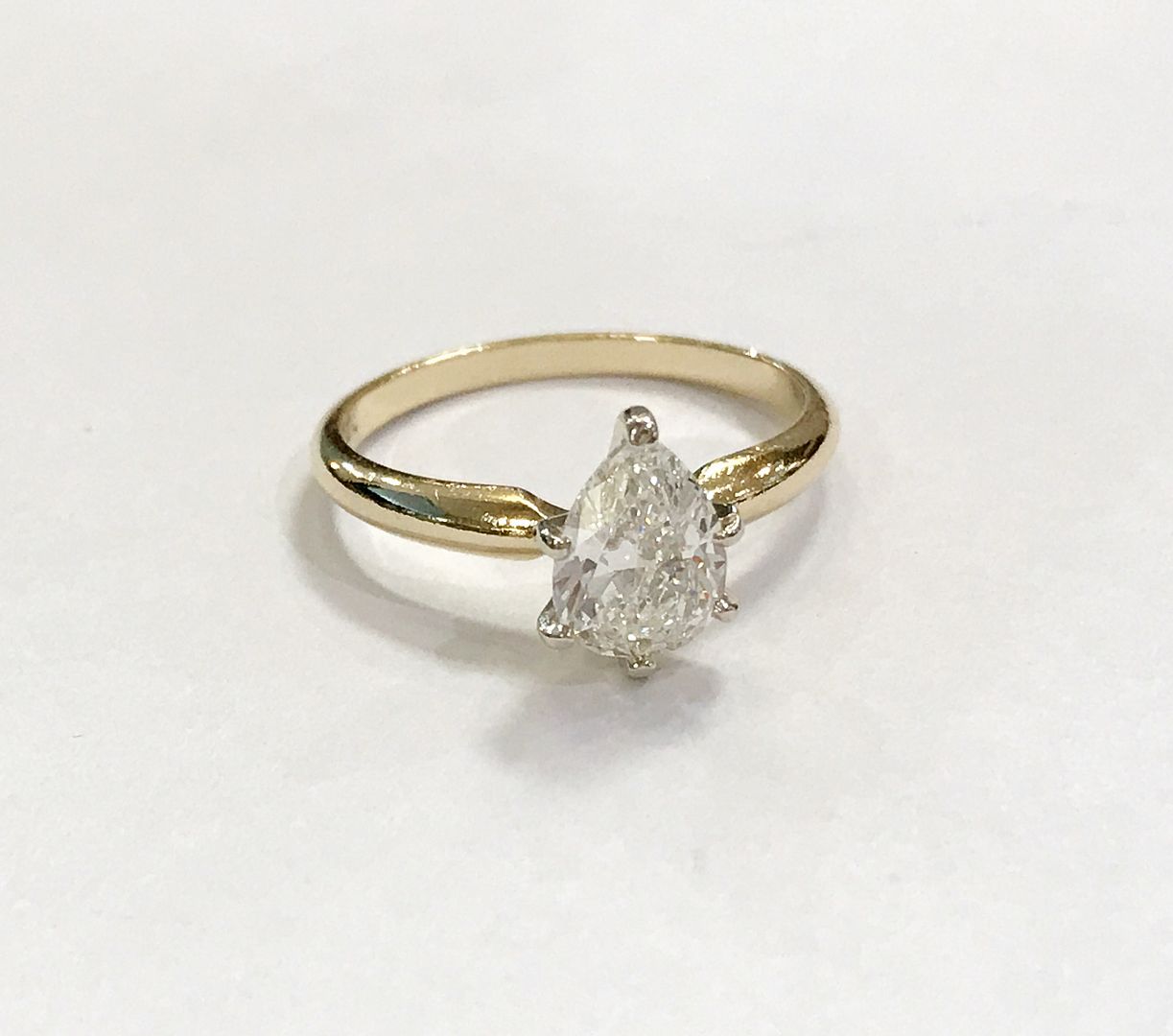 Looking for a non traditional pearl necklace?
11mm to 12mm Tahitian pearl necklace
with 14kw gold clasp, $4,595.
 14kyg 15mm South Sea Pearl on a 16 inch black leather cord
with Paspaley Assurance of Authenticity, $1,495.
Raymond Mazza freshwater and pearl
sterling silver necklace, $255.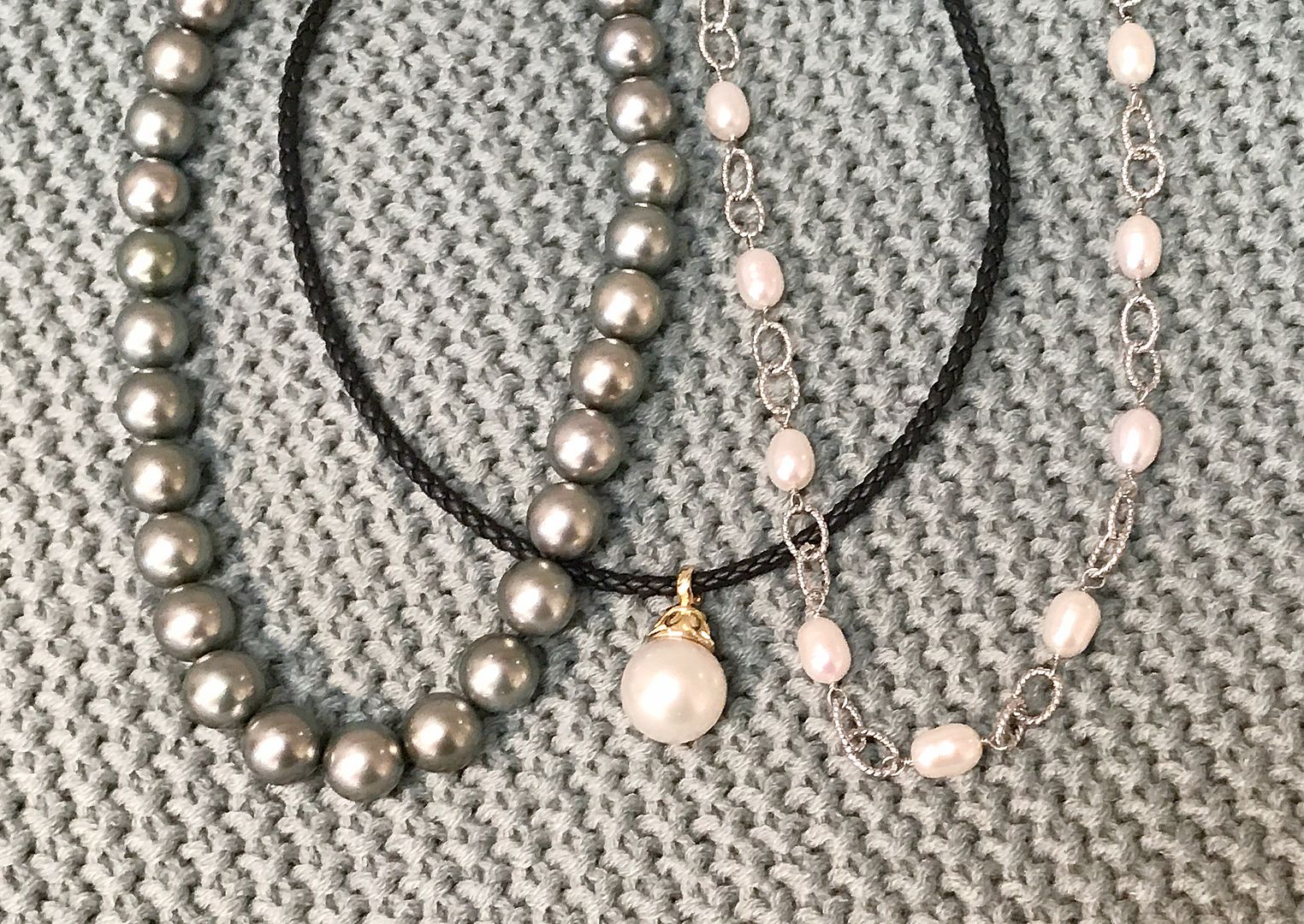 These are stunning…and so unique.   Mabe pearl and diamond
set in 14ky gold. Ring, $1,495.  Earrings, $2,475.
Tony Maccabi designer rings!
Clear quartz, tourmalated quartz, and mother of pearl ring
with .48ctw diamonds, $3,165.
Rutilated quartz and onyx ring with .40ctw diamonds, $2,395.
Click to watch a video of the special design and sparkle of these unique rings.
14ky gold pieces.
Prices range from $95 to $245.
Just reduced consignment pieces!
2ctw diamond stackable eternity bands in 18k rose and white gold. Were $2,995, now $1,676.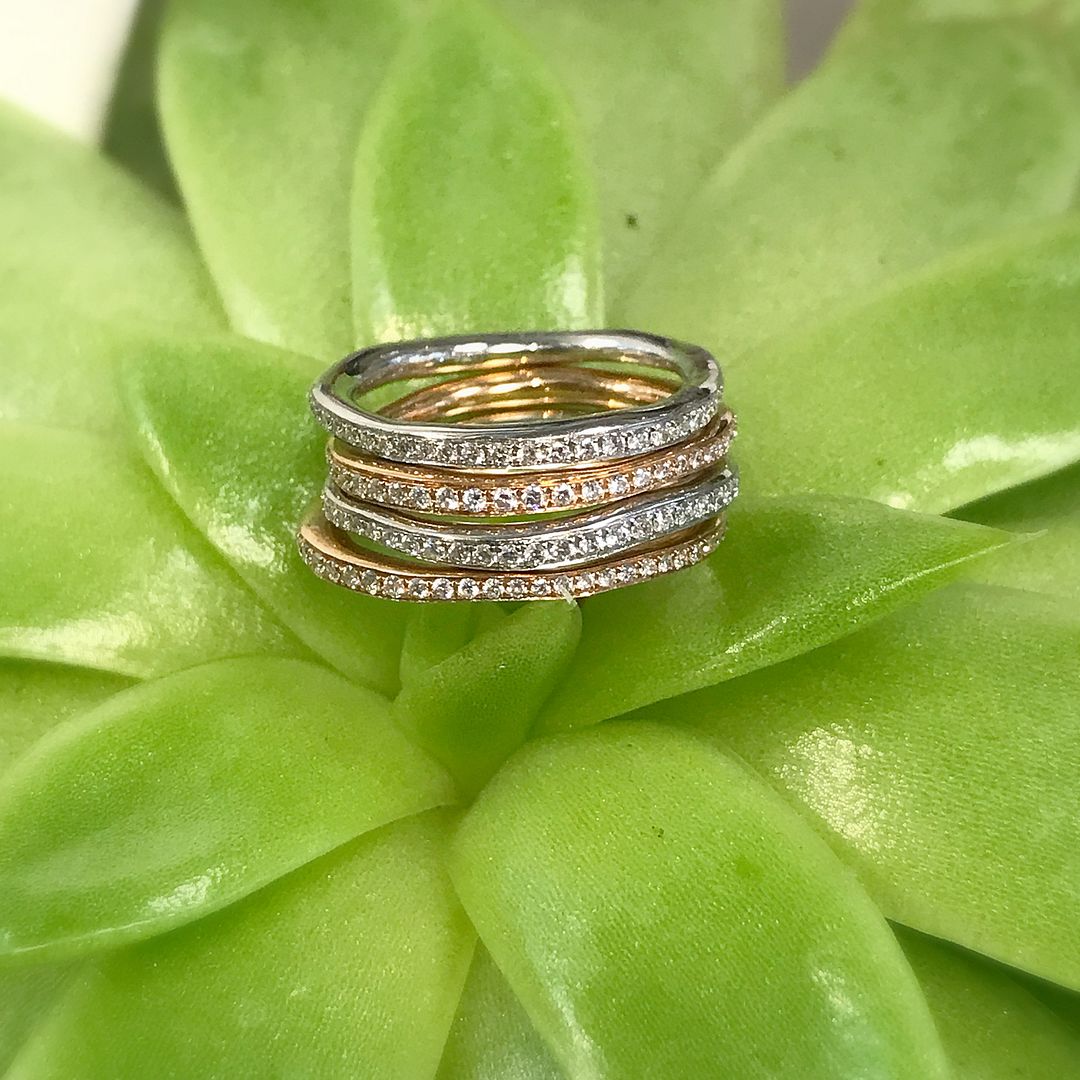 Matching Greek coin, diamond, and 18ky gold set.
Earrings were $2,995. Now $1,675.
Necklace was $5,995. Now $3,355.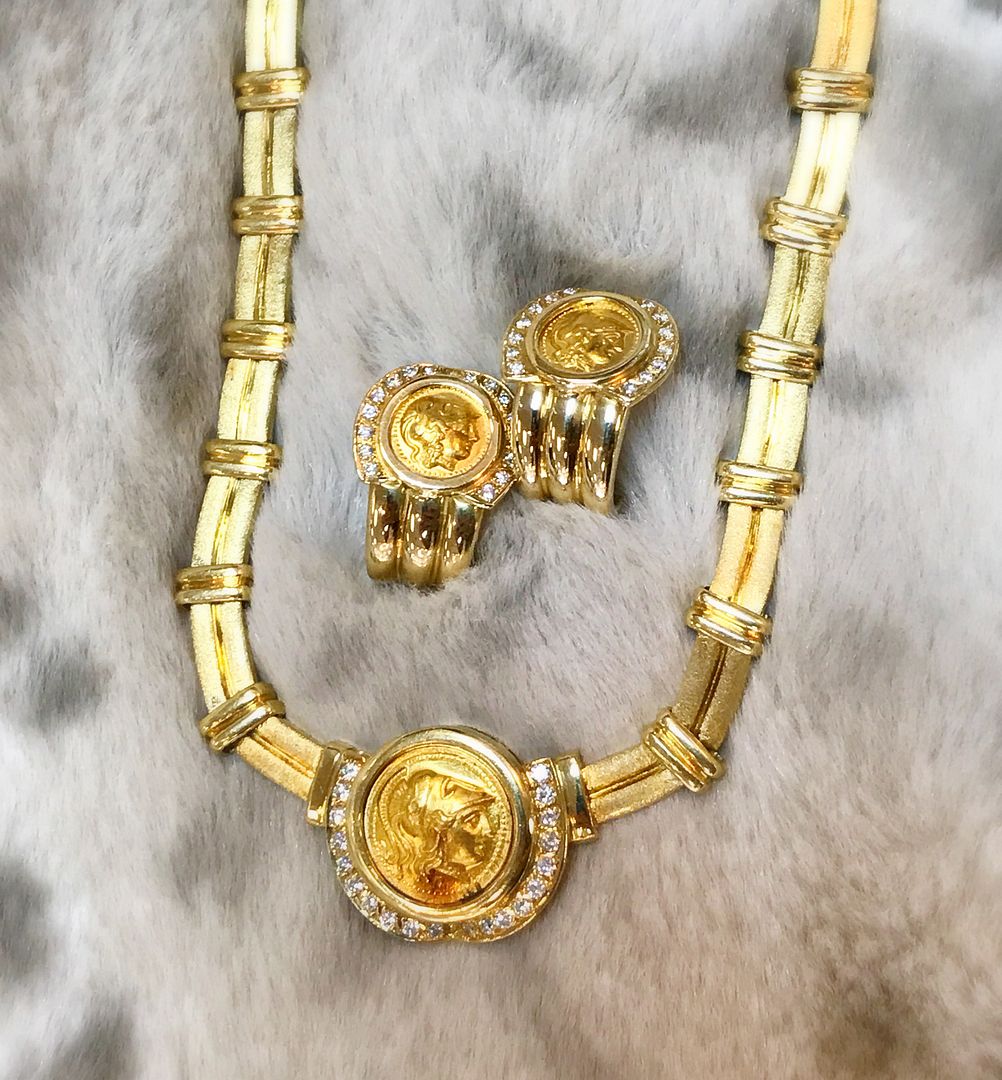 1.75ctw diamond ring with chrysoprase and black jade inlays in 18ky gold. Was $1,495. Now $845.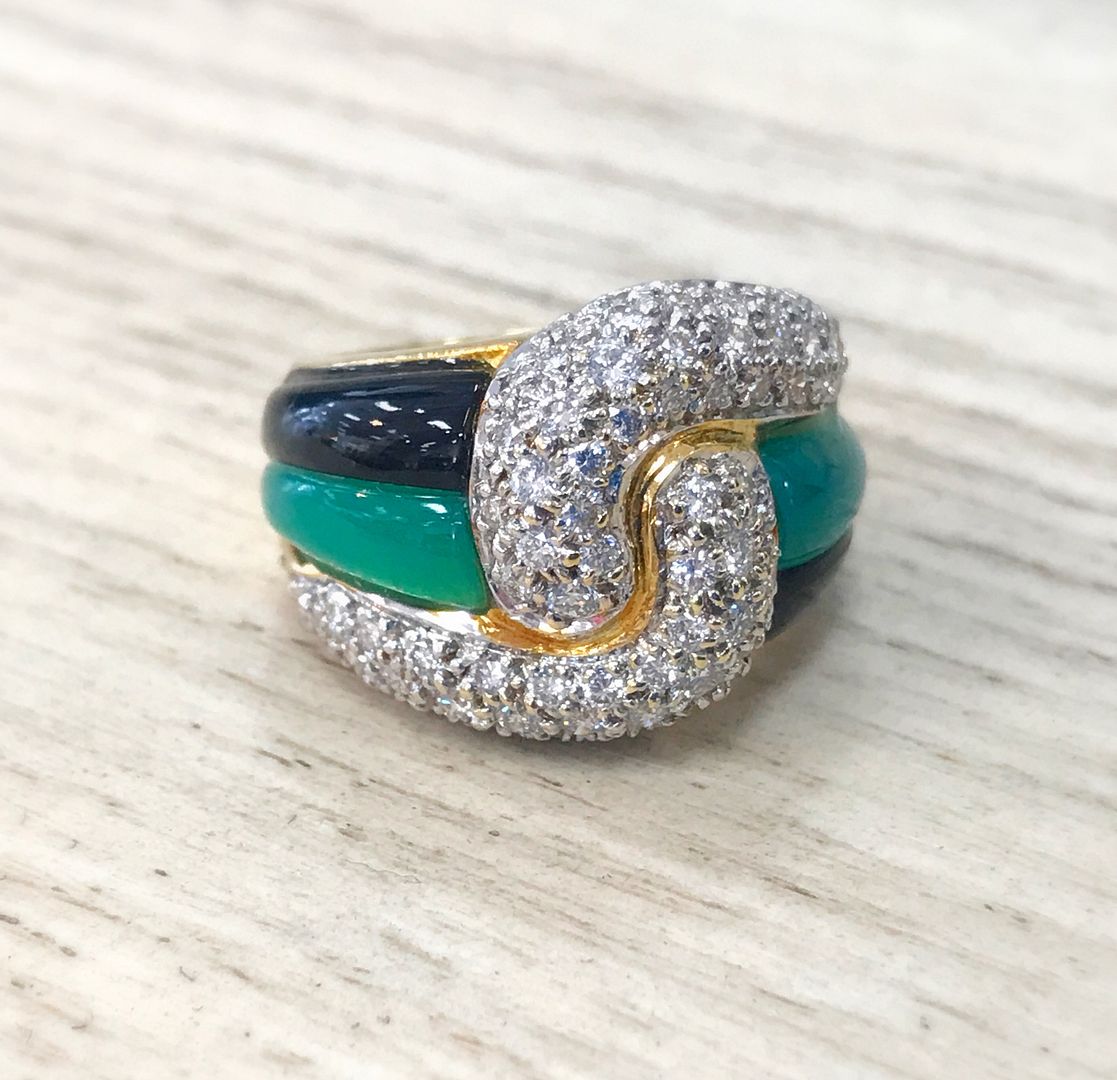 Tiffany and Co sterling silver X&O ring. Was $145. Now $85.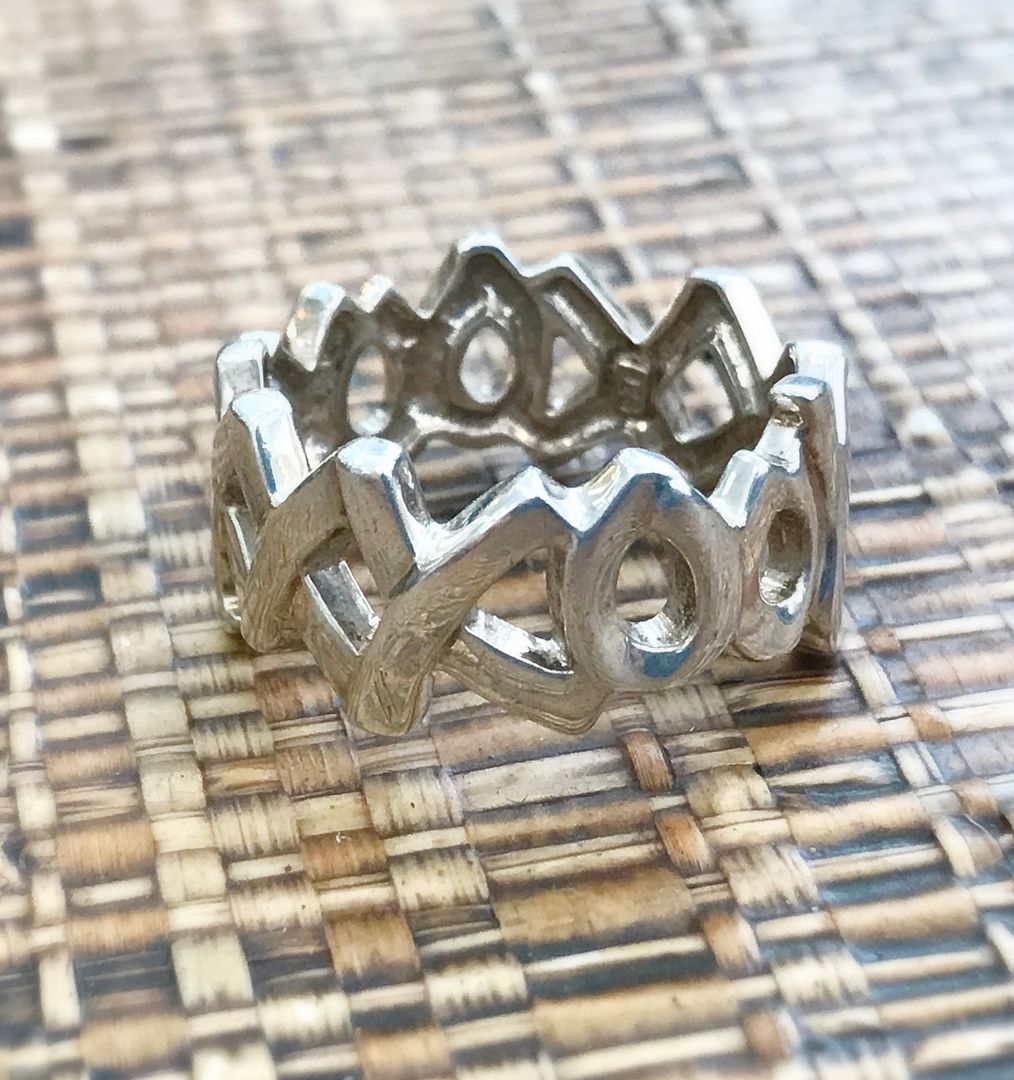 .15ct round diamond pendant in a 14kw gold bezel.
Was $395. Now $225.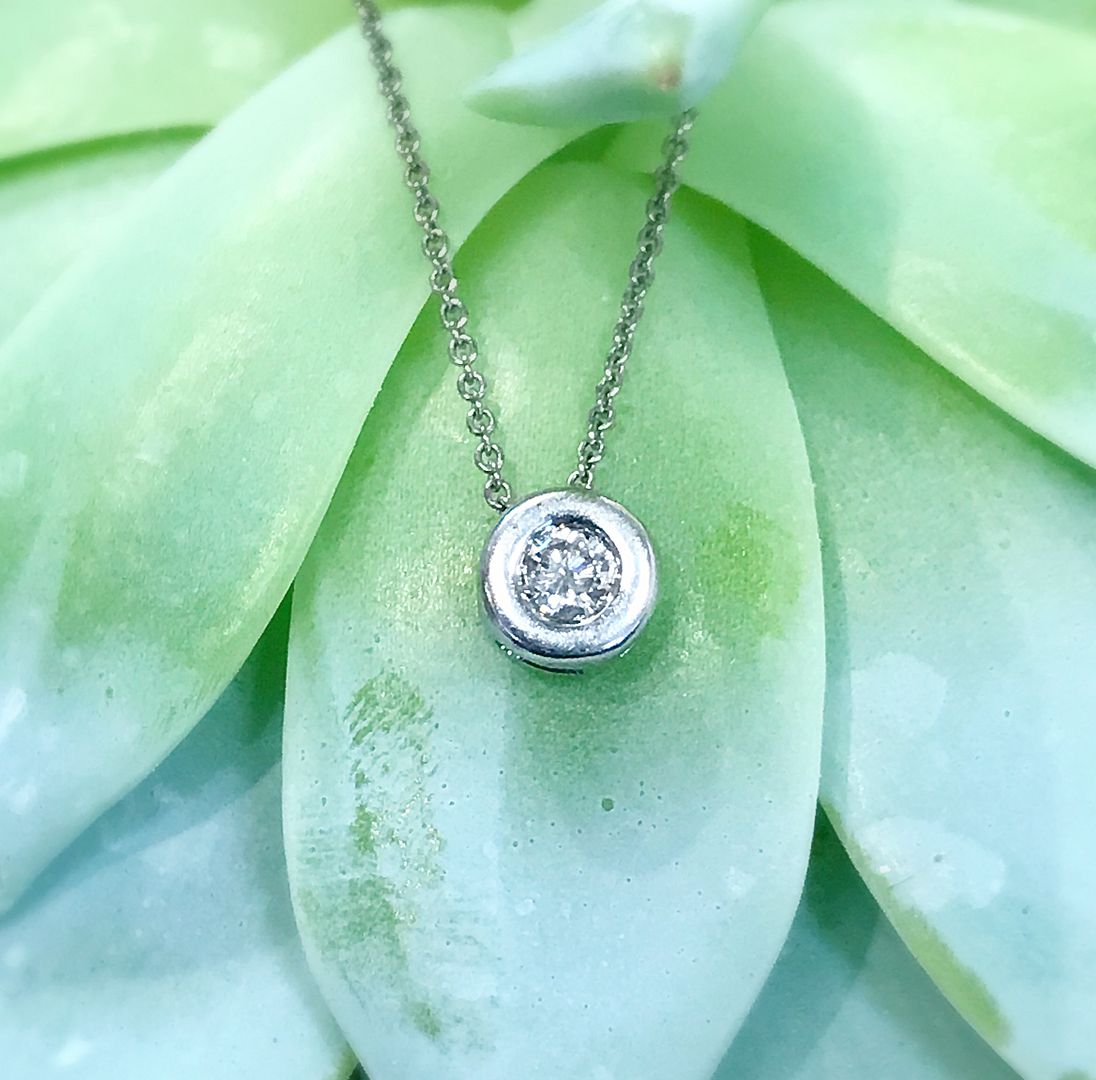 Rose quartz and amethyst set in 14ky gold.
Bracelet was $1,195. Now $725.
Ring was $395. Now $228.
Earrings were $695. Now $395.
Pendant was $395. Now $228.
Ilias Lalaounis 3ctw diamond bangle with ruby eyes in 18ky gold. Was $9,995. Now $6,395.
.55ctw diamond Greek key ring in 18kw gold.
Was $1,295. Now $725.
.50ctw princess cut diamond eternity band in platinum.
Was $1,995. Now $1,115.
Hope you enjoyed the show…
and stay warm everyone!