For those who don't know…this is the
'Tears of Joy' emoji…
It somehow captures how we have felt this week, 
just so much goodness arriving in such a short time.  Whew….
Everything from high end furniture, to doggie costumes,
to hanging fish, and stupendous chandeliers. 
This is only a FRACTION of the new arrivals.
COME SHOPPING THIS WEEKEND.  
You WILL NOT be disappointed.  
Just in on consignment, this luscious velvet chaise lounge by Frontgate retails $4,599, our price, $1,295, 44.5x60x37"h. One is sold, but we still have one of the silver-leaf & gold wall panels, $245, the retail is $918.  Gold resin lamps, $72 each.
Just STUNNING…We have TWO of these LARGE SCALE 'Hamilton' chandeliers by Urban Electric…they retail for $5,559 ea, our price $1,295 ea. See their website for lots of installation pictures of this super high end chandelier. 26"x38h 
Antique gold with pale spa blue lining.  
MACKENZIE-CHILDS 48″ dining set including three side chairs and one arm chair. The retail on this set is $20,755, our price $3,295! 
And ever more MACKENZIE-CHILDS delights…if you are a
collector, get in here!  It's going quickly.  
Lovely landscape giclee canvas, $295, 60×30
One of the legs on this blue/green cabinet has been repaired, but
is structurally fine. so it's at a bargain price of $595, 70x15x42. Gold lamps, $112 each.  Shark sculpture, $85.
Sailboat canvas 36×24, just $42. Lamp $125.
This hand embellished giclee is SO GORGEOUS; it's a little pricey at $625 but definitely worth seeing in person. 52.25×42.5.
Modern blue chairs just $295 each. 31″W.
Oh, my… this Currey & Co 'Shoreline' seaglass pendant retails
for $1460, our price $495. 13" diameter, 15"h.
More GORGEOUSNESS in on consignment, also by Frontgate, these pale aqua chairs are framed in silvery bronze, $795 each. 31"W.
Huge consignment of copper fish by local artist Michael Van Hout.  $35 each.  Each is approximately  15″W x 10″H.  At last count, we had around 30 fish.   Here is a picture showing you how they have been hung from the ceiling with clear fishing line,
as well as tacked to the wall.    
This large and durable dark taupe sectional will not last long at $1,295. 101×129.
35″ gold cage coffee table $265. 18.5″h.
A WOWZA jewelry chest mirror by HOOKER. The 'Melange' retails for $1,469… our price, $695. 48×4.25×82″h. Missing a knob.
This STUNNING mirrored chest is actually a BAR. By Frontgate, it retails for $3,495, our price, $1,295. 55.25×22.5×36. 
Look at the inside! 
Modern gray velvet sofa just in from WEST ELM,
retails for $1,499…our price, $795. 77″W.
Washed media credenza, $995, 63x16x35.5
Hand embellished floral art just $75, 39×19.
Orange designer lamps, $125 each.
You never KNOW what you will find at Home Again…huge consignment of doggie outfits and costumes!
Brand new, still on hangers, From $3-$10 each.
This sailboat oil painting is very rich in person, $295. 32×48"H.
Another great taupe sectional, just $895. 92×92.
Framed landscape abstract art, $195. 41×28.
Pair of seagrass ottomans from POTTERY BARN just $95 each.
Retail $180 each. 22.5×21.5×13.
Deal time…this solid wood dresser is missing a few knobs so its priced to move at $225. 60x19x45.5.
Handsome 31″ swivel barstools, $145 each. 
Nice neutral chofa in suede look polyester, $795, 78.5″W.
Chaise can be on either side.  
Highly textured Eiffel Tower art panel, $245.
Generous size, 39×78.5″h.
PRETTY tufted linen settee, $595. 64.25" wide.
Pair of petite slipper chairs just in,
$125 each, 26"W.
Matte silver jewelry chest with mirrored doors just in on consignment…retails for $400+…our price, $275. 16×12.35×27"h.
Huge highly textured sailboat canvas
in a soft neutral palette, 60×40, $395.
OPPORTUNITY BUY…King rattan headboard, $275, Queen HB, $225, 3 drawer chest, $295, 33x18x32"h, Two bedside tables available at $195 each, 24x19x25.
You need to see this chair in person to understand how rich it is.  
Lexington rattan chair & ottoman a STEAL at $795. 29″W.
Need a barstool? These dark chocolate 31" swivel stools retail for $140 each, our price just $95 each. Four available,
sold in pairs only. 
Just in! Lovely bench in a pale grey and ivory upholstery.
Brand new market sample just $295. 59x16x19″h.
More bedroom pieces just arrived…these are brand new
closeouts in a soft sage. Dresser, $425, 61x18x34,
chest of drawers, $375, 34x18x50.
Pretty tile top pub-height bistro table, just $145, 47x24x37"h.
Just in… large collection of Pier 1 dishware and decorative accessories, from $12-$42.  Not shown, mugs and dinner plates.
So different…framed wooden industrial bobbins,
$75 each. 36×17.
Modern white writing desk, $395, 48x24x31. Gel coated abstract, $95, 36×24. Blue lamp, $60.
This shabby blue-grey armoire is so sweet…
$395, 38×19.75×59.5. 
ADORBS French Provincial pieces. 
 Vanity, $95, 39×17.5×30. Bedside table, $65, 22x16x23.5.
Sorry, lamps have sold.
Recycled metal tuna & marlin with sisal rope, $125 each, 46"W.
These look GREAT hanging outside on a porch.  
Just in on consignment and brand new straight out of the box!
We have 3 of these 4-panel screens that retail for $115 each, our price just $65 each. Each panel is 19x67h.
Coolio shelving units just in, $145 each. 
Black X bookcase, 22x15x72.5″h. Wine rack, 17x12x78″h.
Just in on consignment…cheery red loveseat piped in taupe.
From Art Van, it retailed for $600, our price $325. 67" w.
This won't last…pretty ivory carved cabinet,
$495. 48x16x35h
And arriving yesterday around 4 pm…
a MOTHERLODE of nice outdoor furniture. 
Do not wait til spring, these bargains won't last. 
Frontgate canopy sets…$595 ea.  Frontgate 5 piece outdoor wicker sofa, love, chair, otto and table $1295. 3 piece recycled glider set $495.
Jensen Leisure table and 7 chairs, $795.
White Grandin Road bench, two available, $125 ea,
large cushion box $45
Jensen Leisure swivel barstools, 9 available, $75 ea.  
The new arrivals just keep on coming…
.48ct G color VS2 pear shape diamond engagement ring in a
.08ctw diamond and 14k white gold setting,  $1,695.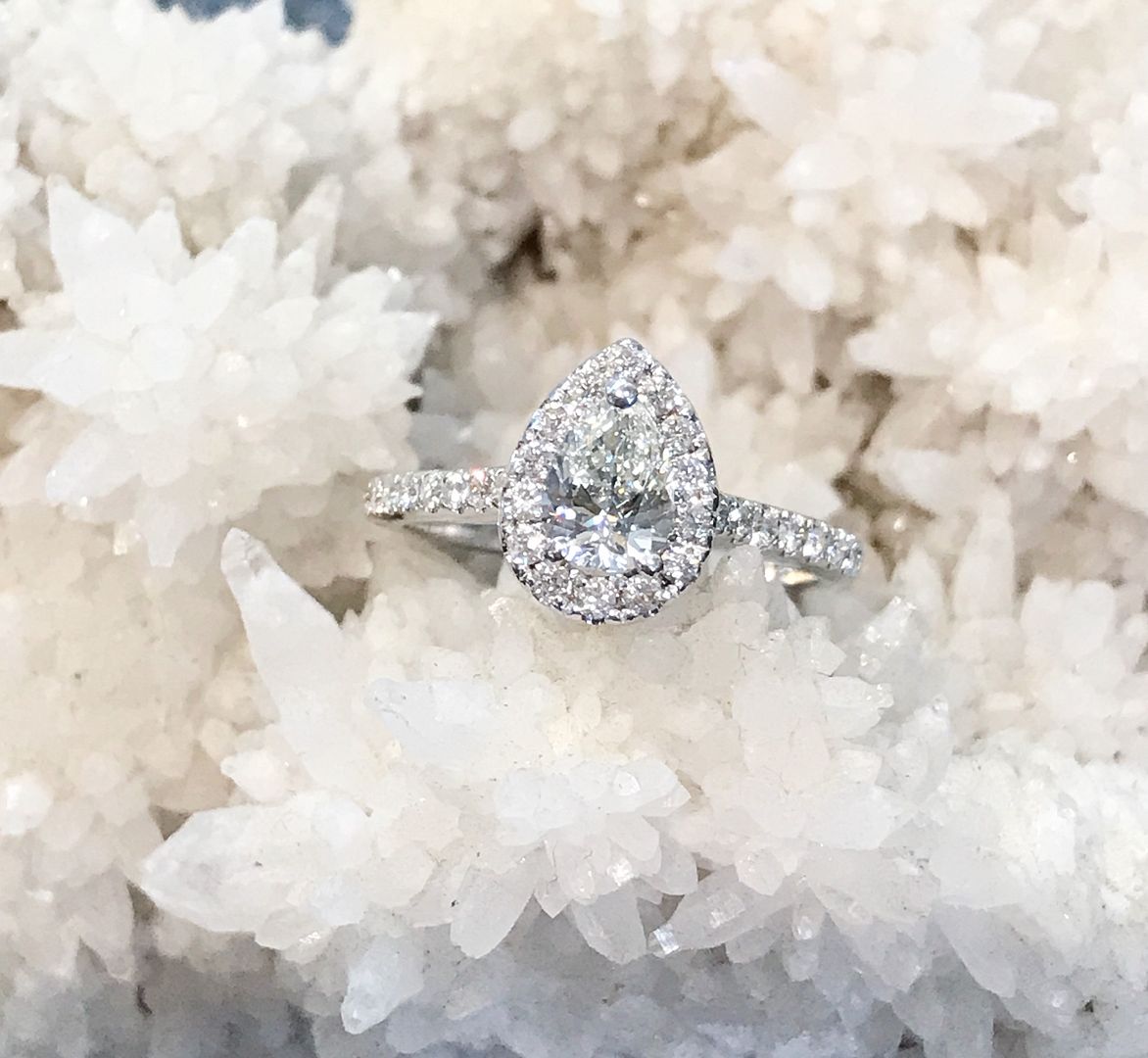 Lagos Arcadian ID bracelet,
7.5 inches, $495.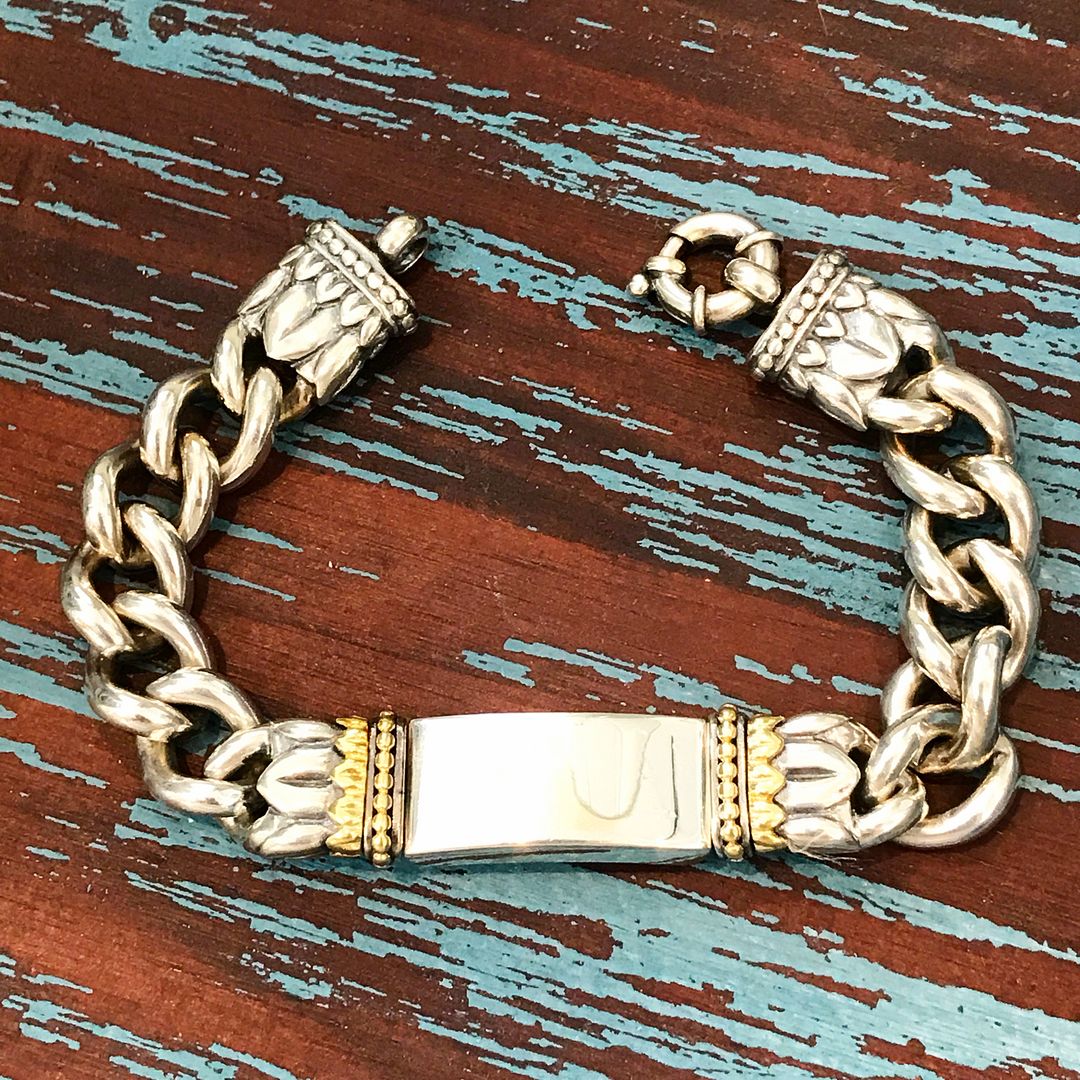 Just in Roberto Coin Tiny Treasures pieces!
Diamond and rose gold necklace, $425.
Diamond and white gold ring, call for pricing.  
Roberto Coin 1ctw G color VS1 clarity cento cut
diamond studs in 14kw gold, $5,200.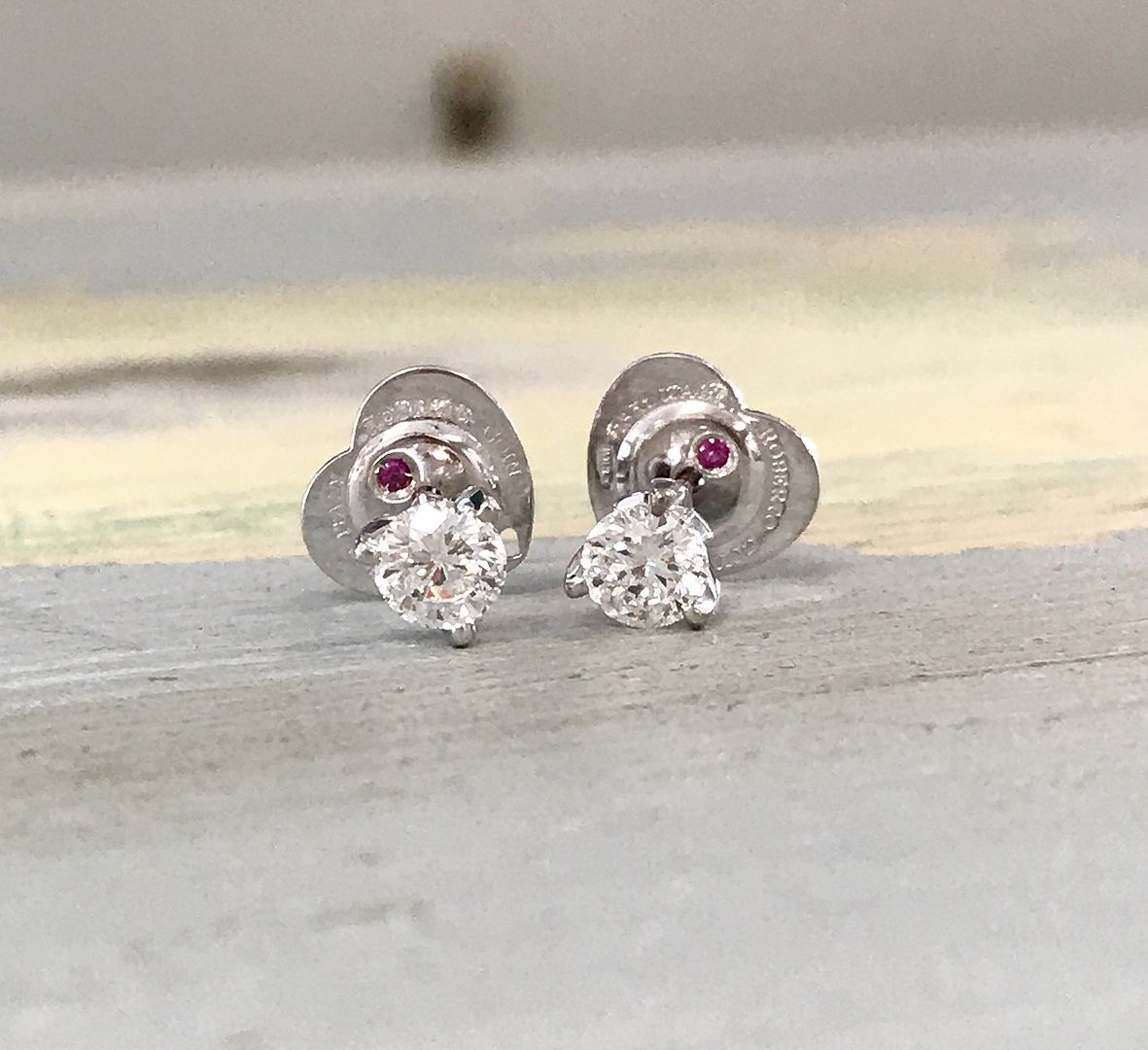 Charles Garnier 18kr gold and diamond hoops, $195.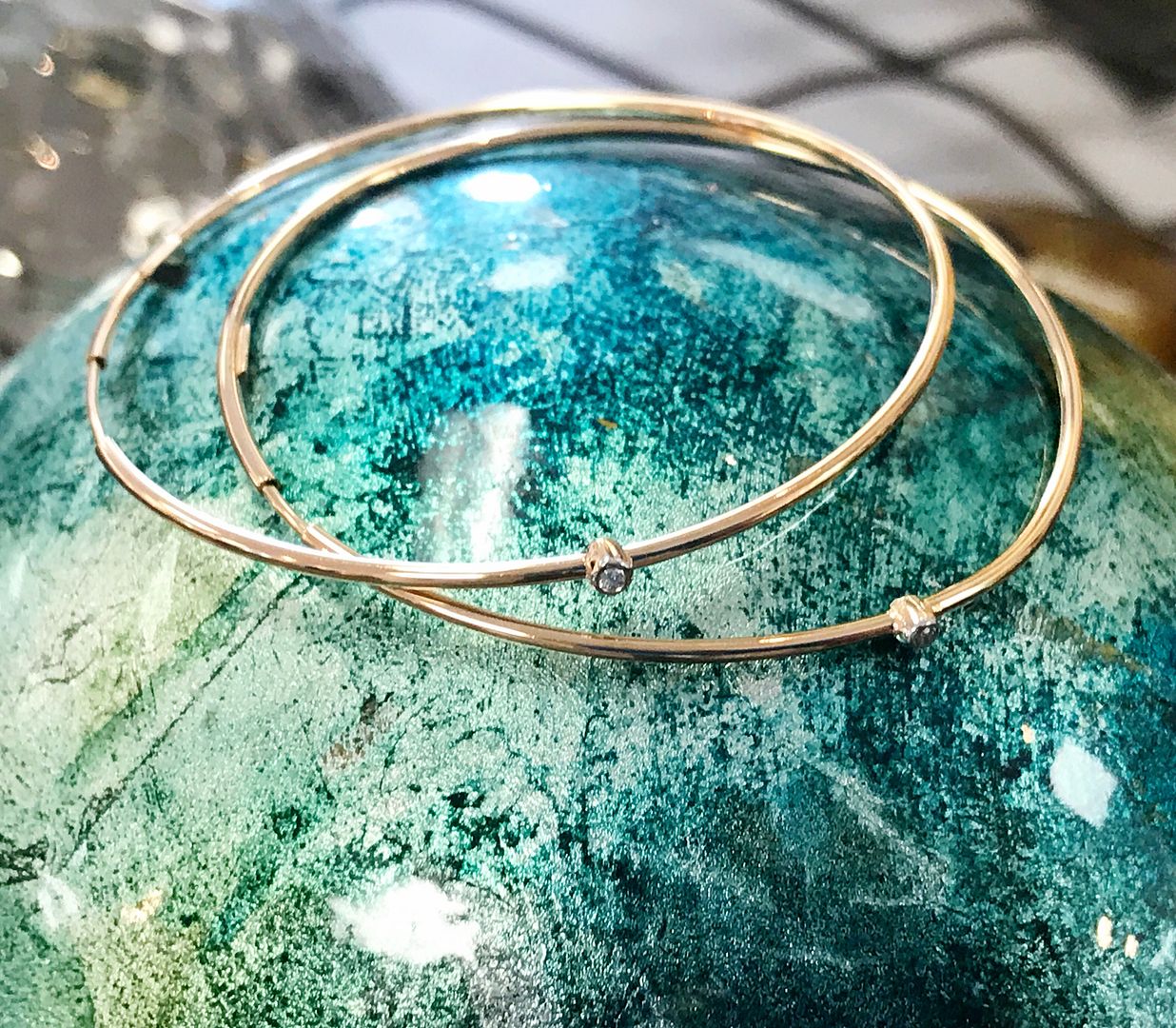 Charles Garnier sterling silver dangle earrings!
Lapis, mother of pearl, and quartz triplet with a CZ halo, $685.
Rhodium plated sterling silver dangle earrings, $65.
 Turquoise, mother of pearl, and quartz triplet with CZ halo, $585.
Giovanni Raspini 18kyg plated sterling
silver coral earrings, $395.
We have a great selection of vintage and antique diamond rings. 
Prices range from $395 to $3,595.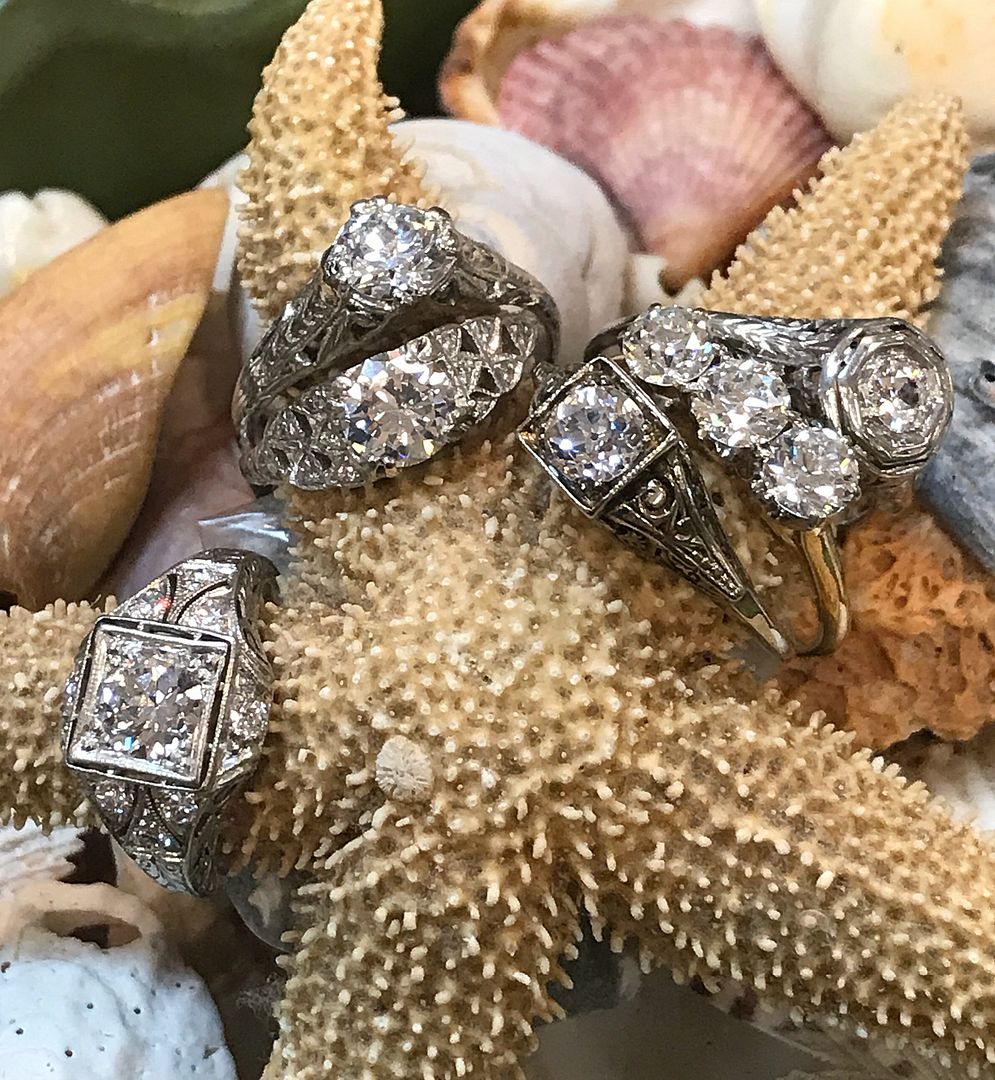 Black rutilated quartz and sterling silver ring, $172.
Matching pendant and silk chord, $189.
1ctw G-H color I1 clarity diamond journey pendant
in 14ky gold, $1,250.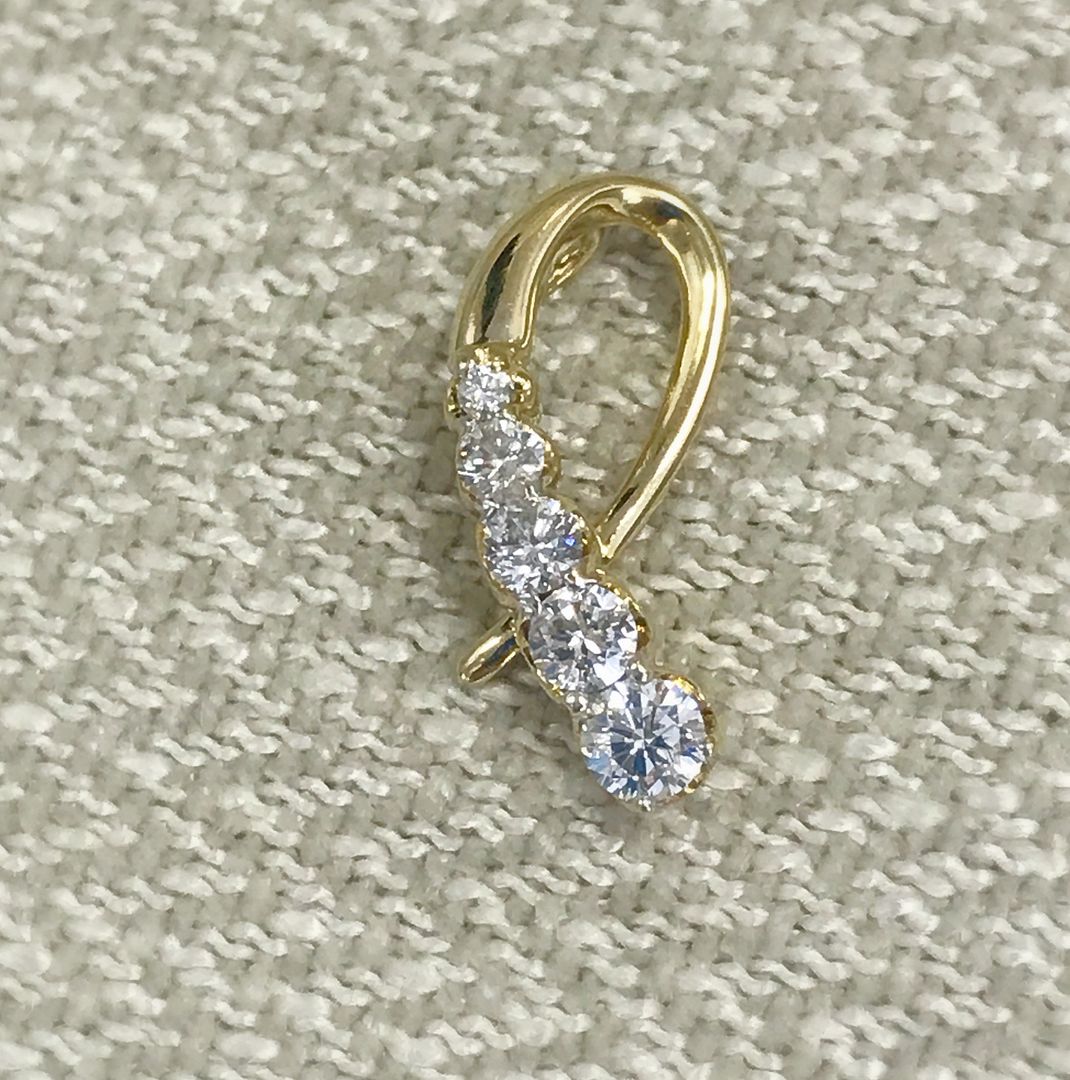 18ky gold Santa hat pin adorned in rubies and tsavorite, $395.
14ky gold cat pin with emerald eyes and move-able tail, $295.
Gemini pin with sapphires and diamonds, $450.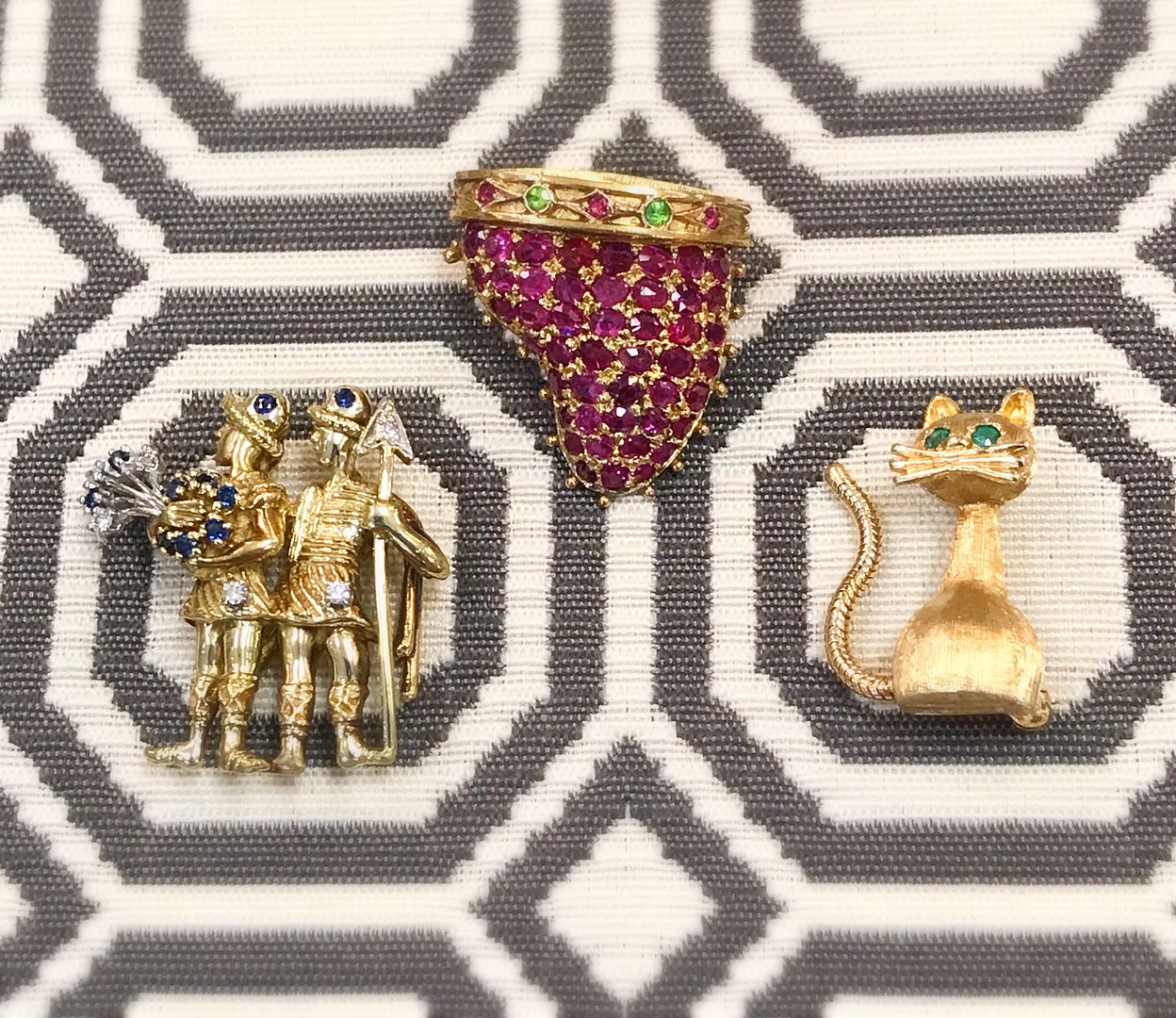 Looking for that special piece that only you will have?
We have some stunning and unique pieces in stock.
Frank Reubel 22ct Australian Andamooka opal and
.93ctw diamond pendant in 14kr gold, $9,125.
 Chris Wolfsberg 18.93ct parasol cut rainforest green topaz and rock crystal quartz assembled stone in 14ky gold, $2,965.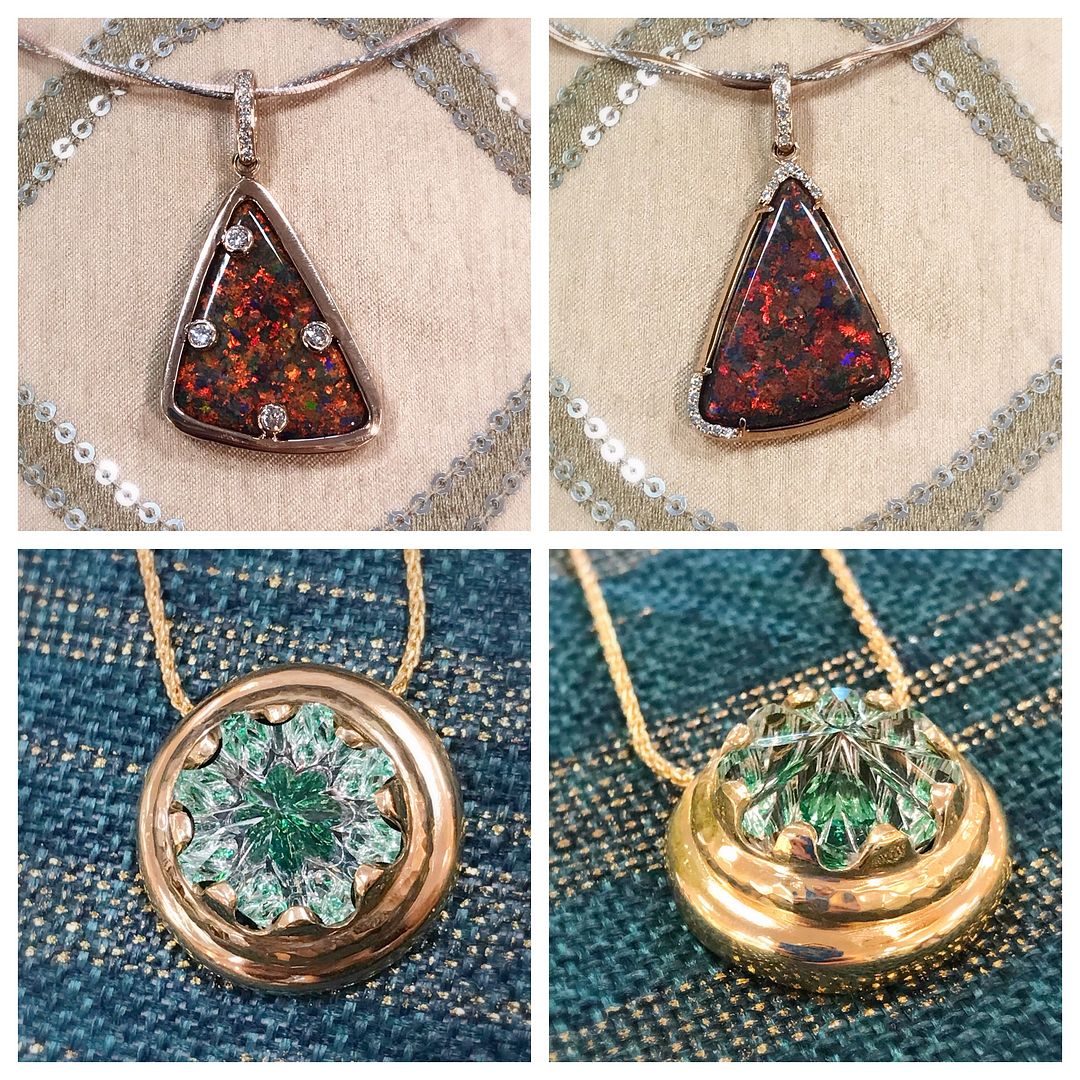 Raymond Mazza mother of pearl turbo shell earrings
with peridot in 14k yellow gold, $1,435.
Raymond Mazza baroque pearl ring with .67 diamonds
in 14k yellow gold, $4,025.
5.76ct Fantasy cut aquamarine by Chris Wolfsberg
set in a 1.34ctw diamond and 14kw gold setting, $6,795.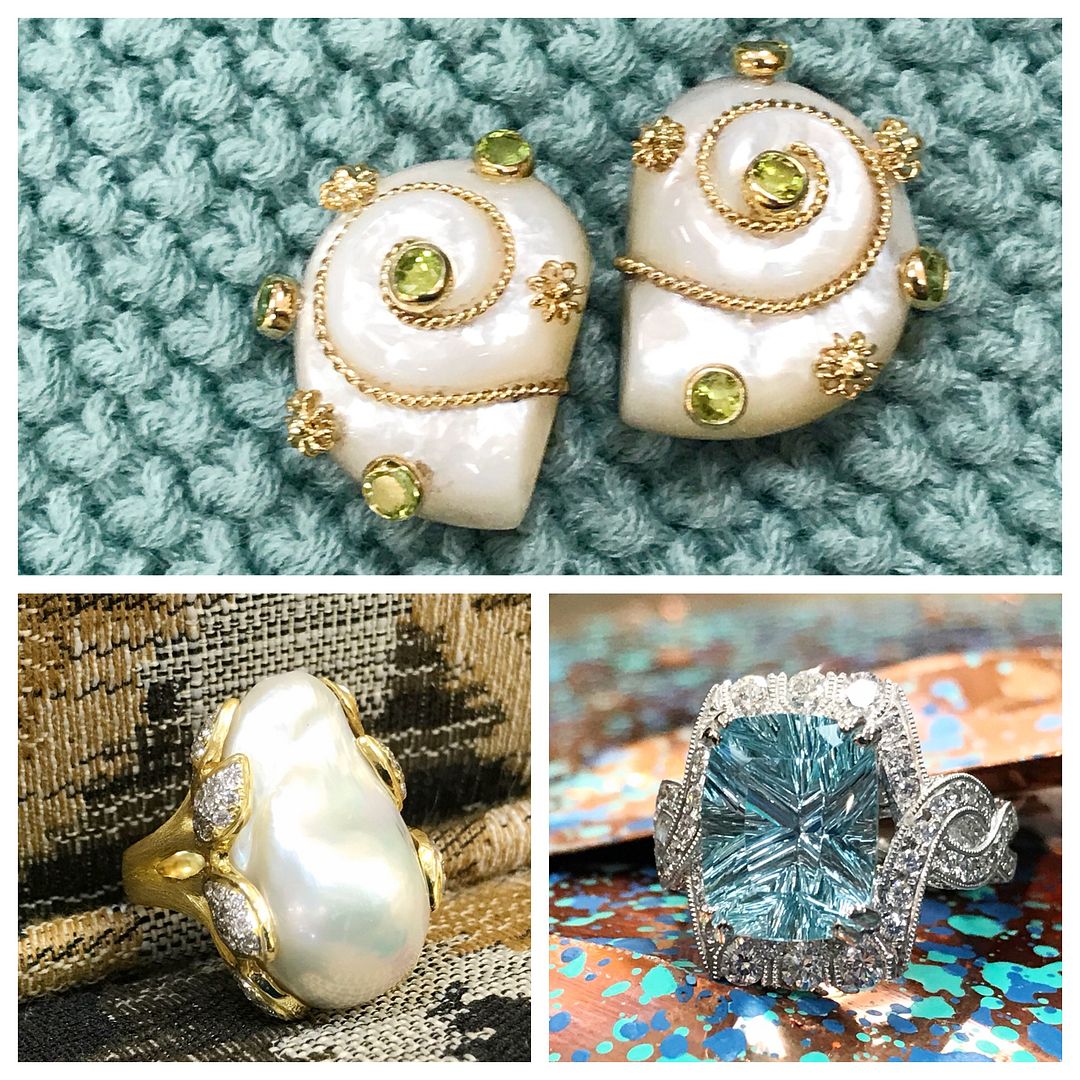 Have a ring that needs to be re-designed?
Or an earring that doesn't have a match?
Maybe a piece you have simply outgrown?
We can help you create something you love!
Check out this damaged setting that we turned into a simple wearable wedding band.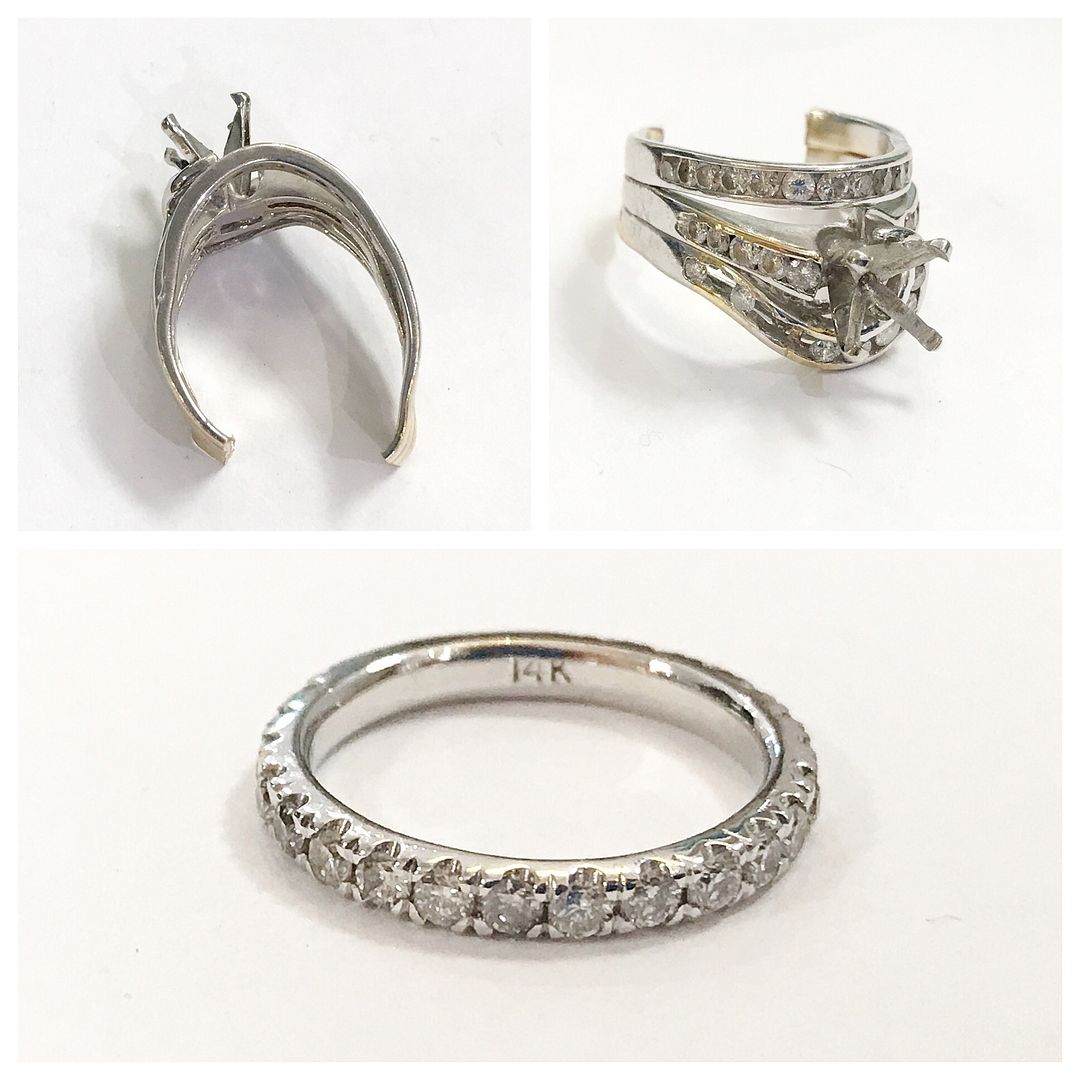 This mint tourmaline, diamond, and platinum ring
is completely custom designed and made.
We made this very current and beautiful wide band
from inherited pieces.
~~~~~~~~~~~~~~~~~~~~~~~~~~~~~~~~~~~~~~~~~~~~~~~~~~~~~~~~~~~~~~~~~~~~
Now it's your turn to cry tears of joy…
We have only shown you a fraction of the bargains waiting on
you in the this week, you are in for a treat.  See you soon!