For me, it's one of the sweetest songs
of the season…
Mary did you know that your baby boy will one day walk on water?
Mary did you know that your baby boy will save
our sons and daughters?
Did you know that your baby boy has come to make you new?
This child that you've delivered, will soon deliver you.
Mary did you know, Mary did you know, Mary did you know.
Lyrics by Mark Lowry and Buddy Greene
Your holiday beliefs, songs and traditions might be completely different, but these words are worthy and something we can all aspire to…
'You shall love your neighbor as yourself.'
In the spirit of hope, peace and love, 
 MERRY CHRISTMAS & HAPPY HOLIDAYS 
  On with the show!   Just an FYI, we will be closed on Sunday,
Christmas Eve, and also on Christmas Day.  
Dream-worthy and MAGNIFICENT large scale abstract, $695. 72X48.
Magnolia Home 'chofa', $1,425. 108″W x 65″D chaise side. 
Teak root coffee table, $595. 37.5″diameter x 18″H.  
These antique brass lamps are SO RICH,
$155 each, 26″H
Just in…reclaimed mango wood chest, $595, retails for $1,000+
54x16x34. Stunning peacock art just $95. 40×40.
Gold designer lamps, $125 each. 28″H.
This GORGEOUS taupe queen bed retails for, $1,196+,
 our price $795. Also available in king, $895.
Both include rails & slats. 
Blue accent chairs, $395 each. 30″W. 
Hand embellished abstract, $225. 35.25×47.25
Rope table lamps, $125 each. 24″H.
Just in on consignment,
rich and cushy chocolate sofa, $695. 88″W. 
Loving this coastal collage…get the whole set for $275,
or priced individually, $18-$52.  As shown, 48.5×39.
Take home this nice wood & rattan dresser
(includes a matching mirror) for just $360. 66x20x42.
Coordinating abstracts, $85 each. 16.5×41.5.
Beautiful soft green lamps, $125 each. 29″H. 
We can't believe this triptych is still here!   It's a mixed media shadow box with handpainted acrylic overlay that retails for $1,926, it's ON SALE NOW for $995…brand new.
Each panel measures, 26×50.  Starfish lamps, $125 each. 31″H.
This white desk has a small booboo on the front left corner
so it's priced to move at $165. 48x24x31.
Green floral chair, just $196. 30.5″W.
Just in, green mirrored fretwork cabinet, $495, 40x18x40.25
Handsome abstract framed in black, $75, 24×36.   
Metallic lamp, $125, 28″H.
Love this wall of sea motif art…just $35 each. 12.5×18.5
Phone orders accepted, first-come, first served, 910.679.4302
Just in…distressed blue cabinet with intricate carved doors, $345…retails for $529. 33×13.5×39.
Coastal abstract framed in white, $145, 24×36.
Just in on consignment…
lovely aqua sofa, $695. 85″W.
These stunning heron's framed in a rich gold NEVER last long,
$175 each. 38×48.
A consignment score…queen black iron poster bed just $395. 
Blue lacquer desk, $476, retails for $800+. 54x26x30.
Cheetah chair, two available, $295 each. 29.5″W.
Just in on consignment by a local artisan….
Live edge pub table, $145. 41×16.5×40.5
Coordinating stools, (could also be used for side tables)
$62 ea, 26″h
54″ glass top dining table with wooden base, just $295.
Four side chairs available, just $75 each. Sold in pairs only. 
Curvy gold lamps, $85 each. 29″H.
Room divider $125. Each panel measures, 15.75×71.
Mirror, mirror on the wall….
YOU KNOW WE HAVE THE BEST MIRRORS OF THEM ALL
Gold dimensional iron mirror, $175, 28.75×38.75.
32″ wooden mirror by Pottery Barn, $95.
Arched beveled mirror framed in gold, $375, 32×44.
36″ 'circles' gold mirror, $225.
Whimsical art just $35 each, 25.5×33.5.
Grey quatrefoil console, $275, 35.5×13.5×33.5.
Just in on consignment, lustrous wood farm table, $395, This table is a little more narrow than most dining tables, so if you have a smaller space, this might be for you.  31.5×70.5.
A dramatic and modern look…abstract framed in gold, $225, 47×35.5. Crackle lamps $95 each. 28"H.
The prettiest king bed just arrived…natural cane framed in white, $895. Also available in a queen (headboard only) for $395. 
Whimsical striped chair, $695…retails for $1500+
 Pair of Ethan Allen antique white bedside tables, $225 each.
Palm art, $175, 36×48.
Huge lighted JOY SIGN is ON SALE for $225!  
So cute…white wave mirror with shelf,
$75, 23.5×30. 
Pretty cherry blossoms on canvas, $225, 60×40.
White designer lamps, $75 each. 28″H.
Your new headboard is here…curved queen headboard
with bronze nailheads for $225 and king $295. 
(Headboard at back of photo is sold.)
Gorgeous abstract, $295. Generous size, 60×40. Taupe accent chairs, $395 each, 30.5″W. One drawer console table, $175, 40x14x32. Navy designer lamp, $100.
You NEVER find cookie cutter looks at Home Again.
Green lamps $125 each, 29.5 H, Buddha wall art $295. 32x47h.
We are just so drawn to this pair of vibrant fine art giclees…
$175 each. 18.5×30.5
Consignment score…pair of nice natural wicker chairs with
custom seat cushions, just $145 each, 32"W.
Beautiful soft blue lamps, $145 each. 28″H.
Who loves high end looks for less!? Pair of wooden armchairs,
just $180 each, 24″W. Framed abstract, $100, 31.5″square.
Acrylic table lamps, $65 each, 25″H.
Marble top demilune, $65, 45x14x40.5.
Just in! Rustic wooden chandelier, $245! 18×20
Dreaming of a designer bedroom? Start with this set of 3
LOVELY euro shams for just $42 ea.
There is still time to make their holiday even
more memorable…
 Slane carnelian bee enhancer in sterling silver, $250.
Slane double strand Idocrase necklace with silver toggle, $335.
Just in Slane rings!
Seapod- $158.
White topaz grace ring- $141.
Sterling silver basket weave- $549.
Kallati designer ring with .10ctw diamonds set into white gold
in a three row rope 14k rose gold band, $421.
Effy designer panther bangle with tsavorite garnet, $1,336.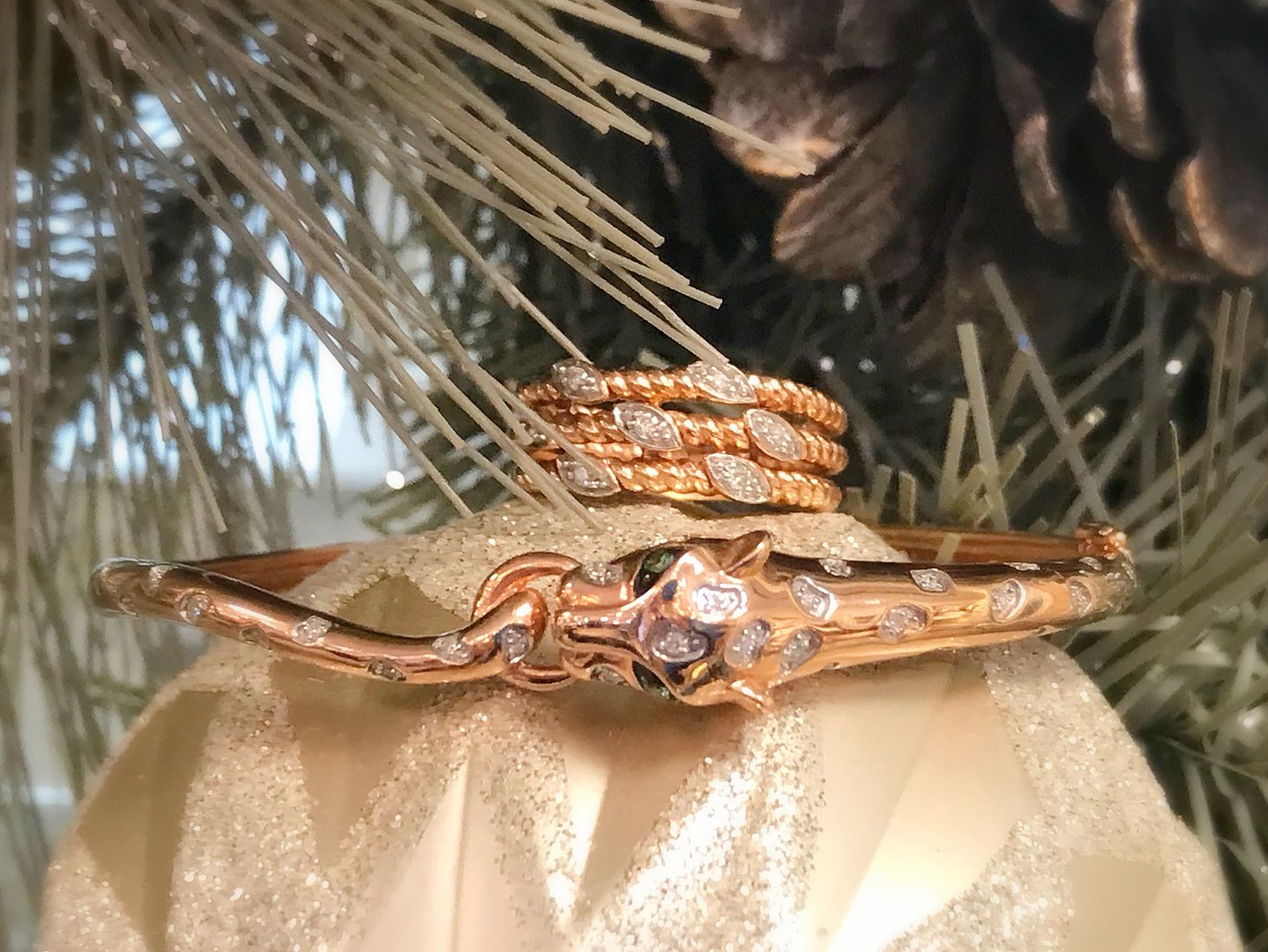 Rolex stainless steel oyster perpetual
ladies watch, $3,495.
18kyg Rolex Cellini with brown strap
with box and papers, $4,950.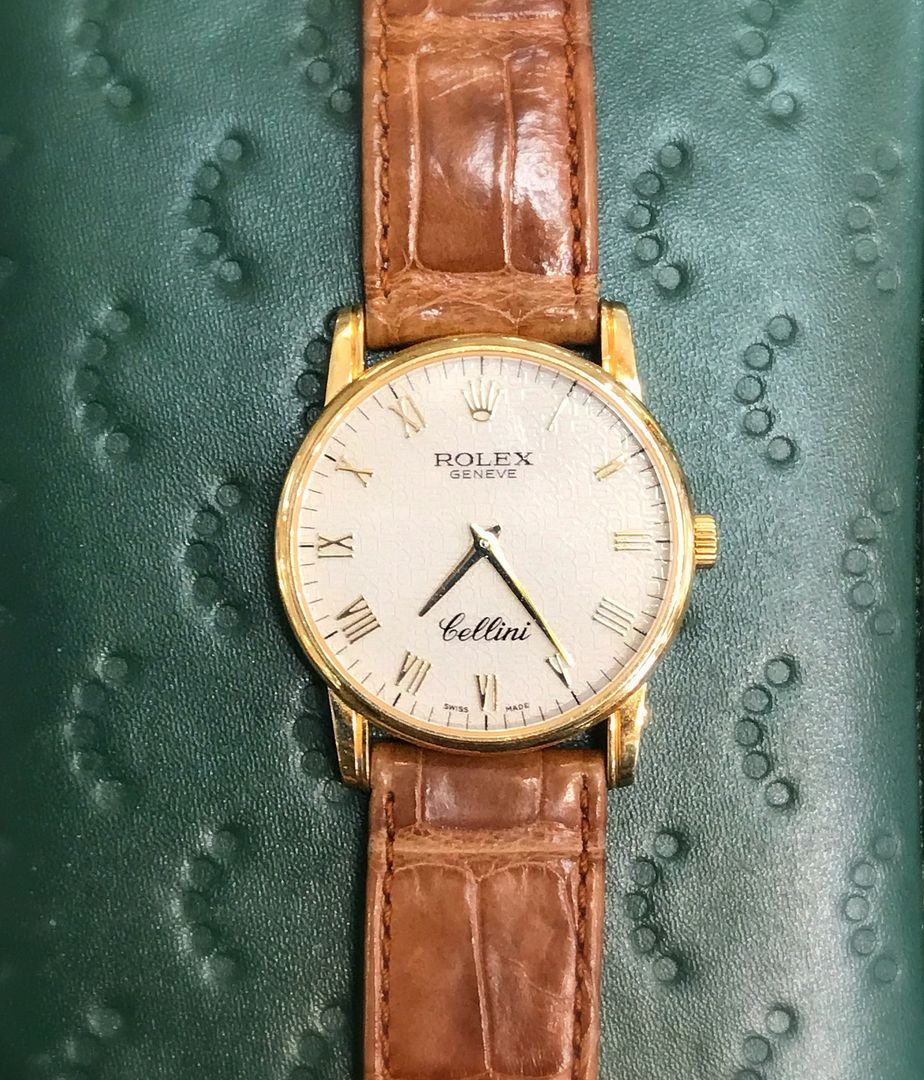 1ct emerald with 1.25ctw diamonds set into 18ky gold, $5,596.
Nina Nguyen emerald and sterling silver necklette, $336.
3ct blue-green tourmaline with a .15ct diamond in14kyg, $796.
 Chris Wolfsberg 18.93ct parasol cut rainforest green topaz and rock crystal quartz assembled stone in 14ky gold, $2,372.
.75ctw diamond, chrysoprase and black jade set in18kyg, $1,196.
 Cassis 18kyg and diamond cross pendant set with 51 full cut round diamonds weighing .77cts suspended from 18 inch chain, $4,803.
We have gold bracelets in every style. 
Prices range from $556 to $2,396.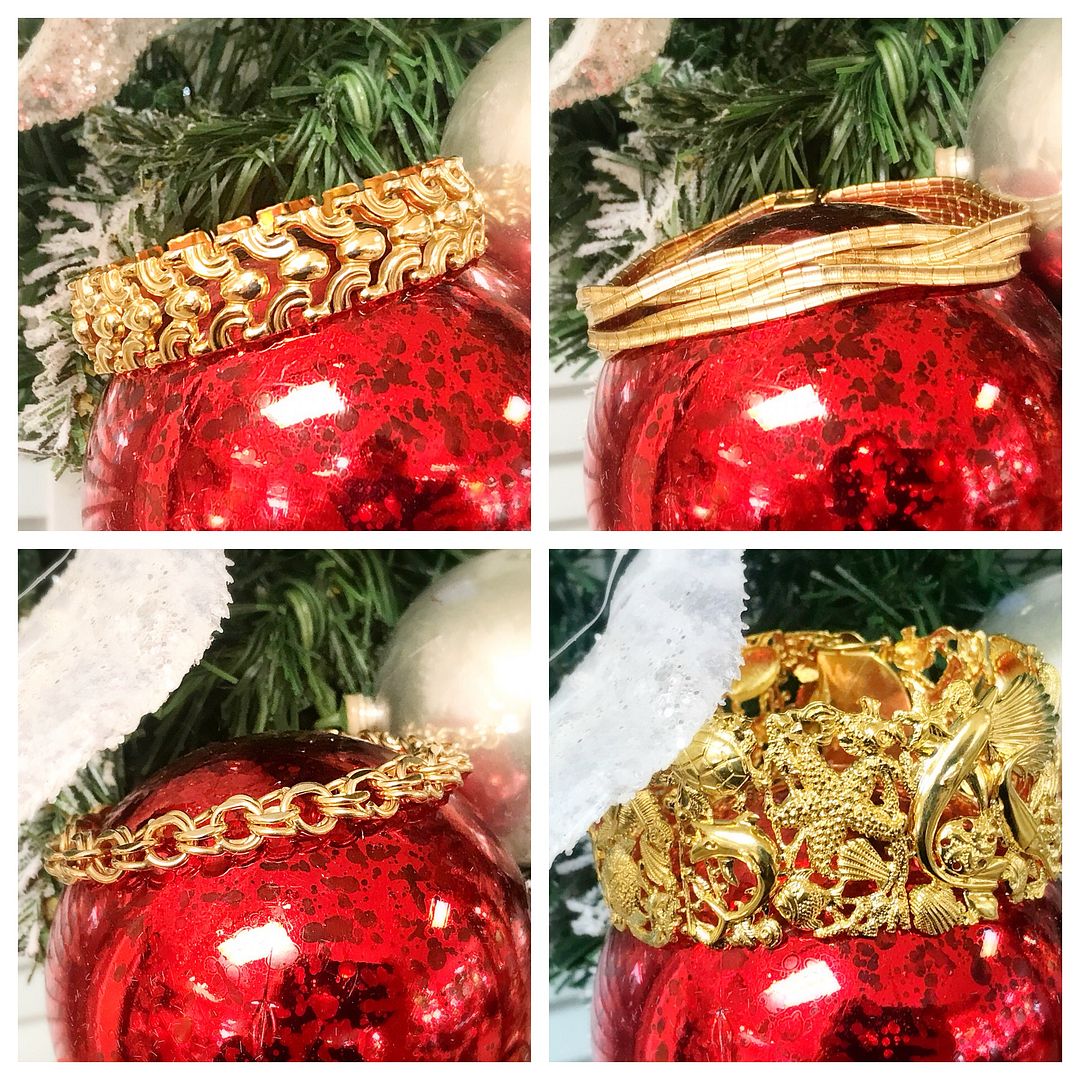 5.09ct (actual) GAL certified natural African sapphire accented with 1.75ctw E color SI1 clarity diamonds in platinum, $20,000.
4.09ctw H color SI2-I clarity diamond studs in platinum, $22,900.
.61ct round center in a .80ctw and platinum setting, $3,196.
.45ct center G-H color SI clarity accented by approximately 1.25ctw diamonds in platinum, $3,196.
3.47ctw F-G color VVS2 to SI1 clarity diamond multi level custom designed ring set in platinum, $15,000.
.86ctw diamond wave band in 14kw gold, $2,044.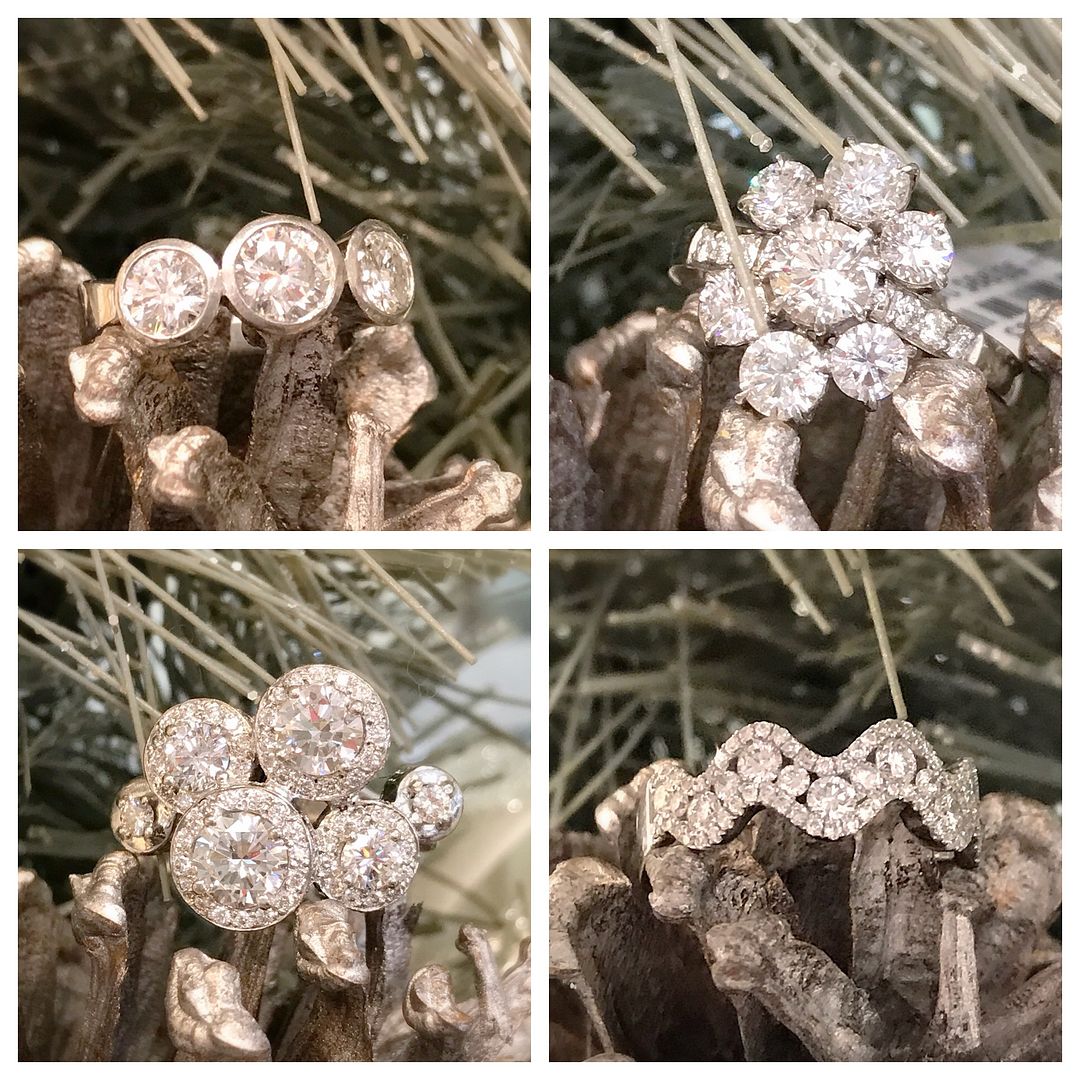 We have diamond studs in every size.
.25ctw to 1.45ctw
Prices range from $260 to $3,836.
Nothing is quite as classic as a diamond tennis bracelet.
Prices range from $3,036 to $11,196.
So many options for diamond necklaces!
Prices range from $556 to $2,956.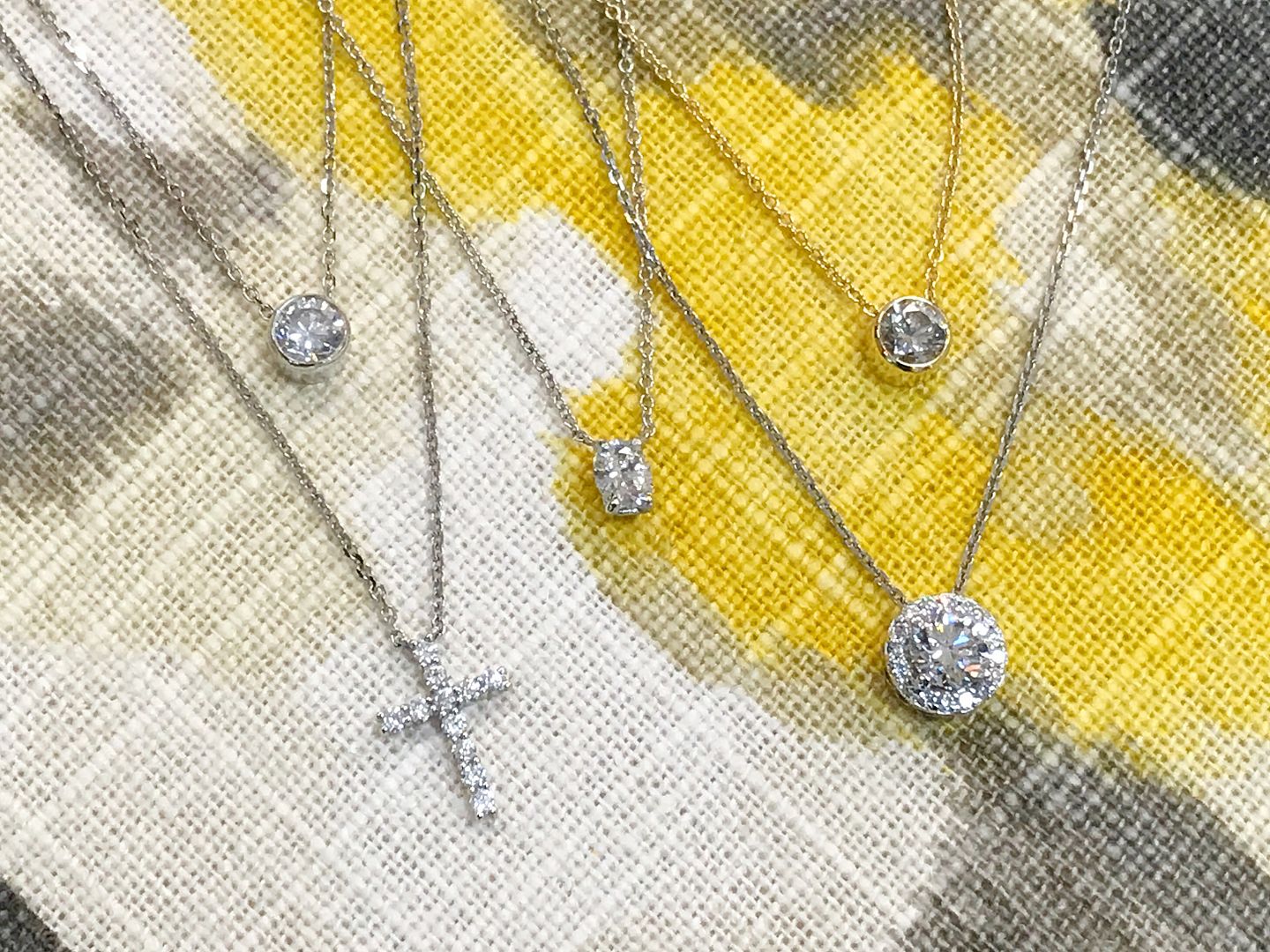 14k brushed white gold, yellow gold, and rose gold bangles.
$316 each.
Sterling silver wide collar necklace, $591.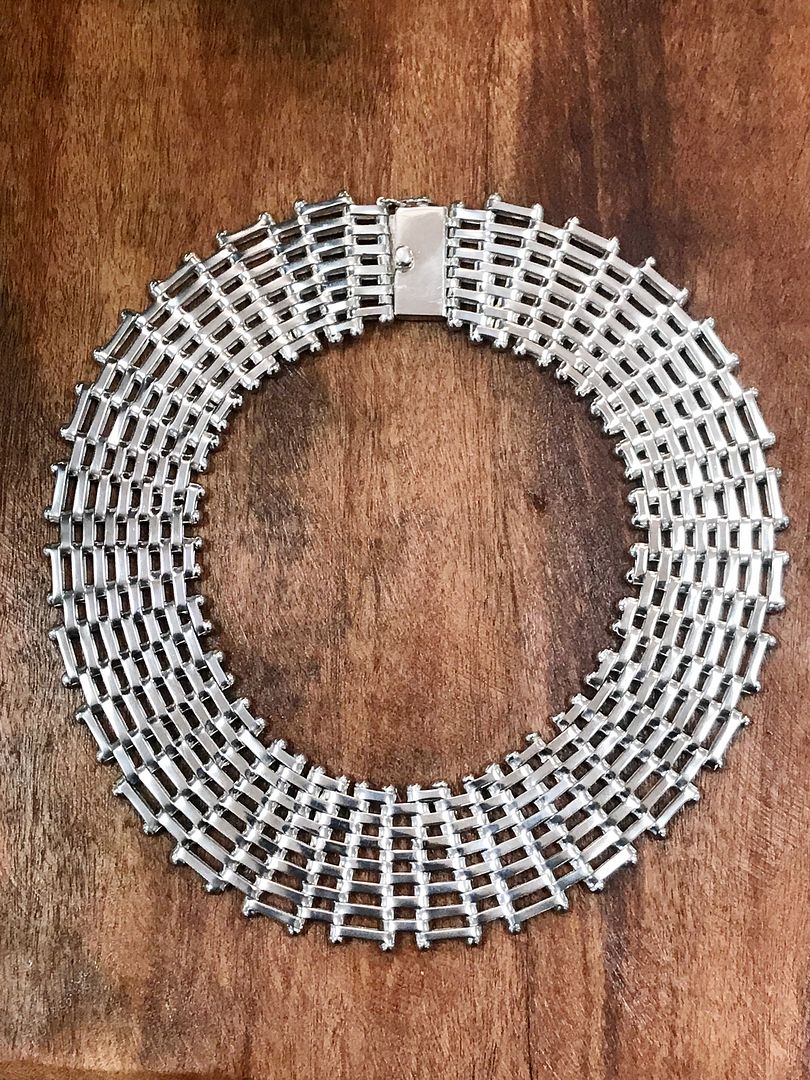 18kt yellow gold Italian gemstone necklace with amethyst,
blue topaz, and lemon citrine, $1,516.
18ky gold X earrings, $421.
Marahlago larimar and sterling silver bracelets.
Prices range from $421 to $1,441.
From everyone at Home Again and Lumina Gem
(and Biscuit the wonder-dog)
MERRY CHRISTMAS & HAPPY HOLIDAYS!