It happens every Christmas…
I take stock of my many blessings…and one of them is having the privilege of working with these incredible people every day.  You will not find a better group of hard-working, supportive people.
Here we are enjoying our Christmas dinner. 
We invite you to celebrate the joy of the season with
the team at Home Again & Lumina Gem.
We'll be serving sweet treats and mimosas on Saturday
as part of the Forum's Sip & Shop Saturday. 
So come join us and
Get a warm smile…and a FREE HUG!    
From our house to yours…
HAPPY HOLIDAYS
On with the HO-HO show!
Glamorous…large abstract canvas in shades of blue and
green, $425, 48″square.  Pair of UTTERMOST gold bamboo floor lamps with black shades, $247 each, 63.25″H, 
mid-century style black sofa, $595, 79″W.  
This market sample dining set is GORGEOUS! 
Notice the scalloped detail on both the table and the chairs,
$895. 48″diameter high-end abstract giclee in a fabulous green and navy palette, $425, and fyi, we have the companion if you need a pair.  50×40.
Another pretty corner of the store…
Large florals $225 each, 31.5"x47. Ivory curio cabinet $625, 36x18x67.25.  Magnolia Home accent chairs $395 each. 
Welcome guests into your home in style!  We have a great selection of storage benches. Two in black, $195 each, 45″W, grey, $195, 45″W. Soft teal bench with linen seat is $245, 48″W.
Check out this super cool 3-tier industrial desk. It retails on Overstock.com for $629, our price $495. 41.75×24.5×78.5.
'Coastal formal' sounds like an oxymoron, but here is a great example.   Large washed finish dining table, $895. 102.25×42.
Includes two removable 12″ leaves. Blue/green chevron bucket chairs, $145 each. Sold in pairs only. 
Check out the gorgeous details
on both the table and the chairs…
An absolute SHOW STOPPER for the fisherman in your life…
an original oil that is part of the JARRETT BAY fine art collection. Large scale, 40.5×58.25, $795.  
Lime queen sleeper sofa, brand new for $796. 78″W. 
Just in on consignment…brushed gold drum style
coffee table, $425. 42.5″diameter x 16″H. 
The prettiest hand-painted Chippendale bench,
it is a fabulous deal at $245. 47.5″W.
Large comfy mocha sectional by Broyhill just in on consignment…$1,095. 70x148x89. 
Leather ottoman, $295. 21″square x 16″H.
HUGE ART SALE GOING ON NOW…
CHECK OUT THESE GREAT PIECES THAT ARE ALL
50% OFF! 
Here are Jesse and Haley taking a rare, but well deserved break on this super cute pub set with 4 stools. Both the table and stool heights are adjustable! 36" diameter. $395.
These gorgeous mirrored chests retail for $499 each, 
our price, brand new for $395 each. 32×15.75×33.
Palm triptych, $125, Each panel measures 12×34. White designer lamp, $75. FYI, we have a pair of these lamps if you need two.  
Luscious velvety dark taupe sectional in great condition, $1,095. 118×154.  Hand painted bench by Guildmaster retails for $998… our price, $445. 48x20x20.
This hand embellished and HUGE abstract is a MUST SEE in person, $427, 48×72. Ivory push back recliners, $395 each. 31″W. 
Pottery barn coffee table just in on consignment,
$175. 45.5x12x18.
Nice quality workstation/chest by Stanley, just $225.
30x18x63.
Just in..some expertly refinished shabby chic coffee tables, $125 each.  White with grey top, 52x21x16.
Bluish-grey, 46x21x16
Fine art giclee in driftwood frame, $295, 35″ square. 
Gold & navy lamps, $75 each. 
Can you IMAGINE working at this glamorous desk and gazing at this magnificent abstract? How would you ever get anything done?
EXQUISITE high end fine art gicle, $695, 52.25×42.5.
Blue lacquer desk retails for $800+, our price $535, 54x26x40.
Grey velvet chair, $125. 
Here is a closer look at the abstract.  It is pricey, yes…
but if you want to take your room from average to sublime,
here you go.  $695, 52.25×42.5.
Just SO PRETTY…Navy and gold accent table retails for $680,
our price $446, 34.5x40x15.5. Super high-end giclee in a navy
and kelly green palette, $425. 50×40.
Love love love this gold chandelier, $495,
A generous scale, 24×22.
Just in on consignment, but it came to us brand new and still in the box…King 'Gabriela' bed retails for $622+, our price, $395.
We also have the coordinating dresser w/ mirror,
$495, retails for $890, 70x20x36. 
One nightstand available, $95, retails for $145, 26x17x25
See this Fitz and Floyd soup tureen online for $99+,
grab it from us for $45. 14x10x10.
Yes please…chocolate faux leather sofa, $795, 88″W.
Fur throw, $62. Pillows, $25 each.
Coordinating loveseat available, $695, 66″W.
SHARP…hand embellished abstract giclee $225, 35.25×47.25.
Blue ceramic lamps $95 each. Modern desk $275, 47.25×23.5×29.5. Grey chair, $125
Just in on consignment…a great looking dining set in like new condition. 48" table $245, floral chairs $145 each,
striped seat chairs $125 each.
Cowhide rug, $395. Distressed blue buffet, $995, 82x18x44.5.
Just in…4 counter height industrial stools just $45 each.
Sold in pairs only. 
Super cool teak root coffee table with glass, $595.
37.5″diameter x 18″H.
Super dramatic round gold mirror $225, 36″diameter. 
Tall distressed buffet lamps $95 each. 39"H.
Two beautiful shorebird fine art giclees in a driftwood
finish frame, $295 each. 34×46.
Just in time for the holidays, antique brass bar cart,
$295. 40x32x33.5.
Gorgeous set of three porcelain angel votive holders tipped in
gold for just $65. Tallest Angel is 15.5″.
Just in…pair of green 30″ bar stools, $130 for the pair.
A pretty look…Sailboat art, $225, 47.5×37.
Ceramic lamps, $135 each. Grey recliner, $495. 30″W.
 The upholstery is not in great condition on this castered ottoman-footstool so it's price to move at $45. 23×17.5×17.5.
Well made wine cabinet just $125. 18.25x14x38.
Chevron slipper chairs just $225 each. 25.25″W
Just in… David Yurman!
Sterling silver woven ring, $251.
Sterling silver omega back earrings with 14ky gold accents, $480.
14ky gold and sterling silver ring, $272.
Loving all these classic sapphire pieces!
 Prices range from $636 to $14,360.
Diamond earrings are the perfect gift for every lady.
Prices range from $1,116 to $2,636.
This aquamarine and diamond set is simple and pretty.
Necklace, $1,067.     Ring, $1,263.
Celebrate the holidays with a lovely red ruby!
Prices range from $473 to $3,196.
Women's Rolex Datejust 31mm stainless and 18k rose gold,
circa 2013, $7,995. Comes with box and papers.
Brietling stainless steel watch circa 2000
with white dial, $3,195.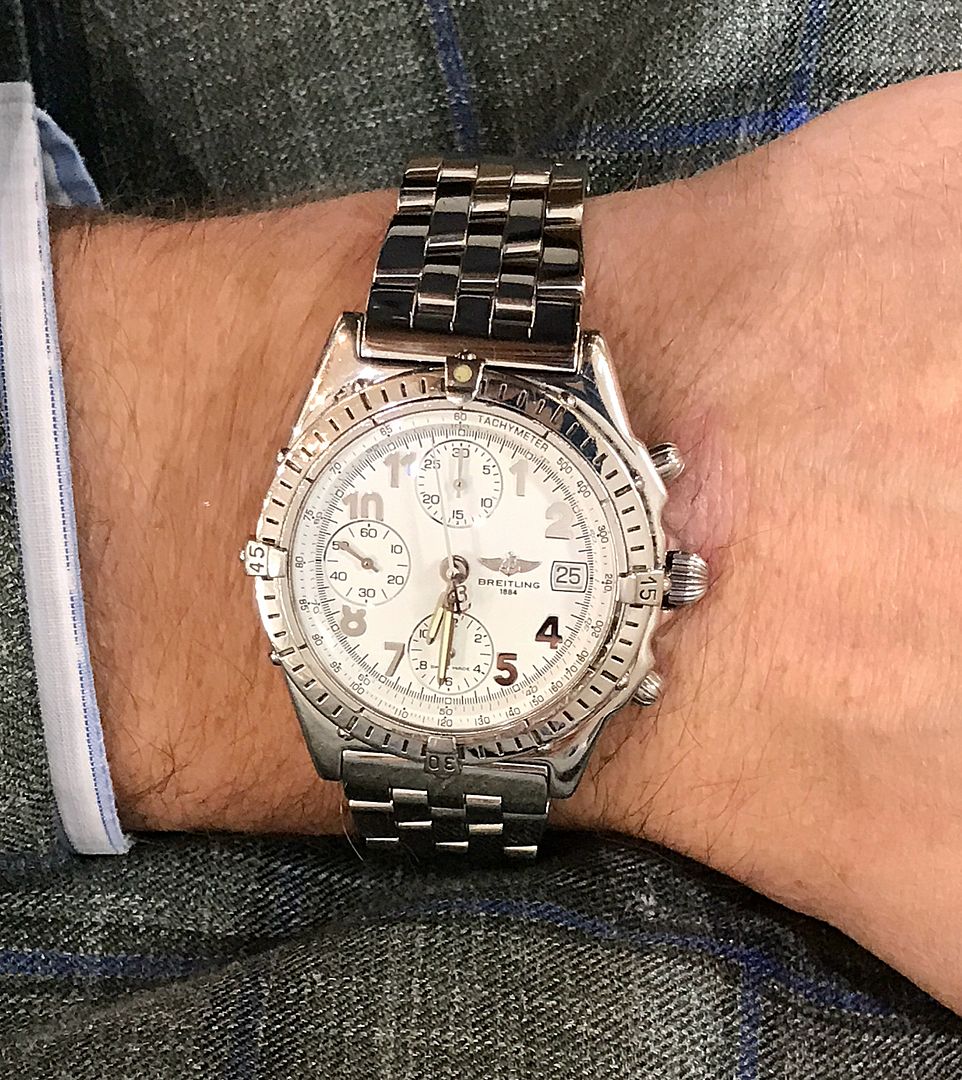 This sterling silver cuff is truly unique! $128.
These Charles Garnier cuffs stack together beautifully!
Prices range from $250 to $565.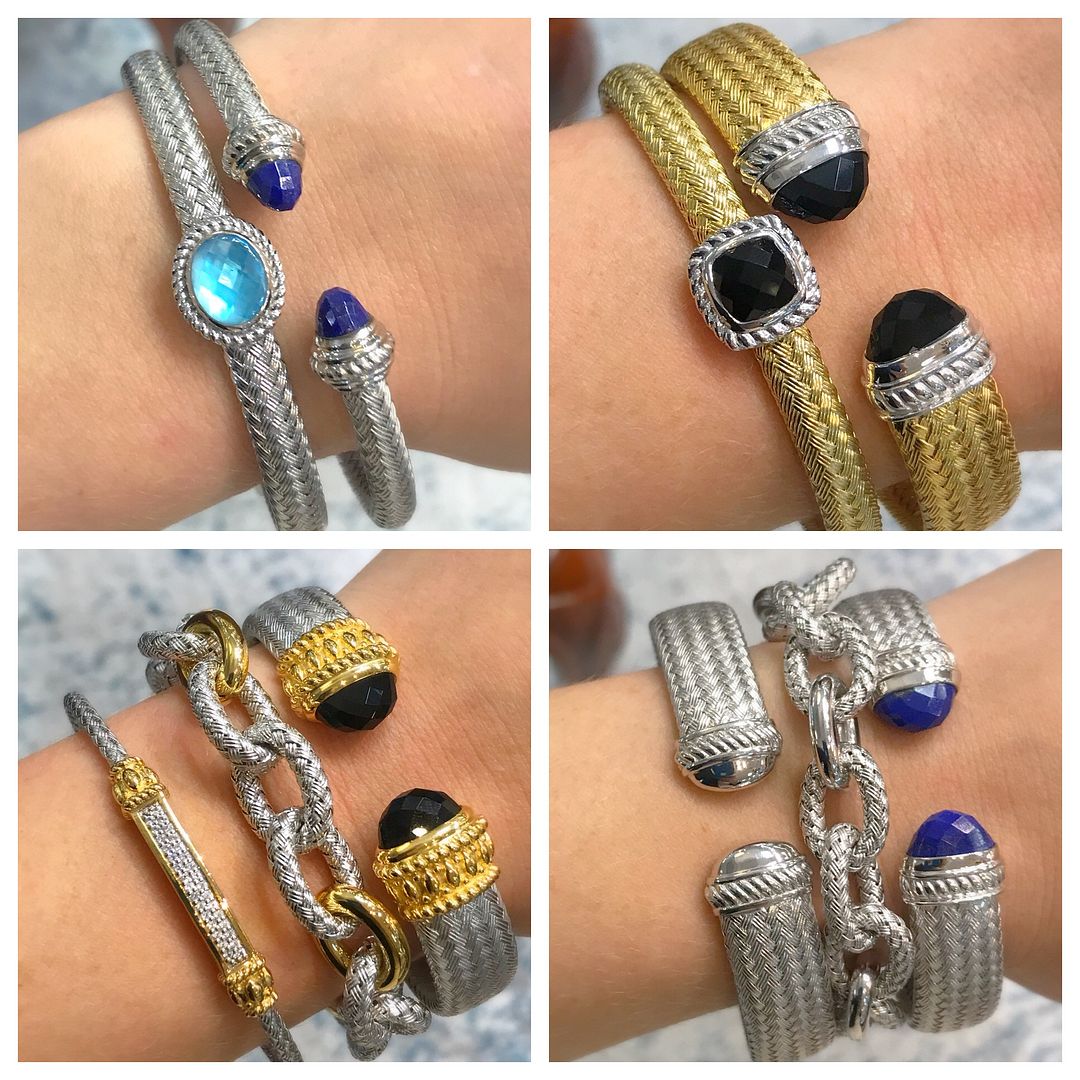 Onyx and diamond earrings, $956.
Black diamond necklace and earrings set, $3,192.
Diamond dangle earrings, $1,164.
Looking for an amazing and affordable gift?  
We have a wonderful selection of jewelry under $200.
Add a little sparkle to her life
for under $500.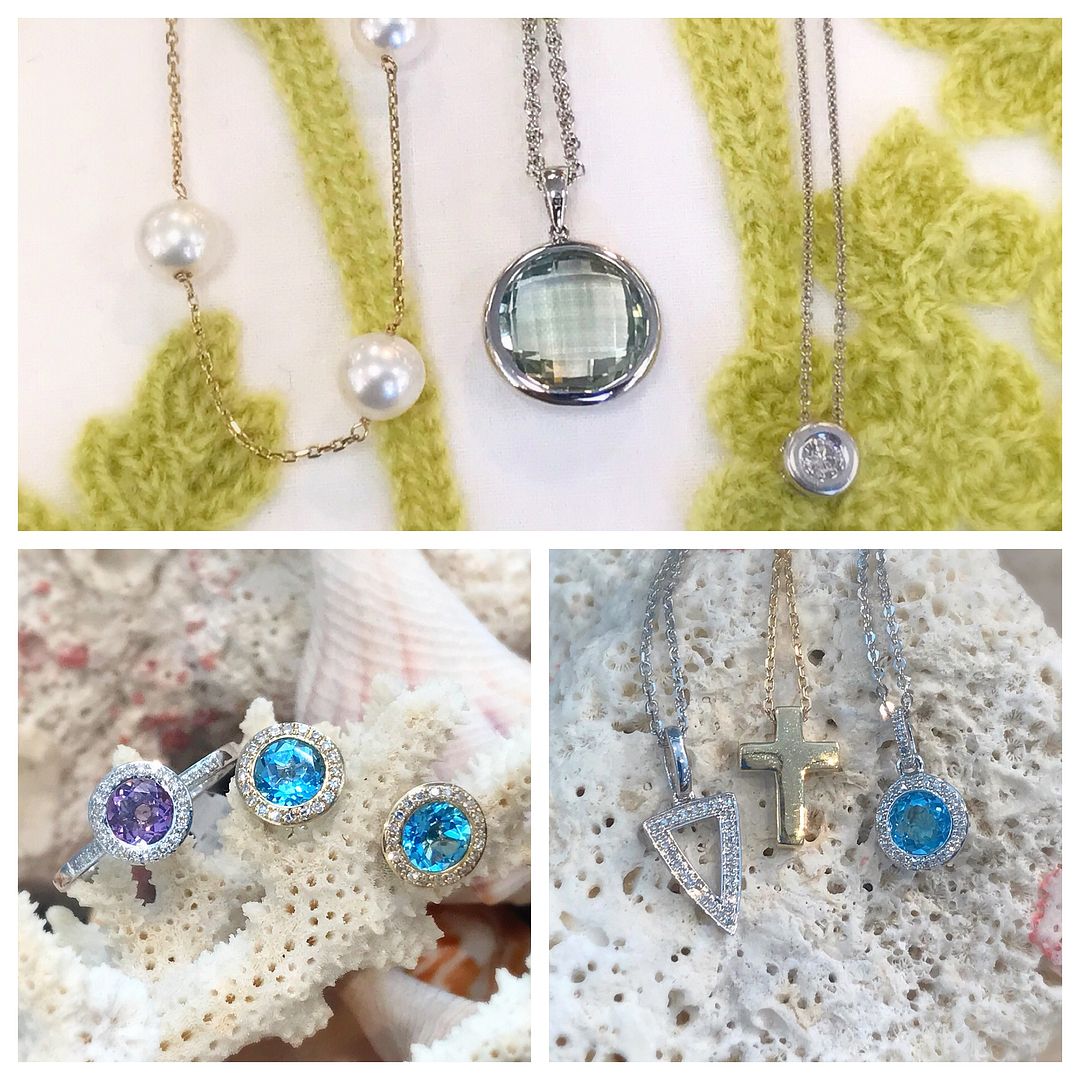 Wide 14ky gold necklace, $876.
Matching bracelet, $636.
14kw gold necklace, $316.
14kw gold link bracelet, $576.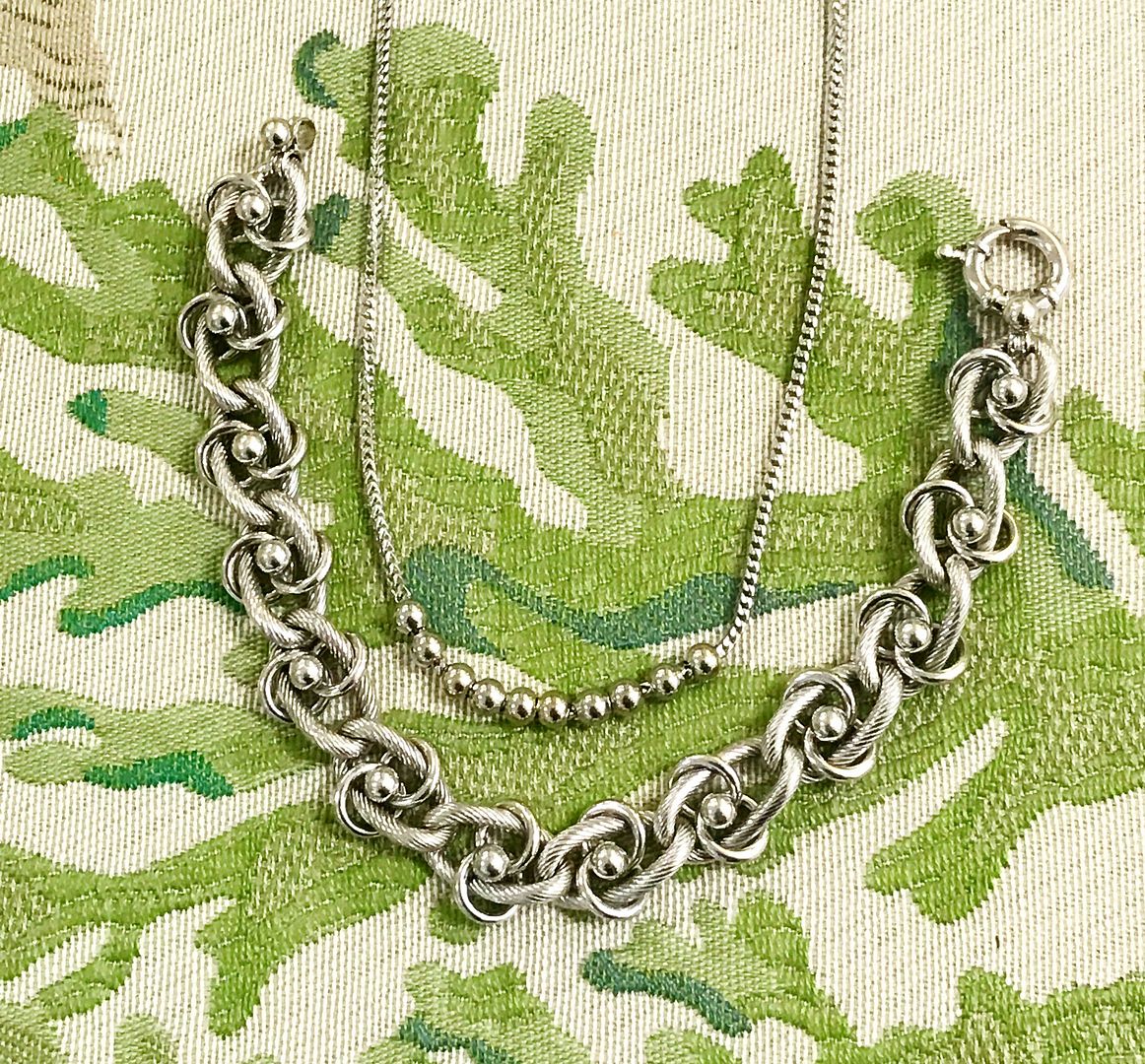 14k yellow gold choker necklace with 14kw gold accents, $996.
14k white gold choker necklace with 14ky gold accents, $660.
14ky gold wheat chain with diamond accents, $556.
Looking for the perfect stocking stuffer?
These TGT wallets range from $36 to $46
and are made right here in the USA.
Toadfish oyster knives make functional and fabulous gift!
The handles are made from recycled ocean plastics and for every knife purchased Toadfish plants 10sqft of new oyster beds.
Just $38 each.
The BEST hostess gift…driftwood large scale ornaments,
just $18 each, 7" diameter.