Who feels like having
a good time?
The Forum is hosting its
2nd Annual Holiday Event TONIGHT! 
Home Again & Lumina Gem,  along with many of our fellow
merchants will be staying open late, and then at 8 o'clock…the official party will begin.  You can't miss the big tent in front of Home Again. 
Dancing, cash bar, raffles; it's a total
ADULTS NIGHT OUT
to kick off the holiday. Please join us!
Come sip and shop with us tonight…and be
blown away by this WOWZA look!  
AMAZING antique ivory finished mirrored screen, $1,295. 
Teak root dining table base (does not include glass) $1,295.
We have a total of 6 mid century gray dining chairs by West Elm,  They retail $249 each, our price $145 each. Sold in pairs. 
Shimmery abstract, $175. 40×50.
5'x7'6″ jute rug, $295.
This mirrored screen really is STUNNING and Jeannie's fave…
$1,295.  Each panel measures 32×96
Just in on consignment, but straight out of the box and new with tags. The 'Meurice' chandelier by JONATHAN ADLER, retails for $1,592, our price, $795. 37″W x 24″H.
So much goodness…egret fine art giclees that really pop,
$275 each. 34.5×43.
White twin sleigh style headboards, $145 each.
Rope ball lamps, $125 each. 22.5″H.
Pretty and modern blue chairs, $395 each. 30″W.
Industrial console table with wine rack, $495. 60×16.25×34.25
The great looks just keep on coming…
GORGEOUS distressed blue buffet, $995. 82x18x44.5
Designer lamps, $165 each. 31″H.
46X46 abstracts $295 ea.
Just in from Magnolia Home Furniture…pair of dove grey
club chairs with gorgeous lines, $395 each, 31″W.
Tufted tufted ottoman by BAKER, $475, 39″diameter x 20″H.
Abstract art, $225. 31×41.5 Navy lamp, $100.
Just in…bold and brand new dove gray sofa, $695. 87″W.
Coordinating chairs just $395 each. 41″W.
These popular egrets are back and WILL NOT LAST,
$295 each. 34.5×56.
Abstract landscape art framed in brushed silver,
$175 each. 34.5×28.5  Navy lamps with gold accents, $145 ea.  
Industrial media cabinet, $595, 60x18x24.
This won't last…Eckornes chair and ottoman in navy leather, $895. Includes table attachment. Larger scale, 33.5″W.
Excellent condition.
Just in on consignment and in excellent condition..this acrylic console table retails for $699, our price $425. 56x15x29.
Look what just arrived… the 'Belgian Breakfast Table' dining
by Magnolia Home, 66" diameter, $1,295.
Grey linen chairs $145 each, sold in pairs only.  
Taupe sectional just $805. 88×88. Preppy plaid pillows, $42 each.
Gold coffee table, $295. 35″diameter x 18.5″H.
Classic navy chests, just $125 each. 31x18x29.5.
Rope ball lamps, $125 each, 22.5″H.
Just in on consignment, light gray spindle chairs
on casters, just $175 each. 24″W.
Great looking 48″ distressed ivory dining table by
high end maker BRAMBLE, $595. Compare their tables online
and you'll see that this is a SCORE.  
Just in on consignment and perfect for the holidays…a fabulous Pulaski bar, just $450. When you're entertaining extend out the leaves to reveal a stone top, 84x24x40.
When the party's over, its' a pretty cabinet.  42x24x41.
LazyBoy leather chairs just in on consignment. In like new condition, chair w/ ottoman, $595. Single chair, $495. 41″W.
Just in…hide rug approximately 80×78″, $395. Coffee table by Magnolia Home Furniture by Joanna Gaines, $236. 48x24x18.
Super nice glass top rattan pub set by Rantana
in excellent condition, $595.
42″ diameter x 37.5″H
We also have the coordinating 25.5″ swivel counter stools, $125 each. Not sold separately. 
we just ADORE this Buddha wall art, made of resin so it's not too heavy to hang. Indoor or outdoor, $175. 31.5″square. 
Just in on consignment, a great quality pair of 30″ swivel
barstools just $290 for the pair. 
Everyone loves a good Pagoda chandelier….
Red with gold accents, $395, 16×26. Ivory, $325, 17×30.
Navy, $375, 16×33. Red-orange, $395, 16×32.
And speaking of chinoiserie…we are CRAZY for this pair
of wonderful accent chairs just $225 ea! 23"w 37.5h
Santa will never leave if you have this oversized chair by Uttermost by the fireplace. A consignment SCORE at $275. 39″W x 39'H.
So much CUTENESS…Rowe teal loveseat, just $295. 38″W. 
Custom-made designer twin headboards, each includes bed skirt, accent pillow, and metal frame. $295 for each set.
Not sold separately. Pierre Frey throws, $45 each.
Just in on consignment, drop leaf dining table with four chairs
in a pretty shade of green for just $395. 48″diameter.
How CUTE is this fish canvas?
$95, 40.25×30.25
Striped chair and ottoman, retailed for $1,500, our price $695, pristine condition, 35″W.
SPECIAL PURCHASE…
Soft aqua 29″ barstools with linen saddle seats, $95 each. 
Pretty aqua dresser with mirror by ultra high end maker HABERSHAM, $450. 44×23.5×33.
Designer textured lamps, $125 each. 27.5″H.
GET 'EM QUICK…
Swivel stools available in bar-height (30″) $245 each
and counter height (24″) for $225 each. 
This won't last…Eckornes chair and ottoman in navy leather, $895. Includes attached table. Larger scale, 33.5″W.
Excellent condition. 
He will not be expecting these in his stocking…By JARRETT BAY,
trio of fine art giclees, $225 each. 40×20.
Burlap loveseat, a super deal at $245. 65″W.
Luscious genuine leather ottoman, $295. 29x29x16.
Stunning designer wall shelf in black and gold lined in red…
it's all that…$225  Generous size, 24x9x36.
Dine for less! Espresso dining table $295, 78.5x42x30, includes
18″ remove-able leaf. Six oatmeal tufted dining chairs available,
$125 each, sold in pairs only.
Set of 3 nested bamboo tables just $125.
Largest is 22x16x22.
Adorable and functional woven bench with
espresso legs just $145, 41x18x18
Such a pretty semi-circle desk for just $350,
54.5"Wx28"D
Just in…POTTERY BARN 5 piece organization system in rich espresso finish. Includes chalk board, calendar, push board, two cubby units and hangars. A STEAL at $95.
Who needs a great pair of chairs?  In an ivory-grey textured upholstery with silver nail heads, $395 ea. 31"w 36"h
Calling all SLANE LOVERS… this sterling silver starfish set is just
in on consignment.   Earrings, $336.  Bracelet, $169.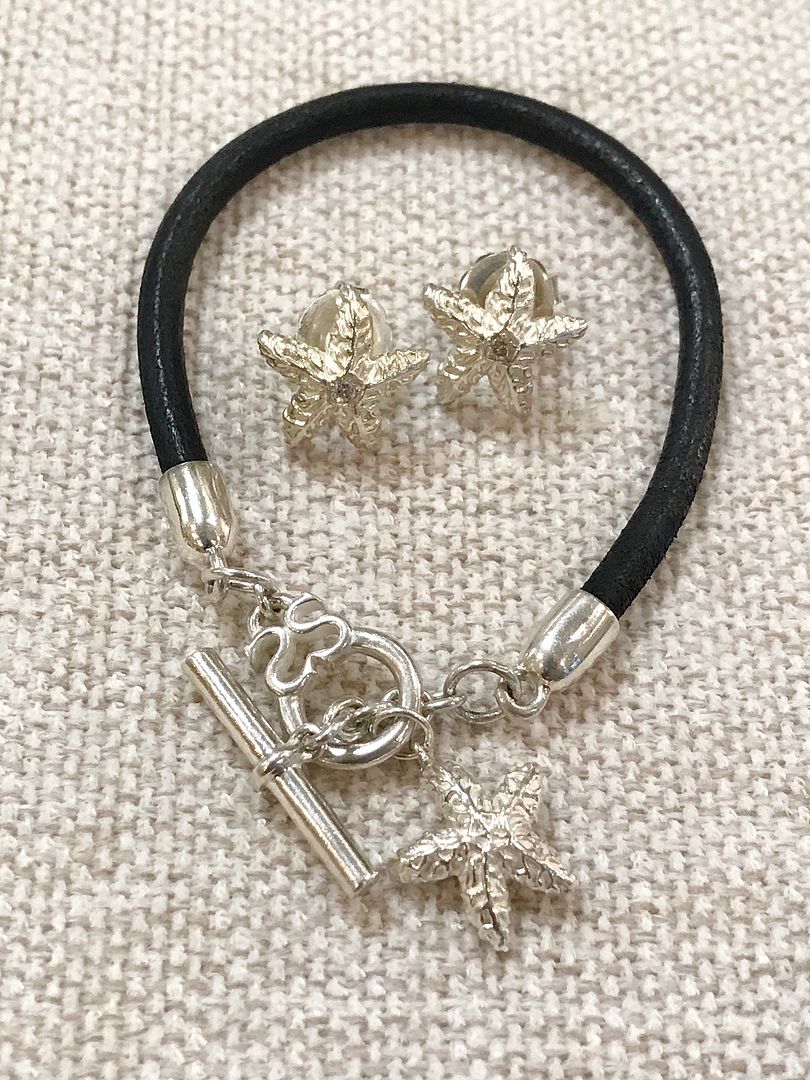 YOU CANNOT GO WRONG with these CLASSIC
David Yurman door knocker earrings, $336.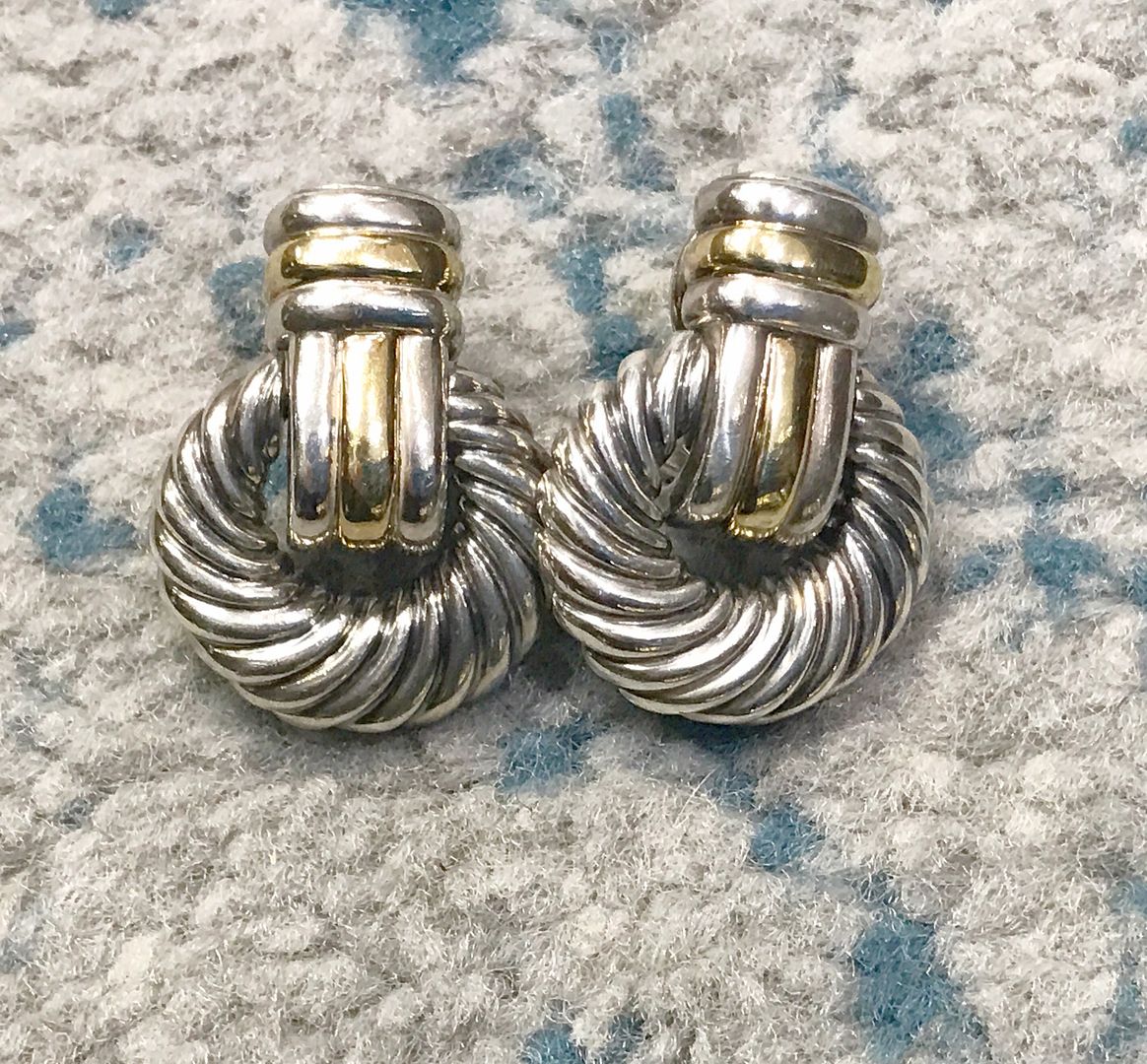 Blue topaz and diamond 5mm cuff, $421.
Black diamond crossover cuff, $1,233.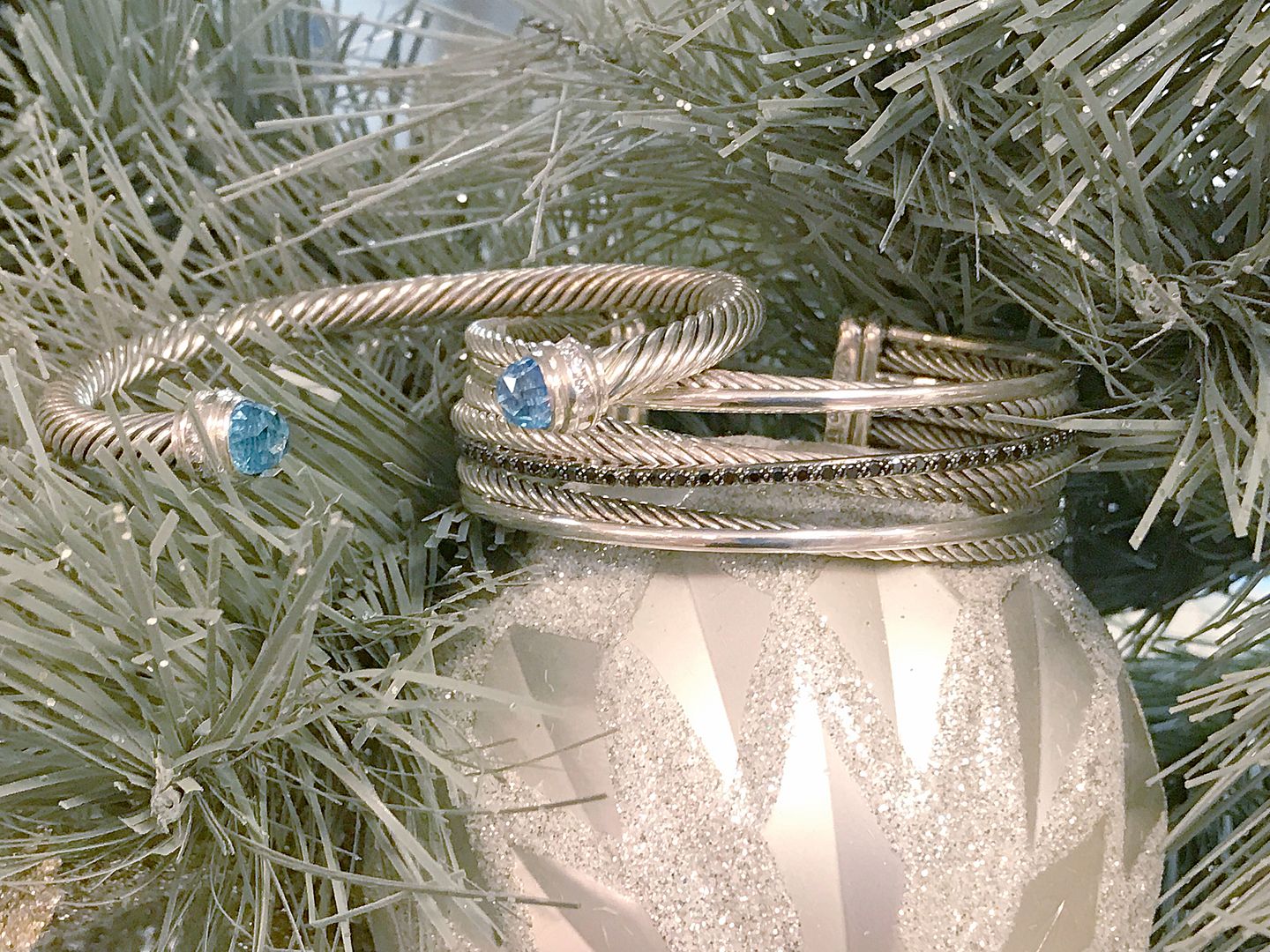 Just in, some GREAT David Yurman men's pieces.
Black diamond and sterling silver ring, $531.
Black diamond and 20″ sterling silver necklace, $1,062.
David Yurman sterling silver ring with 14ky gold accents, $523.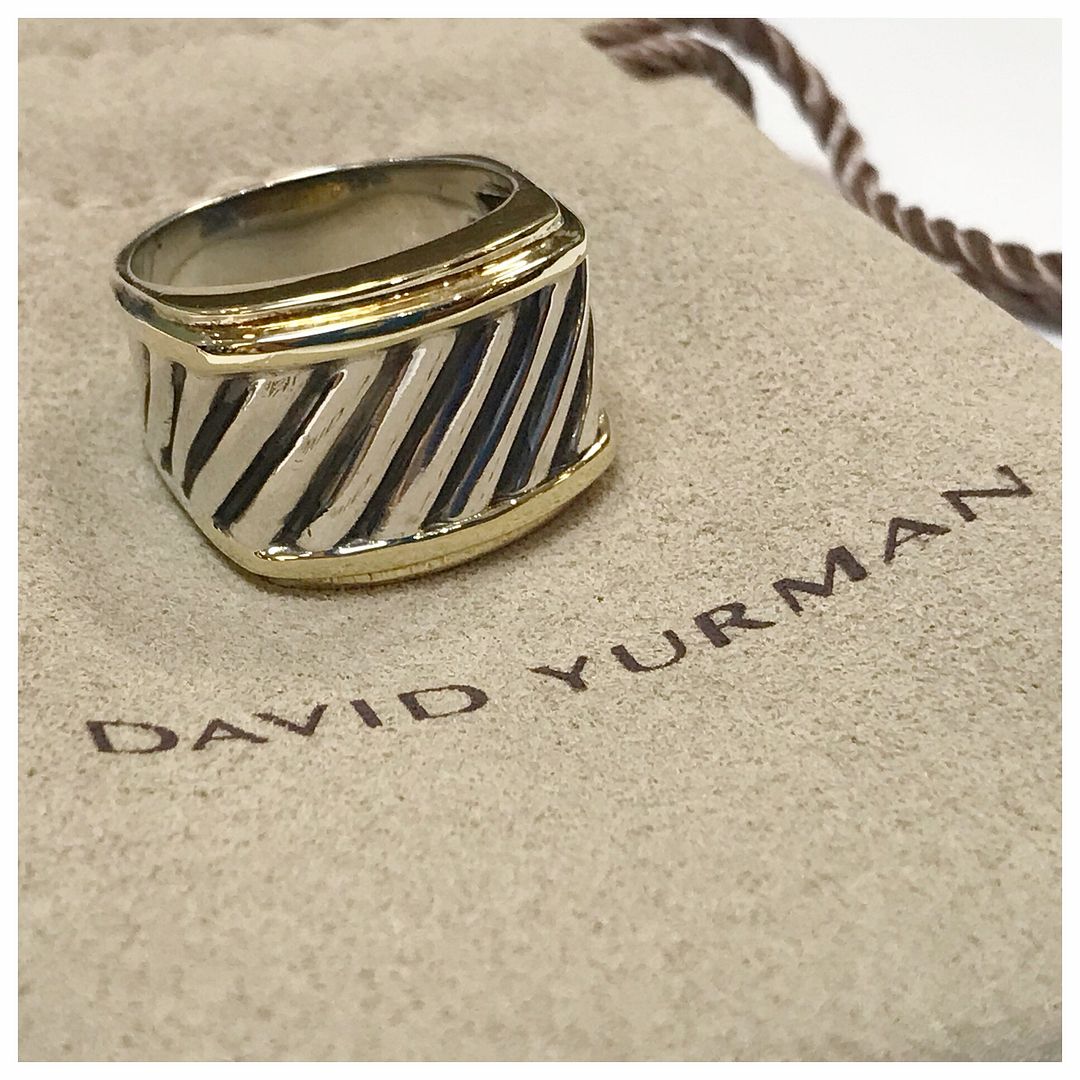 Wondering what to get her for Christmas?  Here you go…
Tiffany heart necklace, $336.
More Tiffany goodness, just in on consignment…
Necklace, $208.  Bracelet, $123.  Earrings, $81.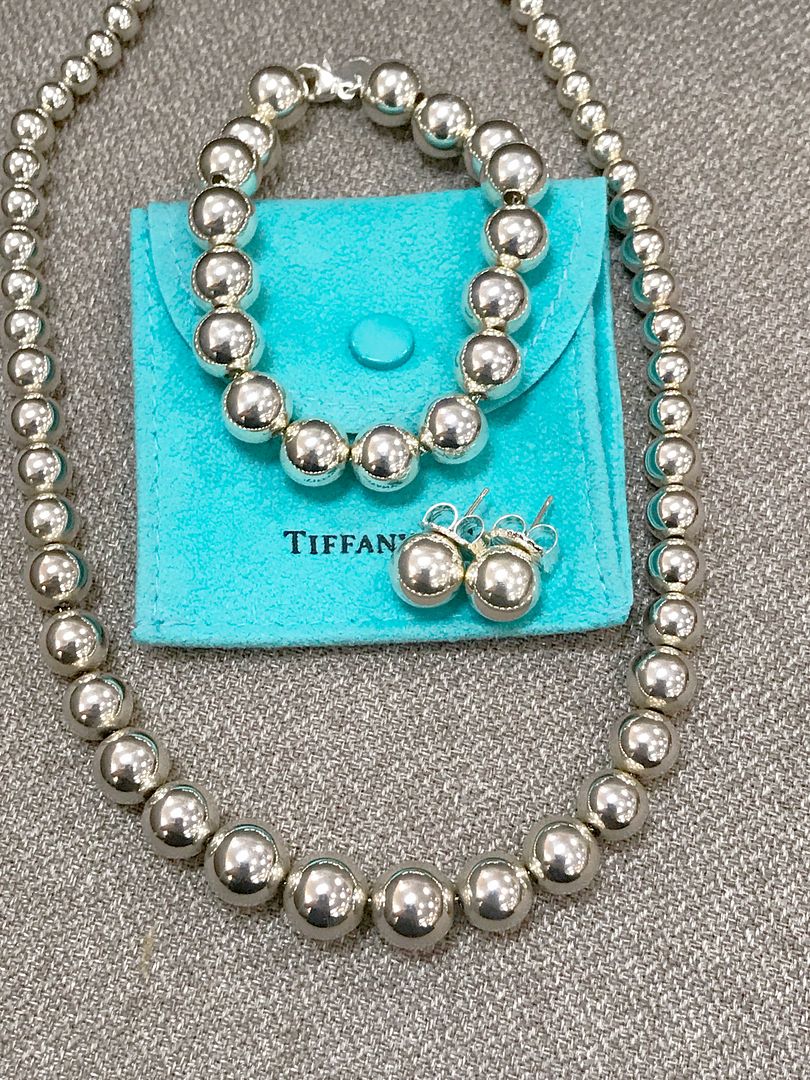 ~~~~~~~~~~~~~~~~~~~~~~~~~~~~~~~~~~~~~~~~~~~~~~~~~~~~~~~~~~~~~~~~
BTW…if you have any designer jewelry that you are not wearing,
NOW IS THE TIME to consign it for the holiday season!  
~~~~~~~~~~~~~~~~~~~~~~~~~~~~~~~~~~~~~~~~~~~~~~~~~~~~~~~~~~~~~~~
Roberto Coin diamond and 18kw
gold starfish necklace, $506.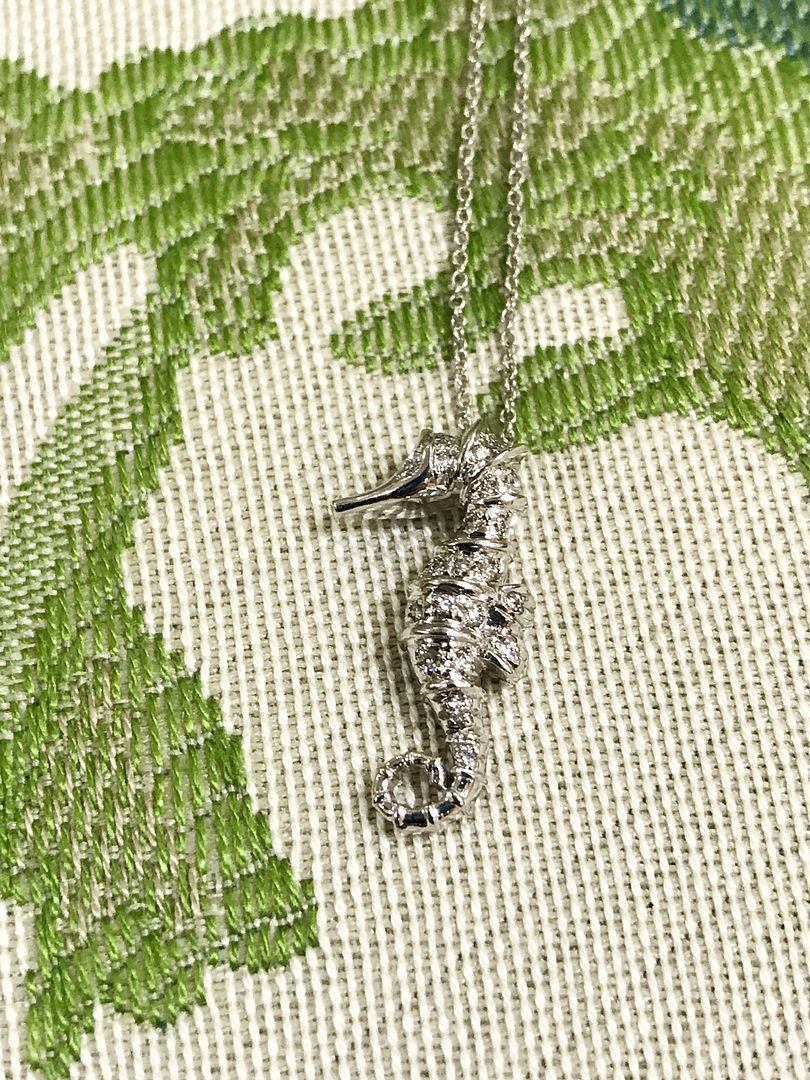 Just in… S. Kashi and Sons diamond bands!
Prices range from $524 – $3,536.
THESE BANDS WILL KNOCK HER SOCKS OFF!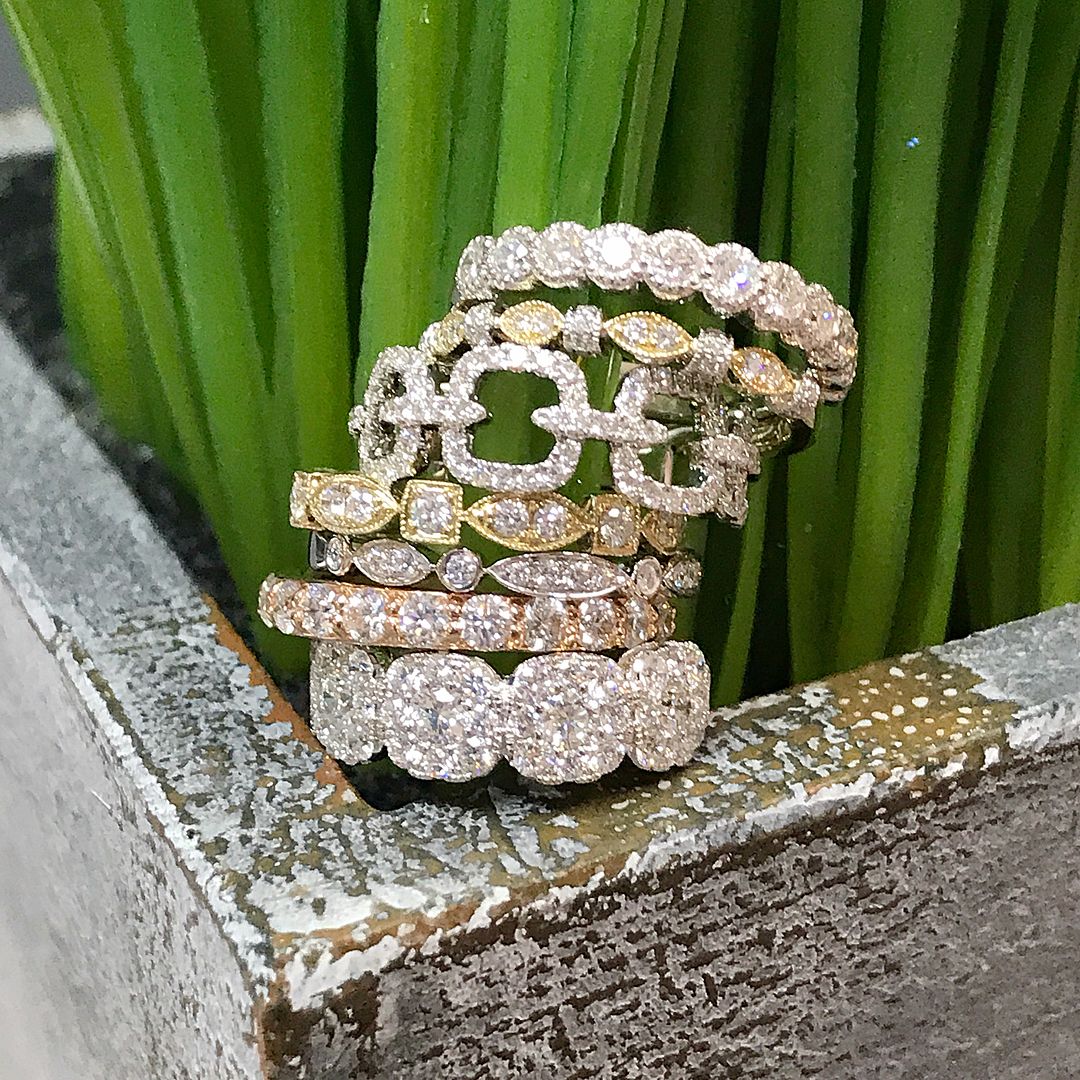 Diamond and sapphire studs, $1,980.
Diamond cluster studs, $1,908.
And a true stunner…
3.52ctw diamond tennis bracelet, $9,416.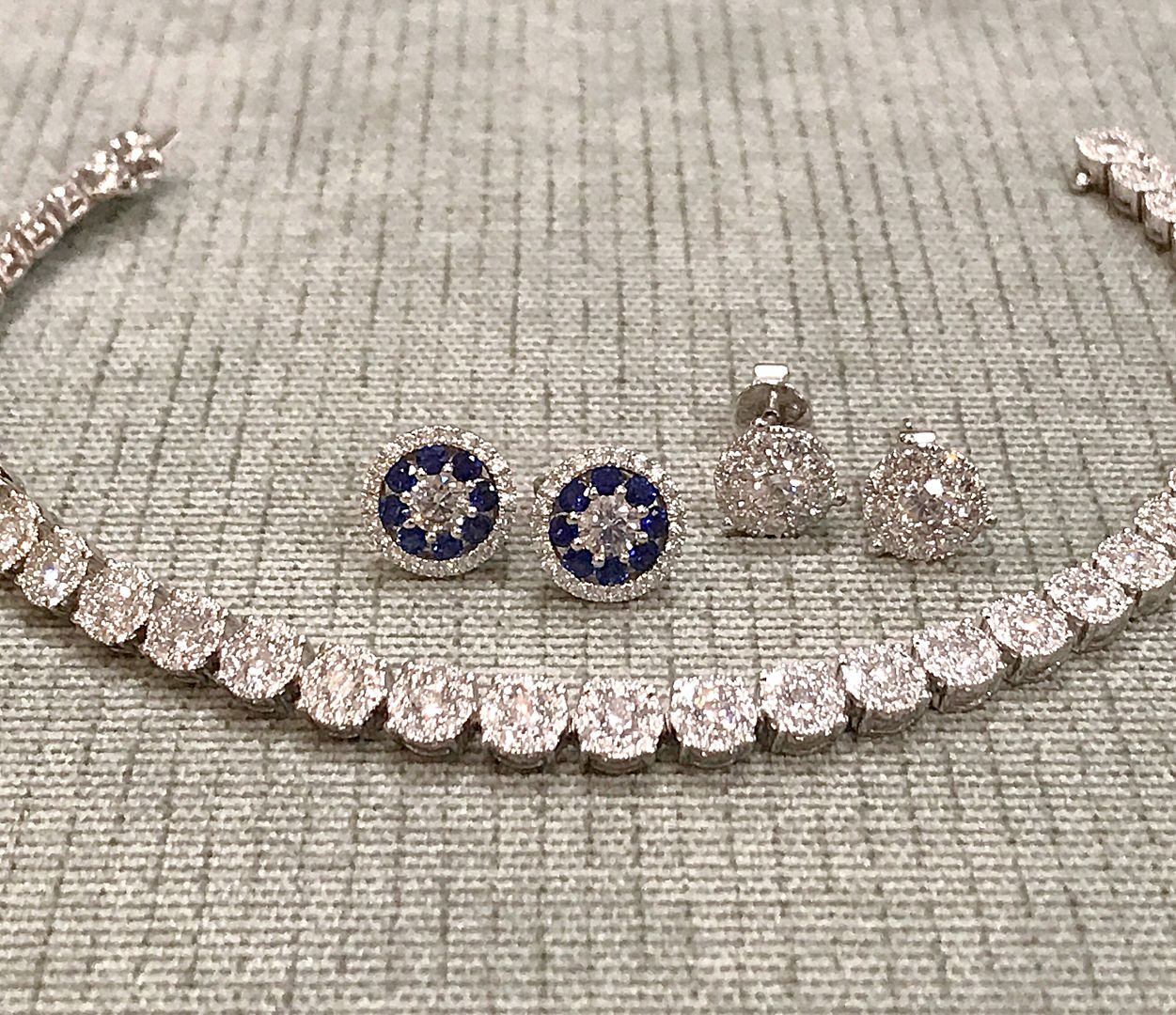 So many sparkly settings from S. Kashi and Sons!
Prices range from $812 – $1,596.
Add your own stone or ours for a spectacular new look. 
Just in… Marahlago!
Larimar key heart necklace, $157.
Stingray necklace, $106.  Kai earrings, $140.
Dragonfly necklace, $276.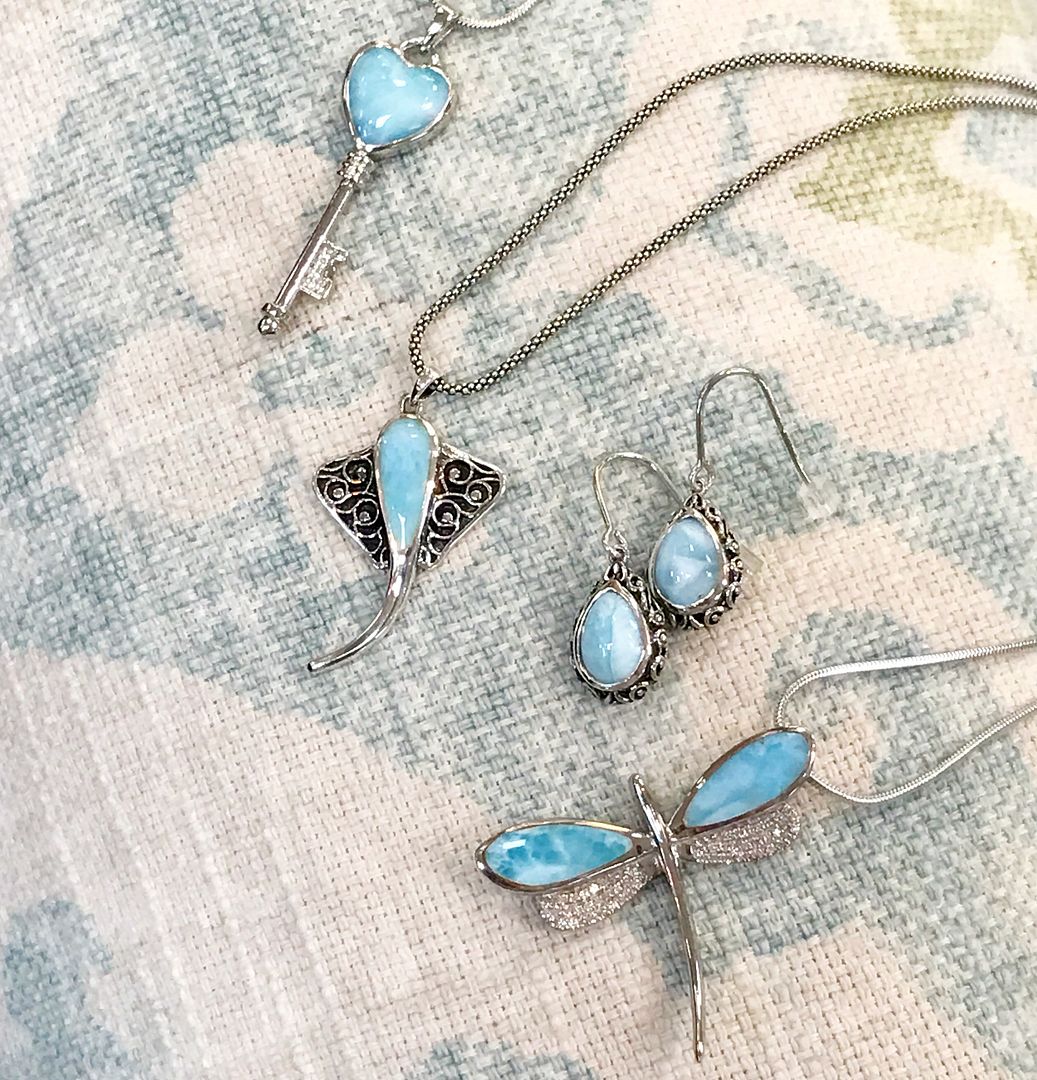 These Lorenzo pendants are a great buy at just $81 each.
Sport some blingy new goodness to the party tonight; 
call 910 256 1850 to place a phone order!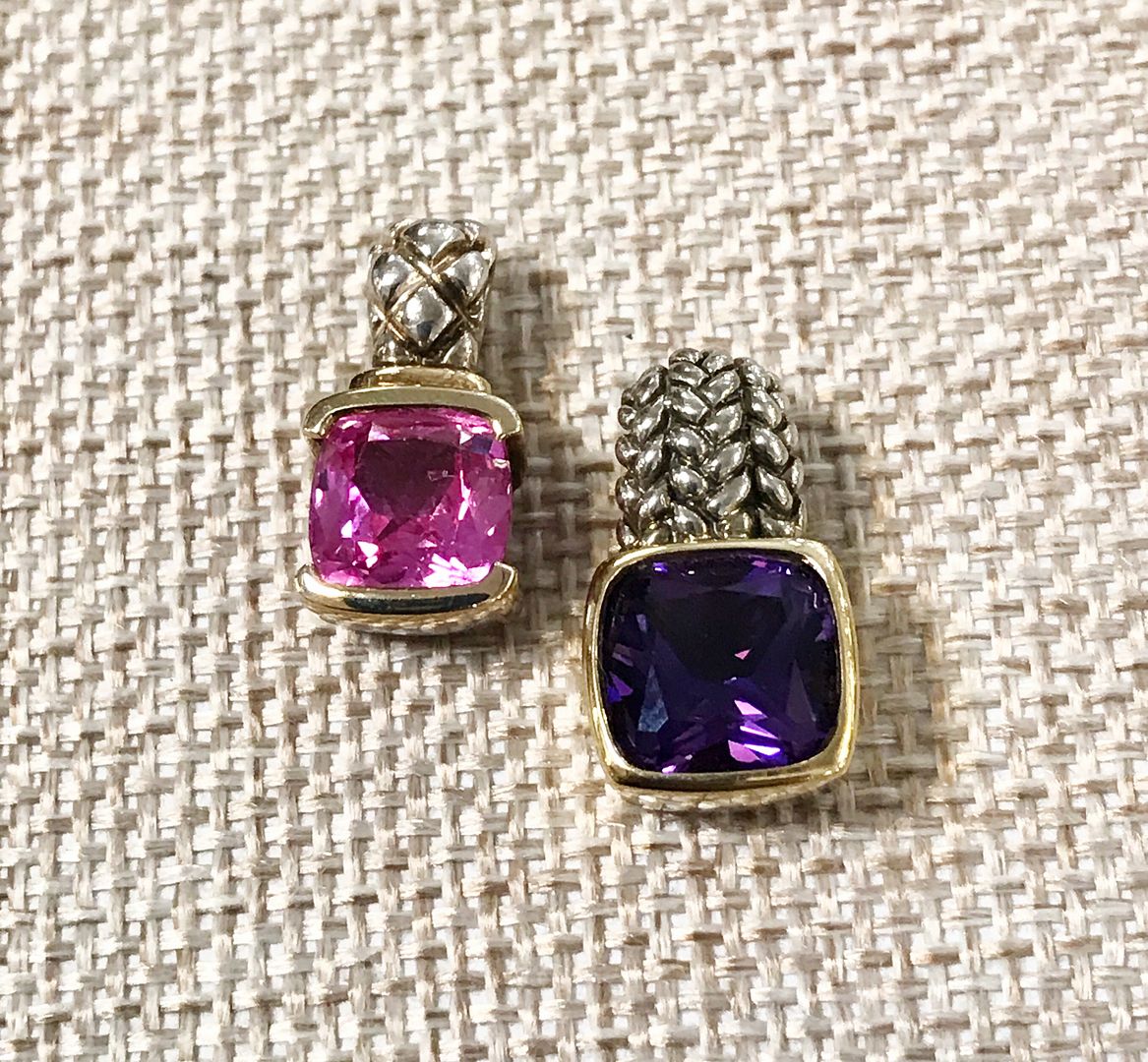 Find the perfect chain…for LESS!
Prices range from $396 – $3,356.
Turquoise ring set in 18k yellow gold, $276.
Labradorite ring set in faceted 14k yellow gold, $396.
 Clear quartz ring set in 14k gold, $156.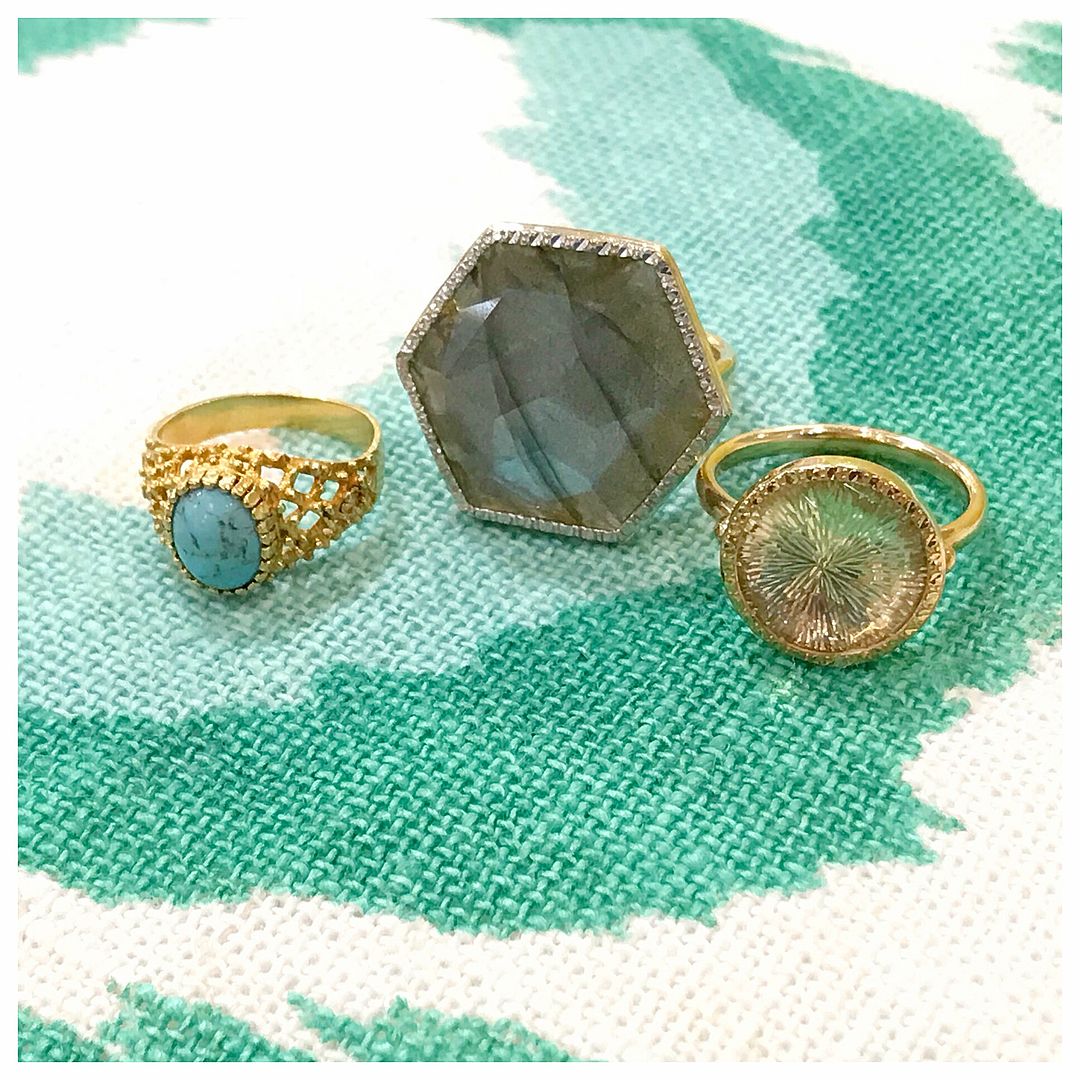 Such a cool and modern ensemble…18ky gold hammered
and brushed diamond dangle earrings, $636.
Matching pendant, $316.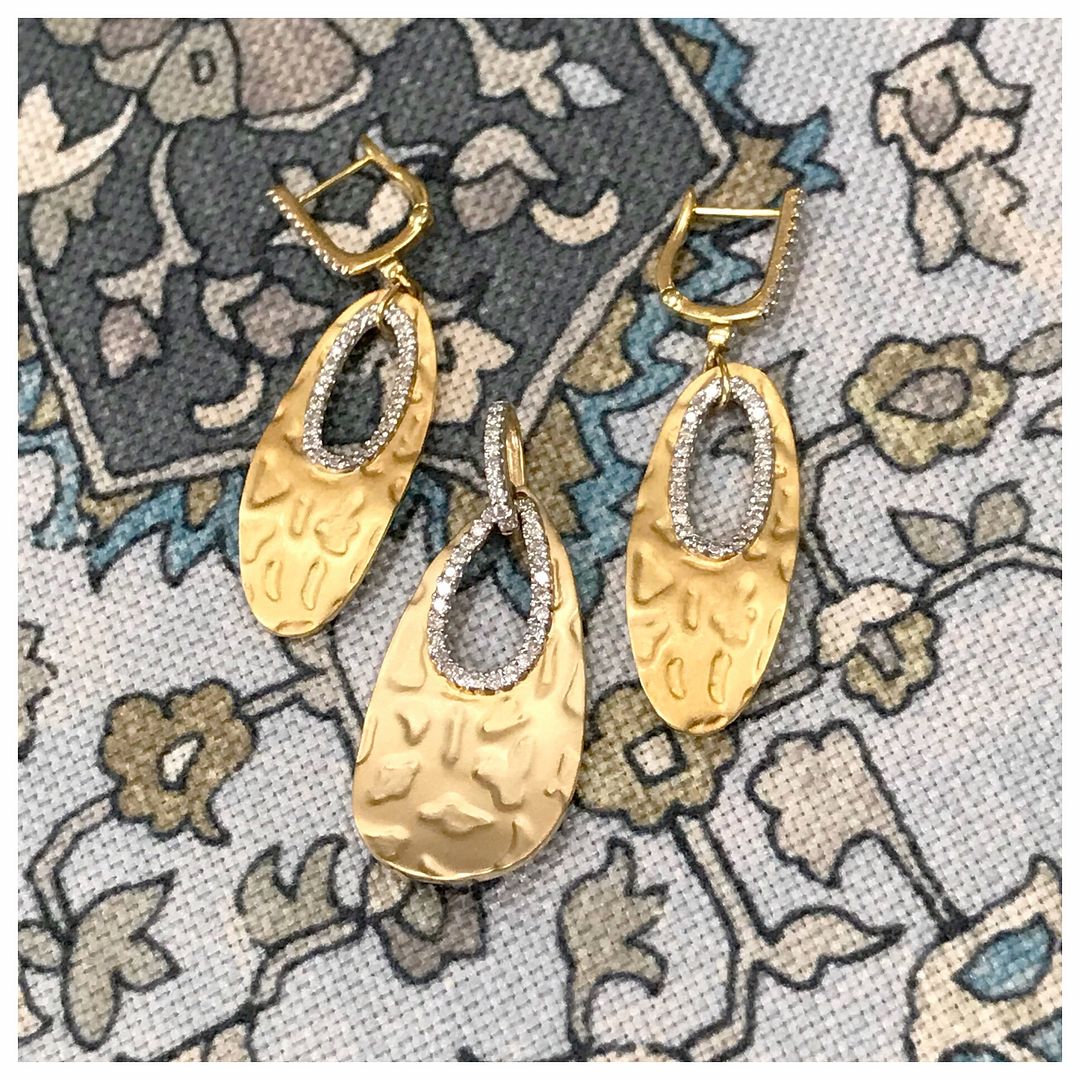 14ky gold hoops, $140.
18ky gold textured huggies, $356.
These diamond are just stunning…just add a little black dress
and you are good to go!  
18k two tone gold and 1.66ctw diamond earrings, $1,916.
Blue topaz and 14ky gold pendant, $320.
Tanzanite, diamond and 14ky gold pendant, $475.
Blue topaz and sterling silver necklace, $236.
John Mederios sterling silver and blue enamel set.
Hinged bangle, $81.    Earrings, $55
The tree is up and just waiting to be lit…
come join us TONIGHT at the Forum for a
holiday ADULTS NIGHT OUT.  
All kinds of fun and festivities from 6-10pm!