Dear valued customers and friends…
THANK YOU for a GREAT 2017! 
We appreciate your friendship and business.
Are you ready to do it again in 2018?? 
~~~~~~~~~~~~~~~~~~~~~~~~~~~~~~~~~~~~~~~~~~~~~~~~~~~~~~~~~~~~~~~~~~
Before the show, will you please take a few
minutes to vote for Home Again as best
resale/consignment store? 
It's a little easier this year…you only have to vote in 10 categories.  We would appreciate it!  
CLICK THIS LINK TO VOTE
http://www.encorepub.com/encorebestof/BestOfFinalists/best_of_goods_serv.php
~~~~~~~~~~~~~~~~~~~~~~~~~~~~~~~~~~~~~~~~~~~~~~~~~~~~~~~~~~~~~~~~~~~~~~~
And now it's time to BLAST OFF our last email
of 2017…hope you enjoy!
Lovely neutral sectional, brand new for $1,095. 95×125.
Mid-century style coffee table, $225. 38x32x17.5
The glass top is a little long for this gold geometric console
so it's priced to move at $125, 51.25x16x32.
Blue designer lamps, $95 each. 29.5″H.
Beautiful marsh fine art giclee, $275. 36×36.
Just in…this won't last long…charcoal sectional,
brand new for $995.84×110.
Very cool plane art on wood, $245.
Large scale, 34×60.
We just received a LARGE assortment of solid
wood coffee tables that were crafted in Mexico.  
Here are the larger style coffee tables, $395 each. 
The drawers open and the top is hinged to open, as well,
giving you oodles of wonderful storage.  35x35x18.5.
Here is a smaller version of the trunk style coffee tables…aren't these finishes great?  $275 each.  39.5×15.25×16.
And nice rectangle ones…last two available! 
$275 each, 46x30x19.
  We are crazy for this color combo.  Mid century look chairs $316 each.  Down pillows $32 each. Blue media console $495, 60x17x36.
Vibrant framed art companions, 32×32, $195 each.
Just in on consignment and in like-new condition…
beige loveseat just $395.  62″W. pillows included.
Just in…a soft and lovely tufted back sofa in oatmeal,
$795. 88″W.  Local delivery is available.  
You can purchase this brand-new turquoise cabinet
online for $409+, or take it home TODAY for $245. 30x16x36.
A tasteful coastal look…
White washed wood console, $295. 59.75x18x30.
Gold swirl ceramic lamps, $125 each. 26″H.
Coastal abstract, $295. 60×30. Coral sculpture, $70.
This coral and lucite floor lamp is the HEAT…
and so rich for just $165. 70″H
Grey swivel barrel chairs, $295 each. 32″W. 
Wooden console on sale for $175. 40x14x32.
Sailboat giclee framed in soft gold, $225, 34×46.
Navy lamp, $125.
Lovely trio of botanicals framed in washed
wood, $95 each, 24×33.
We are such fans of this ivory metal chandelier. $325 30″H.
Just in on consignment…this black loveseat has been recently recovered and is in like-new condition, $495. 62″W.
Joe Ruggiero chair and ottoman, $595. Chair, $450. 28.5″W.
Rustic wood media cabinet, $495, 60x17x36.
Framed abstract companions, $175 each. 25×43.
Resin wood-look lamps, $95 each. 32.5″H.
Just in…and it's a beauty!  Brand new linen sectional
with bronze nailheads, $1,095. 90×118. 
Red & green custom euro pillows, $62 each. 
Stately five drawer mahogany desk, on consignment
for $450. 71.5x35x31.
Handsome and durable camel sofa with wood trim, $595, 82″W.
Coordinating loveseat, $495, 62″W.
Pair of really cool urban industrial
metal lamps, $95 each. 26″H.
Turquoise wood console, $295, 59.75x18x30.
White designer lamps, $165 each, 33″H.
Octopus art under glass, $225, 40.5×30.5
Brand new dual reclining loveseat
in high performance fabric, $795. 70″W.
Framed beach art, $175, 44×32.
Wooden two drawer console, $295, 60x18x30.
Green velvet chairs by Scott Living, $112 each. Rope lamp, $125.
Drool…gold bamboo floor lamps with black shades, two available, $220 each. Black mid century sofa, $595, 79″W.
48″ square abstract, $425.
Gotta love this teal and gold abstract paired with these lamps.
Art measures 39.5×39.5 and is $202. Lamps, $125 each. 29″H.
Just in, linen profile headboard in queen, $325. Coral and ivory chair, $396, 32″W. James Medlin abstract art, $95, 30×30. Turquoise coffee table, $125, 44x19x15
Pretty solid wood shore bird figurines,
$38 each. 9"H. 
SAVE BIG. This rich two toned chest brand new for $295…
Retails online for $586+ 37.5x16x34.
There's a lot to look at in this photo…
Stunning hand embellished giclee, $225. 47.25×35.5.
Modern dresser, $295. 55×16.5×38, matching bedside table, $95. 
White tall resin lamps, $125 each. 38″H.
Smokey glass table lamps, $75 each, 29″H.
Pair of large scale slipper chairs are just in on consignment…
$225 each. 28″W.
Hand embellished horse art $195, 33.5 square.
Wooden geometric console table, $280. 45x18x32.
What a pretty club chair…tone-on-tone geometric upholstery,
just $295, 31″W.
Check it out…this brand new media cabinet in espresso with gold pulls retails for $1409, our price just $395. 44x19x34.
Just in on consignment but brand new out of the box…
This outdoor wicker dining table with chunky chrome legs and a glass top retails for $879… our price, $450. 78.75×35.5×29.5.
DEAL TIME. 
Pretty 5-light chrome chandelier just $95. 21"diameter x 23″H.
BAM…this club chair in great condition is ON SALE for $125.
GOING GOING GONE…this jeweled console retails for $799,
our price $125, 48x16x32. Come and get it!  
This high-end custom upholstered CR Laine chair would be a perfect place to cuddle up on these COLD winter days,
just $220. 38″W.
Just in…distressed media cabinets in solid wood,
a super buy at $495 each. 60x17x36.
Add a little sparkle to your New Year…
…with a magnificent diamond band from Roman & Jules.
 .30ctw diamond multi-row band in 14kr gold, $1,735.
.35ctw diamond band in 14k two tone gold, $2,175.
 .30ctw diamond multi-row band in 14ky gold, $1,735.
Stack-able cuffs are perfect for a party or every-day casual.
Alwand Vahan 6mm sterling silver and 14ky gold accented bracelets with .11ctw diamonds, $1,995 each.
How stunning is this look?  
13.75ct blue topaz with .12ctw diamonds set into
14ky gold 18 inch necklace, $1,995.
Matching earrings, $2,445.
Did you know that we make these diamond and 14ky gold rEVOLVE necklaces in-house at Lumina Gem? These are super rich looking
for $895 to $975.
Want a unique yet still classic stud?
1.49ctw sapphire and .04ctw diamond studs in 18kw gold, $1,415.
Loving this stack? It can be yours…
Diamond band, $355.
Carved platinum bands, $310 each.
Labradorite is a phenomenal gemstone and
Nina Nguyen makes amazing pieces out of it!
This 30mm vermeil cuff with labradorite is a big look for $360.
Labrodorite bead necklace, $495.
Vermeil and labradorite station necklace, $350.
For the water baby…Raymond Mazza freshwater pearl jellyfish
and sterling silver necklace, $265.
Freshwater pearl omega back earrings in sterling silver, $165.
Show off your style with these 
Giovanni Raspinisterling silver coral pieces.
Hinged bangle, $515.
Matching hydro-thermal quartz ring, $475.
All that glitters is GOLD!
18ky gold and diamond Greek coin omega back earrings, $2,395.
Matching necklace, $4,795.
Mother of pearl and .27ctw diamond necklace in 14kw gold, $895.
 .06ctw diamond triangle necklace in 14kw gold, $445.
Smokey Quartz and diamond earrings in 14k rose gold, $645.
1ct morganite and .22ctw diamonds in 14kr gold necklace, $475.
15mm sterling silver cuff, $165.
Onyx and diamond omega back earrings in 18kw gold, $1,195.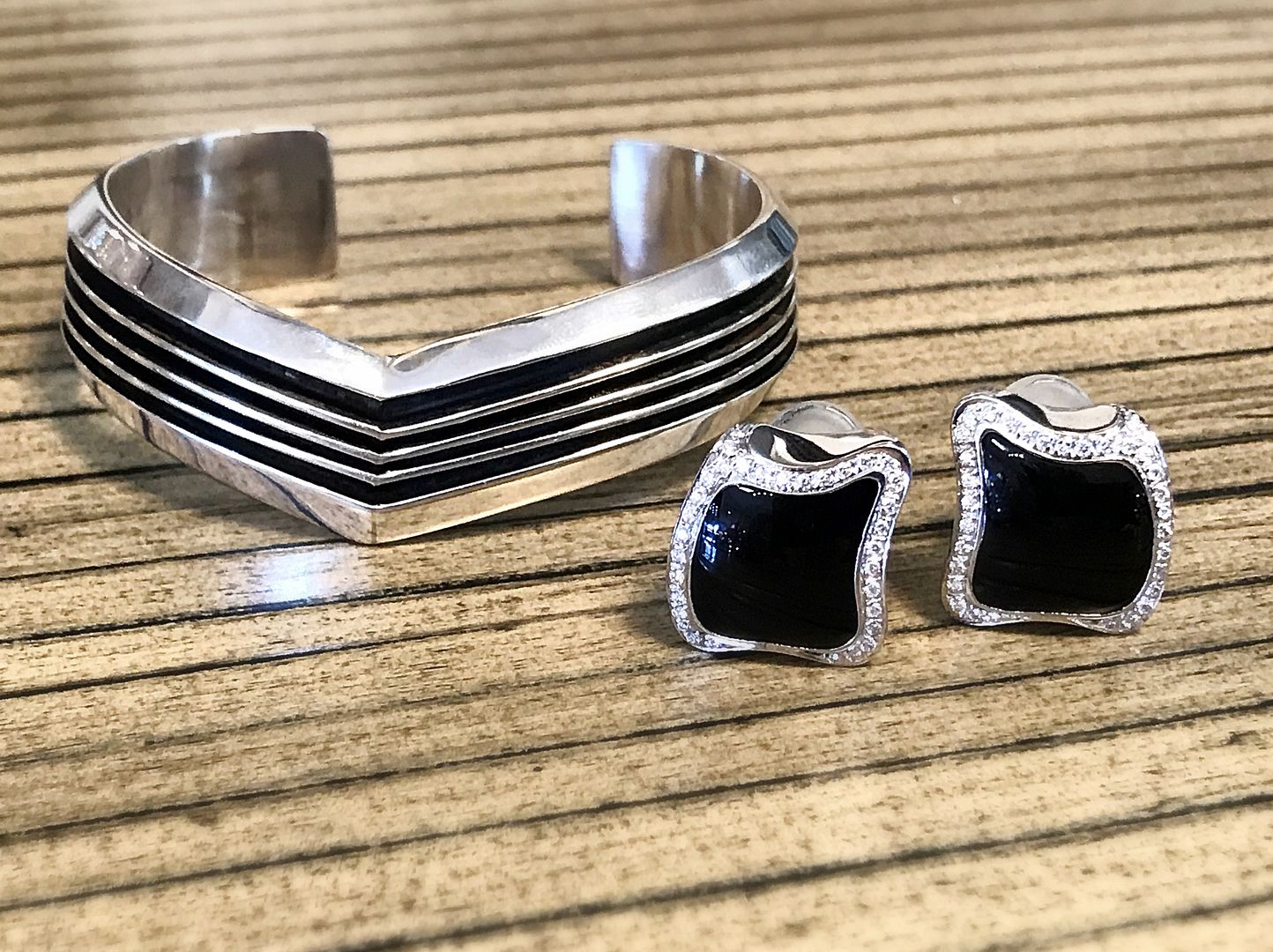 .65ctw G color VS clarity diamond bracelet in 14ky gold, $995.
14ky gold earrings, $495.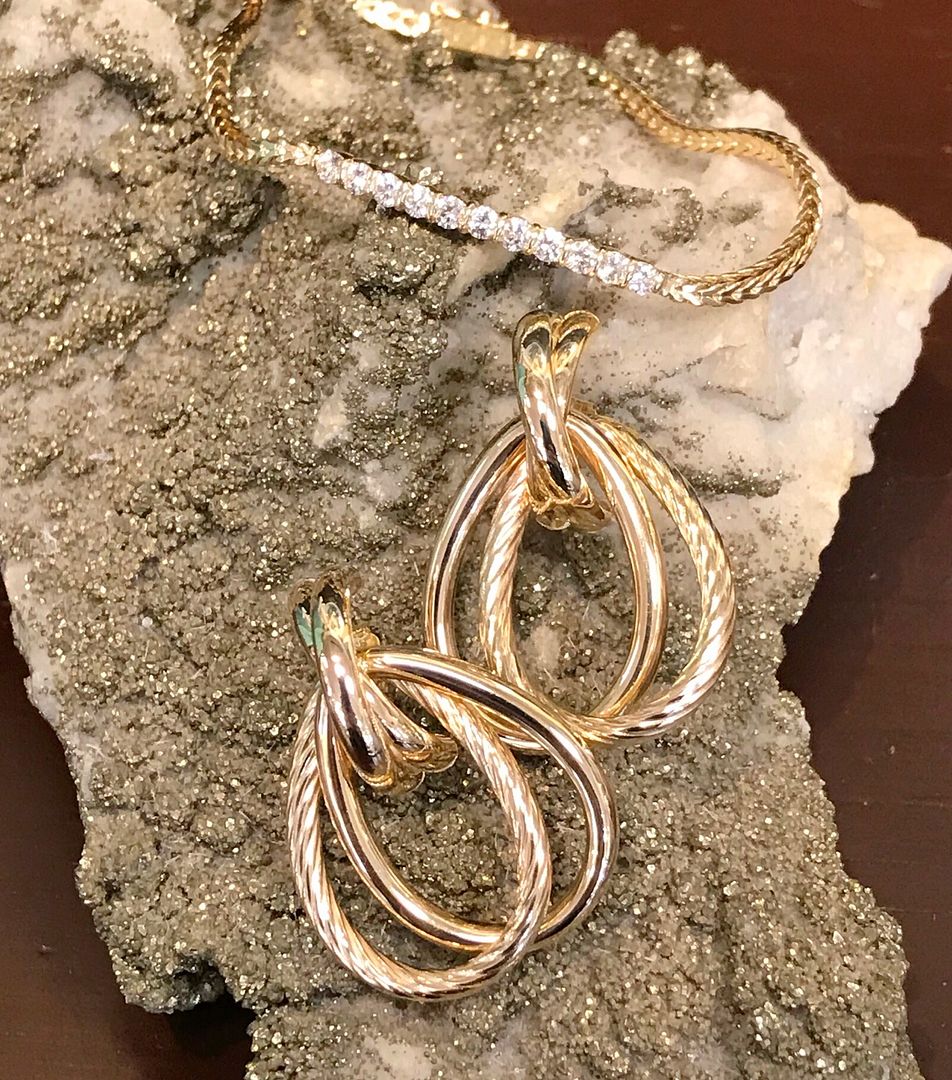 Consignor just reduced!
1ctw diamond and 14kw gold necklace, $1,440.
1ctw diamond and 14ky gold hinged bangle, $1,440.
4.2ctw diamond tennis bracelet in 14ky gold, $5,095.
Ready or not, here we come…
2018
  Here's wishing you and
yours a HAPPY New Year. 
~~~~~~~~~~~~~~~~~~~~~~~~~~~~~~~~~~~~~~~~~~~~~~~~~~~~~~~~~~~~