It's a wee bit chilly outside…
but lucky for us, we are READY!  
We just received a shipment of Simply Southern knit beanies
and gloves for just $12 each.  
And our new arrivals this week are even HOTTER…
This is the BIGGEST solid top dining table we have ever had.  The lustrous wood is absolutely exquisite.   Surrounding it are eight chairs in EXCELLENT condition.  This set is by high end 'to the trade' furniture brand David Francis, and the chairs alone retailed for $1420 each.  We have the TABLE AND 8 CHAIRS for $1,295. 119.25×45.75
What a pretty vignette…we have a pair of these textured cabinets, $695 each. 60x14x35. 
Vibrant floral abstract canvas, $295, 40×60.
Turquoise designer lamps, $225 each, 30″H.
This pair of nice blue and beige swivel chairs are just in on consignment, and of the highest quality for only $395 each. 32″W.
Sorry, demilune has sold.
Egret art, $295, 34×41.
Several weeks ago, we told you we were getting the
the Scott Living collection…and here you go!   
On-trend glass top table and six velvety chairs for just $995. 72×36.
Colorful and large framed abstract, $325, 40×60.
ALIVE with color…vibrant abstract, $245, 50×40. 
Lotus lamp, $95.  Large aqua vases, $68 each. 
We have a total of five of these super high end
Palacek 24″ counter stools in like new condition, just $165 each. Similar styles by Palacek go for $800+ each! 
Want super high end looks for LESS? From that same uber upscale consignment…Joe Ruggiero coral chair and ottoman, $595, 28.5″W. Matching chair, $450. Heron art, $375, 36×50.5. 
Side table has sold, sorry. 
~~~~~~~~~~~~~~~~~~~~~~~~~~~~~~~~~~~~~~~~~~~~~~~~~~~~~~~~~~~~~~~
In the just for fun category…
Join us for 'Fairy Hair' day on Wednesday November 22nd from
11-5. This company adds tiny threads of colored and metallic strands to your hair,  and they have almost a cult-like following.  Even though this is the first time we have announced the event, many of the time slots have already filled up, and people are even driving in from Raleigh for it.  
10-15 strands per 10 minute slot.
Click the photo below for more details and
to book your appointment. 
~~~~~~~~~~~~~~~~~~~~~~~~~~~~~~~~~~~~~~~~~~~~~~~~~~~~~~~~~~~~~~~
Gorgeous rattan and wood Palecek desk, $395,
58×25.25×30.5.
Literally just in…
Ethan Allen burl media cabinet, $525. 66×23.5×36.
Gold lamps, $220 each, 35″H. Sand Dune art, $350, 47.5×39.5
Coral sculpture, $78.
Large cozy sectional, $985, 118X82. Slipper chair, $145, 26″W.
This Century coffee table has a small blemish so it's priced to move at $175, 50x40x19.
Just in…and a scene stealer…
Ivory curio cabinet, $695! 36x18x67.25. 
Introducing the AMAZING abstracts by local artist Carolyn Colby. Custom sizes and colors can be done by commission. Large size shown here, $175, 30×40. Smaller, $95, 24″square. 
The cutest chandelier ever…$145.
Petite scale, 20″ diameter x 18″H.
We LOVE this turquoise cabinet, $995. 72x17x44.5. 
White designer lamps, $125 each.
Sorry, art has sold. 
Just in by Scott Living…handsome glass top
coffee table in soft bronze, $225. 39.5×18.5.
So cozy…charcoal sofa, $595, 82″W.
Uber glam white leather chairs by Z Gallerie,
they retailed for $699 each, our price $495 each. 27″W.
Black and gold cabinet, $375, 42x12x32.
My, oh my, what a STUNNING chandelier…
Framed in antique gold leaf. Retails for $4,573, our price, $1,095. 21″ diameter and 42″H.
JUST IN, pale aqua and taupe swivel gliders,
brand new for $595 each. 32″W.
Textured starfish art, $275. 40″ square. 
Fun distressed cabinet in aqua and cream, $595.
60×15.75×32.5.
Designer lamps, $125 each. 28″H.
Queen white headboard, $165. 65″W.
Just in from Scott Living!
Turquoise sofa bed, brand new for just $425! 83.5"W.
This won't last…adorable white desk with
cute mosaic top, just $145. 36x18x31
We all adore this functional island by Scott Living, $395.
Cutting board top can be removed for easy cleaning. 
30x20x35.
Can you say GORGEOUS? These grey wash 26″ counter stools by Guildmaster retail for $499 each, our price $250 each.
STOCKING STUFFER ALERT… How cool are these vintage golf
clubs that have been refurbished into bottle openers?
Just $18 each. 
Stylish taupe microfiber sofa, $550, 78″W.
This hand painted chinoiserie bench by GUILDMASTER in black with hints of red retails for $998… our price, $495. 48x20x20.
Shorebird companions, $225 each, 31.25×41.25.
A consignment score…black 42″ round dining table
with four chairs, $475.
Just in on consignment, heavy duty 25.5″ counter stools,
$165 each. Not sold separately. 
Nice pair of cherry bedside cabinets, $165 each.
28.25×18.25×27.
Come get a DEAL on this 7 piece South Seas rattan set in immaculate condition… it retails for $4,000, our price $1495.
Just in…four super nice quality coastal barstools with vinyl covered seats, a steal at $75 each. Sold in pairs only. 
Shown below on left, 4 antique ivory Windsor chairs $95 each.
Pair of white dining chairs, $145 each.  
Aww… this colorful doggy is looking for his fur-ever home, $145, 40″ square. Solid wood pine server, just $145, 59.5×20.5×36.
Pale aqua table lamps, $65 each, 21″H.
Just in..Charcoal sectional, $895. 86×116. 
Pillows, $24-$28. Wooden coffee table, $75. 36x22x18.5
Jesse and Mark are seen here taking a micro break testing out these awesome new adjustable barstools by Scott living, $125 each. Black bar table, $425. 60x30x42.
Just in on consignment…black faux leather sofa in like new condition, $425. 88″W.
Coordinating recliner with cup holders, $395. 35″W.
The armrests are actually storage compartments, how cool. 
Lighted white etagere,
the highest quality for $495, 44x21x79.5.
The HOT deals continue…
David Yurman 17mm onyx albion ring with diamonds, $995.
5mm turquoise and sterling silver cuff with 14ky gold, $425.
David Yurman prasiolite and diamond petite albion ring, $495.
David Yurman prasiolite and diamond petite albion necklace, $495.
David Yurman pearl and sterling silver earrings, $450.
Infinity blue topaz and sterling silver necklace, $495.
David Yurman pearl and sterling silver earrings, $250.
John Hardy Kali sterling silver hoops, $375.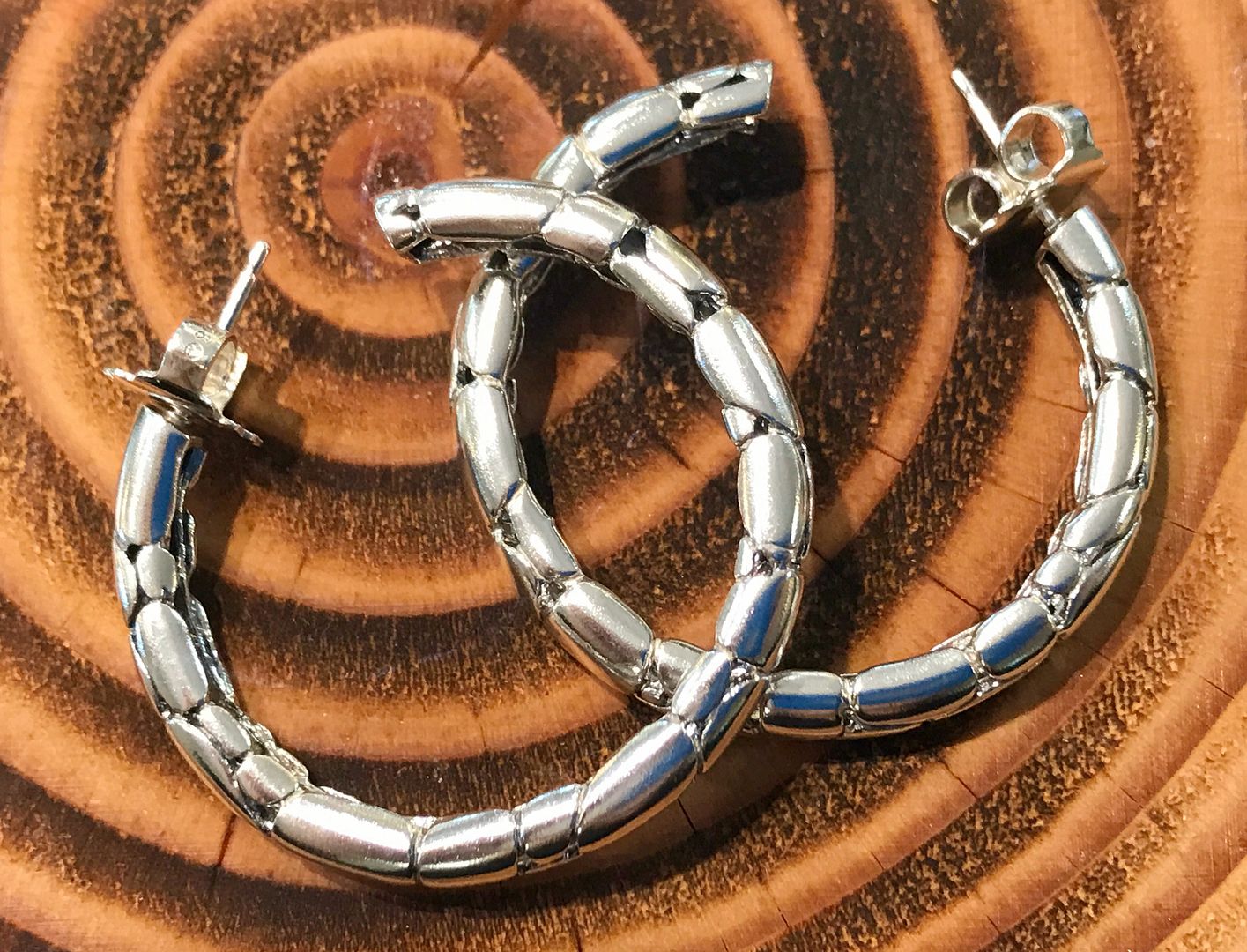 Rolex ladies two tone watch with beige pyramid dial, $3,495. 
Circa 1997. Comes with original box and papers.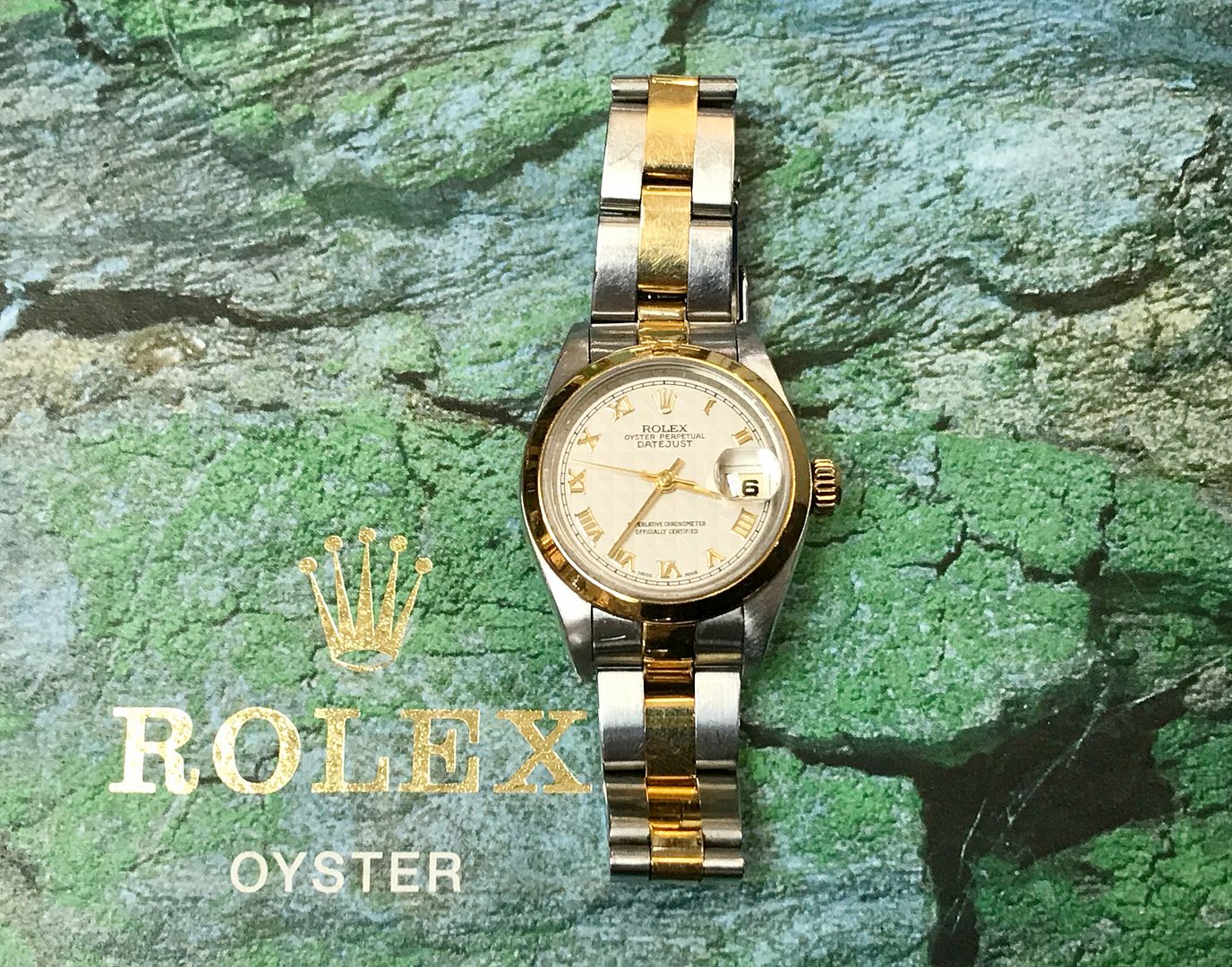 Just in Allison-Kaufman designer rings!
.13ctw diamond band in 14k white gold, $585.
1.47ctw in sapphires with .33ctw in diamonds, $2,450.
14k yellow gold and .12ctw diamond band, $585.
Loving these two tone Allison-Kaufman rings.
14k two tone fashion ring with .25ctw in diamonds, $1,445.
1ctw diamond band in 14k yellow and white gold, $3,095.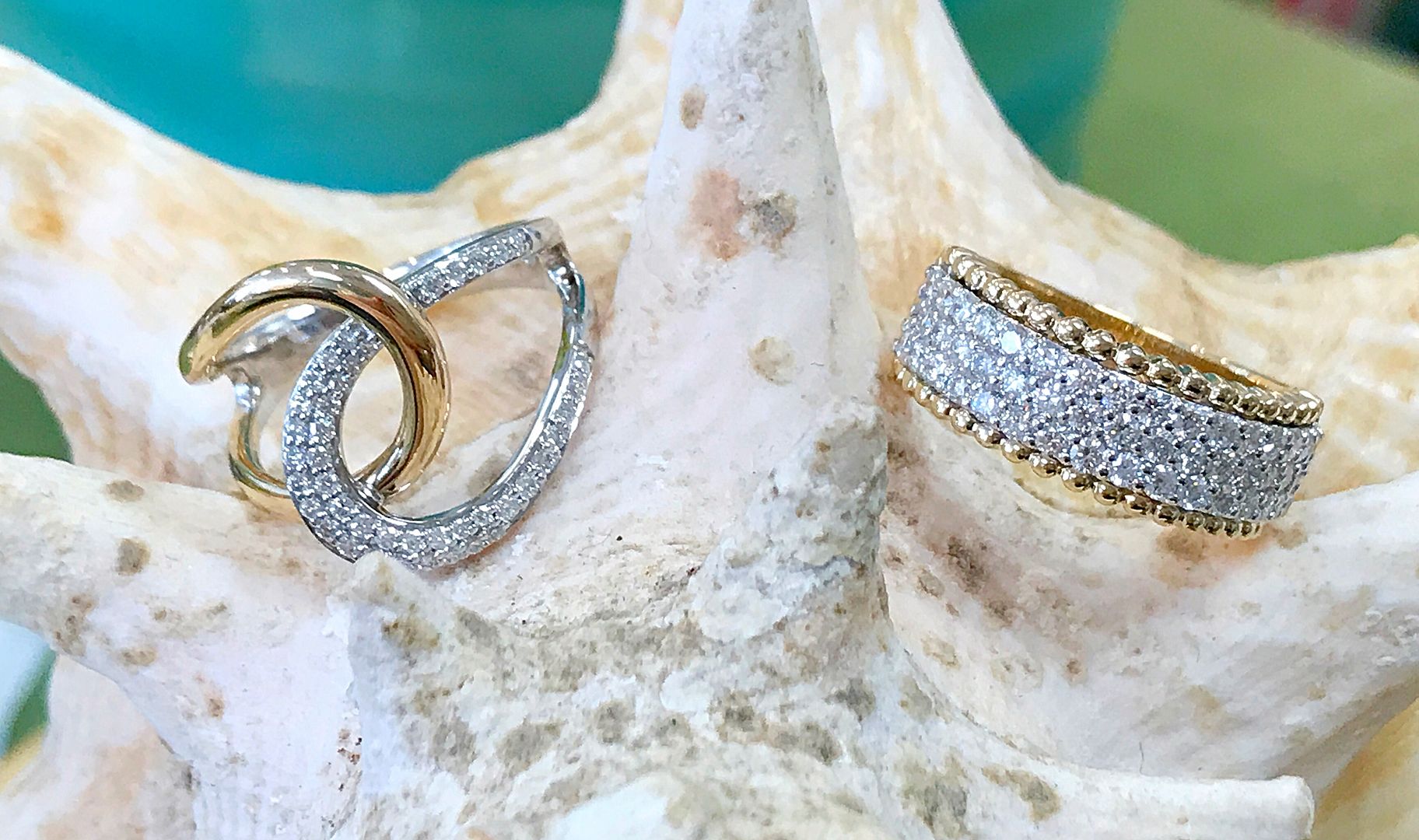 18ky gold fish pendant with turquoise eyes, $395.
Diamond and sapphire fish with a ruby eye in 14ky gold, $395.
37 days left until Christmas!
We can help you make it easy on him,
and ensure you will LOVE your gift.
Stop by Lumina Gem and fill out a wish list.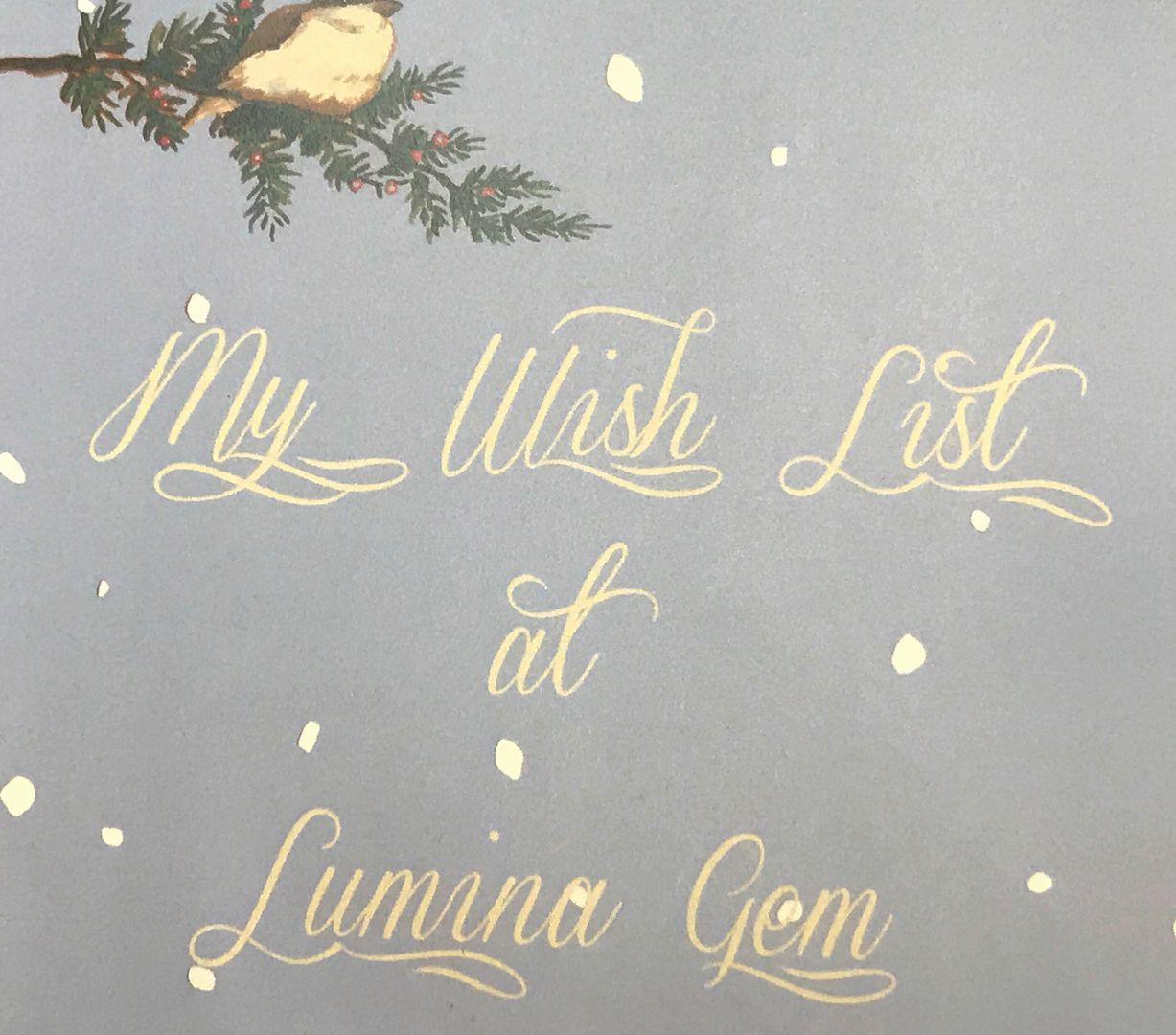 Check out this ring we made!
The customer lost one of her Slane earrings, so we created this one of a kind ring for her to enjoy the one she had left.
Bring in your broken, unloved, or outgrown jewelry and have us create something you will love to wear.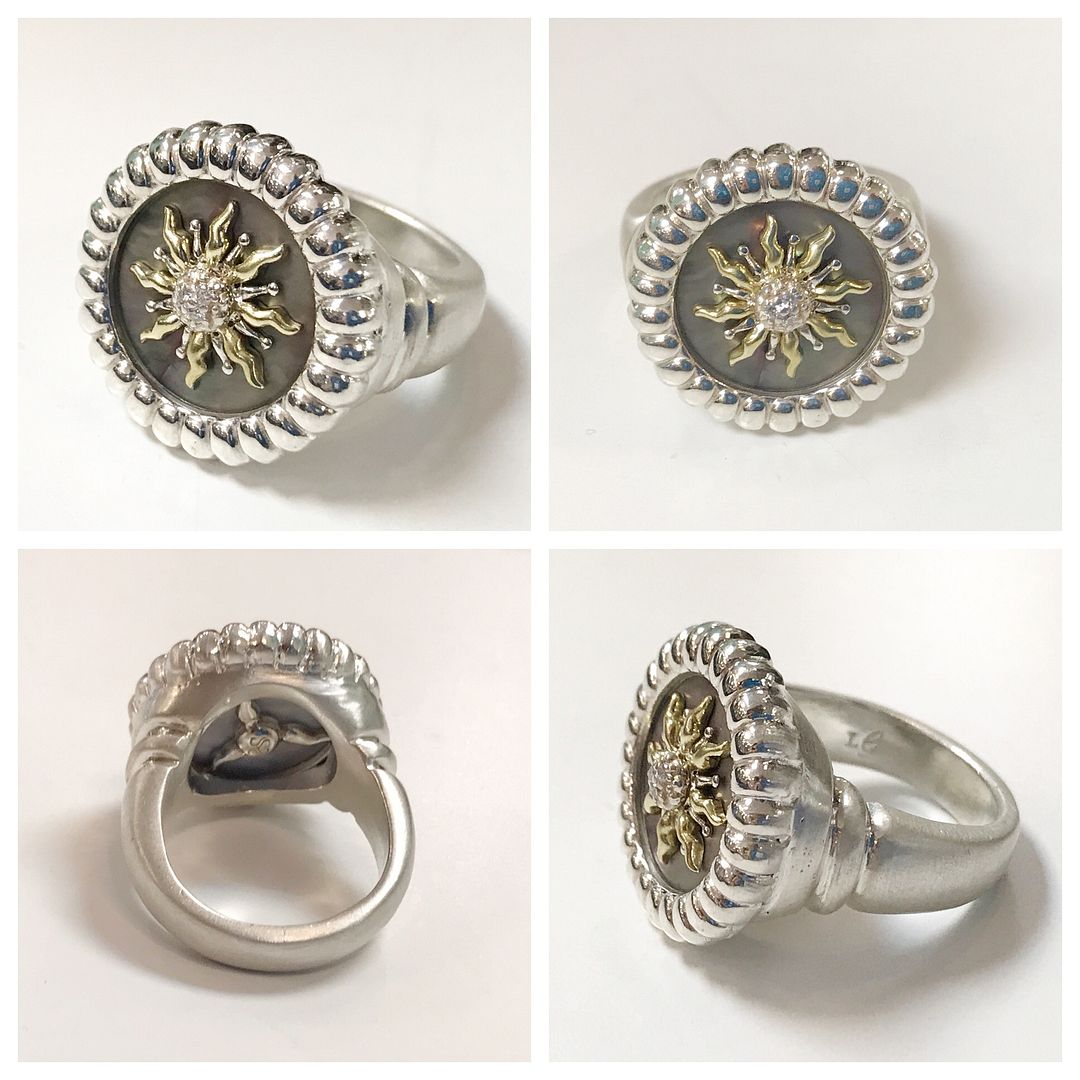 Speaking of things we've made. This rEVOLVE 1″ 14ky gold textured tube with .08ct diamonds on a 16″ 14ky gold chain is only $895. A portion of all proceeds goes to DREAMS of Wilmington.
1ctw G-H color SI2 clarity princess cut diamond studs
in 14ky gold, $1,750.
Singhvi 18ky gold and blue topaz earrings, $1,195.
51 gram 9.5mm 14ky gold necklace, $2,595.
31.4 gram 18ky gold 3mm chain, $1,995.
.20ctw diamond geometric cluster earrings in 14k gold, $575 each.
Diamond necklaces, ranging from $595-$645.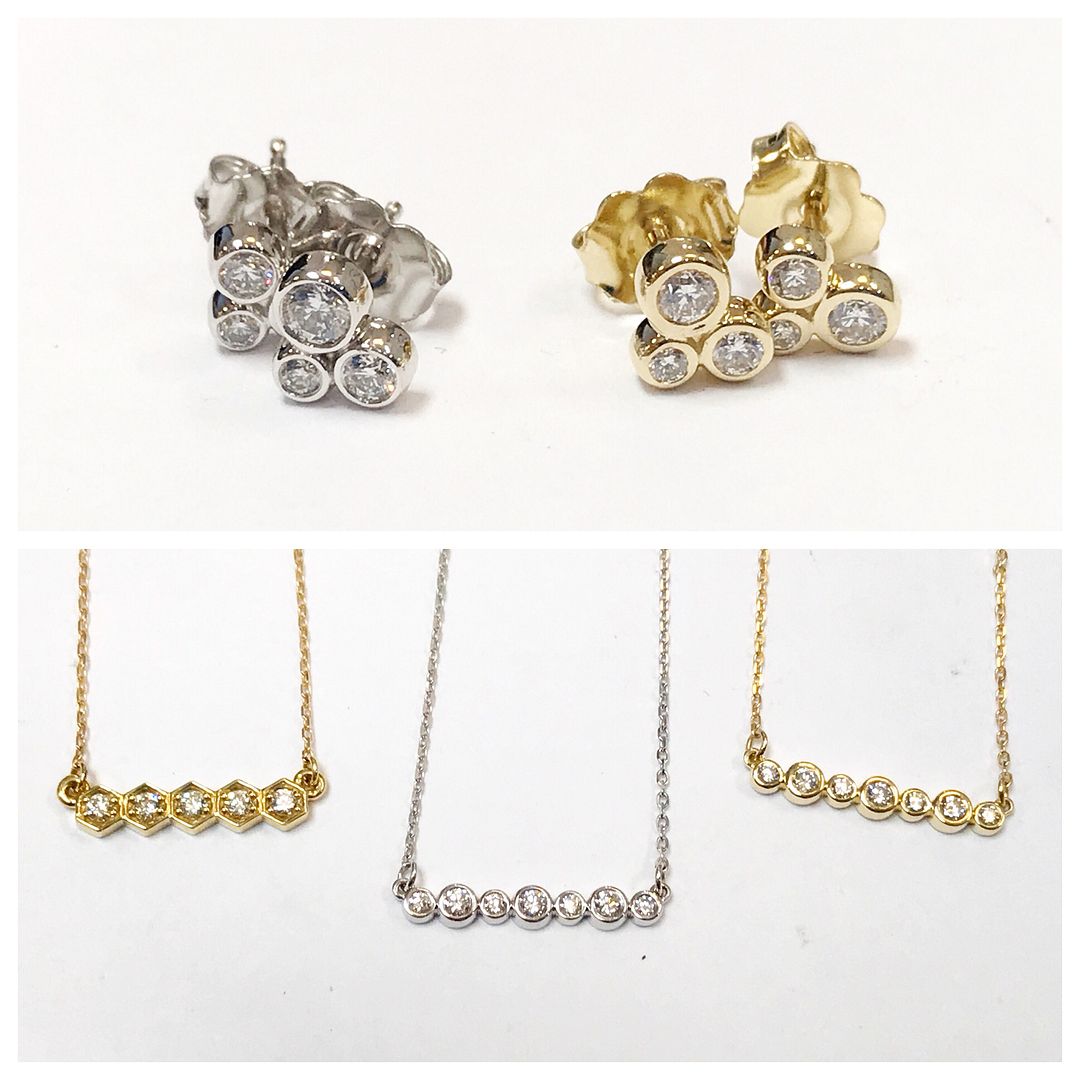 Turquoise and sterling silver signed pendant, $195.
Amber and sterling silver necklace, $395.
3ctw G-H color I1-2 clarity diamond bracelet in 14kw gold, $1,495.
Cultured pearl and 14kyg fleur de lis earrings, $495.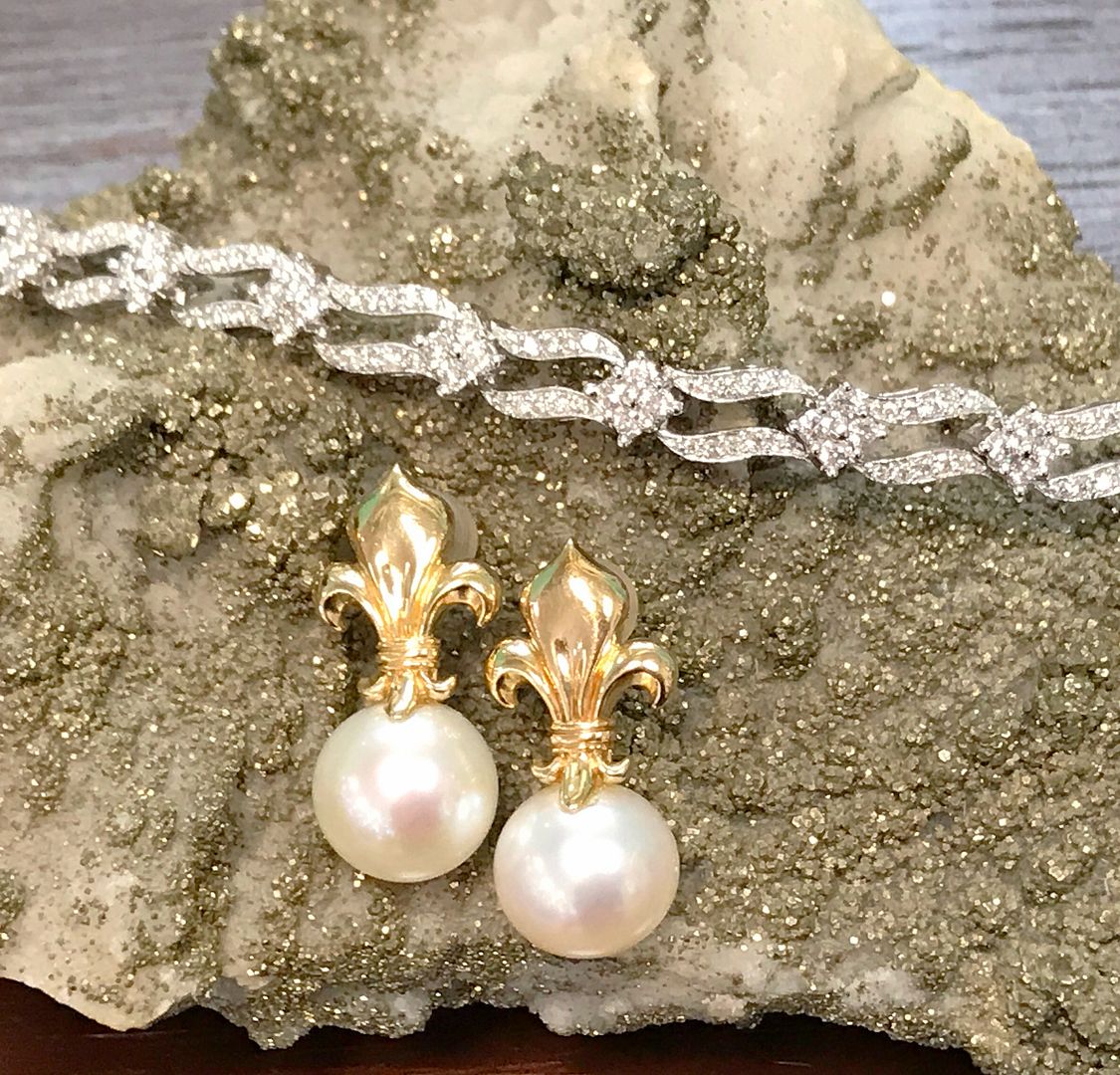 Diamond and 18kw gold circle dangle earrings, $1,495.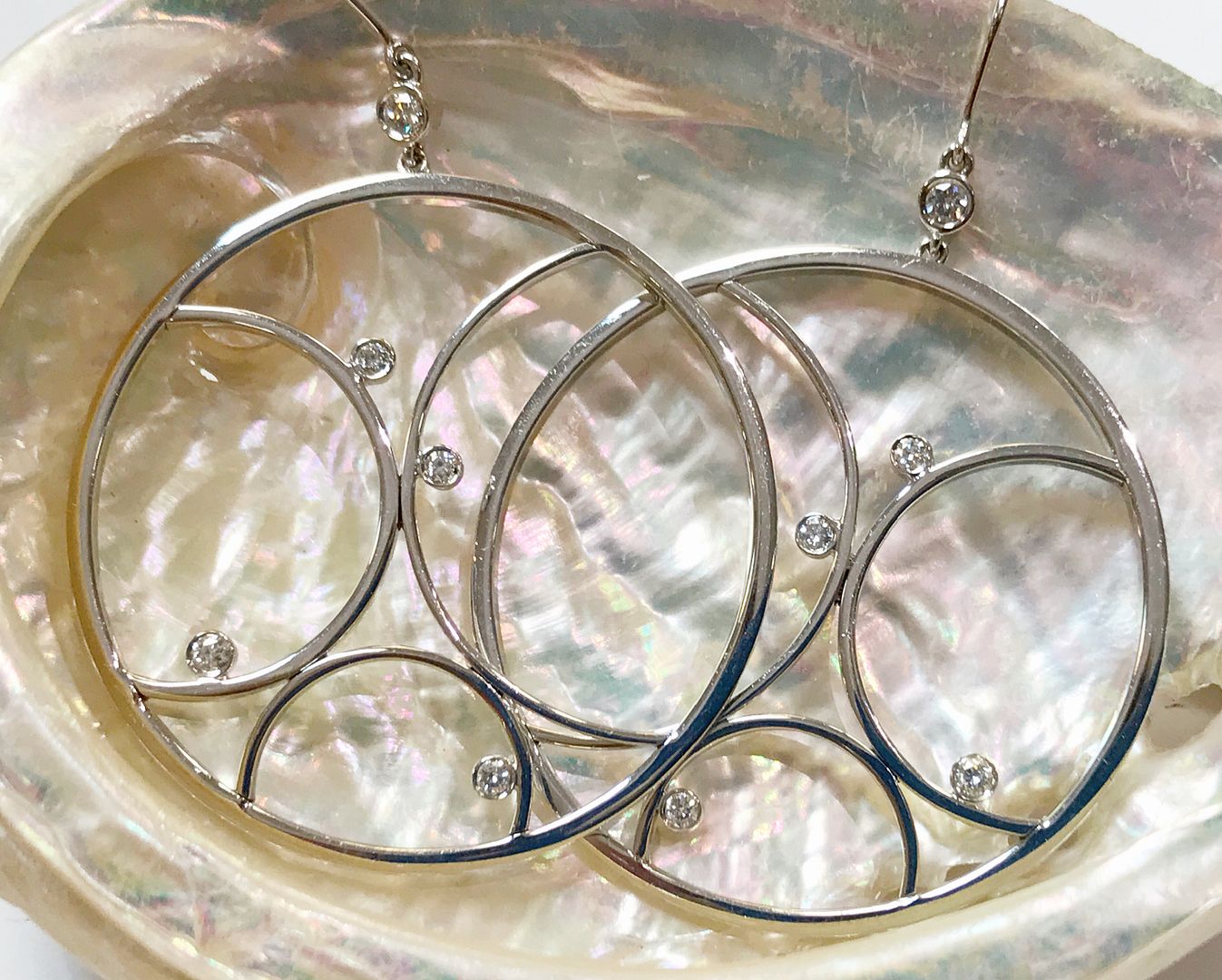 Onyx and diamond omega back earrings in 18kw gold, $1,195.
Loving these stackable bands!
Prices range from $825 to $975.
Burmese maw sit-sit and 18ky gold cuff links, $1,345.
We are happy to introduce our new line of men's bands called 'Tantalum'. Tantalum is corrosion resistant, 100% pure, and bio-compatible. Other than these super cool rings, tantalum is used in
surgical implants and supersonic aircraft.
Prices rang from $365-$605.
We are having a Nina Nguyen trunk show for shop local Saturday on Nov. 25th. There will be hundreds of pieces here for one day only!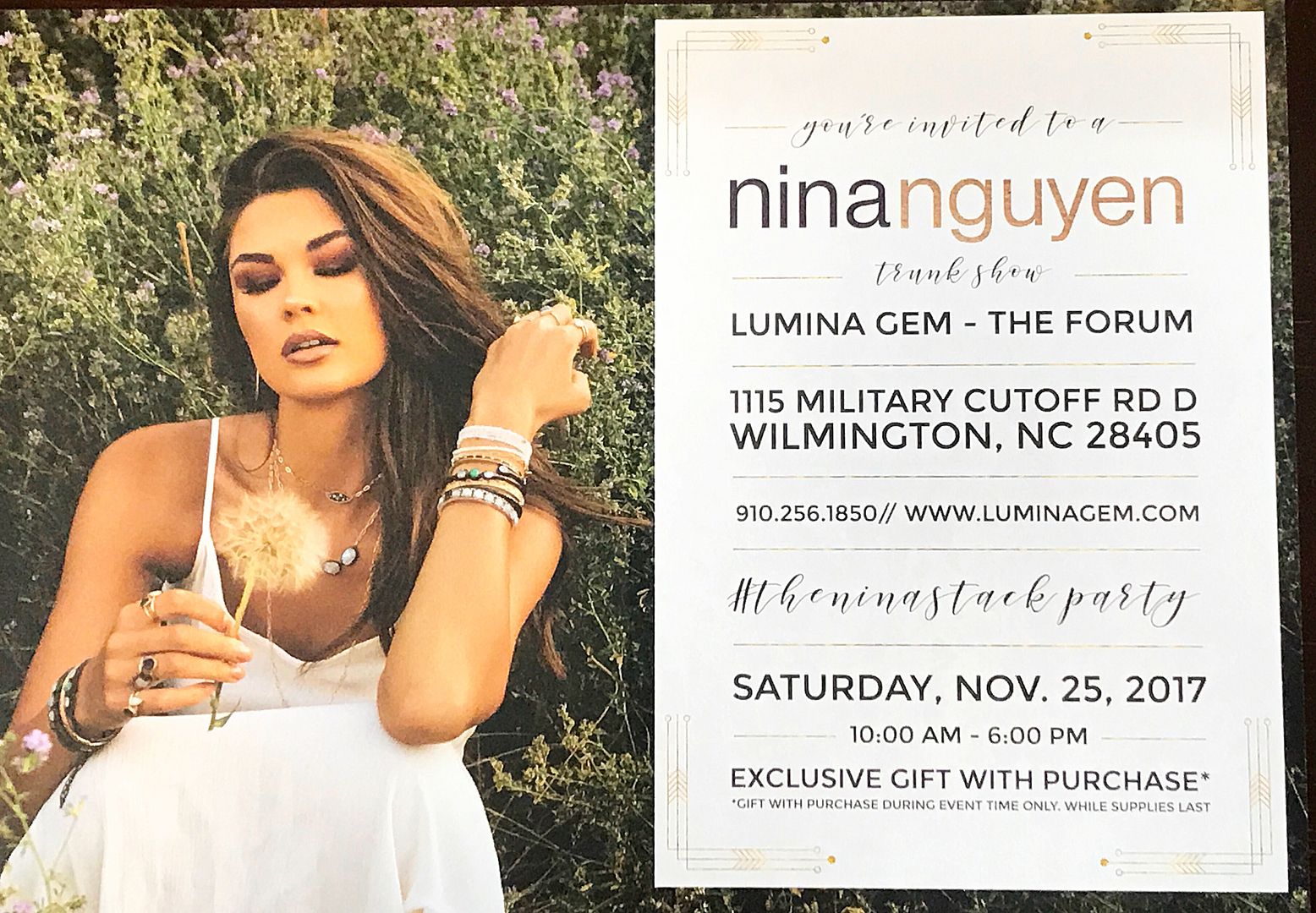 Warm up with a BARGAIN…
come see us!