Please join us at the store TODAY at 10AM for the
SQUAT CHALLENGE…
Personal trainer extraordinaire, LaMaine Williams,
along with WECT's Frances Weller will be at Home Again
to help get you motivated.  The mission is simple…
200 squats. Anyway. Anywhere. Any Time this Friday.
Not to tell secrets, but a certain Home Again staffer, 
who shall remain nameless,  gets very flushed 
whenever LaMaine walks in the store.
But seriously, can you blame her? LOL…  🙂
The real definition of POP a SQUAT
means to have a seat…
…and oh, my, do we have some nice seats. Brand new by Guildmaster,  they retail for $698 ea, our price $545 ea. 26x24x27.
 Vibrant art $395. 41×49.5
And speaking of the best seat in the house…
Home Again has been named Wilmington's exclusive dealer of 
IMG Comfort, a division of Ekornes. 
For those not familiar with the brand, they make the very best recliners and stressless chairs on the market.  They are
NOT inexpensive, but in the short time we have had them on our floor, we have already taken several special orders.
That is because the quality and comfort is unparalleled.  
Pick your style.  Pick your size.  Pick your fabric or leather. 
Shown above from $799 to $1999. 
Go to imgcomfort.com to learn more.
Pop a squat on this!  Brand new sectional in turquoise,
 $1,695, 112×88.
Octopus fine art giclee, $375, 42.5″ square. 
Natural wood coffee table, $265, 48x24x19.
Breathtaking wave abstract, $395. 44″ square.
The Ava' polished nickel desk from Pottery Barn retails for $549, our price $295. In excellent condition, 52x28x30.
Lovely shorebird art, $375, 52×37.5.
Navy cabinet with gold medallion pulls, $495, 40x16x35.
Grey sofa, $595, 86″W.
Matching chair w/ storage ottoman, $595, 39″W.
Just in on consignment…this chair and ottoman by Lazyboy
was just purchased a few months ago for $1,586…
Our price, $595. 32″W. Like new condition.
Pretty blue sofa with pillows, $595. 92″W.
Egret companions, $295 each. 34×41.
Pine coffee table by Magnolia Home Furniture
by Joanna Gaines, $265, 48x24x18.
This GORGEOUS blue lacquer desk with gold pulls has a small blemish to the corner so it's priced to move at $495. 49×23.5×31.
Build your room around this wonderful crab art,  $395, 47×37 
Nice neutral sofa, $595. 81″W.
Contemporary glass top coffee table, $245, 47.5×27.5×14.
Swivel rockers in navy and grey, $375 each. 33″W.
Coral art, $202, 36×48.
She's a BEAUTY! Just in on consignment for 
$375. 21″ diameter and 15″H.
Just in…
Denim blue swivel barrel chairs, $295 each, 30″W.
Just a note…we also have them in grey.  
Just a TASTE of the new art we just received this week….
So MANY great options. $225-$395.
~~~~~~~~~~~~~~~~~~~~~~~~~~~~~~~~~~~~~~~~~~~~~~~~~~~~~~~~~
And speaking of art, this is a funny story…
On Wednesday, I was getting my hair done at 1051 Salon & Spa, and I mentioned to my stylist, the amazing Allysa, that the salon could use some art.  She responded that Amy, the owner, had been looking for some.  Shazaam…just 4 short hours later we had loaded them up. So if you want to see even more of our great art… 
and get a stylin' new do… head on over to 1051 Salon.  They are in the shopping center just behind us near El Cerro Grande.
Thanks Amy and Becca!  
Love love love…fine art giclee, $395, 48×38. Teal media
cabinet retails for $800, our price, $595. 46x14x33.5.
Lamps, $112 each
Just in…these three high end 30″ swivel stools are in excellent condition and just $165 each.
Handsome tweed sofa with dark bronze nailheads,
a super buy at $495. 90″W.
Espresso coffee table by HOOKER, another great deal at $245. 42x42x21.  Excellent condition.  
Soft and pretty… triptych of textured abstracts $325,
48×47 as shown, spa blue lamps $145 each.
A WOWZA look for LESS…king headboard with tin panel inserts $295, 86×67, nightstands $125 each, 22.5×18.5×31.25,
slipper chair $149. 
Coordinating ivory tile mirror, $175. 48×60.
Happy floral painting, $375, 49.5″ square.
Ethan Allen 'Windham' lamps, $202 each, 27″H.
Cuteness…Padded small scale modern chairs just $45 each.
Timeless Henkel Harris mahagony desk that retailed for $12,000… our price, $795. 64x32x32
Lovely marsh abstract giclee,
$295 35.5" square.
This is awesome in person…come take a look. 
Vintage emerald green dresser, $450. 50.5×24.5×37.
Thanksgiving is right around the corner…
 Score this table and 8 chairs for just $525. 64x42x30.
Lovely textured abstract art canvas $225, 39.5" square.
White ceramic lamps $125 each.
Just in on consignment…quality media cabinet with
lots of storage, $325. 50x20x37.
 Pair of 25″ swivel counter stools, $145 each,
not sold separately.
Who is looking for a nice desk? Just $250 takes it home,
62x30x30. Notice the beautiful carved legs.
Burlap and ivory chair, just $52. Two available. 
GOING GOING GONE!
Pair of brown faux leather 30" barstools just $40 each.
Handsome black pub table with glass top and four swivel chairs, $595. As shown: 36x36x36. Includes additional 18″ leaf.
Just in… colorful textured sailboat art just $75, 47.25×23.5.
Did you know that a new chandelier will add an immediate
update to your space?  Wooden geometric BEAUTY, $425,
19″ diameter and 21″H.
Pair of Restoration Hardware chairs just in on consignment, $195 each. Retail $425 each. Not sold separately. 24″W.
Now that fall is in the air you need a cozy chair to snuggle up in…how about this peach stipe slipcovered chair by Rowe,
just $95. 41″W.
Need some motivation to get your squat on? 
I personally recommend THE FITNESS SQUAD.  Donna Baker and all the trainers there are second to none, and honestly, it's like working out with family.  Chuck Crutchfield (on the right) has been my trainer for nearly 6 years…the man deserves a medal!  🙂
Get more info at thefitnesssquad.com
Who needs the gym? 
Get your work-out lifting these bad boys…  🙂
This diamond is AMAZING!
2.01ct H color VS2 clarity GIA certified radiant cut diamond, $19,635. Shown here in a .60ctw diamond and 14kw gold setting, $2,835.  Click to watch a video of this ring sparkling.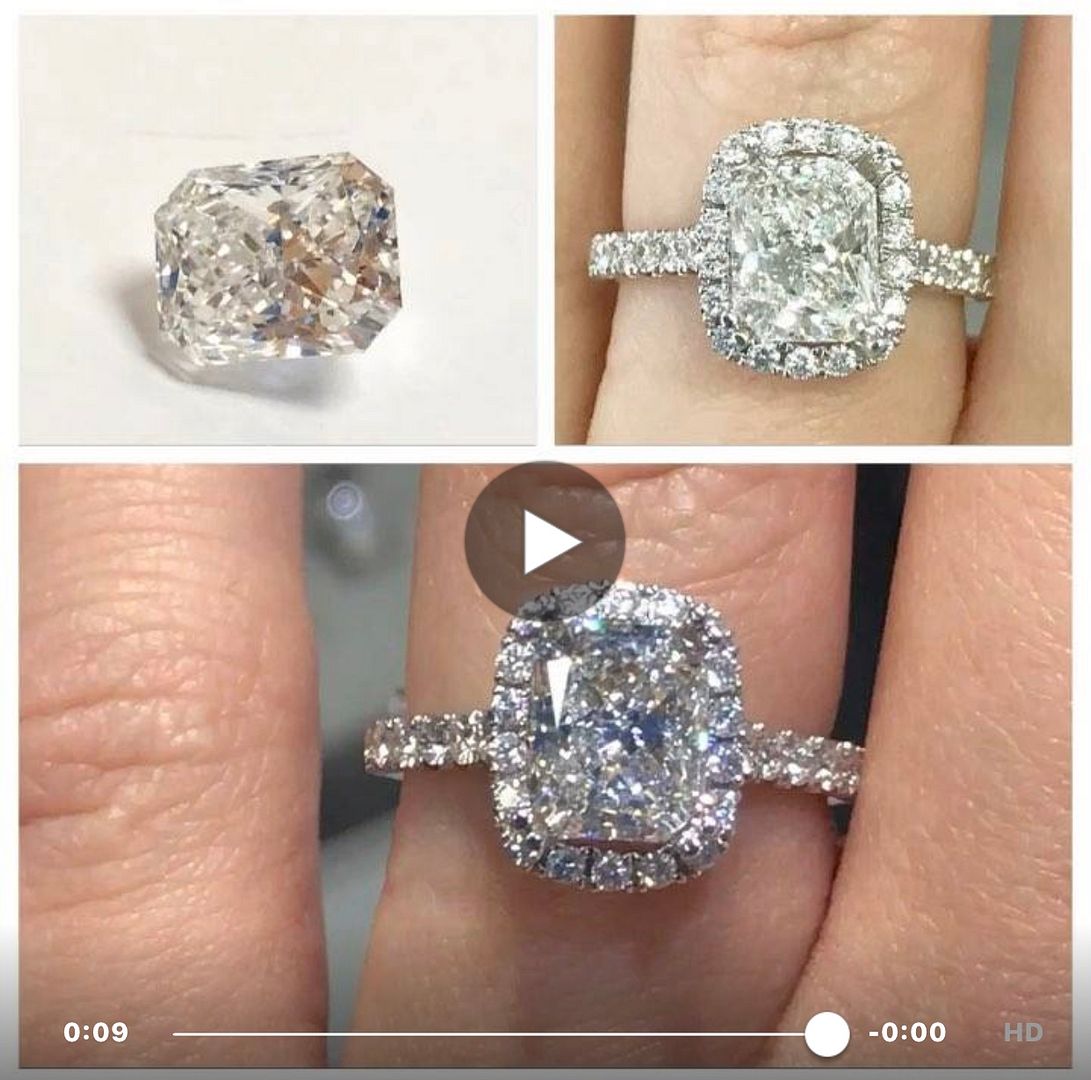 Another BIG dazzler…this  2.01ct G color SI1 clarity GIA certified round brilliant diamond is too pretty! $17,095.
Click to watch a video.
And one more big boy….2.08ct I color VS1 clarity GIA certified princess cut in a 14k two tone setting, $16,900.
Just in Tony Maccabi designer pieces! 
Rutilated quartz and onyx ring with .40ctw diamonds 
in 14k two tone gold, $2,395.
Triplet ring with layers of clear quartz, tourmalated quartz, and mother of pearl with .48ctw in diamonds in 14k gold, $3,195.
Quartz and hematite ring with .50ctw diamond bezel
in sterling silver and 14k gold, $3,495.
14k circle dangles with .44ctw in diamonds, $1,735.
.20ctw diamond necklace, $965.
Hammered 14k gold necklace with .50 diamonds, $2,515.
Faceted quartz and turquoise ring with .48ctw in diamonds set in 14k two tone gold, $3,195.
1.78ctw morganite ring in rose gold, $895.
8.9ctw sea blue chalcedony ring with .30ctw in diamonds, $2,045.
2.5ctw moonstone ring with .20ctw in diamonds, $1,695.
2.5ctw blue moonstone with .22ctw in diamonds in an 18 inch 14kw gold necklace, $1,695.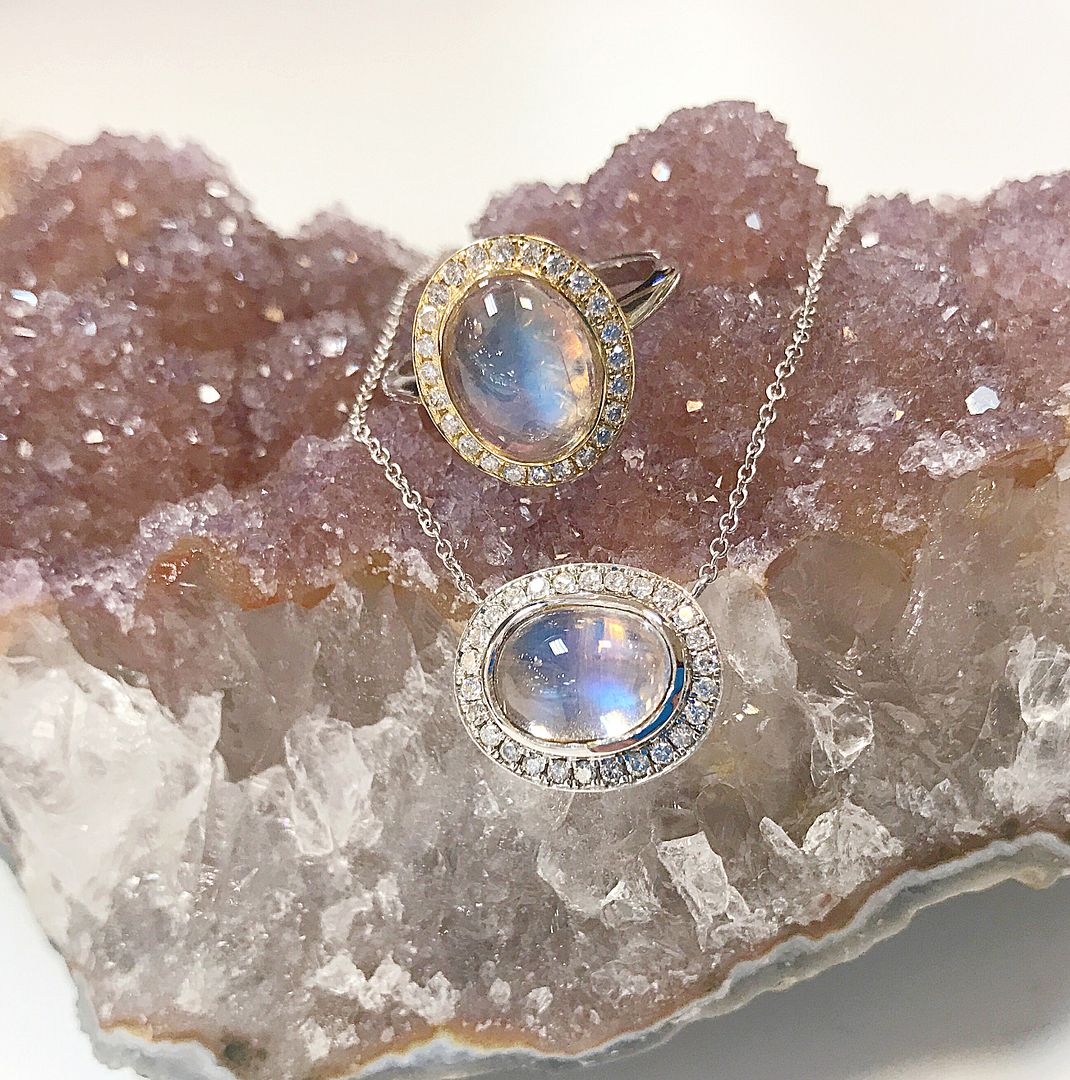 Diamond necklace in 14k white gold, $685.
1.10ctw diamond ring in 14k white gold, $2,745.
.38ctw diamond station necklace in 14k white gold, $1,895.
Just in Nina Nguyen!
30mm vermeil cuff with labradorite, $360.
20mm vermeil cuff, $195.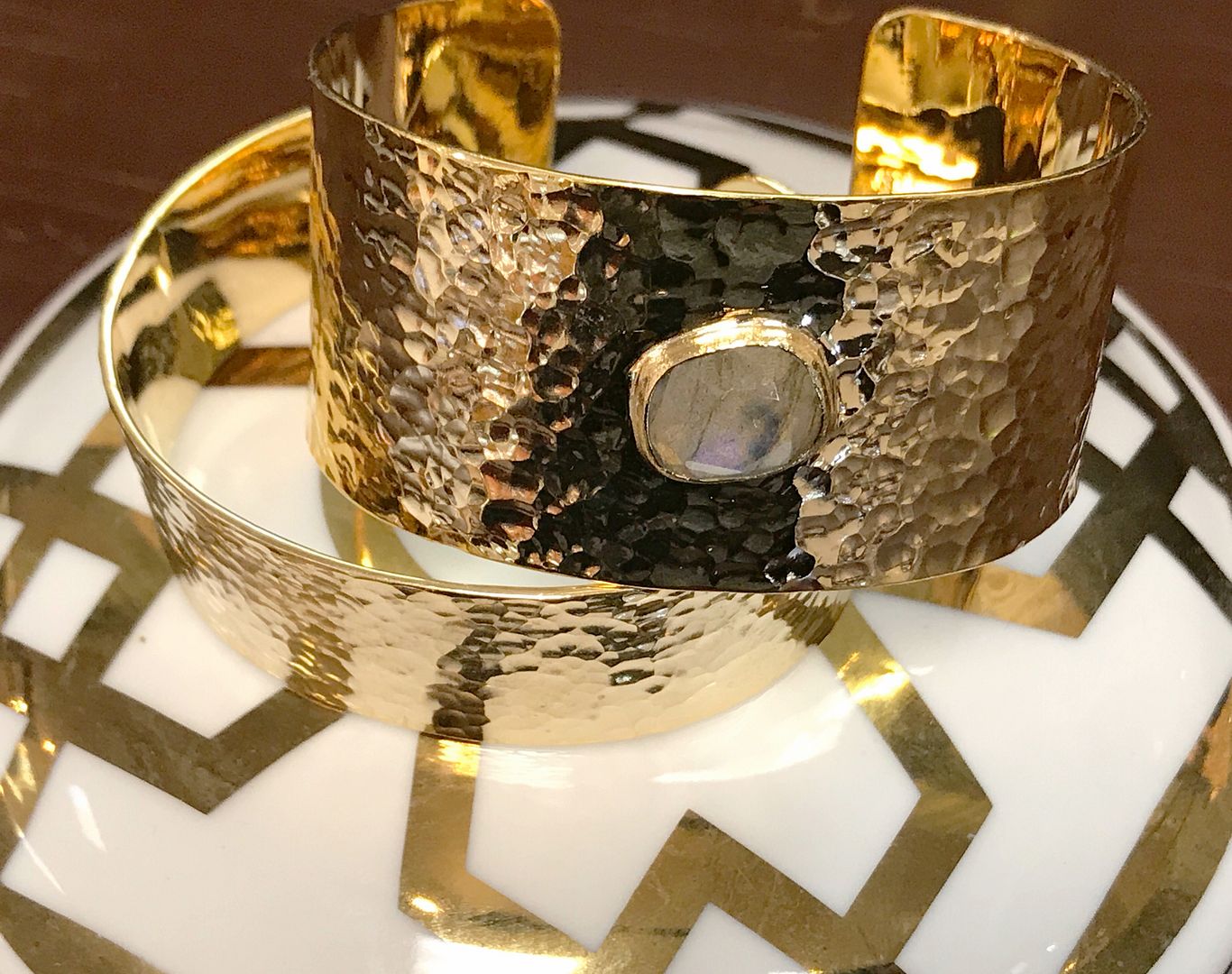 Lapis and sterling silver cuff, $250.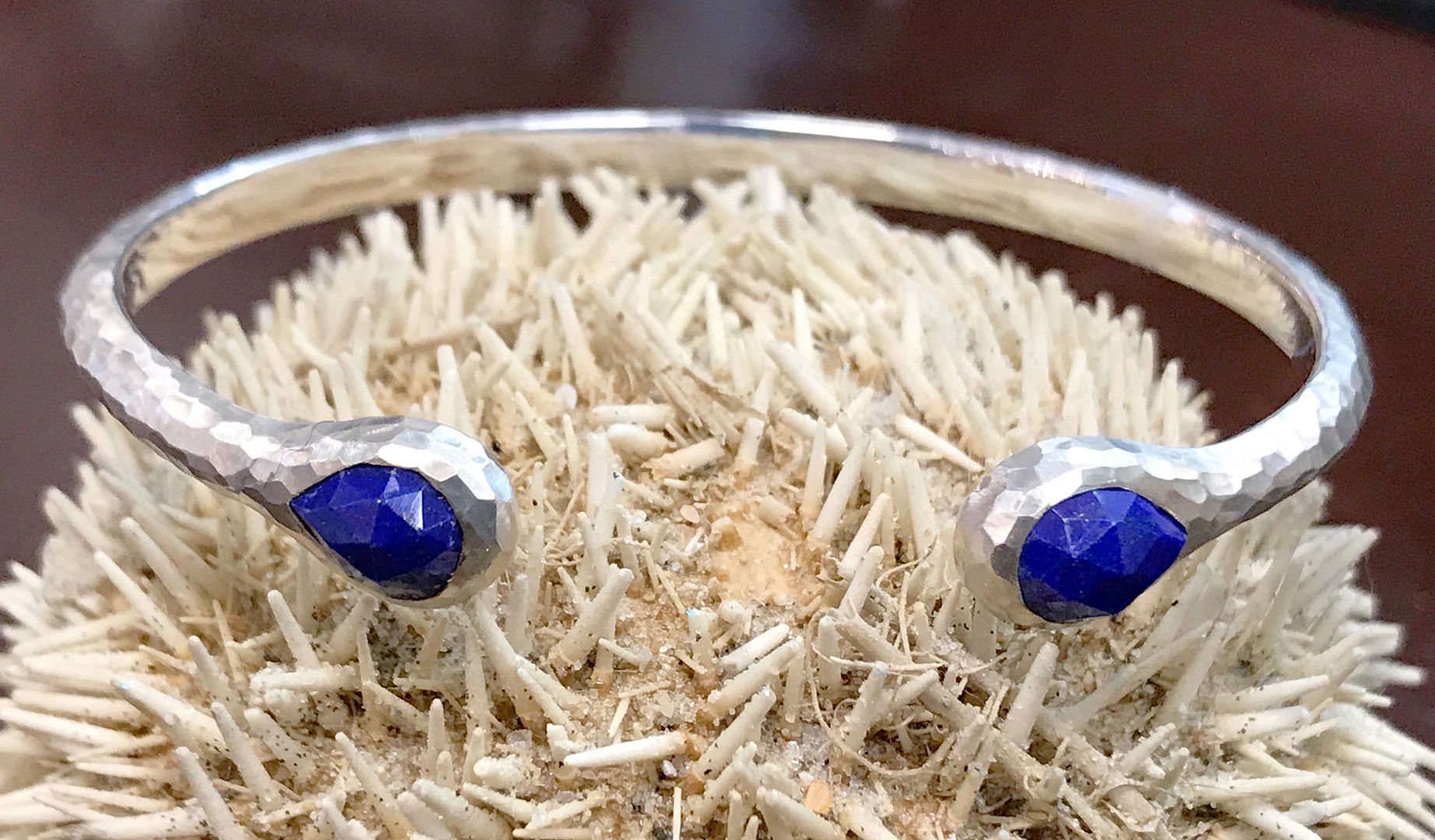 We love all these pieces! $350-$495.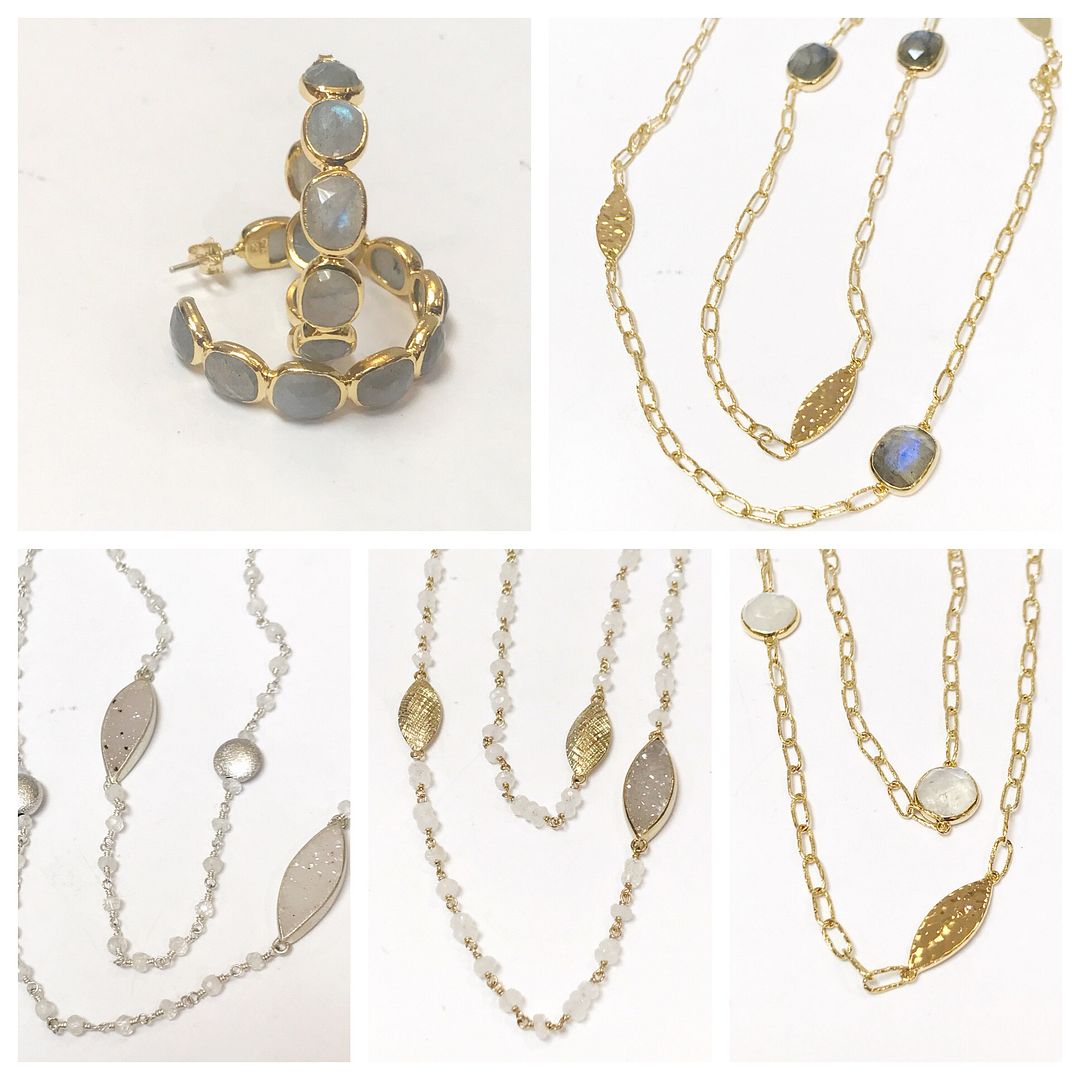 Opal and sterling silver necklace, $195.
Druzy quartz and turquoise beaded necklace, $180.
 Alllison-Kaufman multi color sapphire and diamond necklace
in 14kw gold, $4,595.
.52ct cushion cut VS2-SI1 clarity diamond in a
diamond and14kw gold semi-mount, $1,995.
Matching band, $495.
1.33ct I color VS1 clarity GIA certified cushion cut diamond in a 14kw gold and diamond semi-mount, $7,495.
Matching band, $495.
Roberto Coin 18kt oval hoops with
.60ctw in diamonds, $2,395.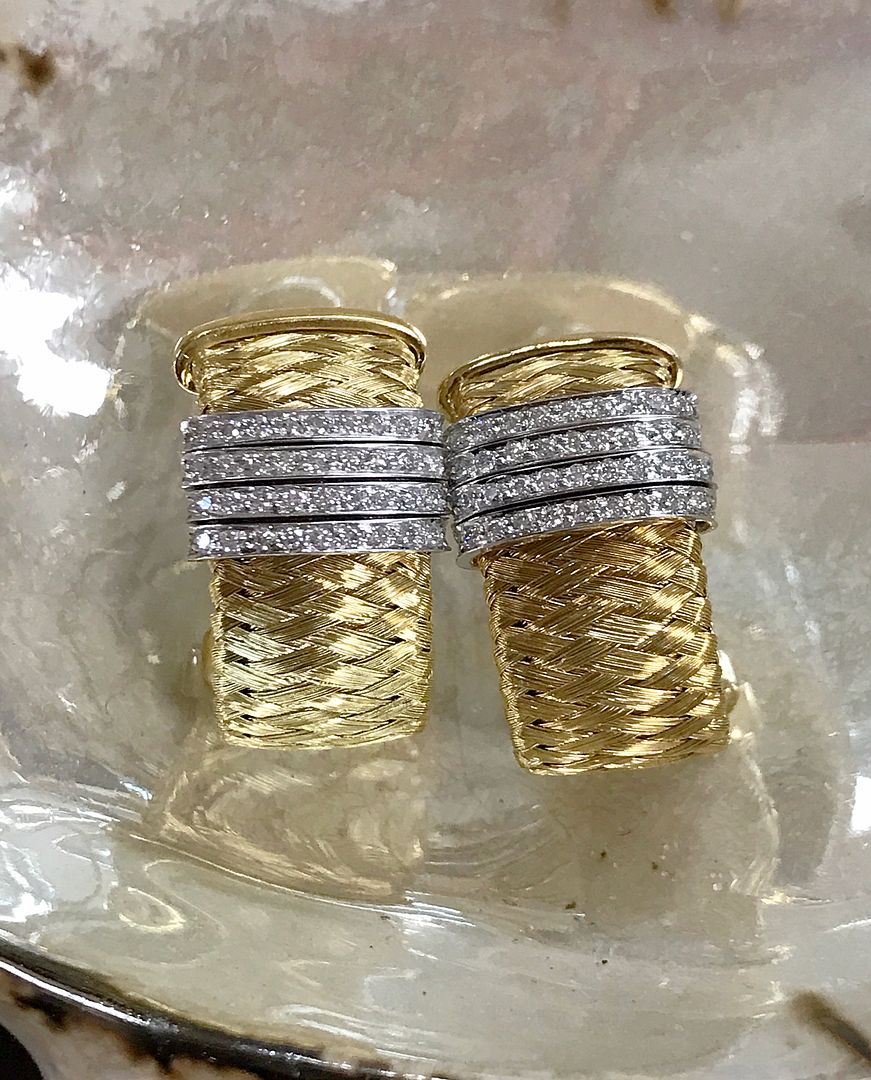 We all have our favorites around here!
Brad's pick. Frank Reubel 22ct Australian Andamooka opal and .93ctw diamond pendant in 14kr gold, $9,125.
Jamie's pick. These Nina Nguyen moonstone and oxidized pieces make me happy. Earrings, $450. Necklace, $495.
Connie's pick. Allison-Kaufman 1.20ctw yellow diamond band with .44ctw accent diamonds in 14kw gold, $5,295.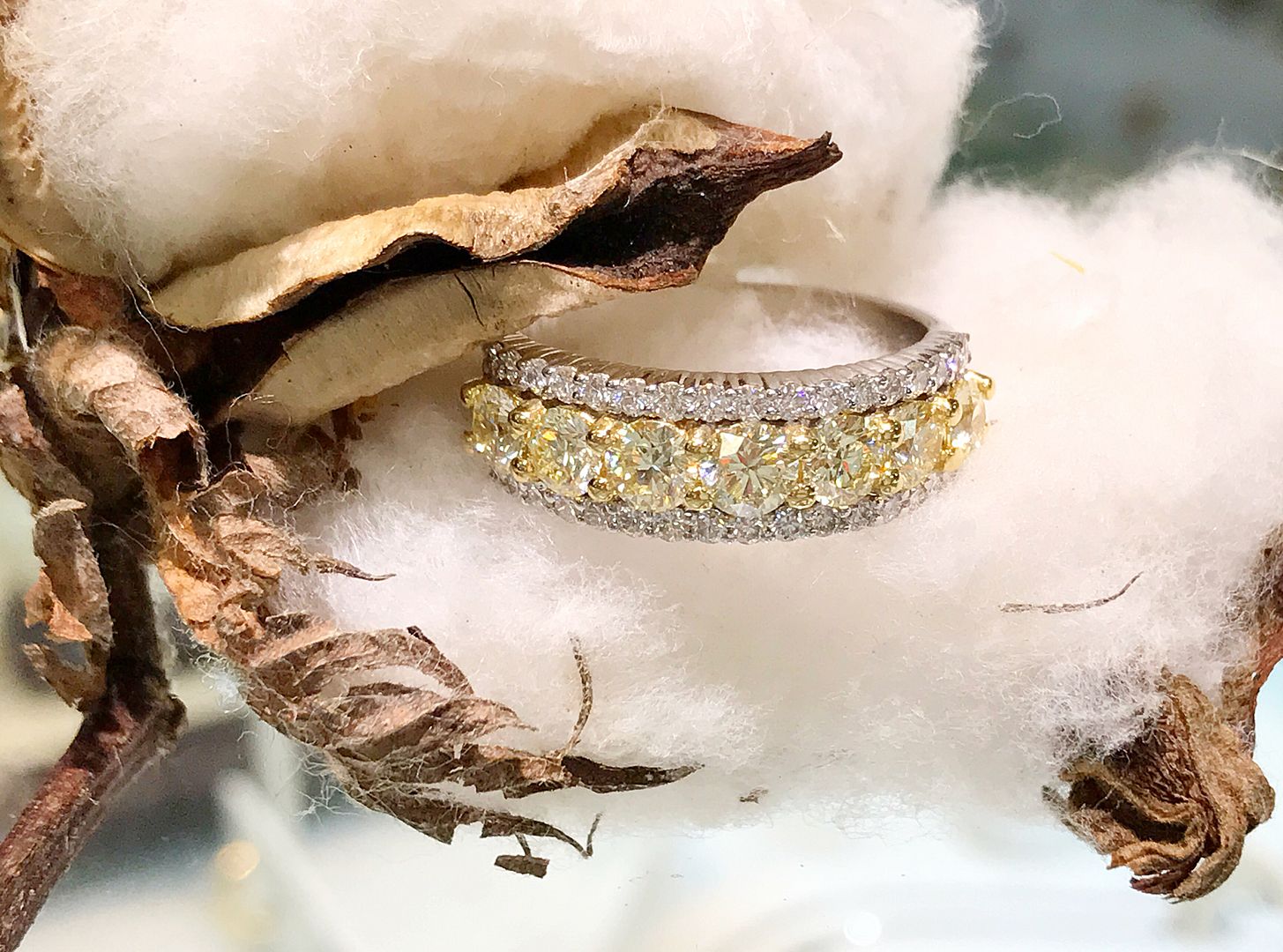 Megan's pick. This Nina Nguyen gold vermeill and moss agate 30mm cuff is too cool. Only $360.
8mm to 14mm graduated 14ky gold link necklace, $2,335.
14ky gold flower necklace, $220.
Just in TGT wallets.
Cobalt 2.0, army deluxe, and ruby red. $36-$46.
We have plenty of pearl studs in for the holidays!
Both freshwater and akoya. Prices range from $145-$425.
Ummm…just tell the hubby you've got
to do a little shopping today…
and head to Home Again and Lumina Gem
at 10am for the SQUAT CHALLENGE.