In home decor, 'Matchy-Matchy' is OUT…
The trend is to gather unique elements that come
together for a pleasing, yet unexpected look.  
Except on Fridays and Saturdays…
We are now wearing matching tees on Fridays and Saturdays
 so that we can be easily spotted when it gets crazy busy. 
And it's so easy getting ready for work!  
~~~~~~~~~~~~~~~~~~~~~~~~~~~~~~~~~~~~~~~~~~~~~~~~~~~~~~~~~~~~~~~~~~~~~
 On with the show! 
~~~~~~~~~~~~~~~~~~~~~~~~~~~~~~~~~~~~~~~~~~~~~~~~~~~~~~~~~~~~~~~~~~
JUST IN….colorful palm art fine art giclees, $245 each. 36×36.
This solid wood console with a modern geometric base has a small blemish on the top so it's priced to move at $425. 72x18x30.
Blue chairs, $265 each, 28″W. Decorative bottles, $28 each.
This Nautilus giclee will STOP YOU in your tracks, $295.
44×44. Trellis print teal chairs, $245 each, 28″W.
Round washed side table with metal base, $125.
One of our favorite vignettes of ALL TIME …
Glossy abstract $295, 50×50, STUNNING garden stool lamps in orange and ivory,  retailed for $500+ each, our price $295 each. Blue lacquer desk, $595, 54x26x30,
Century accent chair $395, retailed for $1538.  Cube is sold. 
Some nice wicker pieces are just in on consignment, and
in like new condition….both have glass tops.  
Chest, $225, 34x19x48.
Bedside table, $125, 23.5x17x24.
Soothing hand painted triptych in soft beachy colors, $275.
Each panel measures, 48×12. Pretty ivory media cabinet with mirrored details, $595. 60x18x34.
Ivory distressed lamp, just $46.
These coastal motif chairs swivel and glide, and are brand new
for $595 each.  31″W. Rich heron art, $295. 31.5×55.5.
Aqua cabinet, $345, 36x14x36. Tall hand painted jar with lid, $64.
Lantern, $12. Votive holder, $3.
The photo of this modern glass dining table does NOT do it justice.  It is by Swaim and retailed for $5,000…it is a SUPER BUY at $595.  And just an fyi, the consignor used it as a desk, which would be an amazing look.   68×46. Accessories, $12-$58.
We have the very BEST art this week…check out this hand embellished sail boat art, $225. 36×48.
White mirrored cabinet, $350, 37x15x36.
Coastal striped queen sleeper sofa,
brand new, $995. 80″W.
Handy white console table with a narrow
silhouette, $395. 66x14x33.
Just in on consignment…very pretty pair of velvety tufted microfiber chairs, just $175 each. 29″W
Oh yes please…shimmery giclee, $196, 50×40.
Painted cabinet, $495….retails for $680. 42x20x36.
 White leather-like wall saver recliners, $476 & $535. 
Small storage cubes, $52 & $32.
A BEAUTIFUL look. Modern, yet soft and coastal.
Antique ivory oval table $495, 84×42 with 18" removable leaf. Modern chairs in grey check upholstery, $125 each.
Large textured oil painting, 60×30, $395.
Attractive queen bedroom set…queen bed, $695. 67.5″W.
Chest of drawers, $595. 42x18x30.  Bedside tables, $295 each. 29.5x18x30.  Coordinating dresser (below), $695. 64.5×18.5×42.
Life-like shorebird art with a driftwood frame, $275. 39.5×32.5.
Oversized club chairs brand new for $695 each. 34″W.
Parrot painting framed in gold retailed for $1500, our price $395.
45×37.  See a more detailed photo of the parrot art
on our facebook page, Home Again Wilmington.  
Stunning dining table with painted top just $595. 78x42x30.
Includes two additional 12″ leaves. And just in on consignment, 
six unique hand-painted ivory & green side chairs, $95 each,
plus two arm chairs, $125 each. Chairs are sold in pairs only.
  See the pic below for a better look.  
Abstract wave fine giclees, $295 each, 48×24.
Blue lamps $95 each.
Oh my… check out these AMAZING set of two pendant lights,
an unexpected combo of rustic wood and glam gold. $225 for the set.  6″diameter x19.5"H.
Come see this fine art giclee in person…it's so life like, $295 45.5×33.75. White designer lamps $125 each.
Just in…This carved wood bench retails for $380,
our price $265. 51.5x16x18.
Big and bold dimensional fishy fishy just $295, 40×40.
JUST IN, dusty blue distressed cabinet, brand new, $695, retails for $900. 57x15x37. Ethan Allen 'Windham' lamps, our price $202 each, retail for $649 each. 27″H. Queen iron bed, $360, includes HB,FB, rails, & slats. Glass jars, $34 each.
Horizontal hand embellished art, $195. 72X20.
Cool industrial handcrafted furniture pieces just in…
Striped coffee table or bench, $145. 42.5×15.5×19.5.
Side table, $95. 30.5x18x20.
(Desk at the back of the photo is sold, sorry). 
Wow…one of our favorite color combos…navy and orange.
Look at the colors in fine art giclee, $350. 40.25×47.75.
Navy accent chair is sold, sorry. White recliner $595,
Small storage stool $32.
This fine art crab giclee is shown by our newest team member.
Get used to being an art model, Mark…$295 47.25×37. 
Come get a CRAZY DEAL on this ultra high-end loveseat
by Lee Industries. On sale for $295, 60"W.  Excellent condition.  
This amazing teal media cabinet retails for $800…
our price, $595, 46x14x35.5. Sunset abstract, $145,
40.5″ square.  Bubble lamps, $112 each, 29″H.
This yummy neutral sofa by Wesley Hall retails for $2329,
our price $895, 85"w.  Excellent condition and super comfy.  
Another great textured fine art giclee…$295.  This image
does not do it justice.  Very rich in person and in a
hard to find large horizontal format, 50×29.5.  
This won't last but a hot minute…This Pottery Barn 'Addison' king platform storage bed is just in on consignment and retails for $1895, our price $895.
We love the unexpected touch of orange in this sailboat fine art giclee, $265. 35.5" square.
Pretty blue and green chair in excellent condition and
on consignment for just $245, 31″w.
Just in…the consignor paid $1500 for this LARGE hibiscus painting on canvas, you can take it home for $395. 48×60.
What would YOU store in this cedar chest? Toys, blankets, scarves? It even has a hole drilled inside if you want to use it as a media stand. $245 40.5×17.25×19.
This is a small scale brushed silver 2-piece coffee table…
or separate them and use as end tables.
Just $125 for the set. 30x24x28.
DEAL TIME.  Nice black wicker console table, $95. 54x16x26.5.
Coordinating side table, $75. 26x19x21.5  Both in great condition.
 We absolutely ADORE this emerald Chinese chest,
$225. 23×14.5×33.75.
Family of three LEATHER elephants $125…largest is 19"H.
DEAL TIME…this superior quality sofa by CENTURY has lots of life left as-is, but it is priced to recover if you like! 
Just $250.  88″ wide.  
Wondering what to do with all you fall clothing? How about an Alexander Julian clothing armoire for just $350, 40x17x66.
This gorgeous market sample cabinet came in with a boo-boo,
so come steal it for $75. 38.5×18.5×33.
Just as in home decor…
The trend in jewelry is to MIX IT UP!
Layers of different bracelets and necklaces…yellow and 
white gold worn together, diamonds with blue jeans…
Make sure to see our new Marahlago Jewelry case.
Each piece features a beautiful piece of larimar set in sterling silver. The company also uses blue spinel, pearl, topaz and white sapphire for accents.
Top: Echo collection, prices range from $210-$480.
Center: Indra Collection, prices range from $145-$480.
Bottom: Hanna collection, prices range from $220-$225.
Marahlago uses only the top 1% of larimar mined, 
for the best quality stone in
each and every piece they make.
Top left: Azure ring, $235.
Top Right: Ilona collection, $230 each.
Bottom: Kai ring, $165. Hinged bangle, $895.
Larimar is found only in the Dominican Republic,
and was formed within a volcano.
Top: Clarity cushion collection, prices range from $280-$450.
Bottom left: Basic collection, prices range from $135-295.
Bottom right: Inlay palm, $195. Adalia palm, $210.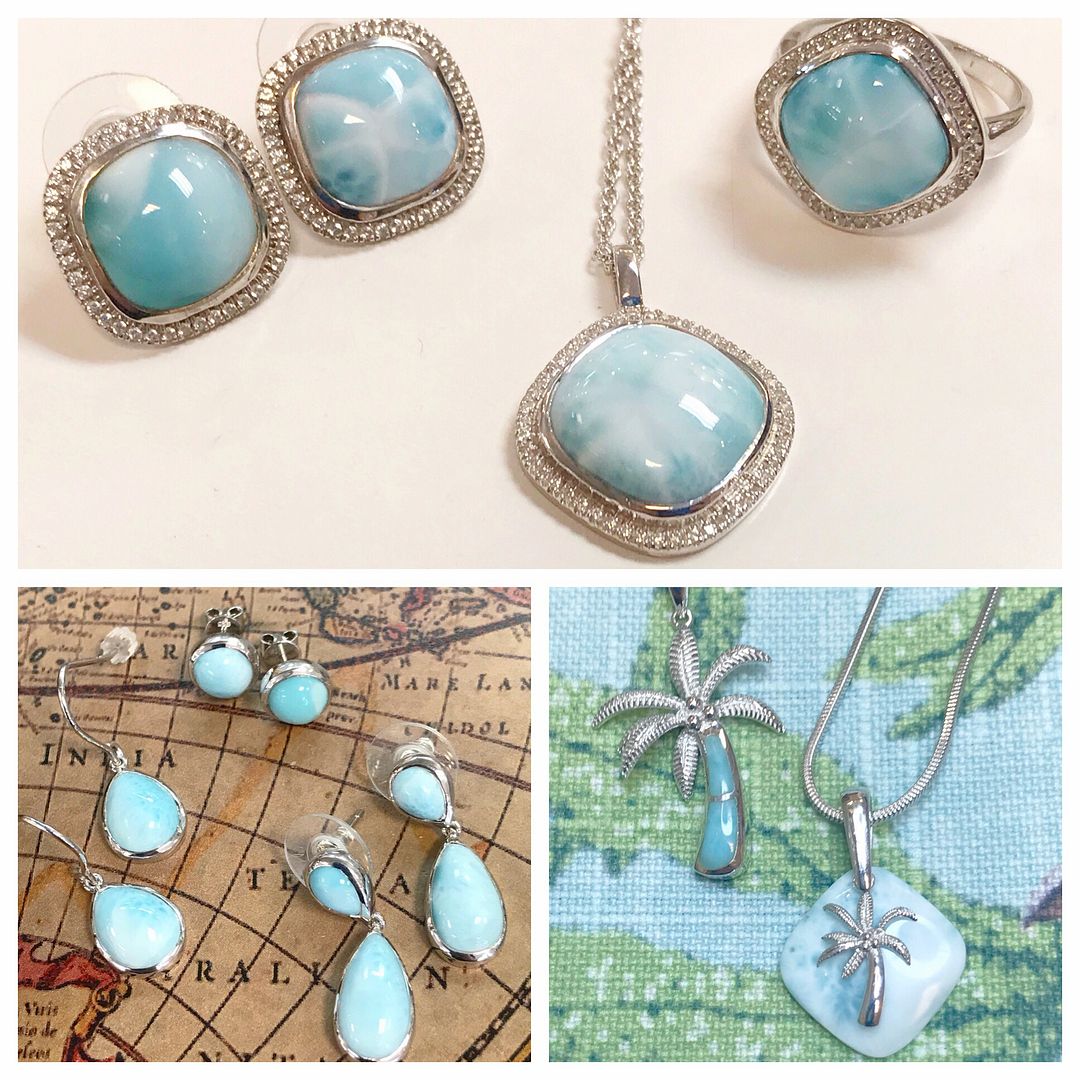 The white veins mimic the sun's rays dancing on the Caribbean ocean.  Carry the calming energy of the
sea and sky wherever you go…
Top left: Marina earrings, $235. Surf hinged bangle, $1,695.
Top right: Karisma earrings, $240. Ellesmere ring, $295.
Bottom left: Olympia ring, $395.
Bottom right: Seafoam earrings, $165 Necklace, $750.
Each purchase supports low impact mining and
the local people of the Dominican.
Top left: Abril earrings, $160. Necklace, $175.
Top right: Dante Earrings, $360. Necklace, $225.
Bottom left: Alisa earrings, $180. Necklace, $210.
Bottom right: Liquido earrings, $180. Ring, $130.
Necklace, $180. Bracelet, $495.
Top left: Hydra earrings, $225. Liberty earrings, $275.
Caressa earrings, $315.
Top right: Naples ring, $170. Earrings, $195.
Bottom: Atlantic earrings $210. Necklace $210. Ring, $160.
All necklaces are on a 20″
adjustable sterling silver chain.
Top left: Sea turtle necklace, $180.
Top right: Jellyfish necklace, $270. Earrings, $265.
Floating heart necklace, $195. Hummingbird necklace, $195.
Bottom left: Seahorse necklace, $150. Starfish necklace, $315. Wave necklace, $220.
Bottom right: Octopus necklace, $260.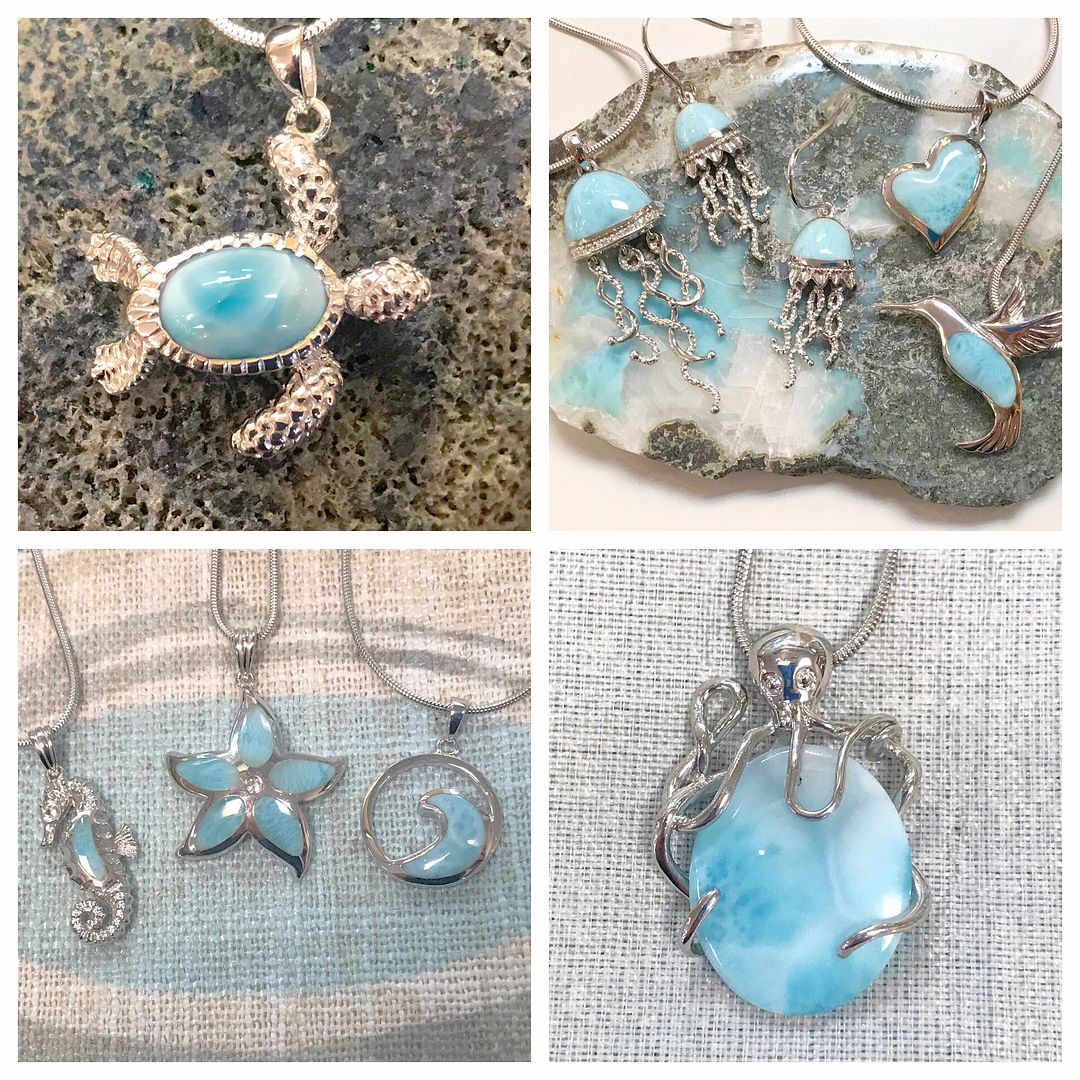 Look at our just in designer consignments!
John Hardy sterling silver and white topaz earrings $295.
John Hardy iolite and sterling silver bracelet, $260.
Tiffany sterling silver bar necklace, $150.
Tiffany heart necklace, $160.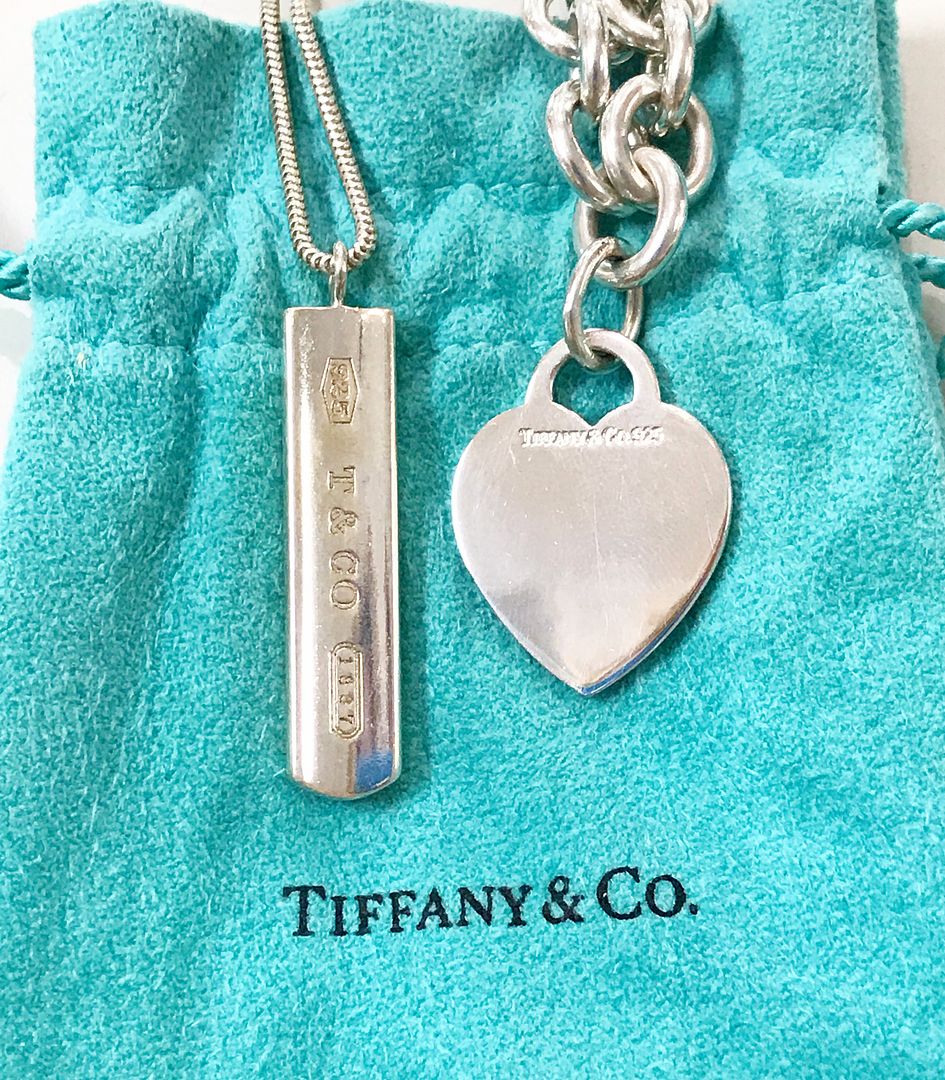 Roberto Coin .76ctw diamond
huggies in 18kw gold, $1,495.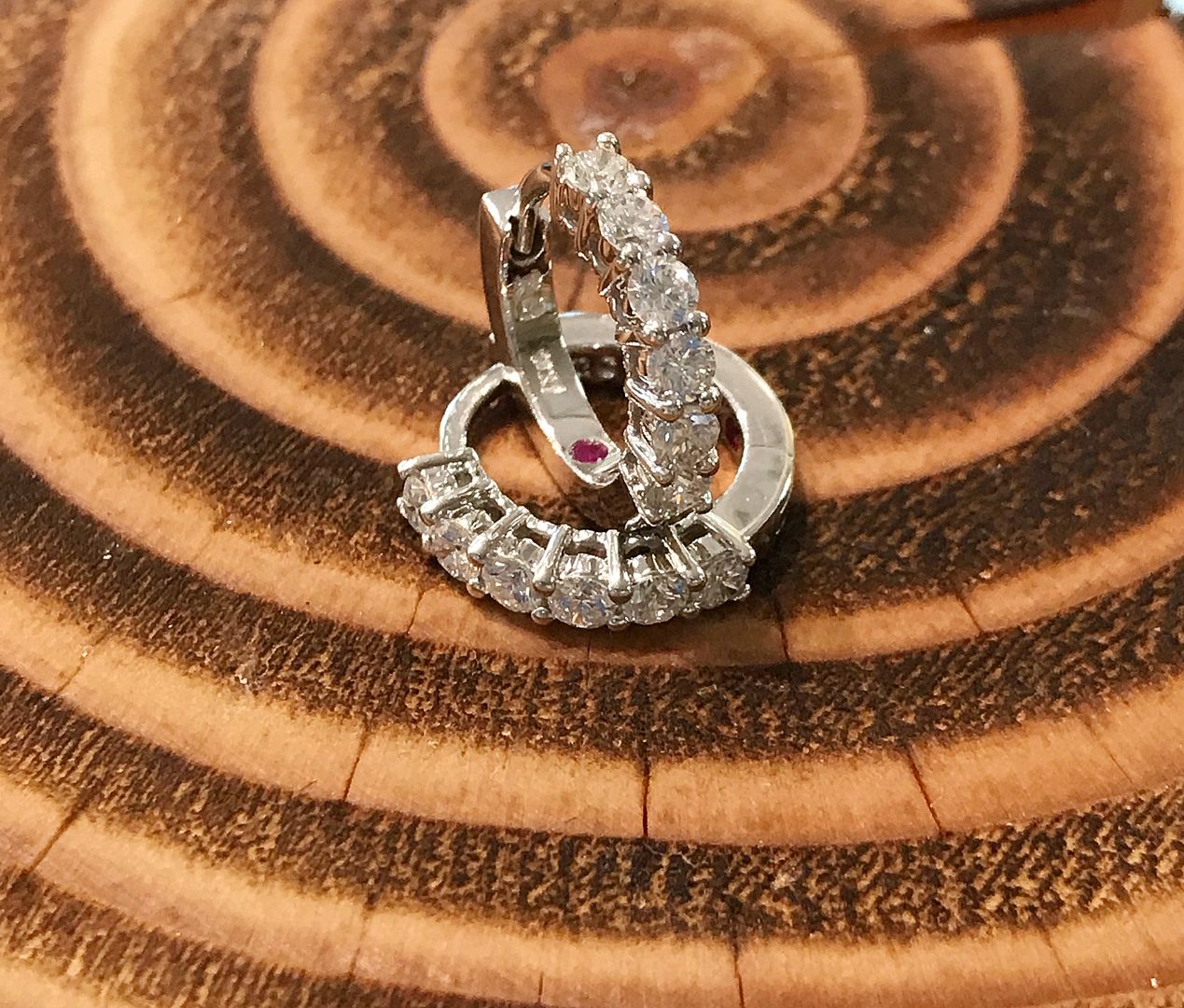 Tag Heuer Aquaracer with black dial, $1,495.
Tag Heuer with silver dial, $795.
Slane white topaz and sterling ring with 18ky gold accents, $645.
Slane ginko sterling silver ring with diamonds, $595.
To mix and match…
Giovanni Raspini sterling silver coral hinged bangle, $515.
3ctw diamond tennis bracelet in 14kw gold, $3,795.
Who says diamonds don't go with denim?
.86ctw diamond necklace in 18kw gold, $3,695.
Mix your colors and your metals…
.08ctw diamond and .27ctw ruby band in 14kw gold, $895.
.33ctw diamond wedding band in 14ky gold, $1,515.
.08ctw diamond and .25ctw sapphire band in 14kw gold, $895.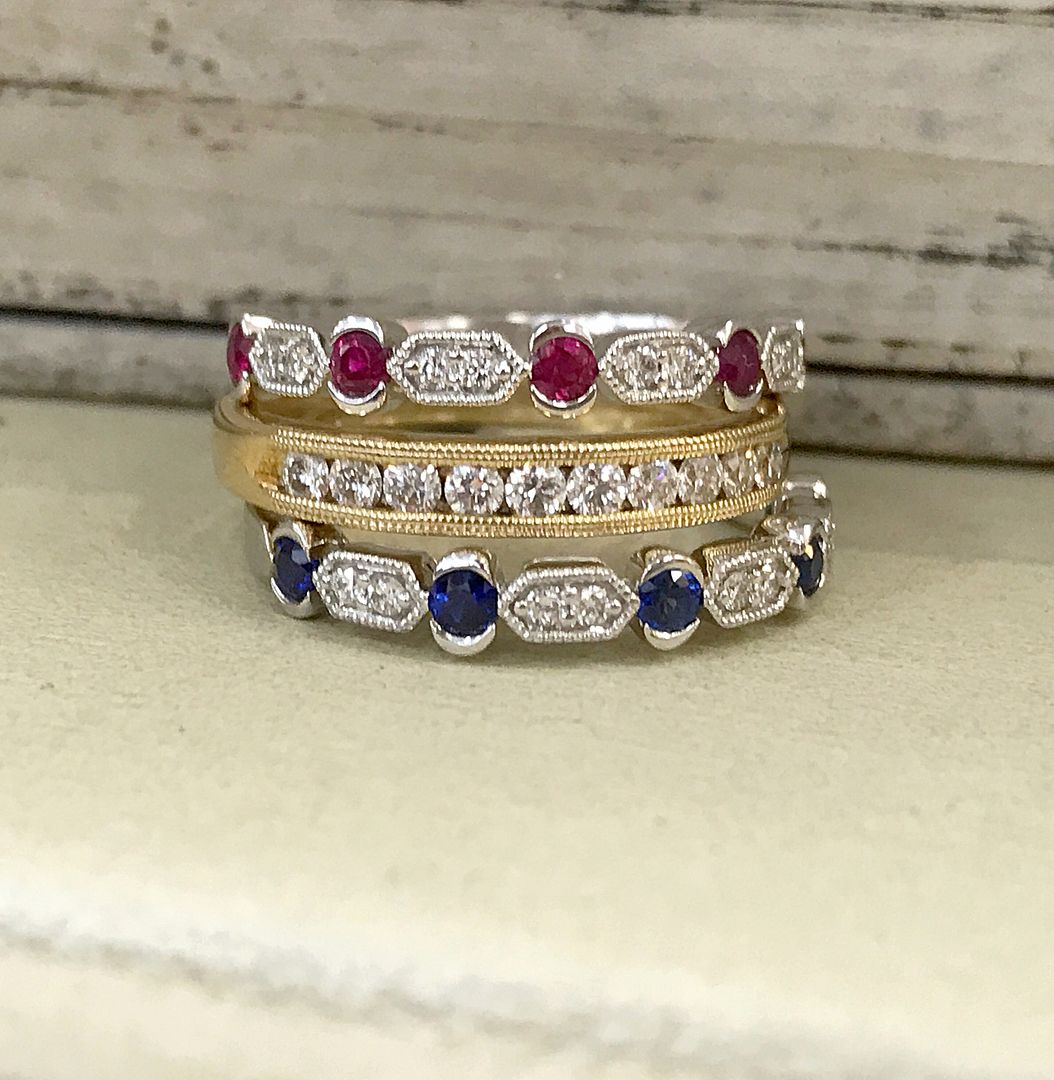 Earthy and unique accented by the sparkle of diamonds!
Coral and pearl fashion ring, $295.
Matching .55ctw diamond bands, $2,195.
1.17ct G color SI2 clarity round brilliant set in a
diamond and platinum semi-mount, $9,395.
Matching 1ctw band, $1,395.
Loving these unique consignments…
1ct emerald with 1.25ctw diamonds in 18ky gold, $5,595.
Diamond and 14k gold antique pin, $1,495.
46.9 grams of 14ky gold necklace, $2,295.
Thanks for reading our email and
hope to see you this weekend!