It has just been a typical week…
NOT
Our new storage container arrived…
by crane.  
A truckload of model home furniture arrived…
unexpectedly…
A big ol' bag of Alwand Vahan jewelry arrived
for the trunk show…
7 pallets of market sample furniture and
accessories arrived from Mercana…
 all priced at wholesale or less…
And yesterday we received
the contents of an ENTIRE 5 BEDROOM HOUSE…
JEEZ LOUISE.  We have been BUSY.  
There is so much more in the store than we can show
you here. Come shopping.  Seriously. 
It is your week to score big.  
One of the prettiest groups we've ever received…
Grey and ivory chevron tweed sofa, $1,095, 84″W,
coordinating accent chairs in blue and grey, $525 each, 31″W. 
See better photos and more details on our facebook page,
Home Again Wilmington. 
Been waiting for a SLEEPER SOFA?  We've got 'em.  
From $795 to $1095. 
See our facebook page for close-up photos.  
Handsome king sleigh bed in rich espresso by Martha Stewart for Bernhardt, $495. Coordinating bedside tables, $395 each. Generous size, 42.5x20x34.
Small Lexington table, $202, 18x18x28.
Just in…GORGEOUS pair of wicker and bent-wood chairs with custom starfish upholstery. They retailed for $1000+ each, our price $495 each. 29.25x36x35  Like new condition. 
Just a taste of the small accent tables
we just received…$72-$125.
We love love love these coral accent chairs piped in beige,
brand new, $495 each. 32″W.
Y'all..we are not kidding when we said we have A LOT of new inventory…check out all of these awesome chairs…
Slipper chairs, $225 each. Trellis print chairs, $245 each.
Green Mid-Century chairs, $395 each. 
Gorgeous accessories are currently
flooding the store…$12-$72.
Back by popular demand! Grey and ivory club chairs,
$395 each. 29″W.
Have you ever wanted an aquarium? This is the closest thing… triptych of huge shadow-box mixed media companions.
They are pricey…but come in and you'll absolutely see why…
they retail for $1926, our price $1495.
Each panel 26×50
Pottery lamps $125 each.  White cabinet $325.
Seagrass side tables, $95 each. 22x26x26
We are BIG fans of this 40″ square
water abstract, $225.
HUGE wooden whales tail, 32×17.5, just $52.
The top on this cute 42″ round dining table is a little wonky
so it's priced to move with all four chairs at $295.
Chinoiserie yumminess from Mercana…chairs, $225 each.
Foot stools, $125 each.
This will NOT LAST…
42″ diameter glass top seagrass
coffee table with four stools, $295.
Floral chair by Tommy Bahama, a deal at $275.
Excellent condition, 32″W.
Just in…ivory sofa, $495. 81″W. Coordinating loveseat available
but not shown, $425. 60″W. Marsh art, $285. 41×35.
Solid wood Kincaid king bed, $795.
Coordinating dresser & mirror, $795. 60x20x40.
Blue lamps $95 ea, 50X40 abstract $221.
Beautiful hand embellished sailboat art, $225. 36×48.
White designer lamps, $165 each. 31″H.
Look what just came rolling in… stainless fishing cart just $165. Compare st $300.  Phone orders accepted beginning at 10am.  
Comfy ivory oversized chair, $325. 52″W.
Matching ottoman, $150. 53x22x17.
Just in…two gorgeous wooden starburst mirrors 36" diameter,
just $72 each.  
Cubes & poufs OH MY! So many GREAT choices…$75-$125.
Did we say we have some cubes?  That would be a yes.
  Flip top upholstered cubes $75 ea, 17.5X17.5x18h. 
Matching pillows available for $12 ea.
We LOVE this queen bed by Magnolia Home Furniture, $895. Available to order in a king for $995.
Glossy tempered glass abstract has sold, sorry. 
Accent chairs, $295 each, 28″W. small white side table,$32
Just in on consignment, island style coffee table, $175, 46x26x19. Round side table, $95, 26″diameter & 25″H.
Rectangular side table, $95, 24x27x24.
You know he wants one…leather match double reclining loveseat
in cream retails for $1017, our price $495. 78x42x41
So much fun, metal road sign cabinet, $365. 48x15x40.
Good looking grey 'chofa', and the chaise can be on either side. $895 82×63(chaise).
Bold…Huge hand painted fish art, 48" square, $295.
We love these…6 dining chairs in a coral-pink geometric print, $125 each, sold in pairs only.
Mermaid goddess…artisan crafted on wood with real sea glass
and rope hair. 35×24, $145.
We are absolutely cra-cra over this hardwood console…
Retails for $629, our price, $395. 45x18x30.
This unique dining table has been stopping people in their tracks. $595. As shown: 78x42x40. Includes two additional 12″ leaves to extend to 102″. Four plaid side chairs available, $157 each,  Retail online for $468 EACH. Pair of plaid arm chairs, $202 each.
~~~ON SALE~~~
The consignor says SELL IT.  This solid worm-wood Arte de Mexico cabinet is reduced from $795 to $395.  52.95X21X67″H
Just in… pair of 30" barstools in soft aqua by high end maker HighTower. Comfortable lightly padded seats.
A steal at $95 each, not sold separately. 
Been looking for a great desk lamp or task lighting?
These German made sleek beauties still have the tags on them
and retail for $398 each, our price just $125 each.
Pair of nice accent chairs just $245 each, 
Get a DEAL on this warm cherry server…
just $145, 44x18x35. 
We are SO PACKED… furniture is everywhere…
Two toned 48" round dining table $395,
grey and yellow chairs $225 each.
Super cute shabby desk/dining table just $295. 60x36x31.
Seriously…this is our current situation.  We have a MOUNTAIN of furniture.  We cannot begin to show you all the new things in our email.  This is the weekend you need to come shopping!   
Don't forget…Our Vahan trunk show is going on NOW through Saturday! 
If that isn't irresistible enough, we are offering
20% off one or 30% off two or more
pieces of Vahan during the show. 
.29ctw circle end cap cuff, $2,620.
.15ctw twisted rope bracelet, $2,400.
Rope circle cuff, $2,500.
.08ctw gold end eap cuff, $1,930.
.14ctw and gold bar bracelet, $1,52.
.08ctw diamond end cap cuff, $1,312.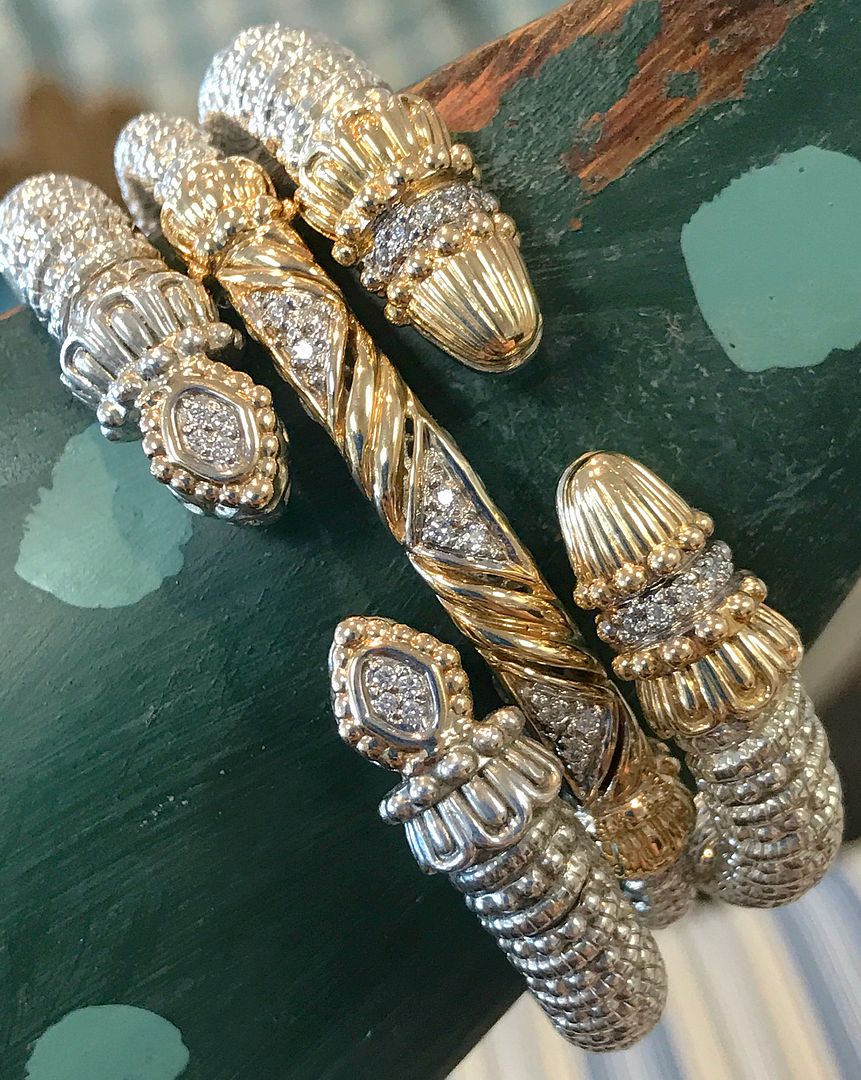 .16ctw diamond and gold ring, $2,000.
.18ctw diamond and gold center ring, $1,720.
.17ctw buckle bracelet, $2,300.
.12ctw fan cuff, $1,952.
.22ctw bar bracelet, $2,700.
.32ctw and onyx bracelet, $2,900.
There are even some killer closeout deals as well!
All of the following bracelets are 40% off of retail.
(Sale prices are listed)
Top to Bottom
.15ctw hexagon link bracelet, $1,329.
.23ctw crown end cap cuff, $2,127.
.10ctw solid center bracelet, $1,350.
 Garnet and diamond cuff, $1,308.
.21ctw twisted bracelet, $2,400.
.18ctw flower bracelet, $2,100.
.18ctw filigree ball end caps cuff, $1,998.
.22ctw diamond and rope bar bracelet, $2,490.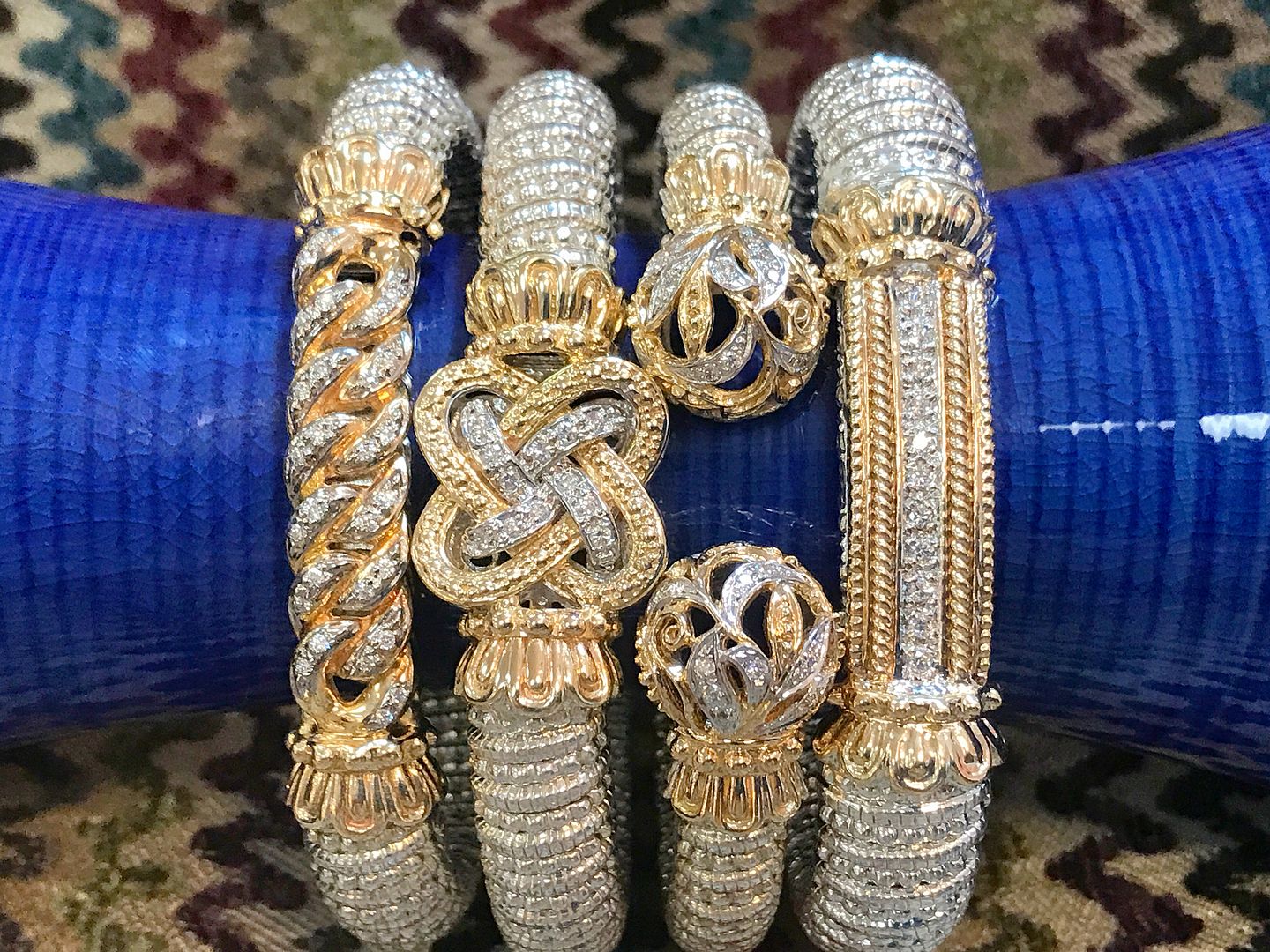 .07ctw single X cuff, $939.
.06ctw  twisted bracelet, $1,017.
.14ctw double X cuff, $1,428.
Red enamel and diamond bracelet, $1,917.
.09ctw square center cuff, $1,428.
Green enamel and diamond bracelet, $1,917.
Just in Rolex watches!
Rolex President circa 1993 18ky gold with
after market diamond bezel, $13,985.
Rolex datejust circa 1987 stainless and 18ky gold with mother of pearl dial and after market diamond bezel.
Comes with box and papers, $5,495.
Just in David Yurman!
Blue topaz and diamond cuff, $495.
Prasiolite and diamond ring in sterling silver, $345.
Pave diamond ring in 18ky gold and sterling silver, $375.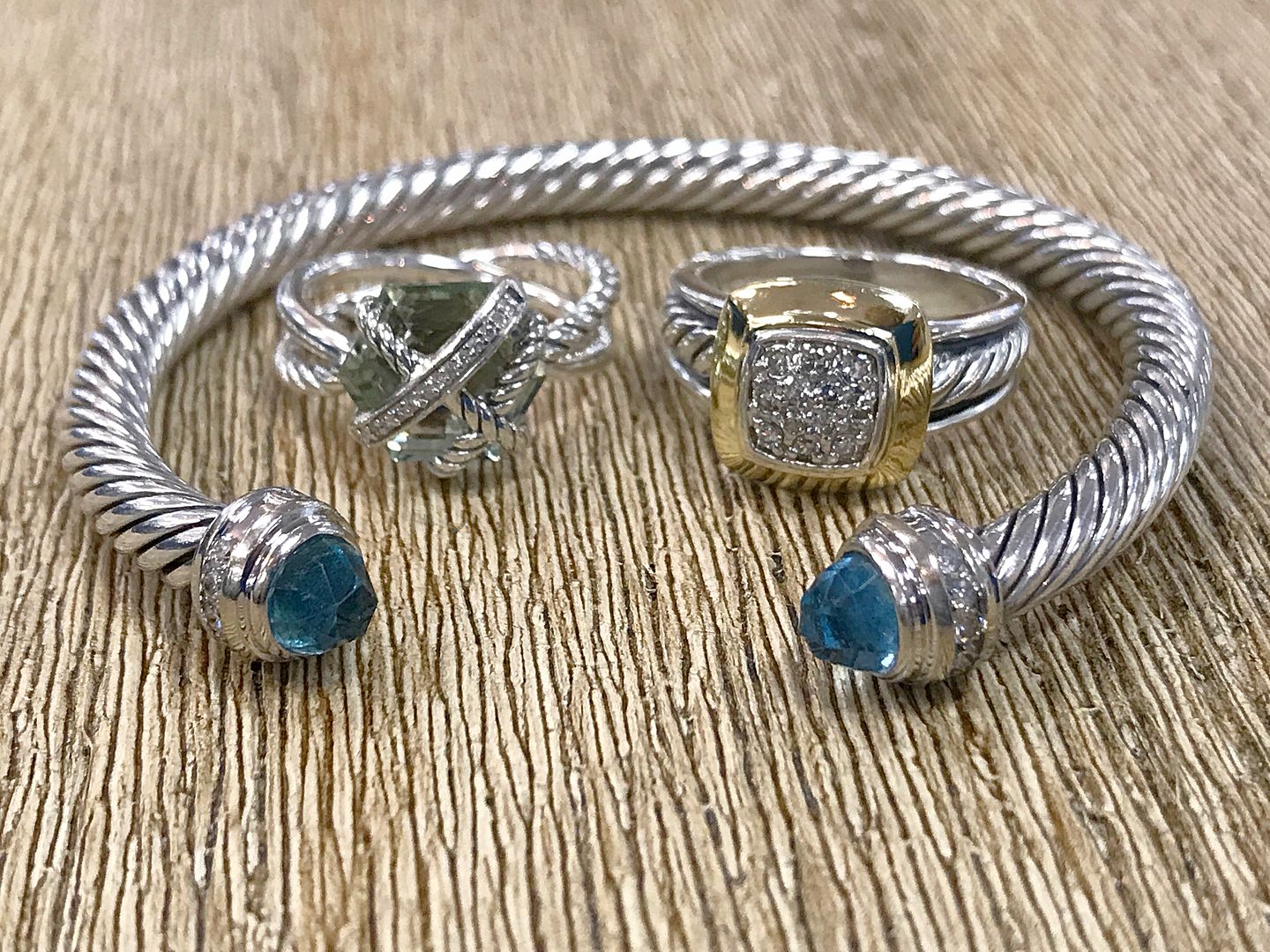 Just in consignments!
2ctw G-H color VS-I1 clarity diamond earrings in 14ky gold, $1,595.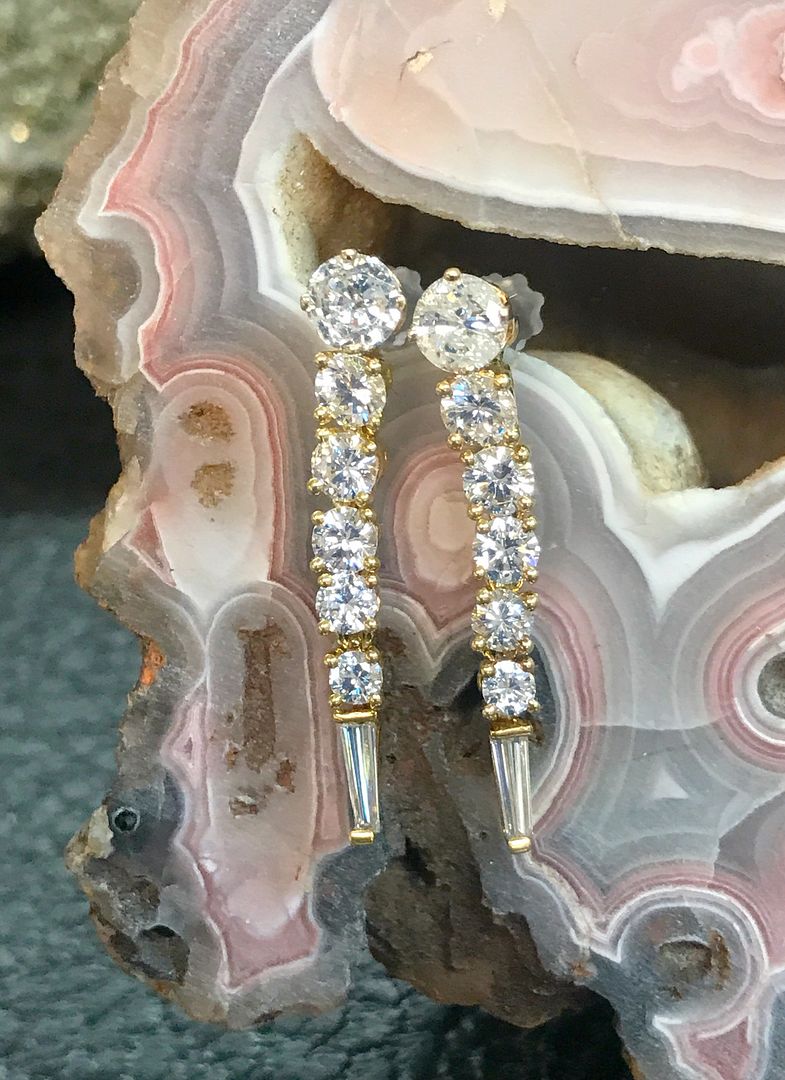 1.51ct K color SI2 clarity diamond in a .74ctw diamond
and 14kr gold setting,  $7,960.
.35ctw diamond band in 14kr gold,  $555.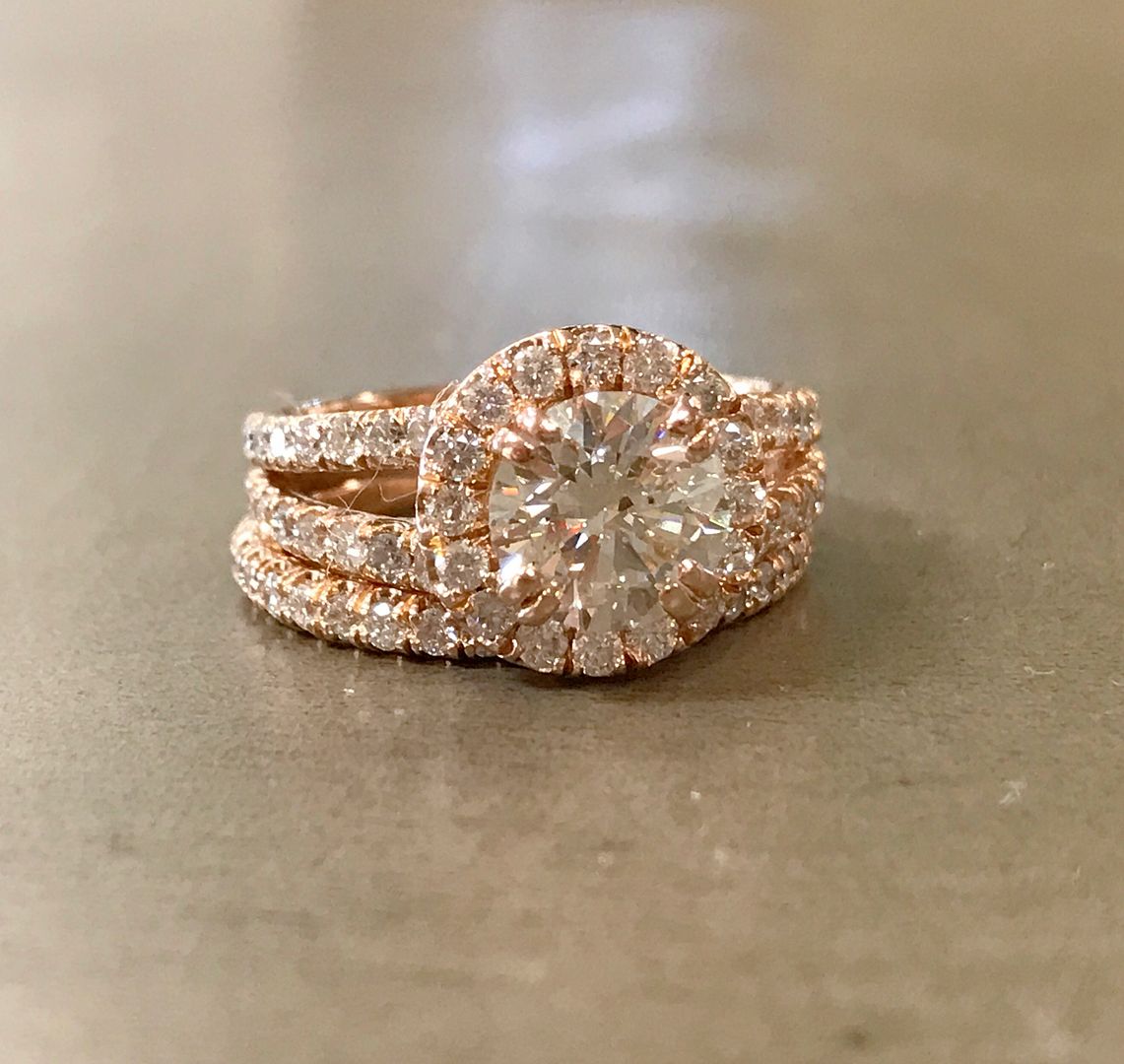 The Fall 2017 bridal fashion week was full of new
jewelry trends for the fall bride!
Hoop earrings are a classic look for any bride.
1ctw diamond inside out hoops in 14ky gold, $1,745.
2ctw diamond inside out hoops in 14kw gold, $3,075.
.99ctw diamond inside outside hoops in 14kw gold, $1,695.
Sterling silver 2″ hoops, $145.
Tri-gold hoop 1 inch 14k gold earring, $275.
14ky gold twisted 1.5 inch hoop, $148.
18ky gold vermeil over sterling silver, $145.
Cocktail rings are on trend for the bride who
wants to make a statement.
14mm x 12mm larimar and blue topaz ring in sterling silver, $105.
1.75ctw diamond chrysoprase and black jade inlay
set into 18ky gold, $1,195.
Raymond Mazza chalcedony and .60ctw diamond ring
in 14k green gold, $1,528.
.42mm champagne tourmaline in 14ky gold ring, $555.
.64ctw diamond and faceted rock crystal quartz and diamond ring in 18k white gold, $1,125.
Chokers are the perfect finish to any style dress.
Kwiat 5.2ctw G color SI1 clarity diamond necklace, $7,995.
2ctw H color VS2 clarity diamond necklace in 14kw gold, $6,395.
14kw gold and diamond flower necklace, $955.
14k tri gold necklace, $445.
14ky gold brushed and high polished necklace, $1,075.
For the more subtle bride, these delicate necklaces
are just the thing.
.27ct J color SI1 clarity cushion cut diamond pendant
on a 14kw gold chain, $595.
Emerald with biotite matrix and rose cut diamonds
set into 14ky gold, $695.
.10ctw diamond cross on a 14kw gold chain, $545.
Between new furniture arrivals and the Vahan trunk show,
we have never had  a week with so many new arrivals…
Come see us this weekend and thanks for reading
our email!