What fun! 
 Come join us and many other Forum merchants
for a SIDEWALK SALE this Saturday.
We will have lots of reduced items 
 with discounts up to 50% OFF.  So wear
your walking shoes and plan to make a day
of it at the Forum!   
We LOVE how versatile the 'Homestead chofa' is by Magnolia Home Furniture, $1,425. 108×65. Pillows, $28-24.
Industrial coffee table, $245. 47.5x26x18.
JUST IN…GORGEOUS gold bamboo chandelier, $395.
 28″ diameter & 25″H chandelier. Phone orders accepted.
Modern wood & metal console table…$225, 50x16x30.
Landscape abstract, $225, 56×24.
Glass lamp with gold accents, $95. 27″H.
Just in…Taupe faux leather sofa, $595. 90″W.
This is really unique…
Copper fish on wood sculpture designed to be hung on
the wall, $295. About 48″W x 20″H.
Everyone needs a functional coffee table…it lifts and rolls
for just $295. Rich espresso color, 50x30x20.
Linen camel back sofa with washed wood trim, just $550. 86″W.
Pillows, $28-14. Rust Alpaca throw, $18.
We just received a large assortment of showroom sample art…
Check out these 'Atmosphere' companions…$75 each. 25×27.5.
Kick back this weekend in these awesome oatmeal push back recliners, brand new for $450 each. 30″W.
Beachy in/outdoor pillows, $18-16.
Luxurious gold floor lamp, $225.
Handsome and well made dresser, a deal at $250. 60x18x36.
Delivery services starting at $65.
So much prettier in person…
Preppy floral sofa by Bassett, $695. 80″W.  Like new condition. 
This turquoise cabinet WILL NOT LAST, $295. 36×17.5×39. 
Phone orders accepted.
Original art by Betensky, a deal at $220. 33×48.
These beautiful sea florals retail for $160 each,
our price, $72 each. 17.5×21.5.
Semi distressed white media chest, $495. 48x18x40.
Your coastal room is screaming for these turquoise abstracts…
 They retail $150 EACH. Our price, $75 each. 18.5×36.5.
Beachy white console table,
$265. 50x18x32.5.
Another great showroom sample…
This breezy abstract is framed in a white lacquered wood molding, retails for $820…our price, $395. Generous size, 58×42.
Looking for some dining chairs for the end of the table? 
Snag these wood & leather chairs for $75 each. 25.5'W.
Not sold separately.
Just in on consignment…
Brown tweed sofa by Broyhill, a super buy at $495. 86″W. 
Coordinating club chair with nailhead trim, $295. 38″W. 
Pillows, $14-25.
Handy side table for just $75.
20″ diameter & 28″H.
These fine art giclees framed in ribbed distressed gold are subtle but stunning. Retail $130+ each…our price, $75 each. 17.5×21.5.
Sophisticated lighted hutch in taupe with slate blue backing, $895. 60x18x78.  Stunning in person…
sorry we could not get a better picture for you. 
These heavy glass lamps are true quality, and we think they would be amazing with the metal trim re-painted, $75 each. 29″H.
Paragon's 'Metallic Sea Life' art has hand pulled foil embossment giving it a texture that is sure to grab your attention. 
Retails online for $642+…Our price, $345. 32.5×44.5
Just in on consignment…soft and pretty floral slipper chair, $165.
Retailed for $399. 26.5″W.
Handpainted porcelain jars, large scale, $72 each. 17″H.
HUGE 32″ seagrass tray can also be hung on the wall, $52.
Ivory modular sectional with navy accent pillows, $1,095. 90×123.
Designer pom pom pillows, $48 each. 
Here is a better view of the coffee table from above…$225. 46x24x19 Coordinating console table below, $245. 46.25x16x29.
These aqua and navy coral art retail for $268 for the set of four…Our price is $42 each. 18×22. Phone orders accepted.
This sleek 'Haven' brushed nickel chandelier retails for $636,
our price $225. 35×75.
JUST IN
? Stone topped coffee table, $375, 36″diameter & 18″H,
end table, 26″ diameter & 25″H. In LIKE NEW condition and originally retailed for $700 for the set.  
Brushed bronze metal bases.
This will not last….pale aqua full/queen aqua headboard, $225. 
King/queen has already sold, sorry.
Subtle and beautiful shorebird framed in wood, $195 42×30.
Functional white armoire by Bassett Baby, $350. 29x20x59.5.
Has a pole inside to hang their precious little onesies.   
Brand new recliners in a rich teal blue, $495 each. 28.5″W. 
Modern emerald & gray abstracts, $52 each. 15×20.
Just in…cleaned lined pub table by CRATE AND BARREL in a nice washed grey…just add stools. $175.  36″ round 36″h.
Fun & functional turquoise trunk pieces in solid wood.  Coffee table, $395, 35x35x18.5. End table, $225, 23.5×23.5×23.5.
See Paragon's 'In the Breeze' fine art giclee online for $342…
our price, $175. 37″ square.
Rich espresso frame. 
Cute white wicker queen headboard, $75.
Coordinating bedside tables, $95 each, 23.5x17x24.
Floral canvas, $48, 30×15. Blush lamps,$52 each, 19.5″H.
Fish votive holders,$4 each. Soap holder, $4
~~~ON SALE~~~
Adorable and well made floral love seat now just $250, 58″W.
Another great coastal framed art by Paragon, $145.
Retails for $265. 34.5×27.
Come get a DEAL on this full size metal headboard & footboard, just $100. You will need a metal frame to attach it to.
Cozy accent chair for nights be the fire, $225. 36″W.
Chandeliers ON SALE!…
Beachy three light chandelier now $175, 55″W & 20″H.
Drum chandelier with chrome accents, now $125, 15.5″diameter & 24″H. Quiozel drum chandelier now just $125,
17″ diameter & 24″H. 
David Yurman labyrinth .30ctw diamond and
18ky gold ring, $1,885.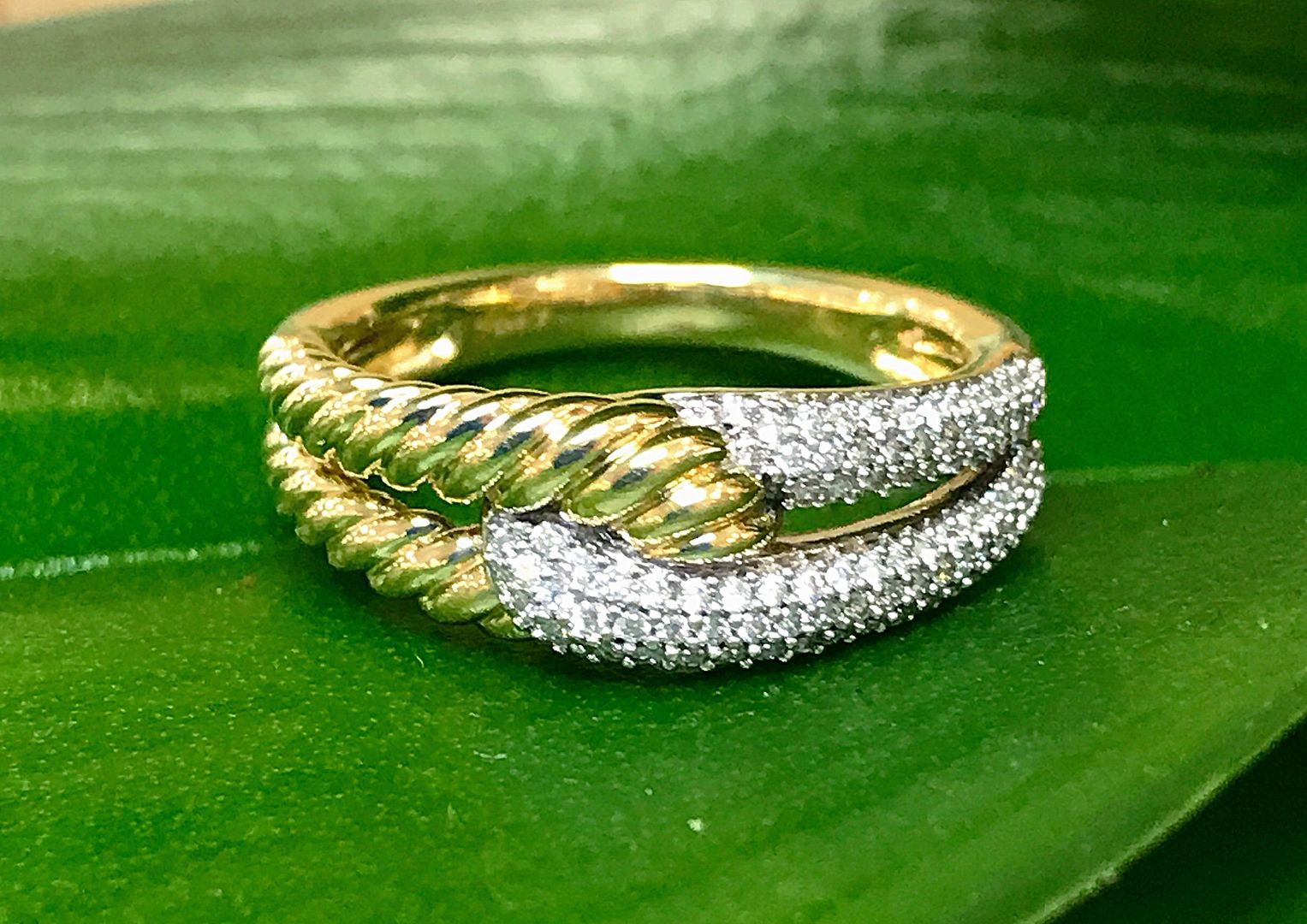 David Yurman pave diamond pieces!
Ring- $555.
Necklace- $655.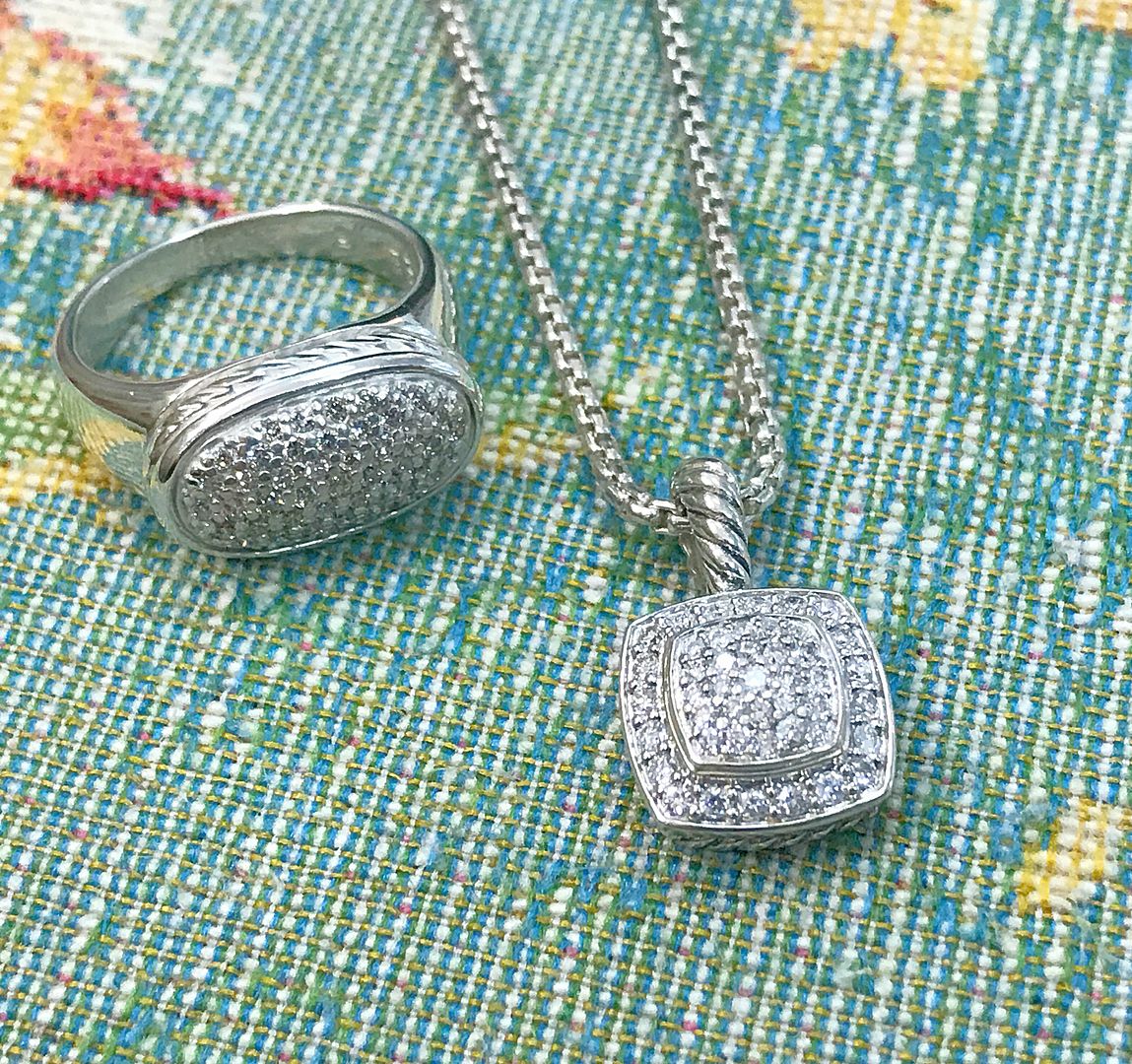 Lagos derby two tone diamond caviar bracelet,  $995.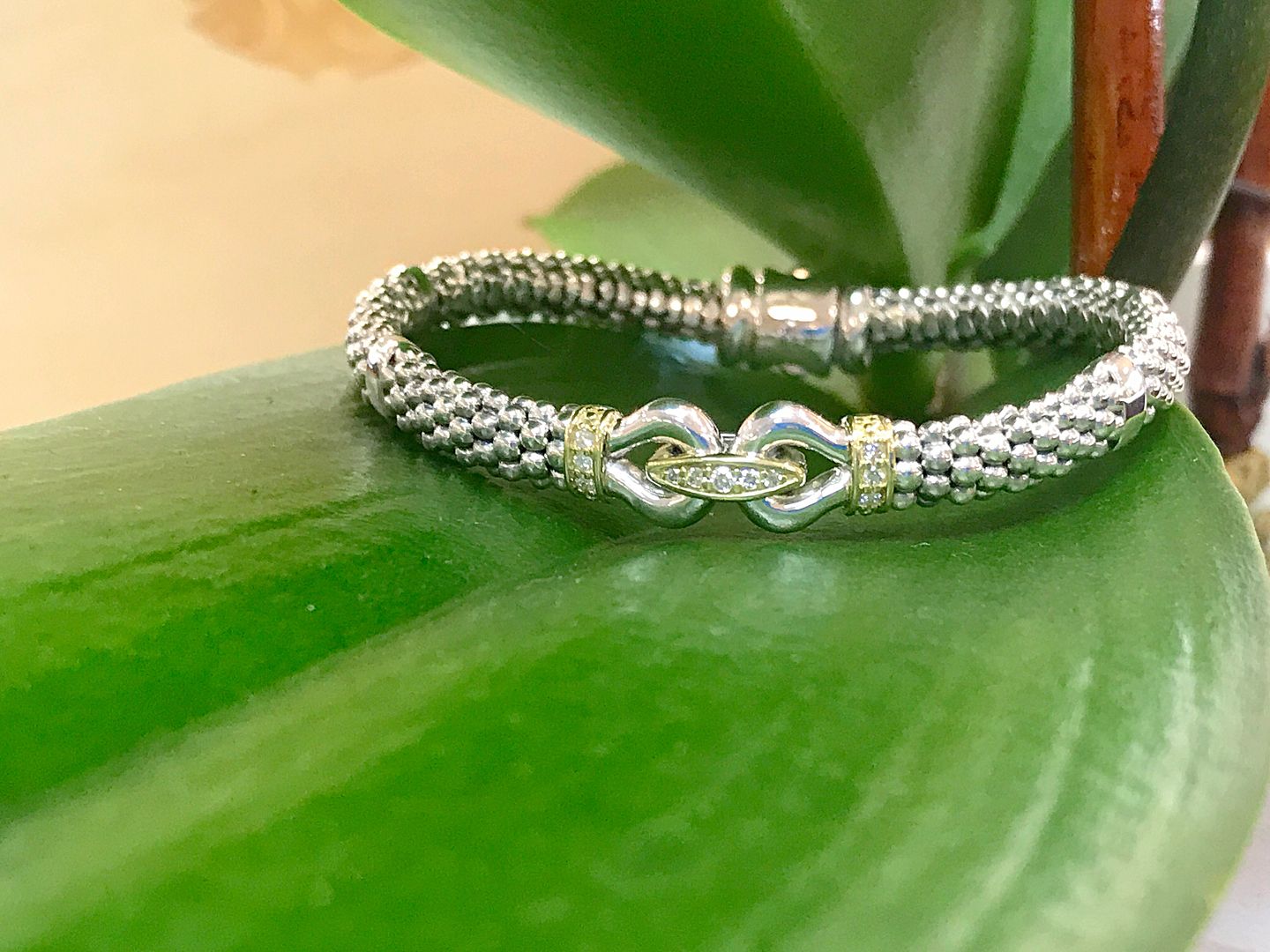 Just a sample of our Vahan cuffs in stock.
Prices pictured range from $1,350 to $2,935.
Click the picture to shop all of our in stock Vahan jewelry.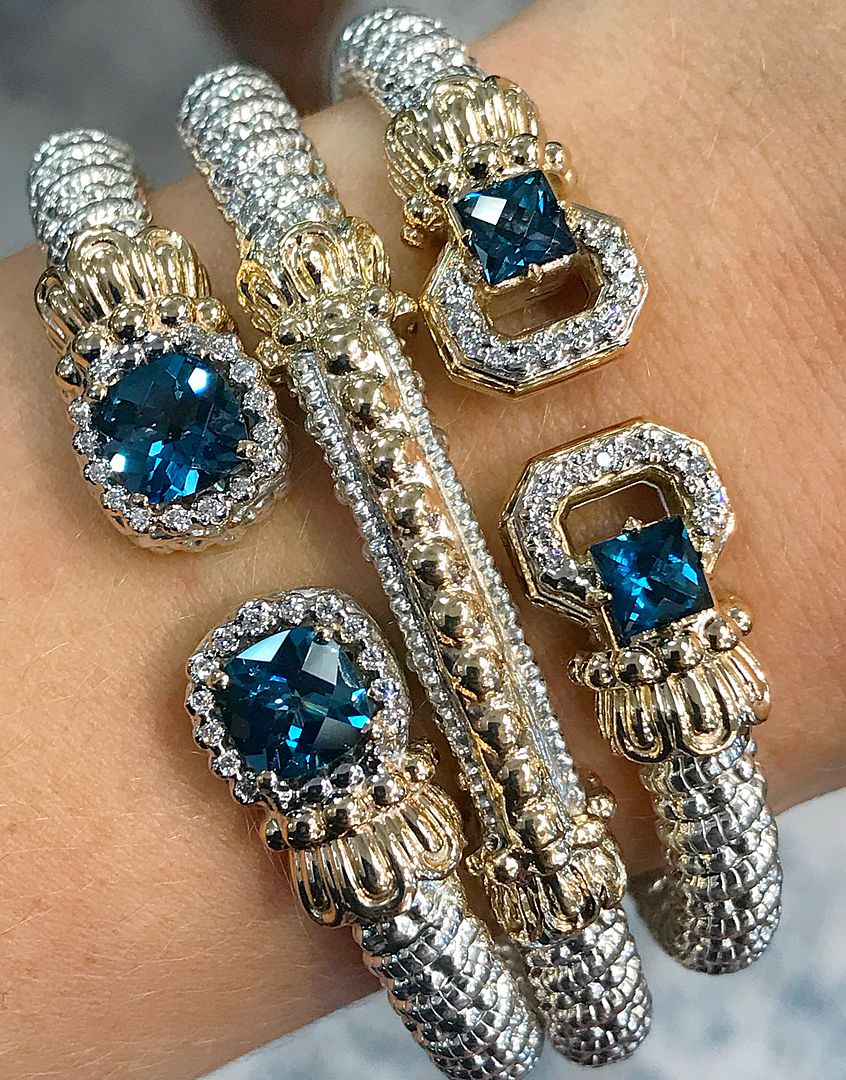 Vahan isn't just about bracelets.
Check out these awesome long necklaces. 
Pearl- $745.
Shell- $435.
Onyx-$745.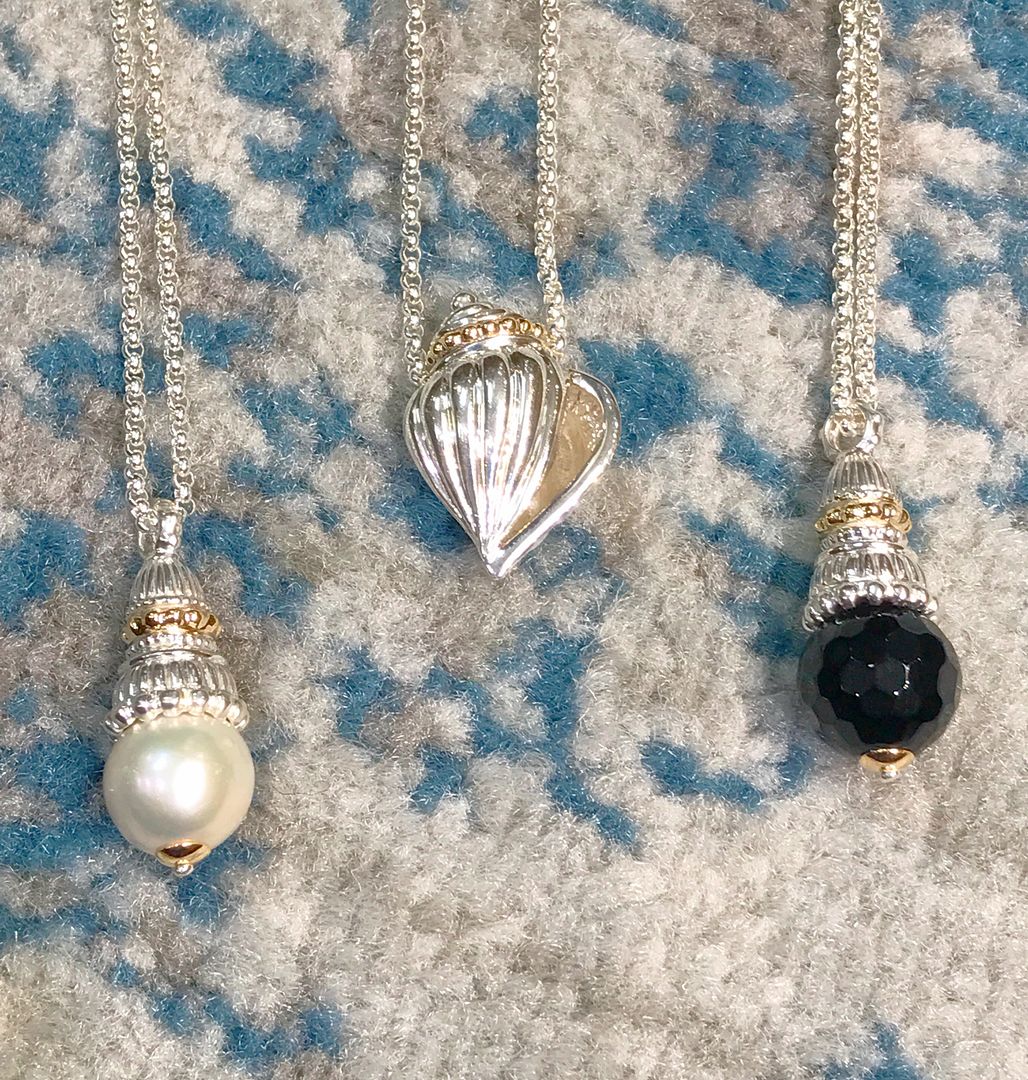 Breitling super ocean chronometer stainless watch
with white and blue dial, $2,795.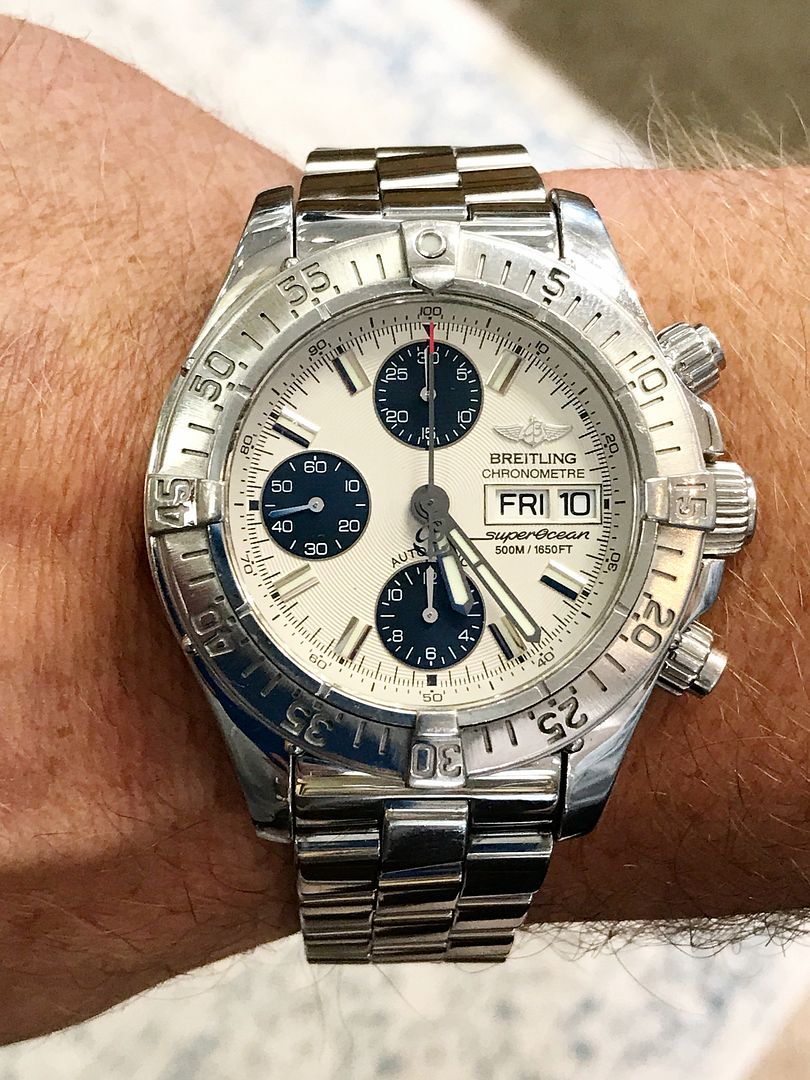 Oh my…so rich…I would wear this in a skinny minute…
Patek Philippe with .22ctw diamonds
and 18ky gold case, $9,295.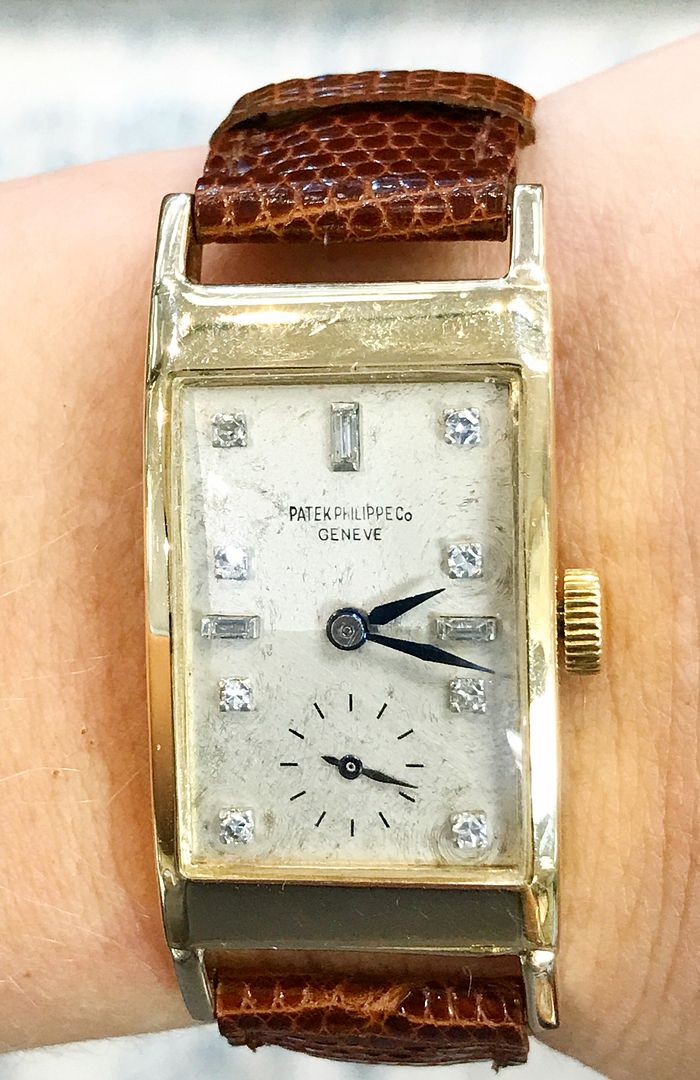 2.08ct I color VS1 clarity GIA certified princess cut in a
14k two tone setting, $16,900.
 .72ct H color VS2 clarity round diamond in a
14ky gold Tiffany mounting, $3,795.
Check out this awesome sphene!
Sphene is a rare gemstone containing titanium. It is said to help with creativity and protect from negative energy.
.51ctw sphene accented by .25ctw diamonds set into 14kw gold leverback earrings, $1,445.
.76ct green sphene. $95.
1.10ct yellow sphene, $135.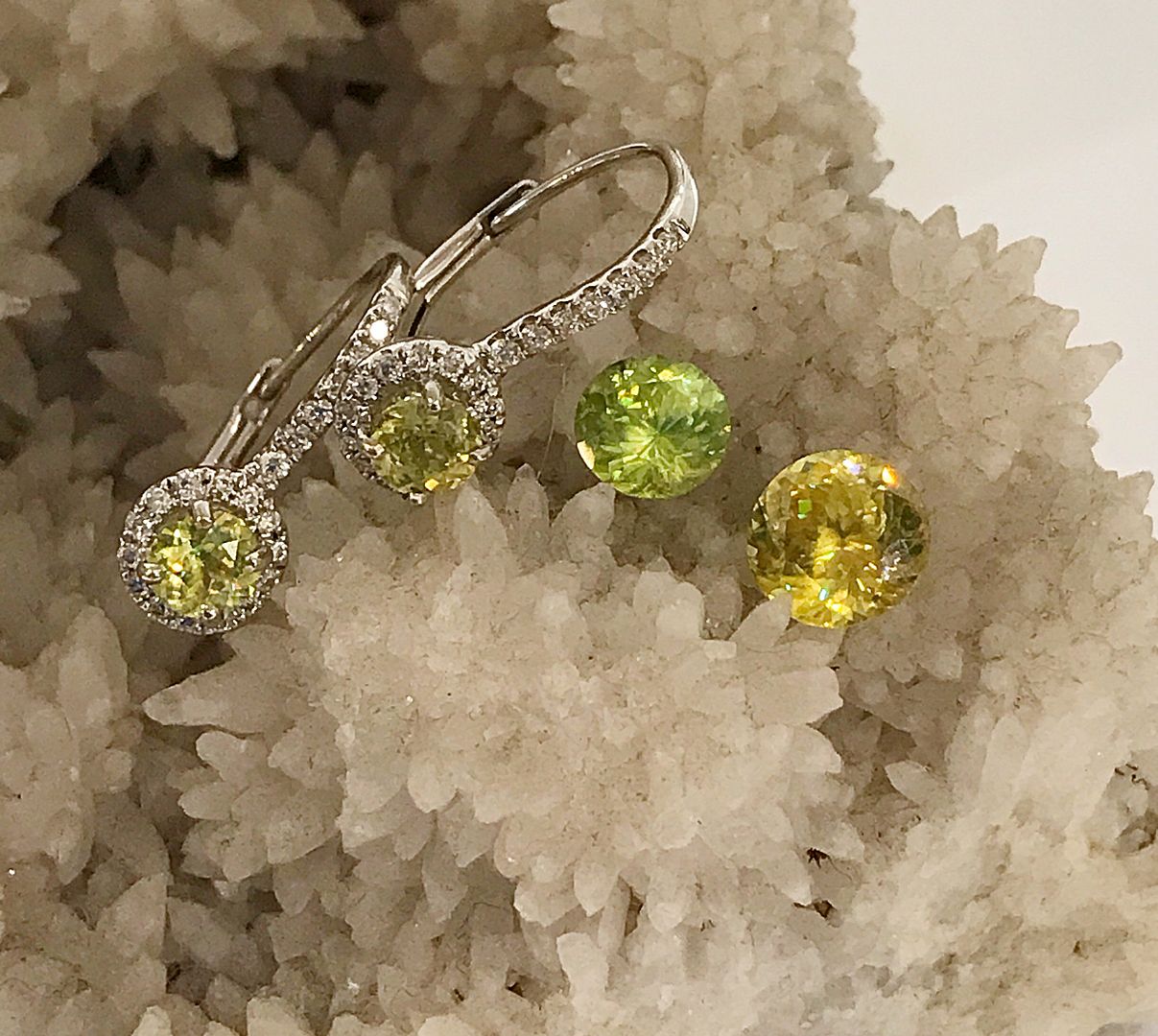 Seriously…don't we get some amazing consignments?
14Kyg ocean inspired bracelet, 55 grams, $2,995.
Emerald and 14ky gold earrings, $155.
Diamond and 14kw gold earrings, $395.
These local, handmade, sterling silver ocean earrings
are too cool! $35 each.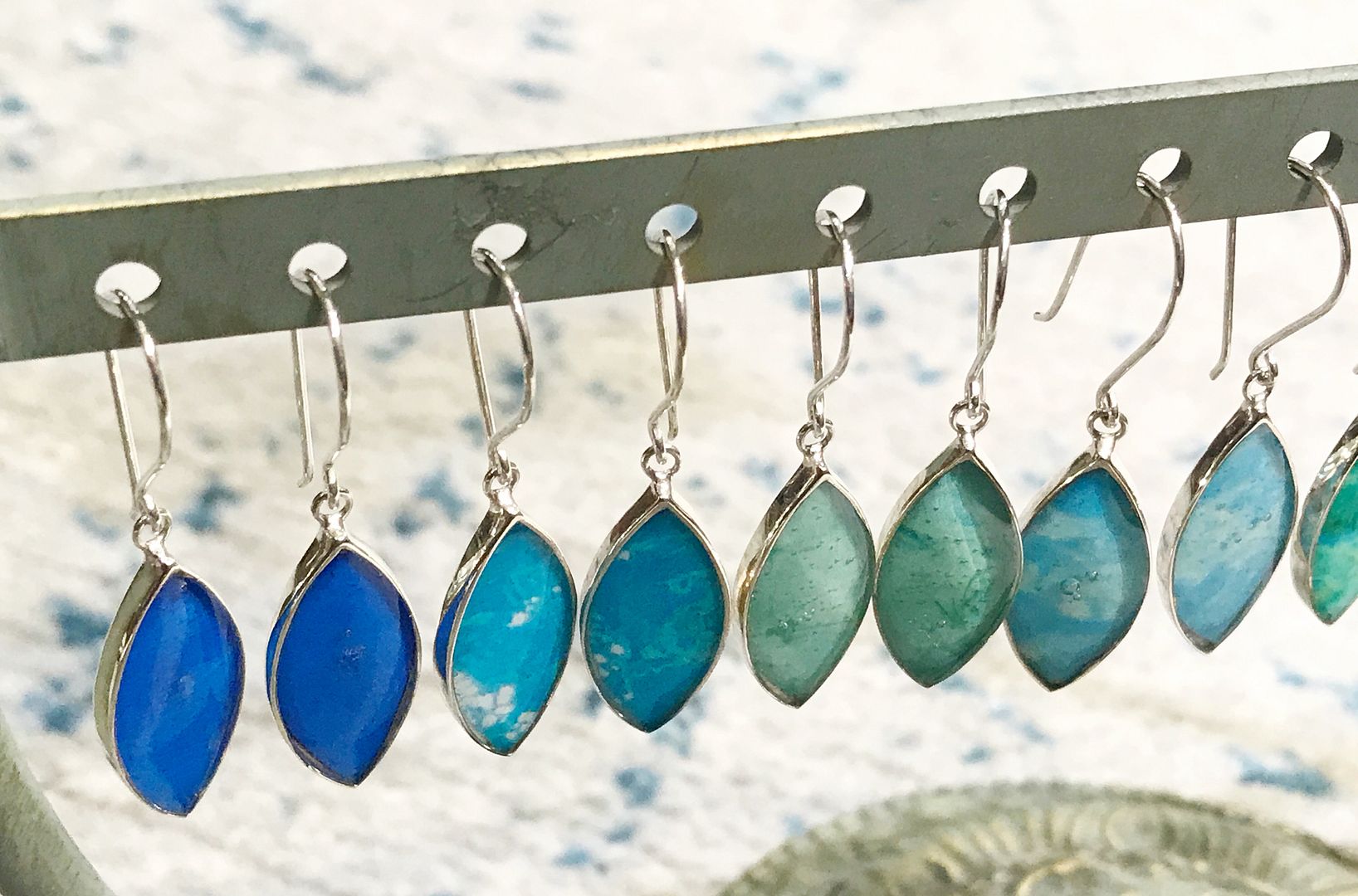 Beautiful 14kyg multi stone estate bracelet just in.
The tiger's eye, chalcedony, onyx & carnelian stones will look fabulous with your neutral fall wardrobe, $695.
Check out all these awesome gemstones we have in.
Ready to create the jewelry of your dreams?
We can do that.  
A local favorite…Angela Basset Designs!
Angie is known for her unique, one of a kind, hand made statement necklaces and this one is a perfect example of just that.
Agate beads, ming porcelain & sterling silver, $195.
~~~~~~~~~~~~~~~~~~~~~~~~~~~~~~~~~~~~~~~~~~~~~~~~~~~~~~~~~~~~
Thanks for reading our email and plan to
come shopping with us this weekend!