In our 5 years at the Forum, 
we have seen some great art come and go, 
but our poor walls are screaming
PATCH ME!  PAINT ME!
So we will CLOSE EARLY at 4pm on Saturday
and will also be closed on Sunday and Monday
to get the store re-painted. Yay!
~~~~~~~~~~~~~~~~~~~~~~~~~~~~~~~~~~~~~~~~~~~~~~~~~~
Are YOU feeling the need to
freshen up for fall?
Look at our great new arrivals this week!
 ~~~~~~~~~~~~~~~~~~~~~~~~~~~~~~~~~~~~~~~~~~~~~~~~~
GORGEOUS oil abstract art, $295. 51.5×41.75.
Green designer green lamps, $85 each. 29″H.
Electric blue media cabinet, $695. 60×14.5×35.5.
Brand new gray & ivory geometric chairs, $495 each. 32″W.
We want you to have a closer look at these chairs…they are
pretty amazing… in grey and ivory with washed legs, some of the prettiest we have seen. $495 each. 32″W.
A lovely and sophisticated look…
ivory geometric print sectional, $995. 96×113. 
Blue tufted ottoman, $245. 47x27x18.
Pillows, $42-$85.
Another nice coastal look…
Aqua sofa, $695. 84″W.
Shimmery abstract, $245. 50×40.
Use this silver Brown Jordan coffee table in or outdoors…$247. 41×20.5×20.
Everyone's fave…gold bamboo chandelier, $425. 20×31.
And just an FYI…we take phone orders.
Call us to secure the items you want at 910 679 4302.
So MANY goodies…blue velvet swivel chairs, $395 each. 28.5'W.
Ivory faux leather reclining sofa, $795. 85″W.
Blue tufted storage ottoman, $345. 35″diameter & 20″H.
Textured ombre art, $125. 38.75×40.75.
These spindle chairs WILL NOT LAST…$425 each. 27″W.
Hand embellished abstract in blues and gold, $225. 47×35.5.
GORGEOUS scalloped edge 55″ diameter dining table , $595.
Plaid dining chairs, $175 each…they retail $468 EACH. 
Sold in pairs only. 
Score a DEAL on this king bed, on consignment for $595. 79″H.
Bob Mackie demilune cabinet, $450. 46x21x36.
Lexington side table, $245. 18x18x28.
Plaid chair, $695. 29″W.
A closer look at the Bob Mackie demilune
cabinet, $450. 46x21x36.
Coordinating Lexington one drawer table, $350. 31x20x31.
SO cute…green swivel chairs, brand new for $475 each. 32″W. 
Nightstand, $245. 30x18x32.
White lamps, $62 each. 22″H.
Shimmery abstract, $245. 50×40.
Come see this sand colored sectional with nailhead trim,
so luxurious for $1,095. 118×79. Oval wood and iron
coffee table, $225. 48x28x19.
We are showing this sectional with this
life-like textured beach art, $225. 40×39.
And speaking of nice art…you must see this set of coordinating hand embellished textural abstracts, they are very rich in person, $295 each. 41.5″ square.
Ombre designer lamps, $124 each. 29.5'H.
Geometric print swivel chairs with espresso legs,
brand new for $495 each. 30″W.
On consignment…gorgeous glass top coffee table by Bassett Mirror… retails for $526…our price, $275. 50x30x19.5.
Large and in charge…this tweed sectional is a DEAL at $1,095. Coordinating high gloss abstracts, $225 each. 40″ square. 
Yum Yum…hand embellished abstract with gold frame,
so rich for $295. 61.5×31.5.
Navy & gold designer lamps, $165 each. 30″H.
This two-toned  dining table & six chairs was originally purchased for $4,000+…our price, $795. 84.5×42 As shown, with remove-able
18″ leaf. Coordinating buffet, $495. 62x18x36.5.
This charcoal chair and a half is actually a TWIN SLEEPER,
$595. 55″W.  DRAMATIC orange oil abstract, $225. 35.5×47.
Yes please…black Chinese Pagoda chandelier, $375. 22×33
We are loving these companion abstracts, $225 each. 30×18.
Aqua designer lamps, $85 each. 30″H.
Another TWIN SLEEPER disguised in a comfy chair and a half,
$595, 59″W.  Designer throw pillows, $42 each. 
Get a SUPER deal on these nice quality pieces…
White coffee table, $225. 48x29x18.
Matching console table, $245. 48x18x30.
Smoky gray sectional with nailhead trim, $1,095. 118×79.
Coastal abstract with gray wood frame, $295. 66×36.
Canvas abstract, $75. 42×44.
Blush tones are here to stay…and these swivel glider chairs
are ON TREND and brand new for $595 each. 32″W.
Colorful abstract, $295. 60×40.
Coral lamps, $125 each. 32″H. 
White dresser has sold, sorry. 
You definitely need a closer look at these
AMAZEBALLS blush chairs…they swivel and glide for $525 ea.
BRAND NEW white leather recliner, $595. 32″W.
Designer pom pom pillow, $48.
Queen oatmeal bed, $495.
Koi art, $95. 38×26.
Ivory bedside tables, $225 each. 29x18x29.
Petite leather like chair, $295. 29″W.
Small red orange lamps, $52 each. 19″H.
This chandelier would be awesome outside with some candles…$125. 34″diameter & 32″H.
Linen 'chofa' with reversible chaise, $695. 82″W. 
Marsh fine art, $495. 47.5×39.5
Adorable 23″ counter stools just $52 each. 
This 'Spring Drive' art by Paragon retails for $337.
Our price, $145. 38″square. 
On sale…bamboo floor mirror in black, $165. 36×70.
ORIGINAL artwork by Bentensky, $350. 41×51.
Power rocker recliner by FLEXSTEEL, $395. 35″W.
Nauti and nice…round rope chandelier $275.
31″diameter and 24″H.
Wow…Aqua and orange…cool combo. Media cabinet $525,  60x17x36. Art $248, 38×50. Lamp $100, platter $18.
Want a STURDY bench? These guys are made in Mexico of SOLID WOOD. $165 each. 57x16x18.
A nice and cozy look for fall…taupe club chair, two available $345 each. 32″W. Wood look lamp, two available, $95 each. 
Iron side table $52. 21.5×13.5×23 
Super unique solid wood multi-color rustic cabinet,
$425 34x17x48.
Freshen up your jewelry wardrobe with some blingy goodness!
Look at our new selection of Vahan bracelets…
Click the picture to watch a video.
.66ctw diamonds in a 3 row mil-grain two tone 14k band, $2,495.
1.05ctw yellow diamonds and .19ctw diamonds
in 14k two tone gold, $4,135.
Allison-Kaufman 2.14ct london blue topaz .36ctw of accent diamonds in 14kw gold, $1,335.
Blue topaz and amethyst cabochons accented by .84ctw champagne diamonds in 14k gold omega back earrings, $1,675.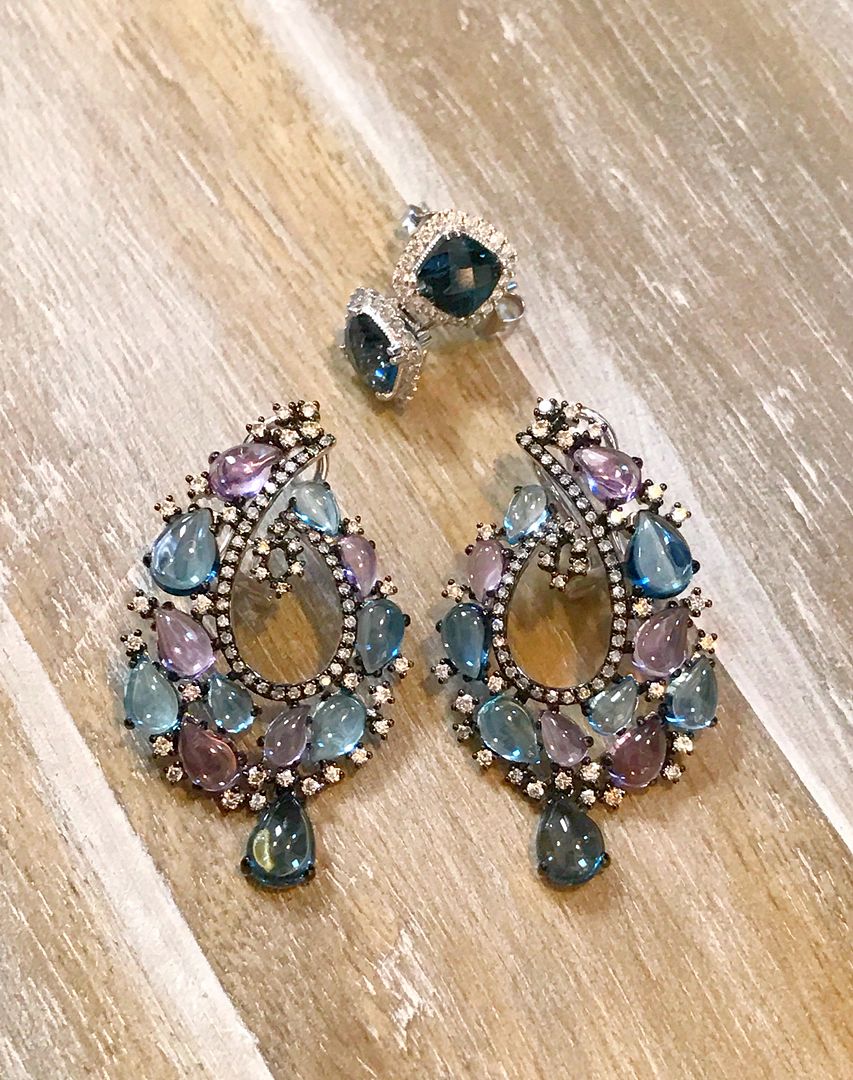 You can't beat the classics!
2ctw diamond inside out oval hoops in 14k white gold, $3,075.
2.10ctw diamond inside out oval hoops in 18k yellow gold, $3,495.
.52ct round diamond bezel in 14kw gold, $1,395.
.54ct bezel set diamond necklace in 14ky gold, $1,195.
Charles Garnier dangle earrings.
Mother of pearl and sterling silver, $135.
Turquoise and mother of pearl with CZ accents
in sterling silver, $585.
Turquoise and sterling silver, $145.
Lapis and mother of pearl in sterling silver, $315.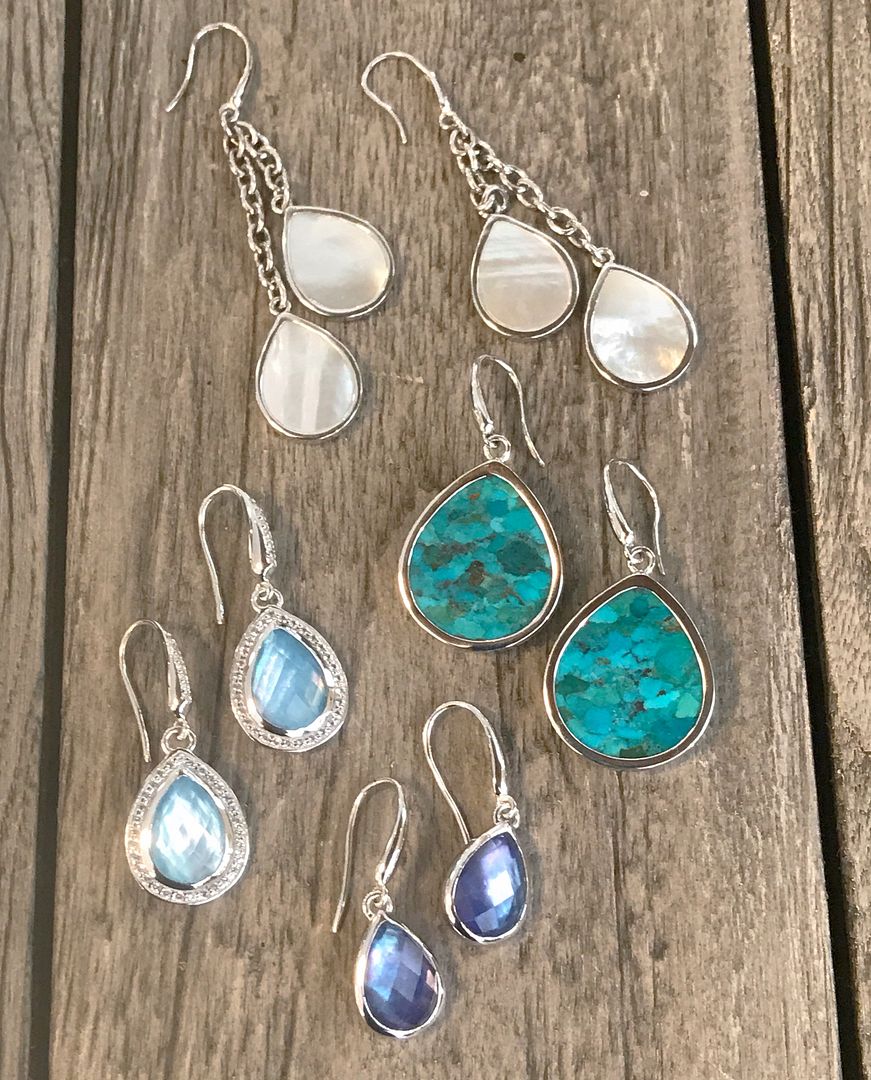 .25ctw diamonds by the yard, $675.
.50ctw diamonds by the yard, $995.
Blue topaz and diamond dangle earrings, $445.
.62ctw diamond band in 144kw gold, $825.
Faceted rock crystal quartz accented with .64ctw
diamonds in 14kw gold, $1,125.
1.50ctw diamond bracelet in either 14k white or yellow gold. $1,895 each.
Rose quartz and amethyst set in 14ky gold.
Bracelet- $955.
Earrings- $555.
Ring- $315.
Pendant-$315.
Sterling silver bracelet with green amethyst,
mother of pearl, or blue topaz. $435 each.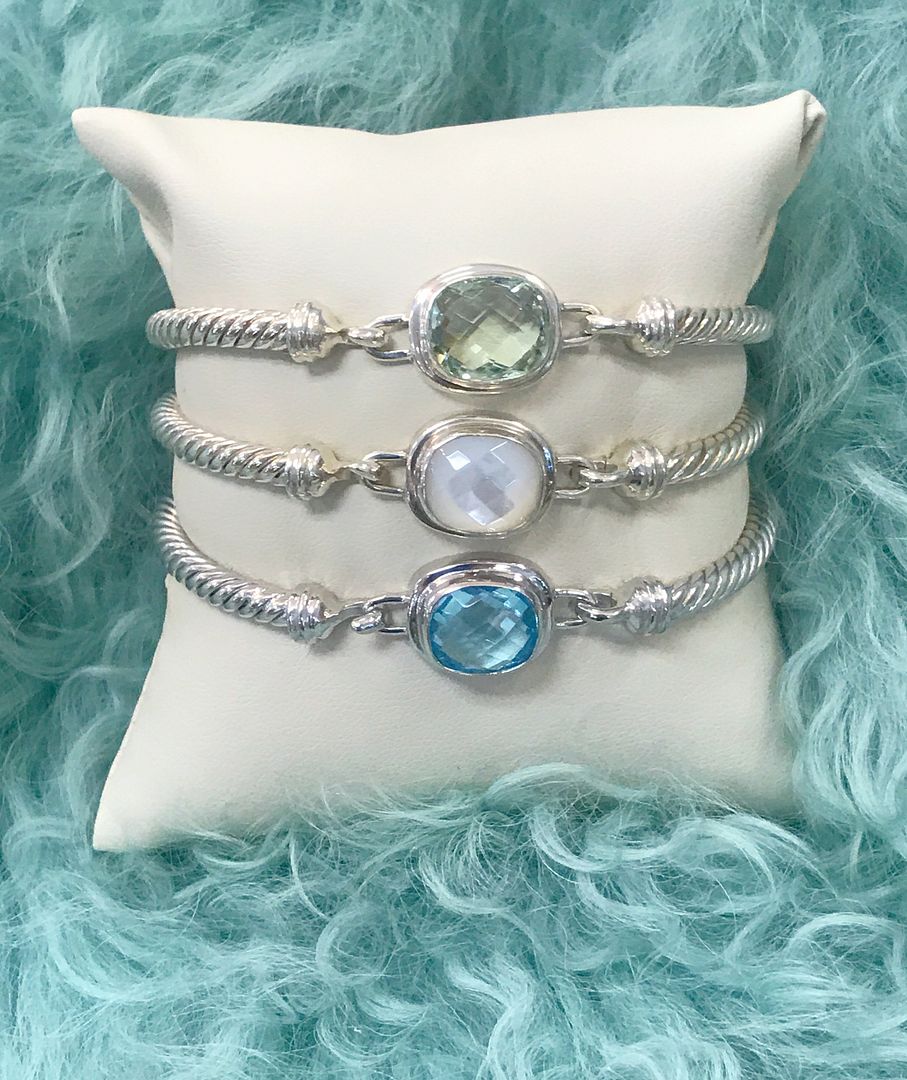 Frank Reubel sterling silver and pink topaz pieces.
Ring- $205.
Necklace- $215.
Earrings- $295.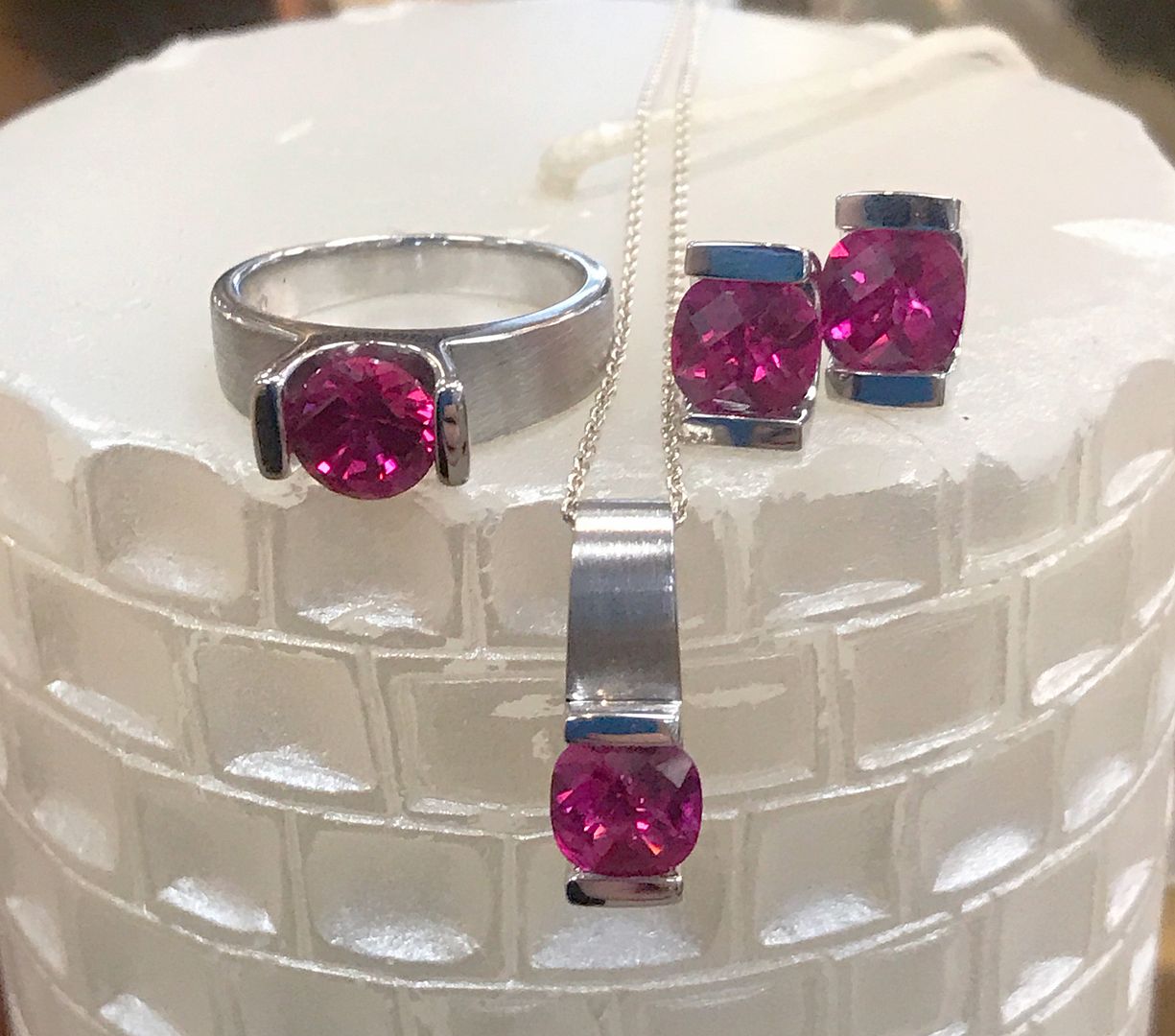 .20ctw diamond rings in 14k rose, white and yellow gold.
$525 each.
On consignment…John Hardy sterling silver and enamel bracelet, $385.
John Hardy sterling silver wheat chain, $135.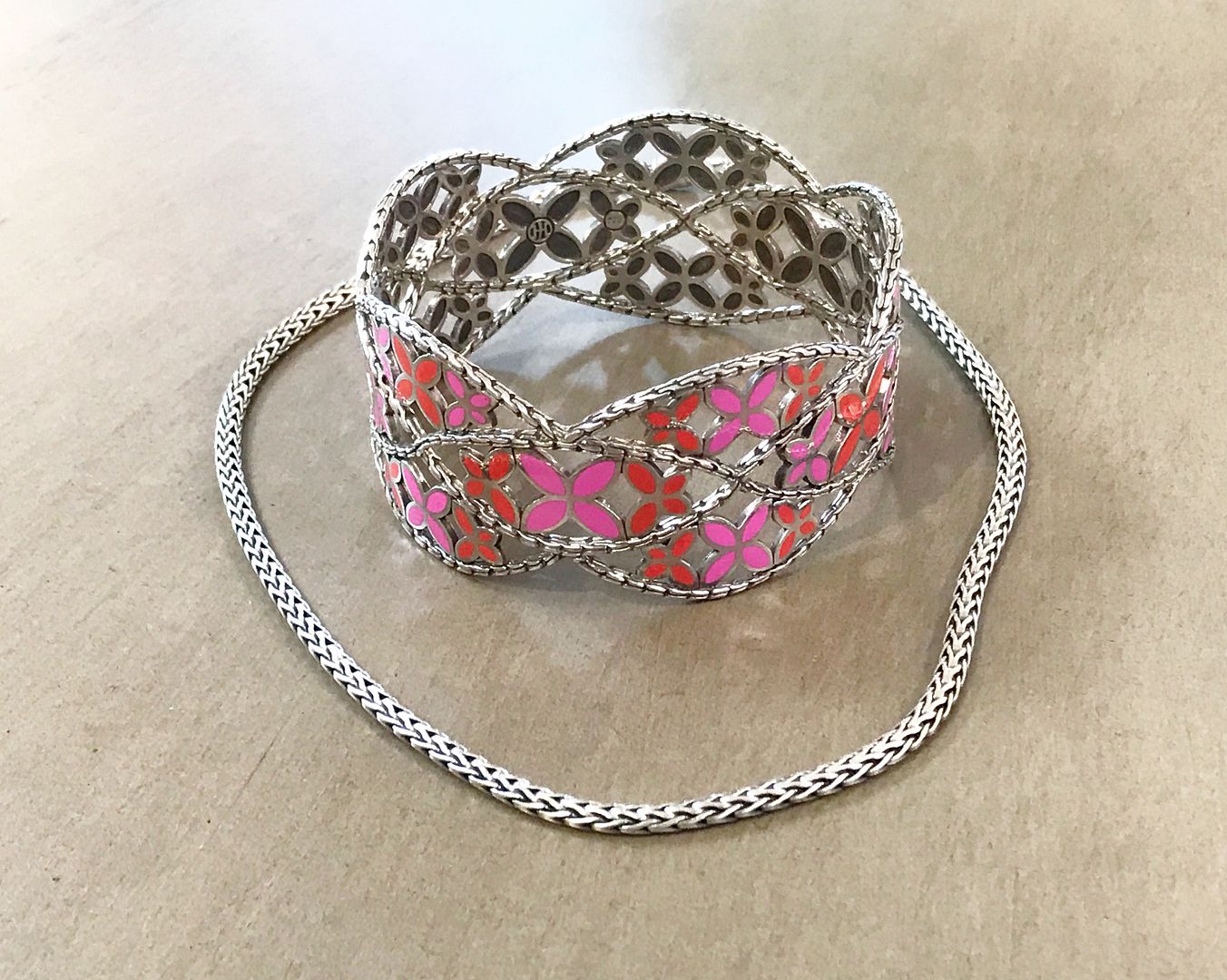 .67ct J color SI2 clarity diamond ring in 14ky gold, $1,995.
Diamond 14kw gold wedding band, $395.
Multi stone dome ring in 18ky gold, $795.
Blue chalcedony scarab ring in 14ky gold, $350.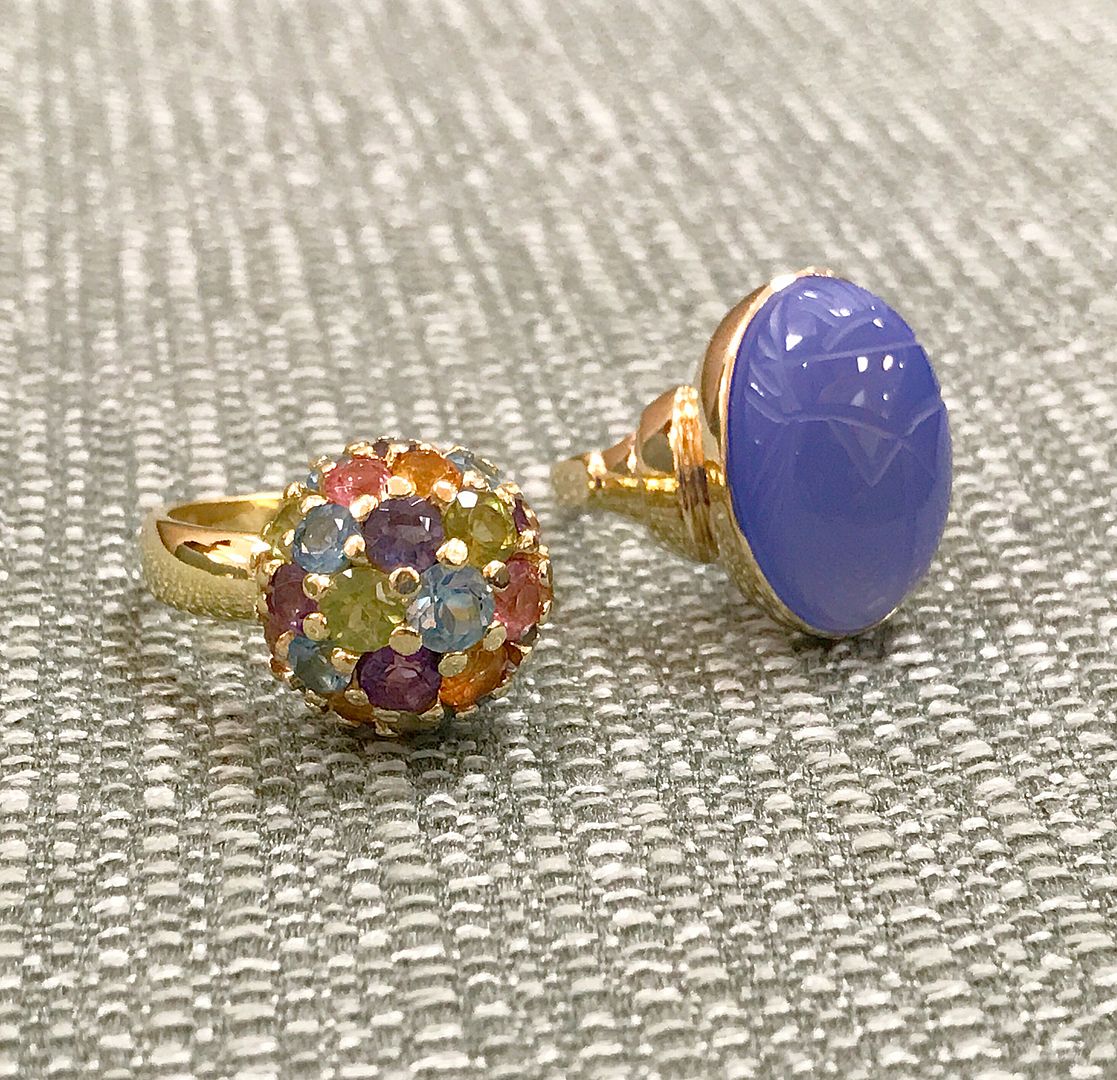 14ky gold filigree bead necklace and matching earrings, $1,895.
Vintage 14Kyg faceted bead necklace with matching earrings, $2,495.