The store is PACKED to the RAFTERS
and more is on the way…
So we have a sweet deal for you…it's the
 TAKE IT WITH YOU SALE!
Take $50 OFF any order of $500 or more IF
you either pick up your item(s) or have them
delivered by the close of business this Saturday. 
And to sweeten the pot even more…
ALL DINING IS 10% OFF
this weekend!
Here is just one example…this great looking two tone pub set with
4 stools retailed for $1,800, our price $895. BUT take it home
THIS WEEKEND ONLY for $805. 48″ diameter.   Like new condition, and make sure to notice the wine storage on the table base.
JUST IN on consignment and in LIKE NEW condition. Purchased less than a month ago, we have the original receipt for this Bassett sofa  for $1,477…our price, $1,095. 86″W. Coordinating chair and ottoman retailed for $1,256…our price, $695. 39″W.
The consignor also paid for a fabric protection as well.      
LOVE LOVE LOVE these on trend mirrored cabinets…
We have it in dusty aqua & white, $345 each, 37x14x36.
So pretty!…coral motif lamps $125 each. 27″H.
PINK GRAPEFRUIT is where it's at!
The consignor paid $1,300 each for these custom made chairs,
but they did not work in her space so come get em' for $595 each. 31″W. Floral abstract, $225, 40″ square. 
Queen oatmeal bed, $445. Includes rails & slats.
Modern chrome lamp, $85. 32.5″H.
This versatile 'chofa' is actually a queen SLEEPER, brand new for $1,095. 88″W. Look at all the great colors in this fabric!
So alive…textured hand embellished art $225 27×54.
Rope lamps $125 each, 25″H. Woven basket $15.
Look at the crisp clean lines on this ivory sofa
with navy accent pillows, $695. 82″W. 
Navy furry pillows, $18 each.
Matching chair, $495. 35″W.
Coordinating loveseat available but not shown, $595. 56″W.
The best deal in the house…nice quality partners desk in
semi-distressed black, get the entire set for $525. 82.5x36x55.
Remember…if you either pick it up or have it delivered by Saturday…TAKE $50 OFF!  
More great neutral looks…
Taupe sofa, $695. 81″W. Black Lab pillow, $32.
Chair & ottoman, $595. 35″W.
Matching single chair, $495. 35″W.
Changing table now…and remove the top for a media center
later!   Antique ivory piece by LEXINGTON is a score at $275.
Chest is 36x19x43.25″h
Yes please…natural washed wooden cabinet with
mirrored doors, take it home for $295. 34.5x15x32.
Lovely floral art, $225. 39.5″ square.
Buffet lamps, $65 each. 31″H.
A warm and inviting look for fall… brand new denim blue patterned twill sofa, $850, 78″W.  Genuine mid-century swiveling 'Lazy Susan'  coffee by Heywood Wakefield, retails online for $750,
our price $250. 32″ diameter x 16″H, cozy throw $38.
Semi distressed white console table
with storage, $265. 40x15x31.
Such a cozy look…Brand new taupe sofa $695, 82″W. 
Framed Hopper print retails for $327, our price $225. 43×35.
Large scale blue pottery lamps, two available, $165 each, 29.5H.
DEAL TIME…super sturdy 30″ antique white swivel barstools
just $65 each. Four available, sold in pairs only.
Instant vignette…curvy-luscious turquoise lamps just $95 each. Textured abstract $113, 28.75×40.75.
So striking… turquoise chest etched
in a silvery gold, $395. 42x12x32.
These will NOT LAST…
See Paragon's 'Gold Foil Sea Turtle' online for $640 EACH.
Our price, $375 each. Very large scale…48×34.
Come and get a BIG BARGAIN on a BIG table and 6 chairs,
just $355 takes all 7 pieces home THIS WEEKEND ONLY…
if you take it with you or have it delivered by Saturday.
102×40 with two 15″ removable leaves.
Adorbs Henry Link wicker rolling bar… it would be SO CUTE painted…Just $125. 40×17.5×35.5.
Palm and bird motif lamp $56.
Brand new turquoise sofa, $895, 78″W.
Emerald abstract, $157, 48×36.
Just in on consignment…heavy duty teak steamer chair just $175.
Check it out…this Frontgate outdoor sofa made by
Summer Classics currently retails for $2045, our price $895.
80″W. Pretty pale aqua cushions.
Pretty fall colors…Sage wooden console, a STEAL at $175.60×19.75×36. Large scale grey pottery lamps $165 each. 29″H.
Sorry, art is sold.  
Rich slate gray console table with hints of gold, $225. 32x14x31.
This large Uttermost 'Adelmar' metal mirror retails for $871,
our price $265…41.5″ square.
DEAL Time… Come snatch up this sage microfiber
sofa in for $225. Yes $225! 78″W.
Matching grey bedside tables in grey, $145 each, 18x22x24.
Check out this lovely chofa by Magnolia Home Furniture by Joanna Gaines. ON OUR FLOOR NOW!  Linen 'chofa' $1,425, 108×65. 
What's at the foot of YOUR bed?? This sage green bench with a distressed black frame is A SERIOUS DEAL at $125. 68″W.
So sweet… little girl on beach original oil painting, $225 29×33. Glass lamp, $65, red owl $10.
Perfect storage for the powder room! Just in on
consignment and just  $52! 23×12.5×29.75″h
Modern and full of life…orange lamps $125 each, 28″H.
40″ square glossy abstract, $225.
Just in…and a brand new closeout and a smokin' hot price!
 Louver style queen bed (includes headboard, footboard and rails) $395, dresser with mirror $495, nightstand $195! Green fillable lamps $125 ea.  And remember…take another $50 OFF 
if you pick it up or have it delivered by end of day Saturday.  
To celebrate you September babies,
all in-stock sapphire jewelry is 20% off this month.
Stun in these show stopping sapphire pieces!
5.09ct natural sapphire with 1.75ctw heart shaped diamonds
set in platinum, $20,000.
Sapphire and diamond dangle earrings in 14kw gold, $2,380.
15ctw sapphire and 3ctw diamond bracelet in18kw gold, $14,360.
.50ct sapphire and .13ctw diamond pendant, $715.
.41ct sapphire .15ctw diamonds pendant on a
diamonds by the yard chain, $1,060.
6.39ct blue topaz accented with 1.71ctw sapphires
and .64ctw diamonds in 18kw gold, $1,195.
.72ctw sapphires and .35ctw diamonds in 14kw gold, $1,535.
1.65ct Montana sapphire with .44ctw diamonds in
18kw gold, $4,580.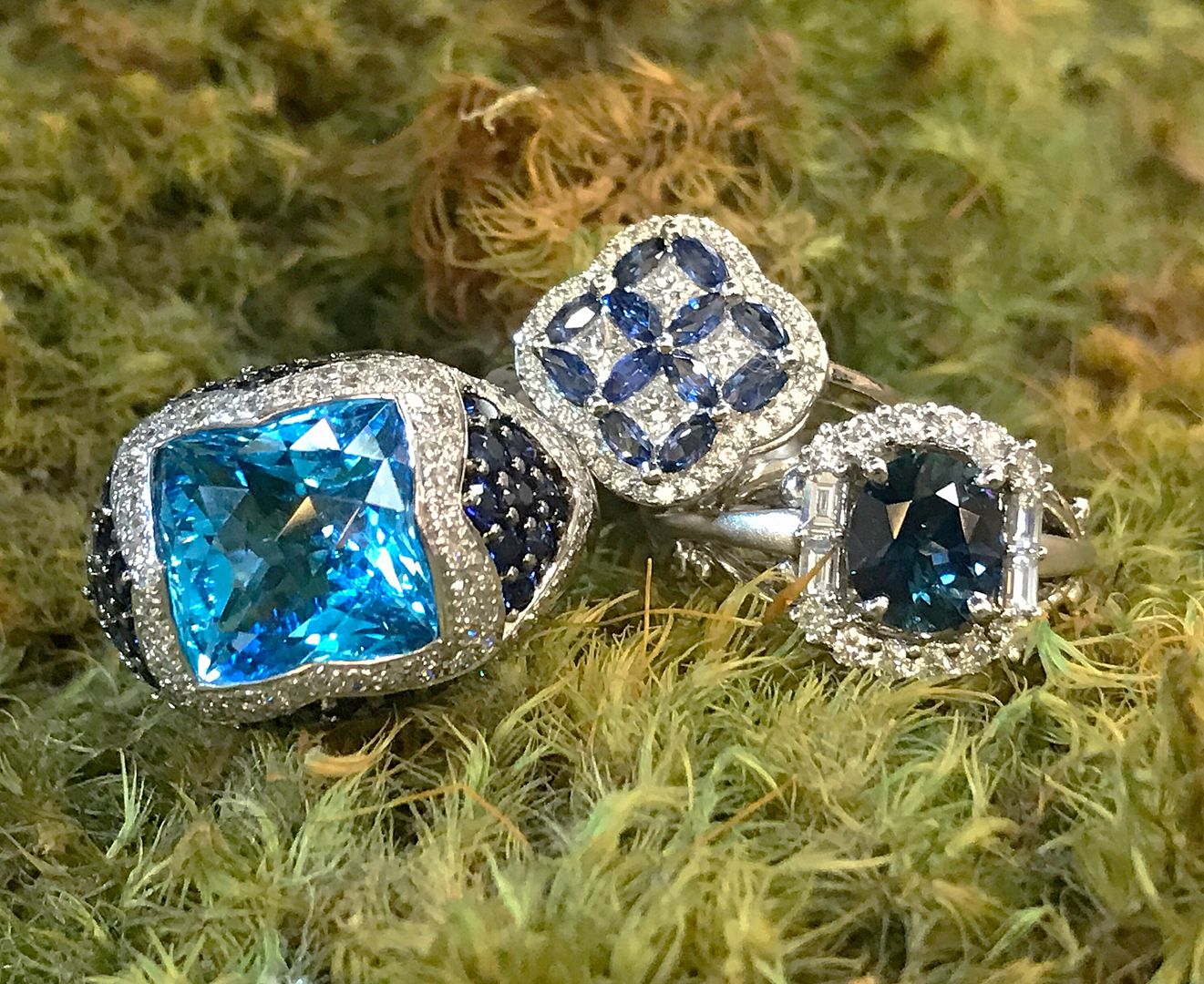 Just reduced! Check out these awesome deals.
4.5ctw SI clarity I color diamond tennis bracelet in 14ky gold.
Was $5,500. Now $3,075.
Click the picture to watch a video.
 .88ctw diamond and 18kw gold pendant on a 14kw gold
adjustable length chain. Was $3,995. Now $2,555.
Just in Raymond Mazza!
1.60ctw diamond slice station neckace in 14ky gold, $2,235.
3.85ctw diamond slice necklace in 14ky gold, $1,935.
Widow's mite ring in 14k green gold, $1,385.
3.02ct cabochon aquamarine with .24ctw diamonds
in 14k green gold, $2,495.
.16ctw diamond flower earrings in 14k green gold, $2,595.
Blue topaz cabochon with .24 diamonds in 14k green gold, $2,755.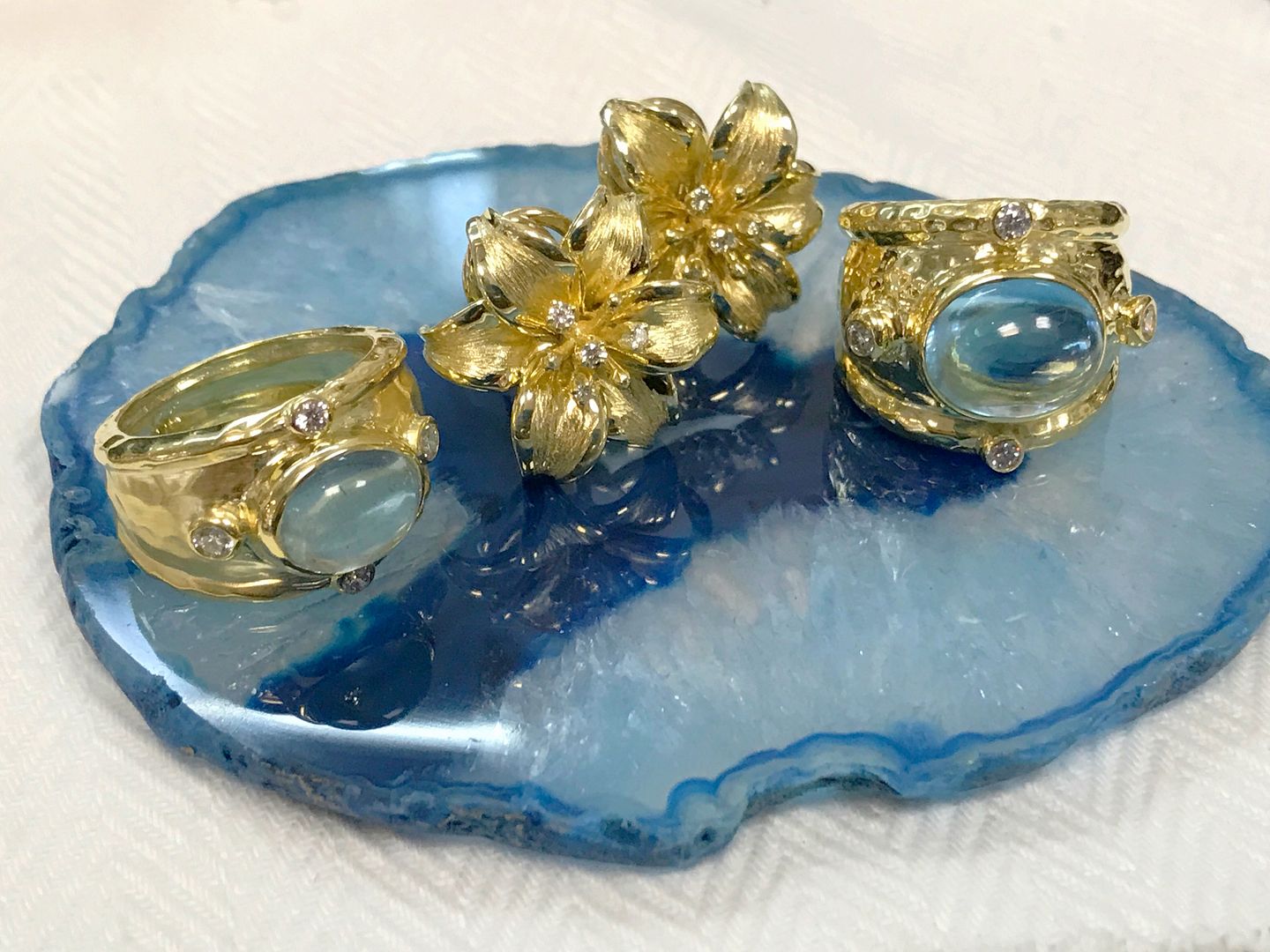 Love pearls, but want something a litte less traditional?
Check out these unique pieces.
Prices of pictured pieces range from $125 to $855.
6.26ctw aquamarine with .48ctw diamonds in 14kw gold, $2,625.
Green amethyst and sterling silver pieces.
Prices range from $95 to $185.
These pearl and 14k gold pieces are one of a kind!
Prices range from $215 to $4,025.
Rock crystal quartz station necklace
in 14ky gold vermeil, $775.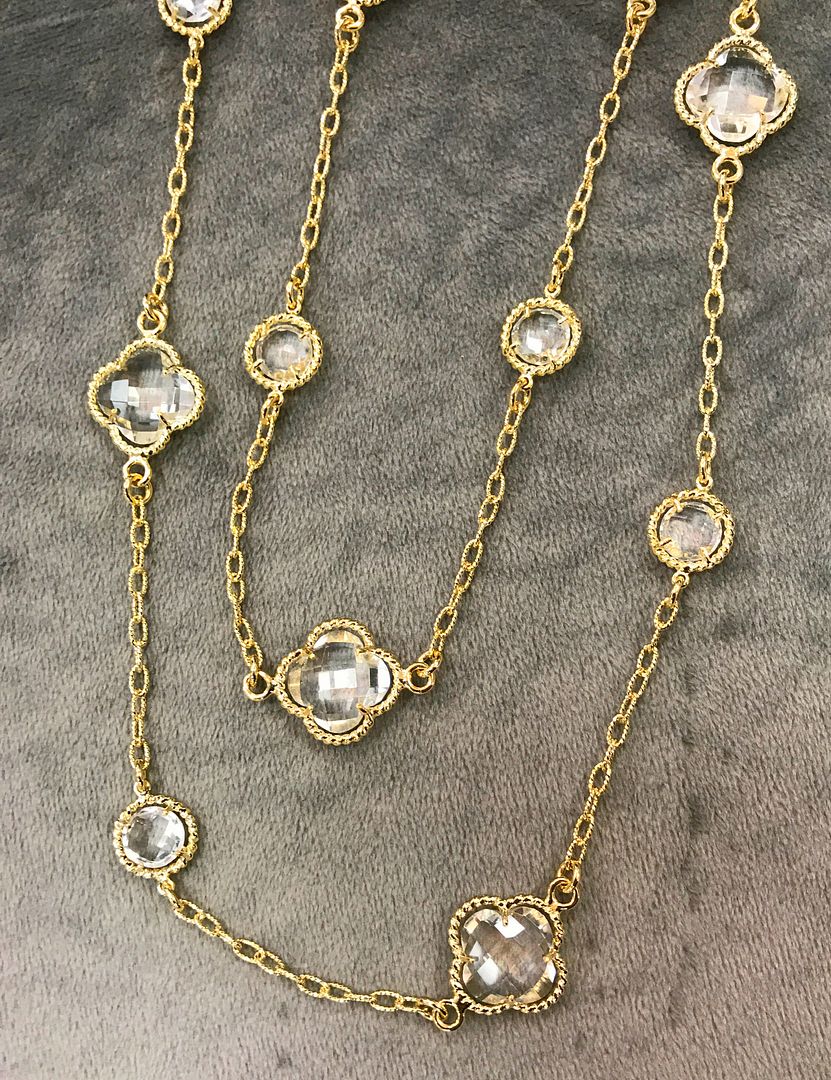 .08 diamonds in sterling silver and 18k yellow gold, $625.
Wide sterling silver band, $95.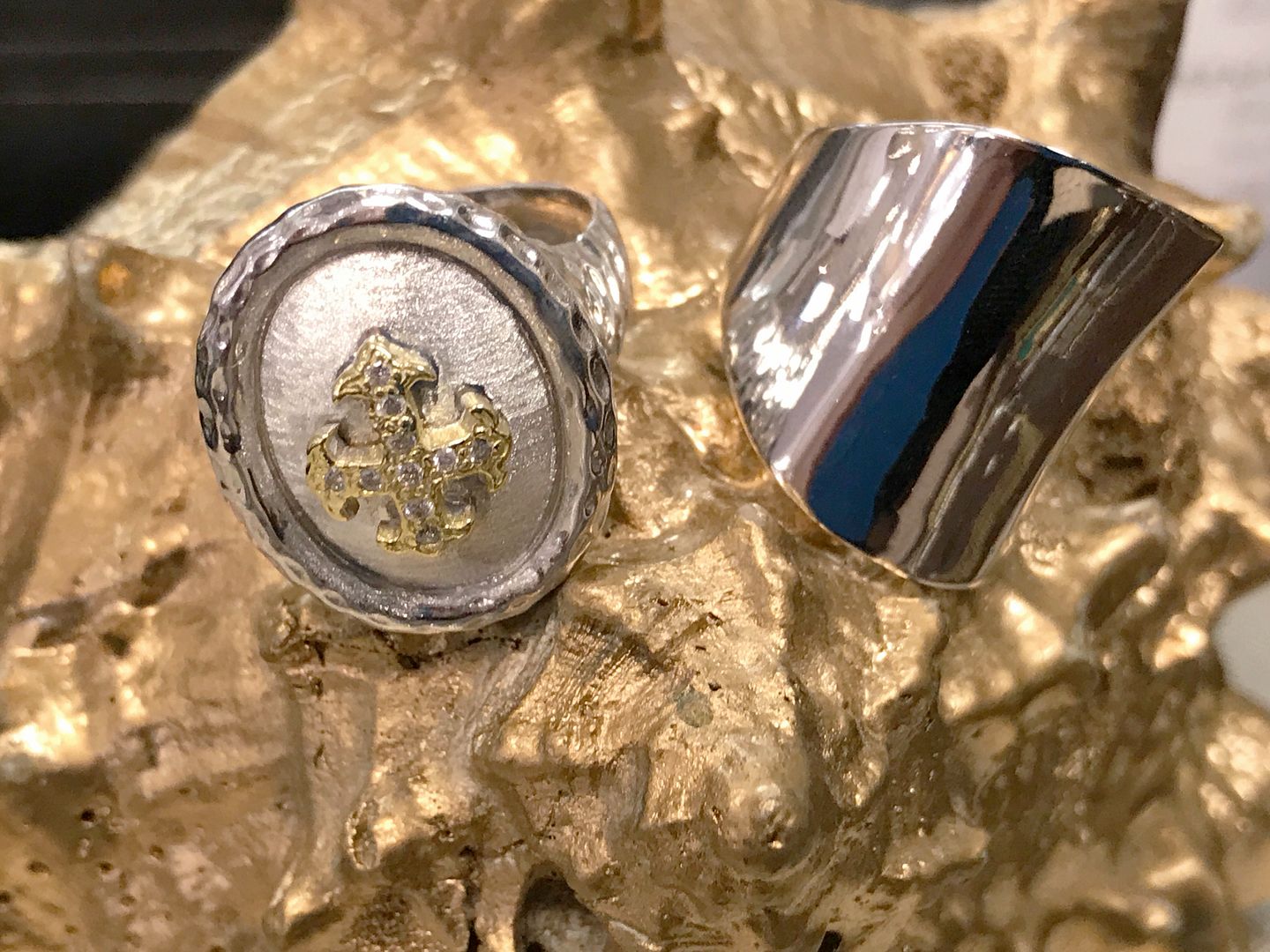 1.5ct G color SI1 clarity GIA certified custion cut diamond in a .50ctw diamond and 18kw gold setting, $13,950.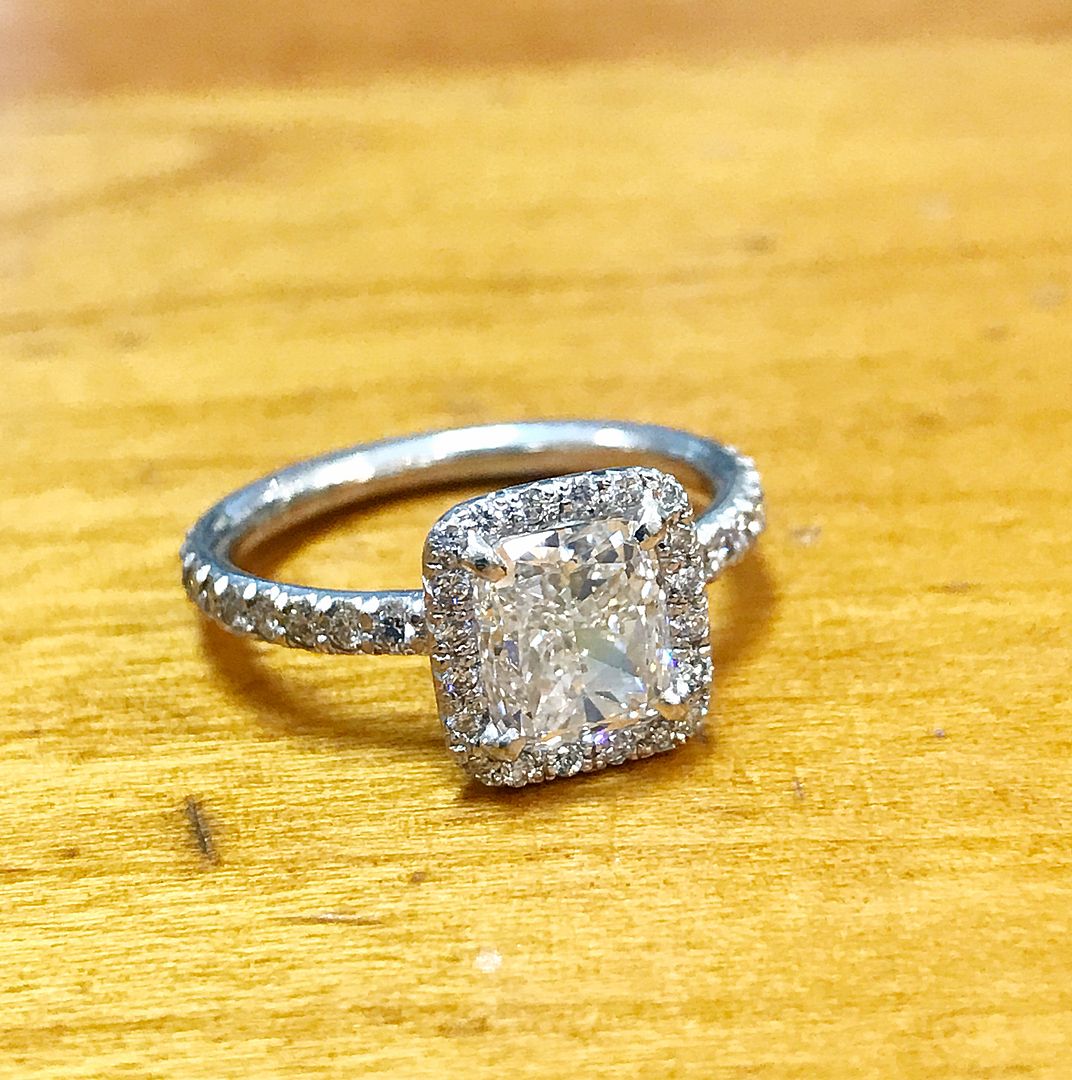 1.04ct SI1 clarity F color round diamond in
a platinum setting, $7,395.
Click the picture to watch a video.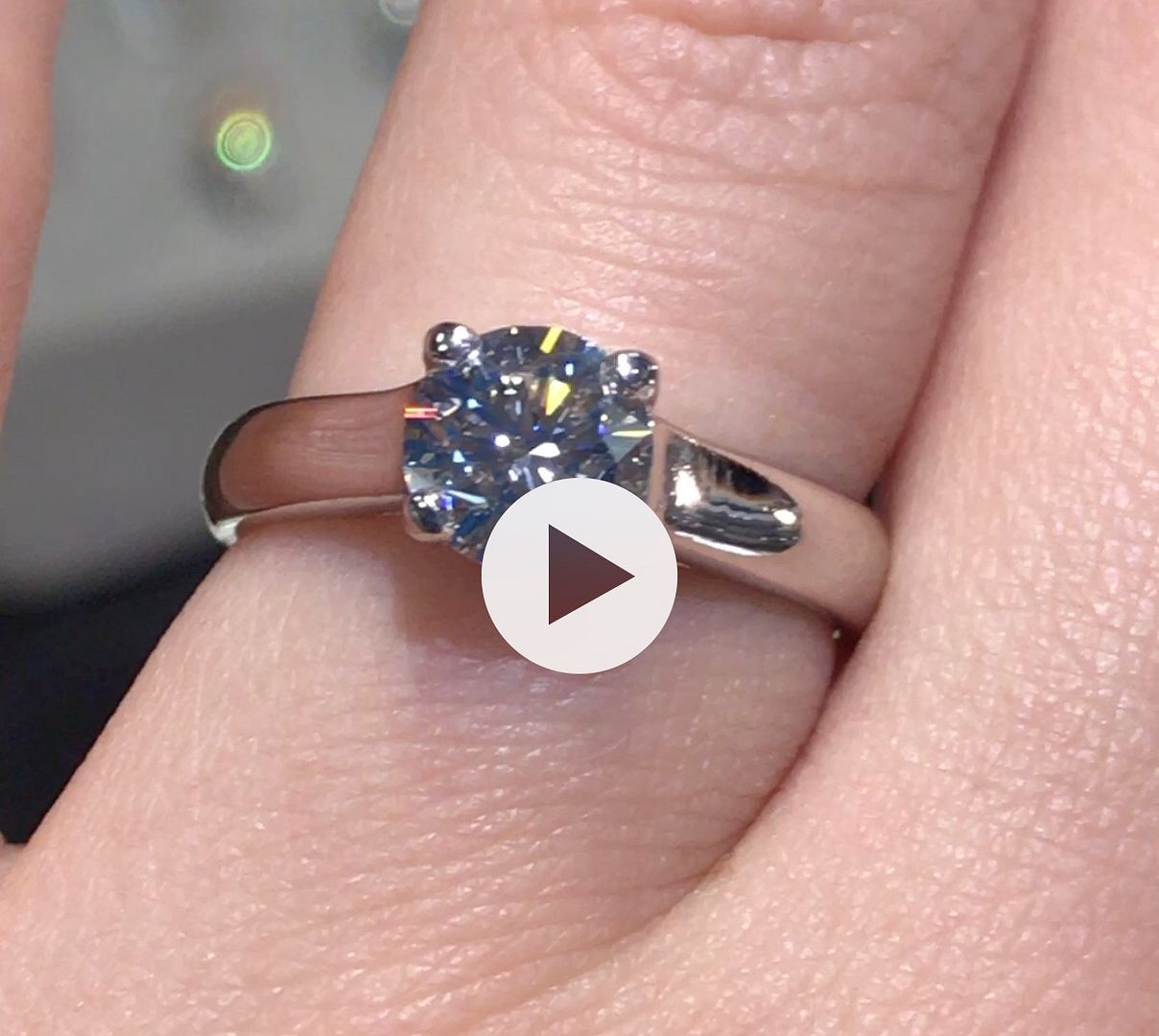 Chris Wolfsberg 18.93ct parasol cut rainforest green topaz and rock crystal quartz assembled stone in 14ky gold, $2,965.
LeVian diamond flower necklace in 14ky gold, $1,750.
LeVian blue diamond ring in 14kw gold, $1,450.
Tanzanite and diamond necklace, $595.
Citrine, peridot, blue topaz, and amethyst necklace
in 14ky gold, $295.
Don't forget…take $50 OFF your furniture order of $500 or more if you take it with you or have it delivered this weekend!
 And all dining is 10% OFF.  Help us move out some furniture this weekend…cause 
Something's gotta give!  
~~~~~~~~~~~~~~~~~~~~~~~~~~~~~~~~~~~~~~~~~~~~~~~~~~~~~~~~~~~~