Out of nowhere a truck pulled up with consignments
from a high end furniture store who had to clear out their
warehouse space for new inventory… 
And an interior designer who 
had just cleared out her storage building…
And a consignor who just sold her house asking if we could
pick up the contents of the house…the next day…
So we've been BUSY…
and now it's YOUR TURN…
GET BUSY with a BARGAIN!  
PURE  DRAMA…charcoal sofa, $695, 90″W.
BRAND NEW pink & orange chairs retailed for $1,300 each…
our price, $595 each. 31″W. Floral abstract, $225, 40×40.
We will be GREEN WITH ENVY of the lucky buyer
 of this velvet sofa, brand new $1,095. 80″W.
Coordinating club chairs, $525 each, 32″W.
Botanical art, $225, 36×48.
Seagrass storage chest, $65. 30×17.5×18.
THE FRESH LOOKS KEEP ON COMING …
 chic coral chairs with contrast welting, brand new for $495 each. 32″W. Floral abstract, $225, 39.5″ square. 
Gold lamps with qua-trefoil metal shade, $132 each. 25″H.
We all love this one…antique white cabinet with mirrored doors,
$595. 67.5x16x36.
Queen designer headboard,  brand new and on consignment for $295.  Aqua lamps, $145 each. 32″H.
White coastal media chest, $495. 48x18x40.
GORGEOUS coastal fine art giclee, $295.
40″ square.
Just in on consignment…adorbs rattan dining set with green sunbrella cushions, $450. 48×48.  Pristine condition.
Super cute green side table just $125. 20x15x29.
Looking for a swivel glider? We GOT YOU, brand new in a
green lattice print with contrast piping,
$695 each. 30″W. Sand dune art, $396, 47.5×39.5.
Sand dollar lamps, $125 each. 30″H.
This will not last…shabby credenza, $595. 
67.5x14x36.
This brand new 'condo' sofa retailed for $2,465…
our price, $895. 75″W.
Hand embellished palm art, $175. 50.5×28.5.
This natural beaded chandelier is the BEES KNEES, $495.
Generous size, 30″diameter * 24″H.
Get a DEAL on this tall-ship motif painted armoire,
just $295. 35×17.5×68.
BRAND NEW denim blue sectional in SUNBRELLA, $1,495. 86×110.
Storage ottoman, $310. 35″diameter & 20″H.
Always wanted a cedar lined chest? This is a lovely one in a solid cherry wood, $175. 40x20x21.
Coastal chic…
Blue heron art, $175 each, 37.75×47.75.
See these Ethan Allen 'Windham' glass lamps online
for $649 EACH. Our price, $225 each. 
Rustic cabinet, $310. 46x17x40.5.
This Century 'Link' chair retails for $1,538…our price, $395. 
Underwater ferns framed in gray, $295 each.
Large scale, 30.5×54.
Stunning in their simplicity… tall white ceramic lamps,
$165 each. 32″H.
Navy & ivory updated wing chair, $595(one has sold, sorry.) 32″W.
Sailboat art retails $328…Our price, $225. 43×55.
Queen linen bed, $445.
How cool is this? Three individual framed pieces can be hung horizontally as pictured or vertically. $295 for all three.
Each piece is 28.5″ square. 
Happy whale on canvas art, $175, 48×22.
Get a DEAL on this coastal plaid sofa…retailed for $4,290,
our price $1,295. Still has original tags. 88″W.
Having a crabby day? These crab lamps are sure to
make you happy, $95 each, 27.5″H.
Fine art giclee boat art, $165. 39×27.
Who needs a happy little end-bedside table?
This little yellow cutie is just $75. 19.5x18x24.5.
Luxe looks for less…teal chairs, $295 each, 28″W.
Golden glam lamps, $132 each, 25″H.
Abstract triptych, $220, 53×37 as displayed.
Each panel measures, 17×37.
Vibrant shore bird art, $95. 24×36.
Aqua lamps, $95 each, 28.5″H.
White cabinet, $325, 56x18x32.
This brand new lime 'chofa' piped in black retailed for $5,352, our price, $1,295. 81″W  Pillows, $24-$34.
Want a deal on a great BIG rug? This 9×13 100% jute rug goes for $1000+ online, our price, $695 and it's BRAND NEW. 
Comfy oversized taupe swivel chair, $395, 35″W.
Retailed for $1,800. New with tags.
Colorful fish art, $125. 50×20.
DEAL OF THE WEEK…
Just in…queen storage bed with drawers on both sides, $225.
Coordinating bedside tables, $125 each. 26×19.57.5.
Bench is just $65. 48x14x18. (Bedding and lamps not available)
Pretty soft aqua cabinet, $595, 68.5x16x38. 
Glass lamps, $95 each. 25″H.
Framed abstracts, $100 each. 22×34.
This is cool…wood frame chair with taupe cushions, $395. 33″W. 
Retailed for $2,625.  Brand new with tags.
Who's ready for fall?
Taupe sofa with ivory piping, $595. 84″W.
Queen poster bed, $405.
Floor lamp, $125.
Moose glass top coffee table, $165. 41.5″diameter & 20″H.
Burgundy leather chair & ottoman, $245. 33″W.
Genuine caramel leather sectional by Natuzzi, on consignment for $1,195, 102×90. Club chair, $225, 36″W.
Ottoman has sold, sorry.
Calling all winos, you NEED this wine rack, $145. 44x11x44.
Sorry, we did not have time to count how many bottles it holds!
So pretty and rich in person…neutral suede microfiber sectional
by Natuzzi, $1,195. Very large, 102×131.  Like new condition. 
The original retail on this fun chevron swivel glider was $1,380, our price $295. Brand new…the tags are still on it. 33″W.
Brand new charcoal tweed recliners, $395 each. 30″W.
Espresso queen platform bed, $165.
Modern chrome lamp, $76.
Nice quality club chair in ivory & taupe with red stripes, $395.
Two pillows included. 39″W.  Brand new.  
Check out all the just-in designer consignments!
David Yurman sterling silver and diamond tassel necklace, $695.
 Lagos sterling silver large pendant, $245.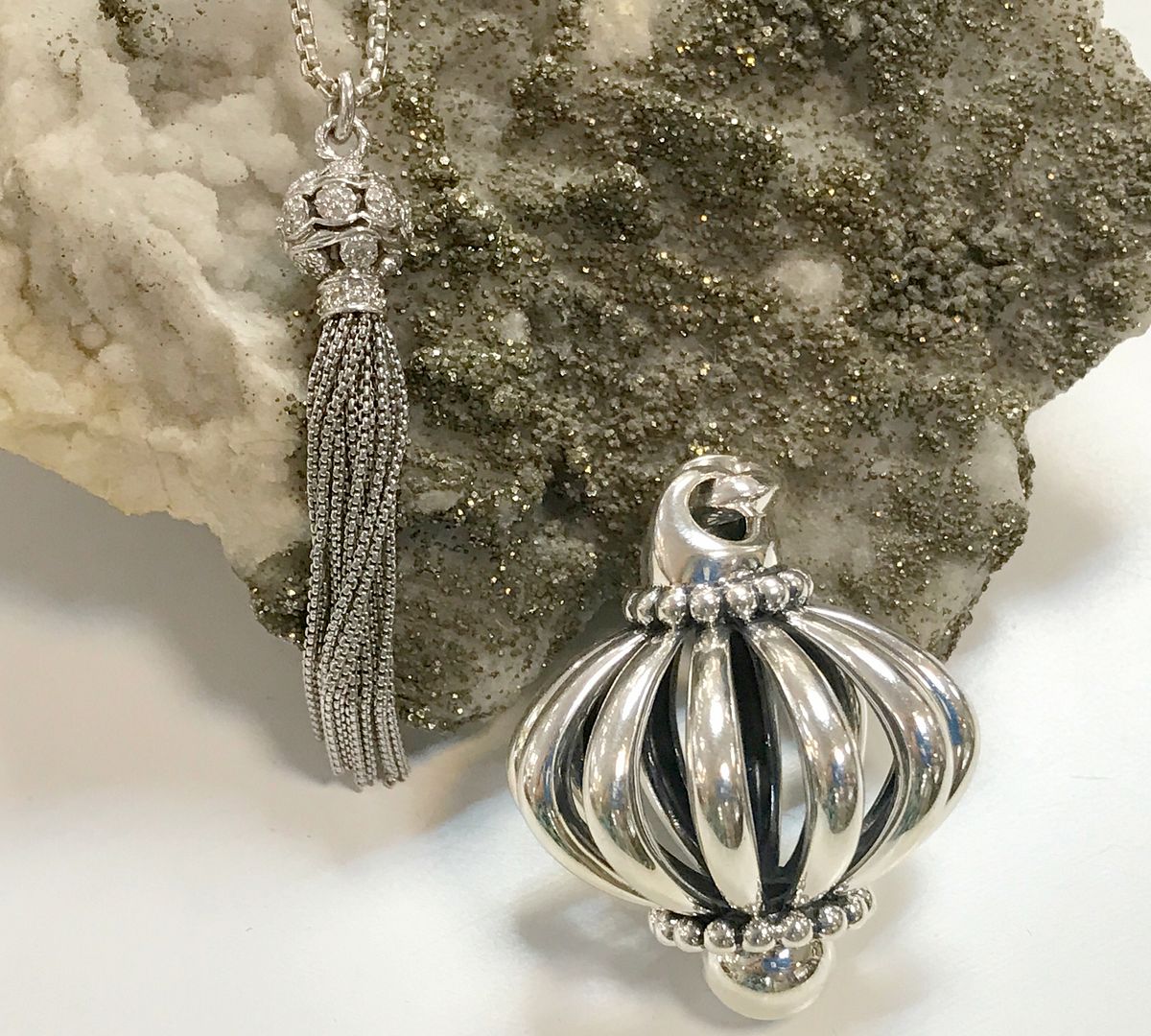 Tiffany & Co. five row rope band with diamonds designed by
Jean Schlumberger in 18k yellow gold, $5,995.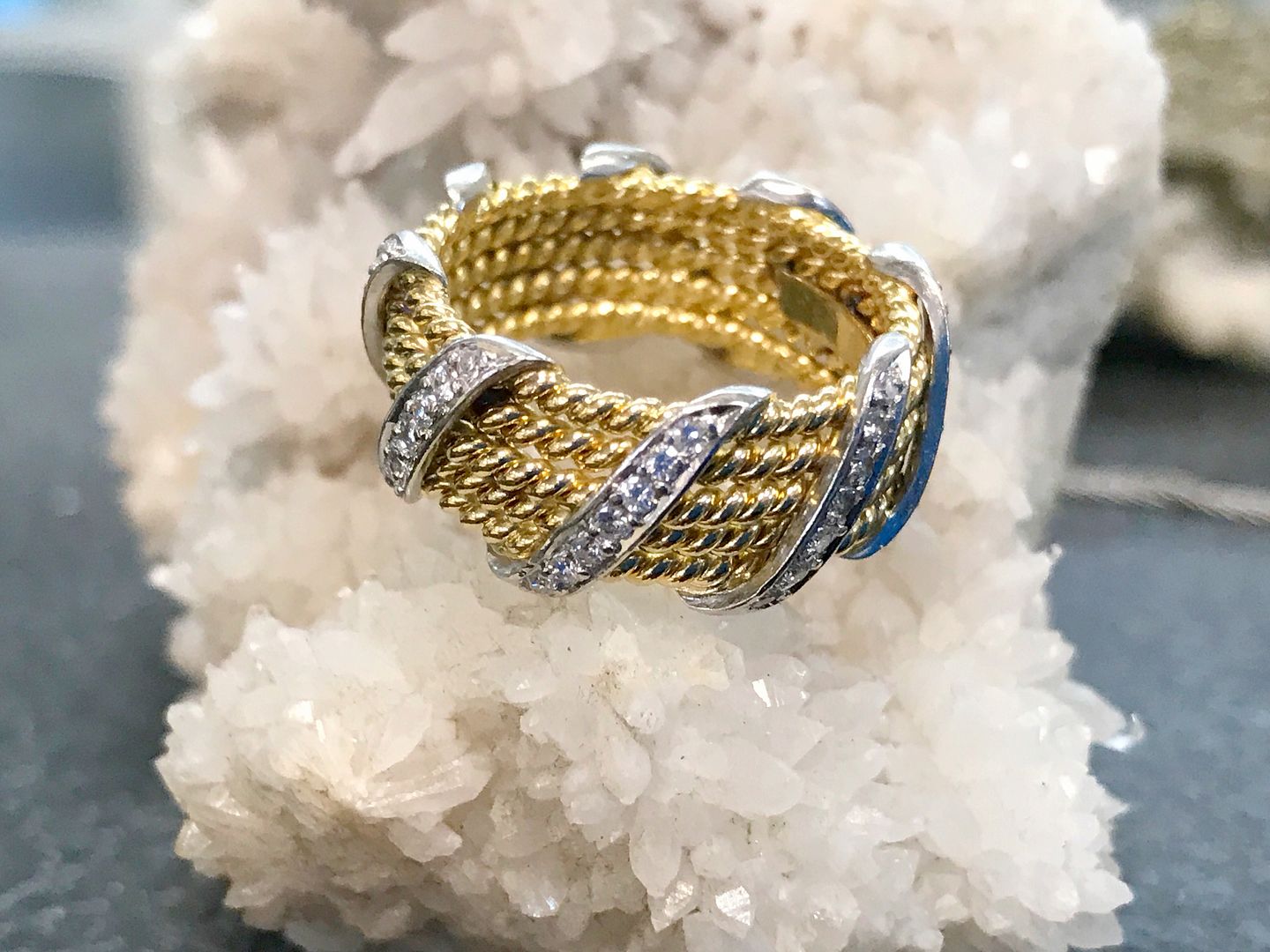 John Hardy sterling silver and 18ky gold oval dot pendant, $395.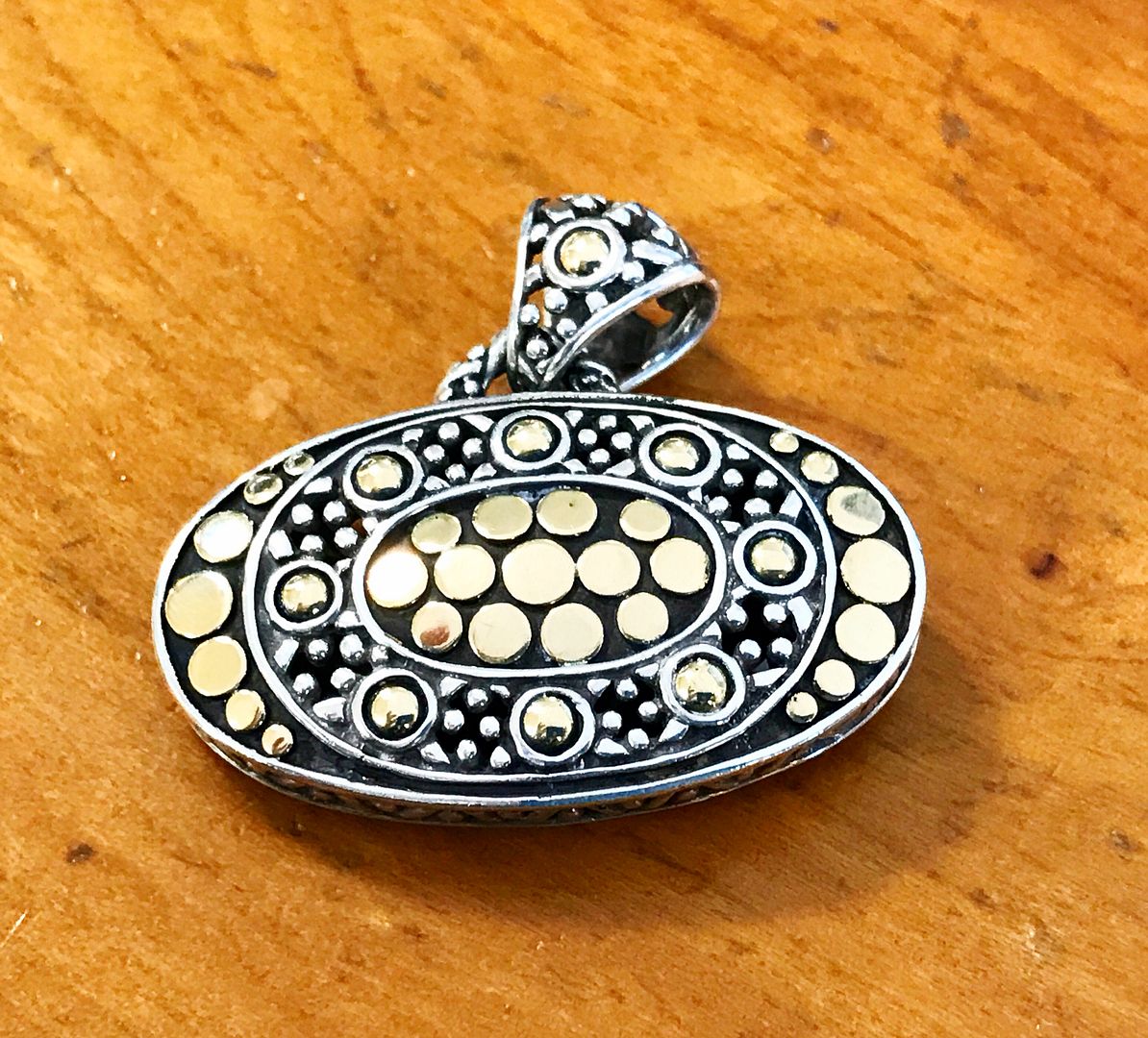 Slane solstice mother of pearl, diamond, 18ky gold and sterling silver enhancer, $975.
David Yurman sterling silver and 18kyg
17mm cable link necklace, $2,595.
Don't forget there are only 2 days left in September, which means there are only 2 days left to get all our sapphire jewelry 20% off!
Diamond tennis bracelet in 14k two tone gold, $2,495.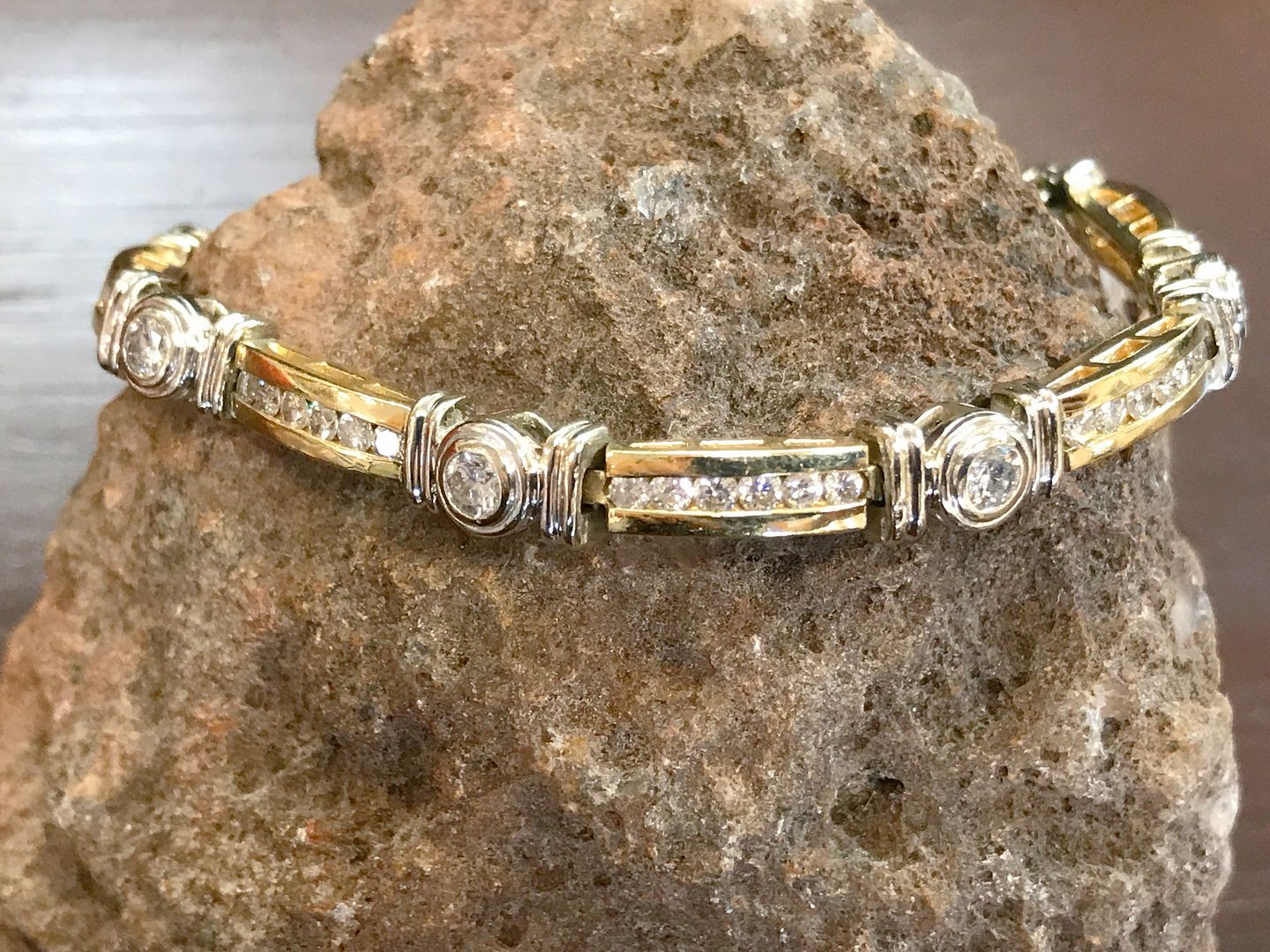 .50ct center SI1 clarity I color in a approximately .60ctw
diamond and platinum semi-mount, $3,195.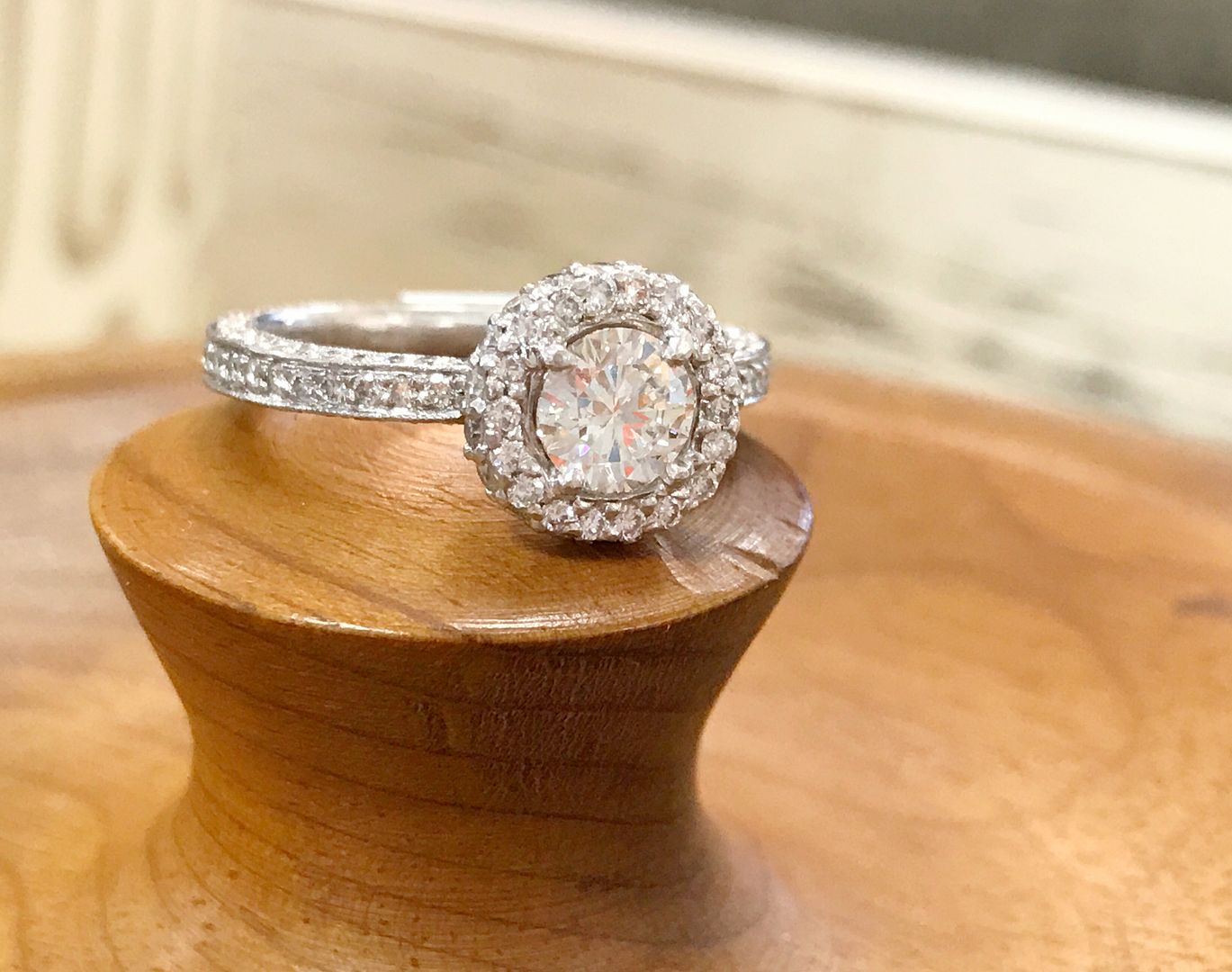 Opal drop earrings in 14ky gold, $195.
Don't forget about all the awesome pieces in our
50% off case! 
(all prices listed are the sale prices)
.84ct emerald, accented by .50ctw diamonds set into
18k two-tone gold, $2,148.
 .59ct emerald accented with .27ctw of diamonds in 18kyg, $598.
 1.21ct emerald and .50ctw diamonds in antique style 14kw gold setting, $1,998.
These Nina Nguyen turquoise, amethyst, and druzy earrings
are only $348.
1.00ctw VS/SI clarity GH color diamonds in 14kw gold, $1,600.
1.75ctw diamond pave ring in 14kw gold, $1,498.
.30ctw diamond crossover ring in 14kw gold, $823.
These Nina Nguyen rings are so cool.
Druzy amethyst, $118.
Geode two tone, $158.
Elongated turquoise ring, $158.
2″ diamond hoops in 14kr gold, $2,495.
.11ctw diamond and 14kr gold necklace, $363.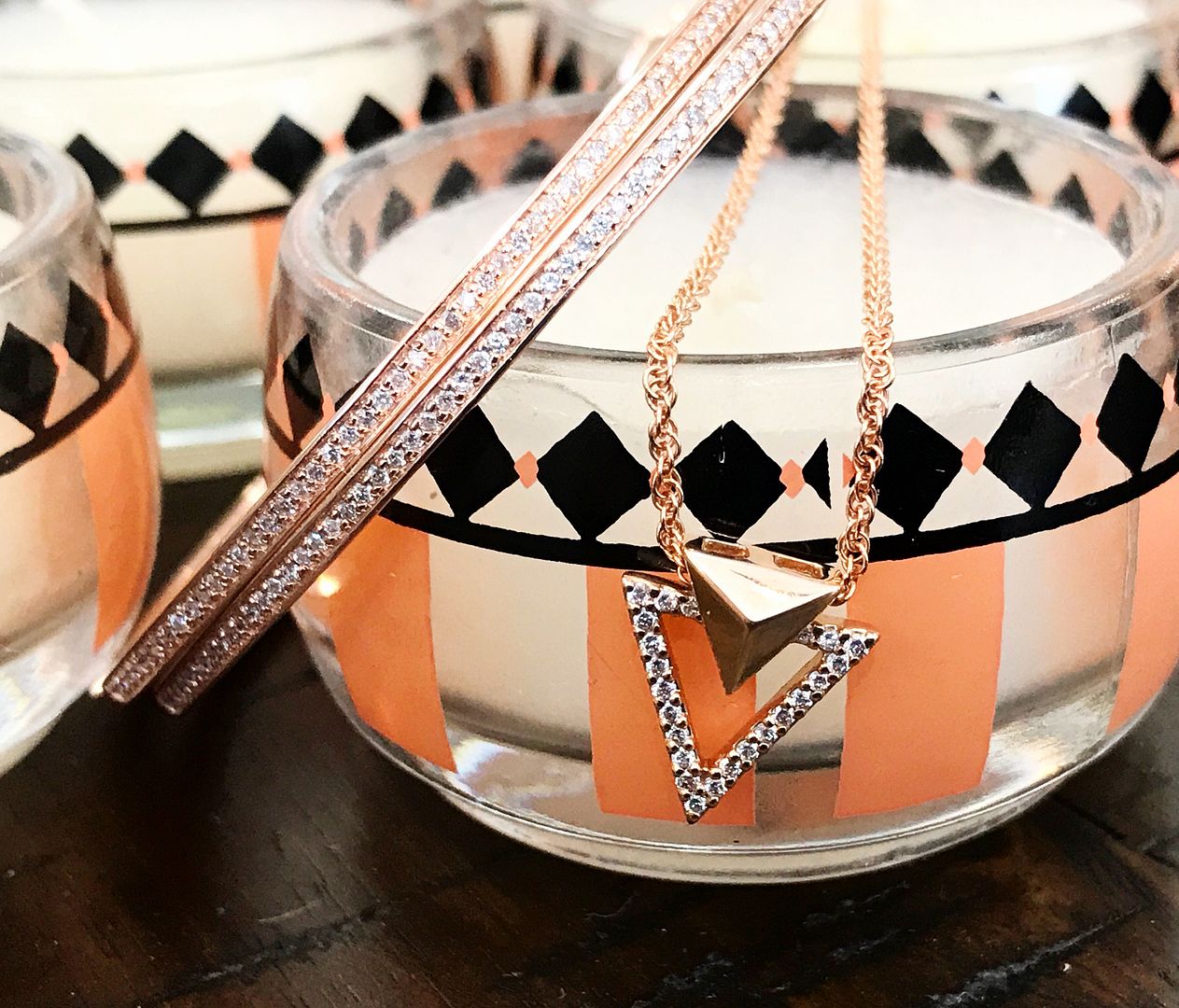 Turquoise and 14ky gold ring, $298.
Turquoise and diamond earrings in 14ky gold, $473.
RUN…don't walk…the store is CHOCK FULL
of bargains…hope to see you this weekend.