It was hard work…
We took down all the art, moved the furniture,
tarped everything, and patched
a BUNCH OF HOLES…
It was a big job…but our freshly
painted walls look GREAT! 
And it feels SO GOOD to have a fresh space.  
Abstract triptych, $245
Cobalt lamps $148 each, whale bookends $85
~~~~~~~~~~~~~~~~~~~~~~~~~~~~~~~~~~~~~~~~~~~~~~~~~~~~~~~~~~~~~~~~~~~~~~
 Have you been thinking about getting started
on your own BEFORE AND AFTER project? 
We have TONS of new arrivals to
get your home looking great for fall!
~~~~~~~~~~~~~~~~~~~~~~~~~~~~~~~~~~~~~~~~~~~~~~~~~~~~~~~~~~~~~~~~~~~~~~
But before the show…we want to ask you to join us in saying
a prayer for all of those in the path of Irma,
and especially for our sister store, Home Again Palm Beach.  
Lisa, Christine, Nancy and crew…please stay safe!
Just like you, we will be watching the weather all
weekend, and if decide to close early, we will post it
on facebook, our website and instagram. Fingers crossed…
~~~~~~~~~~~~~~~~~~~~~~~~~~~~~~~~~~~~~~~~~~~
Just in on consignment, a TOP grain leather sofa in LIKE NEW condition. It retailed for $2,200, our price $1,095. 87.5″W.
Dramatic horse abstract, $400. 62×52.
Lotus lamps, $130 each. 28″H.
Blue tufted storage ottoman, $345. 35″ diameter & 20″H.
Here's another look at this gorgeous guy…the color is a 
 soft gold-taupe, and it has a slight pearlized sheen.  
Been looking for attractive home office furniture?
We just received a whole suite in handsome black. 
Black Hooker desk, $395. 60x26x31.
Coordinating Hooker credenza, $695. 60x22x45.
Matching printer tables, $165 each. 22x26x31.
Abstract companions, $245 each. 31.5×49.5.
Designer lamps, $95 each. 28″H.
This will not last…Crate and Barrel teal queen bed (includes headboard, footboard, rails, & slats) retails for $1399,
our price $595. Nightstand $225, 23.75×15.75×32.25.  
Tall dresser $595, 36.25×21.25×42.25.
Floral canvases, $42 each. 23.5″square.
White lamp, $28. 22″H.
Just in on consignment…Crate and Barrel wardrobe retails
for $995, our price $595. 46.5×19.5×50.5.
Oval nightstand $145, 24x18x24.5. Pink lamps $52 each, 19.5″H.
32″ square canvas,$95. Green fill-able lamps $125 each. 27″H.
Just in…set of 3 pretty blue wired light pendants, $195 for set of 3. Retailed for $450. Ceiling plates included. 5″ diameter x 11.5″h.
Just in from Magnolia Home Furniture…Linen 'chofa' $1,425. 108×65. Don't forget we can order their entire furniture line,
check out the website. www.magnoliahomefurniture.com 
Lovely beach companions, $42 each. 24″ square.
Aqua lamps, just $85 each. 30″H.
So unique…check out this
cool gold twig art, $121 each. 40″ square.
On consignment…ivory leather sectional by well regarded maker Bassett. $995. 84×115.  Large abstract, $355. 70×48.
Gray wash coffee table, $202. 47.5×23.5×18.
Coordinating end tables, $112 each. 22×23.5×24.5.
Happy…Floral abstract $125, 38×51.
Orange curvy lamps $125 each. 28″H.
Football anyone? 
Large cozy gray sectional, brand new for $1,895. 67x128x100.
Classic console table with matching mirror, $175. 35x16x30.
Textured green lamps, $125 each. 27.5″H.
Comfy over-sized accent chair on consignment
in brown microfiber, just $245. 36″W.
It's not too soon to be thinking about Christmas presents…
and your chess player would love this, $125.
24″diameter & 26″H.
Just in from Magnolia Home Furniture…
Ivory slipcovered sofa, $1,045. 88″W.
Matching club chairs pictured below, $595 each. 37″W.
Sand dune art, $445. 47.5×39.5.
Drop leaf coffee table by Baker, $145. 38″ diameter.
38×14 (leaves down)
Demott sailboat sculpture, $112.
How cute is this lighted whale…$65 36×9.  Phone orders accepted…call 910 679 4302.
Just in…Ivory sofa, $795. 88″W.
Large blue pottery lamps, very rich in person, $165 each. 28.5″H.
Two end tables available, $245 each. 24″square & 24″H.
Coordinating coffee table, $345. 48″square & 18″H.
This is so cool…Multi-color solid wood king headboard, $275.
82″W. (must be mounted to wall.)
Just in…some fun dining chairs…pair of red chairs $190 for pair, Paisley chairs $95 each, 4 available, sold in pairs only.
I sure wish I was sitting in a Parisian cafe right now…
Eiffel Tower art $42, 29×35. Red lamps $52 each.
Pub table w 2 stools, $125. 42x22x36.
Super quality dresser and mirror by Stanley, now just $556. 64x20x41. Lamps $86 each, art $42.
Two small scale ottomans/benches in line with nailhead trim.
$75 each. 26x17x16.
Just in…three 24″ counter stools, just $42 each. 
Not sold separately.
Save big…This 44″ stone top dining set retails for $800+, our price $550. The bakers rack retails for $508, our price $295.
And get this…they are brand new! 43x18x72.5.
This vignette is subtle, but so pretty…
 Dogwood canvas $52, 40×54. Mid century vibe lamps $65 each. Rustic cabinet $345, 46x17x40.5.
Just in on consignment…but never used…pub table with 4 stools, a steal at $425. 48×38 as shown, plus an additional 18″ leaf.
By law, we are not allowed to sell pre-owned sleepers, so come get this twin sleeper in like new condition for $425(without a mattress) and then add a mattress from Amazon or other retailers for $99 and you are good to go. 53″W.
Cuteness…White wooden bench with storage in the seat,
$295 42″W.
Just in…four quality ivory dining chairs from high end maker Nichols and Stone, $125 each. Sold in pairs only.
Thanksgiving will be here before you know it…Nice dining table with two chairs $395. 70×42.25. Four upholstery chairs $65 each.
We have the original receipt for this lazy boy sofa and club chair… Sofa retails for $1000+…our price $595. 78″W.
Club chair retails for $850+…our price $350. 41″W.
 Paragon 'Spring drive' art retails for $330+…
our price, $145. 38″ square.
The seats on these gorgeous bar stools need to be re-upholstered, so we priced them to fly out of here at $75 each.
 Seat height 30″. Sold in pairs only. 
Do not miss this week's show…
 our new arrivals are simply breath-taking!
.90ctw E color VS1 clarity diamond
engagement ring in platinum, $8,595.
Matching band, $795.
Diamond dinner ring in 14kr gold and palladium, $595.
.45ct center G-H color SI clarity accented by approximately 1.25ctw diamonds in platinum, $3,995.
The show-stopper…18ct emerald cut aquamarine accented with approximately 1ctw diamonds in 14kw gold, $6,995.
14ky gold charm bracelet, $1,395.
14kyg knot fashion ring, $395.
14k tri gold necklace, $455.
Diamond heart pendant in 14k yellow gold with
16 inch rope chain, $795.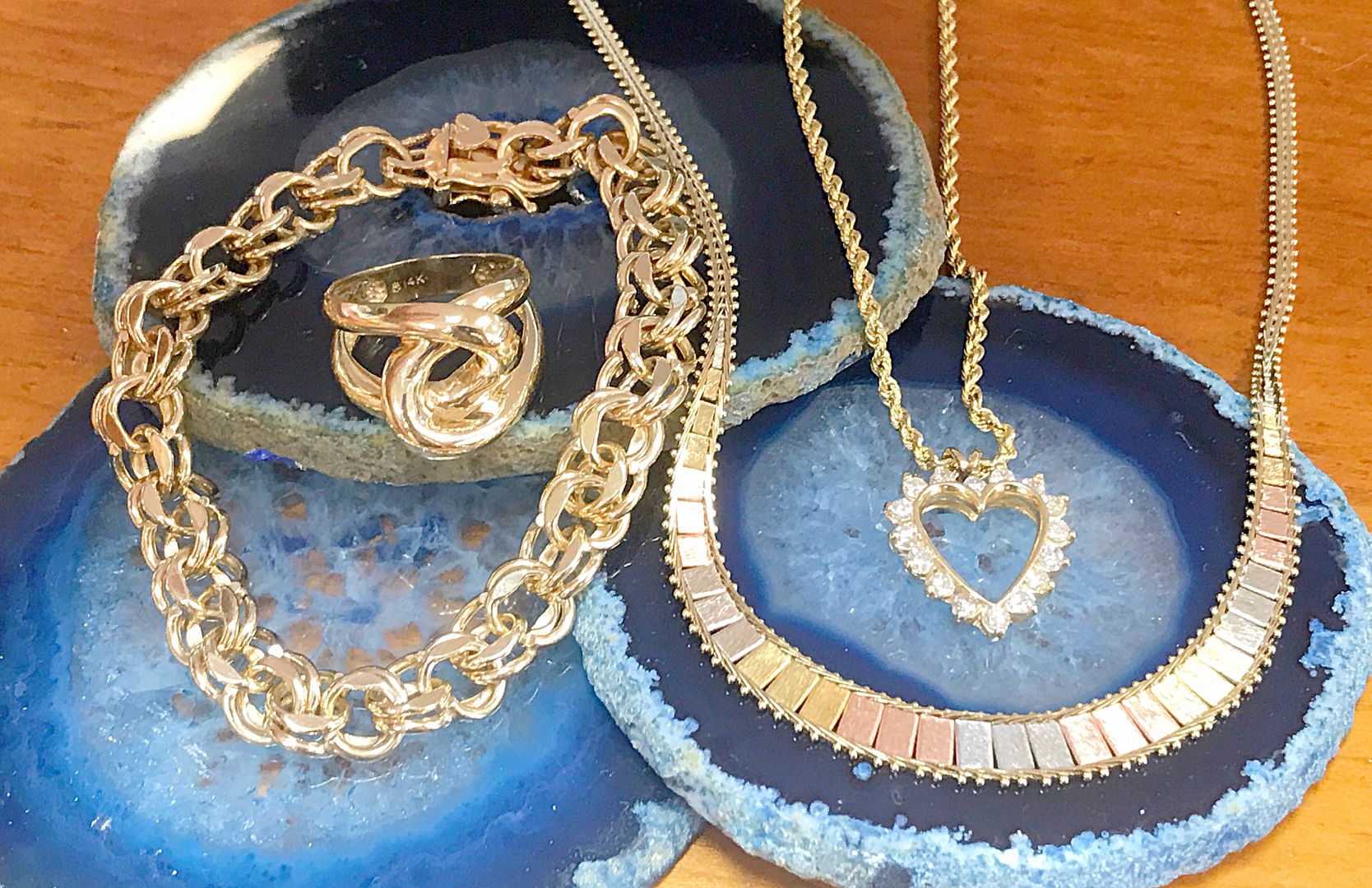 We have stackable rings in every shape and color.
Click on the picture to shop all of our stackable bands.
.50ct center 1ctw I-J color VS clarity emerald cut three stone diamond ring in 14kw gold, $2,795.
1.96ctw J-K color VVS2 clarity diamond earrings, $12,995.
Allison Kaufman .91ctw diamond bracelet in 14ky gold, $5,495. Click the picture to watch a video.
Check out this multi functional Raymond Mazza designer necklace. Forever gold vermeil chain, $405.
Mother of pearl and Venetian glass forever gold
vermeil pendant, $625
Raymond Mazza diamond, sterling silver and 14ky gold
omega back earrings, $465.
Filigree dangle earrings with amethyst in sterling silver, $95.
1.99ct spinel with diamonds in 14k yellow gold, $1,995.
Lapis and 14ky gold ring, $495.
Champagne diamond ring in 14ky gold, $1,995.
Looking for a cool layer piece? rEVOLVE is just the thing.
Made in house and with a portion of all proceeds benefiting
DREAMS of Wilmington, you can feel good about your purchase.
Click the picture to find out more about rEVOVLE and shop all of our in stock pieces.
Want something a little less traditional?
Check out these black diamond pieces.
Necklace, $895.
Band, $425.
Earrings, $395.
Marcello Pane 20mm 18ky gold vermeil hinged bangle, $365.
.50ctw diamonds set into 18kw gold stations on
a double 18ky gold bracelet, $1,480.
Citrine and 18ky vermeil over sterling silver cuff, $645.
Opal and 14ky gold men's ring, $835.
Sterling silver infinity necklace, $95.
David Yurman cuffs.
Two tone cross over, $685.
Blue topaz and two tone hinged cuff, $1,795.
Diamond X cuff, $535.
Phone orders accepted…call 910 256 1850.
Faceted grey agate beaded necklace with
a 14ky gold vermeil clasp, $215.
Sterling silver omega back earrings, $125.
Sterling silver octopus ring, $125.
Thanks for reading our email, and 
stay safe, everyone!