From pretty-in-pink to hunting lodge chic,
we've got your look…for LESS!  
But before the show, we are putting out an
SOS to our Home Again Peeps!
We are seeking a position that is hard to fill.  We need a hard-working and capable stockman to assist our warehouse manager.  The position involves unloading trucks, assembling furniture, helping customers with purchases to their car, moving furniture around etc.
The problem is this…some days we are slammed, and other days, we don't have a heavy work load.  In a perfect world, we would find a retiree who would like to come fill this position on an as-need basis, sometimes with short notice.   However, we will consider creating a part time or full time
position for the right candidate.  
If you know someone who might be interested, please forward this email to them.  We ask that all interested send us a brief
email explaining what they are seeking and why it might be a good fit for them.  info@homegainwilmington.com
~~~~~~~~~~~~~~~~~~~~~~~~~~~~~~~~~~~~~~~~~~~~~~~~~~~~~~~~~~~~~~~~~
But now it's time to get down to the
 business of furnishing your home…
On with the show! 
Like a touch of sophistication?  Here you go.  We love this grey
& teal combo….Sectional, $1,095. 117×80. 
Shorebird art on wood, $145. 36×24.5.
Match it up with this STUNNING and large scale textured horse abstract, $445. 62×52.
Just in on consignment, on-trend metal orb chandelier, $325.
Large scale, 32″diameter & 33″H.
The official NC state flower, look at this bbeautiful
dogwood canvas art $225. 48×60.
Brand new soft blue and taupe plaid & genuine
leather chairs, $695 each. 29″W.
Linen ottoman with nailhead trim retails for $819,
our price $295. 40x30x17.
Another grey goodie…sofa with silver nailhead trim, $550. 88″W
Grey leather bench, $225. 48x18x19.
LOVE this cobalt blue media cabinet…retails for $1,000,
our price, $695. 60×14.5×35.5.
Oil abstract, $195. 47×35.25.
Table lamps, $52 each. 29″H.
ADORABLE king scallop bed by Joanna Gaines by Magnolia Home Furniture. $895. (Queen available to order, $795.) 
Lime loveseat, $425. 53″W.
Navy & white ottoman, $295. 36x36x17.
How cute is this large scale mermaid tail art? $325. 31.5×61.5
(And Haley is not bad, either…)  
Just in…coastal striped sleeper sofa,
brand new for $995. 80″W.
Happy coastal vibes…abstract art, $175. 32.5×39.5.
White console table, $375. 50x18x32.
Octopus lamps, $95 each. 25″H.
Nice & neutral sofa, $795. 84″W
Super cute wooden wall decor, just $26. 19×23.
Just in..misty grey plush and cozy sectional, $1,095. 120×80. 
Modern chaise lounge, $345. 28×65.
Sheesham wood console table, $355…retails for $535. 54x18x30.
White designer lotus lamps, $145. 28″H.
Abstract art, $95. 40×40.
Super modern wavy mirror, just in on consignment,
$202. 48×36
Pink is DEFINITELY the new orange…
Floral art to the left, $225. 39.5″ square. 
White chunky lamps, $52 each. 31″H.
Floral abstract to the right, $225. 38″Square.
Ivory loveseat, $445. 60″W.
White coffee table, $295…retails for $460. 48x26x20.
How about a POP of color on either end of your dining table…tangerine side chairs on consignment, $62 each. 18″W.
These won't last long… ivory side tables, $245 each.
They retail for $380 each. 24x14x28.
Vibrant horse abstract by Uttermost, $175. Retails for $305. 50×40.
Heavy red jug lamps by Pottery Barn, a deal at $72 each. 30″H.
Grey wash console table with one drawer, $245. 40x14x32.
White Chippendale chair, $175…retails for $420. Just 1 available.
Ivory tufted chairs with nailhead trim, $395 each. 32.5″W.
Handsome striped bench a deal at $245…retails for $599. 60x20x18.5
Large scale and some might say MAJESTIC
botanical companions, $225 each. 36×48.
Mercury glass lamps, $95 each. 28″H.
So much prettier in person…
Just in…taupe sectional in a durable fabric,
$1,295. 98×126.
On consignment…framed sailing art, $265. Large scale 52.25×40.
Navy designer navy lamps, $165 each. 31″H.
We scored a major closeout purchase of super high end upholstery at STEAL PRICING. Handsome navy & GENUINE leather settee, the highest quality for $895. 59″W.
Ships' hatch coffee table, $595. 59.5x27x18.
Khaki & leather wing chairs, $695 each.
Retail for $1,162 each. 31″W
A closer look at these stylish chairs…
the quality is outstanding.  
This stunning cobalt blue credenza retails for $1,140…
our price, $795. 70x14x40. Gold lamps, $165 each. 29″H.
Dramatic floral art, $295. 40×60.
This non-electrical chandelier is perfect for your covered porch. Just add candles…$125.  34″ diameter & 32″H.
So cute, and useful, too.   Tall lingerie chest by American Woodcrafters in great condition, just $295. 31x19x57.5
Another great storage piece…wooden storage unit,
on consignment for just $125.  11.5×11.75×47
Super quality solid wood outdoor bench with green cushion
in LIKE NEW CONDITION for $275.  48″W
Just in on consignment… pair of 4 dining chairs in a fun print,
just $72 each. Sold in pairs only.
Looking for that perfect engagement ring?
We have you covered.
Find just the diamond she is looking for…
in addition to our in stock diamonds, we have access to hundreds of diamonds from around the world, allowing us to find you the best bang for your buck! Click the picture to start browsing our online database.
We have simple settings in all varieties!
Prices of pictured settings range from $665 to $2,395.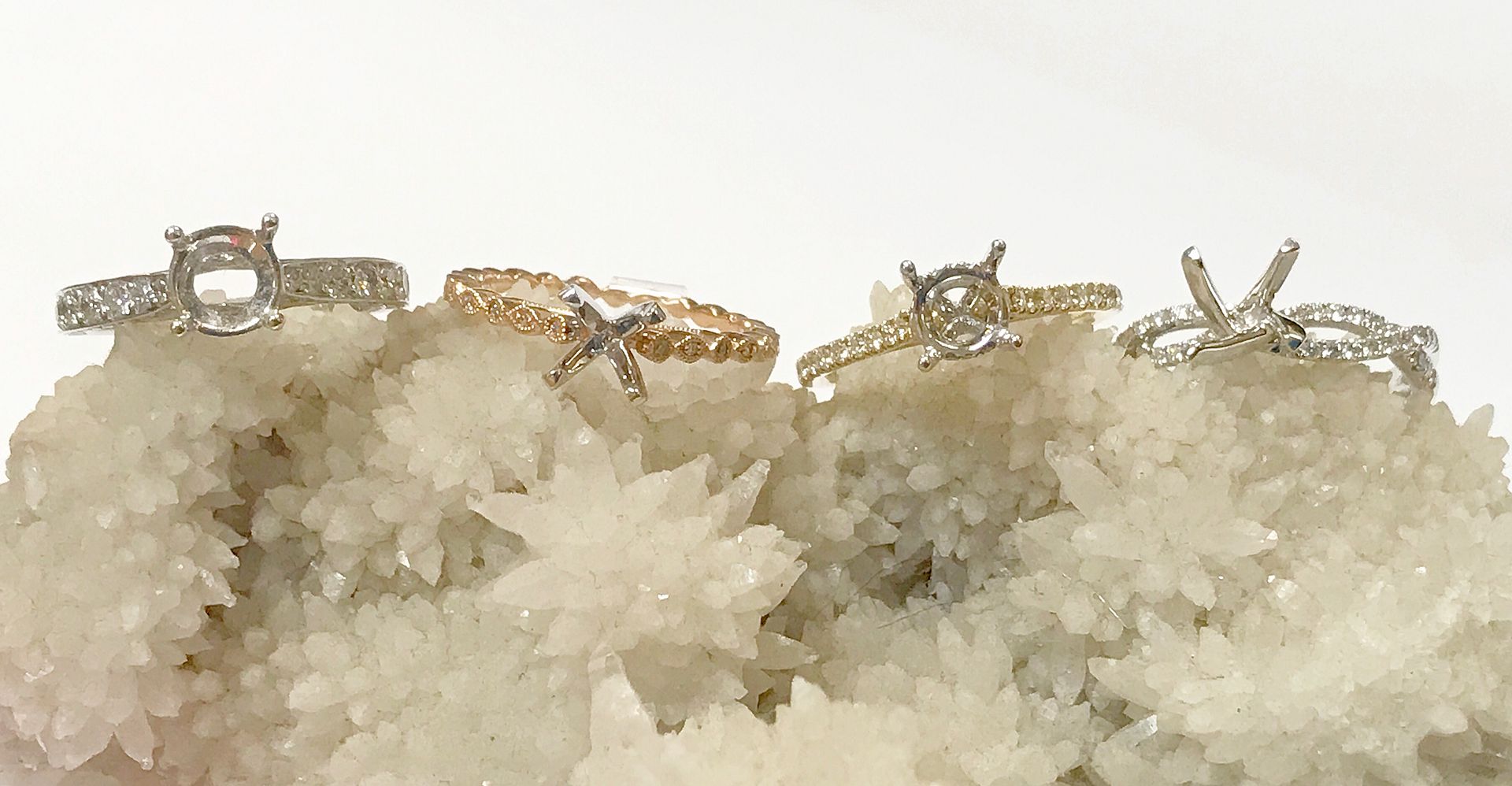 Or we have halo settings for those who want a little more sparkle.
Prices of pictured settings range from $2,015 to $4,295.
For the more modern lady, these Frank Reubel
semi-mounts are perfect.
Prices of pictured rings range from $875 to $2,985.
.61ct J color I1 clarity center accented with
.80ctw of side stones in platinum, $3,995.
Check out these amazing rings!
Prices of pictured rings range from $8,995 to $6,395.
1.20ct J color and SI1 clarity radiant cut GIA certified diamond
in a .19ctw diamond and 14kw gold, $4,395. 
.25ctw diamond and 14kwg wedding band, $395.
We also have a great selection of vintage engagement rings. 
Prices of pictured rings ranges from $1,275 to $2,995.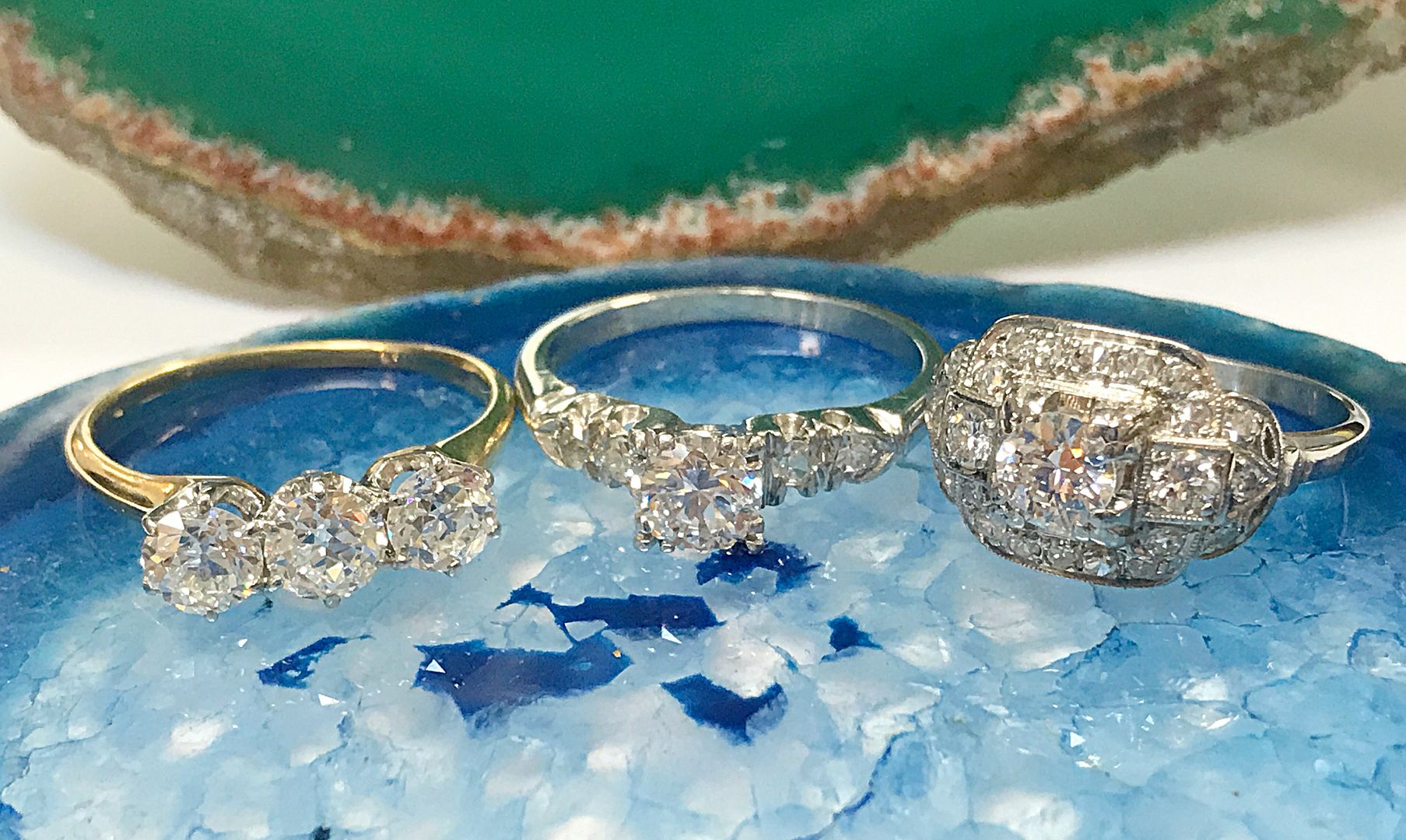 Looking for something less traditional?
Sapphires and rubies are great alternatives.
1.36ct ceylon sapphire in a .40ctw diamond setting, $4,795.
2.35ct ruby in a .43ctw diamond setting, $3,995.
1.10ct sapphire in a .45ctw diamond setting, $2,299.
Morganite is another beautiful option.
1.10ct morganite and .16ctw diamond ring, $1,795.
.15ctw pink diamond and 14kr gold band, $755.
Do you want a ring that is completely one of a kind, just like her?
We've got you covered! We have a full time custom jeweler on staff and he can make the ring of her dreams a reality. 
Just in designer jewelry…these won't last,
call 910 256 1850 to place a phone order. 
David Yurman two tone cuff, $685.
Diamond X crossover ring, $455.
Lagos sterling silver and 18ky gold ring, $195.
David Yurman thoroughbred smokey quartz earrings, $295.
John Hardy sterling silver and diamond pieces.
Necklace, $1,395.
Bracelet, $1,595.
Just in Tiffany & Co!
Square cushion necklace- $245.
Square cushion earrings- $145.
Full heart necklace- $195.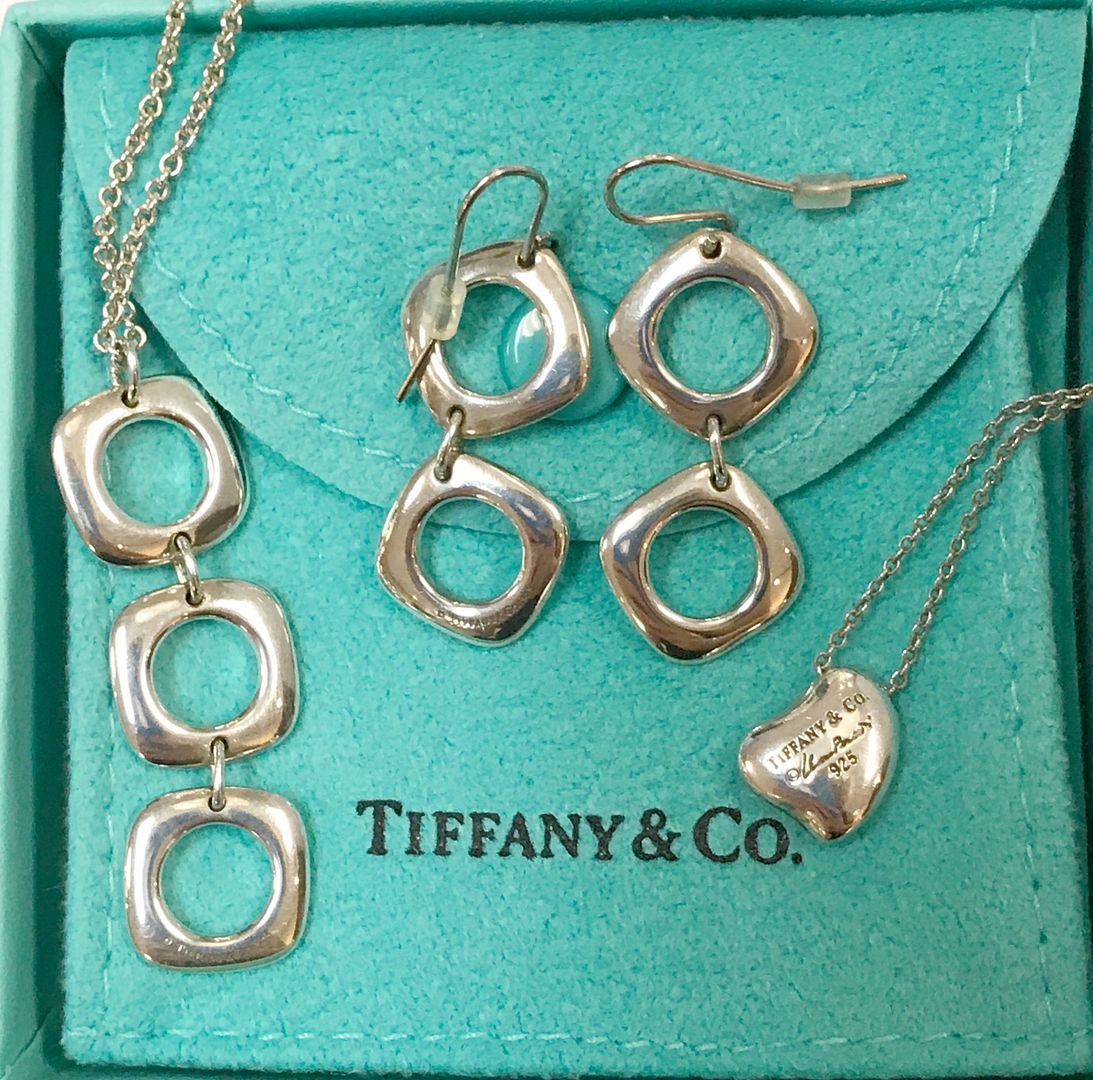 Rolex stainless and gold Datejust circa 2000. $3,795.
10mm onyx and 14ky gold studs, $95.
Diamond and 14ky gold hummingbird pendant, $295.
All that glitters…
35 gram 14ky gold necklace, $2,750.
13.9 gram 14ky gold bracelet, $595.
17.6 gram 14ky gold love knot earrings, $510.
Don't forget, in honor of all the August babies out there we are offering 20% off any piece with peridot. This beautiful green gem is said to protect against evil and ensure happiness.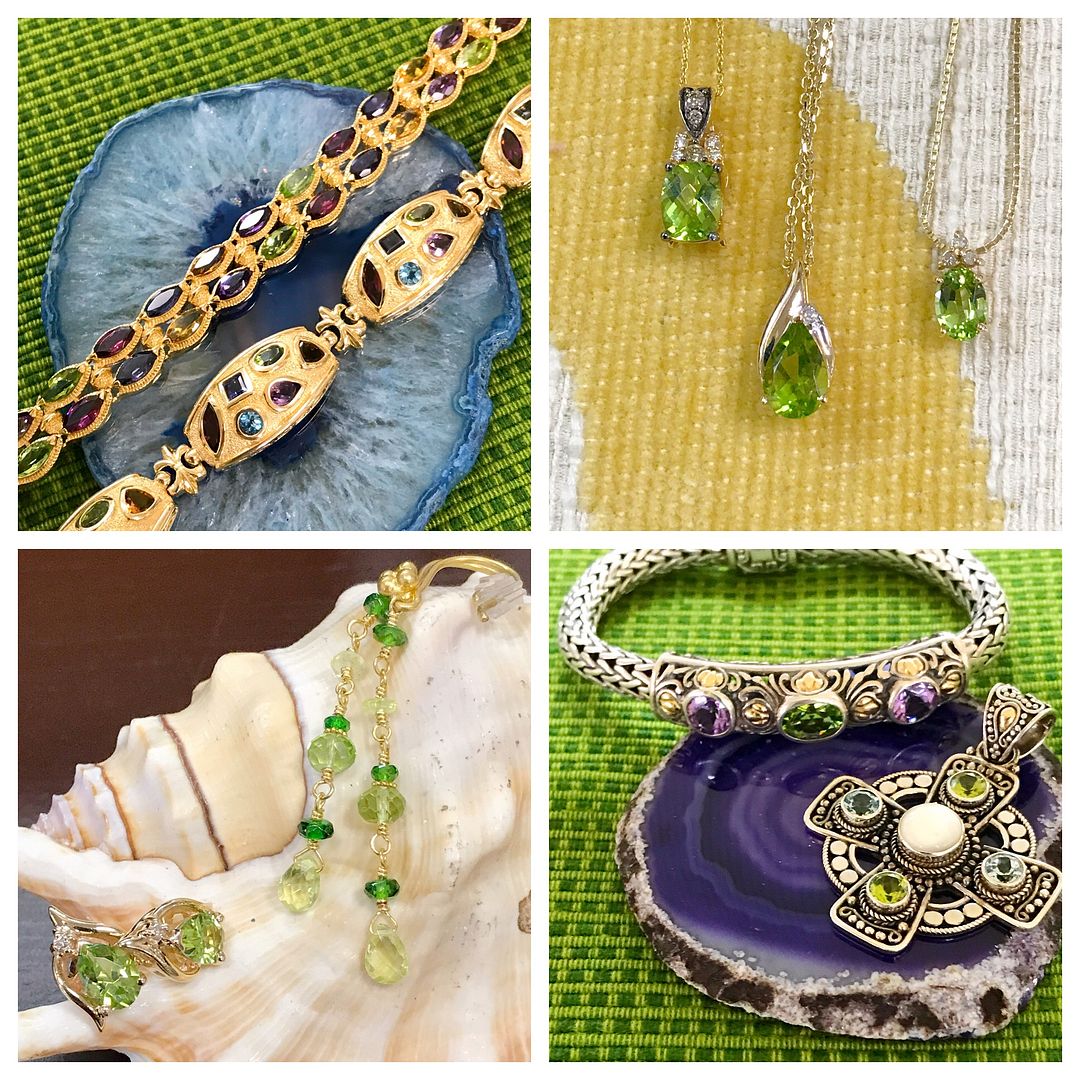 Garnet and diamond necklace, $525.
14kw gold wheat chain, $295.
18ky gold wheat chain, $1,295.
14ky gold twisted bangle, $995.
14k two tone huggies, $295.
Coral and pearl ring in 14ky gold, $295.
Green amethyst, citrine, and tourmaline earrings, $295.
Smokey quartz and diamond earrings in 14kr gold, $645.
Grey pearl and diamond dangles, $695.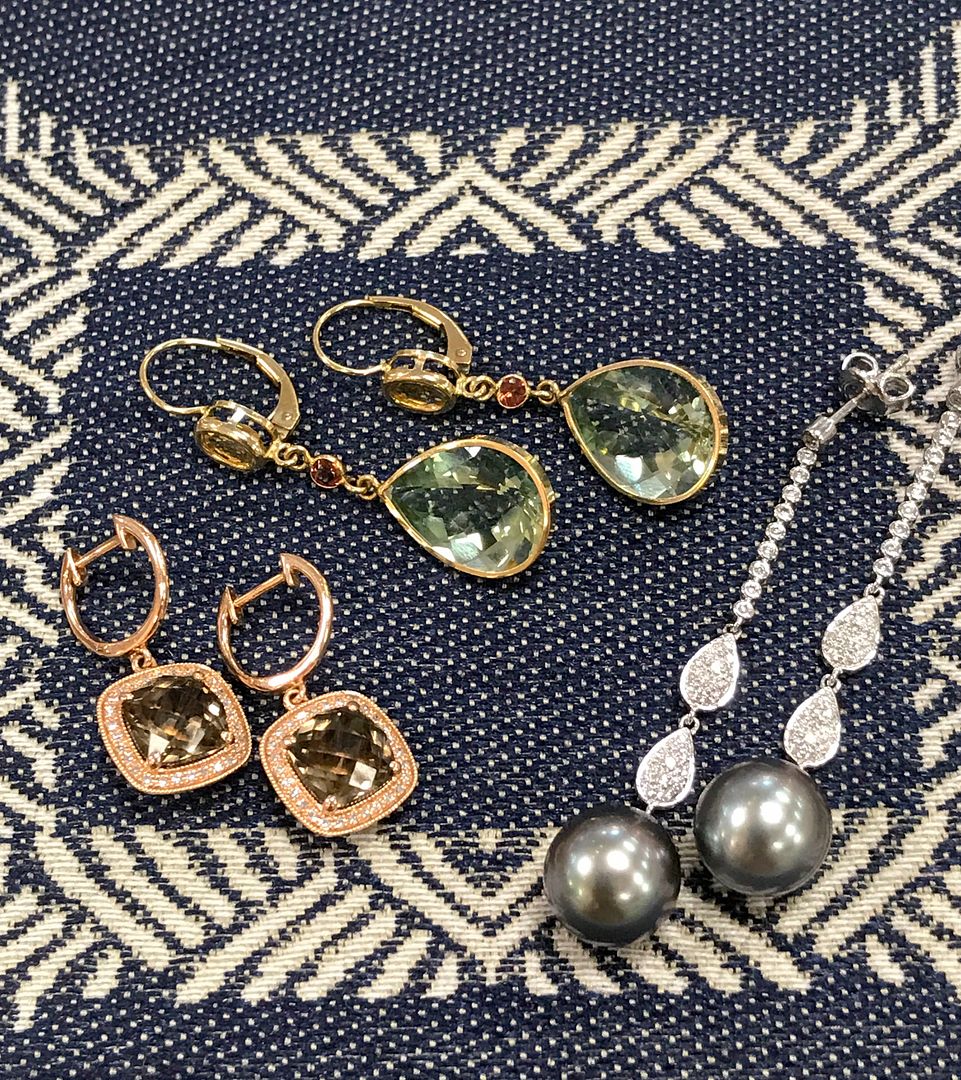 14ky gold and opal skull ring, $995.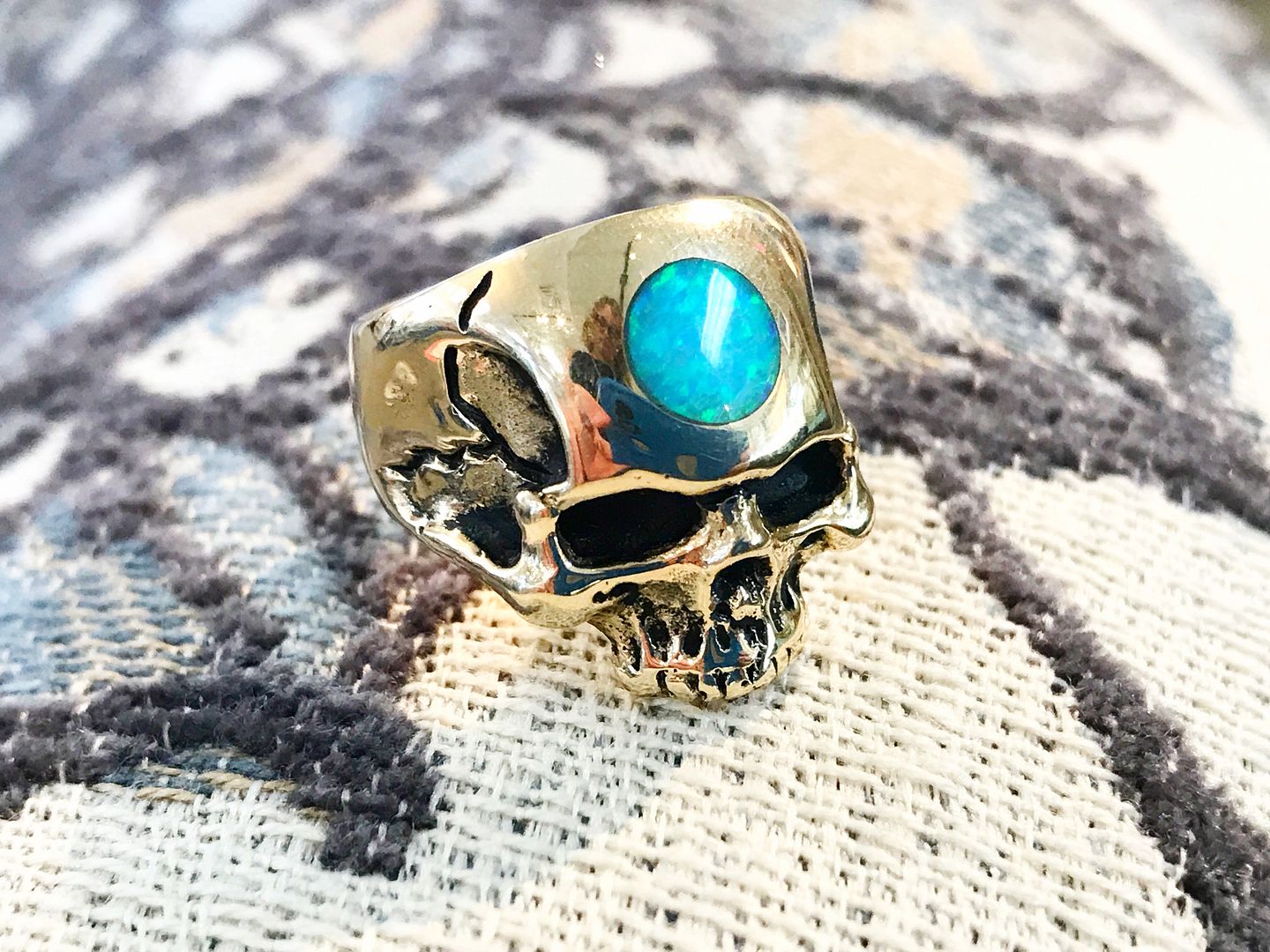 No matter what your style…
you'll find it at Home Again & Lumina Gem.
Thanks for reading our email!