Business was very brisk last weekend…
and when we came to work this past Monday, 
the store was nearly EMPTY! 
But that did not last long…
…we have so many great new arrivals, 
it's hard to know where to start!  
So hold on to your hat…
we're about to go from ZERO to SIXTY!  
Super dramatic large canvas floral art, $295. 40×60.
Pretty blue media chest, $595. 60x19x32.
Designer acrylic lamp, $225. 33″W.
Charcoal heavy-duty twill sectional, brand new for $1,095. 114×90.
Storage ottoman, a steal at $125. 41.5x20x16.5.
You have to come see this in person… the prettiest sectional in a soft robin's egg blue, brand new for $1,495. 110×87.
Shabby soft blue dresser, $295. 60x18x31.5.
Sandpiper lamps, $125 each. 23″H.
Lovely abstract $145.
Here is a closer look soothing textured abstract in
lovely and soft coastal colors, $145. 31×43.
Classic in the front…but a party in the back.
Pair of blue velvet counter stools with gold hardware and
washed legs, just $290 for the pair.
Just in…queen oatmeal bed $495. 40×40 floral art, $165.
Grey loveseat, $495, 62″W.  Mongolian lamb pillows $62 each.
Heading back to school? This teal velvet adjustable sofa will be
SO much fun to hang out on. $295, 77″W.
Just in on consignment, nice king bedroom set by Braxton Culler. King headboard $275, dresser, $425, 55.5x21x36.
Two nightstands $175 each. 28x20x27.
Super cute and well constructed white outdoor bench
with green cushion, $275. 48″W.
Just in…nice wooden rockers in a stained finish, $175 each. 25″W.
In the cool and unique category…genuine ships hatch door coffee table $595, Similar tables go for $1,500 on etsy. 59x26x17.
Wood look lamps $86 each. 30″H.
These won't last but a hot minute… pair of spindle accent chairs
in linen, just $395 each. 27.5x30x36.5.
The details are cra-cra on this brand new market sample dining
set for $995. 57″diameter.
Catch a wave to Home Again for the BEST ART.
This framed life like wave art is $295. Large scale 49×55.
Pretty grey tweed sofa with clean lines,
brand new for $595, 80″W.
A lovely abstract for $225, 40″square. Shown with highly textured aqua lamp on a lucite base for $145. 30″H.
It does not get any prettier…blue bead chandelier $325, 
21.5″diameter & 16″H.
A happy look…Art $95 40×40.  Green lamps $75 each, 27″H.
Rustic media center $425 54x17x32. Media center also available in a 74″(pictured below).
Deal time…Handsome recliner in neutral taupe just $325.
Pair of great quality counter stools with black tops and brass nailheads, just $190 for the pair.($95 ea)
A lovely textured abstract in muted tones, $395 70×48.
Ombré lamps $140 each, 29.5″H. Whale bookends $95.
Just in opportunity buy… great quality 30″ barstools just $125 each. Total of 10 available.
On trend chandelier in iron and wood, $350.
37″diameter & 27″H.
Pub set w 4 stools $275, 36″diameter.
Such an interesting piece… black shuttered full length mirror that can be hung on the wall, $265. 42.5×71 when opened.
Two tone table with two black chairs, $175. 30×30.
Pretty black louvered full size bed (includes rails and slats)
just $350.
Super handy and large storage chest by ETHAN ALLEN, on consignment for $275. 44×17.75×20.
This is a GREAT outdoor patio set by high end maker TELESCOPE. Table and 4 sling chairs in great condition for $495. Table is 24×47.5. Compare online and you'll see this is a great deal.
Slate grey w black sling. 
You can't help but be happy when you look at this guy.
$225 39″ square, black frame.
Just in on consignment… super nice outdoor wicker set by Erwin and Sons. Loveseat $395, 55″W.
Two matching club chairs $225 each, 33″ W. 
Amazing quality media center/server… notice the elegant wood grain…Just $395. 56x20x36
What can you say about perfection? It's just all that and a bag of chips…$295 40x14x34.5. Also available in white. 
This show stopper has just been REDUCED! 15ctw sapphire
and 3ctw diamond bracelet set in 18kw gold.
Was $19,995. Now $14,360.
Click the picture to watch a video.
Ippolita designer mother of pearl bangles in sterling silver.
Top-$265.  Middle-$275.  Bottom-$355.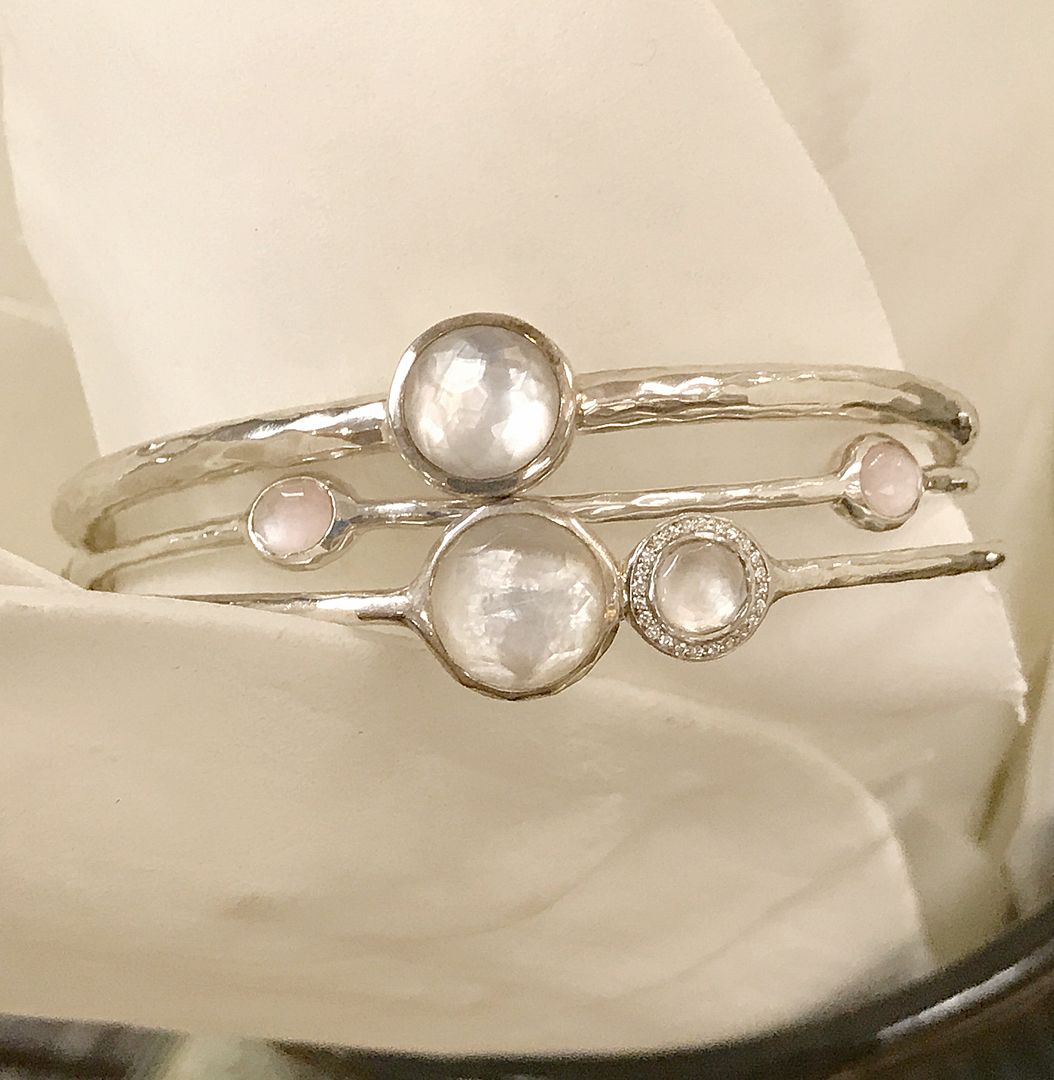 David Yurman smokey quartz and diamond albion tassle necklace
in sterling silver with 18ky gold accents, $1,995.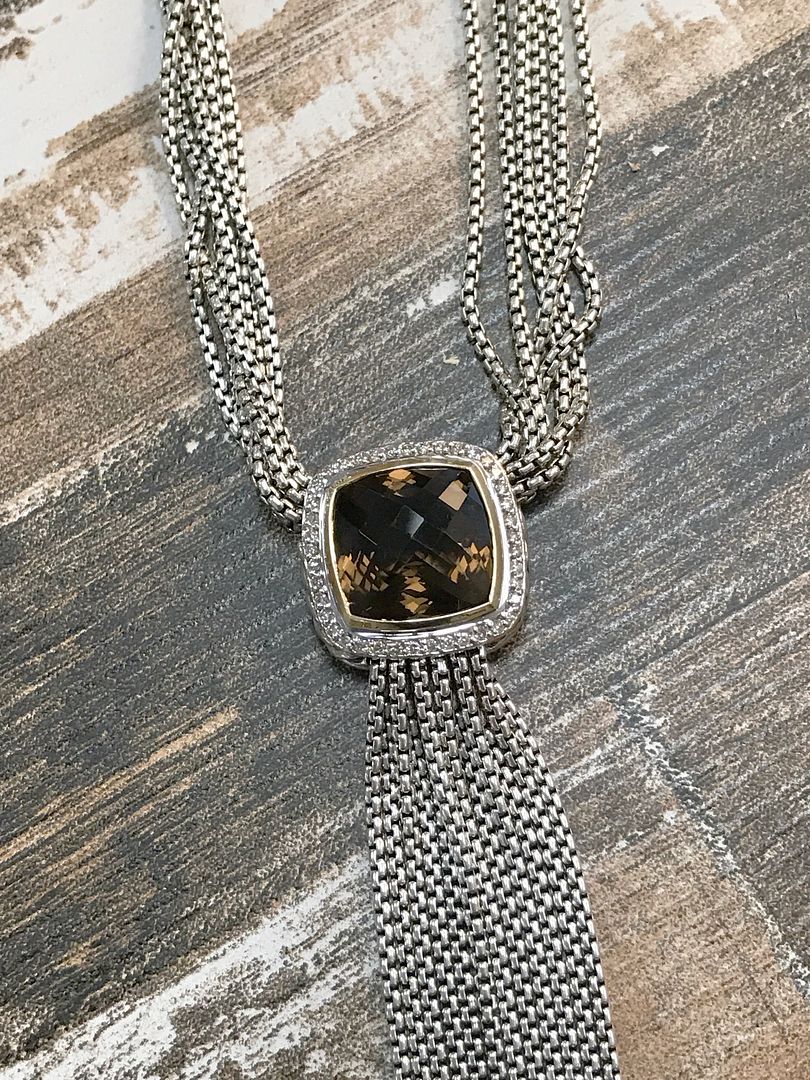 Slane Column ridged pave diamond clasp bangle bracelet with engravable plate on the inside, $895.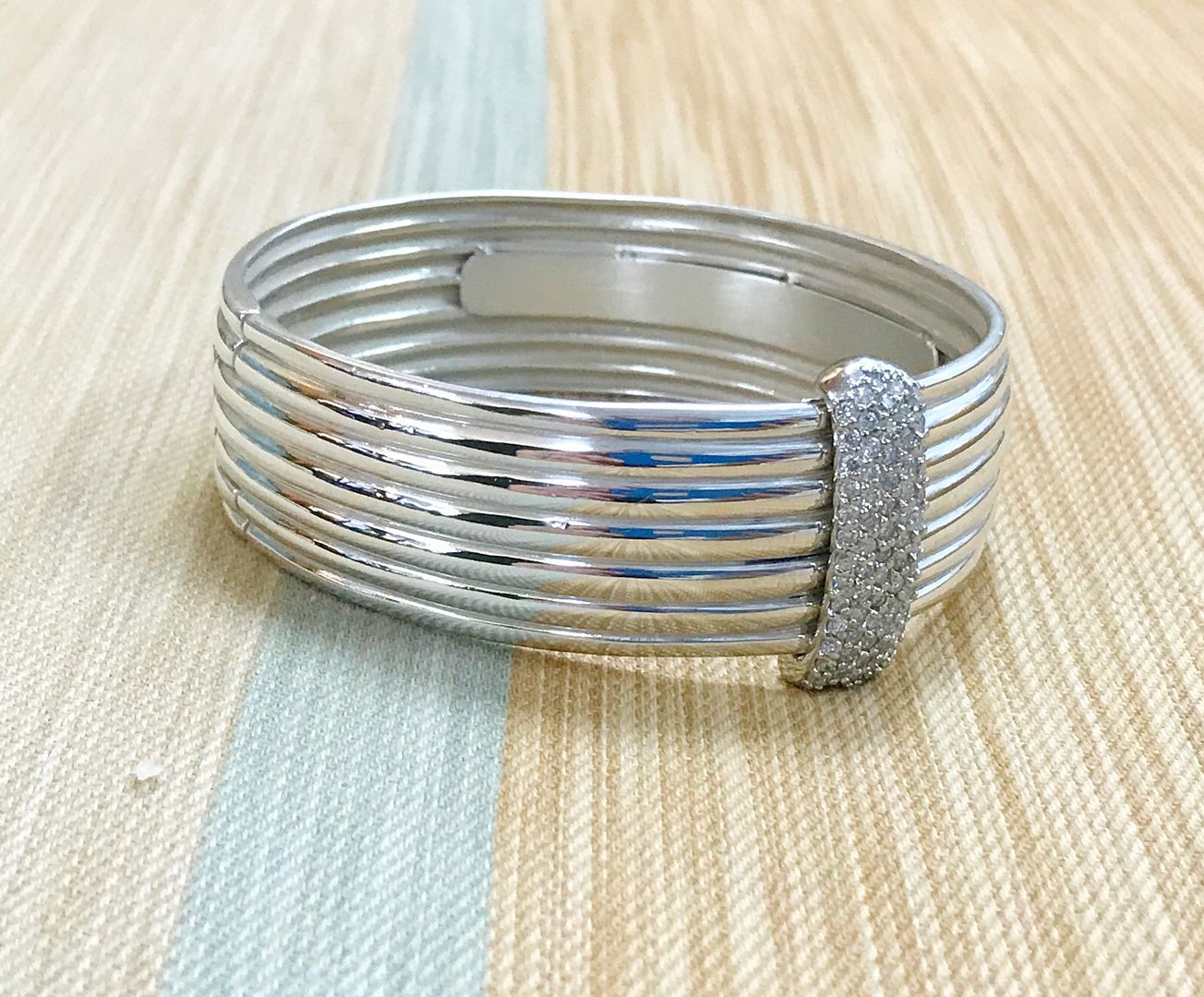 Tiffany and Co. sterling silver pieces.
Toggle necklace with heart- $295.
Interlocking clasp necklace- $295.
Heart charm bracelet- $175.
Never been worn watches!
Michael Kors- $195.
Swiss Army watch- $295.
Breitling stainless Starliner watch with diamonds and
blue mother of pearl dial. $4,295.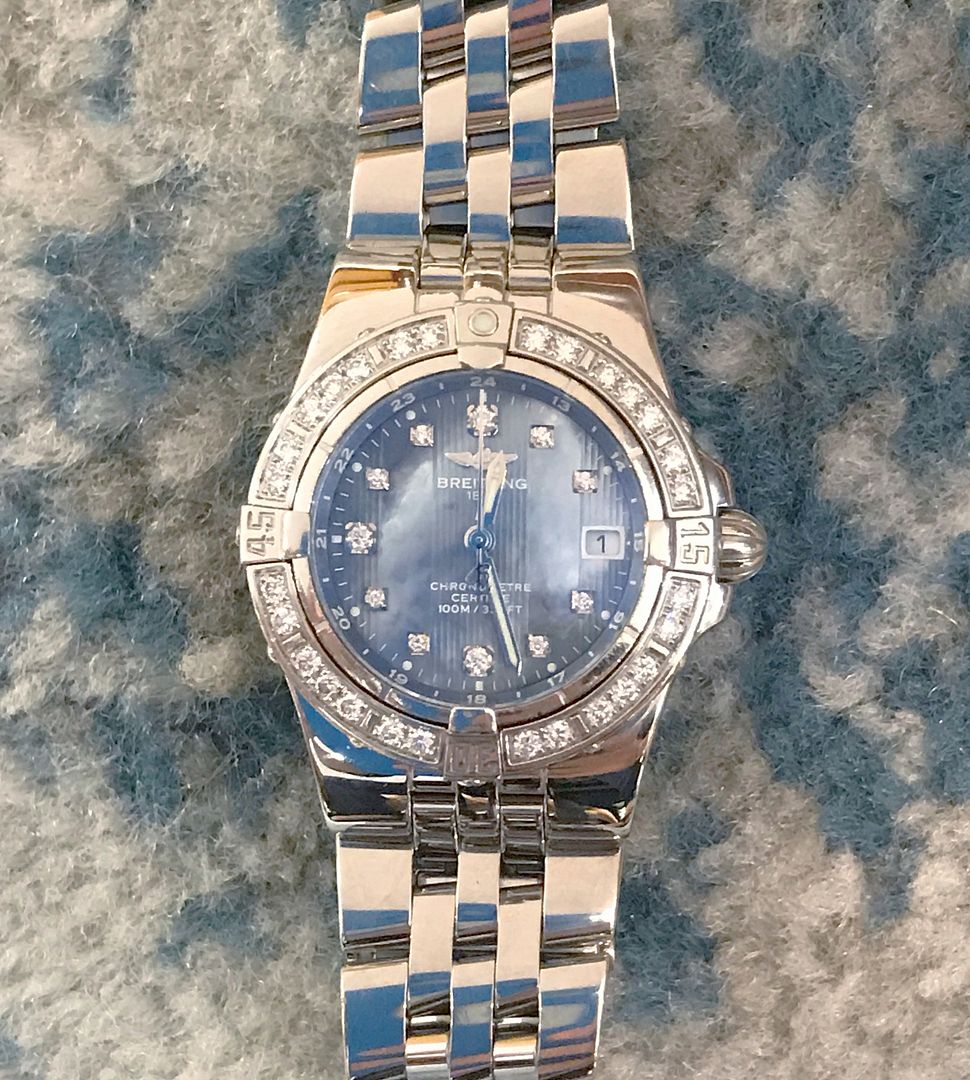 Michele CSX33 diamond chronograph watch with
two tone band, $1,395.
16mm gold band, $315.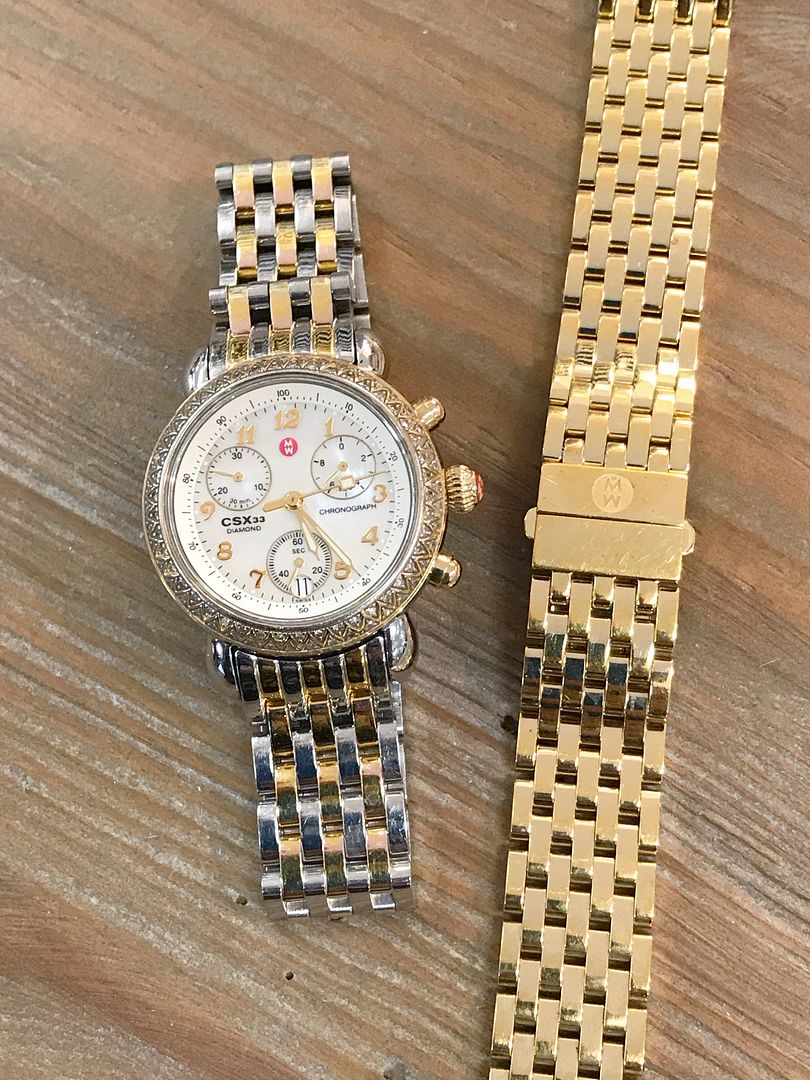 Just in Allison-Kaufman designer pieces!
1.56ct aquamarine in a .14ctw diamond and
14kw gold setting, $1,595.
Be bold in this brushed finish matching set…
each piece features 1.22ctw of diamonds.
Pricey…but your are worth it!
Necklace- $11,165.
Bracelet- $7,095.
Look how well this gorgeous piece lays.
.18ctw diamond and 14ky gold leaf earrings, $1,195.
.22ctw diamond and 14ky gold layered circled necklace, $1,515.
We have simple diamond necklaces for everyone. Click the picture to shop all of our diamond necklaces. Prices of pictured necklaces range from $595 to $3,695.
.82ct H color SI2 clarity round diamond in a .67ctw diamond and 18kw gold semi-mount, $4,995.
Be unique with this 1.65ct blue-green Montana sapphire accented with .44ctw of diamonds in 18kw gold, $5,725.
Click the picture to watch a video.
Celebrate the past with this .15ct antique engagement ring
in 14kw gold, $395.
Left- Andrea Candela diamond ring in sterling silver
with 18ky gold accents, $598.
Right- .04ct morganite accented with .33ctw of champagne diamonds in 14kr gold, $748.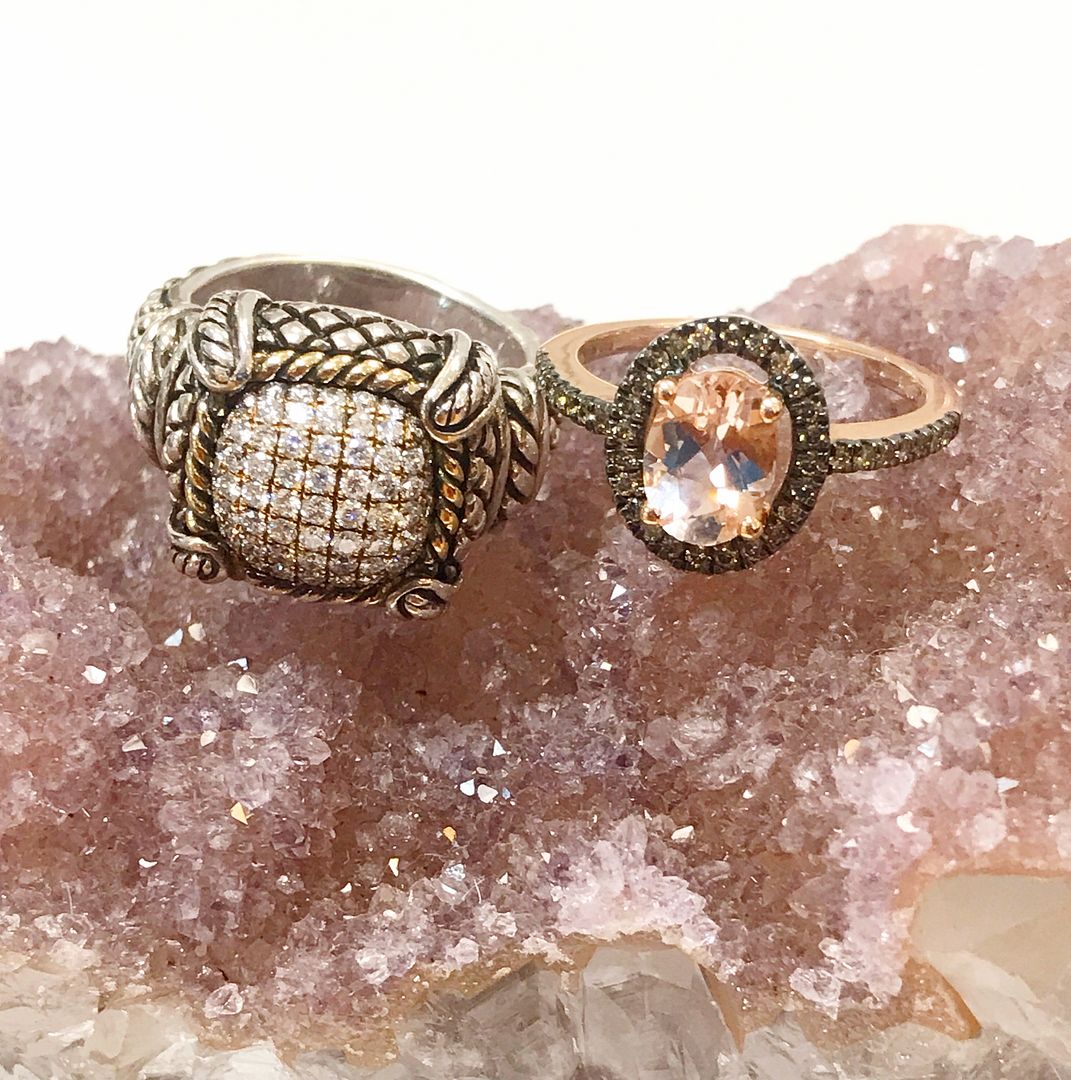 Just in Giovanni Raspini!
18ky gold plated sterling silver pieces. 
Reconstituted lapis necklace- $415.
Coral earrings- $395.
Bamboo earrings- $275.
Circle link bracelet- $475.
Sterling silver bamboo matching set.
Necklace- $875.
Hinged cuff- $465.
Sterling silver champagne bubble hinged bangle, $425.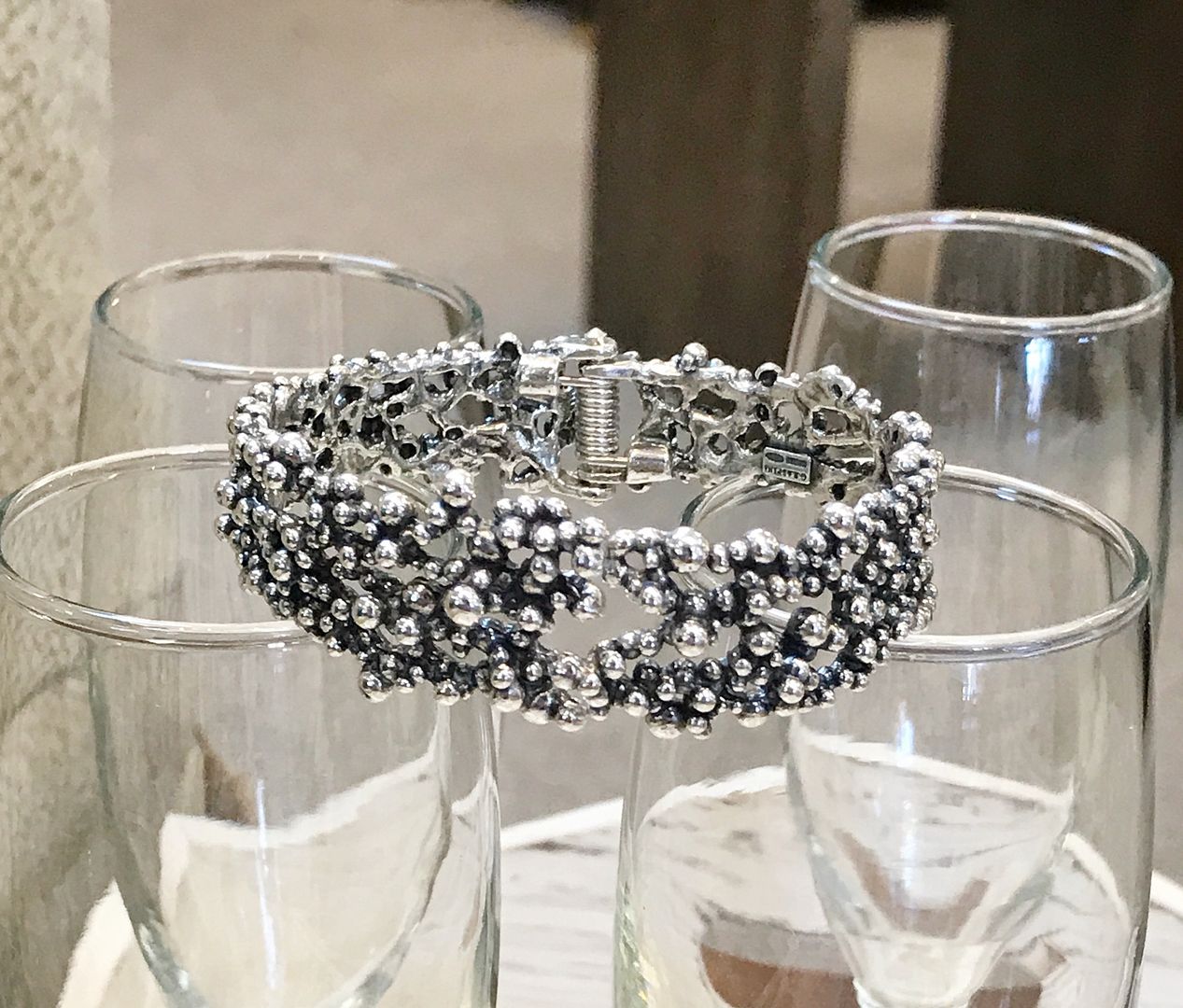 This sterling silver coral jewelry would be the perfect finishing touch to any summer sundress.
Earrings- $265.
Hinged bangle- $515.
Hydrothermal quartz necklace- $595.
Hydrothermal quartz ring- $475.
Ring- $165.
Sterling silver 38″ necklace- $715.
Circle link bracelet- $285.
Multi-circle link bracelet- $475.
Now it's time for YOU to go from zero to sixty…
GET OVER HERE and GET TO SHOPPING!