It's been an incredible week…great furniture
has been pouring in like crazy…
And we have received the BEST selection EVER
 for our ANNUAL ESTATE & DESIGNER JEWELRY SHOW!  
~~~~~~~~~~~~~~~~~~~~~~~~~~~~~~~~~~~~~~~~~~~
So if you are into VARIETY…we've got everything from 
dressers to diamonds…ON WITH THE SHOW!
~~~~~~~~~~~~~~~~~~~~~~~~~~~~~~~~~~~~~~~~~~~~~~~~~~~~
This genuine top-grain leather sectional is comparable to a Restoration Hardware sectional at $15,000+, our price $4,295.
Large scale, 112x140x112.  
It is modular, so you can configure any number of ways.
LOOK what just hit the floor…
Green glass-front cabinet, $595. 70x15x42.
Glass & burlap lamps, $95 each. 
Pier art, $145. 23×55. 
YOU HAVE TO SEE THIS GROUP IN PERSON…
Just in on consignment…wood inlay pencil post burl king bed $995.
Bob Mackie bedside tables, $350 each. 30x18x30.
Coordinating dresser pictured below, $750. 68×17.5×39. 
 Plaid chair $695. 29″W.
Just wonderful…pair of sporty yet refined washed finish chairs,
brand new for $425 each. 28.5W.
We are calling it 'Chunky-Monkey'…rustic square dining table,
just in on consignment for $795. 63x63x30.
This cute bench would go nicely with the table above, just $115. 42″W.
We have a total of four of these cute white washed metal dining chairs, $65 each (Sold in pairs only.) 14.5″W. 
Just in…pair of grey & ivory geometric print accent chairs,
$325 each. 30'W.  
This Kingsley Bate aged teak finish in/outdoor table is the
BEES KNEES. Retails for $1,650…our price, $725. 73×39.5.
We are showing it with two brown parson's chairs, $124 for the pair, and two darker chairs at $150 for the pair. 
We all LOVE these subtle tweed blue accent chairs,
brand new for $375 each. 30'W.
Yes, please… wooden on-trend chandelier just $275.
16″ square and 17.75″H.
A very functional piece in two-tone solid wood, and make sure to notice the wine storage in the center, $345. 46x17x40.5.
Pretty blue tufted ottoman, $245.  47x27x18.
BEACH HOUSE BONANZA…
Colorful dining room set…white table and TEN chairs, $995. 
As shown, 84×40. An additional 20″ leaf is included. 
This WILL NOT LAST…three drawer white
cabinet, $325. 40x14x34.
JUST IN…Sleek dove gray recliners, $495 each. 30″W.
Rustic bedroom set just in on consignment…
Queen bed, $495. 
Tall dresser, $595. 37x17x54.
Dresser & mirror has sold, sorry. 
Nightstand, $295. 28x19x28.
Media console, $495. 70x17x30.
This is a complete WOWZA…you must see it to appreciate just
how beautiful it is.  Extra large wooden mirror in washed wood,
$595. 42.5×90.
We have a PAIR of these sleek modern oatmeal recliners,
just $450 each. 30″W.
Another great rustic bedroom set on consignment…
Queen storage bed (drawers on both sides) $595.
Tall dresser, $395. 38×19.5×48.
Bedside tables, $225 each. 23.25×16.75×24.5/24x24x27.
Super cute shabby green cabinet, $395.
Larger than it looks in the photo, 51x16x60.
MORE CONSIGNMENT GOODIES…
White dresser, $395. 38x19x53.
Bedside tables, $265 each. 31x16x33.75.
White twin bed by Young America, $295, compare at $500+.
Includes side rails, not shown.
The store is PACKED…queen oatmeal bed, $495.
 Charcoal chairs, $355 each. 29″W. Horse abstract, $445. 62×52.
20.5″ leaf metal wall decor, $38. 17″ $28. Smaller piece has sold.
Mongolian fur pillow, $85. Floral pillow, $28.
On trend navy & white chairs, $175 each. 24″W x 38″H.
White side tables, $145 each. 22x26x26.
Just in…performance fabric sofa in slate gray, $895. 89″W. 
Throw, $24. Pillows, $27-$22.
Just in on consignment…handsome bachelors chest,
a deal at $395. 56×18.5×46.
Always timeless, but super on-trend navy & white chairs, $275 each. 26″W.   Designer embroidered pom-pom pillows, $48 each. 
Nice computer credenza by HOOKER, $625. 60x22x44.
POWER reclining sofa & loveseat in leather-like
high performance fabric, both are brand new for $1,095 ea.
Sofa, 89″W. Loveseat, 77″W.
If your thing is superior craftsmanship, come see this natural
cherry dining set with 6 chairs just $495.
72×42 as shown, plus two additional 12″ leaves.
So many great pieces arriving daily…
Check out this low profile king platform bed, $425.
Pair of floral chairs, $395 each. 26″W.
Ethan Allen gate-leg drop leaf table, $535. As shown, 17.5×55. Folds out to 55×50.5. Pair of Uttermost lamps, $112 each. 37″H.
Ethan Allen cabinet, $196. 47x20x21.
Calling all lawyers…this vintage Wernicke 'Elastic' barrister bookcase goes online online from $1300-$1800,
buy it here for $595. 34×11.25×61.
A soft yet modern vignette…
Seafoam green mid century inspired chair, $375. 30″W. Distressed cabinet retails for $650…our price, $425, brand new, 42x14x38. Pastel leaf art, $125.38×26. Ceramic lamp, $125.
A sophisticated coastal look…gray chairs with ivory piping $395 each, 29″W. White dresser(includes mirror, not shown.) $595. 62x17x36. Plexi glass lamps, $32 each. 28″H.
Set two abstract panels, $95.
Don't miss out on all of the unique pieces that
are here for this weekend only for our annual
ESTATE AND DESIGNER SALE!
Plus we are serving delicious snacks and drinks all day long…
and EVERYTHING in our cases has been discounted 15-50%.  
Black Hills gold moonstone ring, $440.
14ky gold and blue chalcedony ring, $720.
14ky gold and chrysocolla ring, $500.
Art Deco diamond pins.
Top- .20ct Old European Cut VS clarity H color
in 14kw gold, $1,360.
Bottom- 14kw gold filigree diamond pin, $540.
Left- 4.15ctw Old European cut diamonds
and platinum pin, $9,925.
Right- .70ct OEC in a platinum pin/pendant with 2.31ctw, $8,060.
18ky gold and enamel bird earrings from Pakistan, $2,300.
Tourmaline and seed pearl dangle earrings in 18ky gold, $3,000.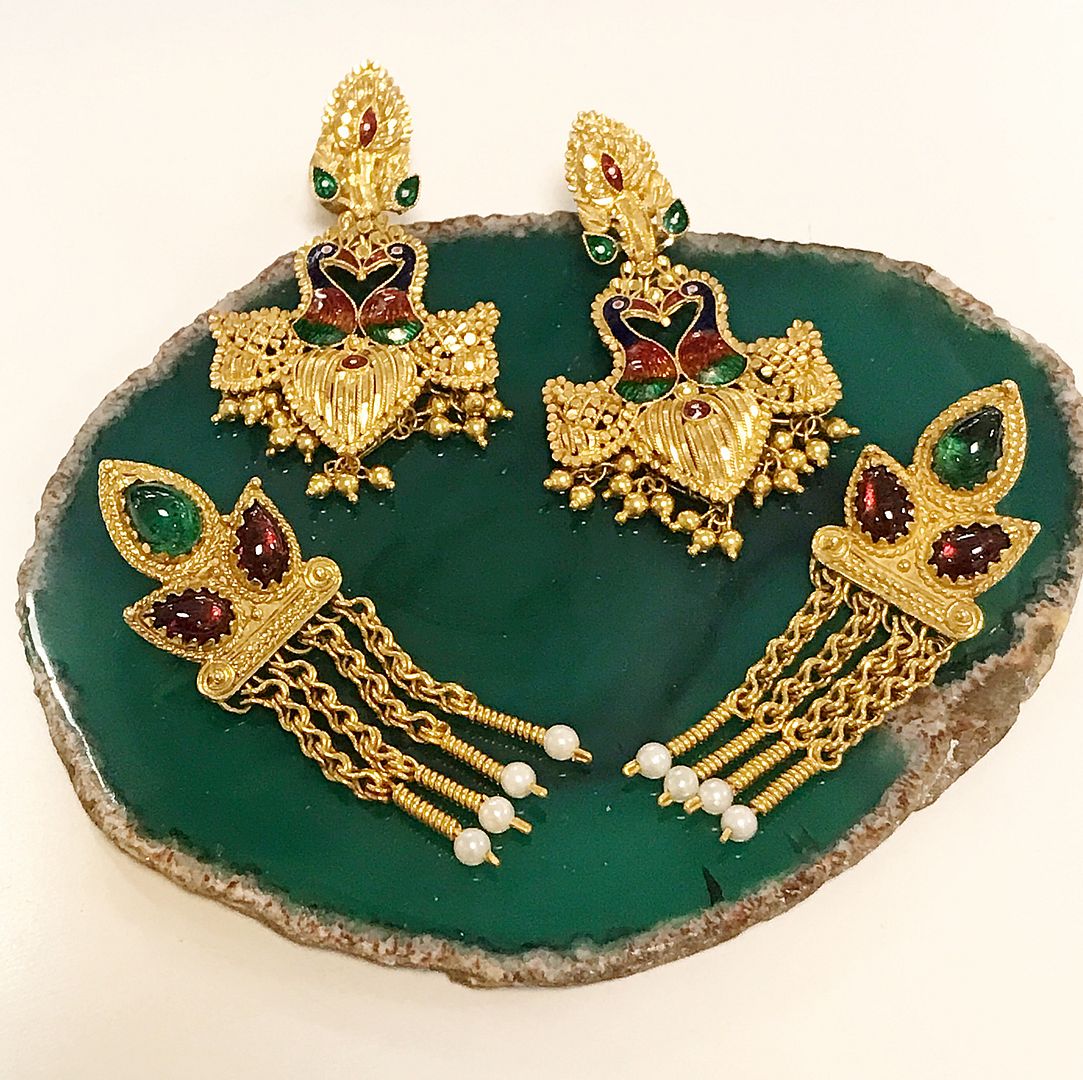 We even received some David Yurman estate pieces for the show!
Diamond two tone ring, $565.
Onyx and diamond albion enhancer, $1,105.
Smokey topaz enhancer, $525.
Turquoise and diamond huggies in 14ky gold, $376.
Victorian turquoise and 9k gold ring, $220.
Turquoise and sapphire cluster ring in
14ky gold circa 1970, $1,440.
Vintage 5 stone turquoise  ring, $312.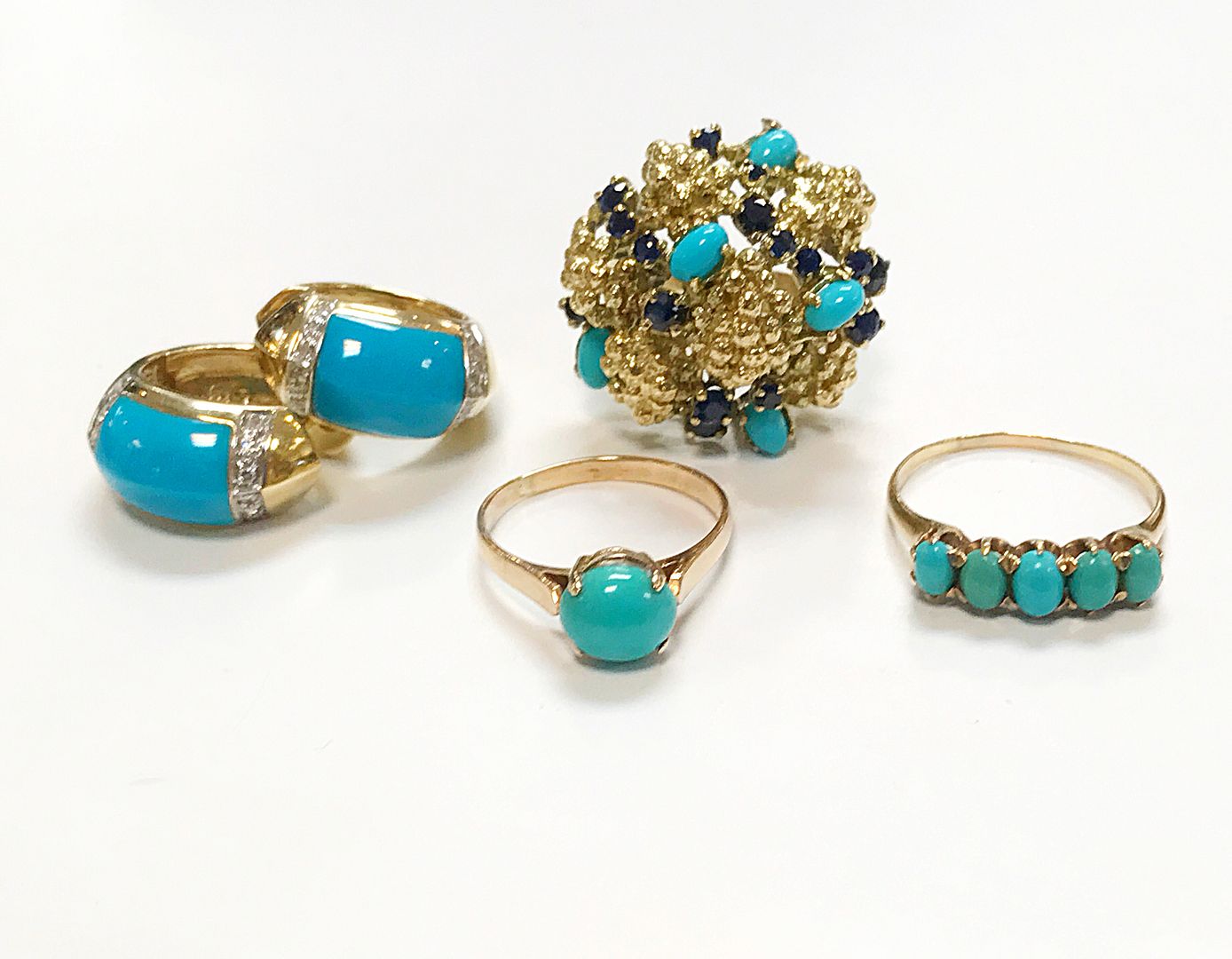 .50ctw hammered gold dangles in 18k two tone, $3,200.
18ky gold bar dangles $268.
.50ctw door knockers in 14k two tone gold, $3,000.
Sapphire, ruby, and emerald station necklace
in 14ky gold, 26 inches, $1,200.
10ky gold beaded 30″ necklace, $1,600.
18ky gold aztec link 22″ necklace, $5,600.
 Check out all these awesome earrings!
Prices range from $140 to $2,200.
Old European Cut three stone ring in 18ky gold, $448.
.55ctw diamond and 14ky gold wave ring, $1,540.
Mark Flyer 1.50ct sapphire and .50ctw diamond pendant
in 18kw gold, $4,180.
Left- .41ctw diamond ring in 18kw gold, $1,163.
Center- .20ct Old European cut diamond accented
by emeralds in 18kw gold, $469.
Right- .20ct center with .10ctw of accent diamonds
in 14kw gold, $574.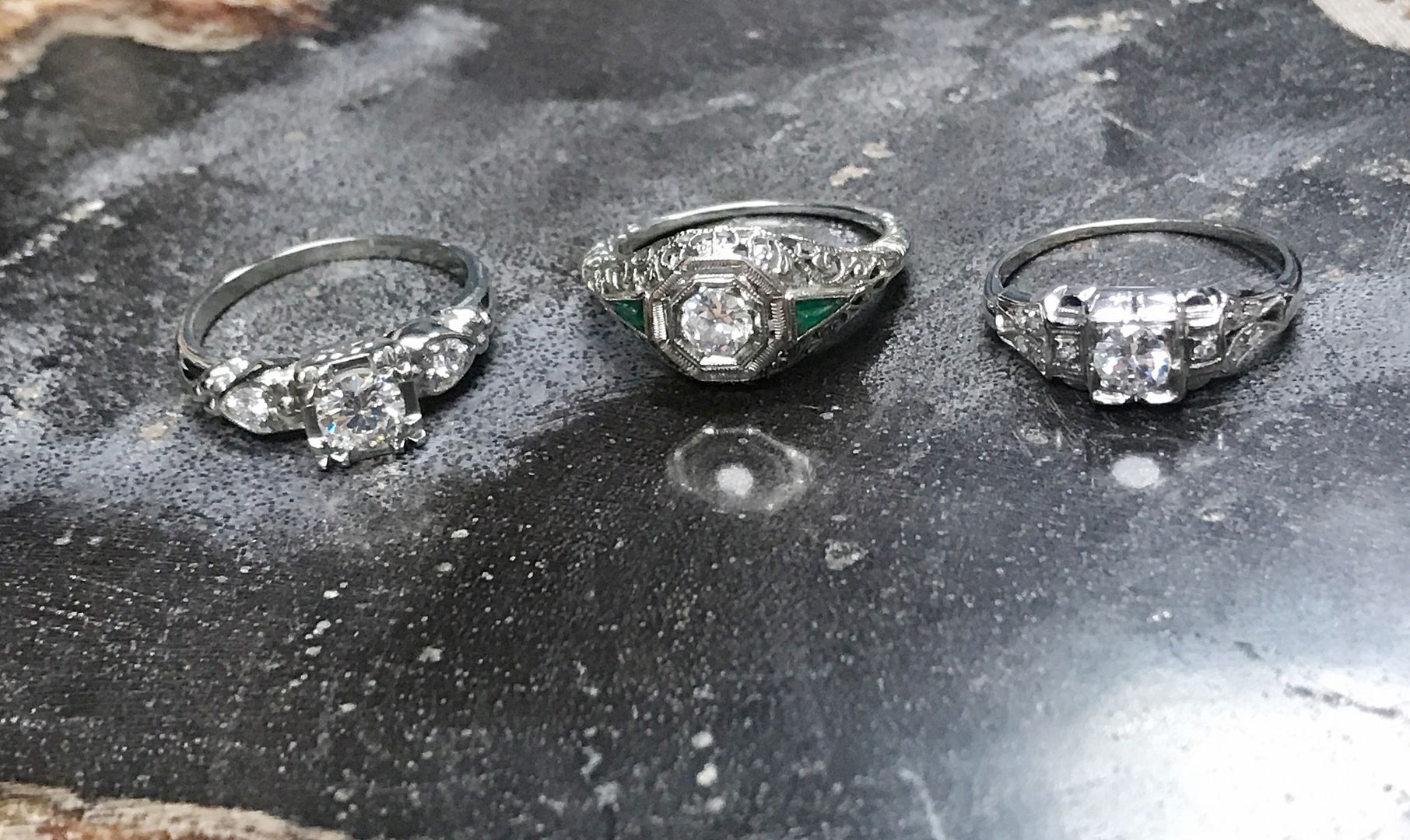 This necklace is classic with 40 grams of 14ky gold!
The earrings can be added as extra links if needed. $4,294.
Multi stone and 14ky gold pendant, $686.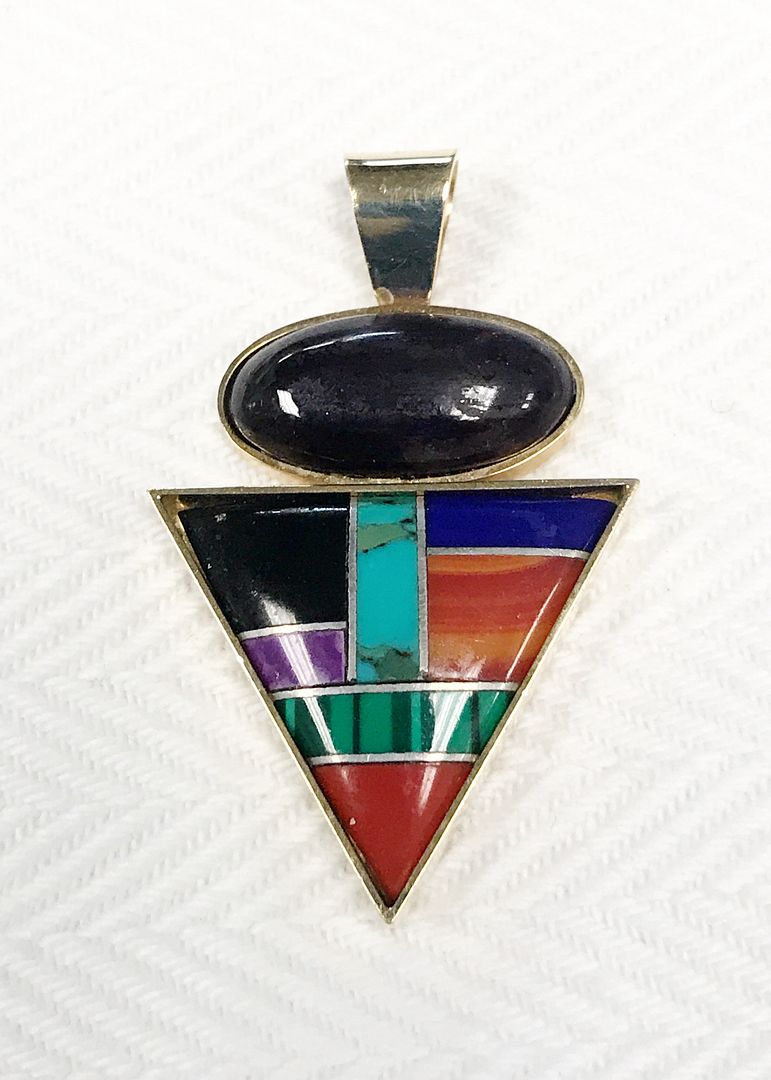 .54ctw diamond filigree earrings in 14k two tone gold, $2,963.
1.50ctw diamond huggies in 18kw gold, $3,280.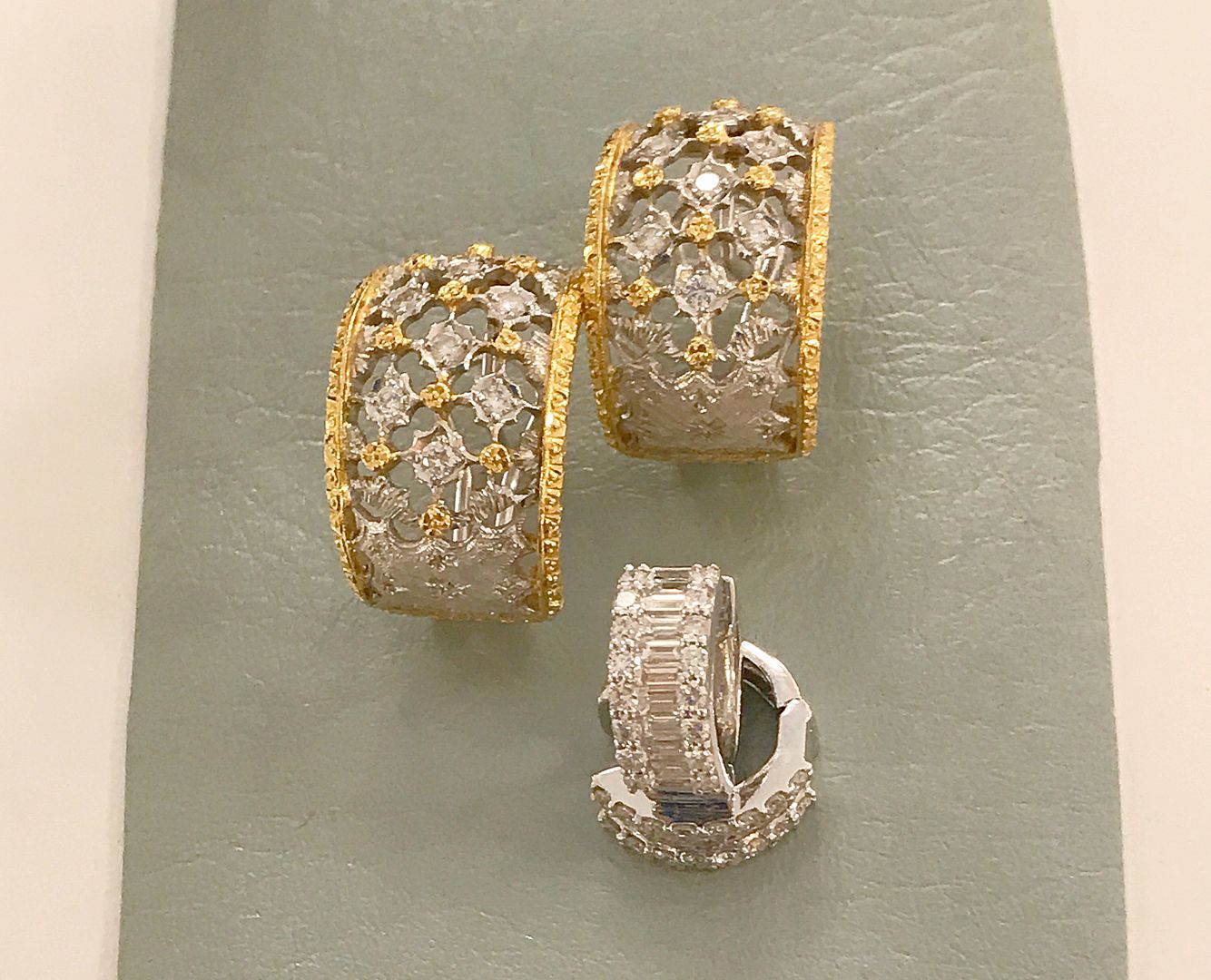 Victorian pearl and diamond pendant, featuring a 1.20ct old European cut diamond in the center, $7,219.
Camphor glass and 10kw gold pendant, $440.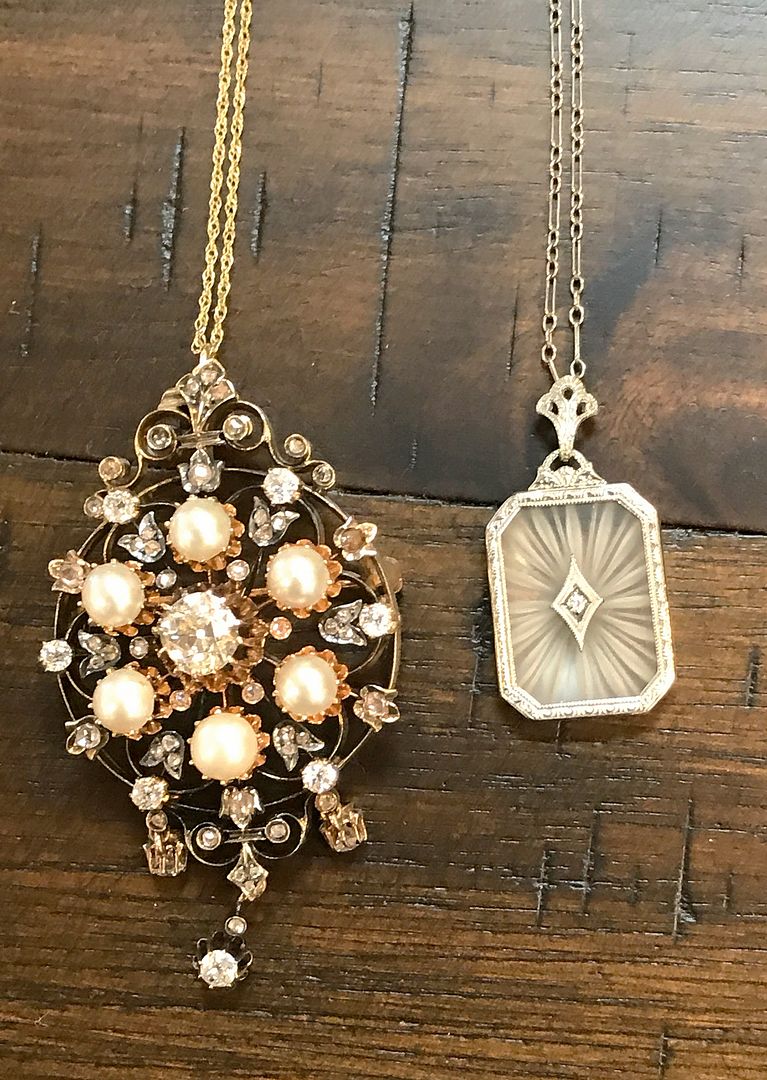 Amethyst and diamond enhancer in 14ky gold, $1,463.
Need a dresser…we got you!
Want a diamond…we got you!
Come shopping at the one-stop shop for
variety…Home Again & Lumina Gem.