A total solar eclipse only happens
every 100 years or so…
But our deals go on all year long!
Cobalt blue console ON SALE for $245. 54x16x31.
Vibrant bird art, $295. 38X50
Chevron lamps with celadon base, $125 each. 28″H.
Banana leaf counter stools (24″), special purchase,
just $85 each. 
Just in on consignment…and just in time for back to school.
Adorbs desk & hutch in ivory, $425. 48x22x71.5.
Pillows, $14 each.
JUST IN….King bedroom set in a driftwood finish,
brand new for $795.
Dresser & mirror, $795. 64x18x42.
Chest of drawers, $795. 51x19x54.5.
Nightstands, $295 each. 30x18x30.
Orange lamps, $112 each. 29″H.
Just in…brand new coastal motif chairs, $495 each. 29″W.
White washed console, $175. 36x14x31.5.
Starfish lamps, $125 each. 31″H.
We are BIG fans of this hand embellished two panel art,
$450. As shown, 60×60.
Aqua lamps $180 each. 34″H.
Ivory buffet in great condition, $365. 63x19x39
Stunning ivory wooden chandelier, a nice scale for
over a kitchen table $275, 25″H.
Whimsical kite art, $225. 40.5″ square.
Turquoise lamps, $65 each. 21″H.
Just in on consignment…black leather sofa, $695. 80″W.
Loveseat pictured below, $425. 56″W.
Coordinating chair available, $295. 32″W.
Nice looking coastal media cabinet, $395. 48x18x30.
Designer petal lamps with black shades, $145 each. 23″H.
Dogwood canvas $225. Large scale, 48×60.
While they last...
Brand new 30″ swivel stools by FRONTGATE, $225 each.
Five available.  Phone orders accepted, call 910 679 4302.
Gorgeous shorebird art, very rich in person,
$175. 37.75×47.75
Get a deal on this handsome pub table & 6 chairs by Schnadig….retails for $2,800. Our price, $995. 44x64x36 as shown. Includes 20″leaf which will make the table a square. 
Just in…use this super luxe grey-wash cabinet as a buffet
or media stand. Brand new for $895. 72x19x34.
On trend metal chandelier…
a deal at $125. 18″H. 
This won't last a hot minute….hand embellished abstract,
$295. 52×41.75. Navy lamps with gold base, $165 each. 30″H.
Accessories, $18-$62.
Talk about a STATEMENT MAKER. Large scale hand embellished mermaid tail art $225. 31.5×61.5

Island style buffet, $275. 47x18x34.
Blue table lamps just $62 each. 24″H
Get a DEAL on this black media stand, just in on consignment
for JUST $225.  YES, $225.  52X23X26.
Sorry, lamps are sold.  
Ethan Allen West Indies queen bed just $495.
Ethan Allen 'Seaver' round accent table $295, 28″diameter & 28″H.
Beige club chair $316. 34″W.
Check it out… Ethan Allen bookcases in a maple finish.
The two taller ones are $125 each. 30x11x51.
Shorter one, $75. 30x11x39.5
Coordinating chest & mirror, $175. 36x19x47.
These bedside tables retail for $380 each.
Get them at Home Again for just  $245 each. 24x14x28.
Green lamps, $75 each.
Just in… gorgeous Riverside 'Placid Cove' dining set in honeysuckle white with custom chair pads … it retails for $1,527, our price $895! Table as shown 42×60, 42″ round without leaf.
Here is a close-up of a chair and fun and colorful cushion…….
Look it… Ashley matches the pillows!  
Here is neutral sofa in ivory soft microfiber by high end maker
Lee industries just $595. 92″ W. It pops with  the vibrant abstract $125 31.5″ square. Pillows $16 and up.
Sorry, coffee table is sold.  
A closer look at this great abstract.  $125.  31.5″ square.
This big 'cuddler' sectional in a nice neutral tape
is ready to stretch out on tonight.
Brand new for $1,895. 153×98
A fun canvas in aqua and beige tones just $75.
Generous size 45×39.
Pair of Amish made 30″ swivel barstools that retail for $325 each, our price just $145 each. Sea motif pillows $24 each.
Gorgeous turquoise Zen vibe lamps on lucite bases,
$125 each. 29″H. 
Just in on consignment…we have a total of 5 beautiful custom upholstered dining chairs with soft aqua trim detailing, $125 each.
This espresso dresser & mirror retails for approx $600, but it has a small blemish on one drawer so come take it home for $350. 61×16.5×37.
Coolio…Gorgeous textural mermaid on metal, $295, 47.5×23.5.
This 'Sanctuary' armoire by Hooker is GORGEOUS. Consignor just reduced to $695.? It retails for $2,600+. 52x24x90.5
A super rich look. These brand new genuine leather and diamond pattern chairs retail for $1,210, our price $695.  
The seat cushions are reversible…fabric or leather.  
Blue cabinet $267, 48x14x3. Designer lamps $42 each.
Textured art $125. 28.75×40.75.
This is an authentic 1965 mid-century cabinet by Young Manufacturing, a VERY collectible brand. If you look around, their items go for a lot more on 1st dibs etc. We have it at a DEAL at $695. 62×13.5×50. Gorgeous green tempered glass art, $165. 40×30. Emerald designer lamps with black shades, $125 each. 26″H
Speaking of mid-century…just in on consignment is a pair of
Wassily inspired chairs in GENUINE black leather with
taupe stitching, $395 each.
We just adore this Chinese pagoda chandelier with gold accents… $295, 18″square and 26″H.
So much fun… Multi-color ottoman with bronze tone nailheads $245. 36″ square and 16″H.
Come snatch up this rocker recliner for just $225. 31″W.
Pottery Barn down pillows, two available, $28 each.
Just in on consignment…four fish motif 24″ counter stools in like new condition…the seats still have the plastic on. $145 each.
sold in pairs only.
You've got to eat and sleep…we can help you do it in style! Queen bed $495, 54″ round heavy and good quality dinette just $295.
DEAL ALERT…Cute pub height table with two stools $125. 42x32x36.
Have dinner outside tonight with this cute 3-piece set for just $125. 30″square table. Pillows $12 each.
It is that time of year again!
Our annual ANTIQUE JEWELRY SALE will be August 24- 26.
Stop by and check out all of the amazing antique pieces and
maybe even find a piece you can't live without.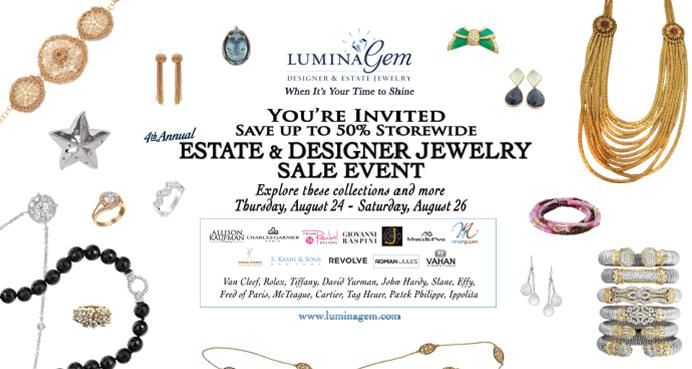 We will be having light snacks and refreshments starting at 4 on Thursday, August 24 to kick off the event.
Here is a sneek peek of some
of the pieces we will have.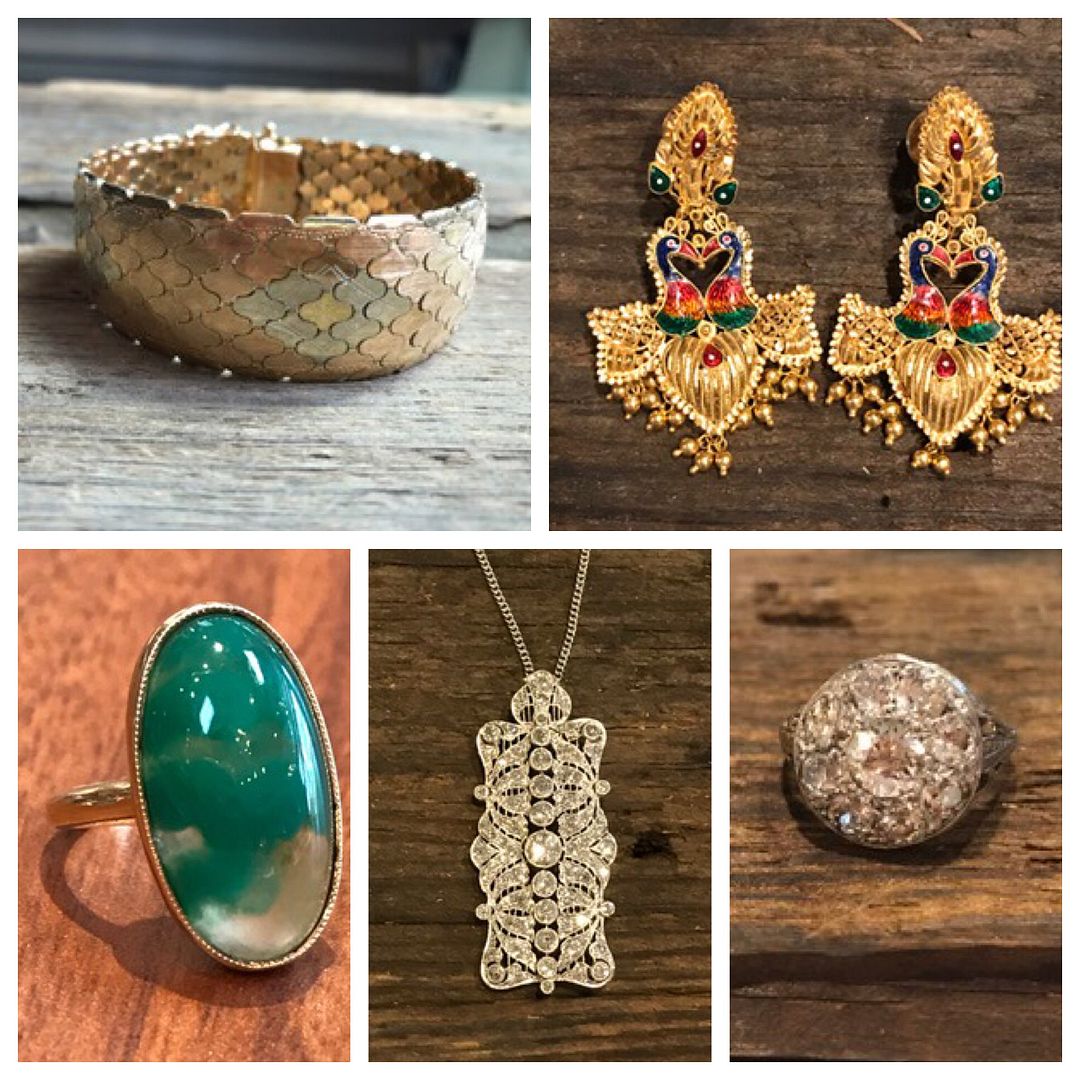 And waiting for you in the store right now…
Jade set in 18ky gold, $555.
Turquoise ring in 14ky gold, $475.
19ky gold and seed pearl victorian bracelet, $998.
McTeigue 18ky gold bow pin with .96ctw G-H color VS clarity diamonds set in platinum prongs, $2,820.
Van Cleef & Arpels chrysoprase and diamond brooch in 18ky gold. Signed made in France with serial number, $2,875.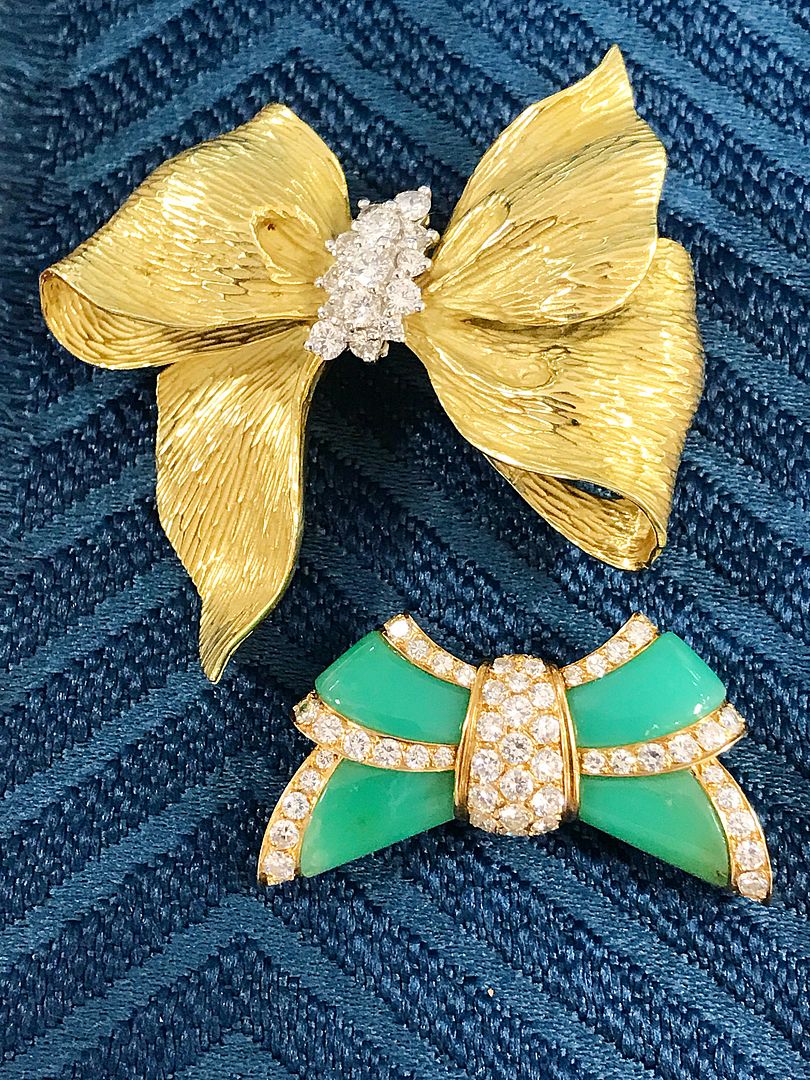 Opalized petrified wood and blister pearl in 22ky gold with
hand applied granulation by designer Luna Felix, $6,450.
Approximately 1.25ctw diamond Victorian earring in 22k, $1,098.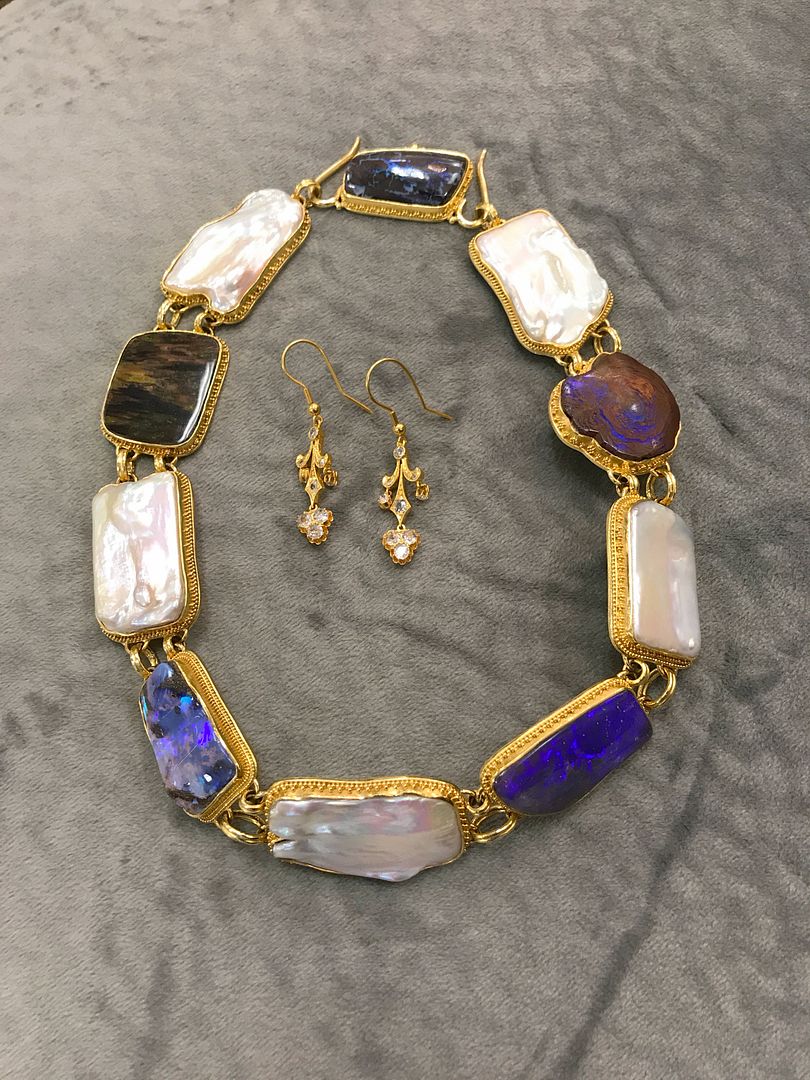 2.12ct I color VS2 clarity EGL certified cushion brilliant (old mine cut) diamond in platinum and diamond setting, $15,195.
Click the picture to watch a video.
Blue topaz and 18ky gold dangle earrings, $235.
Vintage blue acrylic leverback 18ky gold earring, $248.
Art Nouveau amethyst and diamond earrings in sterling silver
with 10ky shepard hooks, $198.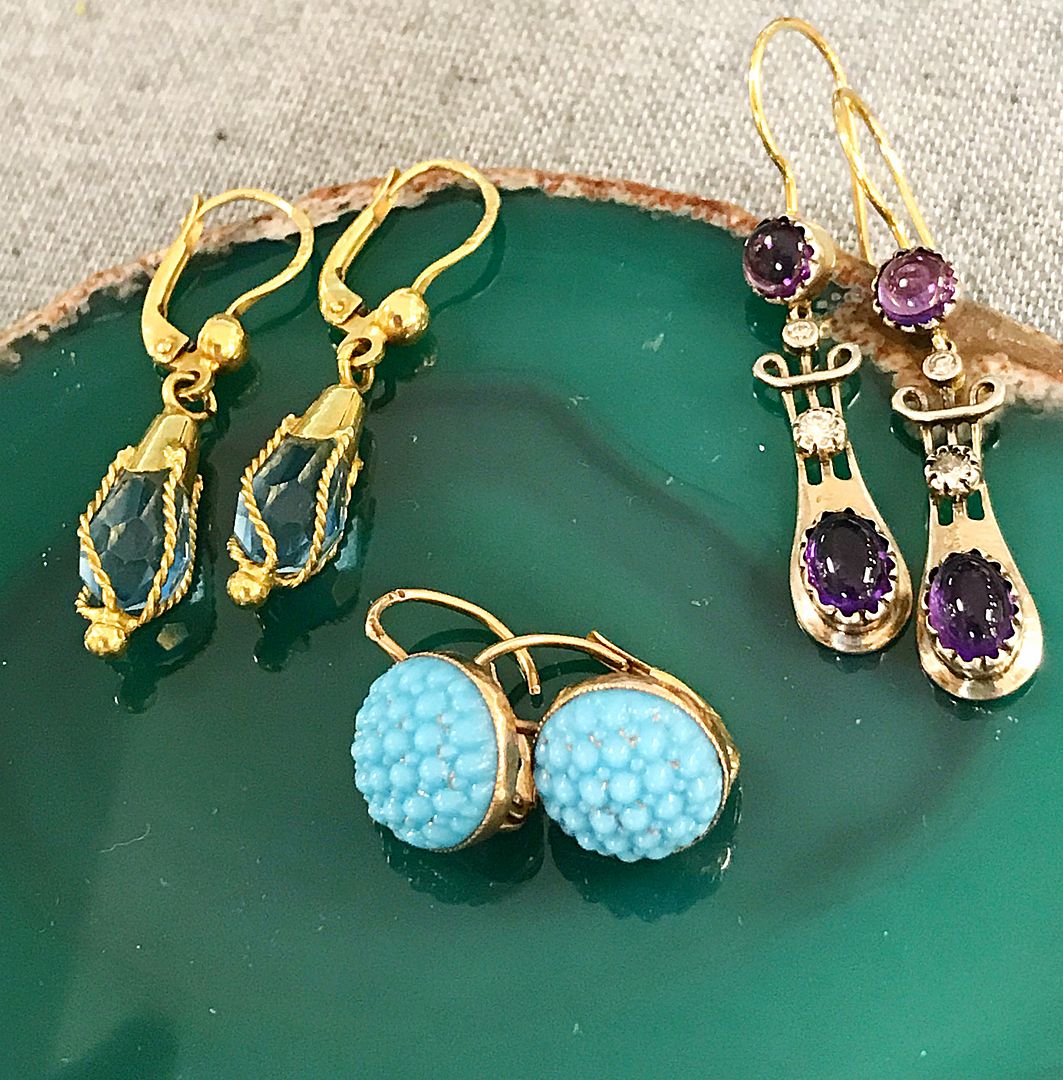 This custom made beauty is beyond words!
3.47ctw F-G color VVS2 to SI1 clarity diamond multi level
ring set in platinum, $13,560.
Check out how AMAZING it looks on!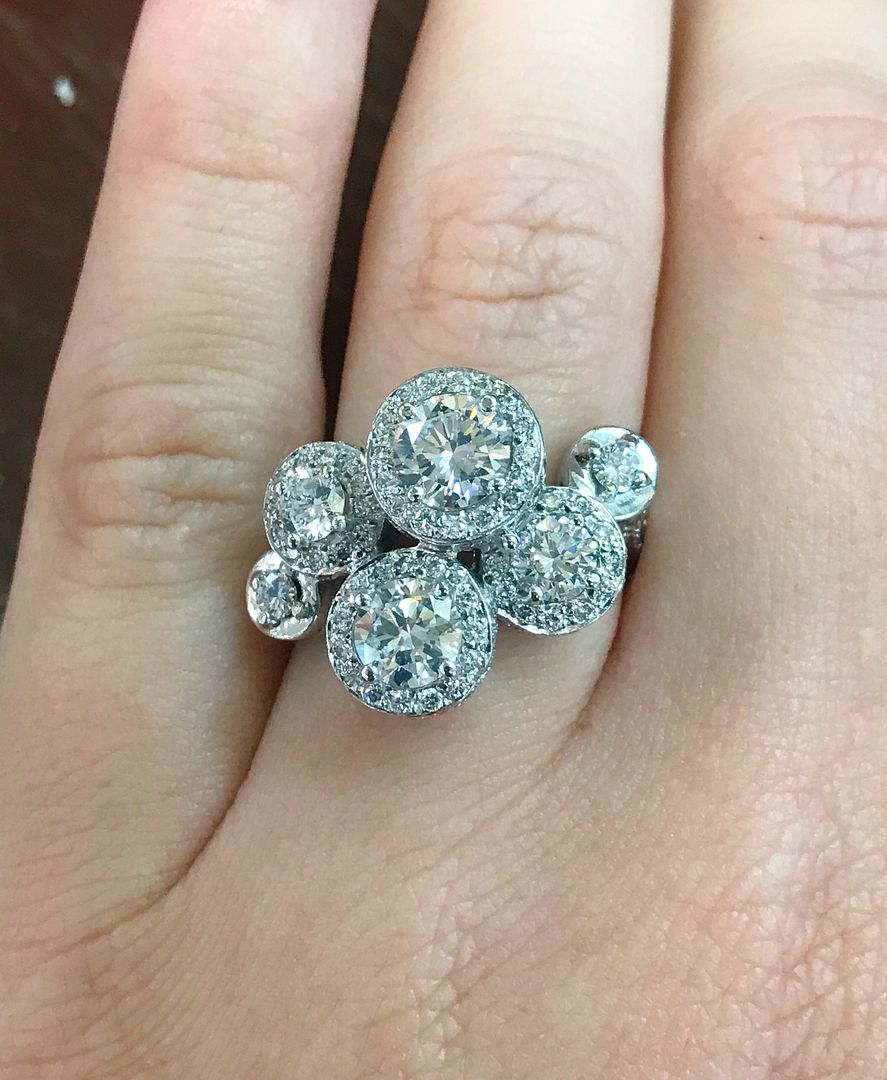 6 emerald tassle diamond 14kw gold pendant
on a 30″14kw gold chain, $1,320.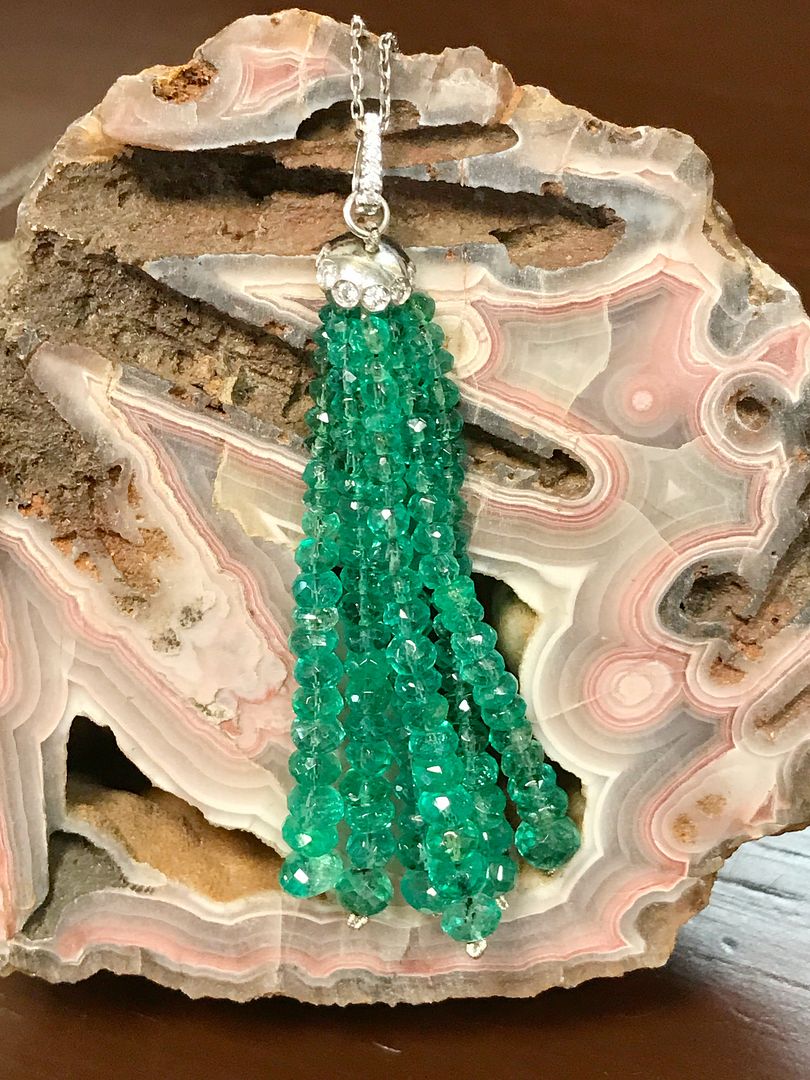 14kyg clip on earrings, $395.
1.04ct emerald in 18ky gold pendant, $795.
18ky gold fish pendant with chalcedony eyes, $520.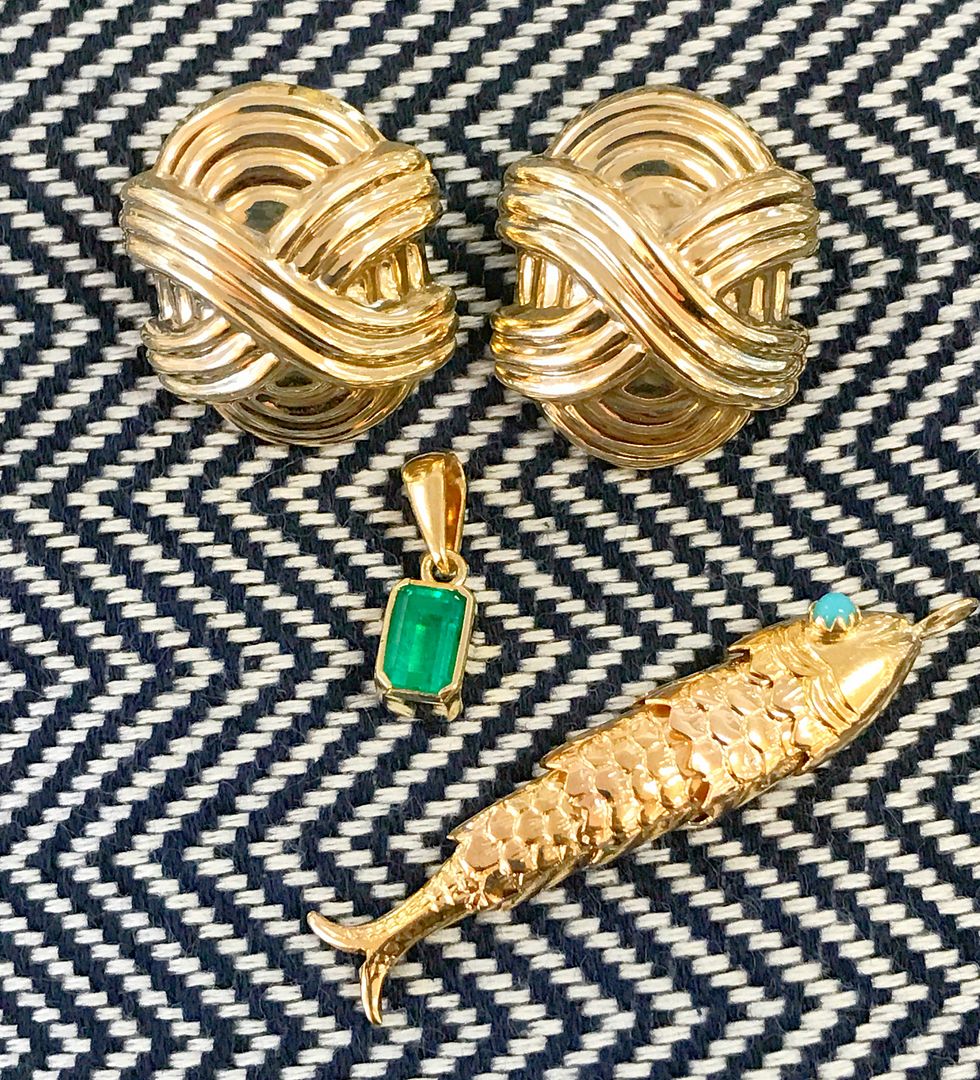 Just in designer pieces!
David Yurman
Peridot ring $195.
Silver and 14ky gold bracelet $395.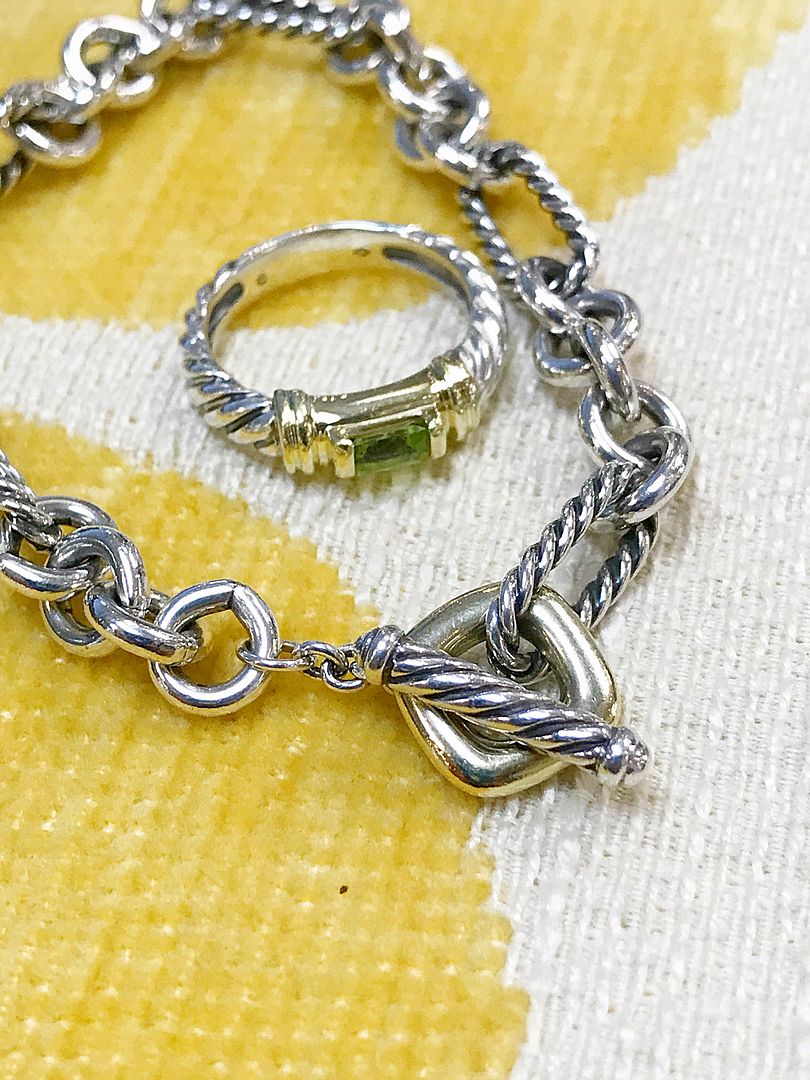 Tiffany 18ky gold dogwood flower earrings, $2,495.
Slane sterling silver stackable bands, $195.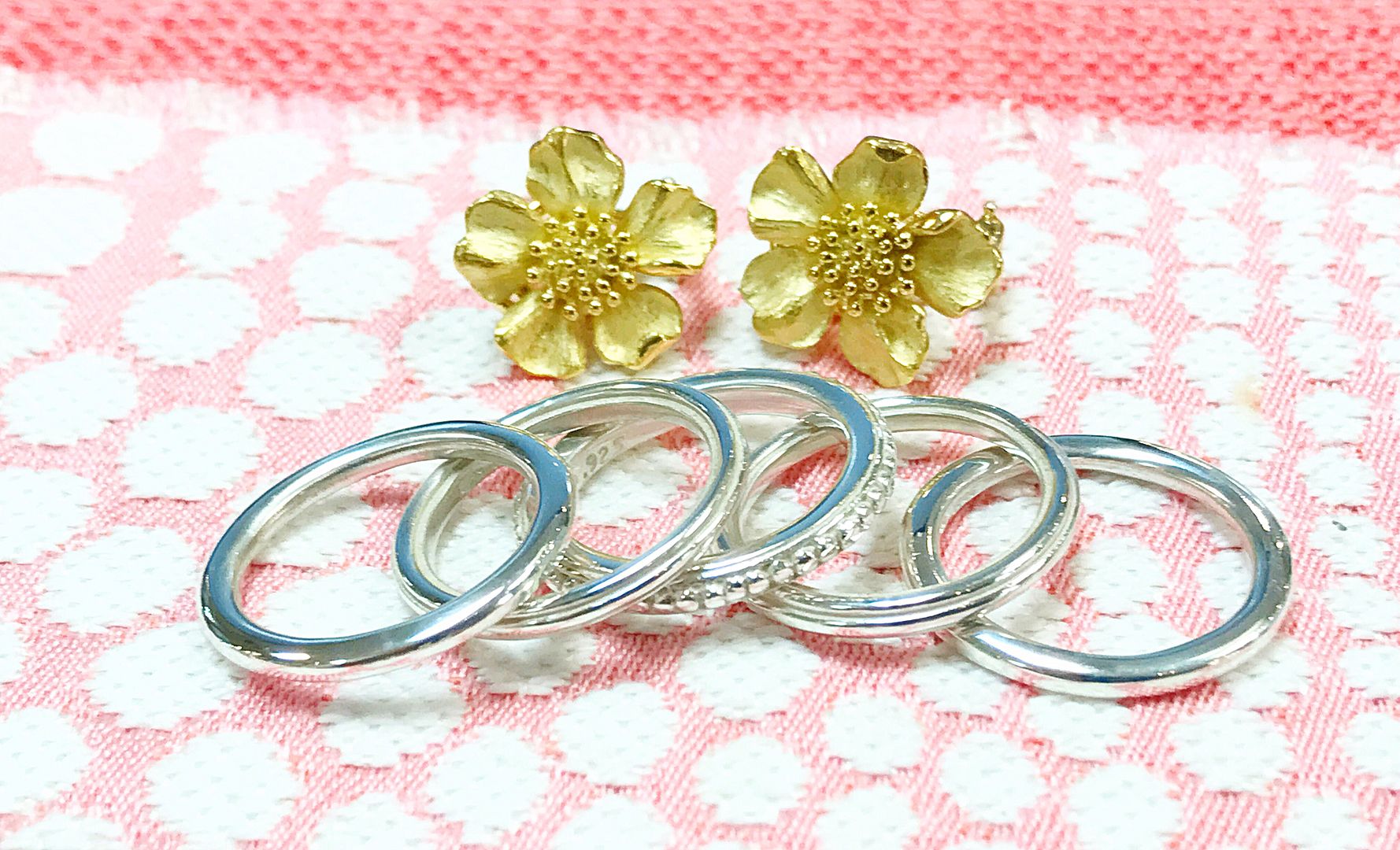 John Hardy sterling silver and 18ky gold bracelet, $495.
Sterling silver and 18ky golg ring, $195.
Just in Luvente pieces!
.16ctw diamond huggie earrings in two-tone 14k, $635.
.28ctw pave diamond circle pendant in 14ky gold, $525.
.94ctw diamond inside out hoops in 14ky gold, $1,725.
Need a simple necklace perfect for layering? Our rEVOLVE necklaces fit the bill. Starting at just $65 they make great gifts as well. Click the picture to view all available styles.
We love these unique designer pieces by Nina Nguyen.
10mm 18ky gold cross hatched studs with diamonds, $715.
Moss agate Peeble necklace, $1,045.
Just in Allison-Kaufman designer pieces!
Ruby and diamond earrings in 14kr gold, $1,345.
Matching necklace, $935.
.05ctw diamond cross ring in 14kr gold, $375.
1.72ctw sapphire and diamond band in 14kw gold, $1,875.
Aquamarine and diamond earrings, $1,315.
.40ctw diamond multi circle earrings in 14ky gold, $1,625.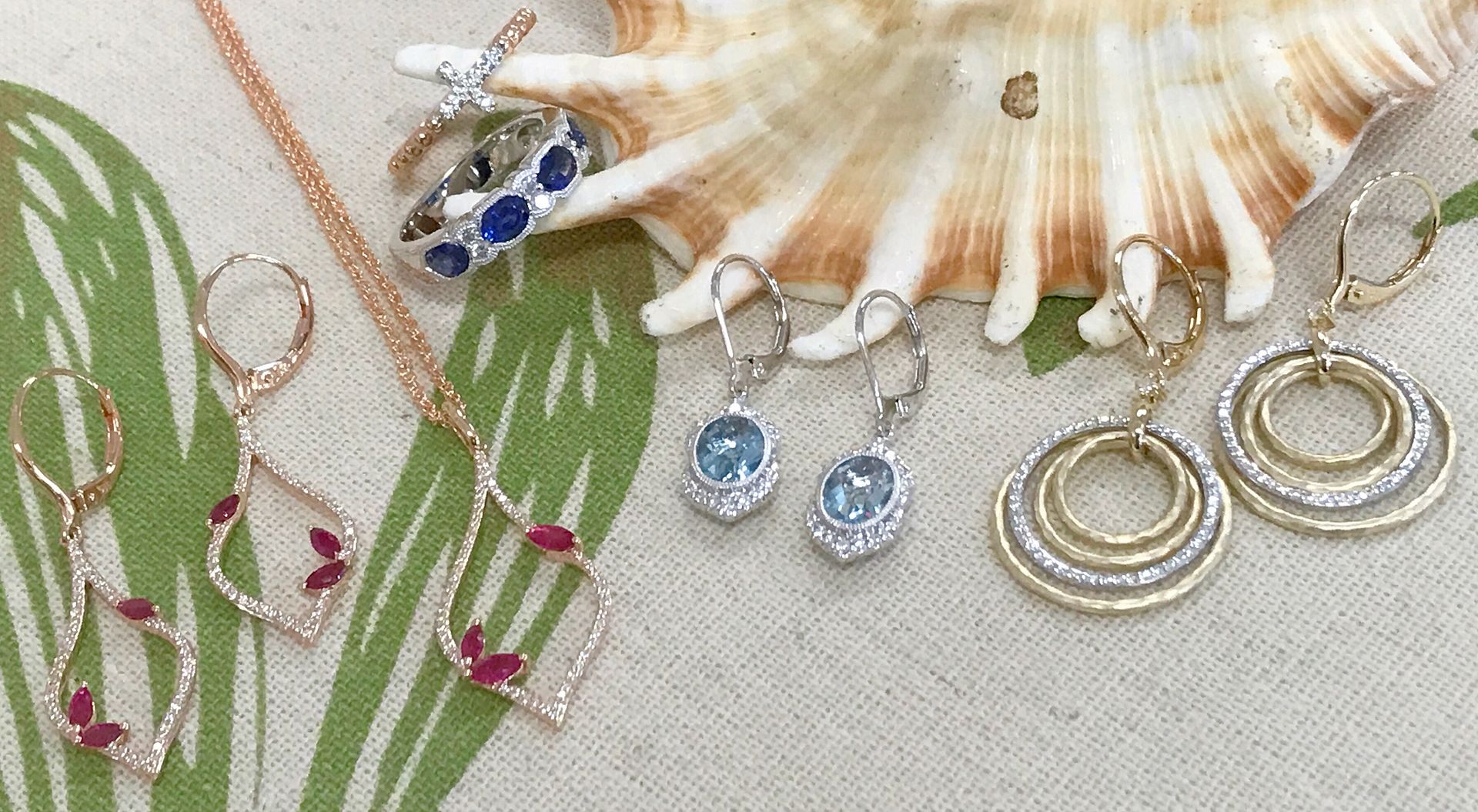 Just reduced! Kwiat designer 5.16ctw diamond necklace in 18kw gold. Was $12,250. Now $7,995! Click the picture to watch a video.
Left- Garnet earrings in sterling silver and gold. $95.
Center- Sterling silver teardrop earrings, $40.
Right- Sterling silver triangle studs, $60.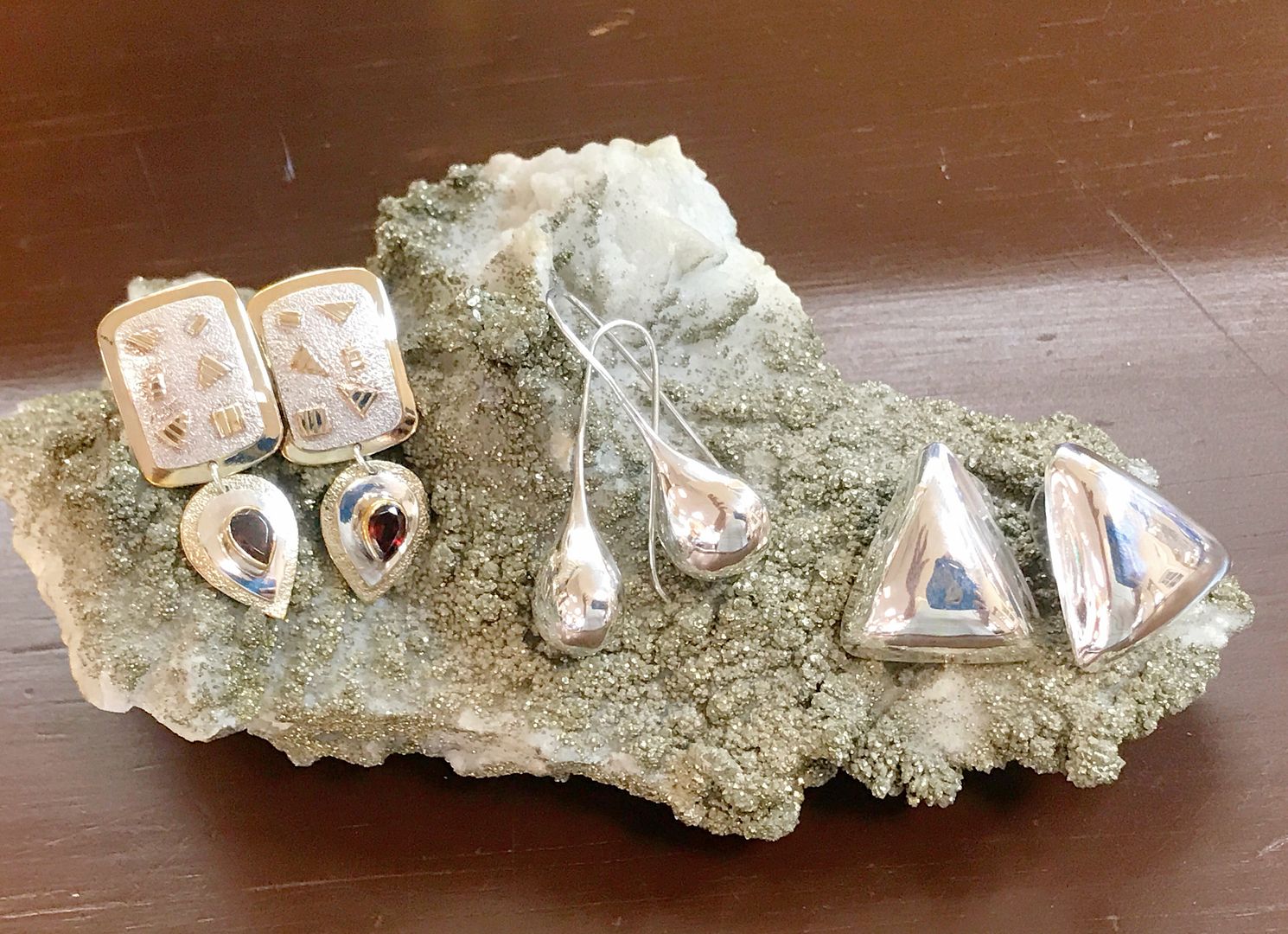 Citrine and 14ky gold chandelier earrings, $155.
Don't get eclipsed by high prices…
shop at Home Again & Lumina Gem!