It's SHARK WEEK…
but don't be afraid…
Come shopping at the place 
where we take a bite out of high prices…
Home Again & Lumina Gem!
High-end style for less…
Our favorite vignette of the week… large abstract in white, grey blue and gold, $395, 52″ square. White designer lamps $131 each, 28″h.  Gold mirrored server $625, 70x18x34.
Just in…lovely brand new ivory chesterfield sectional, $1,695. 96×96. Shown with super on-trend glass top coffee table with gold base, $375. 36″diameter & 17.5″h.
Floral hand embellished oil painting, $225. 36.5×48.5
Great for back to school…rustic writing desk, $295. 60×23.5×31. 
Sailboat art, $225. 45×29. Stiffel lamp, $175. 31″H.
We have FOUR of these black Pottery Barn dining chairs, $125 each.  Sold in pairs only.
This charcoal 'chofa' will NOT LAST, $695. 82×64.
FYI, the chaise can be used on either side.
Hand embellished textured floral abstract, $165. 40″square.
This high-end  giclée on canvas is a tiny bit pricey…but man is it beautiful in person.  $495. Large scale, 47.5×39.5
This solid wood dining table is a steal at just $355. 72x40x30.
Dark brown leather like dining chairs, $75 each.
Six available, sold in pairs only. 
Just in… versatile taupe sectional just $895. 92×92
Round rustic coffee table, $345. 48″ diameter & 18″H.
Queen ivory headboard with nailhead trim, $295. 
Pillows $12- $34 each. 
Diggin' on these 'Jeannie in a Bottle' aqua lamps!
$95 each, 27.5″H.
Such a nice coastal look…
Denim blue sectional, brand new for $895. 112×84. 
Blue chevron lamps, $85 each. 30″H.
Vibrant bird painting, $295. 38×50.  Coffee table $295.
Here is a closer look at this beautiful 'Provence' coffee table
by Bassett, it retails for $588, our price, $295.
38″diameter and 20″H.
Wooden bowl with succulents, $52.
Another great rustic writing desk just $145. 47.5x24x31. 
Sailboat oil painting, $295. 48×37.
Designer lamp, $195. 32″H.
Feet photo-bomb courtesy of Jesse…  🙂
You know we love our abstracts around here… and there's
so much to love about this beach horizon…
$345 large scale 46″ square.
A lovely and neutral beige sofa, brand new for $795. 90″W.
Pillows, $12-$34.
Floral recliner in a pretty blue and green upholstery, $450, 36″W.
We are big fans of the saturated colors in
these abstract florals… $95 each. 27×33.
Glass bottle-green lamps, $95 each. 27″H.
Great looking taupe sofa with wood trim, $595, 82″W.
Coordinating loveseat available, $495, 60″W.
Chinese wooden coffee table, $445. 58x30x20.
Mixing up traditional and modern elements and it looks great! Leather chairs retail for $2000+,
our price $495 & $395 each (one has a little wear.)
Console $575, 69x15x36.
Ombre designer lamps, $139 each. 29.5″H.
Abstracts $95 each, 30×30. Round mirror $196, 45″ diameter.
Just in on consignment…a genuine leather sofa with baseball stitching, very comfy and in excellent condition for $695. 92″W.
Cute shabby chest, brand new for $395. 43x16x35.
Floral abstract with fun colors, $125. 40×24.
We have a pair of these octopus lamps, $95 each. 
Cute little owl, just $11.
Just in on consignment in like new condition…
Resin wicker dining table with two chairs, $145.
Table is 25″square & 30″H. 
Also just in on consignment….
Pub height sling chairs and table with umbrella hole,
24″diameter. $145 for the set. 
Deal of the day…this Ethan Allen sofa in a beigy gold retails for $2,500+, our price $495! 89″W
Super cute antiqued bamboo octagon table with glass top,
$350. 44x44x27.5.  It is not coffee table height, nor dining height, but the perfect size to put in between a pair of club chairs.
Upholstered club chairs, $395 each. 30″W. 
White lamp, $32.
This brand new media console retails for $769+…
our price, $425! 
60x14x34
Get a great deal on this tangerine recliner by Best in excellent condition for just $295. Sorry, pillow is sold.
Super dramatic koi companions…$145 each, 22×42.
Just in… pair of 29″H barstools with woven brown seats,
just $42 each. Sold as a pair only.
A closer look at these abstract companions, $95 each. 30″ square. 
Wowza… loving this great vignette!
Blue oversized slipper chairs $295 each. 26″W.
Designer lamps $203 each, 
Console retails for $799, our price $225! 48x16x32. 
Gorgeous hand embellished abstract art, $295. 51.75×41.75.
A closer look at this wonderful hand embellished abstract art, $295. 51.75×41.75.
Fresh and inviting…
Smaller scale sofa $495, 74″W, loveseat $425, 52″W.
Indoor outdoor pillows, $32 each. Modern recliner $495. 30″W.
Round coffee table with glass inlay, $175. 175″diameter & 19.5″H.
Cityscape art, $175. 52×32.
Looking for a GREAT wedding gift? Gorgeous Kate Spade for Lenox turquoise and lime bowl retails for $180, our price $75. 6″H.
Never used, still in in box.
When you come off the beach, stop by and grab this cute surfboard coat or towel rack! 30×10, Just $24!
Get a DEAL on this fabric lazyboy recliner, just $250! 36″W
BRAND NEW denim blue sleeper sofa, $850. 80″W
Sorry, striped pillows are sold.
Hand embellished floral companions with a great color combo of turquoise and navy, $65 each. 17×29.
You might need this over the weekend!
Large drinks bucket just $24. 20.5×11.
Just in on consignment…set of four nice black and white sea scapes framed in black, $75 each. 19.5×23.5.
Two vertical and two horizontal format.
The ottoman is a slightly different color than the glider in this genuine leather set by Dutalier, so it's PRICED TO MOVE at $125.
ON SALE…Vibrant abstract now just $145. 40×48
The sharks will be circling around these deals…
Check out these reduced consignor pieces!
10.75mm 14kwg hinged bangle. Was $495, now $275.
2.50ctw diamond dangle earrings in 14k rose and white gold.
Was $2,995. Now $1,915.
11.75mm Tahitian pearl set into 18ky gold.
Was $1,195. Now $675.
12mm Tahitian pearl with .50ctw diamonds in 18ky gold.
Was $1,295. Now $735.
5ctw multigem ring with .40ctw of diamonds in 18ky gold.
Was $995. Now $555.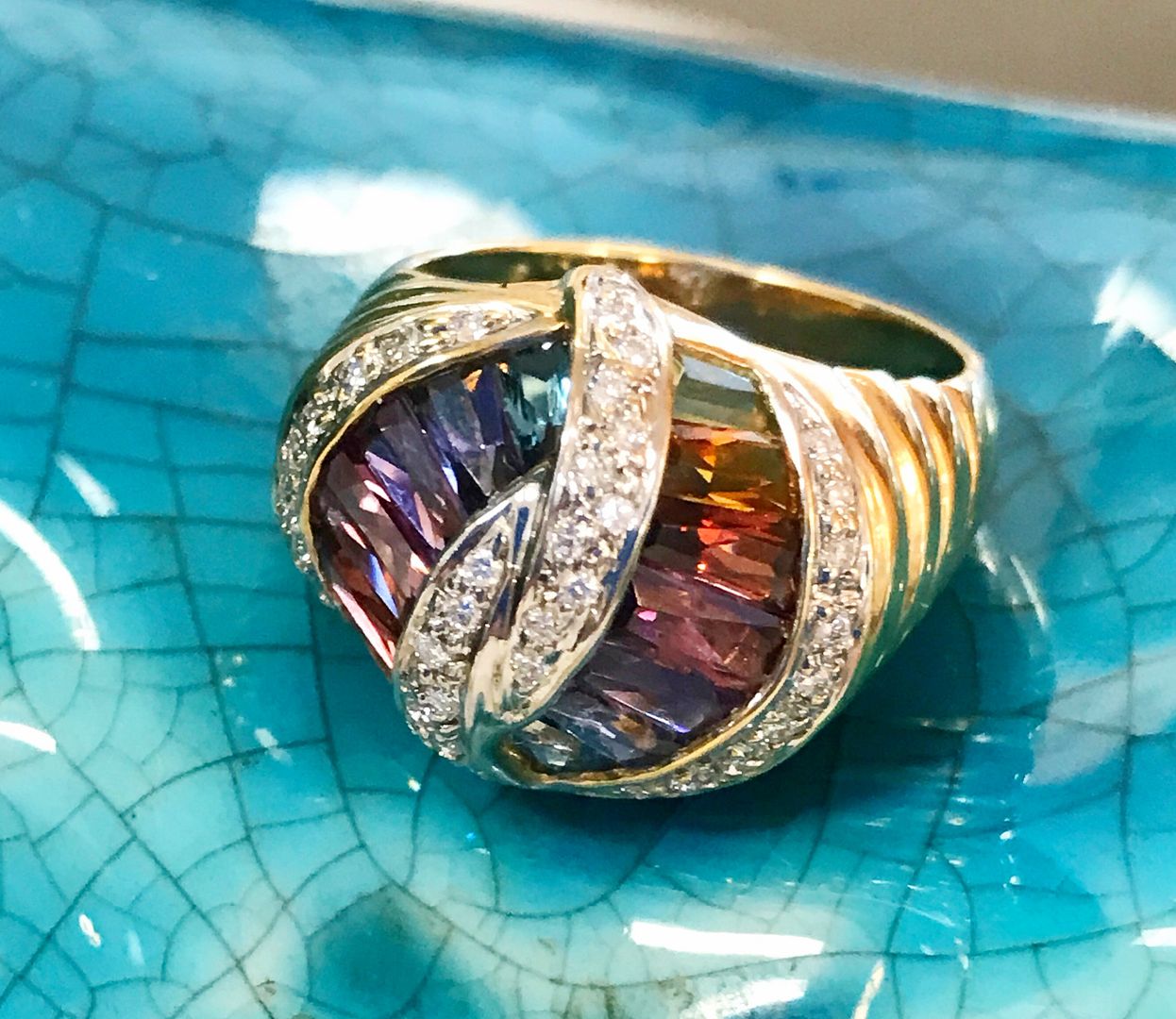 Cassis diamond and 18kw gold rings. They were $1,195 a piece
and they are now $675 a piece.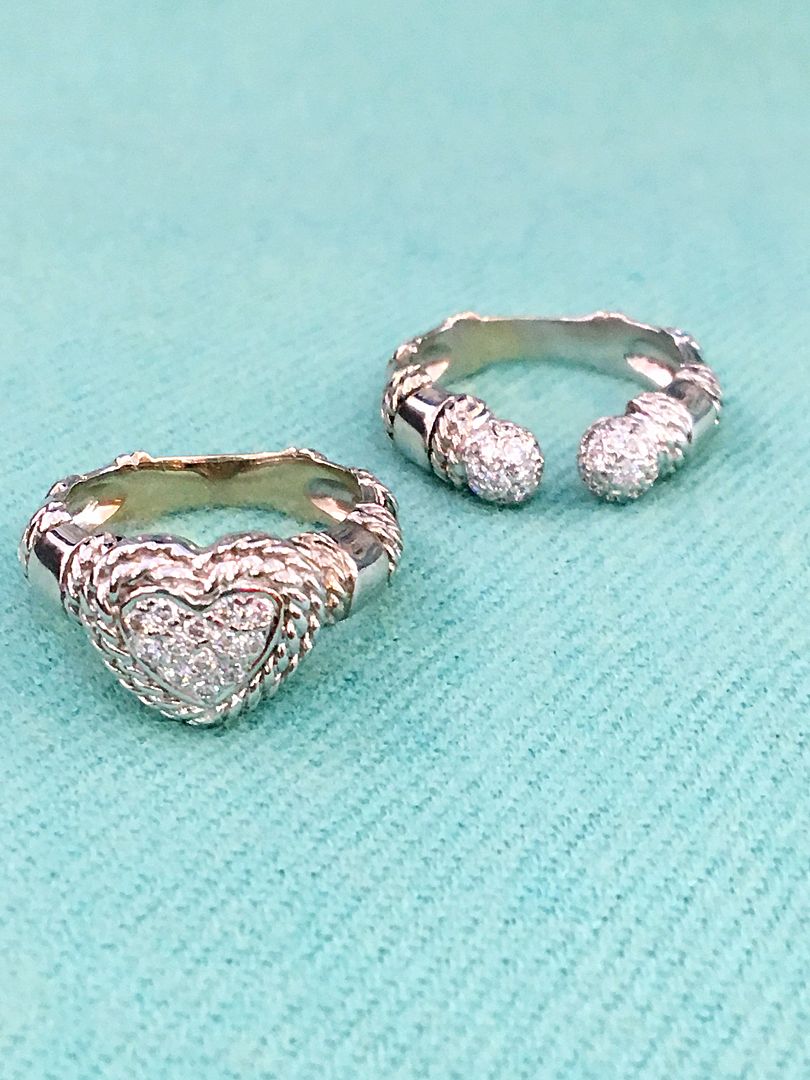 Fall in LOVE with this 1.64ct Afghan tourmaline, $1,025.
Shown in a .80ctw diamond semi-mount, $2,835.
Click the picture to view a video.
We love these Nina Ngyuen necklettes! They can be worn as necklaces or wrap bracelets, as pictured below.
Prices $295 to $395.
Click this picture to shop all of our Nina Ngyuen pieces.
A WOWZA LOOK…FOR LESS!
Charles Garnier sterling silver cuffs.
16mm matte finish cuff, $295.
Mother of pearl, blue topaz, and cz bangle, $395.
12mm onyx cuff, $715.
Sparkle and shine with this 1.01ct G color SI1 clarity round diamond, $7,275. Shown here with a .28ctw and 14ky gold setting, $1,295.
Antique 14ky gold wedding bands, a SUPER BUY at $95 each.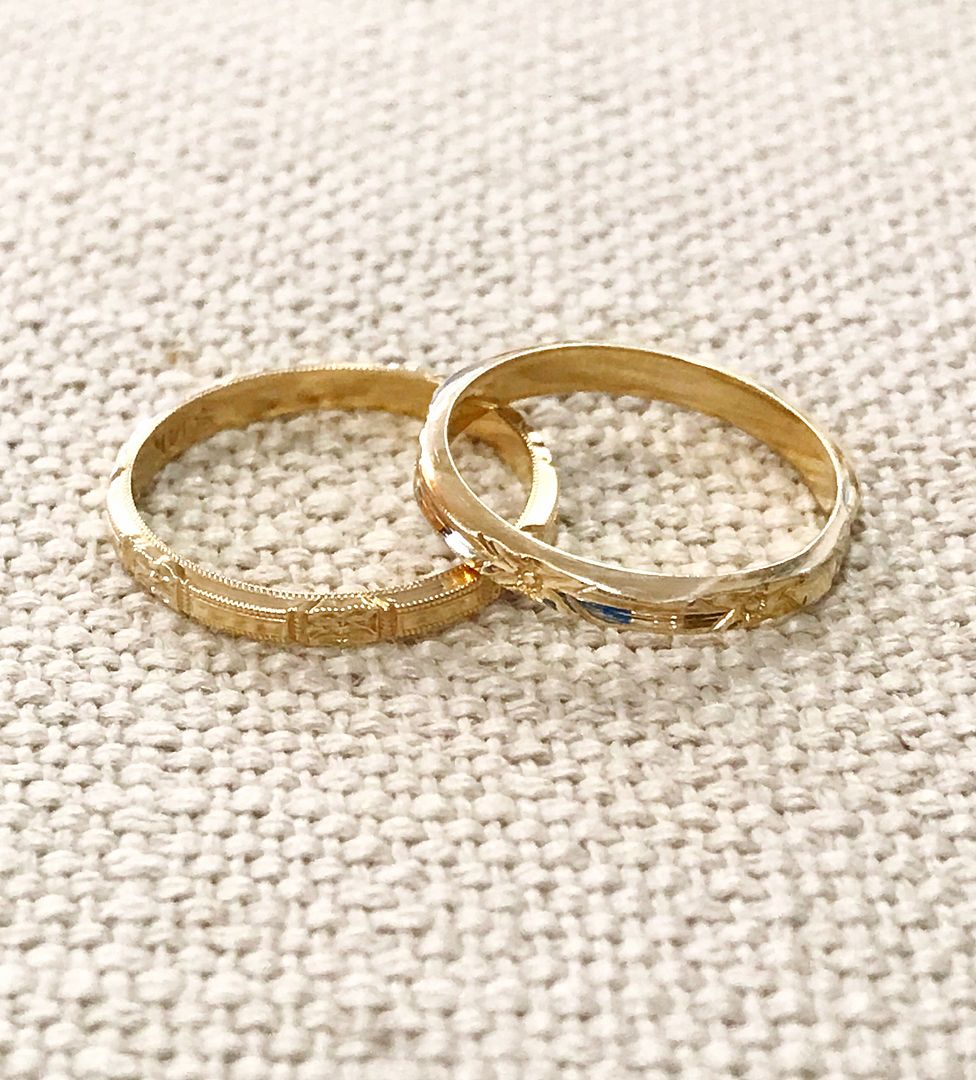 Raymond Mazza .83ctw diamond ring in 14k green gold, $2,995.
Matching necklace, $3,435.
Top: 25ctw multigem bracelet in 14ky gold, $1,195.
Bottom: 15ctw multigem bracelet in 10ky gold, $1,095.
So unique…imagine wearing this with a little black dress!
Matching ceramic, sterling silver, and carnelian set.
Necklace, $195. Earrings, $135.
Multi-stone inlay in sterling silver.
Pendant, $195. Earrings, $55.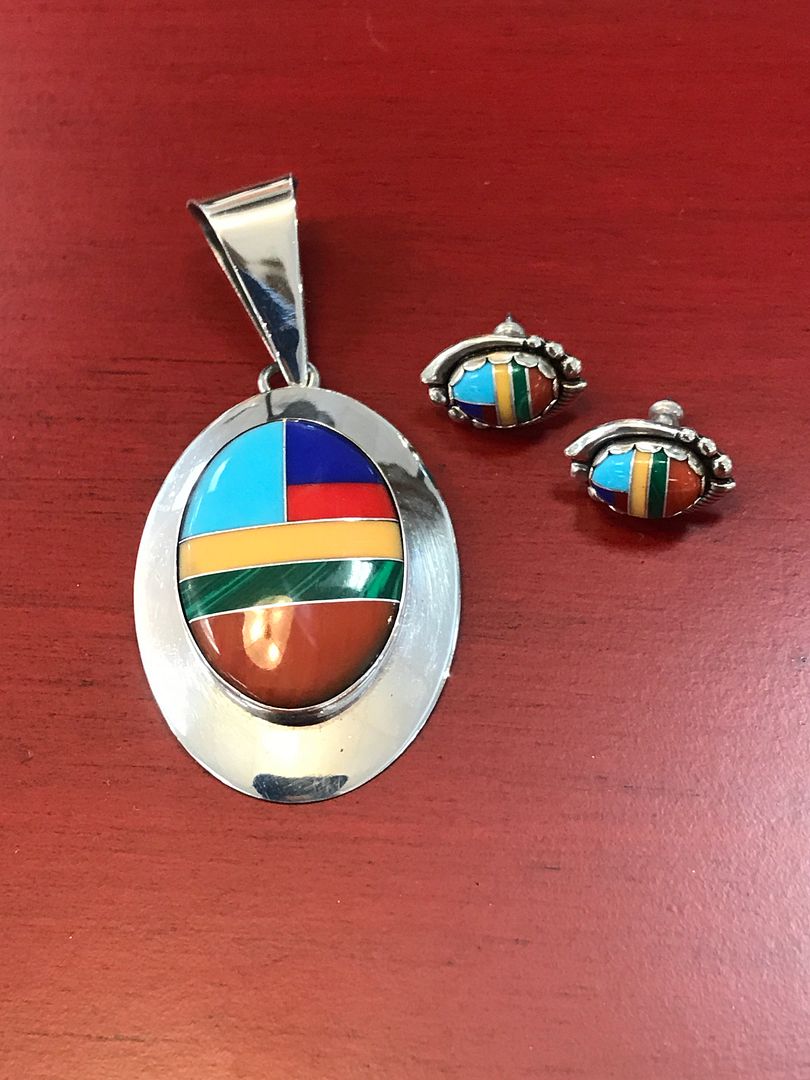 Diamond quatrafoil and14ky gold pendant, $1,195.
1.25ctw G color VS1 clarity three stone diamond ring, $2,995.
1ctw diamond inside out hoops in 14kw gold, $995.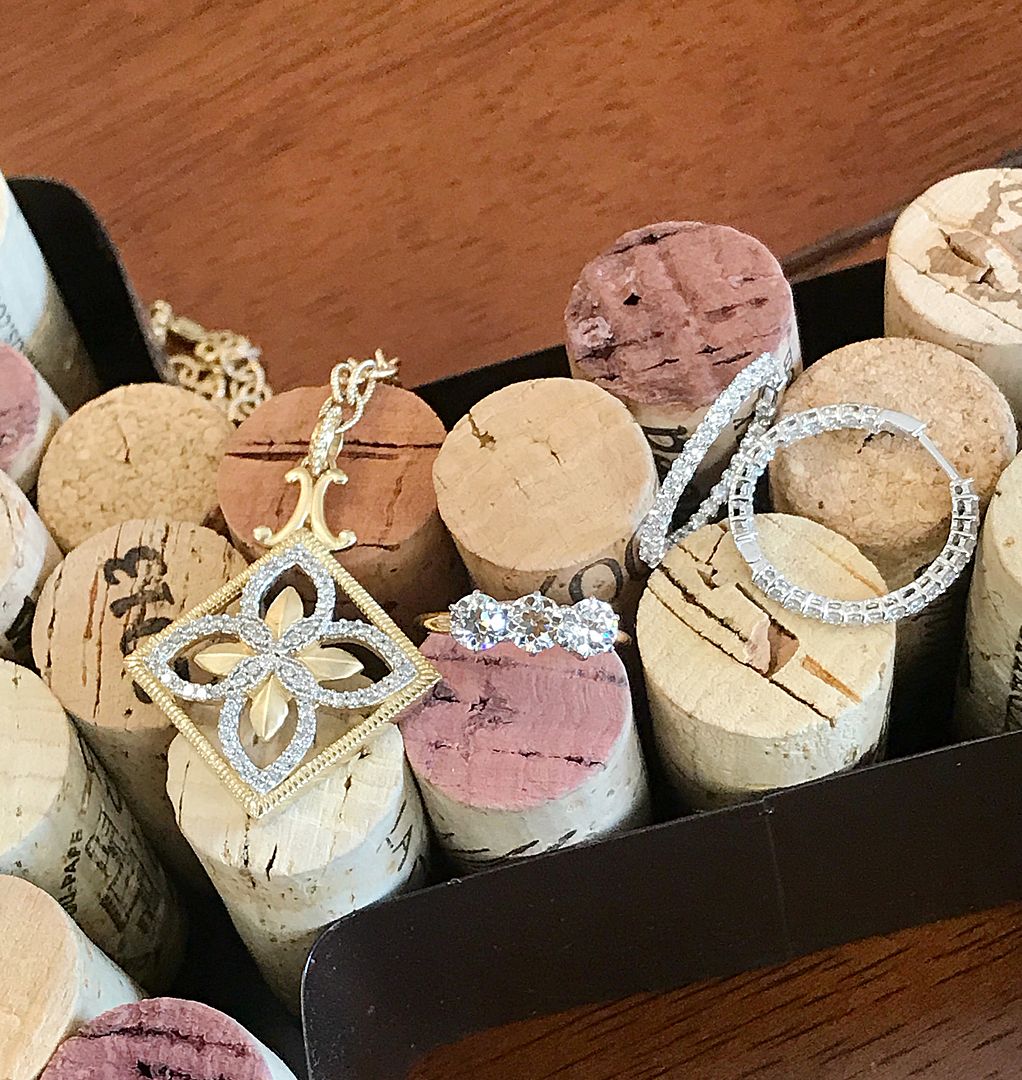 Citrine and diamond earrings, $395.
Citrine and 14ky gold bracelet, $1,345.
Moonstone and sterling silver matching set.
Earrings, $55.
Pendant, $95.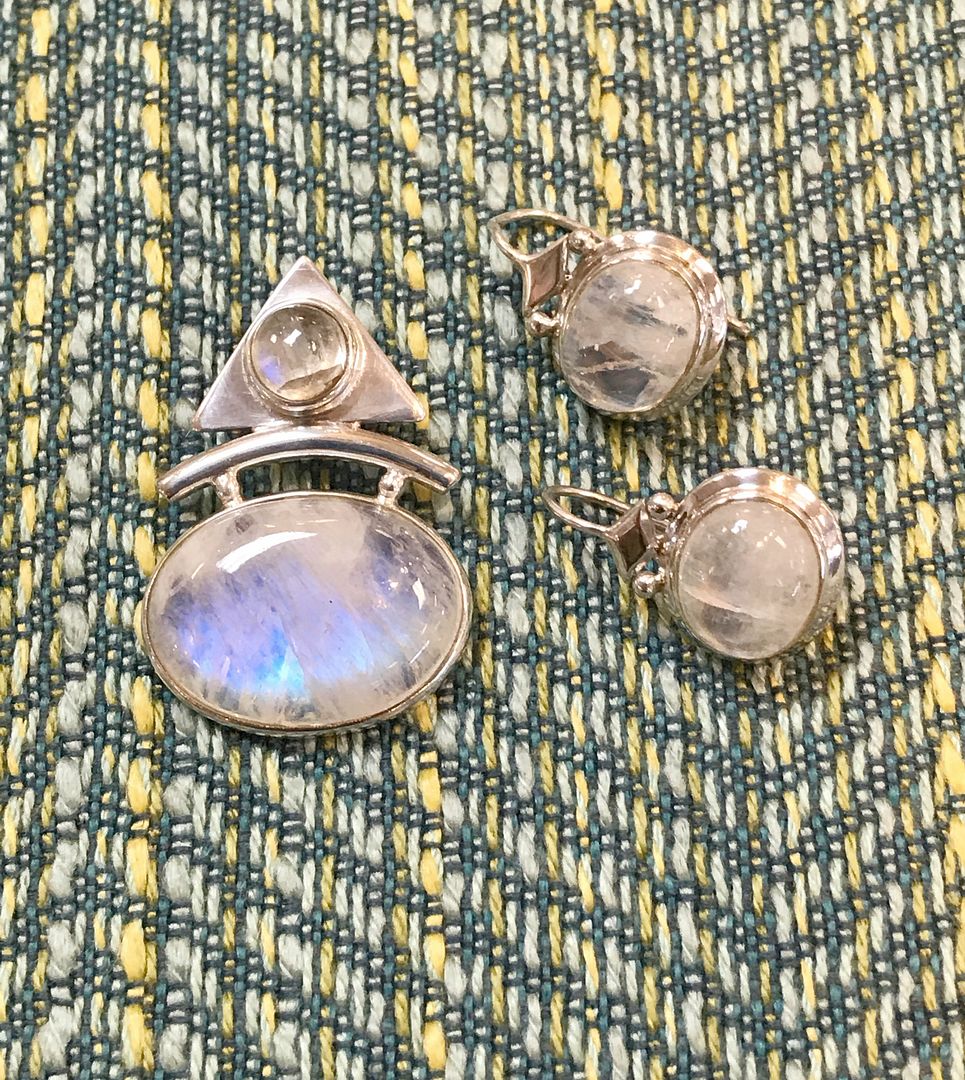 17 X 14 mm 7.28ct Oro Verde citrine. $335.
Cut by award winning gem cutter Chris Wolfsberg.
Click the picture to watch a video.
These Frank Reubel rings glow bright like the summer sun!
All rings are sterling silver with white topaz accents.
Left- Kashmir topaz wave ring, $395.
Middle- Caribbean topaz trillion ring, $425.
Right- Kashmir topaz bypass ring, $335.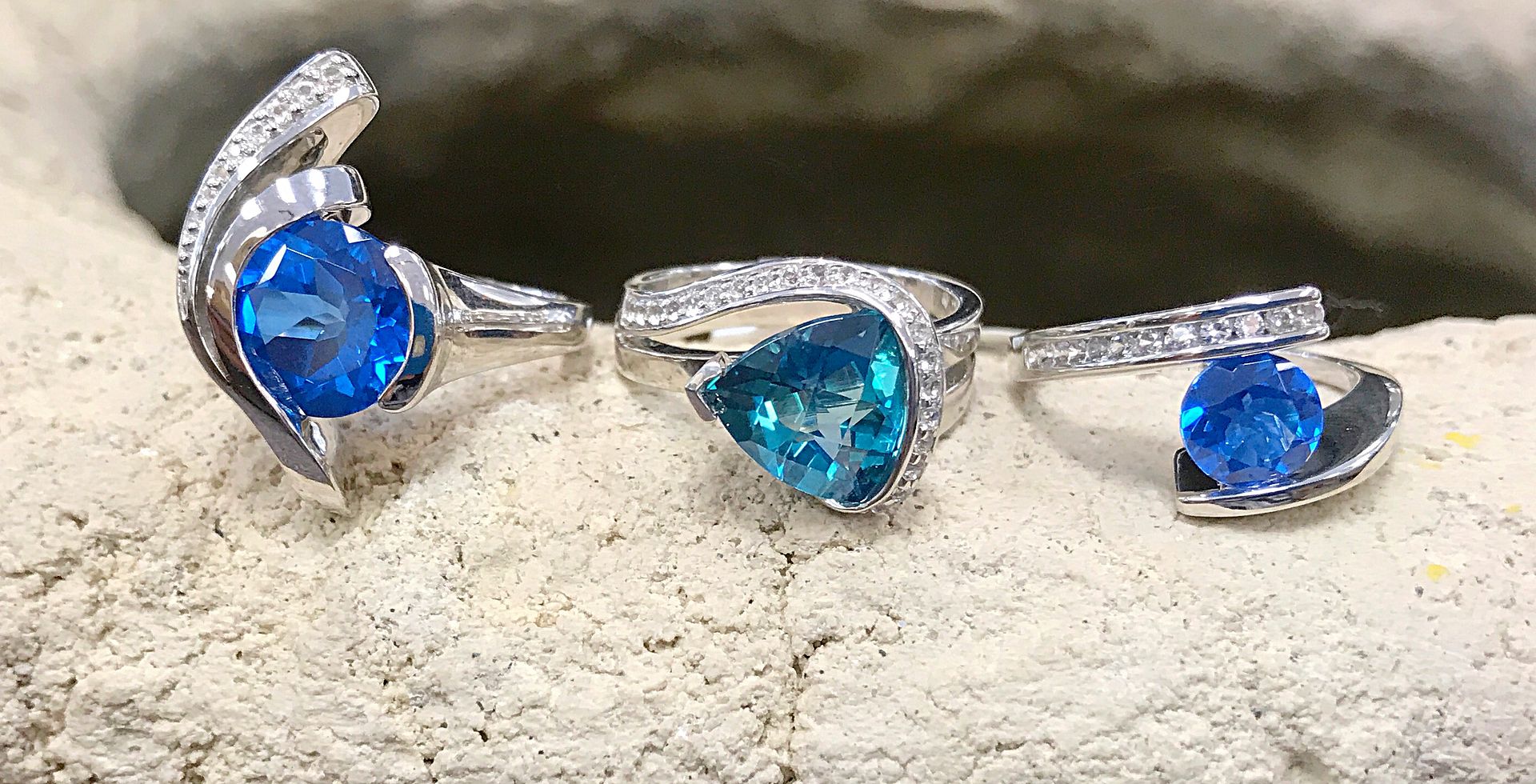 Don't be afraid of high prices…
shop at Home Again & Lumina Gem!