Modern?  
'Collin' charcoal blue linen sofa retails for $899 on Wayfair, our price $595. In great condition.
32" H x 83" W x 85" D 
Coastal? 
BRAND NEW linen 'chofa' by Magnolia Home Furniture by Joanna Gaines, $1,425. 108×65. Navy shorebird art, $245. 60×30.
Eclectic? 
Look how these random elements pull together for a cohesive,
but interesting look. Cowhide print bench, $295. 49x28x17.
Blue velour loveseat, $425. 59″W.
Framed sunset art, $225. 30×42.
No matter your style, there is always a 
BARGAIN waiting on you at Home Again!
On with the show…  
Snag these 'Rebecca' swivel barrel chairs by Grandin Road for $225 each. They retail $399 each. Beautiful sunset canvas, $245. 60×20.
Orange cabinet $245.  Modern white lamp with navy shade $195.
A closer look at this dream…in tangerine! $245. 29.5x15x34.
A better look at the 'Rebecca' swivel barrel chairs by Grandin Road for $225 each. They retail $399 each.
We could just not LOVE a piece of art we love more than this one…massive two panel knife-gel canvas, $450.
60×60 as shown on the wall!
Let's eat! Just in…dining set retails on sale for $1,331, our price, $895. 41×76 as shown. Includes two remove-able 12″ leaves.
Eat metal art, $24. Gray shag rug, $112.50, 5×7.
Yeah! Brand new sectional by MAGNOLIA HOME FURNITURE by Joanna Gaines. $1,895. 108×108.
Original art by Pam Toll, $175. 33×27. Burl coffee table, $315. 
Gorgeous ivory fabric bed with nailhead trim in queen, $595. 
These gold nesting tables retail for $269+…our price, $145.
We have a pair of these handsome charcoal chairs, $395 each.
 Original art, $175. 33×27.
BRAND NEW charcoal sectional, $995. 86×115.
The unexpected POP your eclectic home is calling for…
black & white high gloss bathing beauty art, $275. 50×50
Just in on consignment…this grey wash media cabinet will not last at just $295.  60×17.25×28.5.
This hand embellished abstract draws you in…$245, 33×45.
Just in…washed coffee table for $225, 50.5X26X18.  
Coordinating end tables available for $125 ea.
Just in on consignment…super pretty striped loveseat by high end maker LEE INDUSTRIES. A great value at $475. 60″W.
Ombre designer lamps, $155 each. 29.5″H.
These luscious blue lamps are a work of art…a tad pricey, but you're worth it..$195 each. 36″H
Gorgeous wood chest with gold textured drawers, $295.
Retails for $489+  36.5x15x33.5
Just in… lovely oatmeal sofa with striped pillows $795, 86″W.
Floral tapestry pillows $34 each.
This hand embellished art makes for a happy vignette…$175. 29×48  Teak carved console, $295. 50.5×16.75×34.  
Seeded glass lamps $125 ea.
A closer look at these pale green seeded glass lamps,
 $125 each. 24.5″H.
We love this polished chrome five light chandelier by uber high
end Circa Lighting, on consignment for $395. 44×37.
So much fun! Apple green sofa, $495. 76″W
Coordinating loveseat available at $425. 53″W.
How handy would this be in your kitchen? $350. 33.5×17.5×39.
Lovely sailboat art, $245, 33.5×45.75.
Uttermost bronze lamp, $72. 
This set will not last long…sorry we could not get a better pic. 
Brand new blue sofa, $595. 82″W.
Coordinating loveseat, $495. 60″W.
BEAUTIFUL four panel bird screen, $405.
Each panel measures, 23×76.
Score this Bombay console table for just $295. 
Abstract art, $225. 30×40.
Pale blue ribbed table lamps, $85 each. 31″H.
This signed brass sailboat sculpture by Demott retails for $275…our price, $125. About 8×16.
Super comfy genuine leather oversized chair and ottoman
in great condition, $495! 46″W.
Just in! These 'big and tall' 30″ barstools have an extra large 20.5″ wide seat and are very sturdy.
They retail for $329 each, our price just $145 each.
(Two available, not sold separately)
Looking for a high style outdoor dining table? This market sample retails for $2,247…Our price, $595. 39.25×79.
Also available in pub height.
Whale recycled metal cooler/planter, $95. Small lantern, $6.
Diva-licious mirrored kidney shaped makeup vanity and bench. Retails for $549, our price, $395. Brand new market sample. 41.5×18.5×31.5.  
Such a fan of these mirrored accent tables with touches of gold, chrome pulls and pewter fabric inset on the doors.
$165 each. 19×15.75×24.
There is always something unexpected at Home Again…
Donald Pliner suede pumps in LIKE NEW condition, just $75! Size 8.
Need some extra sleeping room for guests?
This is a twin SLEEPER! Brand new for $795. 51″W.
Quality dresser & mirror by Stanley furniture, $695. 64x20x41.
Black lamp, $42. One has a little damage to the shade so it's priced to move at $24. 29″H. Ethan Allen 'Seaver" library table retails for $704…our price, $295. 28″diameter and 28″H.
GREAT looking gate-leg dining/sofa table by Ethan Allen. $595, 55×17.5. Will extend to 55×50.5
We have some GREAT BUYS going on…
Spice sectional, $895. 93×93.
Oriental screen, $355. Each panel measures, 16×72.
French pine hutch ON SALE for $495.
A better look at this classic piece on sale for just $495…
60x23x88
Another GREAT BUY…
This handsome armoire is actually a useful BAR complete with
a wine fridge. On sale for $395. 50x28x76.
Back by popular demand…pretty blue generously scaled 
accent chairs, brand new for $295 ea.  25″ wide.
Need a mirror?  We have far more than we can show you here…
come check them out! 
Modern figure abstracts, neutral yet high impact,
$125 ea, 25.5×33
Adorable hand painted wine rack just $75. 26wx42.5″h
It's just as pretty at night…
wooden bead chandelier $295. 29″h 
We have all styles of incredible jewelry…
for the ladies and the gents, too!
Roberto Coin diamond necklaces!
14krg single diamond, $295.
5 Station 14kyg, $795.
JUST IN WATCHES
TAG Heuer Carrera Heritage rose gold with brown leather strap. Comes with original box and papers. $2,250.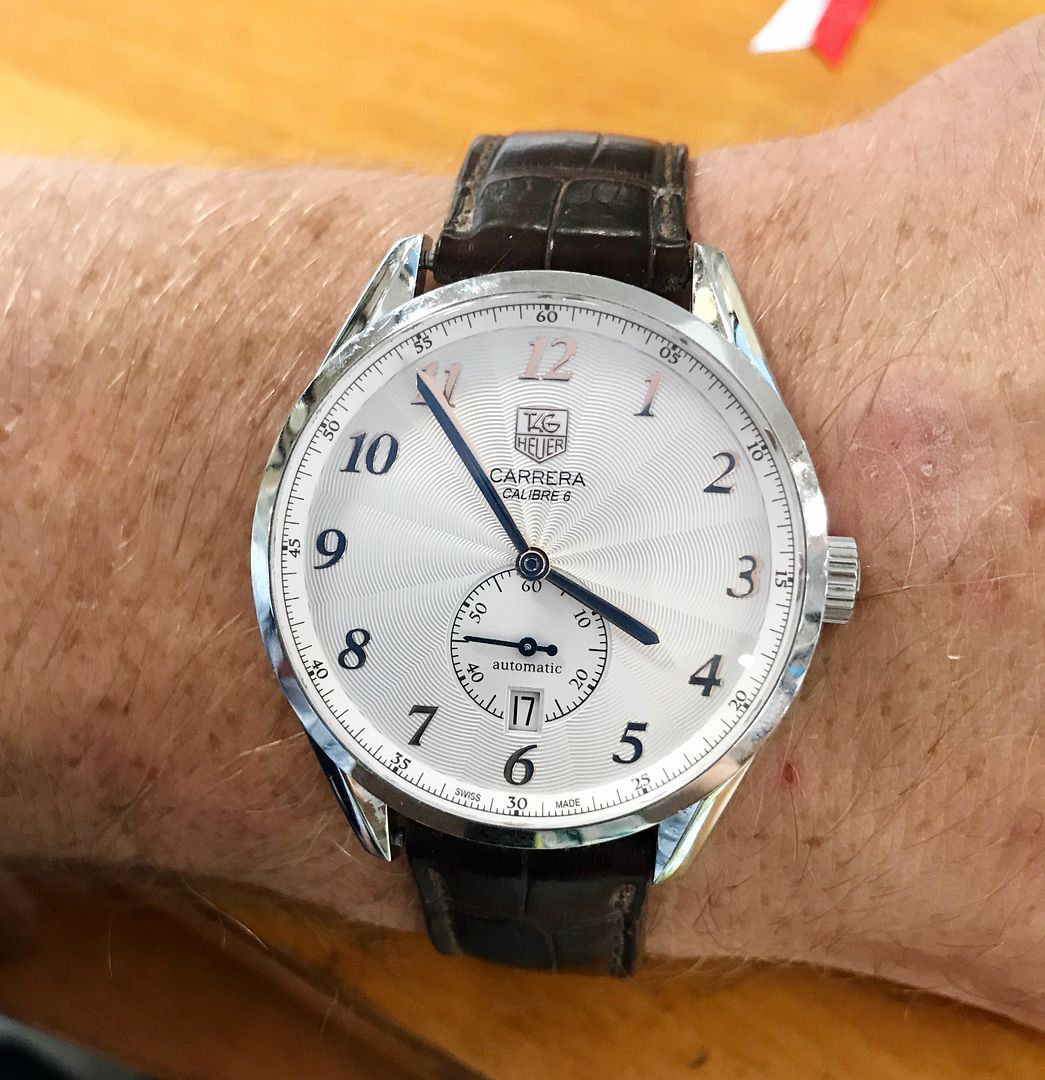 TAG Heuer white ceramic and stainless Formula 1
with .34ctw diamonds, $995.
XETUM men's automatic watch with black cork band, $850.
Just in Judith Ripka!
CZ and silver bracelet, $195.
Jade heart, $135.
CZ and silver chain, $80.
Rose quartz heart, $175.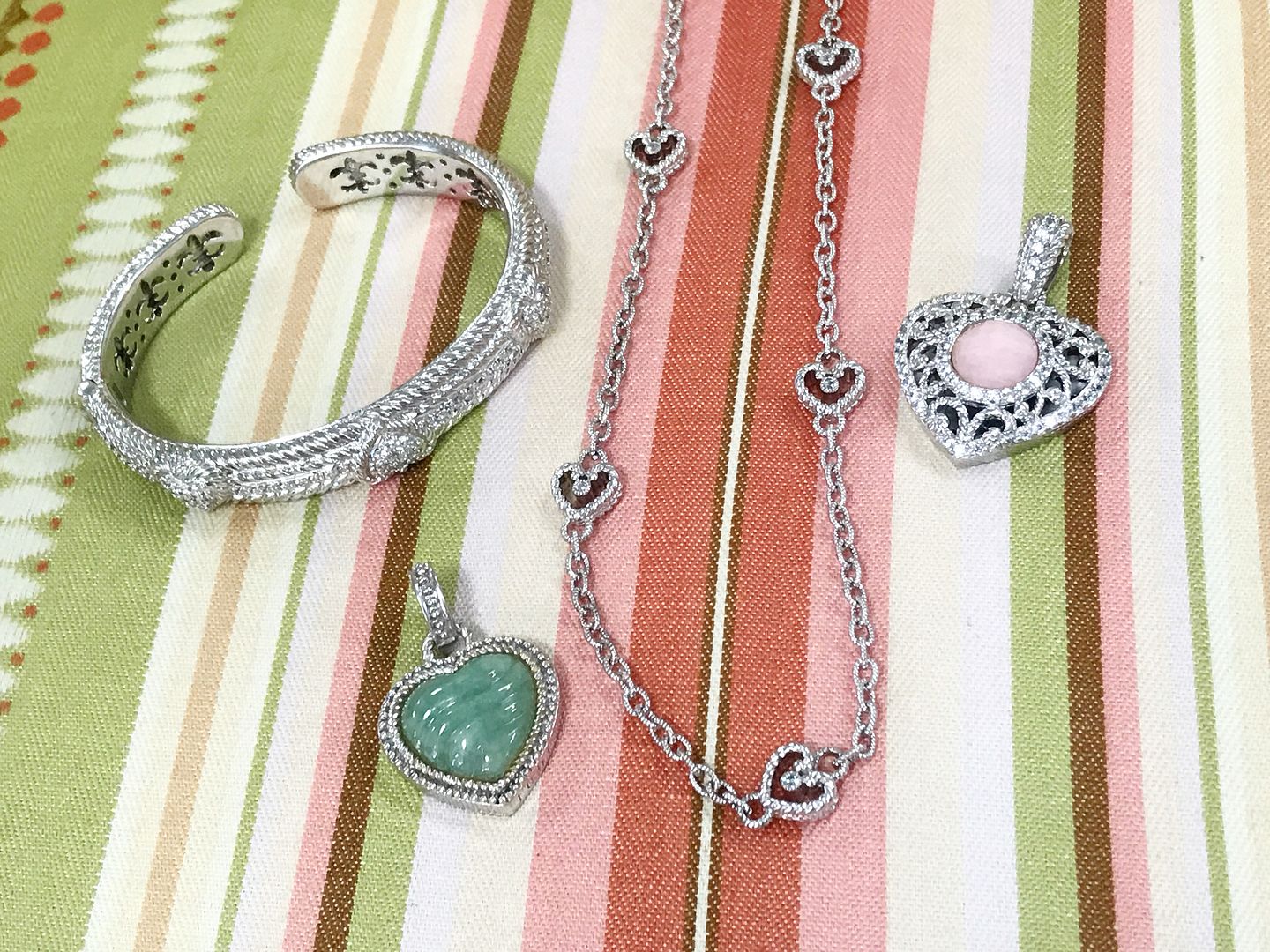 David Yurman diamond heart ring
in sterling silver, $195.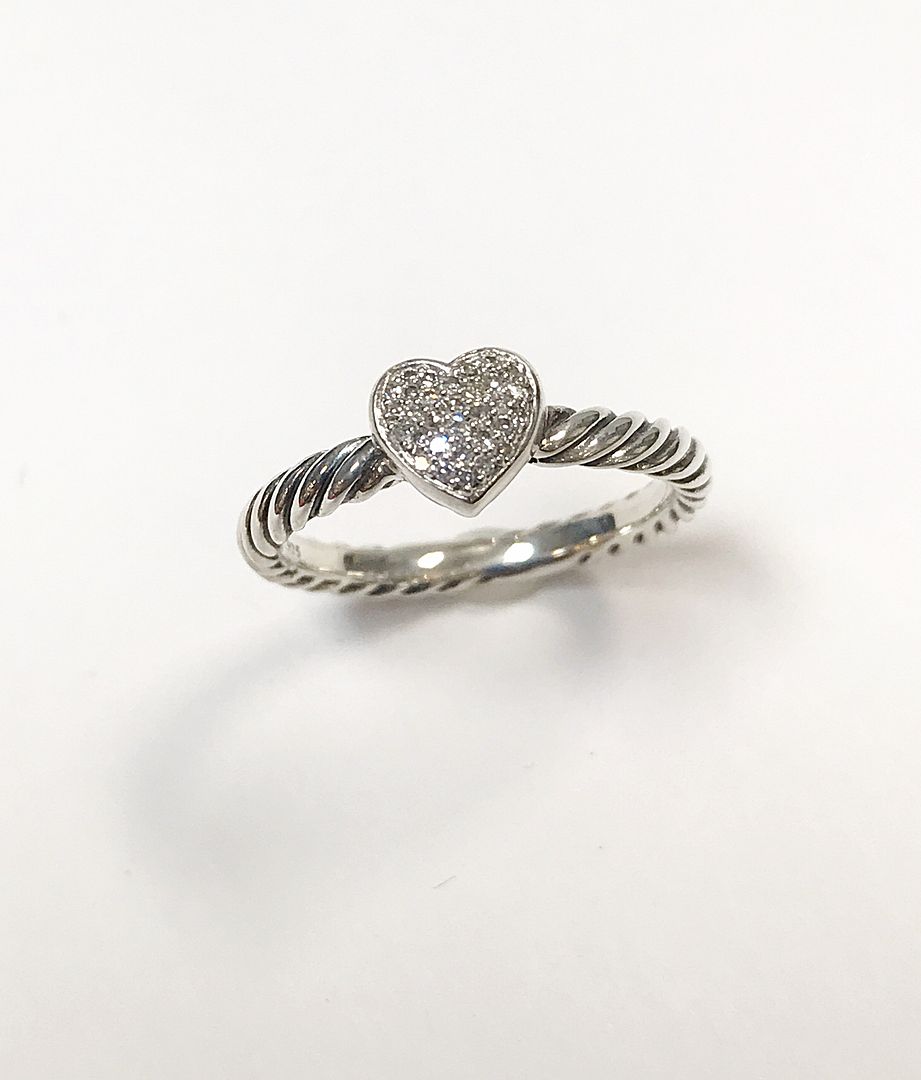 We have a wide selection of bridal, including all these stunning rings from Roman & Jules. Click to watch the video.
We've got lots of new Charles Garnier earrings. Prices range from $65 to $105. Click the picture to shop all of our
Charles Garnier pieces.
Introducing our new line Marcello Pane. Italian made sterling silver with a heavy 18k gold plating.
Bracelet, $395.
Necklace, $385.
Ring, $145.
Earrings, $275.
Bracelet, $730.
Earrings, $215.
Ring, $155.
Multi-row CZ station wrap bracelet, $1,220.
Two-tone ring, $215.
Wide  cuff, $540.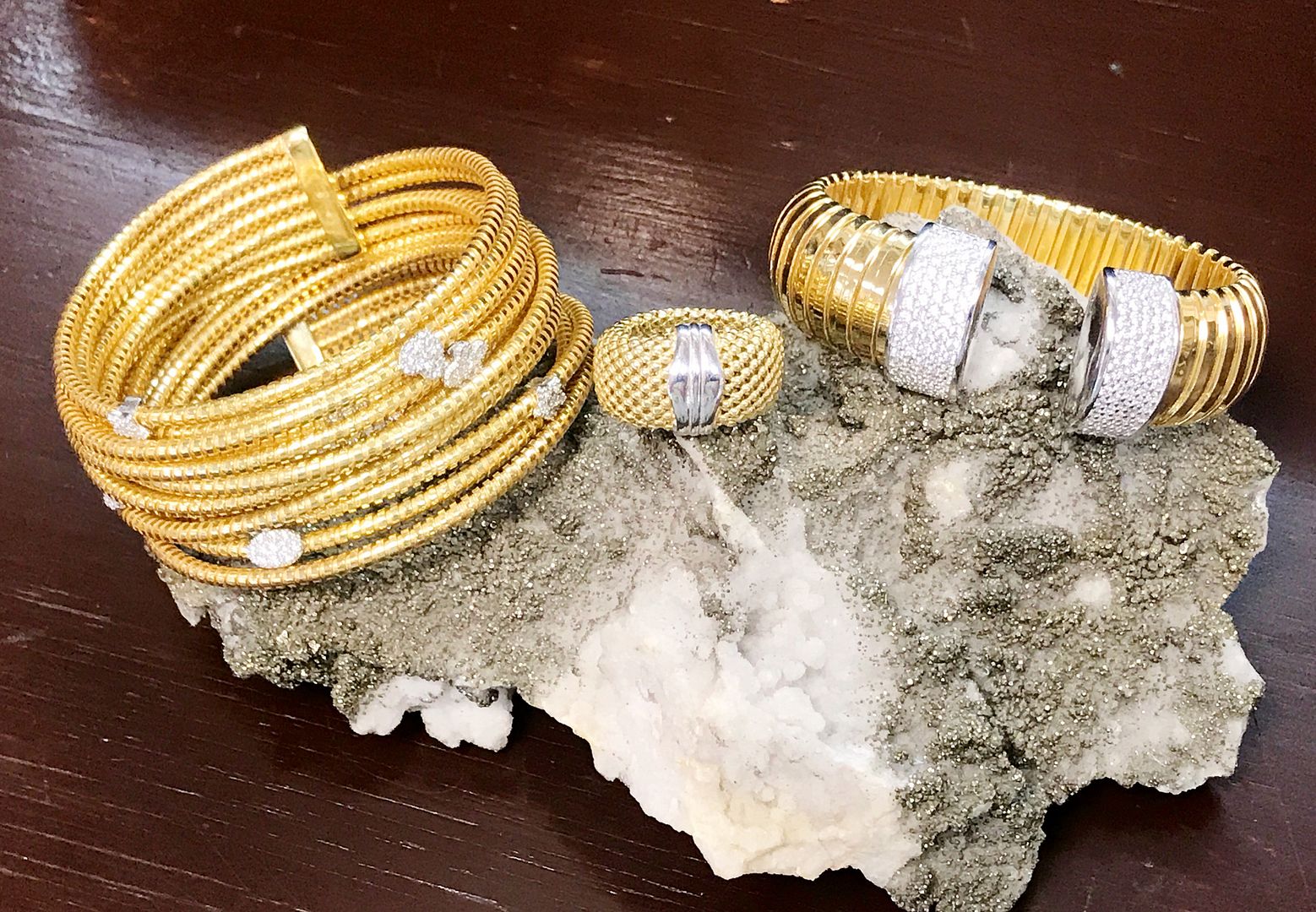 Hinged silver bangle, $730.
Hinged two tone cuff, $395.
Hinged knot bangle, $540.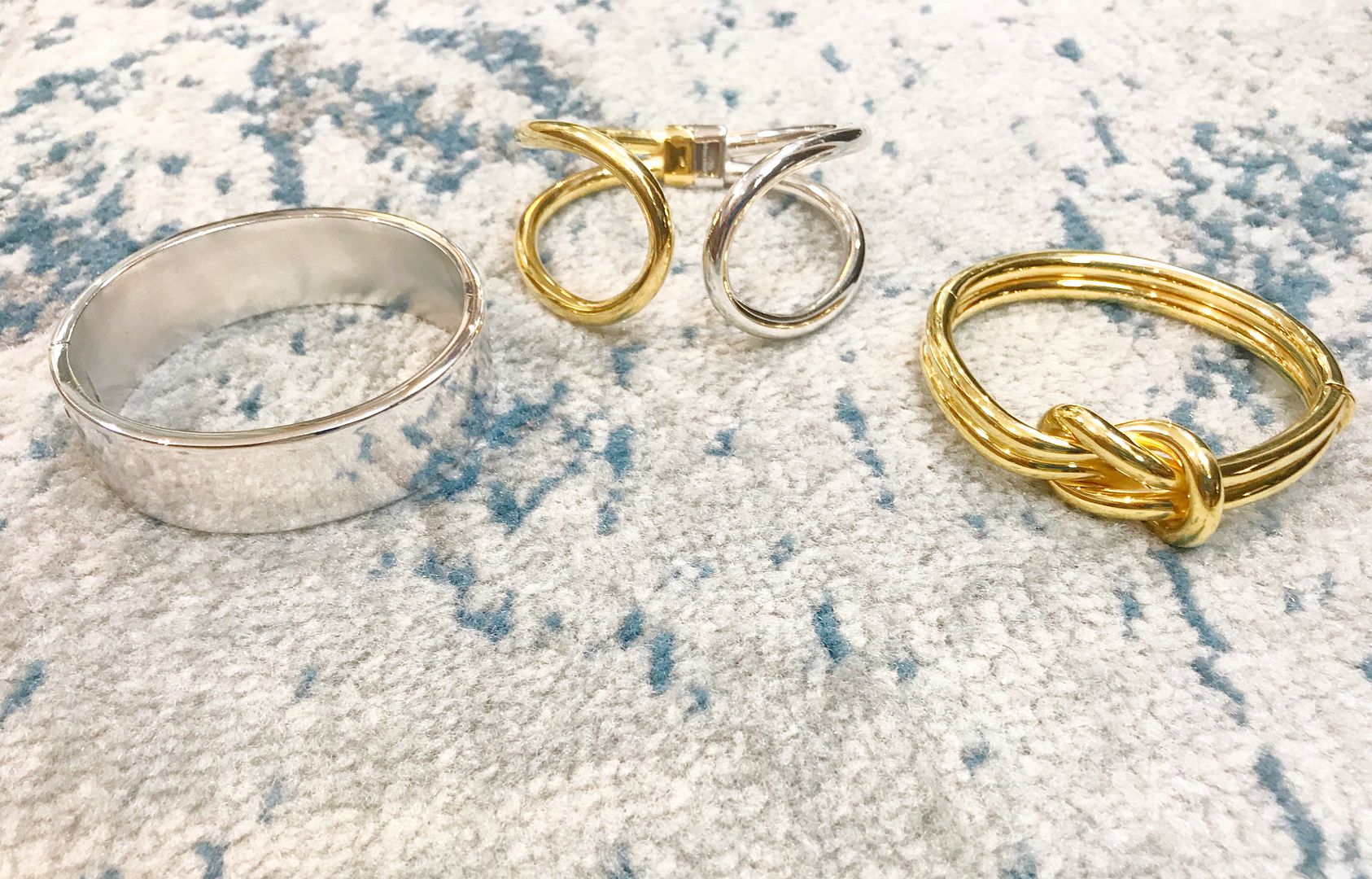 Sterling silver hinged bangle, $85.
Tacori sterling silver and cz cuff, $95.
 Sterling silver enhancer with blue topaz, peridot,
and mother of pearl. $95
Don't forget we are Wilmington's exclusive Vahan dealer.
Click the picture to shop all of our Vahan.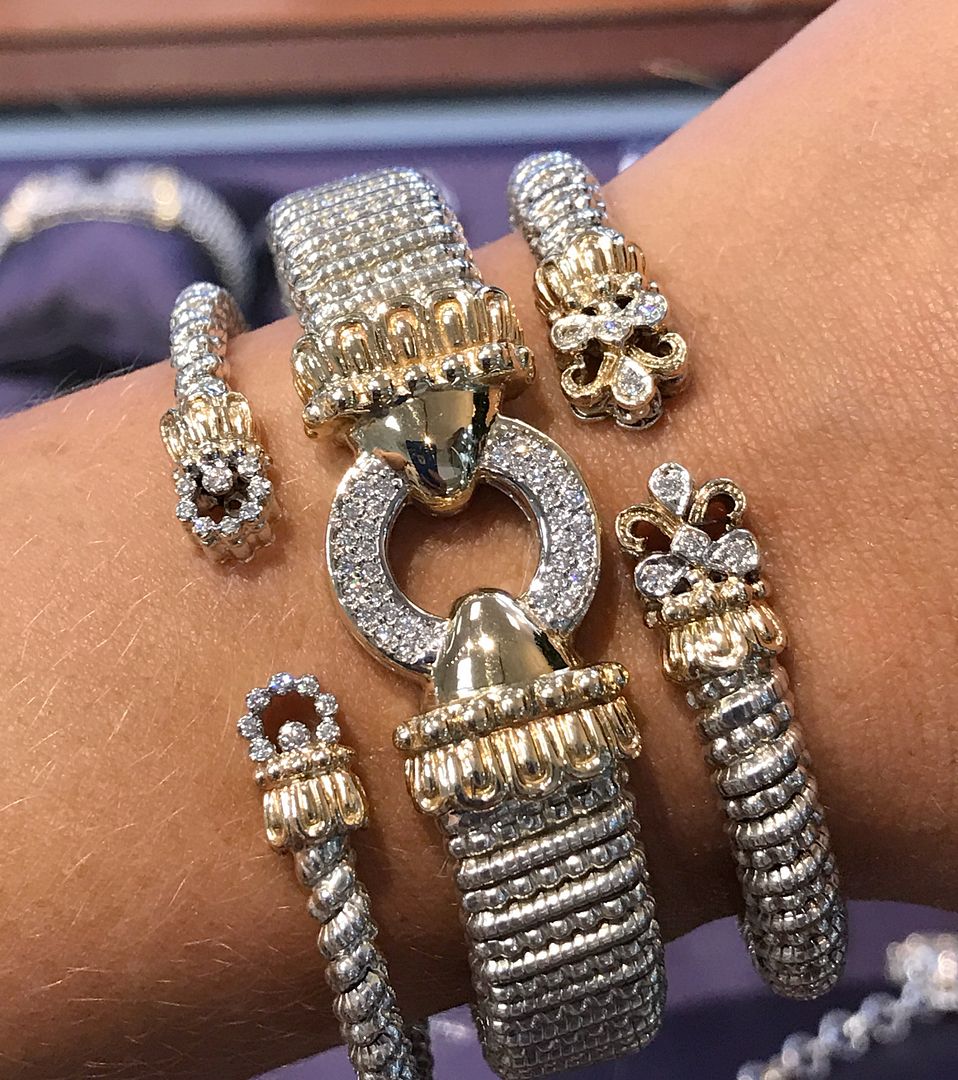 New Luvente pieces! (left to right)
Mother of pearl and .27ctw diamond necklace, $895.
9mm pearl and.26ctw diamonds dangles. $885.
.06ctw diamond triangle necklace, $445.
.10ctw diamond triangle earrings, $355.
Luvente blue topaz and diamond pieces!
Ring $995
Earrings $345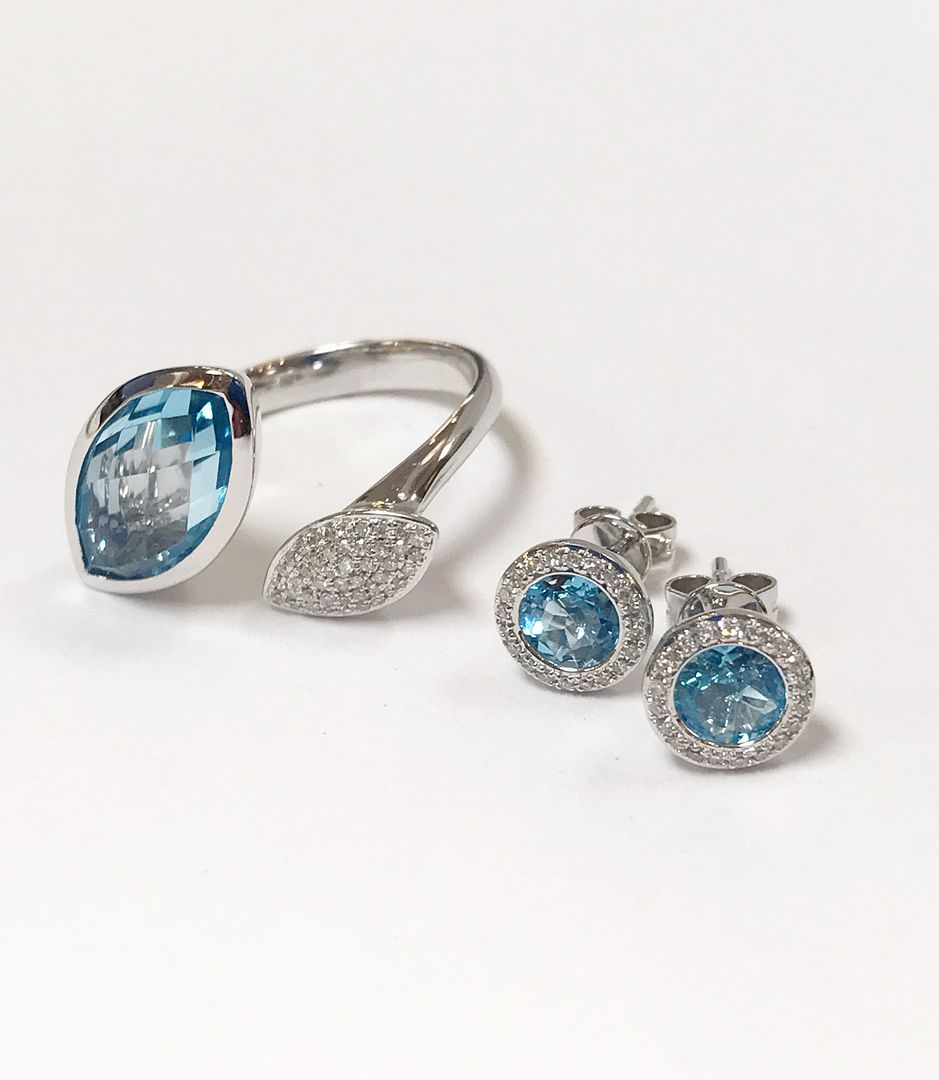 15mm South Sea pearl on a 16 inch black leather cord, $1,495.
14ky gold flower necklace, 17 inch, $245.
14kyg elongated oval dangles.,$195
Diamond and 14kwg star pendant, $95.
14ky gold palm tree pendant, $155.
8 station diamond 14krg necklace, $495.
Top: Hearts On Fire .50ctw diamond cluster necklace, $1,995.
Middle: 14kw gold and diamond chain, $250.
Bottom:14kw gold and diamond flower necklace, $1,195.
Pear shaped peridot necklace, $395.
Matching earrings, $85.
Emerald and diamond butterfly slide, $195.
Oval peridot necklace, $195.
11mm cushion cut blue topaz studs, $475.
No matter your style…you'll find it at
Home Again and Lumina Gem.
Come shopping this weekend!