Last week was the BUSIEST in our history…
the stuff was in and out of here so fast,
we were barely hanging on!
But this week has been no different…
There's a WHOLE LOTTA SHAKIN' GOING ON!  
The HOTTEST COLOR in High Point was pink grapefruit…
and we've got it! Art $225, 39.5″square
Cabinet, $295, 31.5x15x33.5
Linen chairs, $95 each (not sold separately.)
Sorry, urchin lamps are sold. 
More pretty and PINK arrivals!
Canvas floral art $145, 47.5″ square
Green lamps $145 each, 32″H  Gold console $695, 70x18x34
High end LEE INDUSTRIES striped chair $395. 30″W
The classic coastal pallette… back in stock from Magnolia Home, slipcovered chairs $595 each. 36.5″W
Abstract art, $195.  47×35.5. White lamps $145 each. 30″H
Rustic console, $395. 71x40x32
Coordinating Magnolia Home slipcovered sofa, $1,045. 89″W
Loveseat is available to order.
Pretty blue lamps $72 each, 20.5″H,
Grey three tier console table $275. 35.5x14x33.5.
How stunning is this Thai capiz shell chandelier?
$495 and approximately 46″H.
This picture does not do it justice so click the photo for a video!
Lovely hand embellished oil $195. 39.25″ square.
Teal textured lamps $125 each. 31″H
This LAZYBOY sofa is less than a year old and in EXCELLENT condition, come get it for $650! 88″W
Two available, louvered wooden screen just $75.
Each panel is 18×68. 
Ivory stressless style chairs, $395 each. 30″W
These won't last long!
Four piece outdoor wicker set, a steal at $325.
Loveseat is 54″W
 Great quality KING bedroom by Bassett at a great price…
Sleigh bed $295. Tall chest $395, 68x20x36.
Dresser $395, 39.5x20x55.5
Just in on consignment…we have a PAIR of these chairs for
$275 each. Like new condition. ​36″W
A WOWZA media cabinet in a great shade of blue-green, $625, 71x17x39.
Adorable 3 piece rustic pub set…for indoors or a covered porch. $395, 52x36x39.
In virtually like new condition…5 piece patio set by TROPITONE! 48″ table with umbrella hole. Compare online and you'll see it's a great buy at $1,295.
How cute…White console $195, 36x14x31.5.
Turquoise designer lamps $125 each, 30″H
Sand dollar indoor-outdoor art $76.18x3x26
College kid special…
Preppy pink and green sofa just $295! 94″W
Just in on consignment, wheat ETHAN ALLEN sofa.
It retailed for $1,948, our price $795. 86″W.
Elephant pillows $14 each.
Just in…a pair of hand painted tapestry florals…with,
you guessed it…the hottest color of the season…PINK. 
Just $175 each, 36×57.
Just in…exquisite media cabinet with Chinese Chippendale
overlay. Retails for $1,100, our price $795. 70×14.5×35.5.
Super glam golden glass lamps with chrome base, $145 each 33″H.
Cool cowhide print bench with storage shelf, $295.
27x48x16.5
Lovely dresser with chrome pulls, $695. 68×20.5×42.5 
Tall gold lamps, $155 each. 41″H
Large black and gold mirror, $150. 47×59.
Just in…we have a pair of STYLISH recliners,
$395 each. 30'W
WONDERFUL Chinese black china cabinet…a timeless classic.
$695 32x15x77.
 Narrow wooden sideboard $495. 59×13.25×35.
Ivory leather like sofa, brand new for $595. 92″W
Coordinating loveseat, $495. 69″W
 So much coastal color packed into one fish! $125, 50×20.
Modern lovers…check out these low slung nightstands with self closing doors…they retail for $700 each, our price $225 each.
Hand embellished abstract $195 47×35.
Pottery Barn console $265, 51x15x30.
Gold table lamps, $145 each.
Nice modern chest of drawers, $395. 35×19.25×53.25
Coordinating six drawer dresser available, $495. 67.25×18.25×33
Are you gearing up for the 4th of July?
Get in the spirit with this framed flag for $130. 41×24
Just a note…we will be CLOSED on the 4th.  
RUBY is the birthstone for July! You lucky babies have a RED HOT birthstone. Now through the end of July our ruby pieces of jewelry are 20% to 25% OFF.
Check out this 42 gram vintage adjustable buckle bracelet, 14ky gold with rubies and diamonds. Click on the video to watch this fantastic bracelet in action. Sale price is $1,995!
These omega back vintage ruby and diamond 14ky gold
earrings are 50% OFF. Sale price is $345.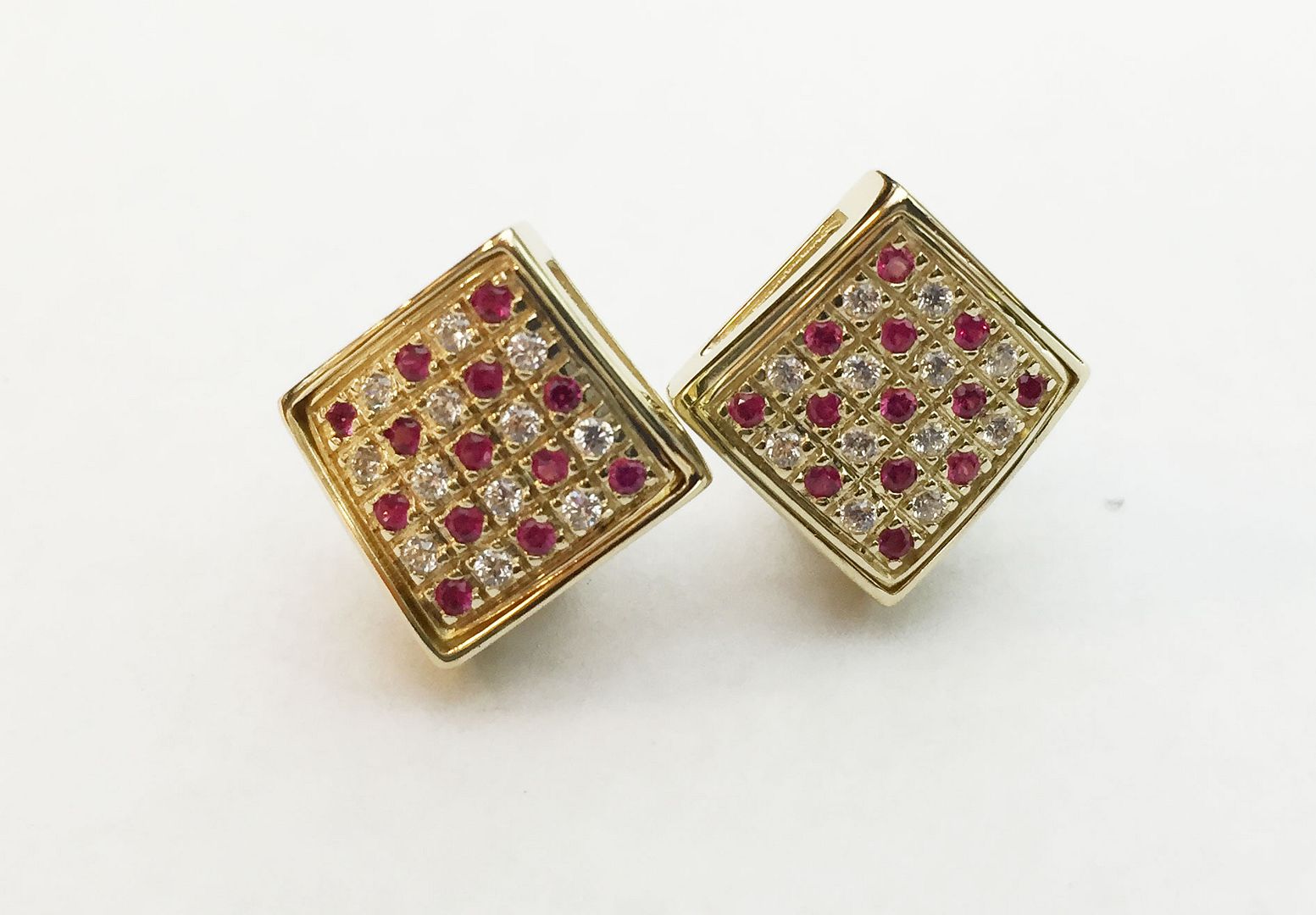 (Prices listed are sale prices at 25% OFF) 
Roman+Jules ruby and diamond band in 14kw gold $675.  Ruby earrings with locking hinge in 14kw gold $425. Roman+Jules ruby and diamond 14k two tone band $1,075.
We have this RUBY ring in the 50% OFF case!
 2.35ct oval ruby with .43ctw diamond accents in 14kw gold, sale price $1,995.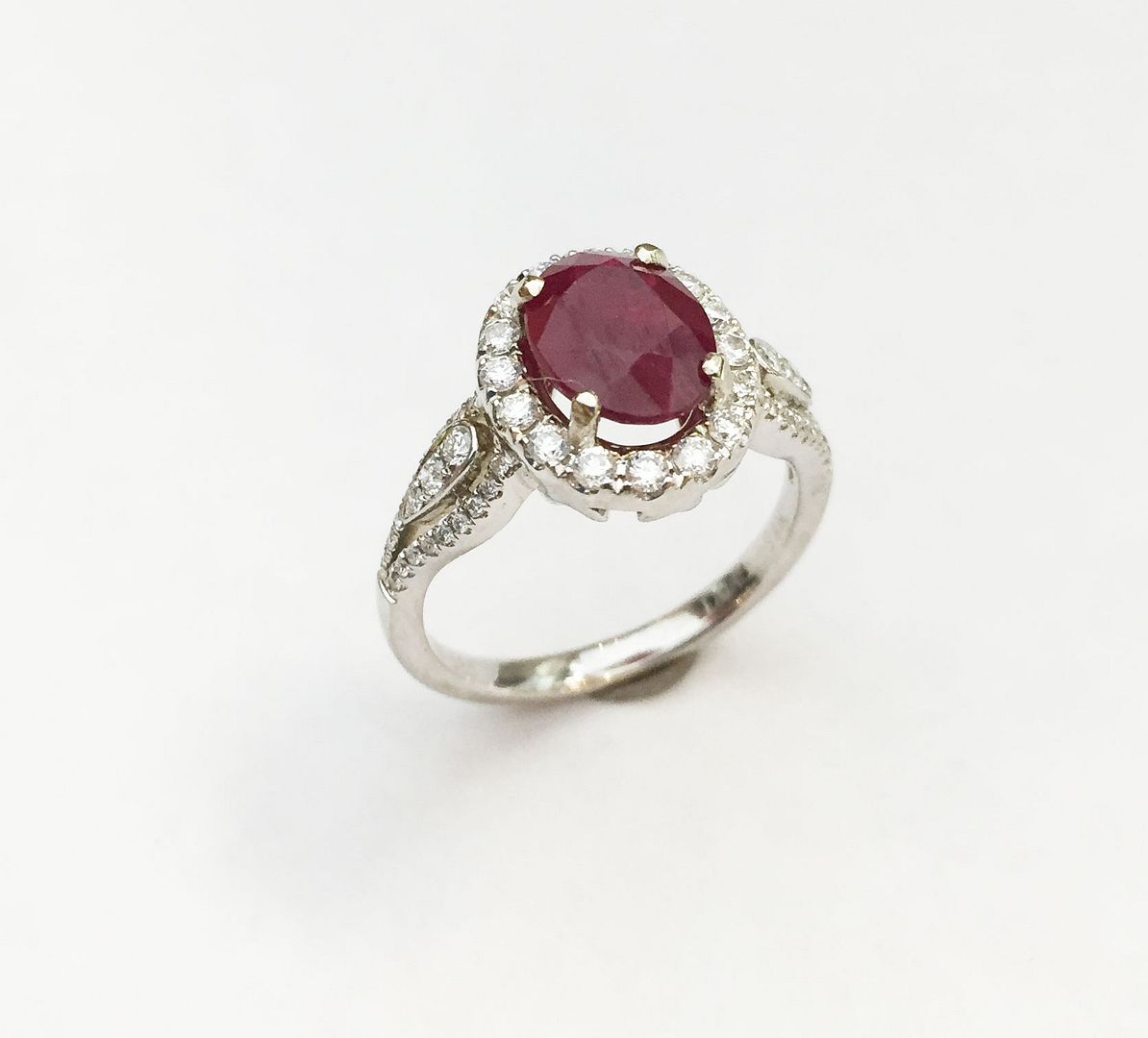 Just in David Yurman!
Blue topaz signature oval ring, $545.
Diamond X cuff, $595.
Petite albion but topaz and diamond ring, $495.
Prasiolite and diamond 5mm cuff, $435.
Le Vian .80ctw diamond and 14kr gold ring, $1,595.
 Allison Kaufman Co. stuns with sapphires!
Top: .93ctw of sapphires accented with 1.05ctw of diamonds in 14Kwg setting. $1,235.
Bottom: 1.25ctw of sapphires accented by .20ctw of diamonds set into 14kw gold. $1,995.
The simple setting is back in style. 
Click here to view all of our new lovely Roman+Jules
settings that we have in store.
Love colored gemstones? 
One of these gorgeous gemstones cut by master gem cutter
Chris Wolfsberg would be a great idea for a gift!
  Let us create something that can be passed down
from generation to generation.
(counter clockwise)
22.6ct morganite $3,375.  38.8ct amethyst $1,725.
5.38ct manderian garnet $1,625. 7.28ct lemon citrine $325.
  4.10ct tanzanite $2,695.
We have 5 stone diamond bands in all sizes and in yellow gold.  Prices ranging from $3,495 to $8,895.
Fireworks will fly when she sees the stadium effect of this 1.20ct F color SI2 clarity GIA certified oval diamond, $6,495. Paired with this simply beautiful.63ctw 14kw gold setting, $2,615
Add some sparkle to her summer with this 1.09ct F color VS2 clarity GIA certified asscher cut in a 14kw gold and 1ctw diamond semi-mount. $8,995.
Just in Allison-Kaufman pieces!
20.74ctw rose quartz, citrine, green amethyst accented by .08ctw SI clarity G color diamonds set into 14kr gold, 7 inches. $1,495.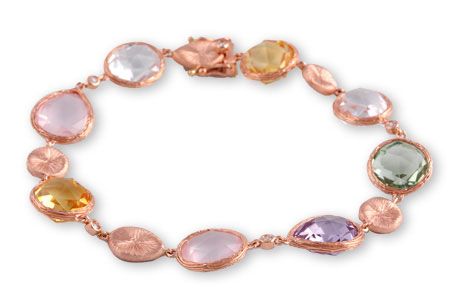 Diamond and 14k yellow gold crossover set
Earrings: $1,295
Ring: $1,145
Bracelet: $3,695
13.75ct blue topaz with .12ctw SI clarity G color diamonds set into 14ky gold 18 inch necklace. $1,995.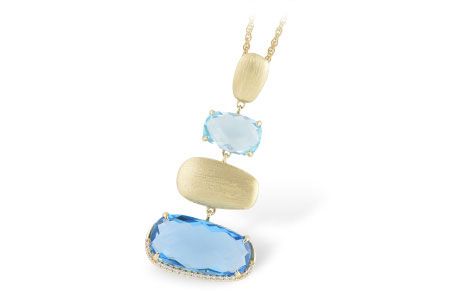 Come shopping at the place where there is a 
WHOLE LOTTA SHAKIN GOING ON…
Home Again & Lumina Gem!