Barbeques, walks on the beach
and just enjoying the great outdoors…
Summertime is almost here…
And we've got the BEST NEW ARRIVALS to
make your summer living easy…  
Gorgeous brand new 'chofa' in a lovely shade of light dove grey, $1,295. 122×65.  Pillows included.
Lovely hand embellished heron on canvas, $245. 39.5″ square
White cabinet with dark turquoise capiz shell doors, $325. 40x15x34.5 Chartreuse lamp with rope detail, $62. 28″H
This will NOT last long….white media unit, $165. Yes, just $165! 
I repeat, WILL NOT LAST LONG.
72×15.5×58  Phone orders accepted, call 910 679 4302.
Rene Magrite  art, $76. 38.5×32.5
Textured sailboat art in hard to find
horizontal format, $195. 60×21.5
Queen size headboard in ocean blue, $225!
Back in stock from Magnolia Home Furniture by Joanna Gaines…
Ivory SLIPCOVERED sofa, $1,045. 88″W
Two coordinating chairs available, $595 each. 37″W
Always a favorite…
Octopus Lamps, $95 each. 25″H
White hall tree with storage bench, $375. 40.75x18x64.25
Shell prints have sold, sorry.
Pretty wooden ships model, just $42. 34.25″H
LARGE and COZY sectional in charcoal,
$1,395.  68x144x103
Retro style 26″ barstools just $65 ea.
Not sold separately
Just in on consignment…LOVELY round genuine stone topped round coffee table $350. 36″ diameter and 20″H
Sleek modern barrel chairs in gray, $295 each. 26″W
Stunning champagne credenza, $695. 70x18x34
Soft blue & green abstracts on canvas, $245 each. 33×43
Brown table lamps, $32 each. 27″H
AFFORDABLE Broyhill sage green sofa
in great condition just $375.  87″W
Much prettier than this picture could capture…
Gold bamboo look console table in burnished gold
with glass top, $275. 58x15x26
The bees knees…
We have TWO of these root maze dividers, $595 each. 
Perfect for inside or outside! 47.25x14x71
Brand new linen sofa with nailhead trim, $795. 88″W
Antique white scallop coffee table by Magnolia Home Furniture
by Joanna Gaines, $275.  52x28x19
Four brand new pearlized white barstools with silver nailheads, $145 each, sold in pairs only.  30″ seat height.
Light and airy for the WIN…
Dramatic abstract in coastal colors, $295. 56.5×34.5
Sleek ivory cabinet, $625. 60×17.5×32
Simone Pearce glass lamp, $125. Retails for $325. 
Nice wooden desk by Havertys, $495.  Save HUNDREDS.
62x30x31
Coordinating filing cabinet, $295.
26x26x35
JUST IN ON CONSIGNMENT! Ivory stressless style chair,
a score at $395. 34″W
For your summer relaxing…lovely white cast iron patio set. 
Settee, $175. Side chairs, $95 each. Side tables, $75 each.
Adorbs…Mango club chairs, $295 each
Small scale, 29.5×27.5×29
Wooden oval table, $595. 66×48.
Can be a 48″ round without 18″ leaf.
Shown with the cutest slipcovered chairs with bow back detailing… four available, $195 each. 18″W.
Sold in pairs only. 
VIBRANT flower on canvas, $145! 40×40
Just in… pair of yellow twill club chairs by ROWE!
A great buy at $275 each.
Nice narrow console table, $275. 52x18x30
Coordinating coffee table available but not shown, $225. 48x24x19.5
Dimensional whale art, $185. 30×36
White cabinet with natural capiz shell doors, $325.
40x15x34.5
Coastal motif lamps, $180 each. 34″H
Super cool pair of 'Samuelle' end tables by Uttermost. They retail for $393 each, our price $245 each. 26″ diameter x 26″H
JUST IN! Taupe sofa, brand new for $695. 81″W
Clean lined buffet in maple, $145. 60×16.25×36
24″ counter stools, $72 each. 
Four available (sold in pairs only)
Good looking leather-match loveseat  $425.  66″W
A customer said it well today…"Feels like butter, baby."
Modern media unit just $95! 27x15x36
Use this Ethan Allen console as a trunk or media cabinet. $245. 
57x20x21
Bamboo look floor mirror, $295. 36×70
Modern in style…coastal in color! Cobalt settee $425. 49″ wide. Chair $295. Pottery Barn pillows, $25 ea, two available.
Pretty light grey tweed chairs!
Brand new for $325 each, 29″ wide
TWO AVAILABLE…lovely floral loveseat, perfect for your
garden room!  $450 ea.    In like new condition.
For the first time in our history…
Lumina Gem is having a silent AUCTION for this lovely Vahan piece.  Retails for $6,625.
100% of purchase will go to First Tee in Wilmington, NC and Caddy for a Cure.   Starting bid of $2,000 has been already been placed. 
Call 910-256-1850 to place a minimum $50 increment bid to win this gorgeous bracelet.
David Yurman cuffs are here and
they've never looked better.  (L-R)
15mm blue topaz Waverly cuff $1,995.
9mm hematite Ostera bangle $995.
9mm classic two tone bangle $795.
7mm onyx two tone cuff $475.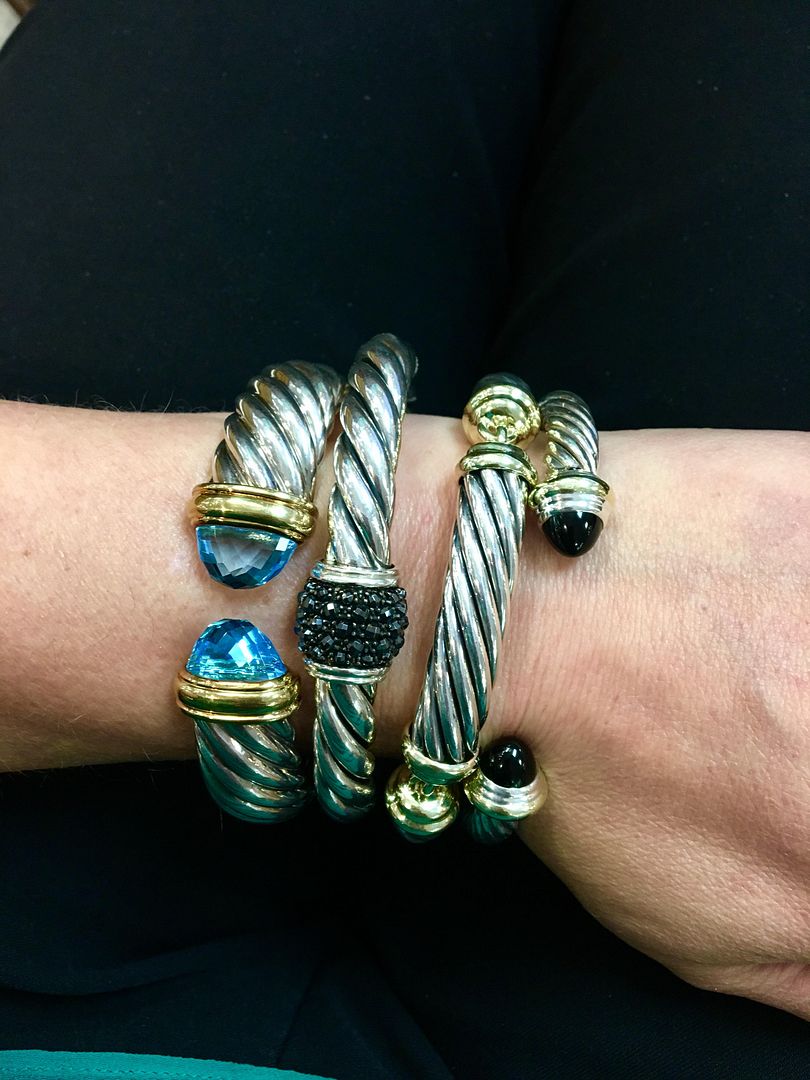 To all the lovely ladies that love pearls and who were born in June, we have a special for you! 
All pearls and mother of pearl jewelry is 10% to 50% off. 
This Raymond Mazza mother of pearl and Venetian glass intaglio depicts a Roman scene set into 14ky gold.
Price is 50% at $765.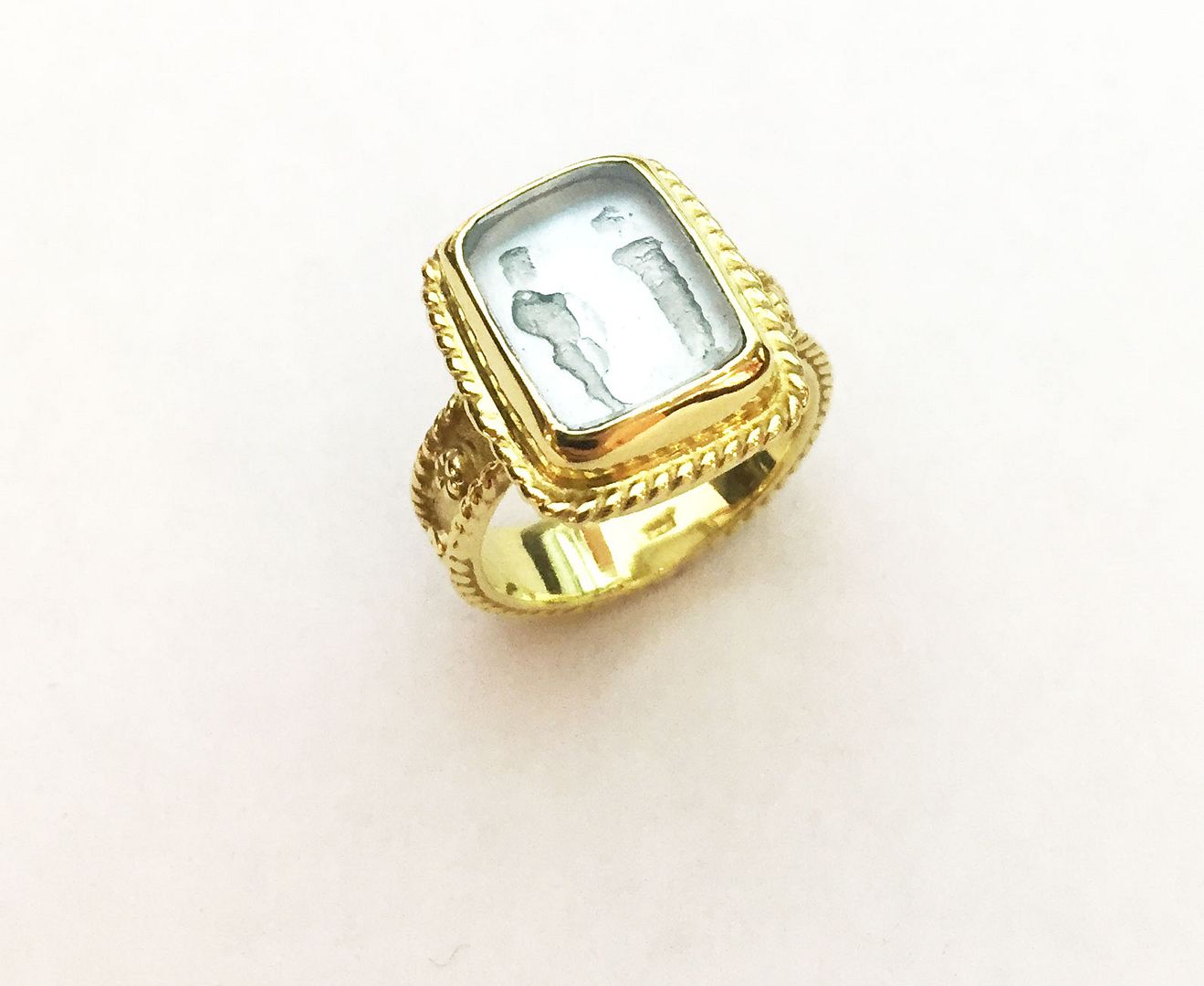 ~Superb Deal~
Consignor Reduced.  Natural Tahitian pearls for only $1,595.  Click the video to see these gorgeous strand of pearls.
Rolex pearlmaster diamond with mother of pearl dial in 18kw solid gold case and band, sale price $22,000. 
Baume Mercier diamond mother of pearl dial stainless steel, sale price $1,765.
Raymond Weil two tone diamond watch with mother of pearl dial, sale price $1,035.
~SAVE BIG~
 6.75mm, tin cup 11 station 14ky gold, 16 inch necklace, sale price $235.
15mm mabe pearl 14ky gold studs, sale price $235.
Frank Reubel pearl and white sapphire sterling silver ring, sale price $175.
This piece of art is truly one of a kind by designer Luna Felix.
Opalized petrified wood and pearl in 22ky gold with hand applied granulation on the gold. 
Retails for $20,000 we have it for $10,320!
Look at this beautiful necklace on our sweet model, Lauren.
We miss you, lady!  The bracelet is also available
in this picture for $3,995.
71grams of 22ky gold antique bracelet.
 Congrats to Lauren and Tyler. 
Have a fabulous WEDDING weekend.
Isn't she lovely?  We are so excited for you both!
All designer pieces with pearl and mother of pearl are 20% OFF!
Top:  Charles Garnier dangle mother of pearl in sterling silver sale prices starting at $95.
Bottom: Michael Hawkins Rose De France amethyst, chalcedony and pearl bracelet, 7.5 inches.  Sale price $315.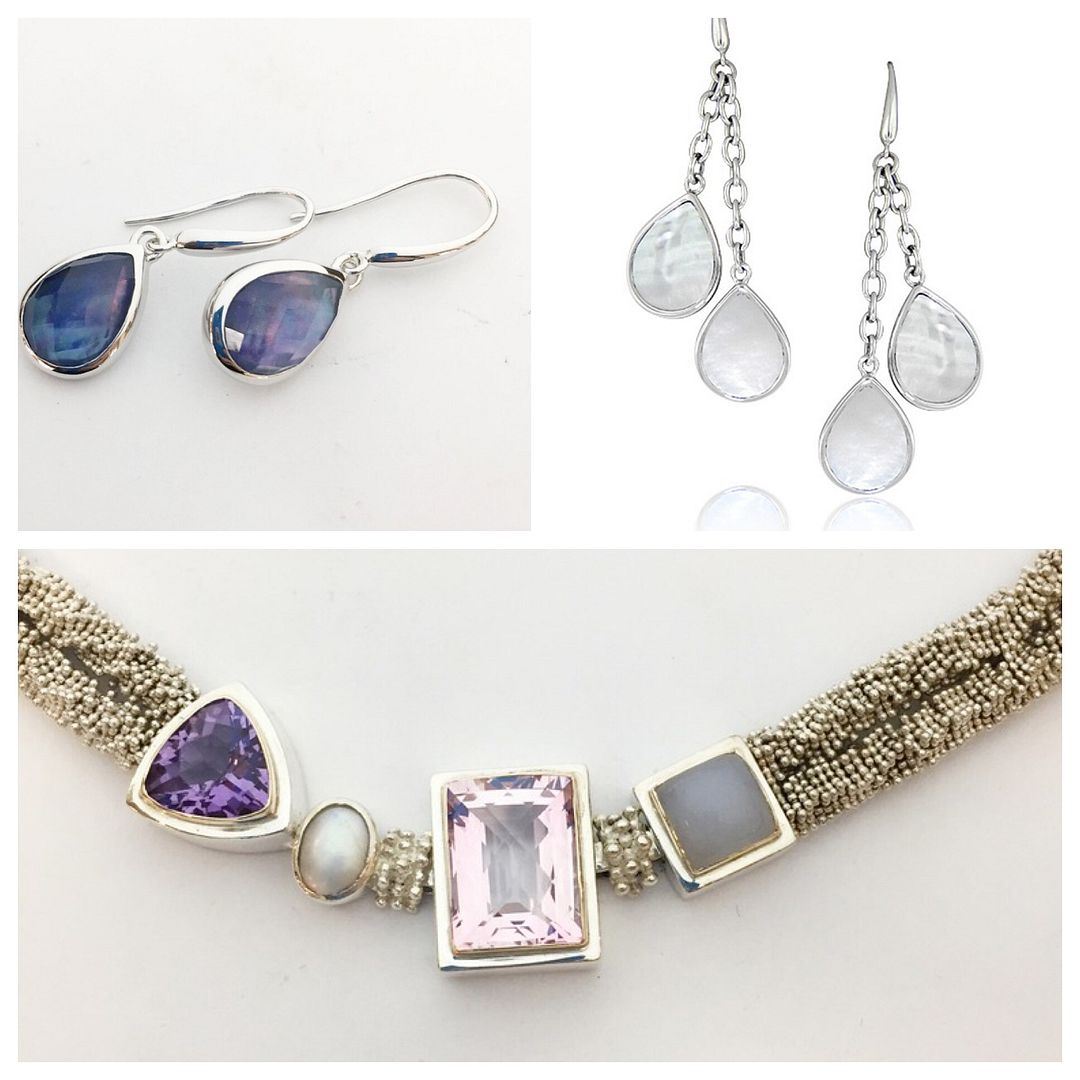 This designer piece from Konsantino is set with a mother of pearl and is on sale for only $435.
Just IN!  These fantastic gold pieces.
 (L-R) Meshed oval graduated 7 inch, 14ky gold bracelet $425. Matching 14ky gold 17.5 inch necklace $945. .50ctw diamond 18ky and white gold 7 inch bracelet
? $1,650 .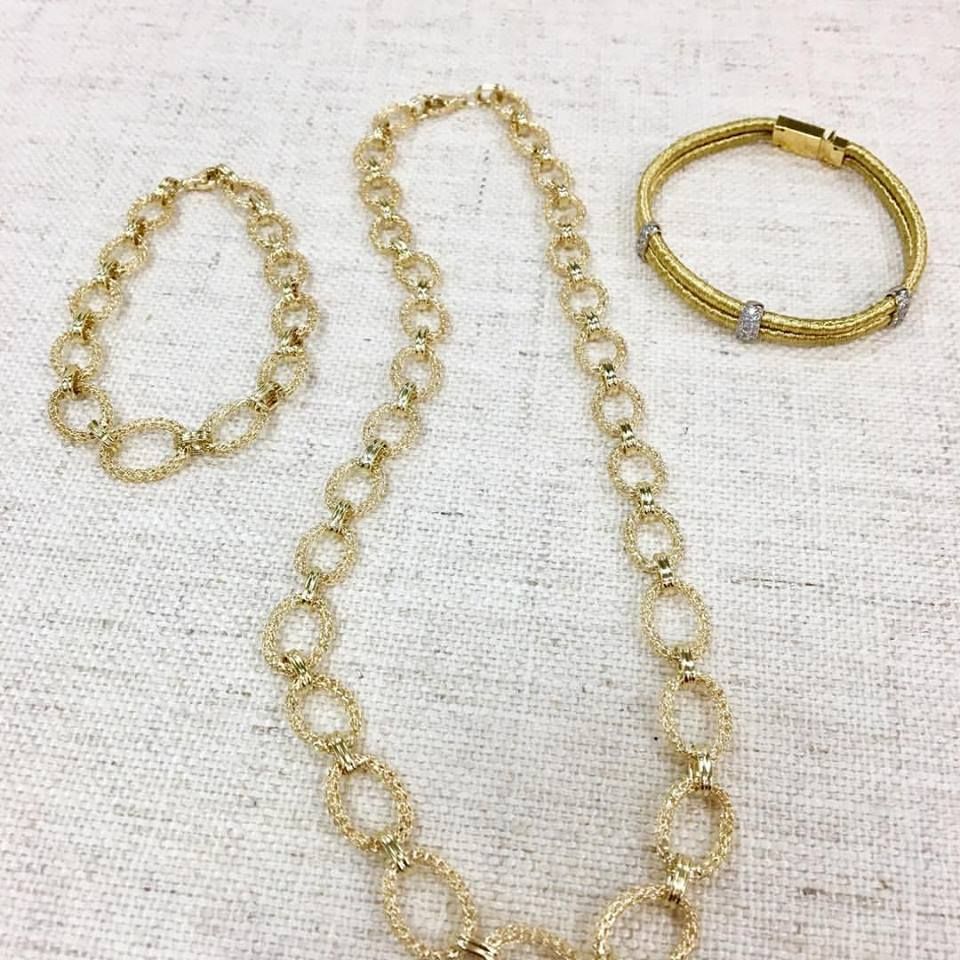 Looking for truth and enlightenment? 
Lapis is known to bring its owners a clearer perception about life and relationships.  The prices here range from $75 to $350.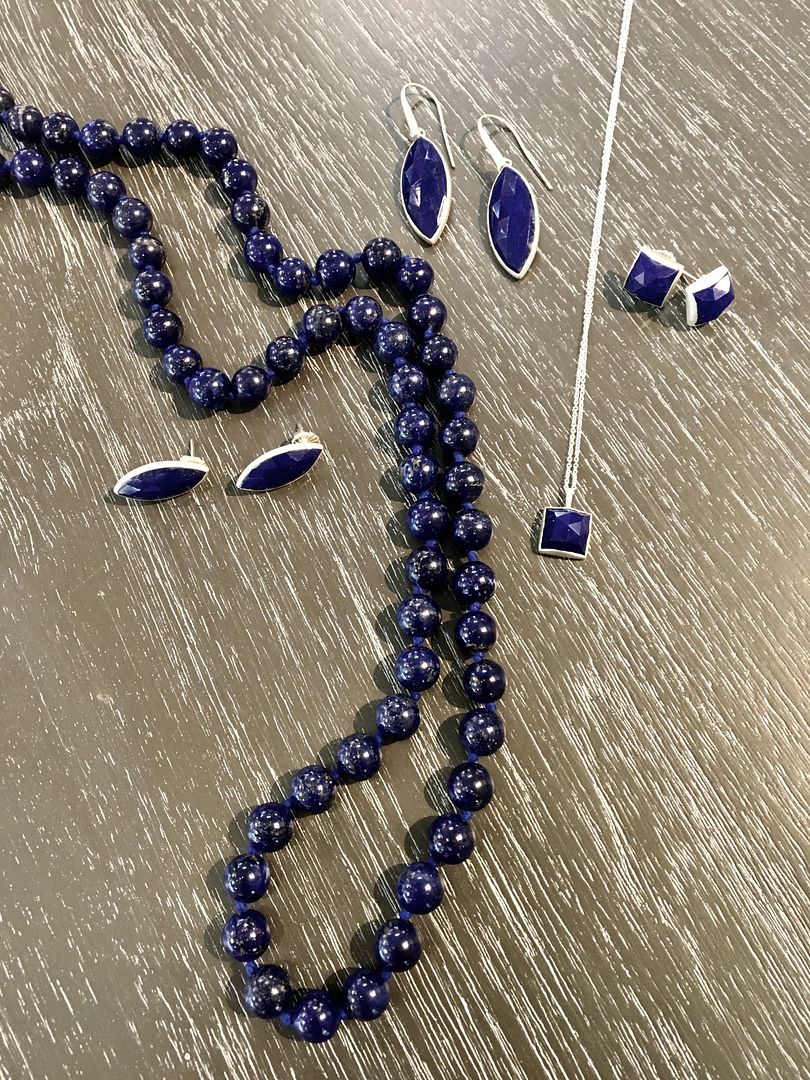 We love this combo that will bring life to any outfit…
and check out the prices!
Sterling silver two tone necklace $160.
14mm stardust, Charles Garnier gold overlay studs $55.
Charles Garnier turquoise bangle $395. 
Pair with two Nina Nguyen sterling silver bangles for $145 each.
Perfect Father's Day gift to support the local Carolina's and the planet. Made from recycled plastic this high carbon, stain-free steel blade is a shuckers dream come true.
Ergonomic slip free turquoise handle and for every piece sold Toadfish plants 10 square feet of new oyster habitat.
$38 dollars each!
Get involved with REVOLVE. 
Lumina Gem's exclusive line we made to give back to a local non-profit organization called DREAMS.  Supporting the development of children with art classes. Prices are $65 to $325.
 Tony Maccabi jewelry line is in the 50% OFF case. 
Sale prices are $495.
More fantastic finds in the 50% OFF case. 
(l-r)
Tourmaline and diamond 18kw gold ring, sale price $2,395.
Emerald and diamond 18kw gold ring, sale price $1,125.
Sapphire and diamond 18kw gold ring, sale price $2,295.
Get this Raymond Mazza unique set for 50% OFF.
Diamond 14ky gold ring $1,295.
Diamond 14ky gold omega back earrings $2,385.
Remember all pearl jewelry is on sale during the month of June.
These jellyfish sterling silver blister pearls are only $215 each.
Thanks for reading our email, and
enjoy your weekend, everyone!