You could look high and low for a deal…
but why would you?  
They are waiting for you right here!
Tufted sofa, $695. 88″W Telescope decor, $65.
Arrivals have been AWESOME this week…
we are excited to show you the goodies!
These chair and ottoman sets are stopping people in their tracks…they are ALL THAT. In navy velvet piped in taupe, they are custom and retailed for $2,600 ea, our price $895 each.
Large scale, chairs are 46″ W.
Does it get any prettier?
Nope. 33×48 $295
Bold and dramatic hand embellished oil, $295.
Large scale, 48.5×36.75
Just in… cottage style dining set by LEXINGTON. Retailed for $2,100, our price $795. 48.5″ diameter table top.
Such a versatile sectional in neutral taupe,
smaller scale 96 x 96.
Clean and modern lines and brand new
for just $495. 81″ W.
Just in… a pair of script print RECLINERS!
$395 each. 33″W
A neutral but exciting look. Coral art $175 ea, 27.5×33.5. Pineapple lamps $175 ea, 34″H.
Media cabinet $595, 60x19x32.
Nice writing desk by Haverty's
just $300! 56x28x30
Just in on consignment…2 twin headboards for $175 ea,
dresser and mirror $375.  70X19X37
 Nightstand, not shown, $95. 28x16x28 
BACK BY POPULAR DEMAND…we have laid our hands on this
great driftwood finish bedroom suite again.
We have the bed in king($795) and queen($695). 
Dresser & Mirror, $795. 65.5x18x40
Chest of drawers, $595. 40x18x54.25
Three side tables available, $295 ea. 29x18x29
Just in on consignment…gorgeous 4-panel bird screen, $450.
Each panel measures, 23×76.
Bergere chair by Magnolia Home Furniture by Joanna Gaines,
ON SALE for $385! 32″W. 
Large two toned mirror by Uttermost, a steal at $525! 43×73.5
Happy Graduation weekend to Nicole's son Eric! 
This vibrant color palette is chocked full of goodies! 
Mango club chairs, $295 each. Smaller scale, 29.5×27.5×29
Hooker console table, $556. 66x22x33.5
Abstract art, $180. 40×48
We have the receipt for this solid wood china cabinet for $1,600…
our price, $695. 54×18.25×75.5
This picture absolutely does not do them justice…
lime aqua and navy sea fan art, $295 each. 51×29
Lovely pair of teal tufted chairs, $425 each. 30″W
Mirrored Armoire by HOOKER, $1,095. Retails for $2,629.
50×23.5×90
Coordinating octopus art in shades of navy and aqua, $125 each. 34.5″ square
Super cute narrow cabinet with rope details,
$325. 44x12x34.5
Charcoal gray push back recliner, $395. 39″W
This is SO neat…
Remove all the cushions and your comfy sofa becomes a twin size sleeper. The mattress inside pops up so you never have to move the coffee table.  Brand new for! $1,095. 91″W
On trend iron chandelier, $295.
26″ diameter and 24″H
A GREAT deal…
Lexington china cabinet with seeded glass doors
in a soft sage green, $805. 56x18x88.5
Tufted chairs that pack a punch of color. $295 ea.
We scored TWO of these white cabinets with
gold geometric fronts…
One is perfect and is priced at $225. The other one is not aligned perfectly so it's priced a little lower at $175. 20x16x31.5
The best looking swivel chairs we've ever seen,
in a rich blue velvet, $365 each. 28.5″W  Sorry, chest is sold.  
A nice look…Ethan Allen chest, $325. 32×16.5×34
Distressed black mirror by Pottery Barn retails for $550,
our price $195. 30×42
Bundle of bamboo, $28. 67″H
Modern, edgy burl console table,
$425. 56x17x36
Mirrored chests with black granite tops by HORCHOW,
just $350 each. 30.25×17.25×29
Plush gray sectional with black
leather like trim, $795. 119×74.
Gorgeous and heavy designer lamps,
just $72 each! 27″H
ON SALE!
Score these 31″ barstools by FRONTGATE for just $95 each!
Shop for yourself while shopping for DAD?  YES!
John Hardy Bamboo cuff.  Retails for $1,595,
buy here for only $845. 
John Hardy mother of pearl and white sapphire
leather necklace $945.
John Hardy carved link bracelet, 7.5 inches, $695.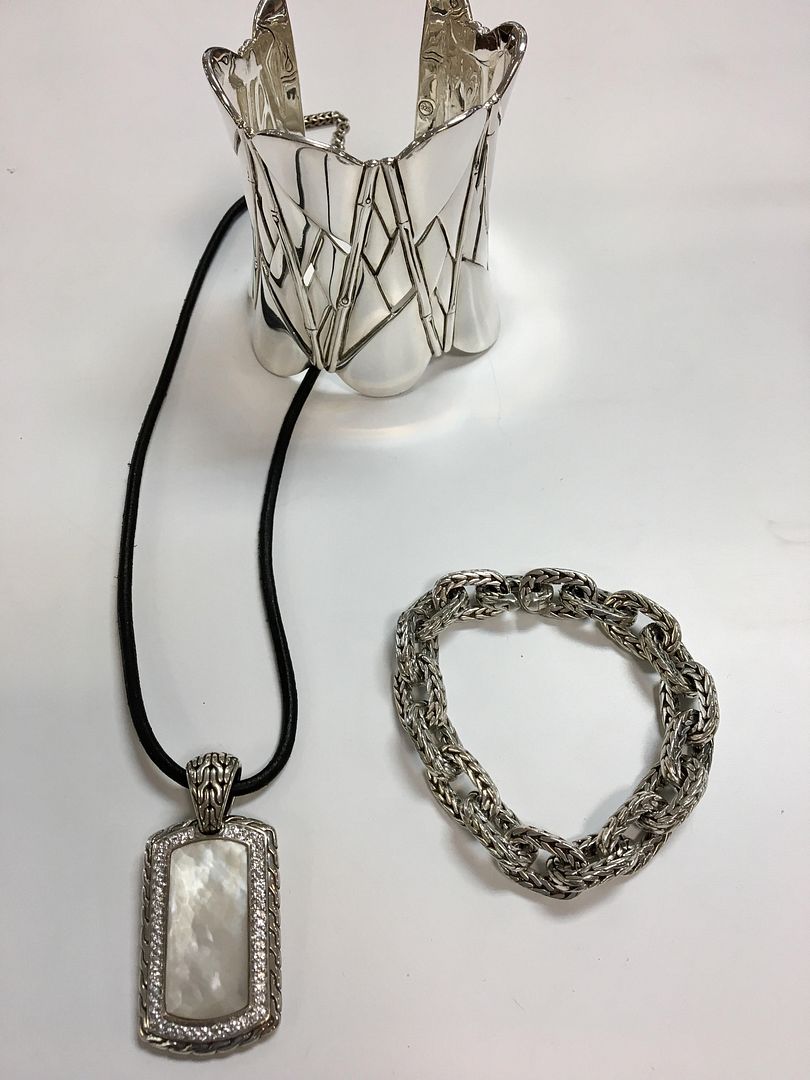 Just in… designer jewelry!
John Hardy Kali blue topaz pendant $275
16″ sterling silver wheat chain $135
John Atencio peridot, sterling silver, and 14ky gold necklace $325.
Matching sterling and 14ky gold hoops $165.
David Yurman onyx and pearl hoops $255.
Onyx, sterling silver and 14ky gold enhancer $225.
2.25mm sterling silver 18″ chain $115.
Chalcedony is gaining huge respect in the jewelry industry.
 It's gorgeous and its a 6.5-7 on the Moh's scale, so it's a tough stone.  (L-R) Raymond Mazza hammered ring $385.  David Yurman diamond earrings $750.  Raymond Mazza two tone ring $895.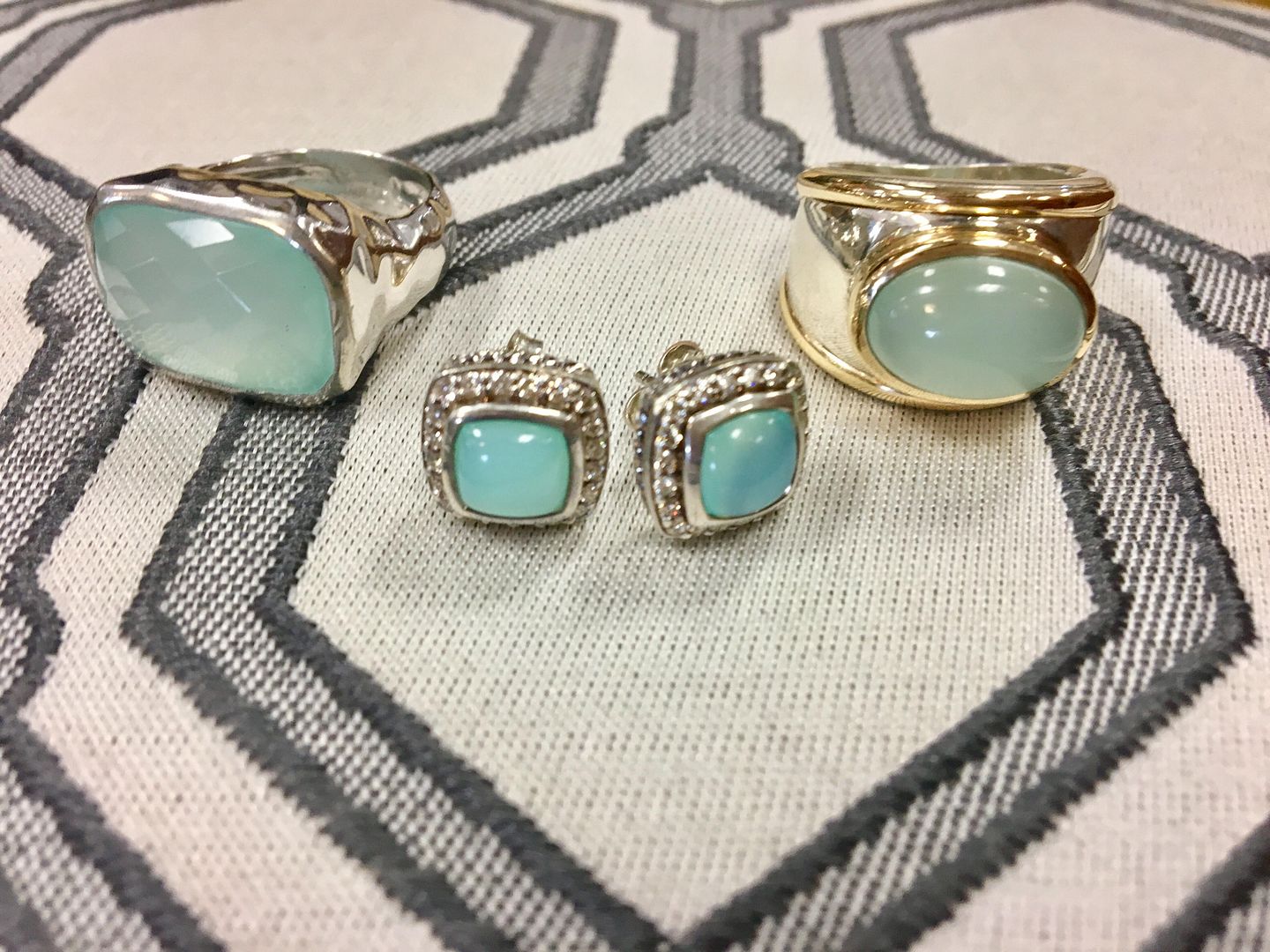 Take advantage of our Pearl Month discount on these "mother of pearl" Ippolita pieces. Sale prices on these Ippolita bracelets range from $225 to $315.
These Ippolita pieces are such a good deal!
Smoky quartz large 18ky gold hoops. 
Retail $2,900, buy here for $1,185.
Signed rock crystal quartz 43 inches. 
Retail $1,795, buy here for $895.
Shine bright with this .73ct GIA certified G color SI1 clarity round diamond in a .30ctw diamond and 18kw gold setting. $5,975
We love our unique bands, especially these designer wave alternating 18k rose and white gold with 2ctw diamond eternity bands at $2,545. Click the video to view this ring.
Antique rings are timeless and a unique way to propose. 
Prices seen here range from $595 to $2,695.
Jade and emerald are just as precious as diamonds to some  cultures.  This natural graduated jade 18.5 inch bead necklace is a desired color and is only $845.  The emerald and onyx 14ky gold pendant is  a vintage piece stamped Merin for $395.
3.5ct bi-color tourmaline and diamond necklace in 14ky gold,
17 inch. Made by Brad Bass and Casey Cobb. $2,085.
What says summer like turquoise?
Prices range from $75 to $850.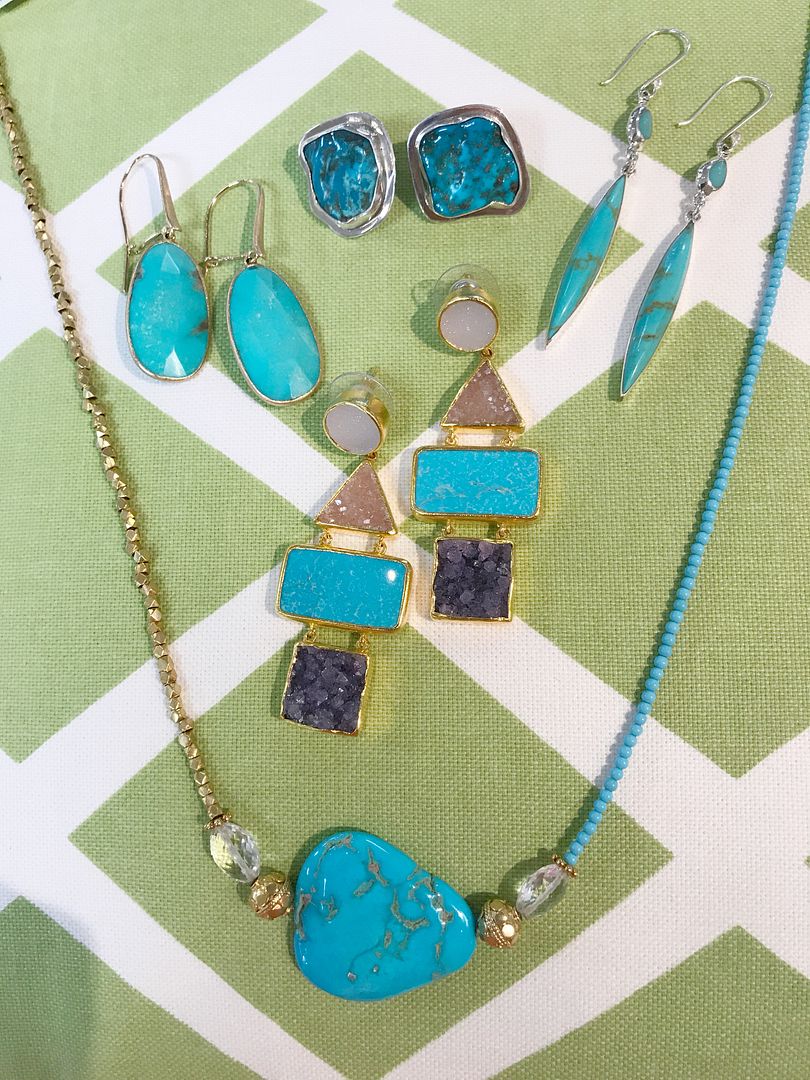 We have cross necklaces for every style.
Prices range from $65 to $695.
Rubies, diamonds, and gold. OH MY!
Ring-$2,185 Bracelet- $2,955
Shop all over town looking for a bargain?
Nope, just come see us at Home Again & Lumina Gem!  
Thanks for reading our email and have a great weekend.