There is one thing for certain…
WE LOVE OUR MOMS!  
And apparently so do you!  We received so
many wonderful entries in our
$500 Lumina Gem gift certificate
giveaway for Mother's Day!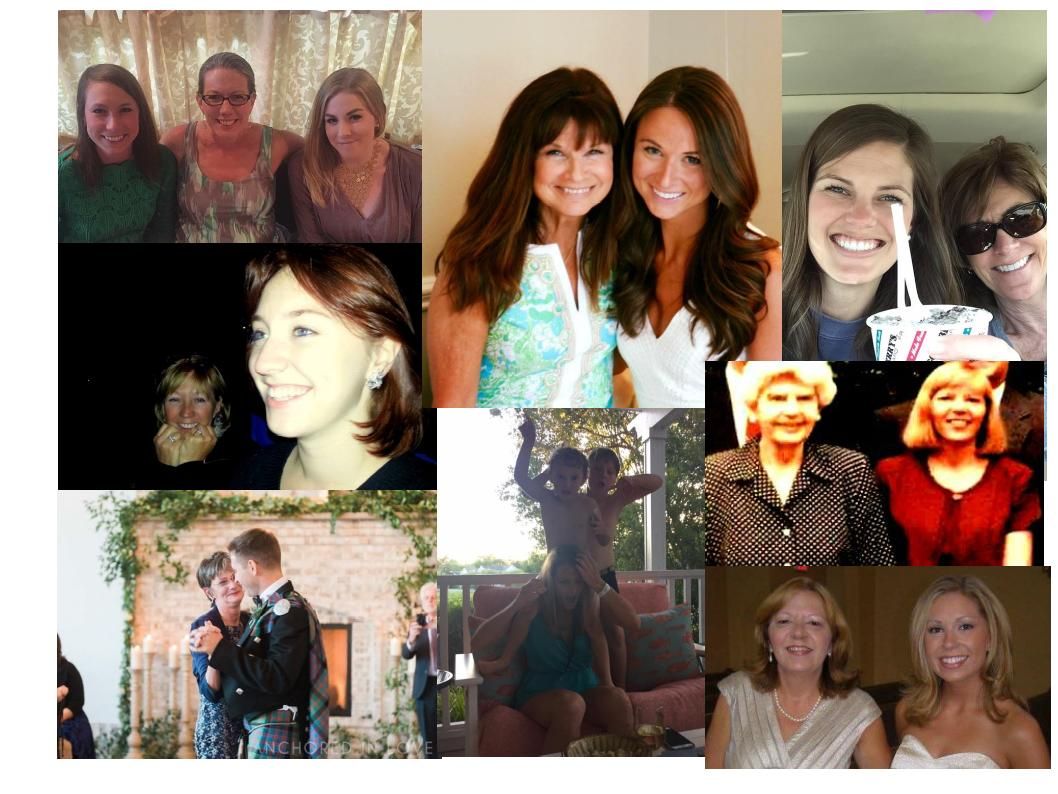 CONGRATS to the winner, Christen W.!  
So adorable!
~~~~~~~~~~~~~~~~~~~~~~~~~~~~~
Do you want to find a gift for your mom
that is just as AMAZING as she is?
We got you! 
~~~~~~~~~~~~~~~~~~~~~~~~~~~~~
Does mom love a BARGAIN? This BRAND NEW hutch retails for $2,200+…our price, $895! 59.5x18x78.5
An added treat for mom….take 10% off ALL sleeper sofas
this weekend ONLY!
Striped denim queen sleeper sofa, normally $1,095,
but this weekend you get it for $985! 78″W
Currently drooling over this vibrant oil on canvas,
 $225. 35.5×47.5
These designer lamps have a few imperfections so
they are priced to move at $58 each. 36″H
This BRAND NEW five light chrome chandelier from Quoizel
retails for $599…our price, $325!
28″ diameter and 26″H  Very pretty in person.
This faux ostrich embossed chest retails for $718…
our price, $450. 42x18x36
Silver table lamps, $14 each. 21'H
~~~~~~~~~~Opportunity buy!~~~~~~~~
We just received a large assortment of barstools by Frontgate…
24″ swivel backless stools retail $199…Our price, $125 ea.
30″ swivel backless stools retail, $249…Our price, $145 ea.
24″ swivel stools w/ backs retail $299…Our price, $195 ea.
30″ swivel stools w/ backs retail $399…Our price, $225 ea.
Get em' while supplies last!
VIBRANT hand-embellished bird art just in time for Mothers day…
$295! 35×49.5
Handsome durable chenille ivory sofa with nailhead trim, $695. 90″W Coordinating loveseat, $595. 64″W
Rough hewn storage bench, $295! 42″W
We love these…pair of solid rustic side tables on casters,
$365 each. 27×15.5×30
Matching dresser also available.  
BRAND NEW TWIN SLEEPER CHAIR 1/2 in a ticking stripe.
Take it home THIS WEEKEND ONLY for $625.50! 56″W
Wouldn't Mom just LOVE this bird print?
A companion is also available, $245 each. 34.5×42.5
Lovely Bombay console table, $450. 54x17x40
Just in on consignment…
Beautiful handmade farm table, $495! 84×33
Tangerine parsons chairs from Pottery Barn, a deal at
$65 each. (Chairs sold in pairs only)
How cute is this wooden speckled trout wall hanging
that Ashley is holding?
Painted on both sides and a steal at $72! 48″W
JUST IN! Ivory microfiber settee with washed wood trim
by high end maker Four Hands. $550, 52x30x32.5
Just in on consignment…AWESOME pair of Bergere chairs
in green and ivory with a rust and green panel in the back. 
A serious score at $225 each. 26″W
BRAND NEW rustic queen framework headboard from
Magnolia Home Furniture by Joanna Gaines, $495!
Pretty pale aqua sofa, $825! 76″W
Includes accent pillows shown.
This brand new taupe sleeper sofa is normally $995,
but take it home
THIS WEEKEND ONLY for $895. 78″W
White farm style coffee table, $295. 50x30x19
Striped queen SLEEPER SOFA, $895.50
this weekend only! 80″W
JUST IN! Ivory corner cupboard, a STEAL at $425.
Approximately 55x25x80.5
Take this BRAND new sleeper sofa home
for just $715 this weekend. 88″W
Sail away with this VIBRANT oil on canvas art, $295. 49×37
So handy…cedar chest in white, $245
40.5×17.5×19.5
Another brand new chandelier by Quoizel, only $245! 
Retails for $349.  17″ diameter and 24″H
HIGH POINT SHOWROOM
SAMPLES ARE ARRIVING DAILY!
Jeannie's fave…MAGNIFICENT queen bed
retails for $1629,  our price $795.  Club chair $425, 
Nightstand has sold, sorry!
DEAL TIME! This classic rush seat has just been
reduced to $175. 47.5″W.
Gorgeous gold crackle mirror, $125. 32×42
Classic desk and hutch by HOOKER,
a deal at $595! 72x24x83
These uber high end lamps in a pale soft aqua crackle porcelain are nothing short of stunning… $175 ea. 33″H
GREAT looking side tables in black with cane accents,
a good deal at $145 each!  24x14x26.5
JUST IN on consignment! Well made bedroom set from Havertys.
Queen bed in wood and iron, $595. 
Coordinating dresser & mirror, $595. 64×19.5×40.5
 Bedside table, $275. 28x18x28.5
Another consignment score…this 'Artisan' table and 4 chairs by Haverty's retails for $1799, our price $995.  As shown, 42×70,
plus an additional 30″ self storing leaf. In excellent condition.
So cool!  Industrial writing desk, $325. 48x24x30
Always a favorite…
Emerald green dapper sofa from Magnolia Home Furniture,
$989. 88″W 
Scalloped coffee table in antique white also by MHF, $275. 52x28x19 Also available in pine. (Pictured below)
This sharp looking media cabinet retails for $788…
our price, $425!  Brand new market sample.  60x20x29
This is cool…oversized leatherette day bed, a serious score
for $295! 82.5×36
This elegant and nice quality Schnadig desk retails for $1,140
but take it home to Mom for just $495! 52.5×25.5×30
Nice looking server, notice the storage for wine glasses and bottles.  Retails for $893, our price $450. 58x19x36
What a deal! Small scale desk just $145. 44x20x30. 
Wooden 'X' back chair, $40!
GREAT outdoor table with zinc top and four chairs from
POTTERY BARN, a steal at $895. 84x36x30
Phone orders accepted, call 910 679 4302.
Bring mom in this weekend for
some quality shopping time and a mimosa!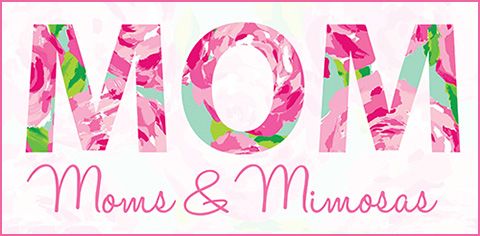 May is the month for EMERALDS!
Michael Christoff 1.96ct natural emerald oval, .44ctw diamonds SI/I clarity HI color set into 18kw gold. 
Original price $11,295.  May sale price $8,045.
Click on the video to see this show stopper.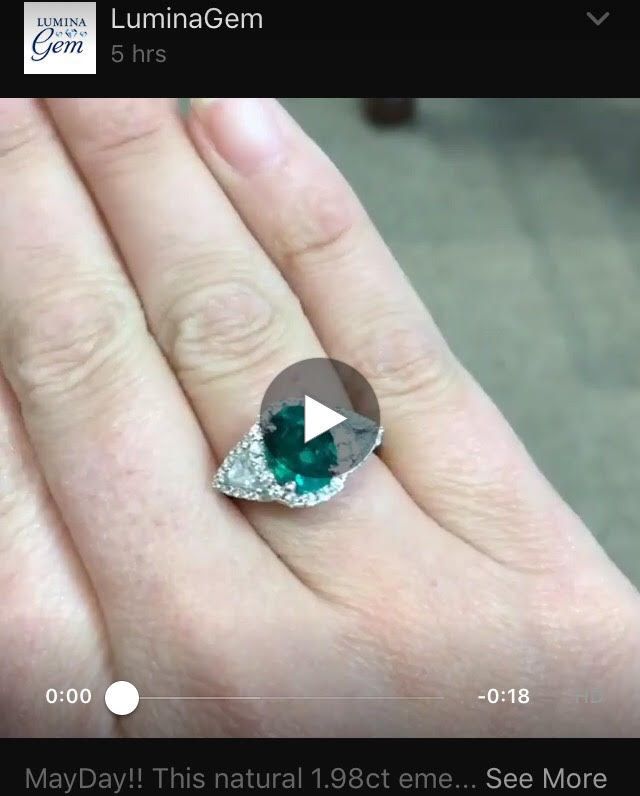 BOOM!  Check out these emerald deals.
Emerald and diamond love knot 18ky gold ring $745.
Emerald eternity band in 18ky gold $595.
Art Deco antique emerald tassel with diamonds set into 14kw gold $1,895.
Natural round faceted emerald, .42ctw of diamonds in 18kw gold.  Price is 50% OFF at $1,125.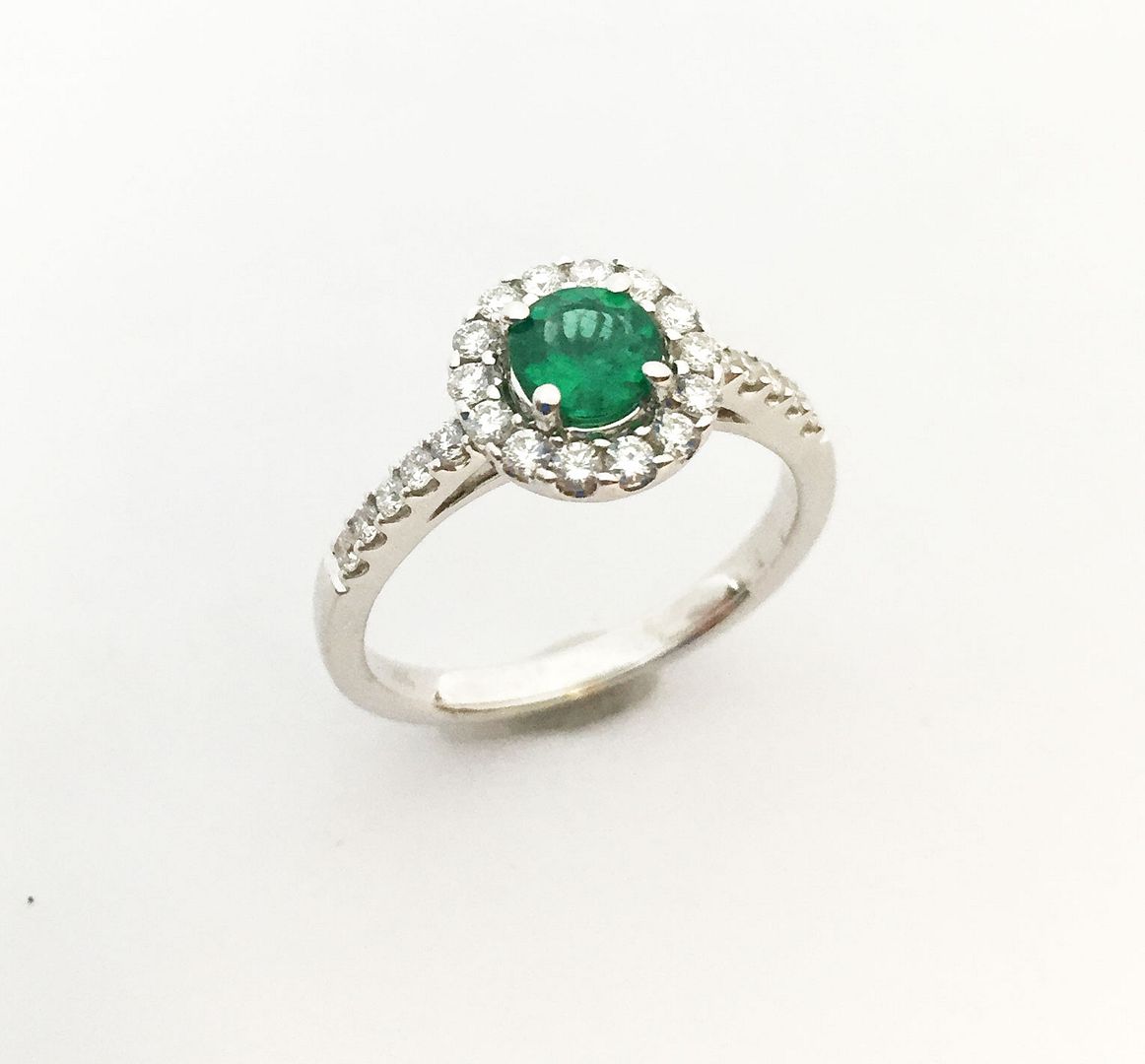 Take your pick! At these prices you can afford one for you and MOM. Diamond quatrefoil David Yurman earring $295.
David Yurman, 10mm oval link 18ky and sterling silver, 16 inch necklace $795.
Vintage Alwand Vahan and David Yurman JUST IN!
Vahan diamond two-tone ring $795. 
David Yurman diamond ring $1,995.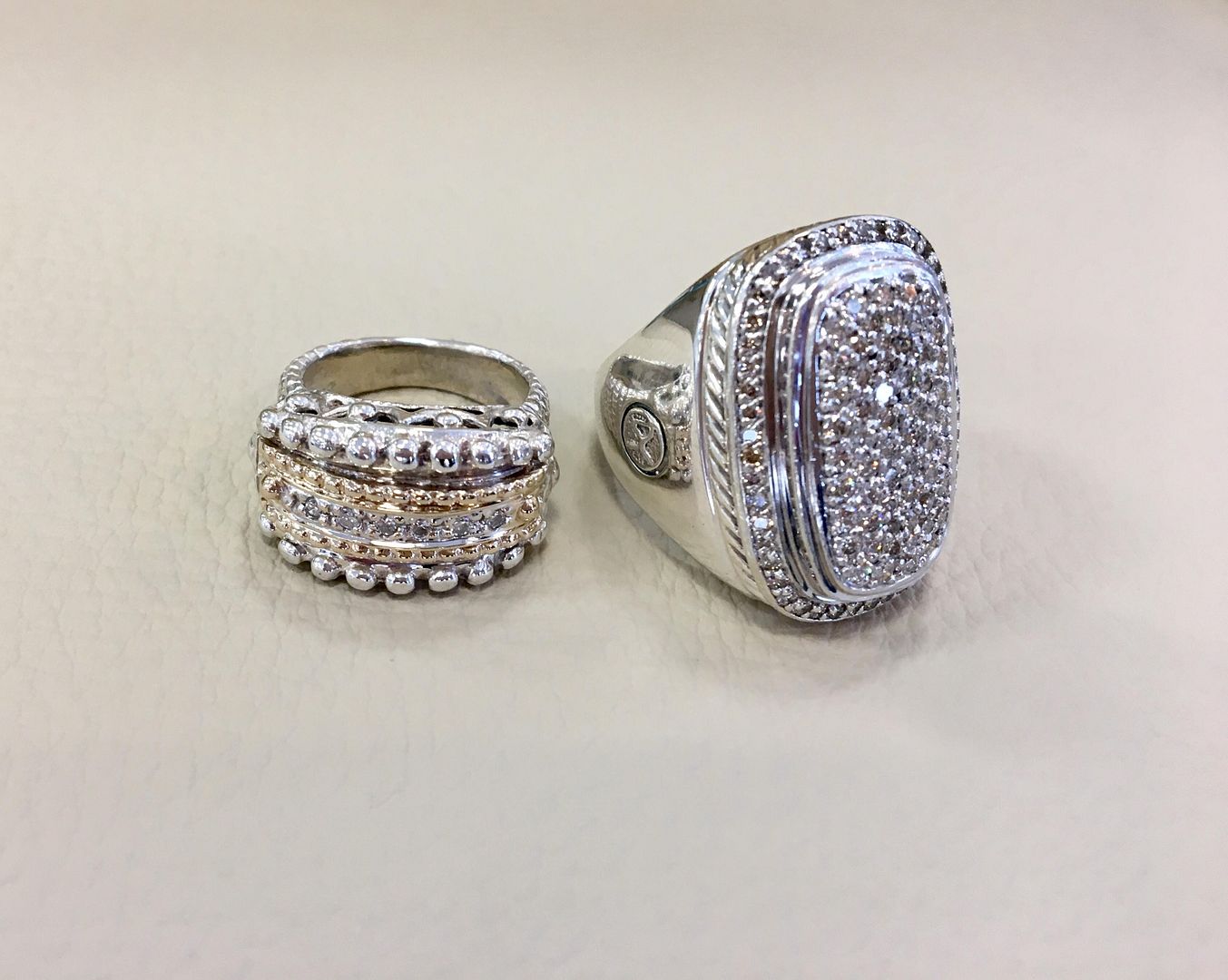 These classic 14ky gold Tiffany & Co. earrings are $845.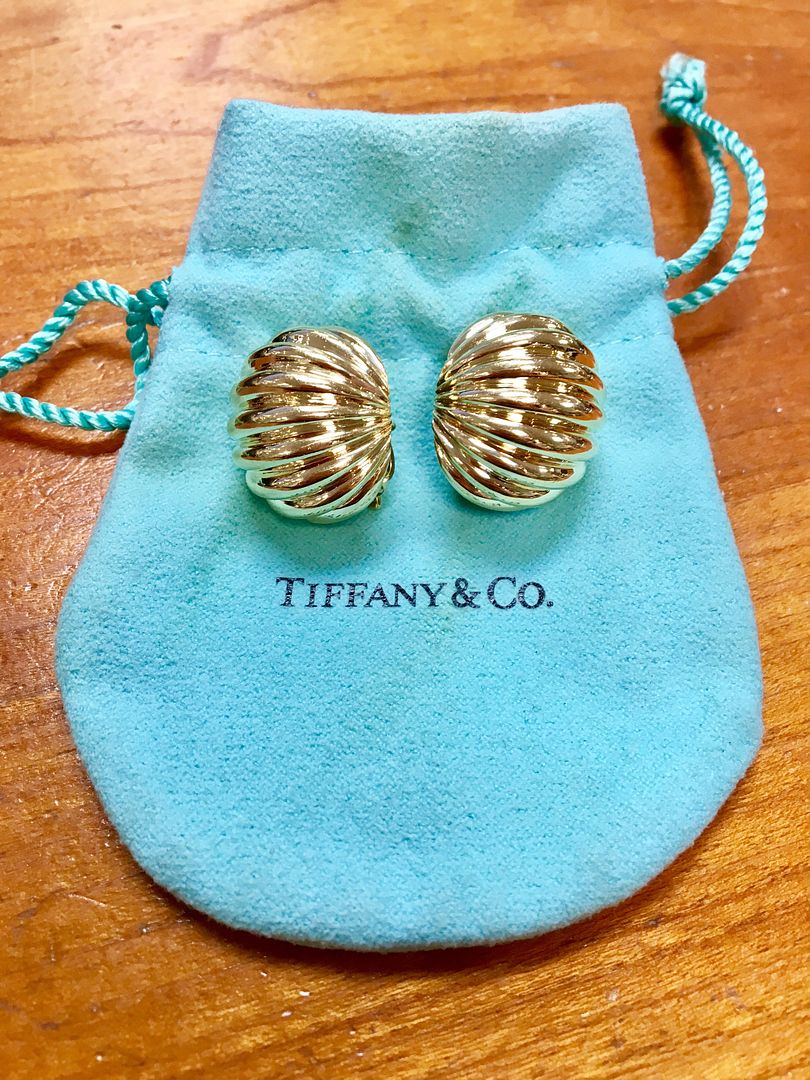 ~Earrings under $400~
Top: Smoky quartz sterling silver $135. 
Blue topaz 18ky gold and sterling silver $195.
Bottom: 14ky gold marquise dangle $275. 
Unique sapphire and diamond 14kw gold $395.
One for daughter & one for MOM.
.26ct diamond
? 14kw gold necklace $495.
.54ct diamond 14ky gold necklace $1,195.
Get rEVOLVE for MOM and give back to DREAMS, a local youth development, non-profit center.  Click on the picture to see what is in stock.  We can also make any combination that you desire.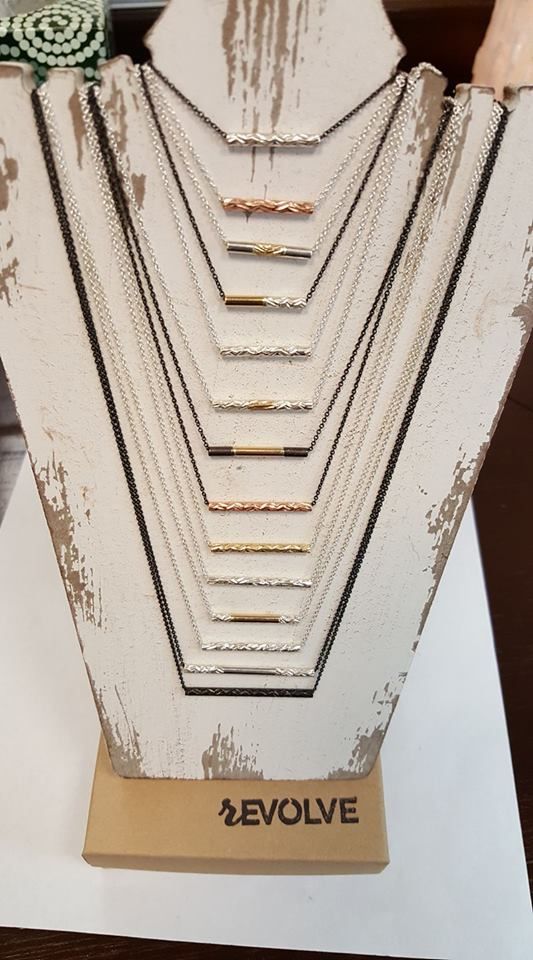 ~These fancy Vahan bracelets are 30% OFF~
Sale prices here range from $2,275 to $3,935.
These bracelets are so lovely stacked together. 
Trust us, MOM wants one of these.
~30% OFF this weekend~
Sale prices here ranging from $715 to $1,135.
Etruscan style iolite and citrine 14ky 1/2 inch
wide gold ring only $325.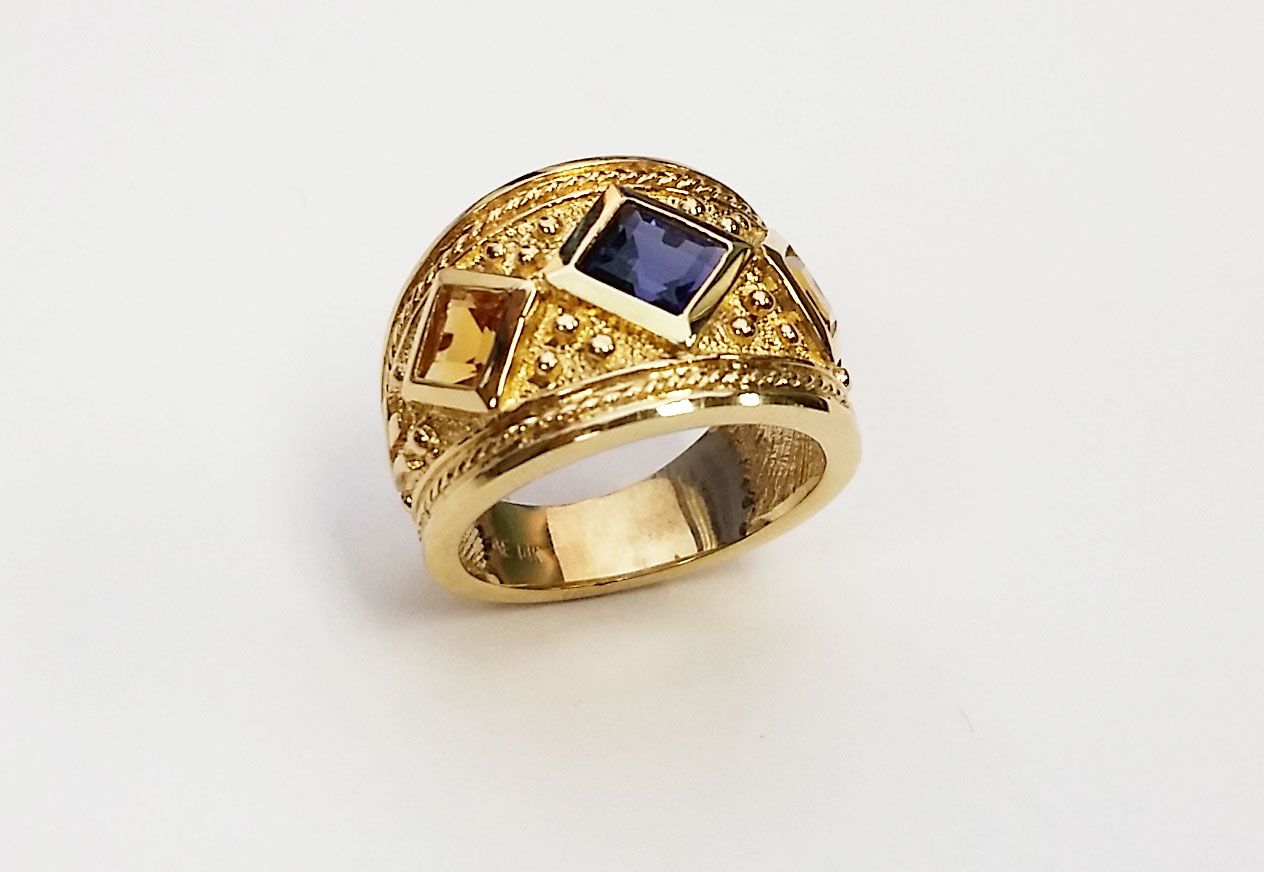 Let MOM get creative this mother's day.
Give her one of these FINE gemstones to custom create a piece with us.  Blue aquamarine $2,065.  Purple tanzanite $3,595.  Mint tourmaline $1,025.  Pink sapphire $1,095.
Curb link graduated 14ky gold, 17 inch necklace $2,750.  Lemon citrine pear set into a handmade 14ky gold, 20 inch chain $795.
Allison-Kaufman Co.
Diamond textured disc 14ky gold necklace $1,175.
A dainty and textured band will be the perfect accent to MOM's ring collection $275.  Diamond tri-gold 14k wavy band $1,745.
Whether MOM loves green or blue, we have it here for you.
These gorgeous pieces are handmade by local artist Camille Corbett.  Earrings are $40.  Bracelets are $88.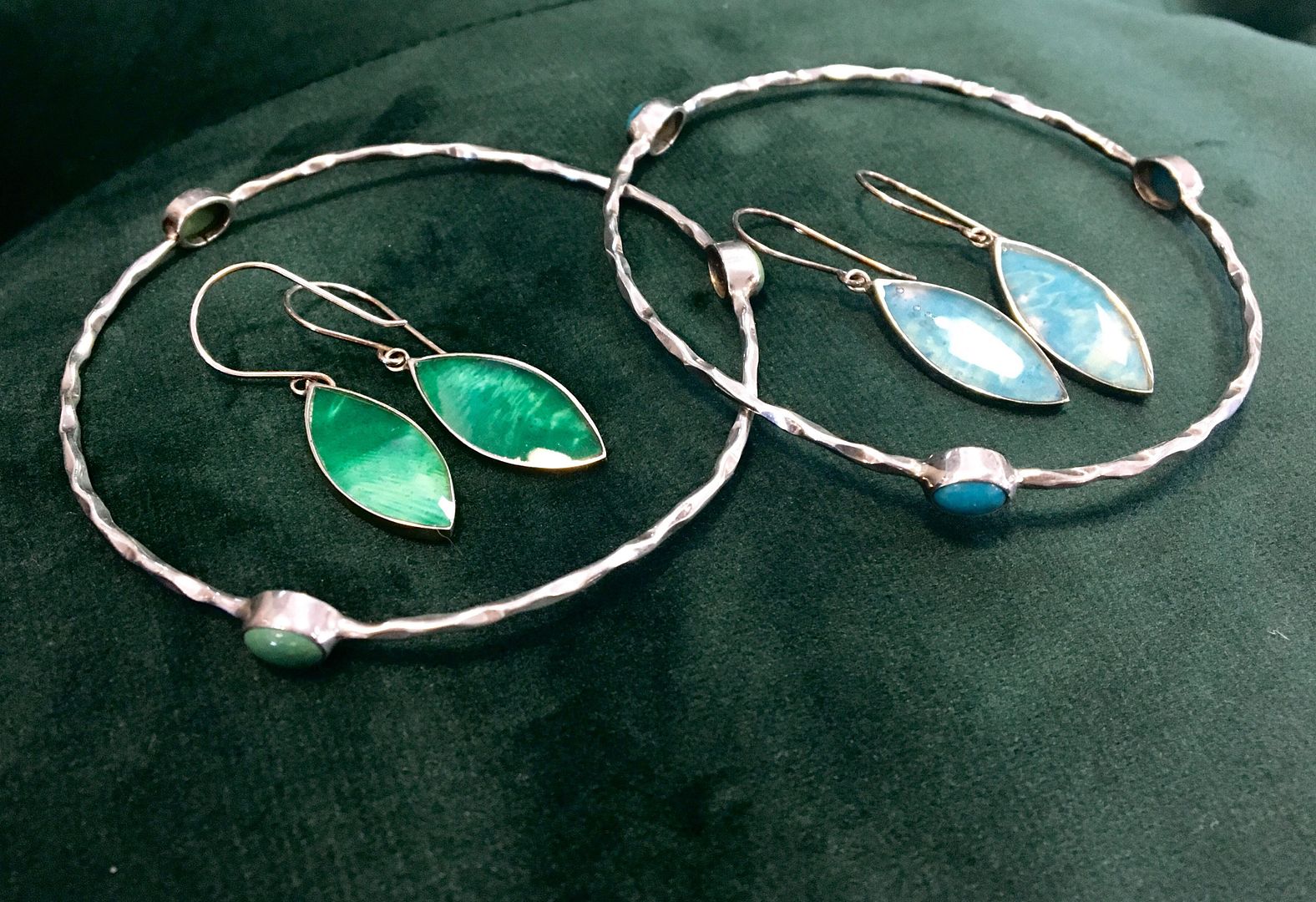 2.00ctw cluster diamonds set into 14kw gold for MOM $1,895.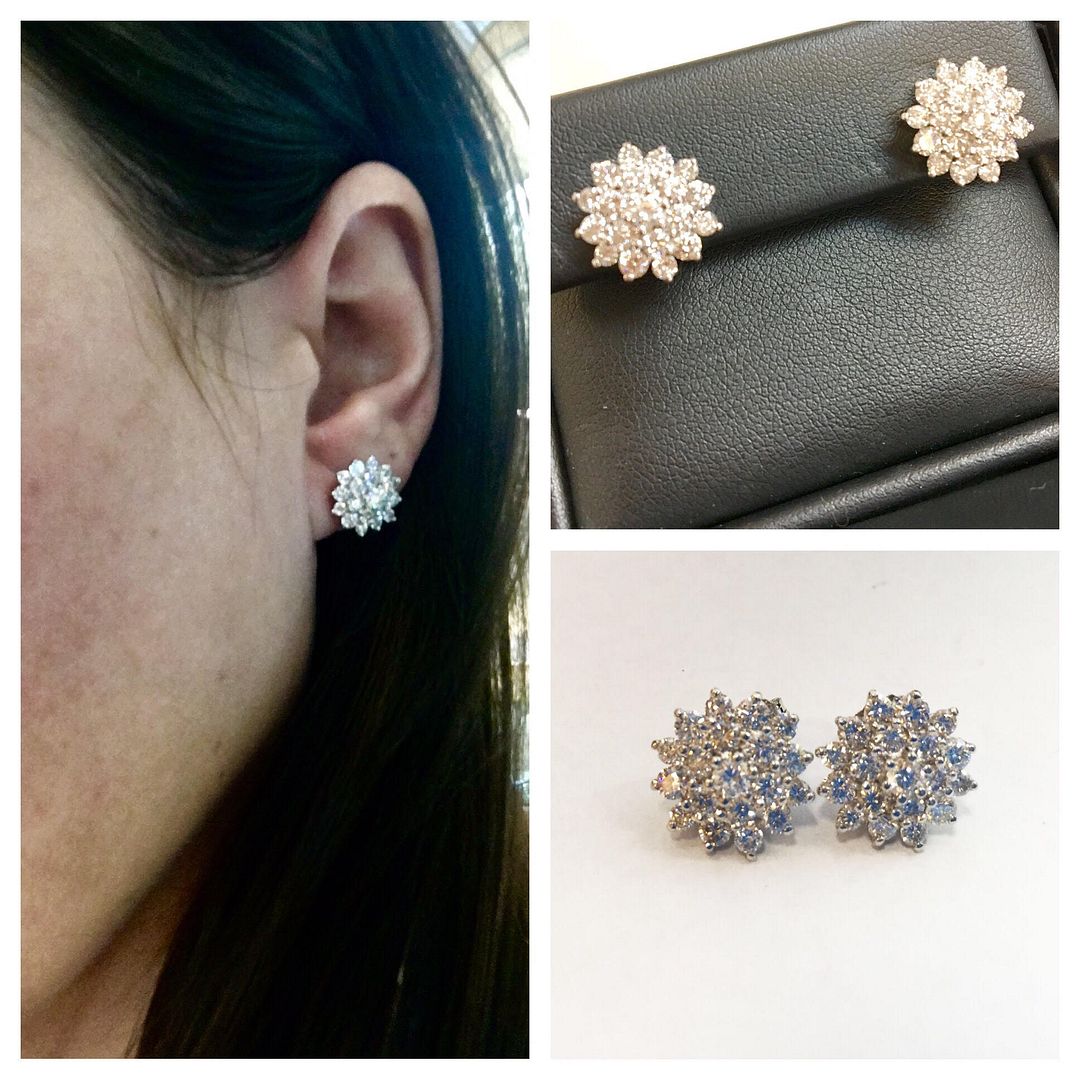 We love our exclusive bridal line, S. Kashi & Sons. 
So well made and priced right! 
Bands here range in pricing from $485 to $1,775.
This David Yurman 18ky gold and sterling silver bracelet, 7.5 inches is a perfect gift for MOM, each polished link can be engraved with her children.  $1,250. 
We offer hand engraving here at Lumina Gem.
Check out the incredible prices on these engrave-able pieces.  Silver:  Necklace $295.  Ring $295. 
14KY gold:  Necklace $295.  7 inch, 19.5 gram bracelet $635.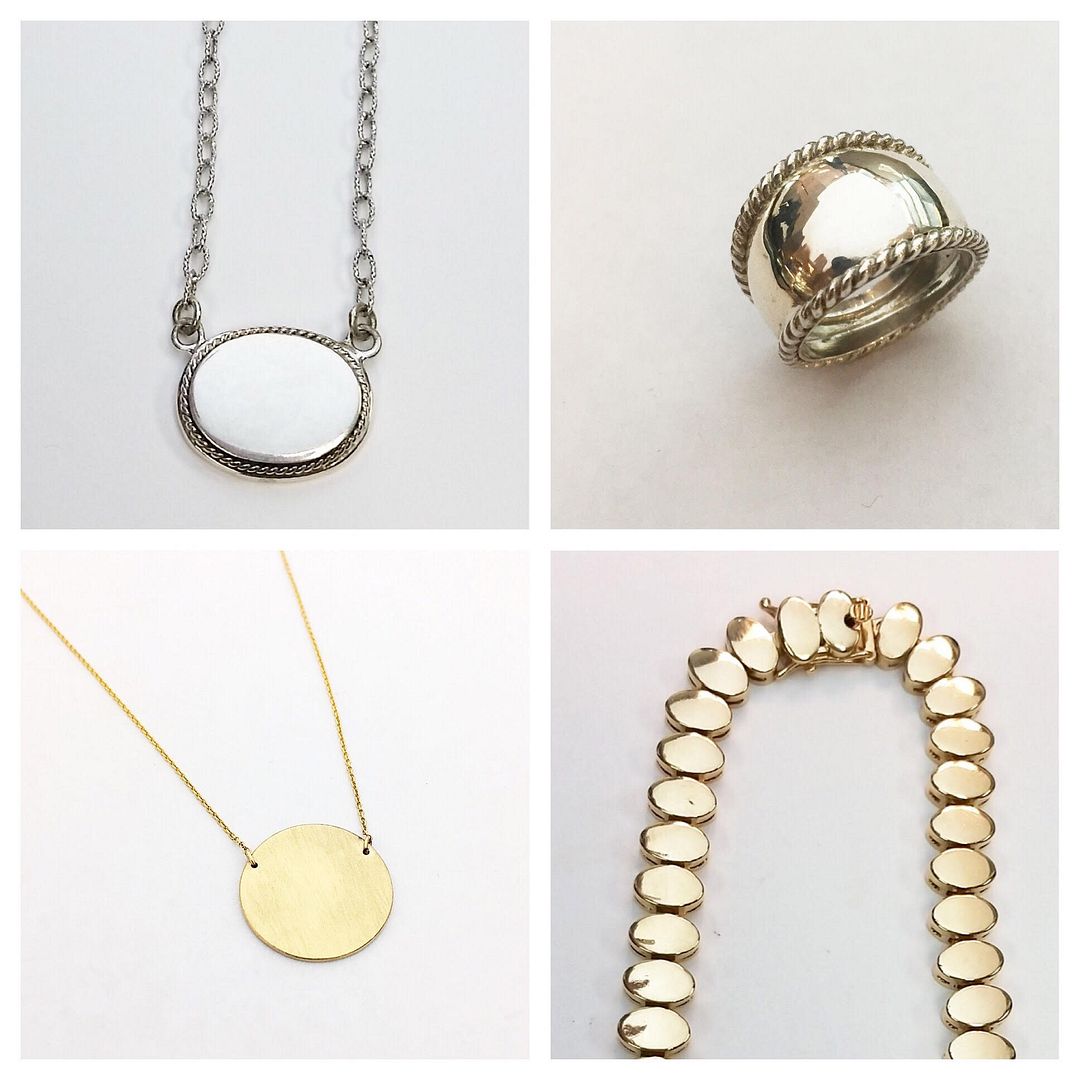 Don't forget to stop on in for Moms & Mimosas
and have a WONDERFUL WEEKEND!