It's been a BUSY WEEK!  
On Tuesday, we had a super fun time
kicking up our heels at the Players Partee….
And we've walked the very lovely Eagle Point course
for the Wells Fargo Gold Championship.  If you have not gone yet,
GET TICKETS…you don't want to miss it!
But no matter what is going on around town…
you can ALWAYS get a CHAMPIONSHIP DEAL
at Home Again and Lumina Gem.  
On with the show!
If you are a freak for pillows…your sofa has come in! We just received an ivory linen sofa by highly sought after brand Cisco!
In perfect condition for $895.
Very deep, add as many pillow as you like! 91Wx41″D
The CUTEST wooden fishes you ever did see! 
$20-$34
Large fish measures 20×22
We are all HUGE fans of these blue velvety chairs with tufted backs!
$395 each. 26″W
Showroom art is starting to arrive…
Check out these amazing framed sealife drawings framed in beveled mirrors! They retail $486 each…our price, $225 each! 
29×33
ALOT of goodies in this pic…
We received TWO of these charcoal gray sofas,
$925 each. 88″W  Coordinating loveseat, $865. 62″W
Two matching chairs available, $475 each. 41″W
Check out this AMAZING 9×12 natural and gray-black jute rug,
Retails for $875+…our price, $495.
Modern coffee table, $350. 44x28x18.5
Three coordinating side tables available, $225 each. 22x27x27
Here's a closer look at the sofa…so striking! $925.
Two available!  $475 ea
Classic sleigh bed meets modern grey upholstery….
KING platform bed with two drawers, $695! 
Just in on consignment and absolutely like new…
'Bungalow' grey wash dining table retails for $2,919+
our price…$895! 65.75×36.5 (no leaf) 
Custom shell print parsons chairs, $175 each!
(Sold in pairs only)
Straight from market…gorgeous bird prints, $245 each!
42.5×32.5 Linen sofa by uber high end maker Vanguard, $1,525.
82″W
Great looking black buffet/media cabinet for $695! 
70×15.25×37.5
Rustic dresser on casters, $695. 59.25×15.75×36.75.
Black mirror from Ethan Allen retails $500+…
our price, $245! 32×50
Sharp looking pub set in black
for just $425! 42x42x37
This won't last…call 910 679 4302 to place a phone
order with a credit card.
Shark tooth on wood, $175! 30″ square
Use this cool two-toned media cabinet as a server too! $345.
53×13.25×30
Just in… long and narrow console, $425 72x14x35
Lovely KING tufted bed in ivory, $595!
(Bedding not included)
Beautiful Koi art, $245. Large scale, 48×36
Solid wood side table by Broyhill, $195!
Retails for $537. 28x18x30
This landscape abstract art retails at $500+…get it here for $275!
41.5″ square
Long and narrow console in black $425!
72x14x34.5
Snag this HUGE and AMAZING espresso dining table from
POTTERY BARN for just $895! Includes two 18″leaves.
(108×42 as shown)
Slipcovered dining chairs piped in red, 4 available, $175 each, sold in pairs only. Seagrass dining chairs, 2 available, $100 each. 
Click the photo for a video!
Ethan Allen sofa $475, 89″ wide, coffee table $355, 41.5x21x16. Large abstract canvas, $202, 40×48. 
We love this rustic white-wash shutter screen, $225! 
Three panels measure 14×72 each.
Classic…in a very current palette of grey and yellow, $225.
23″W 
Luxe… washed finish queen bed $795, modern wing chair $425, 33″W. Modern side table $125, 26″ diameter.
Accessories range $12-72.
Just in on consignment…GORGEOUS ivory tray top coffee
table by high end maker Lillian August.
Currently retails for $1,459+, our price $495!
40x26x23
So lovely…hand embellished oil, $275!
Large scale, 39.5″square
Just in from MAGNOLIA HOME by Joanna Gaines!
Farm table, a steal at $595 84×34, white dining chairs $145 each.
And don't forget we can order anything in Joanna's line,
go to magnoliahomefurniture.com
Here's a DEAL….
FULL size white metal daybed with trundle…$175!
Great looking coffee table $225 26×50.5x18h with two matching end tables $125 ea, 23×23.5×24!
Just in! Pair of nice pewter 30″ barstools, $95 each!
Handsome black chest of drawers, $295! 36x18x52
Use this zebra bench as an ottoman or coffee table, too. $165.
38x17x17.5
Nice cranberry loveseat, just $195! Yes, $195! 62″W
Handsome paisley accent chair, two available
at $225 each! 30″W
Wooden bookcase/cabinet in excellent condition, $275!
36x61x73
ON SALE! This club chair by LazyBoy retails $1,100+,
now on sale for $295!
Lovely and large koi art, $295 34×42
The Player's ParTee was such a GRAND time,
but it was also a time to give back to the youth. 
The winner of this classy Vahan bracelet provided First Tee charity $4k towards their youth development organization.
We're giving you 30% OFF of this sleek line RIGHT NOW.
Click on the picture to see the fascinating line that has Wilmingtonians talking.  REMEMBER TO TAKE 30% OFF OF THE PRICE SEEN ONLINE.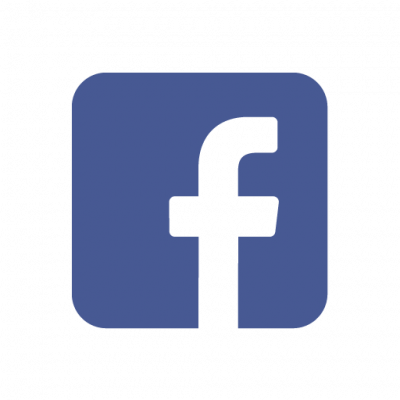 JOIN OUR Mother's Day CONTEST
Facebook & Instagram 
1.  Post a picture of you and MOM on Facebook or Instagram
2. Tag @luminagem on Facebook or @luminagemwb on Instagram
3. Tag a friend to join the fun.
Contestants must complete all three tasks to be qualified.
~WINNER ANNOUNCED MAY 9TH~
Not on Facebook or Instagram? 
Just click here on "The James Gang" picture to upload a picture through our website and you will also be entered to win a $500 Lumina Gem gift card FOR MOM.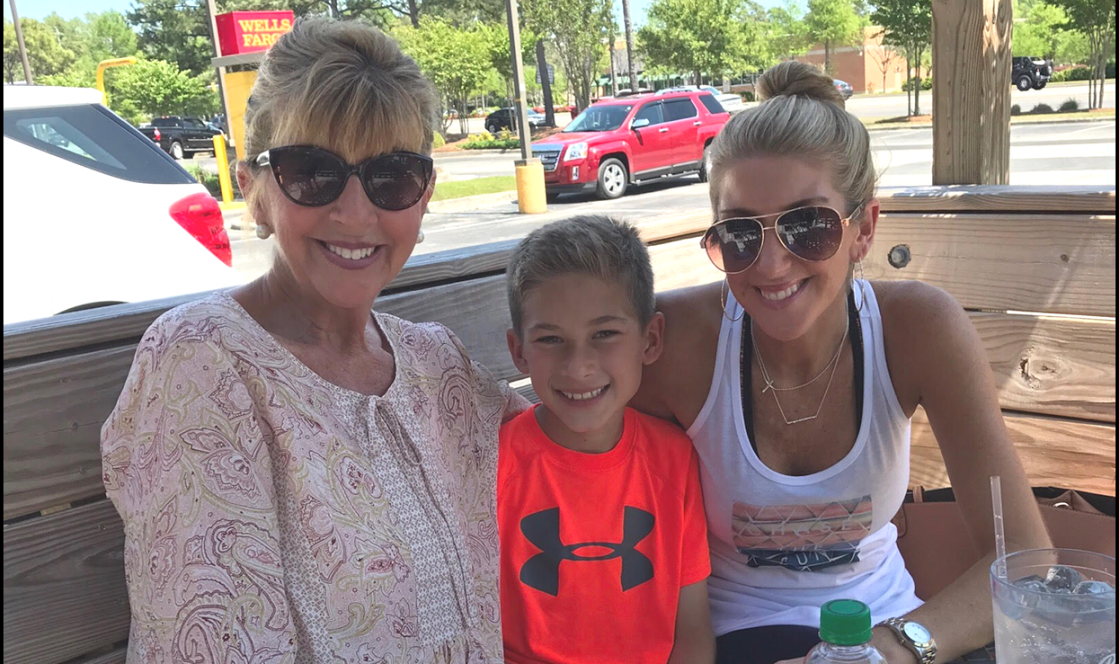 Need gift ideas for MOM this Mother's Day?
Click on this Mother's Day banner to choose unique and memorable gifts that Mom will cherish forever.
Original price was 30% OFF of retail on these David Yurman pieces. "Just IN" on consignment priced at an additional 20% OFF.
Crossover ring $235.  Prasiolite diamond 17 inch necklace $715.
This would be a lovely gift for MOM and comes with pouch.
These fabulous David Yurman pieces are just in…
Click on the picture to see what we currently have on consignment.  Remember to take 20% OFF of the prices listed online.  Call us at 910-256-1850 for the discounted price.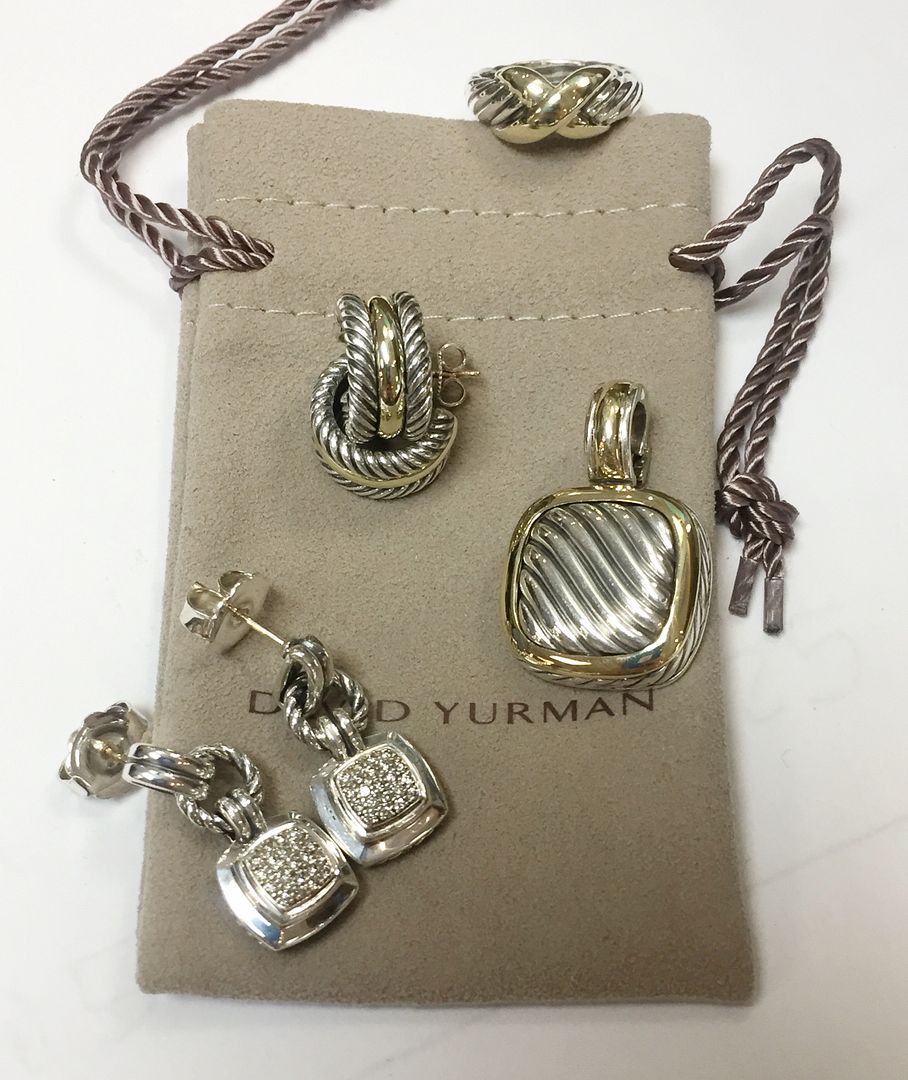 This piece is a classic that won't last long at this price $395. 
David Yurman with 18ky gold accents 20mm enhancer.
Comes with pouch.
We are speechless about these fancy 3ctw G color diamonds set into 18ky gold omega back posts.  Started at $5,995, now $3,995.
1ctw diamond two tone 7 inch bangle $1,555. 
.33ct accented by .17ctw diamonds set into a modern 14kw gold $1,195.  1ctw diamond 18 inch necklace $1,555.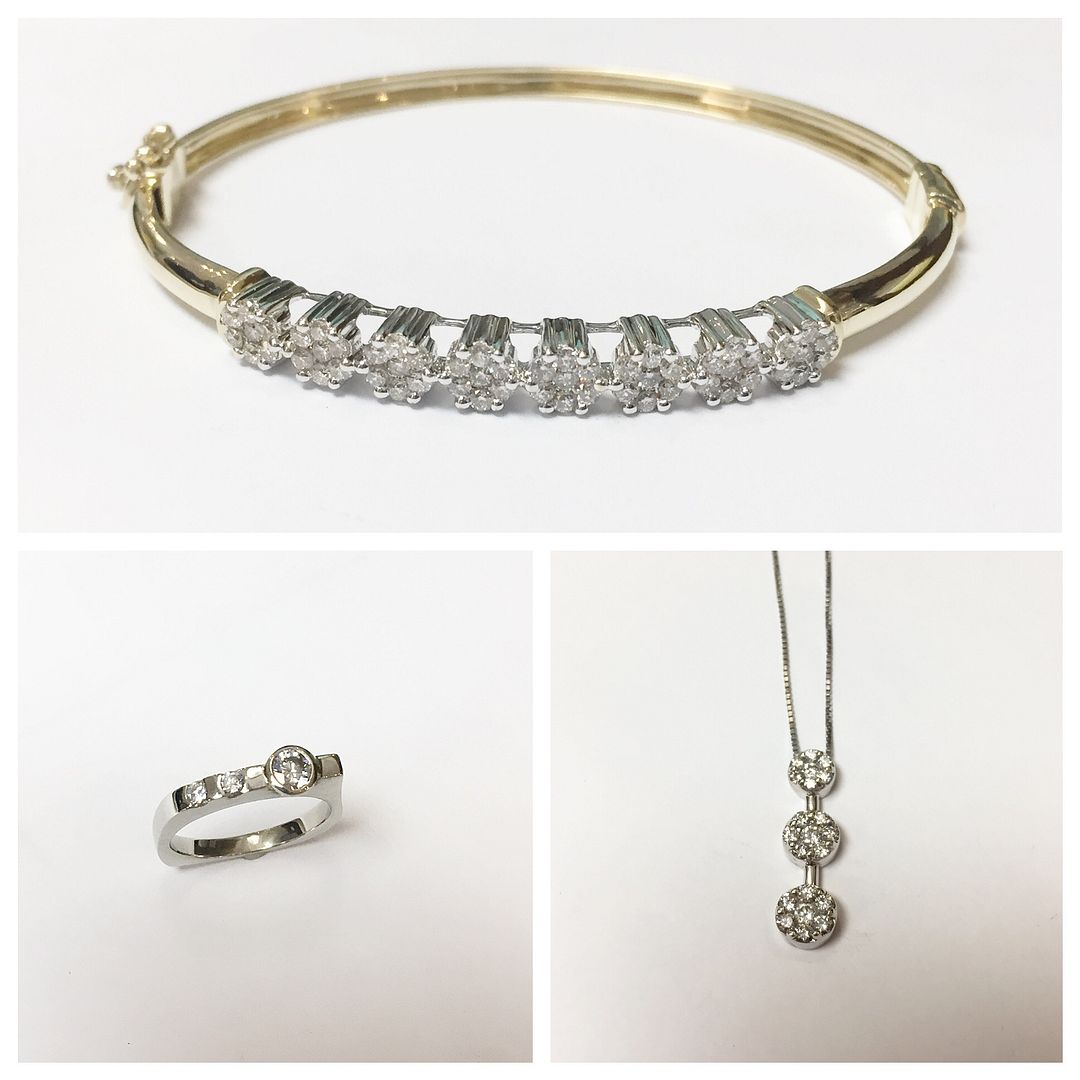 Get a signed Native American 15mm cuff for only $155.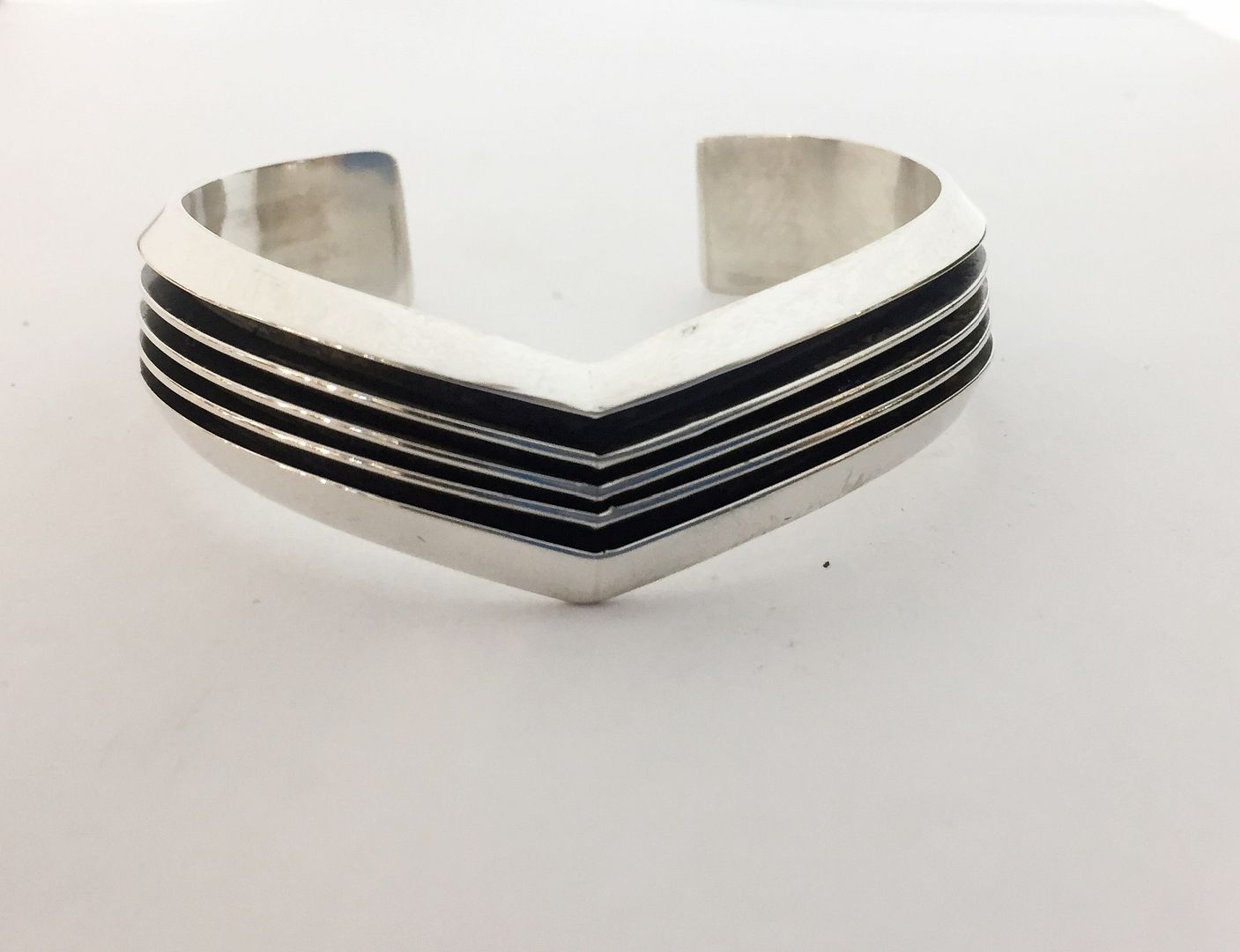 Alwand Vahan on consignment and 20% OFF makes
this ring a STEAL. Sale price is $1,115.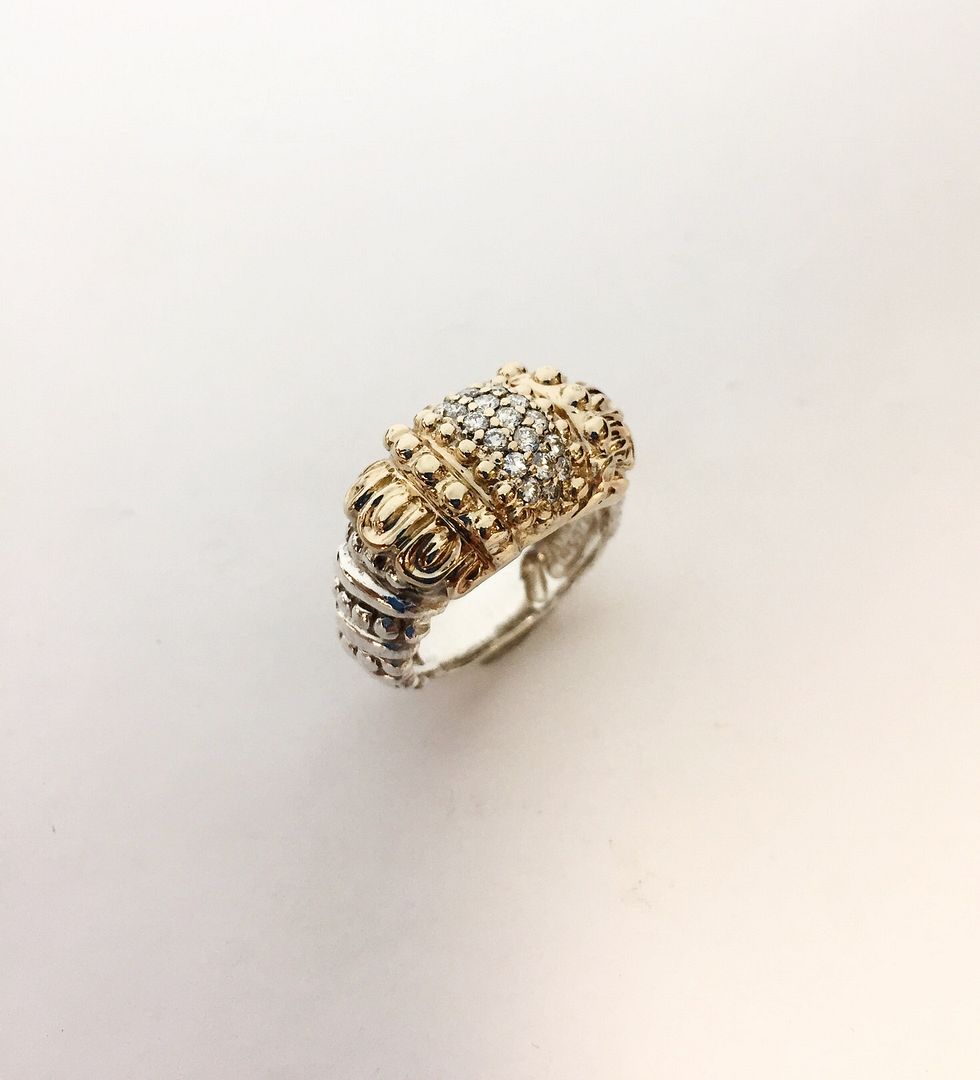 Get MOM started on a charm bracelet.
7.5mm charm 16 grams 14ky gold bracelet with anchor
and whale fin, size 7.25 inches $635.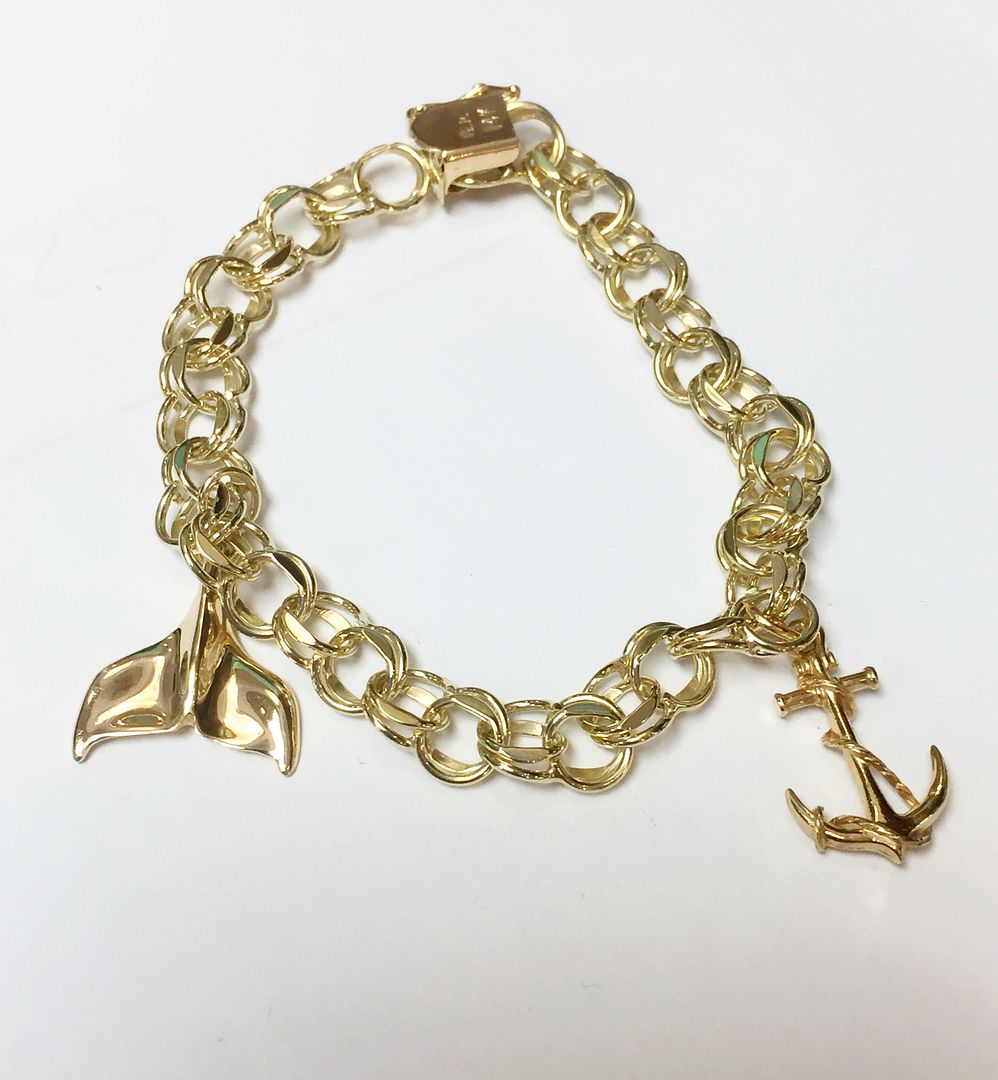 1.52ctw blue topaz, .11ctw of diamonds in 14kw gold studs $275.
~These new Charles Garnier pieces are 20% OFF~
Counter clockwise sale prices:
Lapis, mother of pearl with quartz faceted on top $545.
Lapis, mother of pearl with quartz faceted on top $255.
Turquoise with quartz faceted on top $255.
Get 20% OFF all consignment designer pieces.
You end up saving over 60% off of retail. 
Prices seen on these Judith Ripka pieces here range
from $45 to $285.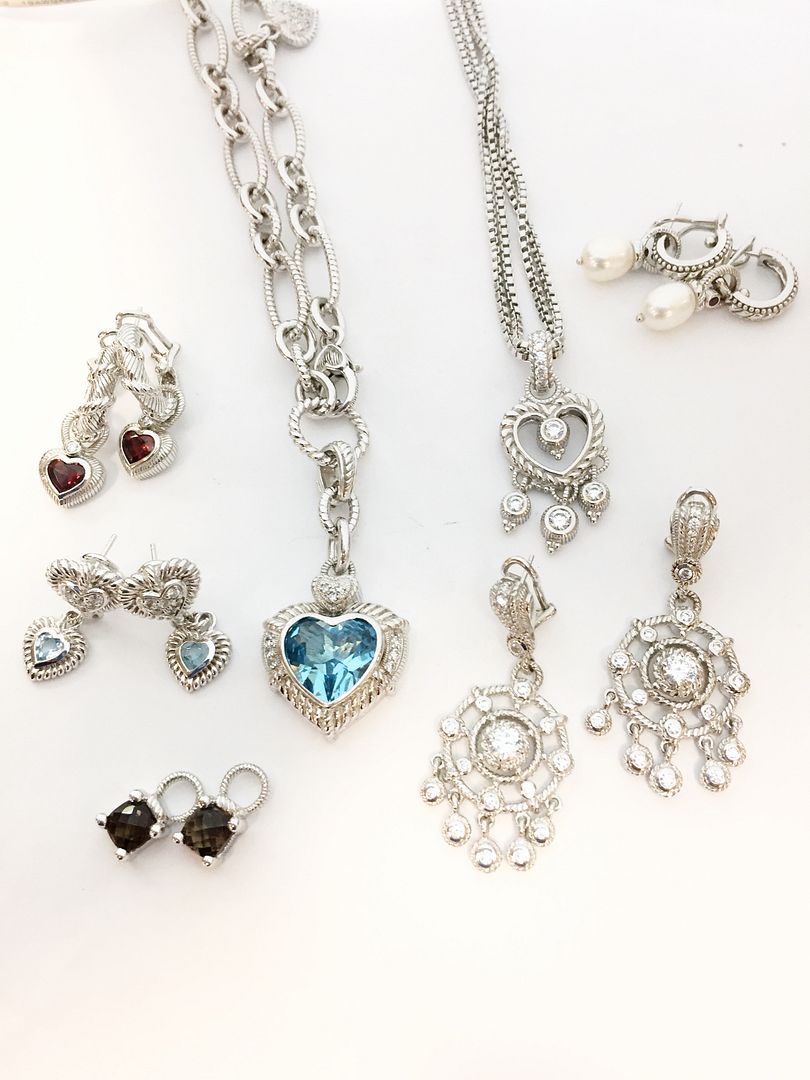 Our new Italian line Giovanni Raspini is 20% OFF.
Such a gorgeous line and so affordable.
  Prices seen here range from $195 to $425.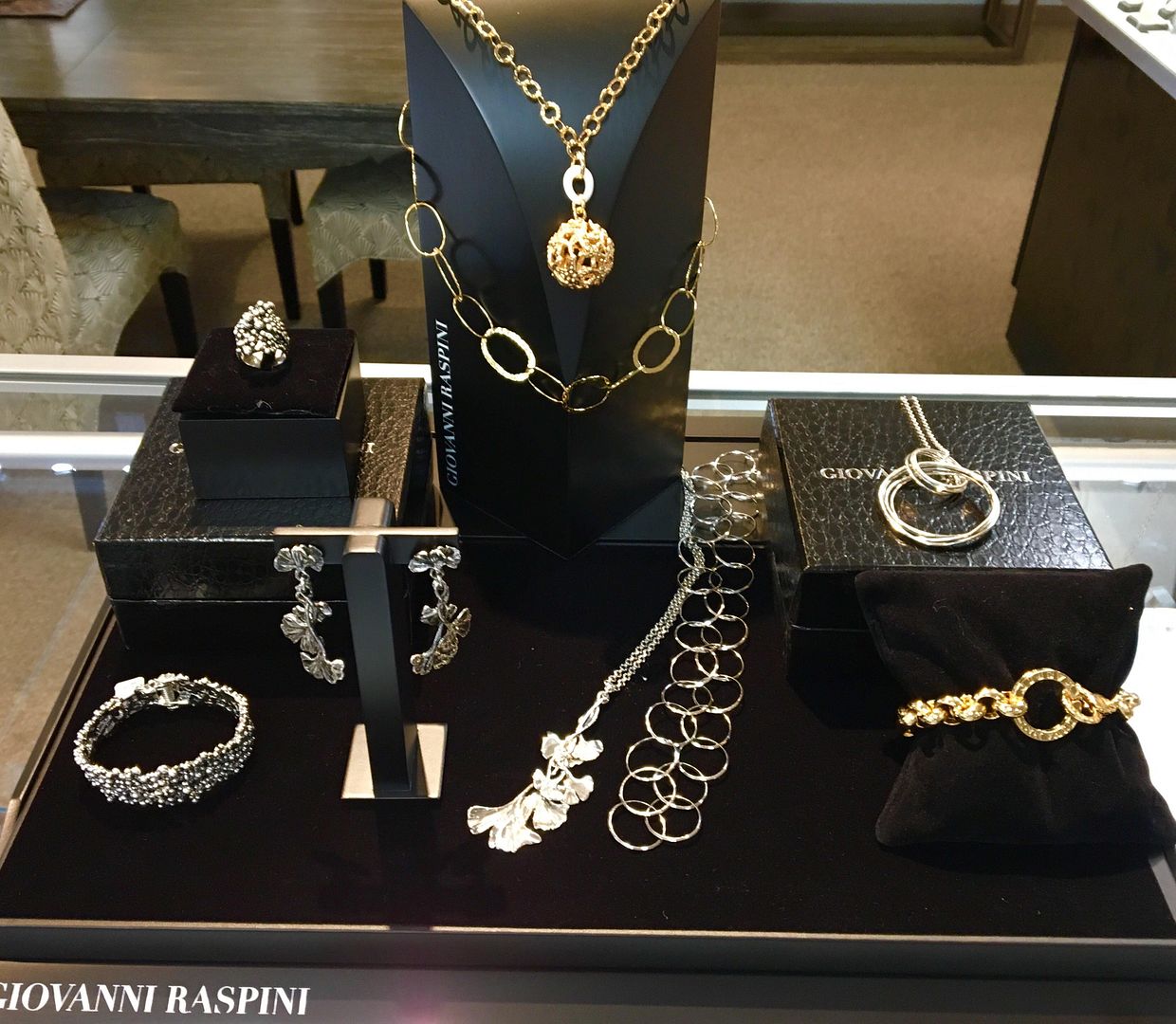 David Yurman wheat chain with 14ky gold accents $425.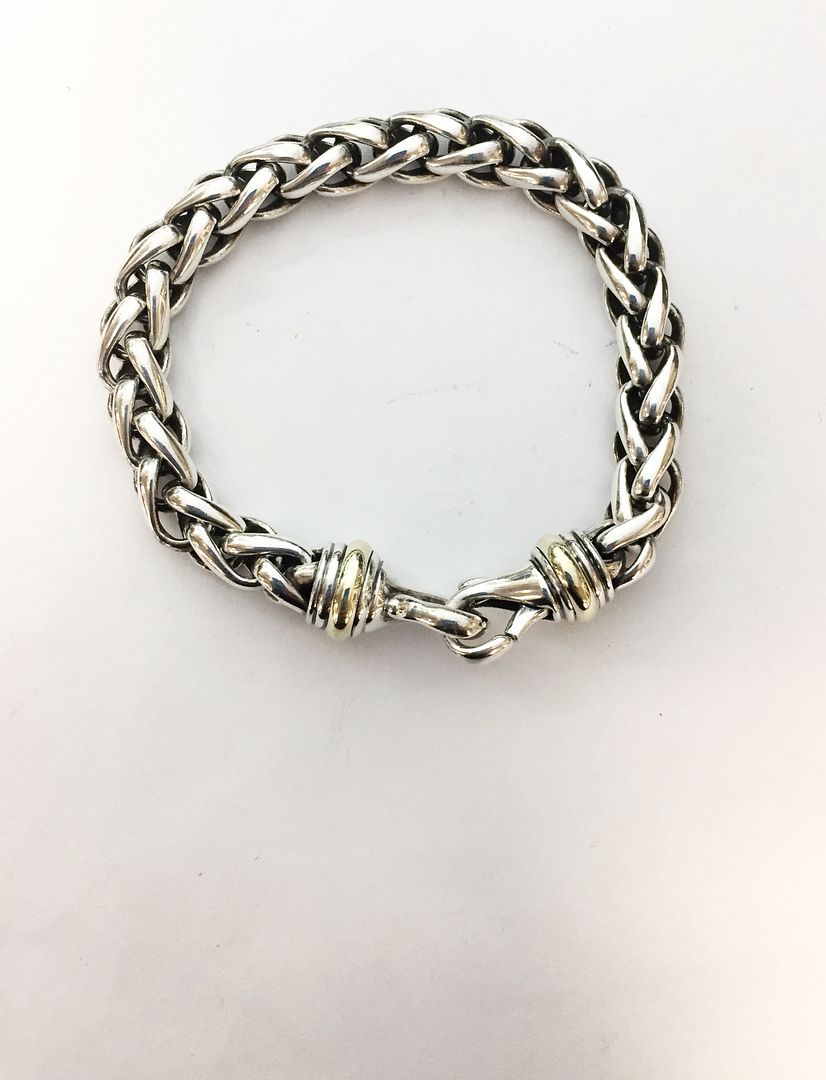 ~We are your choice for bridal wedding bands~
Click on the picture to view what's in stock.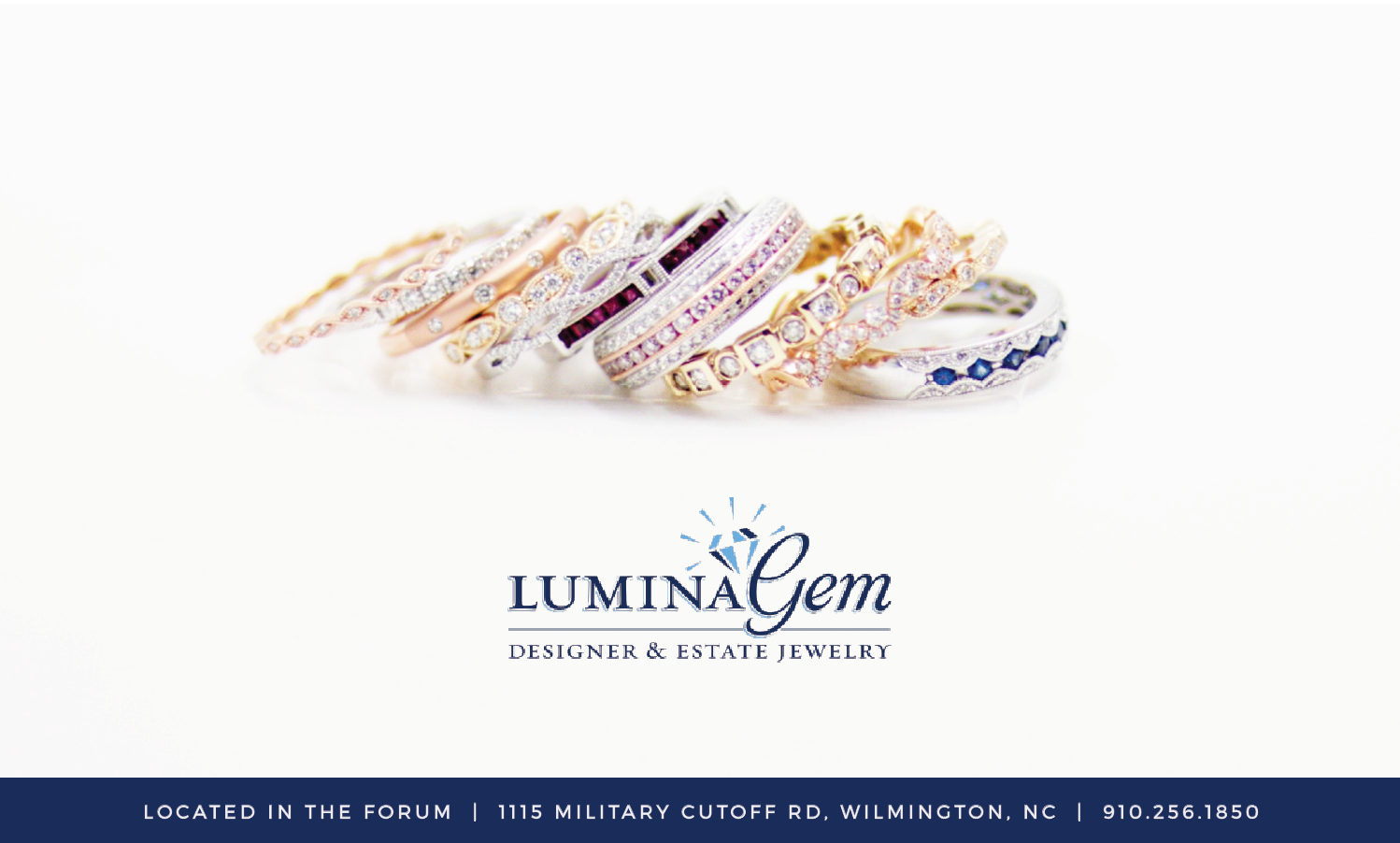 And don't forget…for a CHAMPIONSHIP DEAL…
come to Home Again & Lumina Gem!