The sun is shining,
the flowers are blooming… 
And the deals are popping up around 
here like daisies…
And just like that it's a new week
with fresh inventory…
JUST IN! Taupe/gray sectional with nailhead trim, $1,095.
118×80 Oblong shaped coffee table by Uttermost, retails for $724… Our price, $345!  51x27x15
Beautiful waterway abstract, $145.
23.5×34.5
What's the beach without a mermaid? 
Heavy iron mermaid figurine, $68. About 14″L
Large and in charge!
GORGEOUS and HUGE oil on canvas abstract, $695! 82×52
Petite ivory sofa with small imperfection in top cushion, $425. 75″W  Coordinating loveseat also available..$375. 53″W
This wonderful gray wash trestle style dining table includes six chairs, brand new at $1,095! 70x42x30
Light gray sofa, modern and affordable, $495. 77″W
Coordinating loveseat available, $425. 54″W
ADORBS mustard gold settee in
excellent condition just $225. 60″w
Super cool mirrored indoor/outdoor fountain 24x10x72,
retails for $464, our price $295! 
Just in on consignment…pretty tile top outdoor bistro set,
just $245. 36″ diameter
Nice rattan sofa in like new condition…
just $525. 73″W
We adore the vibrant color in this pair of coordinating marsh abstracts, $95 each.  23.5×29.5
Outdoor wooden adirondack rockers in soft green and white. 
$225 each. 28.5″W
When random elements come together
for a very pleasing look…
Queen linen headboard w/ nailhead trim, $295.
Rustic dresser, $695. 59.25×15.75×36.75
Two coordinating side tables available, $365 each. 27×15.5×30
Zebra bench, $165. 37.5x18x17
Abstract art, $85. 24×36  Mirror, $112, 28×40
Just in… mid century style chairs in a lovely shade of blue,
brand new for $245 ea. 30″wx31″h
JUST IN from Magnolia Home Furniture by Joanna Gaines…
Gorgeous iron and wood trestle dining table just $795.
84×44
Don't forget you can shop for an ENTIRE look on her website at www.magnoliahomefurniture.com. 
We can special order ANY furniture pieces (but not accessories). 
Here's a deal…HOOKER server in black and bamboo look veneer, $425! 64x22x38
CLASSIC and TIMELESS cane chairs, $275 each. 23″W
Here's a MUST for your man cave…reclining sectional,
brand new for $2,295. Approximately 108X120
Lexington coffee table, $212. 58×34.5×20
Lovely Kelemen original art, $295. 40.5×52.5
Nice chair 1/2 and ottoman in the CUTEST
beach swimmer motif, $425! 48″W
Handsome chest of drawers,
just $325. 42×18.5×34
We LOVE this BRAND NEW 7PC dining set!
Retails for $2,108…Our price, $1,295! 76×42
This gorgeous mirrored armoire by HOOKER retails for $2,629…
our price, $1,095. 50×23.5×90
Come see it in person…it's MAJESTIC!  
Stunning leaf art, an easy way to update your home
with a pop of GOLD!  $95 each. 27.25×27.25
Classic pedestal table and Windsor style chairs in the highest quality…a good value at $575.
As displayed, 59×39. Without leaves, 39″diameter.
Pair of Ethan Allen chairs in like new condition…
Chair & Ottoman, $750. 29″W
Single chair, $595. 29″W
GORGEOUS three panel floor mirror, $325.
Each panel measures, 18″W x 84″H
SASSY! Fuchsia full headboard, $125.
Pair of super cute and colorful chairs, $325 each. 35″W
Matching ottoman, $225. 31×41
Fresh in on consignment…two drawer console table by
Pottery Barn,  $295. 51x51x30
Uber high-end velvet coral motif chair, absolutely luscious in person, $495.  26″W
This may look like an elegant small side table, but it
opens to reveal storage.  $145. 23×12.5×20 
Super high end Lee Karen Designs
fruit motif lamp, $95. 23″H  Much prettier in person.  
Green mid century style chairs $245 each.
Small scale 26×28.
Beautiful ivory sideboard, $525…retails for $1,174.
59.5x18x36.5  HUGE colorful abstract, $425. 80×54
Lamps $42 each. 27'H.  Metal 'wine' wall art has sold, sorry!
Beautiful and LARGE abstract on wood, $328.  70×48
Handsome ivory console, $325. 47x18x30
A lovely coastal abstract in a soft color palette, $145. 25×36
This white washed solid wood kitchen island is a great buy
at $550. 64×23.5×34.75
ON SALE! Take this espresso finish hutch home for just $295.
Yes just $295!  48×16.5×77
Wilmington Ladies…
Don't miss the opportunity to take home one of these beautiful VAHAN designer pieces at a generous 30% OFF discount. 
Sale ends this Saturday! 
Not in Wilmington?  Call us 910-256-1850!
Sale prices range from $345 to $9,235. 
Click the video to see what we have in stock.
Slane 18 inch necklace with the bee, eros and rhea $495. 
Rolex two tone circa 1967 Oyster Perpetual authenticated with #1005 and #2299125, $1,795. 
DOES NOT COME WITH ORIGINAL BAND OR BOX. 
Comes with a 1 year warranty on the movement.
~David Yurman pieces Just In~
Chalcedony and diamond earring $750.  8mm garnet and diamond necklace $450.  Diamond dangle earring $895.
David Yurman, Ostera hematite hinged
magnetic large cuff $995.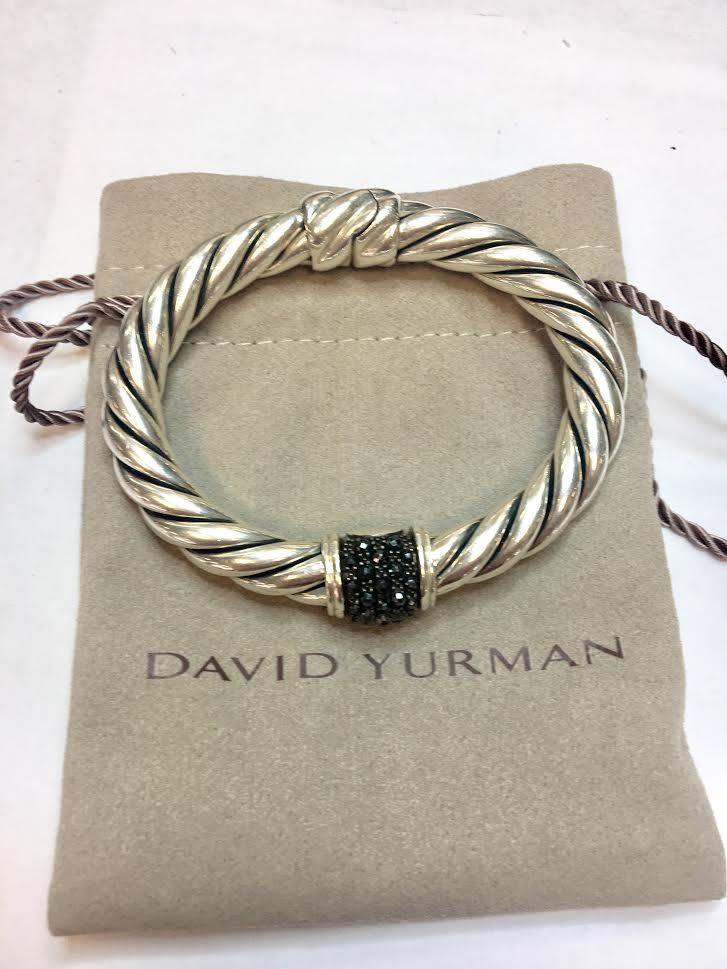 David Yurman 15mm Waverly blue topaz 18ky gold
accents open, hinged cuff $1,995.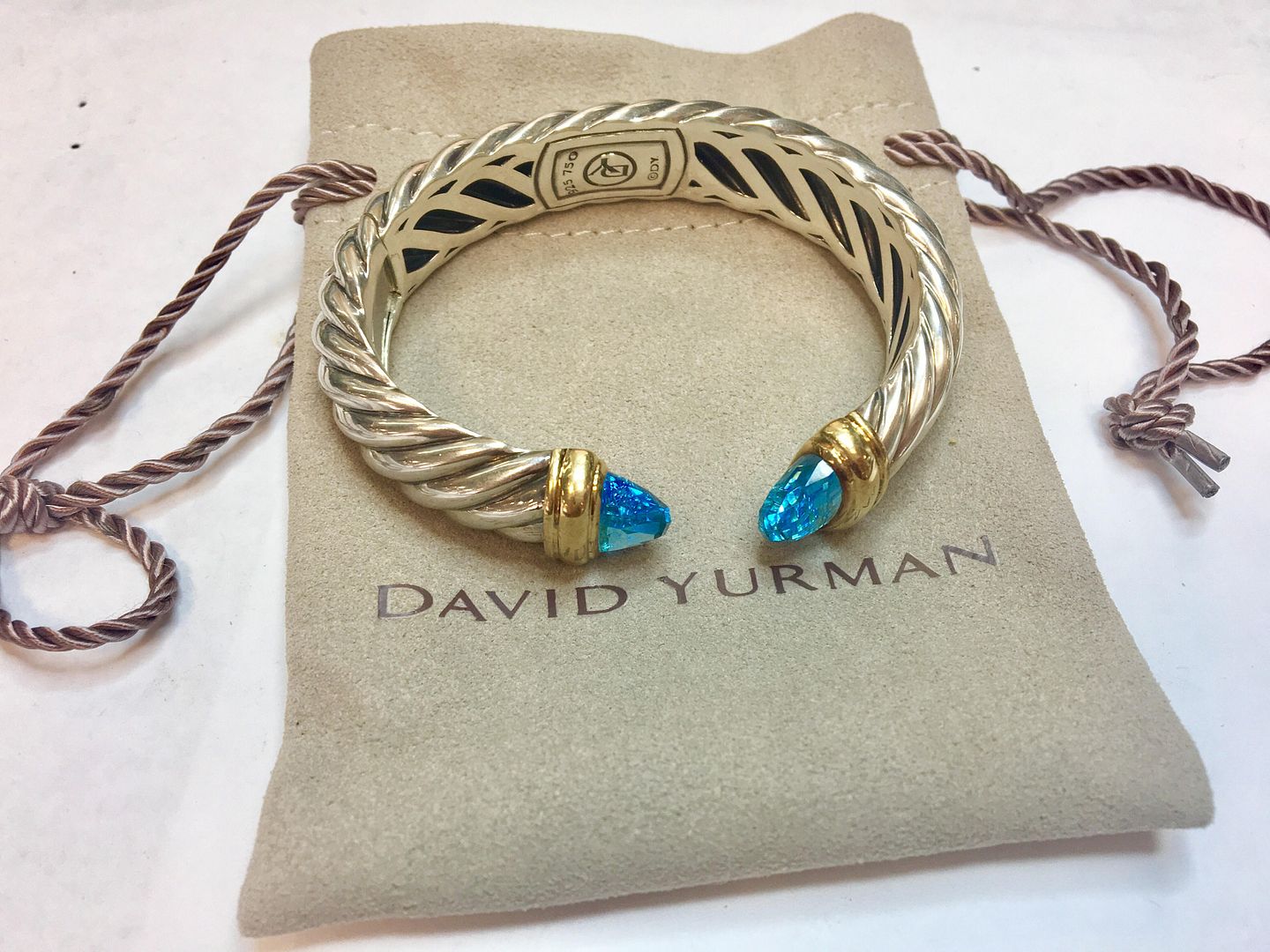 ~John Hardy pieces Just In~
Braided 8 inch bracelet $595.  Oval link 7.5 inch bracelet $695.  Silver Dot hoops $169.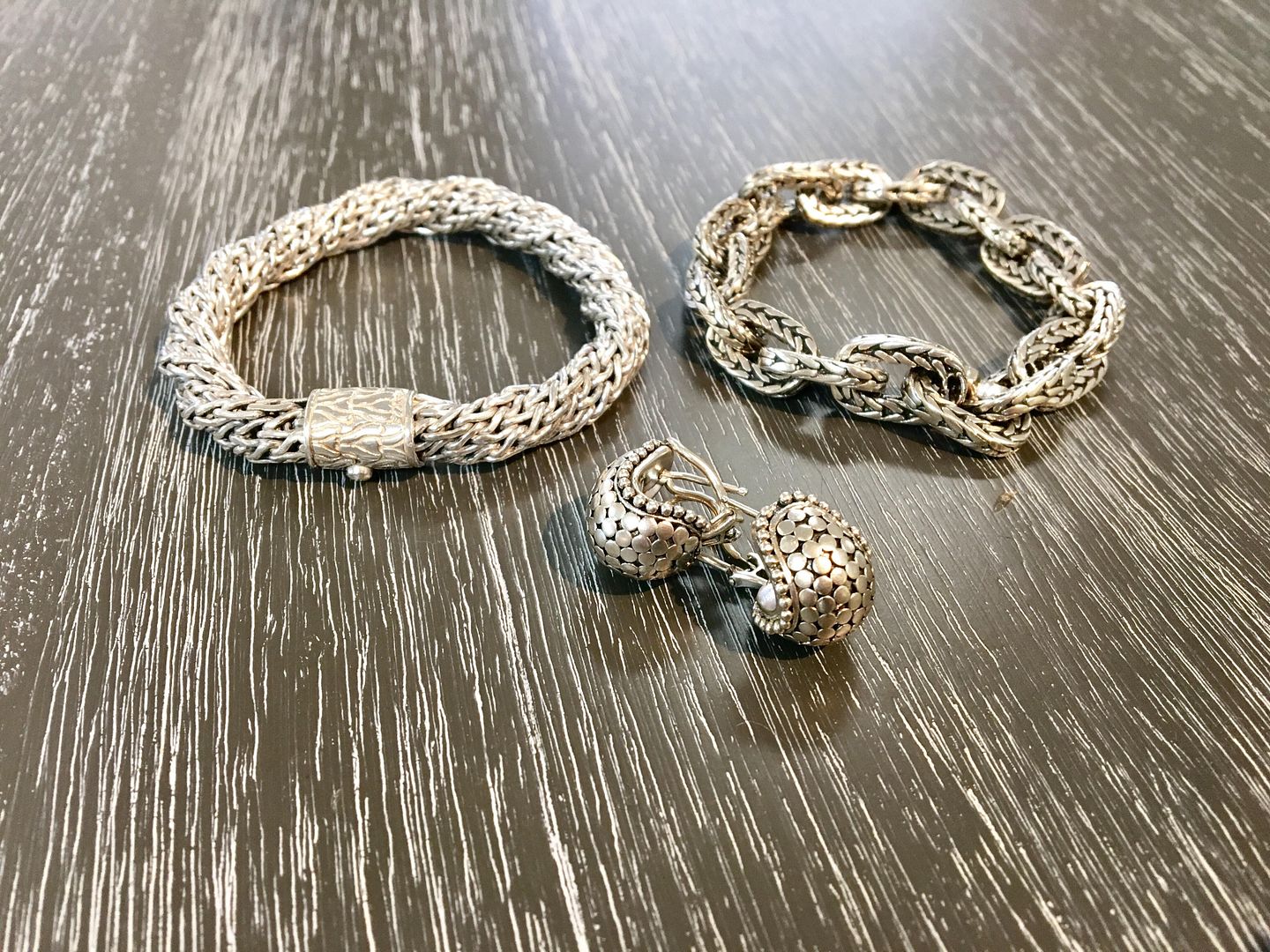 Dainty diamond crosses in 14kw gold and adjustable chains. 
Top $545, bottom $695.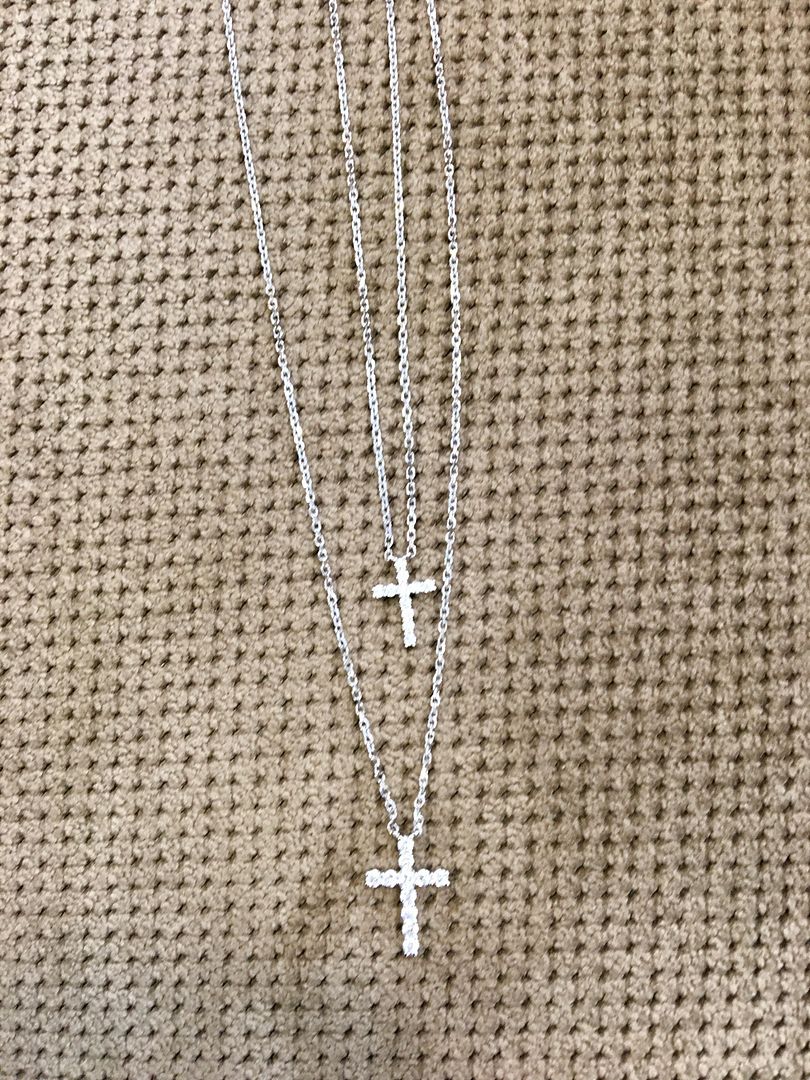 Emerald is the birthstone for May! 
All emerald jewelry is 20% to 50% OFF.
This amazing ring is set with natural emerald and diamonds in an 18k two-tone setting.  May sale price $3,225!
Pair this fantastic green with a 14ky gold band for $685!
Click on the picture to view these gorgeous jewels.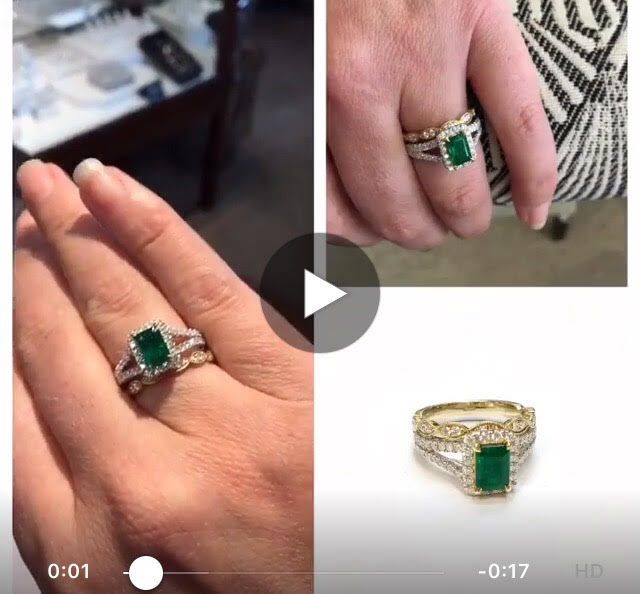 Nina Nguyen has made quite a name for
herself and you can see why… 
Turquoise 14ky gold ring $500.  Aquamarine druzy 14ky gold posts $550.  Diamond cross-weave 14ky gold studs $950.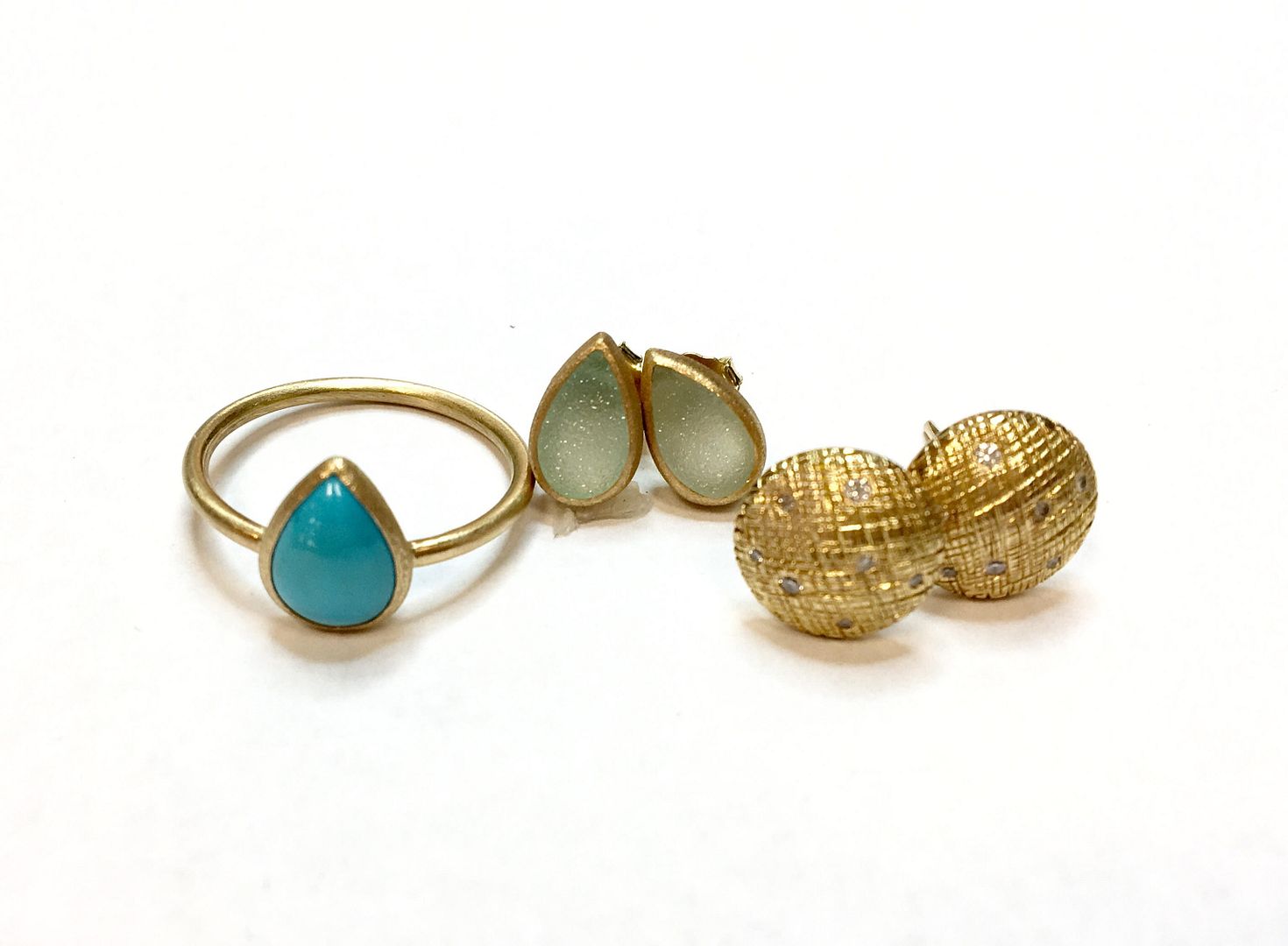 ~The Wave of the Future~
Want a ring that stays straight when worn alone but
conforms to fit your engagement ring?
Check out our flexible ring with diamonds in 14kw gold, only $795.  The lovely antique ring seen here is on consignment set with an old European cut diamond with 1ctw diamonds in platinum $1,275.  Click on the picture to see how this band works.
Bangle in sterling silver $75.
Hinged 14ky gold and sterling cuff $165.
Open cuff in 10ky gold 31.7 grams for $795.
Don't forget that our 30% OFF sale on Vahan ends this Saturday. 
 3 of our favorites…
  Top to bottom sale prices: Closed diamond bangle $1,225.  Blue topaz and diamond open cuff $2,275. Diamond open cuff $1,135.
Brushed gold is so posh…
Imperial topaz with diamonds set into a two-tone 14k gold brushed ring $1,595.  Three row diamond in brushed 14ky gold $995.  Rhodolite garnet in brushed 14ky gold $475. 
Certified 1787 Spanish coin 22k gold pendant in 14ky gold $345 on a Nina Nguyen spinel necklace $295.
Looking for that "Go-To" piece?  Here you go!
Charles Garnier 12mm sterling silver and cubic zirconia cuff $425.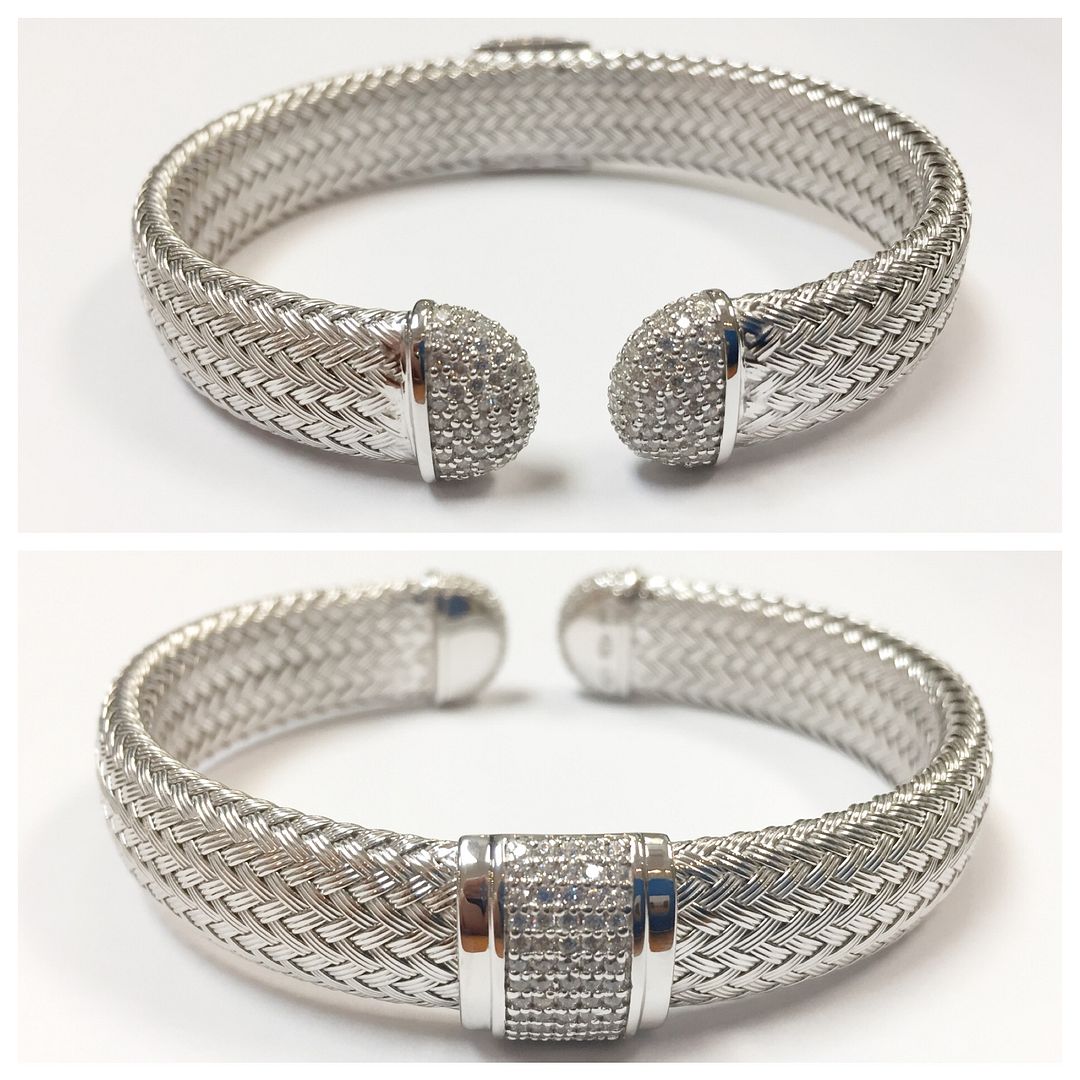 Tony Maccabi's son is taking over the business and will be changing the name to Aaron Cyrus.  Lucky for you these vibrant pieces are stamped Tony Maccabi so we are liquidating at 50% OFF.
These necklaces by Tony Maccabi are not going to last at 50% OFF.
Lapis inlay with rock crystal quartz on top in 14ky gold $495. 
A unique and dainty diamond 14ky gold necklace $445. 
Coral inlay with rock crystal quartz on top in 14ky gold. $495.
This work of art is a Tony Maccabi piece with aquamarine and a side diamond accent in textured 14kw gold.
Price is 50% OFF at $795.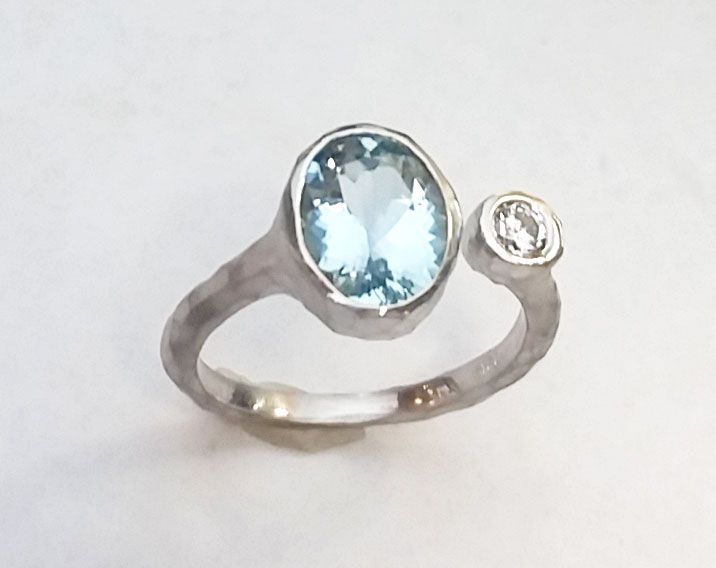 Support local and give back with Lumina Gem's Revolve jewelry line.  Click on the picture for the details.
The Revolve necklaces look so good layered like these necklaces from local artist Katharyn Zava jewelry.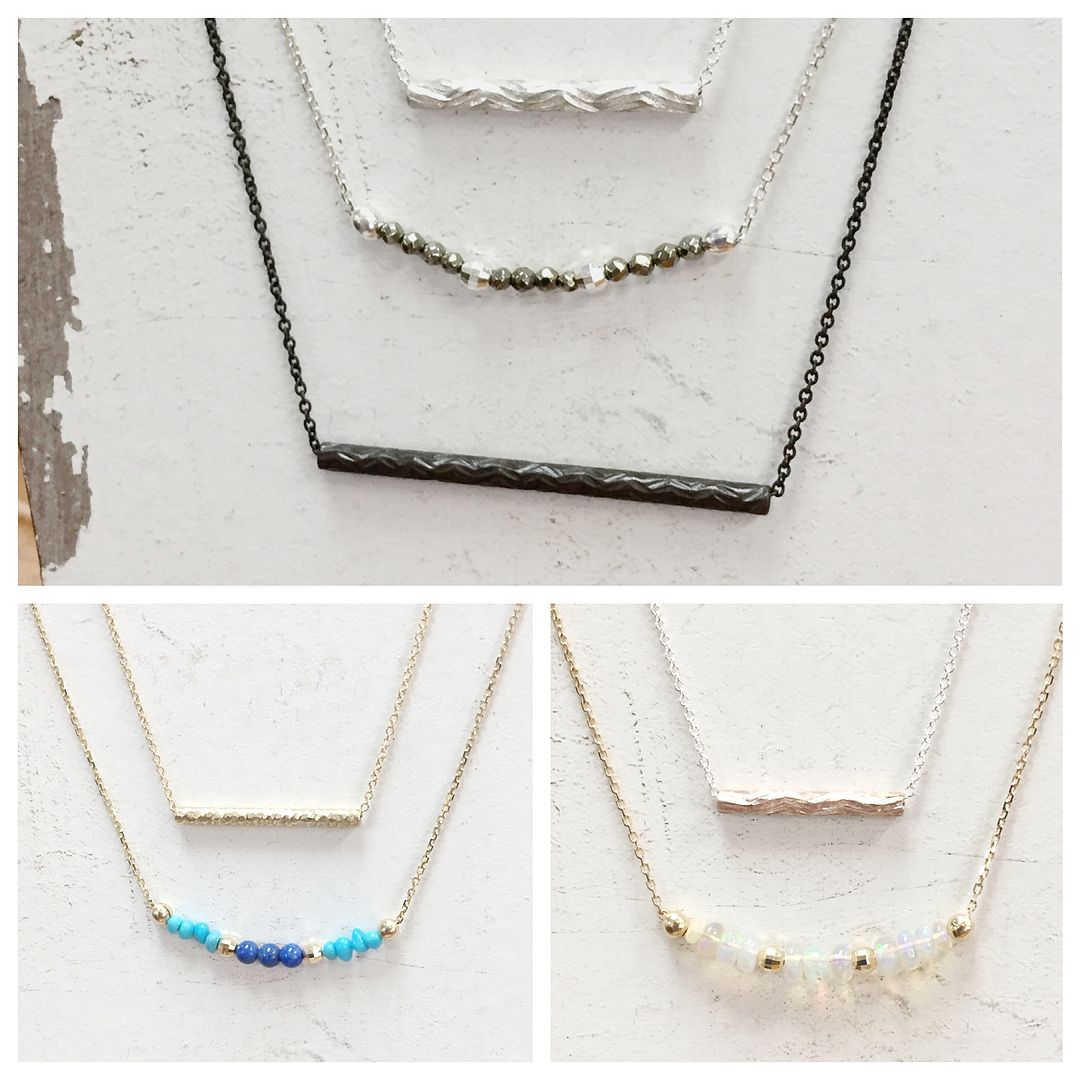 Take your pick on these authentic natural gemstone with sterling silver chain prices from $140 to $295.
Thanks for reading our email and
have a wonderful weekend!