It's an EXCITING TIME in Wilmington
as we prepare for the Wells Fargo Championship!
Please JOIN US next Tuesday night at the amazing new
restaurant downtown, Vida, for the Players Partee!
Home Again is staging the ultra VIP areas for the party, and it's coming together nicely! 
And Lumina Gem will be on hand showcasing
our popular VAHAN jewelry assortment.
There will be FUN had by all…
CLICK LINK BELOW to get your TICKETS…and just an fyi,
the price of tickets goes up on Monday!
https://www.eventbrite.com/e/the-players-partee-tickets-33048715598?aff=escb&utm-medium=discovery&utm-campaign=social&utm-content=attendeeshare&utm-source=cp&utm-term=eventcard
~~~~~~~~~~~~~~~~~~~~~~~~~~~~~~~~~~~~~~~~~~~~~~~~~~~~~~~~~~~~~~~~~~~~~~~~~~~~~~
And now it's time to TEE UP the bargains…
on with the show!
BEAUTIFUL sea glass chandelier, a steal at $595!
27″ diameter and 38″H
Gorgeous queen bedroom set in washed grey…
Storage bed, $795
Dresser & mirror, $795. 65.5x18x40
Chest of drawers, $575. 40x18x54
Nightstands, $295 each. 29x18x29
Just in on consignment…soft sage hutch by LEXINGTON complete with seeded glass doors, a true value at $895! 56x18x88.5
This won't last long….vibrant blue sectional, $895!
85×107.5
These foil octopus companions are AMAZING!
Retail $659+ each…our price, $495 each!
Large scale, 41×54.5
There is a lot of goodness to look at in this photo…
Rustic wood kitchen island/console, $695. 64.5×26.75×37
Large abstract, $202. 48×48
Metal twin headboards w/ metal bed frames, $95 each.
Rope lamp, $75  Small starfish/coral prints, $12 each.
Accessories, $3-$18
Cute shabby chic cabinet in coastal white, $425! 48.5×17.5×34
Blue lamps, $85 each! 
Brand new small scale seafoam blue
swivel chairs $425 each. 34″ W
Another cute white cabinet $425
48.5x17x34
Coordinating accent tables $125 each.
15.75×11.5×30
POTTERY BARN outdoor lounging sofa…the seat cushion is actually the size of a TWIN BED!  Includes 8 pillows and custom cover, $795.  83.5x42x38.5  Sandpiper pillows, $38 each.
No flash needed with natural light pouring over this STUNNING capiz shell mirror in green! $165. 35.5″ diameter
A FUN consignment score…
white hall tree, $245! 28×10.5×70.5
This unique wooden dresser is giving off shabby-mid-century-americana vibes…at just $295!  42.5x19x41.5
Haley is loving this narrow solid wood wine cabinet…$425! 
23.25x15x72.25
JUST IN! The burlap map backing is a nice surprise
to this updated wing chair! $425 and 31″W
This Uttermost oval mirror retails for $433, our price $295.
Large scale 38wx50.5″h 
GORGEOUS two -tone kitchen island $495 66x24x34.5″h
Extra large and handsome black and gold mirror
(photo-bomb by Ashley…) $265 47×59″
Much prettier in person…
lovely black bookcase, $450! 42x15x77
We are choc full of goodness…bench $225, chairs $202 ea,
koi prints(sold)  Stanley queen bed $476!
Outdoor sofa just $495.
Coffee table $125, end table $95
We LOVE this gray wash cabinet, $395!
36×14.5×52.5
JUST IN! Pair of Braxton Culler chairs in PRISTINE
condition, they were used only 2 months,
a deal at $595 each! They retail for over $1,000. 30″W
This 'chofa' by Norwalk is full of coastal colors! $995. 112×64
Metal coffee table, $195.
Oatmeal side chairs $295 each.
26″W
DINE ON A DIME…
The table top is not in perfect condition, so this table and six chairs is a STEAL at $195.  Table is 60×36  
Burled wood chest by BOGART by THOMASVILLE just $595.
67.5×23.5×39.5 
Gray wash cabinet with geometric doors, $295.
Also available in a medium wood tone.
36.5×15.5×35.5
Modern ivory sofa, a DEAL at $525! 81″W
We have a pair of each of these cute side tables, $95 each!
15.5×15.25×26.5
Pedal on in to Home Again for this spoke coffee table,
just $165! 32″ diameter x 18″h.
DEAL TIME! 
This chesterfield sofa normally goes for $995, but it has a tear on the armrest so it's priced to move at $495! 
DEAL ALERT…
Pair of Bradington Young recliners, just  $295 each.
33″W
We have a PAIR of these handsome side tables. They have a few boo boos so they're priced to move at $50 each!  22x22x27″h
SALE!! Art $75, 41×29.
Foyer table $195. 39x17x33.5″w 
We're are TEEING UP the DEALS
at Lumina Gem this weekend! 
Where else can you get a deal like this?
1.33ct SI2 clarity I color round brilliant, "Diamond Month"
sale price $3,916. Setting seen here is only $975. 
Free appraisal from Brad Bass, certified GIA gemologist.

Diamond Month price on this Tiffany & Co. piece is UNBELIEVABLE!
Etoile, 18ky gold with diamonds set into platinum bangle. 
Retail $6,000.  Sale price this month is 20% OFF only $2,795.
TWO-TONE is where it's AT
David Yurman 18ky gold and silver bracelet that is engrave-able (perfect for MOM) $1,250.  Lagos Caviar 18ky gold and silver hoops $595.  Vintage 14ky gold and silver omega earrings $495.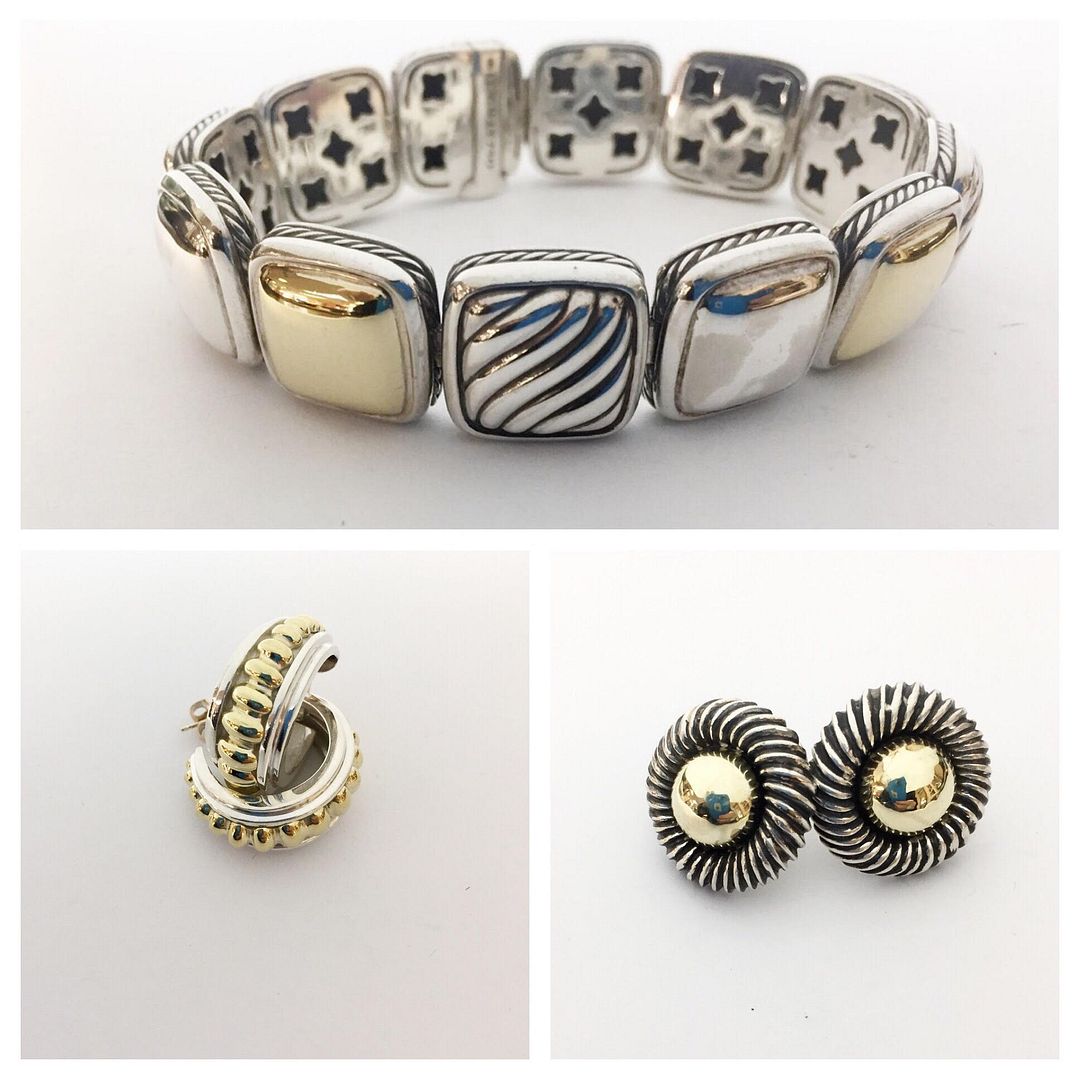 Judith Ripka blue topaz necklace $355. 
Slane bee $345.  Aquamarine Slane 17 inch necklace $495. 
David Yurman turquoise diamond enhancer $715. 
David Yurman 17 inch, 4mm wheat chain $195.
These onyx Yurman pieces are timeless and 30% to 60% OFF of retail.  17mm onyx diamond round ring $955.  17mm onyx diamond square ring $765.   Chatelaine onyx studs $225.
La crème de la crème! 
Chanel necklace $995.  Rare and highly sought after Vacheron & Constantin 18k gold watch $7,995.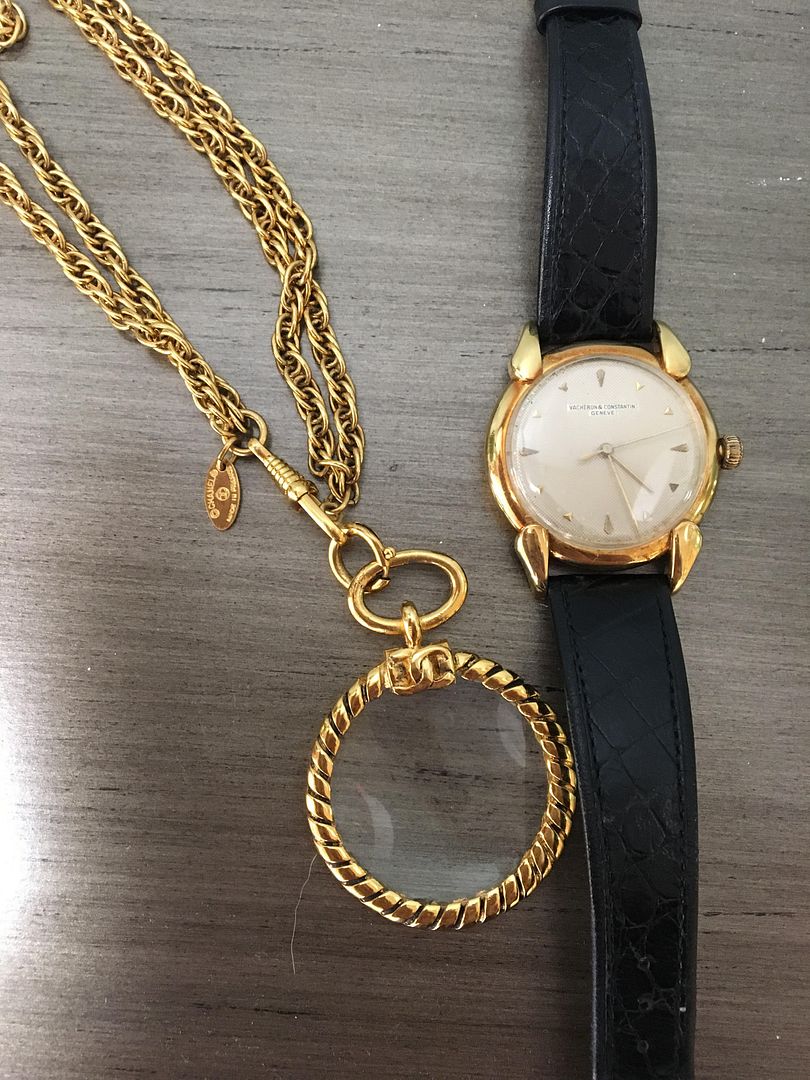 14mm South Sea pearl and 1ctw diamond earrings set into 18kw gold omega backs.  Sale price $2,200.
You are going to want to take advantage of the "Diamond Month"  at Lumina Gem…check out these sale prices…
1.25ctw diamonds set into 18k rose gold $2,395.
1ctw diamond band with black diamonds in 14kw gold $635. 
.25ct diamond love knot 14ky gold ring $375.
Tourmaline comes in every color of the rainbow and we  
have so many options to choose from at Lumina Gem. 
Looking for a unique ring that no one else will have? 
Let us help you choose one of the amazing cuts by Clay Zava
and create the ring of your dreams.
Click on the video to see these gems shine.
"When it's Your Time to Shine"
you will sparkle in these diamond tennis bracelets.
Prices are 20% OFF:
3.36ctw, 14kw gold bracelet $2,995
4.50ctw, 14ky gold is $4,495
Golden Sunshine in all price ranges!
Charles Garnier tassel pendant (silver chain not included) $135.
14ky gold marquise shaped dangle $275. 
Meshed, intertwined 14ky gold bracelet $875.
~Nina Nguyen always pushes the envelope on fashion~
She is definitely a trend-setter and takes pride in each handmade piece.  Her vision for style is way ahead of the times.
Introducing some of Nina's new pieces inspired by the sea.
Faceted black spinel necklace $295.
Multi-sapphire oxidized silver earrings $395. 
Moonstone marquise earring $450. Multi-sapphire ring $495.
Labrodorite faceted bead necklace $495. 
Diamond studs 10mm 18ky gold $950.  Marquise earrings $1,795.
Chalcedony pear studs 18ky gold $550.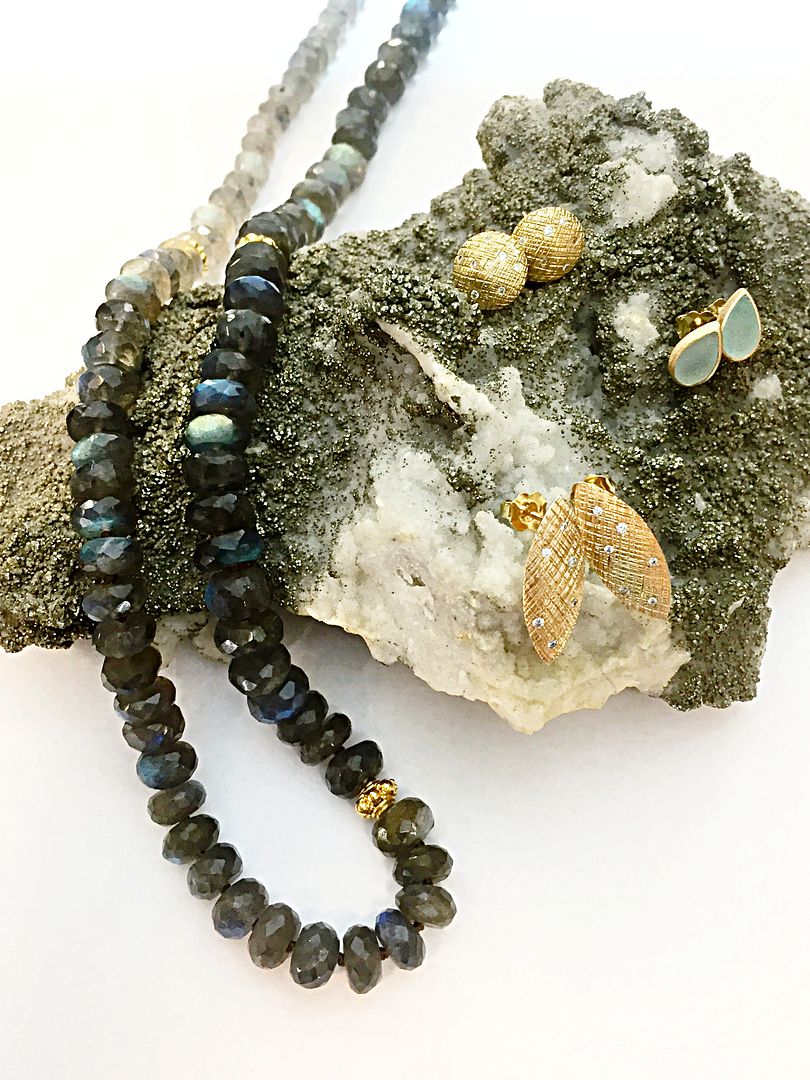 Lapis Lazuli Nina Nguyen collection in sterling silver.
Earrings $195 to $395.  Marquise side set necklace $350.  Square faceted necklace $195.
Don't miss out on our Giovanni Raspini line that is handmade in Venice, Italy.  This piece is perfect for coastal living. 
18ky gold plated sterling silver 36 inch chain with a starfish ball charm and a white Italian glass $535.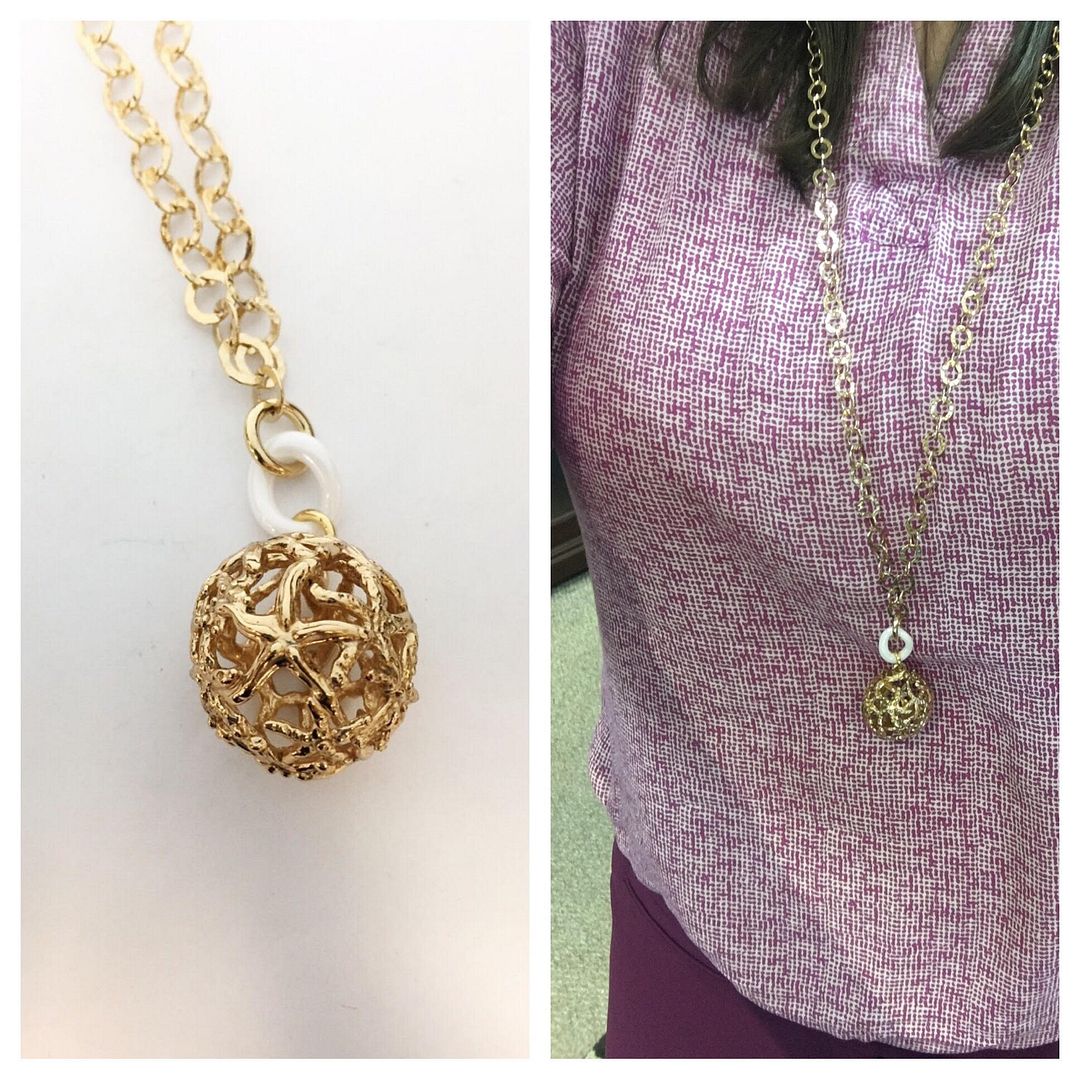 2 MORE DAYS LEFT to save during our "Diamond Month" sales event.  Engagement ring 1ctw in 14kw gold $1,595. 
.20ctw diamonds set into 14kw gold bands are $635 each.
Stay out of the sand trap…
save BIG at Home Again & Lumina Gem!