? HAPPY EASTER to our wonderful
Home Again & Lumina Gem Peeps! ?
Come by this weekend for a PEEP…
and a BARGAIN!  Happy Easter & Happy Passover
from our house to yours!
We make it EASY to put together a coastal room for less…
Brand new sofa $795, coral motif swivel chairs $525 ea,
art $58 ea, 20.5X28.5″.
Trick out your front porch with fun red rockers!
$175 ea, side table $52.
Phone orders accepted! 910.679.4302
Wow…oversized power recliner by LazyBoy in perfect condition.
It retails for $1689, our price $795! 51″ wide.
Large and IN CHARGE! 
GORGEOUS abstract in soothing coastal colors, $425.
Very large scale, 80×60 Can be hung vertically or horizontally.
Just in…four Ethan Allen parsons chairs in a lovely camel upholstery, $175 ea, sold in pairs only. Excellent condition.
The cat's meow! Pair of modern turquoise chairs, $295 each! 
Pretty outdoor bench made of acacia wood…45.5″ wide, $225.  We also have the 60″ version for $275.  
Outdoor pillows, $14 each. 
The consignor purchased two of these GORGEOUS faux bamboo bookshelves, but could only use one, so here you go.  
They paid $700, you pay $450! 32x16x84
It's back…lovely emerald green velvet sofa from
Magnolia Home Furniture by Joanna Gaines. $1,099. 88.5″W
Sharp! Pub set just $495.
42″ square.  Phone orders accepted, call 910 679 4302.
Pair of seagrass chairs, $112 each.
Distressed multi-purpose accent table in gray, $295. 42x25x30
Flamingo lamps are sold, sorry.
So tranquil…beach abstract matted in a washed blue-green burlap, $225. 34.5×46
Mid-century inspired accent chairs
in seafoam green, $365 each! 
This sofa from Magnolia Home Furniture is so versatile! $1,075
Orange fuzzy throw, $16
Colorful rug, just $75! 5×7
Just in…pair of wooden adirondack rockers just $225 ea.
Also from Joanna…lovely SHIP-LAP white queen bed! $825.
And don't forget…we can custom anything from the
Magnolia Home Furniture line.
Go to www.magnoliahomefurniture.com
We are BIG FANS of this geometric queen headboard for just $225! In dark espresso finish.
Handsome pair of Kincaid end tables just $125 ea
This pretty silver leaf console retails for $729, our price $445! 48x15x33.5
We love these updated wing chairs in a soft steel blue,
$395 each. 28.5″W
This granite topped kitchen island has GOT TO GO!
$295. Yes $295!  Serious bargain.
Don't forget…we have delivery services available…you'll need it, this big guy is HEAVY.  58×30.5×34  
Gorgeous hutch a major STEAL at $495! 64x24x79
Soft and lovely ivory sofa by high end maker
Lee Industries, A SCORE at $495. 86″W Pristine condition.
Super chic mid-century inspired accent chairs in blue/green…$395 each! 
This is fun! Shabby chic server with fold out leaves on either side for serving, $245. 40x18x30.5
GOING, GOING GONE…
Get an AMAZING deal on this SOLID wood bar in rubbed black, $895! Large scale, 78×26.5×42.5
Literally just in! Slate grey metal desk on casters, just $125.
48x24x30
Striking stone topped console table with bronzy gold base…$325! 55x15x30
Fresh! Green & gold lamps, $76 each.
Abstract art, $95. 24.5×36
Slate gray barrel chairs, $295 each.
Petite scale…26x27x29
You never know what you'll find at Home Again! Set of 4 wall hanging farm critters! $24 ea.  Approx. 6X8″
Just in…four dark sage green dining chairs just $75 ea.
Sold in pairs only
Just in….a CLASSIC French hutch, 
a true value at $895! 60x23x88
Did you know that we have a FULL SERVICE
design and repair shop? 
We not only repair jewelry (typically within the same day)
we also make jewelry in-house from scratch.
Just as an example… check out these peacock earrings that we recently crafted.  Such a creative idea and gorgeous design. 
Got an idea?  Share it with us….we can make it happen.
Our own in-house jewelry line REVOLVE is not your average bar necklace…and they are flying out the door!  
In a variety of metals, colors, textures and links,
prices range from $65 up to $325.
We currently have a wide range of GIA certified diamonds
IN STOCK like this majestic cushion cut. 
Click on this Facebook video for details on this shiny gem!
Did you know that we are able to get diamonds directly from the source, overnight and at no-charge to you to preview?
Take a look at these coveted pieces that are JUST IN …
…and don't forget that any jewelry with diamonds is
at least 20% OFF during DIAMOND MONTH.
Scott Kay citrine and diamond ring.  Sale price $435.
Slane 17 inch aquamarine double strand necklace $495.
David Yurman crossover ring with diamonds. Sale price $635.
LeVian aquamarine and diamond necklace.  Sale price $635.
Get this LeVian piece and bring
some vibrant color to your life.
Call 910 256 1850 for details and pricing. 
The petite Albion David Yurman ring in blue topaz
with diamonds is in….sale price only $395.
Every "bunny" needs a pastel and diamond David Yurman
enhancer and they are 20% OFF!
Turquoise $715.  Mother of pearl $635.  Chalcedony $795.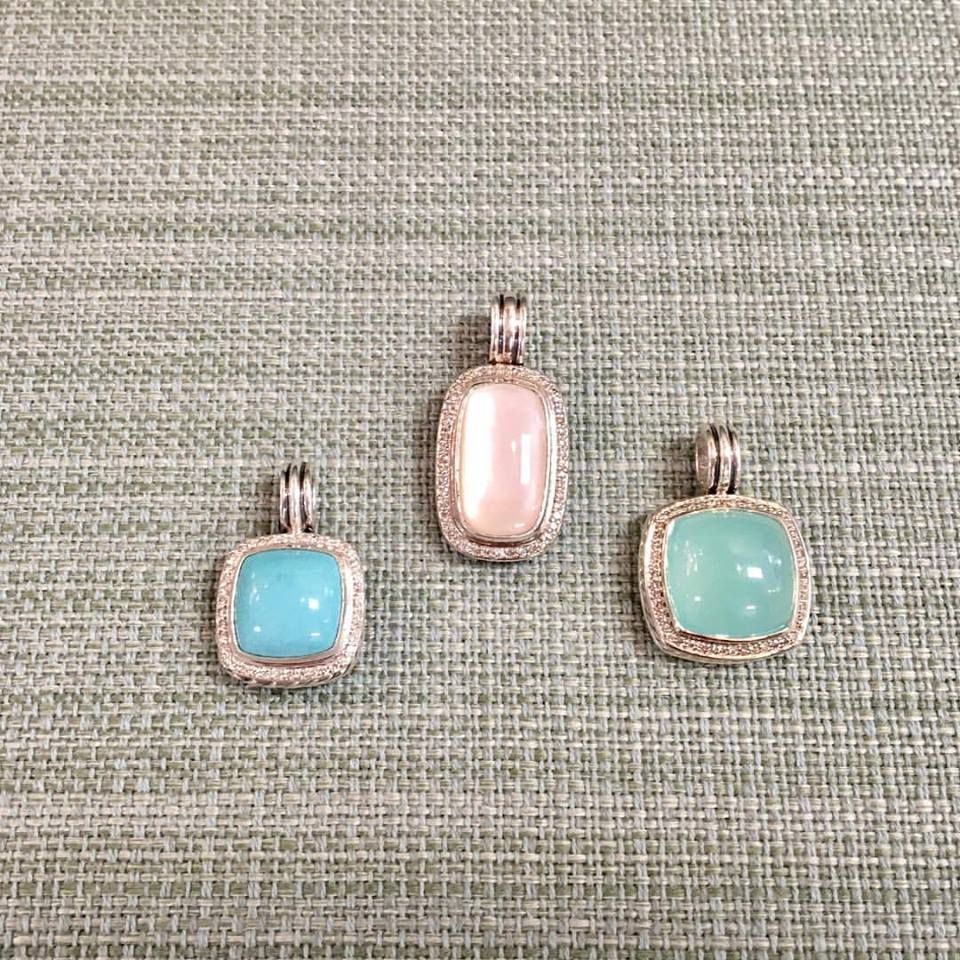 Tiffany & Co. pieces are great for any Easter basket.
Get the set at $95 each.
Vintage designer pieces!
Caviar Lagos half hoops in 18ky gold and sterling silver $595.  David Yurman 14ky gold ball earrings $495. 
Mabe pearl and 14ky gold studs $295.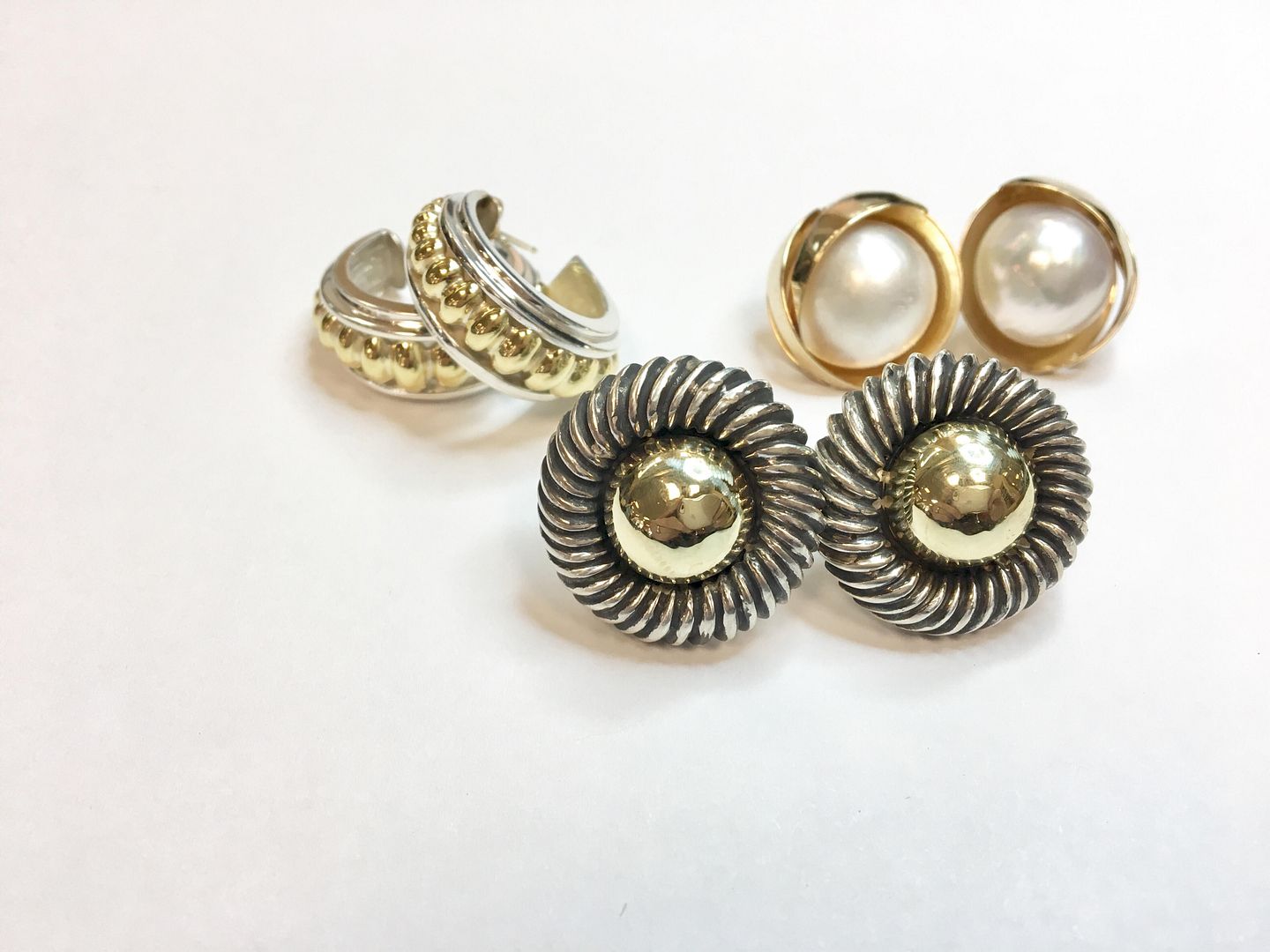 18k yellow gold and diamonds shine so bright!
X omega back earrings with 3.00ctw of diamonds sale price $3,995. Star bracelet with 1ctw of diamonds $3,195.
Accent that spring outfit with yellow gold bracelets for less. 
Price ranges here are $205 to $395.
Jenna's PICK…this 22ky gold bracelet has 40 rose cut diamonds
set into a Mugal Empire inspired setting. 
20% OFF price is $3,195.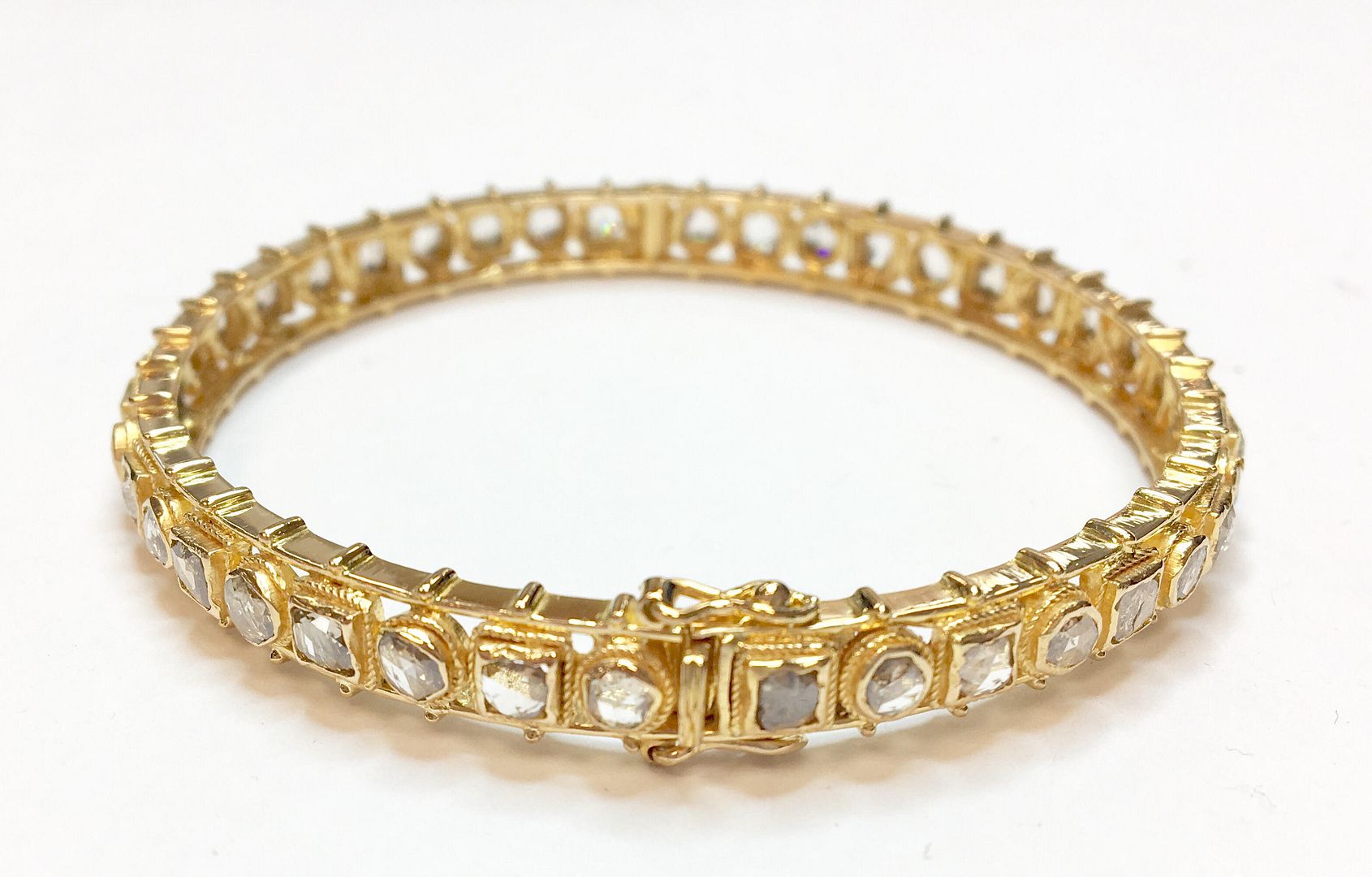 Jade and yellow gold are so classy together…add a gorgeous boulder opal enhancer and ready, steady, leap into spring.
Jade necklace $895.  Jade brooch $775. 
Boulder opal enhancer $445.
We have a HUGE assortment of bands JUST IN and all of our new bridal bands are 25% OFF with diamonds. 
Sale prices seen here range from $445 to $825.
Click onto this picture to view our wedding bands in stock.  Remember to deduct 25% OFF of the price you see online.
This necklace is a regal piece that you will cherish for years to come.  Rhodolite garnet and diamond in 18ky gold. 
The sale price is only $875.
Instead of filling that Easter basket with colorfully wrapped chocolate bunnies, give them the gift of a colored stone ring. 
Click on the picture to see what's in store.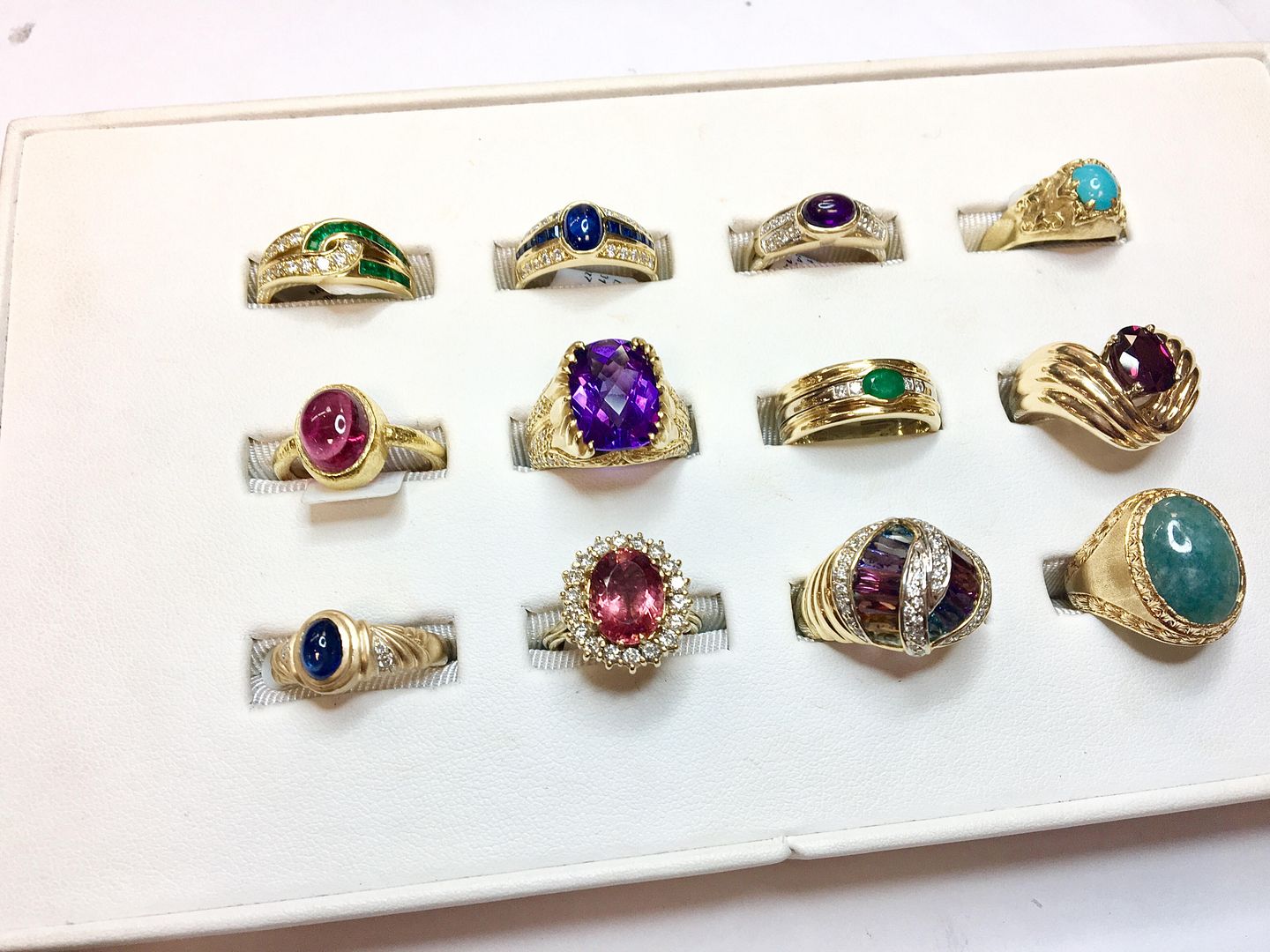 Get her ready for Easter and sunrise service
with these two pieces…
Sapphire bee pendant/brooch $250.
VAN CLEF & ARPELS butterfly brooch with diamonds and chrysoprase that is stamped with a serial number and France.  Rare and unique this collector's piece is $3,195.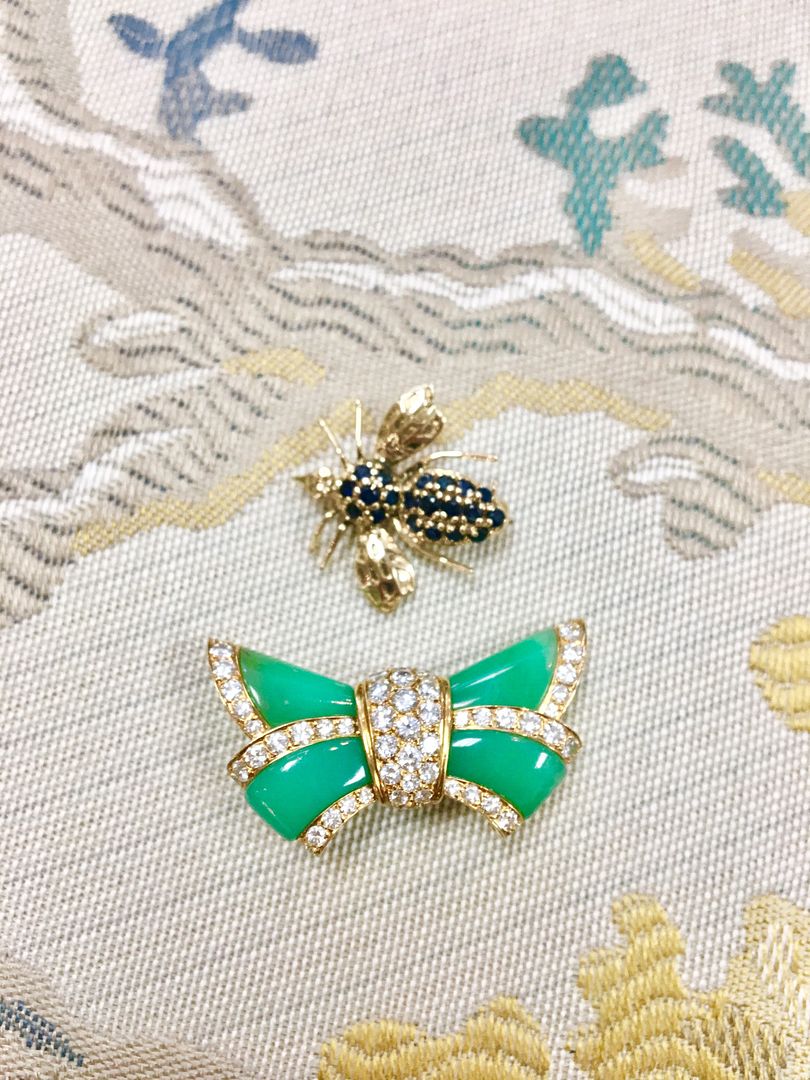 This custom made ring is so RETRO.
Blended with onyx and chrysoprase accented by diamonds
in 18ky gold only $1,195.
Nina Nguyen designer line will get your outfit ready for spring.  Click on the picture to view her handmade items that are in stock.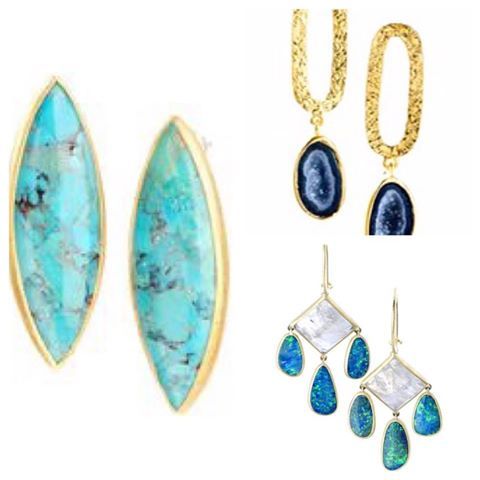 ~SAVE THE DATE 4/21 & 4/22 for our first annual
Custom and Re-Design Event~
RSVP and get the details on our Facebook page by clicking this picture.
We will also be taking special requests on our event page.