CONGRATULATIONS
to the UNCW men's basketball team for bringing home
the 2017 CAA championship! 
We are FEELING THE TEAL!  
A BEAUTIFUL vignette…filled with tons of coastal color!
Ivory linen sofa by Magnolia Home, $1,045. 89″W
Soft aqua cabinet, $695. 70x15x42
Abstract art in shades of blue and TEAL, $202. 36×48
TEAL Buddha Lamps, $112 each. 28″H
The Seahawks are heading to the 'Big Dance' for the second year
in a row!  Celebrate with these sleek accent chairs in
UNCW TEAL, $295 each! 27″W
(One just sold, sorry.)
Just in on consignment, and in great condition,  
lovely skirted accent chair in nubby beige, $295.
Back in stock…these cabinets fly out of here because they are great looking, well made and reasonably priced.  In rustic ivory, $425.  We also have it available in pale aqua! 48x15x42
High-end Raggazi changing table/bookcase combo,
a GREAT deal at $325! 50.5x20x76
The consignor used this LazyBoy recliner for less than 4 months
and it is in perfect condition.  It retails for $1,280,
get it here for $695! 37.5″W  Come get your TEAL on!
Look at this super modern high-end genuine leather loveseat
in burnt orange for only $595! 65.5″W
The loveseat would look great with this GORGEOUS and HUGE abstract with sunset colors, $425. 70×48
This king sleigh bed by Ethan Allen retails over $2,300, 
our price, $995. Coordinating lingerie chest retails over $1,800, 
our price, $695. 30x17x57
Ethan Allen demilune console, $165. 30x12x29
LazyBoy club chair retails for $1,149, our price, $445.
Four drawer bedside table is sold, sorry!
Elegant ivory tufted bench with nailhead trim, $175. 41x19x16
Here is Ashley demonstrating how to kick back and relax in this super cozy slipcovered chair and ottoman in linen,
a STEAL at just $495! Chair is 40×40. Excellent condition. 
Just in! SOLID wood farm table with six Windsor style chairs by Broyhill. Retails for $2,000…our price, $1,095! 72×44
Just in…serene marsh scene, $145.
40.5″ square
This Bauhaus genuine leather sectional retailed for over
$4,000, our price $1,295! 91×91  THIS WON'T LAST.  
Round rustic coffee table $245. 32″ diameter 
This GORGEOUS mirror was picked up at the High Point market
and retails for over $900…snag it for $425!
Large scale, 39×51
Mission style rocker, a score at $125! 30″W
We like the clean lines on this useful cabinet in eggshell,
just $595! 60x17x32
Coordinating side table, $175. 
We are loving these tangerine chairs, larger scale
than they appear in the photo, 
only $295 each! 27″W
How cool are these nautilus lamps with rope detail!
$125 each. 29″H
A great coastal media cabinet, $695! 70x19x32
Hand embellished  sailing canvas, $125! 39″ square
DEAL TIME.  This 'Dirk' recliner in genuine leather by Leathercraft retailed for $3,965,  get it here for just $695! 34″W
Industrial wood and metal coffee table with glass top,
$225. 48x24x18.5
This wicker chair by Ethan Allen in in excellent condition
and a SCORE at $295. 32″W
Such a pretty look! 
Hand painted Ethan Allen chest, $695. 45x18x32
Blue table lamps, $95 each. 33″H
Wooden window mirror, $145
Accessories, $6-$18
Currently drooling over this gray chair with ivory piping.
Two available, $395 each.

JUST IN! This uber glam chandelier retails for $1,639, 
our price, $795! What a deal! 
25″ diameter and 37″H
Lovely accent chairs,
a super rich look for only $425 each! 28″W
Thank you Joanna Gaines at Magnolia Home
for creating this gorgeous gray
velvety tufted sofa! Brand new for $1,095. 84″W
THIS WON'T LAST.  Phone orders accepted, 910 679 4302.
Washed cabinet with mirrored doors, $525. 53x18x39
Framed designer coral art, $95 each! 20.5×25.5
Stressless style chairs in ivory, $395 each! 29.5″W
More TEAL in this gorgeous coastal abstract!
$225. 40″ square
The art would look great with this TEAL blue accent chest, $295. 32x15x32.5
We have a PAIR of these subtle blue
wing chairs, $395 each.  29″W
A nice surprise…long narrow console in super on-trend
NAVY! A steal at $295. 60x14x34
Large and in-charge! Snag this COZY sectional for only $1,295! 
131.5×97
A super fun look! Crab oil painting, $265. 42×32
Blue button back chairs, $395 each. 30″W
Light beige sofa with nailhead trim, brand new for $850! 90″W
Coordinating loveseat, $695. 64″W
Rattan side table with marble inlay, $225.
32x22x27.5
We just scored TWO of these comfy Pottery Barn slipcovered
sofas in a pretty soft sage color, $695 each! 82″W
Sand dollar lamps, $125 each! 29″H
A great set of accent chairs in spicy rust-red, $395 each! 
29.5″W  Sailboat art $175.
We ADORE this sofa by Magnolia Home Furniture! Nice ivory twill fabric with unexpected curves, $1,195. 82″W
  Koi art  $145, orange accent chair $295.
Another GREAT consignment score…this tweed chair and ottoman by Norwalk retails over $1,200 and is in EXCELLENT condition.
Get it here for just $595! 41″W
ON SALE! This two toned bookshelf retails over $1,000…
get it here for $495! 36x16x70
Another great deal…tufted chair with casters $225! 
Modern side table, $85! 19x16x24.5
Straight from the Home Again owner's home…pair of geometric roman shades that retailed for $350 each, come steal 'em
for $100 each!  Approx 76 3/4w x 36h
JUST IN! Nice black barstools just $125 each!.
Teal is amazing…
…but aquamarine…ooh-la-la!  
The aquamarine is a majestic blue to green gemstone
and is also the birthstone for MARCH.
ALL AQUA JEWELRY 20% to 50% OFF this month.
These earrings are fit for the princess in your life…
these would be a wonderful gift for a bride-to-be.
8ctw aquamarine with diamonds in 18kw gold omega back earrings.  Sale price $795 this month only.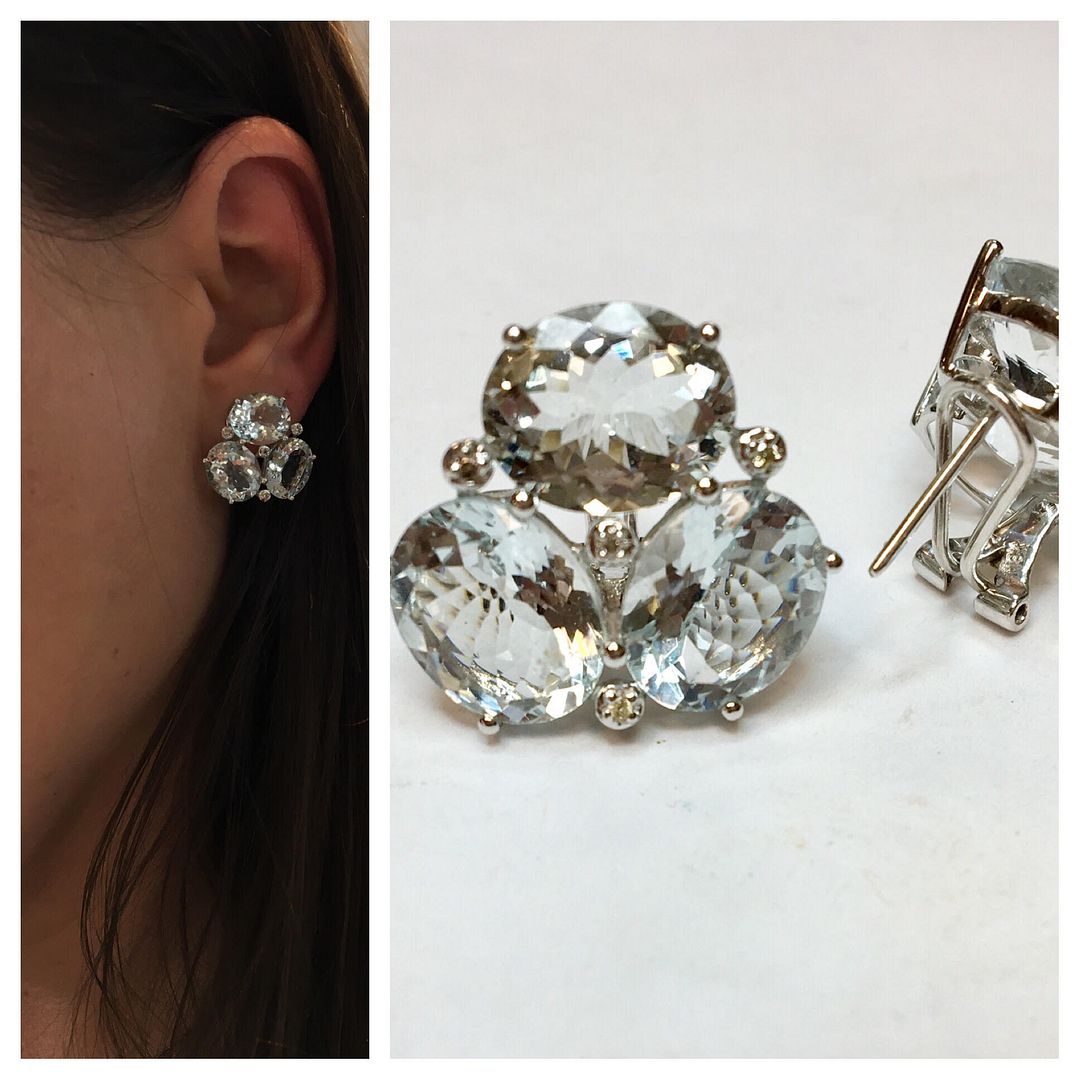 Ippolita designer pieces on consignment.
Left side:
Quartz and diamond necklace $395. Hematite and diamond ring $695. Plain bangle $175.
Right side: Bangle with mother of pearl and diamonds $395. 
5 station bangle $275.
Cassis designer pieces on consignment.
.77ctw diamond cross in 18ky gold, 18 inches.
Retired piece $5,650.
Diamond 18kw gold rings. $1,015.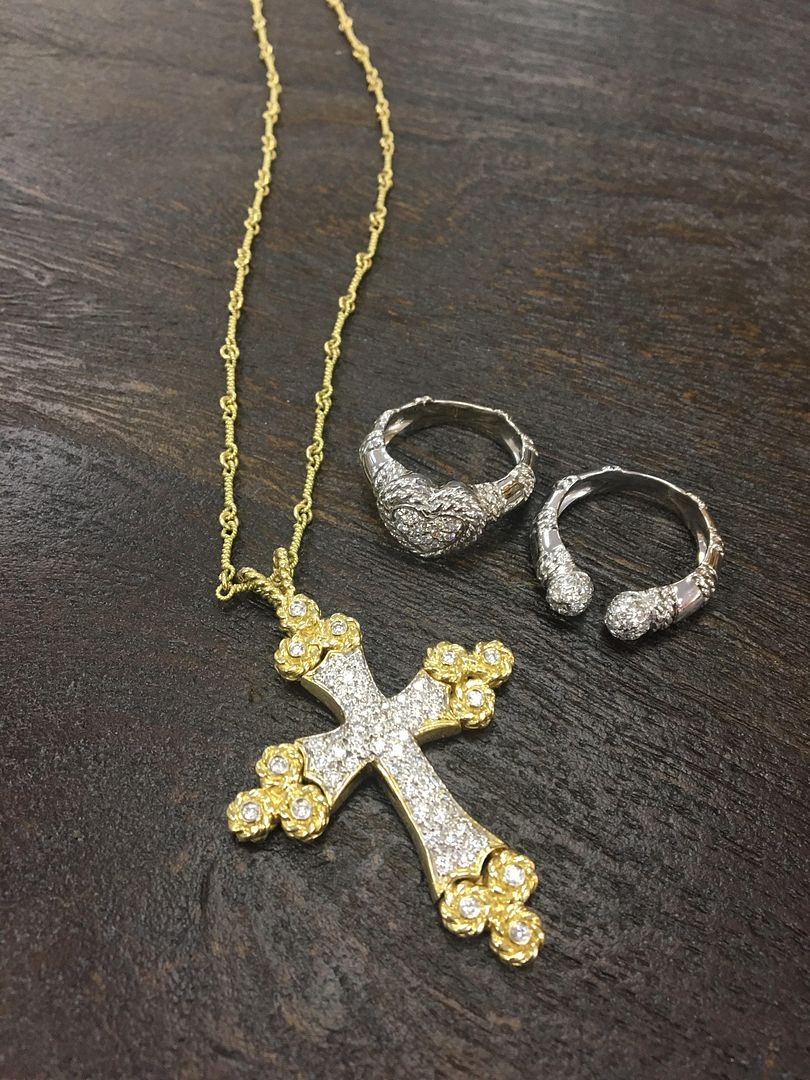 David Yurman cross with blue topaz, turquoise,
iolite and diamonds $595.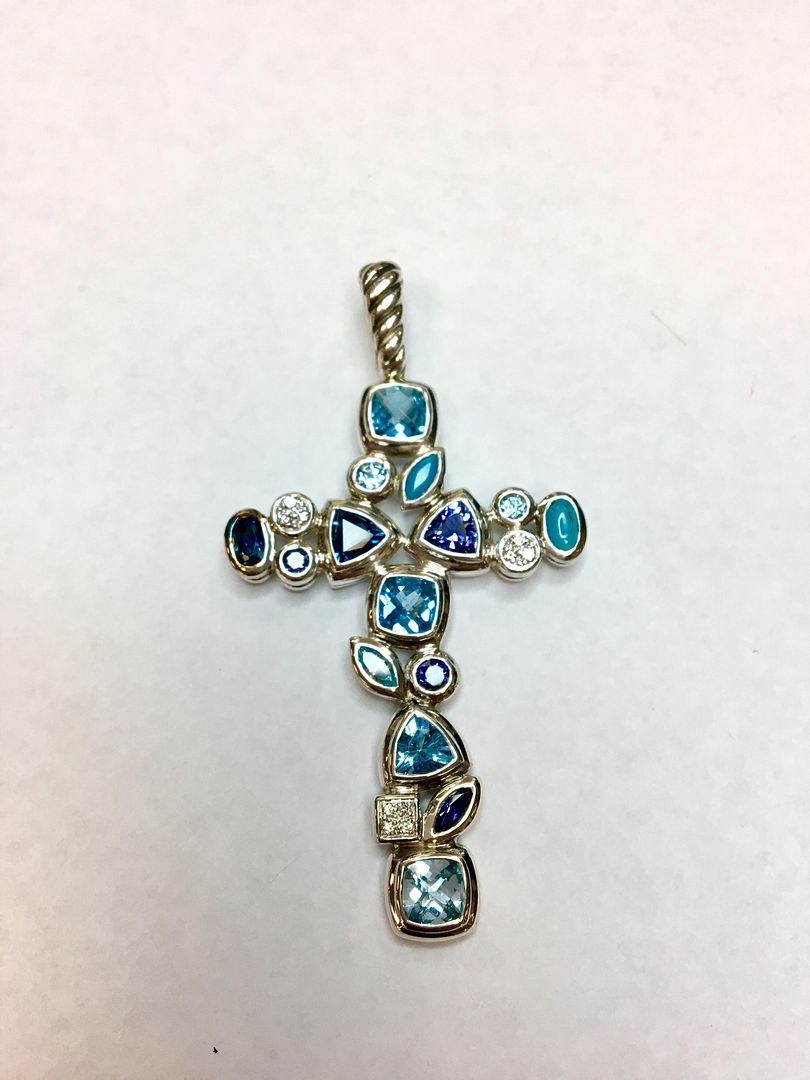 Stephen Dweck on consignment 19x15mm
quartz ring $295.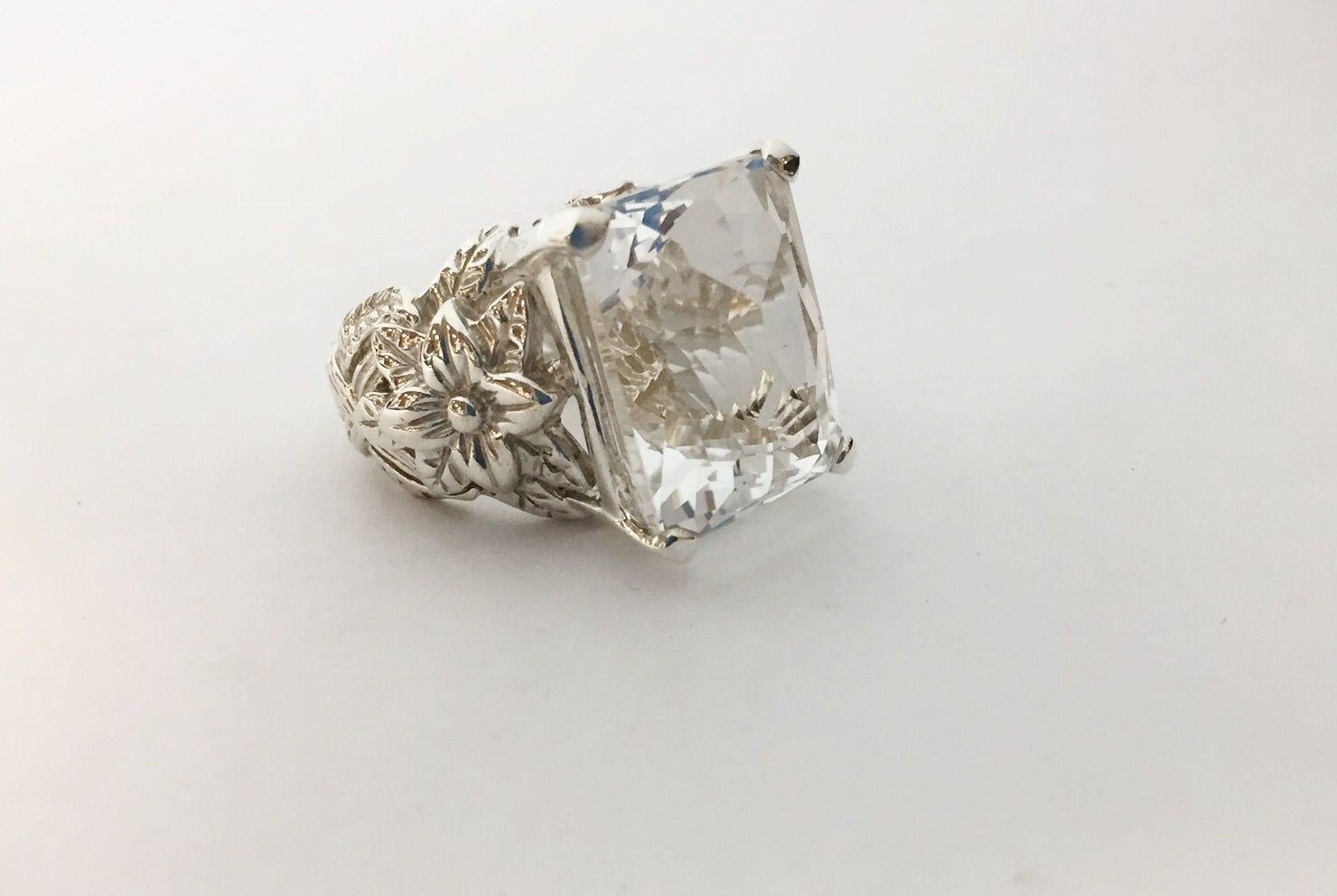 Roberto coin "tiny treasures" diamond starburst 18kw gold,
18 inch necklace $695.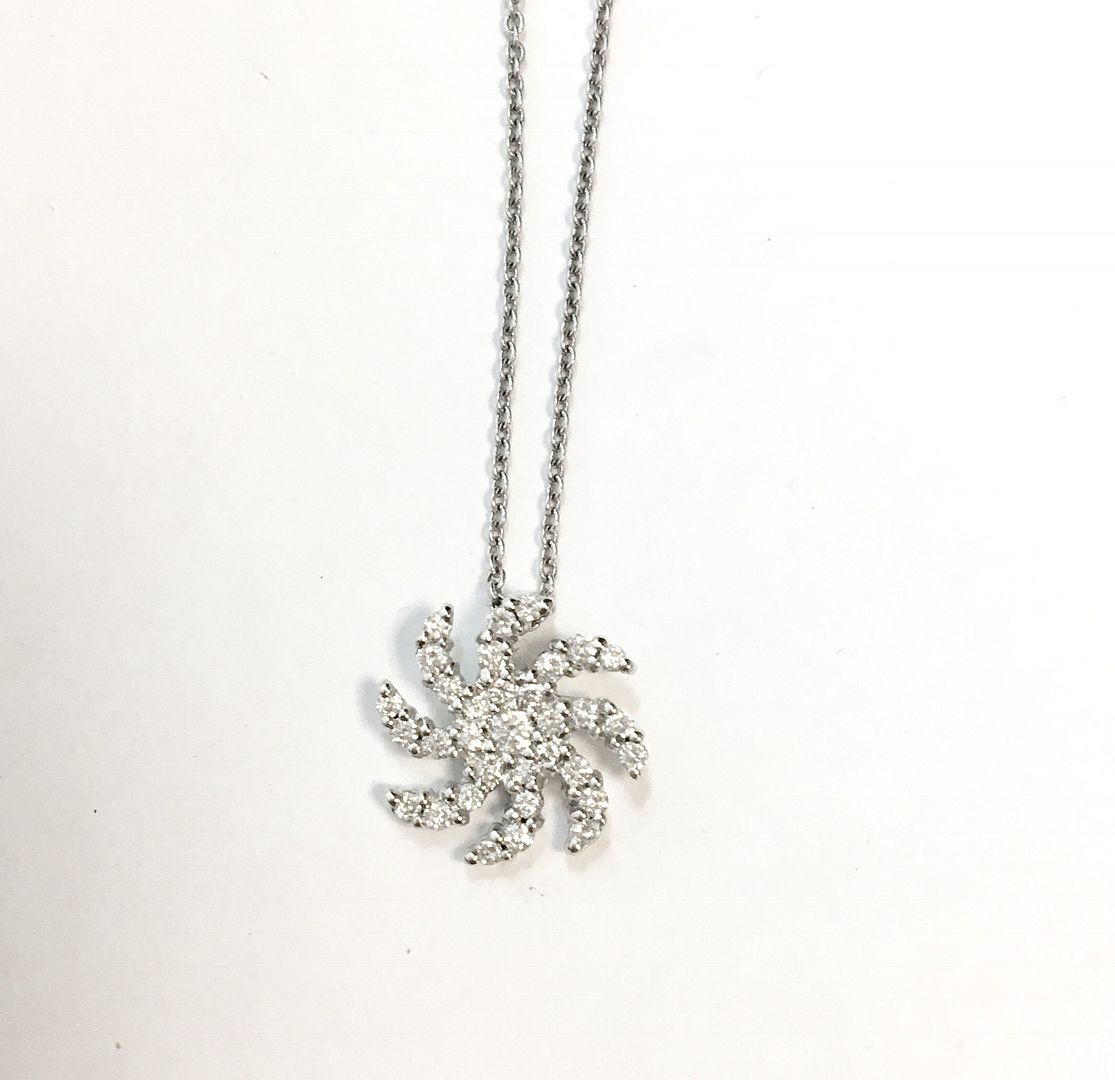 Alwand Vahan on consignment means you save
50% off of retail. Only $1,395.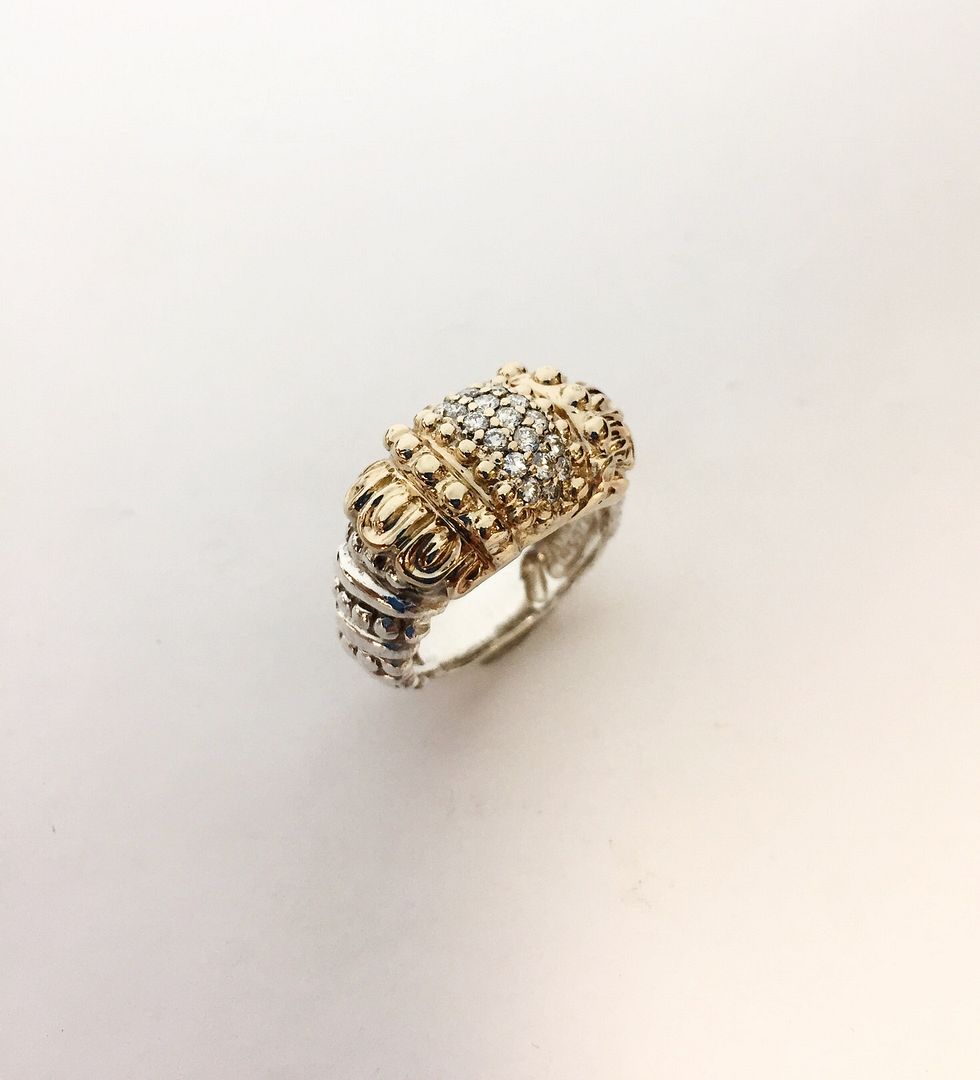 These items JUST IN on consignment. YAY!
Counter clockwise:
Black diamond and white diamond 4 row band $795.
  .50ctw channel set diamond 14ky gold omega back earrings $495.  1ctw diamond channel set 14ky gold bracelet with safety chain, 6.75 inches $995. Onyx oval set into 14ky gold $125.
These Angela Basset necklaces that just came in on consignment
will get you ready for spring and the garden party! $95 each.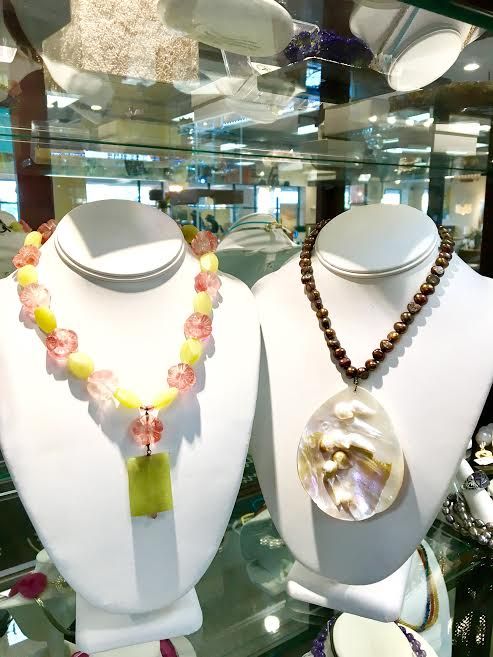 1.50ctw sapphire accented by diamonds in each two-tone link in 14kw gold with safety latches, $1,495.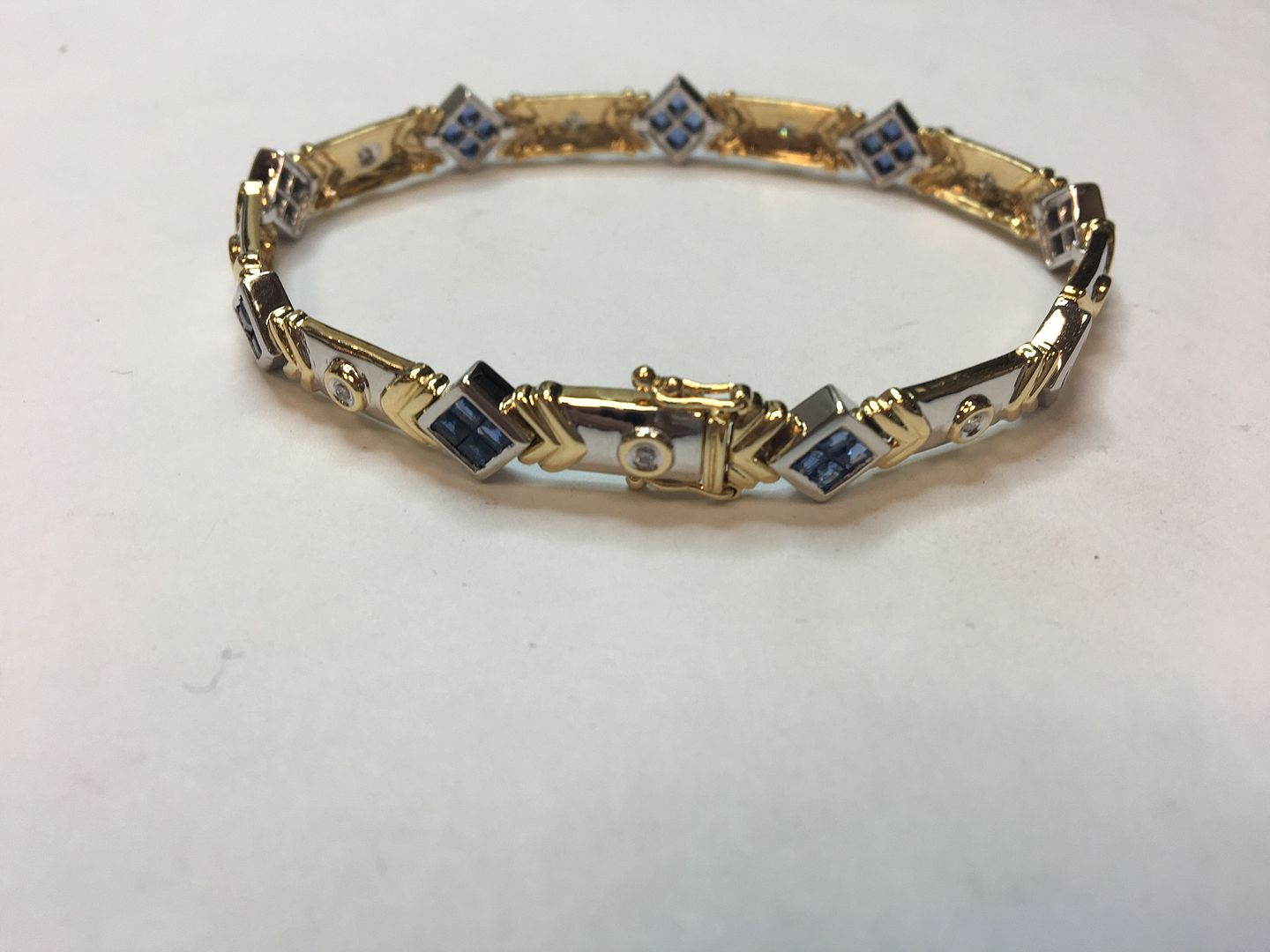 Turn your buried treasures into something that you wear
EVERY DAY and will cherish for generations to come! 
Here is a wax we showed you last week.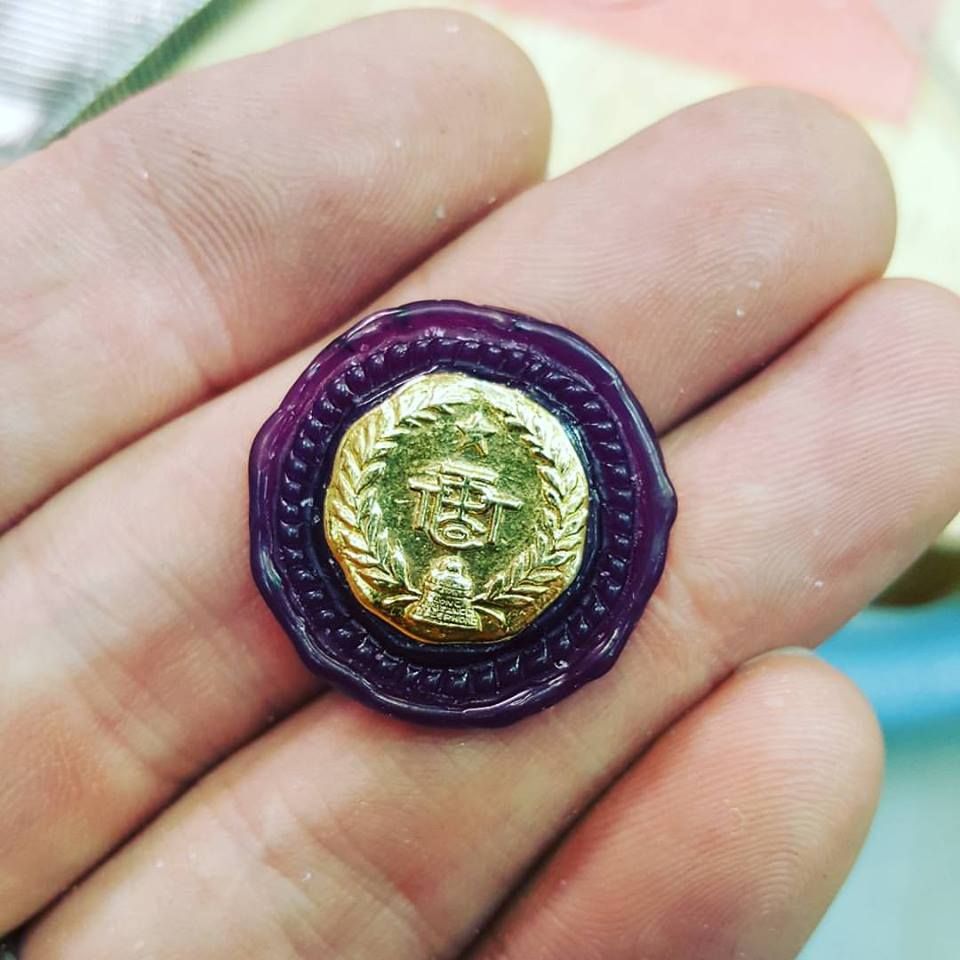 Viola…all done in-house by the talented Brad and Casey duo.
  A coin that was laying in a drawer is now a beautiful
piece of jewelry. LOVE THIS!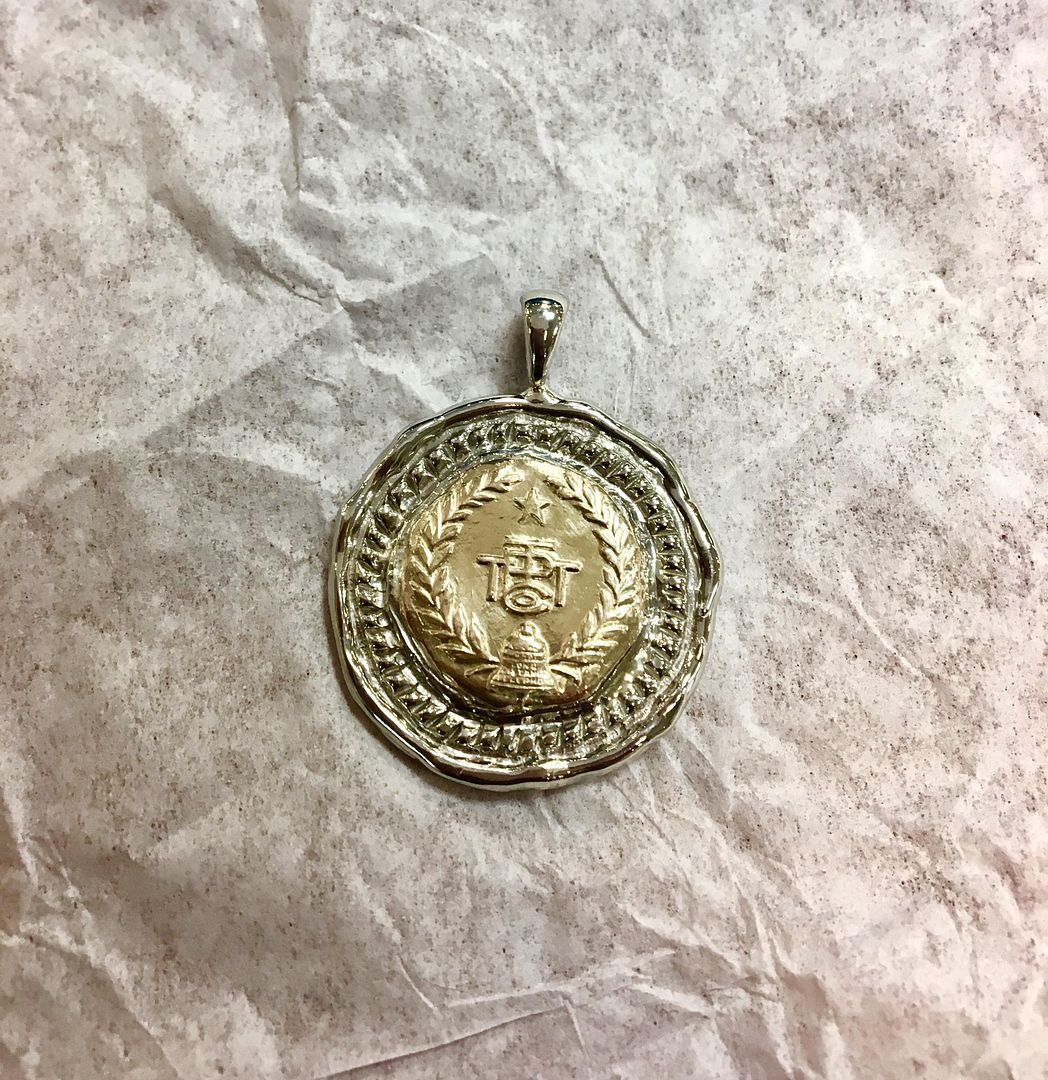 We have a 4 step process to ensure that the items we offer you are authentic designer pieces with real metals, and gemstones. Buy with confidence at Lumina Gem. 
Hermes bracelet with original box $435.
David Yurman diamond two tone 18ky gold accent ring,
comes with pouch and cloth $695.
Marco Bicego Murano blue topaz studs in 18k yellow gold,
comes with pouch $695.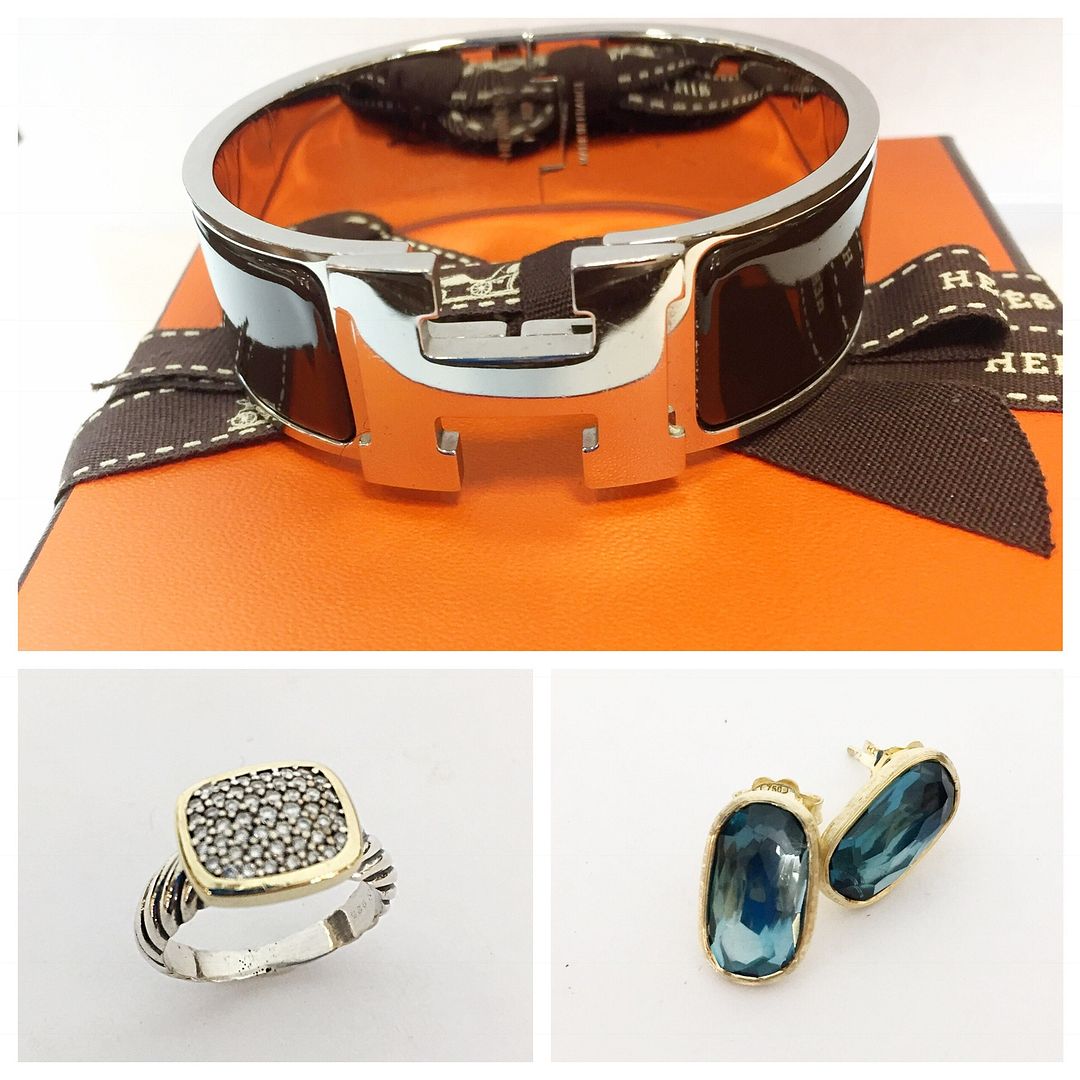 This Tiffany & Co retired bracelet is their classic, 5.75mm,
figaro style with link with 18ky gold accents $295.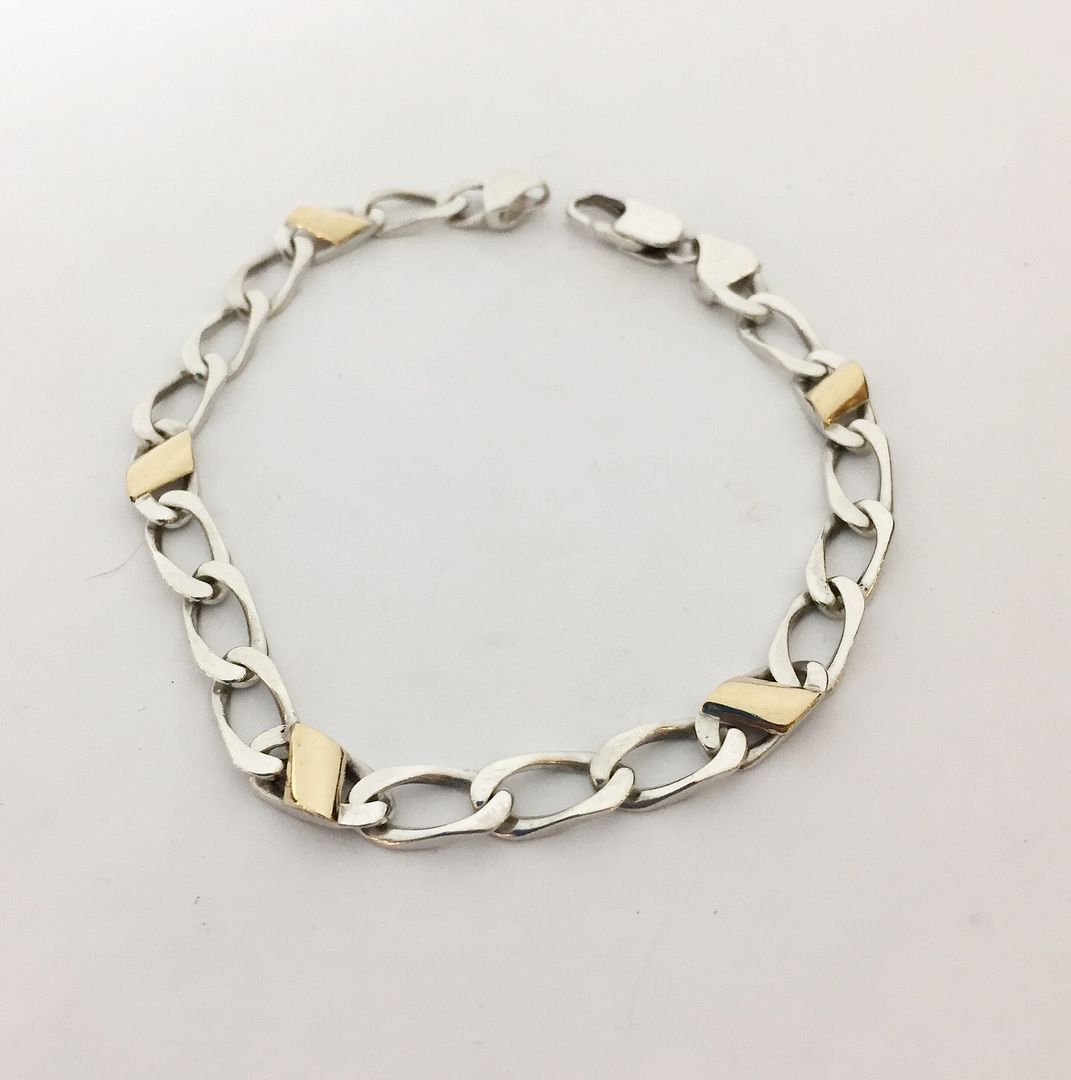 Get the matching 16 inch necklace for only $595.
Comes with pouch and box.  Buy both items together and we will give you 10% off this weekend only!
Larimar pendant in sterling silver $345, twisted chain is 18 inches and only $50. New pieces, never worn.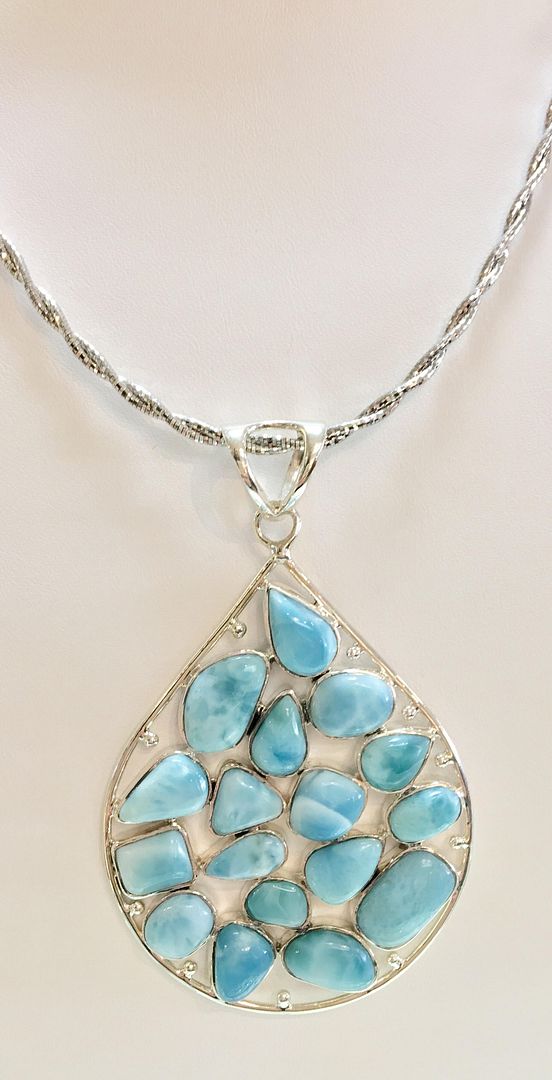 Larimar rings in sterling silver.  Prices ranging from $45 to $165.
Brand new!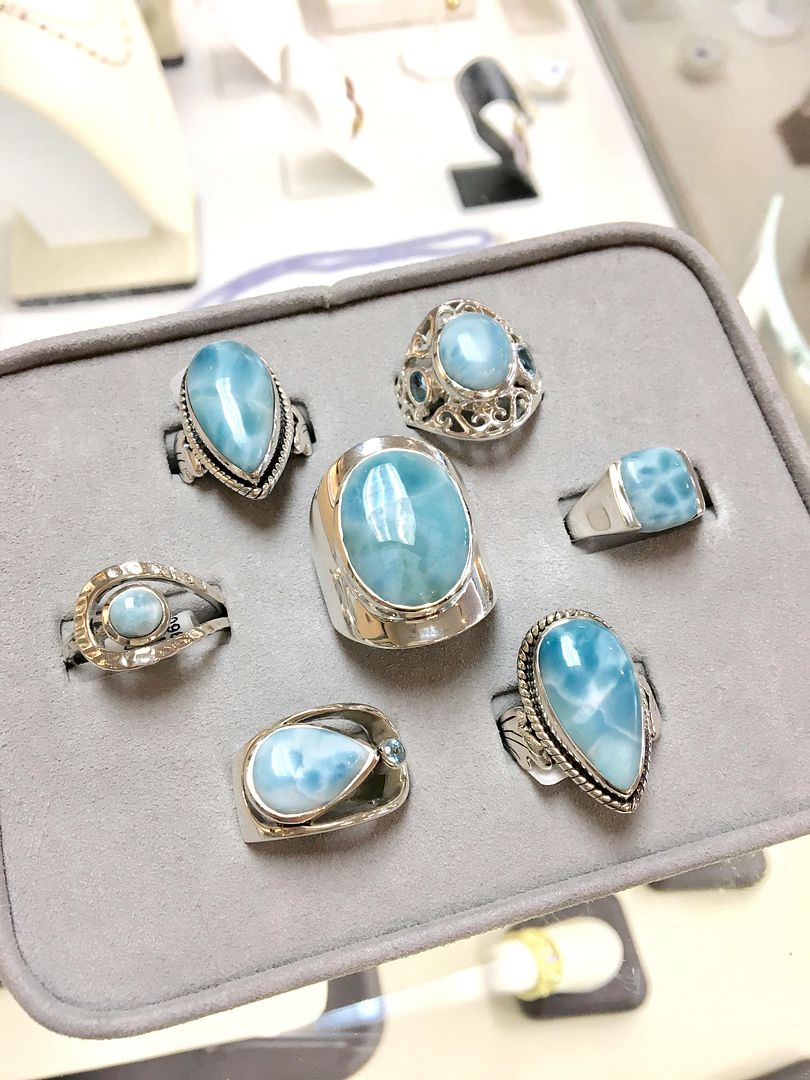 Aquamarine faceted 18-20 inch necklace.  Sale price this month $75.  Larimar faceted 18-20 inch necklace $345.  Larimar pendant in sterling silver $135.  Brand new!
Larimar earrings in sterling silver.  Prices ranging $65 to $105.
New piece, never worn.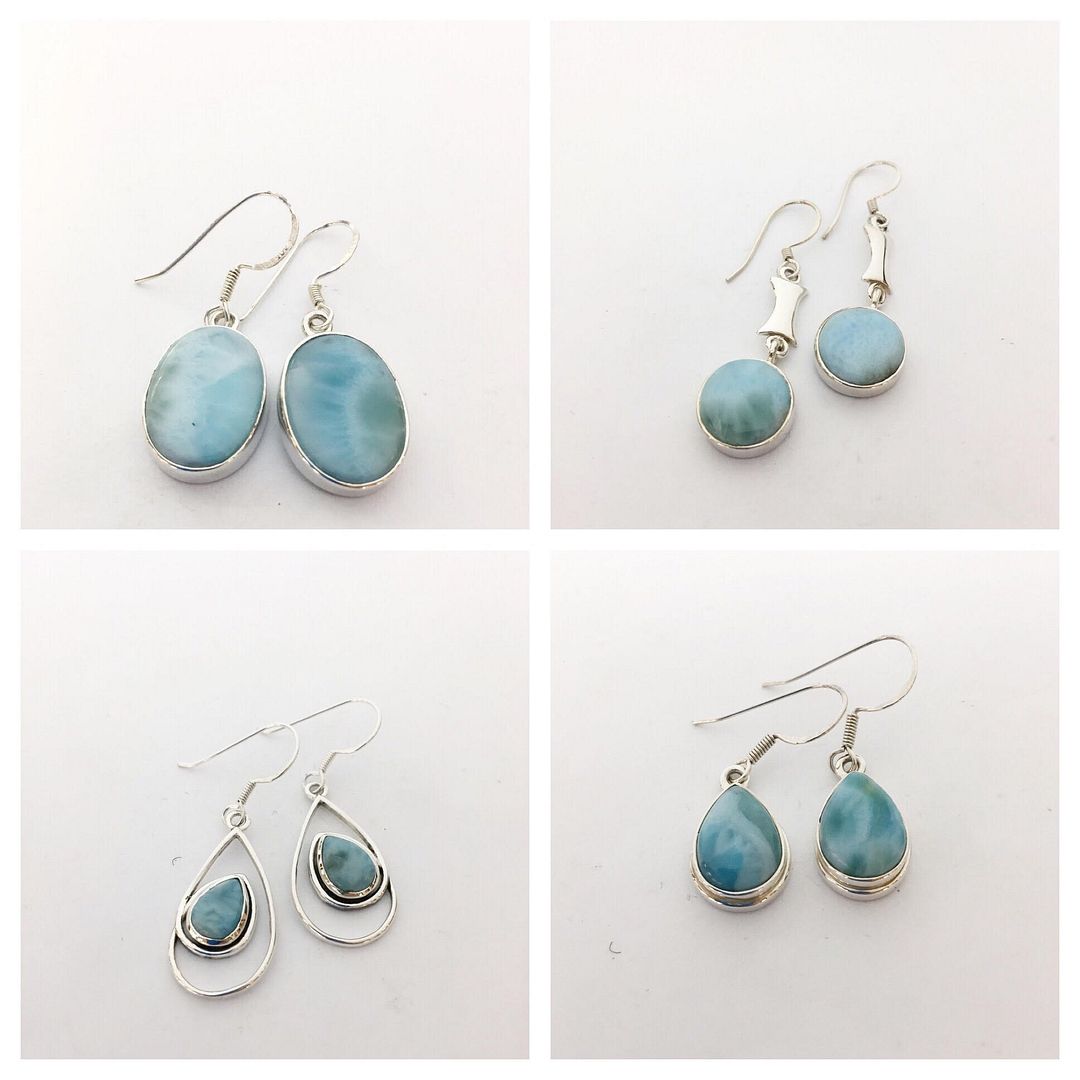 Moonstone and blue topaz pendant in sterling silver $85. 
18 inch necklace $50.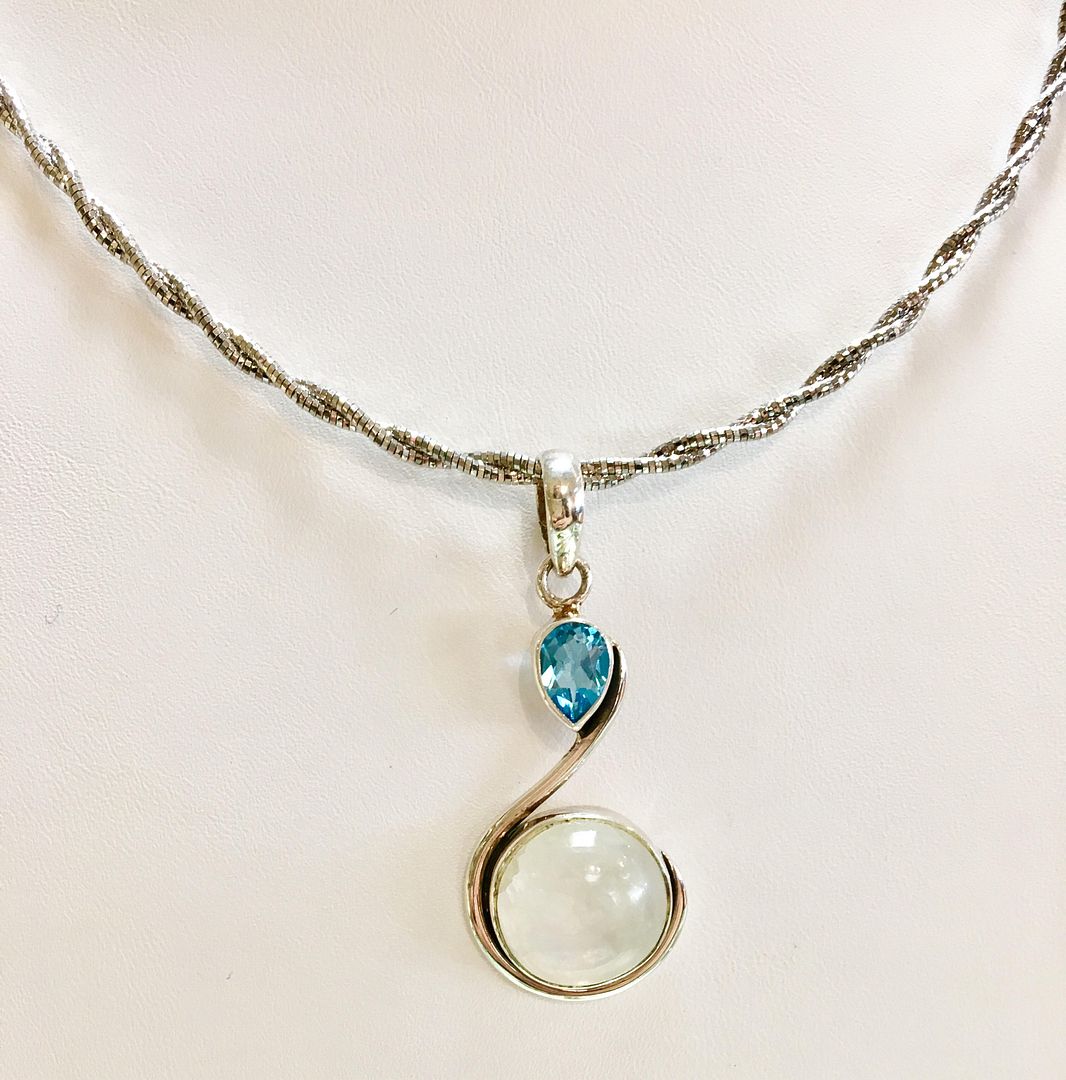 Hello all of you southern belles, these earrings
WILL FLOW at the Garden Party this year.
Citrine oval side set accented by diamonds
with diamonds in between gorgeous oval faceted with diamonds in 14k rose gold $2,675. Brand new.
Sapphires and diamond never looked so good together, this gorgeous combination of jewels set into a 14kw gold dangle earring are $2,975.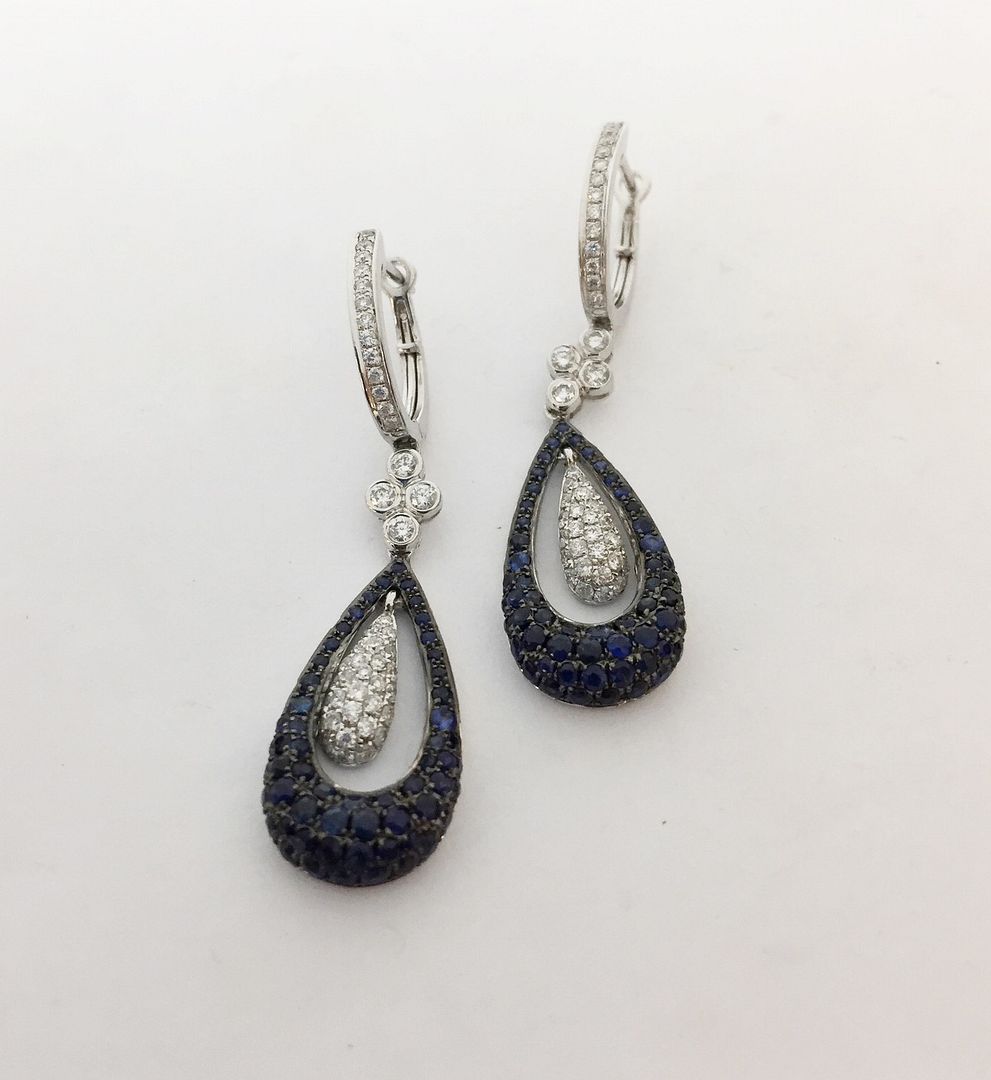 Consignor Reduced!
4ctw VS clarity F color diamond eternity band in platinum
and palladium, size 6.5. $4,195.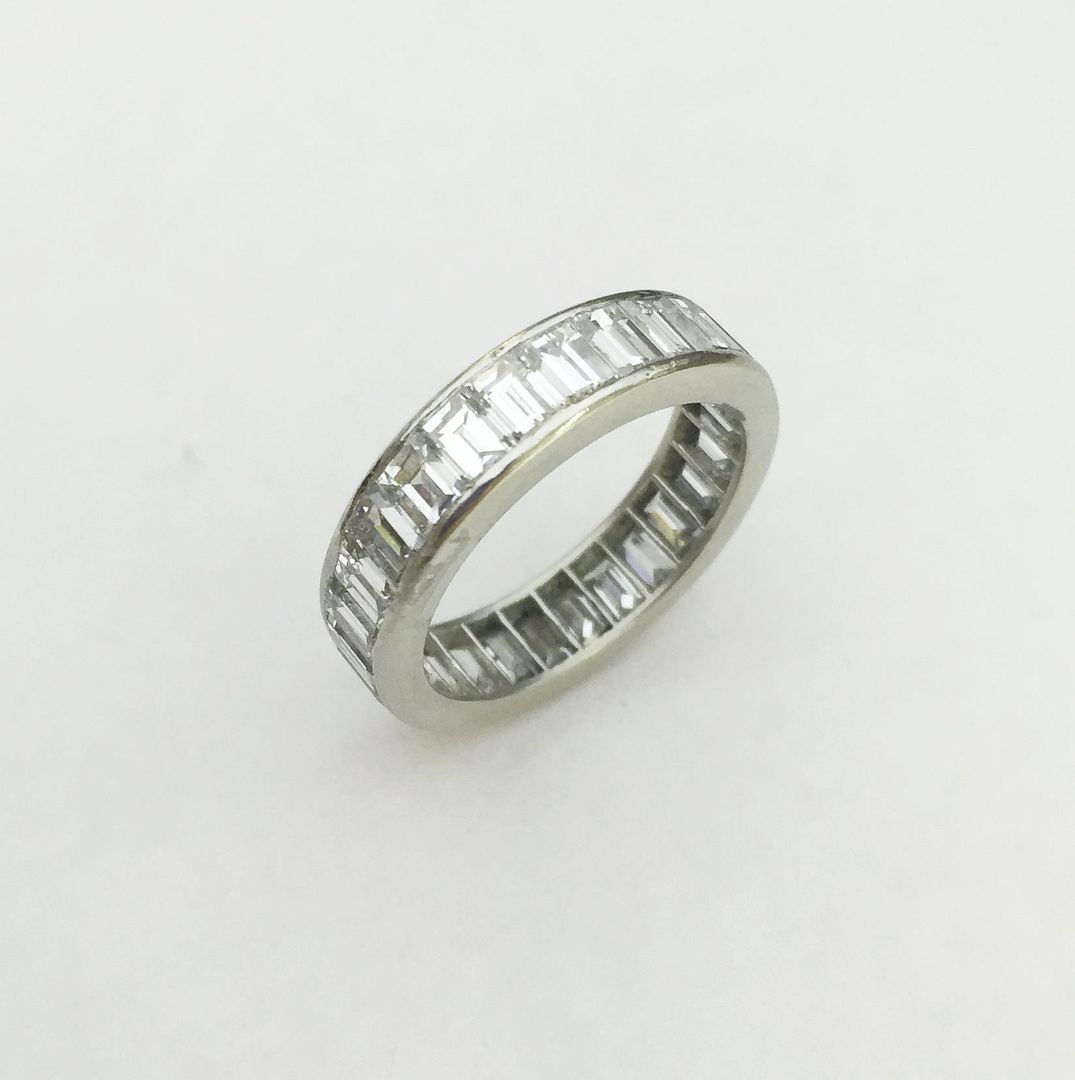 The WOWZA…2.25ct D, SI2 round brilliant diamond in a new platinum and diamond Tacori setting. 3.11 carats total.
Diamond is $19,870.  Tacori setting in platinum, it retails for $7,300,   wholesale closeout buy at $4,295. 
Brand new, never worn.
Have a GREAT WEEKEND
and thanks for reading our email!