Grab a cup of coffee and settle in for a bit…
we've got a BIG SHOW for you this week!
Consignments and new arrivals
have been coming in fast and furious
this week…we love it!
High end maker Natuzzi leather sofa with recliners on either end, $895! 94″W Matching loveseat (not shown) with one recliner, $595. 70″W This set retails for over $6,000!
This ivory slipcovered sofa retailed for $3,600,
our price just $1,295. Large scale, 89″W
Coordinating loveseat (not shown) retails for $2,800,
our price, $995. Large scale, 69″W
Both pieces are in IMMACULATE condition!  These won't last!
Round rattan and wood coffee table $395.
Dining table and four chairs from POTTERY BARN, a steal at $995!
72×42 (As shown) Also includes two 18″ leaves!
Bow back slipcovered chairs, $225 each! Four available. 
BEAUTIFUL and BRAND NEW linen 'chofa' by
MAGNOLIA HOME FURNITURE by Joanna Gaines, $1,425. 108″W.
We can special order this in other configurations, too.  
Cowhide rug, $375
VERY LARGE SCALE sailboat, $225. 48×46
SPECIAL PURCHASE…we have a PAIR of these uber comfy stressless style chairs & ottomans in beige, $595 each. 29″W.
 We also have one available in soft blue-green!
So pretty for spring…coordinating bird prints, $62 each.
18.5×23.5
Home Again is your coastal connection!
Queen bed, $450 Chest, $395. 36x17x50
Dresser w/ mirror, SOLD
Nightstand, SOLD
Blue lamps, $72 ea. 
These are super fun!! Swivel barrel chairs in turquoise,
$295 each! 36″W
Pair of light blue button tufted chairs, $425 each. 28'W
Hand painted shorebird terra cotta lamp was $295…
Now on sale for $175! GORGEOUS detail! 
These 'Southern Scents' soy candles are made locally by
Jenny Evans. All are hand poured with all natural soy wax, essential/natural oil blends, and cotton wicks!
Scents include: Love spell, sea mist, lemony verbena, french lavender, and fig & flowers. Just $12 each!  
This leather loveseat from Ethan Allen retails for $2,448…
Our price, $1,295. 64″W Absolutely like new.
Modern lovers…such a handy metal & wood three tier shelf, $345. 49.5×18.5×41.5
We ADORE these beige geometric print chairs, $265 each.
31″W
This stone top coffee table from Haverty's retails for $359,
our price, $195! 42″ diameter 19″H
Coordinating console available(not show) retails for $349,
our price, $195. 50x20x28
Solid wood side table, $145. 20x16x28.5
Just stunning…French bergere chairs by
MAGNOLIA HOME FURNITURE
by Joanna Gaines, $595 each! 32″W
This gorgeous dining set by Paula Deen retails for $2,415…
our price, $1,196! EXCELLENT CONDITION!
54″ round plus an additional 18″ leaf included!
Super fun sea turtle fine art giclee, $95. 36×24
Neutral sleeper sofa, brand new for $795! 82″W
We love this rustic pediment wooden mirror, $145 42×33
Genuine Ekornes brand stressless recliner in ivory, $995. 30.25″W
Trio of wood and metal 29.5″ barstools, JUST $50 each!
Not sold separately.
BRAND NEW "Chofa", $995! 82″W
Chaise is reversible. 
'A frame' bookshelf in black,
a STEAL at $116! 65x14x66
JUST IN! This BRAND NEW Quoizel chandelier came to us still in the BOX! It retails for $419.99…our price, $295! 25×22.5
This heavy duty industrial bar cart retails for $825…
we have it on sale for $495!! 
Large scale, 54x20x42
We have a PAIR of these soft grey accent chairs for $295 each.
26.5″W
Just in… a pair of these aqua swivel chairs,
brand new for $425 each!
Adorbs, $62 each! 25″H
Super-duper cute shabby chic dresser with mirror, $275!
43.5x20x66  Phone orders accepted, 910 679 4302.
GORGEOUS modern turquoise chairs,
two available at $295 each! 31″W
Glass and chrome console,
on sale for $225! 53x18x34.5
Distressed shabby-chic white dining table, just $295! 48″ diameter
Updated wingback chairs, $420 each! 28″W
Another vibrant sea turtle giclee, $62. 16×20
This striped coastal colored sofa retails for $1,100 and was purchased less than a year ago! Our price, $695! 84'W
Sorry, coffee table has sold!
We have two of these blue button back chairs, $395 each. 30″W
White futon with chrome legs, $395 72″W
This solid wood wine cabinet retails for $1,125…
ON SALE NOW for only $550!
37x18x73
Smaller scale ivory sofa, just $425! 74″W
Coordinating loveseat (not shown) $375! 52″W
Red storage ottoman, $225. 50×19.5×17
Oval wicker coffee table with glass inlay, just $125! 48x24x18
Crabby chic anyone? $95 each! 28″H
This palm tree swivel chair was purchased
less than a year ago, like new condition! $245. 30'W
Cute white self, just $95! 16.5x9x53
Don't we all wish to be mermaids? $62 each, 16×20.
Also available in 5×7 for $18 each!
Some one is going to get a DEAL on this rattan chair
with ottoman for just $165! 37'W
DEAL TIME! Oval glass top coffee table, $95. 48x32x20
TWO matching side tables available, $65 each. 24×24
Handsome loveseat with dark brown piping,
in great condition for only $175! 61″W
We sure did feel the LOVE during our Nina Nguyen trunk show.
Thank you all for coming out!
JUST IN…designer pieces for less! 
Slane bee pendant and Tiffany & Co. starfish omega back earrings.
Click on this picture to see more.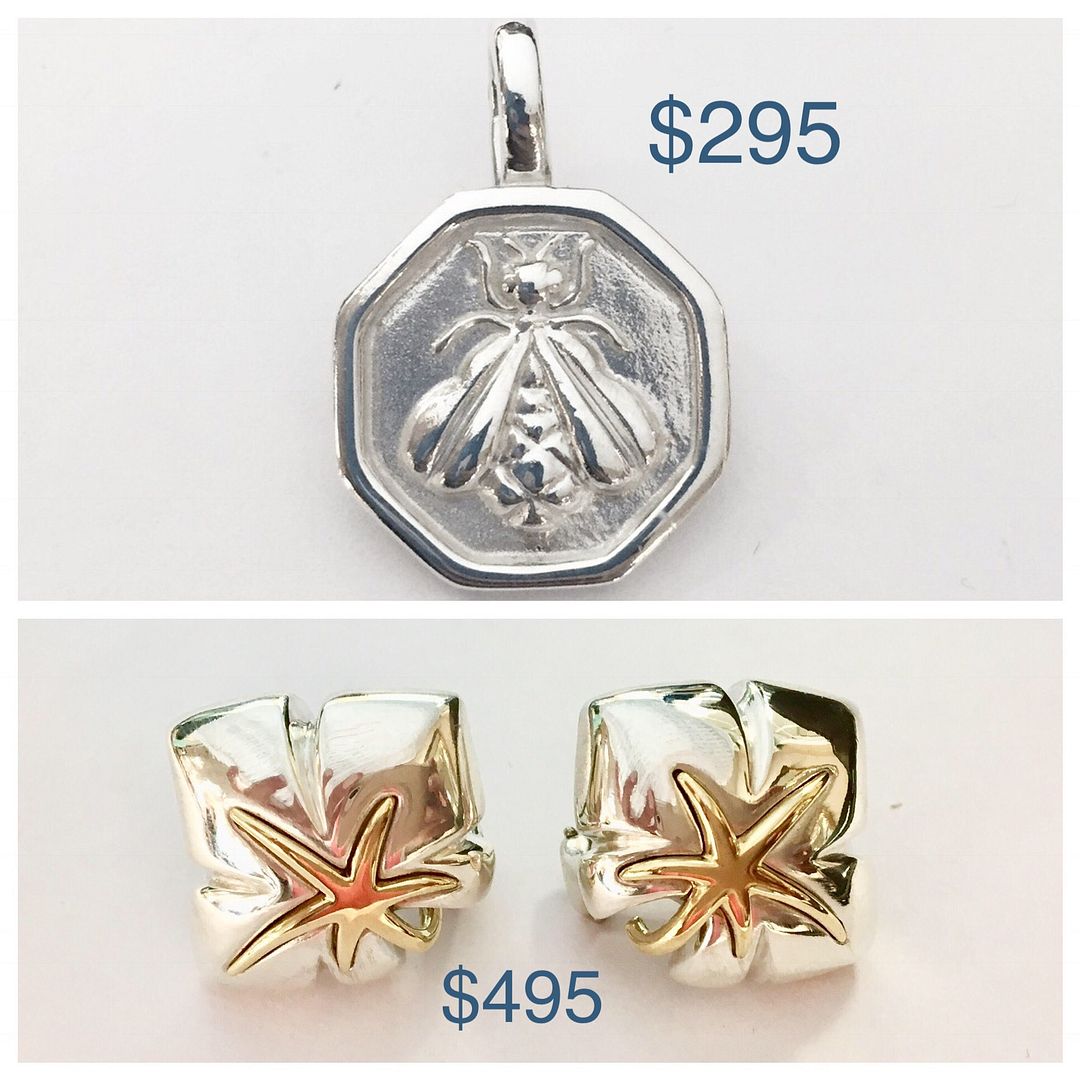 John Hardy on consignment.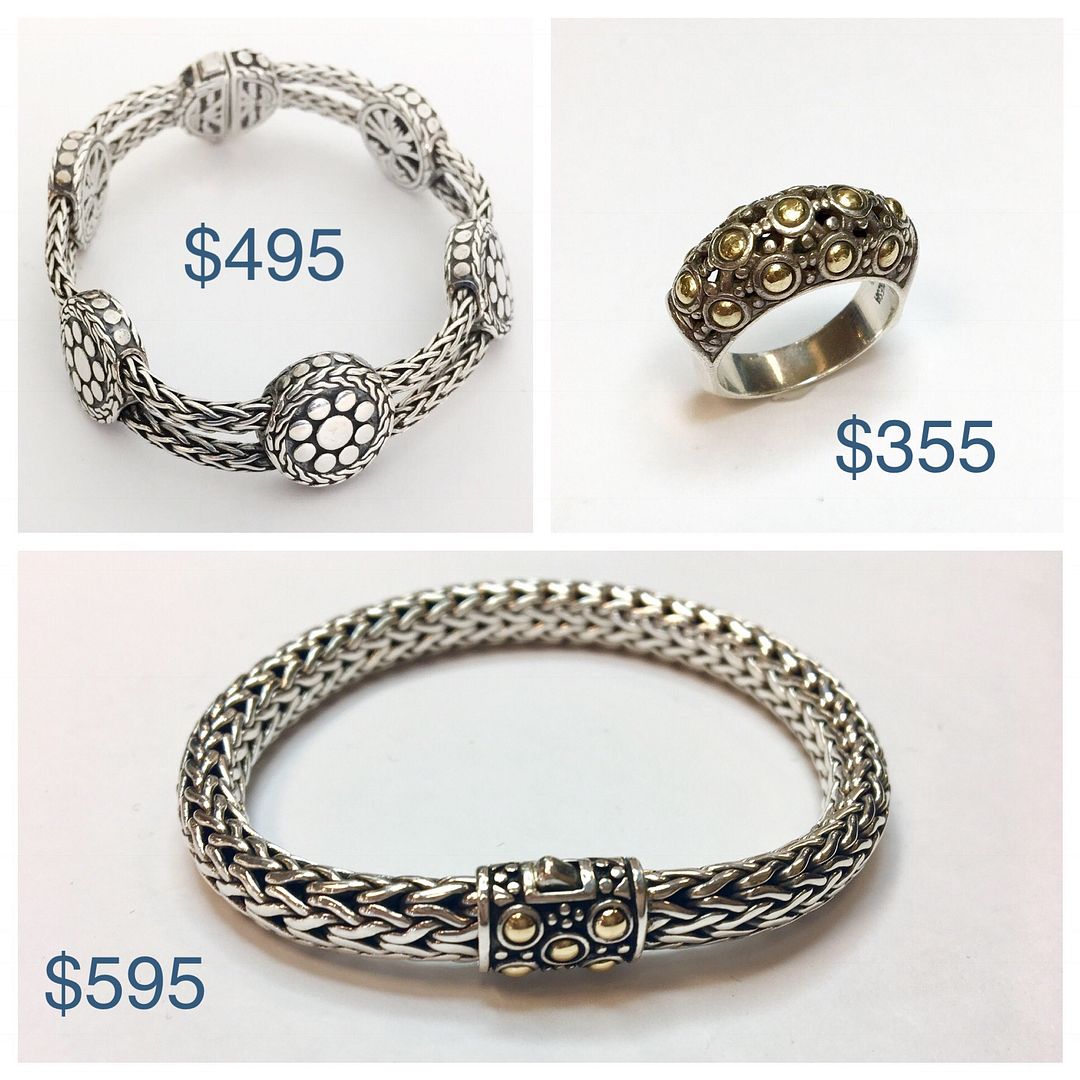 Charles Garnier earrings just in for half the retail price! 
Click on the picture to see more.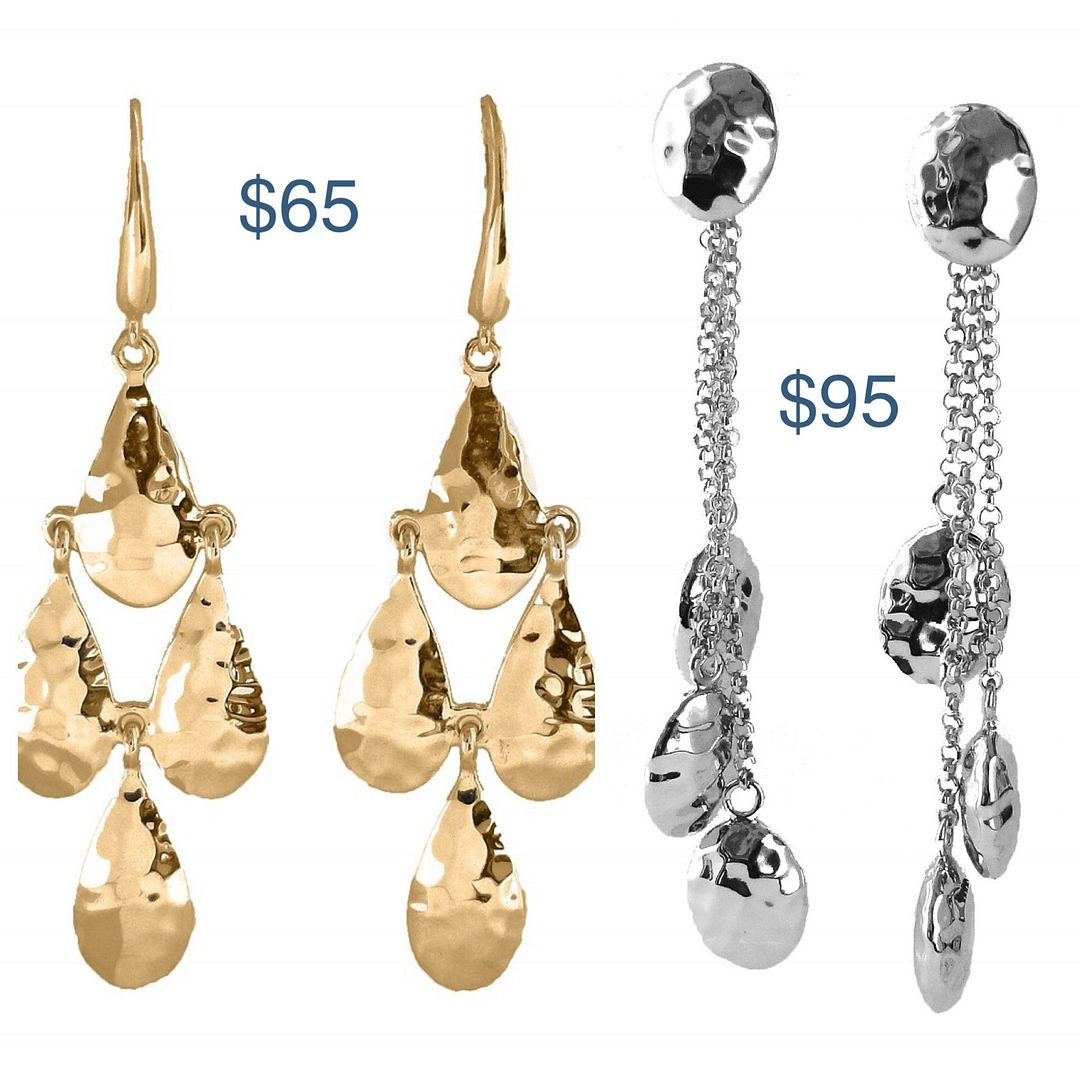 We also have GIA certified diamonds in stock.
Check out these amazing prices. 
A GIA certified natural ruby ring for less…natural sapphires too.
Check out the prices on these 14k gold bracelets.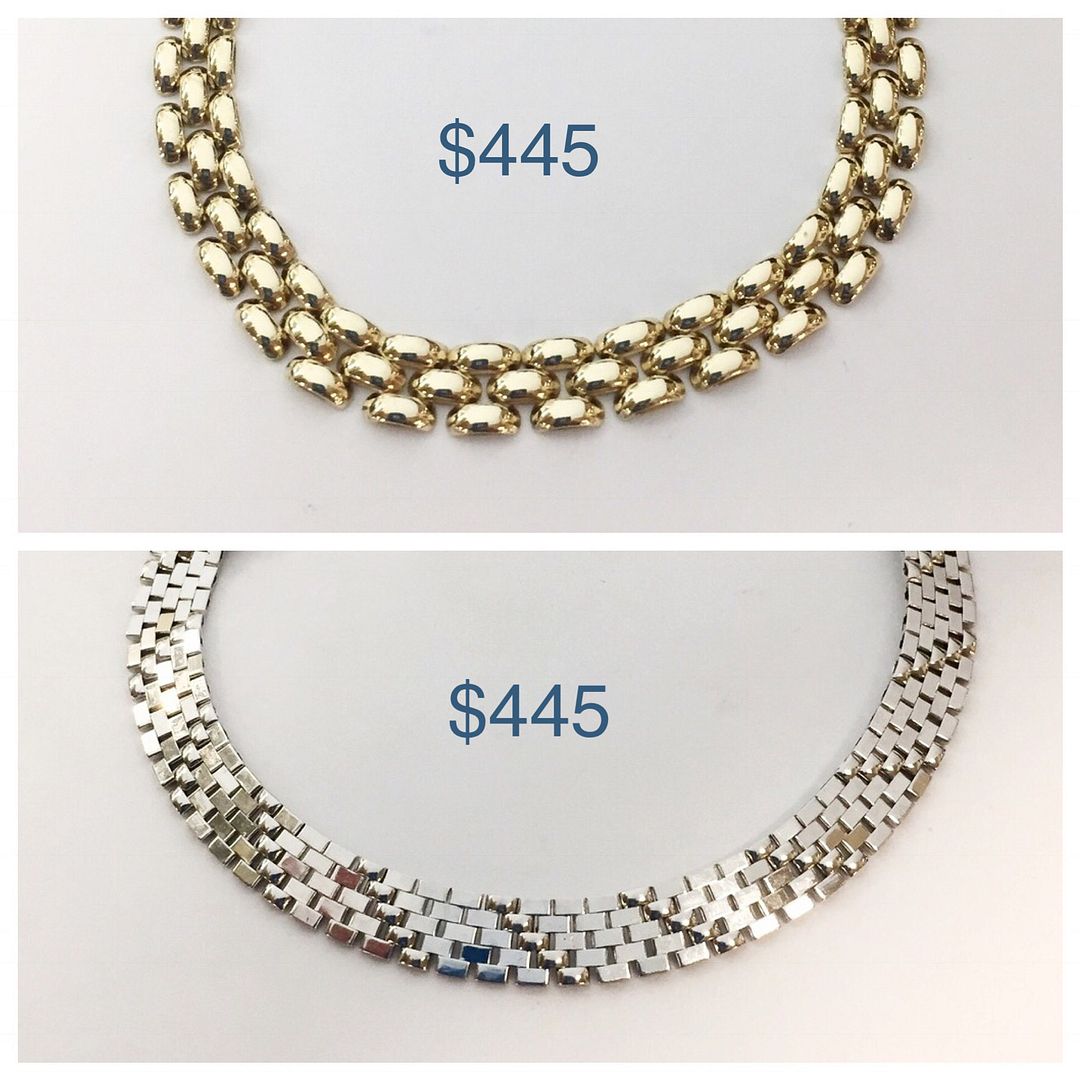 Didn't make it to the Nina Nguyen trunk show?
  Don't fret, due to numerous customer requests, Nina is letting us keep the pieces from the trunk show until the end of the month.
Nina Nguyen "solar quartz" is the agatized quartz
from stalactites.  Earrings 14ky gold $395.
Pendant 14ky gold $155. Necklace is 34 inches, 14ky gold $645.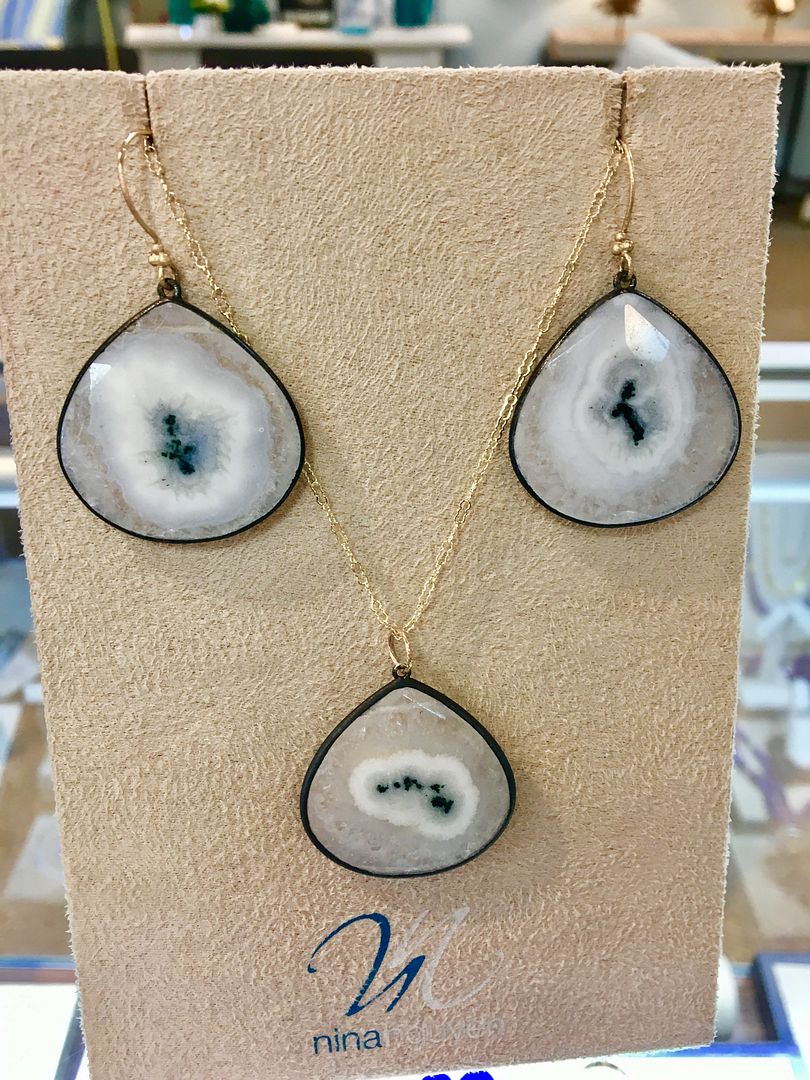 Perk up your wardrobe with layers.
Moonstone and oxidized sterling silver necklaces
from $275 to $1,995.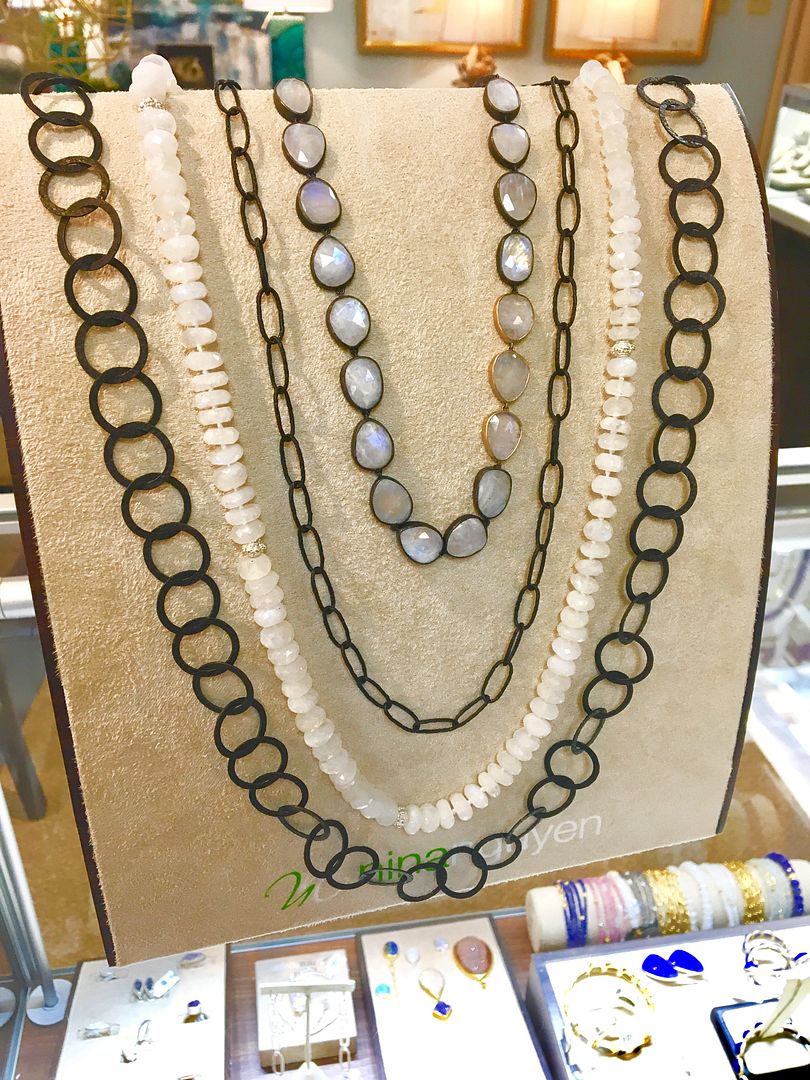 Moss agate get its name from the dendritic inclusions of manganese or iron that has grown into patterns similar to moss.
These are all set into 14ky gold.
Stud earrings $315. Dangle earrings $675.
Side set necklace $1,115.
Pendant $555.  14ky gold 32 inch chain $635.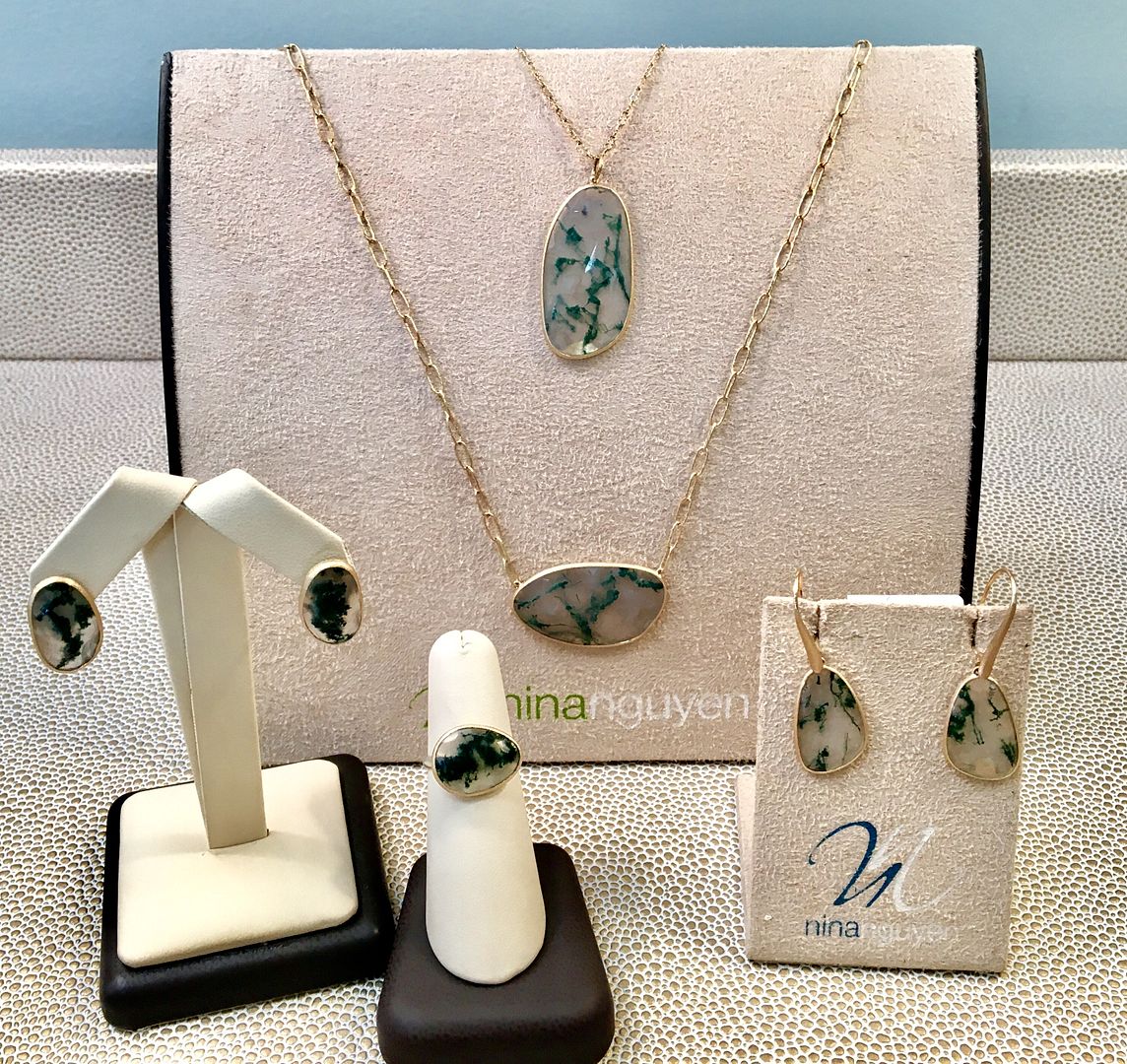 Did you know that tourmaline can grow inside of quartz? 
Naturally these two gemstones grow together. 
All of these are set into 14ky gold.
Studs $325. Dangle earrings $675. Ring $325.
Druzy jewelry from Nina sparkles like diamonds.
Prices ranging from $155 to $235.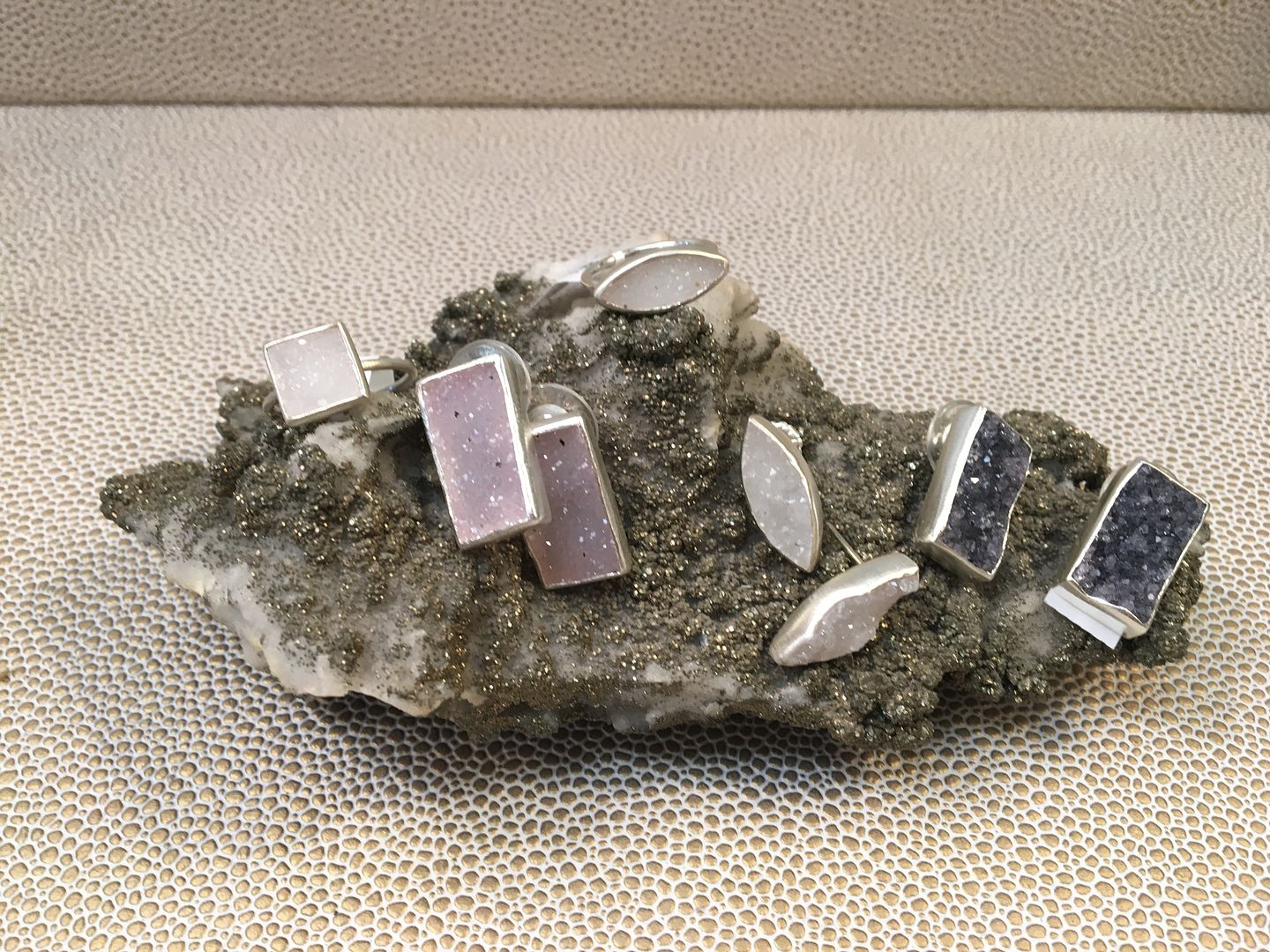 You can't go wrong with sterling silver hoops and long necklaces.
Hoops $196.  Marquise link necklace 32 inches $316.
Hammered circle 32 inch necklace $476.
These crescent Nina hoops glow brighter than the moon.
Small to her staple OMG size.  Prices range from $135 to $235.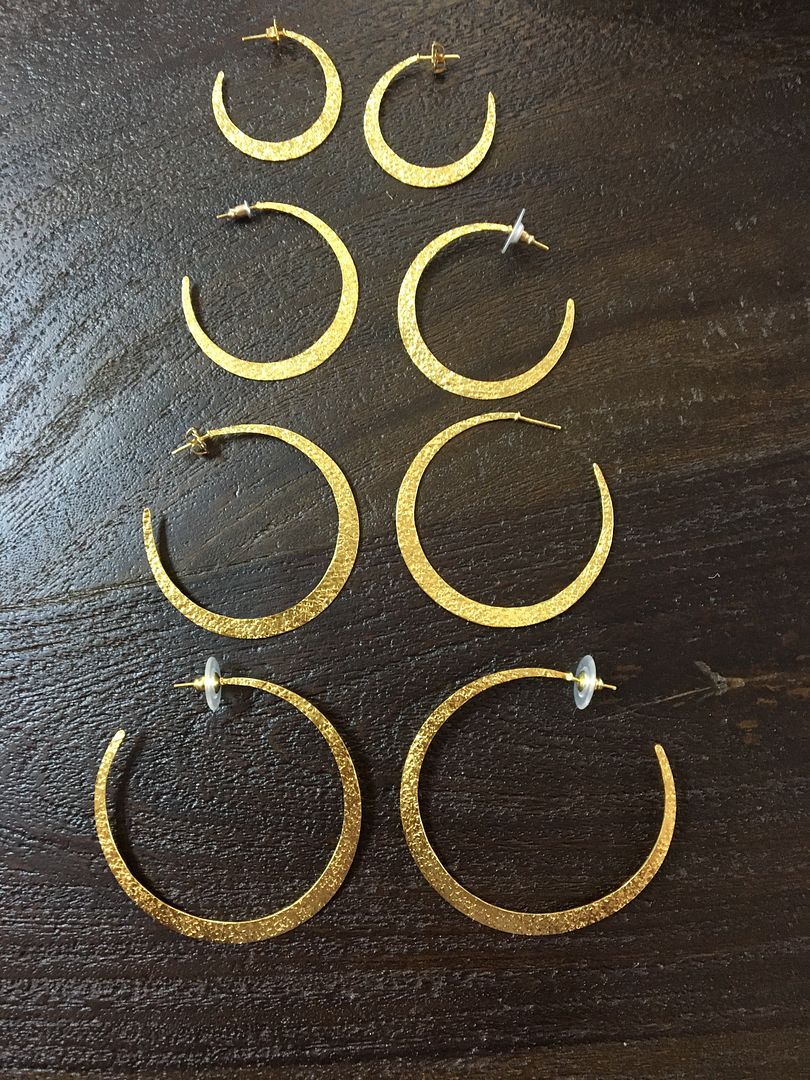 RED, HOT & BLUE…
Spencer loves Nina jewelry!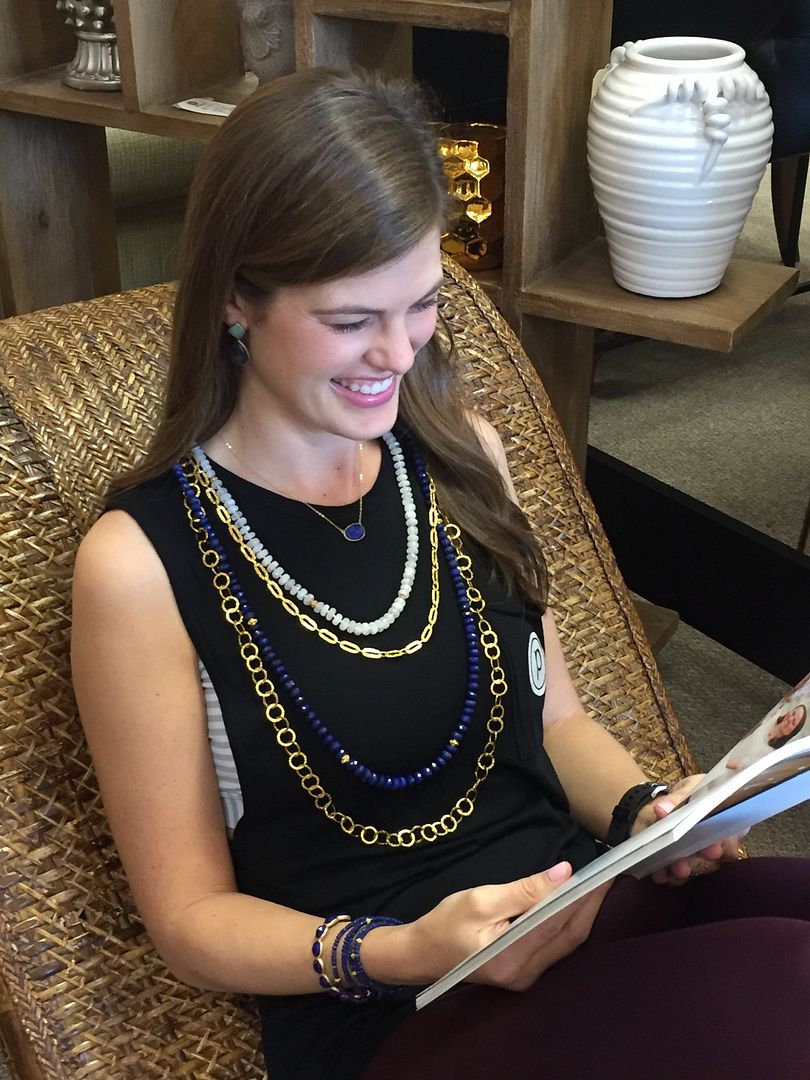 Take your pick or buy all four.  $395 each.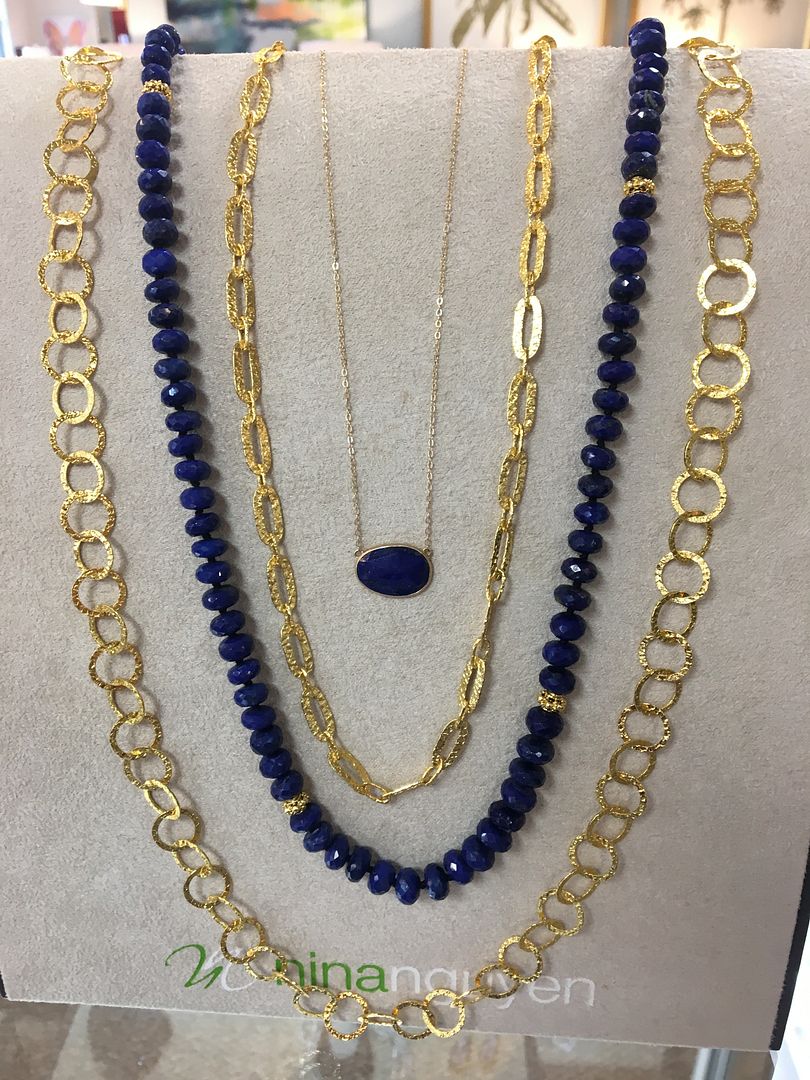 Lapis looks so good in yellow gold.
Hoop earrings $1.200.  Dangle earrings $680.  Studs $305.
Cuff $1,355.
Nothing is more precious than sapphire jewelry.
Studs in 14k gold $380. 
Dangles with green chalcedony in 14k gold $720. 
Sapphire faceted beads with marquise shaped geode necklace $395.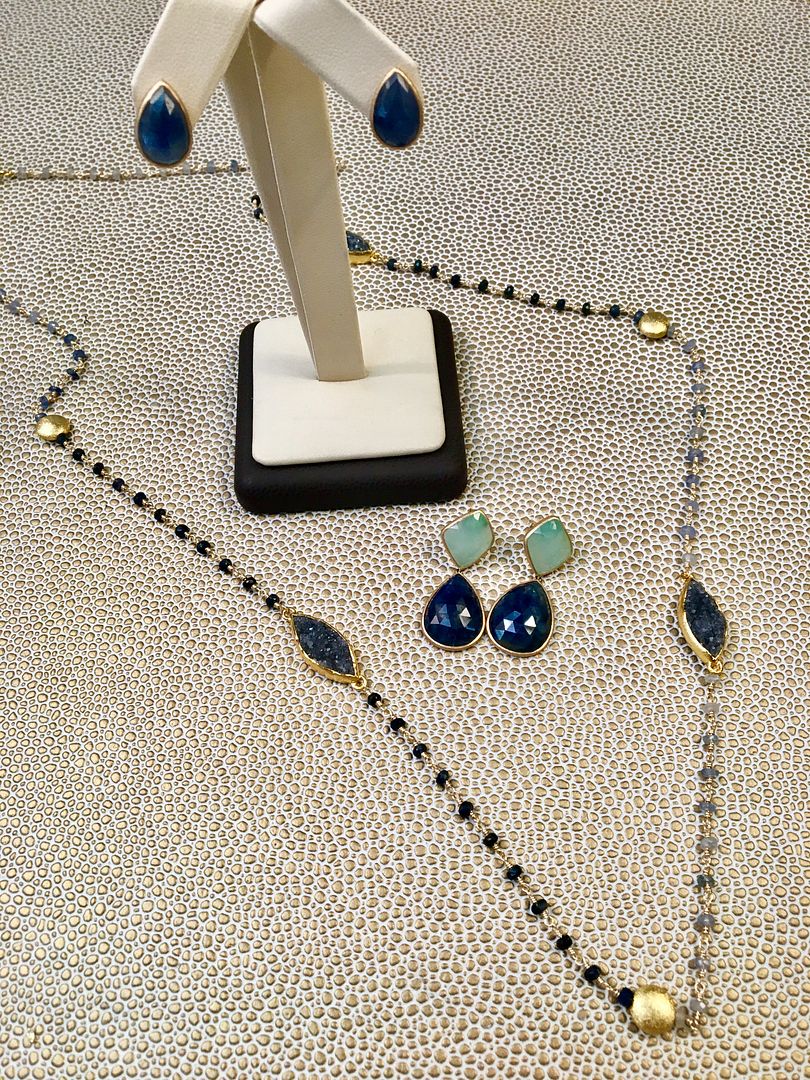 This match is perfect for the beach girl.
Earrings in pearl and turquoise $396.
Turquoise necklace $555.
Perk up that smile with rainbow moonstone, opals
and diamonds in 14ky gold.
Dangle earrings $396. Rainbow and opal necklace $1,445.  Three opals with rose cut diamond necklace $1,925.
More opals…
Prices ranges from $235 to $480.
Just in time for the March birthdays.
We have these aquamarine Nina Nguyen pieces for
your March baby. 
Necklace $235. Studs $315. Ring $392.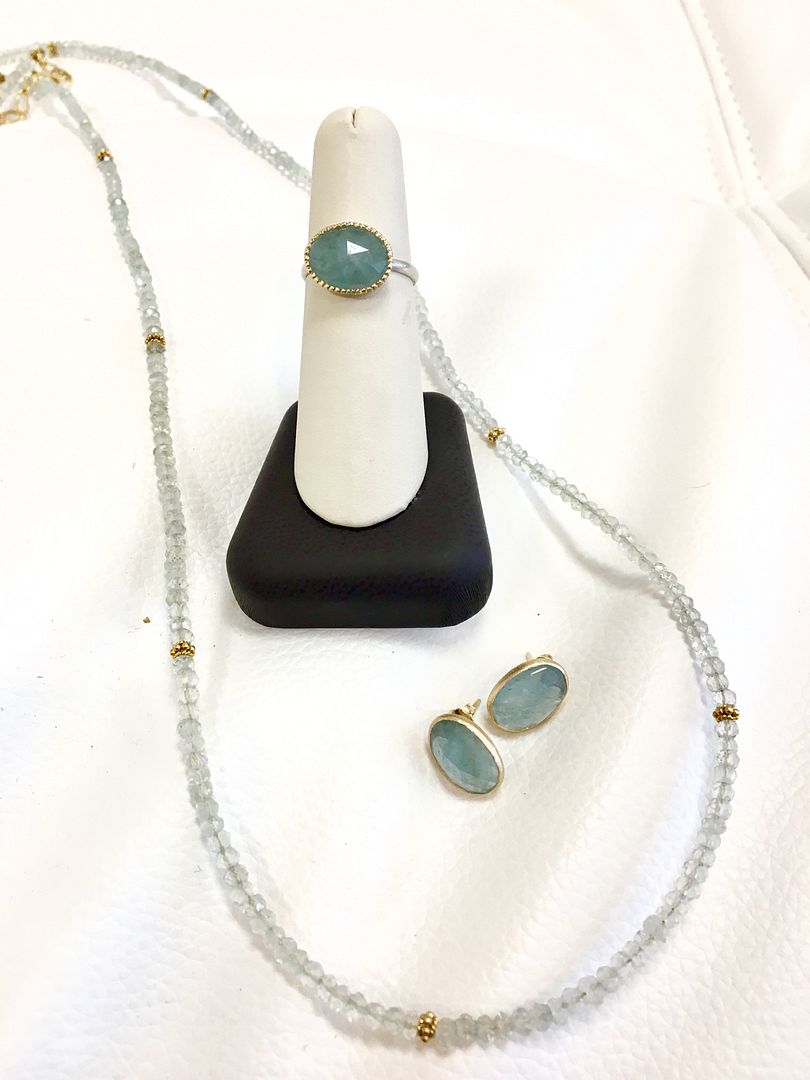 ~~~~~~~~~~~~~~~~~~~~~~~~~~~~~~~~~~~~~~~~~~~~~~~~~~~~~~~~~~~~
Whew…hope you enjoyed this week's BIG SHOW…
come see us this weekend to see all these
gorgeous pieces in person!  
~~~~~~~~~~~~~~~~~~~~~~~~~~~~~~~~~~~~~~~~~~~~~~~~~~~~~~~~~~~~