You know the old saying…
'OUT with the OLD and IN with the NEW'.
It is true that most of us want to make changes in a brand new year, so look around the house to see what you have to consign and get your home
freshened up for the new year ahead!  
~~~~~~~~~~~~~~~~~~~~~~~~~~~~~~~~~~~~~~~~~~~~~~~~~~~
Whether you're buying or selling…
come see us, we got you! 
~~~~~~~~~~~~~~~~~~~~~~~~~~~~~~~~~~~~~~~~~~~~~~~~~~~
Just in…a SPECTACULAR dining set
by Stanley Furniture…
Click this image to take a video tour…
Here we are showing it in its extended size with all 8 chairs!  
In immaculate condition for $2,495. 82.5″ diameter reduces
to 62″ with remove-able leaves.
Comes with table pads and leaf covers.
Here is a close up of the coordinating Stanley buffet
that retailed for $2,140, our price $895.
76x15x58
And finally, the coordinating Stanley etagere which
retailed for $1,150. Our price $525.  48.5x16x60
Notice the cool hardware, too!  
Huge abstract with ahhmaazzing color, $425. 72×48
Crystal buffet lamps, $75 each.
~~~~~~~~~~~~~~~~~~~~~~~~~~~~~~~~~~~~~~~~~~~~~~~~~~~~~~~~
We interrupt this message…
to ask you to PLEASE VOTE for Home Again
in the Best Resale Home Decor category
in Encore Magazine!
CLICK BELOW TO VOTE!
http://www.encorepub.com/2017-best-of-nominations-are-open/
Just a note…it may not take your vote if you 'auto-fill' your
email address and phone number when you enter.  
Make sure to enter your information manually.  
~~~~~~~~~~~~~~~~~~~~~~~~~~~~~~~~~~~~~~~~~~~~~~~~~~~~~~~~~~~~~~~~~~~~~~~~~~~
Whoa nelly! Also from the same luxury home…this is the largest silk tree that we have ever seen! $275, 10′ tall.
Beautiful metal cage chandelier only $225!
18″ diameter and 17″H
These won't last!  
Cheetah chairs $295 each, 29″W.
A super pretty turned leg dining table in oak for $450.
64×42 as shown, goes to a 64″ square with leaf.  
Black framed vibrant abstract $295, 44.5″ square.
Sorry, orange lamps are sold!
Check out this updated wing chair with a world map motif!  
Two available, brand new for $425 each! 30.5″W
A super nice wood console in great condition, $275.
56x18x30.5 Lamps $75 each,
NDI floral arrangement $125.
Uber modern dining table in graphite, $895. 82×40
This sofa is so elegant and a super buy at $795. 86″ wide.
Just $295 takes home this nice drop-leaf
pub set. 42″diameter table when extended.
A high quality and large coffee table with
genuine leather inlay, $325. 
43.5×43.5×19.5
This cleaned lined grey sofa is brand new and waiting
to go home with you for $595, throw pillows included! 80″ wide.  
By Hooker, this kidney desk is in absolutely like-new condition
and a steal at $795.  75x34x30.5
Complete the look with this Hooker executive swivel
chair for $245. 25″W 
Look how lovely these pieces looked in the consignor's home.
We received the large framed chart, too, keep reading!
This nautical chart details the coast from
New River Inlet to the Cape Fear.
It retailed for $500, our price just $325. 44×54 
This light grey sofa is soft and pretty for $595. 93″W 
This large scale coffee table in warm cherry
is an excellent deal at $175. 52x32x19.5
And we also have the end table for $125. 20x28x25
ON SALE! This turquoise beaded chandelier was $395…
now only $275! 17.5″ diameter and 26.5″H
Great looking king bed by Broyhill that retails for $835,
our price is $625 and it's brand new!
Rattan chairs $265 each. 
A pair of super sharp cobalt abstracts framed in sleek
silver, $125 each. 24.5×33.5
More sofa goodness in the palest of greys,
throw pillows included!  $795. 98″W
We like this dramatic look…
horizontal abstract, $202. 65×30
Designer lamps, $112 ea. 31″H
In SOLD TEAK…come grab this QUALITY set for $595!
53×35.5 (as shown) extends to 93×35.5
Queen S L E E P E R sofa in pale aqua
leather blend, $995. 85″W
Nearly 4′ tall…make a statement with this beautiful
large turquoise and brown vase $125. 46″H
Check out the clean lines on 
ivory bonded leather sofa, just $795. 82″W 
Soft pale aqua sofa with coordinating pillows
just $695. 82″W
Neutral, but NOT boring grey sofa,
a great buy at $595. 80″W
Modern side table $75, 12x19x22
Stay tuned for the TOP TRENDS for 2017
from Lumina Gem!
#1 jewelry trend for 2017: Mixing Styles
Stacking bracelets has always been on trend but mixing
styles with classic and trendy is SO POSH.
Pricing here ranging from $375 to $19,995.
(Click on the picture to see all the bracelets that we have in-stock)
These two pieces are on two totally different spectrums
but look so great together.
 3ctw SI clarity G color diamonds set into X omega
back 18ky gold earrings $4995.
Druzy and amethyst geode with 22ky overlay
Nina Nguyen necklace $315.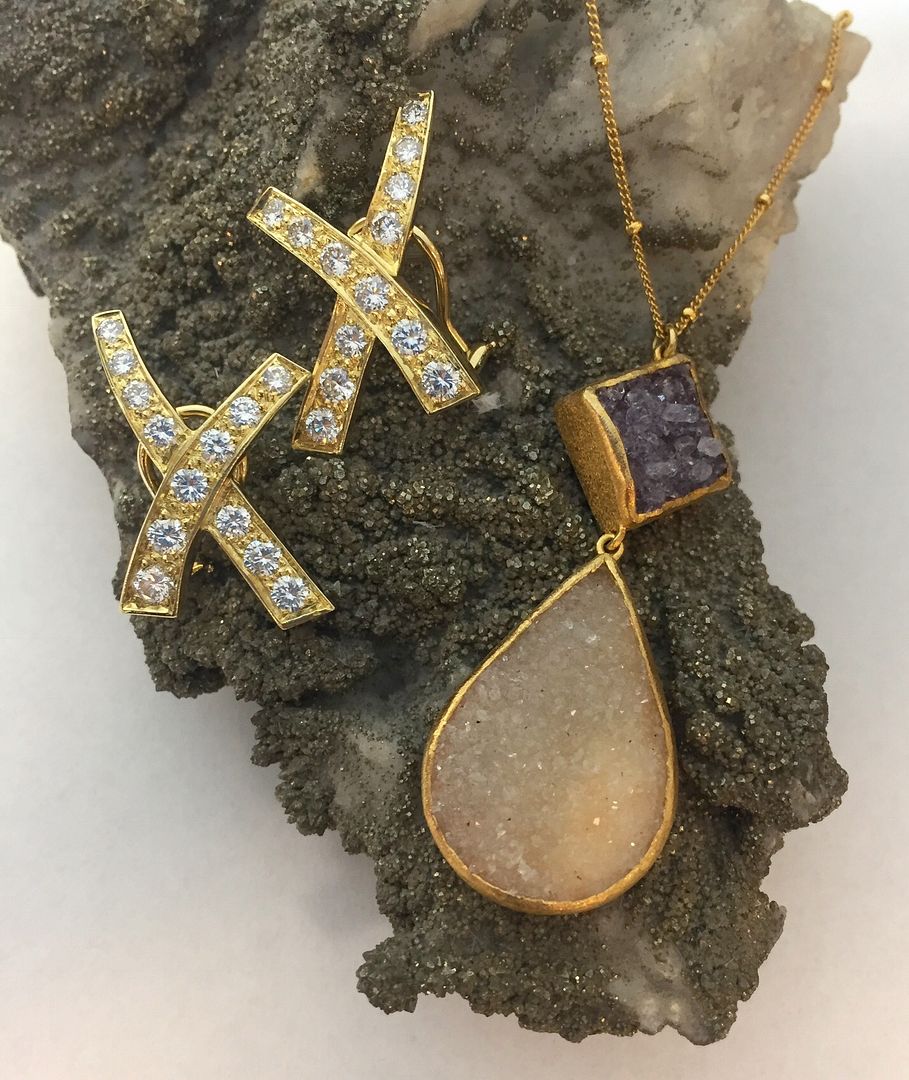 Mixing Nina Nugyen jewelery with diamond bands?  YES!
Druzy marquise ring side set into sterling silver $195.
Diamond bands that we have in stock range from $295 to $9,500.
Labradorite necklette in sterling silver $395.
JUST IN on consignment…and ALWAYS in style…
David Yurman!
11mm blue topaz diamond Albion ring with pouch.
Retail $1050, buy here for $695.
David Yurman 4mm wheat chain 16 inches $195.
 11mm blue topaz diamond albion enhancer $795.
#2 trend and one of Lumina Gem's favorites:
Big, Bold & Bohemian
This Tony Maccabi piece is so cool with a bright blue chalcedony accented by 18ky gold set into sterling silver. 
This big, yet comfortable ring is only $675.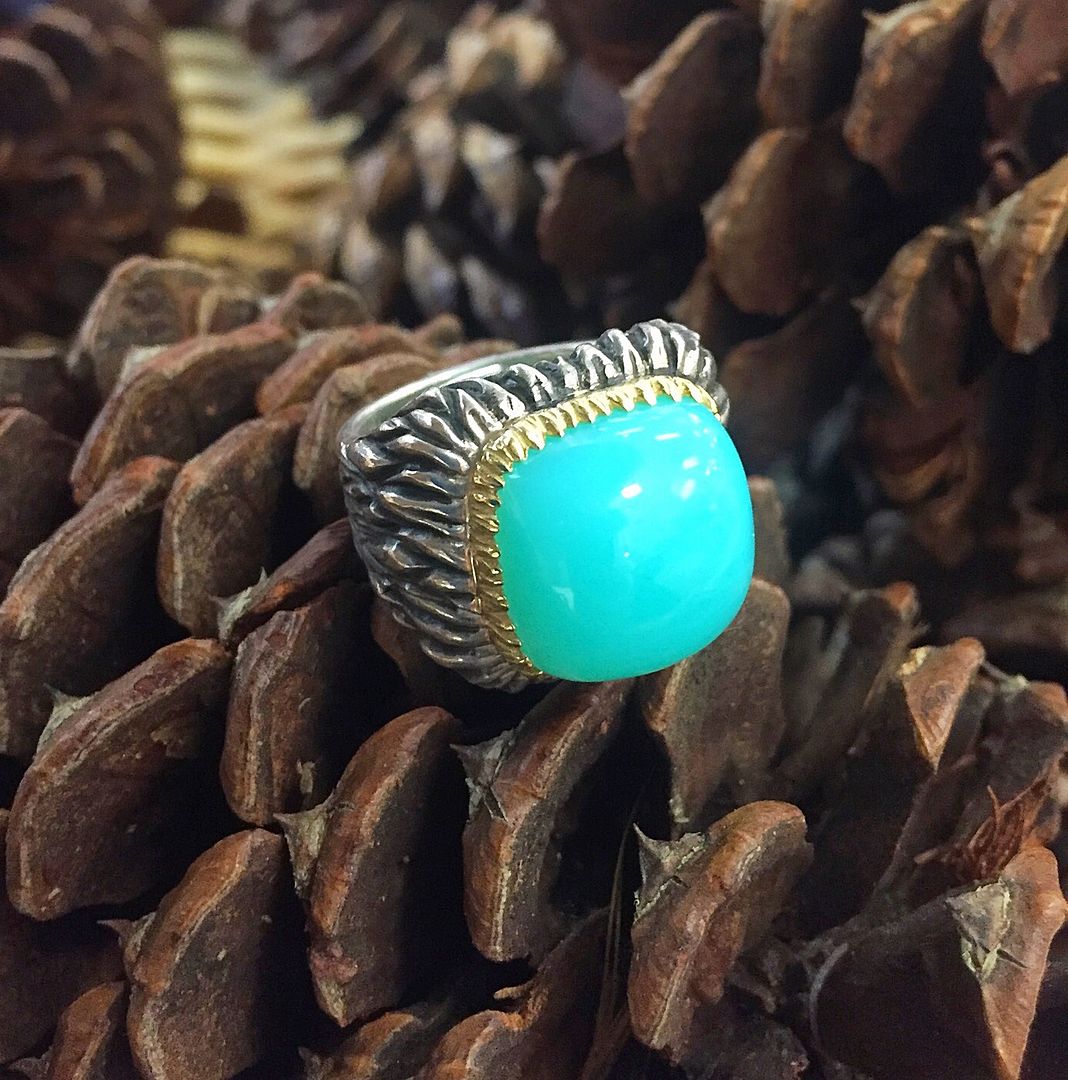 These rings are so unique:  (l-r)
Sleeping beauty turquoise inlay in 14ky gold made
Albuquerque area about 1970.  The relief shows a Pueblo
building with rays of sunshine $1,895.
Natural jade oval set into a wide antique 18ky gold ring $695.
Diamond and Ruby dome cluster ring in 18ky gold $2,325.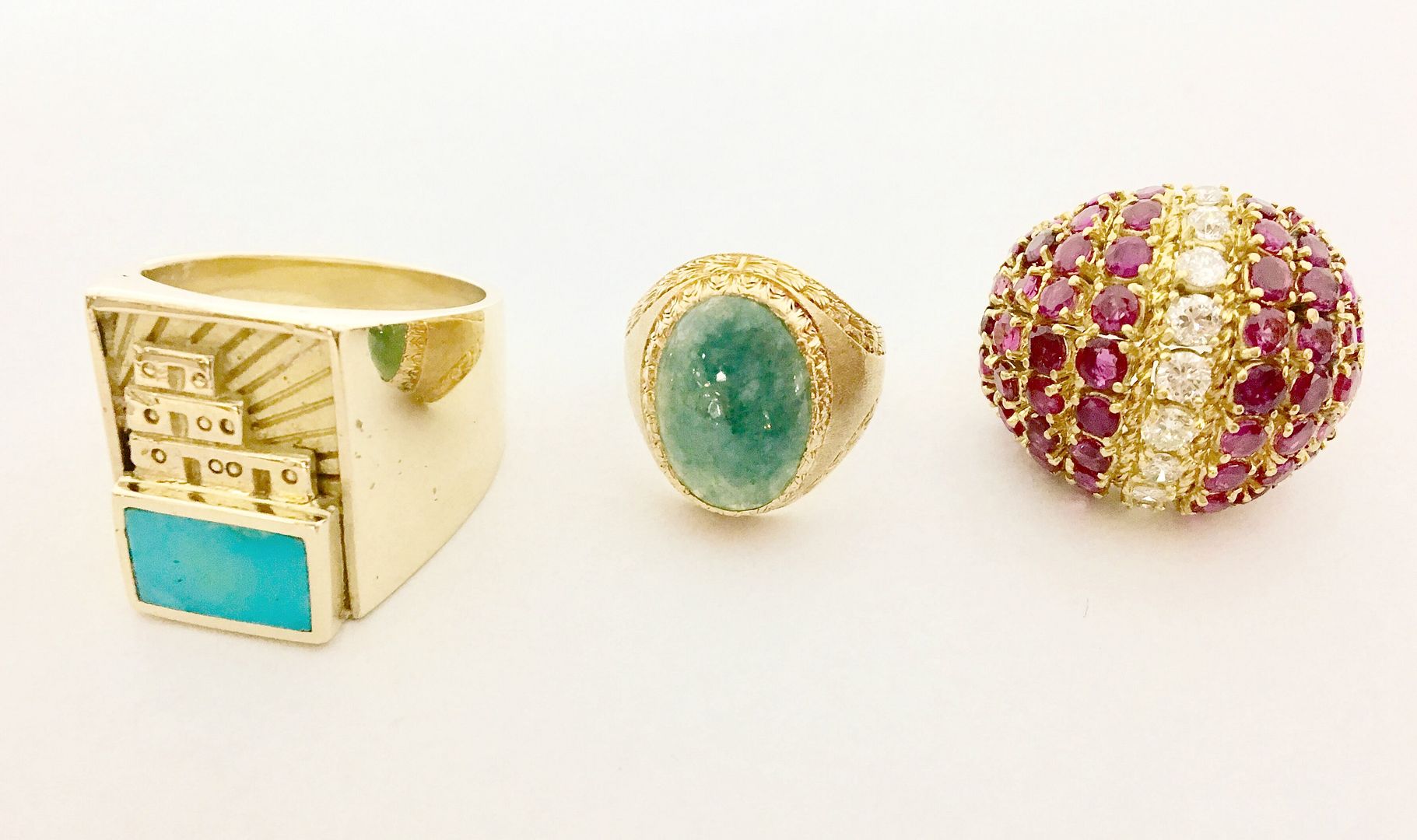 JUST IN on consignment…
Reversible necklace and bracelet alternated with
18ky gold links and sterling silver links.
Necklace, 20 inches $1,565.
Bracelet, 8 inches $1,015.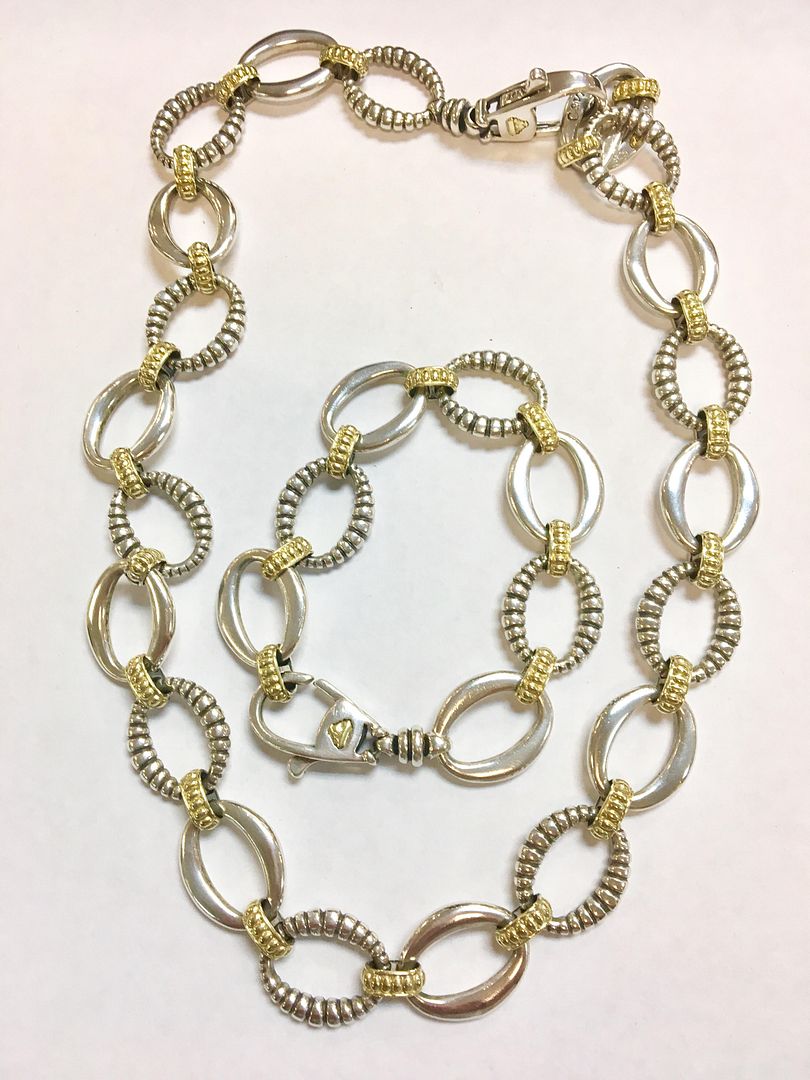 Reversible to all sterling, two in one.
#3 2017 trend: Enormous Cuffs
This John Hardy sterling silver bamboo cuff is $1,075…
40% off of suggested retail.
Nina Nguyen offers our customers an affordable way to stay on top of every trend like this 55mm boulder opal cuff $795 that can be ordered in a narrow 30mm for only $395.
More….JUST IN on consignment: LAGOS
(l-r)
 6mm Caviar bracelet, 7.5 inch $195.
Reversible two tone 18ky and sterling silver links $1,015.
9mm Caviar bracelet, 7.5 inches $275.
#4 style for 2017:  A Play on Fabrics
Metals that look like fine fabric are all the rage for 2017.
Oro de Sol designer sterling silver ribbon mesh style 18.5
inches for only $165.
"The Elvis necklace" rumored to be from Elvis has a satin,
layered look in solid 18ky gold $8,175.
22ky gold crepe style cuff, 71 grams $4,495.
Adjustable buckle bracelet with diamonds
and rubies in 14ky gold $2,795.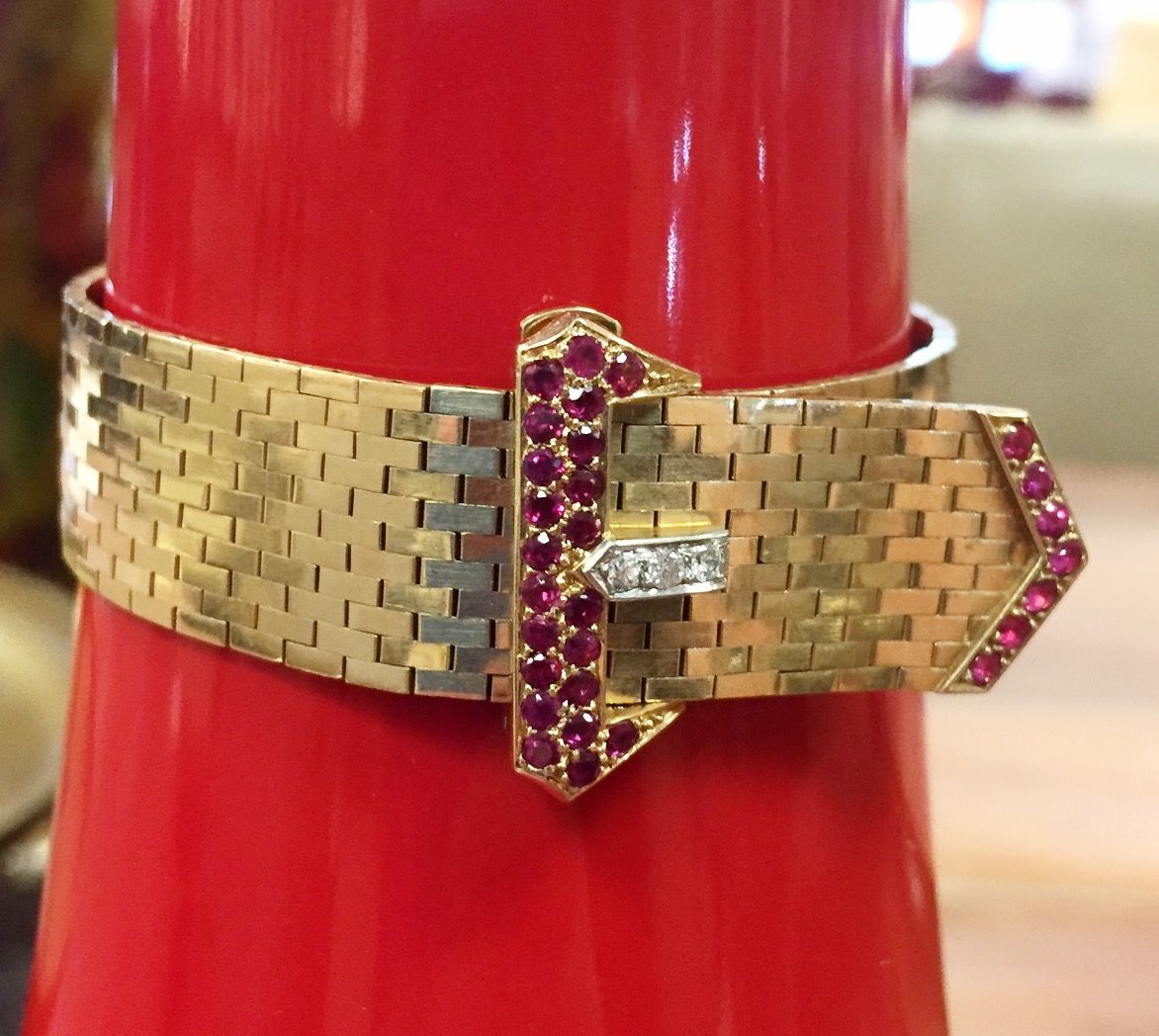 JUST IN on consignment….
Lemon citrine designer piece with sterling silver ring and
14ky gold accent around the setting $625.
Alwand Vahan on consignment is a steal at $845.
#5 for 2017: Eclectic Jewelry
Meaning: deriving style from a broad range of sources.
This Tony Maccabi piece is set with an aquamarine and a
diamond in 14kw hammered gold in a bypass style for a
ancient but modern twist for $1,195.
Brad and Casey made this gorgeous Art Deco style necklace with a modern twist set with a bi-color green to blue tourmaline with diamonds in 14ky brushed and textured gold. $2,085.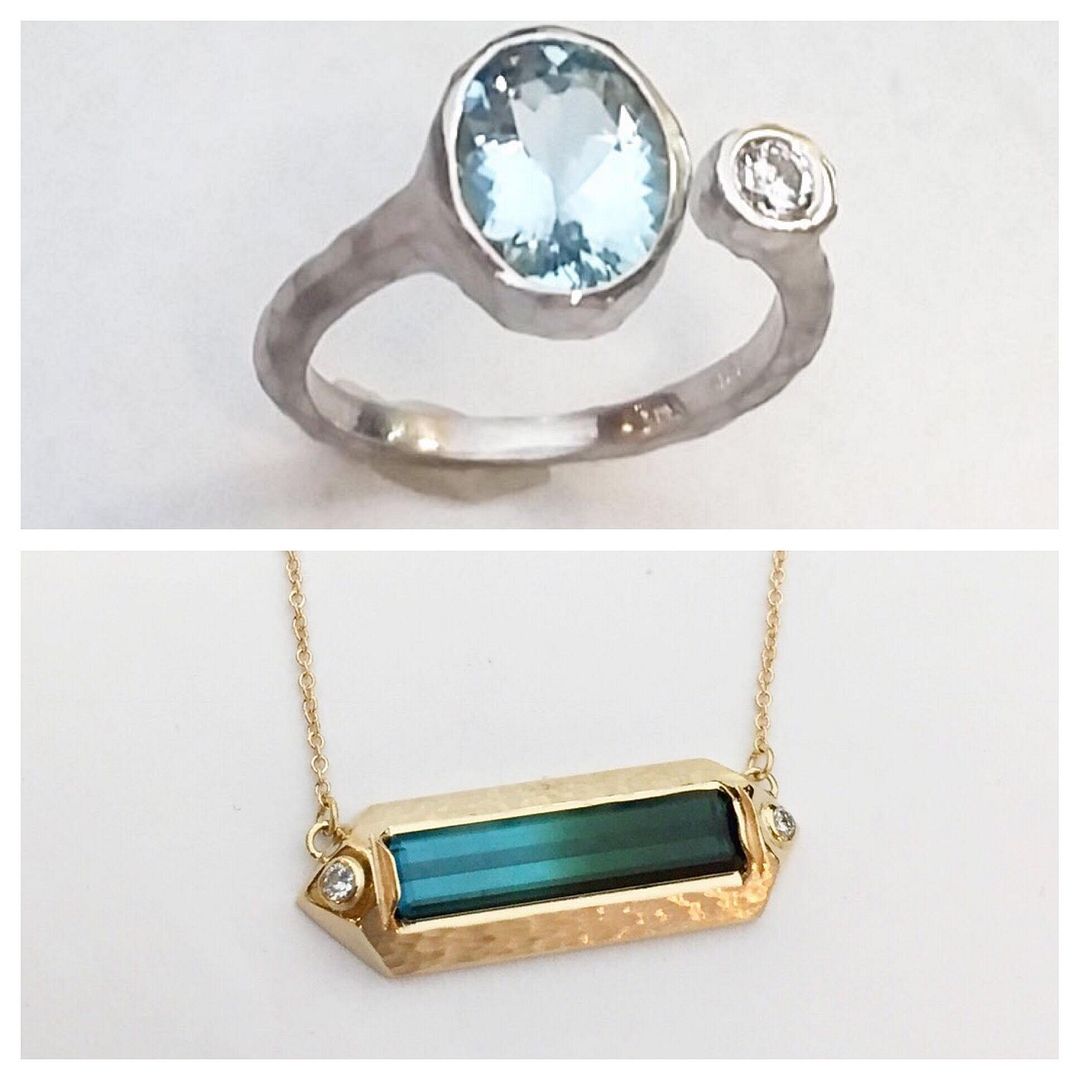 These eclectic leverback dangles set with blue topaz have a Renaissance style in 18ky gold and only $295.
Rose colored natural tourmaline set into an Art Deco style 18ky gold setting with 2ctw of diamonds. $5,995.
RETURN TO TIFFANY & CO. bracelet with toggle
on consignment for only $195.
#6 trend 2017: Chokers.
Prices ranging here from $595 to $1,155.
All of our Raymond Mazza gold pieces are 50% OFF
Click on the picture to view the pieces that we have in-stock. 
(prices are listed on website at full price, 50% will be deducted when purchased in-store.  Call 910-256-1850 for the internet code)
~DEAL ALERT, DEAL ALERT
Consignor Reduced~
 1.25ct SI clarity H color diamond engagement ring in 18ky gold$6,795. Get the matching band for only $545.
Last Chance to Dance…these New York designer pieces
will be going back on Monday and they are 50% off
or more of suggested retail.
.53ctw diamond necklace in 18kw gold, 18 inches. $1,195.
8.32ctw diamond earrings in 18kr gold.  $10,575.
4.14ctw VS1 clarity H color emerald cut diamonds set into platinum. $7,835.
Don't let this one get away!  Leaving Monday and the price is 50% off of retail.  6.16ctw emerald cut and round diamond bangle in 18kw gold. $15,725.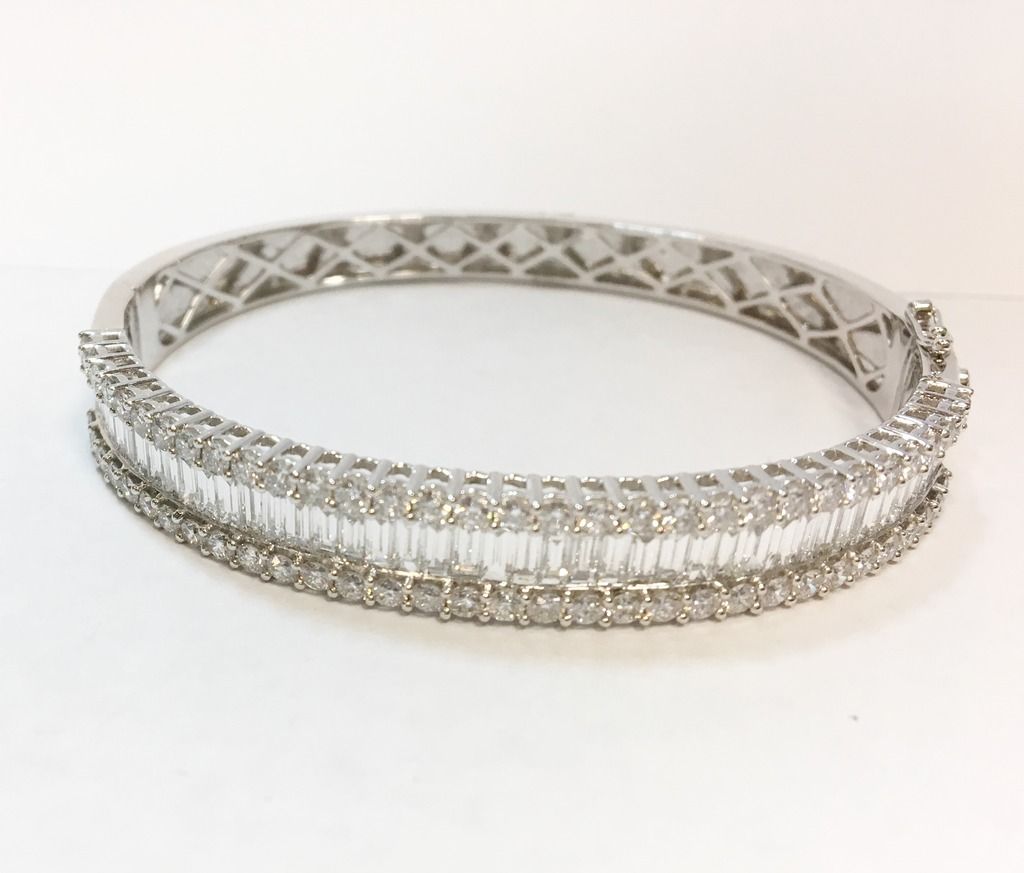 This one is off of the charts and will
also be leaving us on next week.
5.28ctw rose cut and round diamond bracelet in 18kw gold,
7 inch.  Price is 50% OFF of retail $7,435.
whether you're buying or selling…
SEE US FIRST!