For many years, I traveled around the world designing and developing furniture.  My travels took me to Brazil, China, Indonesia, Slovenia, the Philippines and many other countries.
Notice the look of pure terror
on my face as I'm being driven around in China… 🙂
  In my travels, it was routine for the cars I was in to be checked for bombs.
I've been shaken down for bribes by government officials more than once.   
And there were times when I had to put my hair up in a ball-cap as to not attract attention as a Westerner.
 If you have traveled extensively, you see first hand the
unparalleled freedoms we enjoy in the USA.  And it makes me so proud and grateful that as a country we can transition leadership in an orderly,
non-violent fashion (praying).
This may be a day of elation for you, or a day of indigestion, 
but as for me…
I count my blessings to live in the USA!  
On with the show!
Straight from the pages from design magazines, we have
a PAIR of these faux crocodile lounge chairs in chocolate
with bronze frames for $395 each! 
This gold and silver three drawer chest would make an excellent bed side table, two available, $395 each. 36x15x34
Add a little touch of funky with this super cool
modern console! $395, 50x14x32
And we have the coffee table to match,
 $295. 48x26x20
Abstract anyone?  $125, 39×29
Nice graphite Haverty's sofa in
immaculate condition, $695. 85″W
A pretty look…textural abstract art $225, 39.5×39.5.
Hand painted shore bird lamp $236. Accessories $10-$12.
Sorry, accent chest is sold.
Two panel abstract art just $75 for both! 
Each panel 15×35
Fine art giclee with knife gel finish by Mari Urasawa, $395.
40×60 41″H golden lamps $125 each.
Turned leg demilune console $325.
On consignment…Berhardt coffee table, $295. 38x38x18
Two coordinating side tables, $145 each. 26x26x21
Wa have a pair of these adorable dining
chairs for just $95 each! 20″W
Just in! This taupe la-z-boy sofa retails for $849…
our price, $495! 82.5″W
Coordinating chair and ottoman retails for $929…
our price, $475! 
Like a breath of spring…four panel floral art for just $125.
60.5×34.5
Nice and narrow cream console, $425! 72x12x35
42″ glass top coffee table
with wrought iron base, $165!
A place for everything, and everything in it's place…
$695, 70x15x42
This is so cool in person…textural fossil art,
$175, 30.5×42.5.
So handy…and fun, too!  
Turquoise cabinet, $395. 36x18x39
Ivory or aqua? Take your pick, these two drawer
side tables won't last long! $225 each, 20x16x25
Just in…striped queen sleeper
sofa in coastal colors, $795! 
Coastal bird art in pretty shades of blue and green,
$275.   39.5×39.5
We love the lines on this white washed geometric
console, $265. 36x14x31.5
Super cute side table with apull out tray, $125!
We also have it in grey. 12.5x18x26.5
More abstract goodness…$125, 36×36
Vavavoom…sleek accent chairs, $295 each
Looking for a mirrored side table? We got you! $245, 25x14x30
(Sorry one has already sold)
Let your pretty rug shine through when you add this iron
and glass coffee table, $225. 50x30x17
Gorgeous signed print by local photographer
Mike Smith. $65, 20×24
Shabby chic side table, a STEAL at $72!
25x16x26
These warm January days have us dreaming
of sand between our toes! $38, 22×33
Rustic wood console, $395. Long and sturdy,
but narrow, 72x14x35
Who needs a cute little side table? Take your pick between
wood, white, or blue! $125 each, 18x18x23
Come and get this quick… everybody here is fighting over it!
Cuteness personified…32×48, $295
Another great narrow console…
in ivory, $345. 60x10x35
COLLEGE KID SCORE! Down filled sofa by R Jones retails for $2,500+, our price just $395 (some wear and minor stains, but in otherwise great condition).  88″W
Look at the back detail……
ON SALE! This solid wood media console with gold pulls was $795 now only $595! 70x18x35
Storage bench just $125! 44.5×17.5×30
We love this versatile side table, $225.
26.5x18x25.5
Ekornes stressless chair and ottoman with an attached table,
in navy, $795! Tray has a little fading. 
Here is a great deal! Pine dresser, $275, 65x17x33.5
Coordinating bedside table available but not shown, $95. 25.5x15x25
~The early bird always catches the worm~
Swoop on over to our online store and be ahead
of the game this Valentine's Day.
Click on this picture to see our Valentine's Day specials.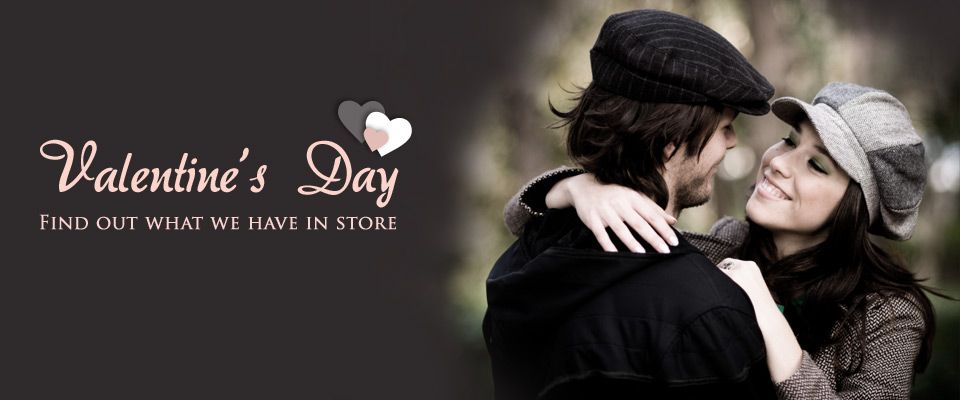 Shop David Yurman, Tiffany & Co. on consignment…
Click here.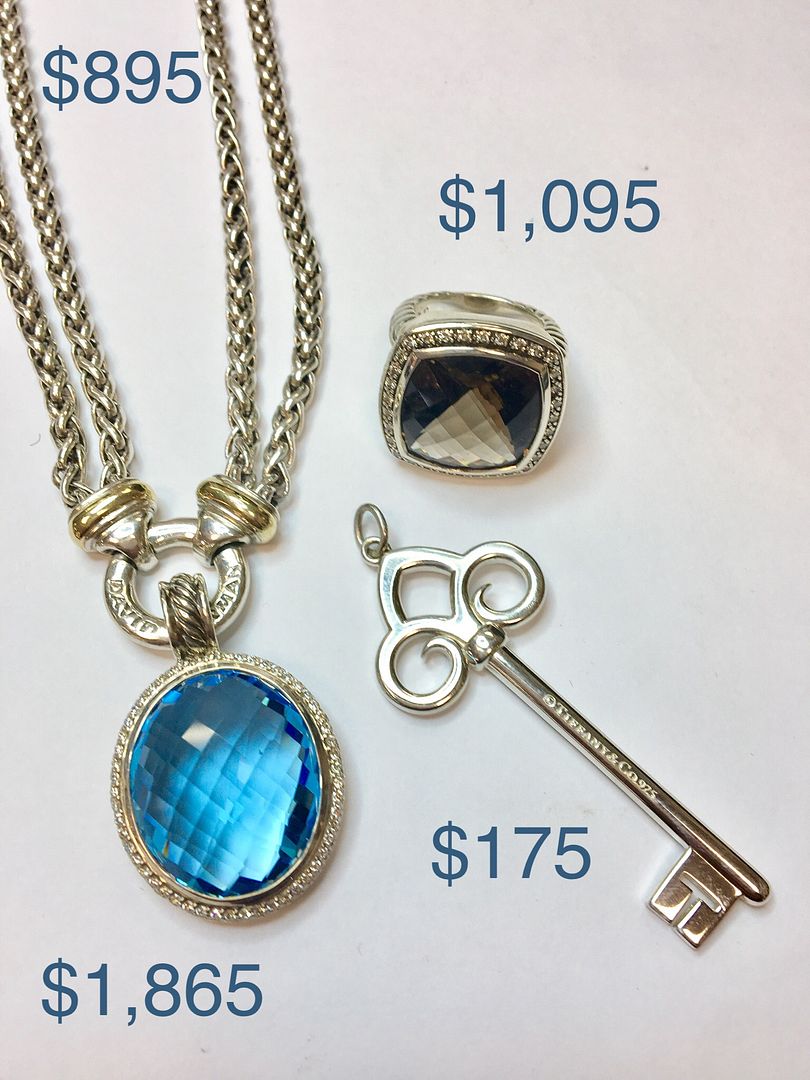 WE ARE IN NEED OF MORE
David Yurman CUFFS and BRACELETS….
Get cash FAST, this weekend ONLY…
bring in any David Yurman cuff or bracelet that we accept
for consignment and you will receive $20 per piece on the spot 
plus the price for consignment once the piece sells.
Rubies and diamonds are great for your Valentine. 
Click here to see all of the ruby jewelry we have in store.
Pink sapphires are so pretty. 
Click on the picture to see all of our pink sapphires.
Morganite is the love stone…
Click on the picture to see all of the morganite we have in stock.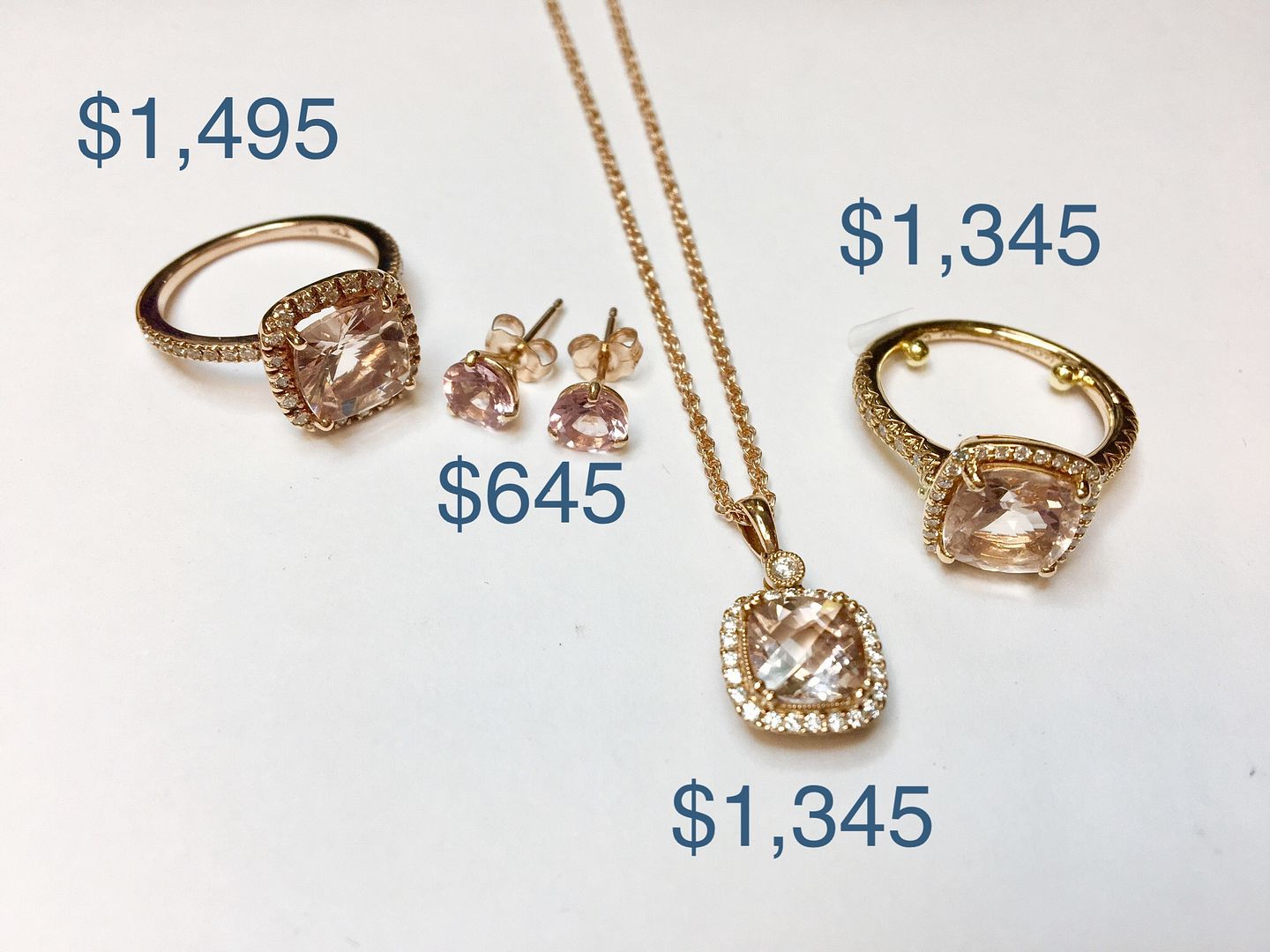 Eternity bands are a symbol of your everlasting love. 
We have them on consignment in all sizes.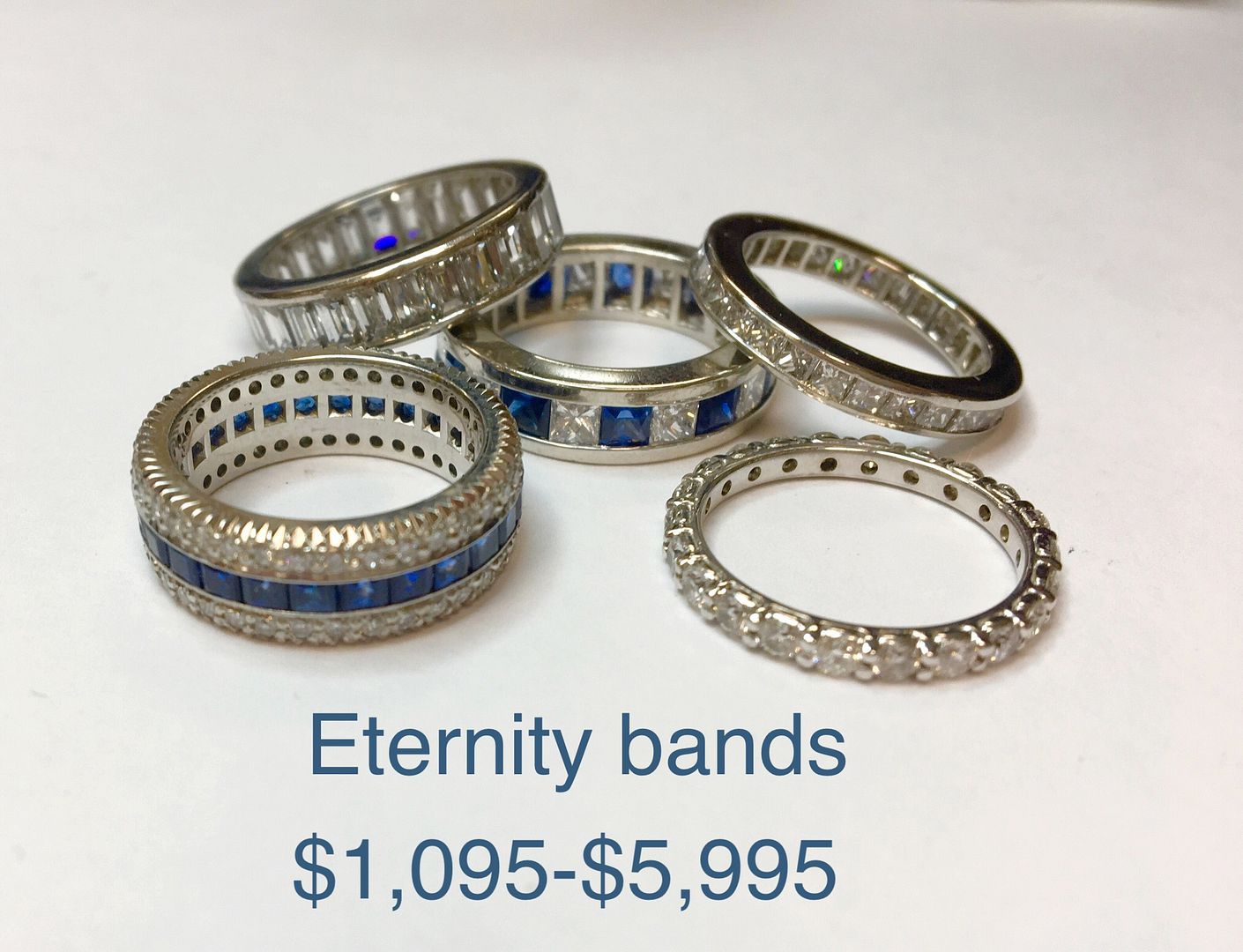 Make her smile this Valentine's Day with X's and O's.
XOXOXO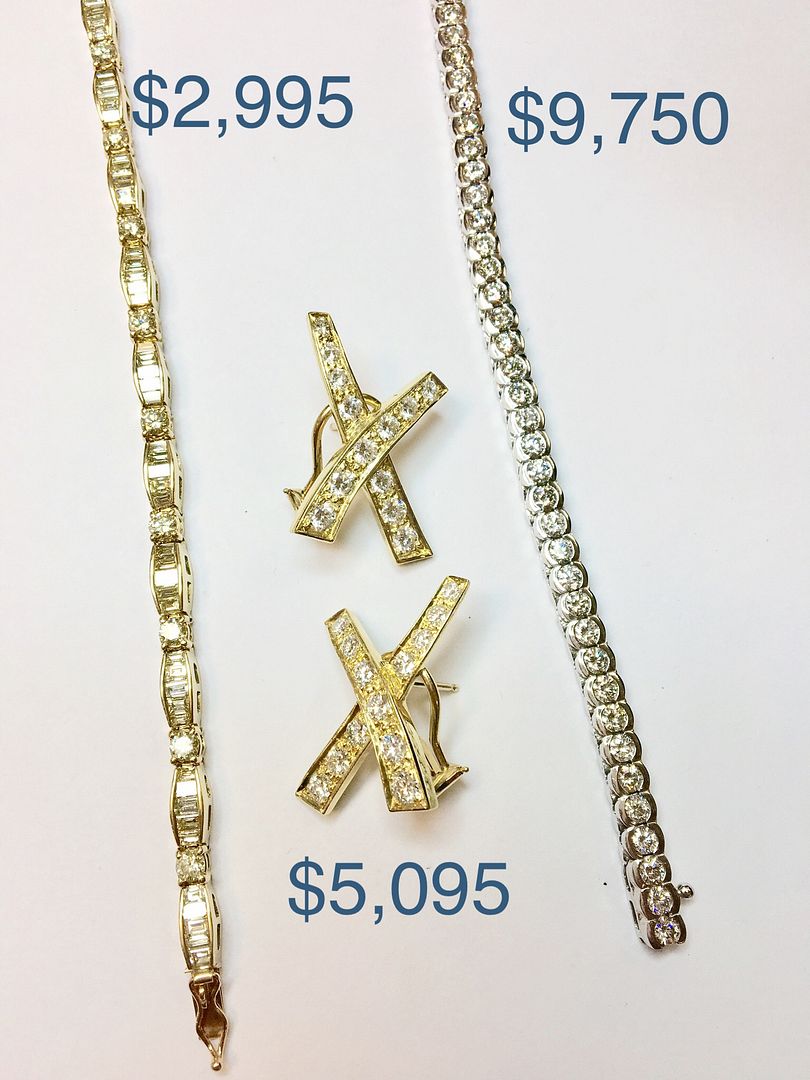 Layering is a trend this year that is here to stay. 
Diamond necklaces are a timeless way to say you care. 
Click here to view our diamond necklaces.
See something you like?  Add it to a WISHLIST and we
will send an email to the person you want to know. 
See how easy it is by clicking here.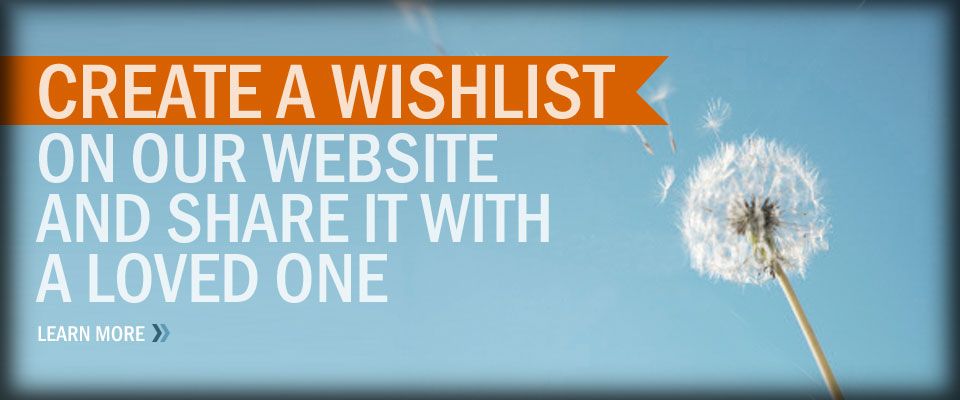 Nina Nguyen is everyone's favorite. 
This fashionable jewelry is super quality, yet so affordable.  Add some of these pieces to your wishlist by clicking on the picture.
Nothing says I love you more than a diamond band…
we have them in rose, yellow and white gold.
Click here to see our exclusive designer Roman+Jules
wedding bands.
These diamond solitaires are here just for that lucky lady that you want to pop the question to in 2017.
  Ranging from 1.25ct to 2.25ct at $7,995 to $29,995.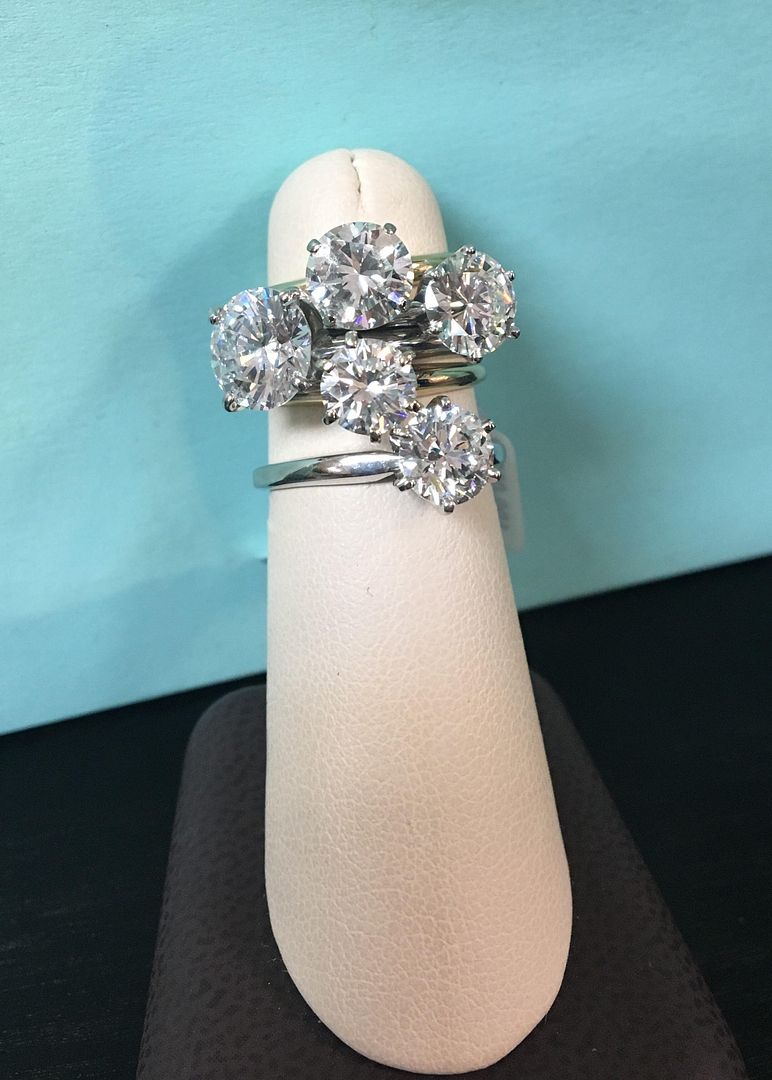 Enjoy your weekend, everyone,
and thanks for reading our email.