I always get sentimental at New Year's…
I reflect on the year that is passing, the year to come, and
what a blessing it is to work at a business I love surrounded by some truly OUTSTANDING people.  I hope you will enjoy 
 THE GRATITUDE ISSUE…
MEET HALEY…
So I walk into the doctor's office for my annual check-up and I write down where I work.  Two minutes later, several of the staff members came rushing out to the waiting room to tell me how much they love the store…but even better, they gush 'And that Haley…she is just the sweetest girl ever, we love her.'  And I could not agree with them more, she is kind to everyone and a ray of sunshine.  Sometimes you just get the impression that someone was raised right, and that is our Haley. 
JESSE
When Jesse first applied to work for the position of warehouseman, I thought….hmmmm…because I probably out-weigh him by 40 pounds.  But as we all know, looks can be so deceiving… HE IS SMALL BUT MIGHTY.  But this very BIGGEST THING about him is his CHARACTER…he is honest, hard working, genuinely friendly, but above all, he is a free thinker and cares about the company and the world around him.
Oh, and he makes a mean art model! 
NICOLE
If you are a frequent customer, you know that stuff comes and goes from the store very quickly. And one of our biggest tasks is the constant staging to keep everything looking good.  Enter Nicole…my angel.  It's truly like Christmas for me every day when I walk out of my office and see that she has staged things so attractively and better than I ever could.  But above all, we are all so lucky to enjoy her
quiet but genuinely nice and caring personality. 
ASHLEY
If you are a business owner, you know that your work never really stops.  You're constantly planning and strategizing and taking care of the details to keep all the balls in the air.  But I can only do what I need to do because of Ashley. She handles the 'front of the house' with grace, efficiency and a high level of competence, which allows me to go about my day in complete confidence when she's in charge.  Thank you for being you, Ashley, you are the 'glue' that keeps us together. 
DAMON
Rain or shine, come Saturday morning at 10am, Damon is on the scene, and he has been for the past 5 years.  We are the lucky ones to hear his gentle chuckle, it's positively infectious…
~~~~~~~~~~~~~~~~~~~~~~~~~~~~~~~~~~~~~~~~~~~~~~~~~~~~~~~~~~~~~~~~~~~~~~
And now it's time for the show…
And here is something we hope you can be grateful for…
ALL ART IS 20% OFF 
this Friday and Saturday!
~~~~~~~~~~~~~~~~~~~~~~~~~~~~~~~~~~~~~~~~~~~~~~~~~~~~~~~~~~~~~~~~~~~~~~
Gold palm art, $325 each, but ON SALE for
$260 ea this weekend. 33×47
Accessories, $32-$42
White console, $450. 59×17.5×30
Just stunning…hand embellished gold leaf fine art giclee's. $495 each, 40×55  Artist: Kelly O'Neal
Take them home for $396 each this weekend!
JUST IN! Huge gray sectional in GREAT CONDITION by
Robin Bruce, $1,895. 110×114
King headboard in white ultra-suede
with nailhead trim, $175!
Gray velour side chairs, four available at $175 each. 
Two arm chairs available, $195 each. 
54″ glass top table with gold base, $495.
We love this turquoise buffet and it's a great
buy at $425. 61x17x37.5
Hand embellished fine art giclee, $495. 40×60
Artist: Kelly O'Neal  Just $396 this weekend!
Just in…brand new market sample SOLID wood rough-hewn
dining table with four chairs and dining bench, $1,295!
Table measures, 81x40x31.5
We have TWO of these fun turquoise rattan chairs
with nautical cushions, $265 each! 32″W
Just in on consignment…pub table with eight chairs and leaf (shown),  $795! 54x54x36
This pretty turquoise media cabinet 
is a deal at just $450! 59×15.5×35
Just in…full/queen ivory tufted headboard only, $225.
We scored not one but TWO of these three drawer chests. One in teal and the other in white. Both $345 each. 40x14x34
Hand painted abstract, $695. A massive 54×80.
Just $556 this weekend!
This metal and wood bedroom set is heavy and well made.
Queen platform bed, $995. Retails for $1,875.
Dresser, $595  Chest, $450
Side tables, $225 each!
We love this look! Art panels $125 ea, on sale for $100 each this weekend, 28×56,  green lamps $125 each.
Just in…rattan chaise lounge, $275. 72″L
Brand new sleeper sofa! $795, 82″W.
Luxurious burl side table, $295. 29x20x29
This genuine leather sofa retailed at $2,500,
come score it here for $895. 88″W
Pretty blue-green full/queen headboard with nailhead trim,
just $225!
Fine art giclee with knife gel finish, $395. 51×36
Artist: Timothy O'Toole  Just $316 this weekend ON SALE!
Cute and handy tall side table,
$125, 16×11.5×30
And another cutey…corner table in green,
$145. 30.5×16.5×30
How cool is the rough hewn 51″ pedestal base
dining table? It's a real deal at $495.
And around it, we have 4 linen slipcovered chairs
with bow back detail, $245 each!  Sold in pairs only.
If you are working with a blue and grey color pallette, you will
love this fine art giclee with knife gel finish, $465. 47×64
$372 takes it home this weekend!
30″ diameter pedestal table ON SALE for $150!
Modern dining chairs, $75 each.(Sold in pairs only)
More amazing art…$495. A massive 60×40.
$396 takes it home this weekend!
What a bargain!  Just $245 takes home this sage console
with wine storage! 45x16x31
ON SALE! This classic 48″ glass top table with
four rattan dining chairs is reduced to just $295!
Speaking of gratitude..a huge SHOUT OUT to my business partner
and friend Lisa Lazarus for recently celebrating
Home Again Palm Beach's 2nd birthday! She has built a successful business to be proud of!  And as for our BELOVED manager, Christine, well, there are no words to describe how amazing she is.  If you get down that way, make sure to check it out…
the store is just GORGEOUS!   
The GRATITUDE ISSUE continues…
CASEY
Let's see…in 2016, Casey has fixed my jewelry, my garage door clicker and even a pair of my shoes…he's just one of those guys who can do ANYTHING!  But even better, we were able to celebrate with joy when Casey when he bought a new house this year! 
Casey, you are one in a million, and we appreciate you. 
JENNA
It is fairly often that I get a text from Jenna at 9:30 at night…something like 'What do you think about us doing this?'  You just could not be more blessed than to have someone like Jenna on your side…she constantly goes out of her way to dream up with ways to make the company better.  And in 2016, she doggedly kept pushing and pushing to get the online store up and running, and to that I offer high praise.  
And as for Jenna's bright sunshiny smile…
I just could not live without it! 
MEGAN
When we decided to 'adopt' some little boys this Christmas, the first one to volunteer to shop for them was Megan.  That is because she is always putting others first…and because she has the heart of a servant, which in my book, is just about as good as it gets…just love this girl. 
JAMIE
We were a little short-handed at Lumina Gem for the holidays.  But Jamie said 'I'll work every day, don't you worry.  We got this!'  If I had a daughter, I'd want her to be just like Jamie…spunky, smart, down to earth and hard working.  And she and her precious new hubby Matt throw a mean oyster roast!
JAYNE ANN
If the chips were down, and I had to pick one person to have my back, it would be Jayne Ann, and that is the highest praise I can give.  Although Jayne Ann heads up JewelRecycle, and not technically part of our team,  we are SO fortunate to consider her our family.
BRAD
Positively the HIGH-LIGHT of our year…thank you Brad and Jamie for giving us a store baby!  The absolutely precious baby ETHAN!   
We are all so happy for them…and I'm telling you that
Brad is one AWESOME DAD! 
ON WITH THE SHOW
The birthstone for January is the "GORGEOUS GARNET" 
Look at this vibrant crimson color 11.38ct garnet oval accented by 1.96ctw VS/I clarity diamonds set into 18kw gold.
  Click on the picture to view the video.  $4,475.
We have garnet pieces in everyone's price range. (l-r)
Loose rhodolite garnet ready for custom design by
Brad and Casey $575.
Ippolita rock candy garnet, diamond necklace $575.
Rhodolite garnet floral pendant $175.
It's still not to late to get her the David Yurman piece of her dreams in 2016.   White agate ring $715.
Smoky quartz beaded 52 inches $265.
Double strand 18 inch with 18ky gold accents $895.
Blue topaz and diamond enhancer $1,975.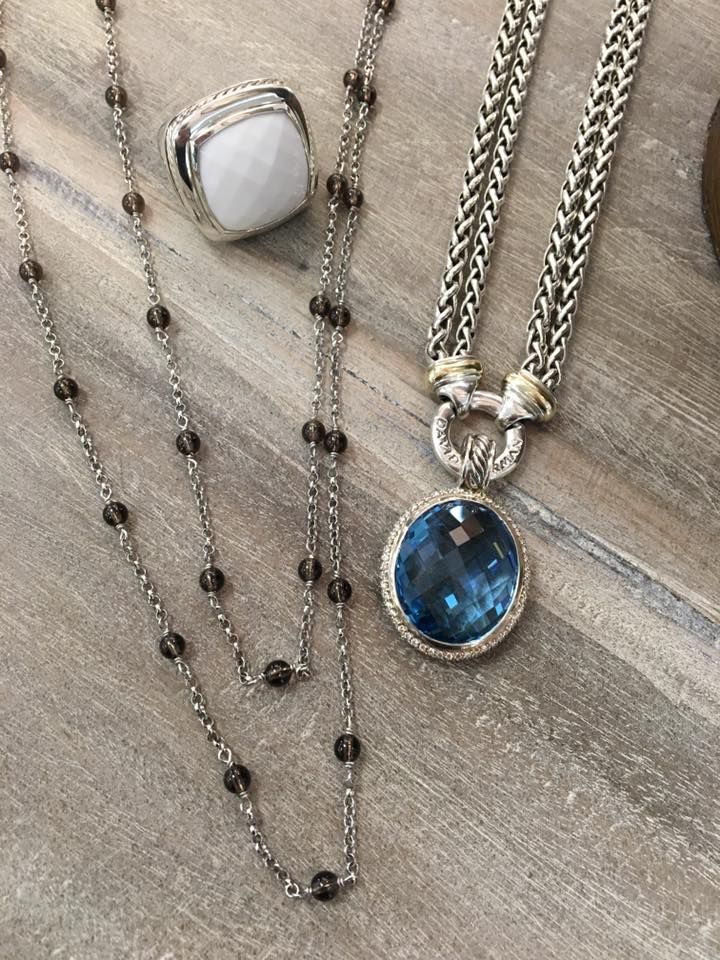 Looking for the perfect ring to pop the question in 2017?
We've got you covered….
$5,000 and UNDER
Click the picture to view items.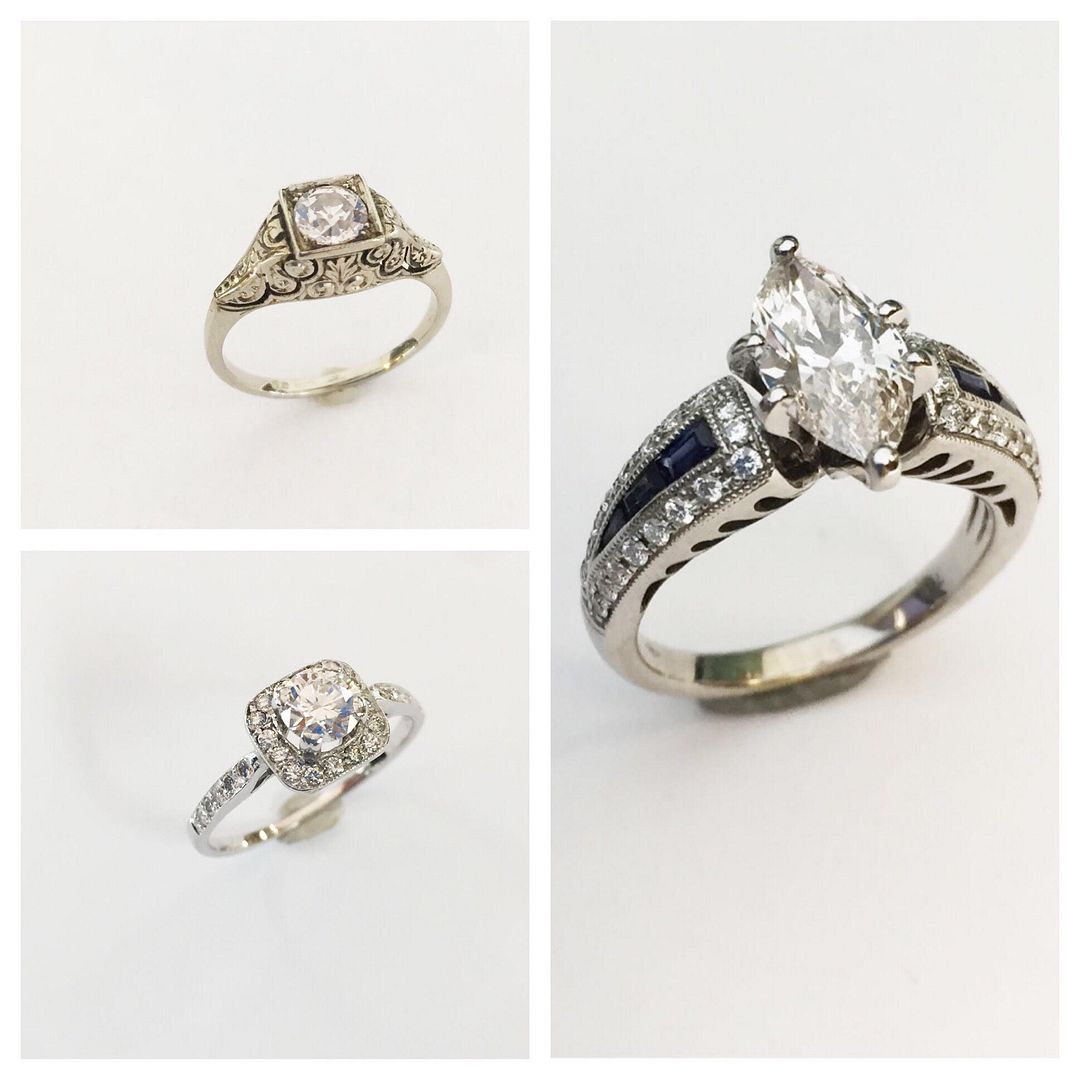 Did we mention unbeatable prices?
Blue sapphire ring $1395.
Blue tourmaline with diamonds set into rose gold and diamonds in white gold on the band $1,185.
Fancy yellow diamond with diamonds in a double halo $2,495.
Aquamarine and diamond ring $1,275.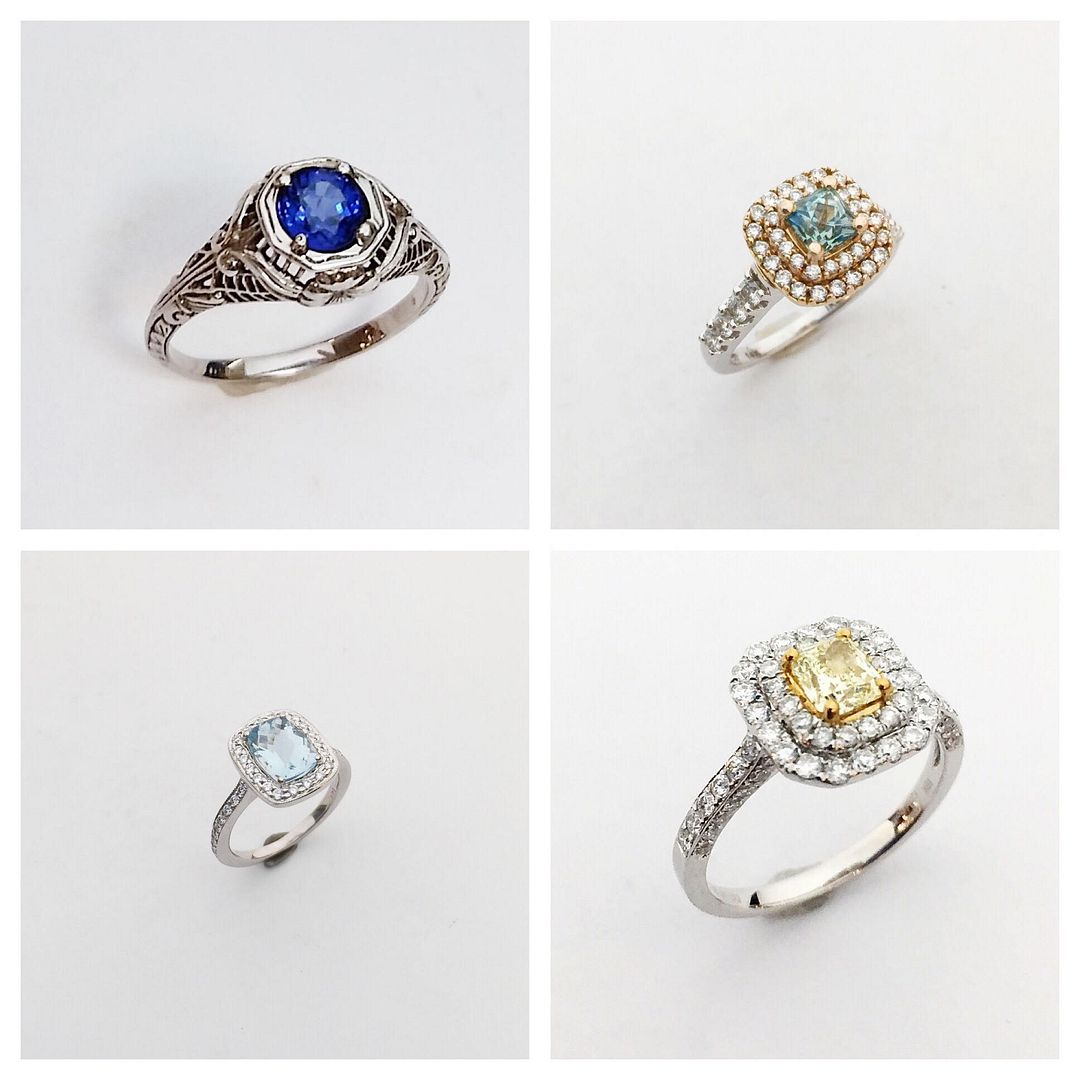 DEAL ALERT…
2ct aquamarine with diamond accents in platinum $2,195.
Sale prices are $3,000 to $6,000.
Click on the picture to view.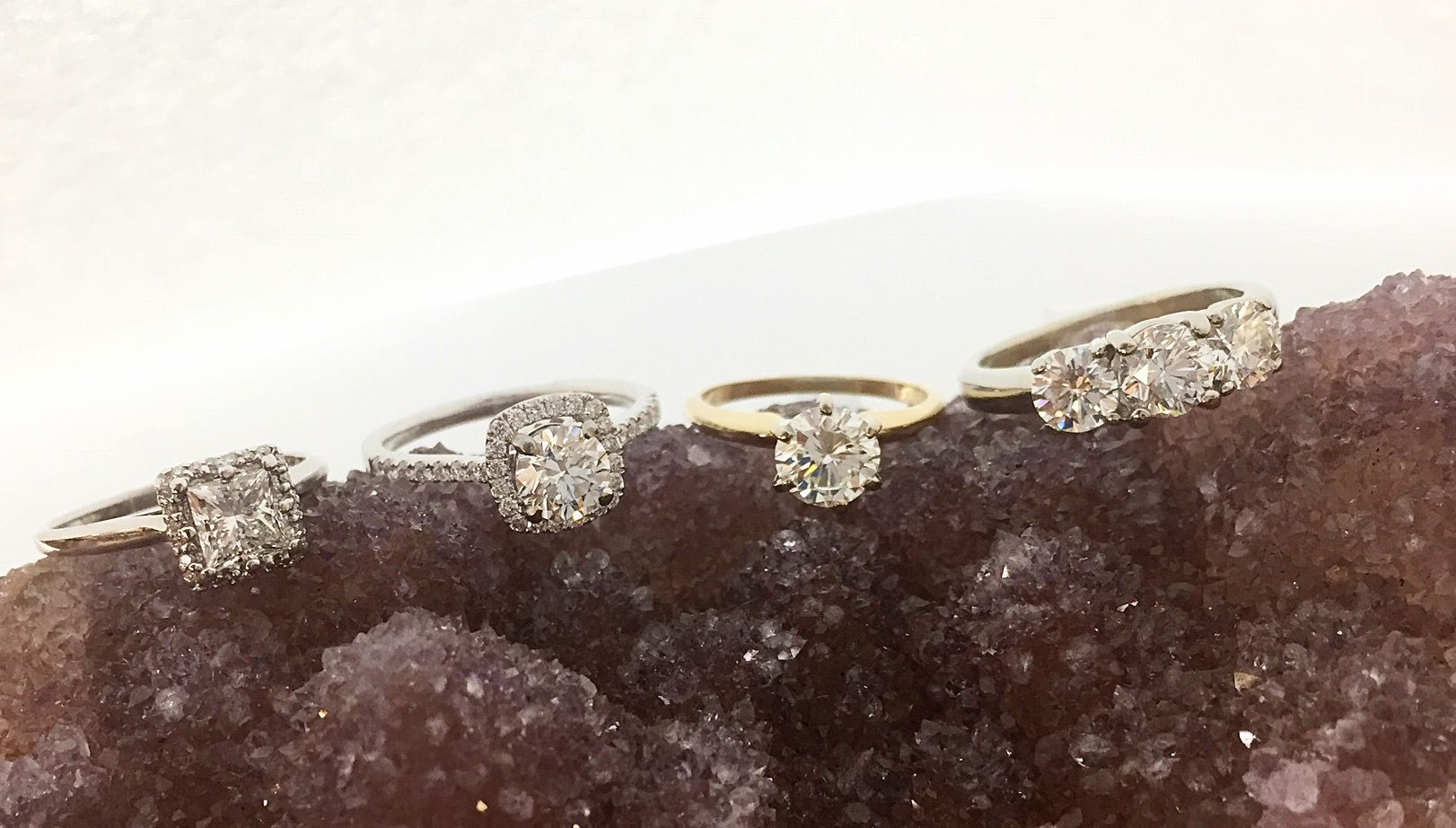 Sale prices here are $6,000 to $10,000.
Click on the picture to view these gorgeous pieces.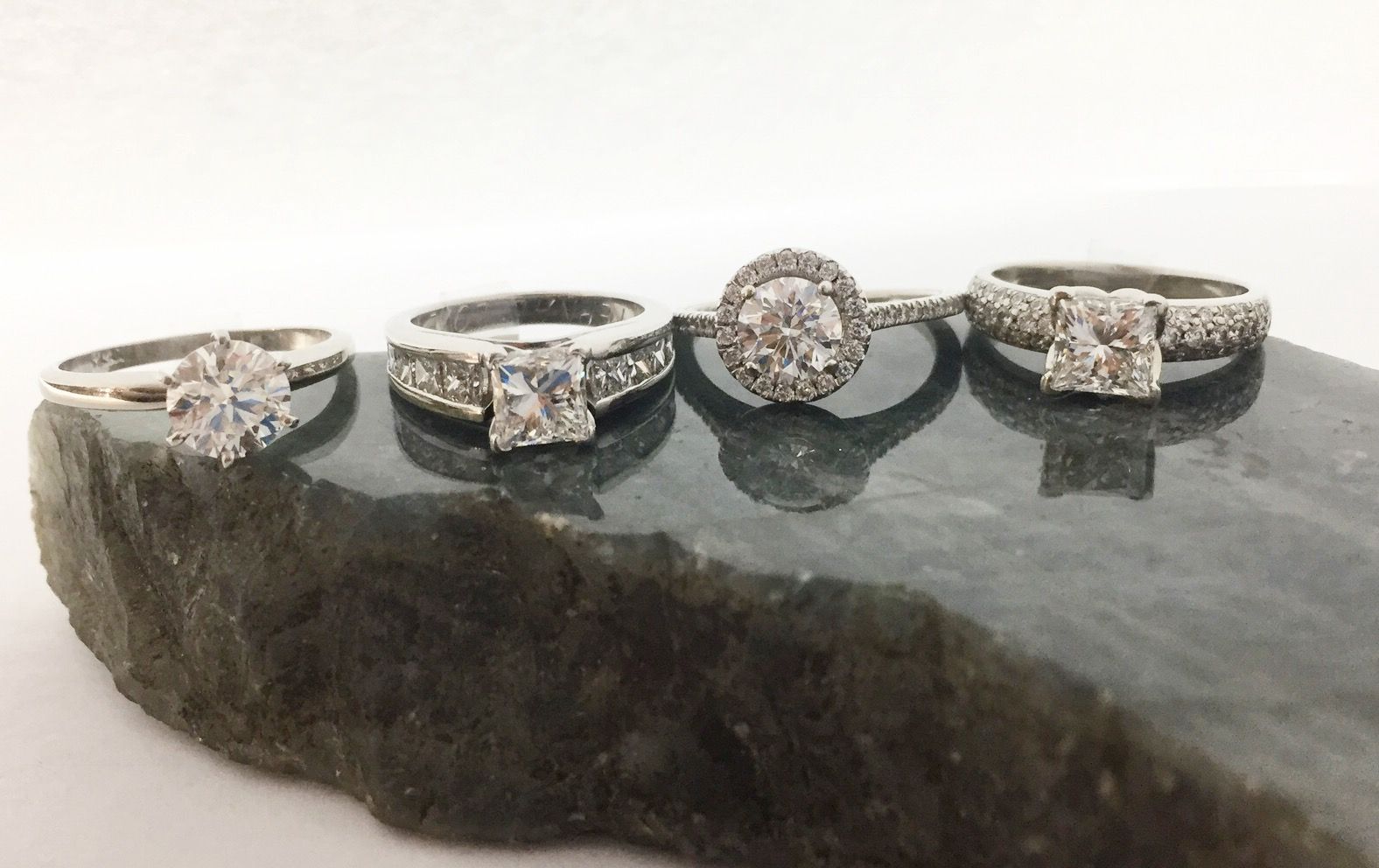 These three pieces are just a glimpse of the options we have for you.  (l-r)
2.01ct G color SI2 calrity GIA certified round diamond
in a platinum solitaire $22,995.
2.01ct VS clarity G-H color EGL certified princess cut
accented with .49ctw set in 14kwg $18,810.
1.69ct round SI2 clarity I color IGI certified diamond in a .31ctw diamond mounting in 18kwg $12,707.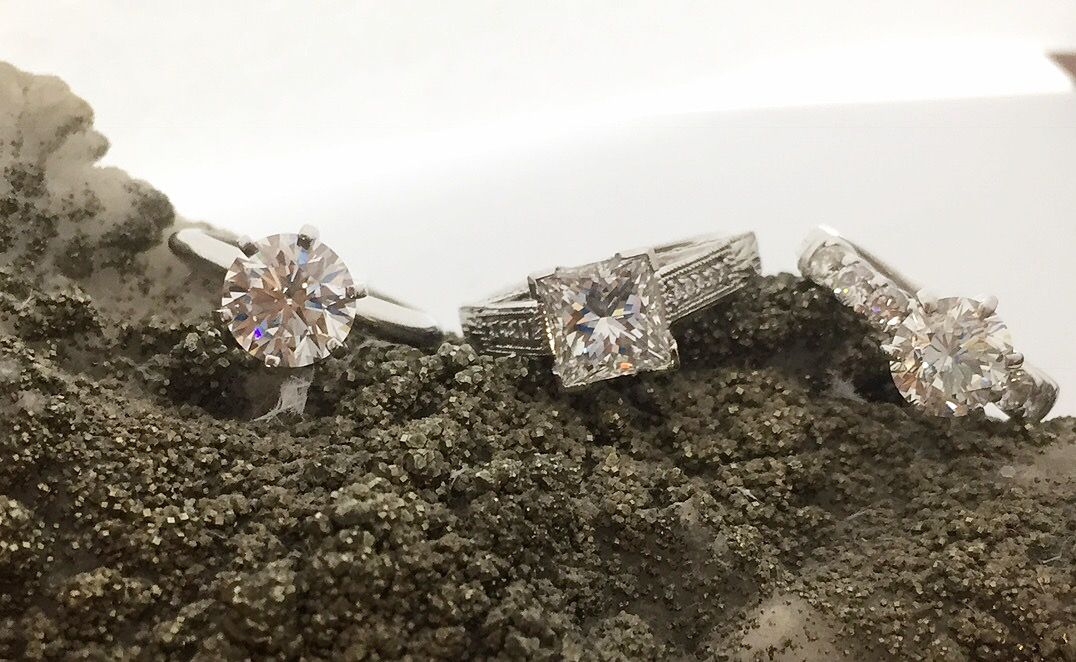 Have a diamond that needs to be set into a ring? 
Or need a center diamond?  We source our diamonds directly
from the siteholders so you SAVE BIG MONEY.
These semi-mounts are set with diamonds in 14kw gold. 
Round center semi-mount $795.
Cushion cut center semi-mount $1,295.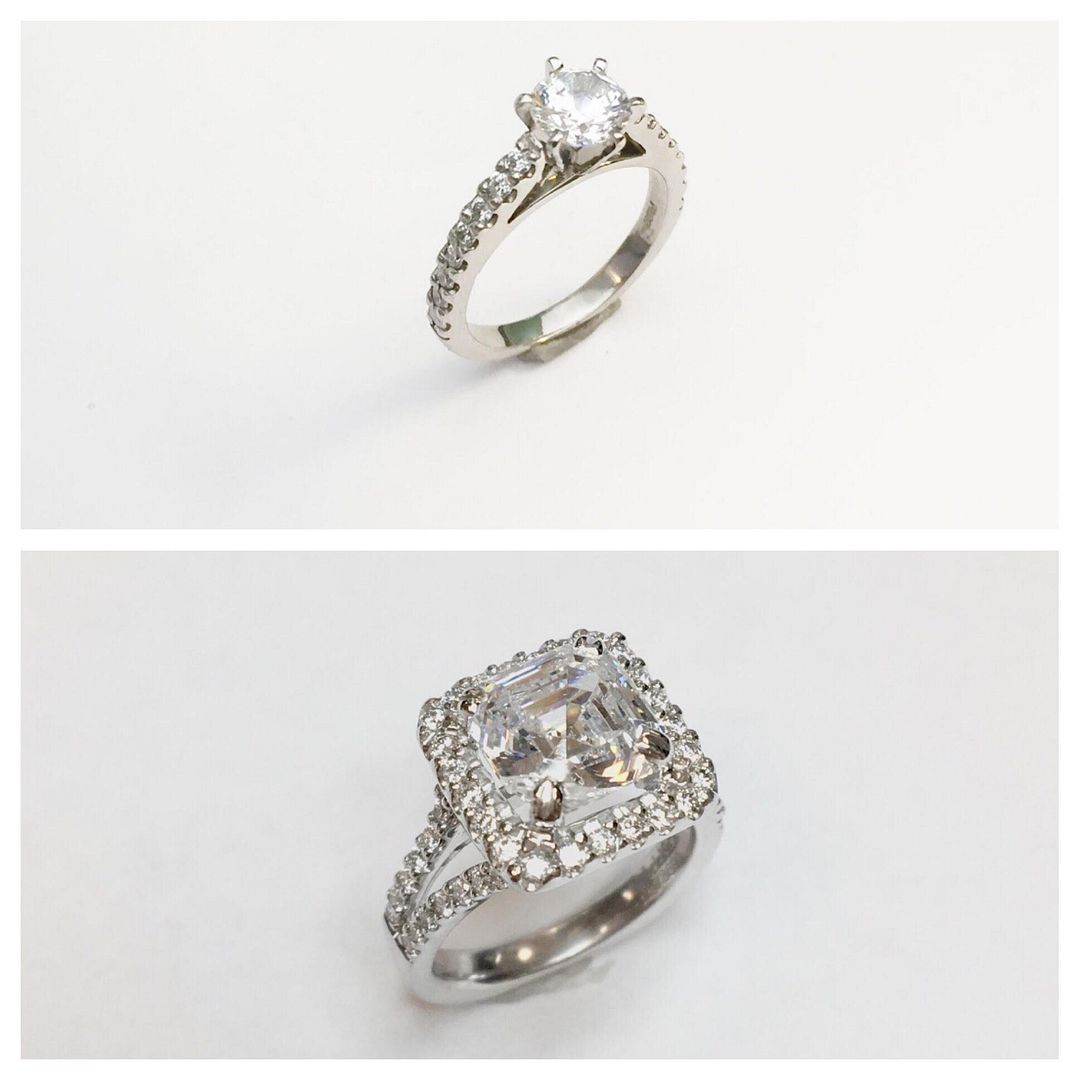 Tony Maccabi has the most vibrant displays of art.
He uses high quality gemstones like this turquoise inlay with rock crystal quartz overlay with diamonds $1,300. 
Click on the picture here to see more of his work.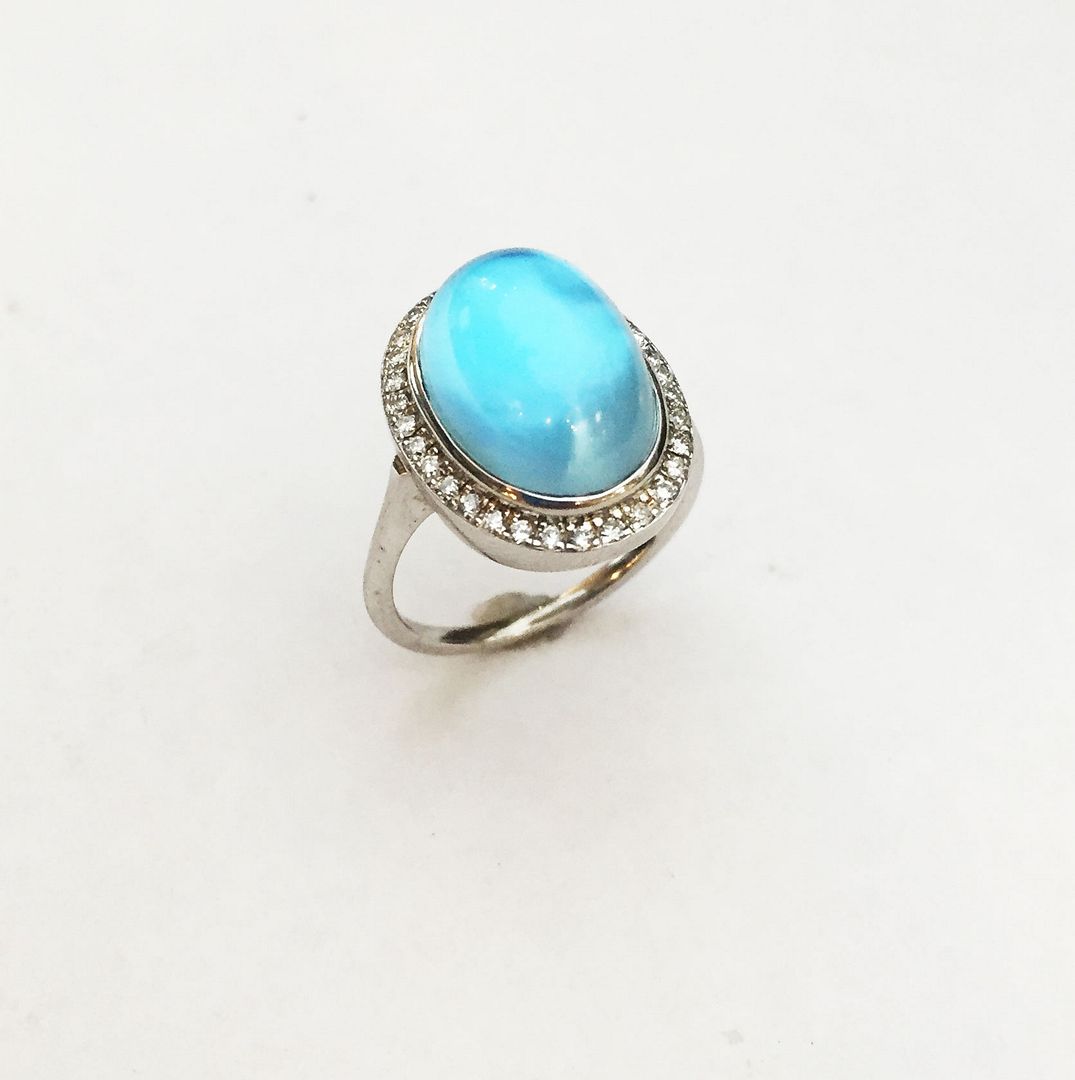 Allison-Kaufman Co. is made in the USA and one of our exclusive designers that has the most designs you will find. 
Click on the picture to view all in-stock pieces.
  25% OFF in store until 2017.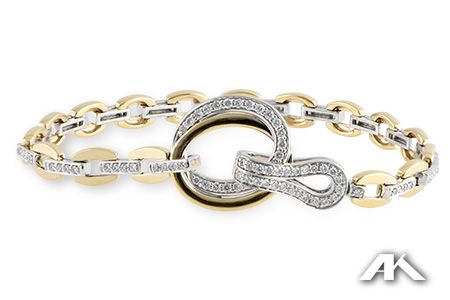 The Alwan Vahan designer line is our exclusive line here in Wilmington, NC that everyone seems to love…
HURRY we are taking 30% OFF until 2017 in store. 
Click here to view regular prices and what we have in stock…Remember to take 30% OFF of the prices listed on line.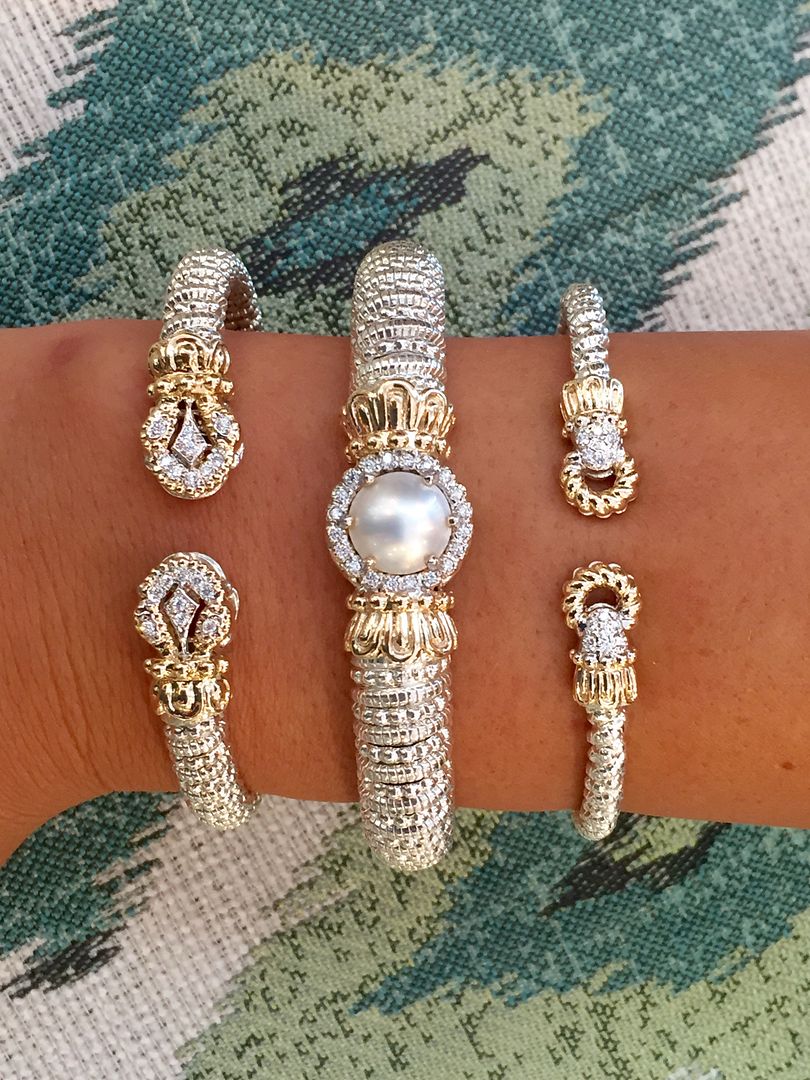 And we can't forget our sweet little Nina Nyguen
who has become a household name in 2016.
Click on the picture to see what we have in stock.
Also, SAVE THE DATE for her trunk show coming just in time for Valentine's Day. (more details coming soon)
We always have something special for the man in your life too….
Click on the picture for pricing on these John Hardy men's bracelets.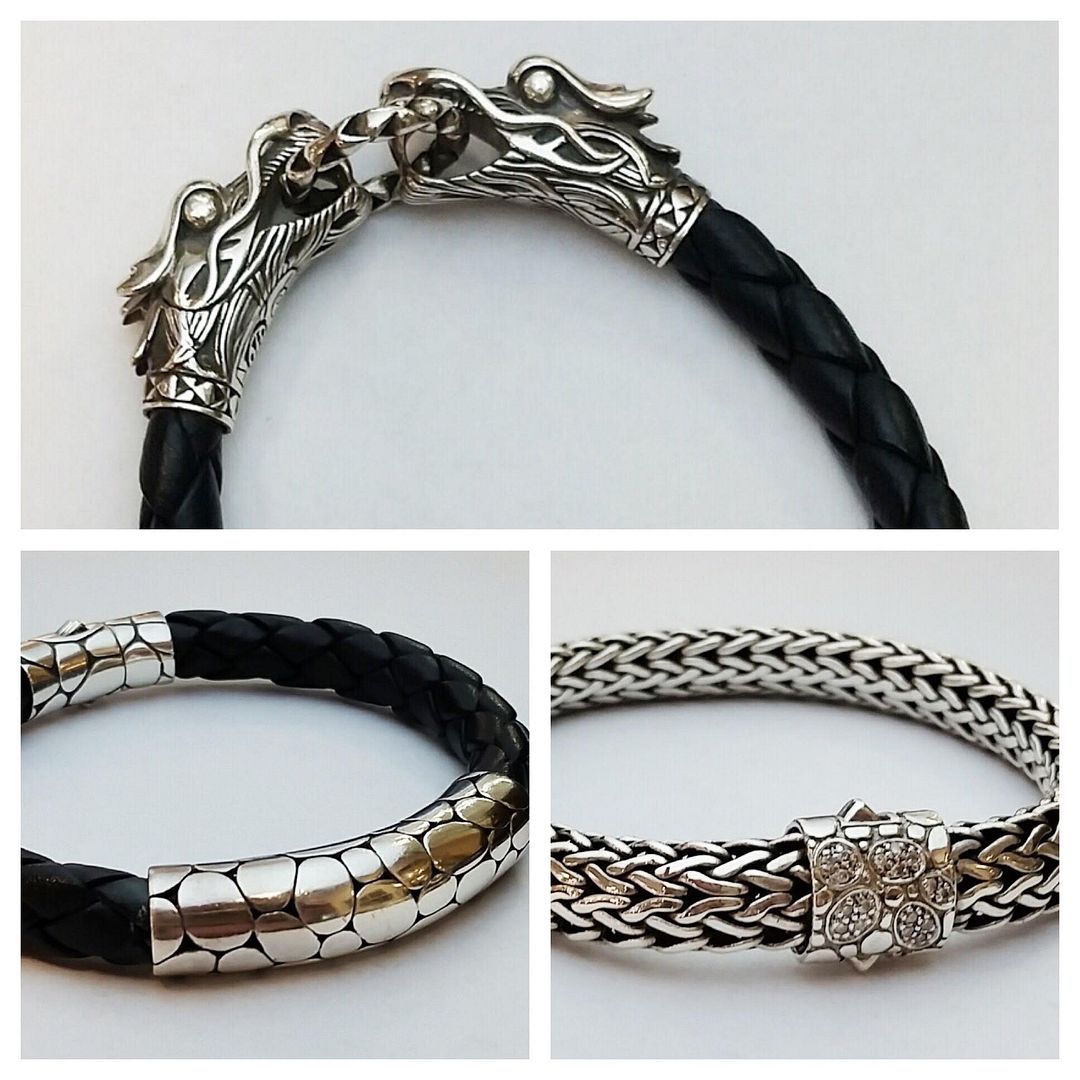 And to conclude this week's gratitude issue…
I am humbled and blessed that 2016 was a great year and we
were able to continue to make a living for our families. 
I CANNOT THANK OUR WONDERFUL CUSTOMERS ENOUGH
for shopping local and supporting us.
I will always remember the highlight of our year… when we collected for the victims of Hurricane Matthew.  From our entire staff to our wonderful customers, everyone pulled together and we were able to get a MASSIVE amount of goods to the folks who needed it.
 It still makes me feel warm and fuzzy when I think about it. 
Thanks again, everyone, and
HERE'S TO A GREAT 2017!  
XOXO from Jeannie
Just a note…we will be closing early at 3pm
on New Year's Eve.  
Happy New Year's everyone!
This edition is dedicated to Steven King,
who left us too soon.
While Steven did not work for us on a regular basis, he would come help us out we were in a pinch.  I would give him a list to do that I would think would take him all day, and an hour later,
he would say 'what's next, boss lady?'
I miss him and mourn him deeply…
but know I will see his beautiful smile again one day.