In the hustle and bustle of the holidays,
don't forget to take a moment for some FUN!  
Please plan on joining us December 15th for the Forum's
1st Annual Tree Lighting Ceremony!
And for the event, from 6-8, at Home Again & Lumina Gem,
we'll have a prize drawing, some great music,
hot mulled wine, champagne and cookies…
 and then we will all toddle off together
to the tree lighting at 8pm!  It's going to be FUN!
And just a reminder to PLEASE come drop a $10 bill in the
GIVING TREE JAR and take a gold ornament off the tree in exchange!  
We are providing a Christmas to remember for two little guys,
ages 5 & 7.  Donations have not been what we hoped for so far,
so please please please come take a moment to help!  
And now, it's on with the HO-HO SHOW!
Just in…super nice bonded leather sectional
with ottoman in a very current grey, $1,095, 108×80
Ottoman, 40×40
Hand embellished abstract canvas in
wonderful coastal colors, $225, 39.5×39.5
Fun tufted slipper chair in lime in like new condition,
$225, 28″W
This handsome partner's desk set was purchased for $5,500.
our price, just $1,895. 97.5x81x78.
Leather executive chair, $275. 
Let there be light!  Very pretty light!
Iron and wood chandelier, $495. 27″ Diameter and 27″H
Score a super deal on these accent chairs in like
new condition for just $145 each. 23″W
POW…how dramatic!  Fine art giclee, $345. 40×50
Pretty blue lamps, $72 each. 25″H
This handsome table & four chairs in dark espresso
by Paula Dean retails for $2,415,
our price, $1,495. Includes 18″ remove-able leaf. 72×54
Upholstered chairs shown on each end, $220. each. 
Just in on consignment and a super deal!  
King Bed, $475.  Chest, $375. 42x19x55
Bedside table, $175. 30x17x31
Great extra seating for a great price…
soft orange chairs just $265 each. 28″W
Brand new, closeout purchase. 
Three 24″ counter stools by Canadel, a STEAL at $95 each!
(Not sold separately) 
Ashley's fave…two-tone modern media dresser,
$695. 66x18x35.5
In like new condition, come grab this clean lined chair and
ottoman with chrome accents for just $295. 28″W
Super cool "A" frame bookshelf, $145. 65×66.5.
Another consignment score…
taupe club chair $425. 35″W
Want the matching ottoman?  Here you go!  
$225. 35x35x16
More gorgeous lighting…rustic, modern and yet traditional…
$425. 27″diameter and 27″H
STOCKING STUFF ALERT…and a perfect teacher's gift…
these pretty little catch-all trays are just $6 each!
GLAMOUR-PUSS teal chairs just $225 each. 25.5″W
This super gorgeous settee in a tone-on-tone taupe and ivory
 retailed for $1000+ , our price, $595. 56″L
Table & six chairs by high quality maker Canadel, $1,295.
Includes 18″ remove-able leaf. 81×44
Just in on consignment…
modern gold chandelier by Circa, $275. 16×16
Updated wing chair in silver nailheads,
two available at $395 each. 30″W
We just love this large and lovely
blue and white ginger jar, $62. 22″H
Pastel abstract, $225. 65×30
Tray top console retails for $460, our price, $295! 48×18.5×30.5
Accessories, $6-$32
This eggshell coffee table with a warm wood top won't
last long at $145! 48x24x19.5
Picture frames, $12 each. 
Coordinating console, $265. 48x20x36
These BRAND NEW 26″ counter stools did not work for
the consignor so you can take them home for just $75 each!!
(Two are still available, sold in pairs only)
Another great chandelier by Circa in a distressed ivory, $365. 
33″ diameter and 35″H
Clean lines and an affordable price…
just $195. 46x16x29.5
He will FLIP over this nice leather chair and ottoman,
a STEAL at $295. 44.5″W
So cute…these brand new wooden sleds retail for $150,
our price just $62 each. 39.5×10.5×10.5
Soft lime green coffee table by Stanley retails for $900.
Our price, $225. 42.5x28x22
Turtle lovers…here you go!
$175. Very large scale, 41×41
Digging on these blue and green accent chairs accented with
silver nailheads.Two available at $265 each! 29″W
Round silver accent table with mirrored top, $145. 29×22
Blue jars, $42-$26
So cool…rope floor lamp, $125!
Just in…super cute pair of accent chairs in a great shade of peacock and ivory, $275 each! 29″W
BARGAIN ALERT! White leaves on blue canvases
just $24 EACH!!  24×36
Heavy duty kitchen island with granite top, $895
58×30.5×34
Super cute bird hanging pot holder $72.
13″Diameter and 13.5″H
SOLID wood market samples!
Side table, $225, 18x18x25
Coffee table retails for $638, Our price, $495. 45x26x18
Media console retails for $788, Our price, $595. 65x17x21.5
Large console, $795. 58×18.5×32
GREAT STOCKING STUFFERS
Grab a fleece lined toboggan for just $10 each!
Our stardust earrings are back!
The sale price makes these sparkly pieces a fantastic stocking stuffer. Sterling silver are only $35 and 14ky gold $55.
Tiffany & Co. and Chanel go great together under the Christmas tree.  Sale price for the 18ky gold Tiffany & Co bracelet $1,510.  CoCo Chanel earrings $220.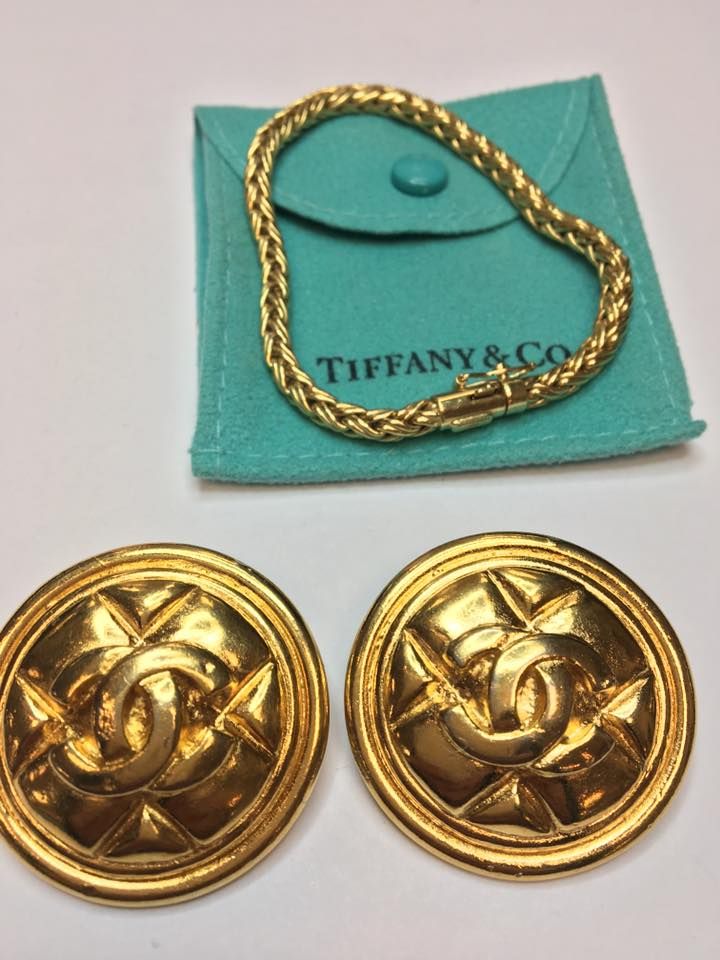 John Hardy bracelets are 15% OFF
Palu Macan hinged cuff sale for only $475.
Cobra coil bracelet only $505.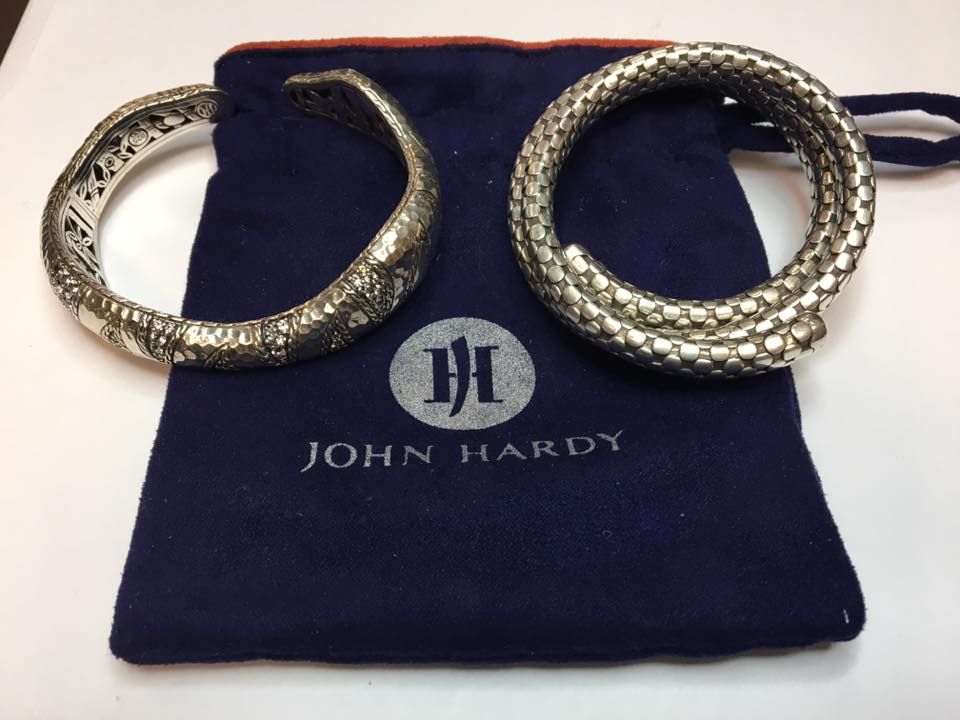 David Yurman rings in smoky quartz with diamonds…OH MY!
 Pricing from $995 to $1,295 with an additional 15% off.
Yellow gold makes the season shiny and bright!
Jade 14ky ring $436.
Emerald and diamond 18ky ring $975.
Diamond 14ky bangle $1,595.
Sapphires are such an beautiful stone with bright blue refraction and a hardness close to a diamond and they are 20% to 25% OFF.
Sale prices seen here range from $735 to $2,235.
Is ruby her favorite gemstone? We've got you covered.
Sale prices range from $550 to $2,995.
This gorgeous strand of shaded ruby necklace can be worn as a bracelet.  Nina Nguyen designer piece with solid 14ky gold.
  Sale price $600.
A charm bracelet is something she will cherish forever. 
This one in 14ky gold, 7 inches on sale is only $396.
Oval link 14ky gold 7 inch bracelet, $716.
Greek link 14ky gold 7 inch bracelet, $316.
This collection was made in Greece with Greek coins
set into 18ky gold and fancy diamonds.
Get these elegant gems that can be passed down from
generation to generation.  On sale for 20% OFF.
Earrings, $2,396.
Ring, $1,196.
Necklace, $4,796.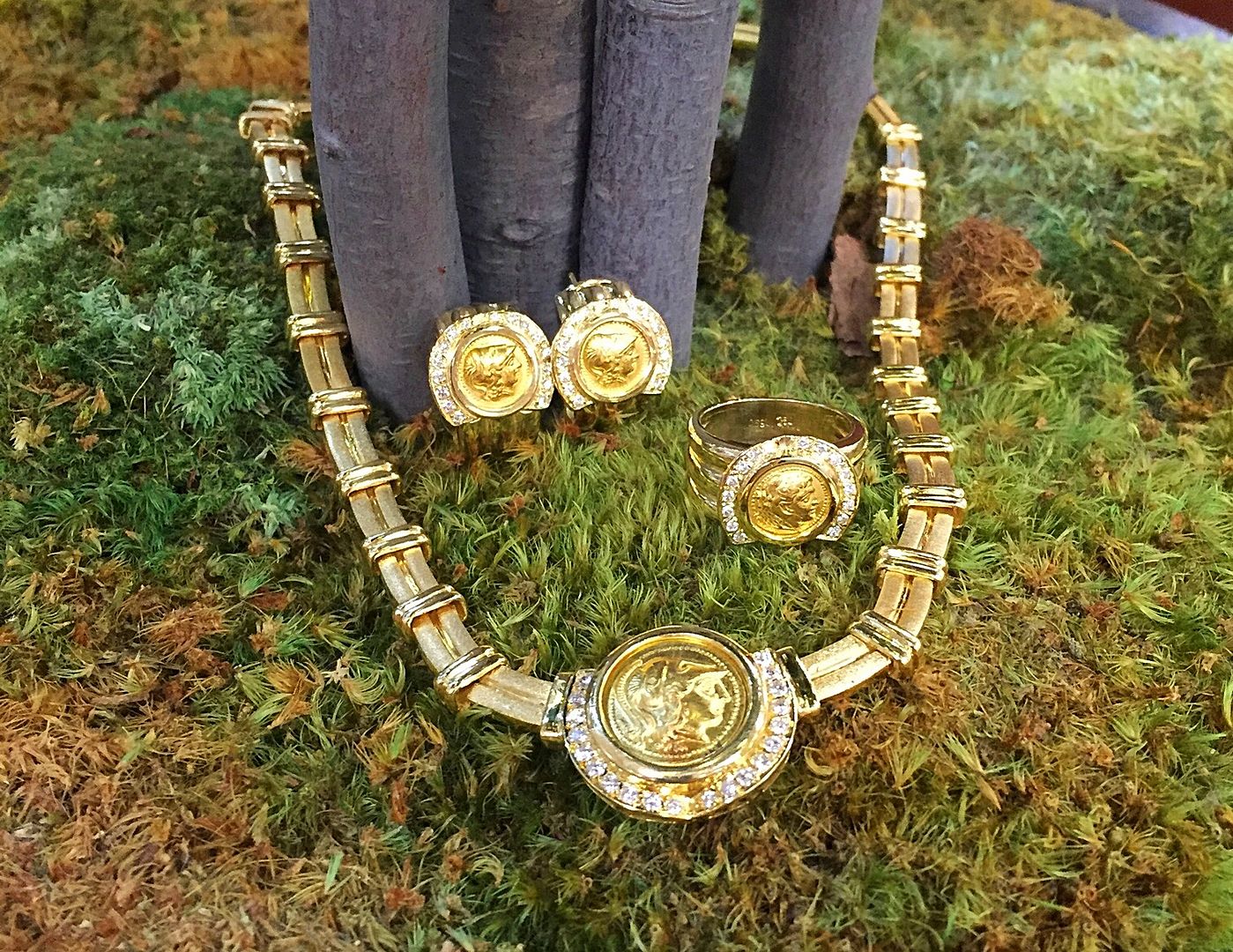 We have so many beautiful and truly unique estate pieces like this handmade 14ky gold pieces with amethyst and rose quartz cabochons. Sale prices range from $315 to $955.
We're your favorite place for certified loose diamonds by GIA.
.90ct round $5,045.
 1.55ct round $11,175.
 1.02ct cushion $4,235.
Who wouldn't want a 5.50ctw diamond necklace under the tree this year. Sale price, $4,795.  Or these Edwardian diamond and sapphire earrings with original case. Sale price, $2,200!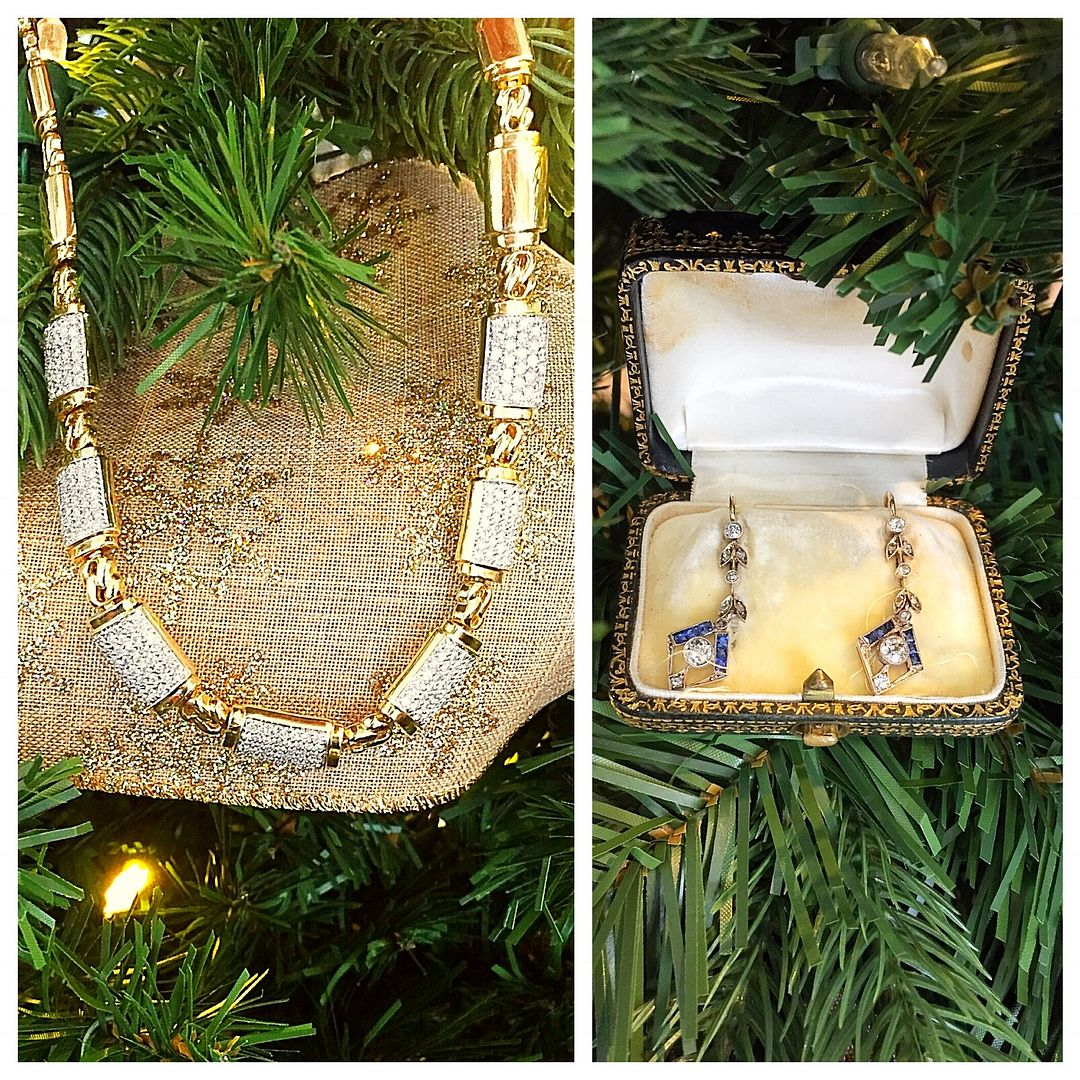 Calling all surfer girls…get your wave necklace with diamonds in 18kw gold for only $1,125 and this S Kashi designer ring for $1,915.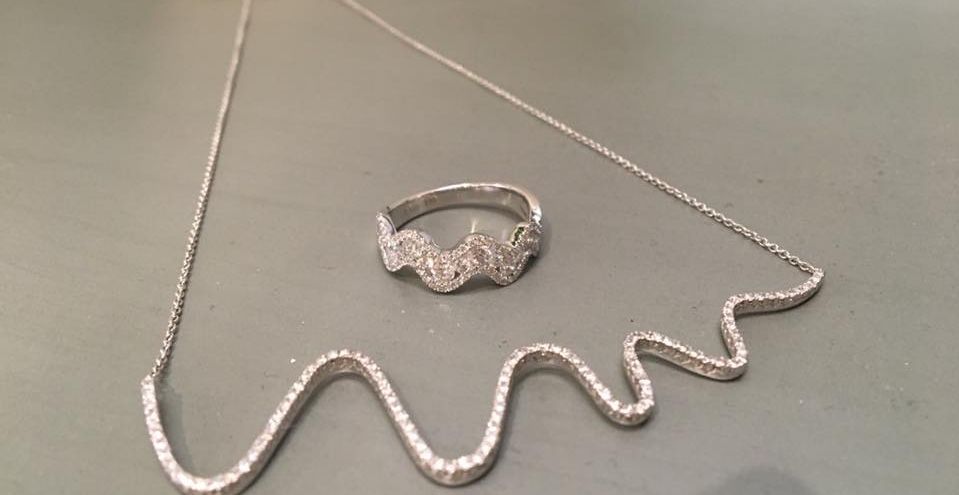 Layer up this winter with gold and diamonds, 20% OFF.
Emerald cut diamond necklace $636.
Flat curb 14ky gold Italian gold necklace $1,276.
1.33ct solitaire round diamond necklace $6,396.
Nina Nguyen designs jewelry is 25% OFF
Ring price ranges from $176 to $375.
Nina's bracelets range from $146 to $746.
Nina's Heritage collection is made with solid 14ky gold. 
In-stock SALE price range $296 to $1,346.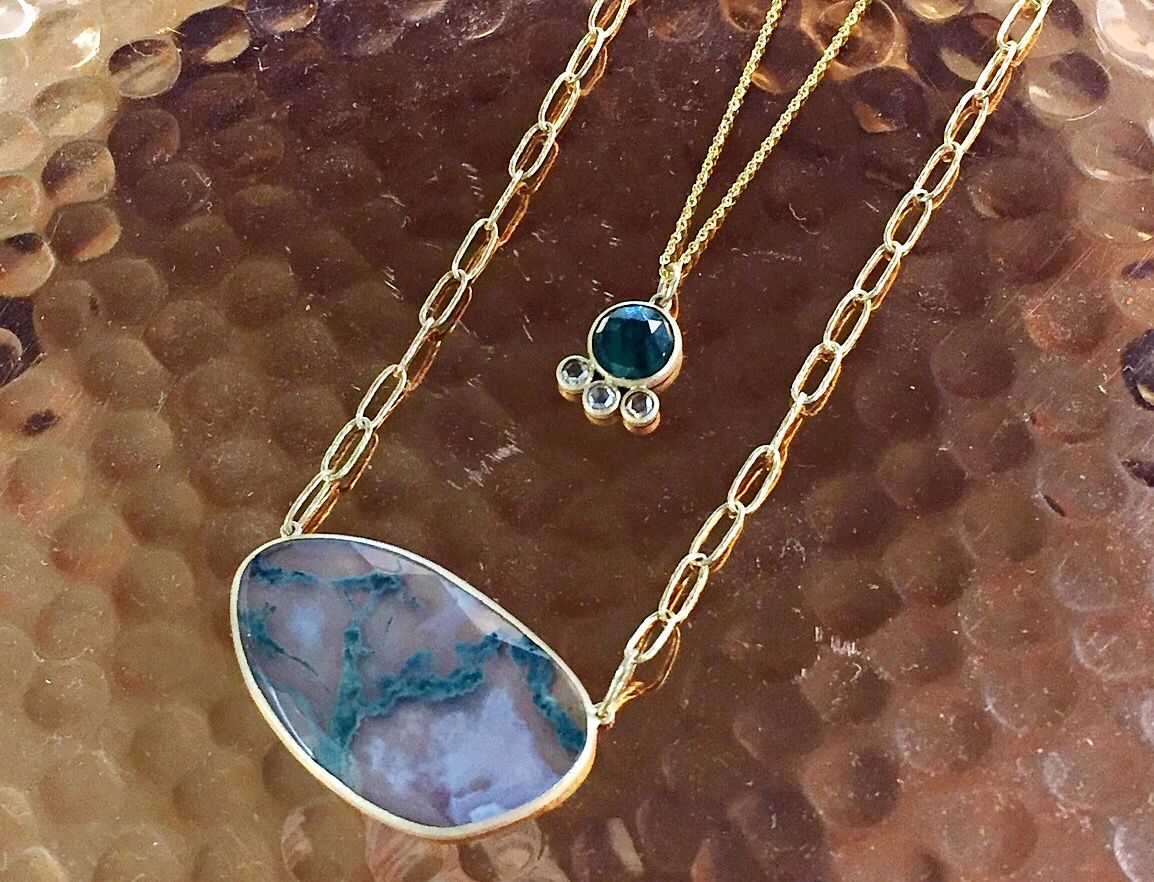 We love this combo together. Two moonstone eternity bands in 18ky gold $410 each diamond band in 14ky gold for only $745.
Every girl should have a strand of pearls under the tree this year. SALE price ranges here from $235 to $895.
Fancy Allison Kaufman Co. diamond necklaces are on everyone's list for the holiday.  Sale price range from $1,155 to $2,625.
We're your #1 source for the jewelry of their dreams…
Emerald and diamond 18ky gold ring.  $945.
Diamond hoop earrings in all shapes and colors.
  Price ranges $195 to $2,925.
Tag Heuer watch with a mother of pearl dial and diamond bezel would make such a great gift! Sale price, $2,235.
Thanks for reading our email and have
a great weekend everyone!