Whoa Nelly…the holiday season is here.
Can you believe it?
NOW is the time to get your home looking great for
the season of entertaining…and we can help!
And we have a special offer for you…
TAKE 10% OFF any dining tables and chairs
and barstools…this weekend only!
There are LOTS of great options to choose from…
Just imagine hosting your Thanksgiving dinner around this
live edge dining table, what a WOWZA. It's a steal at $795, 
but you can take an additional 10% OFF this weekend! 78x38x30
And another rustic beauty…table and 6 chairs $1,095…
plus take an additional 10% off this weekend!
DOORBUSTER SPECIAL!
And while supplies last…come grab some seagrass barstools
this weekend for the special markdown price of just
$75 each…regular price $125.  29.5″ H.
The High Point market samples are
ROLLING IN everyday…
and some great consignments have come in, too.  
Take a look!  
This absolutely EXQUISITE bar in solid wood is a STEAL at $1,795.
Large scale, 78×26.5×42.5
This is the bar of your dreams…
Speaking of bars, this industrial metal and wood bar cart retails
for $825. OUR PRICE $695.  Large scale, 54x20x42
Just so pretty and very large in scale…$425, 41×51
Companion blue leaf art in gold frames, $125 each.
28.5×28.5
This wonderful mango wood bar cabinet retails for $1,125,
OUR PRICE $750. 37x18x73
This bar is equipped to hold
all your entertaining essentials!
It's a bit pricey, but man is it gorgeous…$365, 40.5×40.5
Just in on consignment…look at this burl beauty!
TRUMP HOME bedroom set include queen tufted bed $695
and dresser with mirror $895 (RETAIL $2,158), 60x20x40
This MASSIVE king bed retails for $1,785, our price $1,295.
Dresser retails for $1,125, our price $795.
Nightstands retail for $525 each, our price $395 each (two available).  You definitely need to see this set in person to 
understand how rich it is. Kilim bench, $165. 
This art is subtly coastal, but over-the-top pretty,
$365, large scale 39×53.
Rustic four-door media console retails for $1,125,
OUR PRICE $795.
76x30x29
Another great solid wood score, just $795.
69x16x35
Parrot demilune accent cabinet $325.
35.5x16x33.5
This TOMMY BAHAMA coffee table is still current and retails
for $1,499, OUR PRICE just $495.  32.5×32.5×20
Handsome dresser by National retails for $1,221,
OUR PRICE just $450. 40×19.5×54
This handsome hand-scraped dark wood console table retails for $525, OUR PRICE $395. 58x18x30
Matching end and coffee table available.
We love this solid wood trestle-style console table in black.
$495, 58x18x30
This ultra high-end VANGUARD accent chair with a black frame
retails for over $2,000. Our price just $495! 29″W
Check out the beautiful woven seagrass back of the chair…….
Look at these gorgeous modern chairs! They are literally stopping people in their tracks, but the photos don't do them justice.
Retail is $873 each, our price $575 each. 35″W
In solid wood with bronze arms, and the backs recline!
LOVE, LOVE, LOVE this contemporary olive green loveseat.
Absolutely unique.  It's yours for $695, 67″W.
More modern and edgy goodness…
Modern console table retails for $675,
OUR PRICE $450. 59x17x30
Coordinating coffee table retails for $675,
OUR PRICE $425. 47x28x19
A very cool piece for your home or office.
Industrial hall tree in heavy iron, $395, 40x22x71.5.
Industrial pub table $295, 33.5″ diameter.
Adjustable stools retail for $210 each, OUR PRICE $165 each.
~~~~~~~~~~~~~~~~~~~~~~~~~~~~~~~~~~~~~~~
But don't forget…all dining is 10% OFF this 
weekend, so you can buy this set for even less!
~~~~~~~~~~~~~~~~~~~~~~~~~~~~~~~~~~~~~~~~~~~~~~~
More adjustable barstools retail for $158 each,
OUR PRICE $95 each.
Stunning live edge console just $295!  60″x19x30″ 
Modern industrial desk retails for $863,
OUR PRICE $495.
58x28x30.5
We wish we could get a better picture of this abstract…
it really is a room maker.  $395.
Large scale 42×42
And it's companion…absolutely stunning in person. 
Take a look at the VIDEO of this cool set…
We can see it holding court in a sun room or well covered porch. 
(Sorry, coffee table is sold.)
And more close-ups of this solid mango wood set…
      Washed wood chair $425 each (two available). 30″W
Washed wood bench retails for $1,088,
OUR PRICE $795. 56″W
This washed wood FUNKY bookshelf will fly
out of here at $395. 60x9x56
These are SUPER GORGEOUS in person.
Set of four framed foliage art priced at $165 each.
21×43
This solid wood and iron console retails for $1,125,
OUR PRICE $795. 58×18.5×32
Lower version media console retails for $788,
OUR PRICE $595.  65x17x21.5
Come STEAL this desk and chair by quality maker BERNHARDT.
Retails for $935, our price just $395.
Desk 39.5×18.5×34
Sleek buffet by TRUMP HOME is yours for just $695.
65x22x35
SMITH BROTHERS ottoman in a cheery red retails for $693,
our price $195.  In great condition.
33″ diameter x 18″H.
Colorful KILIM bench retails for $263, OUR PRICE only $165.
47x16x18
And another one in more muted colors…
this won't last at $165.
Beautiful wood/metal coffee table $350.
36″ diameter x 19″H.
Coordinating pub table $225, 30″ diameter x 40″H.
L A R G E  decorative birdcage in rattan, $75, 14.5×14.5×40
This POTTERY BARN fireplace screen retails for $300,
OUR PRICE just $125.
Entertaining a large crowd at Thanksgiving?
Come pick up this nice set of four dinner tray tables for $95.
Hexagon shaped washed wood pedestal style accent table $245,
26″ diameter x 30″H.
Another awesome piece for entertaining…this rustic wine cabinet retails for $593… our price, $395. (43x17x39.5) 
This beautiful buffet in a washed finish retails for $743,
our price $550, 56x16x36.
Cute little pale blue bedside table just $85,
22.5x14x26
Window-style mirror in distressed white with real working shutters,
$265, 31.5×47.5
Just in on consignment… Stormy Night
by Uttermost, $245! (60×40) 
Guess what? You NEVER have to worry about holiday shoppingwhen you need something for that someone special… 
you can shop 24/7 at luminagem.com!  
We can ship your purchases to you or we can
have it wrapped up and waiting for you in the store!
~Every lady LOVES diamond jewelry and we are fully stocked~
We have so many options for your sweetie.
  Click the picture here to view all of our new
S. Kashi & Sons jewelry pieces on our online store.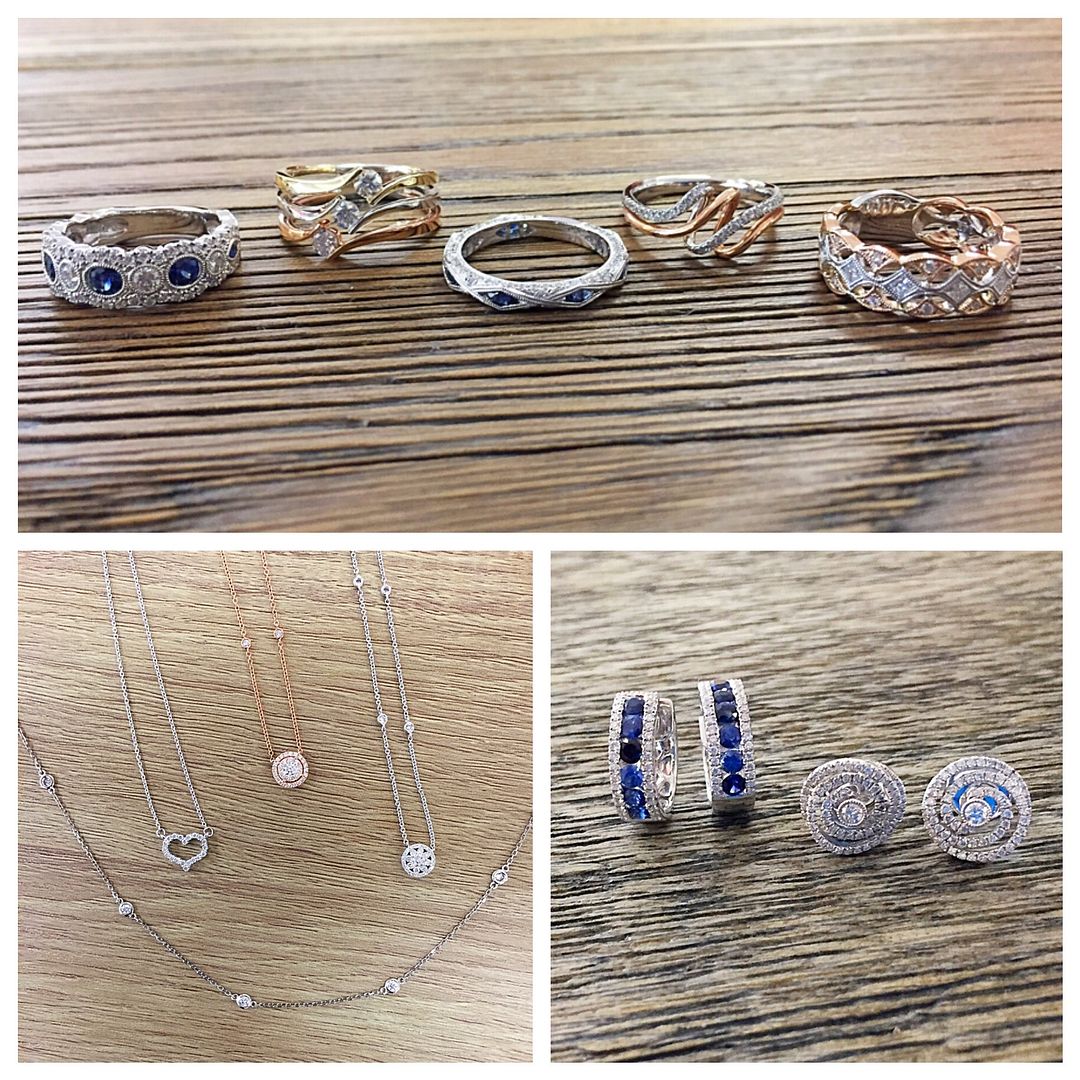 Ilias Lalaounis designer bangle set with approximately
VS clarity G color 3ctw diamonds with ruby eyes set
into 18ky and white gold, 7 inches.  $9,995.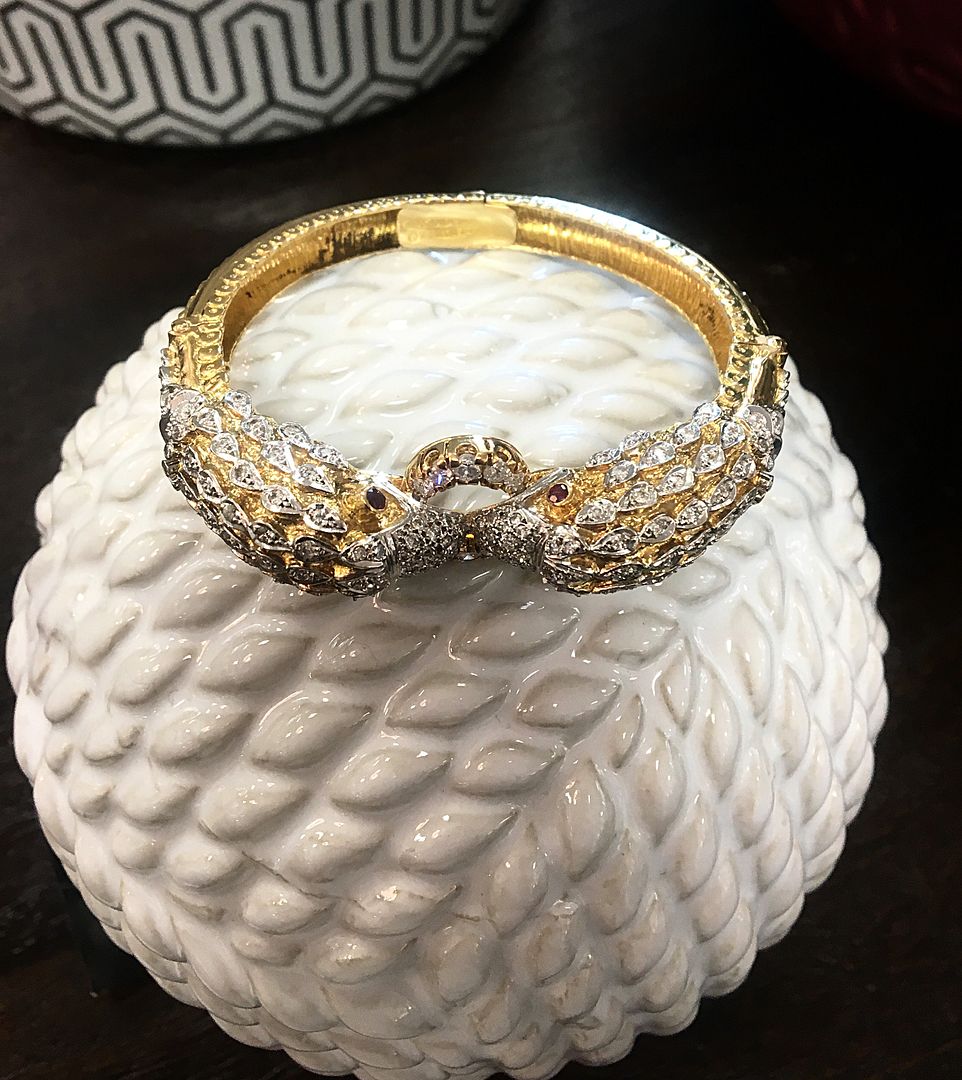 This bracelet is for the most precious lady…
Diamond dangle circle earrings in 18ky gold.
$995.
Ippolita Rock Candy smoky quartz hoop earrings in 18ky gold. $1,395.
Estate smokey quartz enhancer with sterling silver adjustable toggle chain.  $395.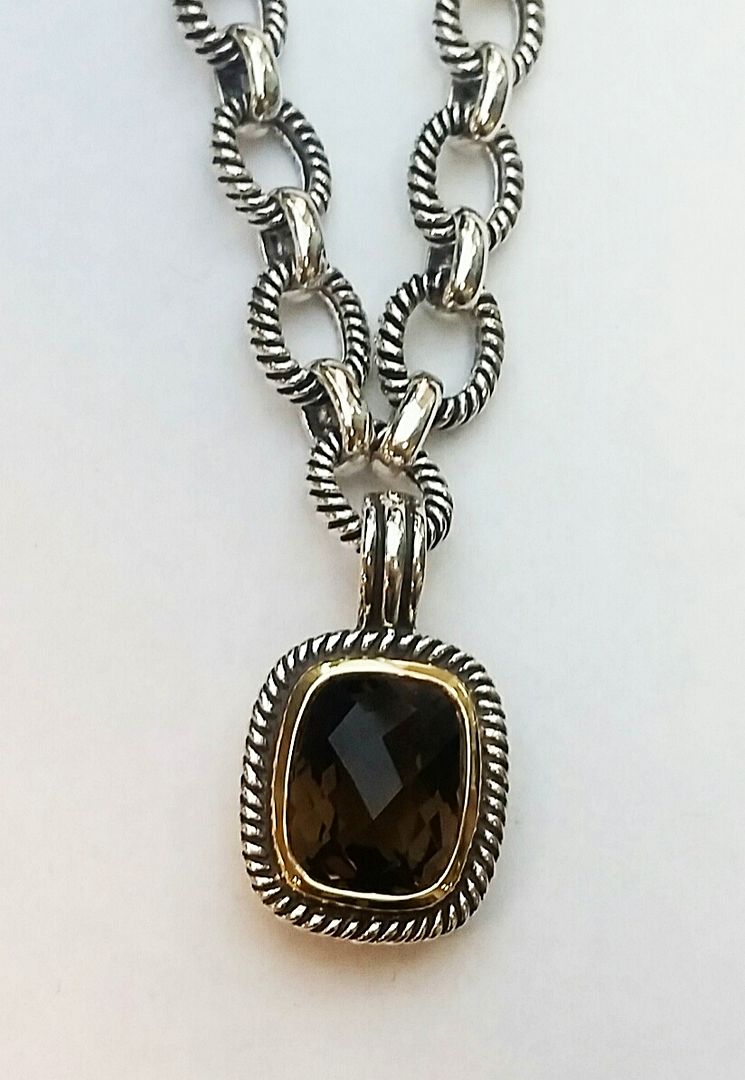 We have so many items of David Yurman on consignment
for you to choose from… like this stunning duo.
Albion blue topaz diamond ring. $445.
Albion blue topaz diamond pendant. $195.
Click on this picture to see all on our online store.
8mm David Yurman classic wheat chain with 14ky gold accents.  Retail $1,200.  Buy here $795.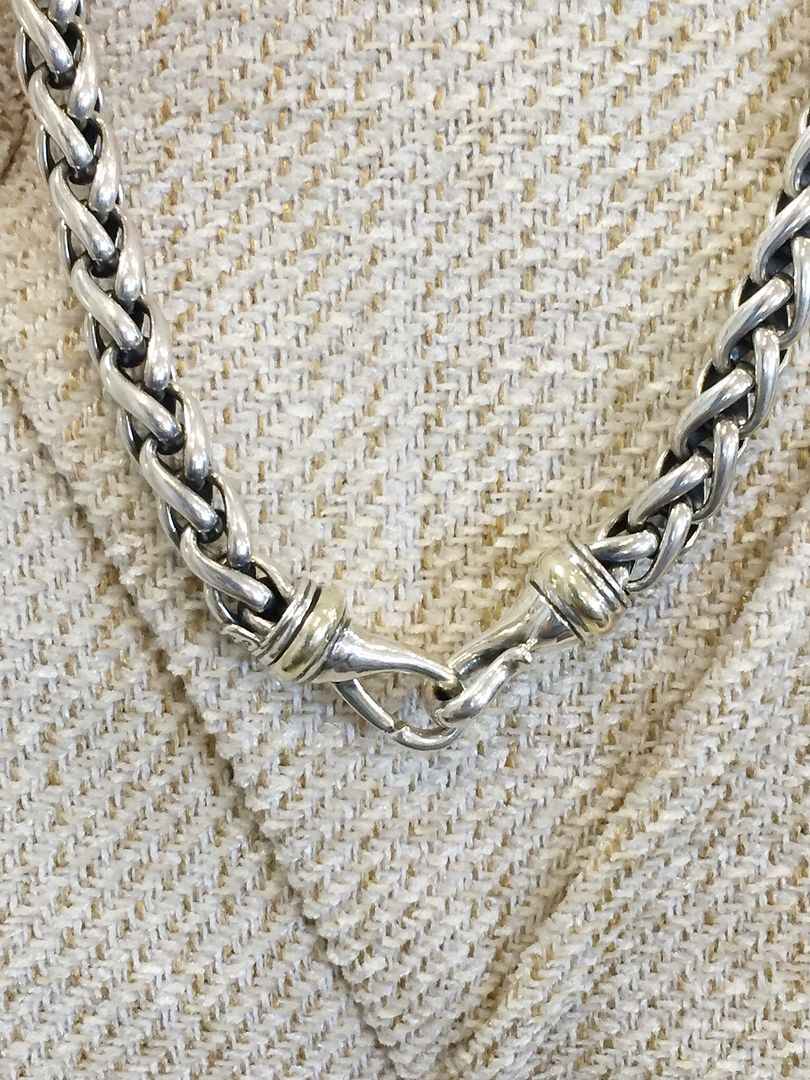 David Yurman confetti ring with peridot, tourmaline, and diamonds.  $455.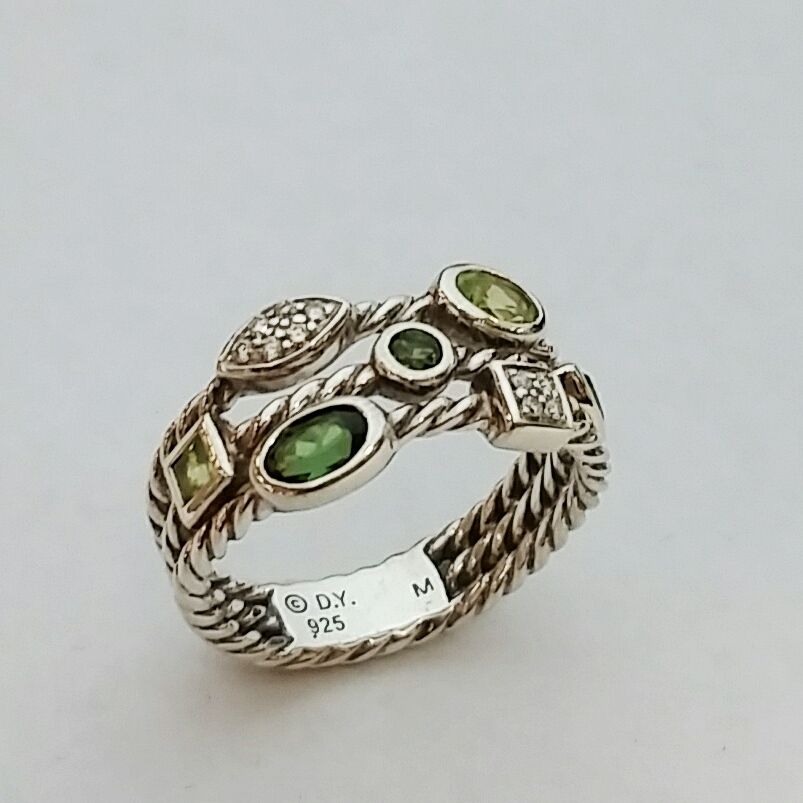 David Yurman diamond crossover ring $445.
David Yurman crossover ring with
18ky gold crossovers $325.
David Yurman lapis and sterling silver
bead adjustable bracelet. $425.
We also have numerous John Hardy pieces like this
white sapphire cuff for $545.
 John Hardy sterling silver and 18ky gold bracelet, 8 inch. $745.
John Hardy Kali blue topaz ring.  $445.
John Hardy black sapphire lava bracelet, 9 inches.  $395.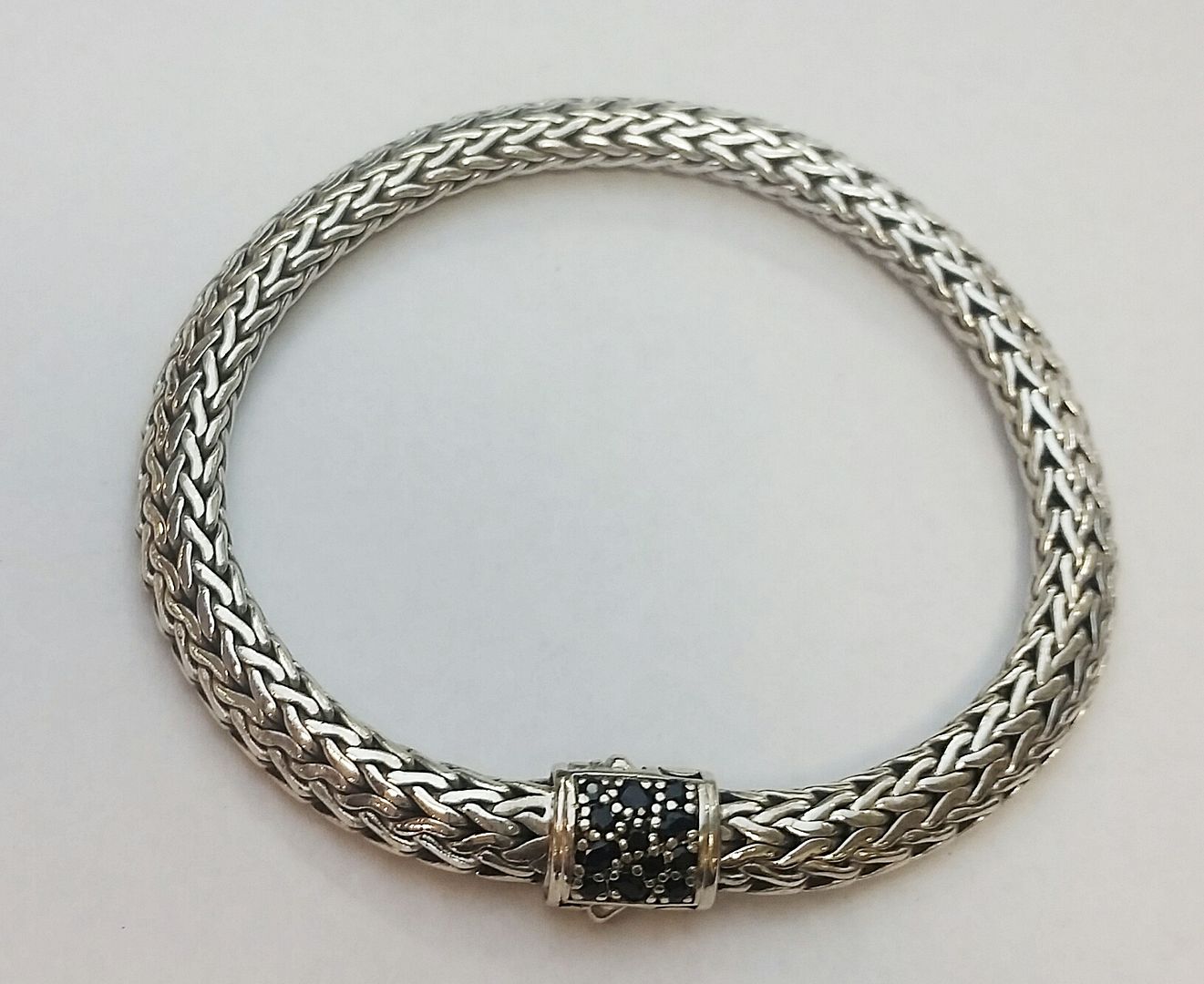 Tiffany & Co. is such a great gift to give at an affordable price
when you buy from us. We price our consignments at
30% to 70% off of retail.
You can now shop online on our new website. 
Just click this picture below to be directed to the
in stock items of Tiffany & Co.
 VS2 clarity G-H color, 2ctw diamonds set into a three strand 14kw gold 63 gram necklace, 16 inches. $7,995.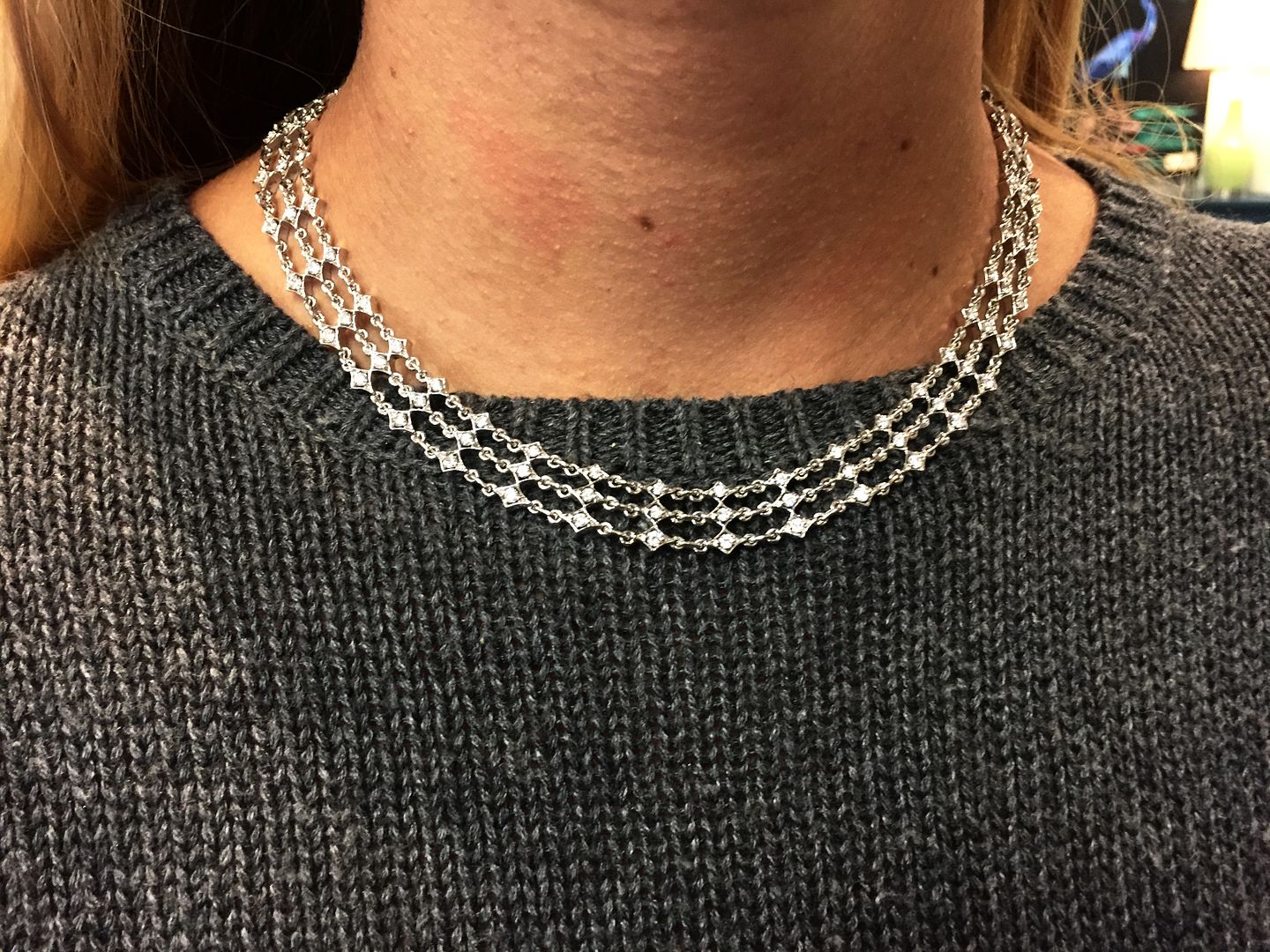 2ctw 18k rose gold and white gold eternity band set of 4, size 6. $2,995.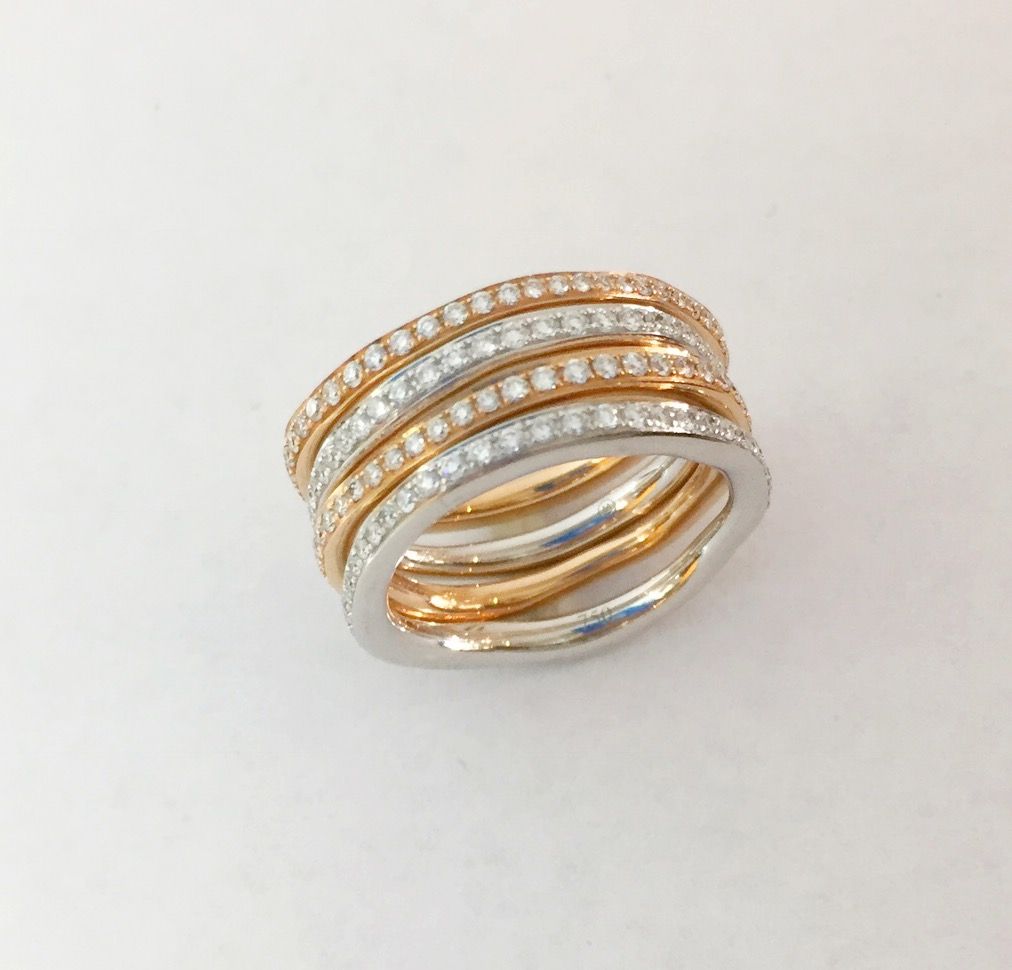 What's better than a blue sapphire?  One that is from Montana. 
Why buy a sapphire from Montana?
1.  It is mined cruelty free in the Yogo mine
2.  They hold their value
3.  The color is gorgeous
4. They make fantastic engagement rings
All of these rings here are set with VS/SI diamonds in 18kw gold.
Top:  1.48ct oval Montana sapphire $6,595.
Bottom: (left) .91ct Montana sapphire $3,745.
(right) 1.26ct Montana sapphire $4,195.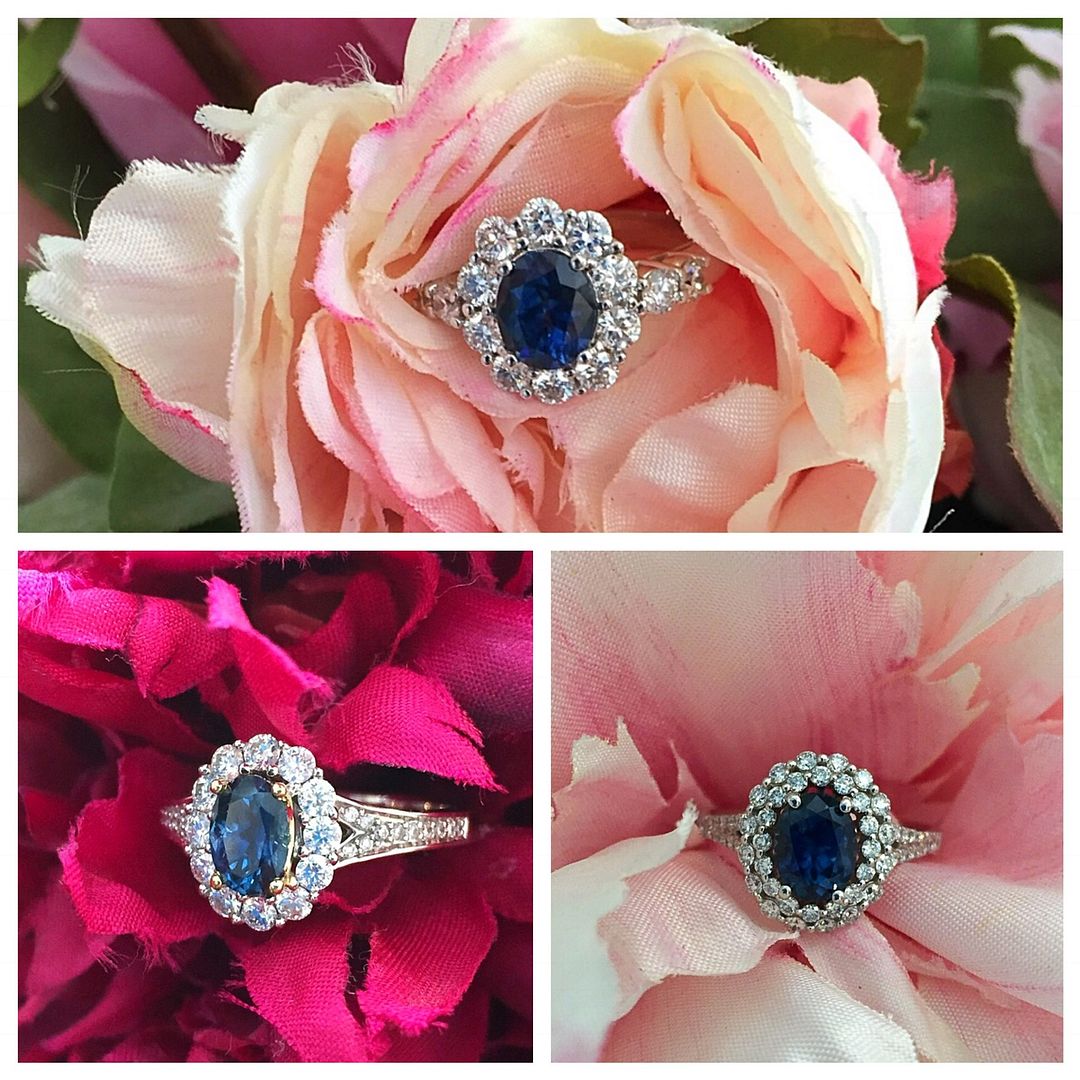 We are fully stocked for Santa with diamond bracelets
in all price ranges and styles. 
This Allison-Kaufman Co. unique bracelet $3,995.
Click on this picture below to see all of the different diamond bracelets that we have in stock.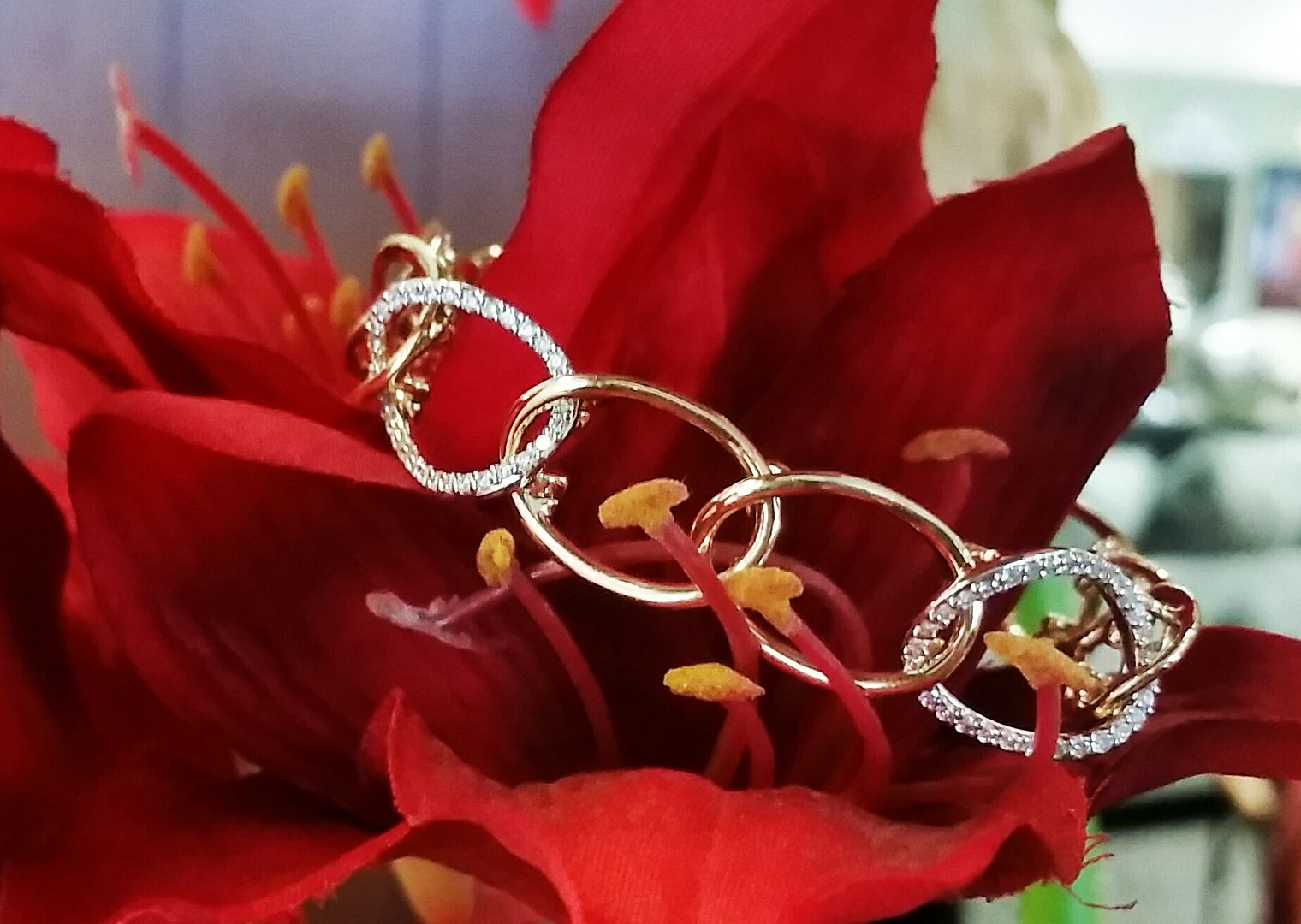 Natural 7.5mm to 9.5mm natural jade beads with a 14ky gold clasp, 18.25 inches. $995.
Take your pick for only $95 each.
Blue topaz and 14ky gold earrings.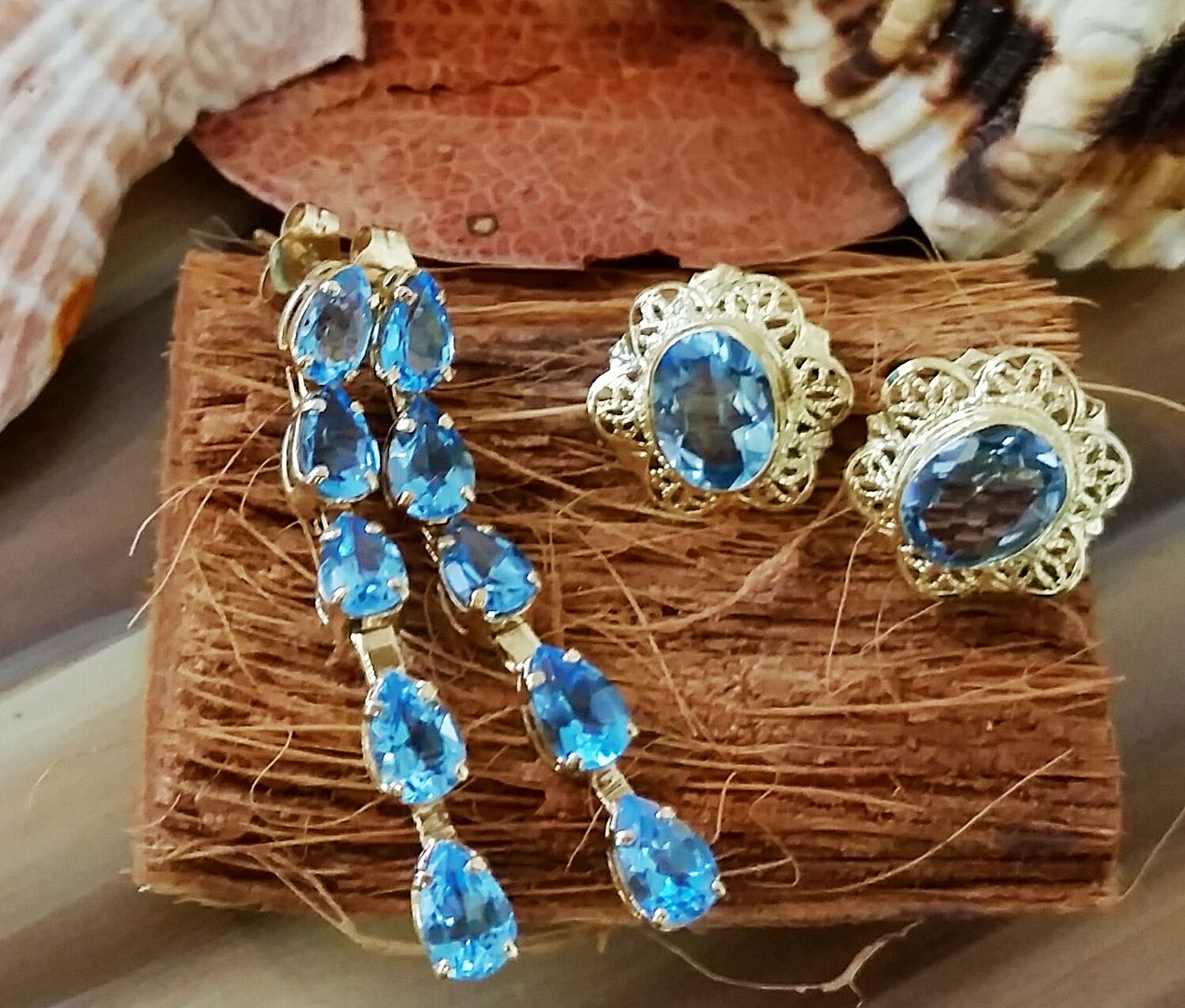 Stock up for every occasion with these BIG BUYS. 
14ky gold rings with opals or amethyst $295 each.
Rhodolite garnet 14ky gold pendant. $195.
Diamonds by the yard in 14ky gold, 18 inches. $825.
Unique rings pictured left to right: amethyst, blue topaz, tsavorite garnet set into 14ky gold. An affordable $245 each.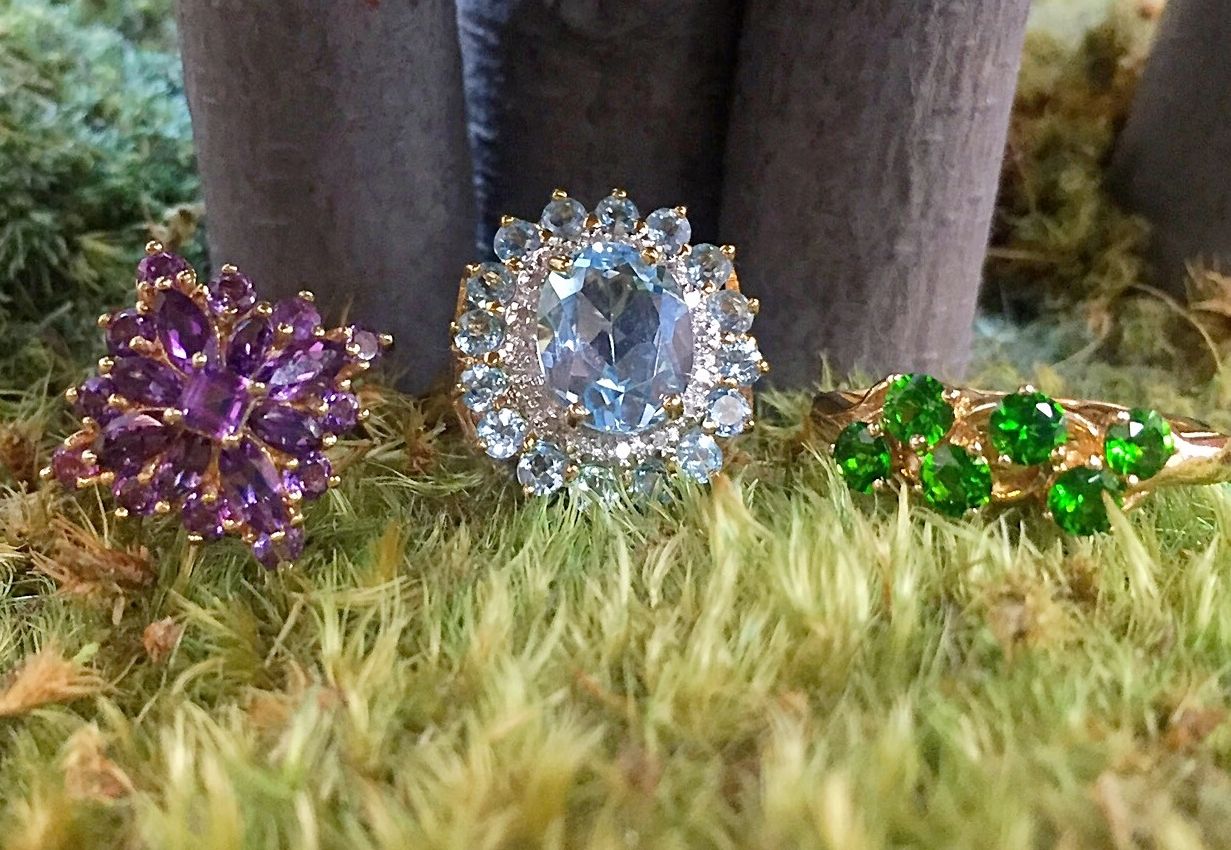 We LOVE this 1.75ctw diamond chrysoprase and black jade
inlay set into 18ky gold. $1,495.
Smaller size wrist .25ctw diamond rose cuts set into silver and set onto a 3/4 inch wide 18ky gold locking bangle.  Etched on the side "presented to my sister".  Engraved inside "Jack to May" which can be removed if you like. $2,395.
 An antique eastern star ring with a .25ct center diamond with emerald, multi-sapphire  and ruby star gemstones with .20ct diamond accents set into platinum. $595.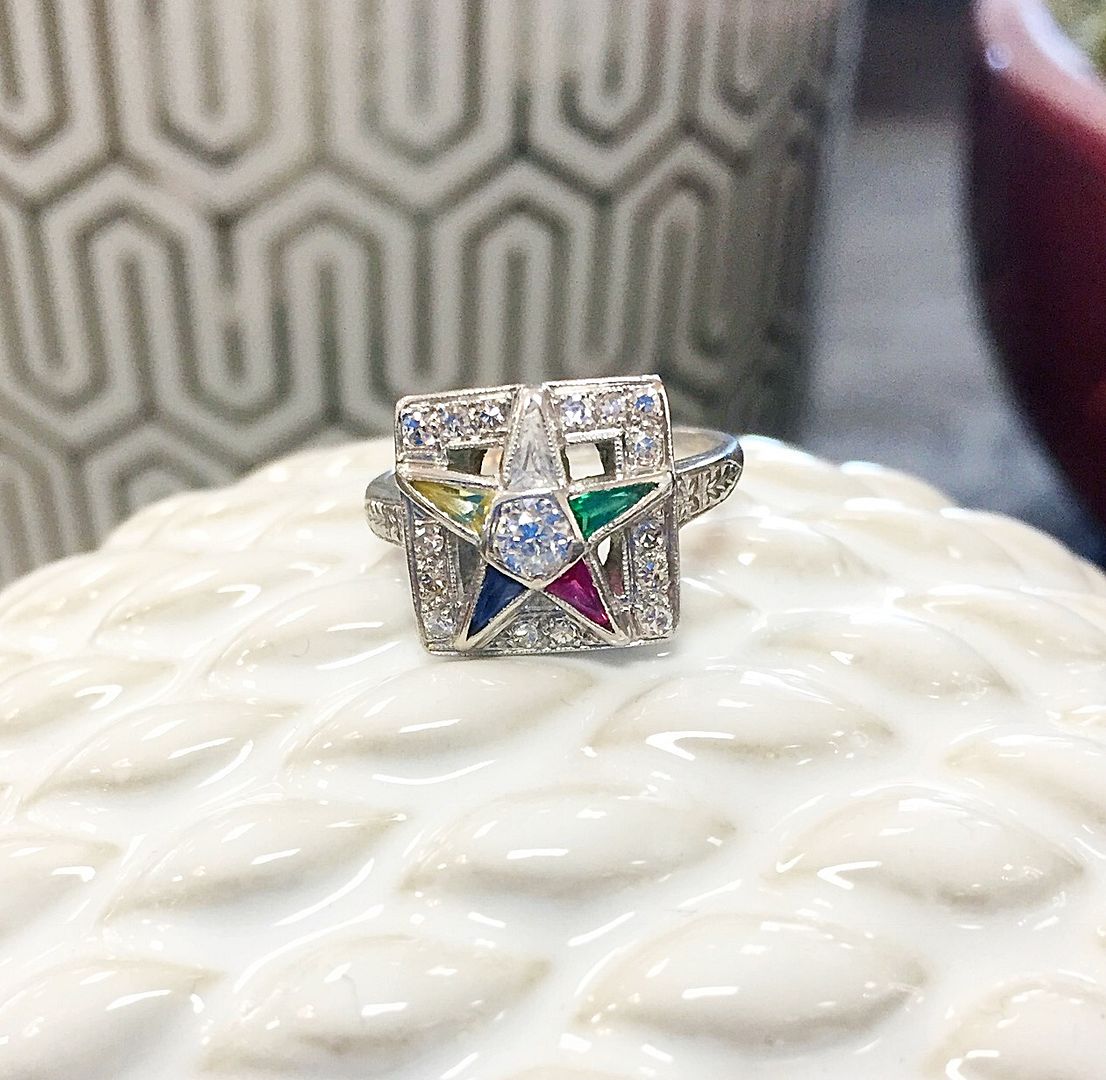 2.50ctw diamond ribbon 18kw gold ring.  $3,995.
Antique .25ct center diamond set into an 18ky gold floral
brooch with a 9ky gold pin. $295.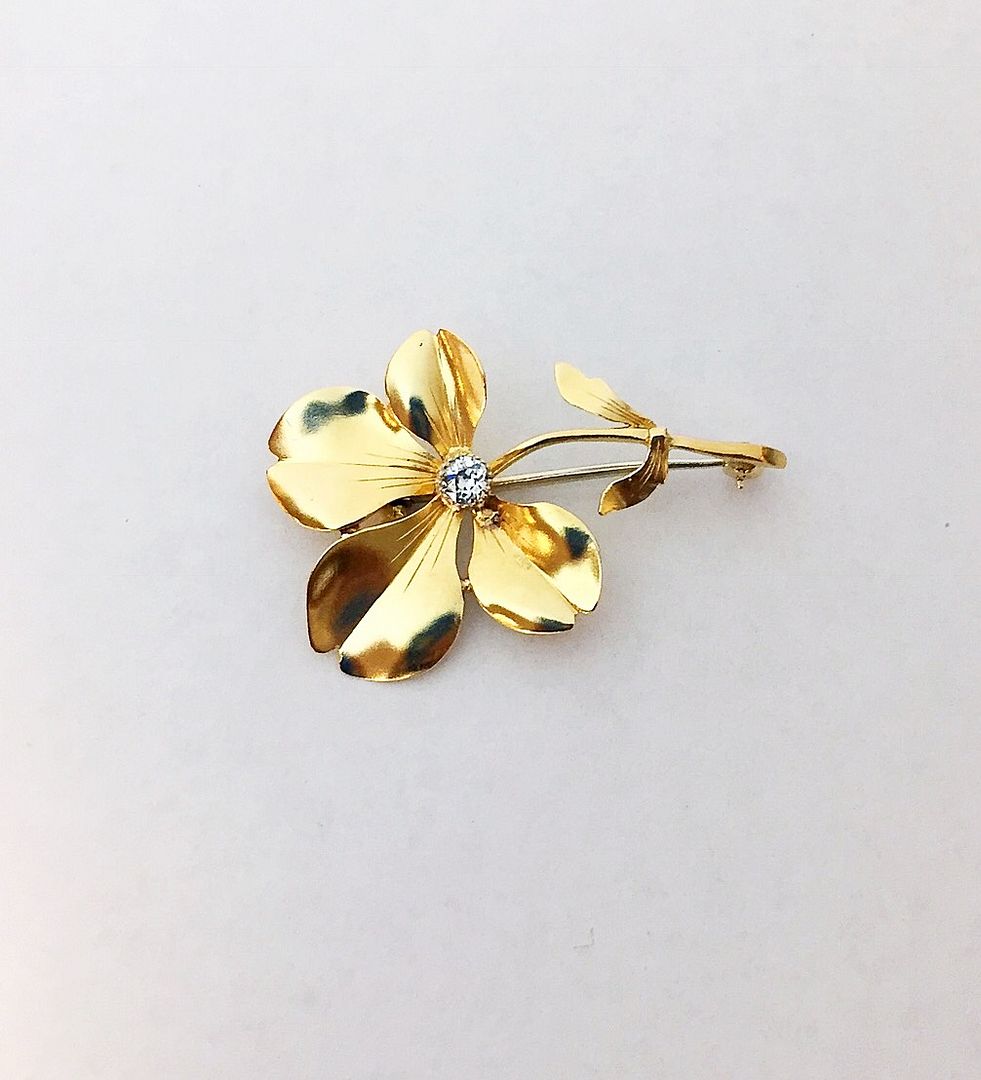 You can't go wrong with this  1.31ct round brilliant VS1 clarity J color (sparkles white) set into a 14kw gold ring for only $7,995.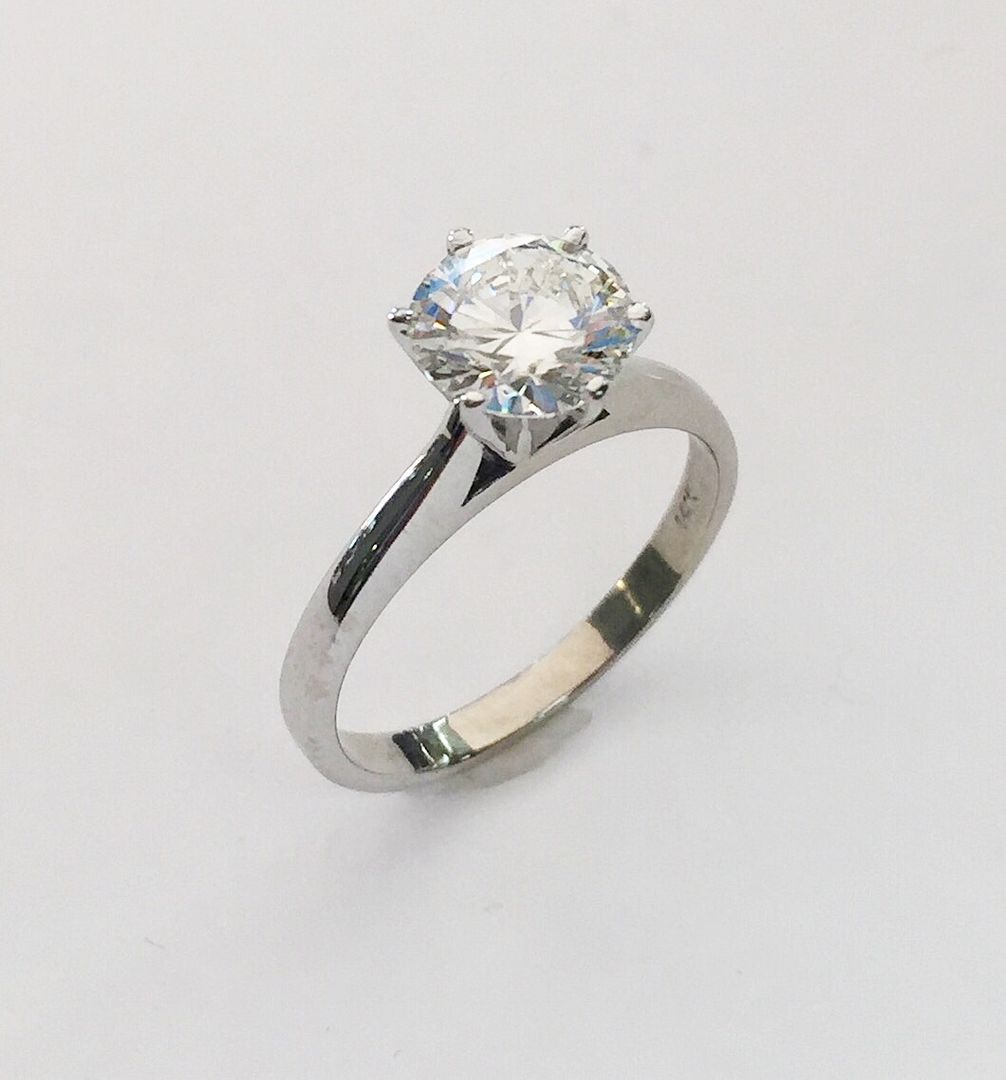 ~~~~~~~~~~~~~~~~~~~~~~~~~~~~~~~~~~~~~~~~~
Thanks for reading our email.
NOW is the time to get
your home looking great…
it's holiday
…and don't forget…
all dining and barstools are 10% OFF this weekend!