Whew…the election is over and
we have ALL been on a roller coaster ride.   
Whether you're happy or sad, a little RETAIL THERAPY might
be just what you need after this tumultuous week!
On with the show…and it's a good one, we just received a
HUGE TRUCKLOAD of High Point market samples!
Large and in-charge…this large scale buffet is made
of solid wood and is a showstopper!
$995. 71x17x40
Another great buffet option…in solid wood, $695.
63x18x40 
Mocha sectional that is large enough for the whole family!
$1,295. 120x145x80
A nice look…
Farm table, $395. 84×39.5×30
Espresso bench, $125. 56.5x14x18
Black dining chairs, $95 each (two available, not sold separately). 
Accessories, $4-$82
Just in on consignment…it will absolutely not last…
this genuine leather sofa retailed for $2,500,
our price $895.  Like new condition.  86″W
This demilune console with a circle design
is just so cool!  $345.
48x15x30 
The picture absolutely does not do justice to this wonderful chest/buffet in black.   $650. 59x20x40 
6 super nice tufted upholstered dining chairs for $175 each
(sold in pairs), surround a lovely solid round dining table in espresso. The table retails for $1,171,
our price, $695. 60″ Diameter
This chair is AMAZEBALLS…leather in a soft gold frame,
brand new market sample for $495. 34.5″W
Another gorgeous piece…buffet in solid wood $695. 52x22x39 
Flexsteel Recliner in like-new condition, $395. 36″W
This is a wowza in person…solid wood dining set
with 6 chairs, $1,495, 78×38
matching console table, $450. 60x18x30
 A little pricey, but absolutely lovely.  Hand painted
shorebird terra cotta lamp, $295. 32″H
This pair of mid century inspired chairs are solid wood
and super nice for $295 each. 26″W
We LOVE this kilim trunk,
and it's a super buy at $295. 46x15x15
Almond "chofa" with reversible chaise, only $695! 80″W
The picture absolutely does not do justice to this coffee table;
a dark gray wooden top is inset in a soft gold metal base…
just stunning!  RETAILS for $1,020, OUR PRICE $695.
59x36x18
Cute charcoal vanity stools just $62 each. 18″W x 23″H
So modern and with such good quality, solid wood bookshelf, RETAILS for $825, OUR PRICE $545.  33×17.5×77.5 
Well constructed chest a steal at $395! 35×17.5×52
Rich espresso Martha Stewart dresser, $450. 62×21.5×40
Tile mirror, $95. 30×48
The stone look lamps are a little wobbly so they
and priced to move at $42 each! 31″H
For his  man cave…saddle brown reclining sofa, $795. 86″W
Fun coral and lavender swivel chairs accented in eggplant piping ONLY $165 EACH, 34″W
Loving this gold cage pendant with linen shade, $225. 
13″ Diameter 23″H
Nice black media stand in good condition, $175. 38x21x30
Another wonderful kilim piece, this oversized ottoman retails
for $338, OUR PRICE just $225. 32x32x19 
We just LOVE LOVE LOVE this wooden trunk,
just $275.  38x28x18 
Super funky modern coffee table RETAILS for $675,
OUR PRICE $425. 47x28x19 
Just in…rattan chairs just $62 each. 20″W
This rough hewn rustic wood desk WILL NOT BE HERE LONG
at $245. 45x24x30
KINCAID sofa in great condition, just $695! 86″W
A nice and narrow console in antiqued black, RETAILS for $580, OUR PRICE $395. 59x12x39 
Round blue side table retails for $269.
our price, $175, 21×26
Solid black buffet with marble top, $175. 44×22.5×42
Just in on consignment…
Pottery Barn dining chairs retail for $194 each. We have six available at $125 each! SOLD IN PAIRS.
Pottery Barn 30″ stools, retail for $199 each, two available.
Our price, $125 each. SOLD IN PAIRS.
Dreamy and large scale abstract $395, 51×51
Large armoire in a warm chestnut finish,
a STEAL at $495.
49×25.5×79
Soft green abstract on canvas, $95. 46×36
Small scale black console table $145, 31.5x16x31.5
Another great small scale console $125, 38x14x30
Handsome and modern queen bedroom set, $1,295. Set includes bed, dresser with mirror, tall dresser, and bedside table.
Antique style wine opener, $42, 24″H
We have a pair of these woven seagrass lamps with large white shade, $72 each,  30″H
Get a GREAT BUY on this pine storage coffee table for just $175, 43.5x25x19
Two coordinating side tables available at $75 each,
21x24x20.5
Pair of white 30″ bar stools, $125 each
(not sold separately).
Just in on consignment…wood coffee table with
tile inlays and metal base, $175. 50x30x19
Matching side table, $95. 28x23x24
Look at all the fun colors in this floral ottoman,
just $236, 36x36x17
Take a look at this unique nautical lamp that is just
in on consignment,
just $225. 18″W x 34″H
Nicely framed boat art, $72. 41×30
Espresso dresser with white leather like drawers & mirror,
lots of style for $595! 65x18x35.5
We love this white wash etagere, $375. 36x18x61
There is LOTS MORE from our High Point truckload
shipment, make sure to stop by this weekend!
David Yurman Nobelesse amethyst 14ky gold and sterling silver
is at the top of her list and only $395.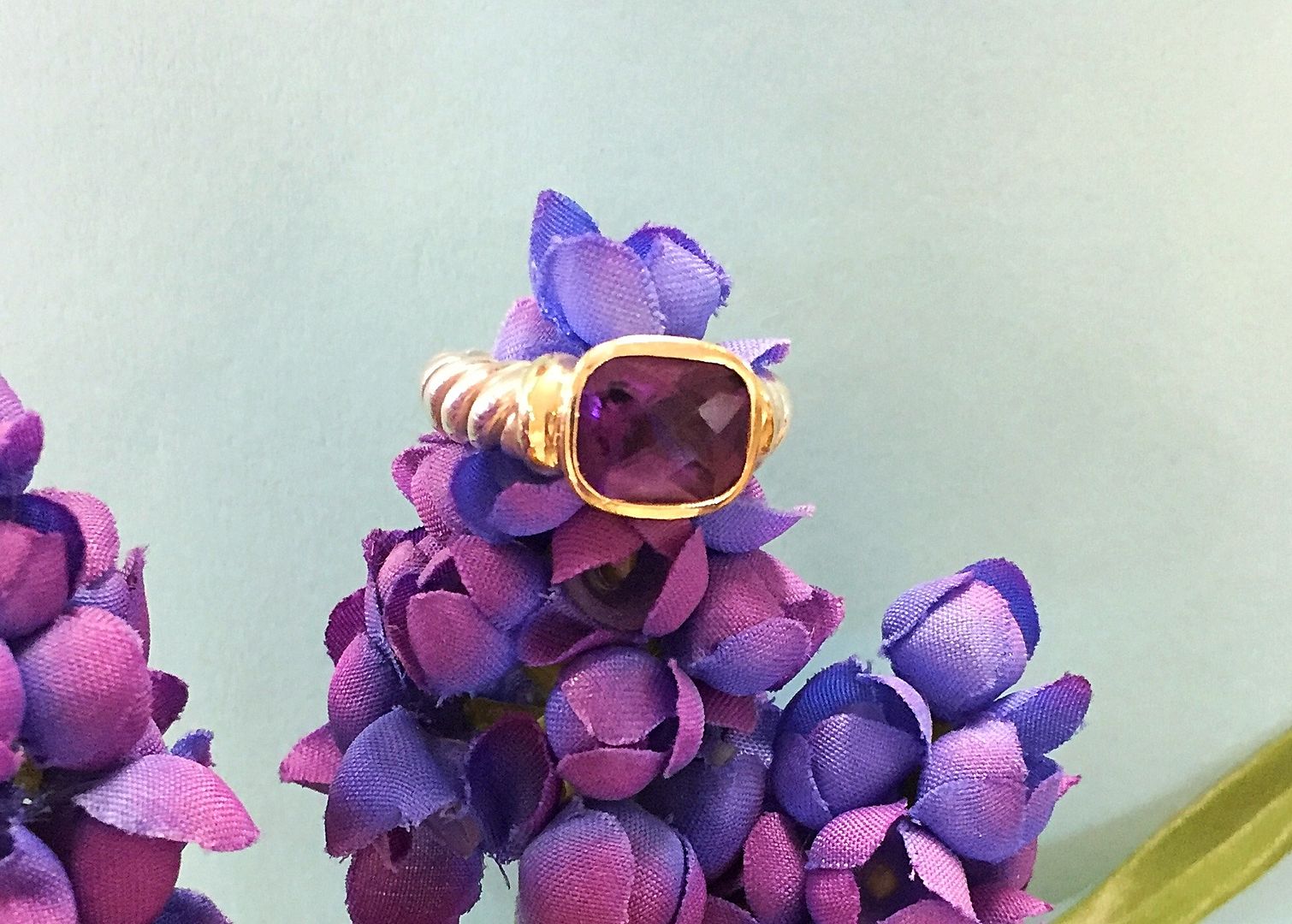 Check out this Vahan necklace that just came in on consignment.
Buy here for only $3,195
~JOIN THE FUN~
1. Like luminagem on Facebook
2. Share the entry post
3. Tag a friend
You could win this $1,575 Vahan bracelet.
Don't have a Facebook account?
Click this picture and fill out a wishlist on our website to be entered.
This necklace makes the perfect gift.
.28ct round diamond bezel set into 14kw gold.
Can be worn at 16 or 18 inch. Only $625!
Tony Maccabi designer red coral, turquoise, pink coral, and lapis necklaces in 14ky gold only $995 each.
Dangles are a sure-fire gift for anyone on your list.
These Raymond Mazza pieces range from $115 to $165.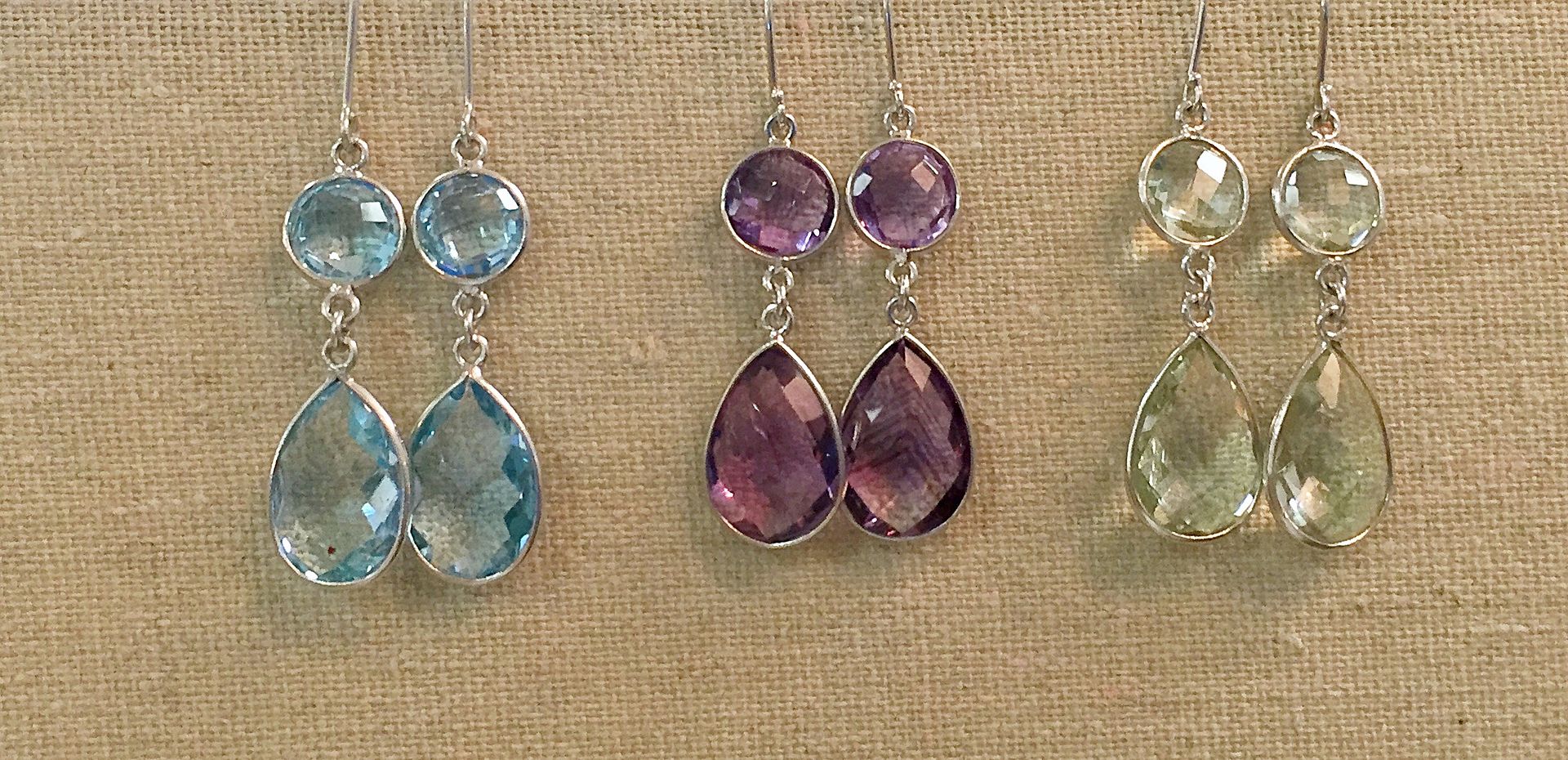 Nina Nguyen earrings with carved turquoise and rainbow moonstone in 22ky vermeil $395.
Get your holiday gifts at the store or shop online with us!
Allison-Kaufman .11ctw SI1 G color 14kr gold 17 inch necklace $725.
This Jaguar ring is such a Great deal with diamonds
and tsavorite garnet eyes for $1,995.
This stunning 18ky gold ring fancifully holds a
natural jade oval and is only $795.
This bracelet is so sleek with a 4 strand woven design in solid
14ky gold with a locking clasp, 7 inches.  $975.
Rolex pearlmaster with a white mother of pearl dial and diamonds on the bezel and markers.  This solid 18kw gold watch is in excellent condition and has been authenticated, comes with original box and the serial tag.
We are offering a 1 year warranty on the movement.
$25K
Not for the ordinary girl.  These natural 3.13ctw pear shaped blue sapphires are accented by 5.30ctw diamonds set into 18kw gold.  $13,525.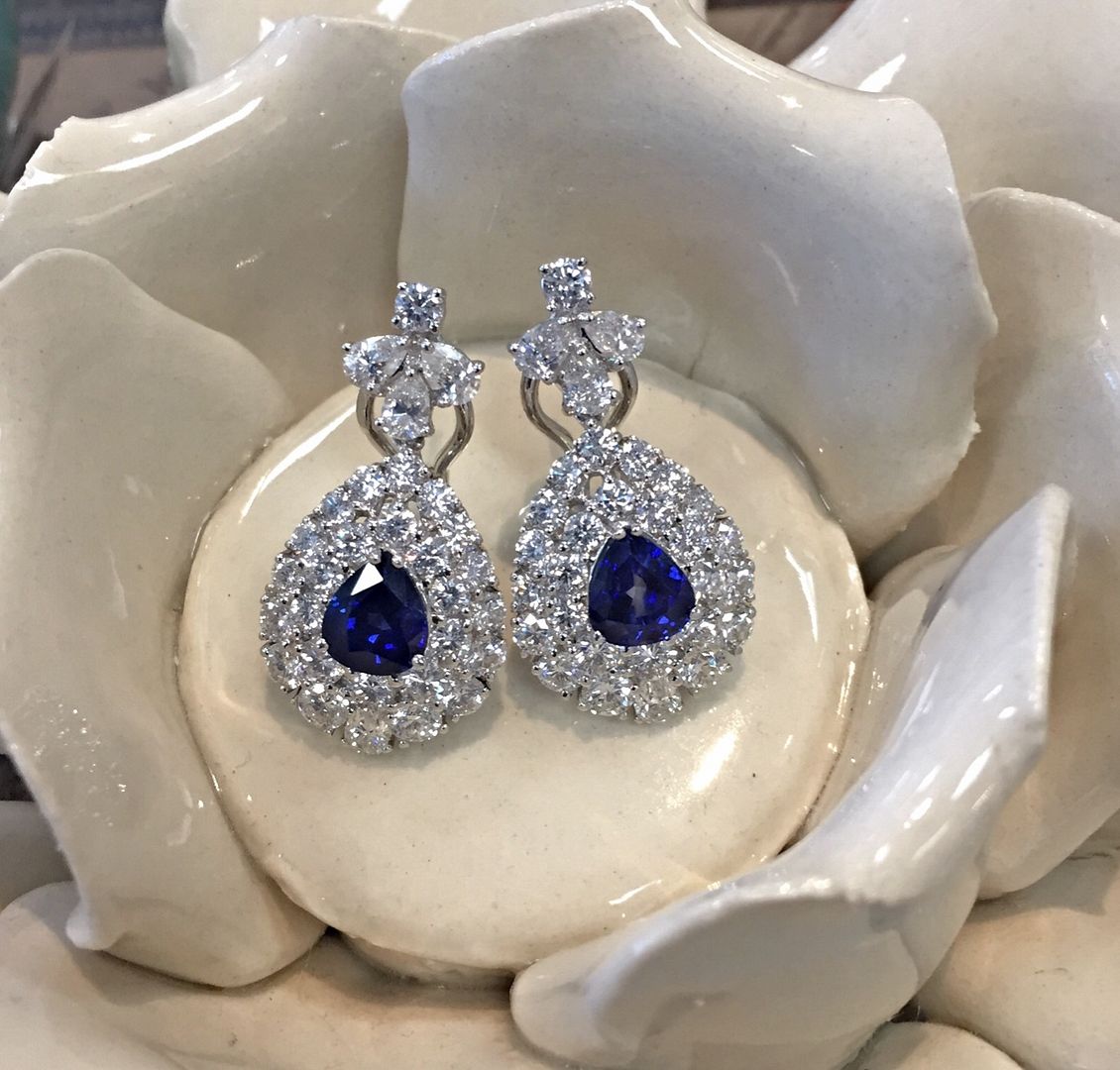 This antique set is so cute.
6.5mm pearl and diamond ring in 14kw gold.  $345.
5.75mm pearl earring studs in 14kw gold. $245.
Pretty blue sapphires accented by
diamonds in 14k gold.  $795.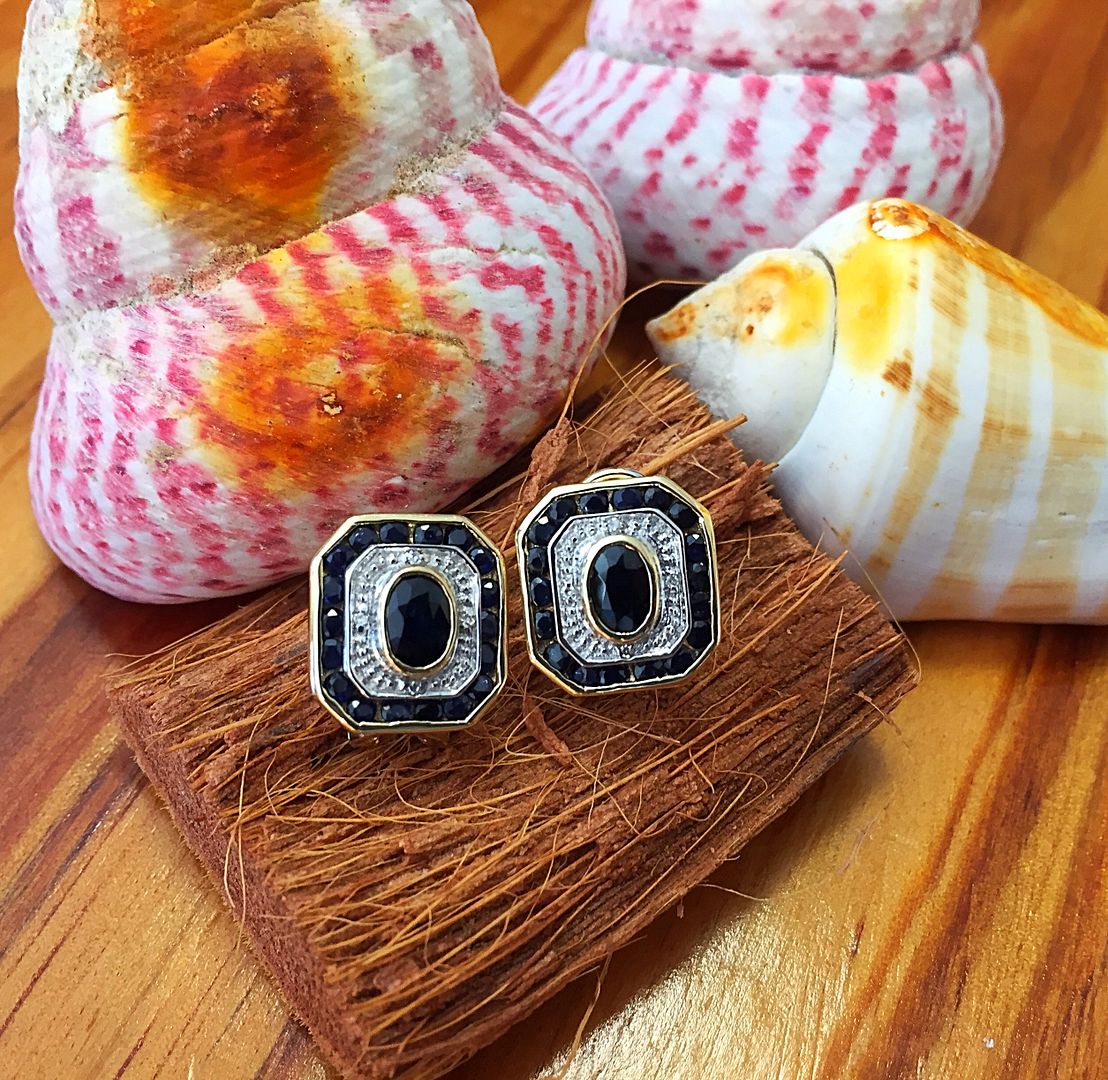 7ctw sapphire and 1ctw diamonds set into 14ky gold. $2,795.
Charles Garnier collection offers a classic look and so affordable that it makes it easy to stack.
Three faceted beaded row silver cuff  $275.
Hook silver bangle $115
Diamond braided silver cuff $645.
Etched gold never looked so good.
Cuff $1,135.
Ring $195.
This wide ring would look fantastic with diamond bands on either side. 10.5mm width etched band size 8.5 in 14ky gold $535.
Stay on trend with this affordable combo.
Nina Nguyen faceted spinel with 14ky gold accents,
36 inches.  $395.
A etched vintage enhancer pendant
with black enamel.  $395.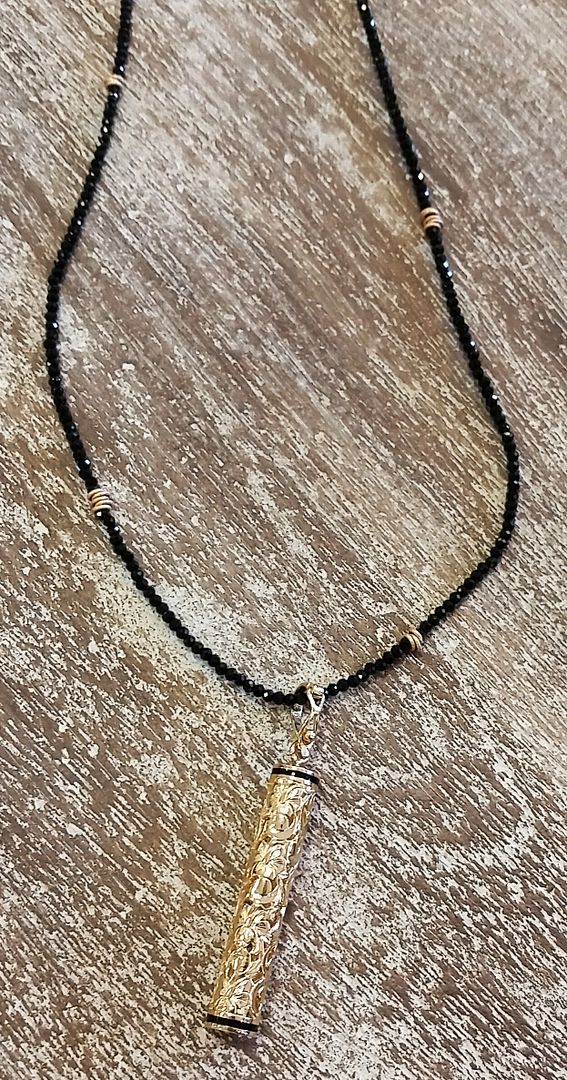 This soulful cross will brighten up any day.
.50ctw diamond set into 14ky gold only $545.
14ky gold 18 inch chain $195.
This is the yellow gold bracelet that you have been waiting for…
Set with alternating round and princess cut
8ctw H-I color SI clarity diamonds into a 14k two-tone gold tennis bracelet, 7 inch. $13,995. We offer 12 months interest free financing $1,250 a month with no money down.
Every girl should have a pair of go-to studs.
We have them in all sizes and quality starting
from $195 to $27,900. Pictured here are 1.40ctw
SI clarity I color in 14kw gold, $5,995!
Designer Roberto Coin diamond bezel
huggies in 18kw gold $395.
Diamonds set into a brushed floral design in 14kw gold,
18 inch necklace.  $595.
What's better than a charm bracelet?  One that comes with circle engrave-able charms for the initials of all those dear to you. 
Solid 14ky gold, 7 inches. $355.
Sapphires, rubies, and diamonds in
14kw gold huggies.  $1,295.
Multi-gemstone diamond, sapphire, ruby,
tsavorite garnet in 14kw gold.  $1,395.
Love contemporary jewelry?  We have Frank Reubel designs.  Frank's handmade designs are used with unique gemstones.
Like this blue-green topaz accented with diamonds set into sterling silver.  Ring $425.  Necklace $385.
32 inch lapis and amethyst
beaded necklaces, $155 each.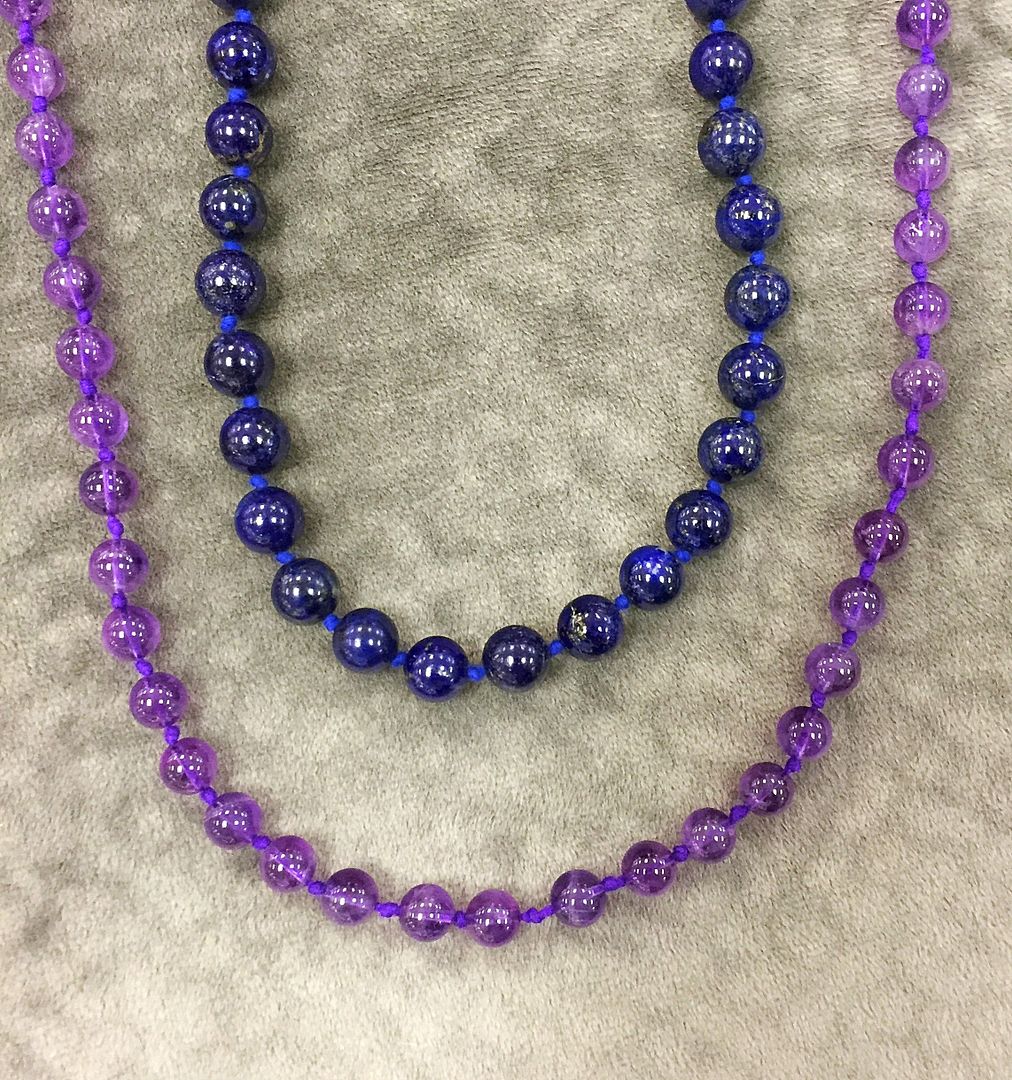 November babies, we are taking 20% off of all citrine jewelry making these citrine 18ky gold accents on sterling silver a SUPER deal.   Earrings $235.  Bracelet $395.
Need a little RETAIL THERAPY?
Come see us this weekend!