Once in awhile, we just need to eat a hot dog…
and this weekend is one of those times…
So please join us for
WINE & WEENIE WEEKEND!
Friday & Saturday 12-5
Free hot dogs, drinks and snacks…YUM!
On with the dog-gone good deals! 
By Lazzaro, genuine leather sectional in chocolate, $1,495. 
Retails for $2,210.  121×62 
Brand new tufted neutral sofa $695, 85″W.
Also available in a loveseat, $595, 64″W.
Bonded leather reclining sofa $795, 85″W.
Media console by SALAMANDER DESIGNS retails for $1,495.
Our price just $795! 65.5x20x30.5
Another gorgeous sectional in a wonderful neutral taupe, $1,095 includes blue pillows and the ottoman.  93×93
Pair of black accent chairs with a fun circle upholstery,
just $95 each!
The photo absolutely does not do this justice…the background is actually a pale aqua and it's very rich in person, $165.
49×25
By THOMASVILLE, this gorgeous set  with 6 chairs retailed for over $4,000+ our price $1,595.  Includes 20″ leaf, not shown.  
60″ diameter as shown.
On trend blue 'chofa' $695, 84×60. 
Shown with a pair of blue 'cubes', just $62 each, 17.5×17.5×18.
Lovely burl chest with stone top, $495. 
42.5x18x34
A cute and handy storage table with baskets, $75.
20.5×14.5×2 
Back in stock! Pair of spindle chairs with linen
upholstery just $395 each!
Call us to order with a credit card! 910 679 4302
We have a total of  4 of these super leather spindle side chairs
by HOOKER, just $125 each, must be purchased in pairs.
24″W
Colorful floral canvas, $95.
29×29 
Pair of brand new closeout RECLINERS in a handsome blue
and green fabric, $395 each.
37.5″W 
RELAX in this super blush gray sectional and ottoman for just $1,095.  107×81 
Just in… shabby oval coffee table, $195.
48x28x18 
Check it out… Baker buffet on sale for $295. 
77″ wide, some scratches on the top. Yes…just $295!
This art is larger than it appears in the photo, $165.
36.5×42.5 
We have a total of 4 of these nicely carved solid wood dining chairs 
in deep espresso, just $62 each, sold in pairs.  18″W 
Just in, bonded leather 'chofa' in great condition for $525.
82×68 
We like this fun geometric mirror, just $18.
20×26 
This won't last…solid pine bookcase, $325.
36x15x72 
Just in…pair of bonded leather recliners,
a STEAL at $395 each.
31.5″W
ON SALE
This Sarreid 'handkerchief' table retails for $2,398…
but it's be reduced to just $595.
As shown 43.25″ square. 
Here is this gorgeous table folded out.
61×61. Take it home for $595!
This is a LARGE SCALE wooden mirror in so many fun
coastal colors, $225.  39.5″ diameter
Just reduced! White faux ostrich over-sized accent chairs
in like new condition, just $145 each!
This brand new queen sleeper in denim
won't be here long at $995. 76″W
Did you know that we ultrasonically
clean your jewelry for FREE?
We can also buff, polish and rhodium plate rings
for a low fee of $28.50 to $49.50.
You'll be amazed how great your jewelry looks.  
These before and after photos say it all…
We also make jewelry in-house…
always handcrafted by Casey and Brad!
And of course, we have the best
designer brands for LESS…
From David Yurman…
(left)  18ky/silver 16 inch necklace. 
Retail $2,450.  Here only $1,075.
Black mother of pearl and diamond enhancer. 
Retail $2,450.  Buy here for only $1,295.
(right)  Classic wheat 16 inch necklace. 
Retail $680.  Save 30% off of retail at $475.
Faceted onyx and diamond enhancer.
  On Gilt.com for $1,800.  Here only $1,495.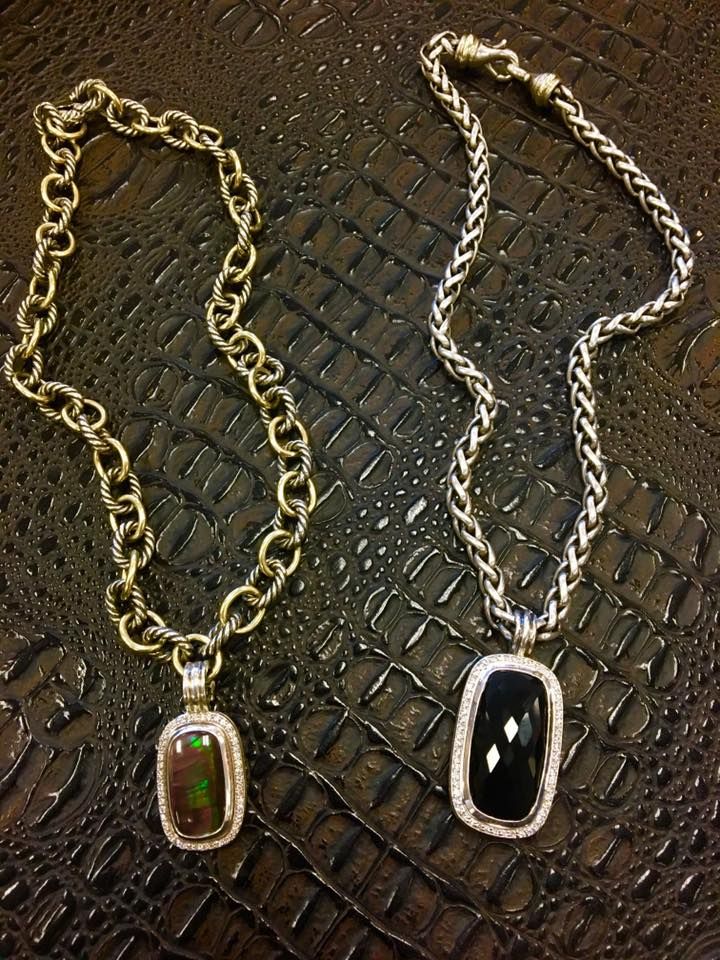 11mm smoky quartz with .24ctw diamonds with 18ky gold
accent.  Retail $1,575.  Buy here $1,095.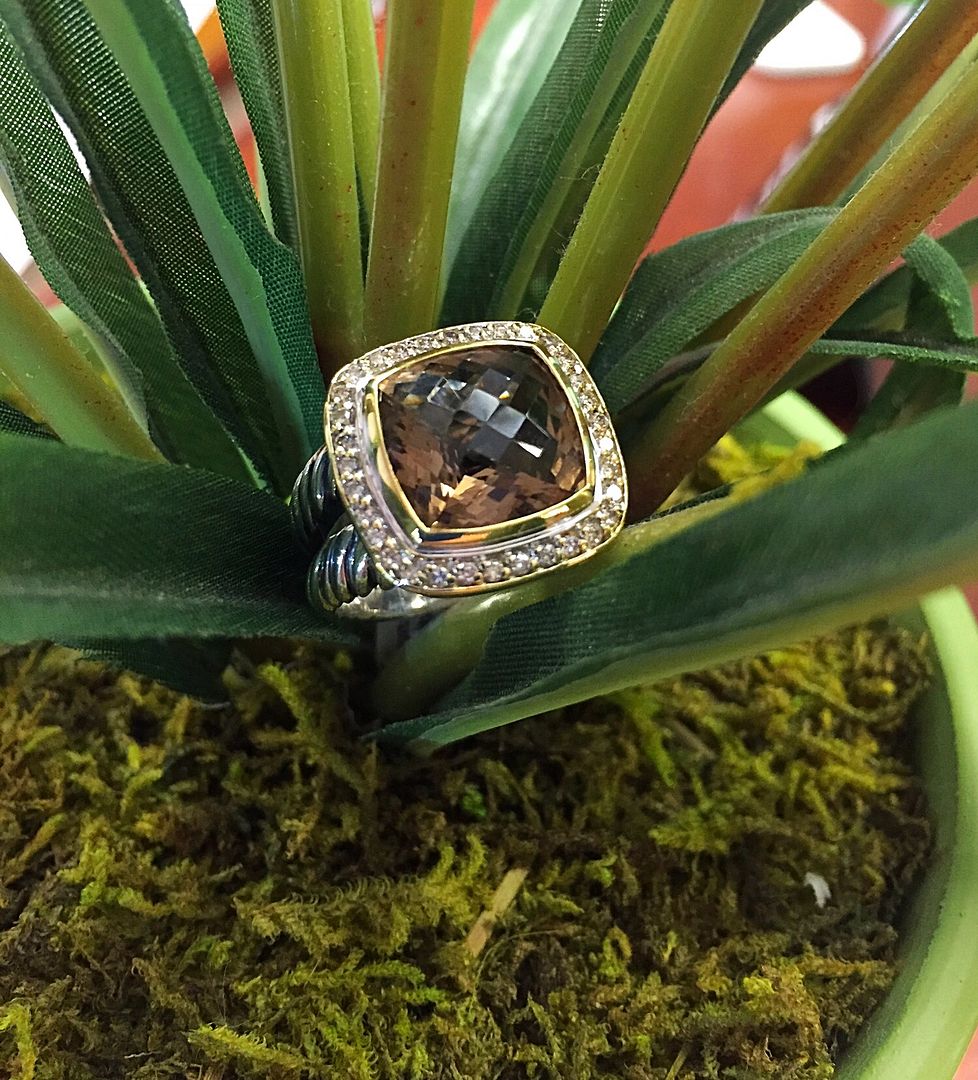 David Yurman cable ring with 18k gold buckle embellished with diamonds.  Retail $1,295, our price $575.
David Yurman diamond large crossover ring. 
Retail $1,500, our price $595.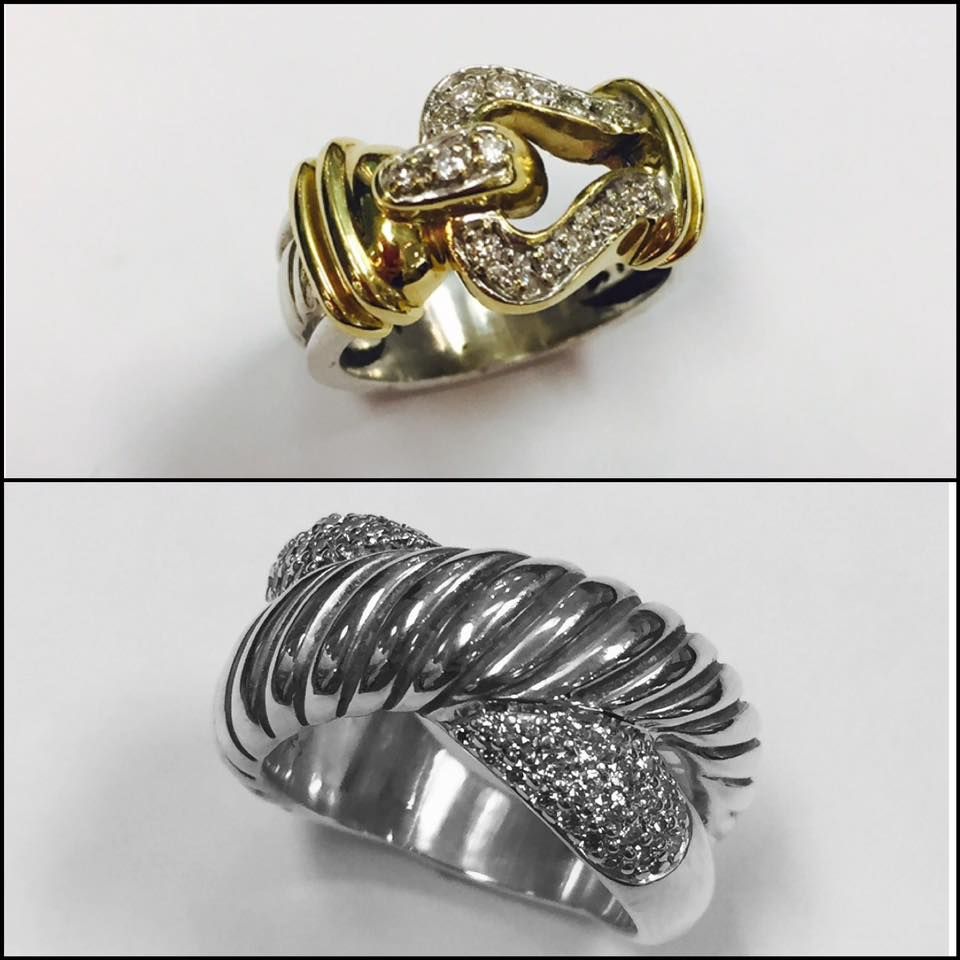 Onyx David Yurman cookie dangle earrings.  $295.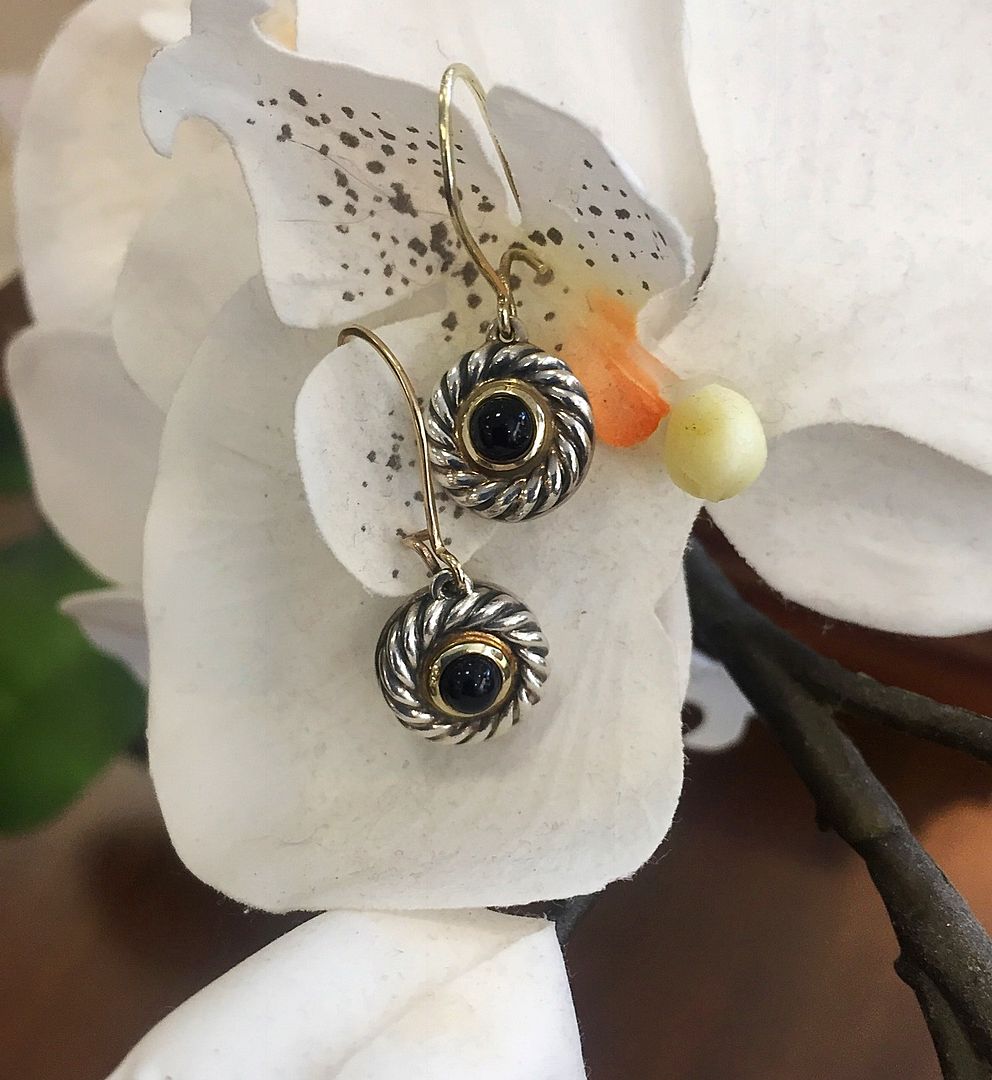 Slane carnelian bee enhancer, only $345.
~Tiffany & Co. Classics~
Engrave-able heart 16 inch necklace.  $155.
Matching 7 inch bracelet.  $155.
We offer hand engraving here at Lumina Gem.
Effy designer panther bangle with tsavorite garnet.
Retail $3,800, our price $1,995.
Effy designer emerald ruby and diamond 14ky gold necklace.
Retail $1,400.  Here $995.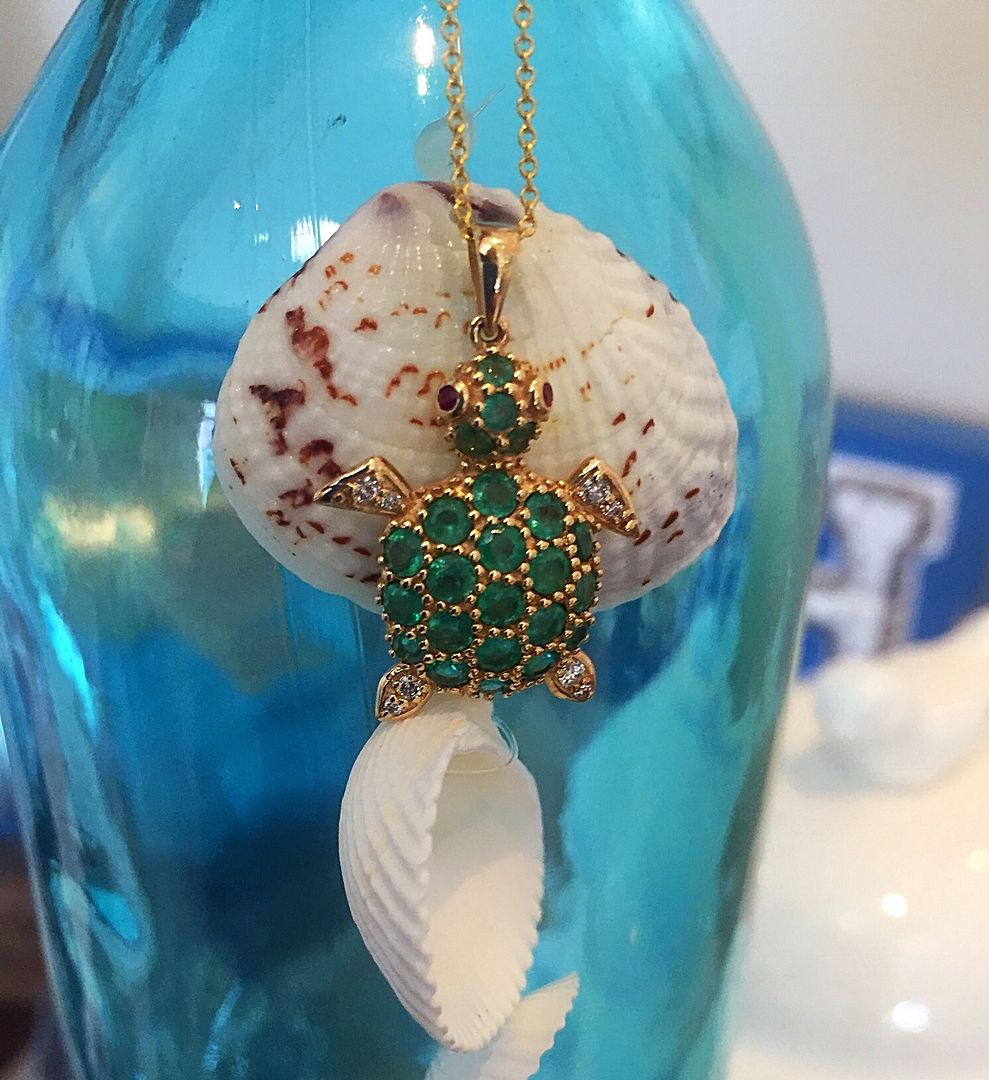 Ippolita rock crystal quartz with rose gold over sterling silver.
Retail $245, our price $175.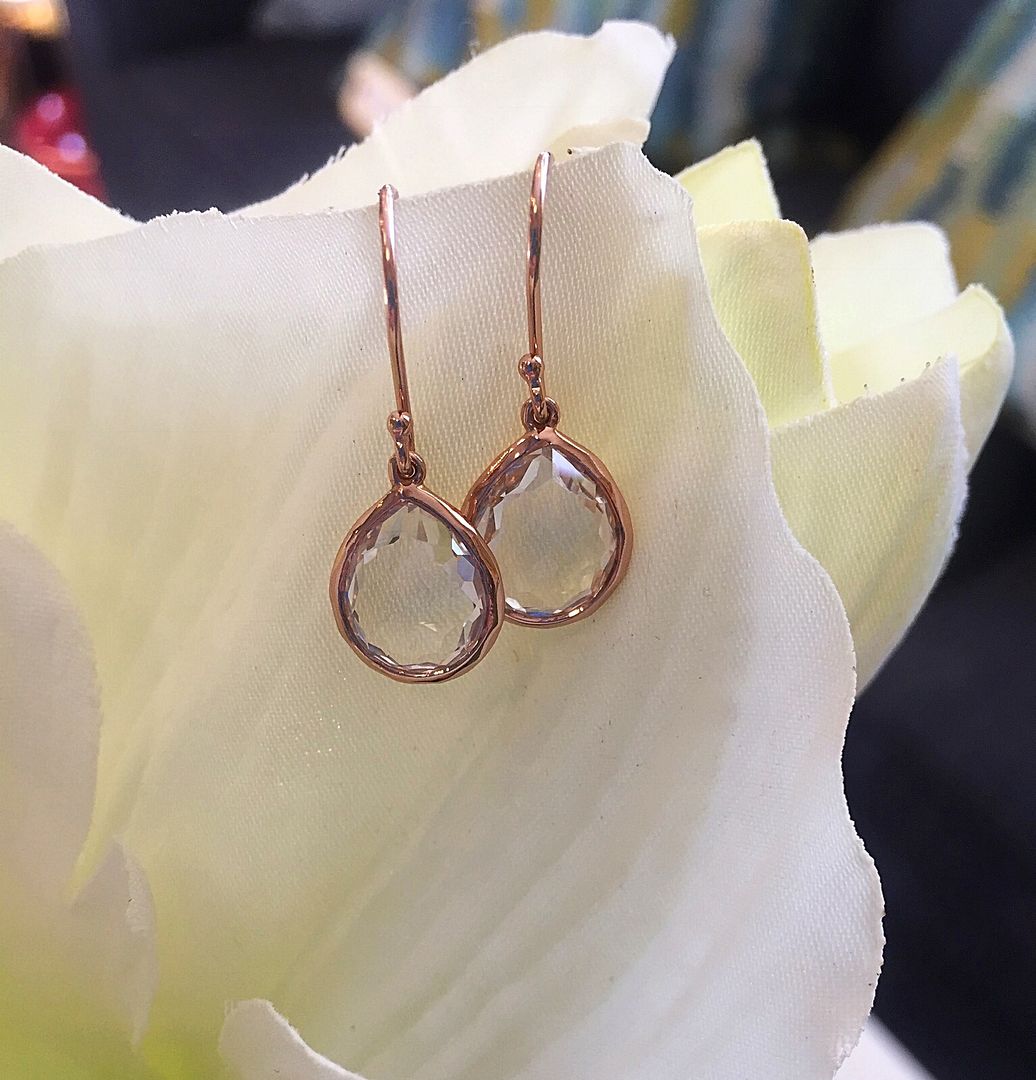 Effy designer multi-gem and 14ky gold necklace, 18 inch.
Retail $1,300, our price $595.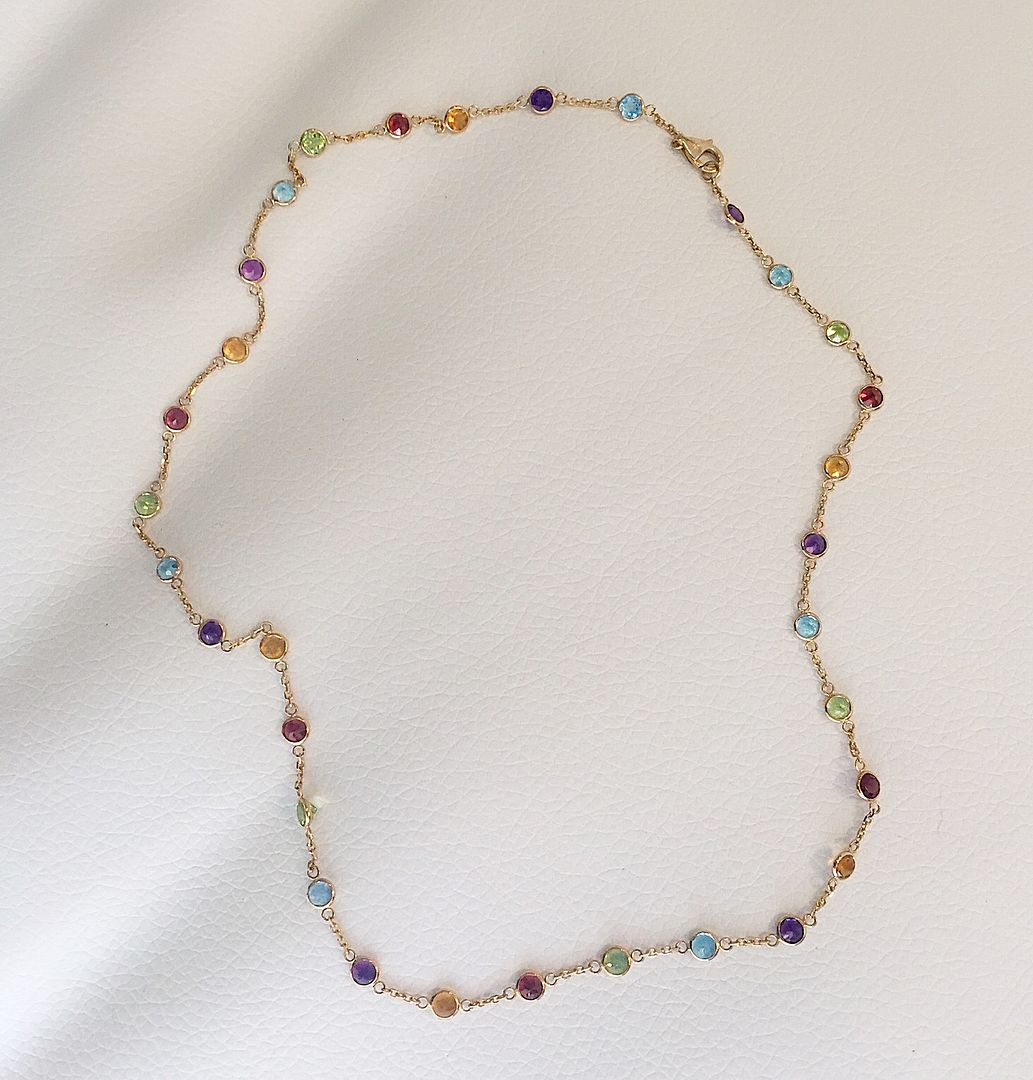 Judith Ripka enhancer pendants make a great and affordable gift.
(l-r)
Canary yellow crystal $295.
Citrine hear $395.
Give the gift of elegance with these Charles Garnier pieces. 
Bracelet $335.
Earrings $95.
Necklace $325.
These Raymond Mazza sterling silver earrings
will go with anything. $365 each.
Four grams of 22ky gold earrings with 14ky gold backs
and only $435.
Go for gold in this fantastic 14ky gold Italian mesh necklace,
21 grams. $1,595.
24k gold $10 Liberty coin with 1.50ctw diamonds
set into 14ky gold $2,695.
This weekend is the last time to save on Opal jewelry
for the month of October…HURRY HURRY.
This Nina Nguyen limited edition cuff is only $495 on sale.
 22 inch pearl strand with a SHIMMERING OPAL 14ky gold clasp.
Sale price $1,915.
This ring is as unique as she is.
Featuring a .75ct GIA certified SI1 clarity G color round diamond accented with a natural PINK diamond halo. Only, $4,995!
14ky gold oval and circle charm bracelet. $285.
Matching greek key 14ky gold bands.
Men's $395. Women's $245.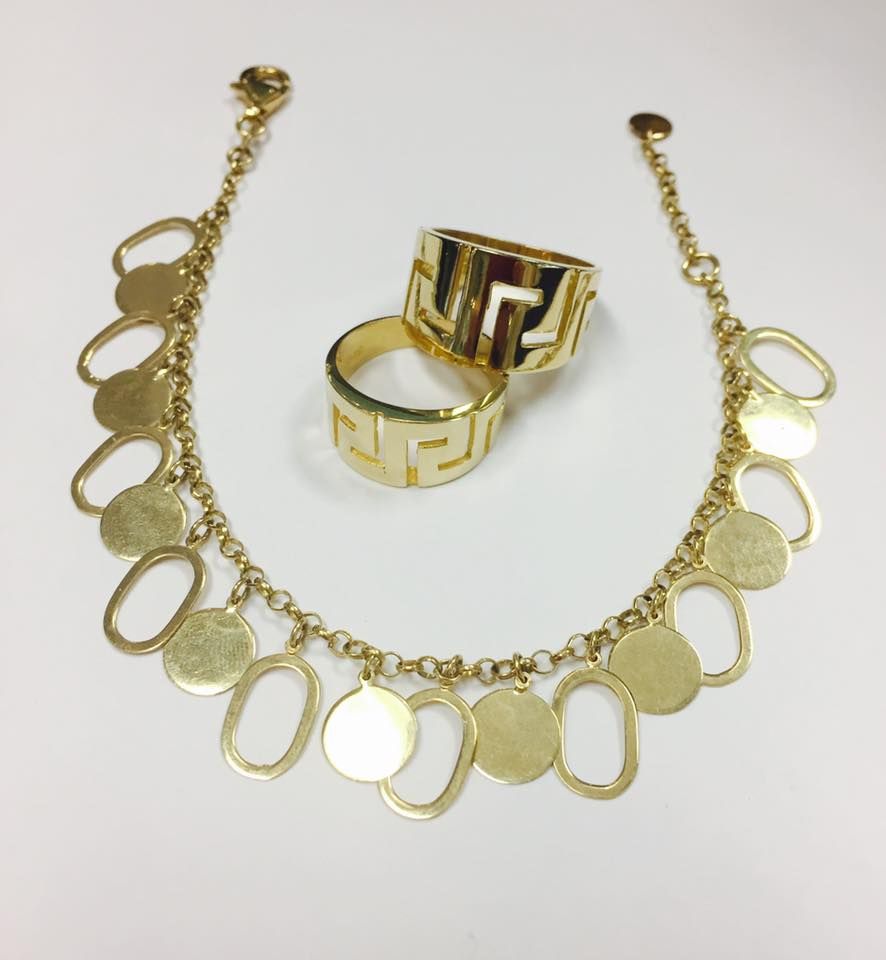 This engravable Allison-Kaufman .27ctw diamond bar necklace in 14ky gold can be worn alone or layered. $1,115.
This .25ct diamond necklace in 14kw gold is
great for everyday. $345.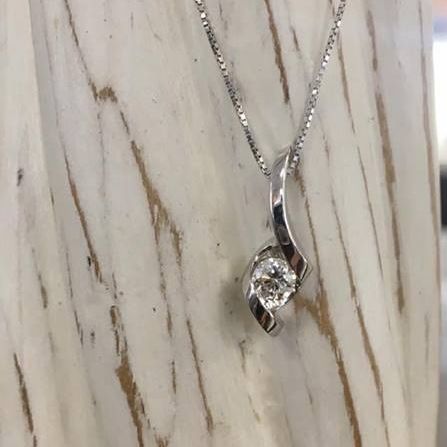 Larimar beaded necklace. $175.
Moonstone and sterling silver pendant. $115.
2ct blue topaz and round iolite set into
an 18ky gold and sterling silver cuff. $335.
This is the PERFECT gold bracelet!
18ky gold oval link bracelet, 8 inch. $995.
Emerald and diamond 14k two tone gold. $595.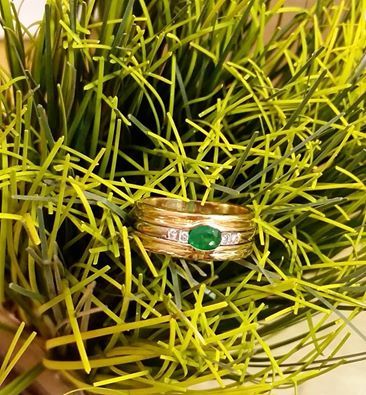 This ring is enchanting! 1ctw VS clarity G-H color diamond
ring in platinum. $2,995.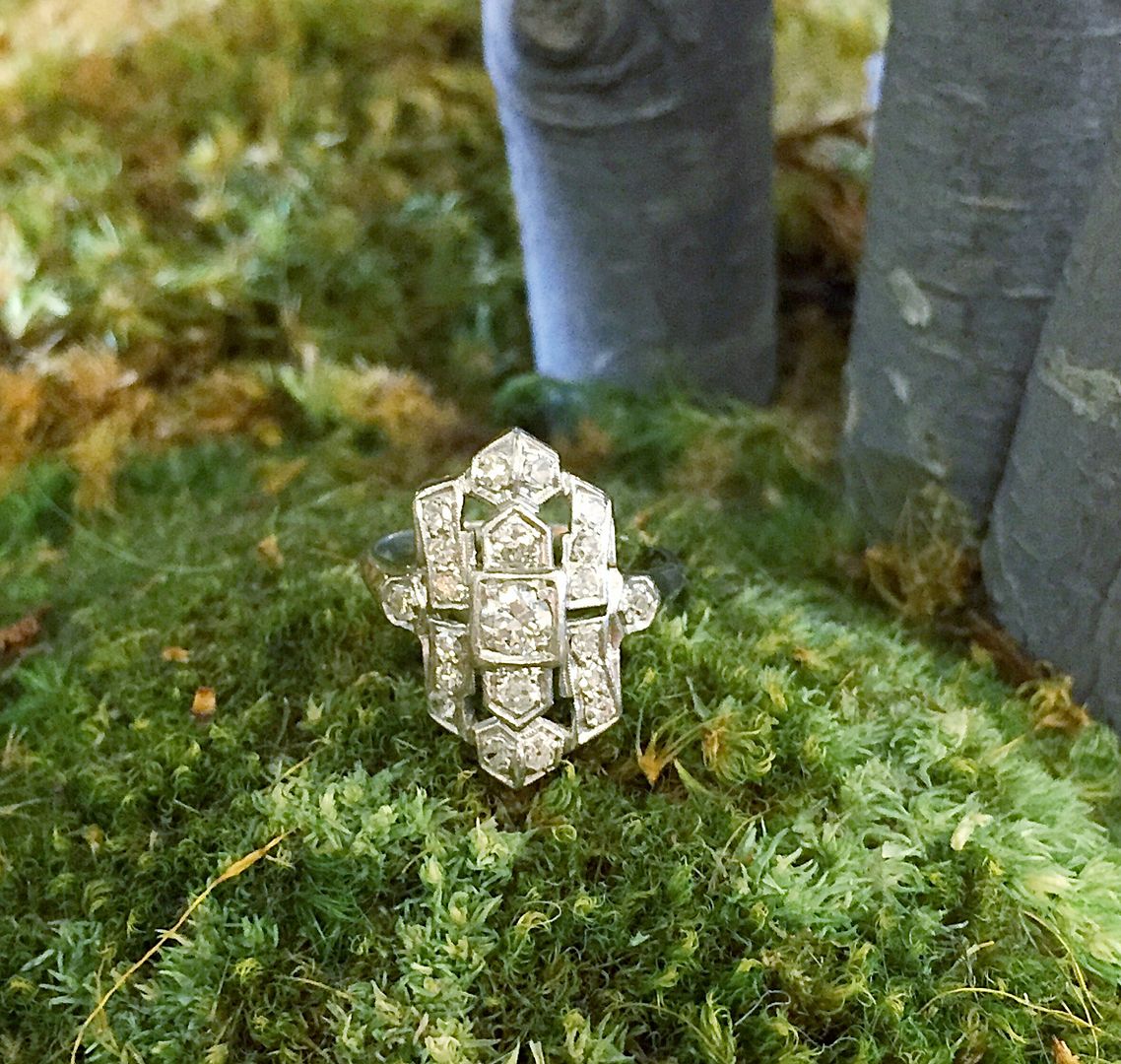 This ring is stunning! .64ctw diamond fashion ring in
14k yellow and white gold. $2,725.
 Women's Tissot T-race with black rubber strap, $395.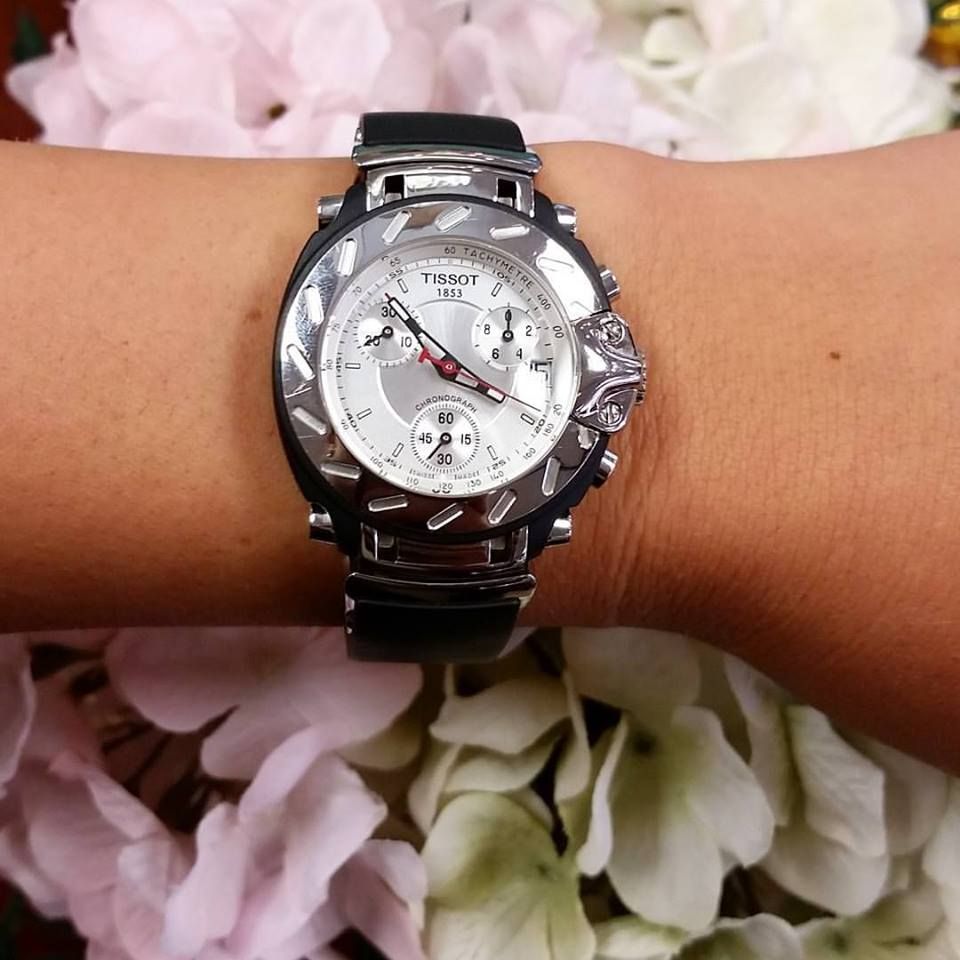 Just reduced! .36ctw diamond and .35ctw sapphire bracelet in 14ky gold. Was, $2,495. Now, $1,495!
And don't forget…it's
WINE & WEENIE WEEKEND
Friday & Saturday 12-5
Thanks for reading our email!