WE CANNOT THANK YOU ENOUGH 
for your overwhelming and extremely generous
donations for Matthew victims in Lumberton.  
Words do not begin to express our gratitude.  
You stepped up…in a big way.  We will keep you
posted with on-going ways we can help!
From one of our customers in Lumberton…
"Thank you, thank you! I am a customer of yours and live in Lumberton.  Our home was not flooded, but it saddens me so much to see the pain our wonderful community is experiencing. 
We do have electricity now, but still no water. Those in shelters
are struggling emotionally and need your prayers.
Many friends along with their pets were evacuated from their homes by boat. They do not know what they will be going home to when the water recedes. So many know that they have nothing left,
but grateful for their lives.
Please know how much your generosity means to me and our community. Lumbertonians' lives have all been
touched by angels like you!"
If you did not get a chance to give yet, please double check, but
we understand that all area Lowe's Home Improvement stores are still collecting.   They have actually set up a 'store' in their Lumberton
parking lot where folks can get what they need.  
JUST IN…A STANLEY FURNITURE BONANZA!
Complete queen bed with headboard
footboard and rails, $650, compare at $1200+.  64″X60″
And to match…round Stanley end table, $245.  30″ diameter.
Coral lamp, $76. 
Stanley tall chest, $550. 44X19X57.5
Stanley console, $295.  46X17X28
In immaculate condition from ROWE, a nice pale green sofa
piped in ivory, $750.  82″wide
White leather 'chofa' by quality maker LAZZARO,
retails for $2,210. Our price $1,495.
(We also have it in chocolate) 121×63
Storage trunk side table in washed black, $275.
22x22x24.5
Textured canvas, modern and neutral, $125 40×40
Just in on consignment…super stylish wing chair and ottoman, $425. Chair is 30″ wide.
This won't last…farm table $595, 97.5×34.25.
Arm chairs $95 each, side chairs $65 each.
Close up of one of the arm chairs, $95 each.
(two available and sold in pairs).
Just in and in immaculate condition, pair of 
soft sage mid century style chairs, $145 each.
Large wooden chess set with wooden pieces, 21.5″ square,
super nice for $75!
Jesse showing off this fun bubble chandelier
we just received on consignment! Only $225!
Marble-look dining table with 6 bonded leather parsons chairs.
Only $595 for the set.  Table 71×42.
 Currently retails at Haverty's for $1,230.
Huge and a statement piece, 
framed timber art $375, 41″ square.
We are loving this aqua narrow bench, $165. 
50 wideX10.5 deep X18 high
Olive green wing-back chair with nailhead trim,
a great buy at $245, 31″W
60″ diameter rustic wood dining table retails for $1,171,
our price just $695. Brand new market sample.
Grey-washed bench with cream cushions $495, 56x29x30.
Blue and brown floral pillows $12 each.
Pair of taupe club chairs with nailhead trim $375 each, 33″W.
This leather and wrought iron dinette is gorgeous…
just $495 takes it home!  42″ diameter.
Includes custom cut glass for top, not shown.
Super sharp khaki sofa piped in ivory, brand new
closeout for $650. 89″ wide. Matching loveseat available, $550.
65″ wide.   Just an FYI, we posted a video of this set on
facebook if you want a closer look.
CLOSEOUT OPPORTUNITY BUY
30″ seagrass barstools $125 each.
Much prettier in person…media console in rustic wood with
handsome gold pulls, $795, 70x18x35.
For the musician in your life…lovely abstract piano canvas,
just $42! 26″ square.
Young America by STANLEY bedside table $175.
25x17x26
The smaller version of the media console
in rustic wood, $595, 58.5x18x35.
Just in on consignment…lovely neutral swivel chair, $495. 
And a coordinating loveseat in taupe, $425. 58″ wide.
Bling-bling mirror, a steal at $52, 28×38.
Industrial look console with grey-wash top
and black geometric legs, $350.
48x17x30
Soft and comfy taupe sofa, brand new, $650, 84″W.
Coffee table $295, 40x26x19
Both are brand new High Point market samples.
Matching taupe loveseat $550, 60″W.
Just in…poof in like new condition,
$125, (retails for $200) 28″ diameter.
For the eclectic lover, rustic heavily carved
wooden cabinet, $595. 47X20X37
These modern companions are getting lots of attention…
only $75 each.
24X52
Make your mom or grand-mom deliriously happy…
fill up this nice quality frame
with family photos!  $65. 
Leather and iron 30″ barstools, $175 each
(three available, not sold separately).
Queen platform bed set includes bed, tall dresser, dresser with mirror, and bedside table. All of this for just $1,495!
Classic black coffee table with hints of
red and beige, $295, 35×21.5×23.
Modern accent chair in charcoal, $395, 36″W.
On trend…grey hexagon coffee table $425.
39x39x19
Coordinating large hexagon pillars $275 each
(two available) 23x23x34.
Hmmm…we don't know why this white geometric console
has not sold…but our loss is your gain…
come STEAL IT for $350. 54X14X30.5
And accessorize for less…art, $95, lamp $32. 
The consignor said to PRICE IT TO MOVE…this
black lighted china hutch an unbelievable deal at $495! 
60X21X94″H
Mid Century Modern media console in lustrous wood,
$395, 52x18x28.
Herreshoff half-hull wall art…they retail for $200+,
our price $95, 19×7.
Everyone's fav! Reading chair with built-in bookcases
on both sides and the back!  $525, 36x37x27.
Pretty hand-painted mirror in ivory and green,
just $42, 26.5×34.
Wrought iron console with glass shelves,
a deal at $175.
42x18x31
Fun coastal art…
Palm tree art $62, Big fish $24 each
Little fish $18 each
And while you're shopping…
get your rings cleaned for FREE at Lumina Gem
in our fancy ultrasonic machine! You will
be shocked by how good your jewelry can look.
We have so many generous people in our community.  Again, we THANK YOU for donating as much as you did for the flood victimsand for the animals, too…
YOU ARE ALL ANGELS.
How sweet is this 14k gold angel wing engrave-able
18 inch necklace?
What a beautiful way to honor a loved one for only $295.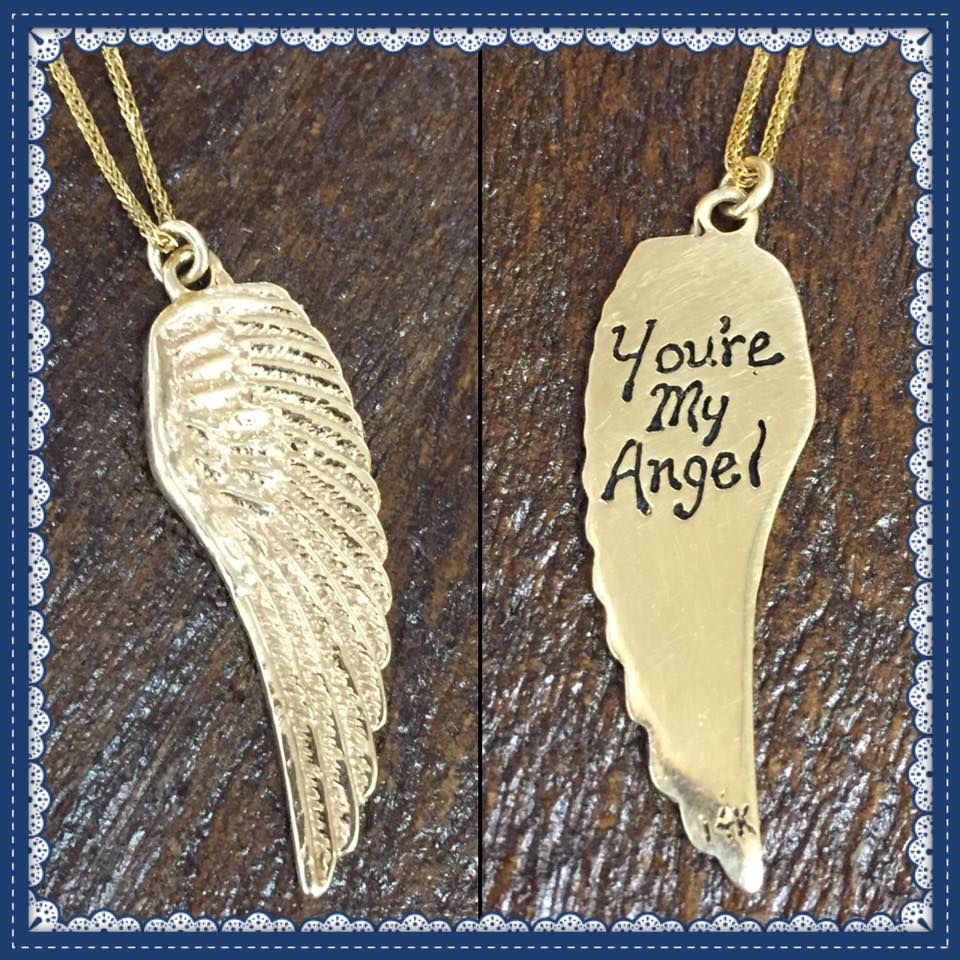 We've got gold hoops in all colors.
14k gold pricing from $105-$225.
Charles Garnier Paris collection is so chic.
Silver cuff beaded cuff $275.
18ky gold overlay beaded cuff $165.
 18ky gold overlay two-tone oval hoop earrings $165.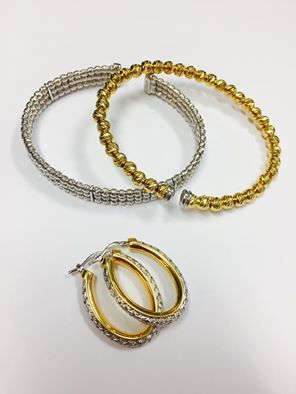 7mm David Yurman prasiolite cuff with .48ctw diamonds.
  Retail $1,900.  Buy here for only $895.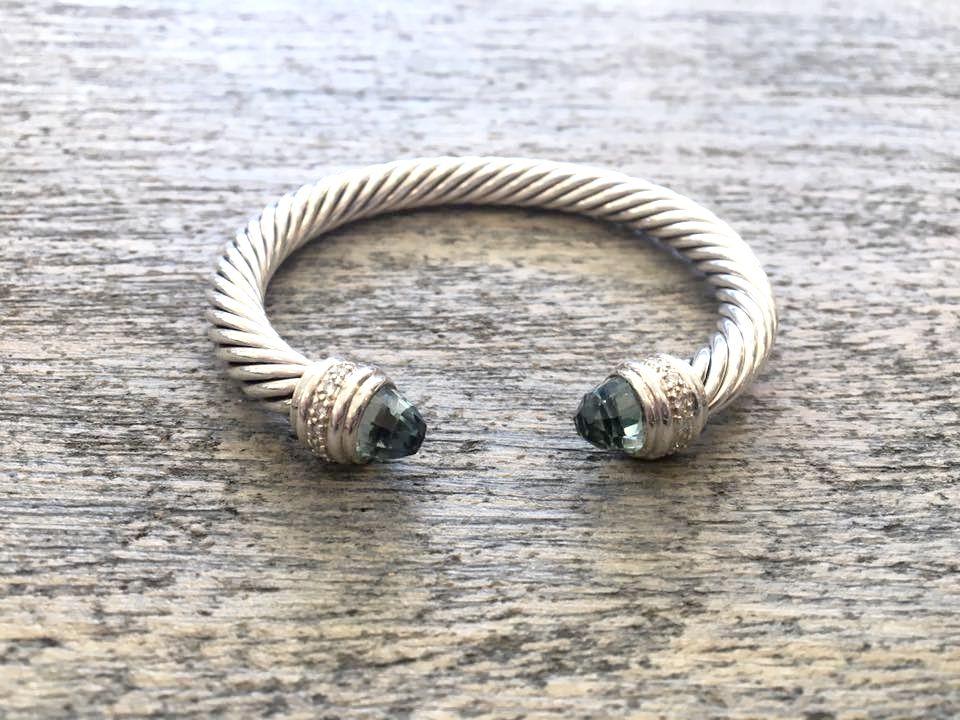 David Yurman diamond crossover ring, $595.
5mm buckle 14ky accent cuff, $415.
Calling all Angela Bassett lovers…
Pink quartz & lemon citrine 18 inch necklace.
Priced so well at only $295.
Nina Nguyen pieces are so versatile.
The faceted Spinel necklette shines brighter than a diamond accented with 14ky gold $395.
The ring features a natural geode set into sterling silver $235.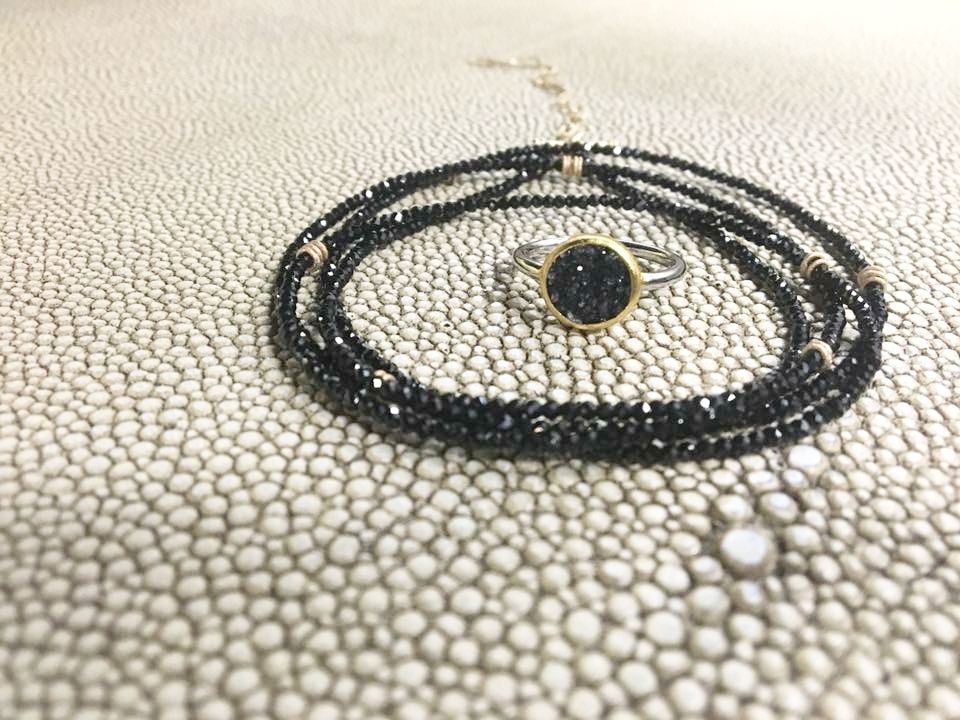 Opal is a stone of inspiration which enhances imagination and creativity and it's 20% off this month.
Get this Australian blue opal with 1ctw diamond set in 14ky gold and let your inspiration flow for only $2,395.
What's better than diamond hoops?
These feature .80ctw diamonds in 14ky gold $2,235.
We love these 1ctw diamond dangle earrings in 18ky gold
for only $1,795.
Sparkle in these 4ctw pear amethyst accented with 2ctw
diamond earrings in 14ky gold $1,695.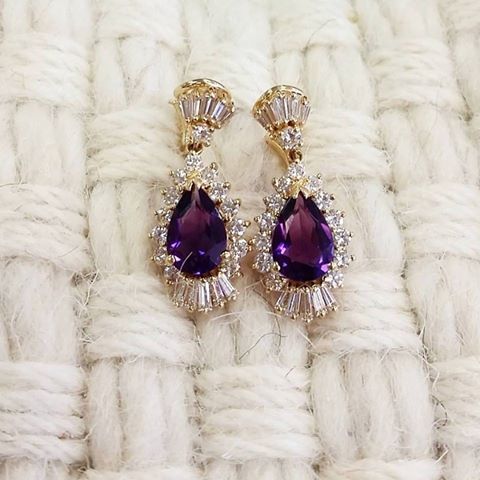 For the lover of fine pearls…
This 12mm South Sea pearl is accented with .82ctw of diamonds and 2.4ctw yellow sapphires in 18ky gold. Only $1,755.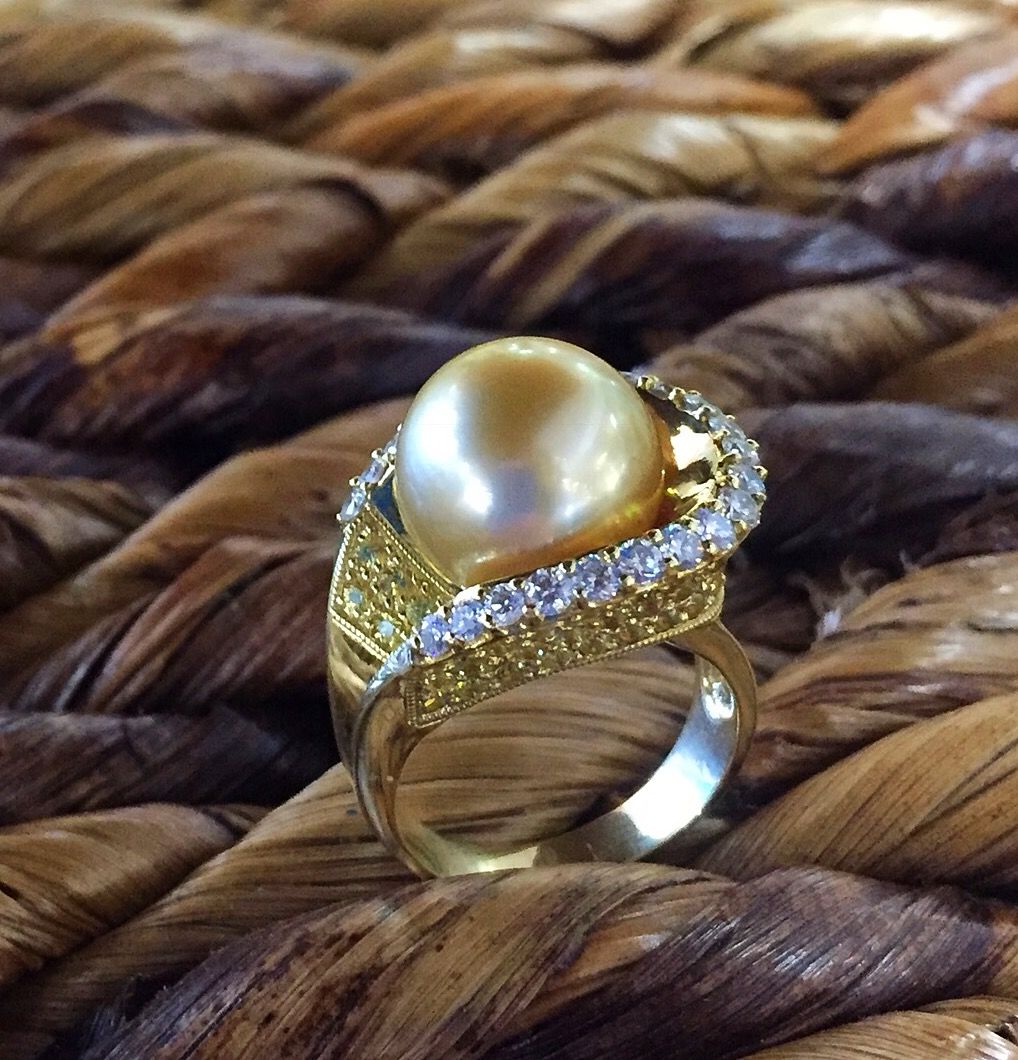 Raymond Mazza mother of pearl silver octagon dangle sterling silver earrings only $195.
Who doesn't love stacking rings?
Just in 14ky gold rope rings, only $155 each.
This 4 row band can be worn all by itself for one big statement…
1.75ctw diamond pave band set in 14kw gold $2,995.
This unique five stone cluster .49ctw diamond wedding
band is only $995.
Want to add color into the mix? 
Try this ruby and diamond band in 14kw gold for only $995.
 2.61ctw GIA certified oval emerald accented with 2ctw of diamonds set in 14kw gold, $10,995.
~CONSIGNER REDUCED TO SELL~
1.05ct emerald with 1ctw of diamonds in 18ky gold.
Was $3,995. Now $2,795!
Vahan bracelets are so fashionable and something that you can wear alone or stack with other bracelets.
This large diamond bracelet is $3,495.
Get the Vahan door knocker earrings to match for $1,995.
This estate 1ctw diamond sunray 14ky gold pendant/brooch is so pretty and only $1,795. 
Buy the 14ky gold chain for $195.
.15ctw diamond 18ky gold pendant is a steal for $395.
Buy the 14ky gold chain for $195.
Signed by the designer this collector's Ippolita piece the "Paparazzi" features clear quartz in sterling silver 43 inches. $995.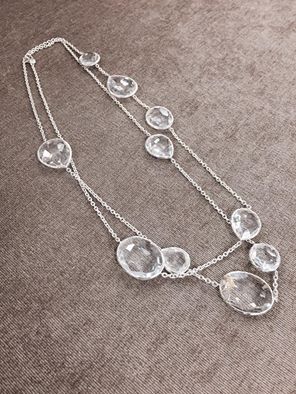 7mm Akoya pearl necklace with a 14ky gold locking clasp
with .25ctw diamonds. $1,995.
Look like a million dollars in this 12-15mm baroque Tahitian pearl necklace with 14ky gold locking clasp. $2,155.
From a Pinehurst estate, this coin pearl and 18ky gold 16 inch necklace is only $795.
No color combination is more classic than black and white. 
Allison-Kaufman Co. onyx and diamond pieces perfectly embody that combination.
Ring $1,915.
Necklace $2,295.
Allison-Kaufman Co. .52ctw diamond fashion ring in 14kw gold. $1,975.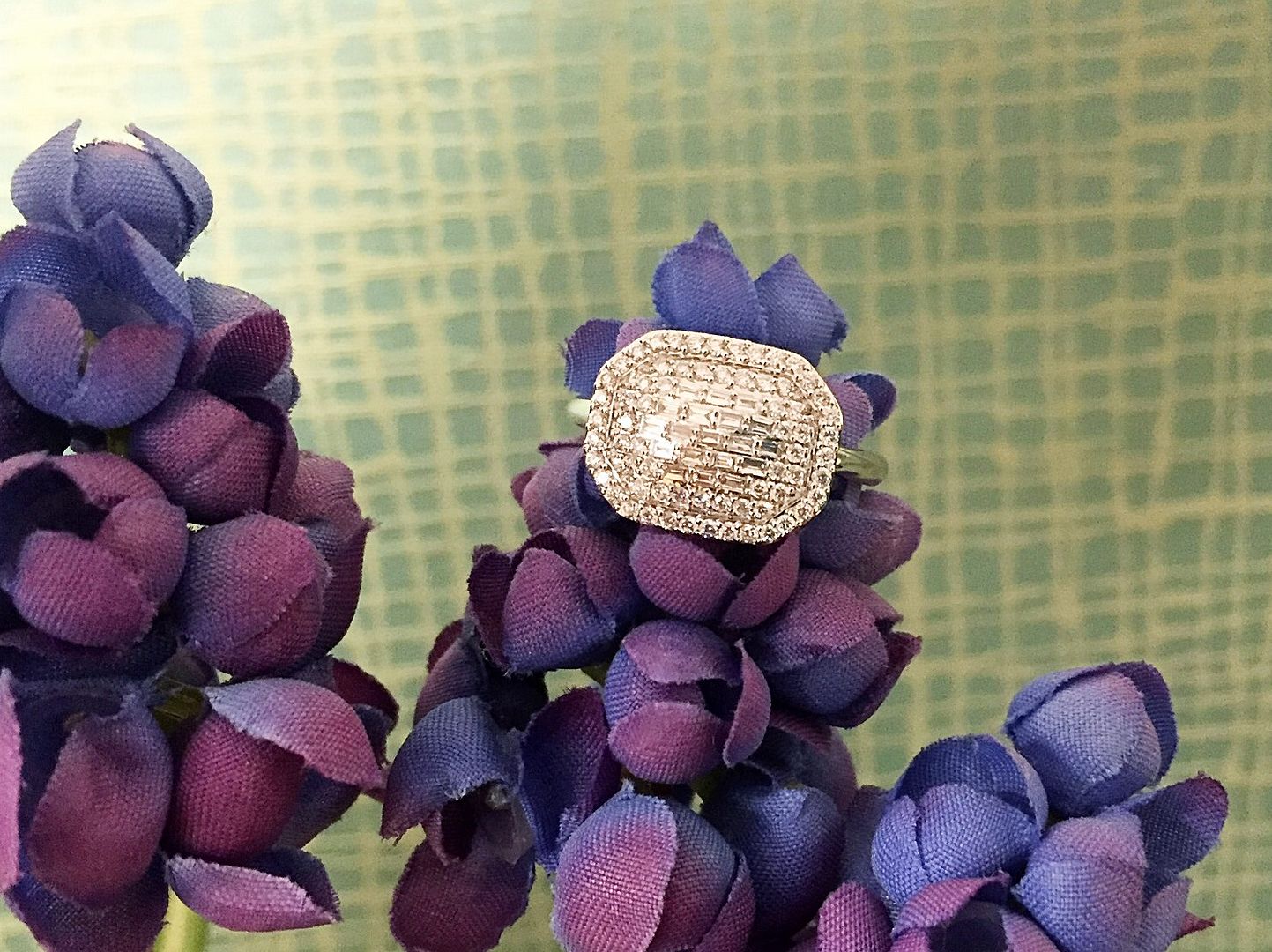 These 14ky 2.5inch hoops are a steal at $175.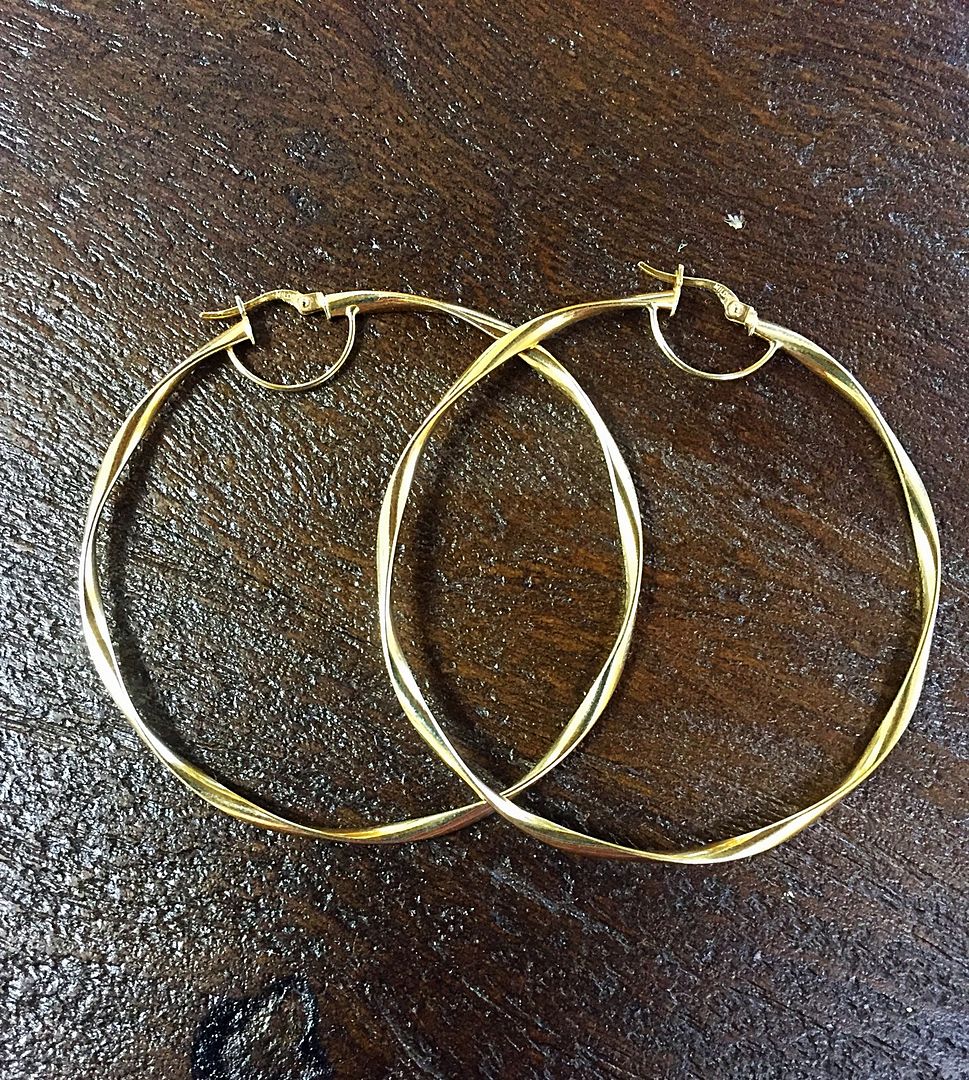 ~CONSIGNER REDUCED TO SELL~
This set was handmade in Greece.
Moonstone and 18ky gold set.
Bracelet: Was $2,395. Now $1,255.
Ring: Was $1,195. Now $625.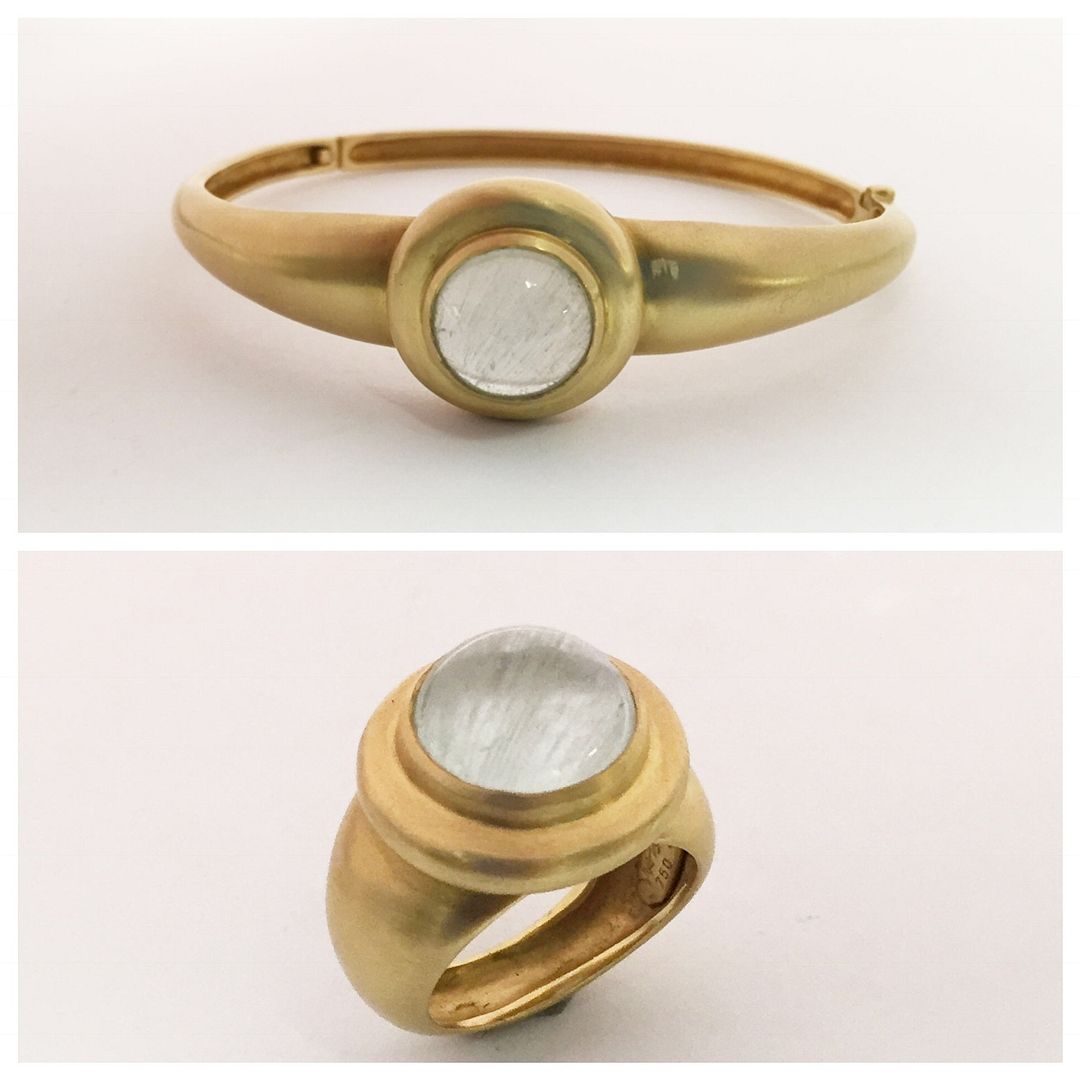 Thanks for reading our email and
HAVE A WONDERFUL WEEKEND.