Yikes!  
Before we know it, Santa will be here…
So don't hesitate…
NOW is the time to look around
the house to see what you might have to consign…
and start earning extra $$$ for the holidays!
It is also the time to get your home looking
great for holiday entertaining…
…and we can help!
Brand new tufted linen Chesterfield style sectional,
measures 93×93, $1,595
WHAT A BARGAIN!
Slightly distressed coffee table in ivory with hints of green,
just $145! 38.5×20.5×19.5  Precious piggie, $12.
"Eye of Reflection" by local photographer Karen Wiles.
Retailed for $425, our price, $265!  30×35
We also have a brand new Chesterfield style sofa;
an absolutely great look for $995.  90″W
 Fall totes have arrived in lots of great colors!
They are reversible and have a smaller purse inside! Just $42!
Get a super buy on this closeout
red microfiber sectional for $895. 115×78
This round tufted linen ottoman is a clean and classic look
for just $195. 33″ diameter x 17″H.
Nailhead trim linen mirror with a
Moroccan vibe, $125.  32×49
Add a traditional touch of elegance to your home with this
accent arm chair with silk dragonfly fabric, $245.  26″W
Another nice traditional piece…carved ornate
accent table $175. 28x20x27.5
Just in on consignment…
black genuine leather sofa in great condition, $495, 79.5″W.
Great looking 24″ counter stools, $125 each.
Six available!
Balustrade style console,
just $395. 68x18x31
People are digging on how COMFY this is!  
Brand new performance fabric power
reclining sofa just $1,095.
89″W
Coordinating loveseat power reclines AND glides!
Cup holder center console too!
$1,145, 75″W
This mirror is utter perfection…rustic wood
finished in soft distressed gold, $245.
Another great consignment score…
Modern glass top coffee table $145.
48x28x18
You'll want side tables to match…..we have two available
at just $95 each!  23x27x23
Brand new closeout purchase…
blue sectional just $895, 89×81. Coffee table, $245.
We all LOVE this BRIGHT tangerine modern sofa, a steal at $625, 85″W.  Oval glass top coffee table $125, 42x28x18.
And we also have the chair to match!
 $395, 35″W.
Ashley's fave abstract, with texture
and vibrant color, $145.  39.5×39
Green lamps $45 each.
Such a pretty gold mirror and oh-so-current
for only $75, 31.5″ square.
Bonded leather recliner in chocolate, just $375!
Just $45 takes home this elegant long mirror, 24×45.5
Pair of 29″ bar stools in like new condition,
just $250 for the set!
Sturdy and well-made pedestal table
in a HARD TO FIND smaller scale 30″ diameter. $225.
Perfect for smaller spaces.  
These modern dining chairs are super on-trend
and we have a total of 8!
Just $52 each, sold in pairs only. 
What a great fall look…this huge canvas in rust and beige tones retails for $568, our price $275. 72×48
This white entertainment center by RIVERSIDE
is just in on consignment. Retail price $2,200. Our price $1,295!
91×18.5×75
Display your tv and media equipment in style…
eggshell media console $695, 70x19x32.
What a great gift for your bestie…these ring holders are ABSOLUTELY ADORABLE and just $6 each!  
This large wooden port-hole style
mirror in wood is a MUST for tasteful
coastal interiors, $165. 31.5″W
It can be hard to find true bright white
furniture…but here you go!
Distressed white coffee table $375, 50x30x18.
Super good looking coordinating console, $395. 50x18x32.5
This narrow white console arrive with some damage to left front corner so it is priced to move at $245!  
60x14x34
Compare online and you'll see what a DEAL this is…
TROPITONE dining set $895.
Table 48″ diameter. In excellent condition.  
Another great set ready for fall entertaining…
by TROPITONE just $895.
Table 66×40
We took a chance on bringing in these craftsman made
fire-pits because they are just so cool…
Imagine how neat the silhouette of
the state of NC will look when you have a fire,
$295, 26x26x16.
And here is the much larger version for $495, 38x38x23.
He will be TOTALLY SURPRISED if this is under the tree!
Heavy and GREAT QUALITY.  
We love this neutral color palette…
decorative accessories ranging from $4-$175.
Speaking of decorative accessories…
we have an enormous selection ON SALE!
From just $3-$12 each…and they retail for up to $58 each!
Decorative plates add such a nice pop of color and dimension…  
and we have some great ones from just $12!
These won't last…wonderful fu dogs
in white just $24 each!
Uber high end Mercury glass mirror framed in black with
brass nailheads… pure drama! $195! 32.5X36.5
What is in your jewelry box that you
are no longer wearing?  
NOW is the time to consign it
for extra holiday $$!  
David Yurman diamond cable hoops.
Retail, $1,100.  Buy here for only $795.
We have all styles of David Yurman sterling silver and 18ky gold earrings. Heart dangles $295.  Hoops $455.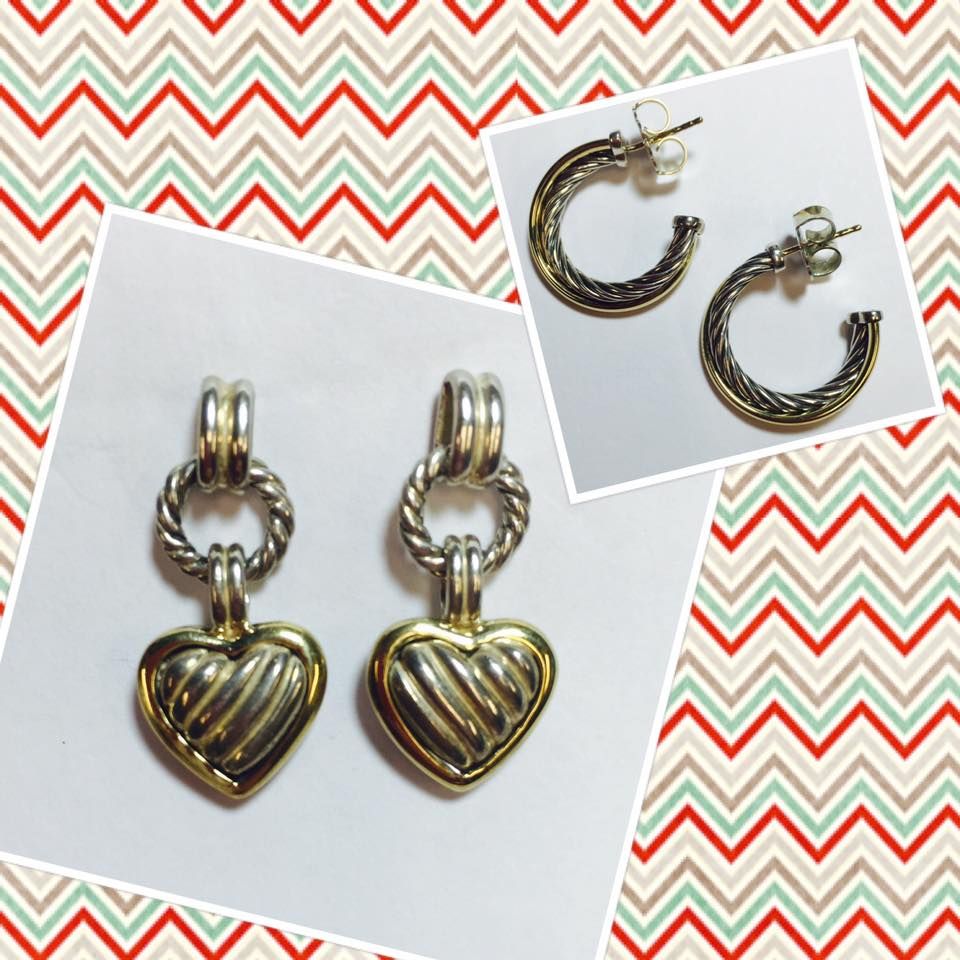 David Yurman diamond heart cable necklace, $495.
This Art Deco ring is so pretty on, set with aquamarine and diamonds in 14ky gold, $2,745.
Modern brushed 14ky gold looks fabulous with this 2ct
cushion cut aquamarine for only $595.
Eternity necklaces are a great way to express your love.
(l-r)  Roberto Coin designer .26ctw diamond circle pendant 16 inch.
Retails for $1,140, Buy here for only $635.
  .50ctw diamond eternity necklace, 19mm,
16 inches in 14kw gold, $1,195.
This substantial Kwait "red carpet" designer diamond
18kr gold locket is only $2,495!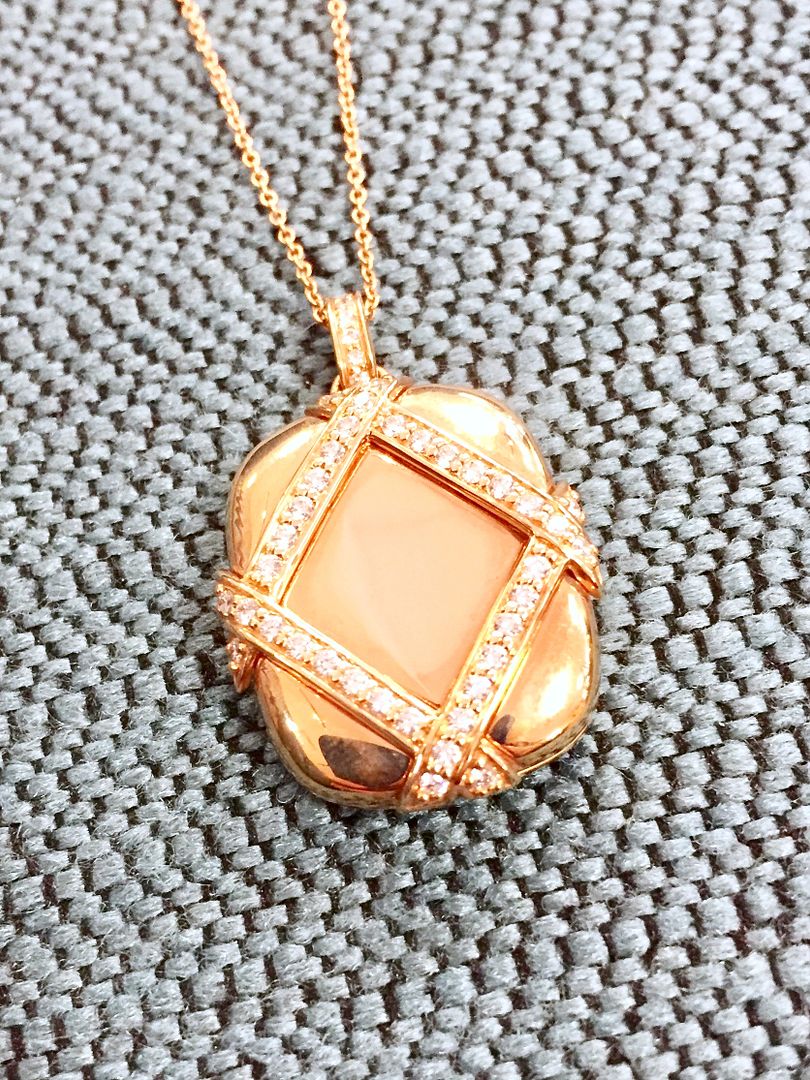 September is coming to a close, only 7 more days to take
advantage of our 20% to 50% off sapphire jewelry.
Sapphire and diamond crossover band
set in 14ky gold, $315.
We adore this antique diamond and sapphire ring. 
Don't let this one get away….
On sale in September for only, $3,835!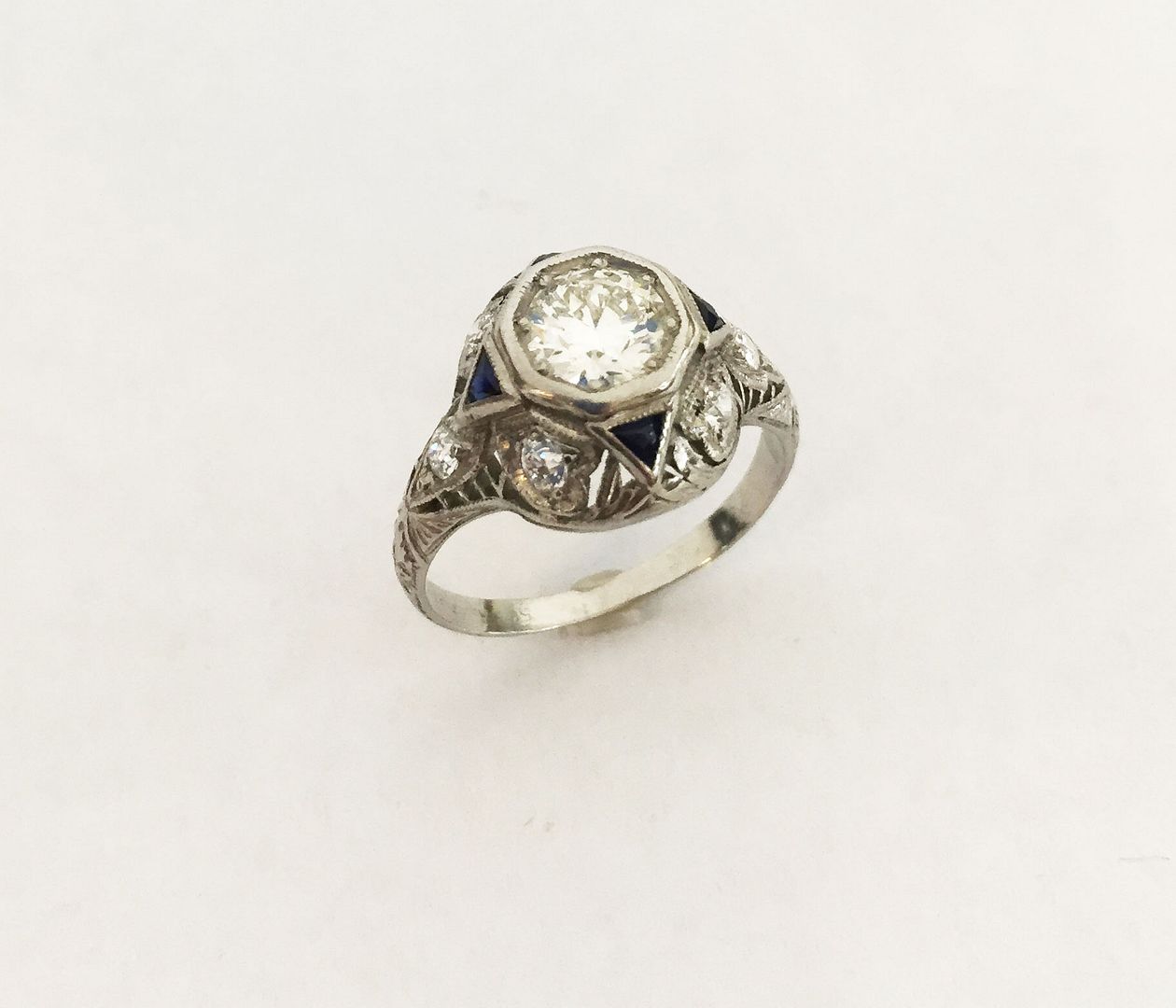 This vintage beauty is set with sapphires in
14kw gold for only $635.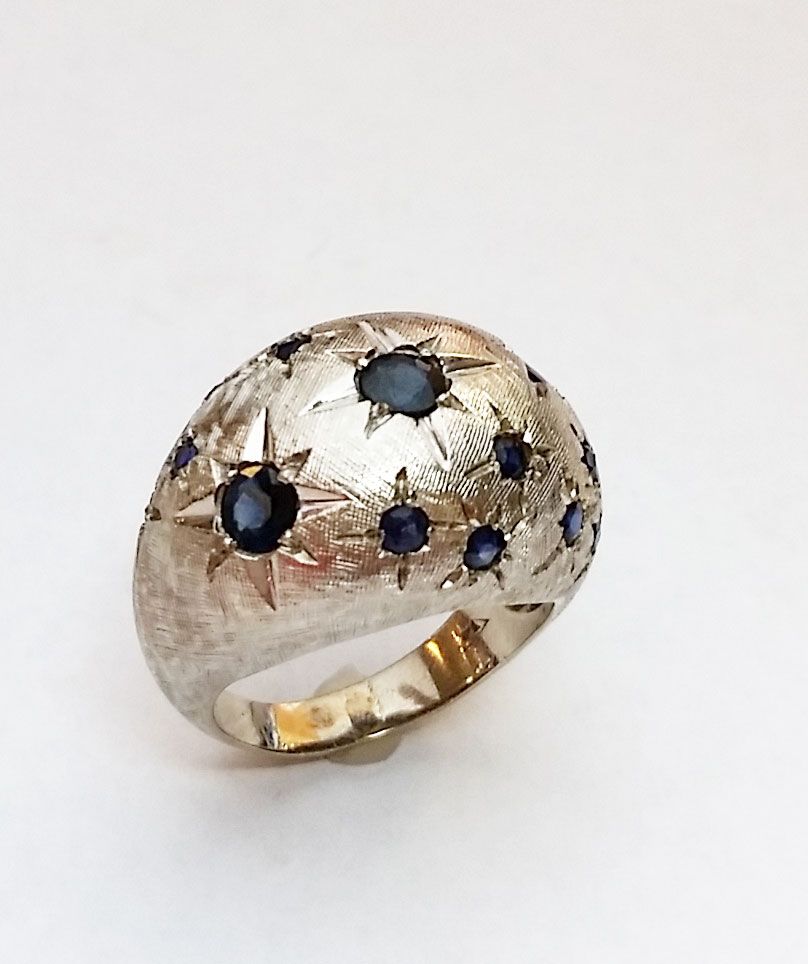 This bright and shiny piece with 1.60 ctw multicolor sapphire accented with .24 ctw of diamonds set in 14kwg is
50% OFF and only $995.
Calling all lucky ladies with a size 5.25 finger!
This 2.80ctw sapphire and .73ctw SI1 clarity G-H color diamond eternity band set in platinum is hand crafted and only $3,195.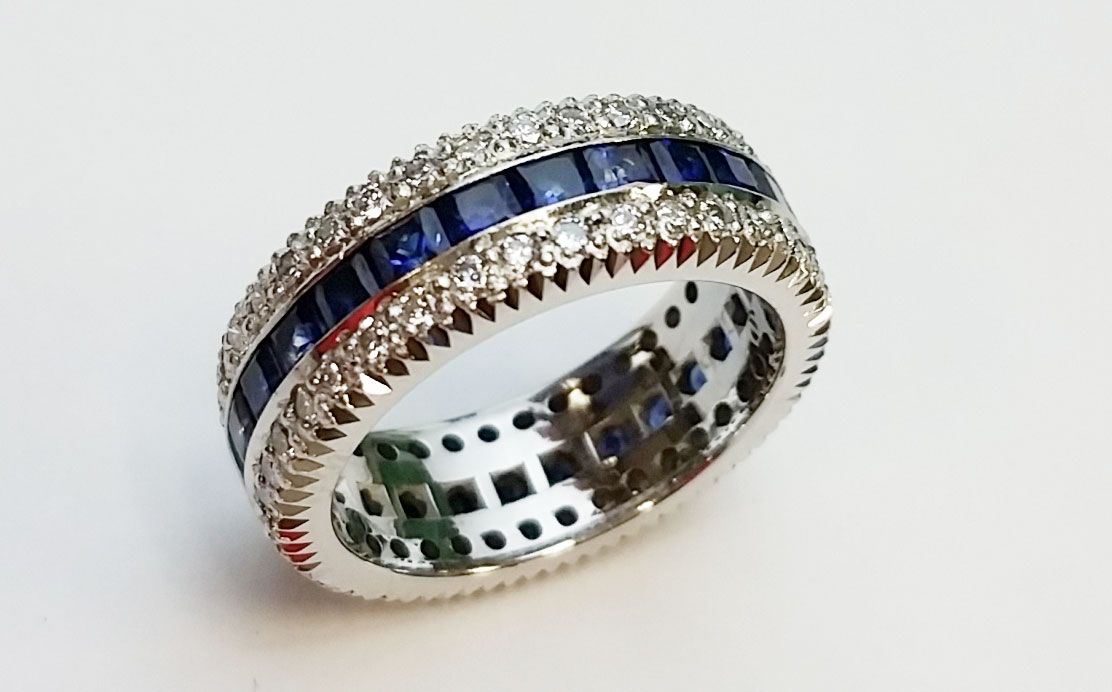 Looking for a necklace that can stand on it's own or be
layered with other necklaces?
Check out this gorgeous .41ct sapphire necklace with
.15ctw diamonds in 14kw gold, $995.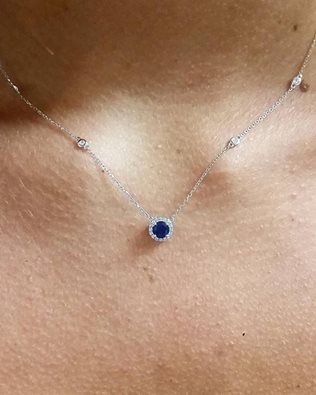 Only 7 more days to get a steal
of a deal on sapphire rings!
(l-r)
 1.36ct Ceylon sapphire and .40ctw SI clarity H/I color
diamond and 18kw gold. $3,835.
1.01ctw Sapphire accented by .44ctw of diamonds in 18k white gold. $1,835.
1.89ct Blue Sapphire (possibly Ceylon) .36ctw SI clarity
H-I color in 14kwg. $2,795.
The consignor for this piece had this bracelet made with .35ctw sapphire and .36ctw diamond bracelet in 14ky gold, $1,995.
Stay on trend with these consignment yellow gold hoops. 
2.5 inch 14ky gold wave hoops, a great buy at $195.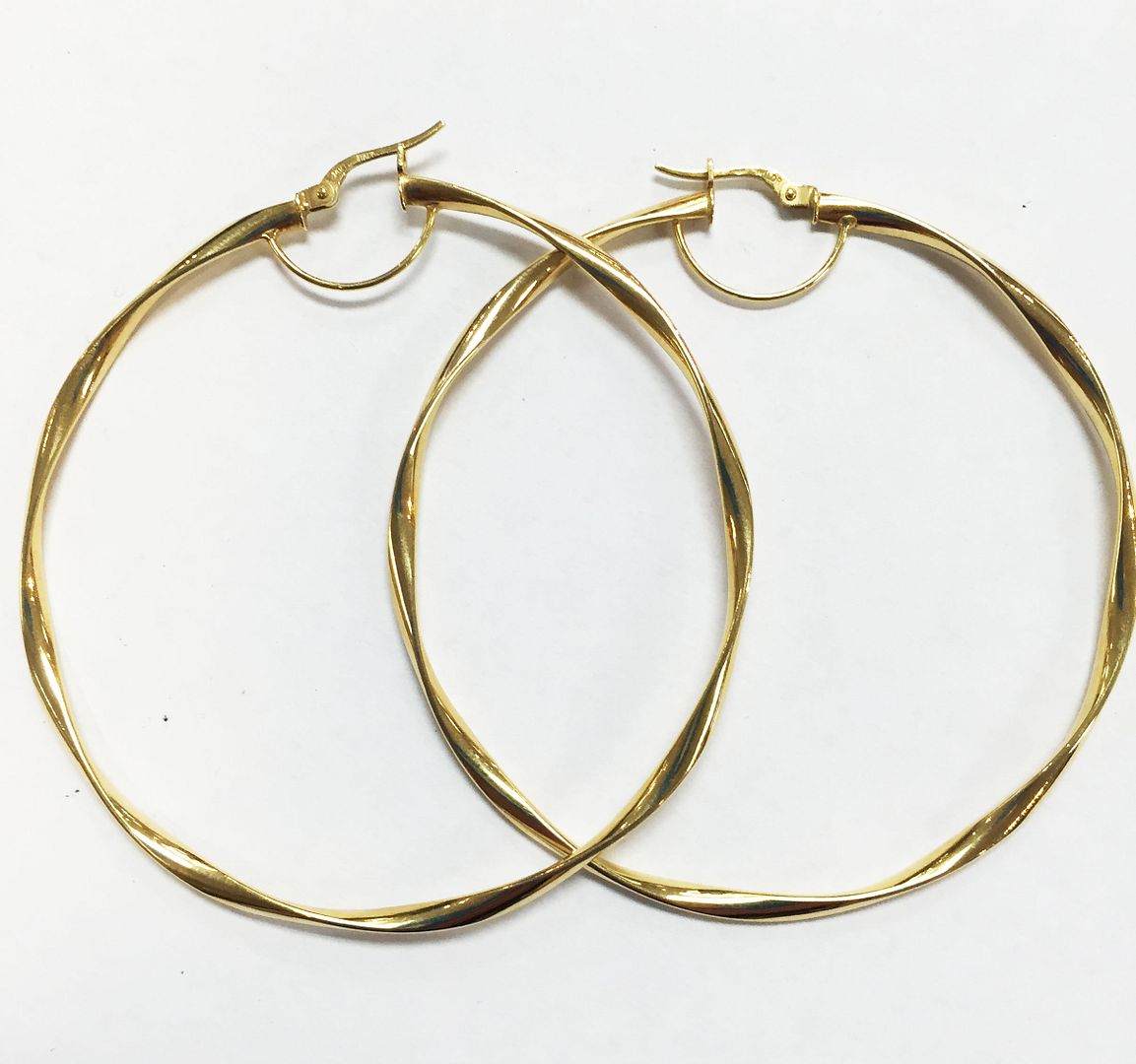 Sail away in these contemporary 14ky gold earrings
at an easy-breezy price…$245.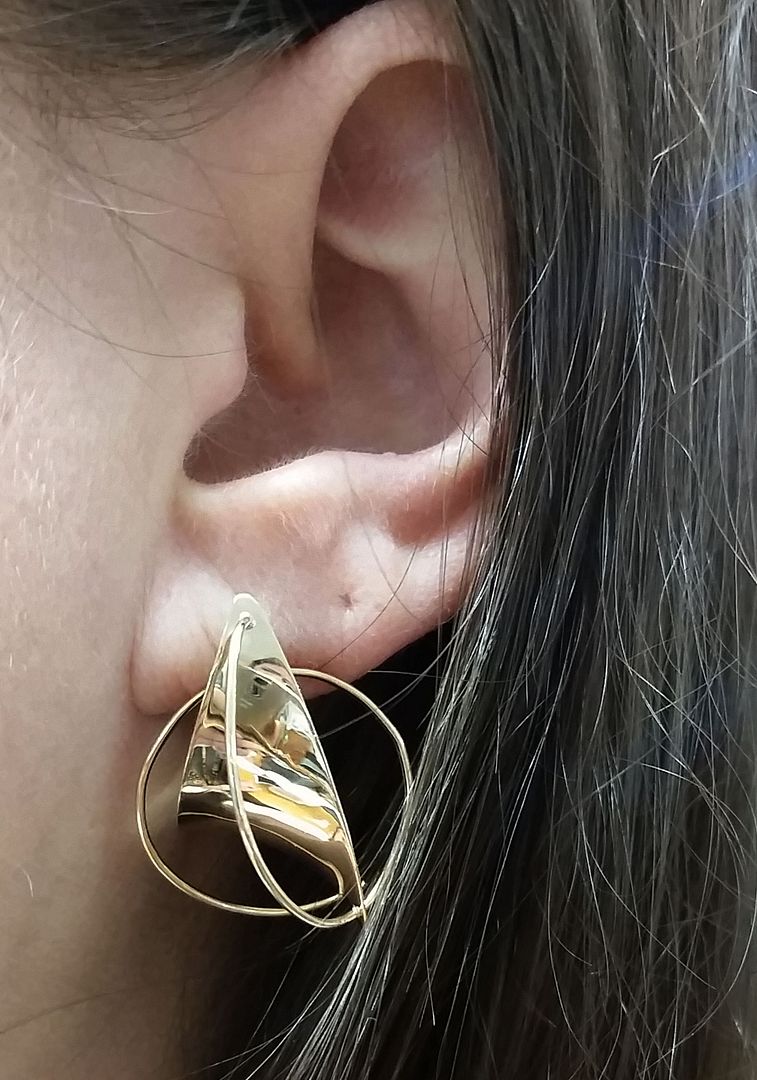 This is such a unique piece set with .25ctw diamonds set into white gold set onto a 14ky gold 16 inch necklace. $995.
Lagos designer ring with .25ctw diamonds set into an
18ky gold and sterling silver ring, $745.
JUST IN…we have loads of Judith Ripka on consignment, 
and prices are so affordable!
Judith Ripka pearl and CZ adjustable necklace in sterling silver 17-19 inches Sold with matching sterling silver CZ and pearl drop enhancer hoop earrings, $265.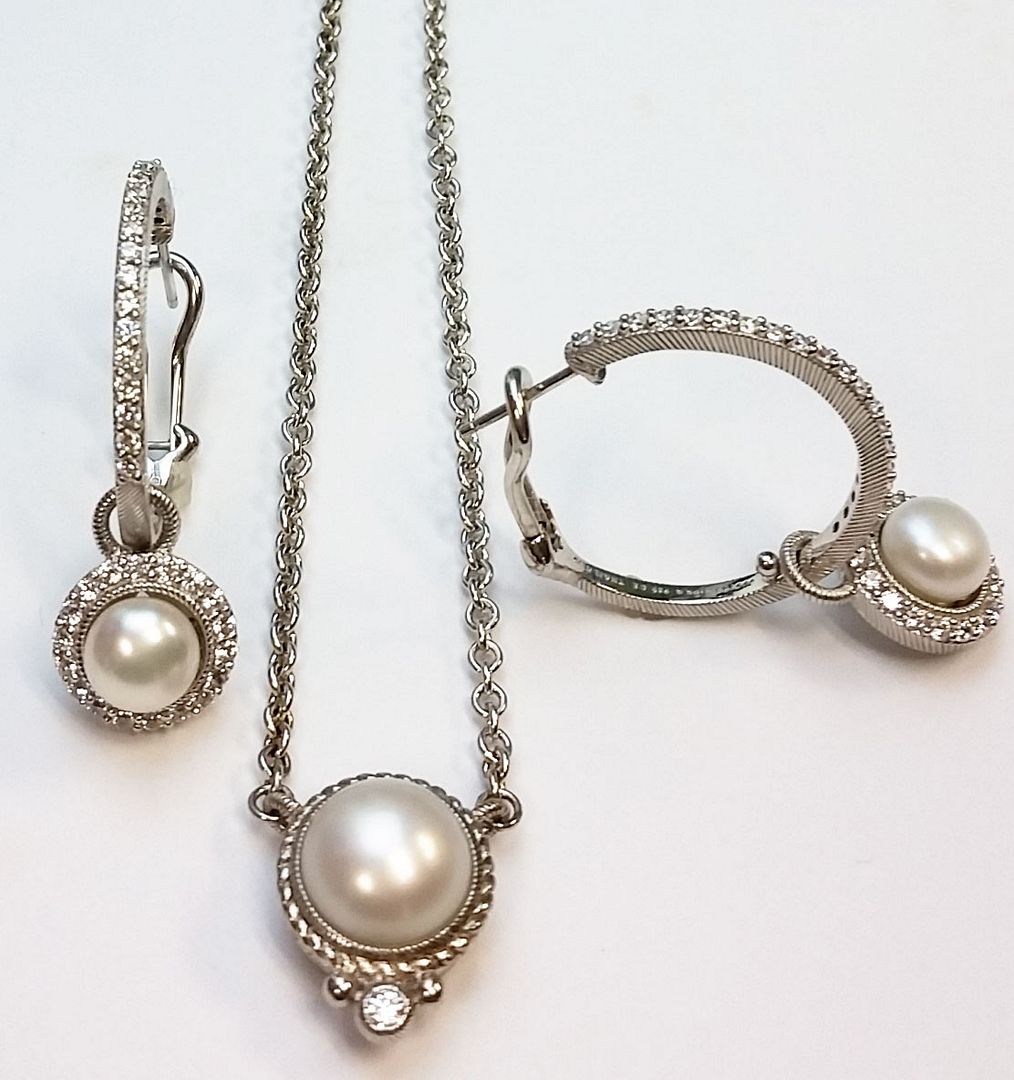 Judith Ripka canary yellow diamonique cushion cubic zirconia accents in sterling silver, $225.
Judith Ripka CZ and sterling silver heart
omega back earrings, $95.
Judith Ripka green amethyst heart enhancer
in sterling silver and 14ky gold, $245.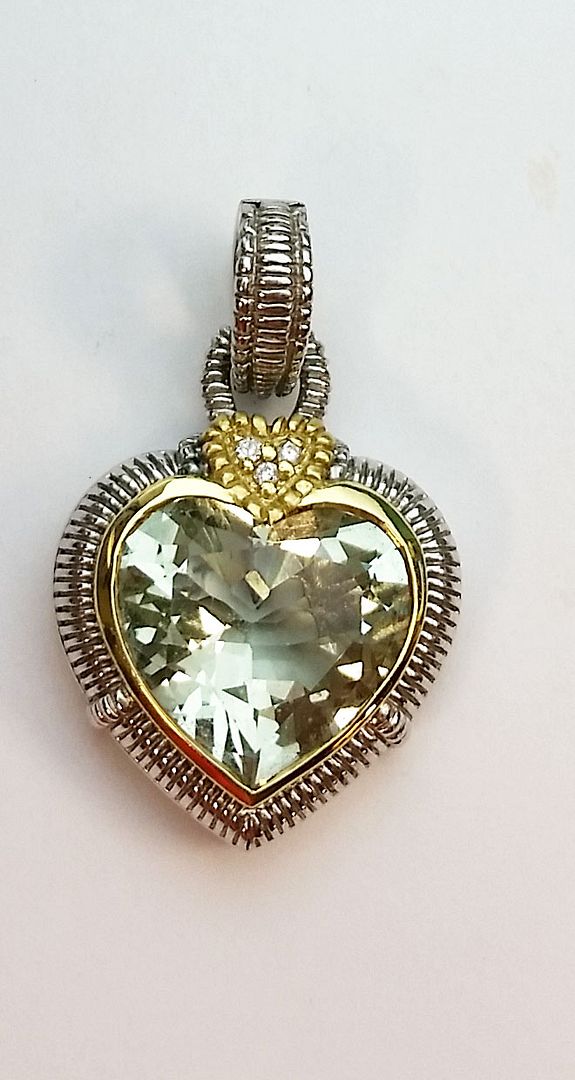 Judith Ripka onyx and sterling silver
heart dangle earrings, super affordable at $85.
 Judith Ripka citrine, sterling silver and 14ky
gold heart enhancer, $395.
Judith Ripka sterling silver omega back hoops, $65.
Judith Ripka sterling silver with
cz accents cigar band, $155.
Judith Ripka mother of pearl and CZ door knocker
sterling silver earrings, $85.
Judith Ripka .30ct tanzanite accented with diamonds
set in 14kw gold with filigree, $315.
We love this unique ring with 1.66ct tanzanite  and
.12ctw diamond bow ring in 18ky gold, $1,435.
We are your #1 source for unique wedding
bands and anniversary bands.
top to bottom:
.45ctw diamonds with .24ctw NATURAL YELLOW diamonds
set in 14kw gold. Retail $3,600, our price $2,835.
.28ctw diamonds and .31ctw PINK diamonds set
in 14kw gold, $2,755.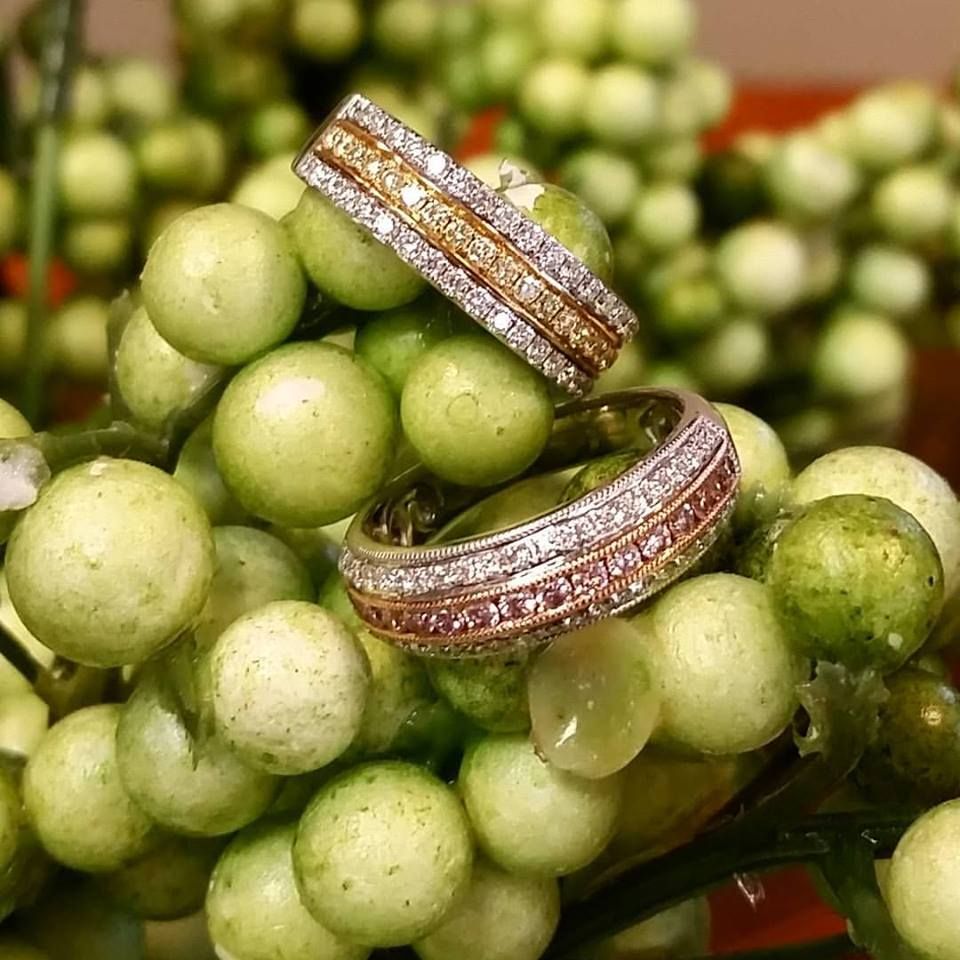 1.25ctw, 5 stone diamond band in 18k rose gold, $2,995.
9mm, tri-gold 14ky gold braided
spinning ring, size 10.  $445.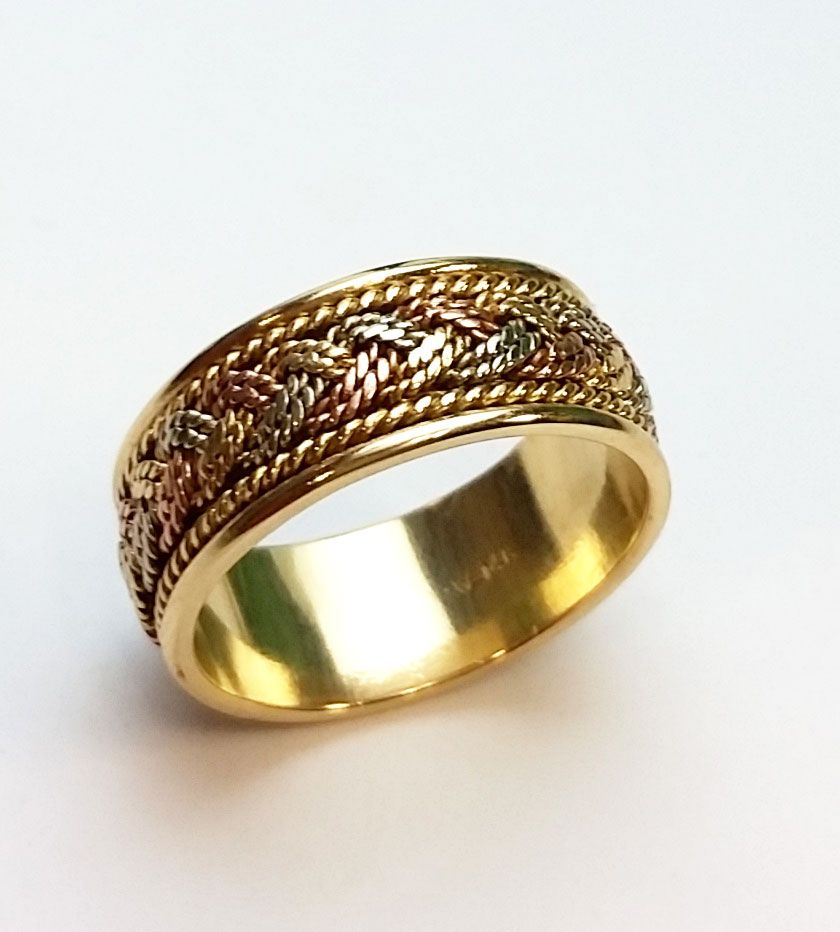 6mm, 14kw gold hammered wedding band, size 10.  $395.
 Look at this JUST IN necklace from
our exclusive line Alwand Vahan.
Necklace with diamond toggle, $1,875.
London blue topaz diamond enhancer, $1,275.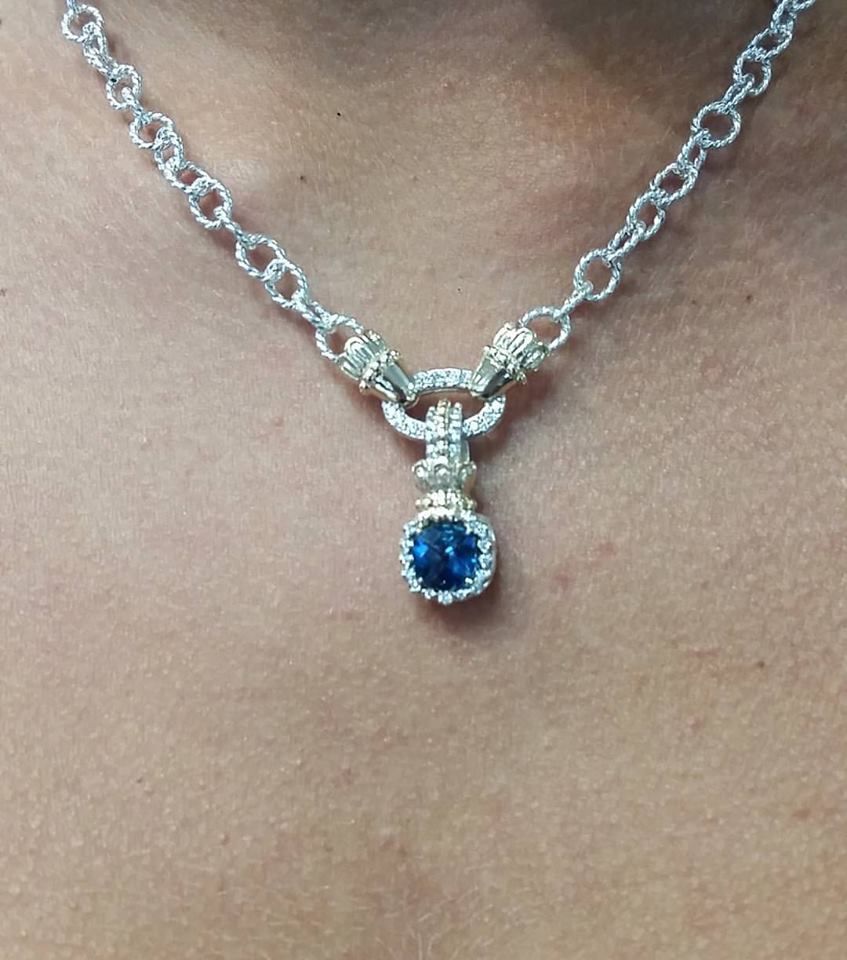 One of our favorite Raymond Mazza pieces here in the store.
 Lavender Venetian glass over mother of pearl enhancer in 14ky gold on a 16inch tanzanite faceted bead necklace that is interchangeable, only $1525.
Don't forget…
NOW is the time to consign!
Visit www.homeagainwilmington.com  and luminagem.com
for all the details!